Offering the best in Adirondack luxury, these gorgeous hotels on Lake George, New York are perfect for your summer vacation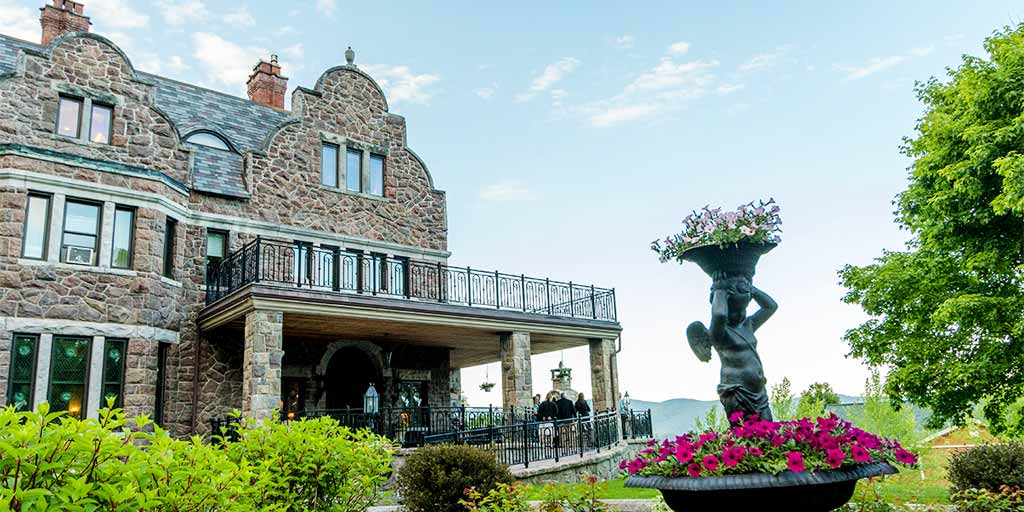 Lake George, New York is one of the most popular family vacation destinations in the state. With a wealth of natural beauty, small town charm, and, family-friendly attraction, Lake George offers that classic summer escape that families want to return to again and again. And these incredible hotels on Lake George, New York offer that idyllic escape that many visitors are looking for.
The list of things to do in Lake George is nearly never-ending. And it's just one of the many magnificent destinations in the Adirondacks worth exploring. These Lake George hotels will offer up that perfect home base to experience the majestic scenery, gorgeous waters, and wonderful attractions that Lake George has to offer.
The hotels themselves that we list here are chosen specifically for their access to the attractions, fantastic on-site experiences, and family-friendly comfort in order to ensure that you have the best summer vacation imaginable.
We also share some of our best travel resources for booking family-friendly hotels in Lake George. They're laid out in a way that makes it easy to compare hotel prices across various booking platforms in order to secure the best price.
Keep in mind that Lake George is a very popular destination and Lake George hotels can book up months in advance. Book early to ensure that you aren't left out in the cold.
But if you do miss the first round, don't panic. Many hotels in Lake George experience last minute cancellations. So check back regularly to see if some of your favorite hotels have new availability.
The Top Lake George Hotels For Families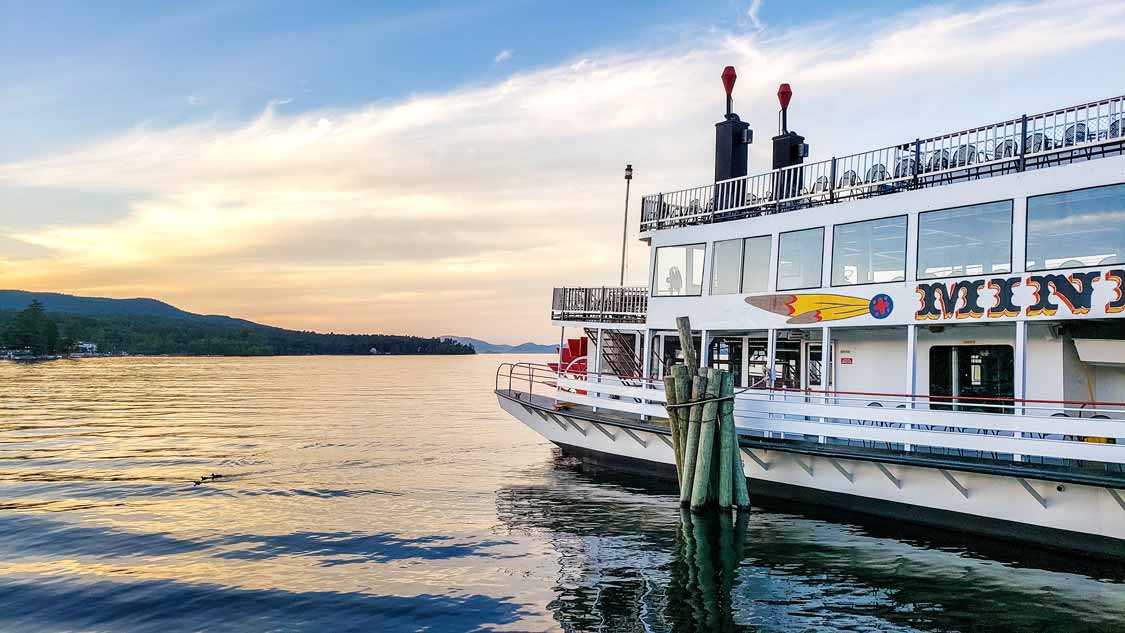 It's difficult to find a bad hotel on Lake George. I mean, if you look at the landscape surrounding the lake, it's beautiful. Rolling hills, Adirondack mountains, wilderness, and wildlife galore. And let's not forget the awesome Adirondack rail biking experience available in nearby North Creek.
These hotels on Lake George, New York will help turn your summer vacation into an experience you'll never forget.
The Sagamore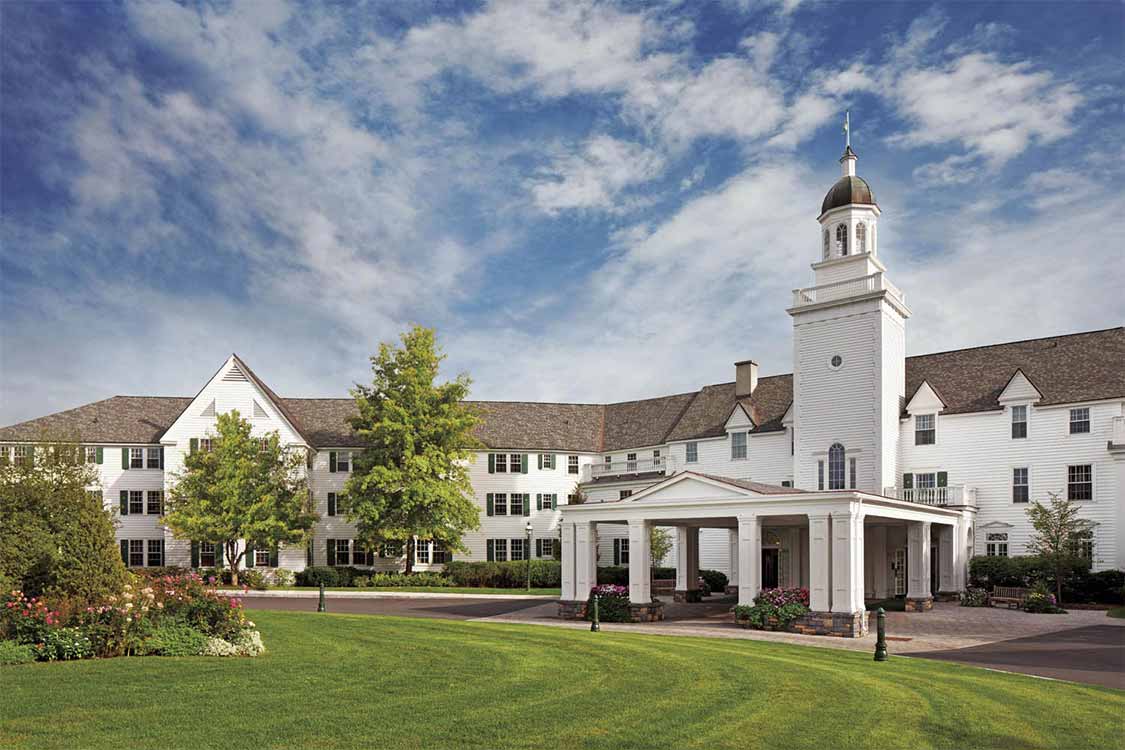 The Sagamore is one of those masterfully-designed Upstate New York family resorts that draws visitors year after year. In fact, this Lake George resort often has families booking multiple years ahead on the same summer weekends for annual family retreats.
The Sagamore has been in operation since 1883. It's even found its way on the National Register of Historic Places. This isn't just due to the heritage of the property itself, but also because of the old-world Victorian styling of the building that calmly exerts an atmosphere of high society.
The Sagamore offers stately rooms, condos, and even a private carriage house. For larger families, there is also a six-bedroom manor called "The Castle".
Most rooms have kitchens, fireplaces, and balconies that offer sweeping views of Lake George. There is also an 18-hole golf course, eight restaurants, indoor and outdoor pools, a gym, rock climbing, and even a kids club. Guests can also find on-site boat rentals and even sailing excursions aboard their 72-foot replica sailing vessel.
You can heck out the prices for the Sagamore Resort on Lake George here.
Fort William Henry Resort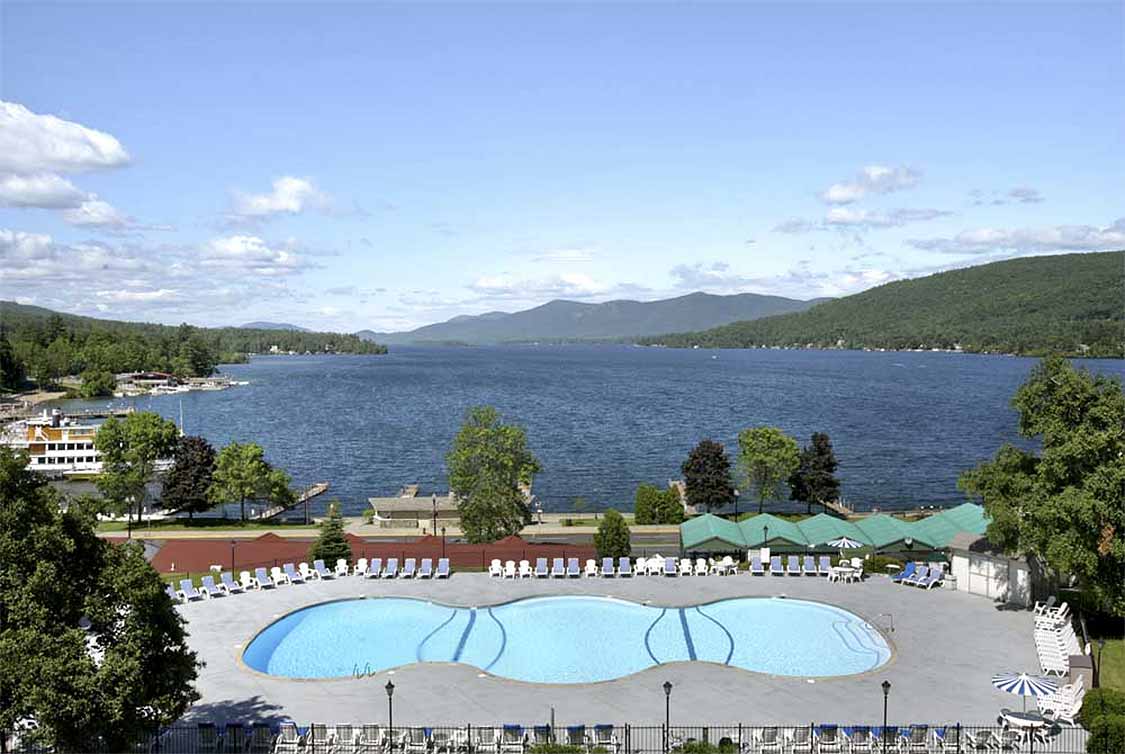 Situated on a sprawling 18-acre estate at the southern tip of Lake George, the Fort William Henry Resort was built as a callback to the classic era of Lake George family resorts. It's classic elegance offers upscale experiences and comfort in a family-friendly and accessible location.
Relax with a mint julep while sprawled out on the veranda overlooking the sparkling waters of the lake or enjoy a fun game of croquet across the well-manicured lawns. Guests can also enjoy dining at one of the several on-site restaurants including The White Lion, which has been a Lake George staple since 1911.
Rooms at the Fort William Henry Resort are designed with upscale luxury in mind. The resort features a Great Room with a roaring fireplaces, a large veranda overlooking Lake George,, an indoor pool and outdoor pool, and games room.
You can check out the prices for the Fort William Henry Resort Below
The Fern Lodge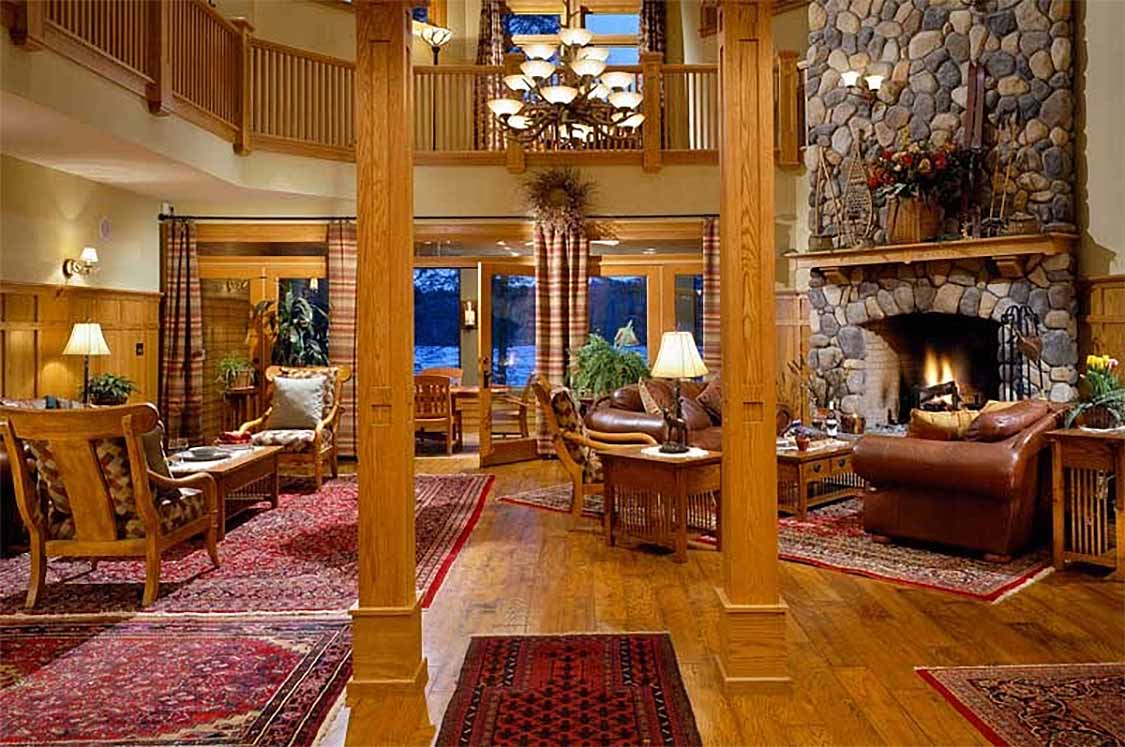 Offering up a classic Adirondack mountain cabin atmosphere, this upscale and family-friendly Lake George hotel is actually just off the beaten path on Friends Lake. Although it's not too far from Lake George.
What's great about that is that you get that gorgeous Lake George atmosphere, but without the summer crowds. And you'll still be treated with vaulted ceilings, a majestic fireplaces both inside and outside, a game room, hot tub, movie theater, and much more.
The Fern Resort is not as massive as the Sagamore or the Fort William Henry Resort so it offers a much more intimate vibe that many families appreciate. and accommodation rates include breakfast, evening hors d'oeuvres on a Friend's Lake boat tour, turndown service, chocolate truffles, and s'mores by the fire.
There are also two on-property houses for rent that can sleep up to 12 people and offer mountain views from private hot tubs.
You can check out the rates and availability for The Fern Lodge below.
The Inn At Erlowest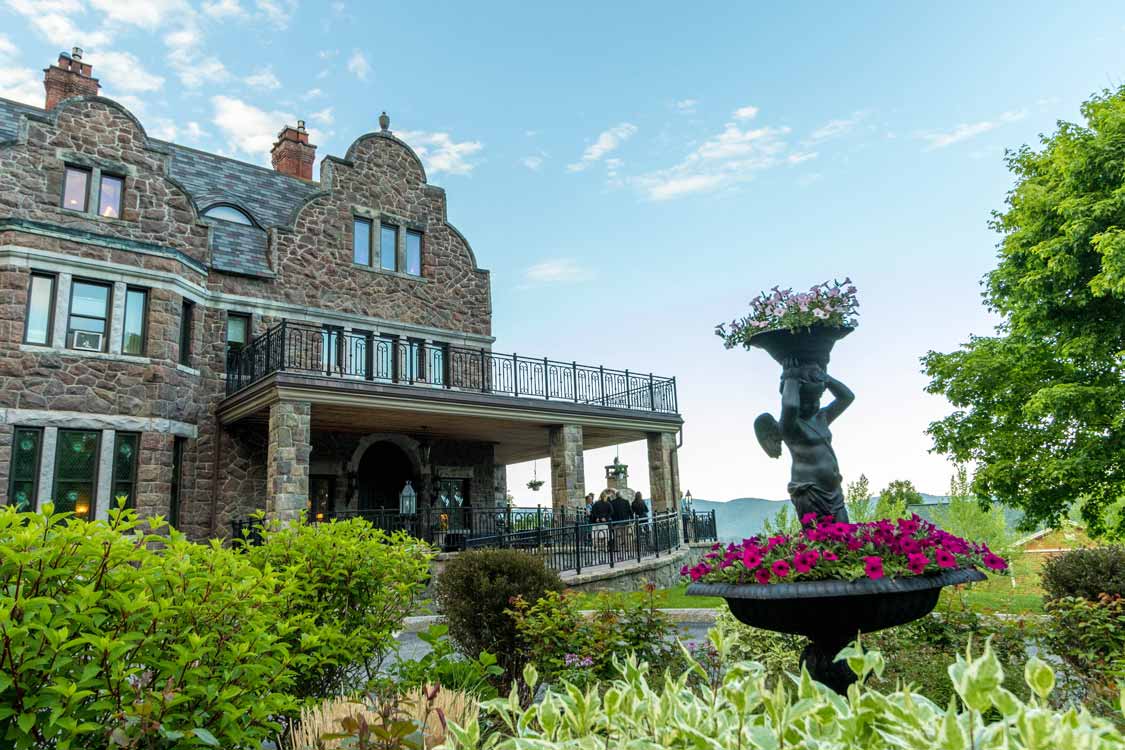 The Inn At Erlowest is upscale elegance at its best. Although this spectacular Lake George Hotel can be an unforgettable getaway for families, its high-end atmosphere also lends itself towards a couples getaway.
One look at the stone facade of this Lake George hotel, and it's easy to mistake it for a castle. The historic property has seen a range of wealthy elites since it was built in 1898. It was finally converted into its current elegance in 1999.
Inn at Erlowest boasts 10 uniquely designed suites including one with a private hot tub, chandelier, and fireplace. Guests will love wining and dining on the gorgeous patio overlooking both the on-site pool and the glittering waters of Lake George.
For those visiting Lake George in winter, there is even a unique "igloo" dining experience in heated structures in the snow.
You can check out the prices for the Inn at Erlowest below.
The Boathouse Bed and Breakfast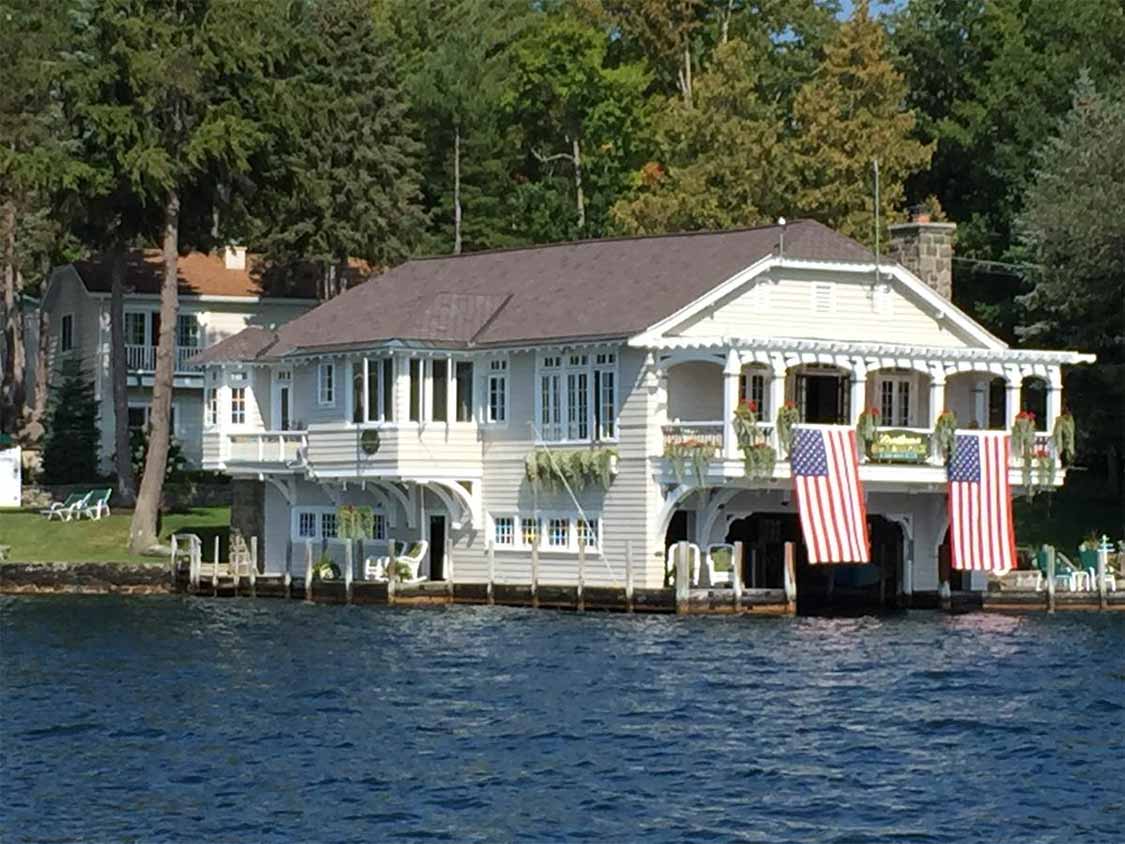 There are a number of fantastic Lake George bed and breakfast experiences, but few offer the history and elegance of The Boathouse B&B. This historic property has been located on the shores for nearly 100 years and has rooms that include refrigerators, WiFi, and robes.
The luxurious Carriage House suites look out onto Lake George and feature private balconies for enjoying those magical Lake George sunsets. And The Boathouse owners custom 33-foot antique wood boat is available for luxurious tours of the water.
This property also includes access to some of the amenities of the nearby Sagamore resort including the golf course, spa, and restaurants. You'll also have easy access to all of the great things to do in Lake George town.
You can check out the pricing and availability below.
The Lodges At Cresthaven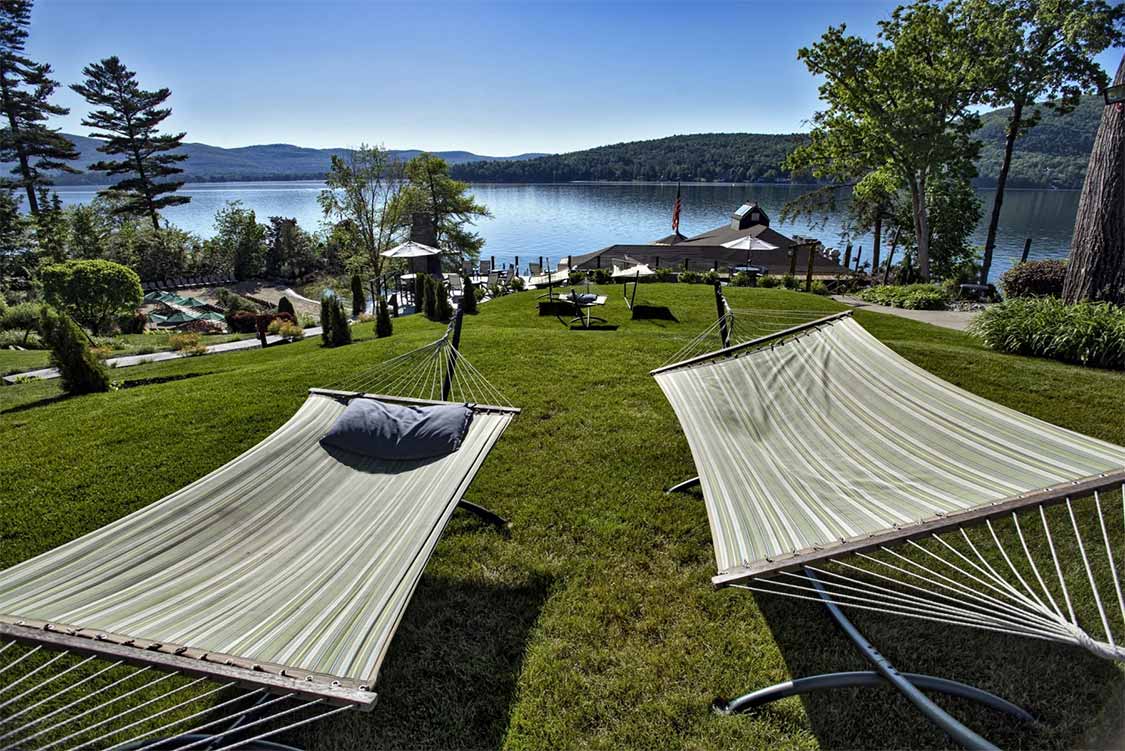 Offering glorious views from their 11-acre property, The Lodges at Cresthaven are among the most popular hotels on Lake George, New York for families.
The wood and beam structures harken back to classic Adirondack luxury and the insides are cozily decorated with blankets, fireplaces, and cushy area rugs. Each unit of Cresthaven also features a full kitchen and each can sleep up to six people.
This Lake George resort has one of the most beautiful waterfront properties around. It has a private beach dotted with Adirondack chairs as well as offering access to kayaks and canoes. The hotel also features a fitness center and games room.
This resort is just two-miles from Lake George. And if you cant drag yourself away from the property, there's an excellent waterfront restaurant known as 'The Boathouse'.
You can check out their prices and availability below.
Dunham's Bay Resort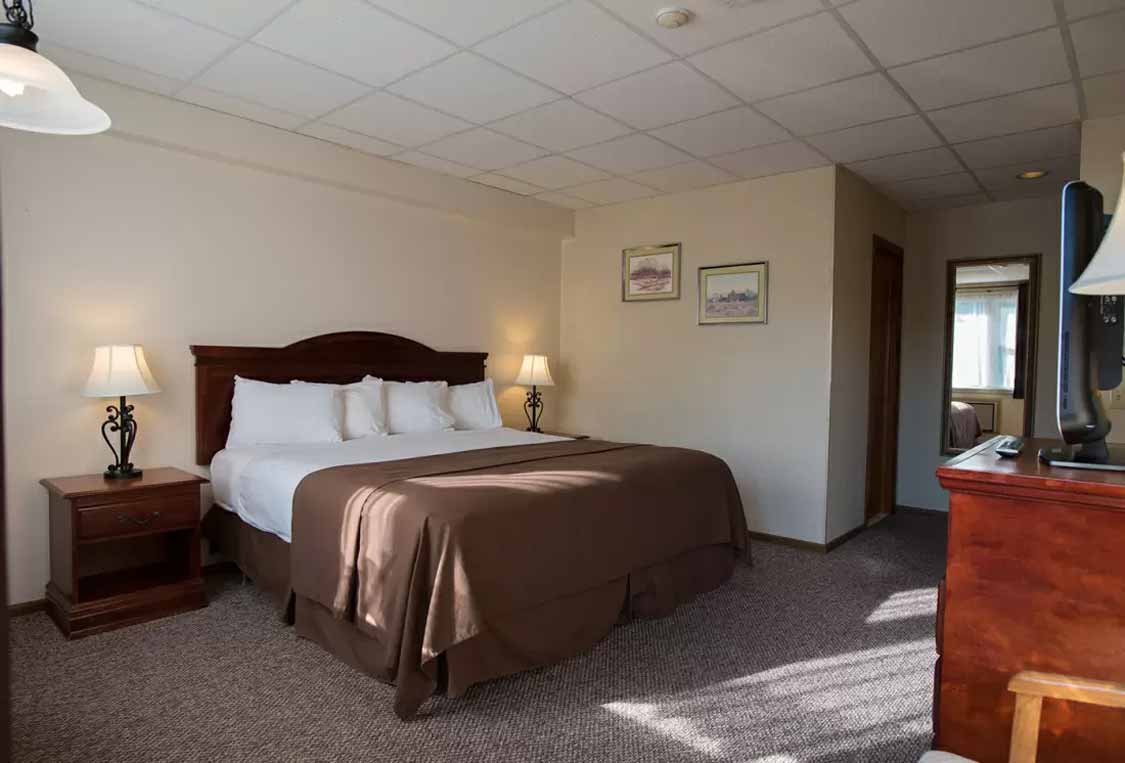 Featuring large rooms, gorgeous scenery, and a restaurant with one of the best views in Lake George, Dunham's Bay Resort is one of the best hotels in Lake George for summer family vacations.
You'll find accommodations here to fit many styles from traditional King Bed rooms to two-bedroom cabins and traditional Adirondack cabins. Add to this the hot tub, indoor heated pool, tennis courts, bocce ball area, and more, and you've cooked up a recipe for an amazing Lake George experience.
The on-site 'View' restaurant serves up hearty dishes from pizza to steak. It offers a home-cooked atmosphere with flavor the whole family will love.
You can check out their prices and availability below.
The Holiday Inn Resort Lake George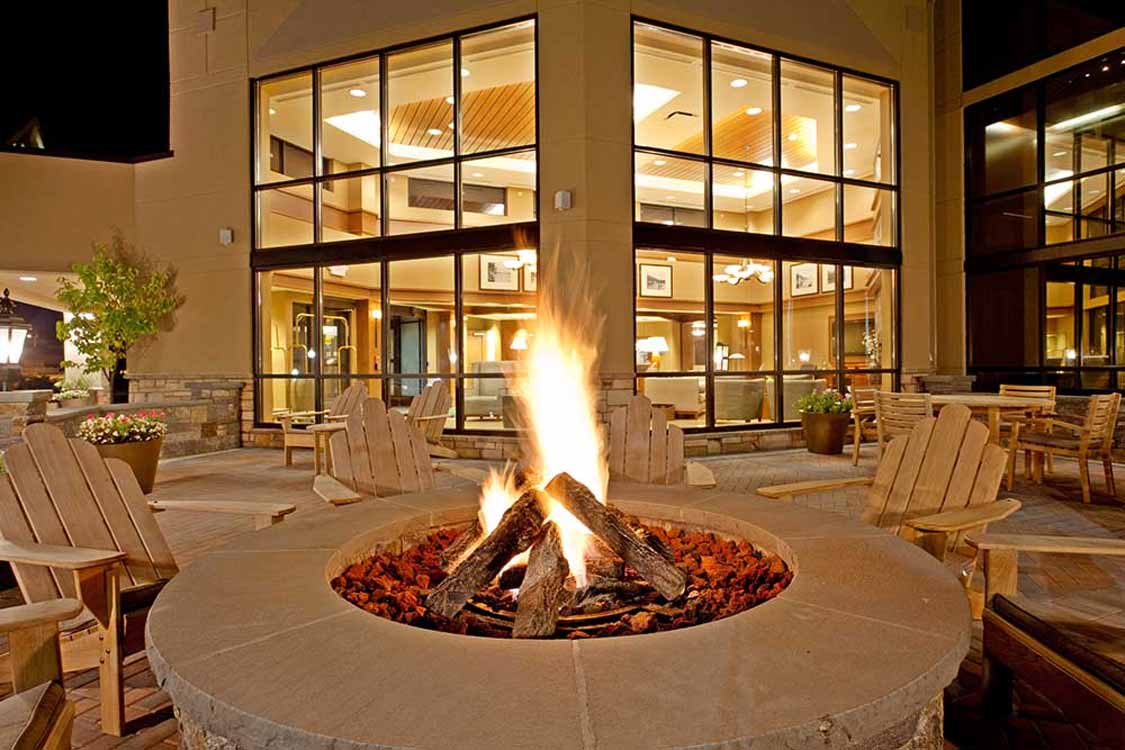 Located right on the edge of Lake George village, the Holiday Inn Resort Lake George is a family-friendly hotel that is interested in classic amenities and the convenience of a central location.
The sprawling property is well-groomed and features a comfortable lobby with a stone fireplace and massive windows. The entire hotel has 105 rooms plus 24 suites. Many of these have balconies or patios with sweeping mountain views.
The hotel is within easy walking distance of Million Dollar Beach and nearly every major attraction in Lake George itself. It also features both indoor and outdoor pools, a basketball court, fire pit, children's playground, mini putt, game room, and an on-site restaurant and lounge.
You can find the prices and availability below.
Enjoy Your Lake George Vacation!
No matter which of these hotels in Lake George, New York you decide to book, you're bound to have an incredible time. Make sure to let us know how much you loved it! You can check out more incredible things to do in New York State on our New York family travel blog.
If you love family travel, join our Family Travel Support Group on Facebook and get in touch with thousands of travel-loving families who enjoy.
Wandering Wagars is a participant in the Amazon Services LLC Associates Program, an affiliate advertising program designed to provide a means for sites to earn advertising fees by advertising and linking to amazon.com, amazon.co.uk, amazon.ca. Amazon and the Amazon logo are trademarks of Amazon.com, Inc., or its affiliates.
You May Also Like To Read: