Discover the best spots to enjoy Manitoulin Island camping and have access to the incredible attractions on the world's largest freshwater Island.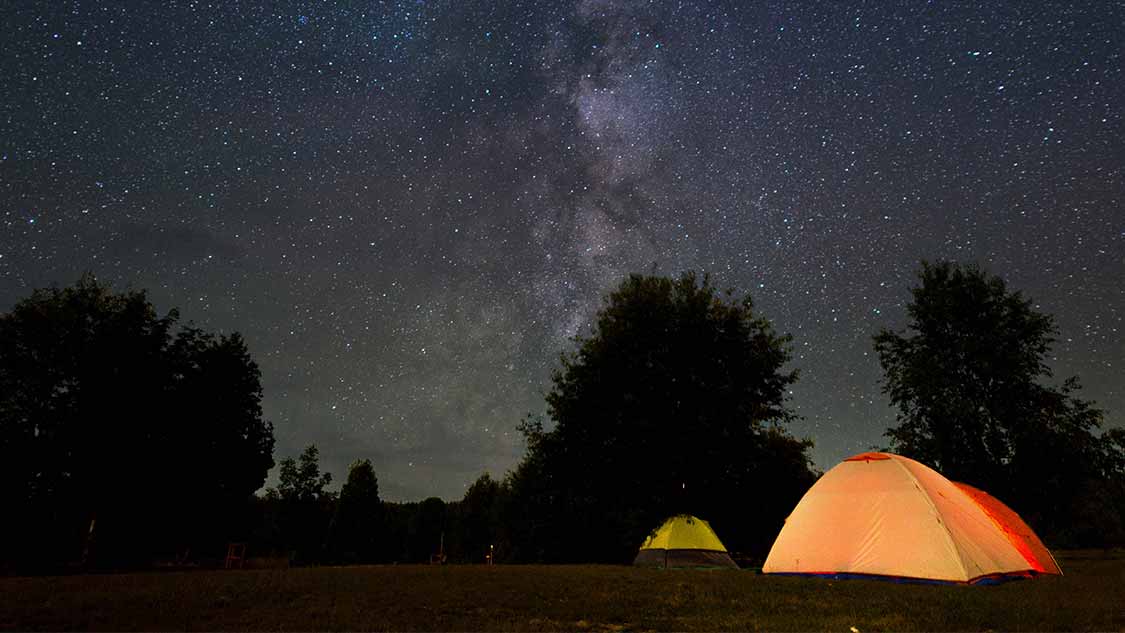 Manitoulin Island is one of the most spectacular places to visit in Ontario. This massive landscape, which includes some of Canada's best hikes, most beautiful lakes, and picturesque towns, is an outdoor-lovers dream. And these incredible Manitoulin Island camping spots will offer the pristine backdrop for one of the most amazing destinations for outdoor fun in the province.
The popularity of camping has blossomed lately. A big boost to that was the need for social space thanks to the events of 2020 and 2021. And as interest in family camping has grown, it has pushed the provincial park and national park system in Ontario to the bursting point.
Luckily there are some incredible private campgrounds on Manitoulin Island that allow visitors to experience all levels of comfort and amenities while enjoying all of the things to do on Manitoulin Island.
If camping on Manitoulin Island isn't your thing, you might be interested in our top Manitoulin Island hotels here.
Tips For Camping On Manitoulin Island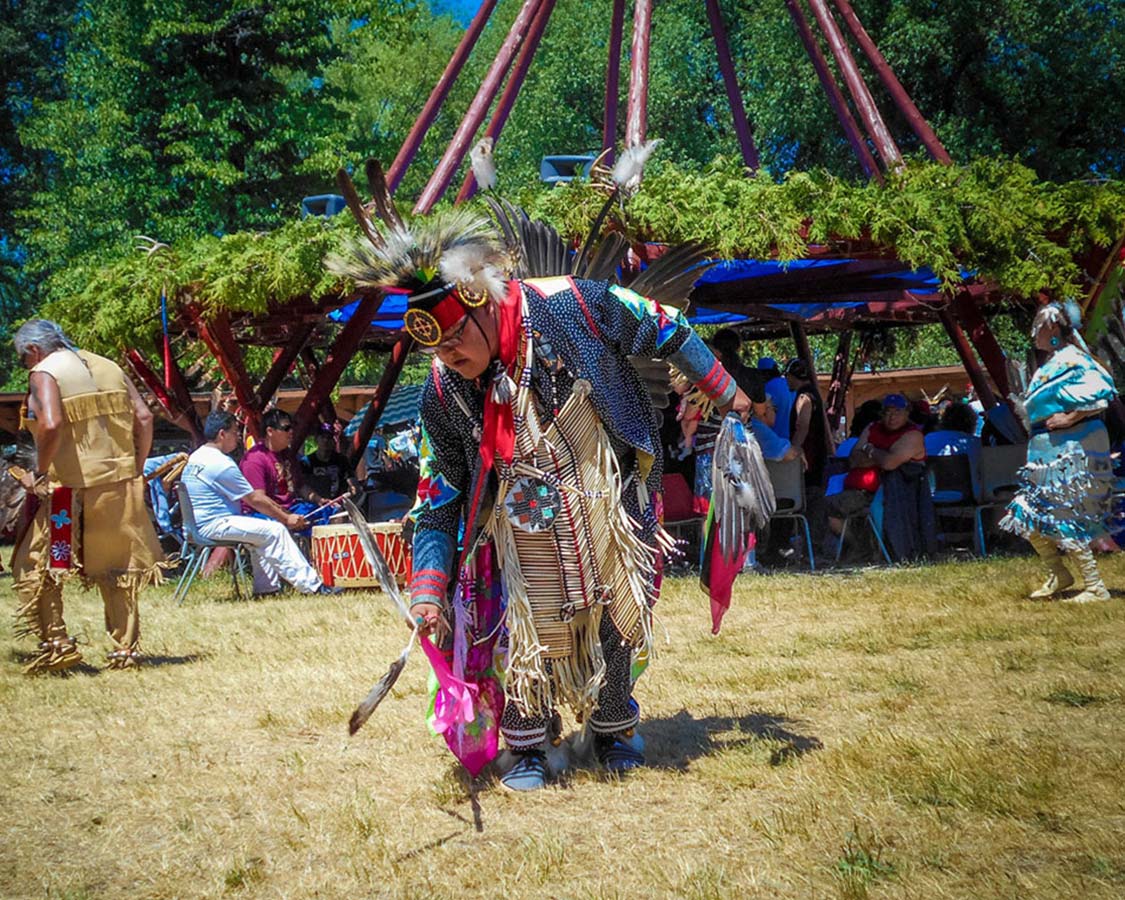 I'm a Manitoulin Island camping enthusiast who has explored as much of the island as can be explored (in fact, my family partnered with Ford to help create Google Street View Maps of some of the island's towns including Providence Bay).
The island is a dream for camping and RV enthusiasts. Its long, well-maintained roads offer incredible views of agricultural landscapes, rocky vista's overlooking the turquoise waters of Georgian Bay, and incredible opportunities to learn and celebrate with local Indigenous communities.
Manitoulin is also a wonderful road trip destination thanks to its relatively empty roads. In fact, there's just a single traffic light on the entire island! But, it's good to know that while there might not be much traffic, and the roads are in great shape, driving on Manitoulin Island means paying attention for wildlife, dealing with winding roads, and being aware that other drivers are expecting the same wide-open roads that you are.
Bugs on Manitoulin Island aren't as bad as they are in some other areas of Ontario. This is mostly due to the long shores and breezy waterfronts. However, in June and July, black flies and mosquitoes can still make their presence known on calm evenings and relaxing mornings.
The Best Spots For Camping Manitoulin Island
So you've decided to make Manitoulin Island camping part of your summer adventure. Well, I'm here to help you have the best possible experience while on the island.
Whether you're looking for a place to rest your head after hiking the Cup and Saucer Trail, or you're looking to spend a night stargazing in one of Ontario's dark-sky preserves, you're in luck. Because Manitoulin Island has some of the best campgrounds around.
Batman's Cottages and Campgrounds
Ask just about any local what the best campground on Manitoulin Island is, and 90% of the time, they'll mention Batman's. Far from a superhero-themed amusement park, this park is named after a REAL Batman, founder Ralph Batman, who started the business back in 1969.
Batman's is known for it's personal service, amazing atmosphere, and breathtaking sunset views of the La Cloche Mountains across the sparkling Georgian Bay waters.
This Manitoulin Island campground offers tent sites, cottage rentals, and pull-through RV spots with fully-serviced options and 30/50 amp service. The park location, which is on Sheguindah Bay, is just an 11-minute drive to Little Current and just 4-minutes to the Sheguindah First Nation.
On-site you'll find a wonderful beach, beach volleyball court, laundry facilities, shuffleboard, badminton, hiking trails, playgrounds, a boat launch and washroom and shower facilities.
If you'd like to find out more about Batman's Campground and Cottages, you can find it here.s
Gordon's Park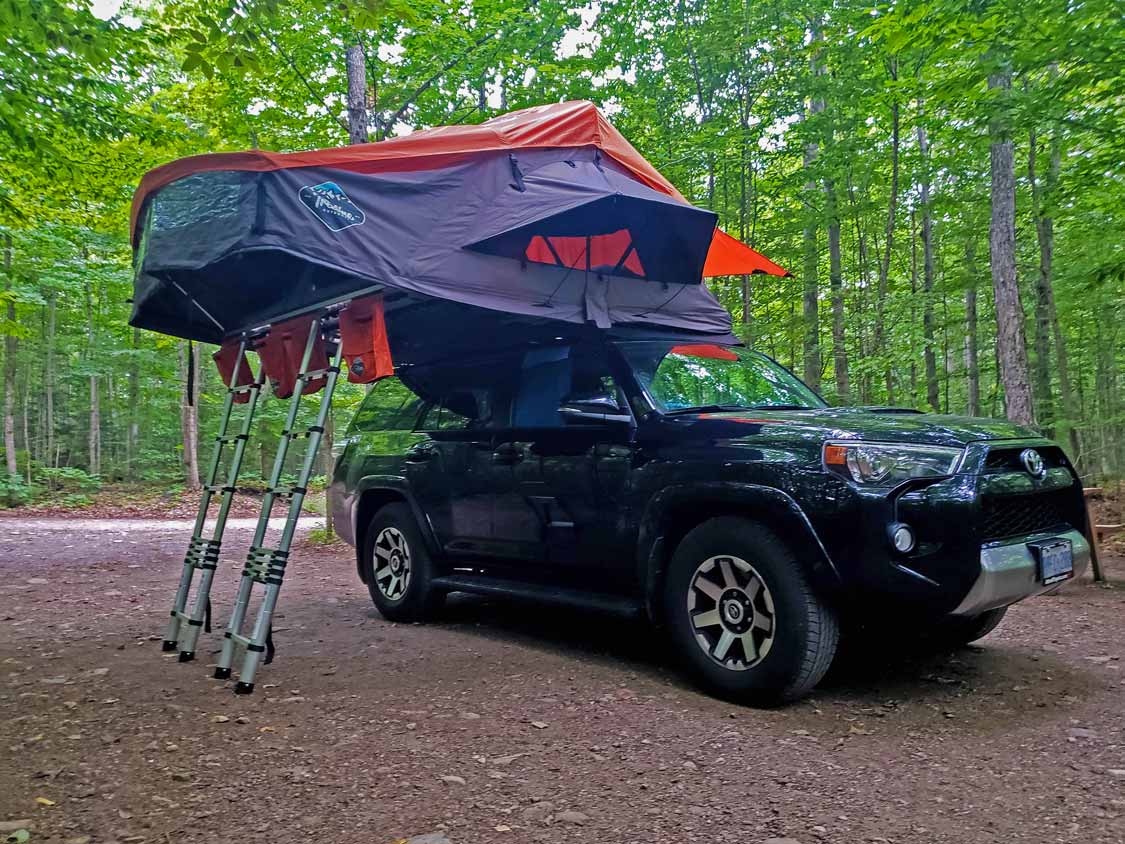 Offering one of the most accessible certified dark-sky options in Ontario, Gordon's Park is the perfect Manitoulin Island camping experience for those who love stargazing.
This park is known for its eco-focused activities and unique camping options that include unserviced teepees, small cabins, large forested camp sites, and night-sky viewing field sites for stargazing enthusiasts.
Gordon's Park is just an 11-minute drive from South Baymouth and the Chi-Cheemaun Ferry and just 30-minutes to the M'Chigeeng First Nation and the Cup and Saucer hiking trail.
Unlike many of the Manitoulin Island camping experiences, Gordon's Park is less about amenities and more about the natural experience. You'll find the best skies on the island here, great hiking trails, and wonderful people, but you won't find beaches, volleyball, or bars. Although there is an on-site heated swimming pool and a nice little playground for the kids. And don't miss the amazing interpretation center that shares information on the wildlife and landscapes of the island.
You can find more information about Gordon's Park camping on Manitoulin Island here.
Providence Bay Tent and Trailer Park
For camping and RV sites on Manitoulin Island, Providence Bay Tent & Trailer Park is a popular spot in the south-central area. The park offers one of the largest beaches on the island and 250 campsites bordered by birch, poplar, pine, and cedar forests.
Providence Bay campground has electric and water hookups, a central dumping station, and pump-out services for RV campers. The park also features hot showers, flush toilets, and clean drinking water.
For famliy camping on Manitoulin Island, this park boasts a large play area for children and a beach boardwalk that follows the island shores. It's also one of the best locations on the island for windsurfing.
Within the park, you'll also find a laundromat and a convenience store run by the family including Irene Cornish, who has owned and operated the park for more than 50-years, and her two sons.
You can find out more about Providence Bay tent and Trailer Park here.
Norm's Tent and Trailer Park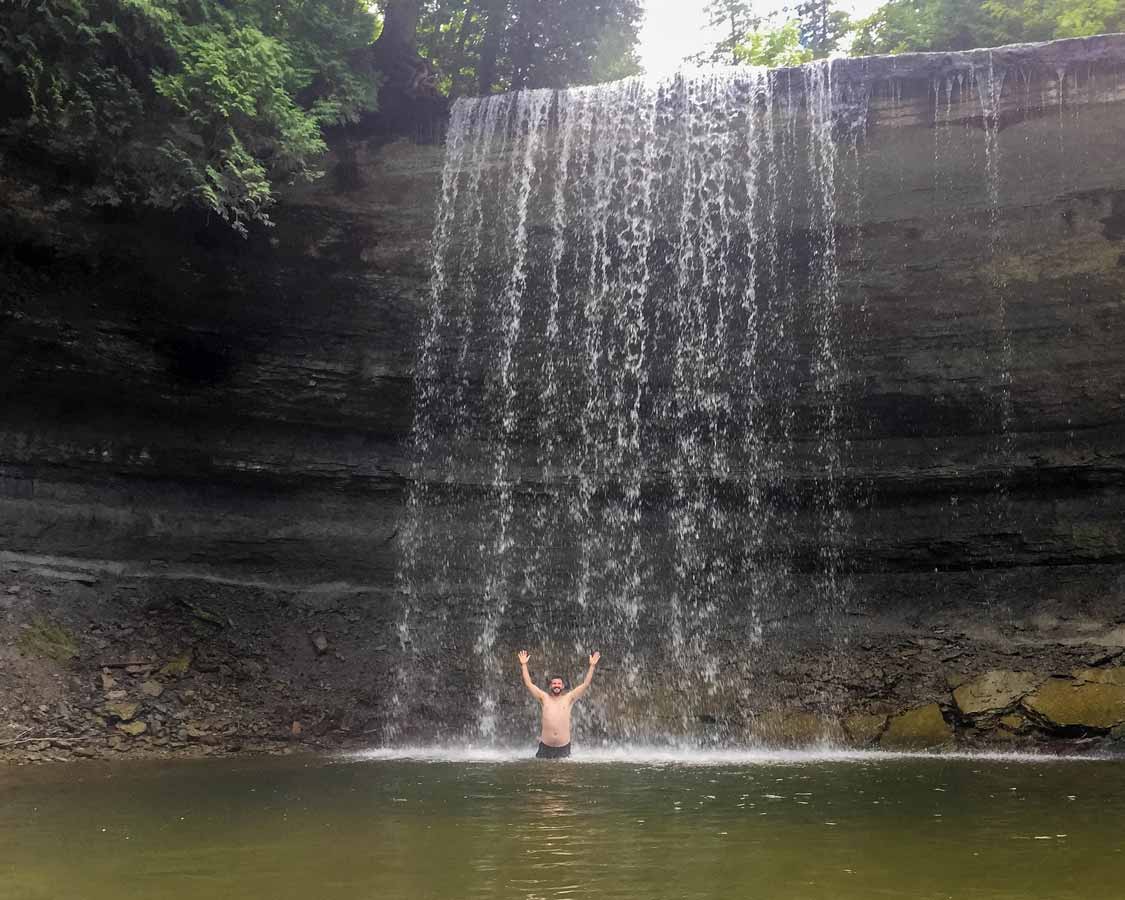 For fishing enthusiasts, Norm's Tent and Trailer Park, located on the shores of Lake Kagawong, is a popular spot. This park features central washrooms, showers, and laundry facilities.
With an on-stie store and live-bait shop, there is no surprise that this Manitoulin Island campground is a favorite for anglers. You'll find a large boat launch docking facilities, and even boats for rent. The fishing on Lake Kagawong is known for its bass, pike, perch, and pickerel.
If you aren't an angler, Norm's Tent and Trailer Park is a good spot to stop for a night or two as you explore the nearby area, including the easy walk to Bridal Veil Falls and the quick 16-minute drive to Gore Bay.
You can reach Norm's Tent and Trailer Park to check their availability at (705) 282-2827.
Mindemoya Court Cottage and Campground
Situated on 18-acres of recreational land on the shores of Lake Mindemoya, Mindemoya Court Cottages and Campground is one of the best campgrounds on Manitoulin Island. And I'm not just saying that because it offers one of the easiest access to the awesome apple fritters at Mum's Bakery in Mindemoya.
This gorgeous family getaway destination features a baseball diamond, volleyball court, horseshoe pit, bonfire spot, and on-site hiking and biking trails. There is a nice play area for little ones with a tire swing and a sandbox, and lots of weekly scheduled activities for those looking for a longer stay on the island.
The campsites feature 20/30 amp service and clean water hookups. There are even boat rentals on-site for those who want to enjoy a relaxing cruise or some fishing on Lake Mindemoya.
You can find everything you need to know about this Manitoulin Island camping spot here.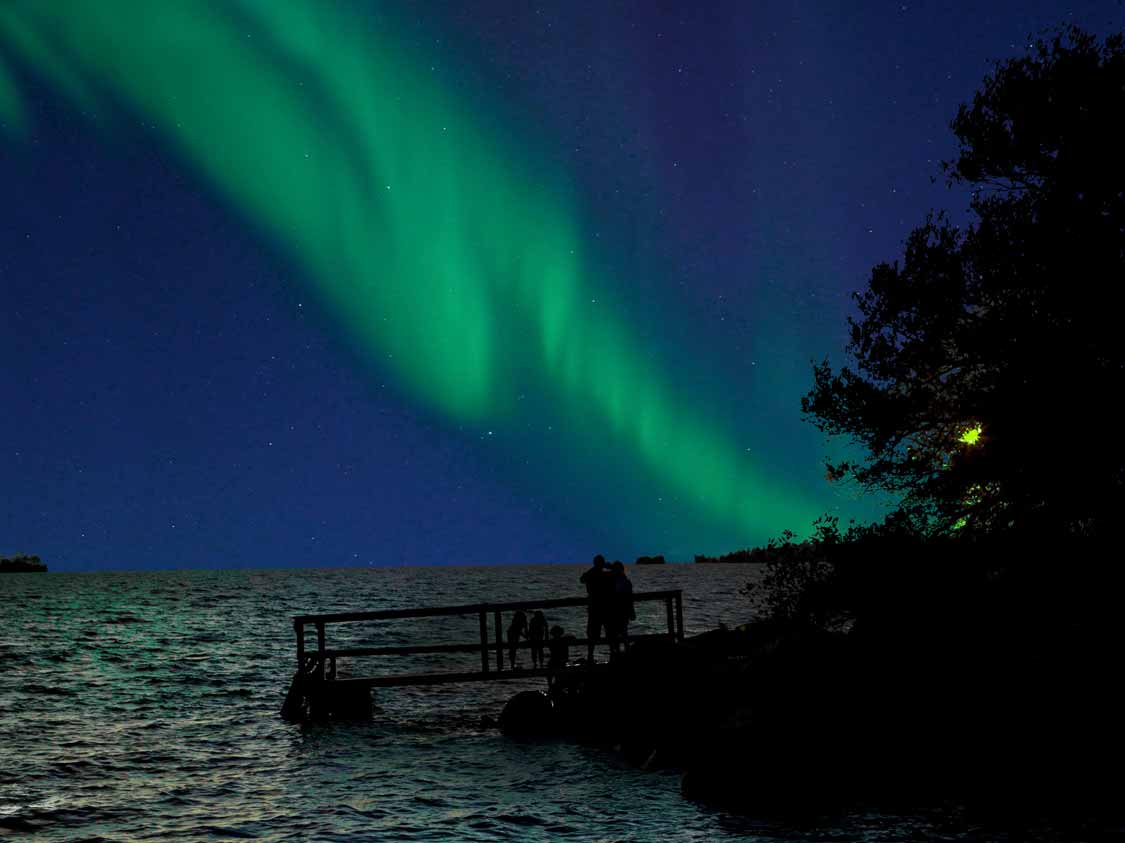 Enjoy Your Manitoulin Island Camping Vacation!
No matter which of these Manitoulin Island camping spots you choose, you'll have an incredible time. Make sure you check out our article on the best things to do on Manitoulin Island to plan your visit.
If you love family travel, join our Family Travel Support Group on Facebook and get in touch with thousands of travel-loving families who enjoy.
Wandering Wagars is a participant in the Amazon Services LLC Associates Program, an affiliate advertising program designed to provide a means for sites to earn advertising fees by advertising and linking to amazon.com, amazon.co.uk, amazon.ca. Amazon and the Amazon logo are trademarks of Amazon.com, Inc., or its affiliates.
You May Also Like To Read: