Hiking the Cup and Saucer Trail on Manitoulin Island is a must for outdoor lovers in Ontario. Our guide to the Cup and Saucer hike will show you how.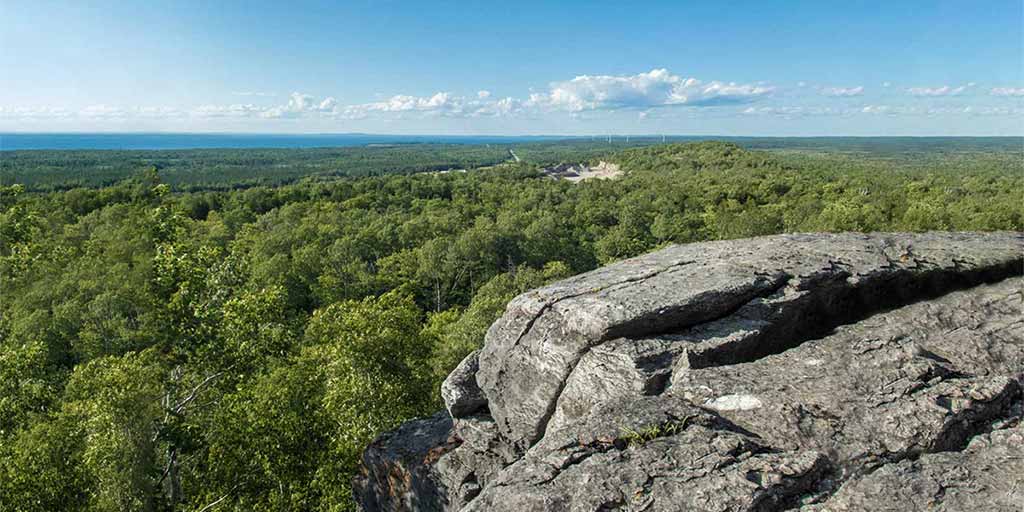 Manitoulin Island is blessed with some phenomenal hiking trails. But of all the amazing things to do on Manitoulin Island, none are more famous than the epic Cup and Saucer Trail.
With over 12 km (7.5 miles) of hiking trails with a wide selection of difficulty levels, the Cup and Saucer hiking trail on Manitoulin Island truly has something for everyone. There's a reason that this is considered one of the top hikes in Ontario and draws outdoor lovers from across Canada.
We've enjoyed hiking the Cup and Saucer several times during our exploration of Manitoulin Island. Every time we explore a different part of the trail. And although the path has changed a little bit over the years, I put this guide together to help those who would like to experience the best Manitoulin Island hiking trail for themselves.
I want to mention that I've hiked the Cup and Saucer Trail with kids as young as two years old. I've hiked the Adventure Trail, which is the most challenging of all the routes, with a 6-year-old. So if you're worried that this Manitoulin Island hiking trail is too much for families, don't let it concern you. I'll show you the best routes to take no matter your skill level. The goal is to make a complete resource for those looking to hike the trail themselves.
What is the Cup and Saucer Trail And Why Is It So Popular?
The Cup and Saucer Trail is rich in history and importance on Manitoulin Island. The trail was used by the First Nations inhabitants long before the arrival of Europeans and continues to be part of the local Indigenous communities to this day.
The Cup and Saucer Trail received its name for the unique rock shapes that make up this Niagara escarpment area. Boasting cliffs 70 meters (230 ft) high that stretch or over 2 km (1.25 miles), the Cup and Saucer Trail snakes through deep forest and offers some of the best views on Manitoulin Island.
The traditional name of the Cup and Saucer Trail, though is actually "Michigiwadinong." Michigiwadinong is Ojibway, meaning "bluff in the shape of a spearhead." The traditional name is presented on a sign near the trailhead along with the Ojibway story behind the trail. It shares that Michigiwadinong is where Nanabush lay down his spearpoints while fleeing from Iroquois warriors. Nanabush, a trickster and cultural hero, had been tormenting the Iroquois for generations.
The Niagara Escarpment, which stretches north from southern Ontario near Niagara Falls, is a 450 million-year-old rock formation composed mostly of shale and limestone. You'll find towering cliffs with dramatic rock formations that are popular for both hikers and rock climbers along the ridge of the escarpment.
These formations have created a landscape that varies quite a bit over short distances. The formations have made the Cup and Saucer Trail a genuine treat to hike. Each short stretch offers a unique landscape making for a thought-provoking, challenging, and beautiful hiking environment.
Where Is The Cup An Saucer Trail?
One of the challenges facing those wanting to hike the Cup and Saucer trail is locating the proper trailhead. The parking area and Cup and Saucer trailhead have moved a few times over the past decade due to private land and development undertakings in the area surrounding it.
The parking lot for the Cup and Saucer Trail is located just outside of the First Nations community of M'Chigeeng on HWY 540. The trailhead is about 20 km (12.4 miles) west of Little Current. It used to be at the junction to Bidwell Rd. But this was changed a few years ago when a quarry carved out the original trailhead. Now the Cup and Saucer parking lot is much easier to find as it's off the main highway rather than on a side road. There is now a large sign indicating the location of the parking lot.
The gravel parking lot at The Cup and Saucer Trail has two levels, the lower level is closer to the main trailhead, and the overflow upper parking lot has side trails that connect to sub-trails and the main trail itself. During high season there are portable toilets available in both parking lots.
If you're typing the location into your GPS or Wayfinder, the exact address for the Cup and Saucer trail is
4097 ON-540
Sheguiandah, ON
P0P 1W0
If you're hiking or biking, you can also find the Cup and Saucer Trail using GPS coordinates. The GPS coordinates of the Cup and Saucer Trail are:
Latitude: 45.863711
Longitude: -82.105127
GPS coordinates: 45° 51′ 49.3596" N and 82° 6′ 18.4572" W
How Long Does It Take To Hike The Cup And Saucer Trail?
Hikers of all skill levels will love that there are many options to hike the Cup and Saucer Trail. Depending on the route that you choose, hiking times to the most popular viewpoints can range from about 20 minutes up to 4 hours for the full loop and Adventure Trail.
Red Cup And Saucer Main Trail – Difficulty Easy to Moderate
Three separate marked routes make up the Cup and Saucer hike. The main trail starts at the trailhead and follows a 4 km (2.5 mile) loop along most of the major lookout points. The route includes the east peak, which most hikers on the Cup and Saucer aim to take in. Experienced hikers can make the Cup and Saucer loop in about 1 to 1.5 hours with stops. If you're hiking the Cup and Saucer with kids, I'd give yourself three hours to complete the trail.
This trail is relatively well-marked, and apart from an often mistaken side-trail near the beginning, it's challenging to get lost. For the area around the trailhead, be aware that a side trail near the start veers to the left. This side trail is not part of the Cup and Saucer hiking trail. Stick to the right initially, and you shouldn't have too much of a challenge finding your way.
The Cup and Saucer is also quite a popular hike, so if you do find yourself a little misplaced, you shouldn't need to wait long before stumbling across another group of hikers.
Red-Blue Cup And Saucer South Loop Trail – Easy-Moderate
The Cup and Saucer South Loop Trail takes you on a trip for the length of the escarpment. While most hikers do the red trail and then loop back towards the parking lot, this 5 km extension is worth the extra time for a 9 km total hike. The South Loop is mostly flat once you reach the top of the Main Trail until it begins to slope down on the loop's return. If you can spare the time, I recommend this hike.
Yellow Cup And Saucer Adventure Trail – Difficulty Strenuous
The Cup and Saucer Adventure Trail is a route that lives up to its name. The difficulty of this hike is on-par with the Crack in Killarney. You can read about that here. If you have some experience hiking and aren't rushing to the viewpoints to share on "The Gram," this is the best route to take. But, be warned ahead of time, where the Cup and Saucer loop trail is Easy t Moderate, the Adventure Trail is strenuous. You'll need to pack decent hiking shoes for this trek.
The Adventure Trail is a 500 meter (.31 mile) Cup and Saucer side trail that branches off about halfway up the Main Trail. The entrance is a little bit hidden and can surprise visitors as it slopes down to the cliff's base where the Main Trail continues up towards the peak.
The Adventure Trail is continuously changing as ladders, stairs, and routes erode and are regularly updated by the team of volunteers that care for the trail. Once you're down the first set of stairs to the Adventure Trail's start, it's not hard to maintain your bearings. Keep the cliff walls to your right, and you won't get lost. There are areas where you might follow the path too far to the left, but it's not difficult to get back up to the wall and get back on track.
You'll find some scrambling over large rocks, slippery sections, and even one area where you can choose to scramble inside a small rockfall along the Adventure Trail. If you hit something too challenging, there are usually ways around (it's usually just a matter of trekking away from the cliff).
You'll find a few older ladders that snake up through the rock face along the Adventure Trail. Most of these are connections to older parts of the trail and most of the ladders are missing runs and may be unsafe. They are still fun to explore if you don't mind a little risk but do be careful and test everything before putting your weight on them. The Adventure Trail end is a new wooden stairway that leads up to a flat area near the east viewpoint.
The Adventure Trail is super fun for kids. None of the scrambling is so high that there is a significant risk of falling. The one exception is the rockfall, which is easy to skirt if it looks like too much for you.
Washrooms And Services On The Cup And Saucer Trail
The Cup and Saucer Trail is a well-maintained trail. However, there are minimal services at the trailhead and there are no services whatsoever along the route.
There is parking for approximately 50 cars within both of the parking areas. During the high season, this can fill up, especially on long weekends. If the parking lot is full, please consider both other hikers and locals when you choose how to proceed. Sometimes it's best to go explore nearby M'Chigeeng and grab an ice cream before beginning rather than parking alongside the road.
There are a few portable toilets at the Cup and Saucer Trail. These are located in both the upper and lower parking areas. Please do your part to help keep them clean for other hikers.
If you're looking or food and restaurants near the Cup and Saucer Trail, your best bet is in M'Chigeeng, which is only about a 5-minute drive from the parking area. There are a few small restaurants and a picnic area near the lake to enjoy your meal. Make sure to visit Lillian's Crafts and the Ojibway Cultural Centre to help support the community that makes this hike possible.
If you're looking for a cool place to stay near the Cup and Saucer Trail, consider taking in the First Nations-run Great Spirit Circle Trail. This wonderful experience combines guided hikes, canoe tours, drum-making, and other traditional experiences with a wonderful teepee glamping experience. It's just a short drive from the trailhead. You can read about our Great Spirit Circle Trail experience here.
Our Experience Hiking The Cup And Saucer Trail On Manitoulin Island
We've hiked the Cup and Saucer Trail on nearly every visit that we've made to Manitoulin Island. We always spend our visits trying to find new things to do on Manitoulin, but the hike keeps drawing us back. Each time we visit, we try to find a different route to take. It's become one of our favorite hikes in Ontario.
On our most recent hike, it was time to tackle the Adventure Trail, and it was an absolute blast. We started our day by doing a relaxing North Channel cruise out of Little Current. This was at the very start of our Northern Ontario road trip up to Thunder Bay, and we tackled the trail with a lot of energy and enthusiasm.
The Main Trail is a busy place. There are loads of fun areas to explore, from cool deadfall to small hills that the boys loved climbing over. When we reached the branch off for the Adventure Trail, though, we knew things were about to get real.
As we followed the escarpment and went under the ledge that so many photographers love, our energy just increased. Pretty soon, we were looking for more significant challenges along the path. And the Adventure Trail delivers. You can honestly choose your own adventure on this hiking trail.
There was one point when we hit a junction with an old trail and found ourselves a little misplaced on the hike. But getting our way back up to the rock wall was all it took to get us back on track.
The boys loved scrambling over (and sometimes through) the rock falls. A few times, I had to help D down some of the higher points, but at 9, C had no issues at all.
Taking The Wrong Ladder
Towards the end of the hike, we were sweaty, tired, and looking forward to the Cup and Saucer views. We ran across one of the older ladders that climb up towards the first Cup and Saucer viewpoint. Before we knew it the boys were climbing up and out of sight. The ladder was old and missing rungs near the bottom but was still pretty easy to mount. There was a bit of a scramble over some boulders at the top before we found an overgrown trail that led back to the Main Trail.
We stopped at the East Viewpoint for a snack and a chance to drink in Manitoulin Island's views. The views though, have been marred by the development of a rock quarry at the base of the escarpment. It was pretty shocking to see how much this quarry has scarred the landscape since we last took in the views two years before.
After checking out the viewpoints, we were surprised to find a sign pointing to the Adventure Trail near the East Viewpoint. We followed it down and discovered that about 75 meters (246 ft) of the trail we had missed entirely. So, rather than skip it, we decided to take the Adventure Trail back as well.
Our Manitoulin Island Cup And Saucer Hike Video
Interested in learning more and seeing more of this awesome hike? Check out our Cup and Saucer video on YouTube. Don't forget to like and subscribe to help support us and let us bring you more fun adventure family travel content.
Tips For Enjoying The Cup And Saucer Hike
Like any challenging hike, you should consider a few things before tackling the Cup and Saucer hiking trail. First, please make sure you let others know that you are heading out on the hike. This is especially important if you are tackling the Adventure Trail. It is possible to get lost or injured, and there is minimal cell service on or near the trail.
Make sure you pack a reusable water bottle. If you don't have one yet, consider one of these filtered water bottles to ensure you have clean water everywhere you go. If you bring food, snacks, or disposables, please remember to tread lightly and pack out anything you bring. There are garbage bins near the trailhead and parking lots. Do not leave your garbage on the trail.
Please remember to wear good hiking shoes and consider bringing hiking poles. We hike with poles all the time, and on the hilly terrain of the Cup and Saucer Trail, they could offer some quality support.
Our Favorite Hiking Gear
One of the great things about hiking is that you don't need much to get started and have a great time. But, if you're an avid hiker like we are and are looking to know what kind of gear we take with us on the trail, here is the roundup.
Hiking Shoes – We've found that Merrell hiking shoes work really well for our feet. I've also been testing out Vibram V-Trail Five Fingers to help with my fallen arches. So far, they've done well, and I'll write a review once I've tested them some more.
Hiking Backpack – For shorter hikes such as the Cup and Saucer Trail, we usually carry our small Deuter packs. These help us bring our camera gear, water bottles, and snacks. For longer or multi-day hikes, check out our guide to the best hiking daypacks.
Convertible Pants – We've found that Columbia convertible pants (convert from shorts to pants) have been superb throughout our travels. They are lightweight and look decent as both shorts and pants.
Have you ever hiked the Cup and Saucer Trail on Manitoulin Island? Please drop a comment below to tell us about your favorite things to do. Or tag our Instagram account in your photos. We would love to share in your travels.
Wandering Wagars is a participant in the Amazon Services LLC Associates Program, an affiliate advertising program designed to provide a means for sites to earn advertising fees by advertising and linking to amazon.com, amazon.co.uk, amazon.ca. Amazon and the Amazon logo are trademarks of Amazon.com, Inc. or its affiliates.
You May Also Like To Read:
Pin This For Later: