These incredible things to do in Smiths Falls, Ontario will change that way you think about small towns in Lanark County.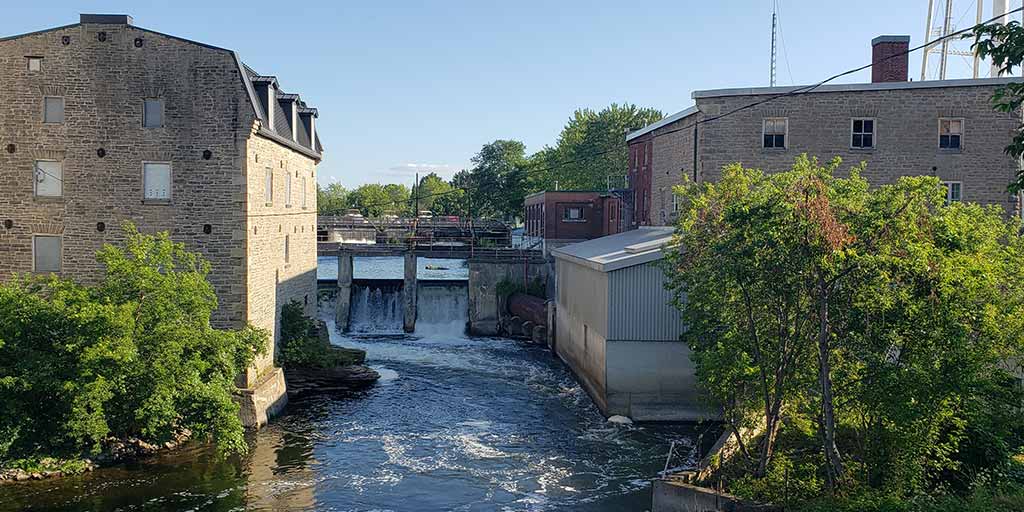 The town of Smiths Falls Ontario is fast becoming one of the premier summer family escapes in Ontario. This gorgeous historic town, straddling the shores of the Rideau River, got its roots as a blue-collar mill town that supplied much of the industry of Lanark County and Ottawa. But in the past few years, Smiths Falls has re-emerged as one of the best family getaways in Lanark County. With excellent beaches, unique restaurants, and some of the coolest accommodations, Smiths Falls should be on any family's list of places to visit in Lanark County.
There is a huge variety of things to do in Smiths Falls as well. This exciting town has everything you need to entertain the family. And, there's enough to do in Smiths Falls to keep adults entertained too. This pretty town is also conveniently located near many other towns with their own special attractions. It's very easy to extend a visit to Smiths Falls to include Ottawa, Perth, and even the Thousand Islands National Park. So, if you're planning your family getaway and are considering spending some time in Smiths Falls, here is our guide of what to do in Smiths Falls for the whole family.
About Smiths Falls Ontario
Smiths Falls is a town located within the bounds of Lanark County, just south of Ontario. The town has four lock systems that control the flow of what were once rapids on the Rideau River. This unique feature, and its location close to Ottawa, is why it was chosen as the home base for luxury houseboat rental company LeBoat. Smiths Falls received its name from Thomas Smyth, who founded the town back in 1786. The town flourished with the construction of the Rideau Canal and the lock system that helped manage the 36 ft (11 meter) drop that the Rideau River took as it flowed past Smiths Falls.
The introduction of the railway system in the 1850s helped connect Smiths Falls to major cities such as Kingston, Ottawa, and Toronto. The Eastern Ontario Railway Museum, which is located in the former Smiths Falls train station is now one of the most popular places to visit in the town.
What To Do In Smiths Falls Ontario
Smiths Falls is an exciting town. At under 10,000 residents, it's a small town. But from the railway museum to the gorgeous beaches, and even the eye-opening Tweed factory, you'll find things to do in Smiths Falls for just about everyone. Here are some of our favorites.
Heritage House Museum
In the mid-1800s the town of Smiths Falls was filled with opportunity. Local entrepreneur Joshua Bates saw that opportunity and built two mills to help with the development on the Brockville and Ottawa Rail Company. He also built a magnificent and unique house in 1861 for his family and then settled in Smiths Falls.
Unfortunately, the industry did not work in Bates' favor and his fortunes were never recouped. After Bates died in 1864, his house traded hands for a century before finally being purchased in 1977 to be transformed into a museum.
Today, the Heritage House Museum offers a glimpse back to the regal life of industrial pioneers of the 1800s. You can walk through the summer and winter kitchens, see where the work was done, and learn how wealthy families lived during that time.
Le Boat Rideau River Tours
Purchasing a luxury houseboat is out of the realm of most people. The maintenance and storage alone would have many people turning away. But LeBoat offers the chance for families to cruise the beautiful Rideau River. You can rent one and head off on a gorgeous river cruise touring between Ottawa and Kingston. The best part, Le Boat provides all the training! You don't even need a boating license.
We toured with Le Boat and saw some of the scenery around Smiths Falls and absolutely fell in love with it. And with a kitchen, bathrooms, and bedrooms all on-board, you'll have everything you need to experience the Rideau River for yourself. You can find out more about Le Boat here.
Watch The Sunset Over The Bascule Bridge
The Bascule Bridge is one of several National Historic sites in Smiths Falls. This unique structure is a perfect example of the ingenuity involved in creating moving bridges to accommodate Canada's growing locomotive network. The Bascule Bridge was built between 1912 and 1913 in order to help the Canadian Northern trains cross the Rideau Canal while allowing the steamships moving up the river to access the towns.
Smiths Falls Railway Museum
The Smiths Falls Railway Museum is a must for families visiting Smiths Falls. This sprawling, 10-acre property encompasses the old Smiths Falls train terminal and houses loads of antique train engines, passenger cars, dining cars, and yes, even two authentic cabooses and an original dentist's car that you can sleep in.
But these unique accommodations aren't all that make the Railway Museum of Eastern Ontario one of the coolest places to visit in Smiths Falls. The entire museum experience is like walking through one of the wildest restoration projects you can imagine.
If you're looking for awesome places to stay in Smiths Falls, the Eastern Ontario Railway Museum even has three train cars that you can rent out on Airbnb. There are two cabooses, and one 1950s dental car that was used to offer service to communities in Northern Ontario. You can read all about our experience staying at the Smiths Falls Train Museum here.
Shop Historic Downtown Smiths Falls
Shopping lovers can rejoice. There are many great places for shopping in Smiths Falls. Whether you're looking for local crafts, handmade clothing, antiques, or something else, historic downtown Smiths Falls is bound to deliver. Wander through the buildings and along the gorgeous streams and waterfalls as you take in the shops and restaurants in Smiths Falls. Some places to check off of your shopping list are: Arlie's Book and Pearl's Gem.
Along the way, you'll pass some of Smiths Falls' most historic buildings. Some of my favorites are the Town Hall at 77 Beckwith St. which dates back to 1859 and the East ill Wood's Mill Complex at 34 Beckwith St. S. which dates back to 1880.
Learn To Fish With Peter Larmand Outdoors
We were so lucky during our visit to Smiths Falls to have had the chance to meet up with Peter Larmand as he launched his brand new fishing camp for kids and families. There is some excellent fishing on the Rideau River and the lakes near Smiths Falls. Peter hooked us up with the gear and knowledge to start pulling in our own fish. In fact, we haven't made a stop since our time with Peter where we didn't do some fishing.
If you're looking to learn about fishing or to help share a passion for angling with your kids, this Smiths Falls fishing camp is a great way to get started. You can learn more about this here.
Learn At The Rideau Canal Visitors Centre
Located on the edge of the Rideau River in a five-story 19th century stone mill, The Rideau Canal Visitors Centre is a wonderful spot to learn about this historic water route that winds its way from Ottawa to Kingston. If you're planning on boating the Rideau Canal, this is where you should get your information. The helpful team can give you everything you need to know about the route and the best places to stop.
If you're visiting Smiths Falls with kids, the Rideau Canal Visitors Centre also has a great children's area and interactive exhibits that are fun for the whole family. You can learn more about this here.
Visit The Beach
The waterfront in Smiths Falls has some absolutely fantastic scenery. And this small town really knows how to do it right. The Smiths Falls beach is the place to be during the summer months. There are large bouncy playgrounds in the water and a kid-friendly beach that is perfect for families with younger children. Smiths Falls Beach is honestly one of our favorite beaches for families in Lanark County.
Take A Walk Along The Rideau Trail
The Rideau Trail is a walking and hiking route that covers over 387 km (240.5 miles) along the Rideau Canal. This epic hiking trail covers the distance between Ottawa and Kingston and winds through countless small towns such as Smiths Falls long the way. The Rideau Trail through Smiths Falls follows the waterfront through parks and splash pads, past the intricate lock system, and through the wooded glades along the Rideau Canal.
Learn About Modern Agriculture At Tweed
On the land that once housed the historic Hershey's chocolate factory, an unlikely hero came to the rescue when the chocolate giant moved its production facility to Mexico. Tweed, one of the largest cannabis production companies in Canada filled the space and even expanded production and employment when laws around the famous weed were relaxed by the federal government.
But the Tweed Visitor Centre isn't about the legacy of Cheech and Chong, this interactive and educational platform is being used to educate visitors and the local community about farming, production, and the medical benefits of cannabis. Come in with an open mind and you'll learn a lot about modern agriculture and the changing medical landscape.
Things To Do Near Smiths Falls Ontario
The Smiths Falls fun doesn't stop at the edge of the city though. For those looking to combine their time in Smiths Falls with some of the surrounding wonders of Lanark County, here are a few things to do near Smiths Falls that you may enjoy.
You can also check out our YouTube video from our time exploring Lanark County to see some of these amazing places a little more in-depth. Make sure to like and subscribe to help support us so we can keep bringing you great free family travel information.
Explore the Town of Perth
The town of Perth Ontario is one of the prettiest towns in Ontario. Although the vibe of the town might seem to cater to the older crowd, young families will love wandering through Stewart Park, paddleboarding on the Tay River, or splashing in the streams that cut through the town. Perth is about 15 minutes from Smiths Falls by car. If Perth is on your radar, you can check out our guide to Perth, Ontario here.
Wander Through The Mill of Kintail
The Mill of Kintail is one of the Wonders of Lanark County. This sprawling property contains as much history as it does natural beauty. Families will love ambling down the winding trails or splashing in the shallow waters of the Indian River. If you'd like a splash of culture with your visit, the mill itself houses the R. Tait Mackenzie Gallery. The collection of works by this world-renowned sculpture will blow you away.
On the main floor of the gallery is a museum dedicated to another local legend, the inventor of basketball. James Naismith was a local boy who went on to world fame when he created this game that would soon be played around the world. The Mill of Kintail is a scenic 40-minute drive from Smiths Falls.
Taste The Lanark Chocolate Trail
Lanark County isn't just known for delicious maple syrup. This county has some incredible chocolatiers and confectionaries. There's no better cap to an amazing family adventure than by adding a little cocoa and sugar to the mix. So if you'd like to explore the Lanark County Chocolate Trail in Perth, Mississippi Mill, and Lanark, you can check out everything you need to know about the Lanark Chocolate Trail here.
Enjoy The River Walk In Almonte
Just 30 minutes from Smiths Falls is the beautiful river-side town of Almonte. Almonte has one of the best river walks in all of Lanark County. The walk trails along the Mississippi River (no, not THAT Mississippi River) past cascading waterfalls and historic buildings. Stop into one of the many great riverside restaurant patios to enjoy a meal with your view.
Visit The 5-Span Bridge in Packenham
About 15 minutes past Almonte is the town of Packenham. This tiny town has another of the Lanark County Wonders, the Packenham 5-span bridge. This bridge first caught my family's attention years ago when we were taking some back roads on our way from Ottawa to Toronto. The magnificent stone design stands in perfect contrast to the gorgeous rocky waterfront. Here you'll find lots of people stopping for a picnic or to take in a little bit of fishing.
Where To Eat In Smiths Falls Ontario
For a small town, I can't say enough about all the incredible places to eat in Smiths Falls. You'll find a little bit of everything here. But the best restaurants in Smiths Falls have something truly special on the menu. Here are my favorites.
Smiths Falls Picnic Program
This unique picnic program gave us our first taste of the culinary delights of Smiths Falls. The program, which involves several Smiths Falls restaurants, offers the perfect social-distancing option for enjoying the Smiths Falls scenery. You can pick from one of the many Smiths Falls restaurants and pick up a great picnic basket full of incredible food. You'll even get a surprise packed up for you as well.
Our Picnic Program lunch was catered by Perfect Thyming and included delicious wraps, crunchy fries, yummy desserts, and smooth milkshakes. You can find out more about the Smiths Falls picnic program here.
C'est Tout Bakery
C'est Tout Bakery ticks off all of your sweet and deli needs. Featuring delicious sandwiches and baked treats, this Smiths Falls Bakery has it all. They catered our breakfast at the Smiths Fall Train Museum and their sourdough French Toast was to die for. You can find C'est Tout Bakery at 14 Beckwith St S.
4 Degrees Brewing Co.
With their "Ontario" themed craft beer, 4 Degrees Brewing Co. has their heart firmly planted in the province. With a selection of five unique brews 4 Degrees is worth a stop to pick up a six-pack or two. You can find 4 Degrees Brewing Co. at 275 Brockville St,.
Chuckles Jack
Offering a selection of amazing Sri-Lankan and Indian fusion dishes mixed with some contemporary favorites, Chuckles Jack on Russel St. is a great family-friendly Smiths Falls restaurant. The mouthwatering flavors and live-music nights keep both locals and visitors alike coming back for more. You can find Chuckles Jack at 23 Russell St E.
Perfect Thyming
Perfect Thyming is one of the most popular breakfast spots in Smiths Falls. With a great selection of breakfast, brunch, and lunch dishes, Perfect Thyming has food that will get your day started right. Make sure to stay for one of their signature milkshakes. You can find Perfect Thyming at 17 Chambers St.
The Pickled Pig
The Pickled Pig, which is located at 1 Chambers St creates some of the best sandwiches in Ontario. The fresh and locally-sourced ingredients paired with the fantastic deli selections make this a wonderful lunch spot in Smiths Falls. The Pickled Pig shares its building with the Sweet Scoops ice cream parlor, so you don't have to look far for dessert.
Boomtown Fusion Eatery
If there was one restaurant in Smiths Falls that completely surprised us, it was Boomtown Fusion Eatery. One look at their menu shows a restaurant that has a huge selection. And that selection is incredibly diverse. Normally, this would set alarm bells ringing. But somehow, Boomtown makes it work. From their fusion cuisine to their absolutely mouthwatering pizza, Boomtown Fusion pulls it off like very few restaurants can. You can find Boomtown Fusion Eatery at 27 Beckwith St N.
Where To Stay in Smiths Falls Ontario
If you're looking for hotels in Smiths Falls, Ontario, you'll be happy to know that there are plenty, and some of them are fantastic. Here are a few great places to stay in Smiths Falls for the whole family.
Eastern Ontario Railway Museum
Straight up, the coolest place to stay in Smiths Falls is in one of the train cars at the Eastern Ontario Railway Museum. These funky Airbnb accommodations will transport you to another time. The accommodations include a tour of the Smiths Falls train museum. You can check out their prices and availability here.
Best Western Smiths Falls
We have stayed at Best Western hotels across North America. The BW chain offers great service and comfortable rooms. This Smiths Falls hotel is less than 2 km from the Smiths Falls golf course and within walking distance of the Rideau Canal. You can check out their prices and availability here.
Have you ever visited Smiths Falls? Drop a comment below with your favorite experience or tag our Instagram account with your favorite photos. We would love to share in your adventures.
Disclosure: We were hosted by Experience Smiths Falls and Lanark County Tourism on our visit to Smiths Falls. As always, all opinions remain our own. Wandering Wagars is a participant in the Amazon Services LLC Associates Program, an affiliate advertising program designed to provide a means for sites to earn advertising fees by advertising and linking to amazon.com, amazon.co.uk, amazon.ca. Amazon and the Amazon logo are trademarks of Amazon.com, Inc. or its affiliates.
You May Also Like To Read:
Pin This For Later: