These family-friendly hotels in Bogota, Colombia will make your visit unforgettable. Our guide for where to stay in Bogota will help you choose the perfect getaway.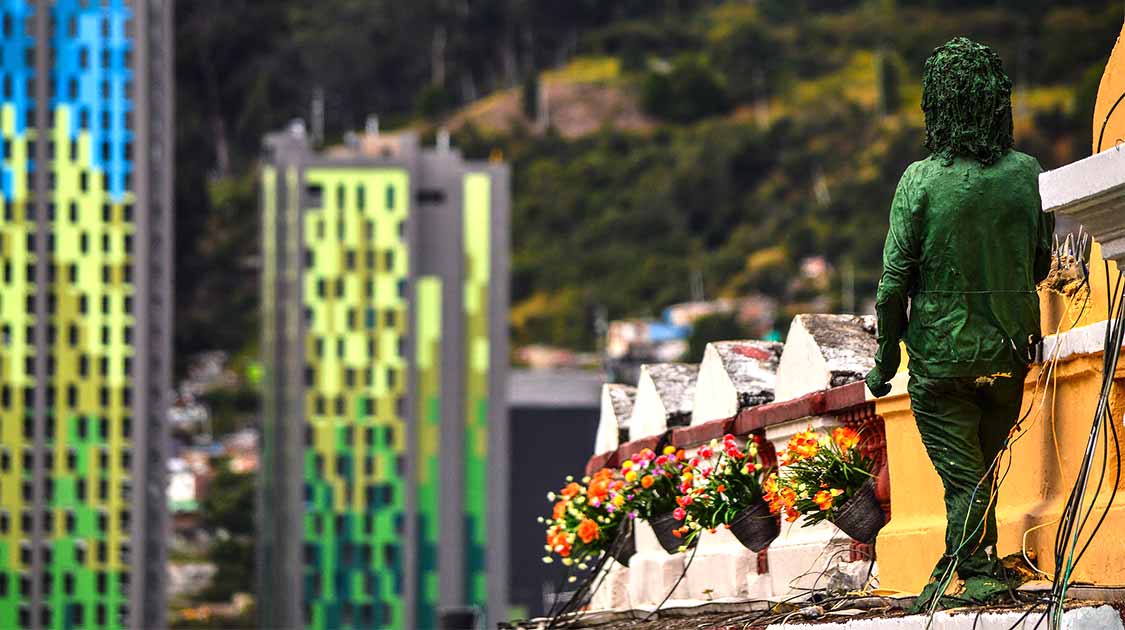 Nestled in the mountains of Colombia, the country's capital of Bogota, Colombia is one of the most exciting cities in South America. It's a city ripe with history, culture, food, and music that exudes rich European influence balanced with traditional South American flavor.
For families traveling to Colombia, finding the best places to stay in Bogota can be a challenge. This city is massive, boasting a population in excess of 7 million people. And because of its unique position in the valleys of the Andes Mountains, it's also quite spread out.
Our guide to family-friendly hotels in Bogota will help you find awesome Bogota accommodations that will help make your visit to the heart of Colombia an unforgettable experience.
If you've never been to the city before, check out our guide on how to spend a day in Bogota with kids. You'll be amazed at how many things you can pack in a short stay. But if you've got longer, you'll want to experience all of the amazing things to do in Bogota.
Bogota has two distinctly different sides. The bustling and busy business district, and the quaint and colorful historic district with its rich architecture, incredible food, and scenery that may have you looking at moving here permanently.
These incredible Bogota neighborhoods offer unique experiences, and we'll share what our favorite areas are for staying in Bogota. Our focus will be on those places that will give you an intimate, local feel where you're close to the best things to do, but not so close that you don't have your own little piece of heaven.
We'll break down the different Bogota neighborhoods and show those who are exploring Bogota with kids the best family-friendly hotels in the city for your visit. This is all about where to stay in Bogota, Colombia, so let's get down to it.
Tips For Picking The Best Hotels In Bogota, Colombia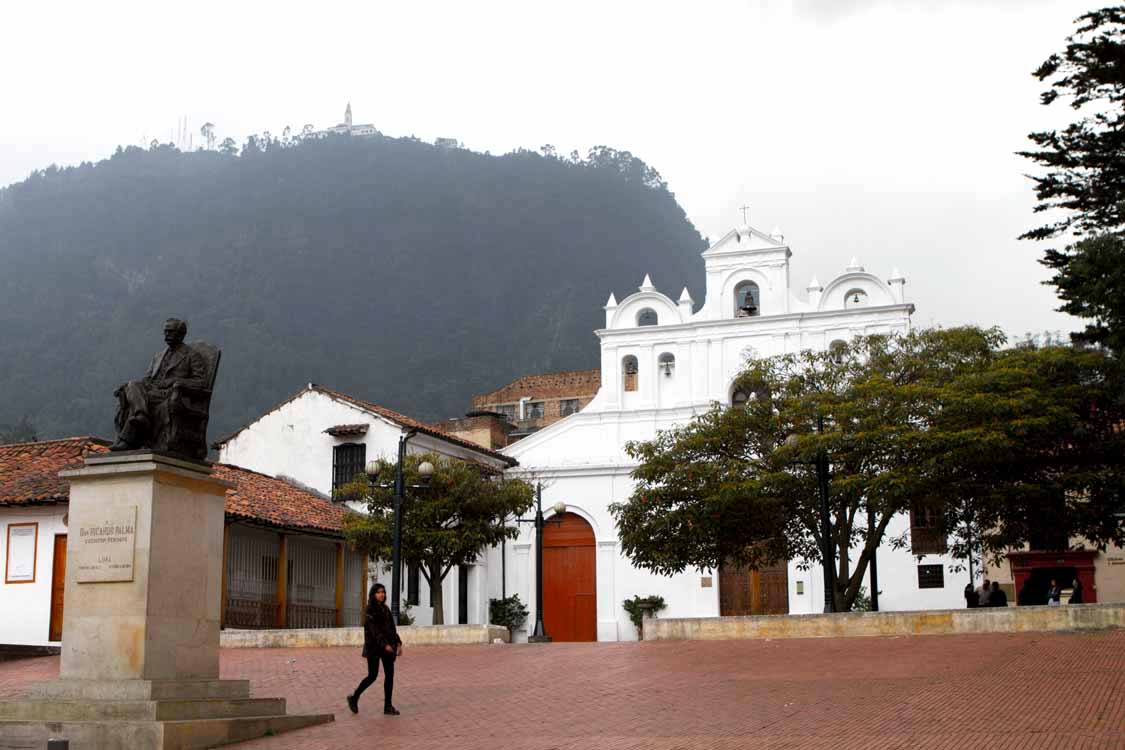 Bogota is a busy city, but it's by no means the busiest city in South America. There are many hotels, and although they do book up, we've found that finding places to stay in Bogota is not as challenging as it can be in cities such as Buenos Aires and Lima.
Bogota has shaken off its rough reputation and is now considered to be one of the safest major cities in Latin America. It's a friendly and welcoming city that can act as an incredible base for exploring central Colombia attractions.
We find that Booking.com offers some of the best prices for hotels in Bogota, Colombia. Wherever possible, we've linked to their booking platform. Booking offers an excellent cancellation policy and good customer service for travelers. For those Bogota accommodations not on Booking, we've linked to the best booking platform that we can find that offers service for that hotel.
Where To Stay in Bogota Colombia
When it comes to the best places to stay in Bogota, there are a lot of neighborhoods to choose from. I'll break down some of the best neighborhoods to stay in in Bogota. The truth is that I can't pick just one area. There are a few that I think really stand out as places to stay in Bogota for families.
La Candelaria
La Candelaria is the oldest neighborhood in Bogota with buildings dating back over 400 years. This Bogota neighborhood features all of the charm of the city's colonial heritage and is perfect for those who want to immerse themselves in the city's rich history.
La Candelaria is one of the most vibrant areas of Bogota. It's filled with incredible murals, narrow alley filled with artisan shops, and dotted with emerald and jewelry stores. It's without a doubt one of the most popular neighborhoods in Bogota, yet it's also one of the most laid back.
The La Candelaria neighborhood contains some of the most popular attractions in Bogota such as Bolivar Plaza where you'll find the Cathedral of Colombia, the National Capitol, City Hall, and the Independence Museum.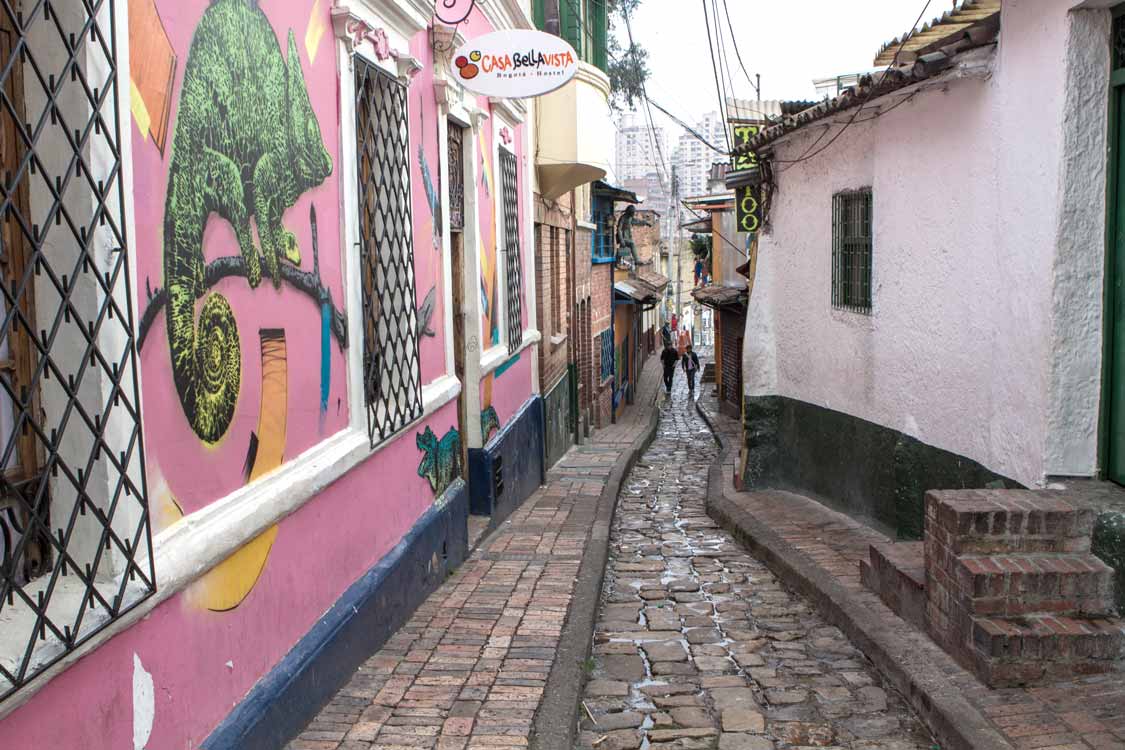 Hotels in La Candelaria
The Orchids
The Orchids is one of the most popular hotels in La Candelaria. It sits right at the heart of the neighborhood and boasts excellent amenities and service at an affordable price.
Rooms within The Orchids are spacious and comfortable. Many even feature a gas fireplace and others have hot tubs. The hotel has excellent WiFi and each room has its own private bathroom.
The intimately-designed property is set on a narrow, but vivacious street just a one-minute walk from the Botero Museum.
The Orchids hotel is only available on Hotels.com. You can check the current prices and availability here.
Hotel De La Opera
Situated next to the Cristobal Colon Theater and across the street from San Carlos Palace, Hotel de la Opera is one of the most popular hotels in Bogota. This hotel features an indoor pool, excellent WiFi, and an included breakfast buffet.
The hotel offers a free airport shuttle for guests. If they're available, I recommend booking one of their balcony rooms that offer excellent views over downtown Bogota.
There are two restaurants within the hotel, both specialize in Meditteranean cuisine and also offer local flavors as well. You can find their latest prices and availability here.
Hotel Casa De La Vega
With an excellent on-site restaurant and beautiful colonial-style architecture, Hotel Casa de la Vega is one of the best places to stay in La Candelaria district.
The rooms have excellent WiFi and the hotel sits within easy walking distance of many of the beautiful attractions in the neighborhood. All rooms include toiletries, a private bathroom, and showers. You can check out their current prices and availability here.
Chapinero
One of the trendiest and most upscale neighborhoods in Bogota is the popular Chapinero district. This neighborhood in eastern Bogota features Zona T, which is a T-shaped pedestrian shopping district packed with bars, clubs, boutique shops, and fashion houses.
In the same district is Zona G, which is not shaped like a G but does have some of the best restaurants and culinary experiences in the city. You'll also find the zone packed with thriving pop up food stalls and experimental culinary experiences with ever-changing menus.
Chapinero district is quite big and spread out. It also is a bit of a trek to the historic district. But, if you love food and being in the center of the action, this is one of the best neighborhoods in Bogota.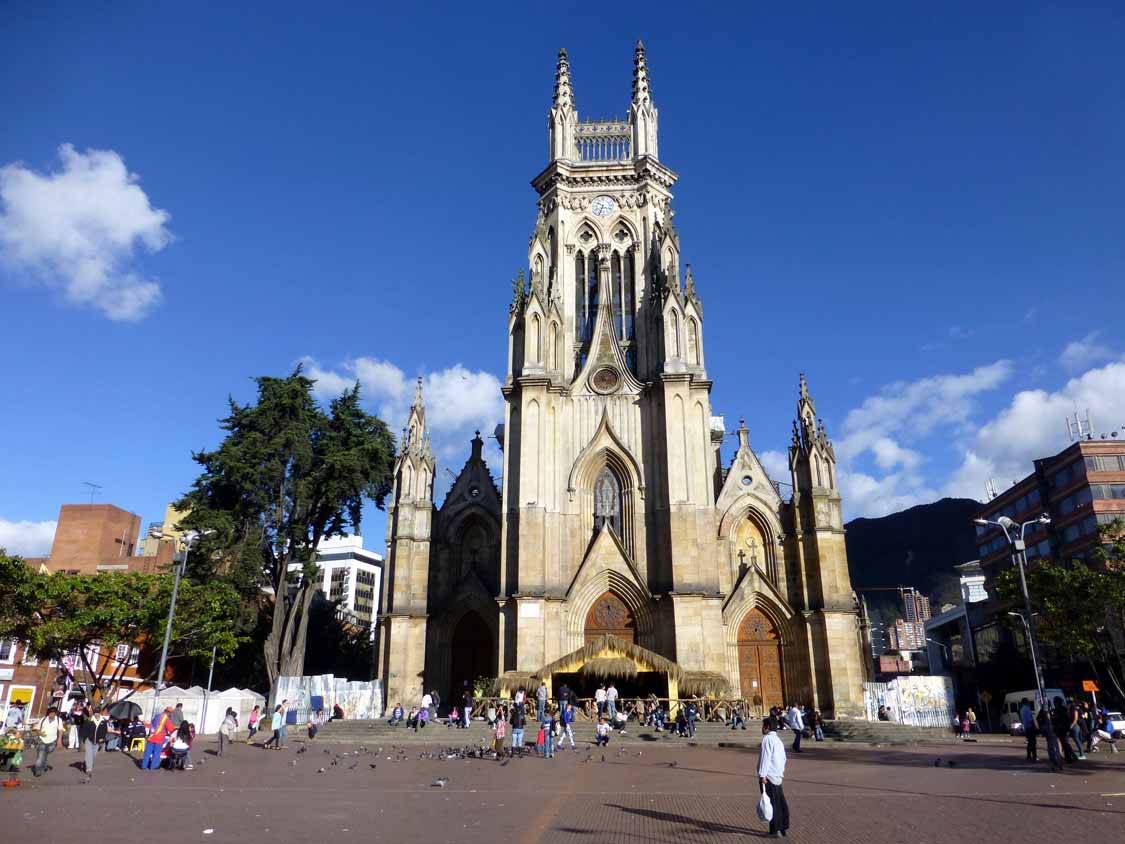 The Best Hotels In Chapinero
JW Marriott Hotel Bogota
I've been a big fan of the Marriott brand for ages now (those pillows are to die for). The JW Marriott Hotel Bogota features spacious and luxurious rooms that seem designed to relax after a long day of exploring the neighborhoods of Bogota.
Many rooms feature deep soaking tubs located in private ensuite bathrooms. The hotel has an on-site spa and fitness center as well as a restaurant called Tamarine that serves up delicious Asian-fusion cuisine. There is also a sushi lounge called Nau that uses freshly sourced ingredients.
You can check out their prices and availability here.
Four Seasons Hotel Casa Medina Bogota
The world-famous luxury pampering of the Four Seasons Hotel Casa Medina Bogota makes this incredible Zona G hotel in Bogota one of the best family-friendly accommodations in the city. Sure you can take advantage of the incredible on-site restaurants and 24-hour in-room dining. But in reality, you are at the center of the culinary capital of Bogota. So there is world-class cuisine steps from your door.
The hotel features beamed ceilings and hand-crafted floors that mesh brilliantly with their contemporary design. Plush robes and slippers are provided for in-room comfort and there is a 24-hour concierge available to help you organize your adventures.
You can check out the current prices and availability right here.
Casa Legado
Toeing the line between modern and classic influences, Casa Legado is one of our favorite places to stay in Bogota. This fun and friendly hotel is all about customer service and stresses the idea of slowing down and being good to one another. And I dig that!
Casa Legado is located just 2 miles from Zona T and offers free bike rental, private parking, and a popular bar and lounge. There is also a shared kitchen concierge service and free WiFi throughout the property. There is also a breakfast buffet included in the rental.
You can check out the latest prices and availability here.
Usaquen
What was once a small village located outside of Colombia's capitol, Usaquen was absorbed by Bogota in 1954. Although the town became a part of the big city, Usaquen still retains the romantic feel of a Colombia rural escape within the city itself.
The cobblestone streets, small, intimate shops, and large open-air plaza has made Usaquen one of the most popular destinations for families and couples within Colombia.
This Bogota neighborhood has some incredible vendor shops, especially during their Sunday flea market. You'll also find some of the city's best cocktail lounges and independent coffee shops.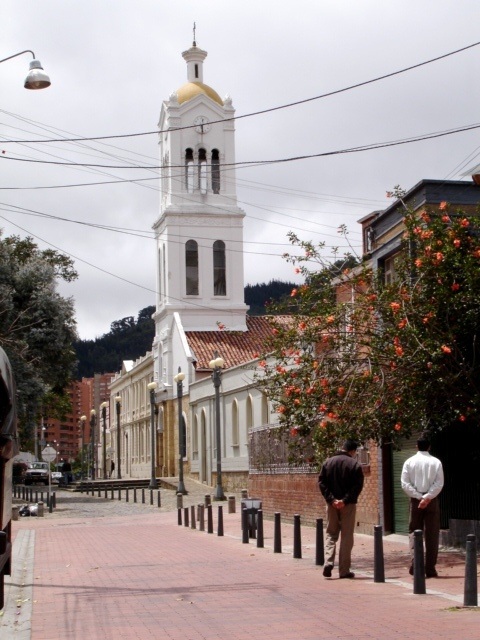 Where To Stay In Usaquen
Hotel Hill House
Hotel Hill House is a fantastic Usaquen hotel for families and couples alike. Each room is equipped with a kitchenette and the staff is on hand to help out with tips for exploring Usaquen and Bogota.
The hotel, which is situated in a re-designed industrial building, features free WiFi, an on-site restaurant, and a continent breakfast available to all guests each morning. The rooms are spacious and have modern decor.
You can find their current prices and availability here.
W Bogota
One of the best hotels in Bogota for families is W Bogota. This hotel is right in the heart of Usaquen and within easy reach of many of the neighborhoods best restaurants and attractions.
The rooms here are modern and stylish and include private ensuite bathrooms. There's an excellent on-site restaurant for those who prefer to dine in the hotel, as well as a lounge and cerveceria.
You can find their prices and availability here.
BioHotel Organic Suites
BioHotel Organic Suites is a hotel with nature-lovers in mind. This eco-friendly hotel is a new and unique brand that combines luxury and relaxation with a strong respect and appreciation for the natural world.
Much of the food in their on-site restaurant is sourced from their organic kitchen garden, and the hotel itself is powered entirely from solar energy and boasts a water recycling program that feeds their gardens and vertical agriculture.
The hotel also features a spa, gym, hot tub, and free WiFi as well as free on-site parking.
You can find their latest prices and availability here.
Tips For Visiting Bogota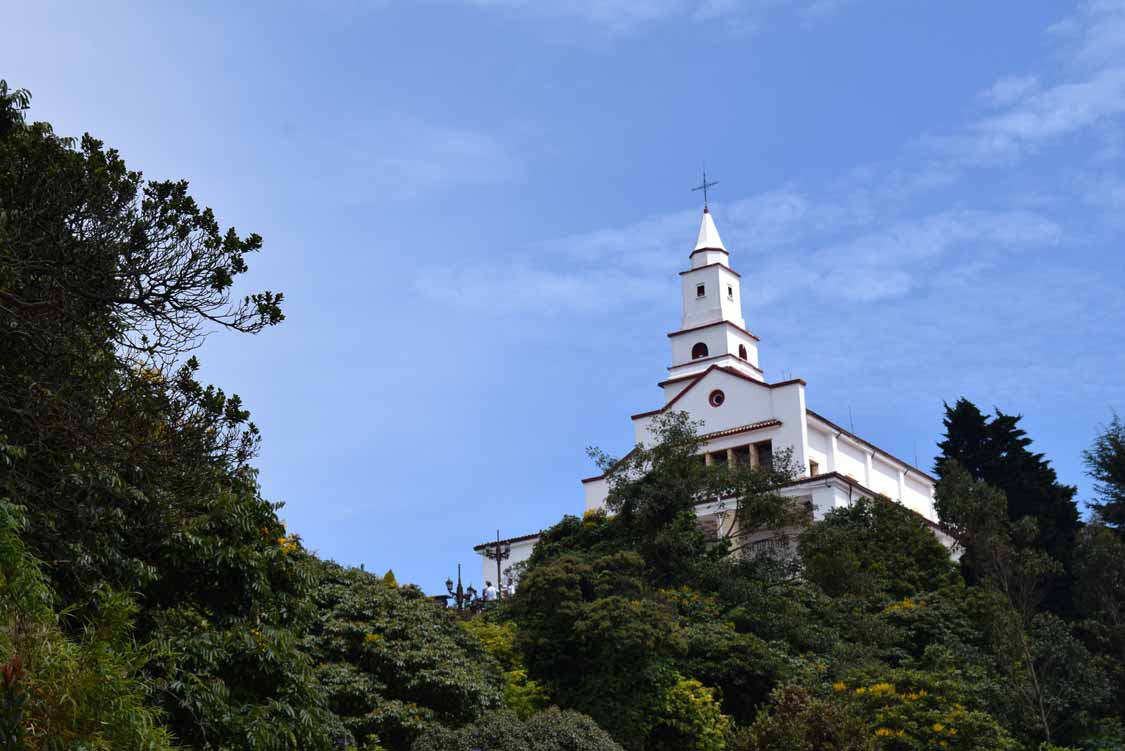 Like any popular tourist destination, visiting Bogota, Colombia is best enjoyed with a little bit of planning (but not so much that you can't enjoy yourself).
Dress in Layers – Bogota is a ridiculously comfortable place to be. The weather stays relatively consistent year-round. Average highs hold steady around 64 f (18c) and lows stay around 46 f (8c). The nights are chilly and the days are comfy, so be prepared for both.
Pay Attention To The Weather – With any mountain town, the weather in Bogota can be unpredictable. The temperature can be hot and sunny one minute and foggy, cold, and rainy the next. This weather often leads to the magical fog that lays on top of the rural hillside. Dress appropriately and bring a rain jacket.
Now It's Time For You To Enjoy These Hotels In Bogota for Yourself
If you love amazing capitals, there are few better cities in South America than Bogota. The classic architecture, friendly atmosphere, and wide, walkable plazas, make it a wonderful place to be.
If you've already traveled to Bogota, drop a comment below and tell us about your experience. Or, if you love to travel with kids, head over to our Family Travel Facebook Community and share your tips. We would love to hear your ideas.
Wandering Wagars is a participant in the Amazon Services LLC Associates Program, an affiliate advertising program designed to provide a means for sites to earn advertising fees by advertising and linking to amazon.com, amazon.co.uk, amazon.ca. Amazon and the Amazon logo are trademarks of Amazon.com, Inc., or its affiliates.
You May Also Like To Read: