Horseshoe Bay Beach in Bermuda is considered to be one of the best beaches in the world. But is it really? We have all the details!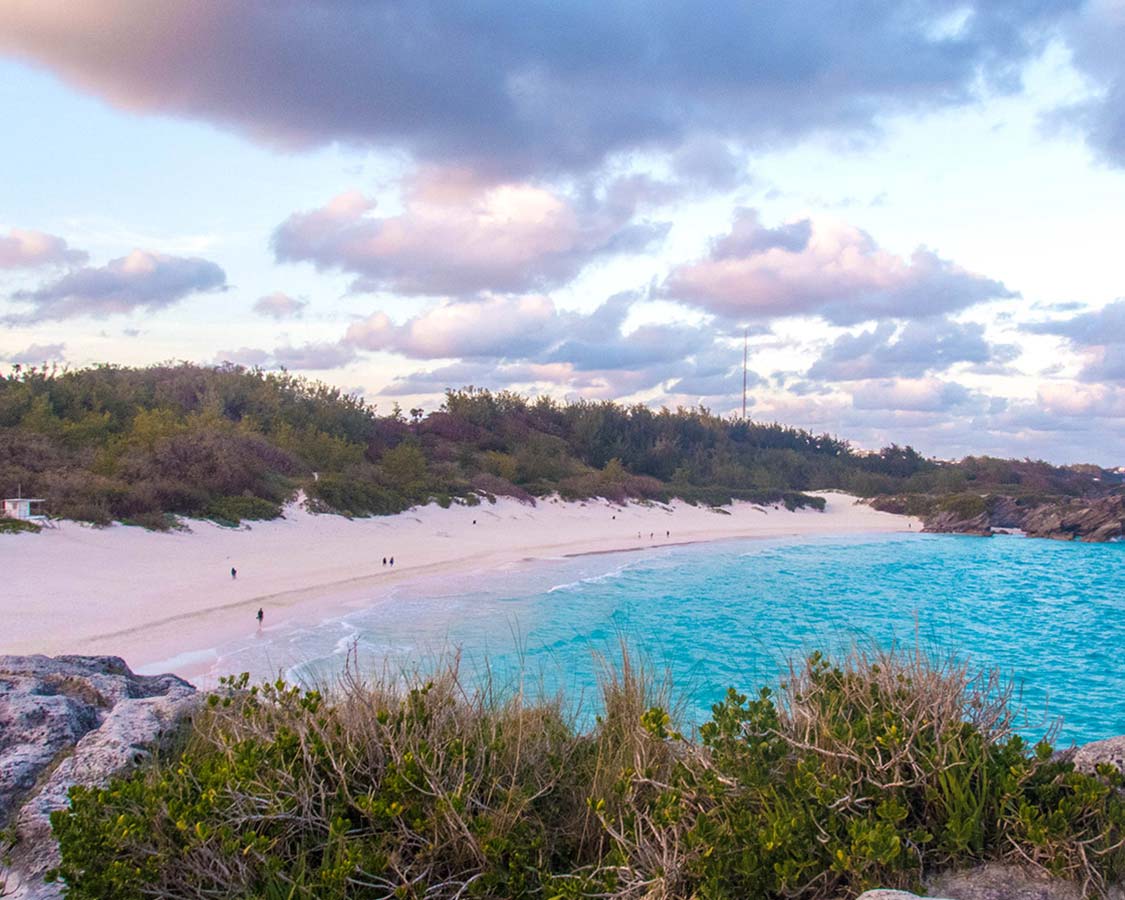 The North Atlantic island of Bermuda is known for its emerald waters and its deep Pirate history. But this small country also has some of the most beautiful coastlines we have ever seen. We visited just before the high season, when the temperature was balmy by our standards, in search of the best Bermuda beach. One of the most incredible beaches we discovered is the famous Horseshoe Bay Beach in Bermuda.

Why did we love Horseshoe Bay Beach?
Horseshoe Bay Beach is situated about midway between St. Georges and the Dockyards. It's located in the Southampton Parish right down the hill from the beautiful Fairmont Southampton. It was rated by Conde Nast Traveler as one of the top 20 beaches in the World! And it's easy to see why.
It has PINK SAND!
Horseshoe Bay Beach in Bermuda is famous for its pillow-soft, pink sand. Yes, that's right. Pink! This is due to tiny, red organisms that grow under coral reefs and are then washed up onshore. These little bits of coral and shell mix with the sand and give the beach a pink hue. How cool is that?!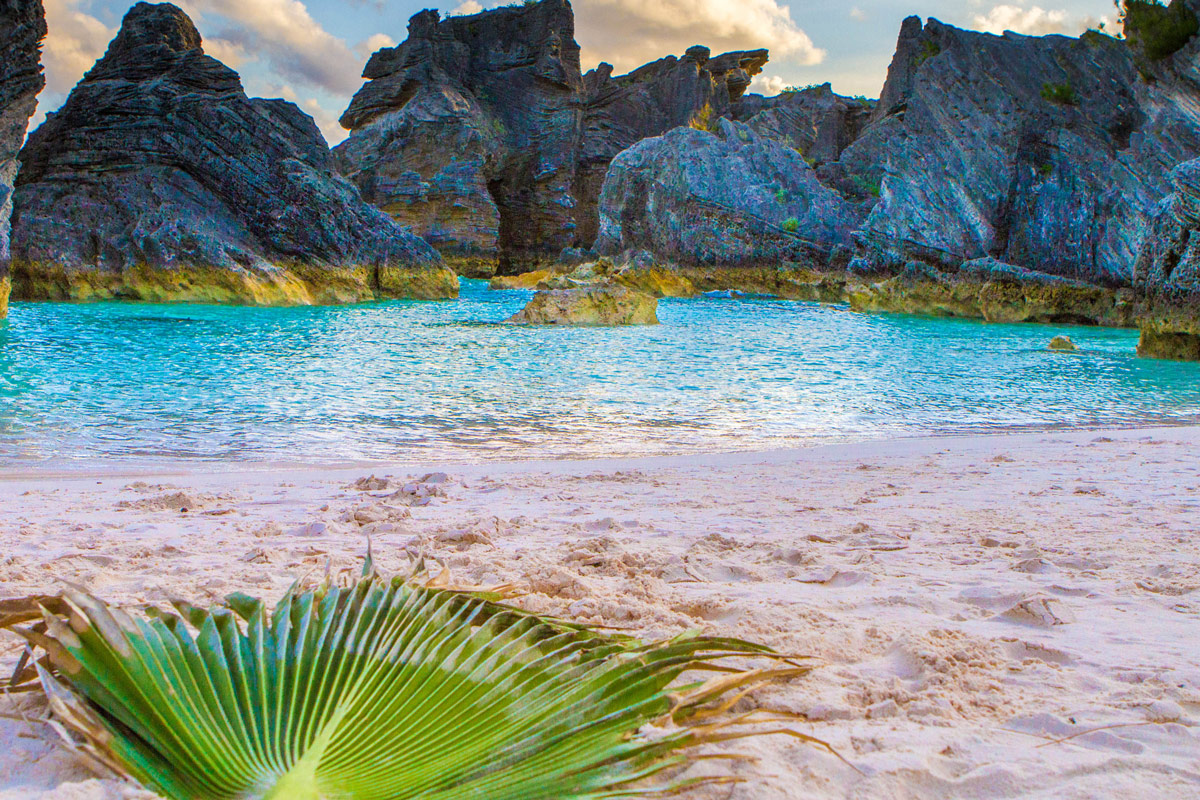 It's like 2 beaches in 1!
Horseshoe Bay Beach in Bermuda has a second area called Port Royal Cove. This spot, which we actually loved even more than the main beach, is separated from Horseshoe Bay Beach by a small rock outcropping.
Port Royal Cove has calm, shallow water that is perfect for kids, and the surrounding rocks are just stunning to behold. Our boys loved chasing the Parrot and Angelfish that love to hang out in this spot.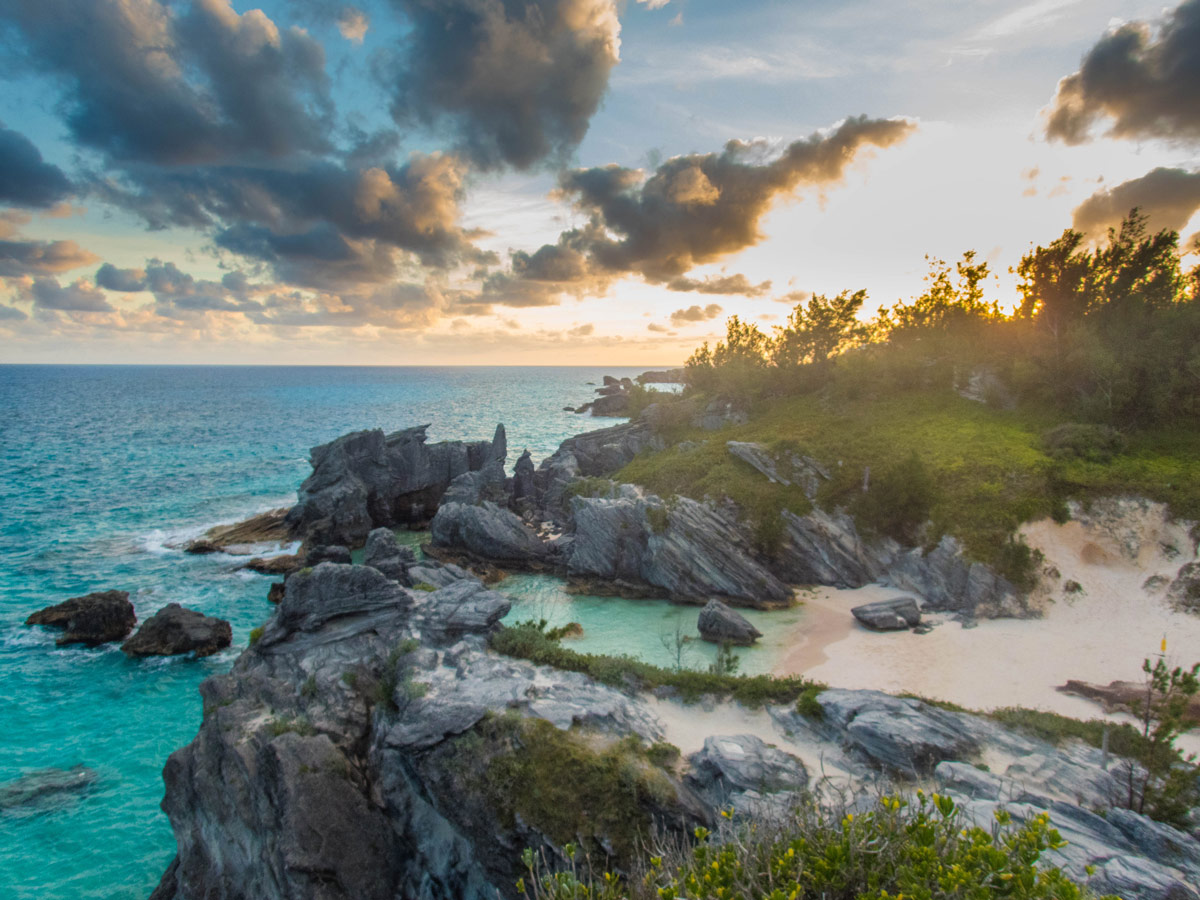 Awesome Local Festivals!
We visited Bermuda during the Easter long-weekend. Each year on Good Friday, Bermuda features an incredible kite-festival. During this festival, thousands take to the skies around Bermuda to show off their kite-flying expertise. C even built his own kite for the festival and brought it down to Horseshoe Bay Beach to take part.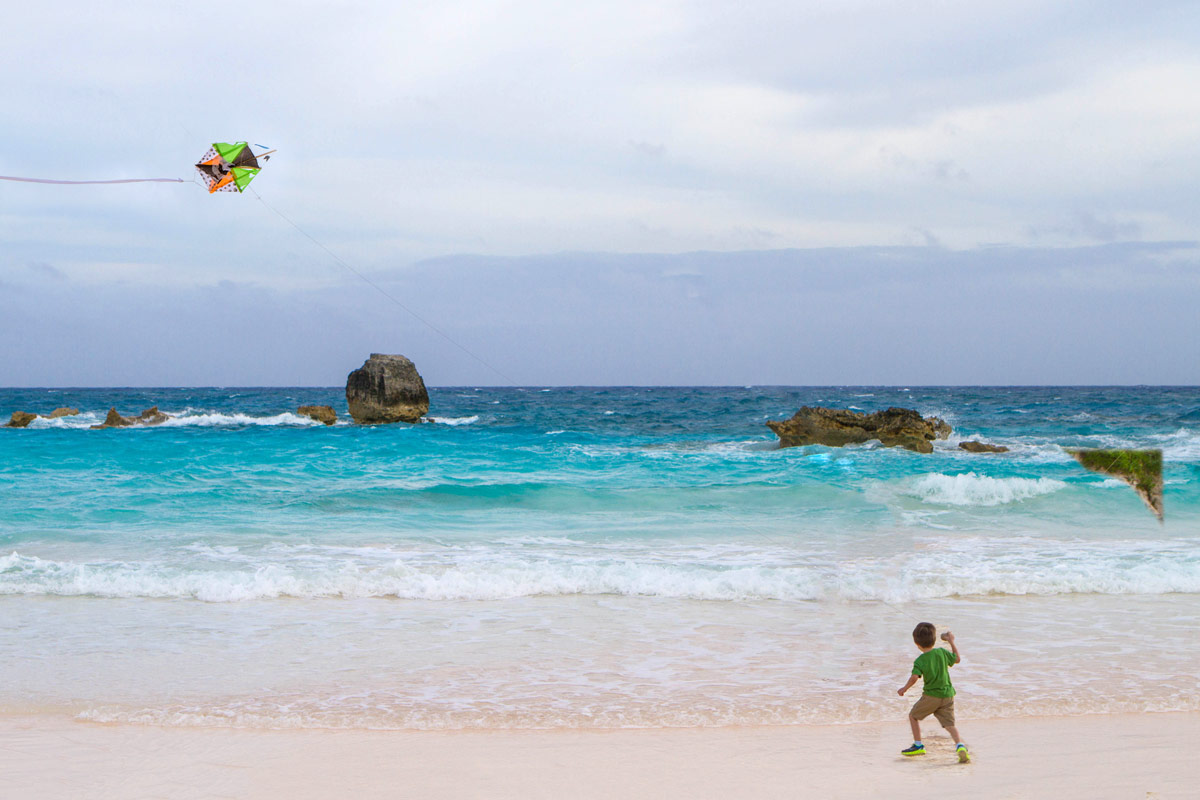 In August, Horseshoe Bay Beach in Bermuda also hosts a Sand Sculpture competition. Competitors from around the World meet to dig their best displays into a 12×12 ft space.
So much to explore!
Lying between Horseshoe Bay Beach in Bermuda and Port Royal Cove is a rocky hill that is perfect for exploring. The ascent is steep, but the views from the top are fantastic. We were lucky on our climb and came across a number of local fishermen pulling in their catch of the day. At the top of the path closest to Port Royal Cove is a rock covered in carvings of the names of explorers who have made their way to the top.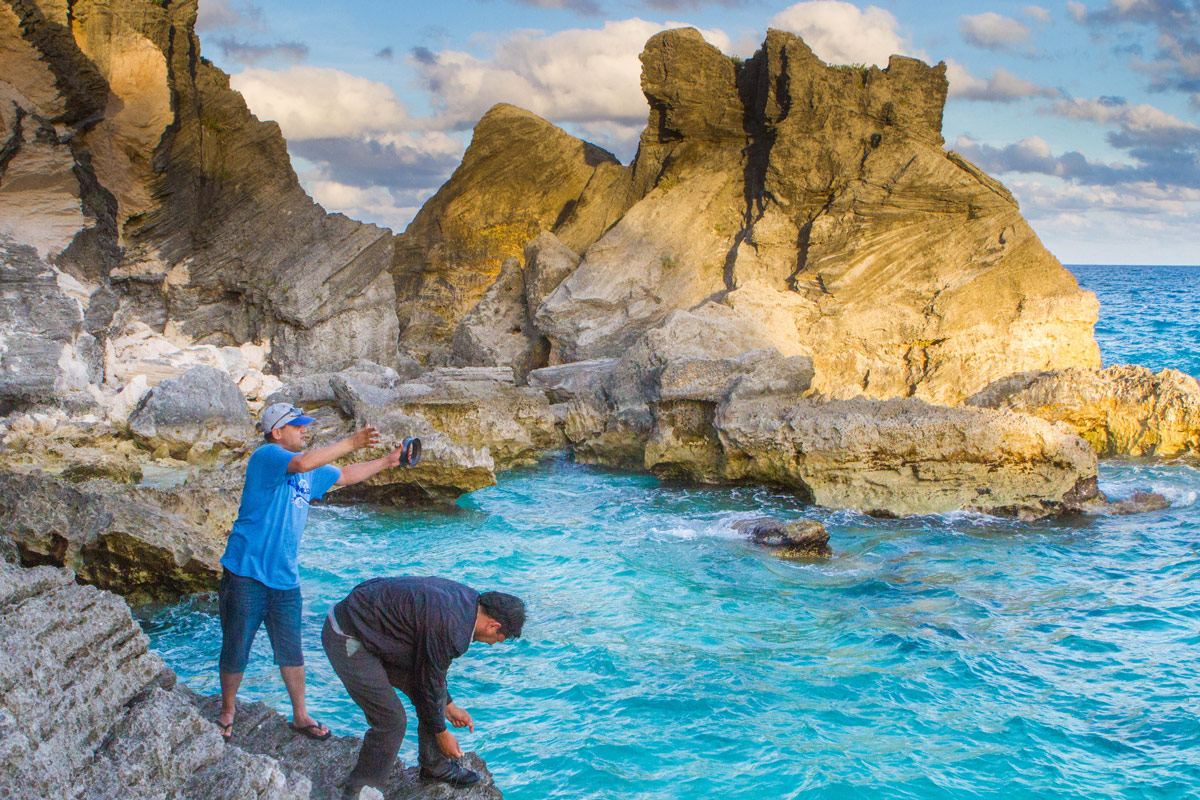 Getting to Horseshoe Bay Beach in Bermuda
Bermuda is not exactly difficult to navigate. There is a single highway that runs the length of the island. You can get almost anywhere in an hour.
By Bus
Horseshoe Bay Beach in Bermuda lies along the main highway between St. Georges and the Dockyards. From Hamilton, you can take the #7 Bus. This takes about 35 minutes (Bus fare is $5.00 by cash.).
By Taxi
You can reach Horseshoe Bay Beach in Bermuda by taxi. From the King's Wharf cruise ship pier at the Royal Navy Dockyard, a taxi runs about $30 and takes about half an hour.
Private Shuttle
Shuttles run regularly between the Dockyards and Horseshoe Bay Beach in Bermuda during the high season. The prices vary between $8-$12 per person for a one-way journey.
Being one of the most popular beaches on the island, it can get busy during peak season; if Horseshoe Bay Beach Bermuda is too busy for your liking, you can always walk along the trail further east to reach other popular beaches like Jobson's Cove and Warwick Long Bay, which is great for snorkeling.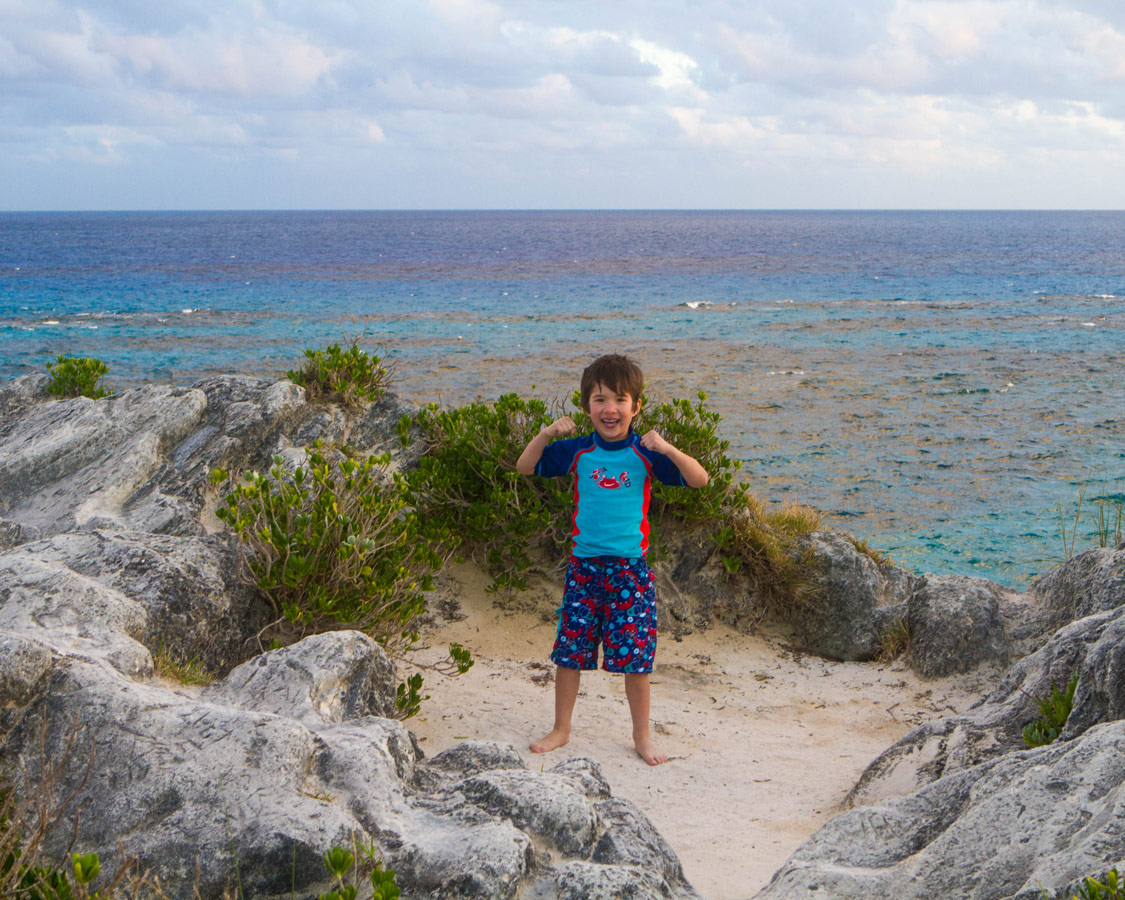 Where to Eat near Horseshoe Bay Beach in Bermuda
Like any great beach outing, a picnic is a great way to save your spot in the sand. But, if getting sand in your food isn't your idea of fun, there are some restaurants nearby to fill your belly.
Horseshoe Bay beach café
Located between the parking lot and the beach in a little blue building is the Horseshoe Bay Beach Cafe. This spot features washrooms and beach rentals, as well as decent beach food like burgers, hot dogs, soda and beer.
Ocean Club at The Fairmont Southampton and the Rum Bum Beach Bar
Situated a short walk from Horseshoe Bay Beach is a private beach for those staying at the Fairmont Southampton. This pretty beach offers some rocky shoals and features the Ocean Club and the Rum Bum Beach Bar. While it says that this area is only for those staying at the Fairmont Southampton, we didn't see anyone checking ID.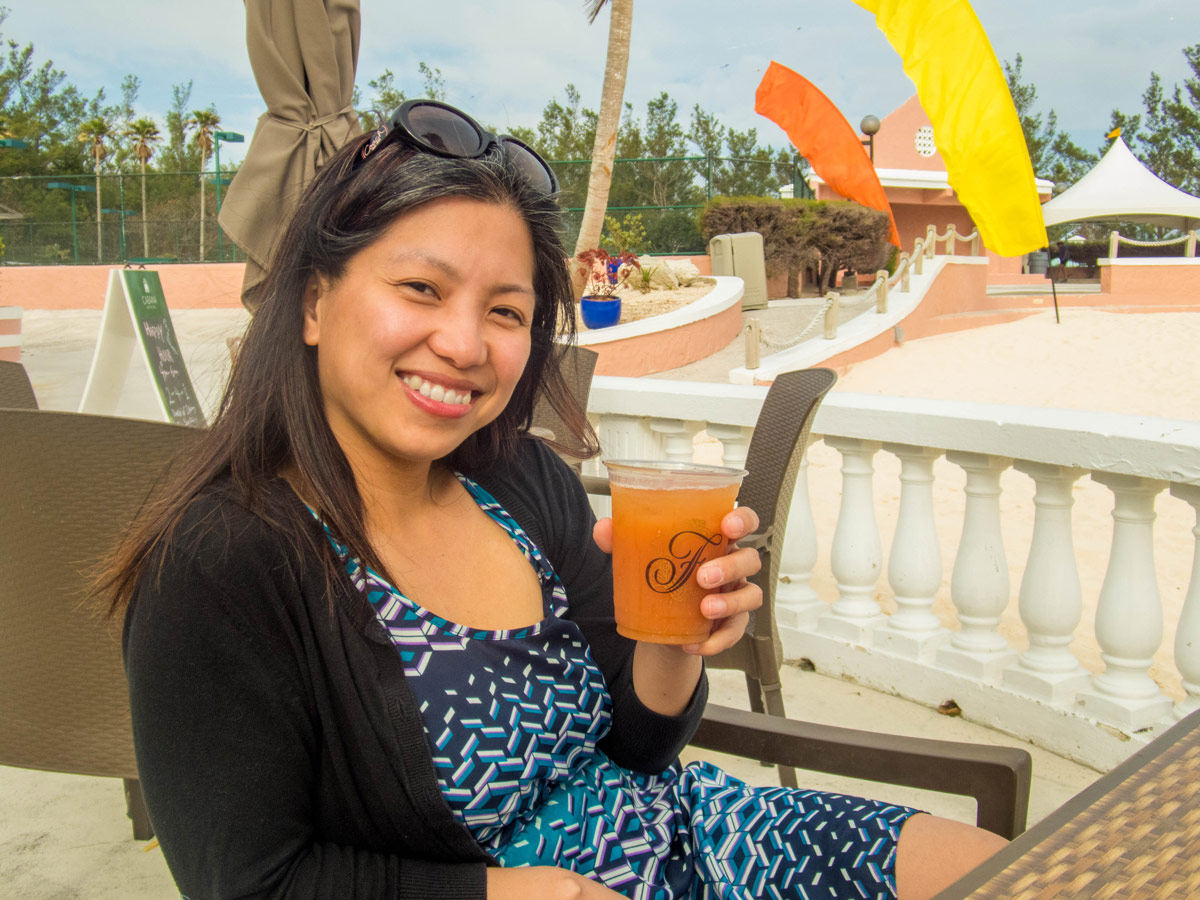 The Dining Room at Gibb's Hill Lighthouse
If you don't mind sacrificing a little time and some cab fare, nearby Gibb's Lighthouse offers highly regarded food and amazing views of both sides of the island.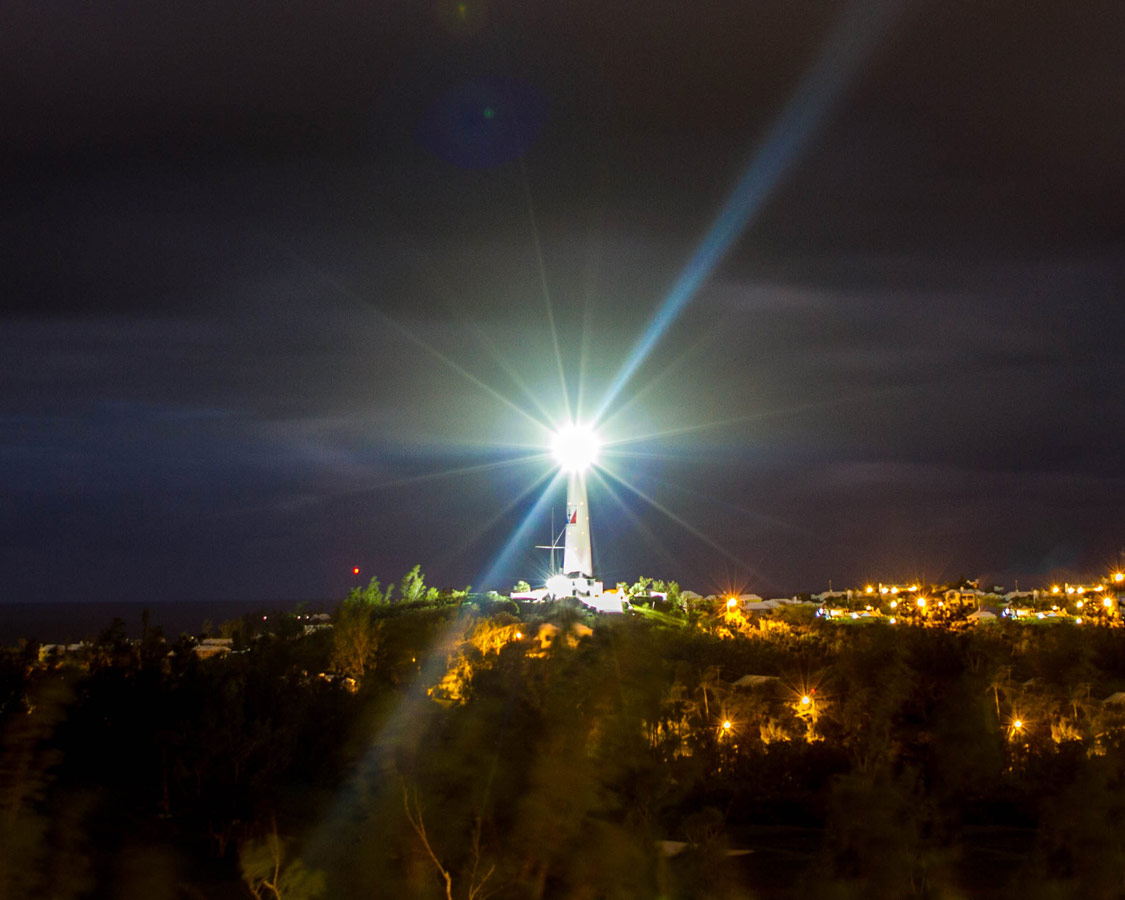 Is Horseshoe Bay Beach worth the visit?
If we had a choice between boating in Bermuda or visiting Horseshoe Bay Beach, there is no question about which one our kids would pick! No visit to Bermuda is complete without stopping to see the amazing sand, and taking a splash in the amazing waters. If you have the time, spend the day and treat yourself to every inch of this incredible place.
Wandering Wagars is a participant in the Amazon Services LLC Associates Program, an affiliate advertising program designed to provide a means for sites to earn advertising fees by advertising and linking to amazon.com, amazon.co.uk, amazon.ca. Amazon and the Amazon logo are trademarks of Amazon.com, Inc. or its affiliates.
You May Also Like To Read: