Whether you're looking to explore the sandy beaches or discover the unique history, our guide to Neys Provincial Park camping has everything you need to know before you go.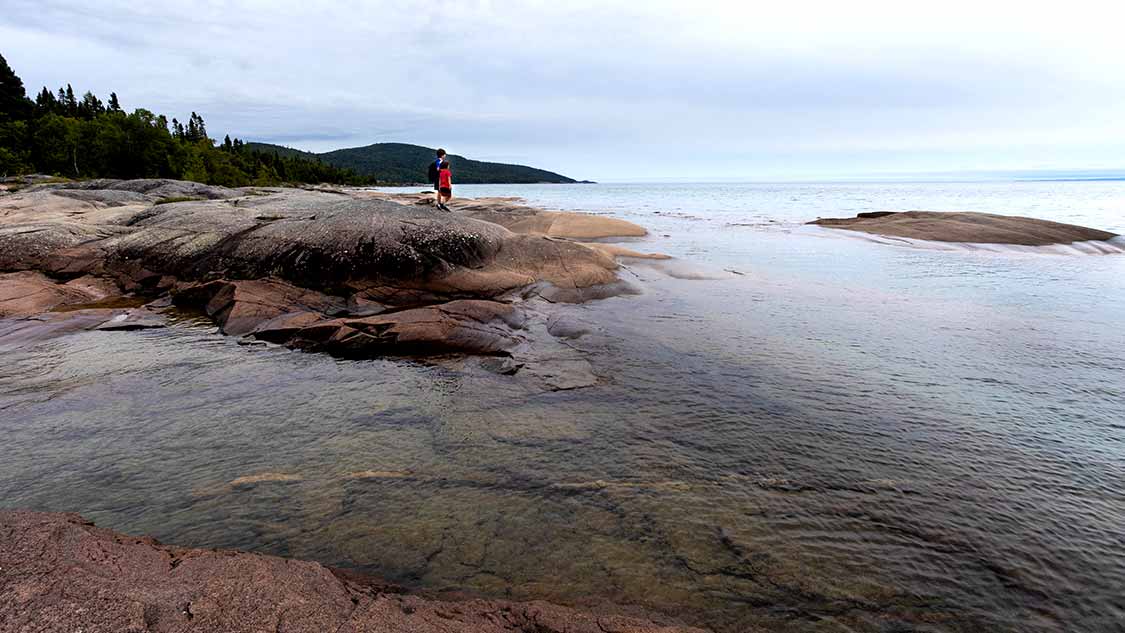 When it comes to provincial parks in Northern Ontario, Neys Provincial Park often falls under the radar. Parks such as Sleeping Giant, Pancake Bay, and Killarney tend to be the ones that most travelers turn their attention towards. But during our latest drive from Sault St. Marie to Thunder Bay, we decided to take some time to explore some of the "other" parks along the Lake Superior Trail. And Neys Provincial Park quickly became one of our new favorites.
Although Neys Provincial Park might not be the most famous of the parks in Northern Ontario, it packs above its weight in terms of history, beauty, and activities. And camping at Neys Provincial Park opens up the chance to truly explore the magic of this Lake Superior gem.
Neys PP was immortalized by the famous Group of Seven back when there was no direct train access to many sites. Lawren Harris made a deal with the conductor to slow the train down to 40 km/hr on a steep embankment so the painters would have the chance to "hop" out while the train was still moving.
The park was also the home of a WWII POW camp that housed captured, German soldiers. The remote location and wild environs made for a challenging escape. However, many captured soldiers found life here much more pleasant than when on the front lines.
Nowadays, getting to Neys PP involves making that scenic drive along HWY 17 between Marathon, north of Pukaskwa National Park, and Terrace Bay as you cross the upper right corner of Lake Superior.
Where Is Neys Provincial Park Ontario?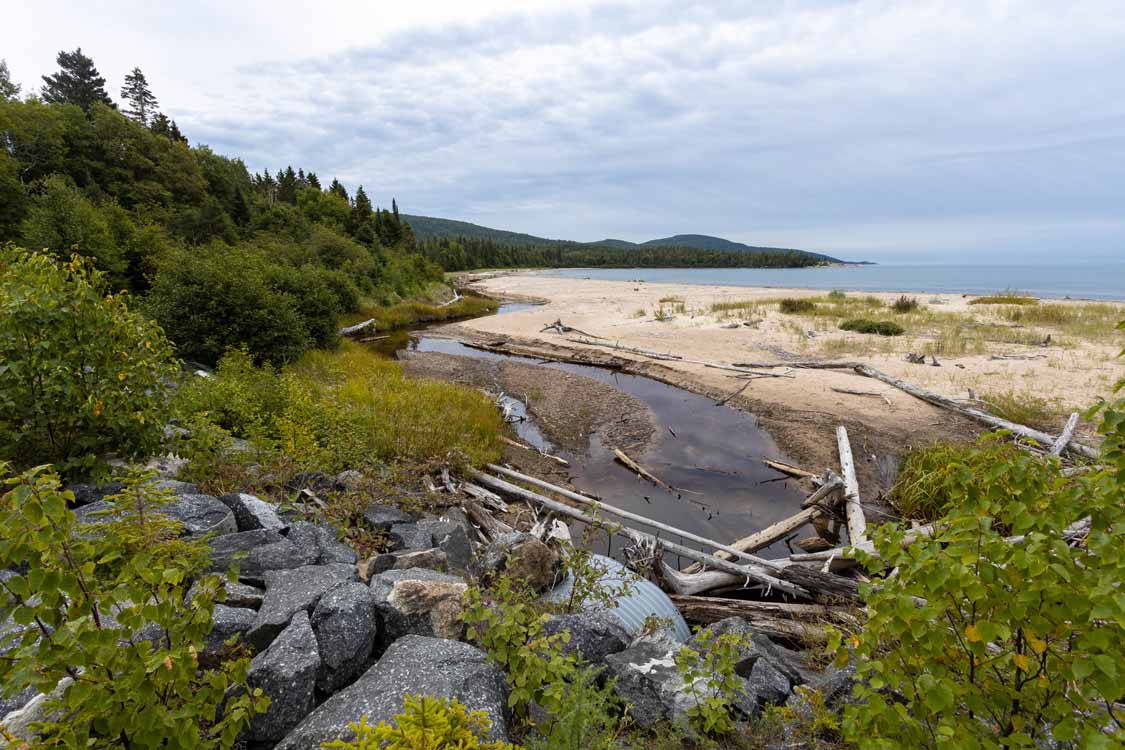 Neys Provincial Park campground sits on the south side of HWY 17, approximately 25-minutes north of Marathon, Ontario, and three hours east of Thunder Bay. The park rests on the scenic northern shoreline of Lake Ontario. The park is nestled among the rough rock of the Canadian Shield and surrounded by classic Ontario wilderness and forestland.
Tips For Visiting Neys Beach And Campground
Neys Provincial Park camping is incredible. Before 2020, this park often slipped under the radar of many travelers taking on the Lake Superior Circuit. But thanks to the overwhelming demand on the Ontario Parks camping system, many outdoor-lovers have visited Neys and discovered why it was one of the province's best-kept secrets.
There are good reasons why Neys has garnered so much attention. For example, when I was hiking the Cup and Saucer Trail on Manitoulin Island, I ran into a family that had just returned from Neys. They declared it their all-time favorite park in the province.
Neys has one of the most scenic shorelines on Lake Superior. Unlike the hardscrabble shores of many Lake Superior parks, such as Lake Superior Provincial Park, Neys features a soft-rolling red rock shoreline that would be at home among the most beautiful sections of Georgian Bay. Pair that with the beautiful Neys Provincial Park beaches and hiking trails, and this park easily competes with some of the best in Ontario.
But like any outdoor experience, it helps to have a little bit of information that you can rely on before heading out. So before we get to the Neys Provincial Park Guide, here are a few tips and tricks to help you plan your visit. Also, before you head out, make sure you check out our tips for Ontario Parks camping so that these parks are here to enjoy for generations to come.
Book early – Campsites and roofed accommodations at Neys Provincial Park can book up extremely fast. This hasn't always been the case, but this park is far more popular than it was prior to 2020. It might still be possible to get walk-in sites during the week or in the shoulder season, but it will be booked on summer weekends. You can beat the crowd by booking up to 5-months ahead on the Ontario Provincial Park online booking system. You can access that here.
If you can't get a spot camping at Neys, you can check out Rainbow Falls Provincial Park, which is an hour west, or Pukaskwa National Park, which is about 40-minutes east.
Book Late – Many Ontario campsites book up early. But many also have last-minute cancellations. If you don't mind last-minute planning, keep checking the Ontario Parks site to see if there are any late openings. Sometimes this is the best way to get a prime site.
Plan for the weather – Watch the weather forecasts before your Neys camping adventure. And always prepare for the worst. You never know what could happen without warning, especially on the unpredictable shores of Lake Supieror. Pack camping tarps like these for covering your gear, make sure you use mosquito repellent and sunscreen for all that time on the beach.
Don't move firewood – This can be hard to swallow since the Ontario Parks aren't known for providing the best firewood. But moving firewood from one destination to another can cause devastation. We saw this first hand in MacGregor Point, where huge swaths of the forest had been to cut down due to the Emerald Ash Borer beetle invasion.
Neys Provincial Park Camping: A Guide To The Neys Campgrounds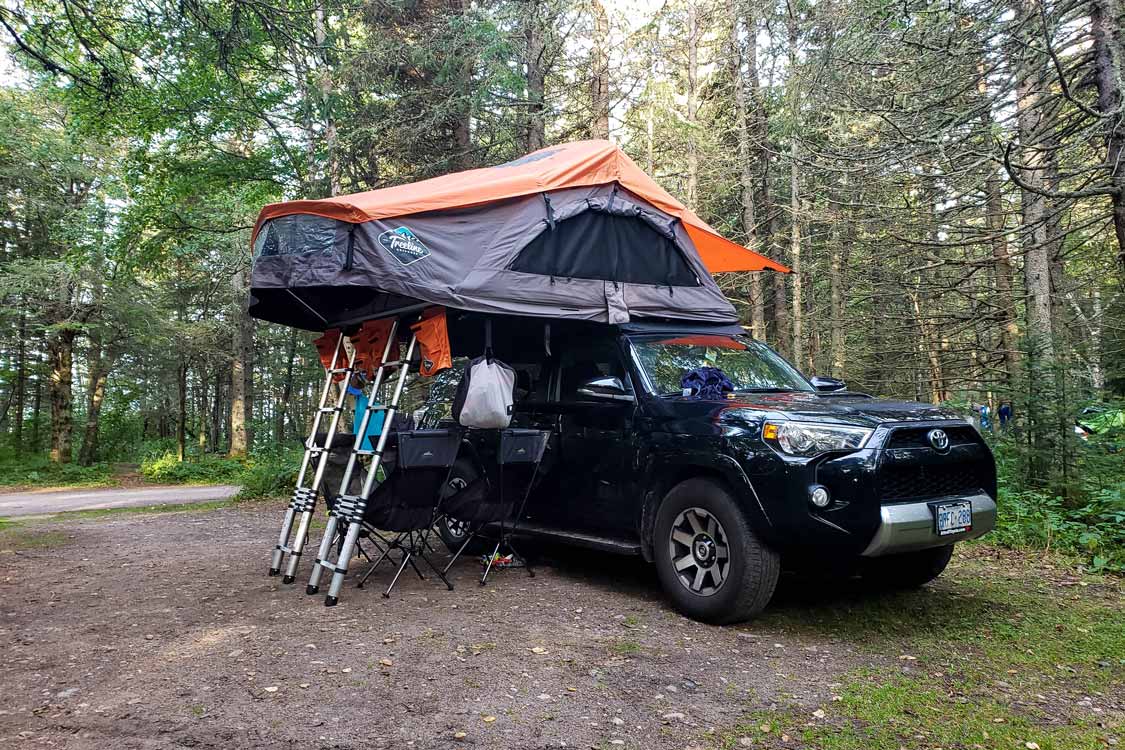 Neys Provincial Park camping is excellent. Everyone who I've spoken to who has visited has expressed their passion for the park. And after camping at Neys PP ourselves, I understand entirely why. After spending a few days at the Neys PP campground, we were smitten.
There are nearly 150 Neys PP campsites spread across four campgrounds. About half of these sites are electrical. The prime spots are along the waterfront in campgrounds 1, 2, and 3, while campground 4 is a woodland loop further from the water. The campsites at Neys that are close to the beach tend to book up the fastest. Neys also features one on-site cabin for rent. This cabin is in Neys campground Area 2.
Neys Campground Area 1
Neys campground Area 1 is the closest campground to the Neys Visitor Centre. This campground features 19 waterfront campsites and eight sites tucked in a second row away from the beach, although none are far from the water.
The beach at Area 1 is a dog-free beach, so if you've got your pup along for the trip, I'd suggest booking area 2 or Area 3. Otherwise, you'll need to walk to the western beach or bring the pup to the leash-free area on the far east side of the visitor center.
At the eastern edge of the campground, you'll find a privy washroom and the Neys Provincial Park Visitors Centre and a parking lot. On the western side, you'll find the laundry, comfort station, garbage and recycling station, and access to the barrier-free beach that fronts Area 2 and Area 3.
The sites here are large, flat, and relatively wide-open. All of these are pull-through electrical sites. There isn't a lot of privacy, but you'll have lots of room and easy access to many of the park's amenities.
Neys Campground Area 2 and Area 3
Neys campground Area 2 and Area 3 can be reached by car by taking the main park road further into the park. Both campgrounds share the same entrance drive.
Area 2 has ten waterfront non-serviced sites along with two near-waterfront non-serviced sites. There are also 16 electrical sites, none waterfront, but all have easy access to the water. There are plenty of water taps sprinkled throughout the campground, so you'll never be far from freshwater.
Area 2 also fronts the barrier-free beach and features two barrier-free campsites. All of the comfort station amenities are on the western edge of the campground. The sole roofed accommodation in Neys Provincial Park is a waterfront cabin near the eastern edge of Area 1. It books up quickly, so I recommend booking as early as possible.
Area 3 is very similar to Area 2, but with one crucial difference. There are 11 near-waterfront non-electrical campgrounds and nine campgrounds bordering the lane closest to the water. None of the sites are directly on the waterfront. There are also 18 electrical campsites placed further back on the loop, although none are far from the water.
The western edge of the campground is a park and picnic area that makes for an excellent spot for families camping at Neys PP.
The main difference you'll find here is the access to the comfort station and dishwashing area. You'll have to trek through Area 2 to access it. There are compostable toilets and water taps in the campground, but you'll need to walk or drive a reasonable distance for more services.
The sites in both of these campgrounds offer far more privacy than Area 1 and easy access to the water.
Neys Campground Area 4
Neys campground Area 4 is the only wholly non-electrical campground in the park. There are no waterfront campsites here, although those on the western edge are not too far from Little Pic River, a popular fishing spot. You'll find a fish cleaning station near the entrance to the campground as well as a boat launch near the mouth of the river.
There are 47 campsites in Area 4 and several water stations and compostable toilets. At the far tip of the campground is the Neys Lookout Trail, one of the park's best hiking trails.
Where To Stay Near Neys Provincial Park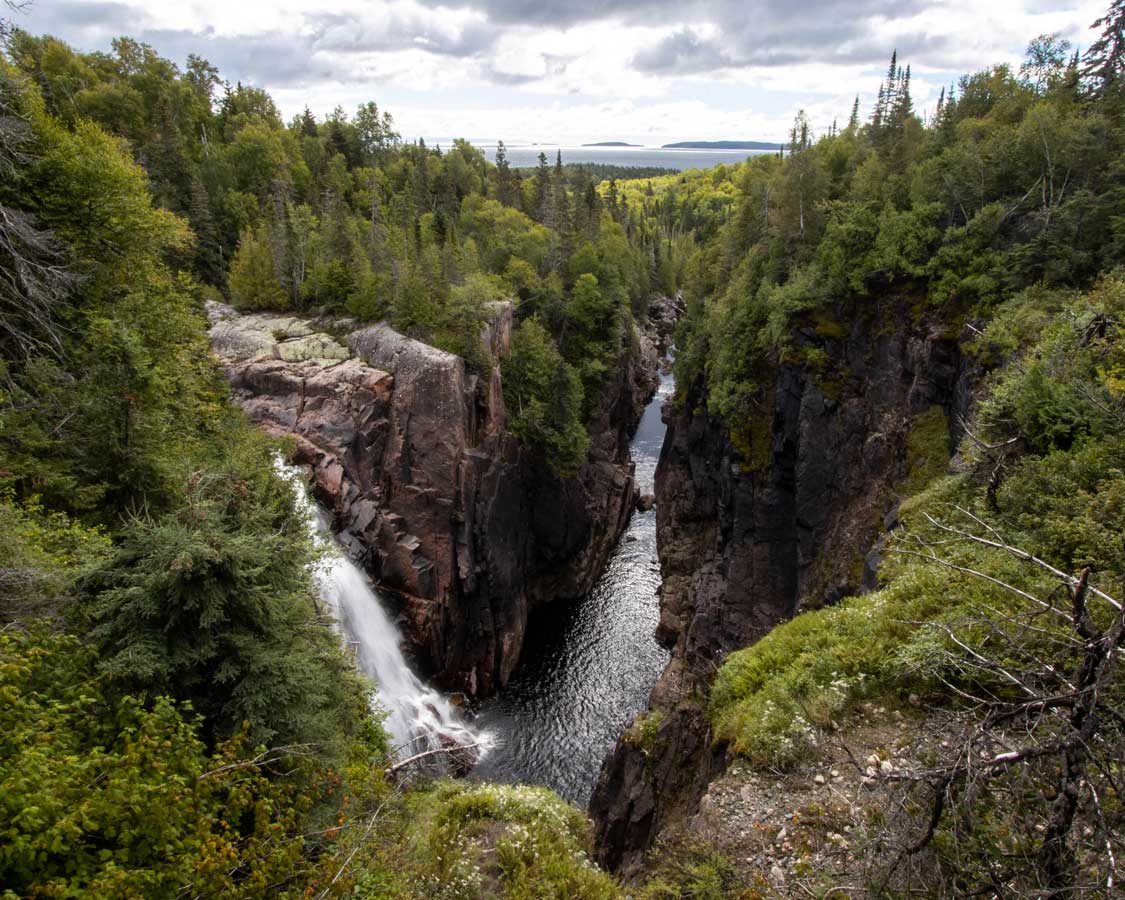 If camping isn't your thing, there are some limited places to stay near Neys Provincial Park. The two closes towns are Terrace Bay and Marathon. I'll be honest; neither town has an ample supply of accommodations. In Terrace Bay, you'll find the Drifters Motel, which sits just across from the Terrace Bay Lighthouse and just a few minutes from the spectacular Aguasabon Falls.
Neys Provincial Park Beach And Swimming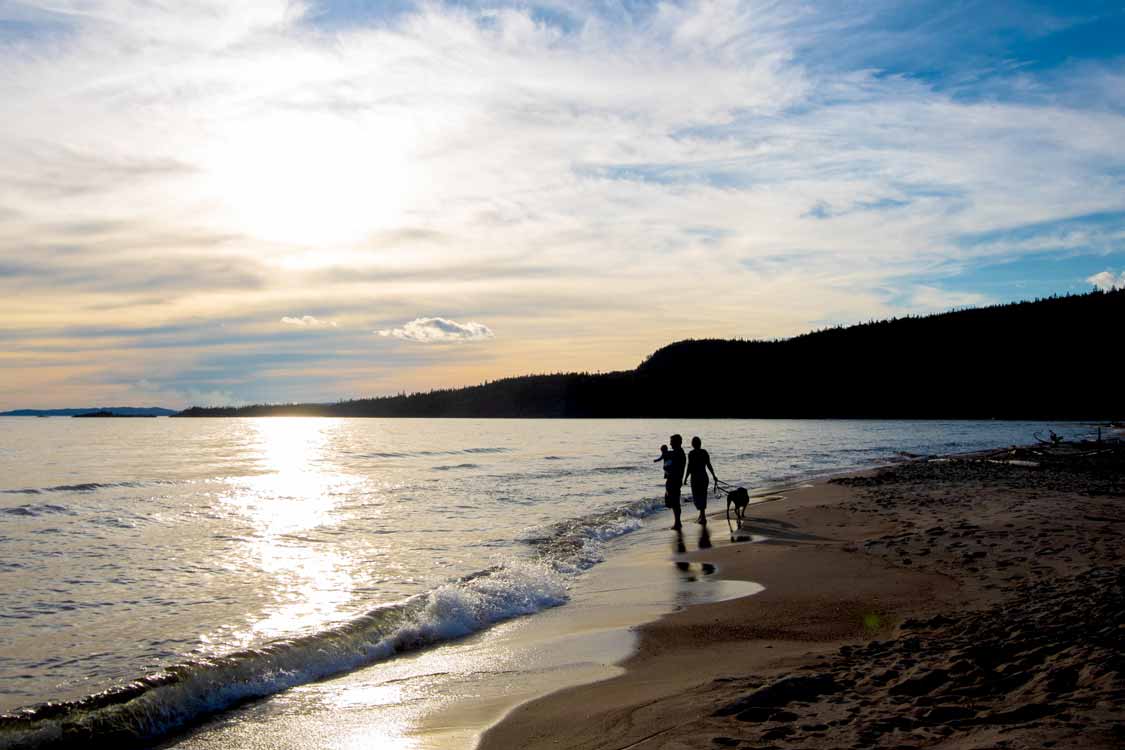 The beaches at Neys Park are a big draw for many visitors. The main attraction is the two-kilometer beach that stretches along with the campgrounds in Ashburton Bay on Lake Superior. The stony bottom makes for easy wading, and there is a relatively shallow wading area that makes for an excellent choice for families.
The water of Lake Superior is notoriously chilly, but the shallow bay helps the water around Neys to get much more comfortable towards the end of the summer. But if you're looking for a way to cool off after a day of hiking, it's perfect.
Other Things to do in Neys Provincial Park
If you get tired of the beaches at Neys, don't worry. There are many great things to do in Neys Provincial Parks that will keep you occupied during your visit. If you're spending a weekend at Neys, you'll have plenty of time to pack in some great activities and still have time to relax.
Hiking in Neys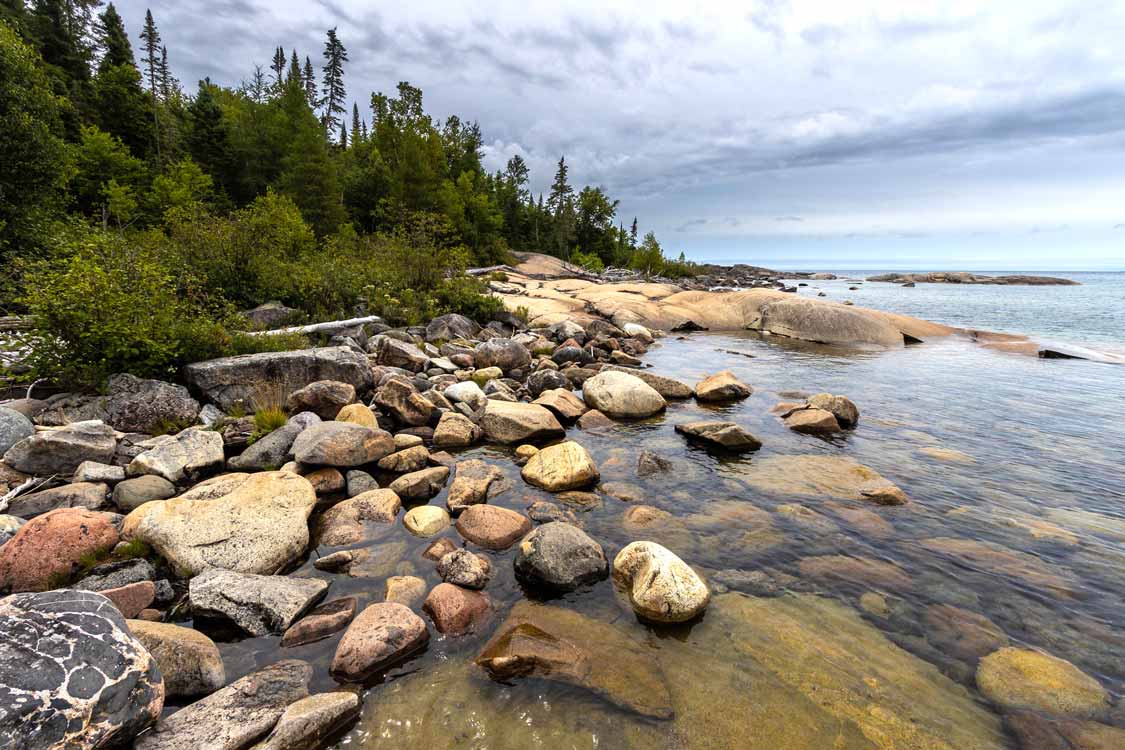 Exploring Neys is one of the best ways to spend time in the park. Some great hiking trails will combine out of this world view and glimpses into Neys Provincial Park's unique history. Hiking at Neys Provincial Park is ripe with adventurous trails that are perfect for those looking to take a straight line to their destination.
Dune Trail
Dune Trail is an easy 1.3 km loop that winds through the forest from Prisoner's Cove, just a short distance west of the visitor center. This trail takes an average of about 30-minutes to complete.
The Dune trail explores the delicate sand dune ecosystem of Neys. You'll get to see some of the fragile vegetation and how they contrast with the epic boreal forest that makes up much of Northern Ontario.
Lookout Trail
The Lookout Trail is a moderately tricky 1.6 km trail that climbs above Area 4 and offers stunning views overlooking Ashburton Bay and Lake Superior. This winding trail makes its way through various ecosystems and explores spruce forests, creek valleys, and sandy dunes. Expect this hike to take about an hour.
Point Trail and Under The Volcano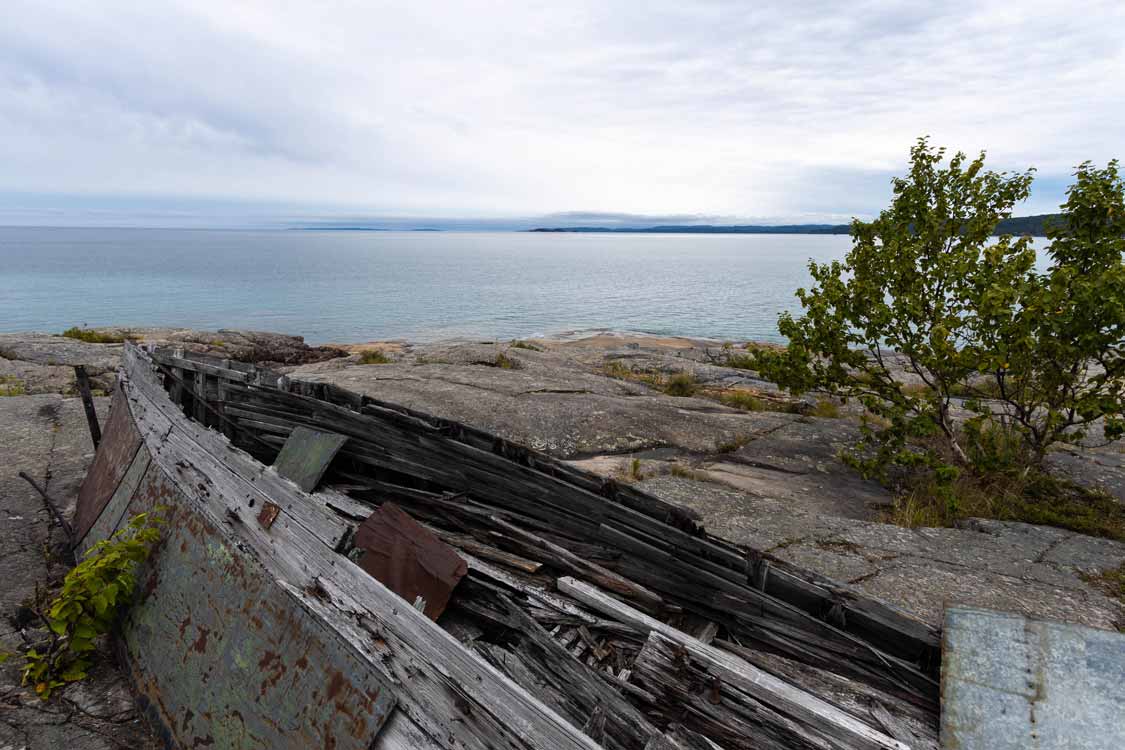 Point Trail is an easy 1-km one-way route that takes hikers along the shores from Prisoners Cove to Prisoners Point, which offers one of the best views of Lake Superior.
To reach the (in my opinion) best hike in Neys Provincial Park, you have to follow the Point Trail to Prisoners Point. This is where the Under the Volcano hike begins.
Under the Volcano is a 2.5 km one-way hike that's rated as difficult. But it's worth the scrambling and slippery rocks. On average, the trek takes 2-hours to complete, three if you include the Point Trail portion.
Under the Volcano is a "choose your own adventure" type of hiking trail. There are routes along the red rocks of the shoreline where you'll find evidence of the lumber industry, including old boats from the mid-1900s washed up along the shore. You'll also find ample evidence of the volcanic and glacial history of the land. Of course, you'll want to have sturdy shoes with good ankle support and a decent grip for this.
Parts of the hike offer alternatives that wind through the inland forest along sheer cliffs with a tremendously variable landscape. Both routes are spectacular, and you can meander in and out of them at various points along the way.
Kopa Cove Trail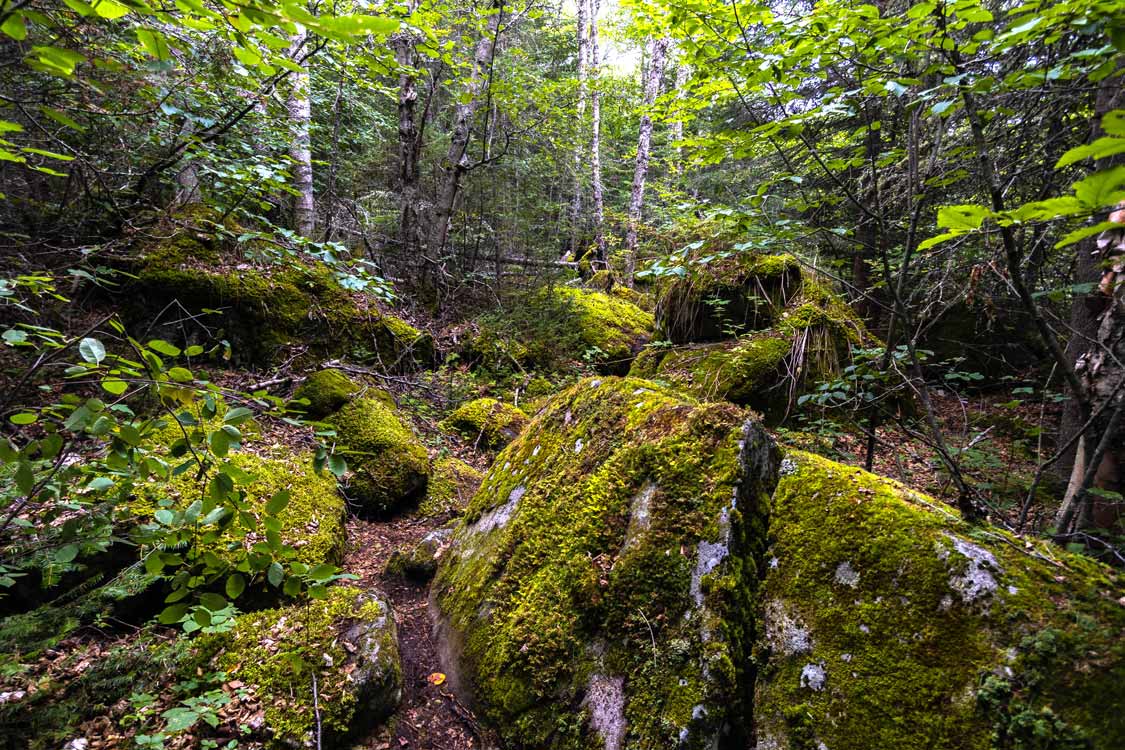 At the end of the Kopa Cove Trail, peacefully situated on a cobblestone beach, lies the starting point of the most challenging hike in Neys Provincial Park.
Kopa Cove Trail can easily be started by those not checking the color of the markers on the Under the Volcano Hike. But it won't take long before you begin to question whether you're on the same trail. This 2.6 km one-way trek is rated as very difficult and takes on average 2-hours to complete.
Kopa Cove Trail winds up the rugged Lake Superior terrain through the dense, humid forest with fascinating vegetation and rock formations. It ends at the Pic Island Overlook, which offers a magnificent view of the island made famous by the Group of Seven.
Once at the Pic Island Lookout, you have the option to return the way you came via the Under the Volcano and Point Trail or continue by connecting with the Pic Island Overlook Trail.
Pic Island Overlook Trail
The Pic Island Overlook Trail is a trail that loops through the top of the park connecting the main road to the Pic Island Overlook and the Kopa Cove Trail. This 4.5 km one-way hike takes about 2.5 hours to complete and is difficult due to the rutted roads and steep climbs towards the Pic Island Overlook.
The hike can be combined with Kopa Cove, Under the Volcano, and Point Trail into a loop that will take most of the day to complete but introduce you to some of the most incredible views within Neys Provincial Park.
Search For Remnants Of Camp 100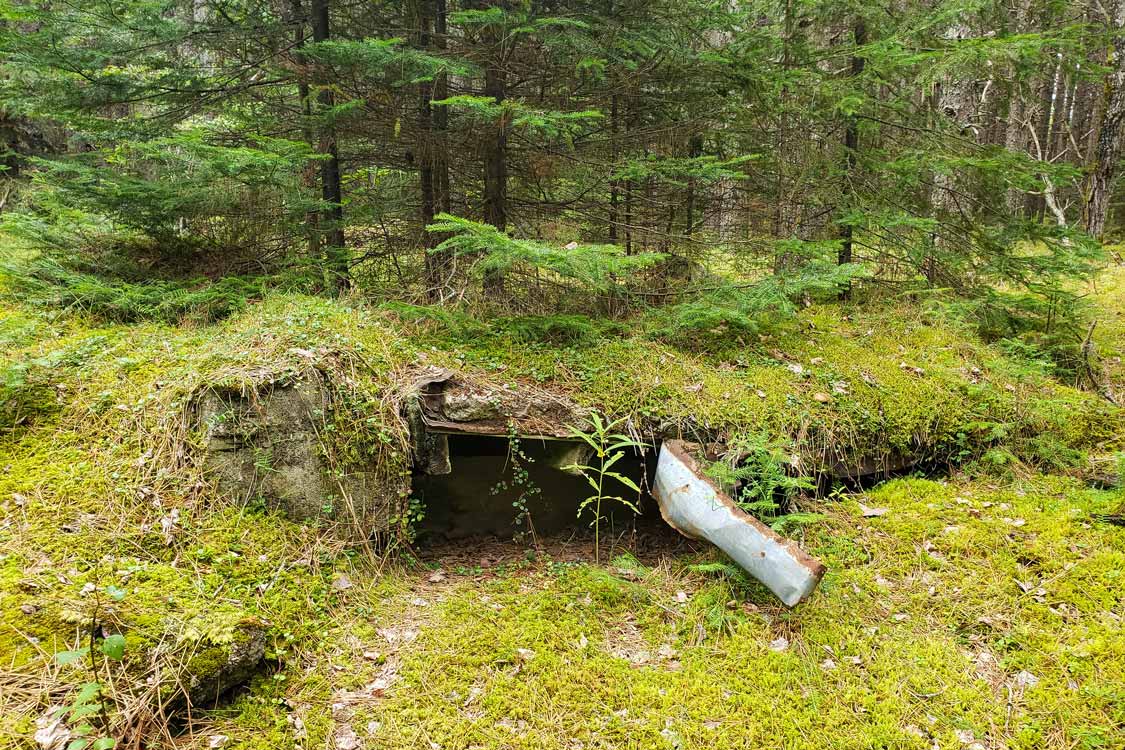 Before becoming an Ontario Provincial Park, what is now Neys was known as Neys Camp 100. Rather than housing campers and hikers looking to explore the glorious wilderness, it housed German prisoners of war captured during World War II.
Camp 100 at Neys operated from 1941-1946 before being dismantled in 1953. Although many of the buildings were taken down, there are still many artifacts and remnants of the camp hiding within the park's bounds.
The Neys Provincial Park Visitors Centre offers a fantastic look into some of that history. As well, you'll find some of the artifacts from the camp on display inside.
The mess hall is the largest remaining structure from the camp. Although badly decayed and lying, mostly hidden beneath the mossy ground between Area 1 and the Comfort Station, visitors with a keen eye can still find the foundations, window sills, and even a doorway (hint, look on the far side of the road from the water).
Please keep in mind that if you find an artifact or remnant of the camp within the park, please leave it where you found it. Then, please take a photo and report its location to the park staff.
Neys Provincial Park Discovery Program
Those visiting Neys Provincial Park with kids might want to take on the Discovery Program. This fun activity combines many activities in the park, including guided walks and nature programs, along with a scavenger hunt that invites children to look deeper into the wilderness that surrounds them.
There's even the opportunity to "meet the spirits of the past," including prisoners of war who once were imprisoned here, voyageurs who traveled the land during the fur trade, loggers, and fishermen. You can sign up for these at the Visitors Centre.
Canoeing At Neys
Little Pic River offers a beautiful place to paddle, SUP, or kayak in Neys Provincial Park. You can launch your boat at the sandy beach near the river mouth or from the boat launch on Little Pic River.
If you decide to venture out onto Lake Superior, please remember that these waters can be notoriously temperamental. Make sure to check the weather forecast frequently and be prepared for emergencies. Do not risk paddling outside of your experience level.
Neys Park For Families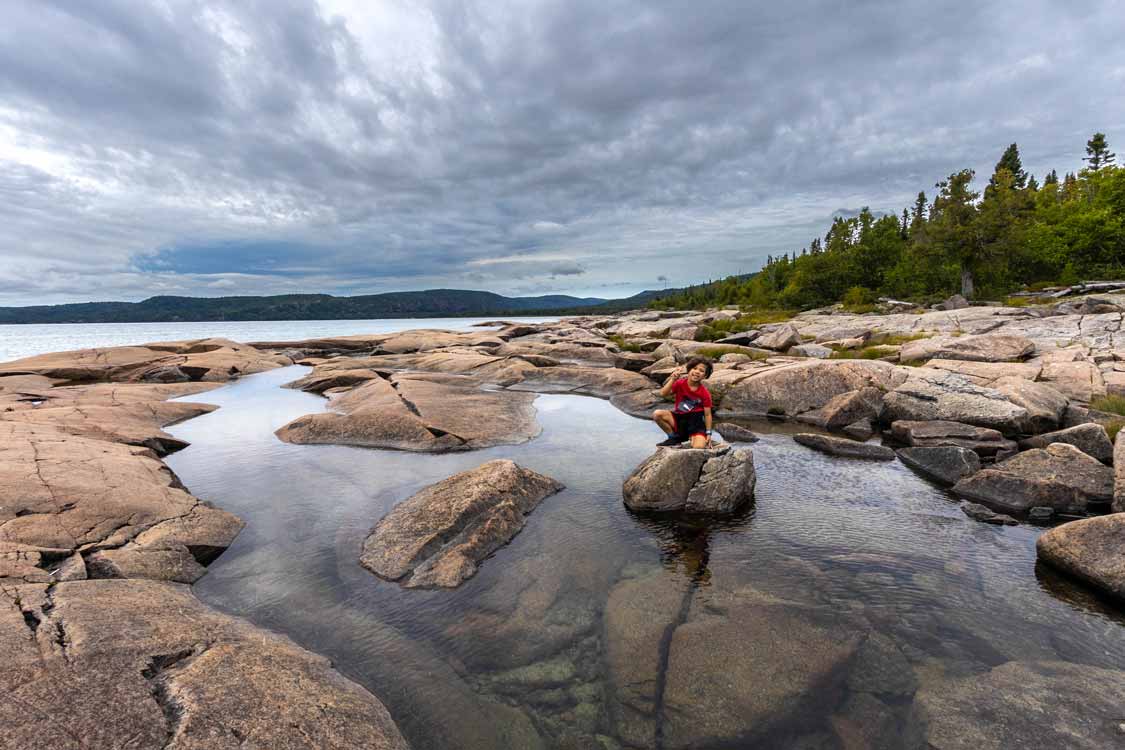 It almost seems like Neys Ontario was designed for families. The beautiful beach, fascinating history, and waterfront are a blast for kids to explore. And, you get all of this without having to book a flight or worry about luggage weight. If you are visiting Neys with kids, pack your fishing gear. Fishing is a great way to spend time in the shade during the hot afternoons. In the waters of Little Pic River and Lake Superior, you can find Rainbow Trout, Lake Trout, Whitefish, and Salmon.
Just make sure you pack a waterproof camera. You'll want to capture all of those fantastic Neys moments.
Have You Been Camping At Neys Provincial Park
Neys Provincial Park camping offers something for everyone. Whether you're visiting with kids or enjoying some weekend warrior adventures, I hope that these tips for camping at Neys have helped you.
And feel free to drop any questions or comments below. I always answer them.
If you're passionate about family travel, head on over to our Family Travel Support Group on Facebook. It's a fantastic community of parents who love travel. We share experiences, knowledge, and the lessons learned along the way. You can also sign up for our newsletter to keep in the loop about new family travel adventures.
Wandering Wagars is a participant in the Amazon Services LLC Associates Program, an affiliate advertising program designed to provide a means for sites to earn advertising fees by advertising and linking to amazon.com, amazon.co.uk, amazon.ca. Amazon and the Amazon logo are trademarks of Amazon.com, Inc., or its affiliates.
You May Also Like To Read: