Looking for the best 5 day Maui Itinerary? Discover the best waterfalls, road trips, beaches, and culture of Maui Hawaii with these 5 days in Maui.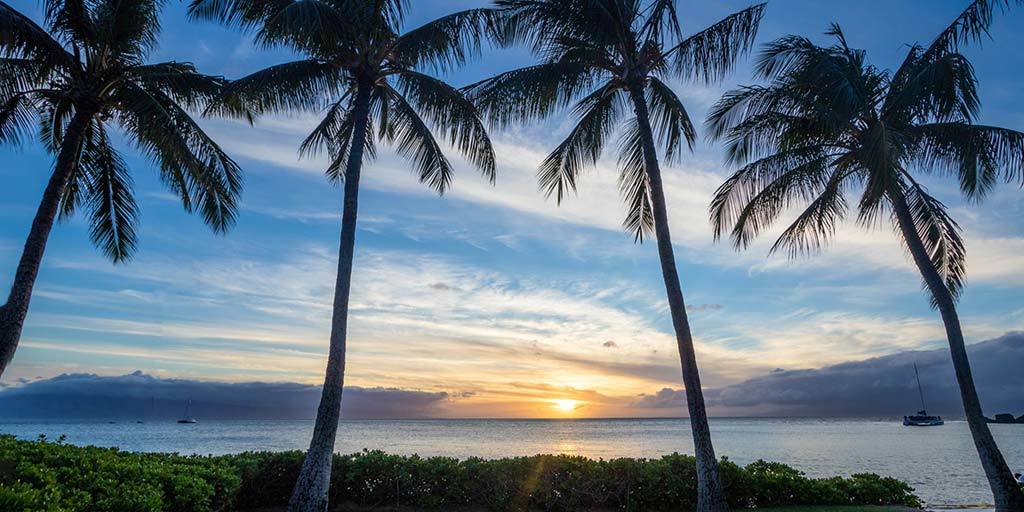 Maui, Hawaii is touted by many as one of the most incredible islands in the world. And with the sheer volume of incredible things to do in Maui, choosing the best Maui Itinerary for 5 days or more on the island can be a monumental task. Between the legendary Road to Hana, the stunning volcanic crater, and the gorgeous beaches and waterfalls, Maui lives up to its reputation. Whether you're taking a family trip to Maui, or visiting for a honeymoon, wedding, or just a fun-filled vacation, these 5-days in Maui will give you the chance to see the best that this Hawaiian island has to offer.
Our visit to Maui came after already making a family trip to Kauai. And spending a week on the largest of the Hawaiian Islands, the Big Island of Hawai'i. After those two vastly different experiences, we were excited to make the most of our 5 days in Maui in the most epic way possible. And the Valley Isle did not disappoint. It delivered unforgettable experiences from epic road trips, turtles, whales, waterfalls, culture, and so much more.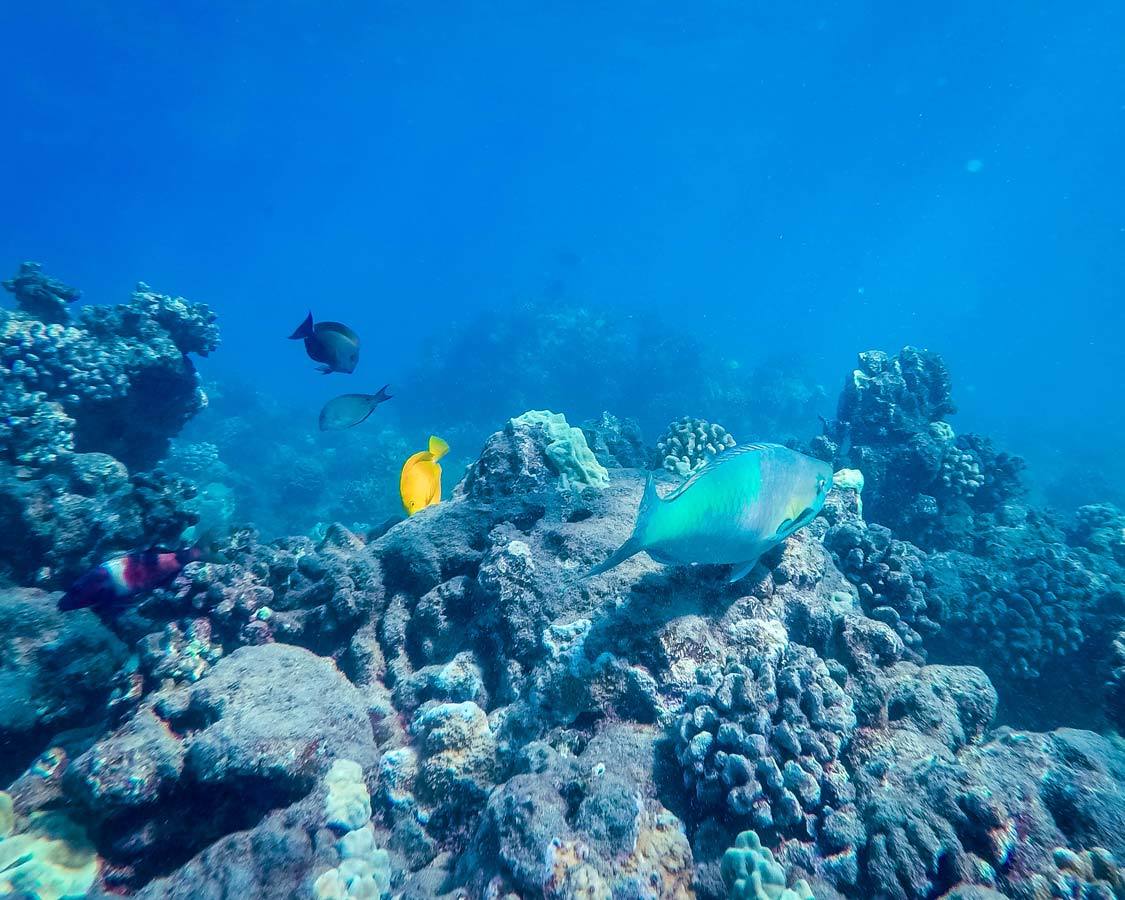 How To Make The Most Of This Maui Itinerary
There are so many ways to spend 5 days or a week in Maui. Many people pick one of the resorts in Lahaina, Paia, or Keihi, hit the beach with a book and only get up to go to the bar. Our family tends to get itchy feet after more than a few minutes standing still. So depending on your travel style, you can extend these 5 days to a week or 10 days in Maui with some relaxing in between.
We stayed at a few different places during our family vacation in Maui. Because the island may be a bit larger than what you expect, we wanted to minimize our time on the road and maximize the amount of time to enjoy all of the awesome Maui activities. These 5 days in Maui are laid out the way that we experienced them, but the great thing about this Maui island itinerary is that you can mix up the days and re-arrange them in a way that best suits your personal travel style.
Transportation on Maui
The main thing that you will need to arrange for your trip to the island is transportation. I highly recommend renting a car to access the best places to see on Maui. If you plan on experiencing the Road to Hana or Haleakala, renting a car in Maui is pretty much a necessity. If you want to follow our Maui itinerary, you'll need one. If you've got lots of extra time, or want to experience the island through group tours, you can do that, but it will likely take you more time. And you'll likely miss some of the awesome places to see in Maui along the way.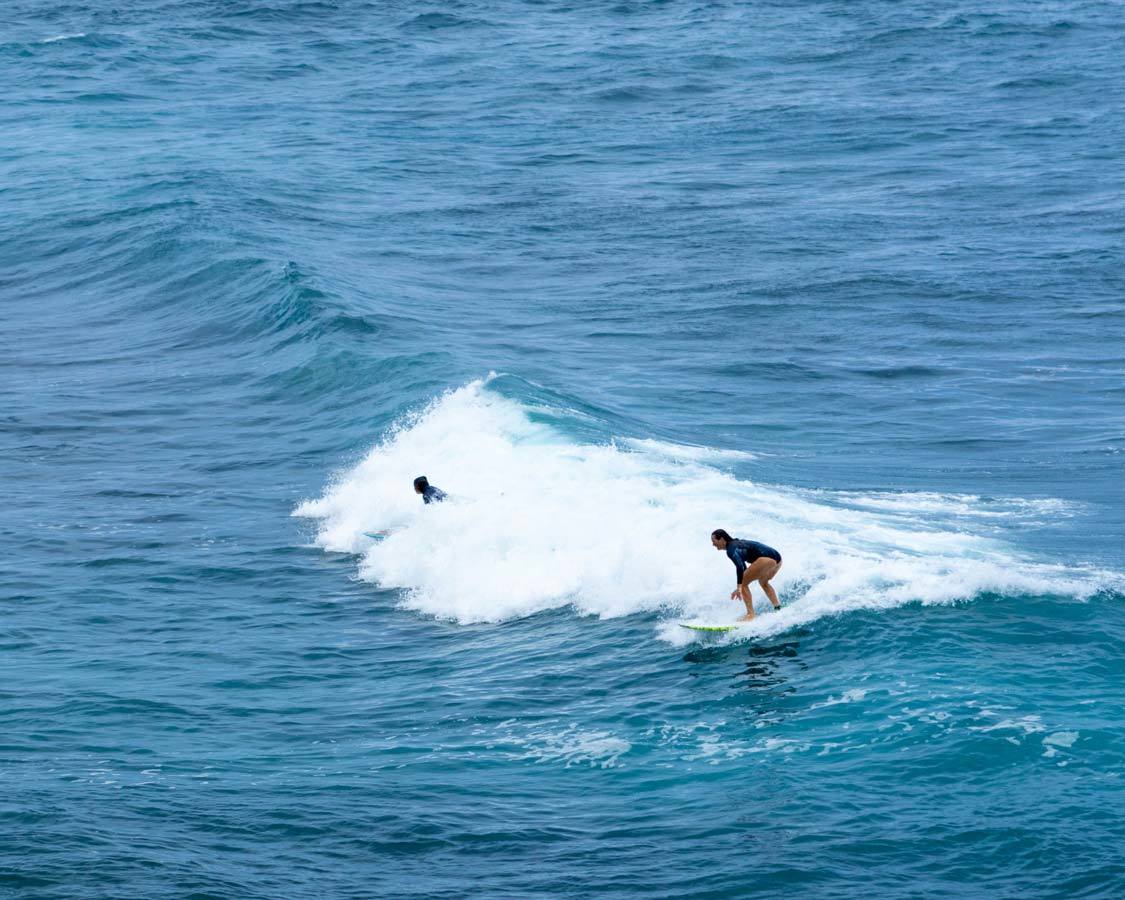 What To Pack For Your Trip To Maui
Just like every destination, planning your Maui packing list will help to make sure that you have everything you need for your family vacation. The weather in Maui is consistent throughout Central, East and West Maui. Temperatures ranging from the mid-70s F (23 C) to the high-80s F (31 C). You can also check out our complete Hawaii packing list here to plan for all of your Hawaii travel.
However, if you are planning on traveling to the Maui Upcountry through Haleakala, Pu'u Kukui, and the Western Maui Mountains, that can change quite dramatically. Temperatures drop about 3 F (.75 C) for every 1,000 ft of altitude. And with the highest point of Maui standing at over 9,000 ft, life on the summits can get chilly. But, no matter what Maui adventures you have planned, here are a few things you should not forget.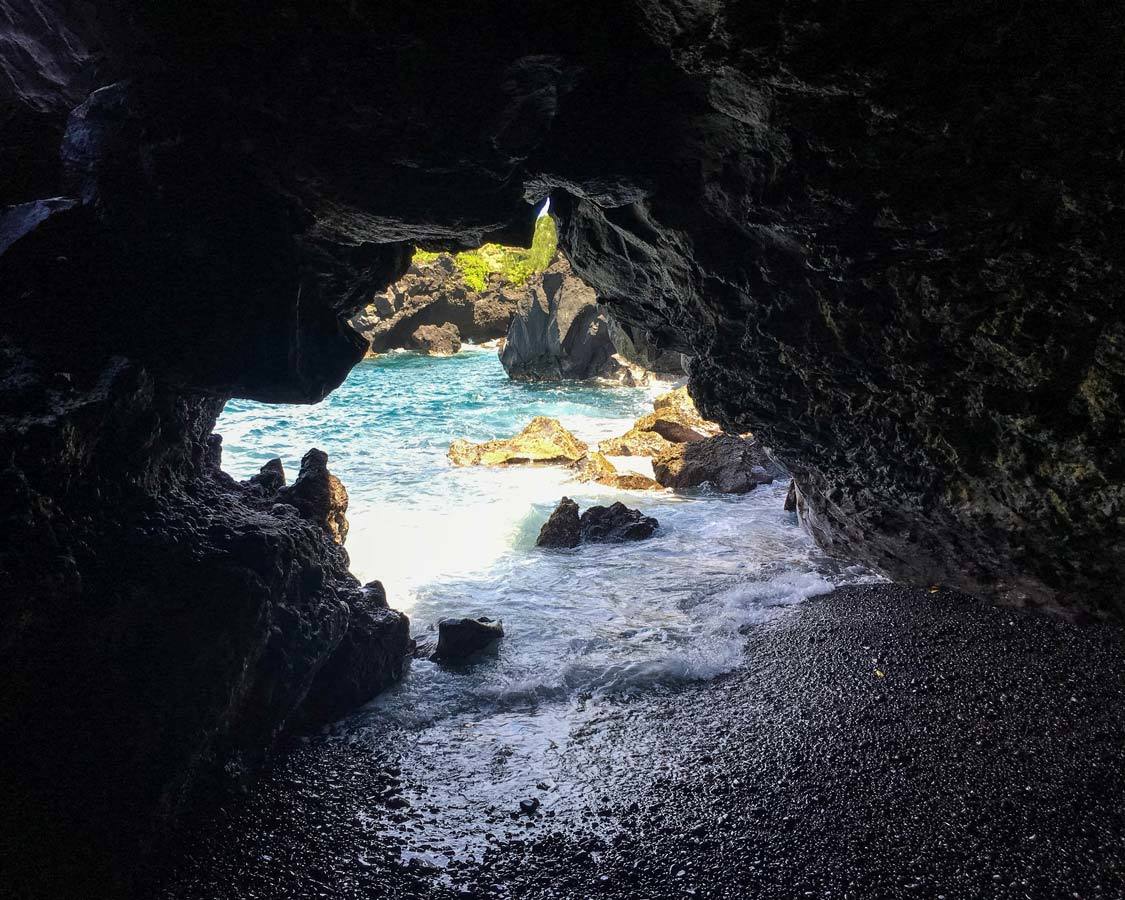 Maui Itinerary: 5 Days To Experience The Best Attractions On The Island
Getting started on your Maui itinerary has a lot to do with when you arrive on the Valley Island. If you land too late, head to the hotel, enjoy those Maui sunset views and get a good rest. But, if you arrive early in the day as we did, it's time to hit the road.
Maui Itinerary Day 1: Road To Hana
The Hana Highway, otherwise known as Highway 36, the Highway to Hana and the Road to Hana is one of the most famous road trips in Maui. At 64.4 Miles (136 km) this trip doesn't sound too daunting. But with 52 one-lane bridges and 620 turns the Hana Highway is a minimum 2.5-hour trip. And that is without stopping to see all the incredible things along the way. Because of this, the Hana Highway takes up the entire first day of our Maui Itinerary.
It's best not to attempt the Road to Hana unless you are comfortable driving. This drive is not for the faint of heart. But the experiences along the way more than makeup for the challenge. Starting as early as possible is highly recommended. Our Maui Itinerary gives 1 day for the drive to Hana and one day for the return.
This gives ample time to experience the beautiful beaches, parks, waterfalls, and food trucks along the way. You could do the Road to Hana, there and back, in 1 day, but I don't recommend it. Find a place to stay in Hana town and rest after the beautiful trip. And that gives you the time to take in what you missed on the way back. When you arrive in Hana stop in for dinner at either Travaasa Hana or the Ranch Restaurant.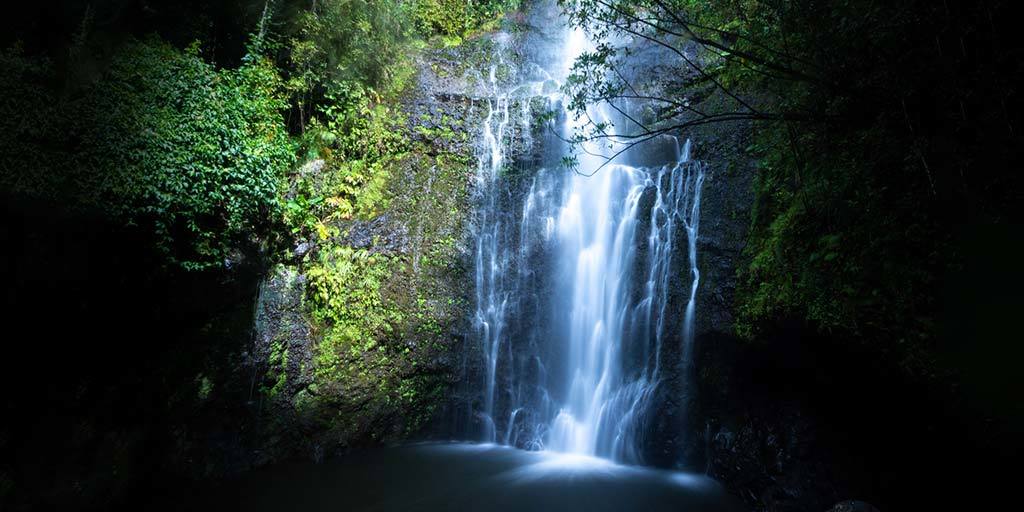 What To See On The Road To Hana
There are tons of things to see along the Road to Hana, and I'll get to them in a separate post. I HIGHLY recommend downloading the Road To Hana app by Gypsy Guides. It offers a fantastic GPS-based commentary along the way to give you an idea of what you are seeing and when you'll be seeing it. Here are a few of the top stops on the Road to Hana.
Watch the surfers from Hookipa State Park
Feed the Peacocks at the Garden of Eden
Walk among the Rainbow Eucalyptus Trees
Visit the Church At Malame Keanae
Where To Stay In Hana
Once you're in Hana, you'll want to get a good night of sleep. Hana is a super small town. There are not a lot of options, so you need to decide if you want to go big, or go small. The best hotel in Hana is Travaasa Hana. This luxury hotel is also home to one of the best restaurants on Maui. If you are planning on soaking in the life in Hana for a couple of days, this is a great option. If Travaasa is a bit too steep for your needs, check out Hale Nanea. These cottage-style accommodations are close to the water and even have a gas bbq for cooking.
If you aren't looking for luxury, you can try the Hana Inn (Formerly Joe's Place). This simple, hostel-style accommodation is great for those who want access to a kitchen, and don't mind a lack of amenities.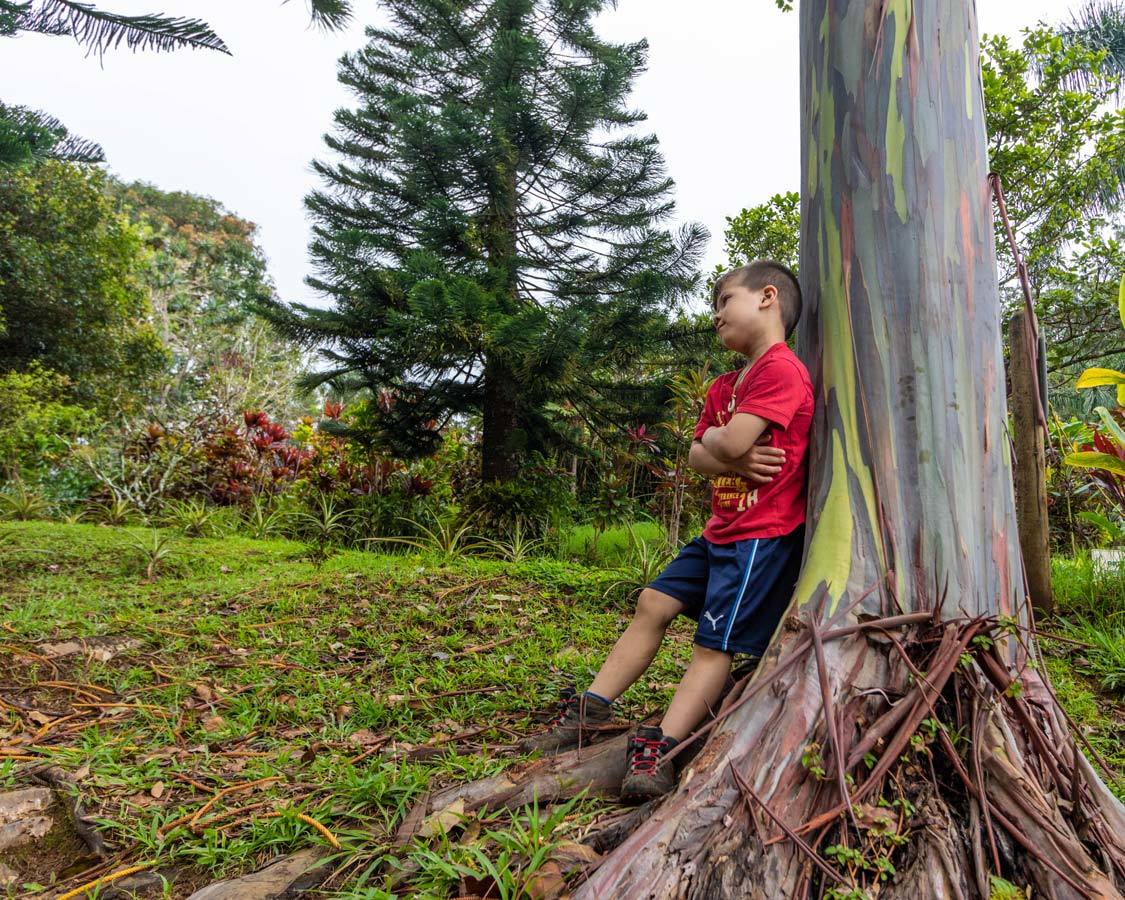 Maui Itinerary Day 2: The Road Past Hana And Back From Hana
Day two of our Maui itinerary has a couple of options. First off, continue on past Hana to explore the backside of Haleakala National Park. You'll find the 7 Sacred Pools, the Bamboo Forest and much more, including the grave of famed explorer and pilot Charles Lindbergh. Here though, you need to make a decision. Either turn around and do the Road back from Hana to Central Maui or continue on and loop around the eastern tip of the island.
We chose to head back along the Road to Hana to visit some of the places we missed along the way. Road to Hana attractions such as Waianaapa State Park with lava tubes and black sand beaches were a must. Part of that decision is due to a stipulation of many Maui rental companies. Some rental companies consider traveling beyond the entrance to the backside of Haleakala to be a violation of the rental agreement.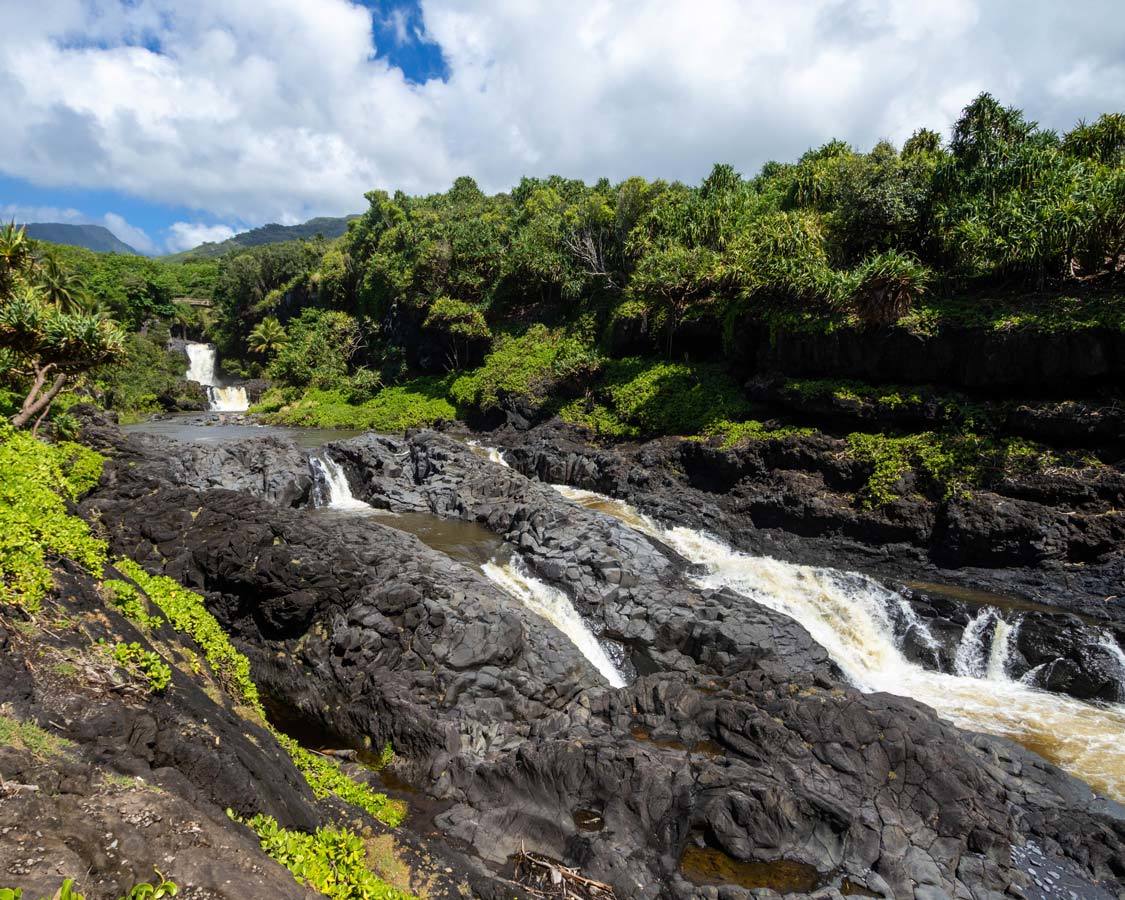 What To See On The Way Back From Hana
I'll be honest, the Road to Hana could easily be a three day Maui itinerary on its own. In fact, if you have 6 days in Maui, I highly recommend considering it. The drive up, Hana one day, and the backside of Haleakala the next day, and then the drive back on the 3rd day. But we're trying to see the whole island of Maui in 5 days on this itinerary. So on the way back check out these stops:
Haleakala National Park 7 Sacred Pools and Bamboo Forest hike
Palapala Ho'omau Church and the grave of Charles Lindbergh You'll also see one of the points of the Geodetic Survey. We saw another one of these during our trip to Norway the previous year.
Waianapanapa State Park with black sand beaches, lava tubes, and some nice easy hikes
Stop At Mile Marker 23 and search for the Lava Tubes. These aren't on any guides that we've seen. The entrances are small, but they open up inside and make for a cool bit of exploring. Make sure to bring headlamps or a flashlight.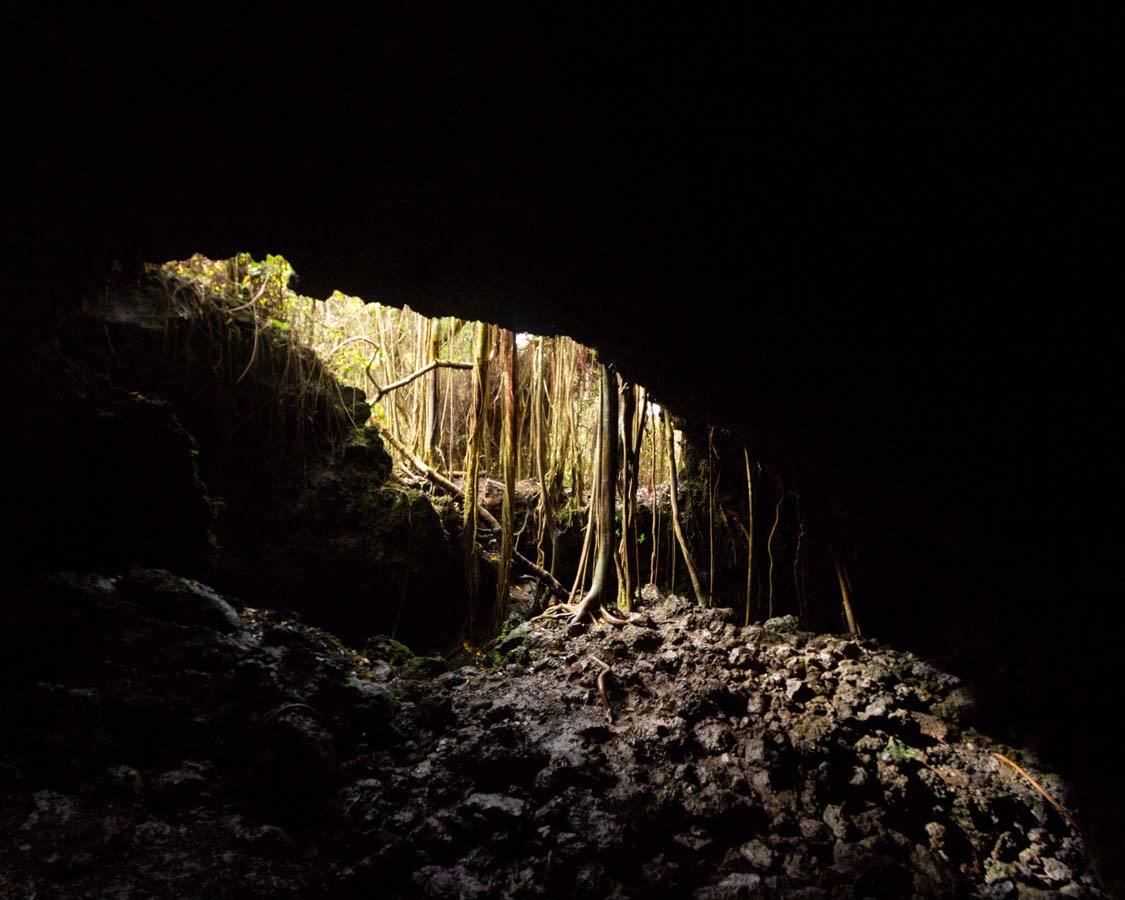 Once you've made it back to Central Maui, it's time to circle around Haleakala towards Haleakala National Park. If you think you can tear yourself away from the beaches on the return trip in time for sunset, book a night at Kula Lodge in Kula, HI. For Kula Lodge, timing is everything. You want to get here before sunset to enjoy one of the best sunset views on the island.
To add to the great views, the rooms here are big, airy, and well-laid out, especially Room #1 which has the best sunset views in the place next to the restaurant. Room #1 is also great accommodation in Maui for families with a second floor that has two single beds for kids. As an added bonus, being in the Maui upcountry makes for a much shorter trip to the Haleakala Crater for Day 3. Grab dinner at Kula Lodge this night and prepare for some intense views tomorrow.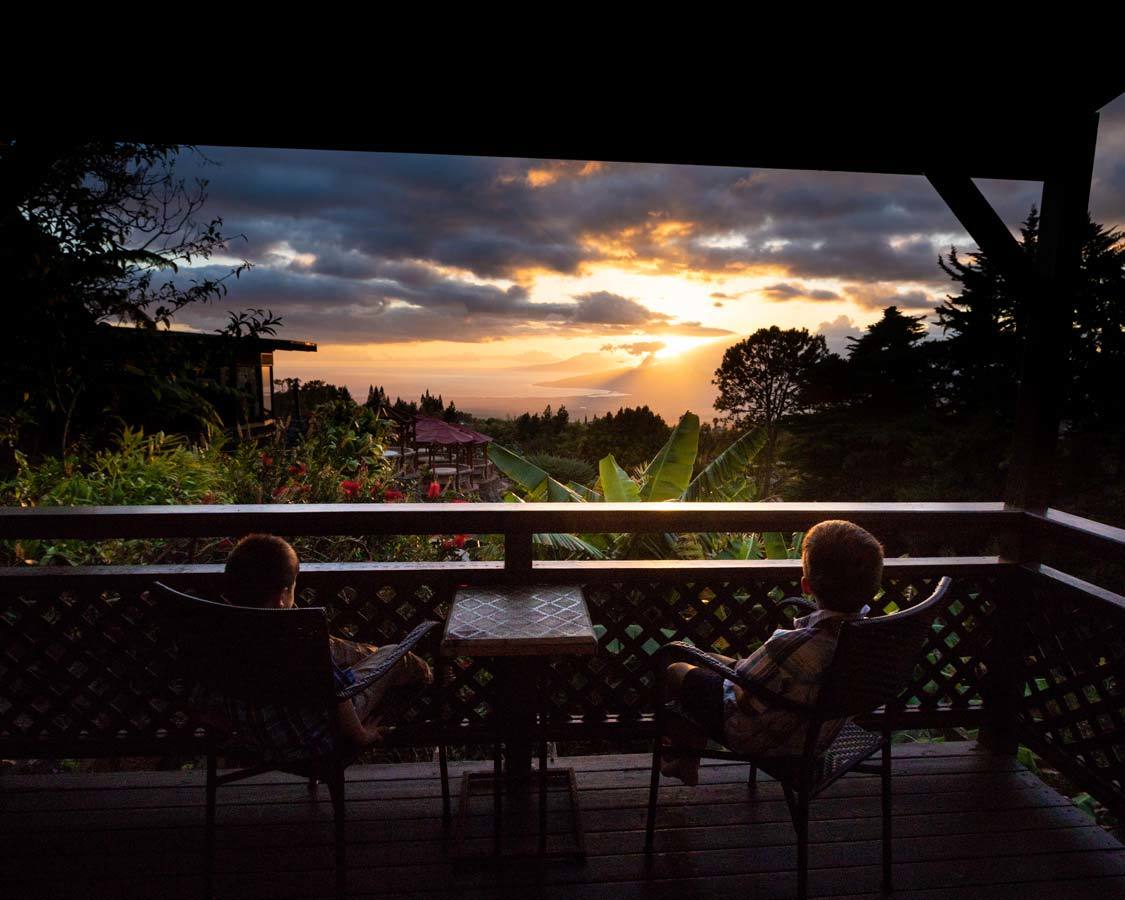 Maui Itinerary Day 3: Haleakala Crater and Old Lahaina Luau
Today we're heading up to over 9,000 ft (3,000 m) to explore the crater of Haleakala Volcano. Now, some people opt to catch the sunrise on Haleakala. For many people, this means waking up at 2 am to make a 2-3 hour trip from West or Central Maui to the crater rim. This is to make it in time for the Haleakala sunrise between 5:30 and 7 am. The time of the sunrise varies by the time of the year and you need to make reservations before you arrive. You can check the exact times for sunrise at Haleakala here.
Haleakala Crater
We were traveling with our two boys (D, age 5 and C, age 8) as well as Christina's parents. We opted to skip the sunrise and enjoy Haleakala a little later on in the day. To help our decision, Christina and I had seen a pretty incredible sunset during our ascent of Mauna Kea on the Big Island a few years prior. We had a casual wake-up this morning. Fill up with a heavy breakfast and stop at the Kula Marketplace to load up on snacks and water. Once you head up the road to Haleakala there is nowhere to buy gas or refreshments.
As you head up the road to Haleakala it's amazing to watch the dramatic changes to the landscape. First, passing the treeline leaves the land around you alien-like. As you rise further on Haleakala you begin to drive through layers of clouds wafting over the roadway. But all of this is just a preamble to the crater rim.
At the Haleakala crater rim, head out on one of the hikes. But remember, even the short ones can take a lot out of you at these altitudes. Make sure you have water on hand. Make sure to also check out the views from the summit a little further up. Here you can check out the surreal telescope setups by the various university and science organizations taking advantage of the clear dark skies of Haleakala National Park.
Old Lahaina Luau
Once you've had enough of the majestic views from Haleakala, it's time to make the long drive down the mountain, through Central Maui to the Western Maui town of Lahaina. Make sure to book a night at the Old Lahaina Luau. This classic Hawaiian Luau is one of the top-rated Luaus on Maui. The food is classic Hawaiian, and truly delicious. The excellent dance presentations tell the story of the history of the Hawaiian islands right up to present day.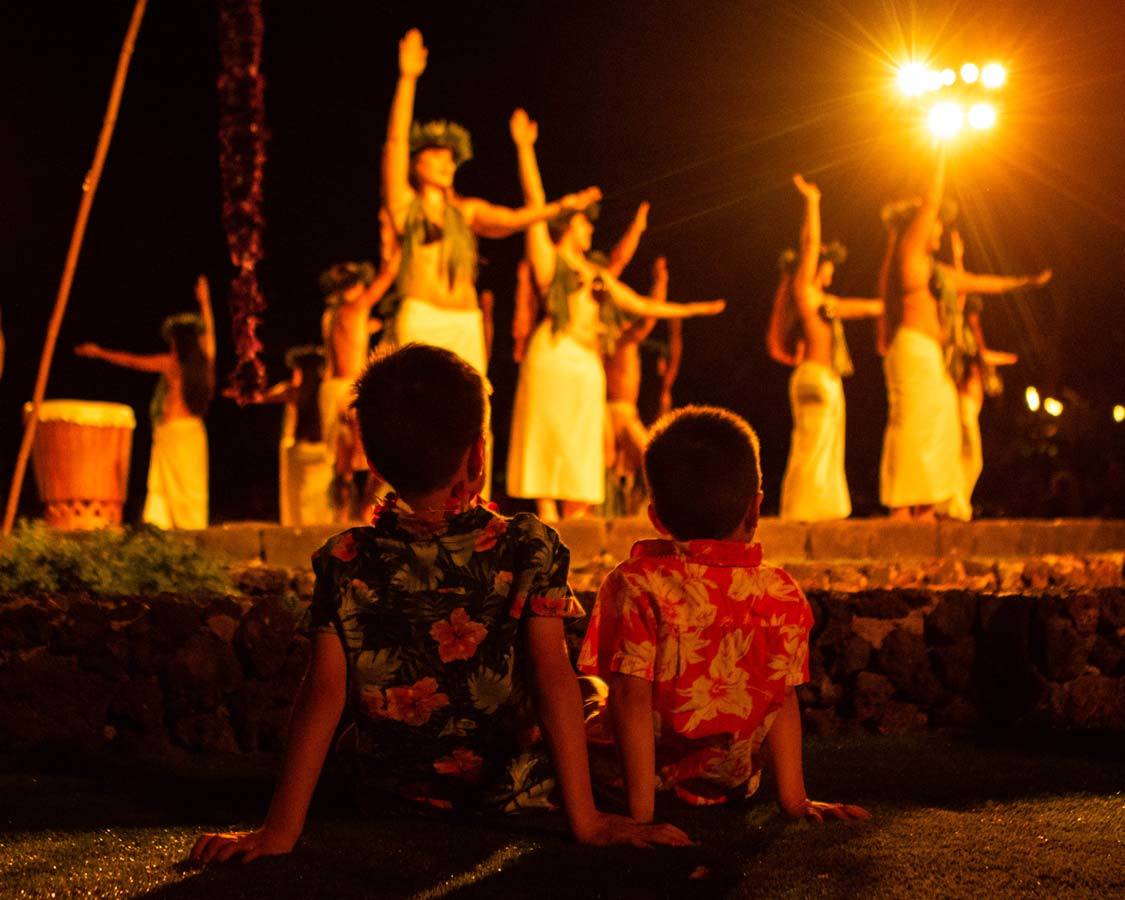 Where To Stay in Lahaina
Lahaina is a very popular resort town in Western Maui. It's exceptionally beautiful during the rainy season when the frequent but short rain showers often leave the surrounding mountains layered with rainbows.
Kaanapali Beach is one of the best beaches in the area, and the prime hotel on Kaanapali Beach is the Kaanapali Beach Hotel. It sits on a great stretch of sand right before the beach tapers off to almost nothing during high-tide in front of the Sheraton, yet outside of the much busier resorts closer to town. It is also one of the best values in West Maui.
Maui Itinerary Day 4 – Snorkeling And River Baths
If you've recovered from your Luau the night before, it's time to head towards the Central Maui town of Maalaea.
Snorkeling With The Pacific Whale Foundation
Here you can spend a relaxing day out on the water with the Pacific Whale Foundation. I highly recommend joining up with their Molokini and Turtle Arches snorkeling tour. You spend the morning on the boat, eating, drinking, and relaxing. The knowledgable staff works hard to make sure everyone is comfortable. Not only does this make for an incredibly calm day, but the beautiful trip out to Molokini and Turtle Arch gives you a chance to snorkel some of the most beautiful reefs in Hawaii.
We got up close and personal with green sea turtles, parrotfish, angelfish, puffers and much more. And what makes a Pacific Whale Foundation tour even better is knowing that your money is being used to foster education and conservation of the marine animals of Hawaii. The Pacific Whale team take special care of those visiting Maui with kids. They give an excellent talk where kids are engaged about what they saw on the reef. It's a truly awesome experience. You can read all about our Molokini snorkel tour here.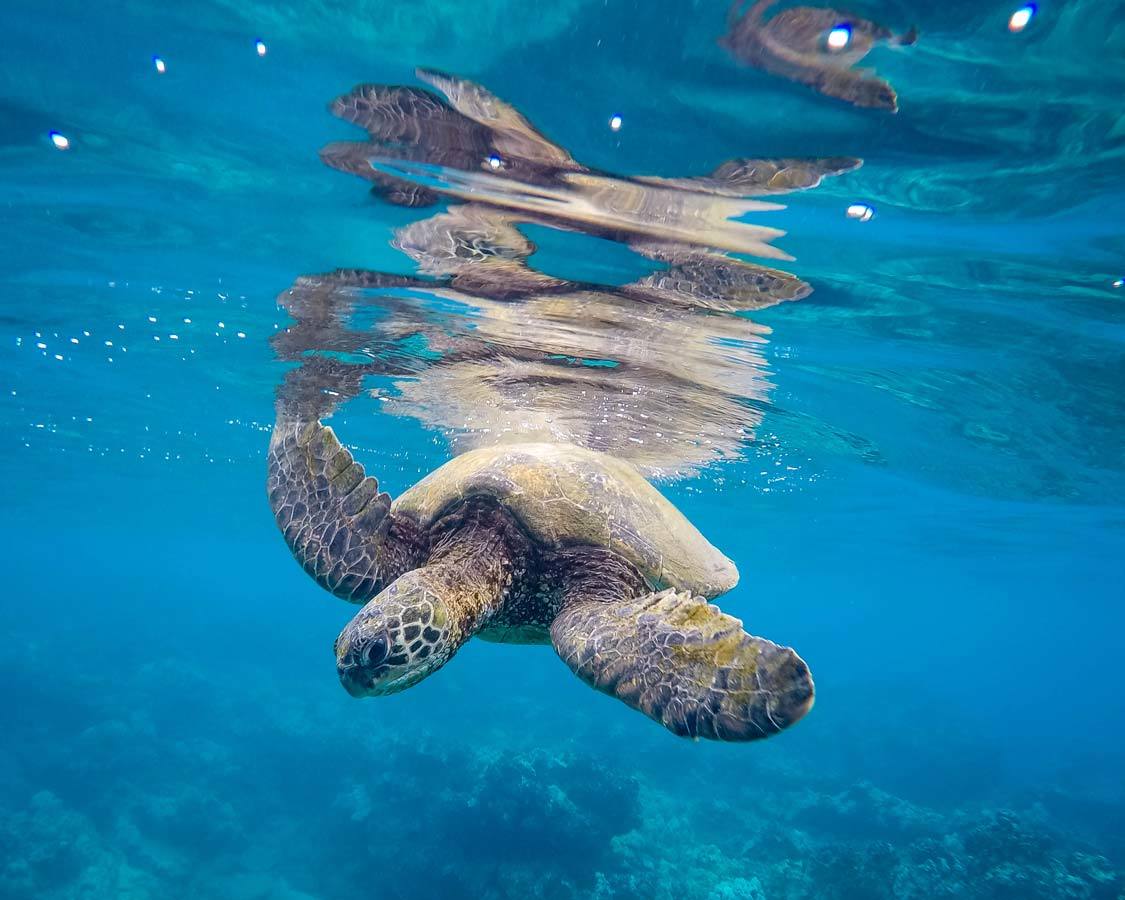 Iao Valley State Park
Once you disembark from your Pacific Whale Foundation tour your post Luau hangover should be cured. But it's not the time for a nap. In fact, don't even take off your swimsuit. Instead, make the drive along the edge of Pu'u Kukui to Iao Valley State Park. The winding road up the edge of the mountain alone makes for some spectacular views.
The towering green peaks stand over the lush floor of this State Park make it one of the best places to escape the afternoon heat. Iao Valley State Park is home to the Iao Needle, a towering 1,200 foot stone that was once a prime lookout spot to protect against the invasion of the first Hawaiian King Kamehameha I. But what I loved even more than this iconic view is the gentle stream laced with tiny waterfalls. It makes for prime bathing. And you'll often find locals wiling away the afternoon in a private corner of the river.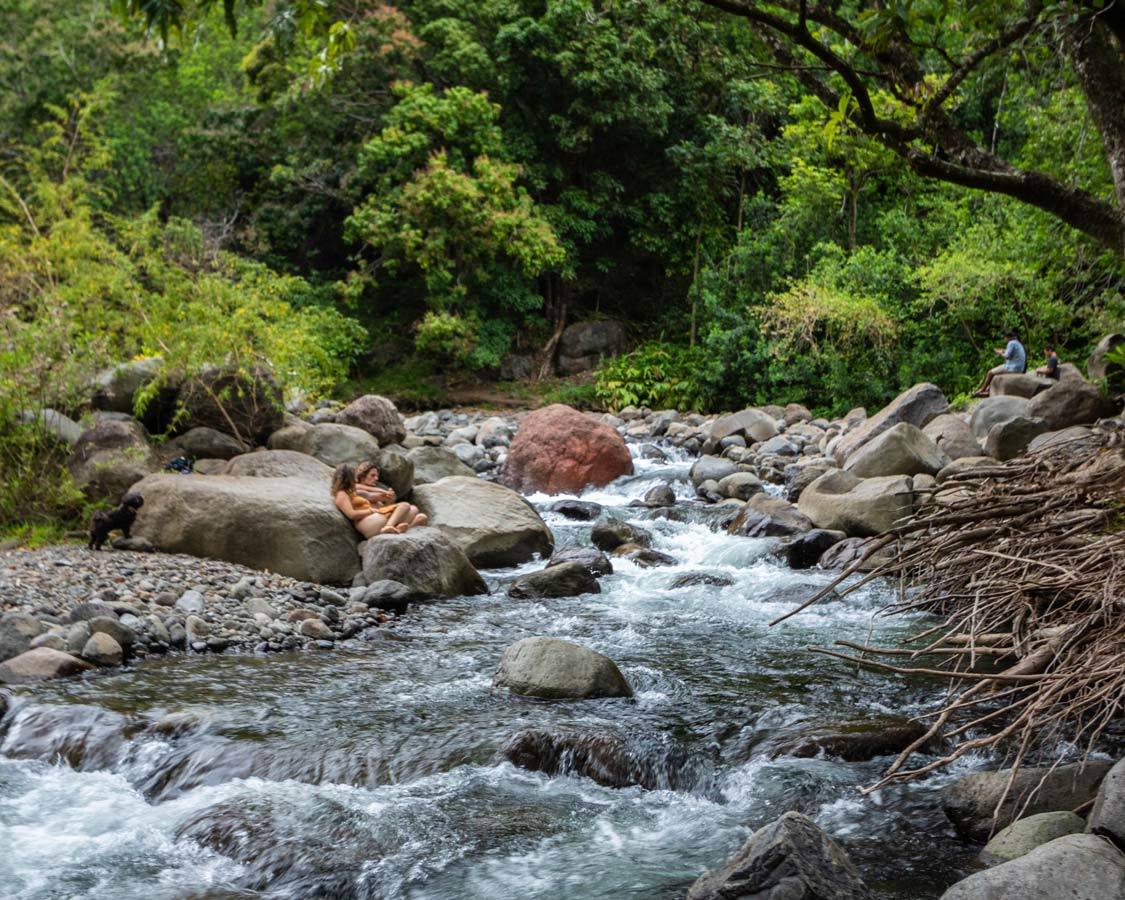 Lahaina Sunset
Once you've had your fill of relaxation in Iao Valley State Park, head back to Lahaina and finish your day with a great meal under one of the legendary Lahaina sunsets. You can hit up the Lahaina resort strip for some moderate food with the best views. Or you can head into Lahaina town to eat at Paia Fish Market or Aloha Mixed Plate on Front St.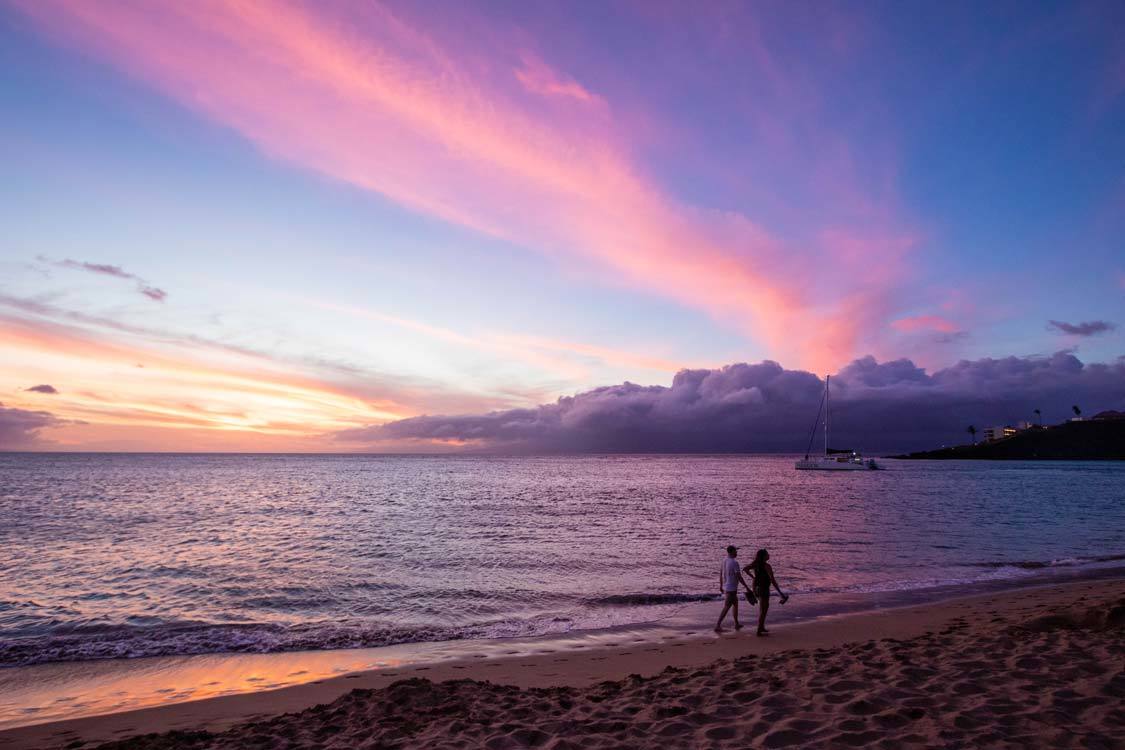 Maui Itinerary Day 5: Submarines and Historic Towns
It's your last day in Maui. It's time to decide how to end your 5 days in Maui itinerary with a bang. Is there any better way than starting it on a submarine.
Atlantis Submarine Adventures
Start your morning with a relaxing breakfast. Take it easy, enjoy the beach. Then make your way to the Lahaina Harbor for something truly unique. Atlantis Adventures offers a truly amazing experience. After a short boat ride out to the ocean. Here, you board a submarine for a dip down 125 ft (40 m) below the waves.
As you explore the ocean floor you'll see shipwrecks and countless marine animals. You might have the chance to see sharks, octopuses, eagle rays, and many other incredible creatures. And you'll see them all without getting wet! The commentary is both educational and funny. And the algae that have built up on the outside of the submarine makes for a great salad buffet for many fish that will no doubt be parked right outside your porthole. You can read all about our Maui submarine tour here.
Lahaina Town
After your morning submarine ride (still sounds pretty cool doesn't it!) take a tour through historic Lahaina town. Start at the remains of the old Lahaina Fort then head up to the absolutely magical Lahaina Banyan tree that has taken over the nearby park. I could spend a whole day hanging out under this tree and never stop being amazed by it. Pictures do not do it justice.
From there, check out the art galleries in the old Lahaina Courthouse and along Front Street. Make sure to check out Lahaina Galleries with its cool selection of original Dr. Seuss sketches. Another worthwhile stop is at Lappert's Hawaii for some of their famous Dole Whip. Dole Whip is basically a pineapple soft-serve that will help you stave off the heat of the afternoon.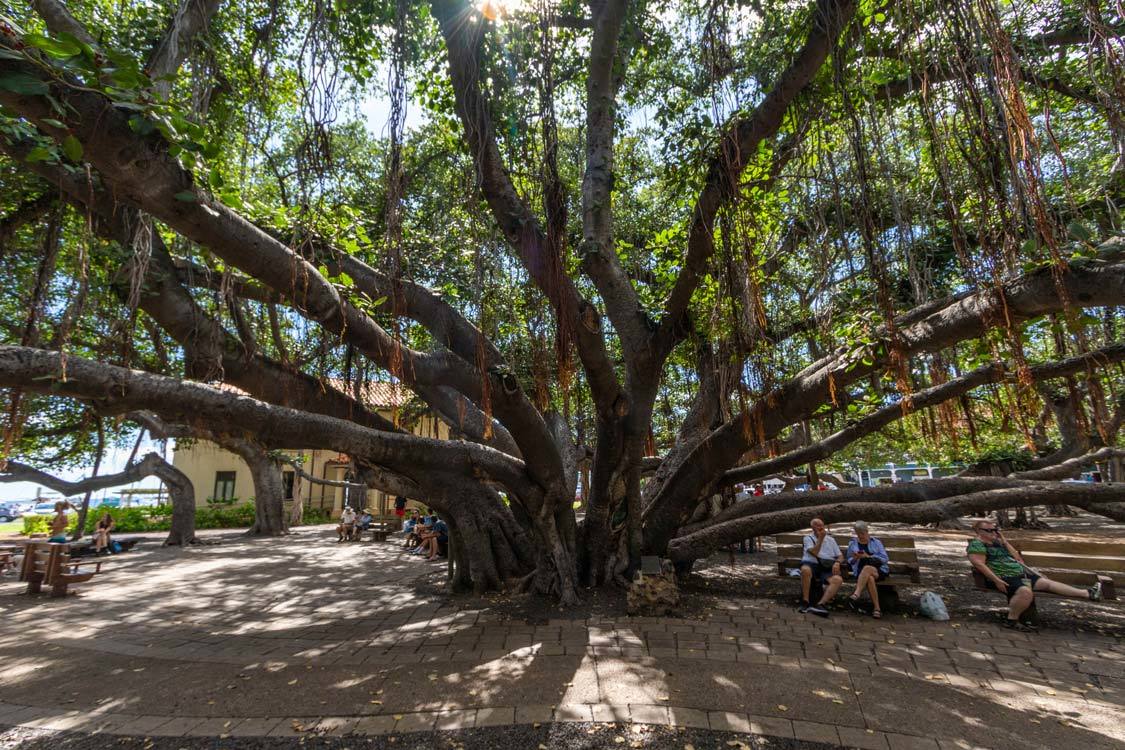 Once you've enjoyed Lahaina town, it's probably time to start making your way back towards Kahului and your flight to your next destination. This Maui itinerary has shown you some of the great things to do on the island. And if you can stretch out a couple of more days, you can see even more!
Have you ever traveled to Maui? Tell us about your experience in the comments section. Or, swing over to our Facebook Page and share a photo of your experience. We would love to share in your travels.
Disclosure: This post was made possible with the support of the Pacific Whale Foundation, Atlantis Adventures, and Ka'anapali Beach Hotel. All opinions are our own. Wandering Wagars is a participant in the Amazon Services LLC Associates Program, an affiliate advertising program designed to provide a means for sites to earn advertising fees by advertising and linking to amazon.com, amazon.co.uk, amazon.ca. Amazon and the Amazon logo are trademarks of Amazon.com, Inc. or its affiliates.
You May Also Like To Read:
Pin This Post For Later: