Experiencing this 7 day Big Island itinerary will give show you what the island of Hawaii has to offer! From waterfalls to volcanoes and more!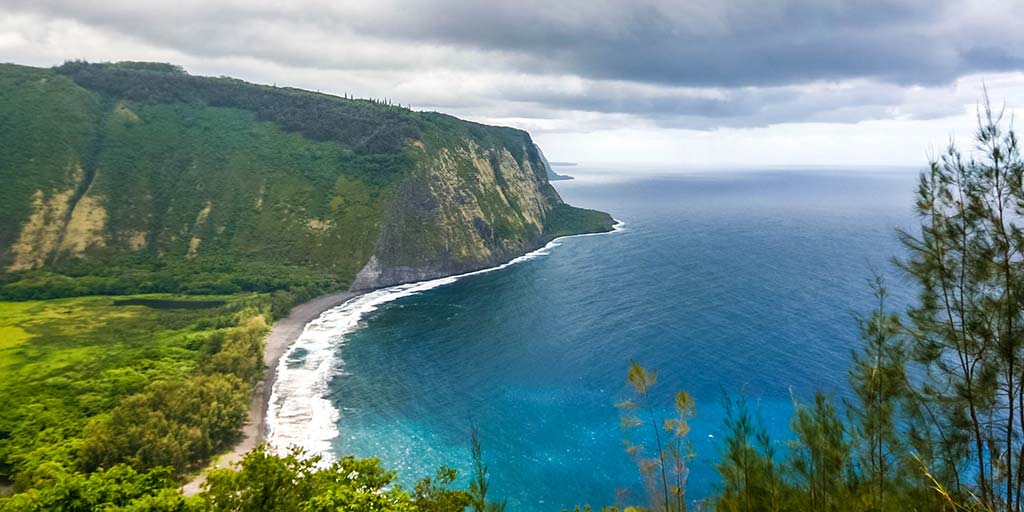 Hawaii is awesome. It's beautiful, epic, and exploding with adventure, both figuratively, and literally. And with amazing weather year-round, Hawaii is a destination that never seems to have an off-season. While most visitors spend their time on some of the more lush islands like O'ahu, the garden island of Kauai or the valley island of Maui, our favorite Hawaiian island is the State's namesake, Hawaii, or more commonly known as the Big Island. Those who spare the time to experience a 7-day Big Island itinerary will be begging to come back.
The Big Island of Hawaii is rough, rugged, and perfect for adventure travel. It is the youngest of the Hawaiian islands, and its incredibly active volcanoes ensure that the island is in a continual state of flux. The new land is being created here almost every day by the still very active Kilauea Volcano.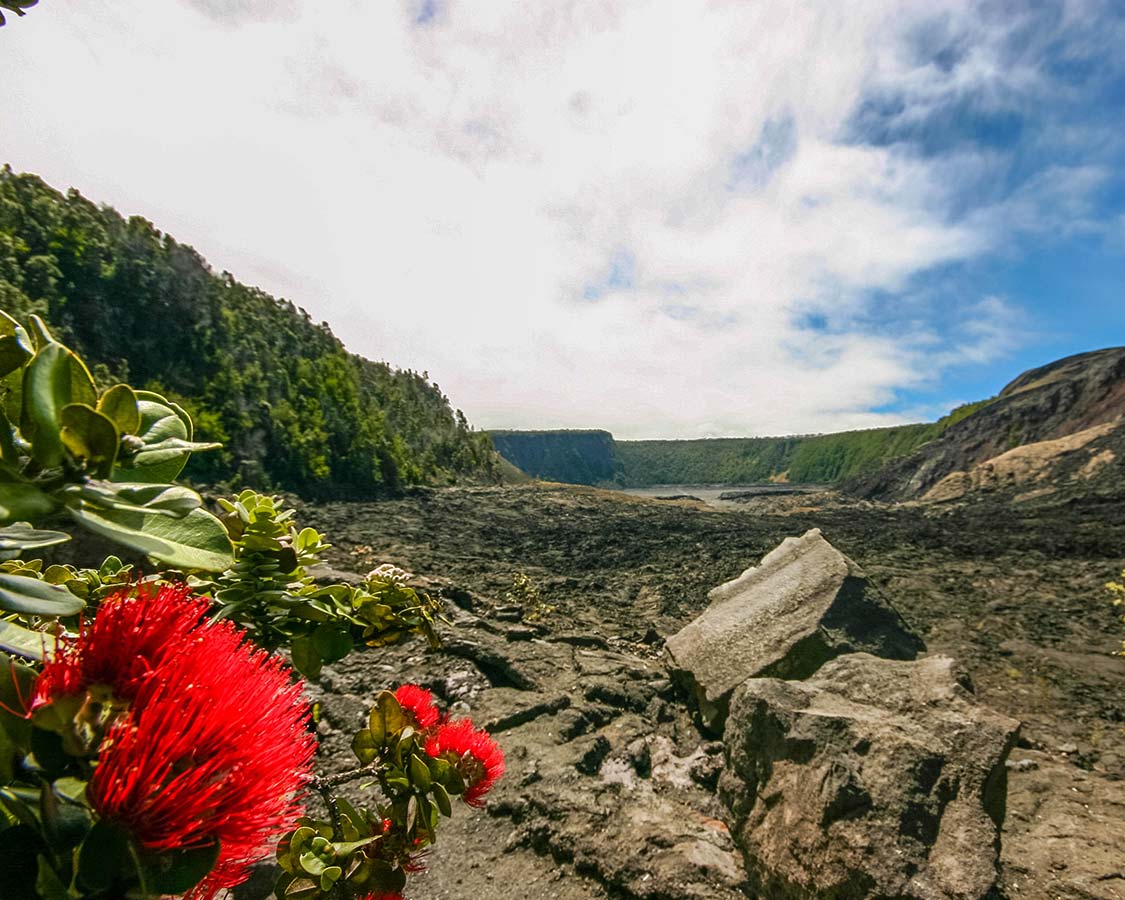 What to Pack Into A 7 day Big Island Itinerary
You could easily spend two weeks or more exploring the Big Island, but it's not always easy to find that kind of time. A 7 day Big Island itinerary is much more manageable for most travelers, and we were no different. And while most people who travel to the Big Island arrive in the town of Kona, we, on the other hand, visited the US from Toronto, connected through Oahu, and arrived on the other side of the Big Island in the town of Hilo.
Just like every destination, planning your Big Island packing list will help to make sure that you have everything you need for your family vacation. The weather in Hawaii is relatively consistent. Temperatures range from the mid-70s F (23 C) to the high-80s F (31 C).
However, if you are planning for your 7 days on the Big Island to include Mauna Kea or Mauna Loa, that can change quite dramatically. Temperatures drop about 3 F (.75 C) for every 1,000 ft of altitude. And with the highest point of Mauna Kea standing at over 13,800 ft (4,200 m), life on the summits can get chilly. But, no matter what your Big Island itinerary has in store, here are a few things you should not forget. You can also check out our complete guide of what to pack for Hawaii in any season here.
Reef safe sunscreen – You won't find many popular brands of sunscreen for sale in Hawaii. This is because the sale of sunscreen has been limited to brands that are considered reef-safe. Sunscreen brands such as this one don't include chemicals that have been known to be destructive to coral reef systems like those found off the Hawaiian islands. You can check out our guide to the best reef-safe sunscreen brands here. You can also check out our entire list of what to pack for Hawaii here.
Water shoes – If you're anything like us, you'll be spending a lot of time in the water during your Big Island vacation. Packing a pair of water shoes will help you explore some of the beaches and streams without hurting your toes. These will also help on some of the searing hot sand of the Hawaiian beaches during the middle of the day. Try these ones for kids and these ones for adults.
Waterproof digital camera – You'll want to capture all of the best experiences on your Big Island holiday. Bring along a waterproof camera such as a [easyazon_link identifier="B07B7YPKQX" locale="US" tag="anderinagars-20″]Go Pro Hero[/easyazon_link] or an [easyazon_link identifier="B07RC8HPHL" locale="US" tag="anderinagars-20″]Olympus TG-Tough[/easyazon_link] to get great photos without worrying about getting it wrecked on the beaches or in the water.
Windbreaker, puffer, or rain jacket – The weather on the Big Island is usually pretty amazing. However, there are times when the temperature can drop, especially in the mountains. Be prepared with a light and packable jacket just in case. These do double duty for Big Island boat tours since it can get chilly out on the water. These ones are great for kids and these ones are great for adults.
Experience The Best Of Hawaii With This 7-Day Big Island Itinerary
Big Island Itinerary Day 1: Hilo Nightlife
If you're visiting the U.S. or flying domestic, most planes into the Big Island arrive at lunchtime or later. By the time we had sorted out our car rental and booked into the Hilo Bay Hostel, most of the day was behind us. Luckily Hilo is a cool town to explore after sunset. There are great coffee shops, and the local music scene is often in full effect throughout the town. Hilo is a great town to start your 7-day Big Island itinerary. It's hip, fun, and offers one of the most laid-back Hawaiian atmospheres. Head to the main strip to catch some bands on the public stage. Sip coffee in one of the classic cafes. Or just chill out and watch the stars by the water.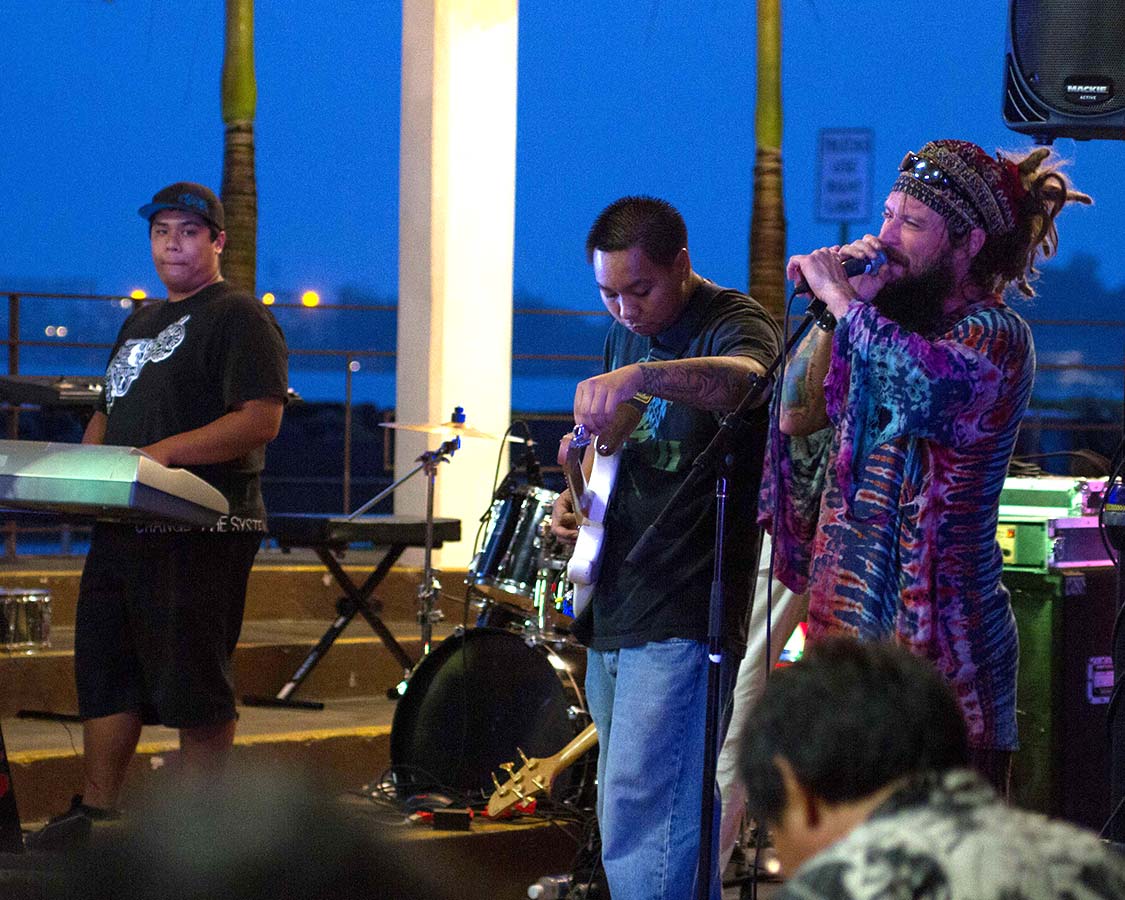 Big Island Itinerary Day 2: Japanese Gardens, Waterfalls, and Mountains
Our first full day on the Big Island was packed full of incredible sights. We rose early and couldn't wait to hit the road to see what the seven days on the Big Island had in store for us! Because we were doing a full tour of the Big Island in 7 days, we wanted to hit the road early to get as much of the west side scenery before making our way towards the center of Hawaii.
Liliuokalani Gardens
After breakfast, we made a stop at the nearby Liliuokalani Gardens. This beautiful Japanese garden was the perfect place to get ourselves centered before our road trip through the Big Island Hawaii. It's easy to spend hours wandering the different paths throughout the Liliuokalani Gardens. We wandered for about an hour before making our way further into our Big Island tour.
Waipio Valley
When we finished exploring the Japanese garden we left on a scenic drive that brought us to Rainbow Falls, Akaka Falls, and Pee'Pee'e Falls. But all that was just in preparation for the spectacular lookout over the Waipio Valley. Waipio Valley is a gorgeous canyon cut by the river of its namesake, which means "Curved Water". For a long time, this was the home of the Hawaiian Kings, however, now it is just filled with beautiful hikes and lush landscapes. The dramatic cliffs were a great precursor to our visit to the Na Pali Coast on Kauai.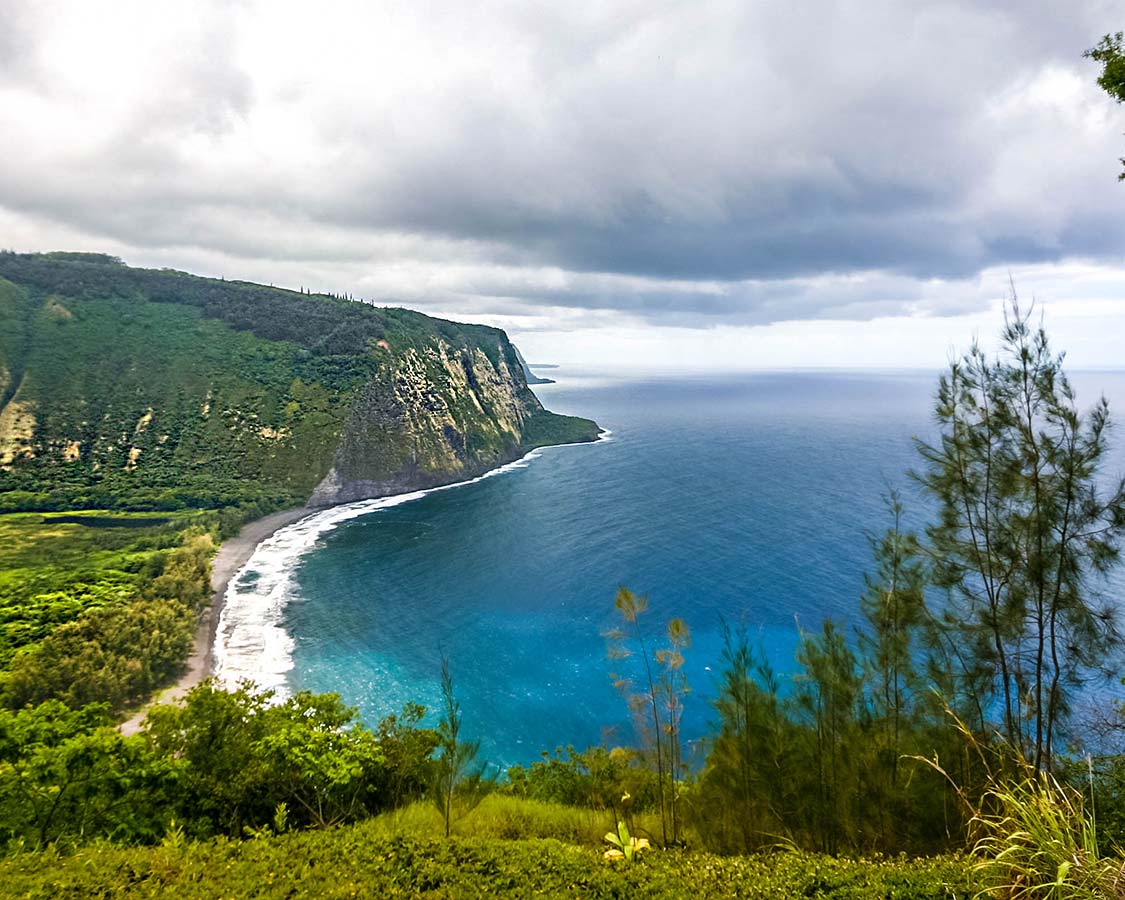 Although hiking the Waipio Valley is incredible, many visitors often show up just for the view. And it will not disappoint! After tearing our eyes off of the beautiful view we made our way through the valley for some hiking before moving on through the middle of the Big Island towards the towering Mauna Kea.
Mauna Kea Observatory
As we arrived at the base of Mauna Kea and saw the long, steep dirt road up the mountain, we wondered if this was the best decision. We hadn't really researched this location, but I knew there were observatories at the top, and I am a total geek for space stuff. But a stop at the summit of Mauna Kea is a must for any Big Island itinerary. So we started making our way up toward the Mauna Kea Visitor Information Center.
This is the point where it's recommended that visitors stop for an hour to acclimate. When we finally reached the summit, we were blown away. We spent some time hiking the summit. And then stayed until sunset before heading down. And boy, the sunsets were amazing. In the dark, we made our way to the town of Kona to settle down for the night. You can read more about what to do on the summit of Mauna Kea here.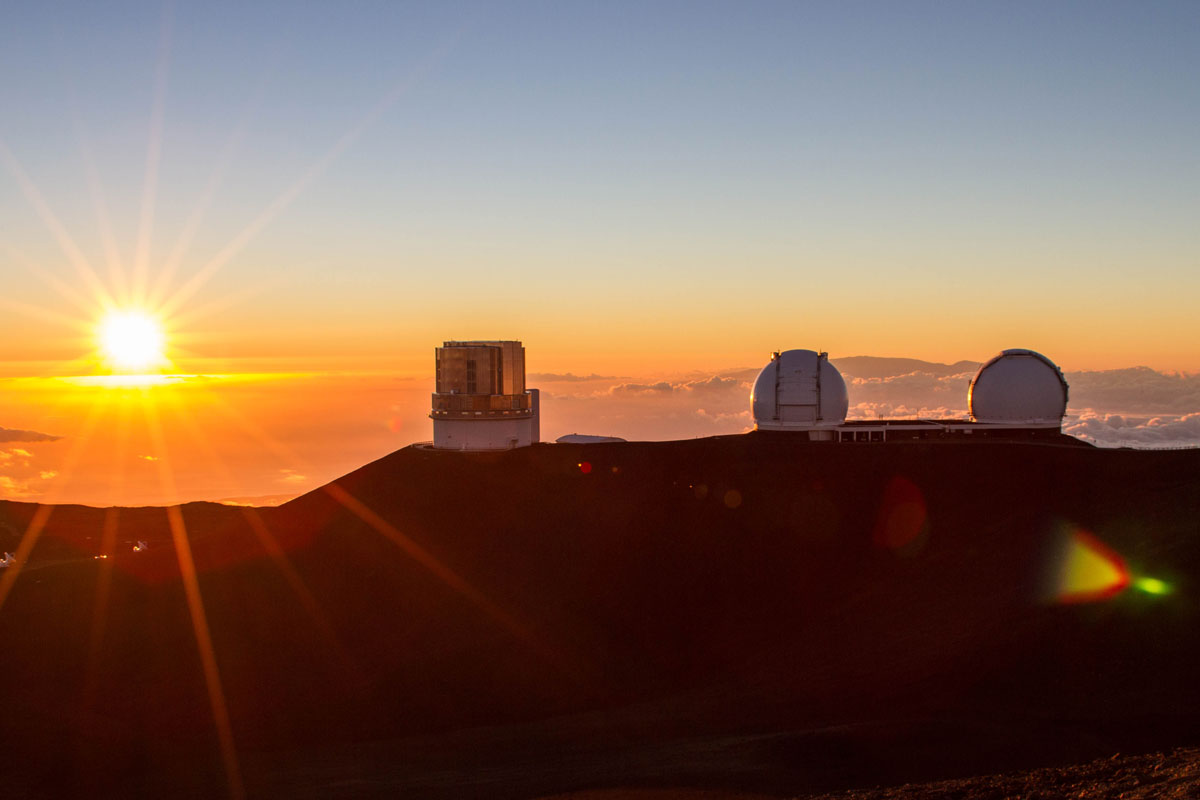 Big Island Itinerary Day 3: Snorkelling and Caving
After coming down from Mauna Kea, we spent an amazing night in the Kona Tiki Hotel, which has amazing oceanfront views, we made our way south for what would prove to be an amazing day both in the water and underground.
Kealakekua Bay State Historical Park
Kealakekua Bay marks the point when famed explorer Captain James Cook, leading a group of European explorers, first made contact with the local Hawaiian chiefs. Although the contact ended poorly for both the natives and Captain Cook, Kealakekua Bay remains a beautiful place to explore. We particularly loved snorkeling the shallow waters of the bay. The variety of fish was only beat by our Molokini snorkel experience a few years later.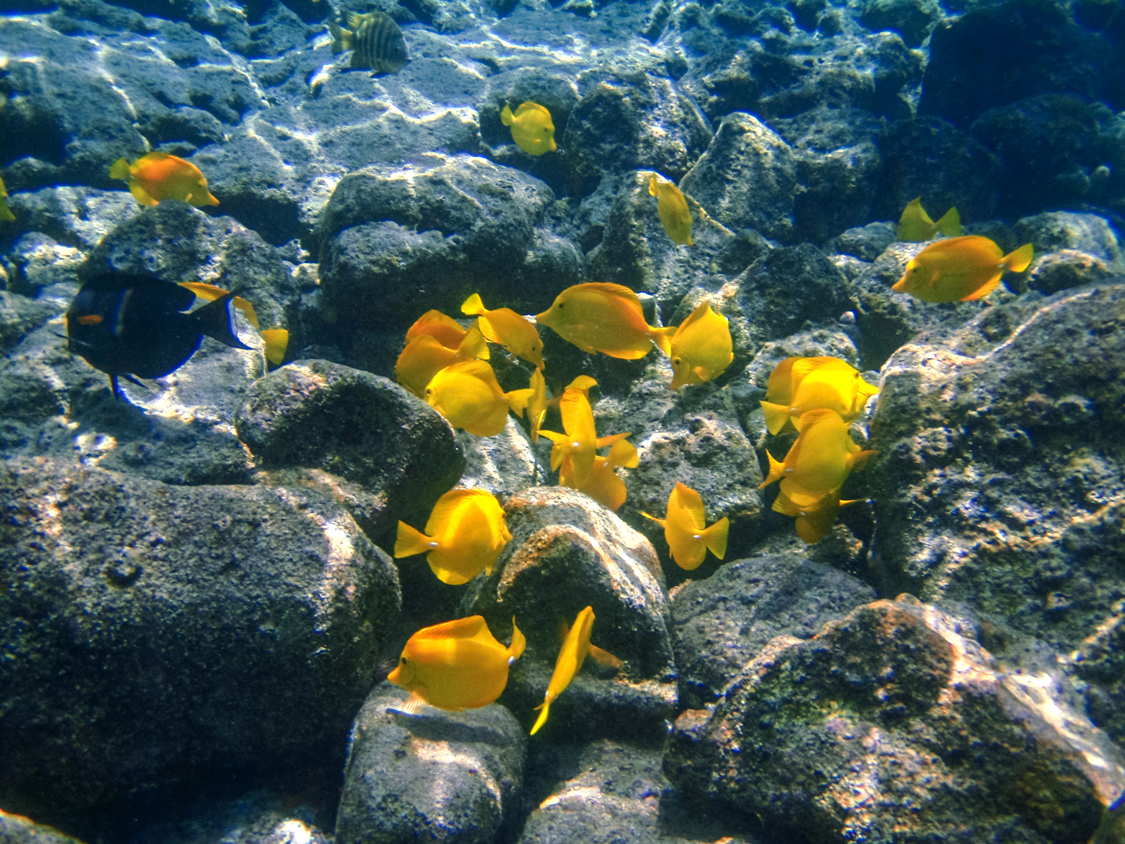 Spelunking Kula Kai Caverns
After a picnic on the rocks of Kealakekua Bay, we hopped in the Jeep and headed further south toward Ocean View. At this point, it was clear where Hawai'i's legendary volcano had made its presence felt. We could see where lava flows had changed the landscape, leveling small towns and even sections of the highway. And this was precisely why we were here, to check out the lava tubes of Kula Kai Caverns.
We spent an hour and a half exploring these incredible lava tubes with an amazing guide. I highly recommend this experience for any Hawaii Big Island itinerary. After getting our fill of the Kula Kai Caverns, we returned to the Kona Tiki Hotel to prepare for the next day's adventures.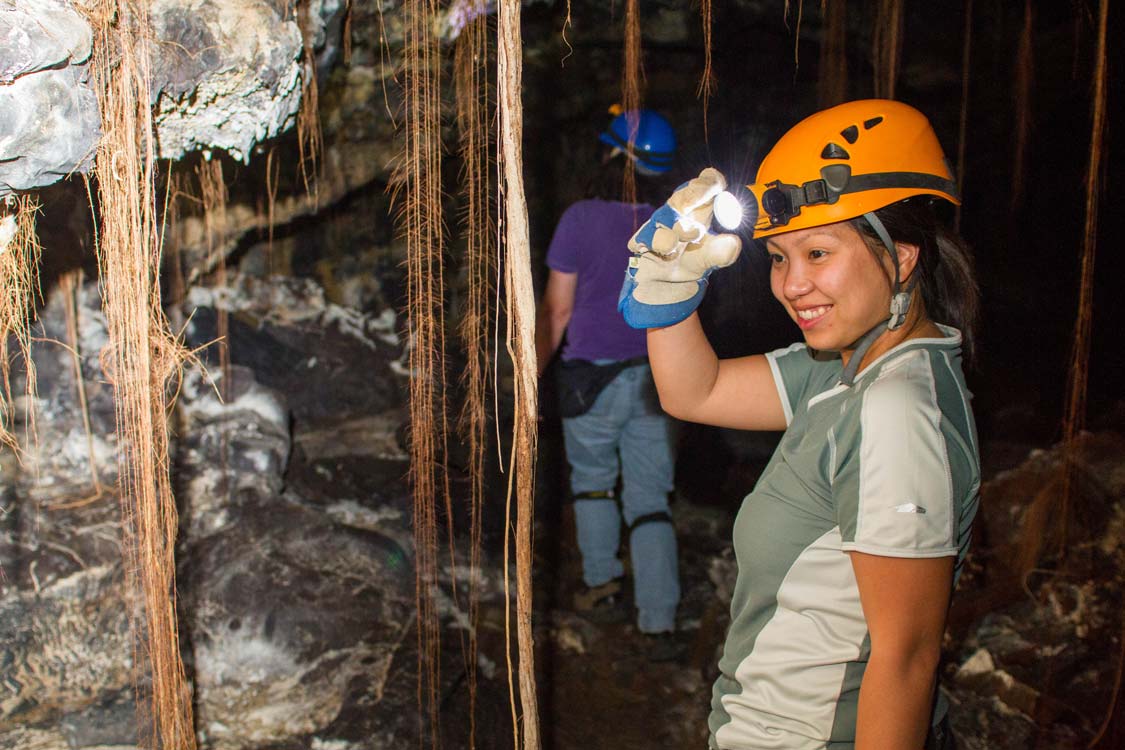 Big Island Itinerary Day 4: Painted Church and Hawaiian History
We woke after an amazing night's sleep, and instead of heading straight out, we went back to sleep. It was amazing! Then we took off towards Pu'uhonua O Honaunau National Historic Park. But first, we were going to check out one of Hawaii's most beautiful churches.
The Painted Church
St. Benedict's Catholic Church, is an unassuming white wooden church located just inland from Pu'uhonua O Honaunau National Historic Park. The walk up is decorated with a beautiful sculpture of Christ and Mary, and just to the side is a small cemetery. This church dates back to the 19th Century, and from the outside, it looks quaint, but far from special. But, when you enter through the main doors, a spectacular sight awaits.
The walls, ceiling, and pillars are all elaborately painted with colorful imagery telling the stories of the Bible. The Belgian Priest who started the church used the murals to help teach lessons to the Hawaiians who did not know how to read.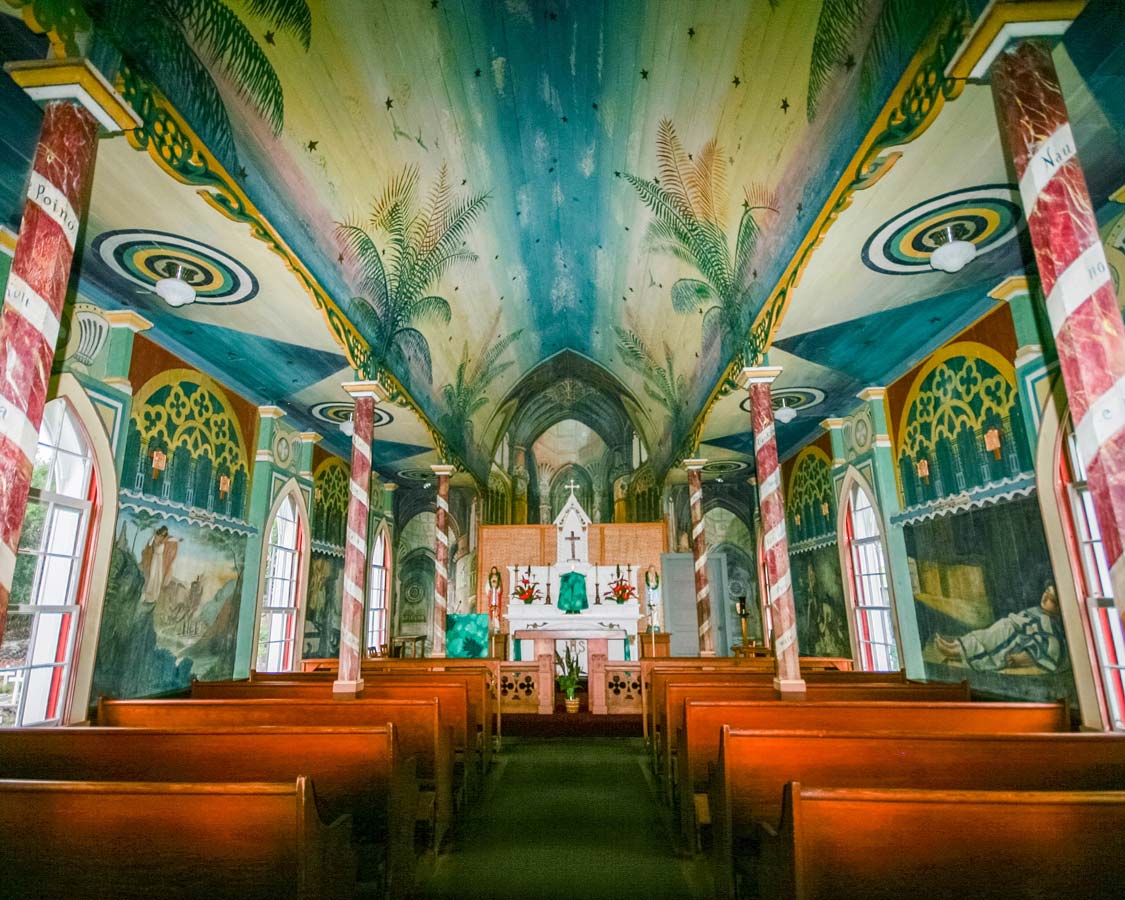 Pu'uhonua O Honaunau National Historic Park
We left the Hawaii Painted Church and made our way towards to coast to check out Pu'uhonua O Honaunau National Historic Park. The site was a place of refuge for local Hawaiians who, if convicted of crimes, could flee to this site to be absolved of their crimes by the resident Hawaiian priests. During battles, defeated warriors could also find refuge in this place of peace.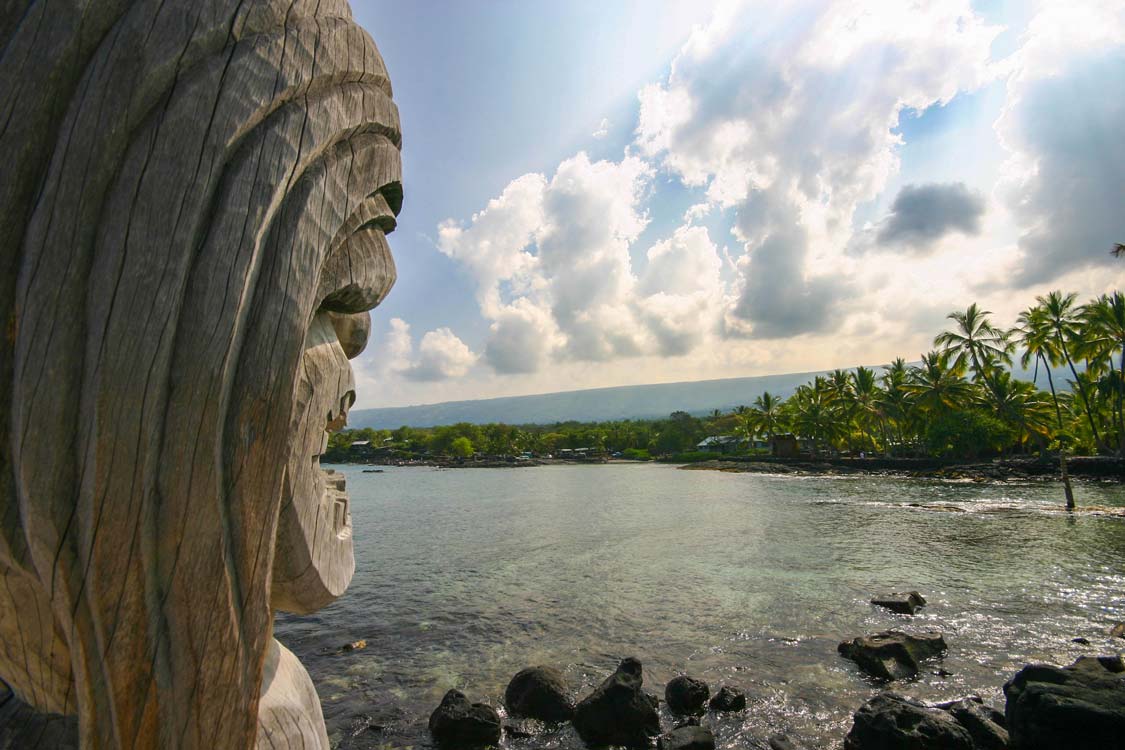 Pu'uhonua O Honaunau National Historic Park had a stronger impact on us than we could have anticipated. Learning of the persecution and struggles as well as the generosity and power of the Hawaiian priests was inspiring. Lightened by our experience we returned to Kona for the night, but we had one more adventure waiting for us when we arrived! You can read more about the park here.
SCUBA Diving with Manta Rays
We were picked up at the Kona Marina for one of the coolest Big Island tours. The boat headed away from shore just before sunset. Our dive that night would consist of a sunset dive followed by a night dive where we would sit on the floor of the ocean with flashlights to attract plankton. This activity attracted massive 18-foot Manta Rays to the site to feast. Watching these huge, graceful creatures swim loops above us, at times even grazing our heads was absolutely unforgettable.
That night we slept with dreams of Rays flying through the waves in Hawaii. It was wonderful! If you aren't a SCUBA diver, you can also experience the Manta Rays in Hawaii while snorkeling. The massive beasts put on nearly as great a show for those on the surface as those below it.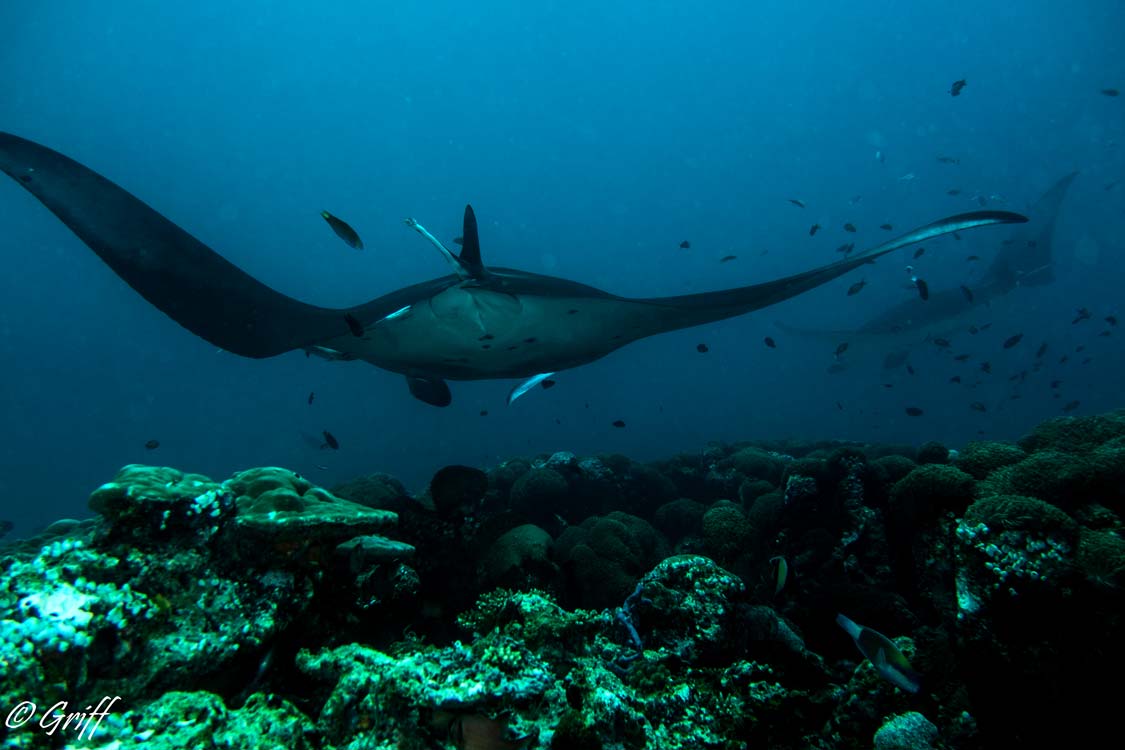 Day 5: Things Get Hot At Hawaii Volcanoes National Park
We woke and left Kona for the final time on our Big Island vacation. The final day of our 7-day Big Island itinerary would bring us to Hawaii Volcanoes National Park. But we had some stops to make first.
Punalu'u Black Sand Beach
Our first stop was Punalu'u, located between Pahala and Na'alehu. This rocky beach is made almost entirely of volcanic sand. It also has a large freshwater spring under the water. It's rumored that during droughts, Hawaiians would dive under the sea with jugs to retrieve fresh water from beneath the waves.
Nearby to the Hawaiian black sand beach is Papakolea, a green sand beach that is accessible via a hike or four-wheel drive vehicles (although it can be tricky to reach). Unfortunately, we didn't have a chance to visit it that day.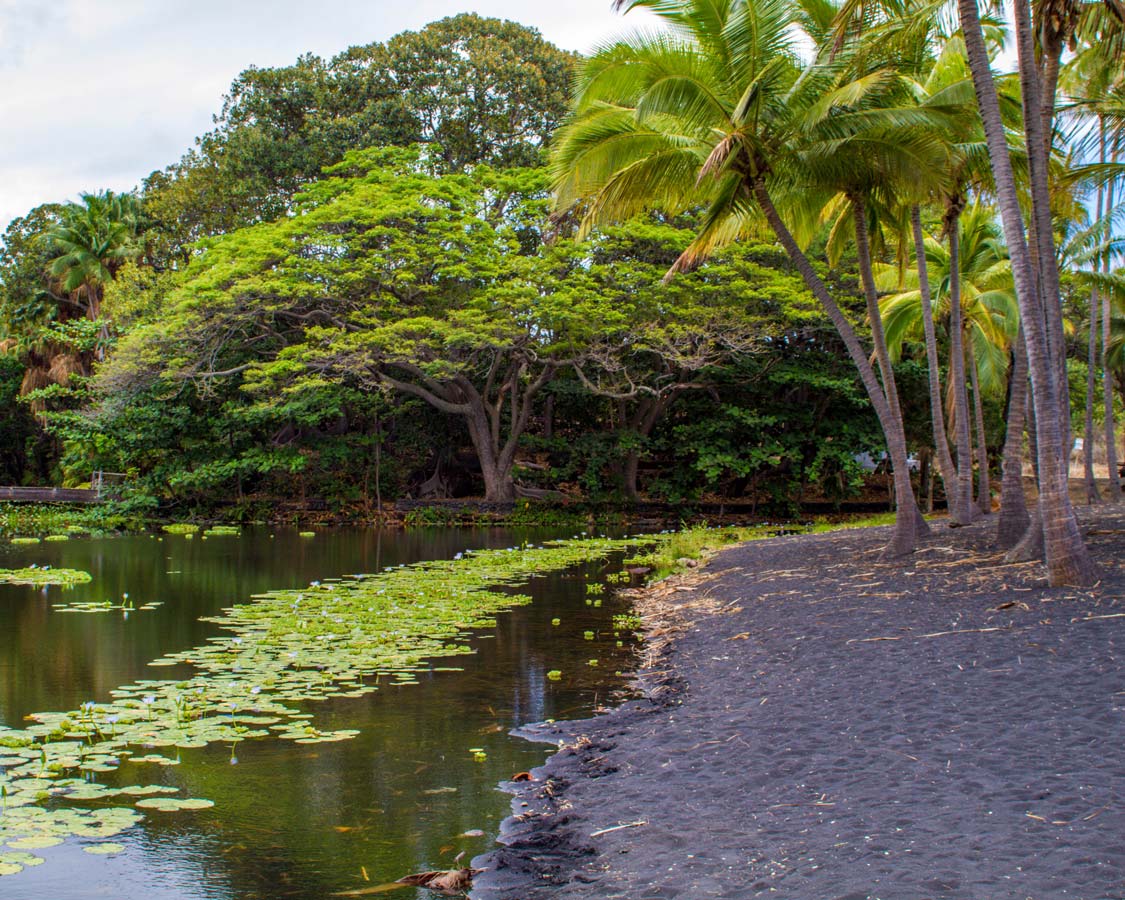 Hawaii Volcanoes National Park
We made the two and a half-hour drive to Hawaii Volcanoes National Park without incident and were ready to be amazed. However, we soon learned about our first disappointment on the trip. Kilauea Volcano, one of the most active volcanos on earth, that normally ceaselessly sends lava pouring into the ocean, had just stopped erupting for the first time in ages. So with hours of extra time that would have otherwise been spent hiking to the lava viewing point available to us, we were able to see so much more!
Lava Tree State Monument
We stopped at the Hawaii Lava Tree State Monument on a whim. And we are so glad that we did. This easy stroll through a forest devastated by an eruption of Kilauea was eye-opening. It features the remains of trees that retained their form after being covered by flowing lava from the eruption. The setting, now being covered by lush flowers and vegetation is totally surreal.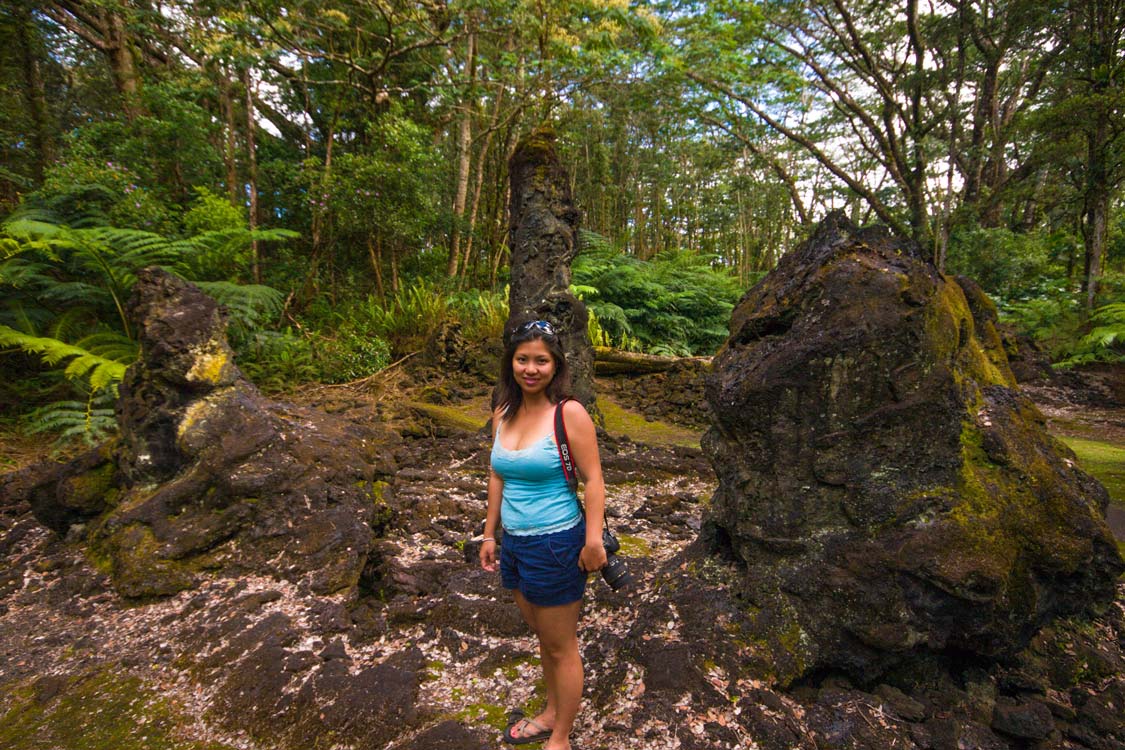 Hiking Hawaii Volcanoes National Park
With extra time afforded to us by not chasing Lava, we did the next best thing, we walked along the floor of the Kilauea volcano. Through the valleys devastated by the eruption, where the ground was literally steaming beneath our feet, to the overlooks that showed the dramatic difference between the lush cliffs and the barren valley floors.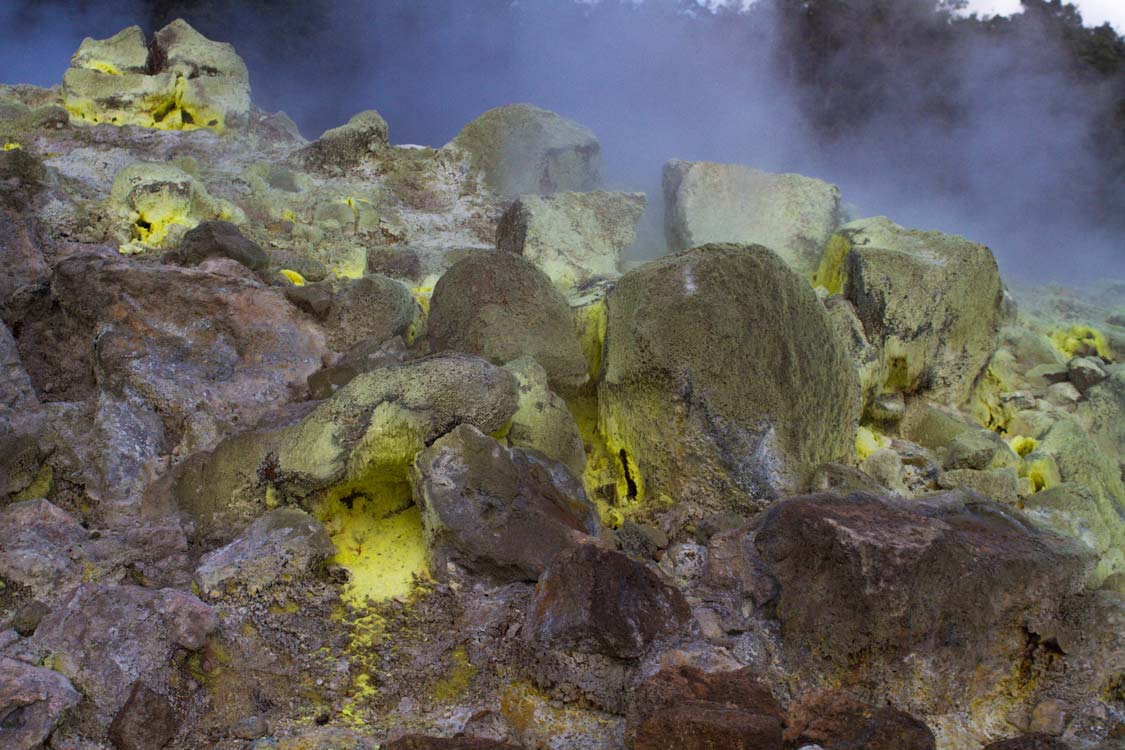 Pu'u Loa Petroglyphs
As the sun was sinking lower in the sky, we made a mad hike towards the Pu'u Loa Petroglyphs. The walkout to these Hawaiian petroglyphs can be a bit treacherous at night due to the uneven footing. And we had not brought any flashlights! But when we arrived just before sunset, the spectacular sight of these ancient stories carved into the lava rock was more than worth the risk.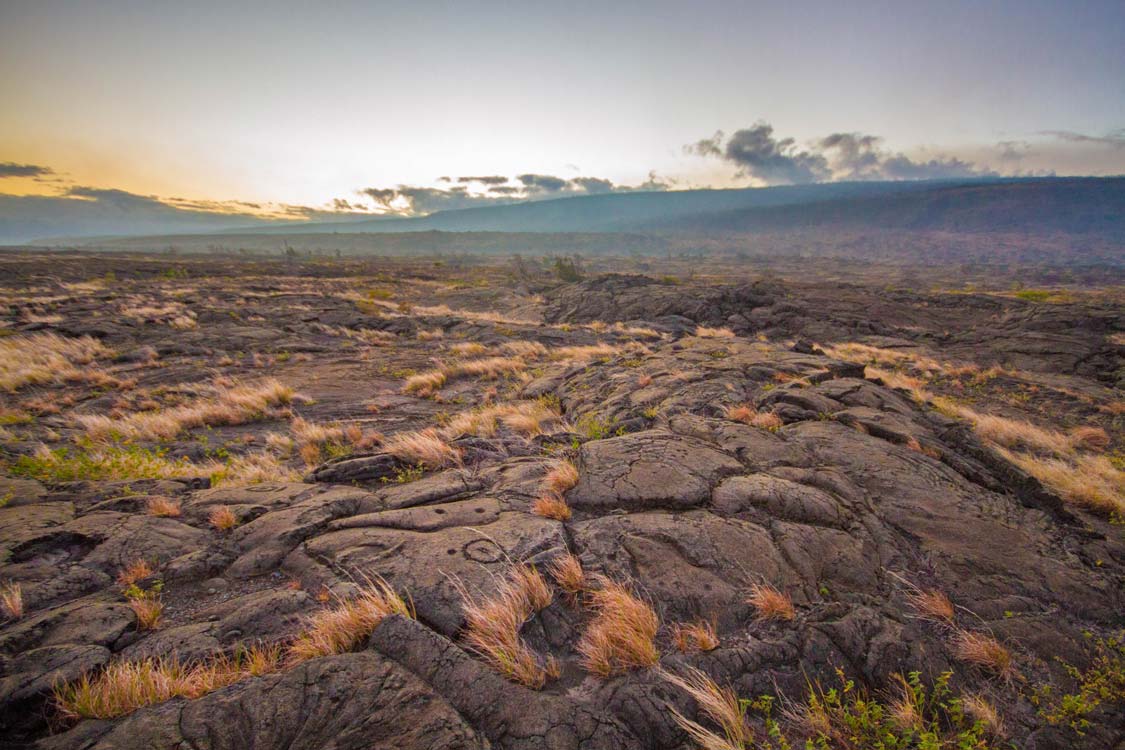 Halemanumau Crater
When darkness fell, we made our way to Halemanumau Crater. This pit crater located near the summit of Kilauea was the closest we would see to lava in Hawaii. It's humbling to see the ghostly glow of the Halemanumau crater against the dark sky of Hawaii Volcanoes National Park. After walking through the lava tubes and across towns covered in lava rock, it was clear just how powerful this volcano was.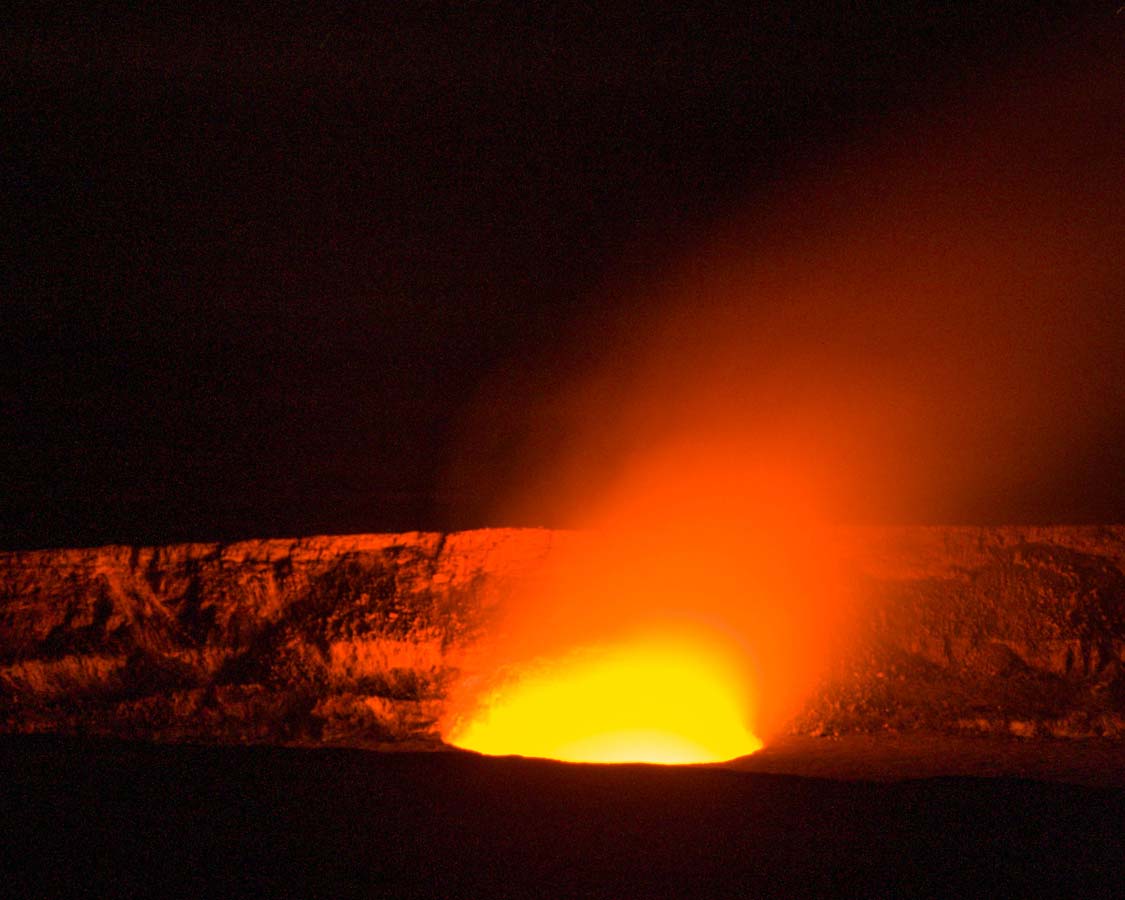 Day 6: Cooling Down In Lava Tubes And Tide Pools
The next morning we opted to take a slightly cooler route from the steaming hot fields we trekked through the day before. We started our morning with a stroll through the Thurston Lava Tubes.
Thurston Lava Tube
Located about 1/2 mile from the Kīlauea Iki overlook is Nahuku, or popularly known as the Thurston Lava Tube. This spot is free to visit and the first portion is well lit. Although the supplied light comes to a sudden end. If you want to explore further, you'll need headlamps. It's hard to believe that just a few hundred years before, lava was pouring through these tubes.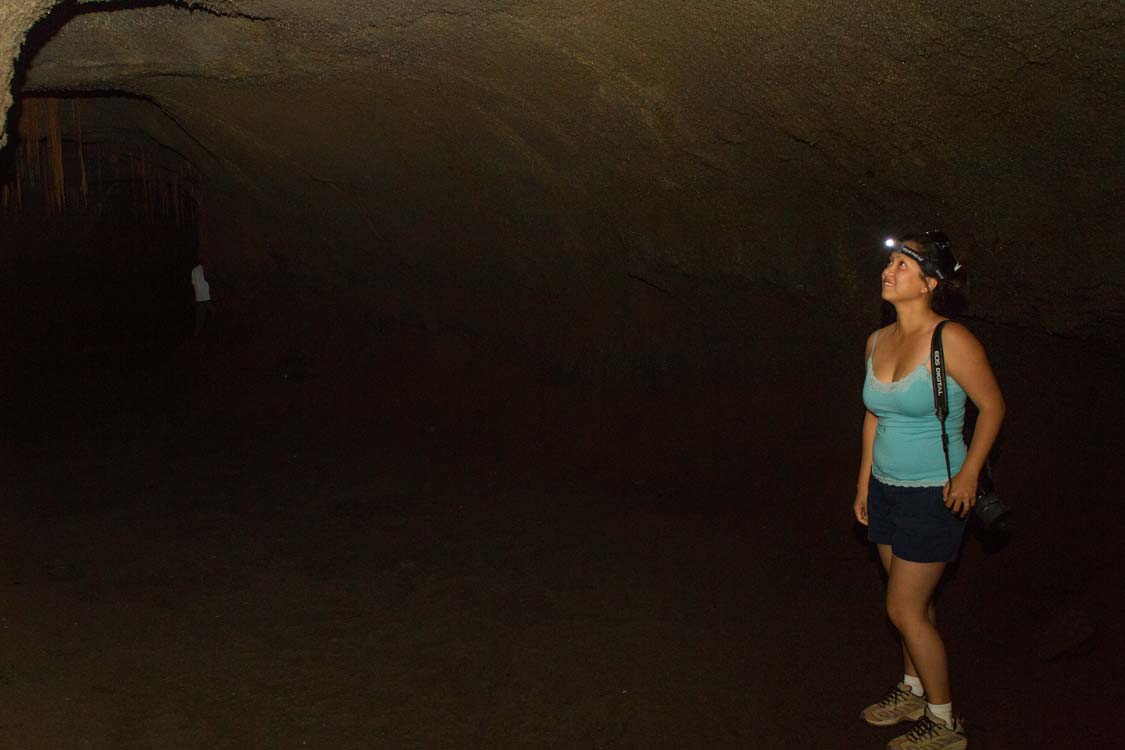 Kapoho Tide Pools
The Kapoho Tide Pools on the Hilo side of Hawaii is a maze of lava formed tide pools that is a great spot to relax while avoiding the crashing Hilo waves. Some of the tide pools are large enough for snorkeling. While others are perfect enough to pass as a couples hot tub.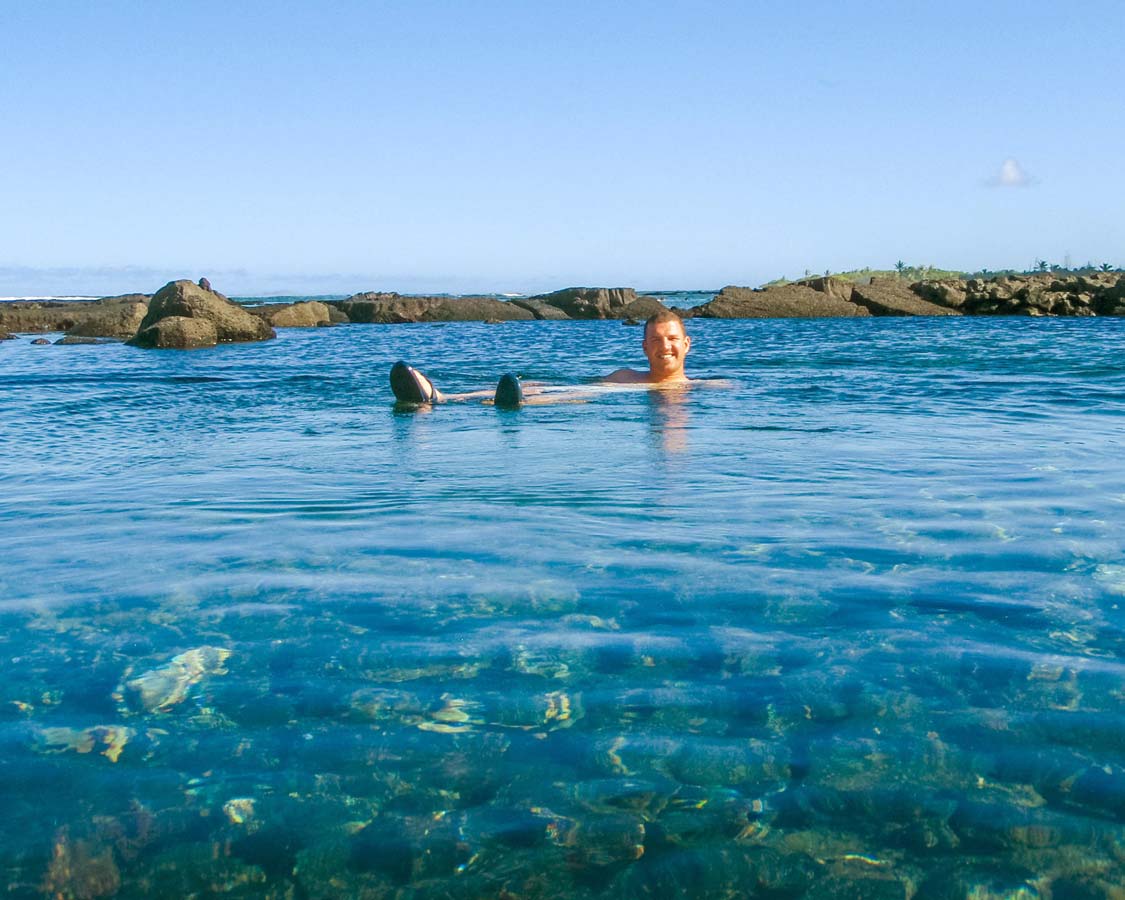 After relaxing for hours in the tide pools, we made our way to our final stop on the Big Island, the Equus Hotel. Our flight to Honolulu was early the next morning. But the memories of the Big Island will be with us forever!
Have you ever been to the Big Island of Hawaii? Tell us about your favorite locations on the island! Or, swing over to our Facebook page and share a photo of your trip. We would love to share in your travels.
Wandering Wagars is a participant in the Amazon Services LLC Associates Program, an affiliate advertising program designed to provide a means for sites to earn advertising fees by advertising and linking to amazon.com, amazon.co.uk, amazon.ca. Amazon and the Amazon logo are trademarks of Amazon.com, Inc. or its affiliates.
You May Also Like To Read: