Take your travels home with you by enjoying these mouthwatering and easy Filipino recipes wherever you are. These Filipino dishes will leave you speechless.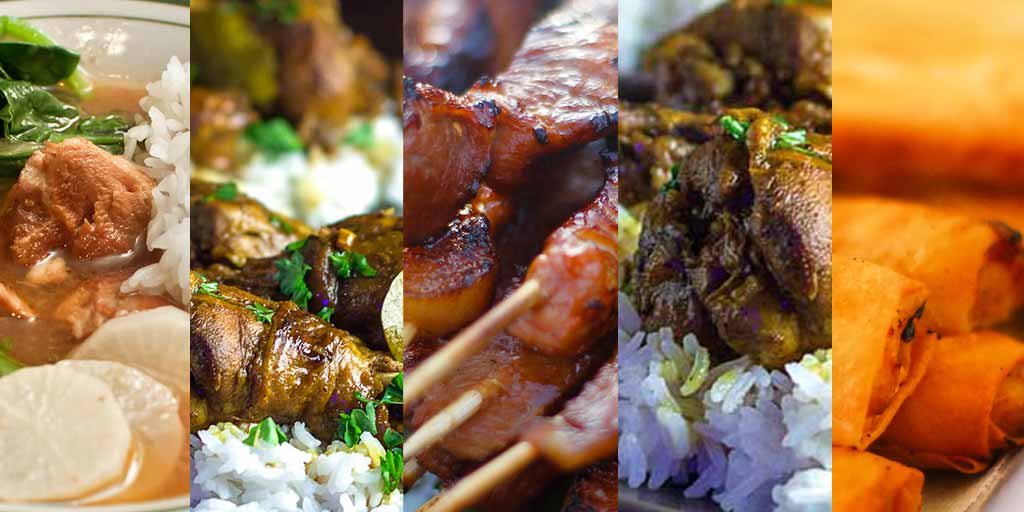 The island nation of the Philippines holds a special place in the heart of everyone in my family. Not only were our travels in the Philippines one of the most incredible experiences that we have ever had but my wife, Christina, was born in Manila. She lived there until she was 10, and Filipino culture is still a part of our every day lives. As my family sits at home, unable to travel due to the travel shut down, we've taken to reliving our favorite travel experiences in the kitchen. Over the past few weeks I've shared my favorite Icelandic recipes and my favorite Jordanian recipes. But thanks to my wife's incredible cooking, and the access that I've had to her parents, who are two of the most incredible cooks I've ever met, these easy Filipino recipes are going to blow your taste buds away!
When my family spent our three weeks exploring the capital of Manila, the beaches of Boracay, and all the things to do in Palawan, one thing that we just couldn't get enough of was the mouthwatering Filipino food. Everything that we tasted, from the classic restaurants in Puerto Princessa to the fish markets of El Nido was among the best that I've ever tasted. These Filipino recipes take those flavors and bring them home. You'll find delicious Filipino adobo, classic lumpia, delicious turon, and more.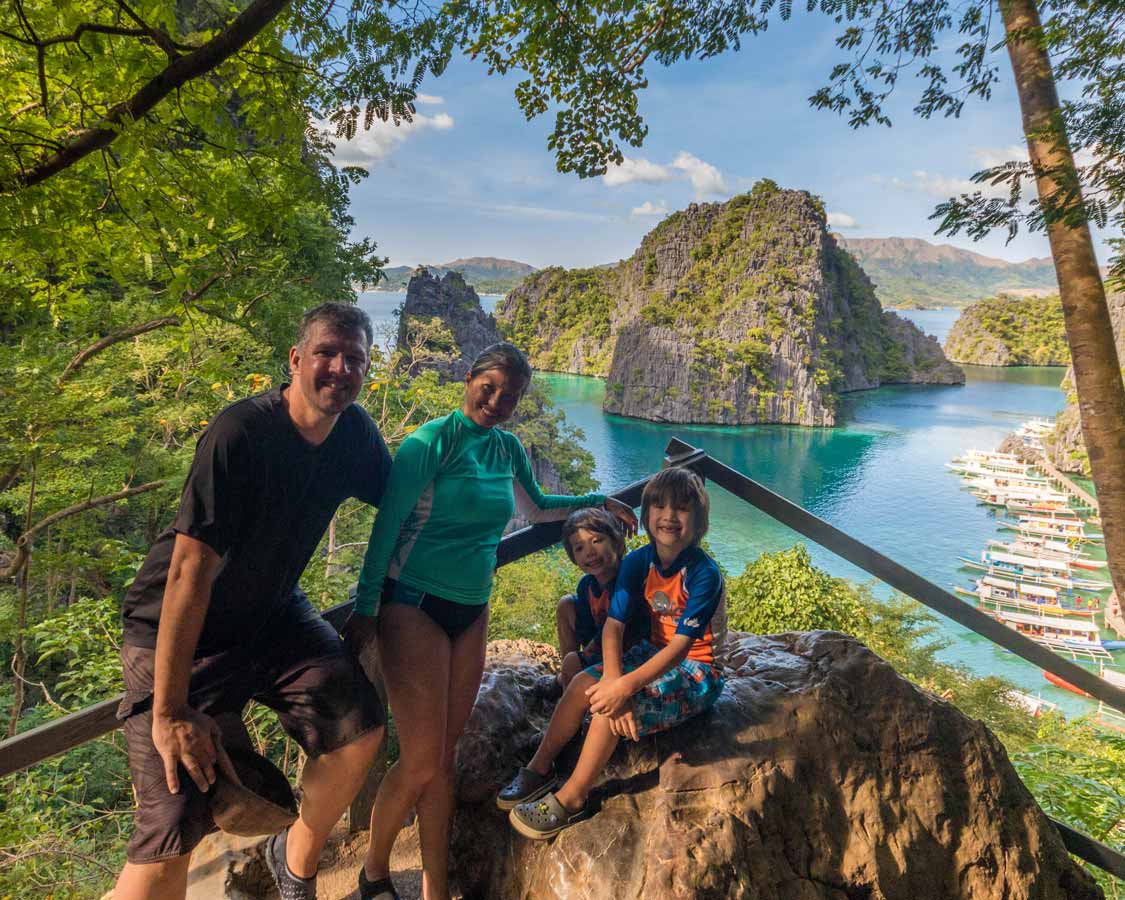 What Is Filipino Food Like?
Filipino cuisine is often referred to as the original "fusion" food. Part of what makes Filipino food so unique is that it draws inspiration from such a huge variety of cultures. In Filipino dishes, you'll find hints of Spanish, Chinese, Japanese, Indian, Malaysian, and even American flavors. But one thing is for sure, Filipino dishes are rich, flavorful, and offer something that will satisfy nearly every palate.
Filipino recipes are often heavy on meat. Pork and chicken both play a large part in the diet of the islanders. Being that the Philippines is an island nation, seafood, of course, also plays a huge part in the diet.
At its core, Filipino food is focused around family. Every dish is best when enjoyed with others. But as much as it the meals that match the incredibly hospitable culture of the country, the dishes can vary widely from region to region. From classics such as kaldereta and pancit the incredible range of seafood fare delved from the over 7,000 islands that make up the country of the Philippines. Even among restaurants in the Philippines, you'll find every manner of twist of Philippine recipes.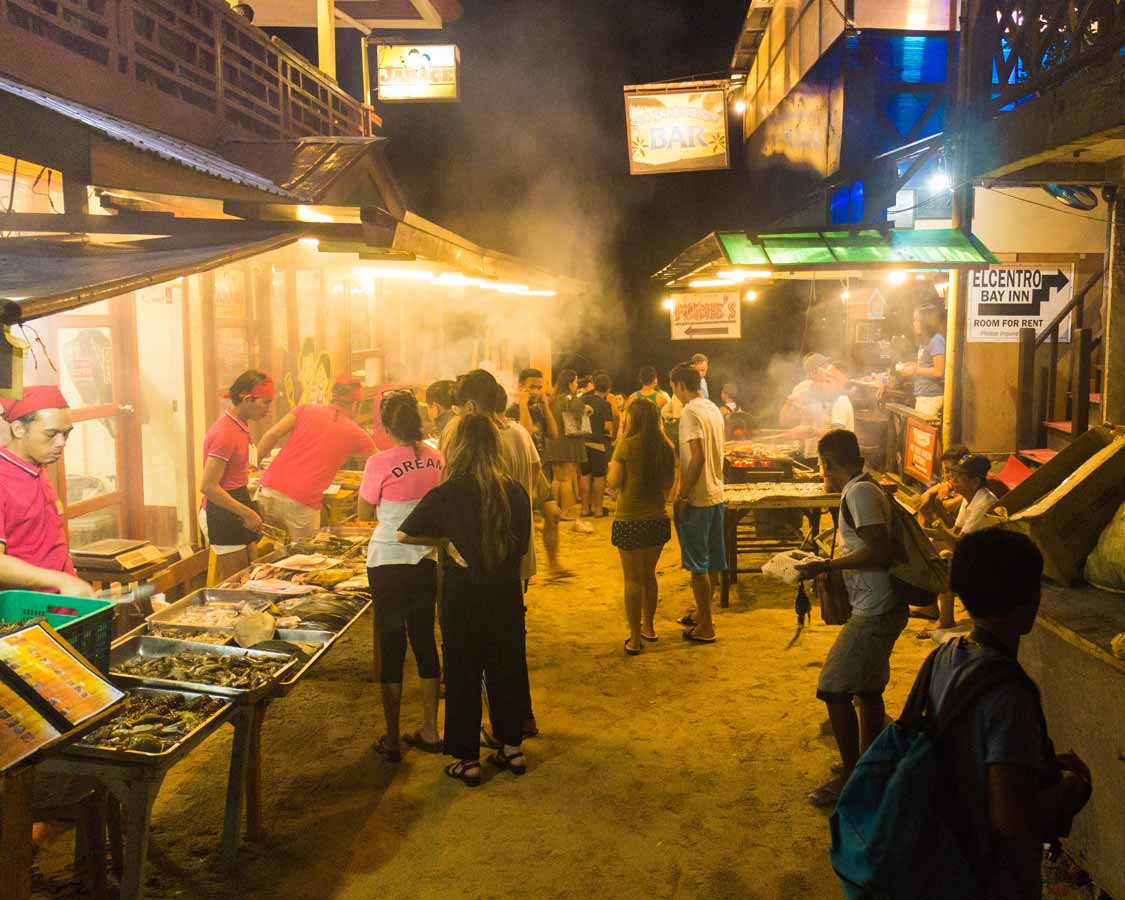 Here Are My Favorite Favorite Filipino Recipes To Make At Home
One of the things that I love most about travel is that the memory of the experience hangs around far longer than the travel experience itself. When I'm at home, especially during lockdown times like this, I often find myself wanting to relive the moments of my favorite travel experiences. Sometimes that means sitting down with one of my favorite travel books. But one of the best ways is by cooking an incredible meal and to live the trip all over again through your taste buds.
So warm up the oven and grab the apron. These 5 fantastic Filipino recipes will take you back to the Pearl of the Orient.
Filipino Pork Barbeque Recipe
There is probably no Filipino food that is more coveted within the Philippine side of our family than Filipino pork barbeque. Whether we order from the local Filipino restaurants or make pork bbq from scratch, there are countless dirty games that take place as everyone tries to get away with more than their own fair share.
This classic Filipino bbq recipe combines an amazing marinade and a sweet bbq sauce to make one of the most delicious Filipino bbq kebabs I've ever tasted.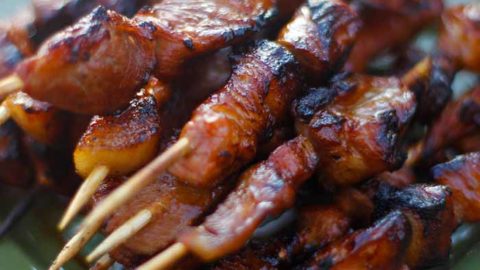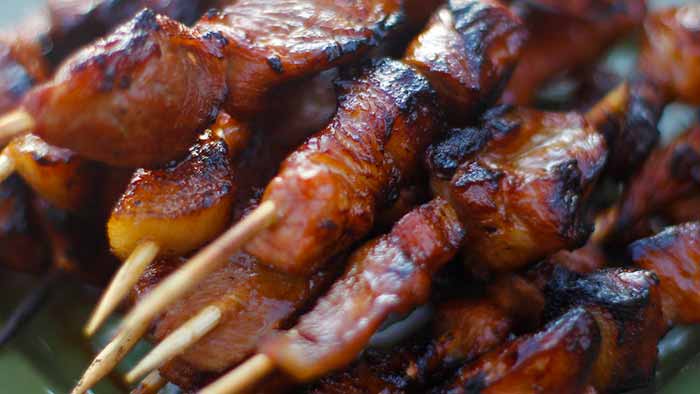 Yield:

10 Servings
Filipino Pork Barbeque Recipe
Total Time:
8 hours
50 minutes
Filipino pork bbq is one of the most classic dishes. You'll find it as often at backyard parties as you will among the many street food vendors. Among Filipinos, it seems that everyone has their own secret pork barbeque recipe.
This Filipino pork bbq recipe takes a sweet and tangy approach with loads of garlic, soy sauce, and a twist of 7-UP for tenderness and flavor. My favorite pork barbeque recipes have a lightly sticky sauce and are cooked over a fire with a slightly charred finish.
The sugar from the sauce and 7-UP help the sauce to caramelize. The fatty and flavorful pork meat remains soft, tender, and juicy. Filipino pork barbeque is awesome on its own or paired with sinigang, pancit, or just about anything to be honest. Barbeque is awesome! And if we are ever eating it together, I WILL try to eat the last piece.
Ingredients
1.2 lbs pork butt. Slice to 1-inch wide and 1/4-inch thick
1/2 cup 7-UP
1/2 cup soy sauce
1/2 cup white vinegar
1 cup calamansi or lemon juice
1/2 cup brown sugar
1/2 tbsp black pepper
6 cloves garlic. Minced
1/2 cup banana ketchup
2 tbsp sesame oil
2 tbsp sesame oil
Instructions
Rinse pork strips and pat dry with a paper towel.
Combine 7-UP, soy sauce, vinegar, 1/2 cup of calamansi or lemon juice, brown sugar, garlic, and pepper in a large bowl.
Add pork and massage meat to fully incorporate. Marinate, turning meat once or twice, in the refrigerator for at least 4 hours or overnight for best results.
Skewer each piece of pork lengthwise.
In a small bowl combine the rest of the juice, banana ketchup, and sesame oil. Set aside
Grill meat kebabs on bbq for 2 to 3 minutes each side.
When the pork begins to brown, baste the meat with the remaining lemon or calamansi juice and banana ketchup mixture.
Remove from heat and serve hot.
Nutrition Information:
Yield:
10 servings
Serving Size:
1 Filipino bbq skewer
Amount Per Serving:
Calories:

175
Total Fat:

5g
Cholesterol:

33mg
Sodium:

912mg
Carbohydrates:

19g
Fiber:

1g
Sugar:

17g
Protein:

12g
Pork Sinigang Recipe
When it comes to the best Filipino recipes, Sinigang, or Filipino soup is the hands-down favorite of Christina and the boys. This easy Filipino sinigang recipe is on the menu at least a few times a week. It's often cooked with either pork or seafood. And sinigang is traditionally served with rice. The soup is either poured over the top of the rice or mixed within.
Sinigang is usually mixed with tamarind powder to get a sour, tangy taste that helps to perk up the senses. And we typically cook it in large batches and reheat it throughout the week for snacks, lunches, and dinners.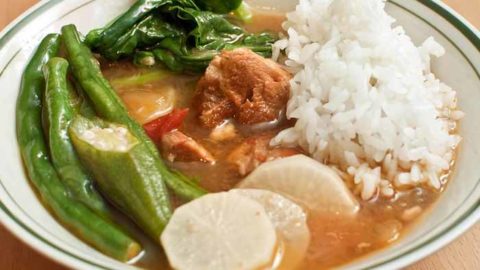 Yield:

4 servings
Easy Pork Sinigang Recipe
Total Time:
1 hour
15 minutes
Pork sinigang is one of the staples in our house. Rarely a week goes by that there isn't a pot of this sour and tangy Filipino sinigang soup simmering on our stove. We'll eat it for lunch, dinner, and even breakfast sometimes.
It's savory, flavorful, and an absolute hit on cold days or when someone is fighting a cold. The tamarind soup base gives sinigang a nice zing. And it can be altered easily by substituting in any number of veggies. Or you can switch out the pork for seafood such as shrimp.
Ingredients
1 tbsp. vegetable oil
1 small onion. Chopped
1 tsp. salt
2 plum tomatoes. Diced
1 lb. pork shoulder
4 cups chicken broth
1 (1.41 oz.) package tamarind soup base
1/2 lb. fresh green beans. Trimmed
3 cups fresh or frozen spinach
Instructions
Heat the vegetable oil in a skillet over medium heat.
Stir in the onion. Cook, stirring frequently until the onion has softened. (approx. 3-5 minutes)
Season with salt.
Stir in tomatoes and pork.
Cover and reduce heat to medium-low.
Turn pork regularly until pork has browned on all sides.
Pour in chicken broth and tamarind soup base.
Bring to a boil. Then reduce heat to medium-low.
Simmer until the pork is tender and cooked through. (approx. 30 minutes)
Stir in green beans and spinach. Cook until tender
Serve hot over rice.
Nutrition Information:
Serving Size:
4
Amount Per Serving:
Calories:

240
Total Fat:

9g
Saturated Fat:

0g
Trans Fat:

0g
Unsaturated Fat:

0g
Cholesterol:

64mg
Sodium:

2598mg
Carbohydrates:

12.2g
Fiber:

0g
Sugar:

0g
Protein:

26.5g
Filipino Chicken Adobo Recipe
Next to sinigang, none of these Filipino recipes are made nearly as often as the classic chicken adobo. There is, perhaps, no other Filipino dish that is as personal, and close to the heart as this classic fare. It seems that everyone and their Lola have their own secret chicken adobo recipe. And every family believes their recipe is the best, most authentic chicken adobo recipe that exists.
This is an easy Pinoy dish to make. But that doesn't mean that this is the easiest Filipino recipe to master. But I will say that if you want to understand Filipino cuisine, taking your time to become a chicken adobo expert is the best way. But it won't make you any friends. Because, as I said, everyone believes that their mama or Lola's recipe is better than yours. But your Filipino friends might say, it's pretty good. And that's a huge compliment.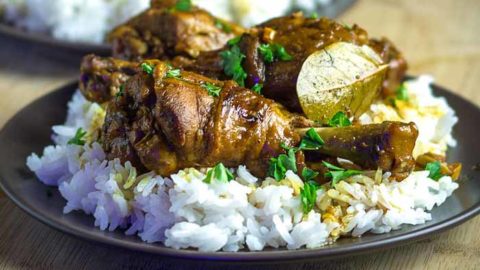 Yield:

6 servings
Easy Filipino Chicken Adobo Recipe
Total Time:
1 hour
10 minutes
Chicken adobo is one of the most iconic and classic Filipino recipes. Every family has their own twist on this delicious and saucy meal. And every family believes that theirs is the best.
This easy chicken adobo recipe will satisfy your taste buds any day of the week. It's best served over a bed of rice and enjoyed with a side of sinigang.
Ingredients
2 tbsp. vegetable oil
3 lbs. bone-in, skinless chicken thigh and drumsticks
1 large onion. Cut into large chunks
4 cloves minced garlic
1/3 cup white vinegar
2/3 cup low sodium soy sauce
1 tbsp. garlic powder
2 tbsp. whole black peppercorns
2 bay leaves
Instructions
Heat the vegetable oil in a large skillet over medium-high heat.
Cook chicken until it becomes golden brown on the outsides. (approx. 6 minutes). Then remove from skillet and set aside.
Add vinegar and soy sauce to the skillet and season with garlic powder, peppercorns, and bay leaf. Simmer ingredients together for 5 minutes.
Add chicken and bring to a boil. Then reduce heat to medium-low, cover, and simmer until chicken is tender and thoroughly cooked (approx. 35-40 minutes).
Serve over rice.
Nutrition Information:
Amount Per Serving:
Calories:

361
Total Fat:

21.7g
Cholesterol:

97mg
Sodium:

1040mg
Carbohydrates:

7.2g
Protein:

38.2g
Filipino Stuffed (Pinaputok na) Tilapia Recipe
We could not get enough of all of the fresh fish and seafood throughout our travels in the Philippines. It seemed that everywhere we went, from San Vicente to Coron we were gorging on massive platters of the most incredible seafood we had ever tasted.
One of the best Filipino fish recipes is Pinaputok na Tilapia. This scrumptious dish features a Tilapia stuffed to bursting with tomatoes, onions, ginger, and other fresh veggies. In fact, Pinaputok is Tagalog for "explode or burst". And that pretty much sums up the state in which this fish looks once this delicious Tilapia recipe is completed.
Filipino stuffed Tilapia can be grilled or baked. And we'll be baking it in this version.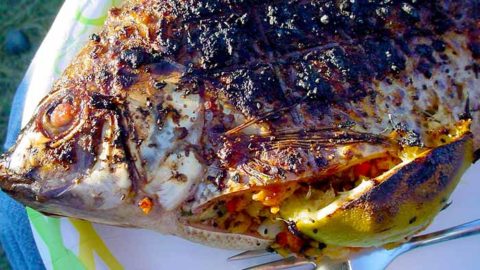 Yield:

3 servings
Filipino Stuffed (Pinaputok Na) Tilapia Recipe
Stuffed tilapia is one of my favorite Filipino recipes. The mild tilapia combines so well with the tomato and onion-based stuffing. Pinaputok literally means exploding in the Filipino dialect of Tagalog, so it should be a challenge to see how much stuffing you can get inside your fish.
Ingredients
1 medium tilapia, Cleaned and descaled.
1 medium tomato. Diced.
1 small cooking onion. Diced.
1 tsp fresh minced ginger.
1 tbsp fresh lemon juice.
2 tsp vegetable oil.
Salt and pepper to taste.
Instructions
Heat oven to 370 degrees Fahrenheit.
With a sharp knife, make 3 slits on each side of the Tilapia. Each slit should be deep enough that you reach the bone.
Rub the Tilapia with 1 tsp of salt per side. Let the fish rest for 15 minutes.
Combined tomato, onion, salt, pepper, ginger, and lemon juice in a medium-sized bowl and mix well.
Using the cut on the belly used to clean the cavity, stuff the cavity of the tilapia with the tomato and onion mixture. Try to get as much of the mixture as possible inside.
Wrap the fish in aluminum foil. Cover everything and seal with a fold on the edges.
Bake the Tilapia for 20 minutes on the middle rack.
Remove fish from the oven and open the top of the aluminum foil to expose the fish.
Set oven to broil (approx. 500 degrees Fahrenheit).
Brush Tilapia with oil. Coat the entire fish.
Place the fish in the oven with the exposed top. Broil for 15 minutes.
Remove fish from the oven and serve with your choice of side dish and a side of toyomansi.
Nutrition Information:
Serving Size:
3g
Amount Per Serving:
Calories:

317
Total Fat:

10g
Saturated Fat:

5g
Cholesterol:

128mg
Sodium:

174mg
Carbohydrates:

12g
Sugar:

9g
Protein:

47g
Filipino Turon (Banana Lumpia) Recipe
There are no better Filipino dessert recipes that are more beloved by me and my kids than the ultra-simple banana lumpia known as turon. This easy Filipino turon recipe takes the plantain base and lumpia wrapper to new flavor levels. This easy turon dessert is something that we absolutely love eating on summer days or during our big family get-togethers.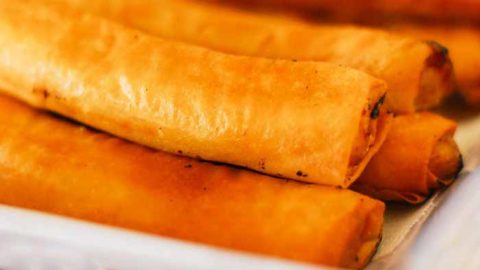 Yield:

16 turon
Easy Filipino Turon (Banana Lumpia)) Recipe
Cook Time:
10 minutes
8 seconds
Total Time:
15 minutes
8 seconds
Turon is one of the most classic Filipino dessert recipes. This sweet and tasty banana lumpia treat combines the classic Philippine love for rolls and wraps and combines it with soft and sweet plantains to make an easy to munch on snackable dessert.
This version is baked rather than fried to make it just a little bit healthier, but still amazingly tasty.
Ingredients
1/2 cup brown sugar
1 tsp ground cinnamon
2 plantains. Halved horizontally and then halved again vertically for a total of 8 plantain strips.
1 egg
1 tbsp. water
16 8x8 in. spring roll wrappers
1 cup ripe jackfruit
Instructions
Preheat oven to 350 degrees.
Line a baking sheet with parchment paper.
In a bowl, combine cinnamon and brown sugar. Mix together.
Whisk together water and egg
Place spring roll wrapper on a flat surface.
Dip plantains in the cinnamon and sugar mixture.
Place banana and jackfruit at the edge of the spring roll wrapper.
Roll wrapper around the plantain away from you. Tuck the side in as you roll.
Brush egg and water mixture over the wrapper to help seal.
Bake for 8-10 minutes until golden brown.
Nutrition Information:
Yield:
16 turon
Serving Size:
1 turon
Amount Per Serving:
Calories:

292
Total Fat:

8g
Saturated Fat:

1g
Cholesterol:

1mg
Sodium:

13mg
Carbohydrates:

58g
Sugar:

55g
Protein:

1g
We can't wait to travel again and taste these Filipino dishes when we head back to the Philippines. Do you have a favorite recipe from the Philippines that I haven't covered here? Tell us about it in the comments below. Or swing by our Facebook page and share it with us there.
Do you have a favorite Filipino dish? Share it with us in the comments. Or head over to our Facebook group and say hello! You can find our web story for these articles here.
Wandering Wagars is a participant in the Amazon Services LLC Associates Program, an affiliate advertising program designed to provide a means for sites to earn advertising fees by advertising and linking to amazon.com, amazon.co.uk, amazon.ca. Amazon and the Amazon logo are trademarks of Amazon.com, Inc. or its affiliates.
You May Also Like To Read:
Pin This For Later: