Travel experts share the best suitcases for traveling in 2023. With lightweight, durability, and style, these travel suitcases top the list.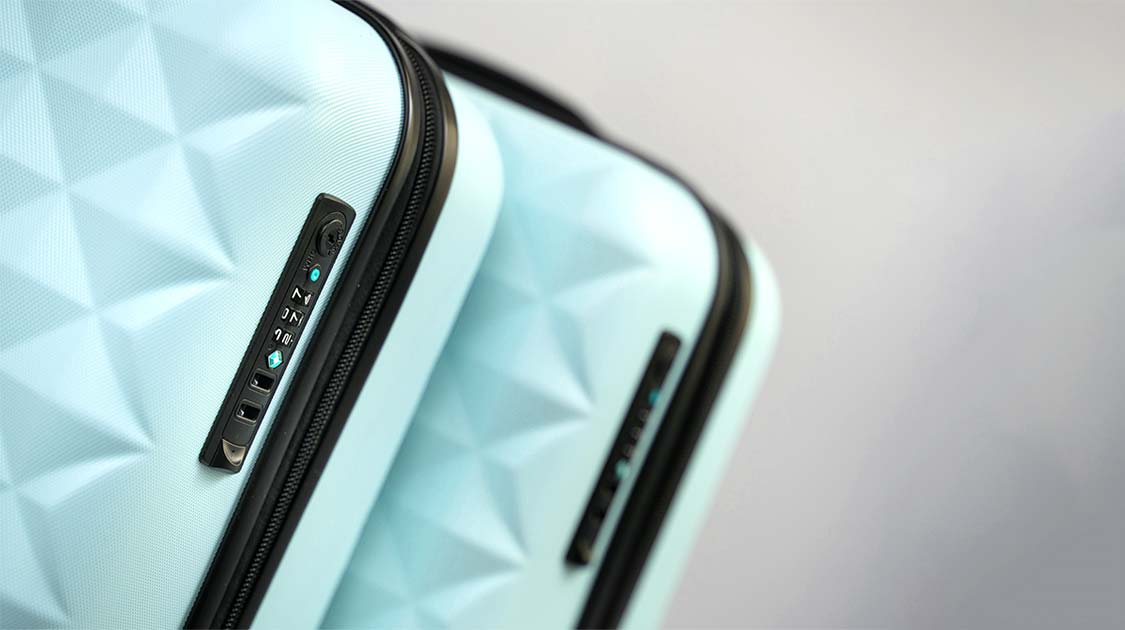 After visiting over 35 countries across five continents, it goes without saying that travel suitcases are an important part of my life. In fact, after thousands of road trips, train journeys, and flights, choosing the best suitcases for traveling has become one of the most important decisions that I make.
Luggage can be very expensive. It can also be very cheap. Sometimes you get what you pay for, and other times, you may be surprised. So, if you're looking for the best suitcases for travel, how do you decide?
Well, I'm here to help.
Whether you're looking for suitcases for international travel, or your sticking to luggage for domestic travel, we have tested and reviewed countless products to help you choose something that is going to last you for many adventures without breaking the bank.
So if you're planning some international family travel and are searching for the best new travel luggage, this is for you. I've put in the research to help you narrow down your choices for the best suitcases for traveling this year.
And if you need more help planning incredible travel experiences, head over to our family travel resource page where you'll find everything from packing lists to travel tips.
The Best Suitcases For Traveling This Year
You can read a little further down for all of the ranking information that we put into choosing the best suitcases for travel. But for those of you who just want to know which are the best suitcases to buy, here is our breakdown.
We'll start with this table to give you the outline of the products we chose and below that, you'll find why we chose them as our best travel suitcases this year. If you're looking specifically for small luggage, you may want to check our guide to the best carry-on luggage brands.
Here is my shortlist of the 10 best suitcases for international travel (or domestic) and the best suitcase brands.
Tips For Choosing The Best Travel Suitcase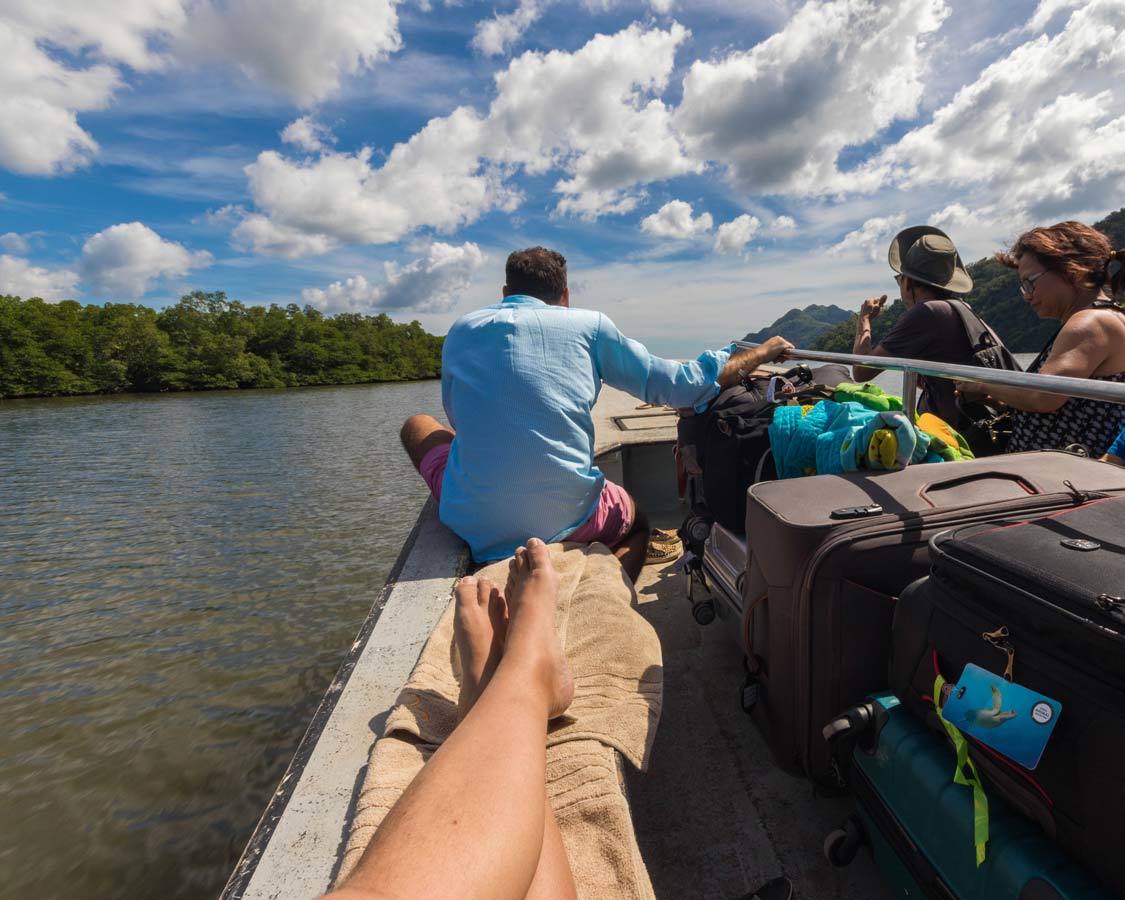 My family tends to travel in countless different styles. Everything from road trips to flights, weekend getaways, and more. So when I choose the best luggage for travel, I look for practicality, durability, and the best value for the money.
While there can be many considerations for choosing a great luggage brand, it's also easy to narrow those down to the most important factors to consider when choosing a suitcase for travel.
Weight: The less your luggage weighs, the more you can put in it without going over airplane load limits.
Shell: Is the luggage a hardshell or a softshell? This can make a difference in both durability and packing amounts.
Wheels: Two wheels or four wheels
Style: We all want our luggage to look great, but even more importantly, we don't want it to look like everyone else's so it gets picked up by the wrong person at the luggage carousel.
Price: A great travel suitcase shouldn't break the bank. But it also shouldn't be so cheap that you wonder if it's going to survive the journey.
If you're a fashionista who opts for Louis Vuitton or Dolce and Gabbana suitcases, you've probably stumbled onto the wrong article. And if you're looking for the cheapest suitcase for travel, I'm afraid you're in the wrong place.
But, if you're looking for an excellent quality suitcase for travel that will last you many trips, look great, and still allow you to afford that over-water bungalow in the Maldives, you're in the right place!
How We Chose The Best Check-In Luggage Brands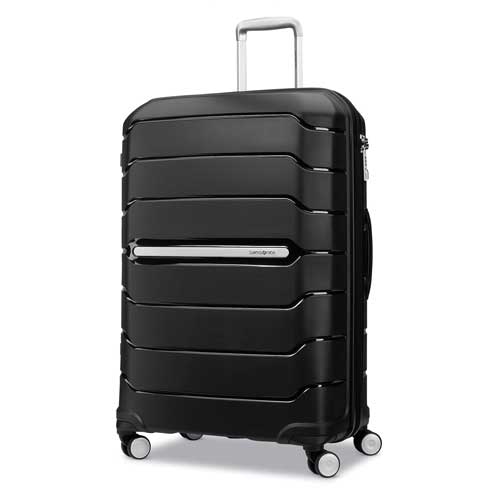 Details:
31.1″ x 21″ x 14″ | 9.5 lbs
Offering one of the lightest large suitcase designs on the market, the Samsonite Freeform Hardside 28o 29″ has consistently ranked among our favorite suitcases for travel. This product offer among the best value large luggage options on the market.
You'll find this one in our family travel packing list as well as many other resources thanks to its great design, fun, bright colors, and durable build.
Features:
28″ Spinner design
10-year limited warranty against defects and workmanship
Recessed TSA combination lock
Strong polycarbonate shell withstands intense travel
Multi-directional spinner wheels with 360-degree upright rolling
Cross ribbon and divider for easy packing
Expandable design
Push button locking handle stores neatly inside the unit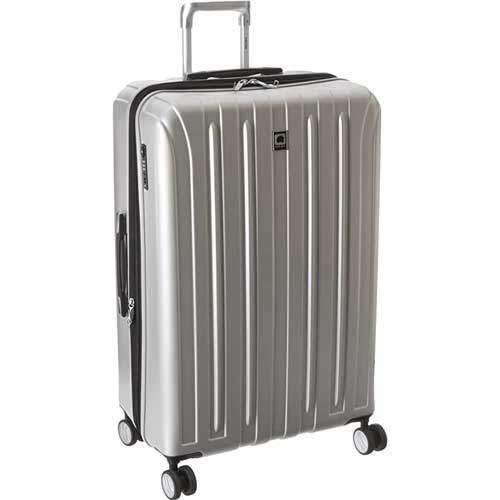 Details:
32″ x 20″ x 12″ | 11.8 lbs
There's a lot of great reasons why I love the Delsey Paris Helium Aero Spinner. This luggage makes our best suitcases for traveling list thanks to its seemingly indestructible, ultra-stylish design and Delsey's reputation for high-quality lightweight suitcases. The Paris Helium also has a novel approach to internal compartments that helps make packing easy.
Delsey is a tried and tested brand that continually delivers quality luggage that offers great affordability with excellent build quality. It's a tad heavier than other models, but for families, it also offers added room for packing that I feel is worth the weight.
Features:
Lightweight and durable polycarbonate shell that is extremely resilient to cracking or breaking; manufactured with a scratch-resistant finish
Four spinner wheels for a stable base with multi-directional rolling with zero weight on your hand
Integrated 3-dial TSA-approved combination lock
The suitcase expands up to 2 inches for additional packing space
Two large fully-lined compartments and web straps and a zippered pocket for delicate items and accessories
Recessed one-button locking handle system for great maneuverability
Titanium models backed with a 10-year limited warranty
The fully lined interior offers two packing compartments with tie-down straps on one side and a zippered divider on the other side to minimize the shifting of contents zippered pocket holds delicate items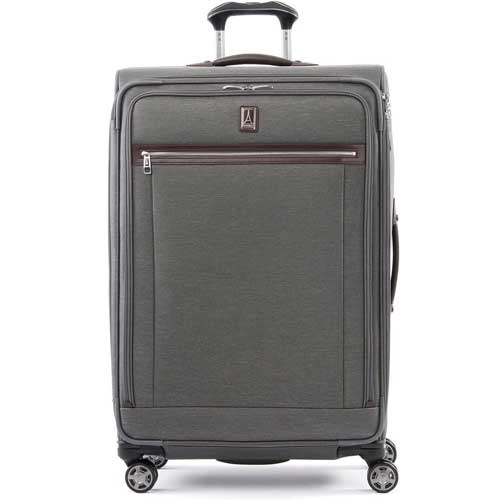 Details:
32.5″ x 21″ x 13.25″ | 11.5 lbs
Although I've found that hardshell luggage tends to make the best suitcases for travel, the TravelPro Platinum Elite offers some exciting design choices that cemented its position on this list.
The wide wheelbase adds stability without adding to the overall dimensions of the luggage. And the high-tensile frame gives excellent strength at an exceptionally lightweight. The bag is also expandable. The soft-sided material means that this luggage is a good choice for travelers who tend to over-stuff their bags.
If you're looking for a set of luggage, the matching carry-on version of this bag includes a dedicated powerbank pocket with an external USB port that is very convenient for life around the terminal.
Features:
Adjustable 4 stop PowerScope handle and MagnaTrac spinner wheels for precise control and effortless roll
The tip-resistant tapered expansion adds up to 2 inches of packing capacity when needed
High-density nylon fabric with duraguard coating resists stains and abrasions
Built-in, fold-out suiter keeps clothes wrinkle-free; Interior tie-down system includes built-in accessory pockets
Integrated TSA lock
Lifetime limited worry-free warranty that covers the cost of repair for damage from airline or other common carriers for the life of the bag after registration under the trusted companion promise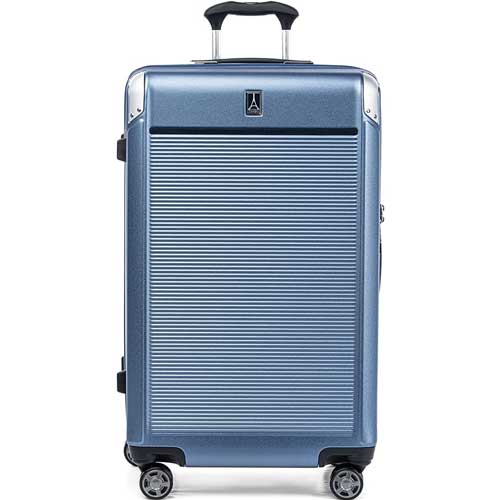 Details:
30″ x 18″ x 13.5″ | 12.3 lbs
Travelpro has come a long way in the high-end luggage department. Their Platinum Elite line managed to take two spots on this list of the best check-in luggage. Like its soft-sided sibling, the hardside version of this line matches rock-steady performance with sleek designs and smooth function.
Their new Platinum Elite hardside line takes what they learned from the previous iterations and greatly and improves upon it.
Packing is easy thanks to the two zippered divider panels that keep contents neatly organized and securely in place. Various pockets give you great organizational capacity and a water-resistant pocket will be perfect to store damp items or toiletries.
If you're looking for a set of luggage, the matching carry-on version of this bag includes a dedicated powerbank pocket with an external USB port that is very convenient for life around the terminal.
Features:
PrecisionGlide system delivers precise control and effortless roll
Self-aligning magnetic Spinner Wheels
Ultra-strong 100% polycarbonate hard shell with aluminum corner guards
2-inch expansion capability gives you more packing space when needed
Covered by the global 10-year limited warranty
18.5 inch weight x 29.6 inch height x 10.6 inch depth
8.8 lbs.
3-stop adjustable handle
Stretch mesh divider wall
Capacity: 73 L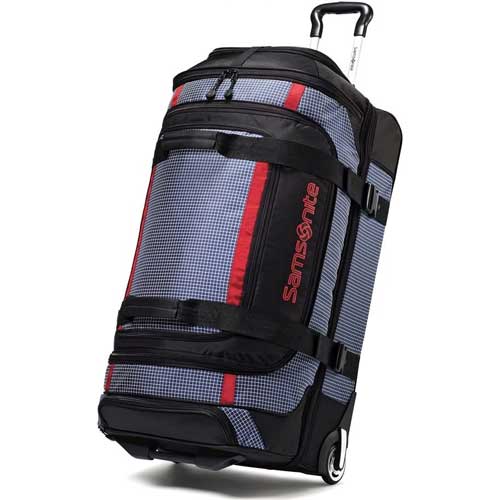 Details:
35″ x 16″ x 16″ | 11.5 lbs
Sometimes a traditional check-in luggage isn't the right thing. There are plenty of times when a duffel bag is a more convenient option, especially when traveling with a small group or family. In cases like that, the added space and light weight of a duffel bag is often the answer.
The Samsonite Ripstop wheeled duffel bag offers the best of both worlds. This two-wheeled spacious hauler is built to last and can be carted as a traditional bag via a fabric handle or shoulder strap. It can also be wheeled around on it's two wheels with a telescoping handle.
If you're on-the-go a lot and want something that is more forgiving on rough surfaces and uneven ground, the Samsonite Ripstop duffel might be your best option.
Features:
Locking zippers on main compartment
Rivets on bail handle for support and strength
Interior divider made of flexible mesh fabric is designed to help create a separate compartment inside your suitcase for added organization
Ripstop fabric offers additional strength for tear resistance
Inline skate wheels are constructed of polyurethane with ball bearings to minimize frictional resistance
Choosing The Right Travel Suitcase For The Right Situations
Every travel scenario has its own unique packing needs. And choosing the best suitcase that can cover the widest possible scenarios will help you choose the perfect suitcase for your needs.
Choosing A Suitcase for plane travel
Know the weight limits of the airlines you fly with
Know the size limits
Be sure you can comfortably lift it in and out of your vehicle or taxi for commutes
Choosing A Luggage For Road Trips
Using a suitcase for road trips is a great way to help maximize space in your vehicle. Suitcases tend to stack well and help you make the most of the space you have.
Make sure your luggage fits comfortable in your trunk/boot
Ensure you can lift and manage the luggage safely
Consider a hard shell for the best stacking
Choosing a Suitcase for Cruise Ships
Cruising tends to offer the most flexible luggage needs as there is rarely weight limits associated with it (so long as you aren't flying to the port city).
Choose hard shell luggage that can handle the weight when stacked in the boat
Choose luggage that can fit comfortably in the ship's cabin knowing that these spaces are usually quite compact.
Choosing The Right Size For Travel Luggage
When it comes to choosing the best luggage for travel, size is a key component. And the size of luggage you choose will depend upon a lot of factors. In truth, going big isn't always the best option. But, going too small can also be a problem.
As a family of 4, whenever possible, we like to combine all of our gear into one luggage. This helps us keep organized and reduce the number of bags that we need to juggle while traveling.
However, if you are traveling alone, as a couple, or as a smaller or larger family, these needs might change.
Travel suitcases tend to come in sizes that range from 18″ to 30″. The larger you get, the more you can put in them. Unfortunately, the more you put in them, the more likely you'll be to go over weight limits.
Sometimes it's better to go with two 25-28″ luggage than to roll with one 30″ that checks in overweight.
How To Properly Measure A Suitcase
Most domestic airlines have restrictions for the size of carry-on luggage. Knowing these limits can save you time, frustration, and money when checking in.
Although these limits can vary by airline, most follow this rule:
22 inches (22″x14″x9″) with an outside size that must not exceed 45 linear inches. This means that combining the length + width + height (including handles and wheels) would be 22″ + 14″ + 9″ = 45 linear inches.
And remember, just because your bag fits the size limit, doesn't mean it also fits the weight limit. This can vary by packing.
Checked-in luggage rarely has a size limit. Although, bags larger than 30″ tend to be declared "oversized luggage". This might cost extra on some airlines, and for most, it means waiting longer to get your bag after you've landed.
What Features To Look For On A Check-In Luggage
After deciding on the best luggage size for your travels, it's time to look at the features you'll want in order to make your travel experience as comfortable and convenient as possible.
Luggage Wheels: Two Or Four
The days of carrying a heavy suitcase through long airport terminals is, thankfully, long behind us. Nearly all luggage these days includes wheels. And in recent years, the rise of luggage with 4 wheels (or spinners) has made our lives even easier.
Dual Wheel Suitcases (Rolling Luggage)
Dual wheel suitcases generally have wheels that are recessed into the luggage. These tend to be stronger and shorter than spinners allowing for more internal luggage space. However, the wheels only spin in one direction, which means you have to support the weight of the luggage while pulling them.
Four Wheel Suitcases (Spinners)
Spinners are suitcases with four wheels that each rotate independently of the other. This means that you can have the suitcase resting upright which removes the need for you to support the weight. They tend to be ergonomic and easy to maneuver as well.
Spinners, while convenient, also run the risk of breaking as the wheels are far more exposed. The bags also have a tendency to roll away if they're placed on an incline such as a ramp or a driveway.
Hard Shell vs Soft Shell Suitcases
There are a lot of great pros and some cons for both hard and soft shell luggage. And choosing the right one for your needs can mean the difference between a long-lasting product, and one you have to replace every few years.
Soft Shell Suitcase
Soft shell suitcases are usually lighter and more versatile than hard shell luggage. The malleable outer body means you can squeeze and shape them if you need to push them into tight places and allow them to bulge if you packed a bit tight.
However, they are not as sturdy as hard shells and don't protect the content inside. This is very important if you have breakables within your luggage. They are also not as weatherproof and are prone to rips and tears.
Hard shell Suitcase
Hard shell suitcases tend to be my go-to for most luggage situations. They are stronger and better-able to protect their contents. They can be sat upon, and they stack easily on top of each other.
However, hardshell suitcases aren't as flexible, so if you are someone who overpacks, hard shell luggage will not be as forgiving. They also don't have outside pockets, so if you like to keep things in your luggage with easy access, you're probably out of luck.
Suitcase Handles
Handles are one of the most important, but also the most overlooked feature on luggage. Most purchasers tend to take them for granted as "all being the same" But in truth, a good handle can make or break a luggage.
I recommend choosing a luggage that has a handle long enough for you to pull it comfortably. I'm 6'3 and my wife is 5'0, so we like to choose a luggage that has a long, telescoping handle with multiple position points.
I also use my handles to hold my laptop bag when traveling, so choosing a piece of luggage that has a narrow-enough handle that you can slip things over the top of it is also very useful. A two-post handle also adds to the stability and the least likely chance that items hung on it will "swing around" and dangle behind the suitcase.
Weight
As airlines add more and more restrictions to travel, choosing the lightest luggage for traveling is more important than ever. But a light luggage does more than just help you pack more, it can also reduce the strain on your body during those, often-strenuous, commutes.
When we choose the best suitcases for travel, weight is always at the top of our mind. I recommend choosing a wheeled suitcase that weighs no more than 8 lbs for those traveling with 3 or fewer people. If you're traveling with 4, try to keep the luggage weight under 10 lbs unless you want to use multiple bags.
Warranty
The best luggage brands usually back up their product with an excellent warranty. If a company stands behind their product, it's usually something that can be trusted.
Suitcases take a lot of abuse. That abuse doesn't just come from the luggage hold. If you've seen the maze of contraptions that your bag goes through from check-in to plane, you'll know it's the stuff of nightmares.
The best suitcase brands have excellent warranties or guarantees. And they'll replace your luggage if you have issues.
Color
If you've ever been waiting at a luggage carousel and had a hard time telling your luggage apart from every other one there, I feel you. I like to choose a brightly-colored luggage that stands out from the crowd so there is no doubt about which one I'm picking up.
If you choose a generic black suitcase, my heart goes out to you. And please, don't choose a white suitcase. One flight, and it will be a grey suitcase. They look great in the store, but not so much after a little traveling.
Weatherproofing
I've had a softshell suitcase sit in hurricane-level rain for 45-minutes on the tarmac in the Philippines. You can guarantee that everything inside it was soaked to the core. I've also had a suitcase that was beneath someone else's. Their wine bottle broke and soaked and stained my suitcase and my clothes.
I highly recommend choosing a suitcase that can handle the elements.
Durability
Along with weatherproofing, it's good if your luggage is up to the challenge of airports and travel. A well-built and durable suitcase can mean the difference between catching a flight and missing one.
I've seen it all. Handles that broke, wheels that snap off, luggage that was torn open on sharp posts. It's frustrating, time-consuming, and expensive to replace. Choose a good-quality suitcase that stands behind its brand.
Price
I'm sure you've had the same thoughts as me when looking up luggage. "Those prices are bonkers!". Luggage has some very strange price points. But, if you look carefully, you can find that perfect balance between price and quality.
The best suitcases don't need to cost a thousand dollars. But, they shouldn't be so cheap that you are second-guessing the material that they're made of. Choosing a luxury brand is great for fashion. But it also makes you a target for thieves.
In my opinion, a piece of luggage is a tool. A suitcase is something that needs to fit your needs. I love style as much as anyone, but when it comes to the best suitcase for travel, I want something that is going to do the job and do it well.
For this article, we've chosen suitcases that fall between $100 and $400, which is the sweet spot where quality meets style.
Wandering Wagars is a participant in the Amazon Services LLC Associates Program, an affiliate advertising program designed to provide a means for sites to earn advertising fees by advertising and linking to amazon.com, amazon.co.uk, amazon.ca. Amazon and the Amazon logo are trademarks of Amazon.com, Inc., or its affiliates.
You May Also Like To Read: