Our guide will help you choose where to stay on Maui. Discover the best areas, regions, and hotels on Maui for your next vacation.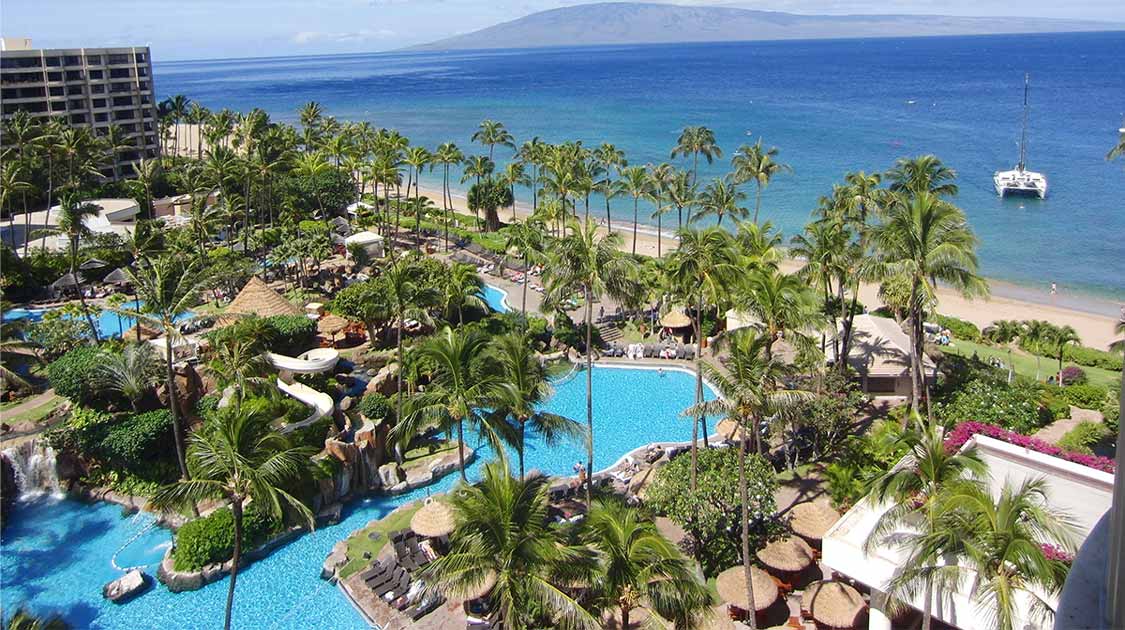 Deciding where to stay on Maui can be a challenge for visitors planning their vacation. Whether you're looking for a beachfront resort or a mountainside Airbnb, deciding on your Maui accommodations can be a huge factor in making your experience perfect, especially if it's your first trip to the island or exploring a new Maui area.
From our experiences exploring the Hawaiian Islands, we've come up with all of the tips for finding the best places to stay in Maui. So whether you're visiting Maui with kids or as a couple's getaway, our guide will get you settled in for the perfect island escape.
What Area Should You Stay In Maui?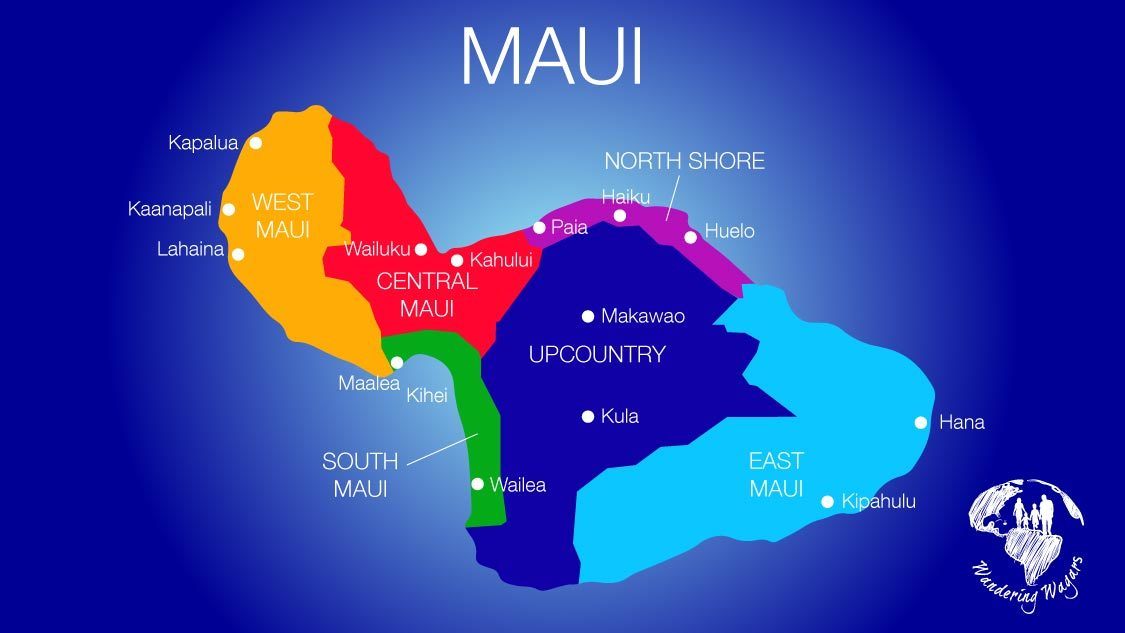 When you choose where to stay in Maui, it's good to know what kind of experience you are looking for. The island of Maui is divided into six main regions. The main regions of Maui are West Maui, South Maui, Central Maui, North Shore, Upcountry, and East Maui.
Scattered throughout the regions of Maui are the incredible towns and villages that make this island such an incredible destination. However, certain areas such as West Maui and South Maui are more easily accessible and contain many of the most popular places to stay on Maui. In addition, towns such as Kihei and Lahaina are top-rated among those visiting Maui with kids.
For those who want to explore the famous Road to Hana, East Maui offers quaint villages and incredible black sand beaches. While many visitors to Central Maui tend to enjoy more off-the-beaten-path destinations such as Iao State Park.
Maui Accommodation Terminology
When planning your stay in Maui, location is everything. So many of the prime properties are located either beachfront or oceanfront. And knowing the difference can make a big difference in your experience.
Beachfront accommodations are generally the most expensive and the most sought after. They offer quick access to the beach. Oceanfront tends to be less expensive than beachfront rooms.
Keep in mind that many Maui vacation rentals have beautiful gardens. Going for the garden view rooms might not always be sacrificing your dream. Make sure to consider your accommodation costs versus your vacation expectations.
These are the key terms when looking for hotels on Maui so that when you book your stay, you won't find yourself surprised.
Beachfront
Beachfront accommodations in Maui are located right on the beach. This means that you'll usually have nothing but sand between you and the water.
Oceanfront
Oceanfront Maui accommodations face the ocean, and there are usually no properties between it and the water. However, these properties are not necessarily located on the beach. Instead, they could be on a cliff or rocky ground.
Ocean View
These Maui places to stay offer a view of the ocean. However, this doesn't mean they are oceanfront. There could be other buildings or streets between the property and the water.
Partial Ocean View
Partial ocean view accommodations on Maui offer a glimpse of the ocean. Unfortunately, sometimes this means that you might have to stretch your neck around a corner to get a partial glimpse.
Mountain View
These Maui accommodations offer a view of the mountains and volcanoes within Maui, such as Haleakala. However, they may only offer partial views.
Garden View, Pool View, Golf View, etc.
These are the rooms that offer interior views of the property rather than of the ocean or mountains. As a result, they tend to be the most budget-friendly accommodations on the island.
Where To Stay On Maui: Region by Region
Finding the best places to stay in Maui is really based on which of the six regions you want to base yourself in. We'll lay out each of the areas of Maui and share our favorite accommodations in each one.
Where To Stay In West Maui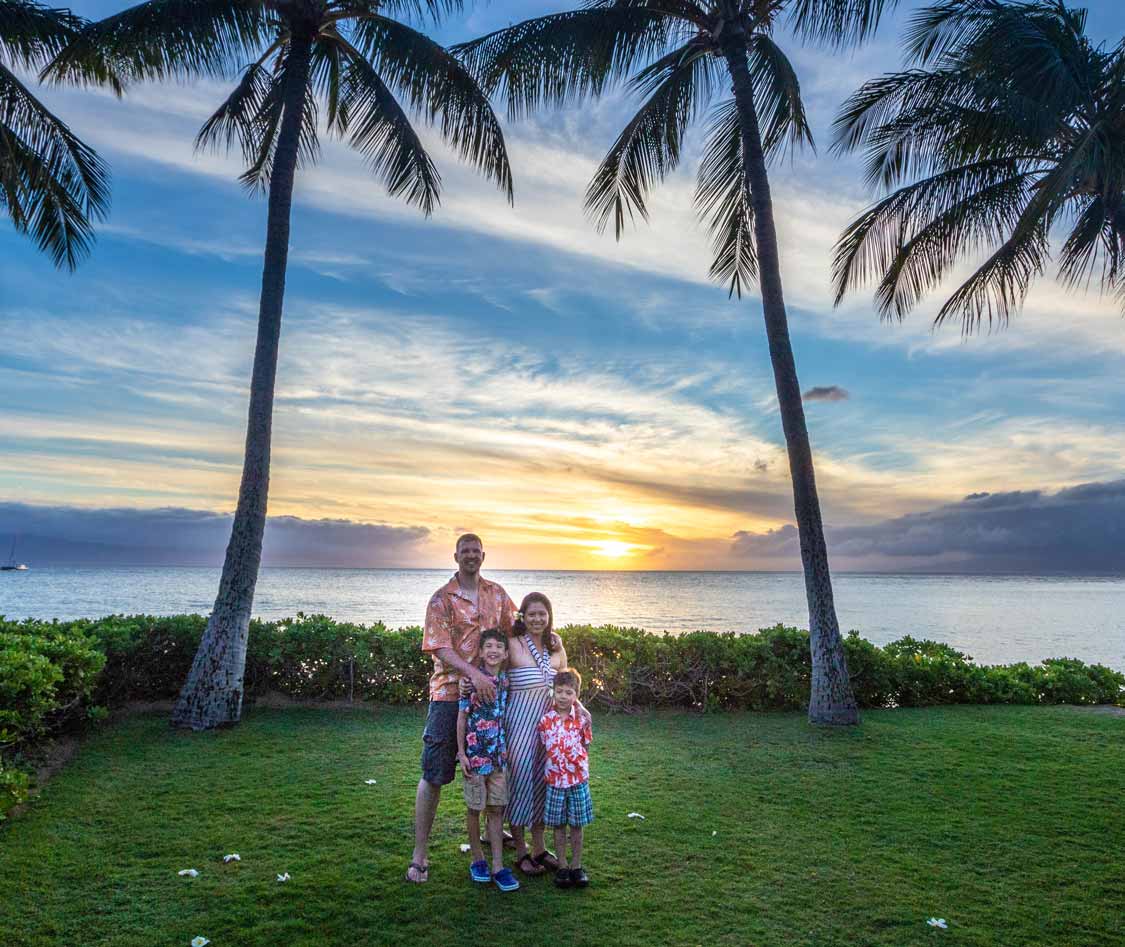 West Maui is the most popular place to stay on Maui. Lahaina, which was once a busy whaling port, is now the hub for the most famous resorts on Maui.
Ka'anapali Beach is lined with great Maui resorts, including our favorite, the popular Ka'anapali Beach Hotel. The beach is lined with shops and restaurants and tour boats shuttling visitors out for whale watching and Maui snorkeling tours.
West Maui has excellent weather with mostly sunny and dry days. If you love being in the middle of the action, this is where you'll want to stay. However, if you like to avoid crowds, you may want to reconsider. Popular nearby attractions such as the Atlantis submarine ride and tours to nearby Lanai draw visitors from all over the island.
Ka'anapali Beach Hotel
Often referred to as Maui's "budget" resort, the prime location of Ka'anapali Beach Hotel makes it one of the best choices for where to stay on Maui. This resort is ultra-family-friendly with amiable staff and excellent on-site experiences.
Ka'anapali Beach hotel might be a bit older and less glitzy than some nearby options, but it offers "old Hawaii" charm with one of the best beachfront at some of the best prices on the island.
You can check their prices and availability here.
Westin Maui Resort & Spa
One of the most luxurious properties on Ka'anapali Beach is the Westin Maui Resort & Spa. This prime destination is located right next to Whaler's Village for easy access to shopping and restaurants.
The Westin Maui Resort has 5 incredible pools and a great waterslide. It's located in an area of Ka'anapali beach that is often less crowded than Black Rock. There is also a lanai available for rent, a private bar and lounge, and much more. If you're looking for a luxury hotel in West Maui, this is the one to book.
You can check out their prices and availability here.
Royal Lahaina Resort
Situated on a sprawling 25-acre property right on Kahekili beach, the Royal Lahaina Resort, if you're looking for places to stay on Maui that have it all. This Maui resort north of Ka'anapali Beach has three outdoor pools, two hot tubs, tennis courts, an excellent restaurant, and a fantastic on-site luau (although I highly recommend checking out the Old Lahaina Luau if you can book tickets).
A walking path gives visitors easy access to Whaler's Village, and the staff is accommodating and friendly. In addition, the hotel usually clocks in slightly cheaper than other hotels in West Maui due to it not being directly on Ka'anapali Beach.
You can find their prices and availability here.
Where To Stay In South Maui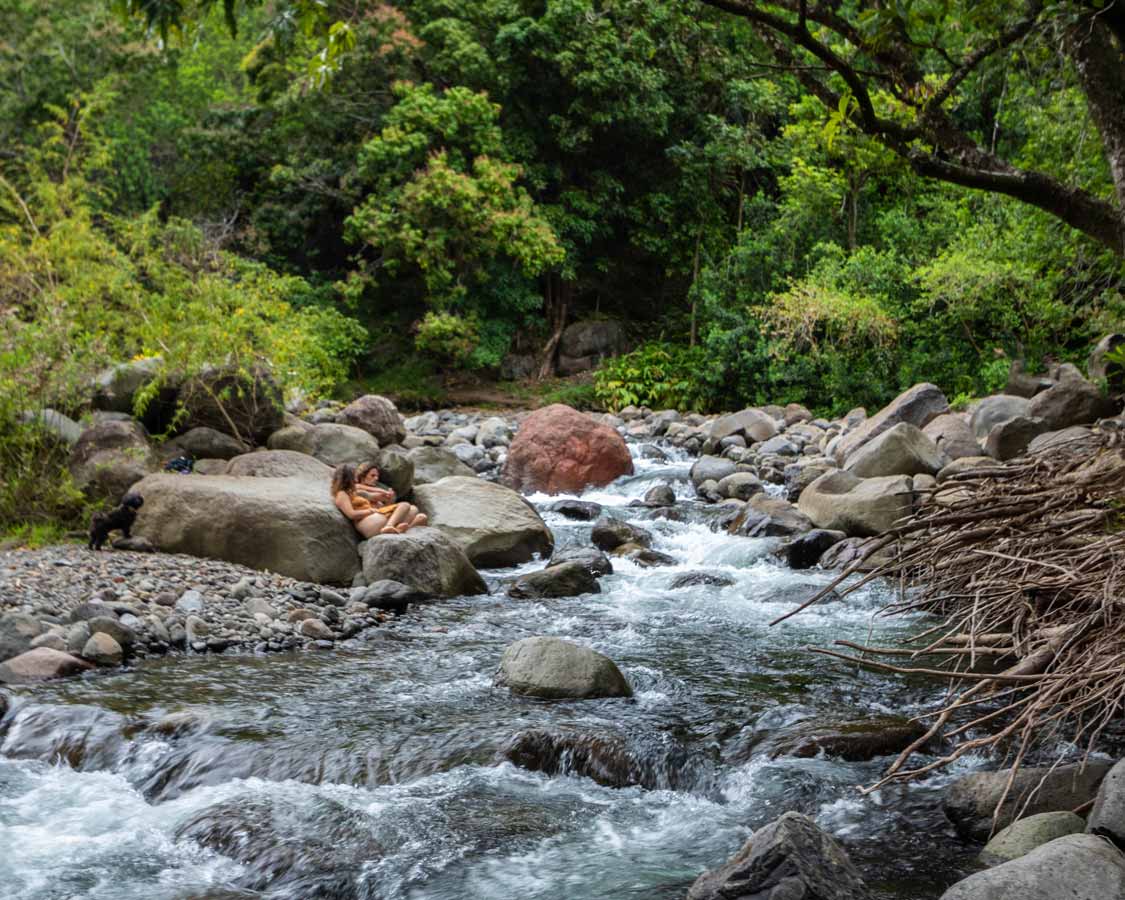 South Maui might not get the fanfare of West Maui, but this area of the island sees even more sun and less rain than its more popular sister. As a result, South Maui offers all the glory of West Maui without the crowds. There also tends to be better snorkeling and is where you'll often find the locals hanging out.
Kihei is the main town in South Maui. It's the most popular spot on the island for surf lessons and tends to be much less expensive than Lahaina. The town has great restaurants and fantastic attractions. It also has far fewer Maui resorts and big hotels. Much of the accommodations tend to be condos and vacation rentals.
Wailea, which is further south than Kihei, is a resort community that offers much of the grandeur of Lahaina without the crowds. Wailea is the up-and-coming community on the island and offers an amazing place to base yourself for your island adventures.
Wailea Beach Resort
Wailea Beach Resort isn't just one of the best resorts on Maui; it's been rated as one of the best Marriott properties in the world! This property was built with everyone in mind, and somehow they make it work.
Whether you're looking to lounge in the oceanfront infinity pools, splash in the massive kids' water complex, or explore the Shops of Wailea, you'll find almost everything you need here.
The one downfall of Wailea Beach Resort is that it's not located directly on a beach. However, it does offer easy access to both Wailea and Ula beaches via a short walk.
This is one of the pricier hotels on Maui, but it's worth it. You can check out their rates and availability here.
Grand Wailea
Rated as one of the best places to stay on Maui for families, Grand Wailea is awesome if you have kids. Not only does this Maui resort have one of the best pool complexes in Hawaii (nine different pools, loads of water slides, and a brand new "lava slide," it also has a rope swing, lazy river, water elevator, hot tubs, and even an adults-only pool for that much-needed couples getaway.
The resort also features a highly rated kids club, a teen club, a games lounge, and loads of amazing cultural events and activities that will help bring the island to life.
You can check out their prices and availability here.
Fairmont Kea Lani
Fairmont properties are always a win (you can check out our stay at the Fairmont Southampton in Bermuda here), yet the Fairmont Kea Lani receives far less fanfare than it deserves.
The hotel rooms at this Maui resort are 100% oceanfront suites, and it offers exceptional value for the money. For families, suites offer a great way for the adults to get a little privacy from the kids, which we all know is very much deserved. Fairmont Kea Lani also boasts a wonderful pool and waterslide to boot.
You can find their prices and availability here.
Where To Stay In East Maui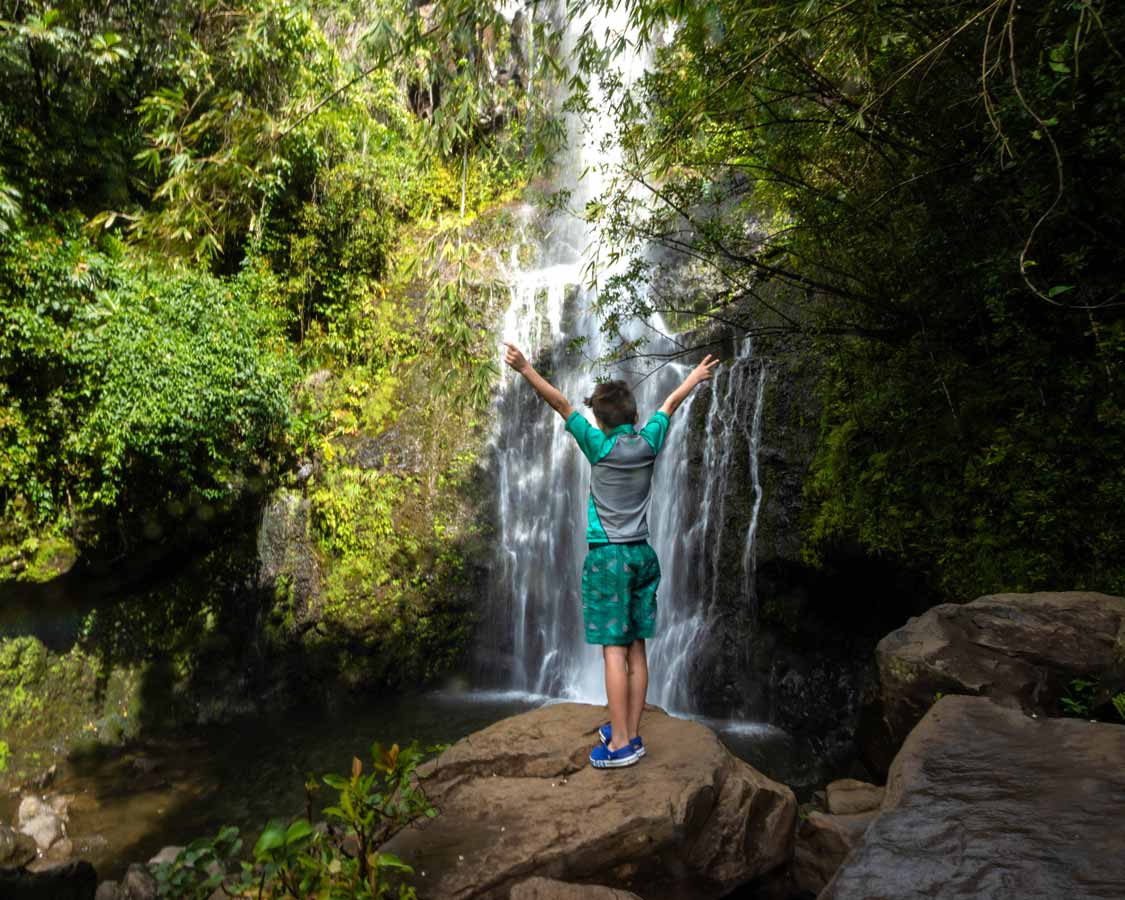 East Maui is for adventure lovers. This region of Hawaii is most commonly associated with the famous Road to Hana, where the town of Hana marks the point where most road-trippers turn around and head back.
Hana is incredibly remote, with just a single two-lane highway with endless switchbacks and one-lane bridges. So while East Maui is arguably the most beautiful Maui area, full of waterfalls, black sand beaches, lava tubes, and more, it's also the least visited.
In fact, most travelers who brave the Hana Highway don't even stay in Hana. Instead, they return to the more popular areas of the island. Which, if you check out my article on where to stop on the road to Hana, you'll find a big mistake.
Although there are very limited places to stay in East Maui, there are still a few worth checking out.
Hana Maui Resort
When it comes to where to stay in Hana, Maui, Hana Resort sits at number one. Not only does it offer the best accommodation experience, but this Hana resort in Maui also has one of the town's best restaurants.
This is a resort for quiet relaxation. You won't find clocks or televisions in the rooms. But you will have access to an incredible on-site spa, guided nature walk, and loads of incredible cultural activities.
You can find their prices and availability here.
Kailani Suite at Hana Kai Resort
Situated near Hana Bay Beach Park, Kailana Suite at hand Kai Resort offers a comfortable place to relax and unwind in the town of Hana. The rooms are bright and airy, with ceiling fans for comfort.
Kailani Suite is a comfortable condo stay in Maui that will soothe the senses. It offers easy access to the town of Hana and everything you need to enjoy a comfortable stay, whether for one night or a 5-day Maui itinerary.
You can check out their prices and availability here.
Heavenly Hana Paradise
This studio apartment is one of the few locations in Hana that actually offer WiFi and cable TV. But you probably won't find yourself using them that much, thanks to the gorgeous covered terrace and plush wicker dining room.
The property is just 10-minutes from Hana town and offers easy access to Waianapanapa State Par and the backside of Haleakala. You can find their prices and availability here.
Where To Stay In The Maui Upcountry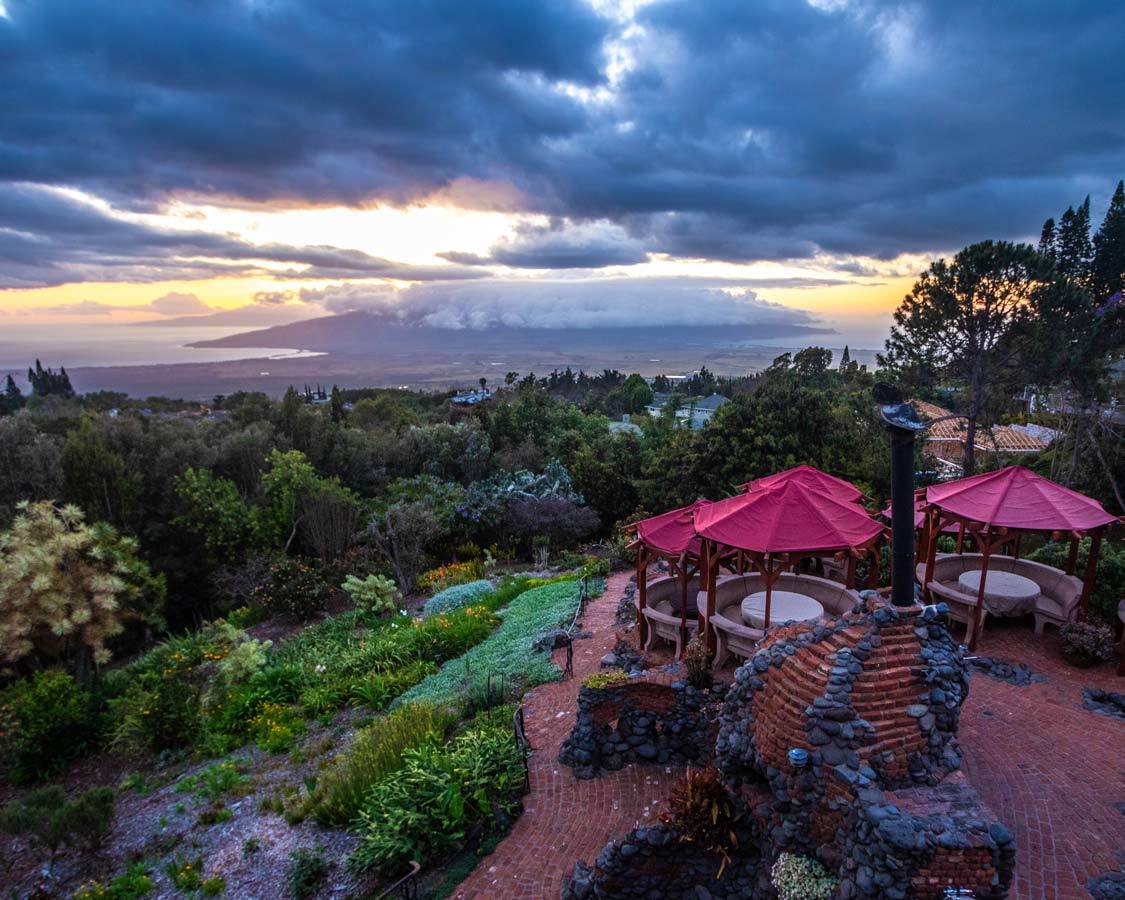 If you're looking for the best views over Maui, the Upcountry is where you want to go. Hana offers wild beauty and remote escape. But the Upcountry offers a funky vibe that you can't find anywhere else on the island.
When you visit the Upcountry, the views get better and better the further up the mountain that you travel. However, with each winding switchback, you're further from the beach. If you love hiking and mountain biking, this area is heaven. But if you love chilling next to the waves, consider West Maui.
The massive Haleakala National Park centers the region with its stunning sunrises and high-altitude adventure. You can check out our video of hiking Haleakala here:
Kula Lodge
To have the best experience at Kula Lodge, timing is everything. You want to get here before sunset to enjoy one of the best sunset views on Maui. And to add to the great views, the rooms here are big, airy, and well-laid out, especially Room #1, which has the best sunset views in the place next to the restaurant. Room #1 is also great accommodation in Maui for families with a second floor that has two single beds for kids.
You can find their prices and availability here.
Where To Stay on Maui's North Shore
Maui's North Shore offers a chance to escape the crowds and absorb the island's hippie vibes. You'll find loads of surfers braving the waves, funky towns like Paia that have a heavier focus on coffee shops than hotels, and some of the prettiest beaches on Maui. This area is a haven for surfers, kiteboarders, and windsurfers.
Paia Inn
Paia Inn is a quaint North Shore hotel that offers a prime location for those wanting to explore the North Shore or do a one-day jaunt of the Hana Highway.
With open-air rooms, wide balconies, and stunning views, the Paia Inn is a place where you can find yourself wanting to extend your stay again and again. It's also conveniently located near some of the best Paia restaurants and cafes.
You can check out their prices and availability here.
Which Of These Places To Stay On Maui Are Perfect For You?
Maui offers some of the best diversity of all of the Hawaiian Islands. So there's no surprise why it's one of the most popular destinations for family travel. So if you're looking for where to stay on Maui, I hope this has helped you out.
And feel free to drop any questions or comments below. I always answer them.
If you're passionate about family travel, head on over to our Family Travel Support Group on Facebook. It's a fantastic community of parents who love travel. We share experiences, knowledge, and the lessons learned along the way. You can also sign up for our newsletter to keep in the loop about new family travel adventures.
Wandering Wagars is a participant in the Amazon Services LLC Associates Program, an affiliate advertising program designed to provide a means for sites to earn advertising fees by advertising and linking to amazon.com, amazon.co.uk, amazon.ca. Amazon and the Amazon logo are trademarks of Amazon.com, Inc., or its affiliates.
You May Also Like To Read