These incredible things to do in Reykjavik, Iceland, will make you wonder why you didn't visit Iceland's capital sooner.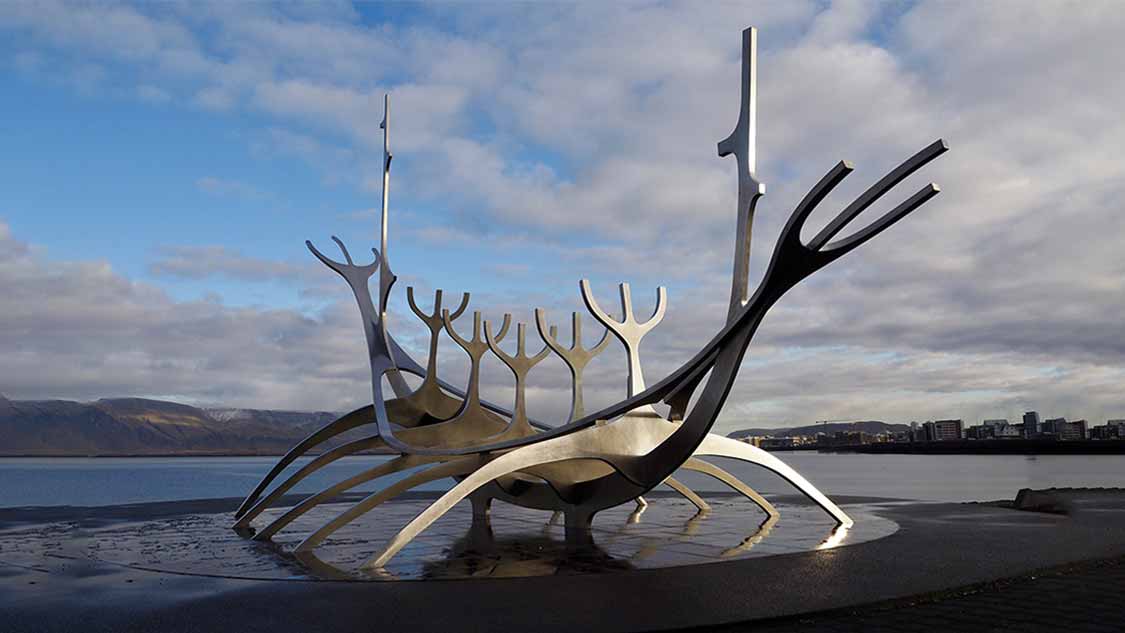 Iceland's capital is one of the coolest capital cities in Europe. Sure, it doesn't have the history of places such as Athens and Rome. In fact, Reykjavik is an extremely young and modern city. But, what Reykjavik lacks in history, it more than makes up for in style.
These incredible things to do in Reykjavik will take you in and around the city and show you just why we and so many others have fallen in love with this city of 120,000 residents.
Reykjavik is a city that is constantly on the move, especially in the Icelandic summer when the ridiculously long days mean that it's not the sun that tells you when to go to bed.
What was once a fishing hub, where fish packing factories were constantly processing the rich catches of the north Atlantic, is now one of the most exciting cities in Europe.
While many visitors come to this city to explore all of the incredible things to do near Reykjavik, such as the famed Golden Circle, Geldingadalir (Iceland's newest volcano), and the eye-catching glacier lagoon, there are more than enough things to do in Reykjavik to keep a visitor busy for a few days or even longer.
About Reykjavik, Iceland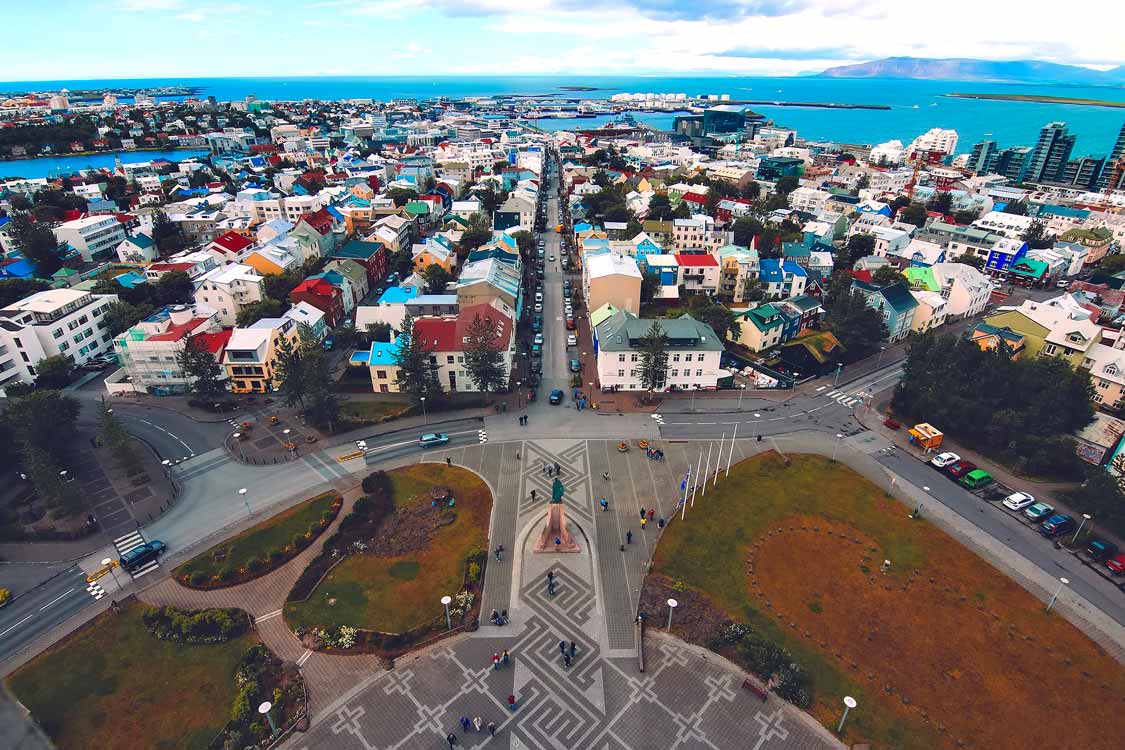 Reykjavik is the largest city in Iceland. In fact, nearly 40% of the country's 356,000 residents reside in the capital. To put that into perspective, Iceland's second-largest city, Akureyri, is home to just over 18,000 people. This sub-arctic city, located in the southwestern corner of the country, is actually the northernmost capital city in the world.
Although the city is laden with modern Nordic architecture and brilliantly designed streets, it's also steeped in history. In fact, Reykjavik is believed to be the oldest permanent settlement in Iceland, dating back to AD 874.
Reykjavik is among the cleanest, greenest, and safest cities in the world. This is one of the reasons that we loved visiting Iceland with kids. Although the Icelandic people have a reputation for being a bit distant and cold, in general, they love children. And visiting Reykjavik with kids is a fantastic way to break the ice and get to know the true warmth behind the people.
The name Reykjavik loosely translates from Nordic to "Smokey Cove." It's believed to have been named for the steamy vapor from the region's hot springs that helped lead Ingólfr Arnarson to choose this location to settle. And even now, these hot springs are crucial to both life and tourism in the city. Look no further than the uber-popular Blue Lagoon, which sits right between Reykjavik and nearby Keflavik airport.
Fun Things To Do In Reykjavik
If you're searching for what to do in Reykjavik, you won't have to look far. Although this is Iceland's most major city, it's still a relatively small place. The streets are very walkable, and the city has excellent public transit options within the town.
These things to see in Reykjavik will keep you busy for a few days. But it's just the tip of the Iceberg. So if you're planning on checking out all of the places to visit in Iceland, I'd recommend having a look at our two-week Iceland road trip itinerary.
Visit Hallgrimskirkja Church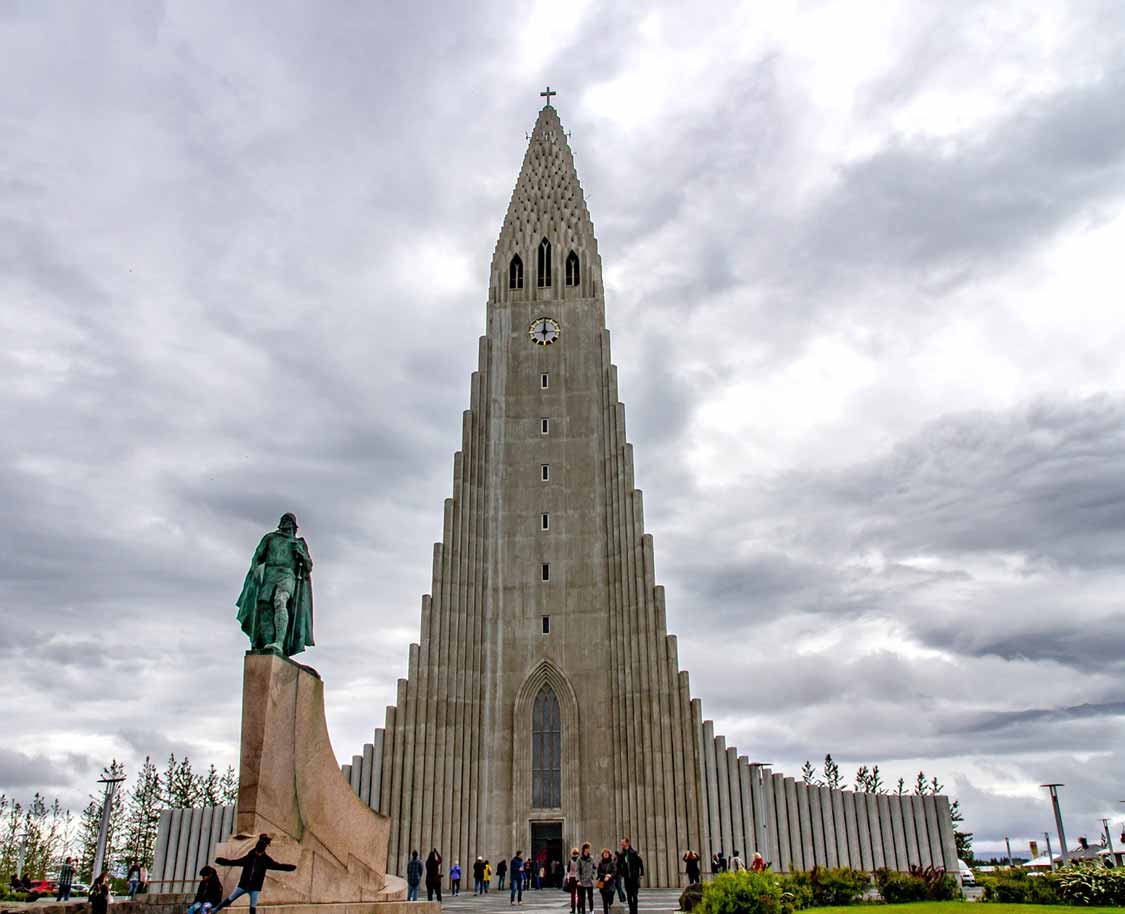 It's hard to imagine a more iconic structure within the borders of Reykjavik than the mesmerizing Hallgrmskirkja Church. This beautiful church is Iceland's national sanctuary and has been ranked by CN Traveller as one of the most beautiful churches in the world.
The unique facade was conceived in the early 1940s by architect Gujon Samuelsson. He was inspired by the towering basalt columns and flowing water of Svartifoss in nearby Skaftafell National Park. Svartifoss is one of Iceland's most beautiful waterfalls.
In front of Hallgrimskirkja is a statue of the famed Icelandic explorer Leif Eriksson, who is believed to have been the first European to set foot in North America when he landed on the shores of Newfoundland's Viking route in Canada.
Inside the church, you'll find a mammoth 15-meter high, 25-ton organ. You can also pay a fee and visit the top of the tower, which offers stunning views of all of the places to visit in Reykjavik.
Explore The National Museum of Iceland
Iceland has an absolutely fascinating history. My family is not big on museums, but learning about Icelandic sagas, Viking history, and the absolutely epic history of this country was incredible.
Iceland may look modern, but there are more than 1,200 years of history to catch up on, and the National Museum of Iceland has one of the best collections in the country.
The building might not look like much when you first approach it, but the moment you walk in the door, your eyes will be opened. It's packed with artifacts, stories, books, and artwork, including the famed Valpjofsstadur door from the early 13th century.
You can book your tickets to the National Museum of Iceland on their website.
Watch A Show At Harpa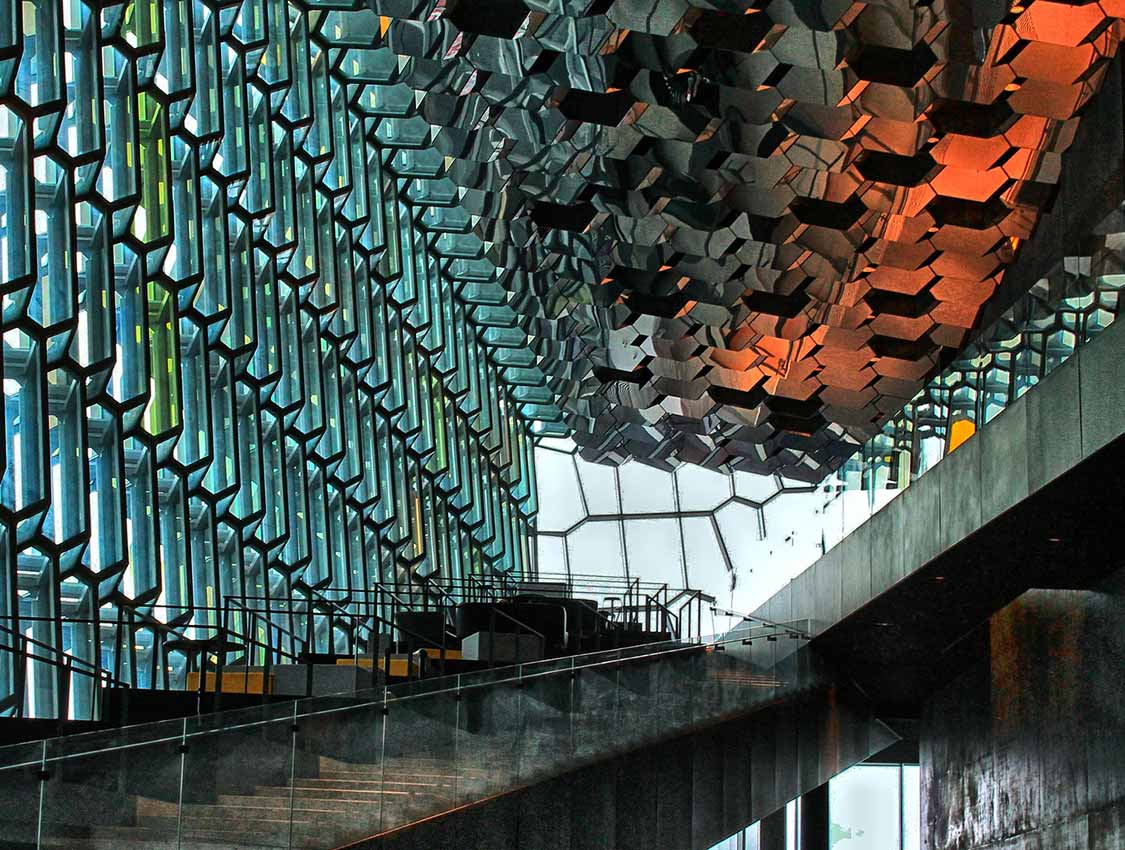 After Hallgrmskirkja, Harpa may be the most gorgeously designed building in Reykjavik. This awe-inspiring concert hall sits on the Reykjavik waterfront on the Old Harbour.
With architecture inspired by Iceland's famous basalt columns, this work by local architect Olafur Eliasson is a marvel to behold. This Reykjavik concert hall is the home of the Icelandic Symphony Orchestra and the Icelandic Opera and hosts events throughout the year.
Within the walls, you'll also find a cafe, a restaurant, and a gift shop, as well as a free movie that explores Iceland's landscapes.
Check Your Comfort Level At The Phallological Museum
It's completely up to you whether you're comfortable enough to visit the Iceland Phallological Museum. Especially if you're visiting Iceland with kids. Personally, My kids found it hilarious. And so did I.
This is one of the weirdest museums in a country known for weird museums (such as Petra's Stone Collection in Stodvardfjordur and the Museum of Witchcraft and Sorcery in Holmavik).
What started as a unique childhood hobby by local collector Sigurdur Hjartarson has grown into one of the largest collections of penises in the world. Within the Reykjavik penis museum walls, you'll find phallic collections of animals such as blue whales, dolphins, reindeer, and more.
As the museum's popularity exploded, it began to receive donations from outside of Iceland, including elephants and more. But, possibly the weirdest piece is the silver casts of the 2008 Olympic silver-medalist Icelandic handball team.
This is a museum that takes serious business out of not taking itself too seriously. It's fascinating, sure to impress, and offers a hysterical journey through a part of the anatomy that is often "covered up."
Wander Among Reykjavik's Street Art
As you'd expect, with a thriving, young, and modern city, street art in Reykjavik is booming. In fact, one of our favorite things to do in Reykjavik explored the alleys to see the murals that are splayed across many of the buildings.
To find some of the best collections, head to Laugavegur Street, Grettisgata Street and Skólavörðustígur Street, Old Harbour, and Grandi. You'll find incredible public art installations such as "Wall Poetry." In addition, you can find street art throughout the city, and these collections are constantly changing.
You can find some great information on Reykjavik street art here.
Make A Visit To The Sun Voyager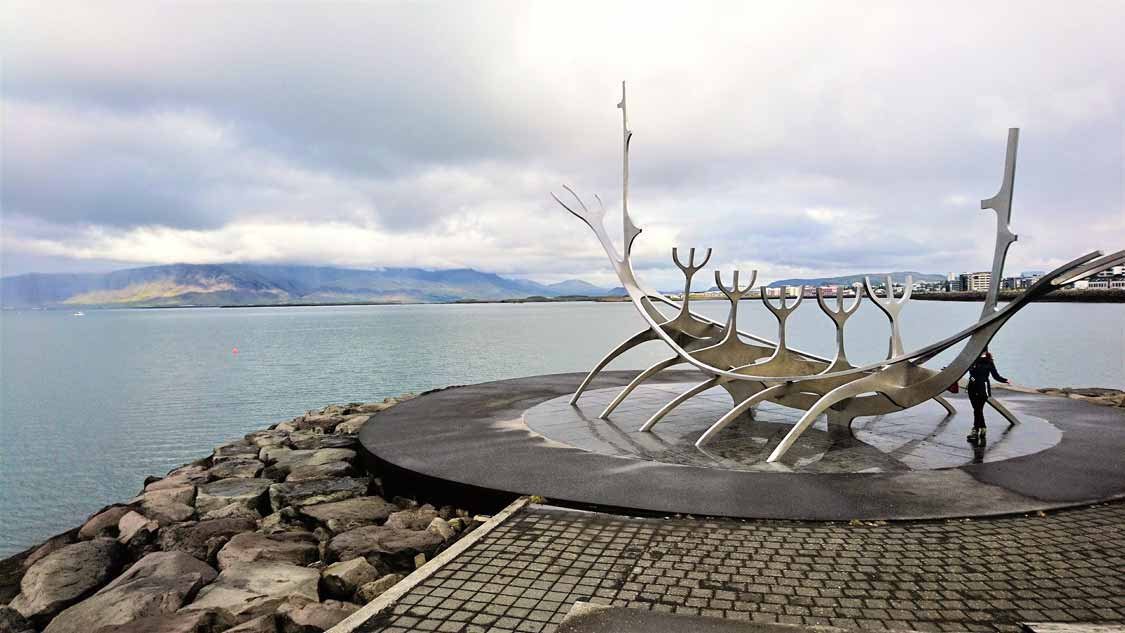 The way the stainless steel design of the Sun Voyager sculpture catches the fading light of the Icelandic sunset has made it one of the most popular things to see in Reykjavik.
Commissioned in 1990, this beautiful art piece was crafted to celebrate the 200th anniversary of the city. The ship design points north across the bay to Esjan mountain to greet the sunset in the west.
Take A Dip At Nautholsvik Geothermal Beach
Reykjavik might not seem like the ideal beach destination. However, locals have been swimming the chilly waters of Iceland's coasts for over 1,000 years. And at Nautholsvik Geothermal Beach, you can enjoy the water with a little of the edge taken off, thanks to geothermal activity.
This safe harbor, built in 2001, has golden sand perfect for lazing about and working on your sub-arctic tan. And the water, which is naturally heated, can reach temperatures of 66.2°F (19°C), which is a good deal warmer than the surrounding waters.
If you find the water too chilly, a communal hot tub and steam room are only steps away.
Take A Whale Watching Tour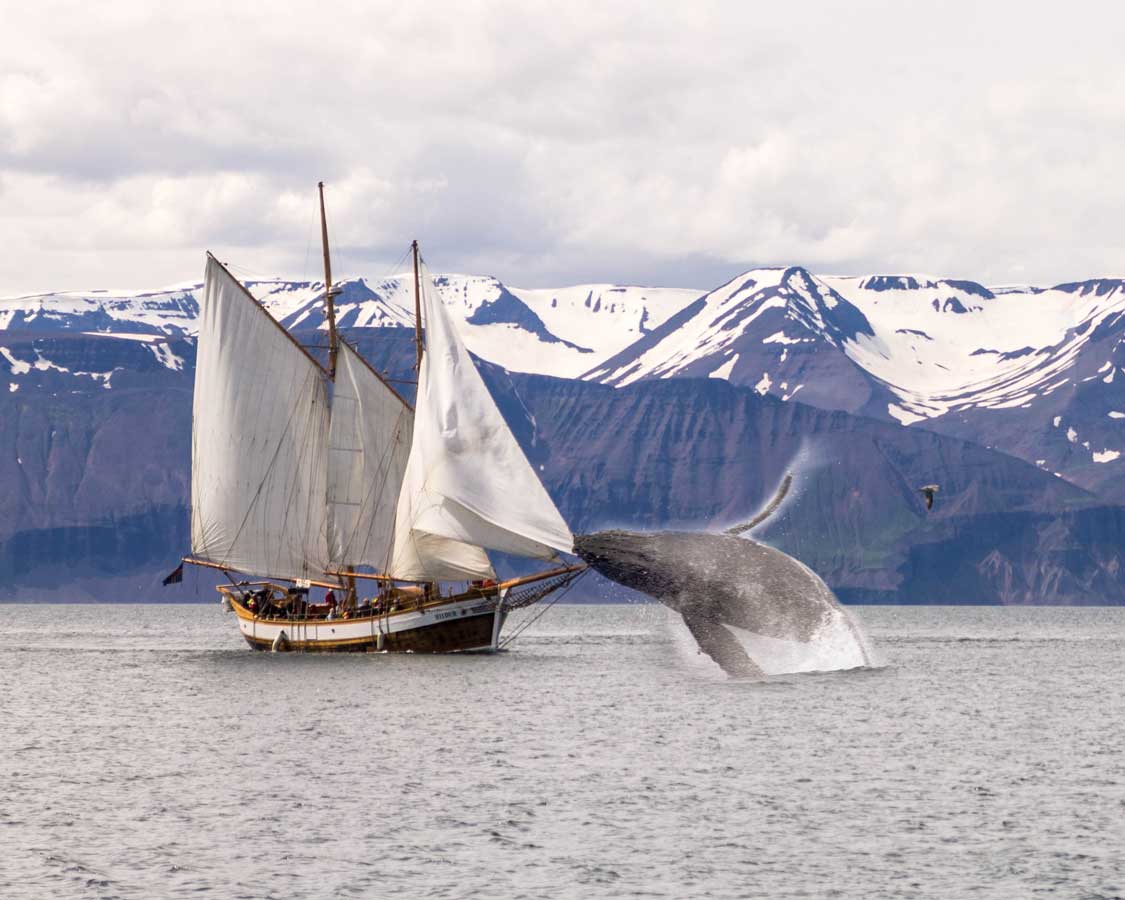 Reykjavik sits on Faxa Bay, one of the best places to go whale watching in Iceland. While we went north to do whale watching in Husavik, the Reykjavik whale watching tours are always busy shuttling visitors out to see the large populations of Humpbacks that gather in the nutrient-rich waters of the North Atlantic.
These Reykjavik whale watching tours are a perfect way to add some nature and excitement to your urban exploration of this incredible city.
Things To Do In Reykjavik With Kids
Now, let's be very clear, any of these things you can do in Reykjavik with kids, you can do without them. However, if you ask any local what to do in Reykjavik with kids, these are guaranteed to make the list.
Visiting Iceland with kids is a spectacular experience. And these incredible Reykjavik activities are just an introduction to all of the wonders that this country has on offer.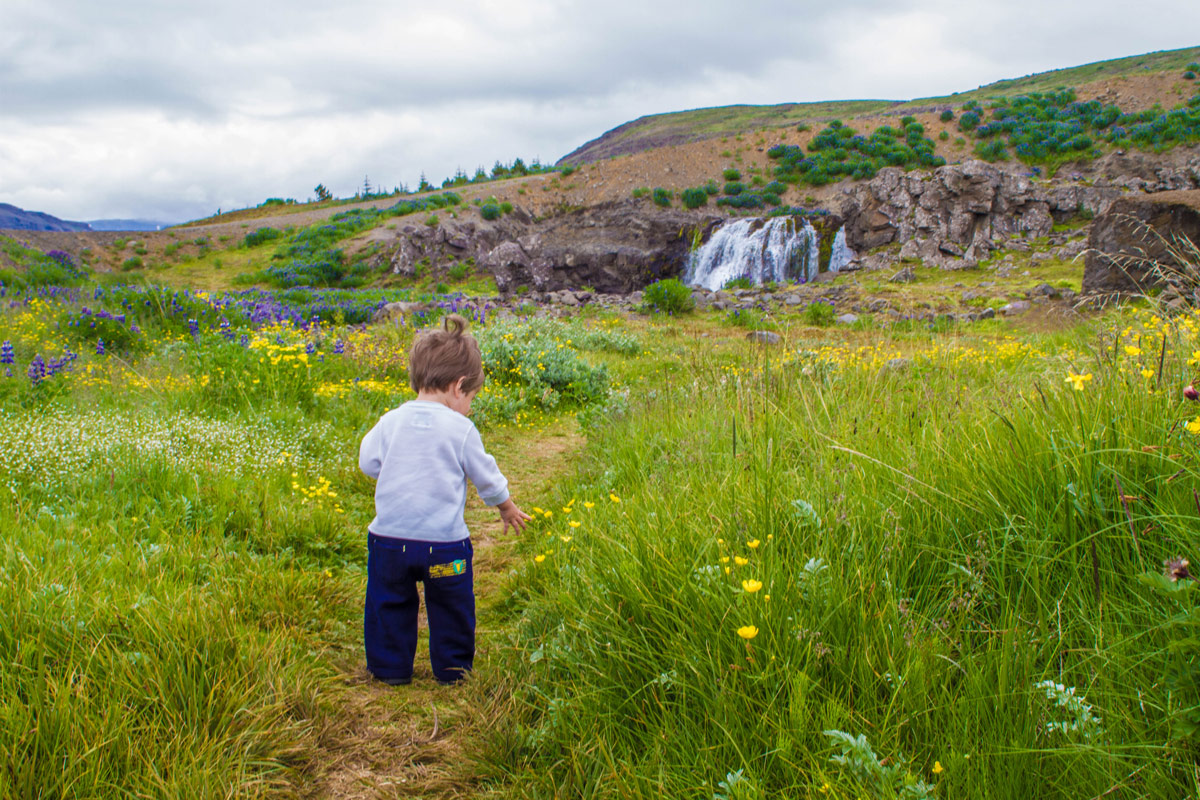 Visit The Reykjavik Swimming Pools
Iceland is a country defined by water. From the crashing waves of the Atlantic Ocean to the milky glacial waters flowing through the country. Water even erupts from the ground from the super-heated geysers powered by the countries geothermal activity.
With all of this water, it's no surprise that Icelandic people love to get wet. In fact, you'll find a public swimming hole in nearly every city in the country. We always made sure to stop at them during our two-week road trip through Iceland.
There are more than 18 swimming pools in Reykjavik alone. Many of these also have indoor/outdoor pools, saunas, and hot tubs. And most of these swimming pools are heated using the county's clean, geothermal energy.
Heading to Reykjavik swimming pools isn't like a trip to the YMCA, though. Instead, these pools are closer to a luxury spa experience. And they are fun for the whole family.
Many of these pools are outdoor, and during the winter, you might have to tiptoe across ice or snow to get to the heated water. In fact, if you're visiting Iceland in winter, the swimming pools are an absolute must.
Our favorite Reykjavik swimming pool for families is the Laugardalslaug pool. This is the largest public swimming pool in Reykjavik. The property also includes a botanical garden, family park and zoo, a sculpture museum, a spa, and a skating rink.
Dine On Reykjavik's Famous Hot Dogs
If you've done even a little research on where to eat in Reykjavik, you've surely stumbled across hot dogs.
Hot dogs in Iceland have evolved into their own unique art form. And throughout the country, you'll find some of the most delicious hot dogs imaginable.
Icelandic hot dogs are typically made of lamb mixed with pork and beef. And the best hot dogs in Reykjavik are at Bæjarins Beztu Pylsur. This popular restaurant is located close to Hallgrimskirkja. You can get your toppings in almost any way that you would like. However, the traditional Icelandic favorite is on a steamed bun with raw onions, ketchup, brown mustard, and remoulade.
Take A Daytrip From Reykjavik
There are some incredible places to visit in Reykjavik, and those looking for things to do within the city won't have a problem keeping themselves busy. However, few people travel to Iceland to spend their entire visit in the capital.
If you're renting a car and doing an Iceland self-drive, check out our favorite things to do near Reykjavik for some incredible ideas. On the other hand, if you're basing yourself in the capital and doing tours, here are three incredible tours from Reykjavik that will let you get a taste of the breathtaking Icelandic scenery.
There's a reason that many travelers in Iceland choose to rent a car and explore on their own. First off, the country is among the safest globally, and secondly, it's truly a country built to wander. There are unique and fascinating landscapes that seemingly change by the mile. And only a road trip can truly let you see this for yourself.
However, many visitors only visit Iceland as a day trip or prefer to let others do their driving. So these day tours from Reykjavik will let you see the country and be back in Reykjavik in time for dinner. Or, for something bigger, you can always pick a multi-day Iceland tour such as this one.
Snorkel or Dive the Silfra Fissure in Thingvellir National Park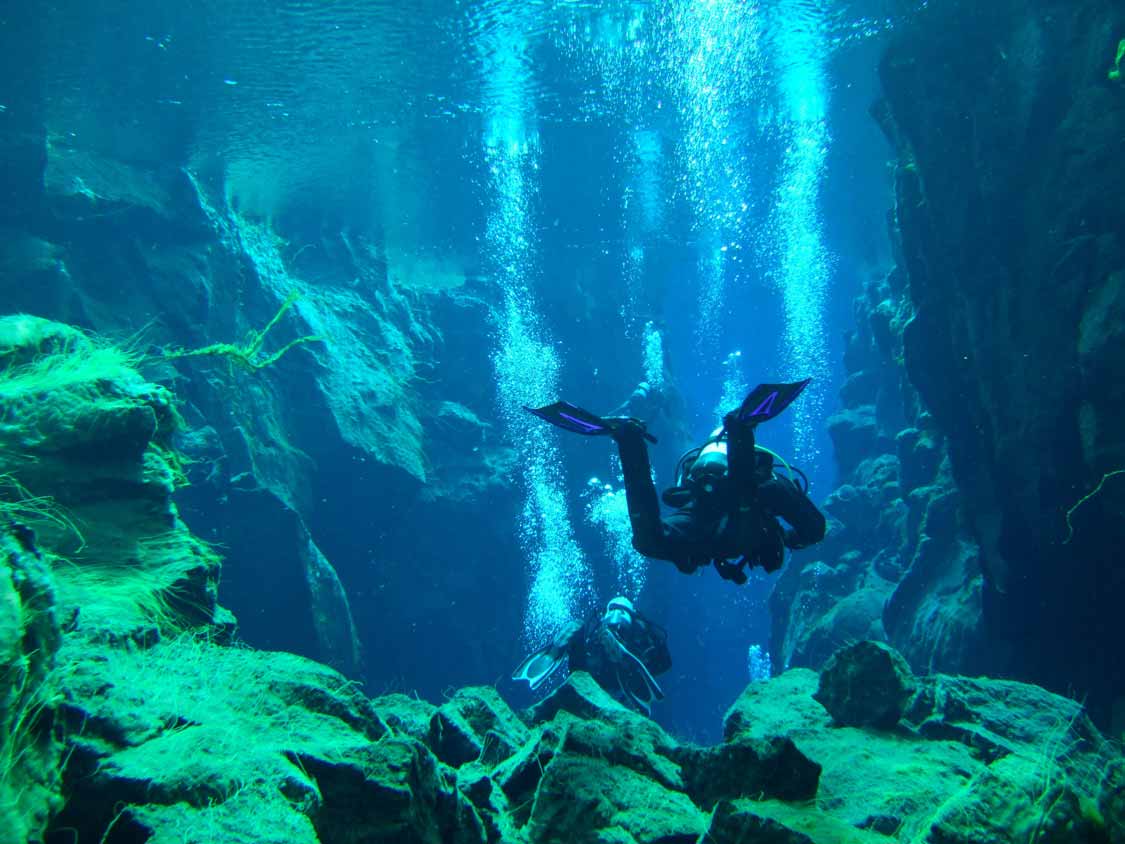 This was one of the coolest experiences that Christina and I had the pleasure of doing in Iceland. This 4-hour tour takes you out to the magical Thingvellir National Park and the Silfra Fissure.
This is the only place in the world where you can snorkel or SCUBA dive between two continental plates. You can read all about our experience here or book a tour for yourself here.
Take A Game Of Thrones Tour
There's no denying that the popularity of travel in Iceland exploded after the Game of Thrones television show launch. This popular show introduced many people to the magical landscapes of this North Atlantic country. This Game of Thrones location tour from Reykjavik is a great way to see the sites and have fun at the same time.
Experience The Golden Circle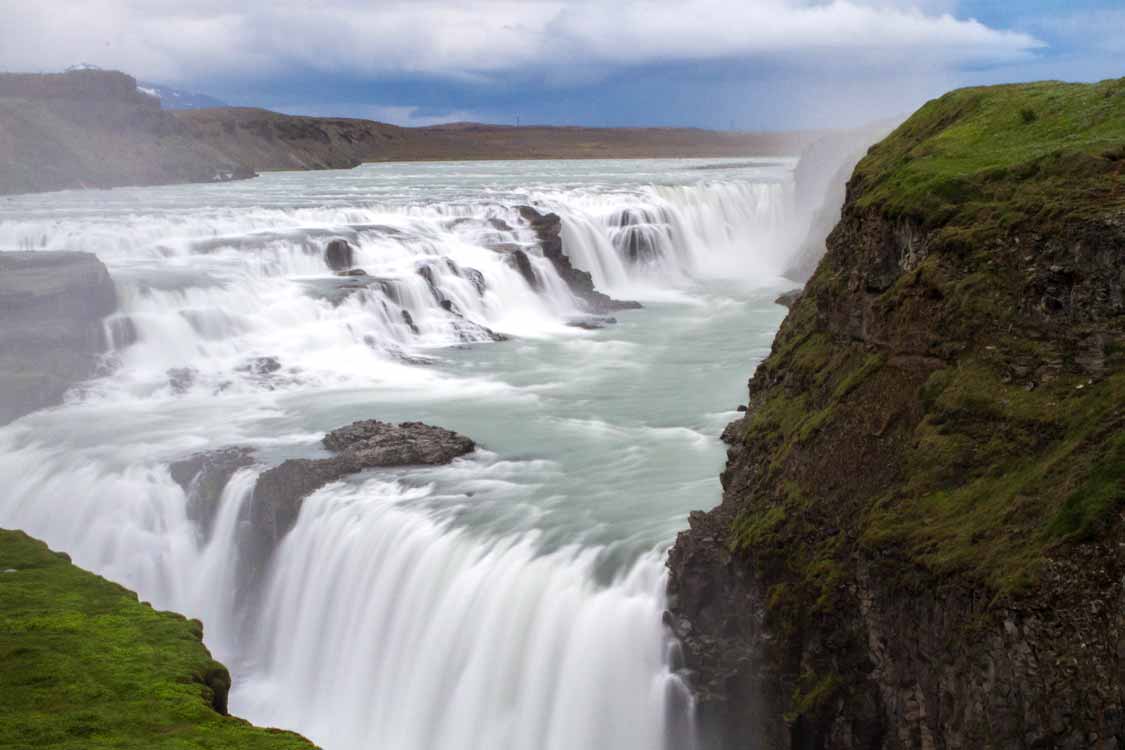 The Golden Circle is among the most popular tours in Iceland. This 9-hour tour explores some of the most incredible features of southern Iceland, including Thingvellir National Park, where you'll experience roaring waterfalls, exploding geysers, volcanic craters, and thermal pools. This is a can't miss tour, and you can book it here.
Tour The Snaefellsnes Peninsula
This peninsula is one of the first places we visited on our two-week road trip through Iceland, and what an introduction it made! This spectacular area is dotted with mountains, craters, fishing villages, and black sand beaches. This tour spends the day exploring the area.
Where To Stay In Reykjavik
You can check out our complete list of the best hotels in Reykjavik here. But, if you don't want to dive deeper into our rabbit hold of Icelandic adventures, here are a few that top the list.
Canopy By Hilton Reykjavik City Center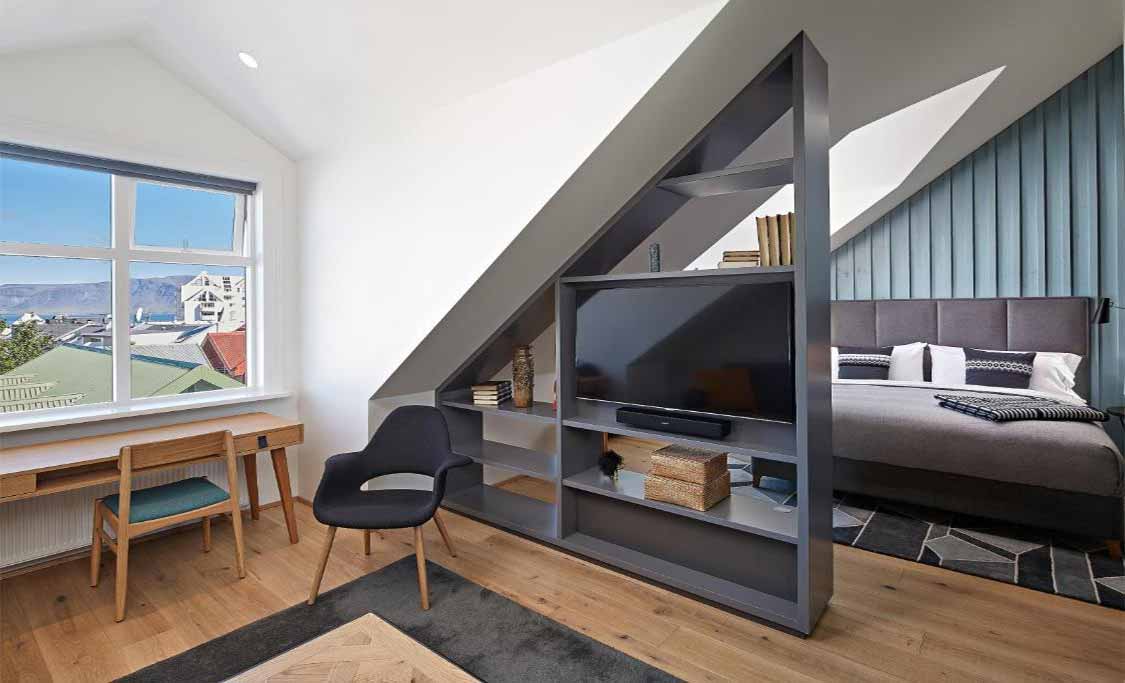 Proudly situated in one of the best locations in all of Reykjavik, Canopy by Hilton is, without a doubt, one of the best hotels Reykjavik, Iceland, has to offer. This phenomenal property is built from a collection of former houses into what is now one of the most premier Nordic-style hotels in Iceland.
The rooms are spacious and modern. They've been designed using the style and input from local artists that make each room have its own unique Icelandic style.
Canopy by Hilton steps away from the Laugavegur shopping area and includes an on-site bar, complimentary buffet breakfasts, and free WiFi. You can find the current prices and availability below right here.
ION City Hotel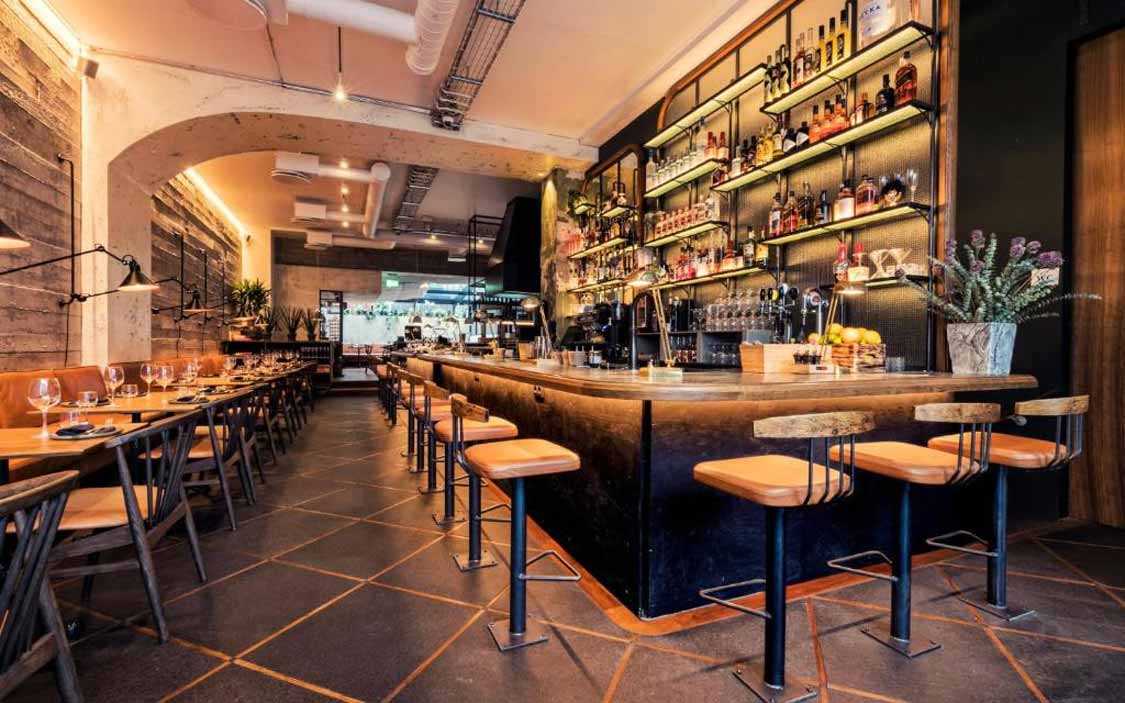 Located on the popular Laugavegur Street, Ion City Hotel is one of the top hotels in Reykjavik. This stunning property has changed the landscape of luxury accommodations in Iceland. Its fantastical design encapsulates the history, landscapes, and cultures of Iceland through modern design and the blending of modern art with natural beauty.
This small Reykjavik hotel only has 18 rooms, but if you're lucky enough to secure one, you'll be treated to some of the best luxuries in the city. If you have the means, try to book the City Suite, which includes a private sauna and a balcony with an incredible view of the iconic Hallgrimskirkja Church.
The hotel also includes free WiFi, an on-site restaurant, and a fitness center. You can find their current prices and availability here.
Final Notes On Travel To Reykjavik, Iceland
Reykjavik is one of the coolest cities in the world. And there are more than enough things to do in Reykjavik to keep you busy for a long time. In addition, Reykjavik is one of the safest cities in the world, making it one of the best places to travel with kids.
Don't forget that much of the Icelandic beauty lies outside of the cities. While Reykjavik is great to explore, don't miss out on the magical landscapes and waterfalls that make this country one of the best in the world.
If you're new to family travel, head over to our tips for international family travel post or our summer in Iceland packing list to ensure that you have everything you need to explore Reykjavik comfortably. Although it is a very stroller-safe city, I recommend bringing a travel-friendly stroller that will make your experience much easier.
And feel free to drop any questions or comments below. I always answer them.
If you're passionate about family travel, head on over to our Family Travel Support Group on Facebook. It's a fantastic community of parents who love travel. We share experiences, knowledge, and the lessons learned along the way. You can also sign up for our newsletter to keep in the loop about new family travel adventures.
Wandering Wagars is a participant in the Amazon Services LLC Associates Program, an affiliate advertising program designed to provide a means for sites to earn advertising fees by advertising and linking to amazon.com, amazon.co.uk, amazon.ca. Amazon and the Amazon logo are trademarks of Amazon.com, Inc., or its affiliates.
You May Also Like To Read: