Make the most of Labour Day in Toronto with these fun-filled activities. Pack summer's last weekend with unforgettable Toronto memories.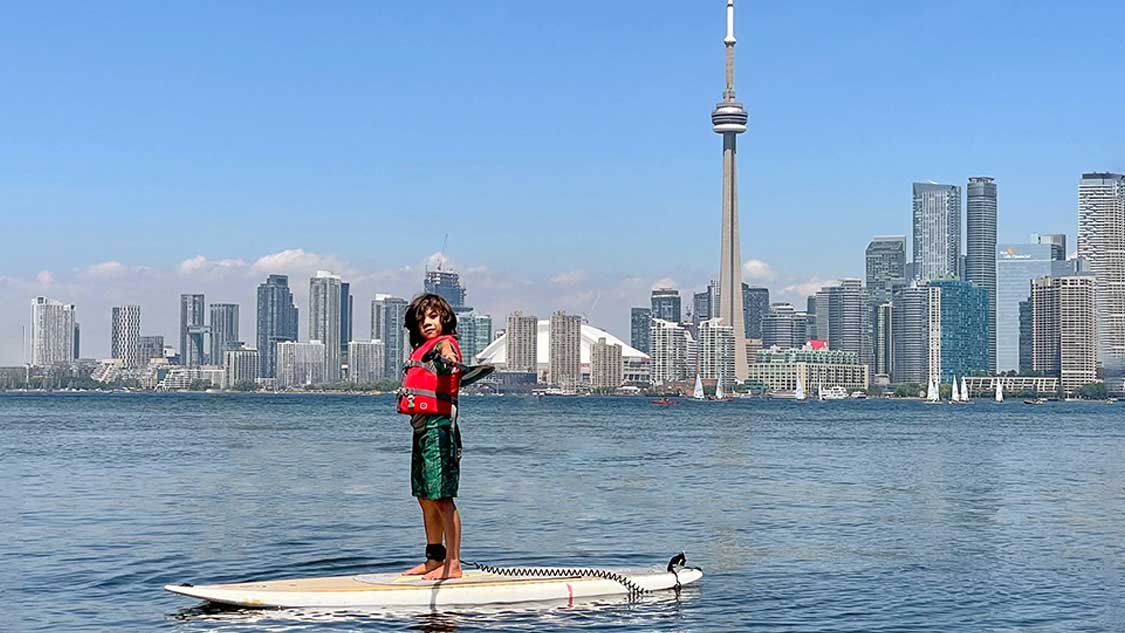 We all know that panicked feeling when the final long weekend of the summer rears its head. There's a mad rush to fit in the last adventures before school, and work schedules ramp up again for the fall and winter.
The weekend surrounding Labour Day in Toronto is one of the best times to pack in a summer's worth of thrills into three unforgettable days. And I'm here to show you how to make the most of memories in Canada's largest city.
Let's face it, any weekend in the big city is a blast. We love exploring our home in the Greater Toronto Area. There's always something fun to do, from the awesome attractions in Mississauga to the many exciting things to do in Toronto with kids. But Labour Day weekend in Toronto needs to be extra special. After all, this is the last hurrah before we can stop hitting snooze on our alarm clocks.
These end-of-summer attractions will help you spend a family-friendly weekend of fun-filled excitement in Toronto. Don't forget that if you're planning on visiting several Toronto attractions, you can save quite a bit by purchasing a Toronto City Pass.
Treat Your Family To Some Overnight Fun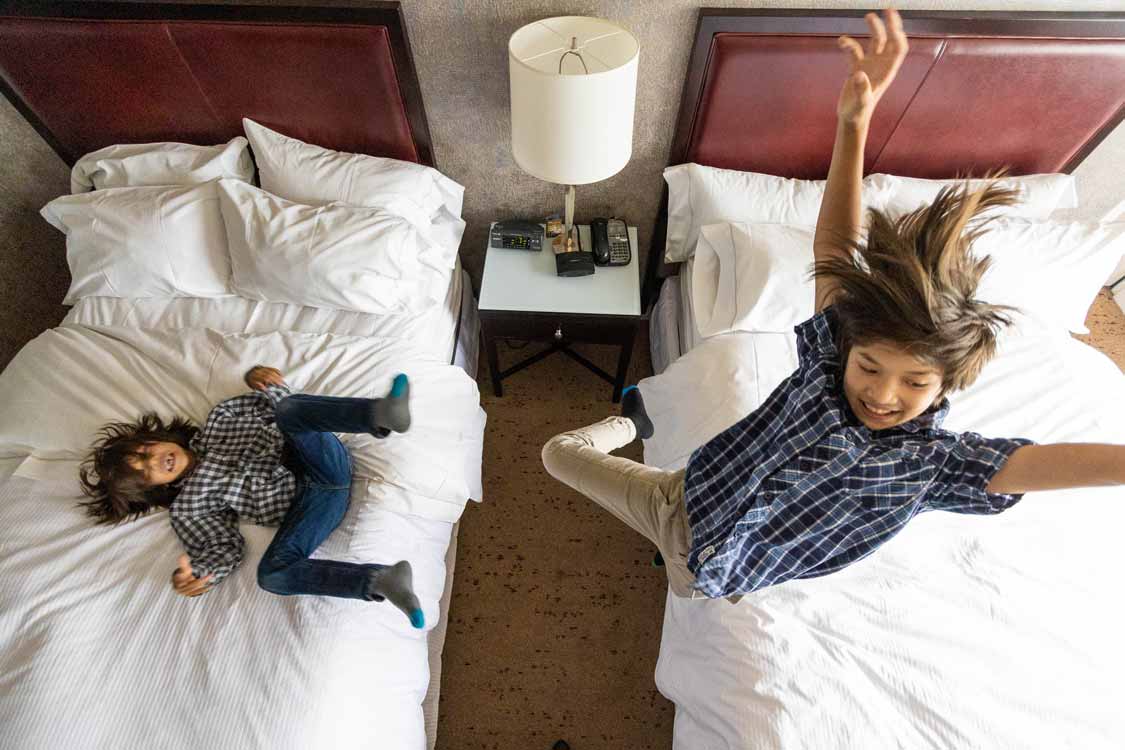 If you want to enjoy a fantastic Labour Day weekend in Toronto, everything starts with some amazing accommodations. There are some absolutely amazing hotels in Toronto, but a great long weekend in the city means finding a place that will build some memories.
My family's go-to Toronto hotel is the Westin Harbour Castle. This beautiful hotel is located right on the waterfront. You'll have easy access to downtown, the Toronto Islands, and all of the great Toronto Labour Day weekend festivities.
If you can't find a room at the Westin, try the Chelsea Hotel. This hotel is situated right in downtown Toronto just steps from the Eaton's Centre, the Chelsea Hotel is one of the best places to stay in Toronto for families. This Toronto hotel has excellent rooms and a fantastic patio.
Dine and Play at the Rec Room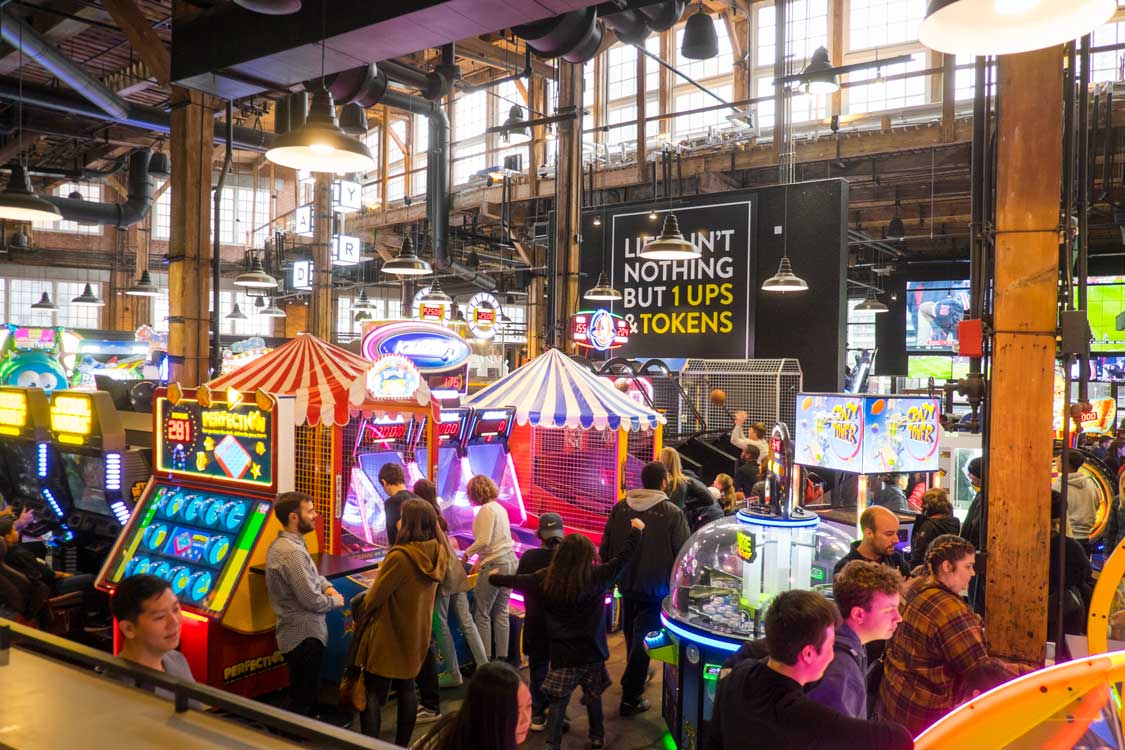 Located just steps from Ripley's Aquarium and the CN Tower, the Rec Room is Toronto's most ambitious play space. Spread across 40,000 square feet of space, the Rec Room Toronto features great restaurants, loads of arcade games, live entertainment, virtual reality games, and much more.
The restaurant at the rec room serves up a great range of food and drinks, and they have an exceptionally reasonably-priced kids menu at the Three10 restaurant with Canadian food that children will actually enjoy eating.
Simply grab a table, load up a play pass and enjoy the awesome range of entertainment. The Rec Room can be busy, especially on Labour Day in Toronto, so you might want to book ahead. You can contact their reservation desk here.
Walk Like a Giant at Little Canada
Head over to Dundas St. and embark on a cross-Canada journey. Little Canada takes visitors through the most famous Canadian landmarks, including nearby hotspots like the CN Tower and Niagara Falls to epic destinations like the Rocky Mountains and the vast Canadian North.
Stop by the "Littlization Station" during your visit, and you can be immortalized in Little Canada through a 3D scan and print where your own "little me" can be placed into the exhibit.
Take In The View from the CN Tower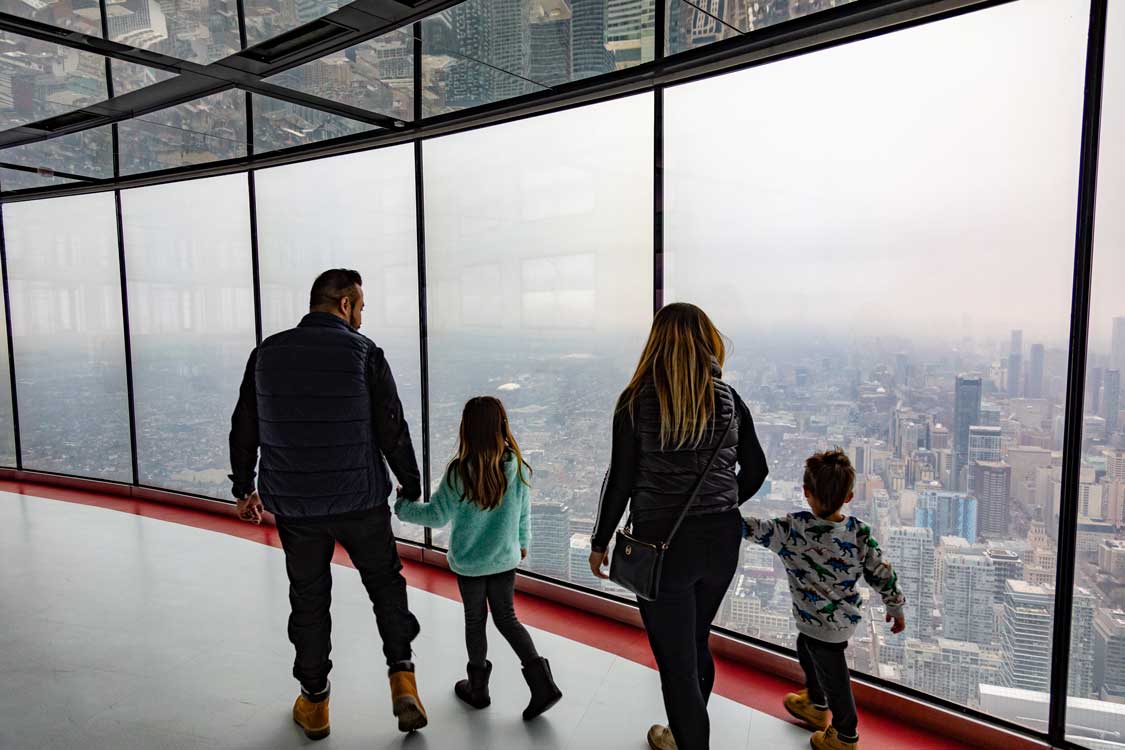 For decades, the CN Tower has been one of the coolest places to visit in Toronto on Labour Day weekend. At 1,815 feet tall, the tower dominates the Toronto skyline. In fact, for decades, this was the tallest freestanding structure in the world.
Ride the high-speed glass elevators to the lookout level, where you can stand on the glass floor and gaze at the city's best view. For those who love to live adventurously, you can even strap on a harness for the Edge Walk. This experience takes you 1,000 feet above the Toronto skyline along a 5-foot ledge with nothing between you and the ground but air. Participants need to be at least 13 years old.
You can save money on this experience. It is covered under the Toronto City Pass.
Walk Into Infinity at the Art Gallery of Ontario
With a collection of a whopping 80,000 works of art, the AGO, or Art Gallery of Ontario, is one of the most important art museums in North America. If you love putting a little culture into your Toronto Labour Day weekend, this is a great spot to do it.
If you're worried about the kids finding this too bland, rest assured that the AGO is an epic destination for families. There are loads of interactive exhibits, art classes, and engaging presenters that will thrill the little ones.
And the AGO's newest permanent exhibit, Yayoi Kusama's Infinity Room, will offer a mind-bending trip through "forever." This unique mirrored room is one of the most Instagrammable spots in Toronto and is something that shouldn't be missed. Just make sure to reserve your spot when you arrive. The exhibit is on a first-come-first-served basis.
Take A Stroll Beneath The Waves At Ripley's Aquarium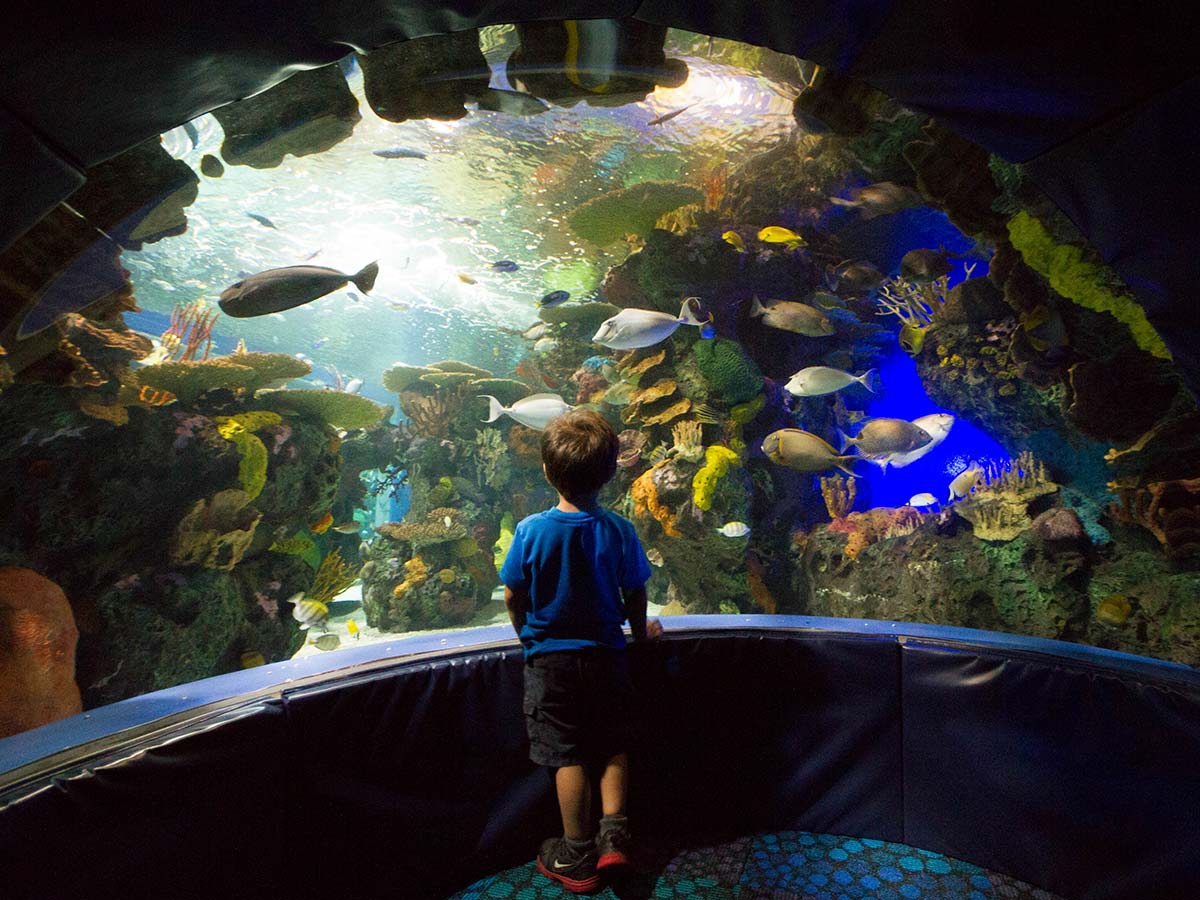 Ripley's Aquarium is one of our absolute favourite places to visit in Toronto with kids. Spread throughout 12,500 square metres, this aquarium houses more than 16,000 marine animals from around the world. The Toronto aquarium is packed with interactive displays, play areas, and spell-binding exhibits.
We always get a kick out of the daily dive shows where you can see workers descend into the tanks to check on the animals or perform maintenance on the aquariums. The aquarist talks are also amazing and educational experiences to enjoy.
The favourite thing to do for my boys is always the touch tanks, where they can get hands-on with stingrays, horseshoe crabs, and more amazing critters. This experience is also covered under the Toronto City Pass.
Let's Go To The Ex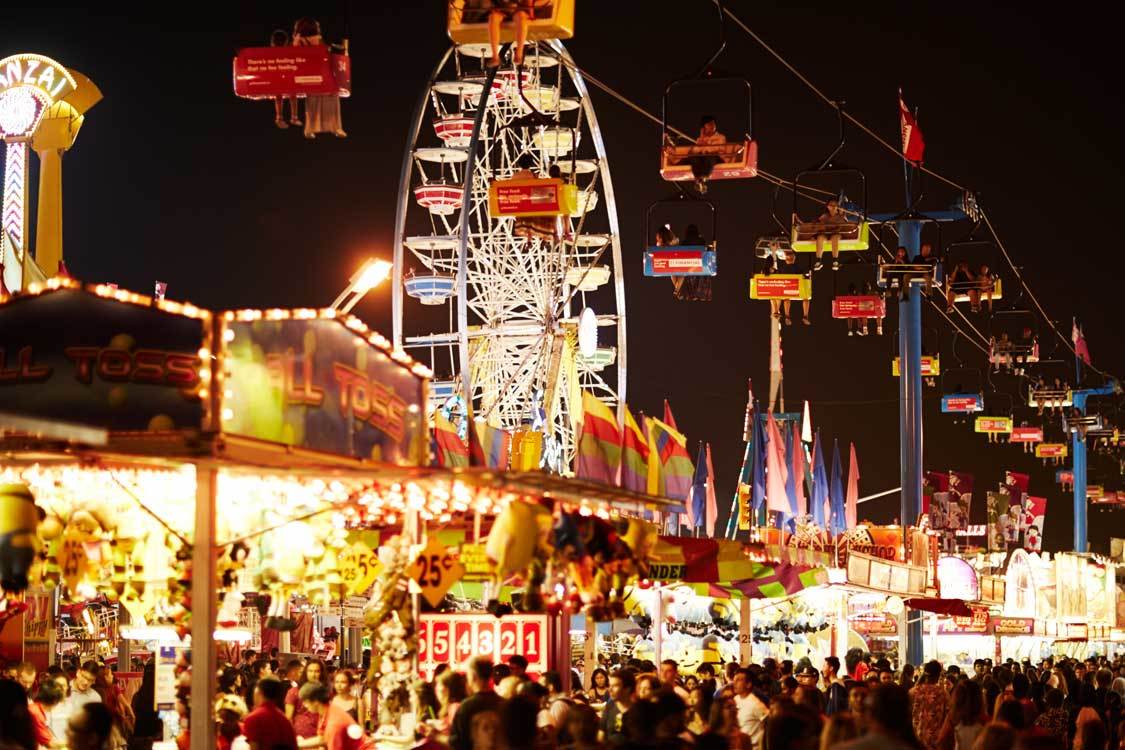 Labour Day weekend in Toronto marks the end of the yearly Canadian National Exhibition in Toronto. Head over to the fairgrounds and discover the thrilling rides, and incredible live shows, or simply to discover what humans have learned to deep-fry this year.
You can pick up the general admission pass, which gives you access to the grounds, all of the shows, and the exhibits, or you can splurge on the play-all-day pass that gives you all that plus unlimited access to all of the rides in the Midway.
You can find out more about the CNE in Toronto here.
Make A Visit To The Toronto Islands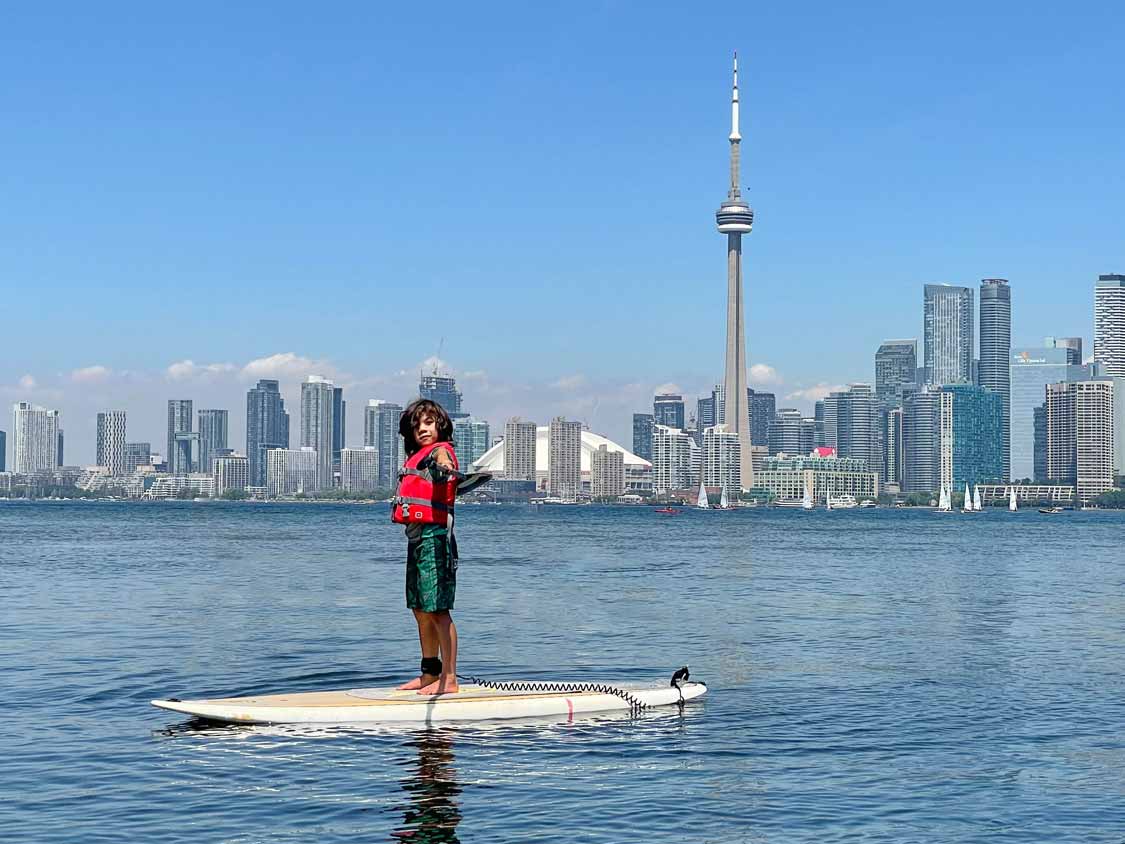 Accessed via the Jack Layton Ferry Terminal at the base of Jarvis St. or one of the many Toronto Island water taxis that line the shores of Lake Ontario, the Toronto Islands are definitely a must-do experience in Toronto with kids.
You'll find one of only two Blue Flag Beaches in Toronto on the island, a "haunted" lighthouse, the Centreville amusement park, and some of the most beautiful nature in Toronto.
Rent a kayak or standup paddleboard from Toronto Island SUP and take in one of the best views of the Toronto skyline. Or visit the Gibraltar lighthouse, which was built in 1808. Be careful, though. This scenic landmark is said to be haunted by the ghost of a former lighthouse keeper.
You can check out our Toronto Islands video on YouTube right here. Don't forget to like and subscribe. It really helps us, and we sincerely appreciate all of you who do.
Take A Harbor Cruise On The Tall Ship Kajama
Boarding at the Toronto Waterfront near the Harbourfront Centre, the Tall Ship Kajama is one of the most relaxing ways to enjoy Labour Day in Toronto.
Board a century-old triple-masted ship for a tour of the Toronto Harbour or around the Toronto Islands. The ship has an onboard bar and restaurant serving great food (our kids loved the soft pretzels), so you'll have lots to munch on as you drink in the views.
Grab Some Shade at The Beach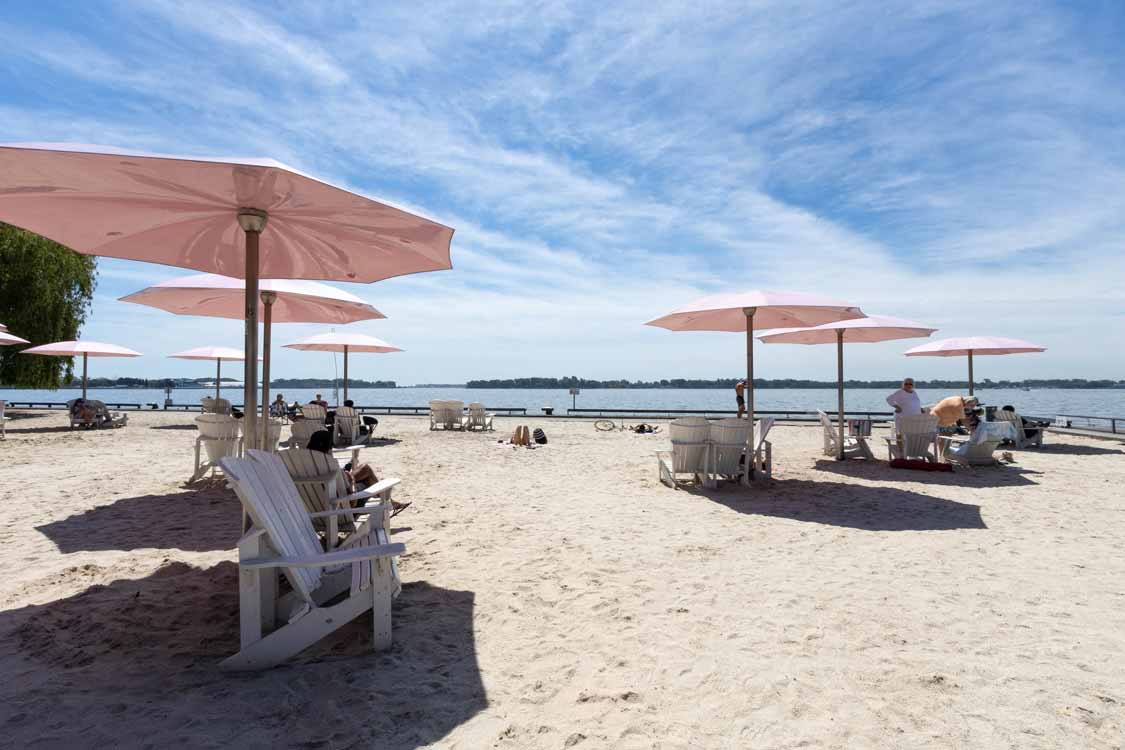 Labour Day weekend in Toronto usually offers some of the best weather of the year. And there's no better way to enjoy the warmth and sunshine than at the beach.
Toronto is home to 11 swimmable public beaches spread out along the Lake Ontario shoreline if you're a fan of sand and sunshine. However, on top of those swimmable beaches, several Toronto beaches are more designed for lounging than they are for getting wet.
For some of the best swimming in the city, head out to the Toronto Islands and visit Hanlan's Point, Centre Island, or Woodbine Beach. For beaches on the mainland, head out to Bluffers Parks in Scarborough or Balmy Beach in the aptly named "The Beach." Finally, Cherry Beach, on the Leslie St. Spit, is a fun place to enjoy the water for something central.
Don't Forget The Food!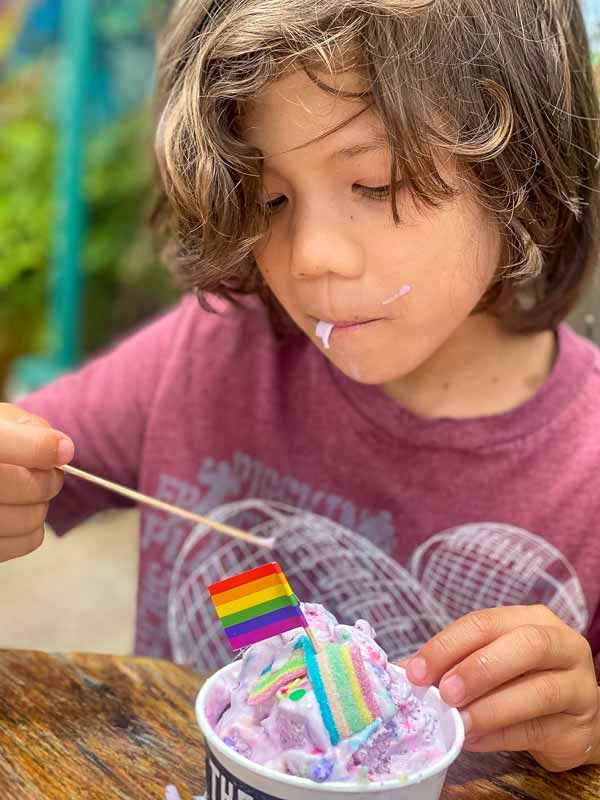 As one of the world's greatest ethnic melting pots, it's no surprise that you'll find some of the best cuisines from around the world in Toronto. In fact, if you're looking for amazing family-friendly restaurants for your Toronto Labour Day weekend, you won't have to look far.
To start your kid-friendly food tour of Toronto, head over to St. Lawrence Market. Toronto's oldest market has been operating since 1803 and houses over 120 vendors selling produce, meat, fish, dairy products, and much more. But, of course, you'll find great food vendors as well.
If you want to spend a night with a little class, Jump, the first restaurant in Toronto's Financial District, serves up classics such as handmade pasta and exceptional cuts of meat prepared with fresh ingredients. My personal favourite reason for visiting Jump is the 90 types of scotch, whiskey, and bourbon they have on offer. But my kids just can't get enough of their beautiful prepared desserts. You can check out their menu here.
For some great ice cream treats, head over to The Fixx on the waterfront. They switch up their unique sundaes to fit the exciting events happening around the city.
And if you're up for a real laugh, head over to the Poop Cafe at Bloor and Clinton near Christie Pitts. This dessert bar serves up delicious treats with a hilarious toilet theme. I went here with my kids, and we laughed our way through more ice cream than we could finish.
Enjoy Your Labour Day Weekend in Toronto!
Toronto is an epic Labour Day destination. And I don't say that just because I live here. Toronto is safe, vibrant, and an amazing chance to get the jump-off to other incredible places such as Niagara Falls and Prince Edward County.
Toronto, after all, is just one small part of the province of Ontario. And Ontario is an amazing place to explore. You can find much of that on our Ontario family travel blog.
If you're new to family travel, head over to our tips for international family travel post or our family travel gear guide to ensure that you have everything you need to explore Jordan comfortably. Many of the destinations in Jordan are not stroller-friendly. I recommend parents travel with a child carrier rather than a stroller for anything other than urban exploring.
And feel free to drop any questions or comments below. I always answer them.
If you're passionate about family travel, head on over to our Family Travel Support Group on Facebook. It's a fantastic community of parents who love travel. We share experiences, knowledge, and the lessons learned along the way. You can also sign up for our newsletter to keep in the loop about new family travel adventures.
Disclosure: Many of these activities were supported by Destination Toronto. As always, all opinions remain our own. Wandering Wagars is a participant in the Amazon Services LLC Associates Program, an affiliate advertising program designed to provide a means for sites to earn advertising fees by advertising and linking to amazon.com, amazon.co.uk, amazon.ca. Amazon and the Amazon logo are trademarks of Amazon.com, Inc., or its affiliates.
You May Also Like To Read: