With a dramatic sandy beach and crystal clear water, Ivanhoe Lake Provincial Park is one of the top parks in northern Ontario.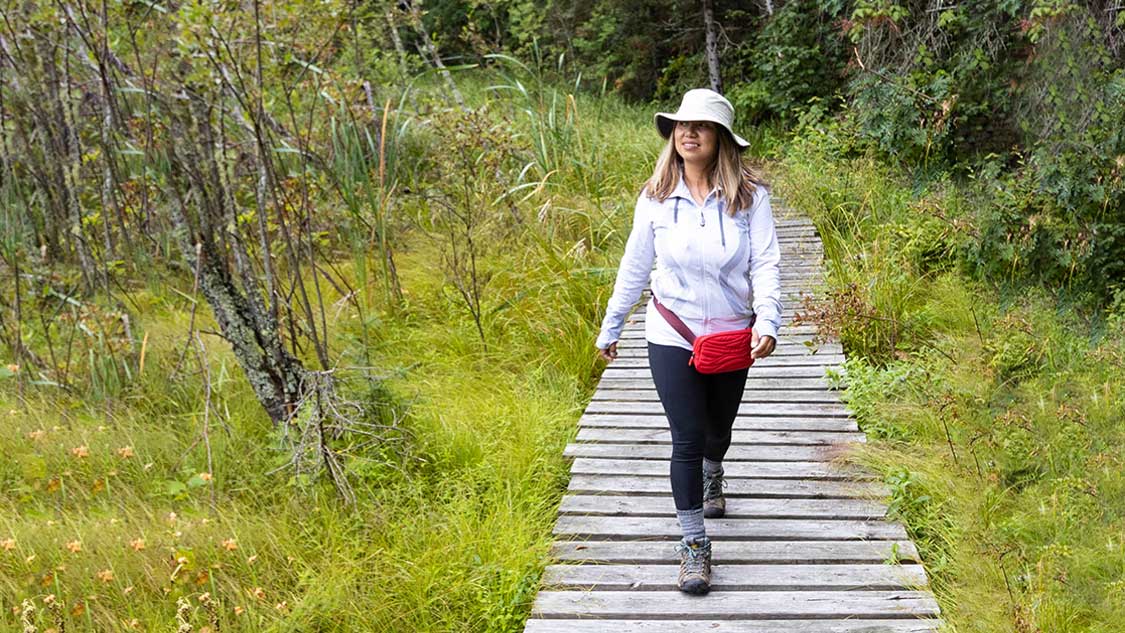 Featuring a warm, shallow lake and out-of-this-world hiking trails, Ivanhoe Lake Provincial Park is one of the most beautiful provincial parks in Ontario. For those willing to make the journey to northern Ontario, it's also among Ontario's most overlooked provincial parks.
The sprawling wilderness of Ivanhoe Lake Provincial Park was once a beacon of industry, specifically among the mining and lumber fields, which used the lake and connected river systems to move logs through the deep woods of Canada's expansive Boreal Forest.
The wide waters of Ivanhoe Lake draw anglers and paddlers to its shores. The lake's shallow water means warm waters and comfortable swimming much earlier in the year than northern Ontario Parks along the frigid waters of Lake Superior, such as Rainbow Falls, Sleeping Giant, and Lake Superior Provincial Park.
My family finally had the pleasure of experiencing this amazing Ontario Provincial Park at the tail end of our journey through the highlights of the Boreal Route. This magical northern Ontario road trip took us from Kap Kig Iwan through Esker Lakes Provincial Park to Fushimi Lake with stops at the fabulous Cochrane Polar Bear Habitat along the way.
Where Is Ivanhoe Lake Provincial Park?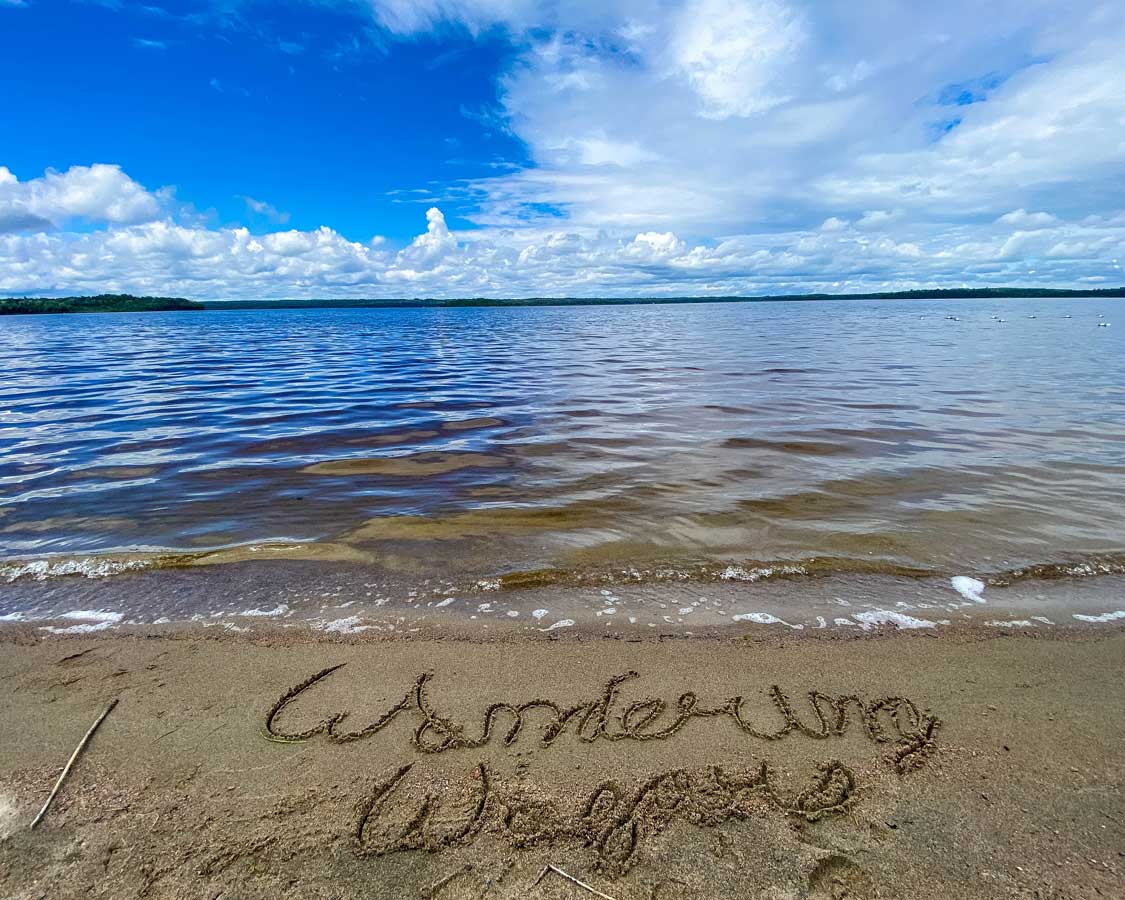 Ivanhoe Lake Provincial Park is just off HWY 101 in northern Ontario between the cities of Timmins and Wawa. The park is about four hours north of Sudbury, Ontario, and a little over three hours west of Kap Kig Iwan Provincial Park. Both parks like along the scenic northern Ontario Boreal Route that circles some of the lesser-known but no-less beautiful parks inland from the Great Lakes in Ontario's far north.
Ivanhoe Lake PP is about an hour from the town of Chapleau and just 15 minutes from the small town of Foleyet, which has a general store and a few accommodation options for those who aren't looking for a camping experience.
Tips For Visiting and Camping at Ivanhoe Lake Provincial Park
For outdoor lovers, Ivanhoe Lake Provincial Park is a paradise. From its signature "Quaking Bog," a kettle lake that has turned into a vegetation-covered bog that quakes when the water is disturbed, to the other-worldly Saw Lake hiking trail, Ivanhoe Lake doesn't fail to impress.
The park holds several kettle lakes, formed when massive chunks of glacial ice left deep holes in the earth as they melted. You'll also find eskers, which are long tracks of silt and sand left behind by the retreating glaciers some 10,000 years ago.
The park is also a popular destination for wildlife lovers. It's not rare to find moose, deer, and black bears roaming along the edge of the long, tapering shores of Ivanhoe Lake.
It's always helpful to have a little information that you can rely on before you head out. So before we get to the Ivanhoe Lake Provincial Park Guide, here are a few tips and tricks to help you plan your visit. Before you head out, check out our tips for Ontario Parks camping so that these parks are here to enjoy for generations to come.
Book early – Campsites at Ivanhoe Lake Provincial Park do sell out thanks to the easy access to cities such as Sudbury and Thunder Bay. You'll often find availability during the week, but weekends are often busy. You can beat the crowd by booking up to 5-months ahead on the Ontario Provincial Park online booking system. You can access that here.
If you can't get a campsite at Ivanhoe Lake Provincial Park, you'll likely need to find accommodations in a nearby town. There are no other provincial park campgrounds nearby. Your next best option is the town of Chapleau, about an hour west of the Ivanhoe Lake entrance. You can find some options here.
Book Late – Many Ontario campsites book up early. But many also have last-minute cancellations. If you don't mind last-minute planning, keep checking the Ontario Parks website to see if there are any late openings. Sometimes this is the best way to get a prime site.
Plan for the weather – Watch the weather forecasts before your Ivanhoe Lake camping adventure. And always prepare for the worst. You never know what could happen without warning. Pack camping tarps like this for covering your gear; make sure you use mosquito repellent and sunscreen for all that time on the trails.
Don't move firewood – Those used to camping in central and southern Ontario may not love Ontario Parks wood, but as you move further north, the quality greatly improves. Moving firewood from one destination to another can cause devastation. We saw this first hand in MacGregor Point, where huge swaths of the forest had been cut down due to the Emerald Ash Borer beetle invasion.
Ivanhoe Lake Provincial Park Camping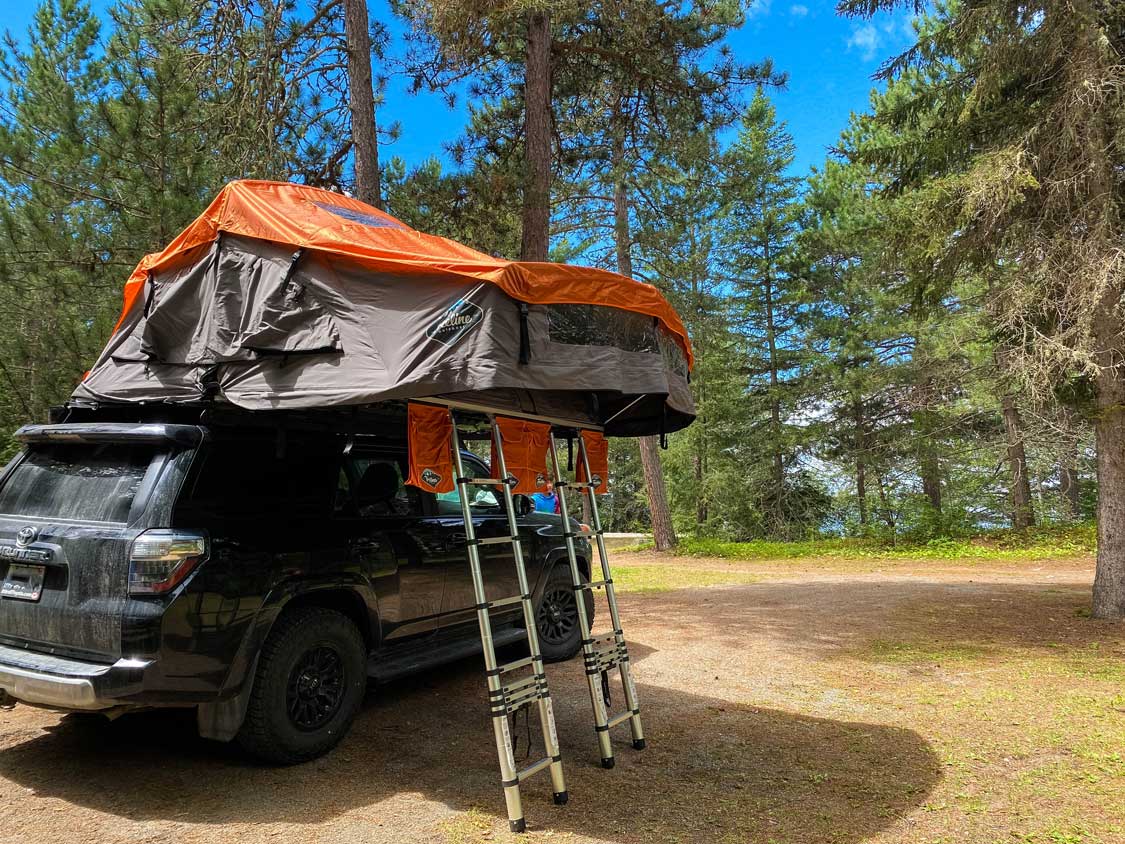 The Ivanhoe Lake Provincial Park campground offers large, wide-open sites for campers and RVs. The campground at Ivanhoe Lake is seasonal, open from May 17th through to September 2nd. There are four campgrounds spread across the park. Red Pine, Le Rivage, White Birch Hill and La Baie.
More than half of Ivanhoe Lake Provincial Park campsites include electrical service. And most of the campsites are within easy reach of the wide waterfront. The Red Pine and Le Rivage campgrounds are all a majority electrical sites. The campgrounds are all laid out in a line following the waterfront, so even the furthest campsites from the water are only 3-4 campsites back.c
If you are looking for unserviced campsites, your options are La Baie, which sits on the Ivanhoe Lake shores, and White Birch Hill campground, which sidles inward from Saw Lake. The White Birch Hill campsites are larger and more secluded but are further from the water than the ones at La Baie.
If you want the most sought-after campsites with service, stick to the inside sites at Red Pine (Sites 1, 2, 4, 6, 8, 10, 12, 14, 15, and 16). These sites are close to the beautiful Ivanhoe Lake Provincial Park beach. This Ivanhoe Lake campground sits the closest to the entrance but is separated from the water by a road. The rest of the campgrounds are only two-sites deep with no road before the waterfront.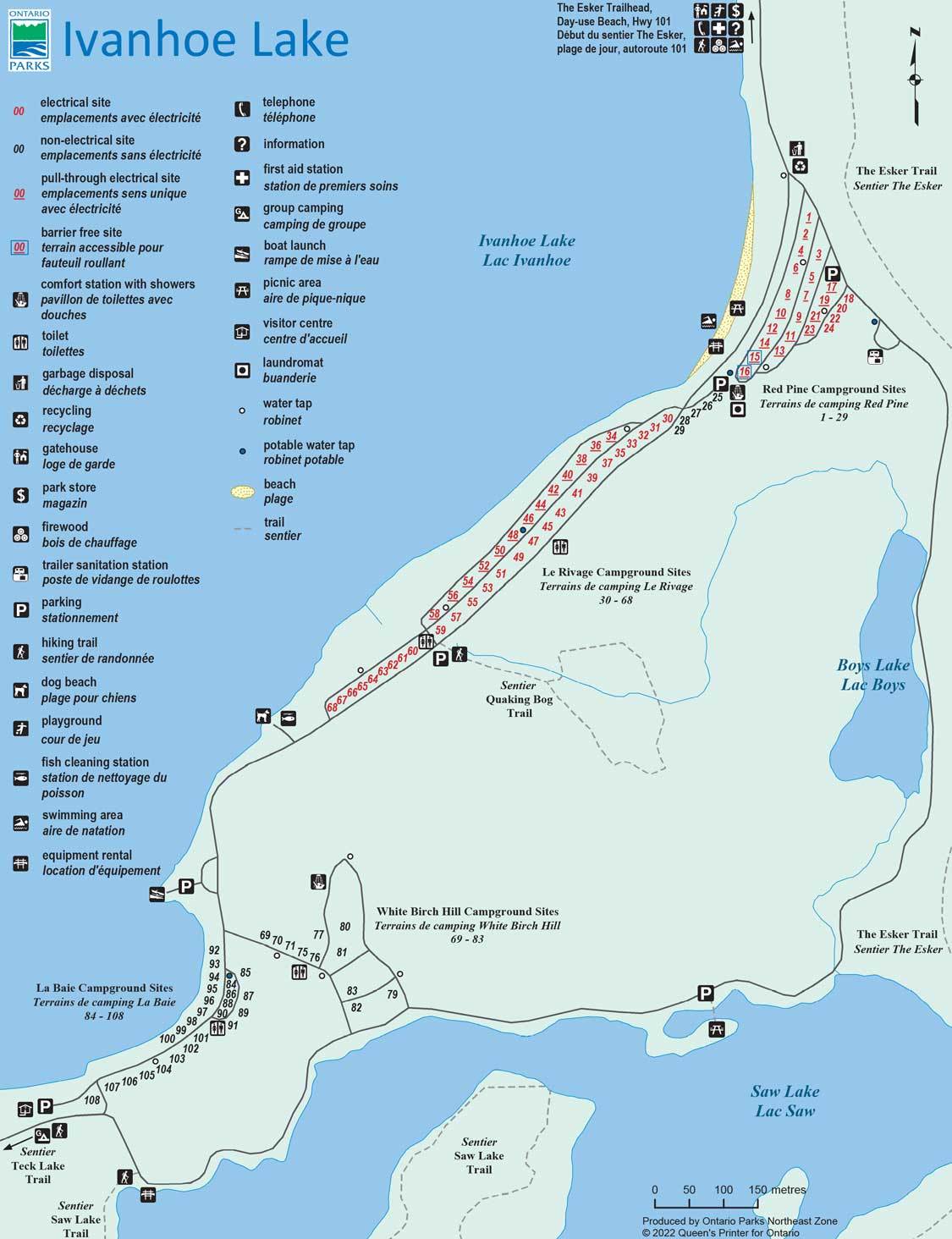 Comfort Stations at Ivanhoe Lake Provincial Park
There are two comfort stations at Ivanhoe Lake Provincial Park. One is located between the Red Pine and Le Rivage campgrounds. It includes flush toilets, showers, and a laundry facility. The second is located on the inside edge of the White Birch Campground. This comfort station includes flush toilets and showers. IT can be easily accessed by those in the La Baie campground.
Other Ivanhoe Lake PP Amenities
Ivanhoe Lake PP is well suited for almost any type of camper. Along with the two comfort stations and laundry facilities the park also has vault privies, well-spaced water taps, picnic areas, a dog-friendly beach, a fish cleaning station, a boat launch, and two excellent beaches.
You'll also have access to horseshoe pits, a visitor's centre, and the park store, which sells snacks, necessities, and Ontario Parks swag. Within the park, you can also rent a great variety of gear, including stand-up paddleboards, kayaks, canoes, motorboats, and fishing gear.
Things To Do At Ivanhoe Lake Provincial Park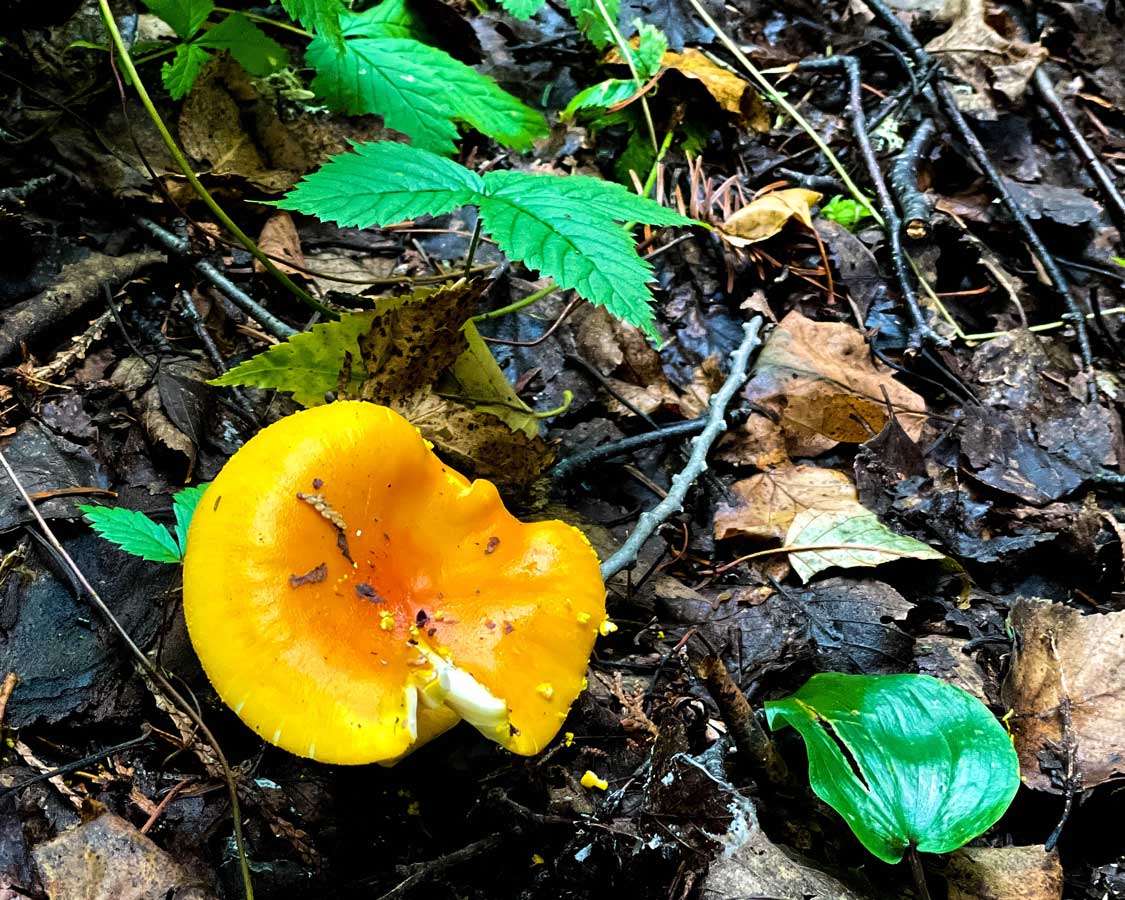 There are loads of excellent things to do at Ivanhoe Lake Provincial Park that will satisfy most outdoor lovers. The park is particularly known for fishing, paddling, and hiking. There are also two fantastic beaches with wide expanses of sand dipping into the shallow waters of Ivanhoe Lake.
The park is also popular for cyclists, birders (specifically songbirds and warblers), and boaters. Motorboats are allowed on Ivanhoe Lake, but gas motors are not allowed on Saw Lake or Boyce Lake.
Ivanhoe Lake Provincial Park Hikes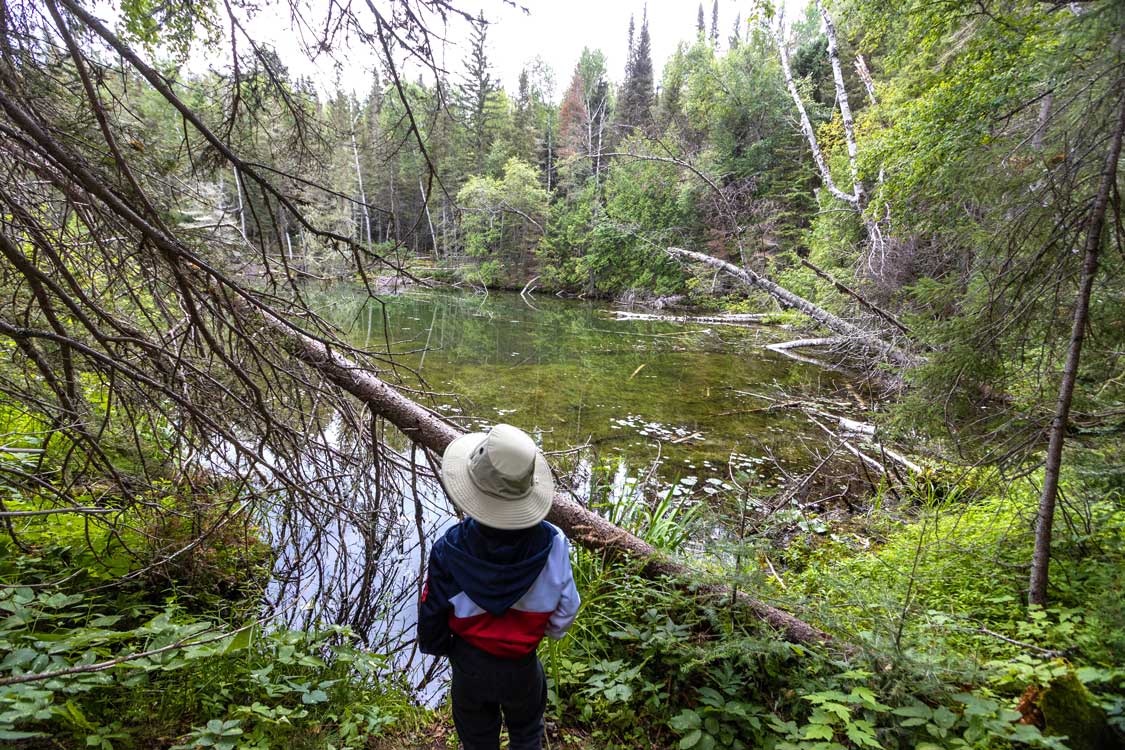 If you love hiking, Ivanhoe Lake Provincial Park has some fantastic options that offer some absolutely stunning views.
Saw Lake Trail
2.8 km loop – Easy
The Saw Lake Trail is one of my favourite hikes along the Boreal Route. While the trail is listed as easy, there are some challenging climbs and descents over the eskers that those with mobility issues should be aware of.
The trail circles the edge of Saw Lake, a glacial lake and connected marsh offering some of the best samples of northern Ontario wilderness. Expect to see many birds, frogs, and every shade of green imaginable.
Quaking Bog Trail
0.8 km – Easy
Although the Ivanhoe Lake Quaking Bog trail might be short, it's one of the most popular routes in the park. Follow a series of interpretive panels that outline how this kettle lake transformed into it's current unique state.
Teck Lake Trail
1 km – Moderate
The Tek Lake Trail, which circles out from the end of the La Baie campground, offers a spectacular venture into Ontario's Boreal Forest. You'll hike around a small kettle lake and see the water sparkling beneath the sun.
The Esker Trail
8 km – Moderate to difficult
For those looking for a challenging hike at Ivanhoe Lake Provincial Park the Esker Trail serves up beauty and range.
The hike accesses some of the best examples of glacial eskers in Ontario, including views above the trees where you can see the park's many kettle lakes, deep forest, and sprawling waters of Ivanhoe Lake. You can add to the trek with a few great side trails, including the Axe and Canyon Lake trails.
Ivanhoe Lake Provincial Park For Families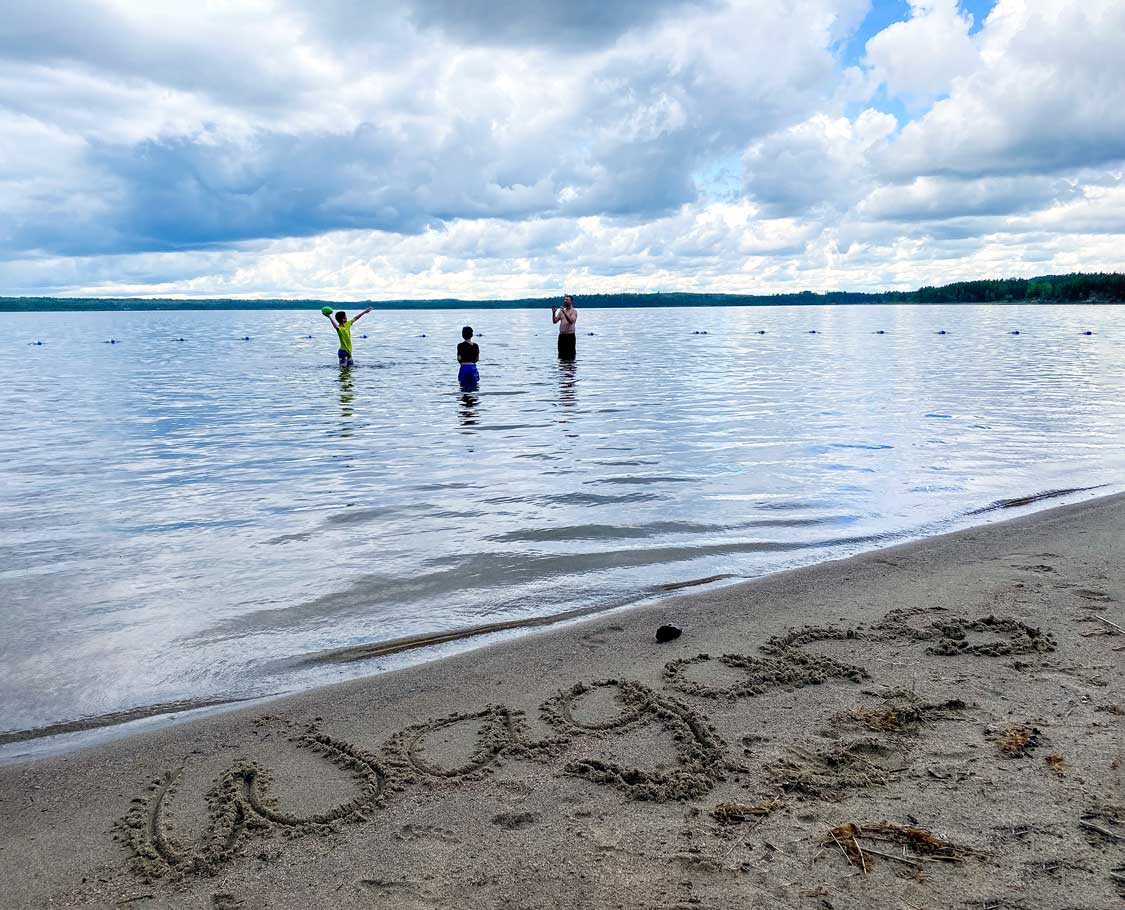 Ivanhoe Lake Provincial Park is incredibly family-friendly. The fun for young kids includes the fantastic beaches and swimming, fun hikes, and a great playground. Just make sure you pack a wateroproof camera. You'll want to capture all of those amazing Ivanhoe Lake moments.
The Boreal Route
If you'd like to dive deeper into the northern Ontario Boreal Route, an Incredible journey through northern Ontario that includes stops at Kap Kig Iwan Provincial Park, Esker Lakes Provincial Park, Renee Brunelle Provincial Park, Fushimi Lake Provincial Park, Nagagamimis Provincial Park, White Lake Provincial Park, and Ivanhoe Provincial Park, check out our Boreal Route video on YouTube. You'll see everything that we got up to on this fabulous northern Ontario road trip.
Have You Been Camping At Ivanhoe Lake Provincial Park?
Ivanhoe Lake Provincial Park camping offers something for everyone. Whether you're visiting with kids or enjoying some weekend warrior adventures, I hope that these tips for camping at Ivanhoe Lake have helped you.
And feel free to drop any questions or comments below. I always answer them.
If you're passionate about family travel, head on over to our Family Travel Support Group on Facebook. It's a fantastic community of parents who love travel. We share experiences, knowledge, and lessons learned along the way. You can also sign up for our newsletter to keep in the loop about new family travel adventures.
Disclosure: My stay at Ivanhoe Lake and the Boreal Route was done in partnership with Ontario Parks. As always, all opinions remain my own.
You May Also Like To Read:
Wandering Wagars is a participant in the Amazon Services LLC Associates Program, an affiliate advertising program designed to provide a means for sites to earn advertising fees by advertising and linking to amazon.com, amazon.co.uk, amazon.ca. Amazon and the Amazon logo are trademarks of Amazon.com, Inc., or its affiliates.