Esker Lakes Provincial Park near Kirkland Lake, Ontario features some of the most overlooked scenery in northern Ontario.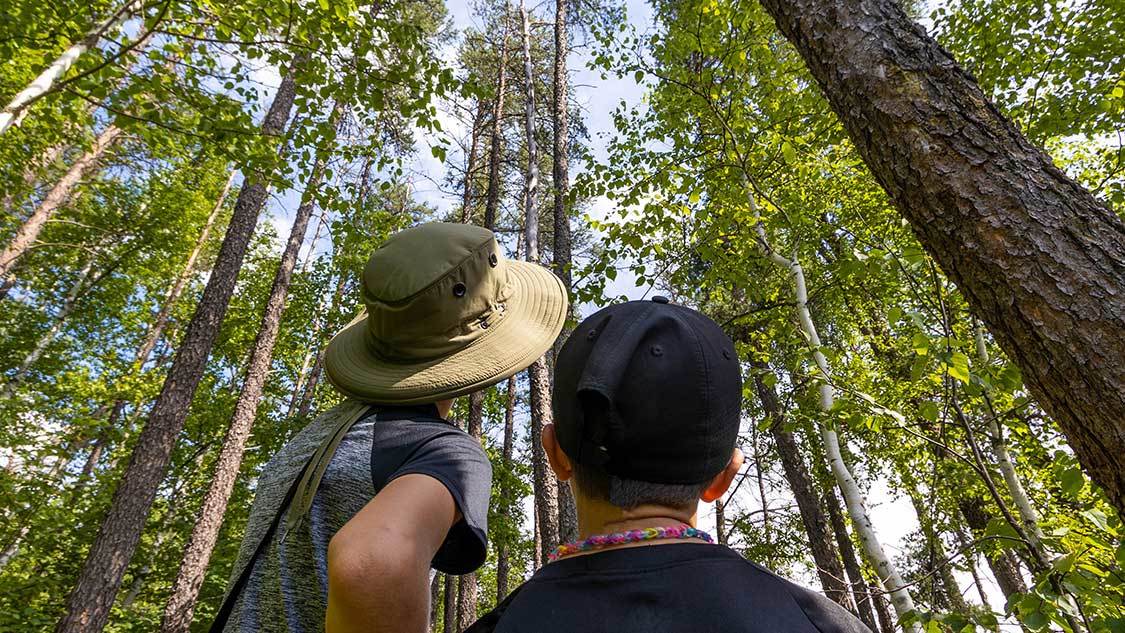 Set amidst the backdrop of Canada's rugged Boreal forest, Esker Lakes Provincial Park is among the most incredible provincial parks in Northern Ontario.
Esker Lakes Provincial Park sits just outside of the town of Kirkland Lake along the so-called "Boreal Route." This stunning Ontario Parks road trip between Sudbury and Thunder Bay visits 7 incredible provincial parks.m Along the route are spectacular nature spots like the waterfall-filled Kap Kig Iwan, northern Fushimi Lake Provincial Park, and the lovely Ivanhoe Lake PP.
The park is wildly popular among hikers, canoe and kayak enthusiasts, anglers, and birdwatchers. And it's a popular spot for families due to the great swimming, wildlife watching, and scenic beauty.
Where Is Esker Lakes Provincial Park?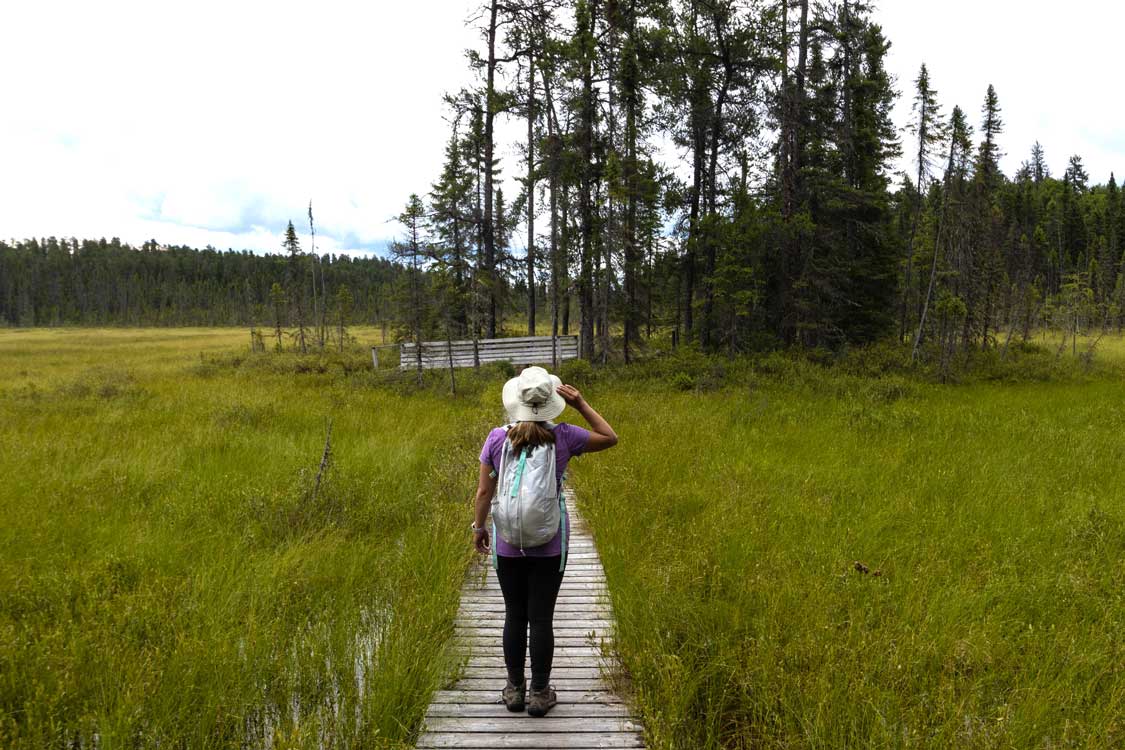 Esker Lakes Provincial Park covers a vast 65 square kilometers (25 square miles) amidst sprawling blueberry fields off of HWY 62. This park is popular among RVers, front-country, and backcountry campers thanks to its endless views, towering cedars, and sparkling clean lakes.
It takes just 30 minutes to reach Esker Lakes PP from Kirkland Lake via HWY 62. Just turn off at HWY 672 and then turn left at Esker Lakes Rd. The park is just under two hours from Timmins via HWY 101 with a right turn on HWY 672.
Tips For Visiting and Camping at Esker Lakes Provincial Park
For nature lovers, Esker Lakes Provincial Park is a provincial park that shouldn't be missed. The park features over a dozen coldwater Esker Lakes sprinkled among both front-country and backcountry locations. Unlike parks further south and in Ontario's "near north," such as Grundy Lake, Algonquin, and Kilbear Provincial Park, camping in Esker Lakes PP means that you'll rarely be fighting the crowds. You might even find some weekends in the summer where you could stroll up and find an open site.
That being said, booking your Esker Lakes camping spot ahead of time is still a good idea to avoid disappointment. It's never fun to arrive at a beautiful campground and be turned away due to a lack of campsites.
While Esker Lakes Provincial Park has, so far, flown below the radar, as more people head north to visit towns such as Cochrane (home of the incredible Cochrane Polar Bear Habitat), Timmins, and Elliot Lake, its status as an "undiscovered gem" is in jeopardy. The park is easy to access, quite accessible, and fantastic for families.
Esker Lakes is a decent-sized provincial park and there is room for crowds if they come. But enjoying this park while it's less crowded will certainly add to the enjoyment.
It's always helpful to have a little information that you can rely on before you head out. So before we get to the Esker Lakes Provincial Park Guide, here are a few tips and tricks to help you plan your visit. Before you head out, check out our tips for Ontario Parks camping so that these parks are here to enjoy for generations to come.
Book early – Campsites at Esker Lakes Provincial Park rarely sell out, but they do on occasion. You can beat the crowd by booking up to 5-months ahead on the Ontario Provincial Park online booking system. You can access that here.
If you can't get a campsite at Esker Lakes your next best option is Kap Kig Iwan Provincial Park which is about an hour southeast. Alternatively, you may be able to find accommodation in the nearby town of Kirkland Lake. You can find some options here.
Book Late – Many Ontario campsites book up early. But many also have last-minute cancellations. If you don't mind last-minute planning, keep checking the Ontario Parks site to see if there are any late openings. Sometimes this is the best way to get a prime site.
Plan for the weather – Watch the weather forecasts before your Esker Lakes PP camping adventure. And always prepare for the worst. You never know what could happen without warning. We got hit with one heck of a storm while we were there. Pack camping tarps like this for covering your gear; make sure you use mosquito repellent and sunscreen for all that time on the trails.
Don't move firewood – Those used to camping in central and southern Ontario may not love Ontario Parks wood, but as you move further north, the quality greatly improves. Moving firewood from one destination to another can cause devastation. We saw this first hand in MacGregor Point, where huge swaths of the forest had been cut down due to the Emerald Ash Borer beetle invasion.
Esker Lakes Provincial Park Camping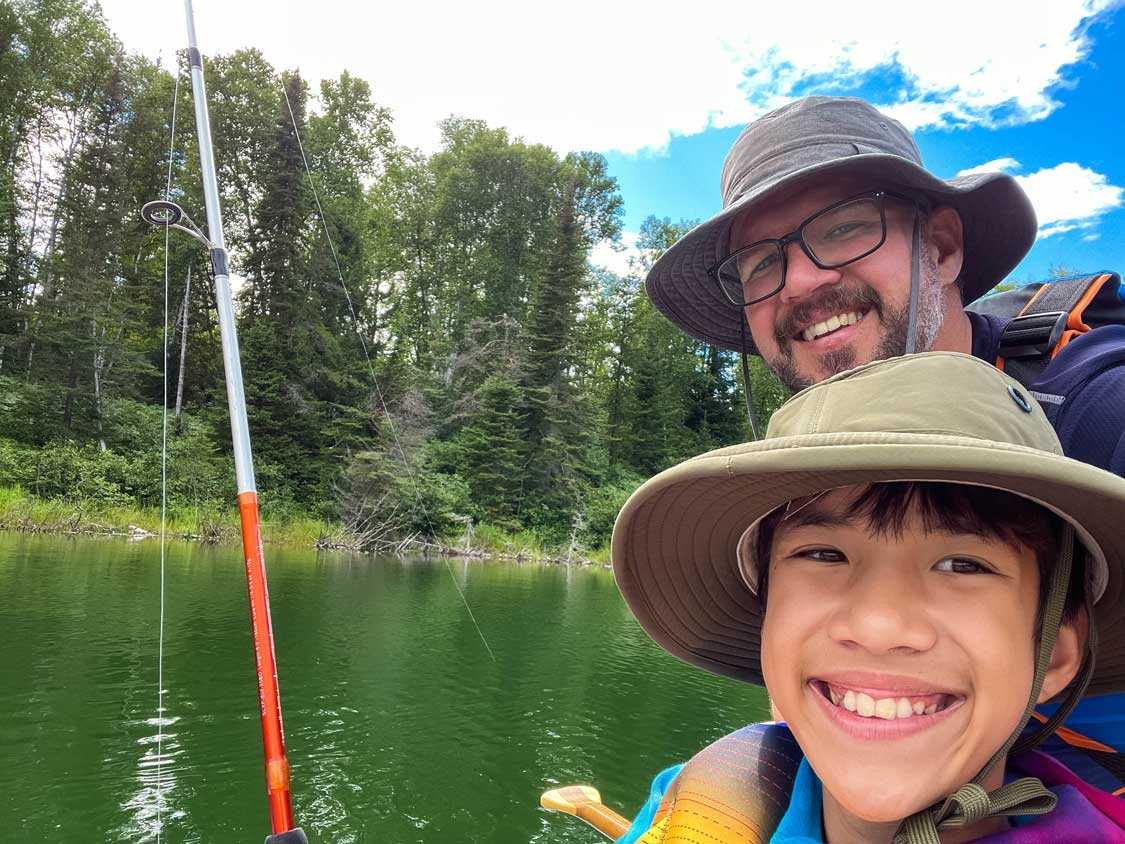 Esker Lakes Provincial Park camping is a wonderful place. It has a quiet family-friendly atmosphere. The 29 glacial-formed esker lakes provide a stunning backdrop to the camping experience. And those who venture into the backcountry will find that the routes are connected with well-groomed and short portages.
For front-country campers, there are 103 camping sites at Esker Lakes Provincial Park. 39 of these sites are non-serviced while 64 of them are electrical sites. There are also three group camping sites for those requiring room for more than just two tents. Campsites #43 and #73 are both wheelchair accessible.
Showers are located near sites #73 and #42 and there are toilets
For those interested in Esker Lakes backcountry camping, the collection of lakes offers fantastic wildlife and fishing. The main canoe routes are well-marked and finding the backcountry campsites is relatively easy.
There are only two backcountry campsites in Esker Lake. Both of these are on Lulu Lake. Each backcountry site has a picnic table, a tent area, a fire pit, and a thunderbox (uncovered toilet).
Esker Lakes Provincial Park Map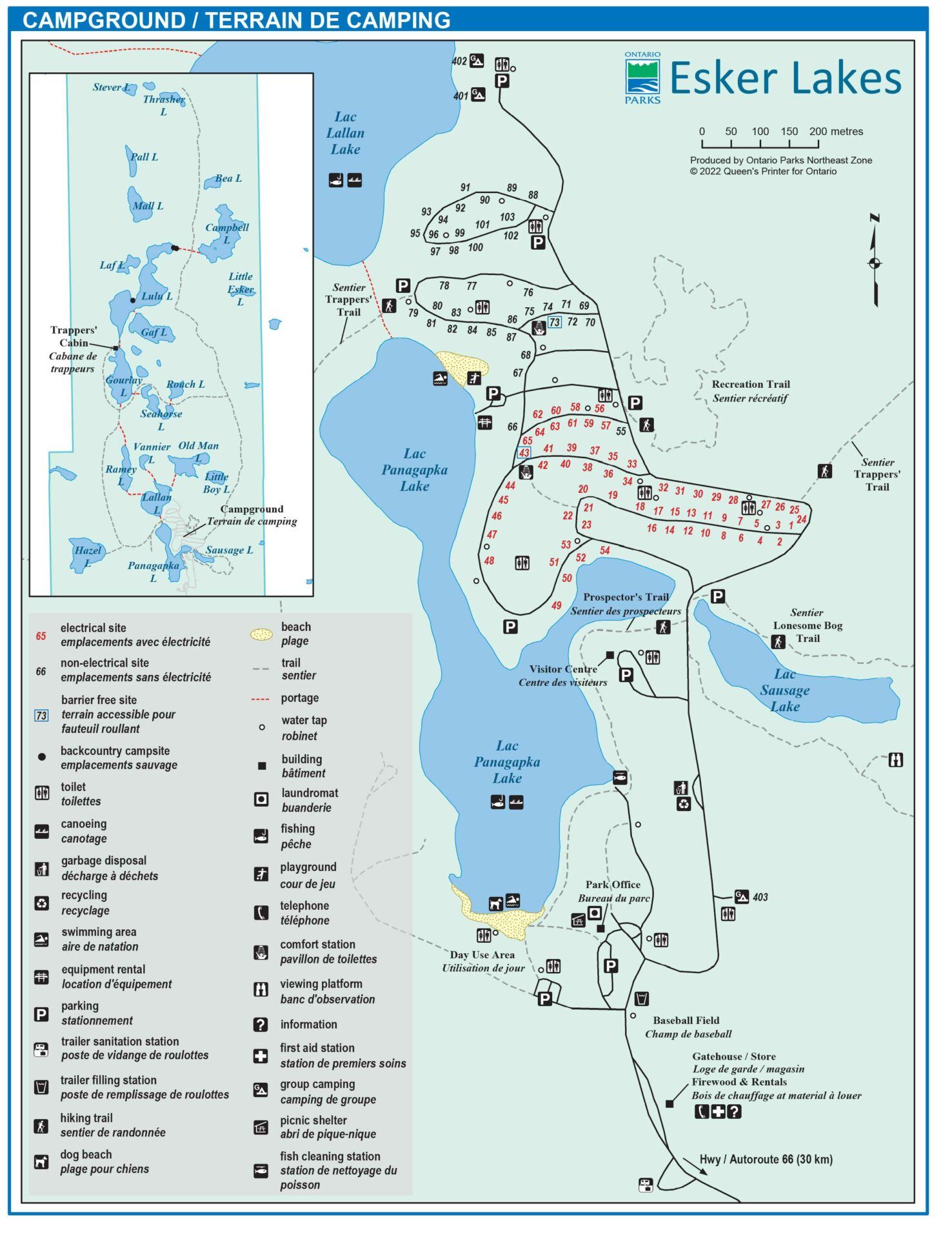 Things to do in Esker Lakes Provincial Park
Esker Lakes is an incredibly well-laid-out provincial park in northern Ontario. Whether you're spending a day or a week at Esker Lakes, you'll find lots of incredible things to do while you're there.
Esker Lakes Provincial Park Hikes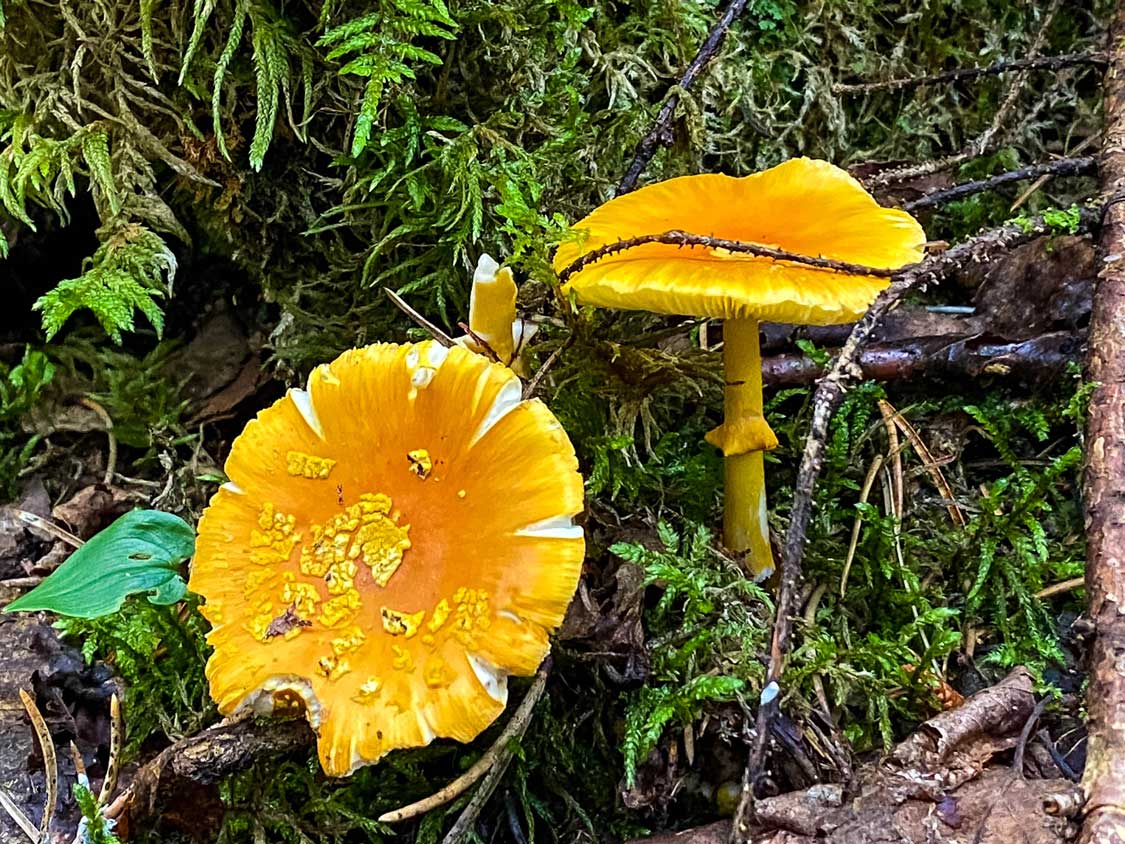 Hiking the Esker Lakes PP trails is one of the top things to do at the park. There are four beautiful hikes, some of which are lined with scenic boardwalks and viewpoints. You'll find serene forests, and ample marshes and bogs to explore. Here's a breakdown of the most popular trails so you know what you're getting yourself into.
Prospector's Trail
1.4 km – Easy
Prospectors Trail is a short Esker Lakes Provincial Park hike that follows the southeast shore of Panagapka Lake. This trail makes for a nice, casual hike and is comfortable for beginners. It's also one of the primary routes to reach park facilities such as the Park Office and the Visitors Centre.
Lonesome Bog Trail
1.5 km – Easy
The lonesome bog trail is my favourite Esker Lakes Provincial Park hike. This gorgeous hike circles the entire circumference of Sausage Lake along with the bog located at the lake's eastern end. The bog section of the Lonesome Bog Trail features a well-maintained boardwalk where you can walk right among the wetlands.
The bog is slowly transitioning into a meadow as beavers work their engineering by diverting water from the marsh. Beware that some sections of the trail can experience high water, and some sections of the boardwalk may be inaccessible when water levels are high.
Recreation Trail
1.5 km – Easy
Recreation Trail is the easiest hiking trail in Esker Lakes PP. This short trail is popular for those looking for a morning jog, or just a light stroll with scenic views along a wide, flat path.
Trapper's Trail
9 km – Moderate
The most prolonged and most intense hike at Esker Lakes PP is the Trapper's Trail. This trail begins at a parking lot at the southern edge of Lallan Lake and loops deep into the forest past Ramey Lake and Gourlay Lake to the Trapper's Cabin.
The trail continues below Groulay Lake, winding over Seahorse Lake, and then continues past Lulu Lake (where you can access one of the Lulu Lake backcountry camping sites) to Thrasher Lake at the northern end of the park.
The Trapper's Cabin cabin was built by an Ojibway woman who use the area for fur trapping until 1970. Currently, the side trail leading to the trapper's cabin is regularly flooded and often inaccessible. This section of the trail is currently closed.
Swimming at Esker Lakes Provincial Park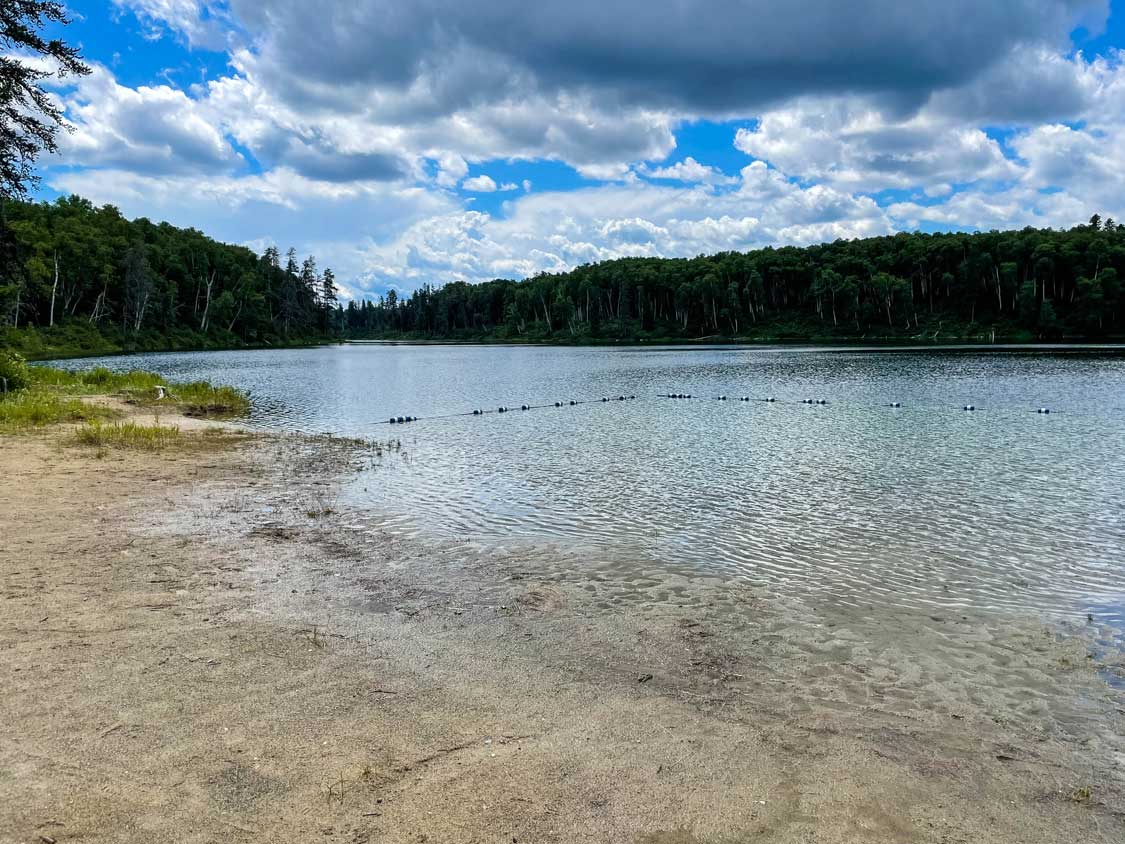 There are two fantastic beaches located on Panagapka Lake. Both beaches are very easy to access. One beach is in the campground area between sites 67-81. There is a parking lot and playground here.
The second beach is located in the day-use area near the entrance by the baseball field. There are two parking lots nearby as well as a picnic area and a comfort station.
Canoeing
With 29 lakes spread throughout Esker Lakes Park, it's not surprising that canoeing and kayaking are among the top things to do here.
The park boasts 15 kilometres of canoe routes spreading through the park. The primary boat launch is on Panagapka Lake. There are canoe and kayak rentals available from the park store. The rentals include paddles and personal floatation devices.
Fishing
Fishing is a popular activity at Esker Lakes Provincial Park. The lakes are stocked with Lake Trout, Brook Trout, and Rainbow Trout. You'll also find large populations of Yellow Pike and Yellow Perch.
Make sure that anglers over 16 years of age have a valid fishing permit prior to casting your reel.
Esker Lakes Provincial Park For Families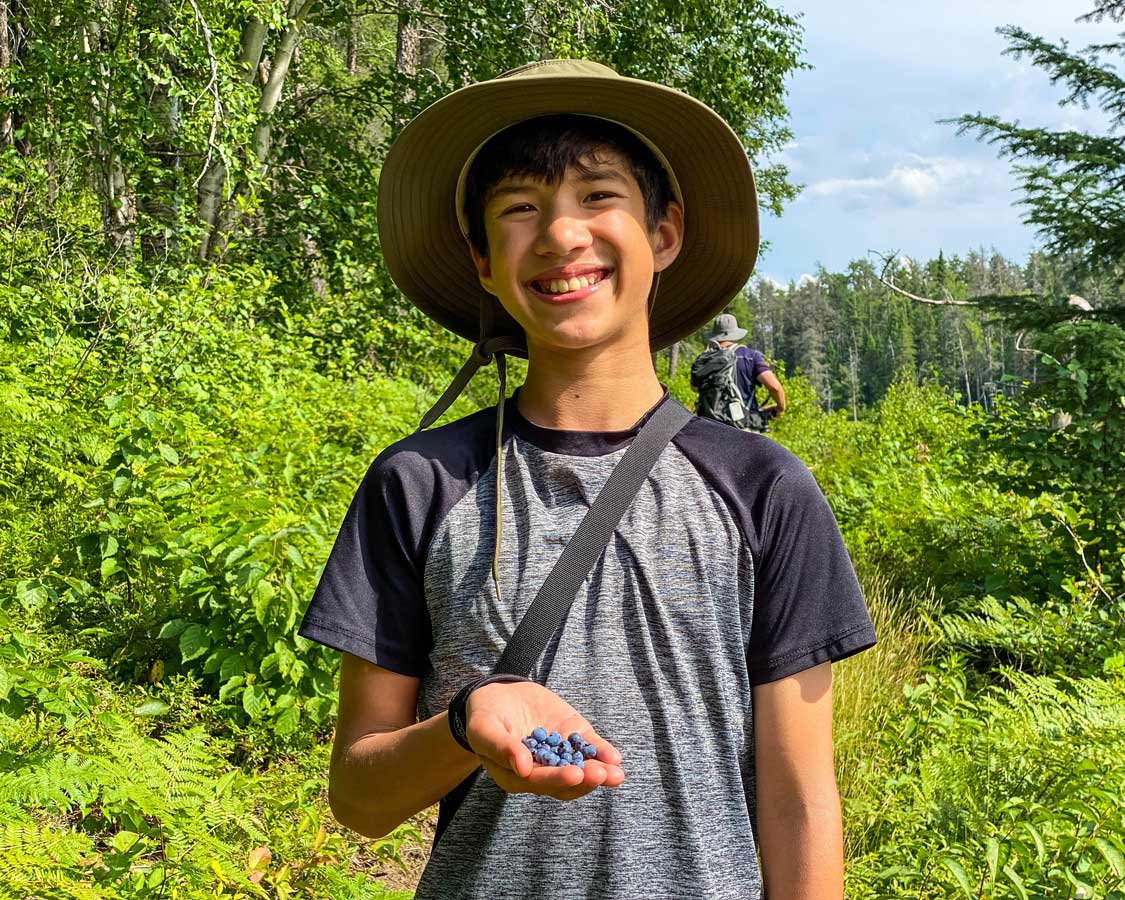 Esker Lakes Provincial Park is a very family-friendly park. The beaches are shallow, sandy, and well-maintained. And the hikes are vibrant with constantly changing scenery and lots of shade. If possible, try to get a campsite by the beach, and look for sites 67, 68, 82, 84, 85, and 87 for the best access.
Just make sure you pack a waterproof camera. You'll want to capture all of those amazing Esker Lakes moments.
The Boreal Route
If you'd like to dive deeper into the northern Ontario Boreal Route, check out our Boreal Route video on YouTube. You'll see everything that we got up to on this fabulous northern Ontario road trip.
Have You Been Camping At Esker Lakes Provincial Park?
Esker Lakes Provincial Park camping offers something for everyone. Whether you're visiting with kids or enjoying some weekend warrior adventures, I hope that these tips for camping at Esker Lakes have helped you.
And feel free to drop any questions or comments below. I always answer them.
If you're passionate about family travel, head on over to our Family Travel Support Group on Facebook. It's a fantastic community of parents who love travel. We share experiences, knowledge, and lessons learned along the way. You can also sign up for our newsletter to keep in the loop about new family travel adventures.
Disclosure: My stay at Esker Lakes and the Boreal Route was done in partnership with Ontario Parks. As always, all opinions remain my own.
Wandering Wagars is a participant in the Amazon Services LLC Associates Program, an affiliate advertising program designed to provide a means for sites to earn advertising fees by advertising and linking to amazon.com, amazon.co.uk, amazon.ca. Amazon and the Amazon logo are trademarks of Amazon.com, Inc., or its affiliates.
You May Also Like To Read: