These fun things to do in Rochester will help you plan an amazing weekend in one of Upstate New York's hidden gems.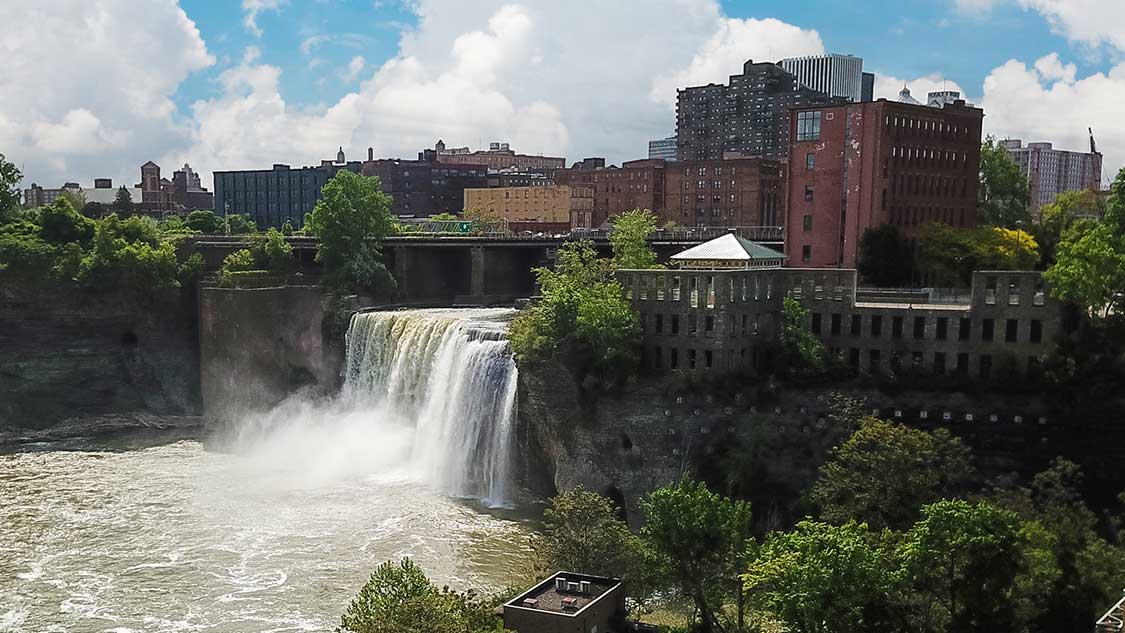 The city of Rochester, New York was not a destination that had been on my travel radar.
Despite having explored much of Upstate New York with road trips through the Adirondacks, and living within just an hour of both the Canadian and American sides of Niagara Falls, Rochester hadn't stood out to me as a destination for exciting family adventures.
My greatest connection to Rochester was getting my childhood Saturday morning cartoon fix from Commander Tom on the city's Channel 7 broadcast
Recently, however, my family made the two-and-a-half-hour drive down to Rochester to make a visit to one of our favorite state parks, Letchworth State Park and ended up being drawn in by the wealth of fun and exciting things to do in Rochester, New York.
To say that this city took us by surprise is an understatement. By the end of our weekend in Rochester, we had completely fallen for this city and were anxious to come back again.
Situated near the shores of Lake Ontario, and with the scenic Genesee River winding through its center, complete with the towering 96-ft tall High Falls, Rochester is as scenic as it is adventurous. And if you're looking for a great way to spend a weekend in Rochester or explore for longer or just checking out what to do in Rochester, New York, here are some of our favorite things to do.
About Rochester, NY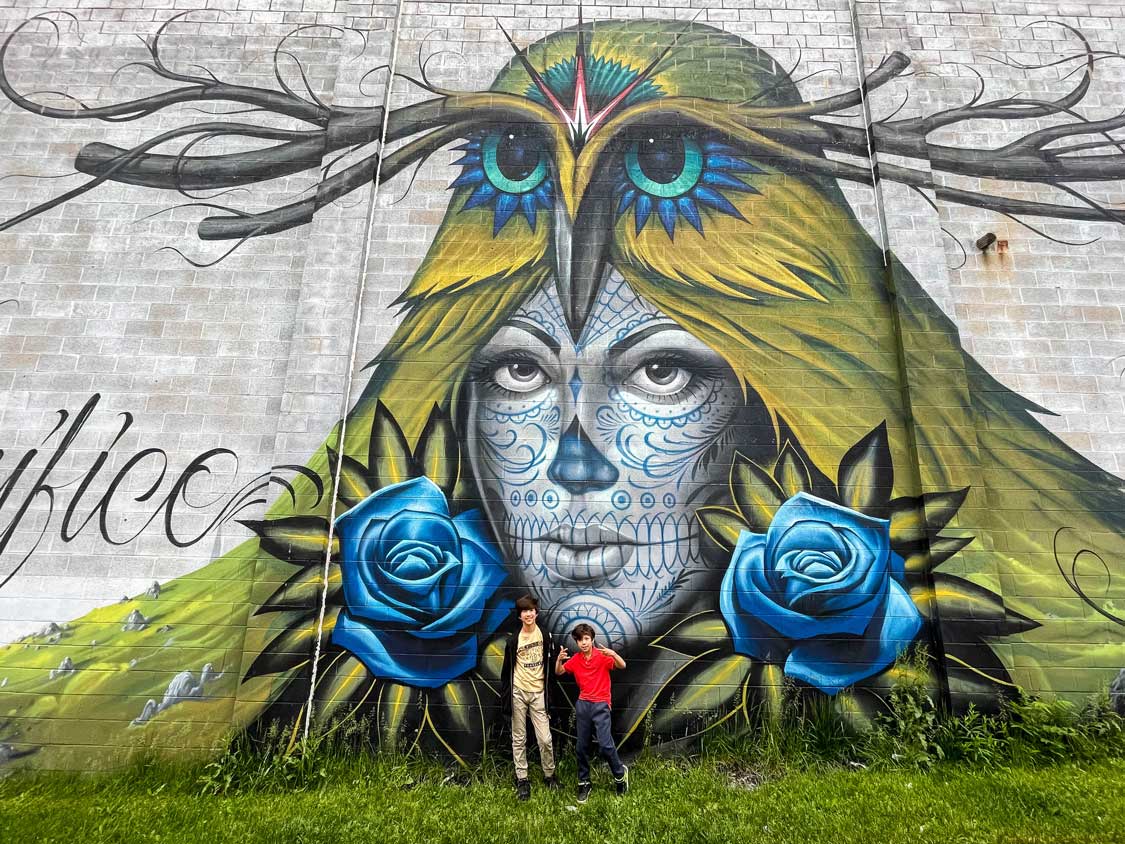 Rochester New York is a city of, just over, 200,000 residents in Upstate New York. The city sits between nearby Buffalo and the city of Syracuse on the shores of Lake Ontario. In fact, on a clear day, you can see the iconic skyline of Toronto, Canada from its shores.
Rochester sits in an enviable spot. It's within easy reach of the Canadian border, yet also just a short distance from the wineries and rural towns of the beautiful Finger Lakes region and the jaw-droppingly beautiful Watkins Glen State Park.
Rochester is one of New York State's best-kept secrets. The city is ripe with heritage and history, arts and culture, a thriving nightlife, and fantastic restaurants. It has all of the offerings of a big city, but still retains the charm of a small town.
Rochester is a city that has solidified its importance on the American stage as well. It's been was the home of Susan B. Anthony, the matriarch of the women's suffrage movement, and is the final resting place of Frederick Douglass, a former black slave turned politician and activist who succeeded in gaining federal voting rights for Black men.
As you can see, Rochester is full of surprises. And I think these incredible things to do in Rochester will help open your eyes to what a fantastic city this is to visit.
Fun Things To Do In Rochester
So we know that Rochester NY has some history, and it has some natural beauty. But is it worth visiting Rochester?
I wouldn't be writing this article if it wasn't. This city truly exceeded our expectations. And the fact that we were able to find so many great things to do with kids in Rochester just made it all that much more special.
So let's plan your visit and explore these awesome things to do right now.
Take a Stroll Through Ontario Beach Park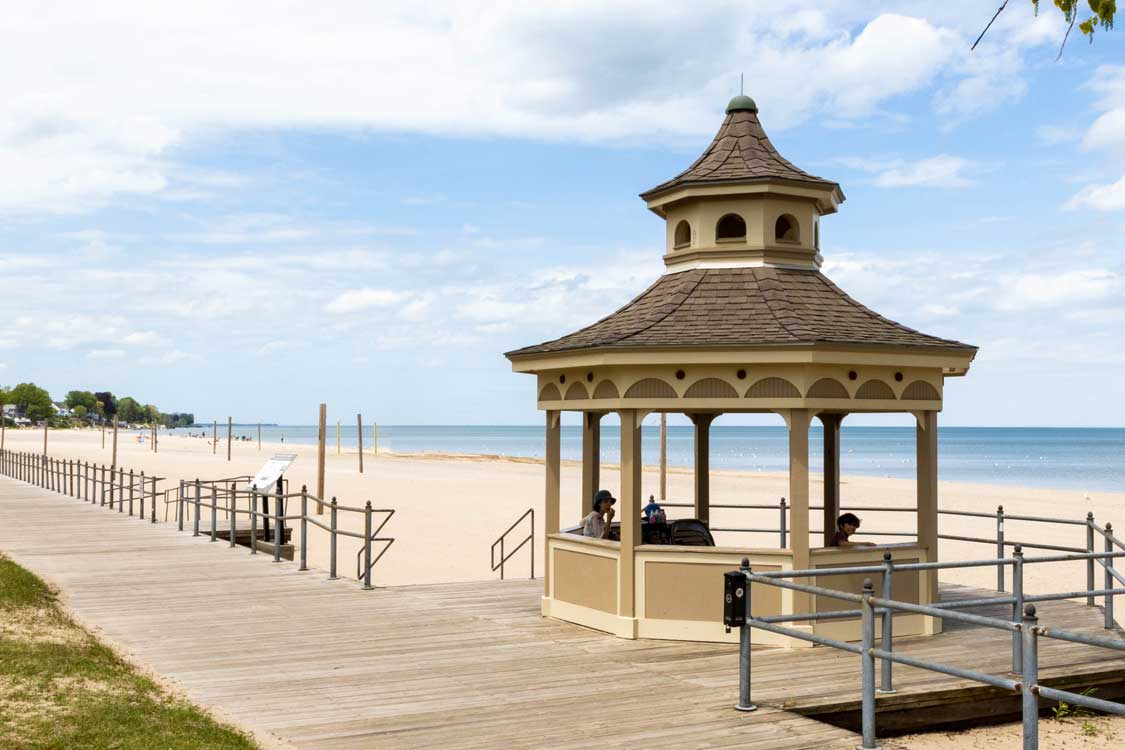 A visit to Ontario Beach Park is a must for those visiting Rochester in the summer. The soft, sandy shores of Lake Ontario back onto a lush, shady park that covers over 39-acres of waterfront. The park is mixed with great restaurants as well as basketball and beach volleyball courts that make a full-day visit to Ontario Beach Park truly enjoyable.
The park is incredibly popular during the summer months. You'll find boaters, anglers, and swimmers all enjoying the beautiful scenery and blue waters. You can even rent sun shelters to enjoy on the park grounds.
On our visit, we grabbed "White Hot" (a unique hot dog made with pork, beef, and veal that can only be found in Rochester) and "Ground Round" at Bill Gray's Rochester Tap Room and took a stroll along the boardwalk to enjoy some people watching
For something sweet, we made a visit to the birthplace of frozen custard at Abbott's Frozen Custard just across from the main entrance of the park. If it's a hot day, I recommend getting your frozen custard in a bowl unless you want really sticky hands.
Catch A View of the High Falls Waterfall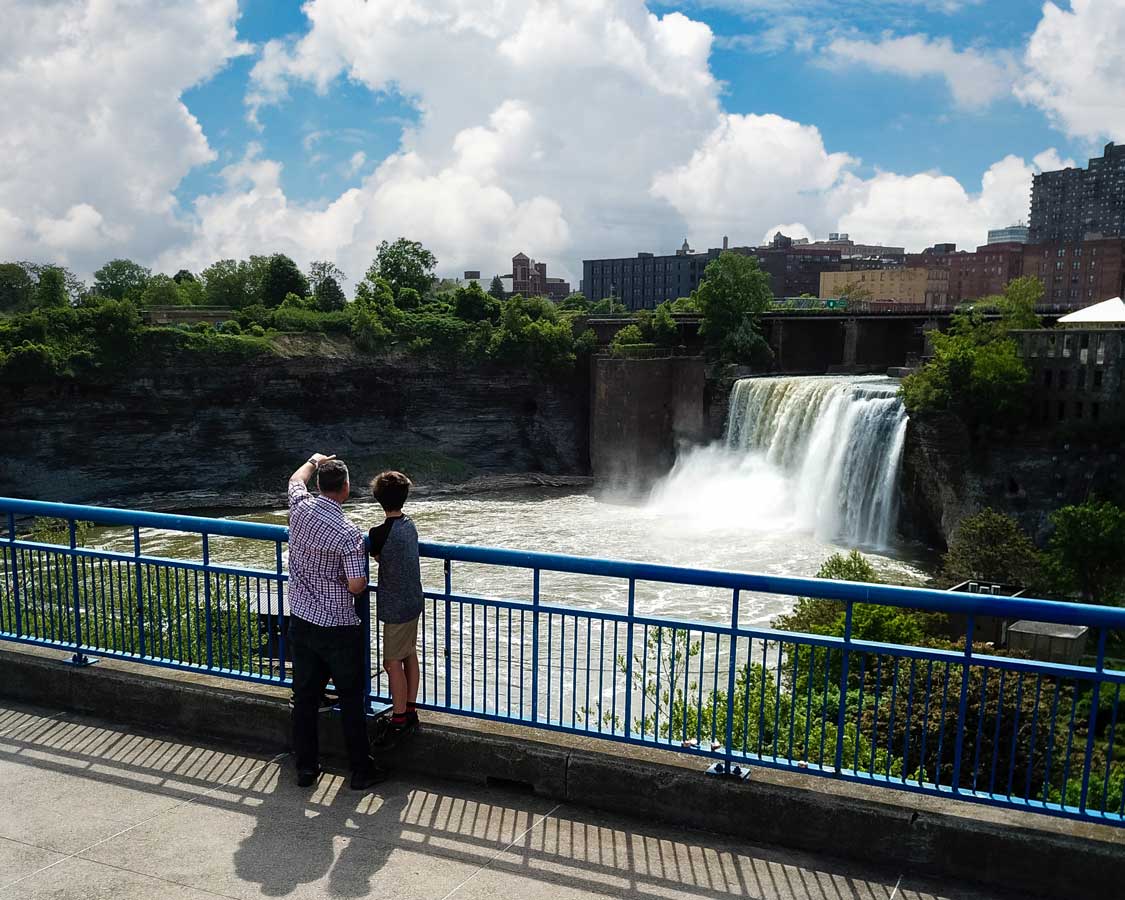 Dropping over a massive 96 ft cliff on the Genesee River, High Falls in Rochester, NY is a must-stop for any visit to the city.
Situated among the remains of historic mills, forges, and factories in the High Falls District that date back to the 19th century. Throughout the district, you'll find educational placards that explain the various buildings along the riverside.
We found a parking spot in the nearby garage and stroll through and around some of the ruined buildings to the converted rail bridge. This bridge is now a scenic pedestrian walkway and offers some of the best views of High Falls anywhere in Rochester.
We were high enough to get an aerial view of the falls and enjoy the sight of birds flying beneath us to bathe in the mist of the powerful waterfall.
If you continue right across the bridge you'll end up at the Genesee Brewing Co. Or, you can stay on the historic side and make a visit to the Genesee Brew House, a popular pub and patio serving up locally-made beer.
Explore Space and History at the Rochester Museum and Science Center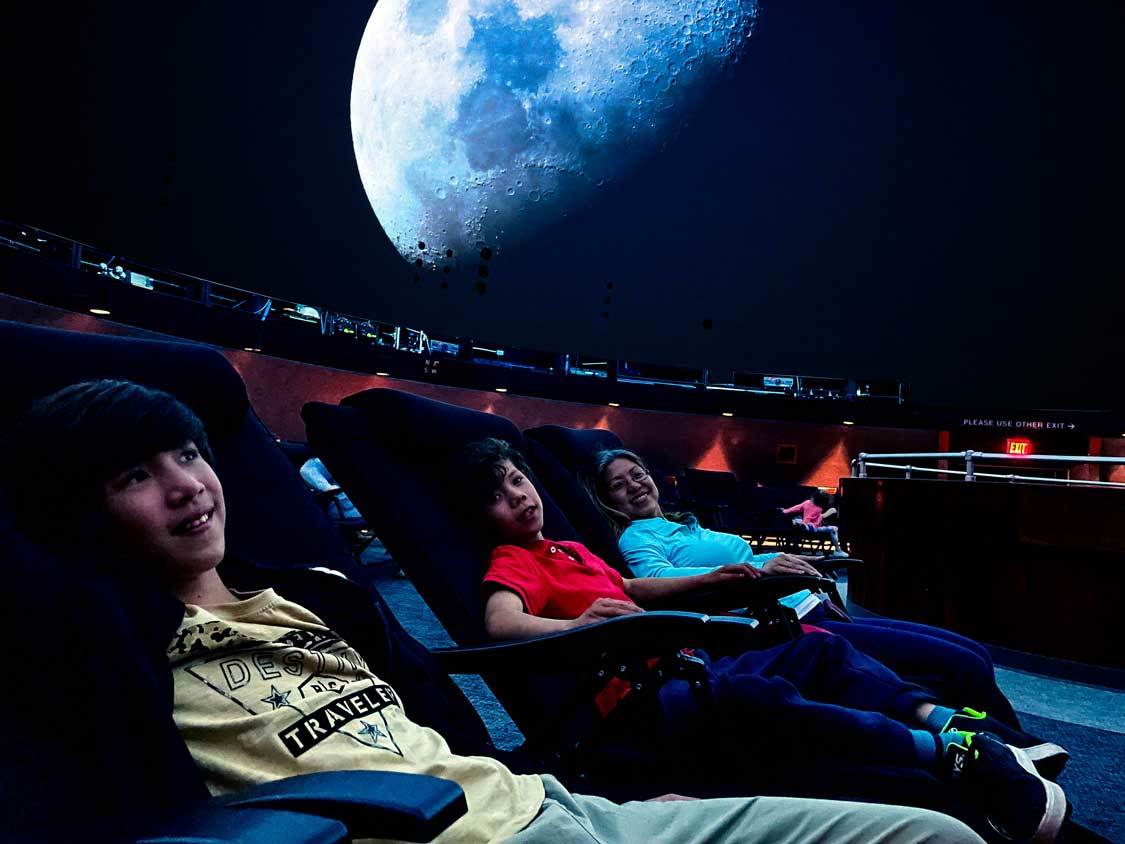 Whether you're visiting Rochester with kids or on a couples getaway, one of the most intriguing things to do in Rochester is making a visit to the Rochester Museum and Science Center.
The museum itself is fabulous and offered us a range of interactive and engaging displays that explore from the time of the dinosaurs all the way up to the arrival of Europeans and the displacement of Indigenous Peoples in Upstate New York.
The museum even explores modern sciences such as lightwaves, soundwaves, and even modern construction.
But the true gem of the Rochester science museum is the RMSC Strasenburgh Planetarium. If you have a fascination with astronomy or outer space, this incredible theater will have you traveling among the stars. The Rochester planetarium ignites its domed theater with a range of entertaining shows and programs that are both family-friendly and fascinating.
On our visit, we enjoyed the "Planet Spectacular" program. The show's live narration and modern technology allowed us to see the stars and visit nearby planets as well as see them as they are right at that moment. It was a brilliant experience that had us all in awe.
Celebrate Fun at the Strong Museum of Play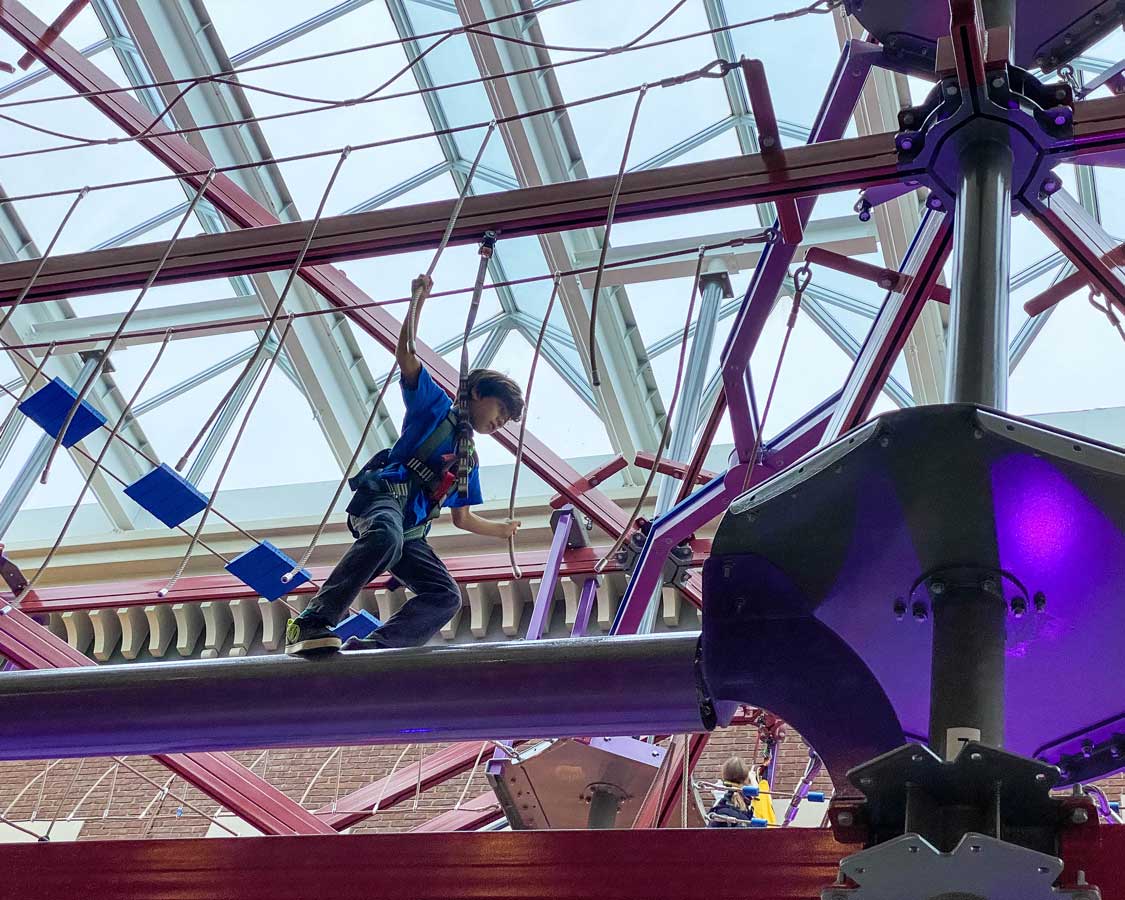 Until our latest tour of places to visit in Rochester, the Strong Museum of Play had been our only taste of Rochester. We had first visited on our way to explore the Finger Lakes region, and we had visited again on a journey home from our kid-themed Manhattan food tour.
The Strong Museum of Play is a museum dedicated to the history, technology, and creativity behind the world's best games, toys, comics, and entertainment technology. It's fun for all ages, but it's an absolute must for anyone who is exploring Rochester with kids.
Sprawled across a massive 150,000 square feet are engaging, interactive exhibits completely focused on the art of fun. You'll find rooms filled top to bottom with video games, displays where you can climb like Spider-Man, and programs designed to engage, entertain, and enlighten visitors about the science of fun.
Mixed among the historic items are countless exhibits that are designed to be played with, not just looked at. You'll even find a full-sized replica of one of the most iconic locations from Sesame Street.
Among the countless toys and games, we had a blast wandering the butterfly garden, racking up points in the pinball room, and tottering through the towering Sky Climb. This new, multi-story treetop trekking-style experience is where adventurers can make their way through a multitude of aerial obstacles.
Explore Rochester's Passion for Music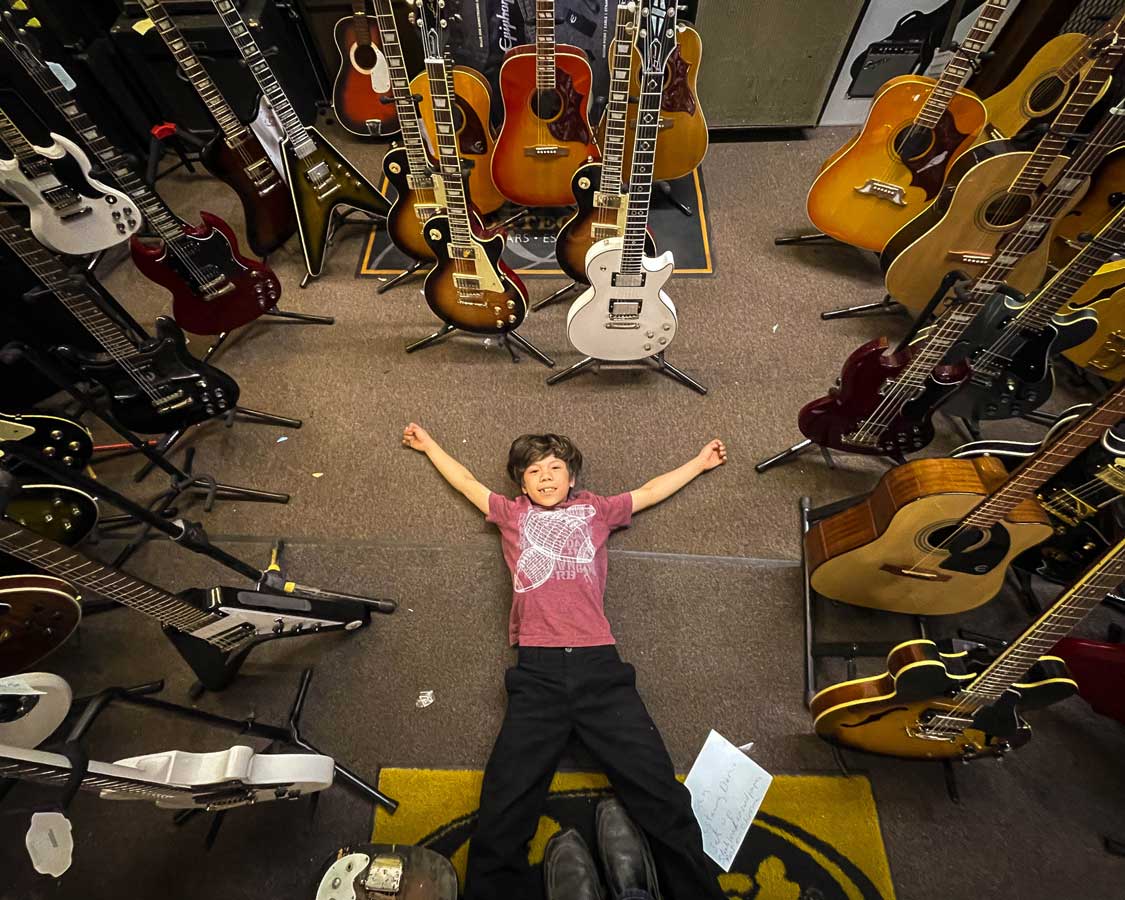 Music has been a big part of my family for as long as I can remember. A love for music is something that I share with my kids. We are constantly jamming at home as my boys learn the tricks of playing guitar and drums.
Rochester is a huge musical city. On any given night there are lives shows scattered at clubs across town. But to really gain a taste of the Rochester music scene, we made a visit to Record Archive and the House of Guitars.
Record Archive is a full-fledged music destination disguised as a record store. At first glance, this vinyl and CD shop appears to be a sprawling ode to American music. But at a deeper look, we found a full bar and performance space that allows patrons to not just shop for great records, but experience live tunes with a beverage as well. You can find out more about them here.
House of Guitars was my son C's big wish. As soon as he heard that Rochester was home to the world's largest guitar store, he was sold!
The House of Guitars is a legendary music shop that's as much a museum as it is an instrument and record shop. We navigated the maze of rooms, lopsided stairs, and vintage gear and found rooms packed with memorabilia, walls covered with autographs, and enough musical memories to cause our brains to go into overdrive. You can find out more about them here.
Pay Homage to Susan B. Anthony and the Women's Suffrage Movement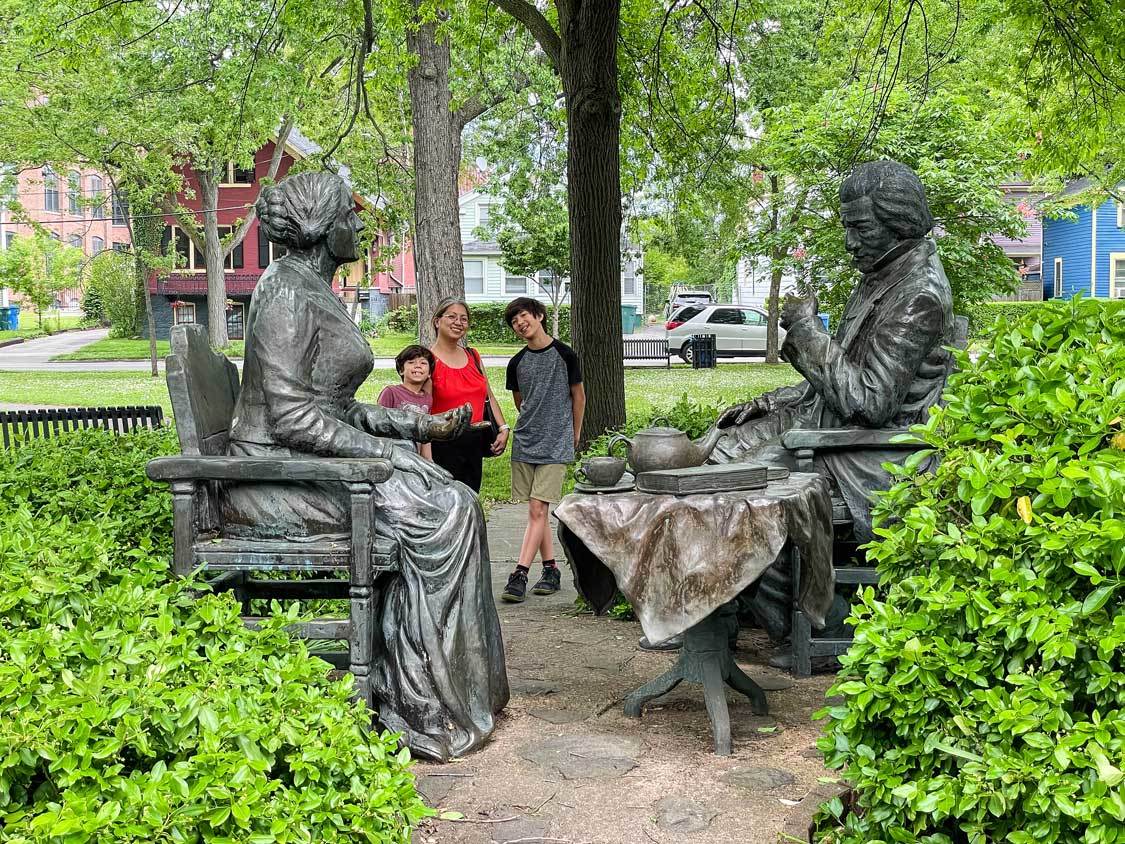 Susan B. Anthony was the driver behind gaining equal rights for women and achieving women's right to vote. Every woman in the United States owes this strong and relentless woman for her work to achieve equal voting rights for both sexes.
You'll find tributes to Susan B. Anthony spread throughout the city, but if you want to get a deeper look into her life, make a visit to the Susan B. Anthony House and Museum. The museum is located where Anthony spent many years, up until her death, lobbying and working for equal rights. It's even the site of her 1872 arrest.
My boys were fascinated by the experience and the engaging stories of the museum's curator, Aisha Pierre, who brought us around the museum. We were regaled with fascinating stories about her life, legacy, and important friendships.
Hike Your Way Through Letchworth State Park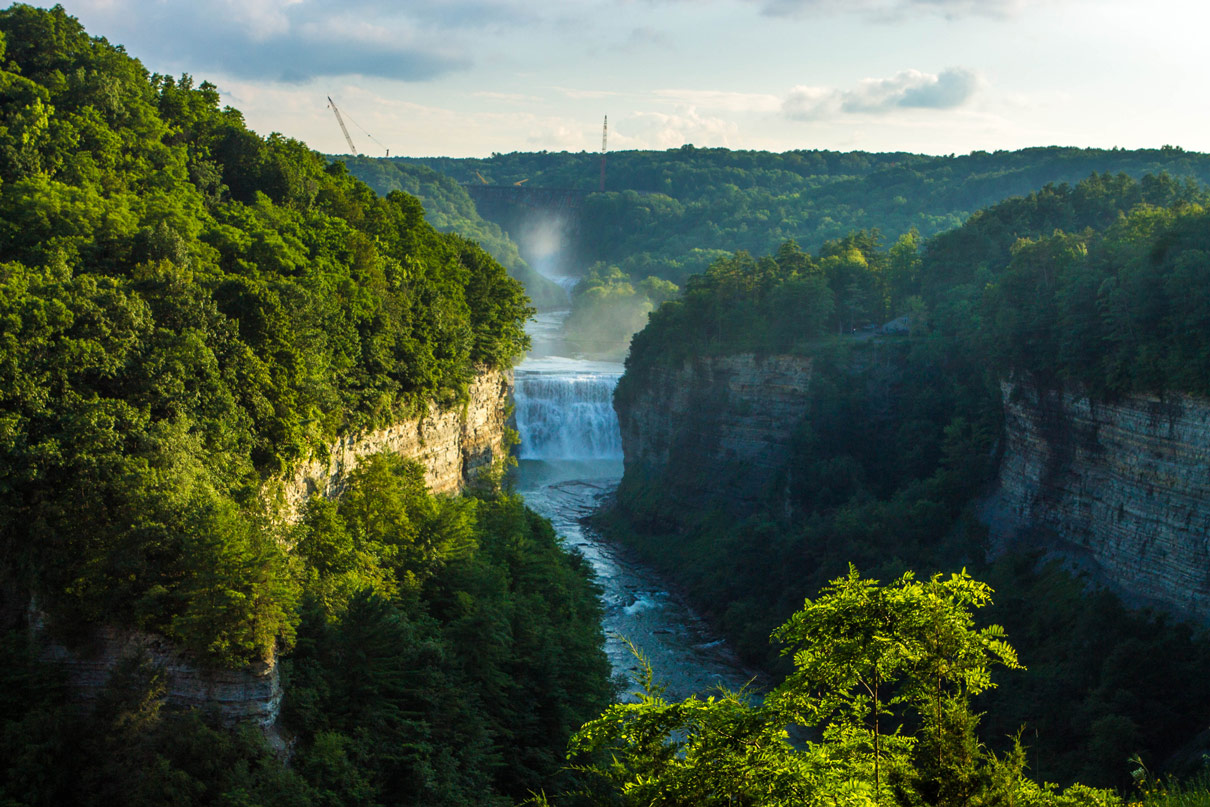 Located just 40-minutes from central Rochester, a visit to Letchworth State Park is one of the best things to do in Rochester for those who love the outdoors.
Letchworth has been ranked the #1 state park in the United States thanks to its tremendous beauty and passionate cheering squad. Exploring the cascading waterfalls, iconic bridges, and towering gorge helped win us over as well.
You can even connect with Adventure Calls Outfitters for a rafting tour of the park. C and I had the pleasure of doing this a few years back and had a blast navigating the rapids, waterfalls, and scenic beauty of the lower gorge.
You can read my complete guide to Letchworth State Park right here.
Walk Through History at Genesee County Museum Village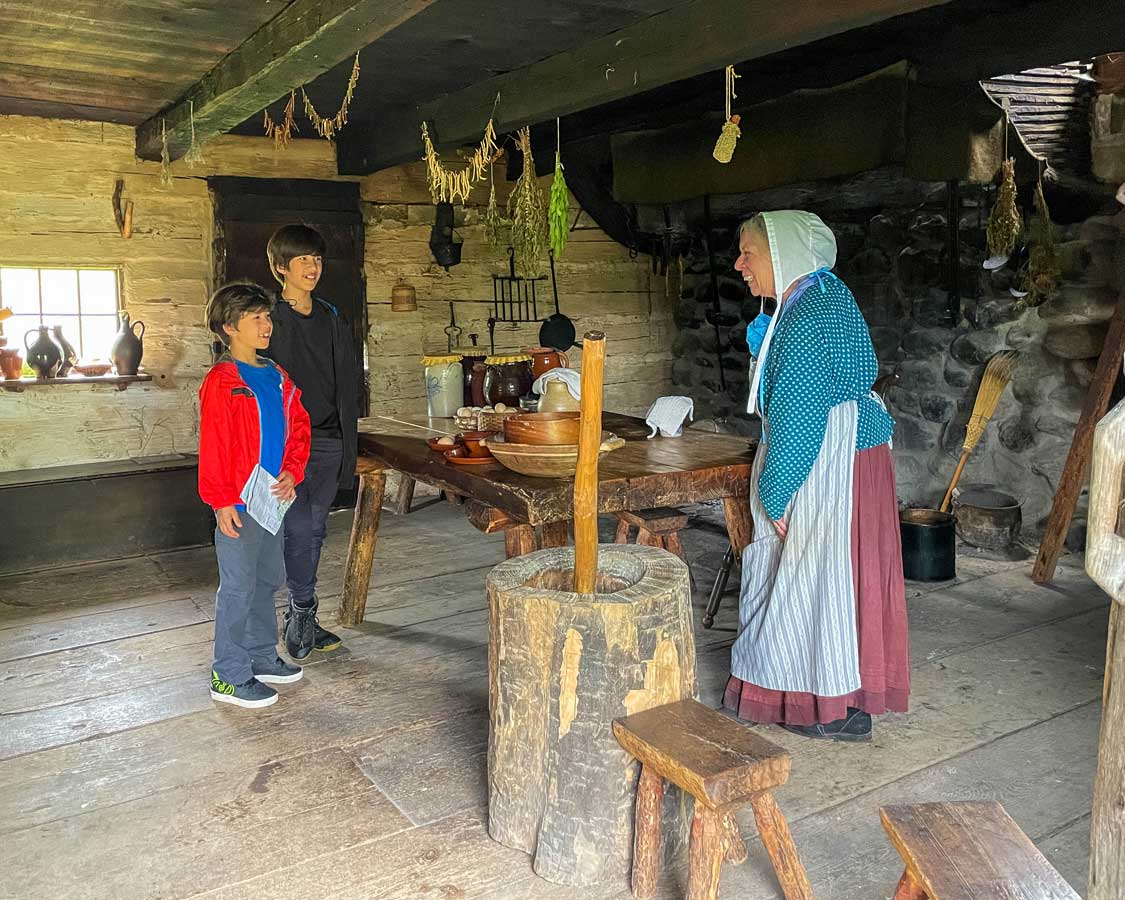 Just 20-minutes from central Rochester is a time machine that took us 200-years into the past.
Genesee County Museum Village is a 19th-century living history museum. Although we visited when the skies were overcast, the warm welcome by the many characters within the town certainly allowed us to be comfortable.
The village is set up just like an early 19th-century Upstate, NY town complete with a general store, churches, a blacksmith, tin maker, cobbler, potter, and even an on-site brewery. It's an amazing way to experience what New York State was like before highways and planes were a thing.
Although there wasn't one when we were visiting, Genesee County Museum Village also hosts baseball games with historic rules and styles. Guests can cheer on their favorite teams as they play a game just like it would have been when baseball was just gaining fame.
Charlotte–Genesee Lighthouse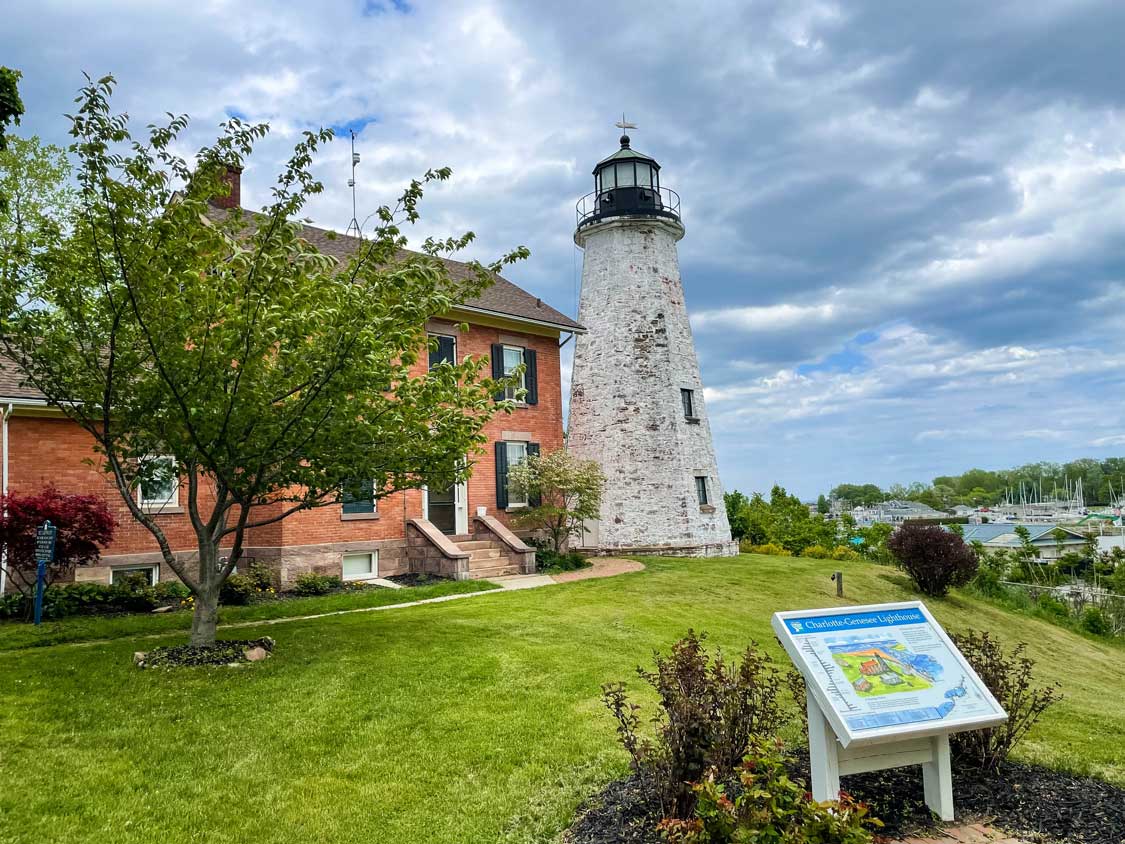 Located within walking distance of Ontario Beach Park, the Charlotte Genesee Lighthouse makes for a wonderful stop along the Lake Ontario shoreline.
Built in 1822, this is the oldest lighthouse on the US shores of Lake Ontario. The oldest lighthouse sits on the Toronto Islands across the Lake. The whole structure measures 40-feet in height and has 42 steps and 11 ladder rungs to reach the top.
The lighthouse still functions to this day and went through an extensive restoration back in 2014. Check the lighthouse website and time your visit with a tour of the lighthouse keeper's home. You'll be treated to an intimate view of the lighthouse keeper's life in the small museum.
Putt-Putt at America's Oldest Mini-Golf Course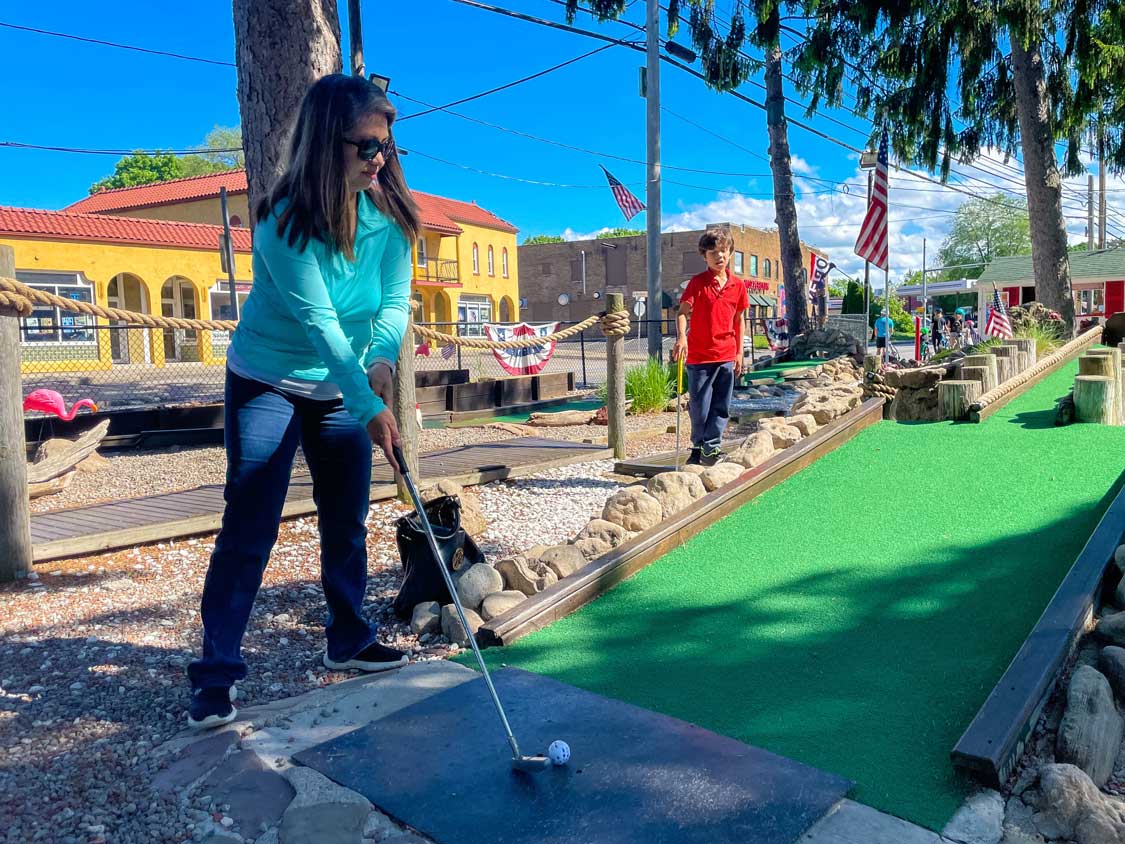 Located next to the Parkside Diner, Whispering Pines Mini-Golf Course is the oldest mini-golf course in the USA.
Whispering Pines Miniature Golf, which is located in SeaBreeze (a suburb of Rochester), has been running since the miniature golf boom in 1930. It's so iconic that it has been listed on the National Register of Historic Places.
The small course offers a fun challenge for families. And a visit there let my family know just how terrible we all are at mini-golf. But we certainly had a blast walking among the fossilized rock course and trying (and failing) some of the unique and complicated holes.
Cycle along the Erie Canal in Pittsford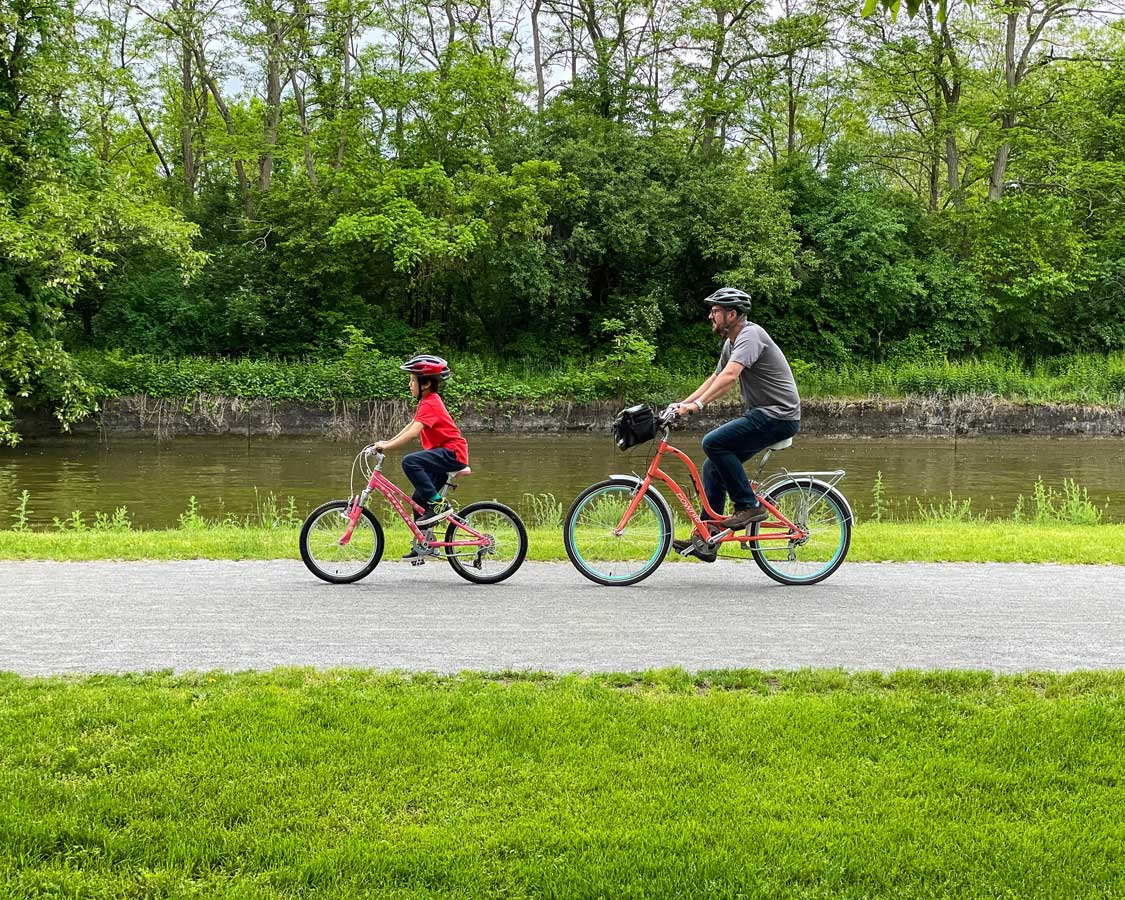 Pittsford is a scenic town that sits on the banks of the Erie Canal just outside of Rochester. If you're looking for a beautiful spot with some excellent restaurants, I highly recommend a visit here.
We made the short drive from Rochester, and after enjoying a delicious Mediterranean meal at Aladdin's Natural Eatery, we met up with the crew at Towpath Bike to pick up some rentals for the boys and I to pedal along the scenic waterway.
We were hooked up with some colorful cruisers, and after passing by the crowds who were in town to celebrate a rowing regatta, we made our way for about 10-miles along the gravel path that follows the canal. It made for a wonderful outing, and it was fun cycling with the boys after my epic ride along the St. Lawrence River the previous summer.
If you're visiting Rochester with kids, it's good to note that our connections with Rochester Tourism helped us with the rentals. Towpath doesn't typically rent bikes for children.
Shop Till You Drop at the Rochester Public Market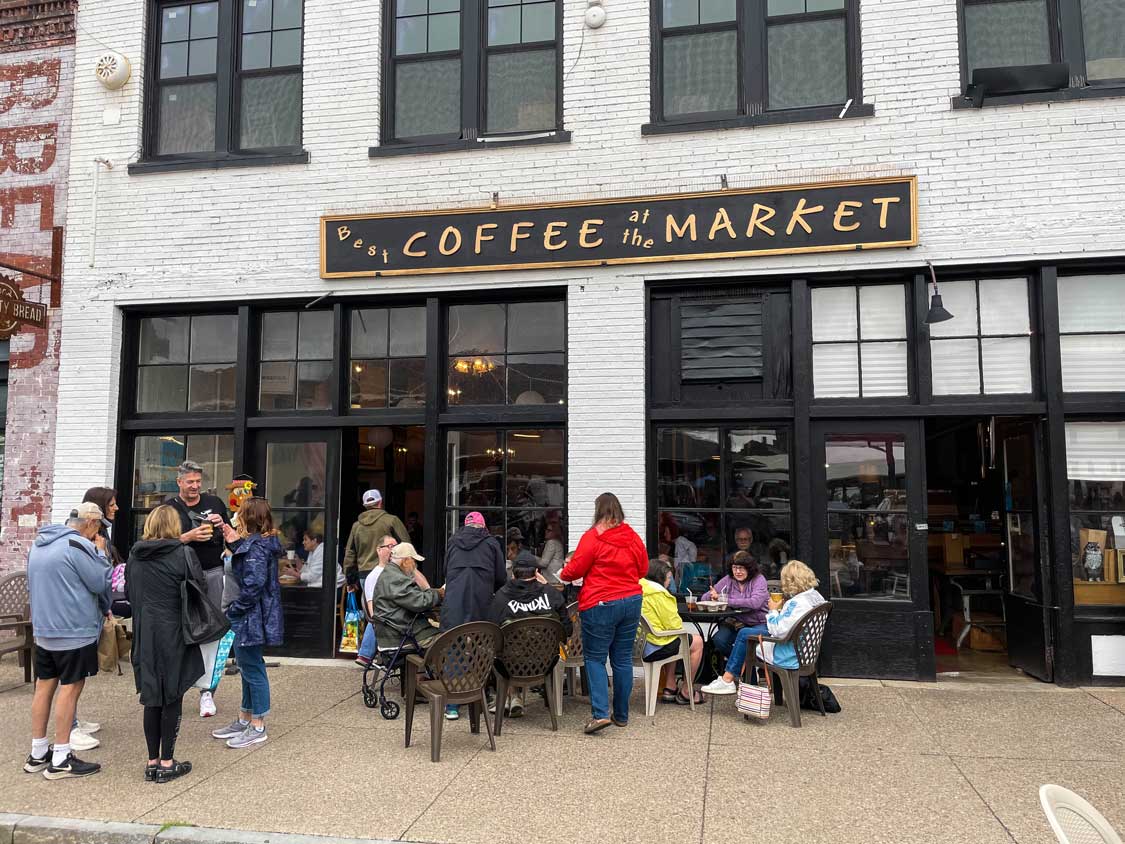 One of my absolute favorite things to do in a new city is to drop by the public market. There's no better way to get the pulse of the city and experience the unique juxtaposition where rural farming, local crafts, and urban living come together in harmony.
The Rochester Public Market runs on Tuesdays, Thursdays, and Saturdays. We went early on Saturday, and it was quite busy. I've heard that it can be tough to find parking within the market on that day, but we had no trouble.
The market itself is run by the city. It welcomes vendors of all sorts and offers covered tents that make for a pleasant shopping experience. We found loads of amazing local crafts and produce as well as a great collection of pre-made foods to stock up for a picnic.
Grab A Lane And a Meal at Radio Social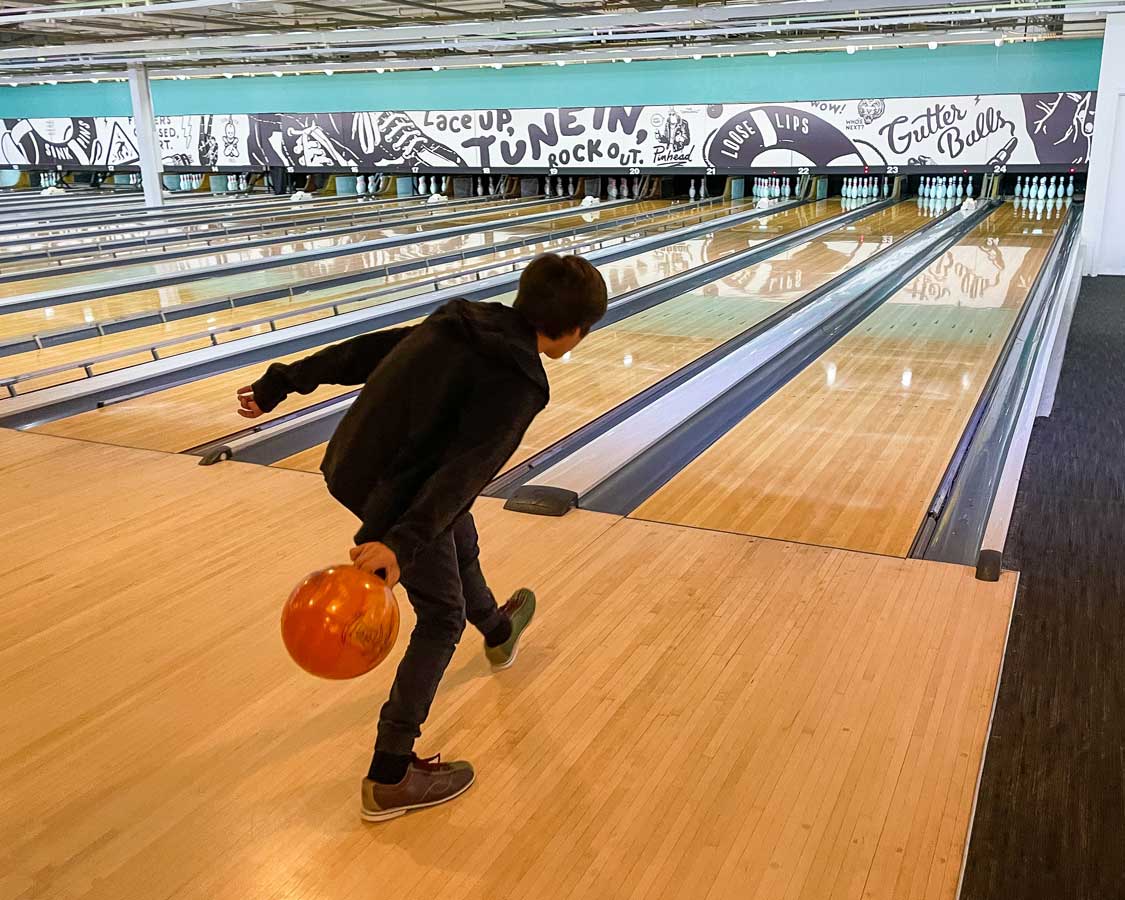 When I first took my boy's ax throwing in Peterborough, Ontario, I remember looking around at the awesome environment with a great bar and a fun, clean modern entertainment vibe and saying "why doesn't anyone do this to bowling alleys."
Well, someone must have been listening to me because Radio Social is exactly what I was imagining when I said that.
This bowling alley, restaurant, and entertainment facility combines amazing food, a fun, modern atmosphere, and a great bar and social environment. It's a far cry from the typical dark, dingy bowlerama's that I grew up with. And it's a place that, in my opinion, makes one of the best places to visit in Rochester, New York.
Located in a reclaimed, 42,000 sq. ft former radio factory (hence the name), Radio Social offers 32 bowling lanes, modern lounge areas, indoor, and outdoor entertainment, and even outdoor fire pits. It's a place where you could spend every night of the week and have a different experience. Yet it also seems small, welcoming, and genuinely enjoyable.
Do not visit Radio Social without trying the food. This is, and I'm shocked to say this about a bowling alley, one of the best restaurants in Rochester. Whether you order from their casual menu with tender and juicy burgers and soft dough pizzas or from their Mediterannean menu with Cornish Hen and Lamb Arancini, the food at Radio Social is a delight. My hat is off to chef Steve Eakins, I would make the journey back just to eat here again.
Enjoy A Picnic In Highland Park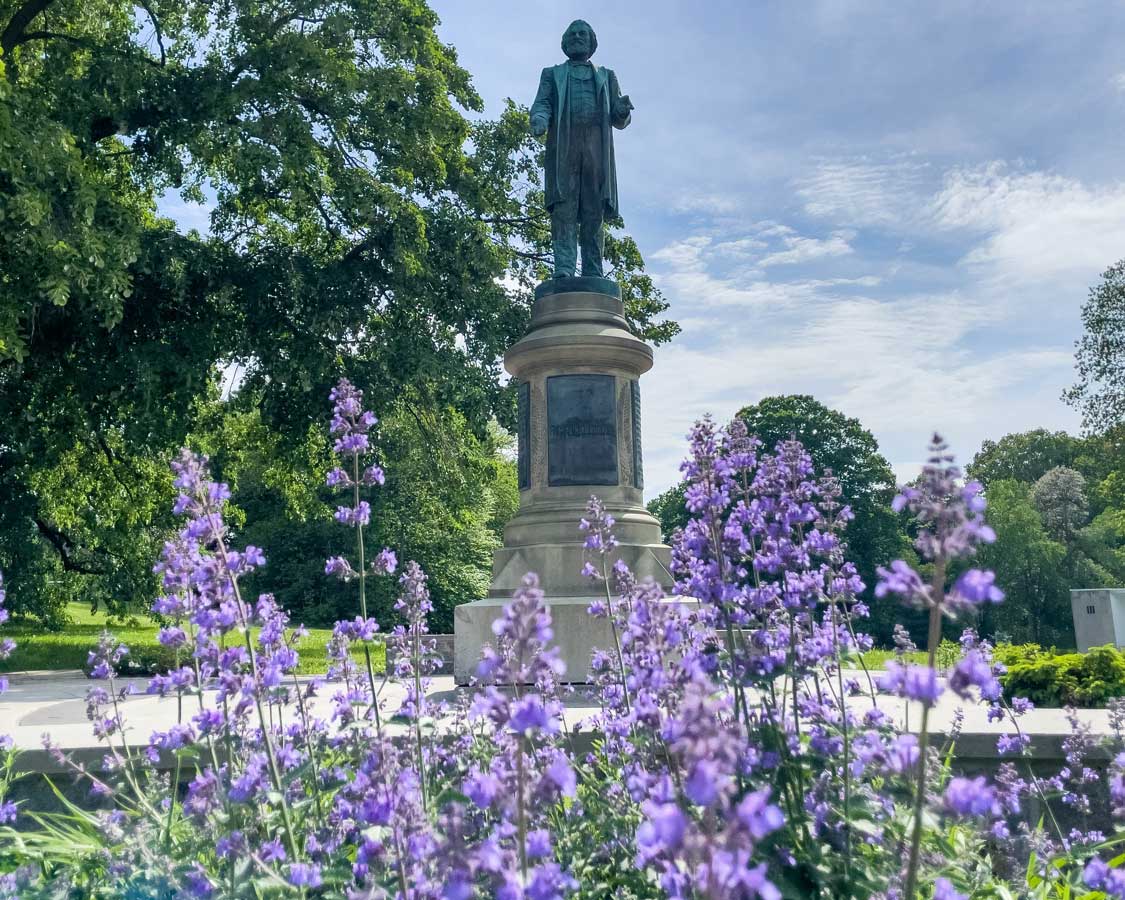 Highland Park is one of the most popular places to visit in Rochester. The stunning landscaping explodes with gardens, trees, hills, and natural gullies.
The park is spread across 150 acres of prime Rochester real estate and welcomes sightseers, birdwatchers, and those looking for a wonderful spot for a picnic. It even has a stunning arboretum that houses 1,200 lilac shrubs.
Highland Park is also the latest home of the famous Frederick Douglass statue. This is the first statue of a black man to be erected in the United States. It was originally erected in 1899 to commemorate the man responsible for bringing voting rights to black Americans. It now stands at the Frederick Douglass Monument and Memorial Plaza surrounded by quotes from some of his most important speeches.
Discover More About This City With Our Rochester, NY Video
If you'd love to get a deeper glimpse into these Incredible Rochester attractions, check out our weekend in Rochester video on YouTube. Don't forget to like and subscribe to help support our content. It really helps us keep delivering great family travel content to you.
Where To Eat In Rochester
One of the best things to do in Rochester is to eat. This city has more than its fair share of incredible restaurants. And although we were only exploring the city for a few days, we ate to our heart's content and took as many leftovers as our car could hold.
I had previously mentioned Radio Social, which should surely make this list. But along with that gem, here are some of my favorite restaurants in Rochester New York to enjoy on your next visit.
Dinosaur BBQ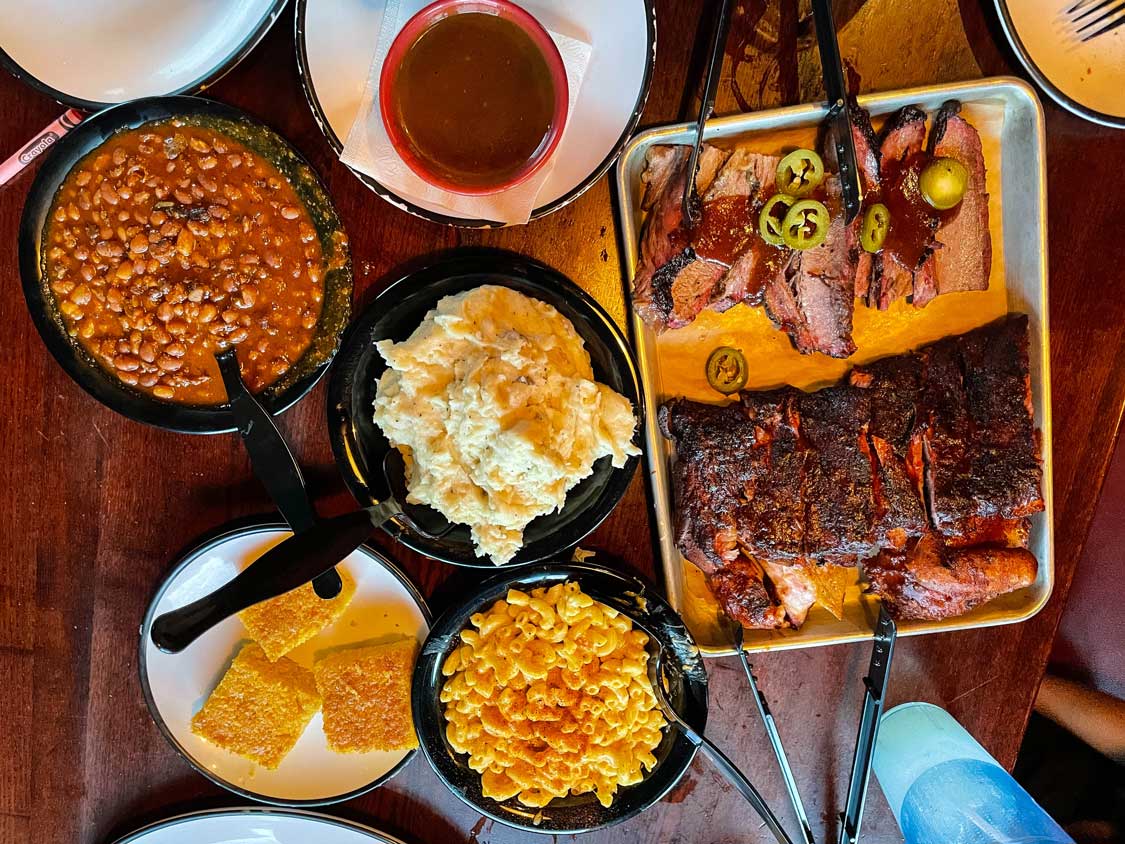 Everyone I know who had visited Rochester before me said the same thing. If you only eat at one place in Rochester, eat at Dinosaur BBQ.
So it's no surprise that the first dinner we had in the city was at this famous bbq joint located on the Promenade along the Genesee River. And we were not disappointed.
Dinosaur BBQ in Rochester was opened in 1998 and is actually the second location of the brand. This restaurant offers slow-cooked, fall-off-the-bone meat paired with backyard favorites like beans, mac and cheese, and mashed potatoes.
The servings are huge and it is some of the best bbq I have ever eaten.
Mad Hatters Restaurant and Bakery
My family loves the Alice in Wonderland story, so when I saw that there was an Alice in Wonderland-themed restaurant in Rochester, I was sold.
Mad Hatters offers a high tea in Rochester experience, perfect for Wonderland fans. But we visited for breakfast on our first day instead. The serving sizes were massive. I enjoyed the classic eggs benedict while the boys fought their way through huge servings of waffles and meat lover's frittata.
Zweigle's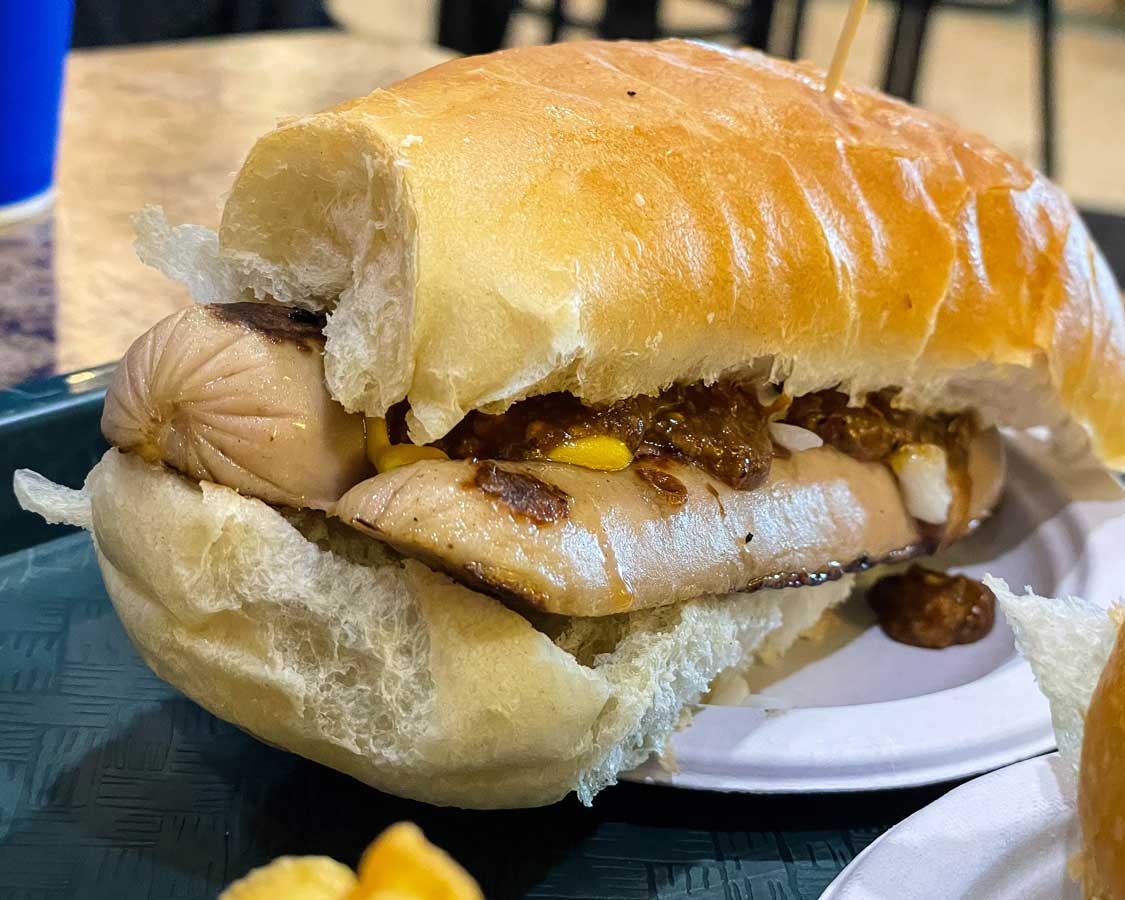 Hot dogs are practically a religion in Rochester. In fact, this is one of the only places where you can enjoy a "White Hot." Zweigle's offers the most popular version of this beef, pork, and veal-stuff sausage that locals absolutely love.
Zweigle's began making these unique hot dogs in 1925. It even became the official hot dog of the Buffalo Bills, the Buffalo Sabres, and the Rochester Americans.
Nick Tahou Hots
You can't eat in Rochester and not hear about a "garbage plate." This is a legendary dish in the city, and it was trademarked by Nick Tahou Hots, which was the home of the original Garbage Plate.
These monstrous dishes typically take a protein (usually a cheeseburger, hamburger, Italian sausage, steak, chicken, or hot dog) and layers it with a mix of fries, beans, and/or macaroni salad. The entire thing is typically coated with a local hot sauce and mustard.
This dish is definitely not for the calorie counters. But it is one of those things to do in Rochester that you need to try at least once.
Where To Stay In Rochester, NY
Rochester is an awesome city. And if you want to see it right, you'll need to give yourself a few days. So if you're looking for where to stay in Rochester, here are a few options to help you settle in.
Strathallan Hotel & Spa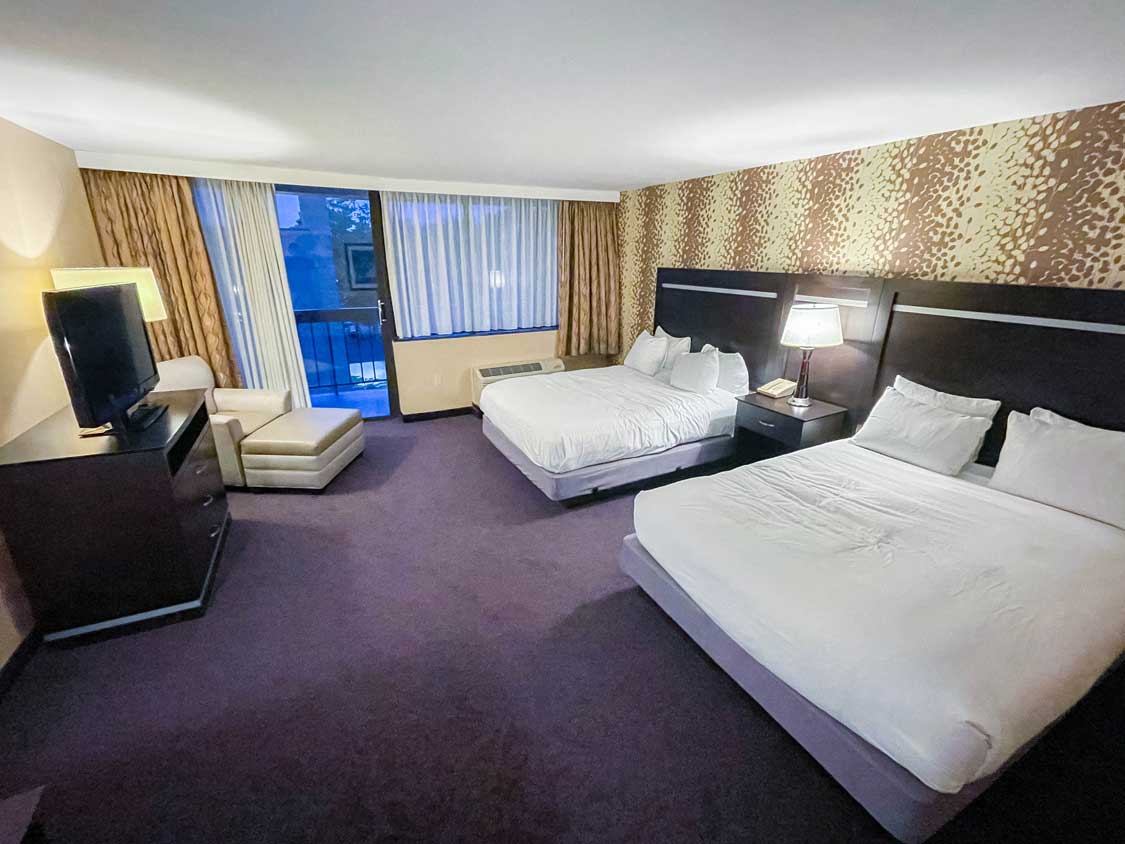 The Strathallan Hotel & Spa was where we opted to stay during our long weekend in Rochester. This excellent Rochester hotel is a DoubleTree by Hilton and offers a clean, spacious, and modern accommodation experience that's great for the whole family.
There's an onsite pool, a rooftop patio, and a highly-regarded restaurant as well. The hotel also owns 7 or Strath, which offers additional units in an historic mansion across the street.
We stayed in a double suite with an additional pull-out couch so the boys could each have their own sleeping area. You can find pricing and availability for the Strathallan Hotel & Spa here.
Hilton Garden Inn Rochester Downtown
The Strathallan is very central and convenient. If there is no availability there, the Hilton Garden Inn might be a great choice.
Originally the home of the National Clothing Company, this Rochester hotel features towering ceilings and marble floors. You'll also find an arboretum, an indoor swimming pool, and a modern fitness center.
You can find the prices and availability here.
Which Of These Things To Do In Rochester Will You Do Next?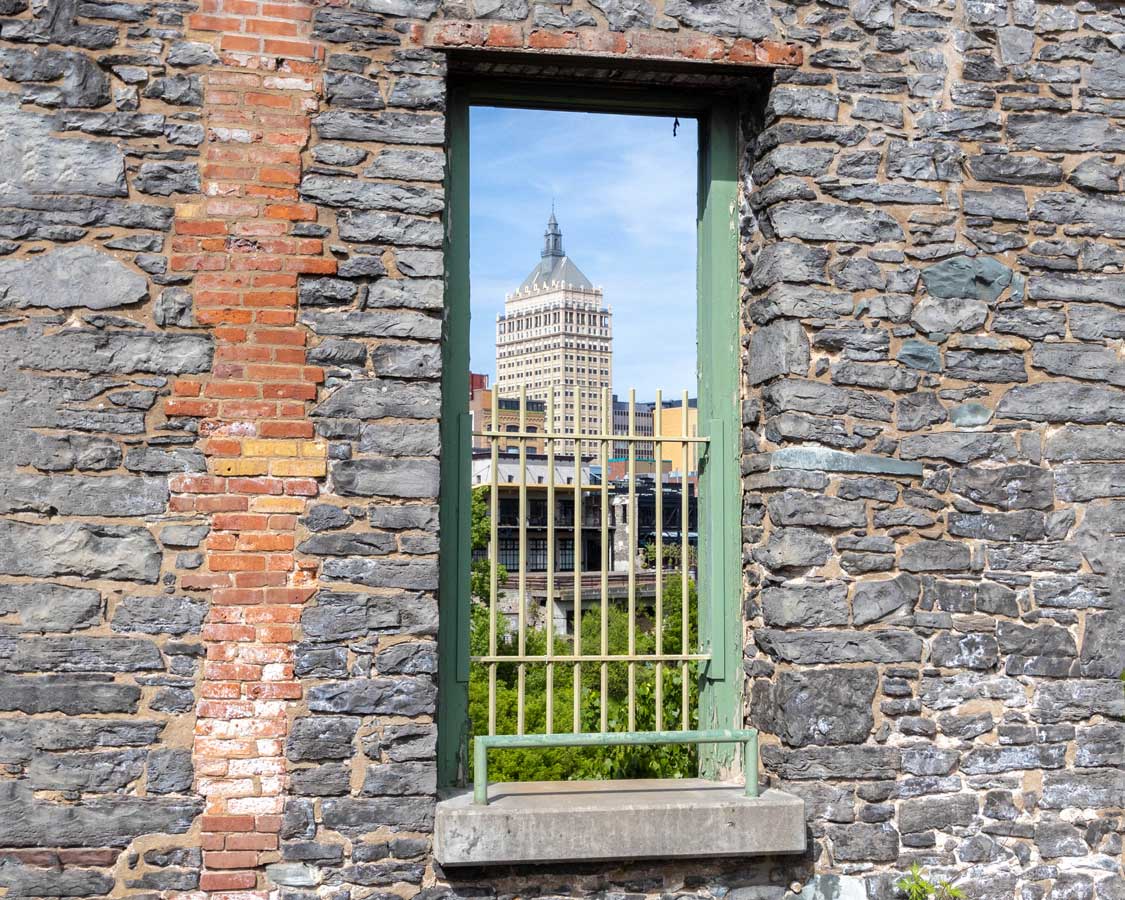 We had an absolutely incredible time during our family weekend in Rochester. The city blew away our expectations and showed us that there is so much more to Rochester than we had ever imagined. It's a family-friendly city with an incredible range of attractions and restaurants that blew our minds.
If you're looking for what to do in Rochester, New York, you'll have your hands full. and that's a good problem to have!
If you love family travel, sign up for our newsletter or hop over to Facebook to join thousands of other travel-loving families in our Family Travel Support Group. We offer a supportive and encouraging environment for parents traveling locally or abroad.
Disclosure: We were guests of Visit Rochester and Adventure Calls Outfitters. We were sponsored on many of our experiences in this post. As always, our opinions remain our own.
This post may contain compensated links. Find more info on our disclaimer. Wandering Wagars is a participant in the Amazon Services LLC Associates Program, an affiliate advertising program designed to provide a means for sites to earn advertising fees by advertising and linking to amazon.com, amazon.co.uk, amazon.ca. Amazon and the Amazon logo are trademarks of Amazon.com, Inc. or its affiliates.
You May Also Like To Read: