Find beautiful and fun hikes in Colorado Springs are perfect for outdoor family fun. These family-friendly Colorado Springs hikes explore the wondrous nature of Colorado's best cities.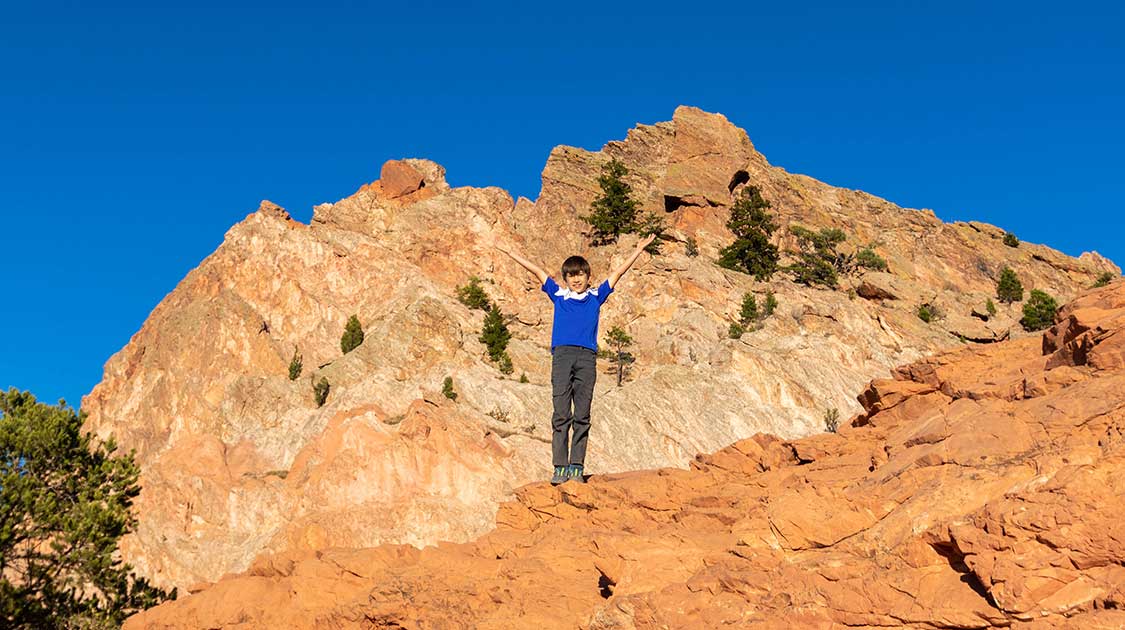 When it comes to states with awesome hikes, the state of Colorado sits near the top of every outdoor-lovers list.
And within the whole state, one of our favorite Colorado hiking destinations is the gorgeous city of Colorado Springs, which is just an hour from the Colorado capital of Denver.
Where Denver is known for its urban appeal, modern architecture, and ravenous food scene, Colorado Springs offers a far more rural vibe. Nearby locations such as Pike's Peak and Garden of the Gods began drawing visitors by the busload in the early 1800s. And hiking in Colorado Springs soon became famous around the world.
The stunning nature of the city and its easy access to the towering Rocky Mountains have made this a mecca for outdoor lovers. And with fun, family-friendly experiences nearby such as the Colorado Cave of the Winds, it's no surprise that it has become a favorite destination for families as well.
On this site and in interviews with magazines and other media, I've talked a lot about the benefits and tips for hiking with kids. And if you're looking for an epic destination to help your kids truly fall in love with the outdoors, family hikes in Colorado Springs should be on your list.
So if you're planning on hitting the trails with your children, here are some of the best hikes in Colorado Springs for families.
Why Hike Colorado Springs With Kids?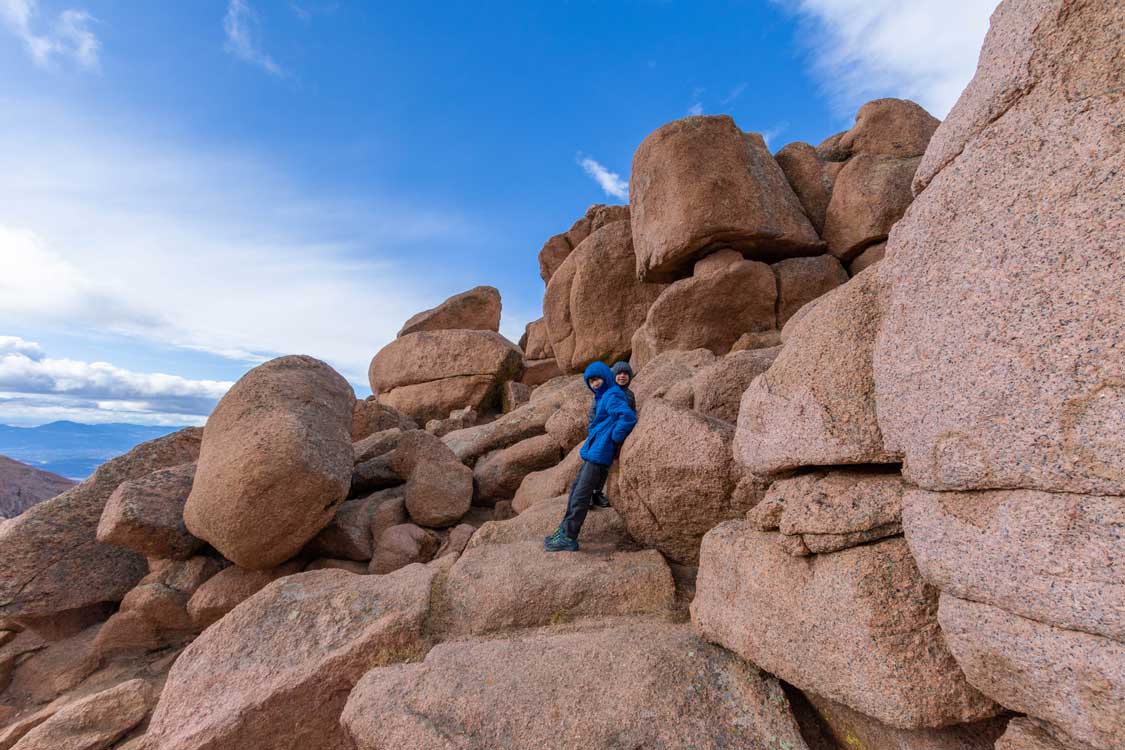 Colorado Springs is home to some of the most gorgeous scenery in the United States.
Not only is it home to 'America's Mountain,' Pike's Peak, which is the inspiration for the poem "America the Beautiful" by Katharine Lee Bates, but it's also the location of the aptly-named "Garden of the Gods," a free park that is so beautiful that it has to be seen to be believed.
With a mild and sunny climate, Colorado Springs is a paradise for outdoor explorers. Within the city limits alone, there are over 350 miles of family-friendly hiking trails in Colorado Springs. Extend that to the mountains and landscapes nearby, and that number explodes.
Hiking in Colorado Springs offers experiences for every type of adventurer. You'll find easy trails that are perfect for beginners right up to highly technical hiking trails that draw experienced hikers from across the globe.
The entire State of Colorado is a haven for hikers. The outdoors seems to be almost written into the DNA of the locals. And with an incredible collection of Colorado National Parks, it's no surprise that locals to the state seem to live for nature
Great Colorado Springs Hikes For Families
So to help you jump into the Colorado hiking scene, here are our favorite Colorado Springs hikes for families.
Seven Falls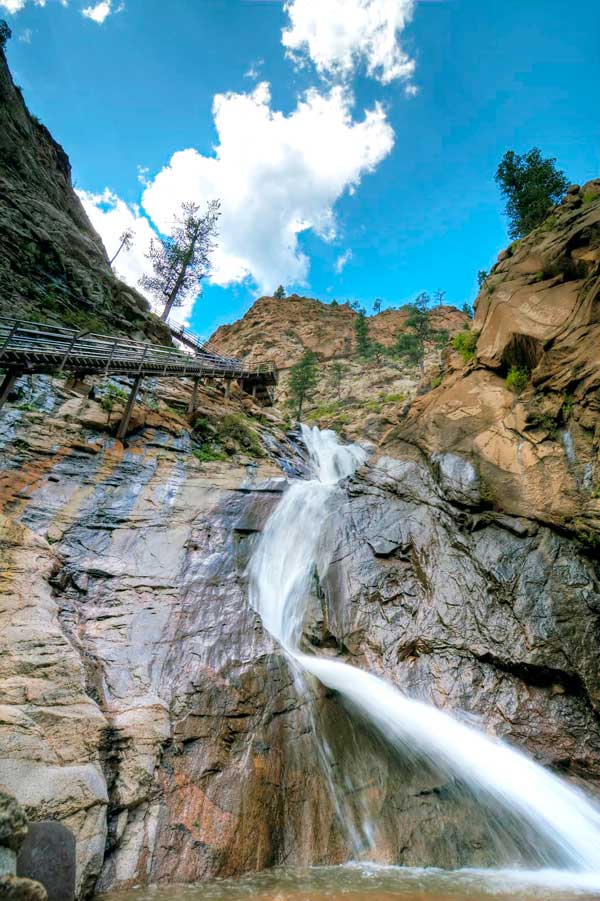 Culminating with the only waterfall in Colorado to be featured on National Geographic's list of International Waterfalls, Seven Falls is a family-friendly Colorado Springs hike that you shouldn't miss.
The trail to Seven Falls follows a .8-mile paved trail owned by the Broadmoor Resort, which purchased the property back in 2013 following severe flooding damage that washed out much of the original trail. Because this hike is privately owned, there is an access fee involved.
Parking for this hike is at the Broadmoor Resort. There are free shuttles available that will take you to the Seven Falls hike entrance. From there, it is a .8-mile walk to the base of the falls. Four separate Seven Falls hiking options range from .4 to 3 miles. All of them include views of the falls.
Side Trails
Seven Bridges Trail is a 3.7-mile loop that takes you across 7 wooden bridges. It's a scenic route and definitely worth the hike for those who have the time.
Midnight Falls Loop begins at the top of Seven Falls and is a short .35-mile trail that runs along Crippe Creek to Midnight Falls, a small waterfall. The trail is out-and-back for a total 0.7-mile distance.
Inspiration Point is a 1.5-mile out-and-back trail (3-mile total) at the top of Seven Falls. This trail leads north to the Helen Hunt Jackson Memorial and on to the Inspiration Point viewpoint. Here, hikers can take in the Great Plains as they stretch out as far as the eye can see.
Garden Of The Gods
Difficulty: Easy to Moderate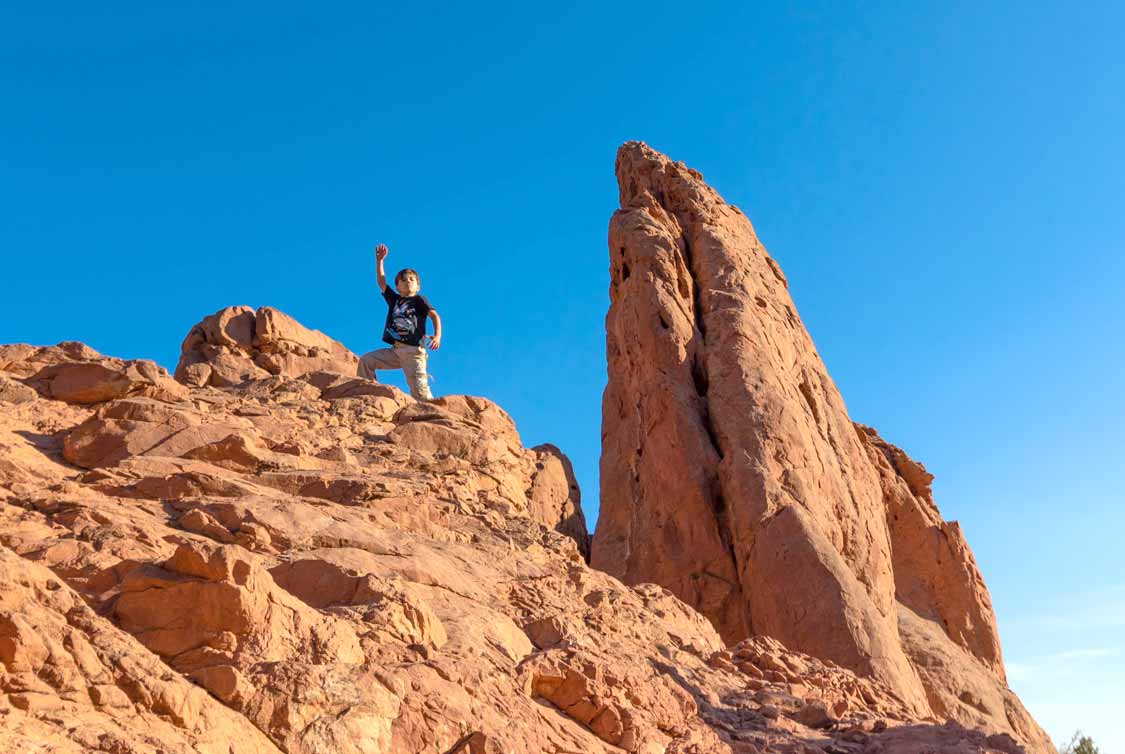 The crown jewel of easy Colorado Springs hikes in the Garden of the Gods. This free park is a popular destination for locals and visitors alike, thanks to its mind-blowing rock formations, easy and accessible hiking trails, and cool rock climbing lines.
Garden of the Gods is a National Natural Landmark, and one glimpse and you'll understand why it's so beloved by the local community and the country as a whole.
The entire Colorado Springs park is home to over 21-miles of hiking trails that range from casual 0.5-mile strolls up to cross trail loops that could take you the weekend to explore.
Kids will love the Garden of the Gods as there are plenty of places to climb and safely explore. These include small rock tunnels and caves.
You can read more about the Garden of the Gods hikes here.
Notable Side Trails
Siamese Twins is a famous rock formation found along the Siamese Twins Trail, where it meets the Palmer Trail. This 0.5-mile trail is popular with photographers as you can catch a perfect window between the formations as they frame Pikes Peak mountain.
Central Garden Trail is an easy 1-mile Garden of the Gods hiking trail in Colorado Springs that brings you right into the heart of the park. This trail brings you along the largest of the sandstone formations, including the massive North Gateway Rock.
The Ridge Trail is a short half-mile loop found in the southeast corner of Garden of the Gods. This hiking trail will take you to the Sleeping Giant rock formation base, which often has rock climbers making their way up and down.
Red Rocks Canyon
Difficulty: Easy to Moderate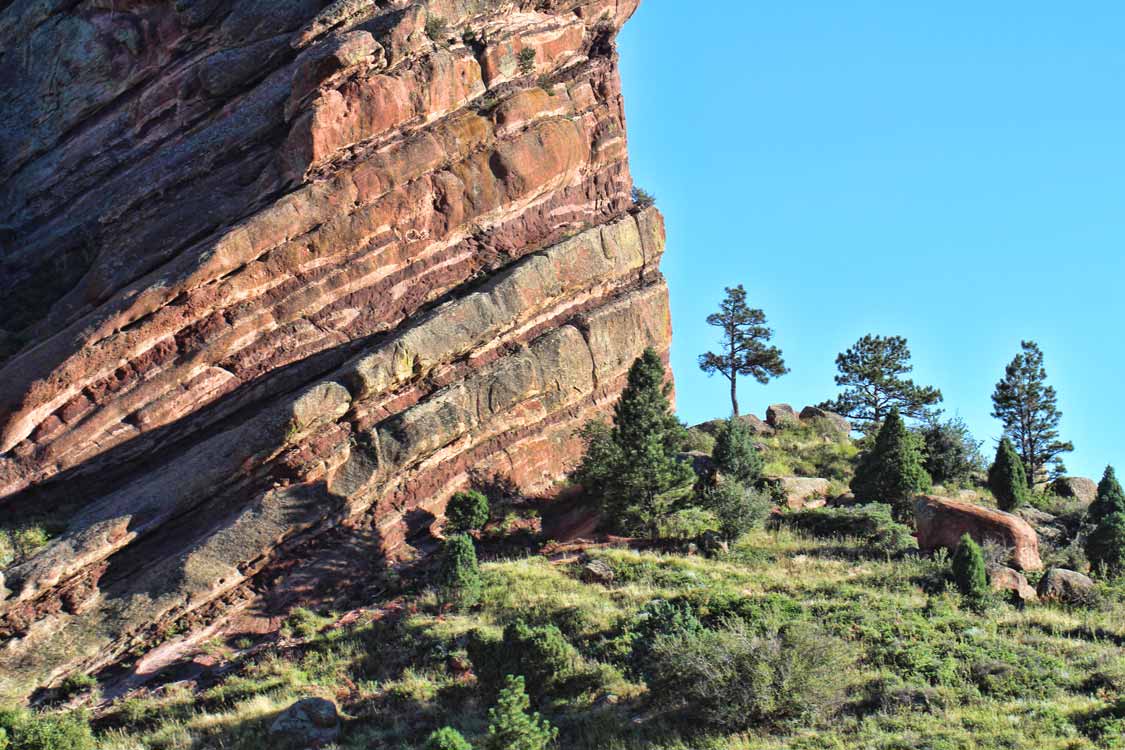 Easily confused with the nearby Red Rock Amphitheater in Morrison, Colorado, which hosts some of the most notable music acts in the world, Red Rock Canyon is one of the best places for hiking with kids in Colorado Springs.
There are many hikes at Red Rock Canyon. Some are relatively easy and perfect for those hiking with younger children, others are more technical. But the views are more than enough to delight all ages. The park is open from dawn until dusk and most trails are open for hikers, cyclists, dog walkers, and even horses.
Within Red Rocks Canyon you'll also find a large number of climbing routes, so hikers may get a treat watching adventurers scaling the cliffs.
The trails here are relatively easy, but like Garden of the Gods, it's a treat to explore. The magical red rocks jut out from every angle and create a magical landscape, especially in the early morning or late afternoon when the sun is low.
Families can walk up and over many of the unique formations of this former quarry. And the high points look out over Garden of the Gods for an added visual bonus.
Notable Side Trails
Mesa/Greenlee is a 2.85-mile loop that explores the southern tip of Red Rock Canyon and then circles back down to the base. This trail is moderately difficult as the first half is all uphill. But the second half is all downhill, so things even out. The trails parallel the canyon and offer beautiful views.
The Quarry is a 2-mile hike that is especially popular for families. This Colorado Springs hiking trail takes you through the remains of the rock quarry and scours some of the largest rock formations in Red Rock Canyon. You can see the enormous shapes cut into the rock.
Hogback is a pretty 3-mile hike that offers amazing views of the rock formations and quarry from above. It even has some excellent views of Pikes Peak. Lower Hogback forks and becomes two loops that include the Red Rock Rim Trail and the Hogback Valley Trail, which circles back. Depending on the route, the hike is either 2.5 miles or 3.3 miles.
Cheyenne Mountain State Park
Difficulty: Easy to Difficult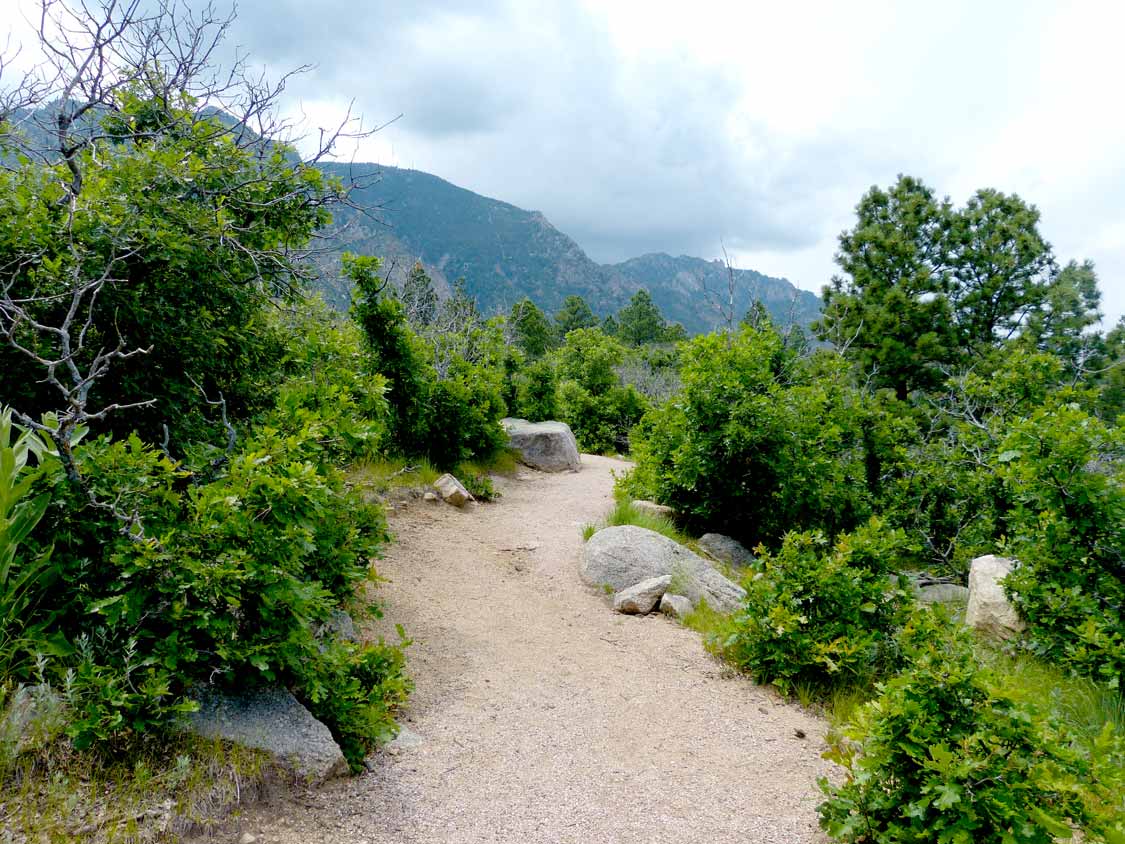 Not only does Cheyenne Mountain State Park offer some great amenities such as camping, restrooms, and playgrounds, but it's also one of the best areas to find hikes in Colorado Springs.
The park has an excellent network of 21 hiking trails that span more than 28-miles. And for kids, there are fun activities such as geocaching, archery ranges, guided wildflower walks, and a junior ranger program.
The park is a wonderful spot for hiking, and the newly opened Dixon Trail takes you on a tough, 17+-mile climb to the top of Cheyenne Mountain. Along the way, you'll experience gorgeous views, a plane crash site, and scenic overlooks that cover Colorado Springs and beyond.
Notable Side Trails
Blackmer Loop Trail is a local favorite 3.5-mile hike with a little elevation gain. Along the way, you'll pass through pretty rock gardens and great pine forests.
Dixon Trail is a 4.5-mile one-way (9-mile total) trail with a high level of difficulty. This hike climbs up and up over 2,500 ft. There is a nice turnaround point at the 2.5-mile mark if the hike proves too difficult for little ones. Beyond this point, the elevation gain picks up, and there are tight, rocky switchbacks.
Talon North is one of the must-do hiking trails at Cheyenne Mountain State Park. This 1.6-mile moderately difficult trail culminates with an incredible overlook.
Bear Creek Canon Park
Difficulty: Easy to Moderate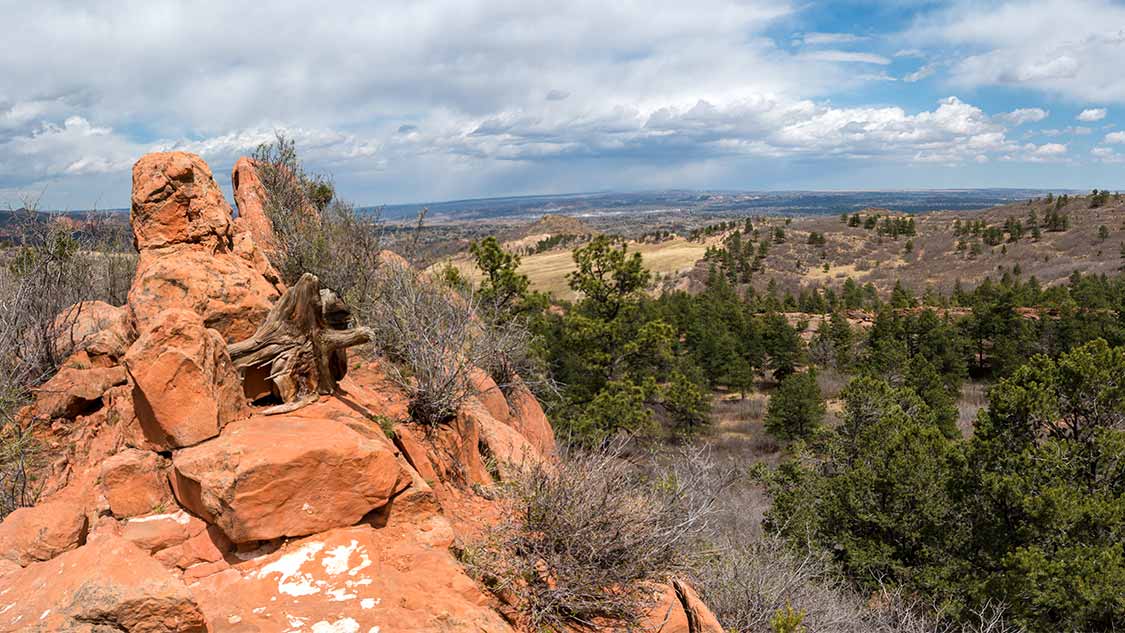 This popular Colorado Springs hiking destination was donated by William Jackson Palmer, the same man who donated the land for Monument Valley Park, North Cheyenne Canon Park, and Prospect Lake.
The park is along the route of the original Pikes Peak Signal Station trail that begins in Manitou Springs.
The Palmer Trail is the most popular hike in Bear Creek Canon Park. With jaw-dropping views and a ripe landscape with scenery, this moderately difficult 5.7-mile loop is popular with families and solo hikers alike.
The trail itself is not particularly challenging, but the difficulty comes from the nearly 1,300 ft elevation gain that can be strenuous for some hikers.
Along the route, you'll experience beautiful mountain views, stroll through thick forest and vegetation, and likely see plenty of local wildlife.
Tips For Hiking in Colorado Springs with Kids
Many of the Colorado Springs hikes are at an elevation of 6,000 feet above sea level or greater. Learn to recognize the signs and how to deal with altitude sickness. Drink lots of water, take your time climbing to higher elevations, and avoid strenuous activity for the first 24 hours if you feel even a little unwell.
Make sure to pack sun protection, including a hat and sunscreen. At elevation, the sun's rays can be far more intense than at sea level, so sun damage can occur much more quickly. The area around Colorado Springs does not have much foliage, so don't rely on access to shade.
Be prepared for changes in the weather. With the mountainous terrain and high elevation, weather can go from warm and sunny to cold and windy very quickly. As you climb at higher elevations, such as Pikes Peak, snowstorms and blizzards can occur without warning. Make sure that you have proper clothing for any eventuality.
Colorado Springs hikes can be very popular. To avoid the crowds, aim for shoulder seasons such as the late fall, winter, or spring (not counting spring break). If you can plan your hikes for weekdays, you can also avoid the heaviest crowds.
Do You Love Hiking and Travel With Kids?
Whether you're just looking for family-friendly hikes in Colorado Springs or if you're looking for amazing outdoor travel experiences around the world, swing over to our Family Travel Support Group on Facebook where you can ask questions and connect with thousands of other families who love travel and hiking just as much as you do.
You May Also Like To Read: