If you're considering hiking Watkins Glen State Park in the picturesque Finger Lakes region of New York, our guide has everything that you need to know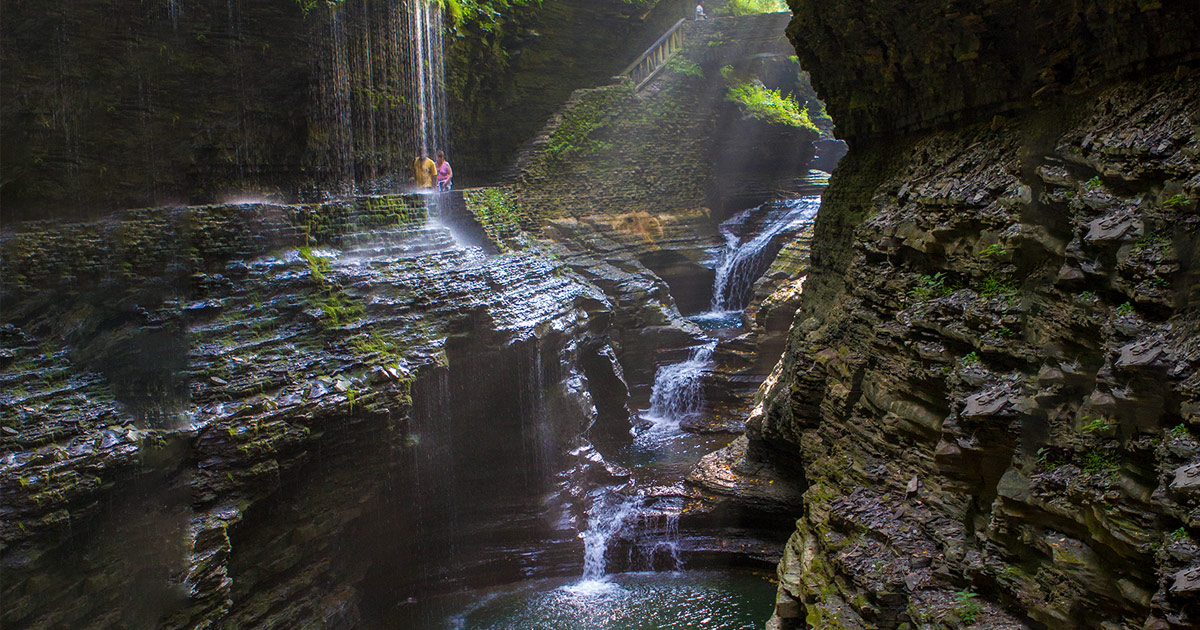 Watkins Glen State Park should be on everyone's list of things to do in Upstate New York. Often described as "walking into another world," this narrow gorge in the town of Watkins Glen, New York isn't just one of the most beautiful places to visit in the Finger Lakes region, it's one of the most beautiful places in the entire country of the United States of America.
Hiking Watkins Glen is an experience that should be on the list of anyone visiting Upstate New York. I've hiked this canyon several times now on my travels through New York State. This stunning canyon was first suggested to us by some friends when we were looking up wineries for a long weekend in the Finger Lakes. We followed up with some research and Google filled our eyes with stunning photos of Watkins Glen State Park. They were almost too good to be true. So we had to hike Watkins Glen State Park for ourselves.
Since then, my family has returned several times to hike the Watkins Glen gorge and experience some of the wonderful things to do in the town of Watkins Glen itself. I've even made a point of showing off this breathtaking hike to as many of my outdoor-loving friends as possible.
What is Watkins Glen State Park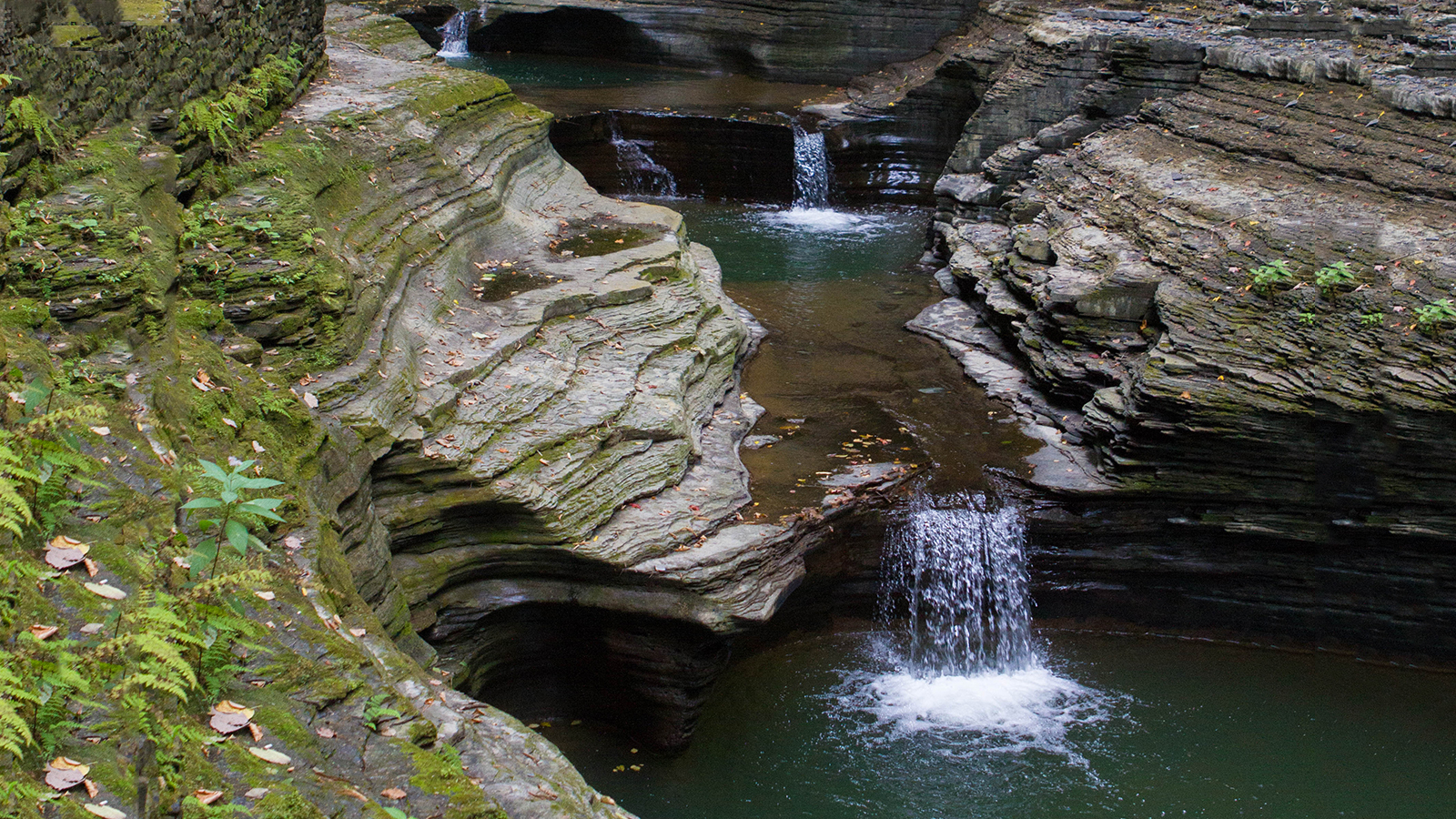 Known as the Flagship Park of New York State, Watkins Glen State Park is tiny when compared with many New York State Parks. The entire park covers less than two square miles. But it is its tiny size, packed with limitless beauty, that has made hiking Watkins Glen such a draw.
Within its tiny confines are over 19 waterfalls. The water is fed by the Glen River, which helped form the 400-foot-deep gorge which is the centerpiece of the park. The park has a series of crisscrossing two-way trails that connect the two openings of the park, the upper entrance, and the lower entrance.
The hikes in Watkins Glen State Park are a mix between upper gorge trails that take in the scenery from above and a gorge trail that hops back and forth across the Glen River via beautiful stone bridges. This trail, one of my favorite family-friendly hikes in New York State, takes turns zipping through tunnels carved out of the rock and sliding behind towering waterfalls.
Watkins Glen State Park first opened to the public in 1863 as a private tourist resort. In 1906 it was purchased by New York State and has been run as a public attraction ever since.
For those interested in hiking Watkins Glen State Park there are three trail options. Each of the Watkins Glen hiking trails offers a very unique experience. And if you're in decent shape, it's possible to traverse all three Watkins Glen hikes in one day.
How to get to Watkins Glen State Park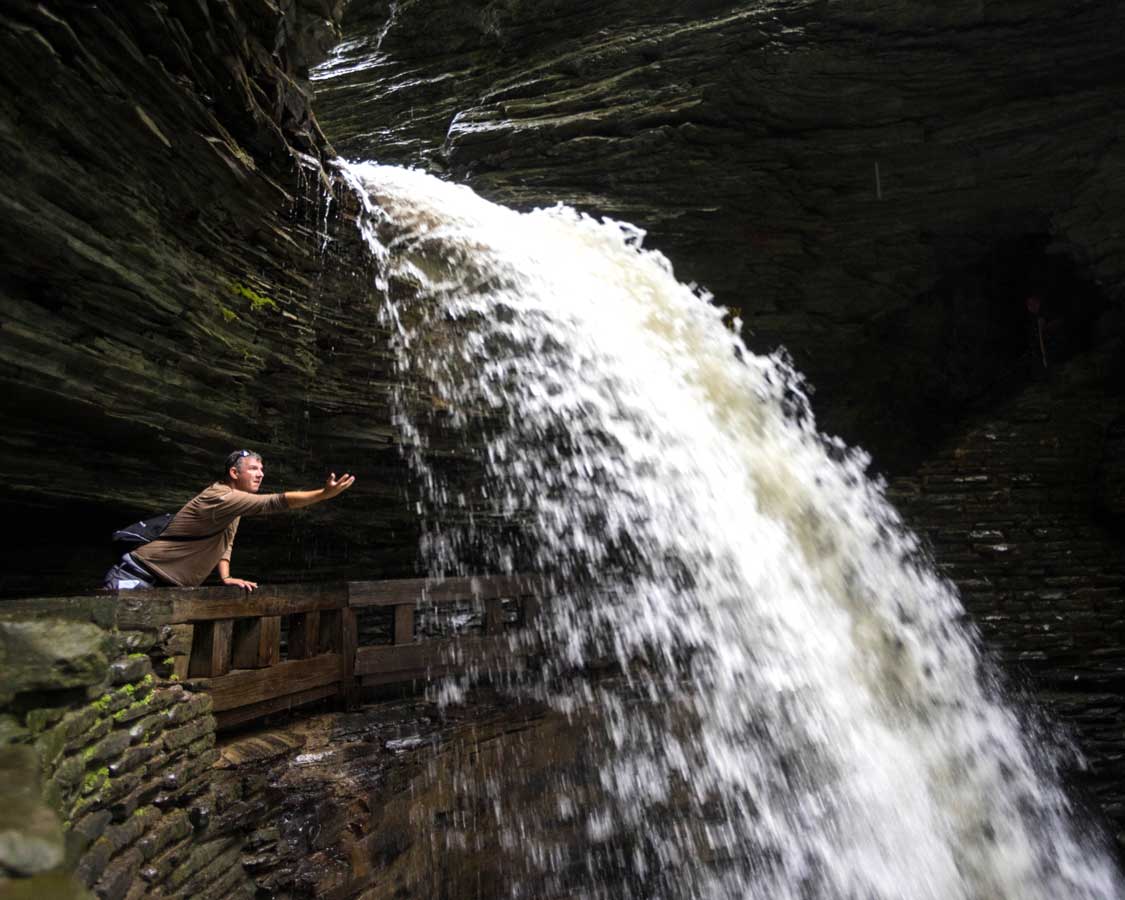 Watkins Glen State Park is located right inside the town of Watkins Glen, New York. It's about 21 miles from the town of Corning, New York, and about one and a half hours south of the city of Rochester.
The main entrance to the park is 1009 North Franklin Street in Watkins Glen. For the upper entrance, ask your GPS or maps app to take you to 3310 NY-409.
From Toronto, the drive to Watkins Glen, New York is a little over 4 hours straight down the I-390 S then up NY-226N. To break up the drive, we planned to stop and spend a chunk of the first day in Rochester where we would take the opportunity to visit the kid-friendly Strong National Museum of Play in Rochester before completing the rest of the drive to Watkins Glen, New York. On our way back from Watkins Glen we also stopped at nearby Corning, New York to visit the wonderful Corning Museum of Glass.
Hiking Watkins Glen State Park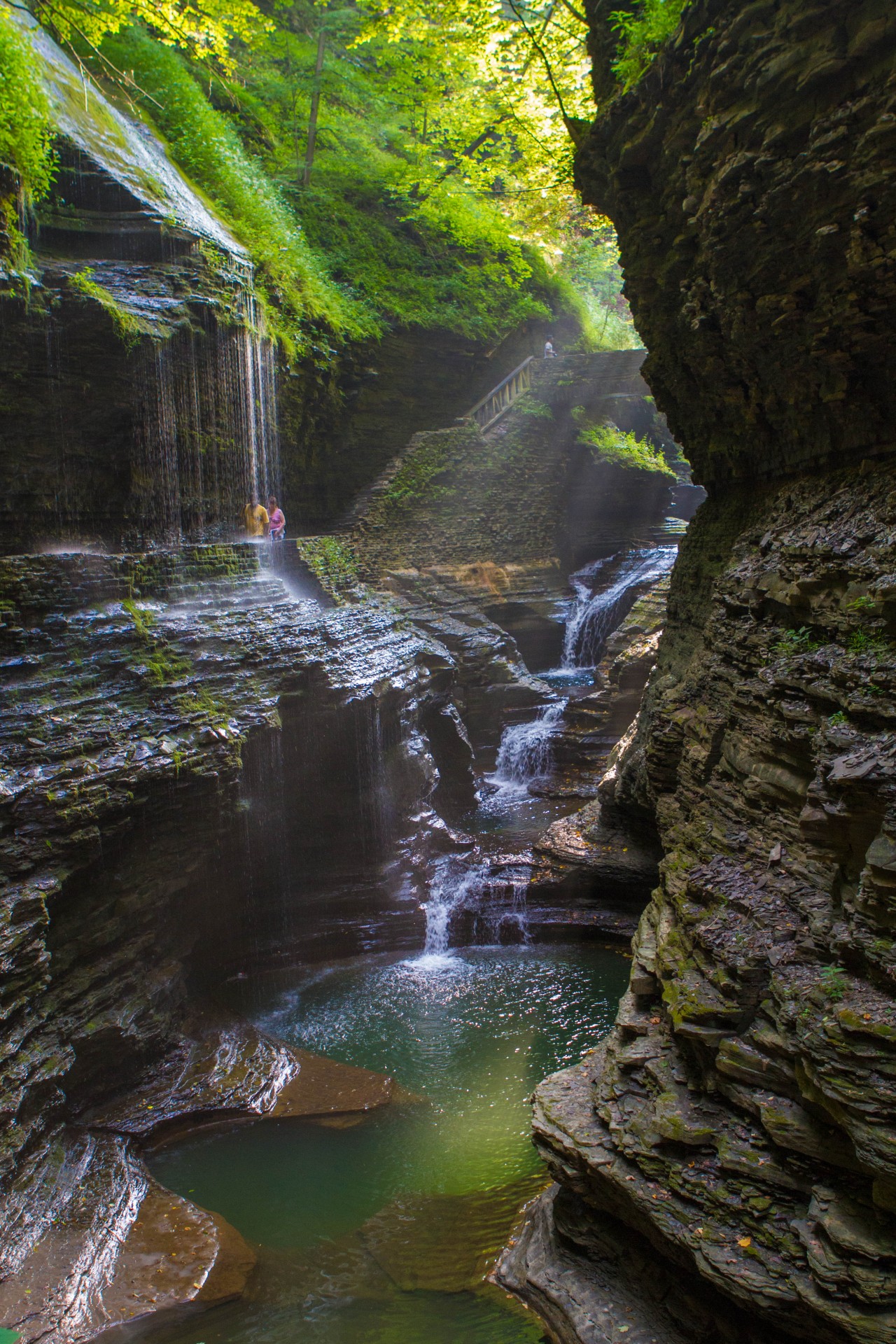 Pro-Tip: Hiking in Watkins Glen is not the place for heels or flip-flops. The stone walkways and steps are slippery at many spots and we were glad we had brought our hikers.
Hiking Watkins Glen State Park is number one on the list of most visitors' things to do in the town. To be honest, hiking is pretty much the only thing to do at Watkins Glen State Park, and that's ok.
Trust me, it's enough. Hiking the park is so otherworldly beautiful, that you won't feel that you missed out on anything.
There is no cost for visitors on foot to enter the park, but there is a $10 per car parking fee. The cost of entry also includes access to the park pool (which is located at the upper end near the Watkins Glen camping area). The parking pass is valid for all other New York State Parks for that day, so if you'd like to include it with other parks within the area such as Letchworth State Park near Rochester, you've got options.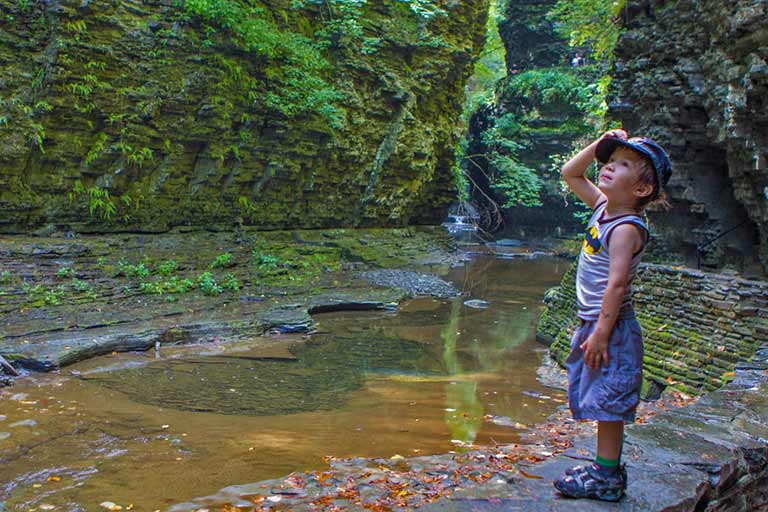 Each of the Watkins Glen trails is very different. While it's easy to have a favorite, some of the hikes may be more in line with your hiking experience or physical capabilities. To help you plan your day of Watkins Glen hikes, here's a breakdown of each of the Watkins Glen hikes.
If you feel a bit overwhelmed or are worried about your conditioning, there is an included shuttle that takes visitors from the main Watkins Glen entrance to the Upper Entrance. Hiking Watkins Glen from the upper entrance means that most of the hike is downhill.
Because of the downhill slope, I find that hiking from the upper entrance is less "majestic," but it is significantly easier.
Make sure to bring appropriate footwear. I recommend bringing hiking shoes with grippy soles, as the trail can get slippery in places. These are my recommendations for men's hiking shoes, women's hiking shoes, and kid's hiking shoes.
Glen Creek Gorge Trail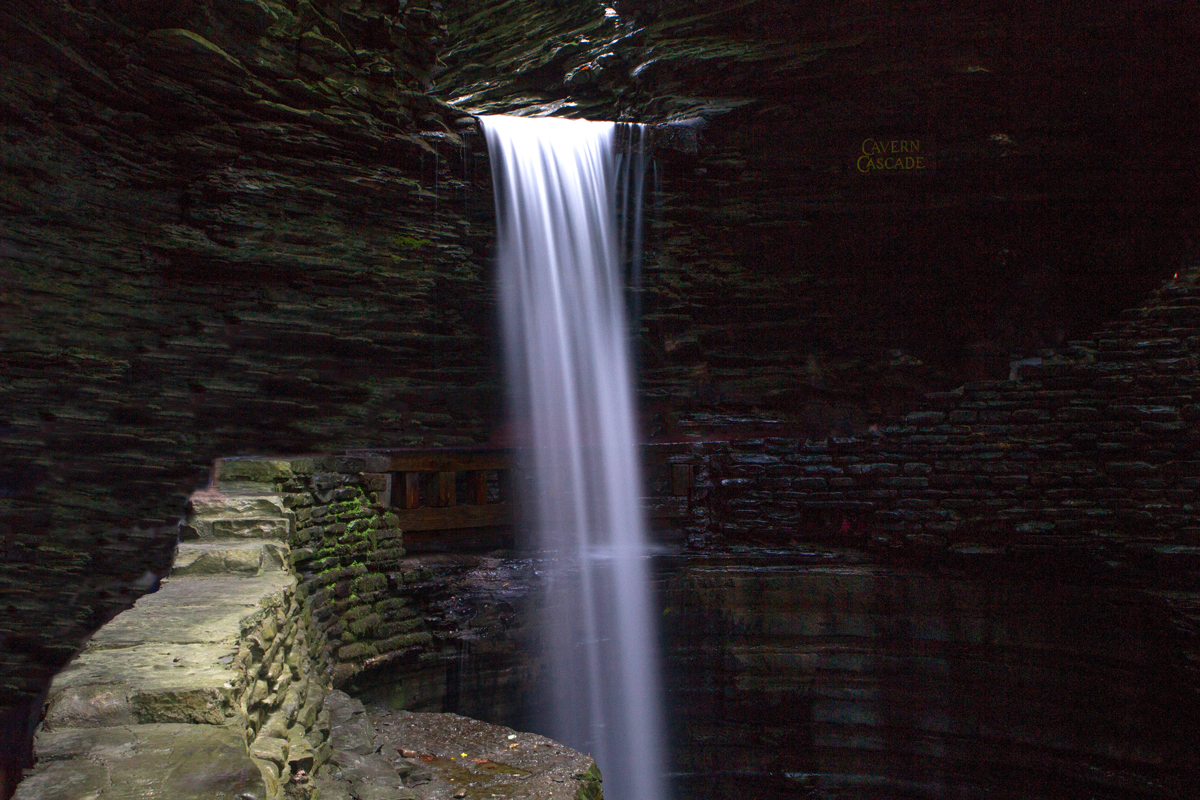 Pro-Tip: The parking pass is good for use in all the other state parks in the area if you used it on the same day.
If you have time for just one Watkins Glen hike, make it the Gorge Trail. While it is easier to hike from the Watkins Glen Upper Entrance and proceed downhill, the best views come from hiking uphill from the Watkins Glen Main Entrance.
Head out early to beat the crowds. Stop off at the bathroom near the Visitors Center and gift shop, as there are no bathrooms within the Watkins Glen hiking area.
The Gorge Trail is a winding uphill climb along a laid-rock path that skips across the Glen River via a series of stone arched bridges. Along the trail, it passes in front of, and even behind, a series of 19 waterfalls amidst tower moss, fern, and lichen-covered rocks that may make you feel like you've entered Tolkien's Middle Earth.
The Gorge Trail in Watkins Glen is not stroller friendly. There are many steps and the rough, cobblestone walkways make for a bumpy ride. If you're hiking Watkins Glen with kids, I recommend bringing along a child backpack carrier, as we did during our first time on the trail.
Make sure to make a stop at the Sentry Bridge at the entrance for some of the most stunning views of the gorge and the waterfalls This is also where the Gorge Trail hike separates to the North Rim and South Rim trails.
Take the time to admire the gorge as it pulls you further inwards to the series of interconnected waterfalls. The Cavern Cascade is a particularly beautiful stop where you can walk behind one of the falls. Dip your hands into the cool cascade and continue on to the spiral tunnel where your family can dodge drips of water falling from the ceiling.
When you reach the end, you can choose to hike back along one of the other Watkins Glen hikes such as the North Rim or South Rim, hike back the way you came along the Gorge Trail, or catch the free shuttle that brings visitors between the Upper Entrance and the Main Entrance. Keep in mind that the Watkins Glen shuttle is on a schedule and if you miss the last shuttle, you'll have no choice but to walk back to your parking.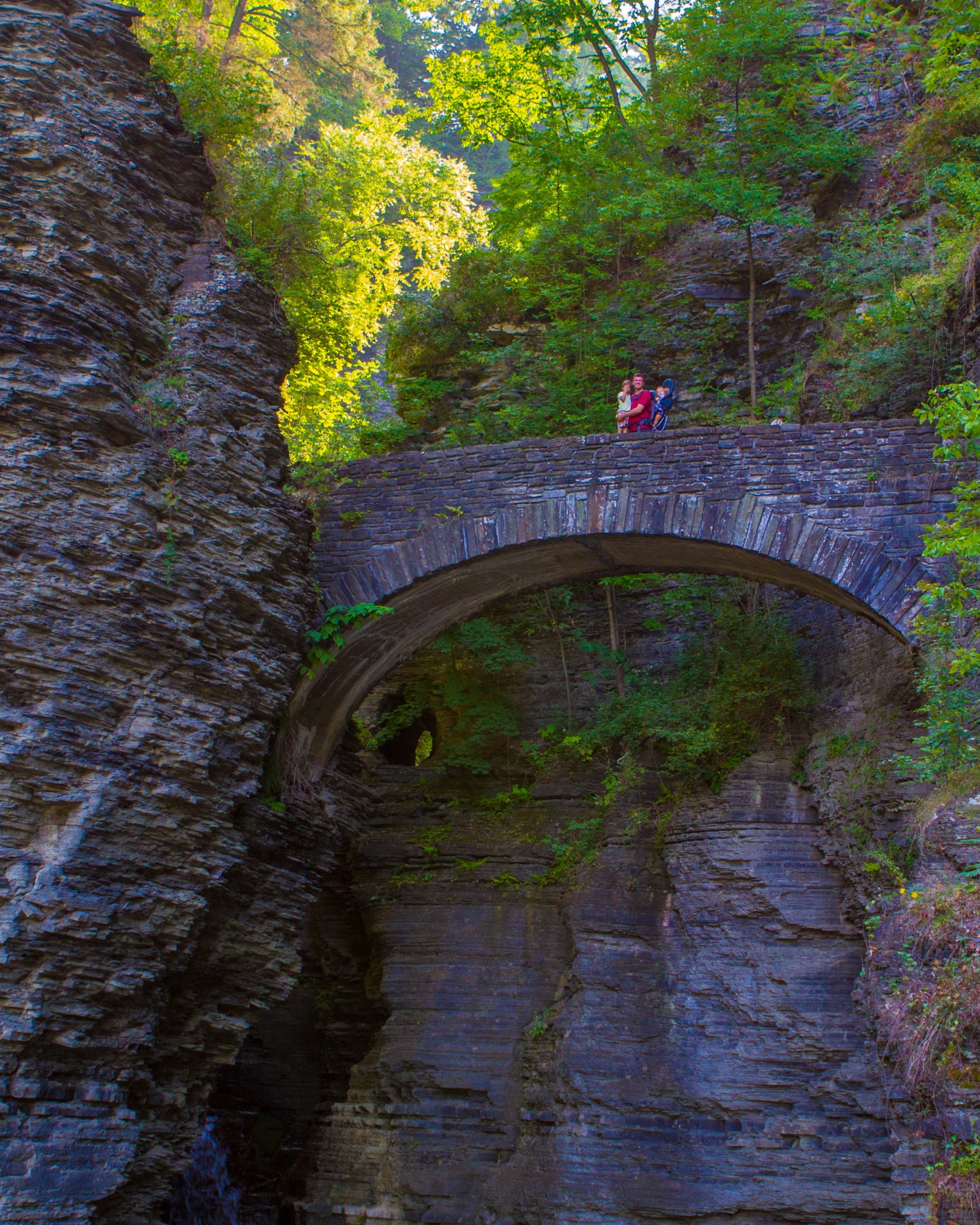 Pro-Tip: Outside of the main entrance, there are no washroom facilities or places to purchase food/drinks while hiking Watkins Glen. Make sure to pack enough water and snacks to keep your energy level up.
The North Rim (Indian) Trail
For a more leisurely hike through Watkins Glen State Park, consider the North Rim. This casual trail runs parallel to the gorge at a relaxed incline and offers some scenic overlooks.
This one-mile Watkins Glen hike includes a suspension bridge over the gorge. There is also a wonderful lookout near the entrance to the park. The lookout is easily accessed by both the South Rim and Gorge Trails as well. It can make for a nice side-trail hike.
The North Rim hike is shaded and relaxed. It passes by Greenwood Cemetery, a scenic spot with headstones dating back to the early 1800s.
South Rim Trail
If you're looking for some more extensive hiking at Watkins Glen State Park, consider the South Rim Trail. This 2.6-mile Watkins Glen hike is moderately challenging and runs deeper into the landscape along the south side of the Watkins Glen Gorge.
The South Rim Trail connects to the Watkins Glen State Park campgrounds and pool area as well.
The South Rim Trail tends to be more woodlands, but it can be combined with the Gorge Trail to create a nice Watkins Glen loop trail. It's part of the greater Finger Lakes/North Country Trail.
Camping In Watkins Glen State Park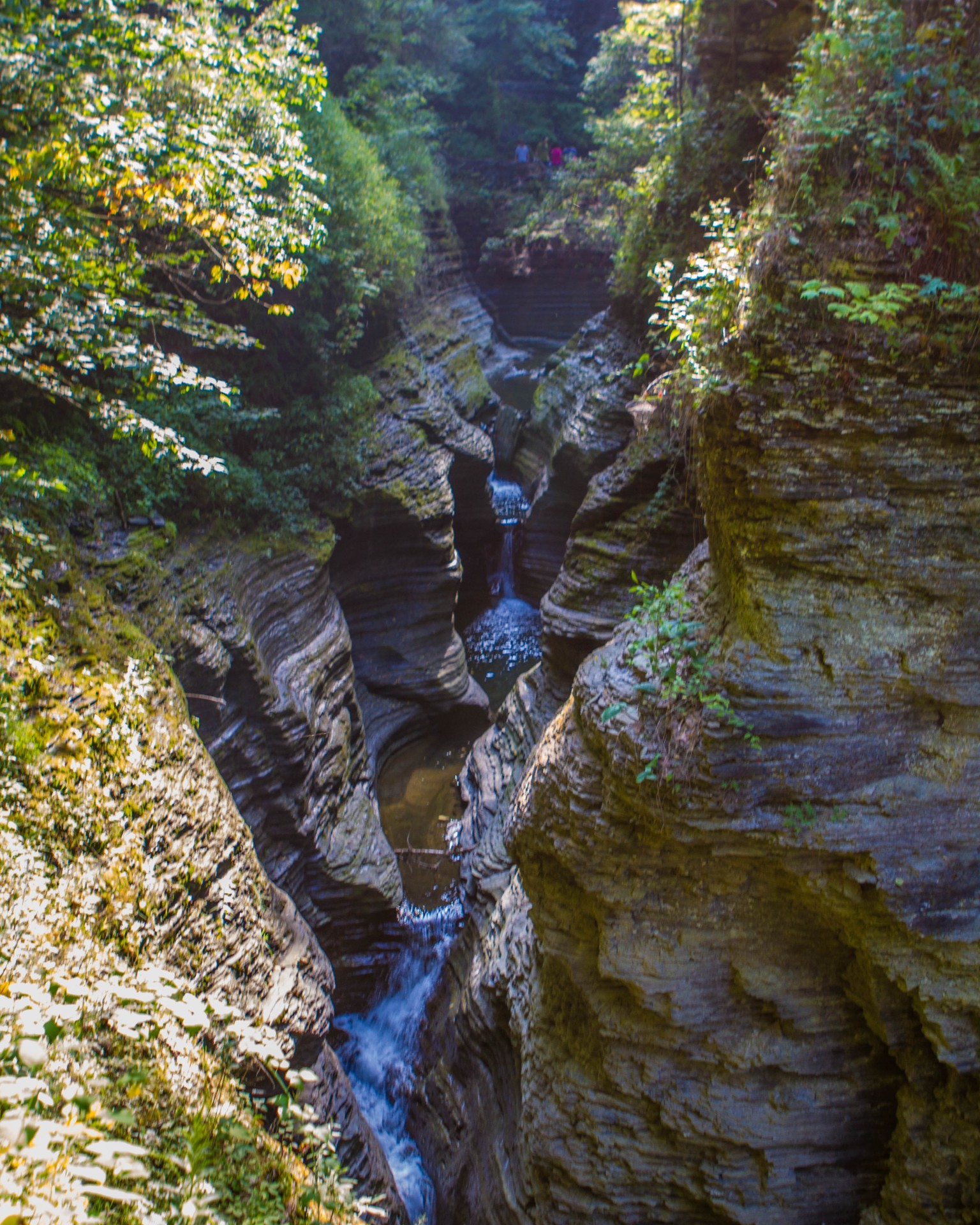 The Watkins Glen State Park campground is a great place to relax if you're planning on spending more than one day hiking the Glen.
The campground at Watkins Glen is separated into six individual loops with large, comfortable campsites. Camping and parking at Watkins Glen State Park also give guests the option to access the park's Olympic-sized swimming pool. The campground also regularly runs tours through the gorge.
The campsites are primitive campsites with no water or electricity, but there are flush toilets, showers, and comfort stations available. If the park gets too full, there's the Watkins Glen/Corning KOA campground nearby that offers everything from campsites to cabin rentals.
Things To Do Near Watkins Glen State Park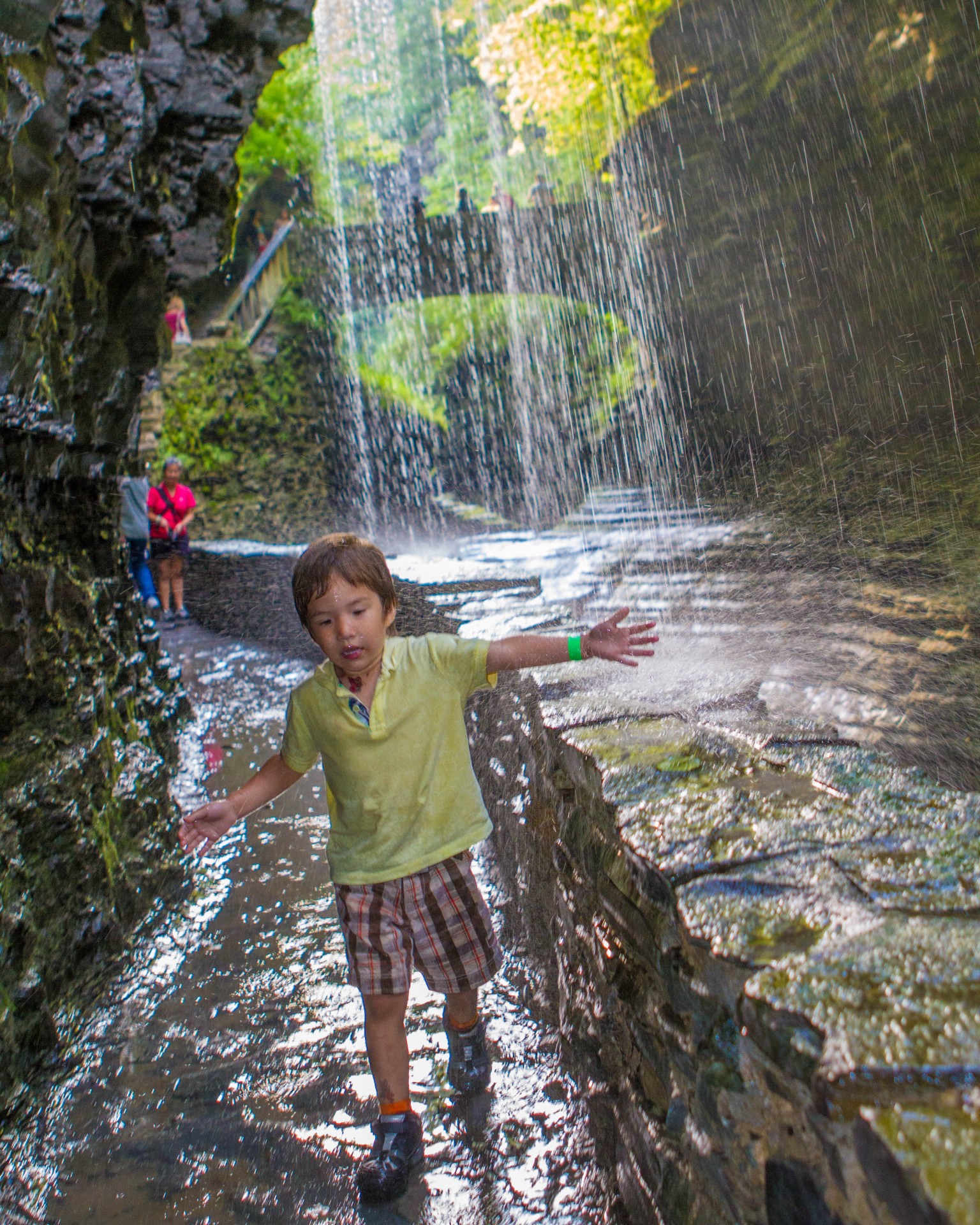 The town of Watkins Glen is pretty. The town sits on the south shores of Seneca Lake and is packed with small stores, great ice cream shops, and some decent restaurants.
A quick drive through Watkins Glen will showcase pretty, tree-lined streets, and take you past large colonial mansions, many of which, in the college towns, had been converted to bustling fraternity and sorority houses. But there are plenty of other things to do in and around Watkins Glen as well.
If you have some time to spare, take a cruise on Seneca Lake. This is the fourth-largest of New York State's Finger Lakes. It covers over 43,000 acres and has over 75 miles of shoreline.
Watkins Glen is also home to the world-famous Watkins Glen International Speedway. If you time your visit to the city with one of its racing events, you're in for a thrill. Otherwise, you can book a time to take your own vehicle around their storied track.
Watkins Glen is just a short drive from the town of Corning, New York. A visit here might not be on your radar, but Corning is home to the incredible Corning Museum of Glass, which offers one of the world's best collections of glass art. Wander the floors to discover everything from blown glass to stained glass as well as explore how glass has been such a fundamental part of our history from the middle ages to the space age.
If you want to extend your trip even further, consider an Adirondacks road trip through upstate New York. Make a long-weekend drive through magnificent towns such as Lake Placid, Tupper, Lake, and Lake George. Along the way, you can experience some of the region's incredible Olympic sites or even one of the world's best nature museums at the Wild Center.
Where To Stay in Watkins Glen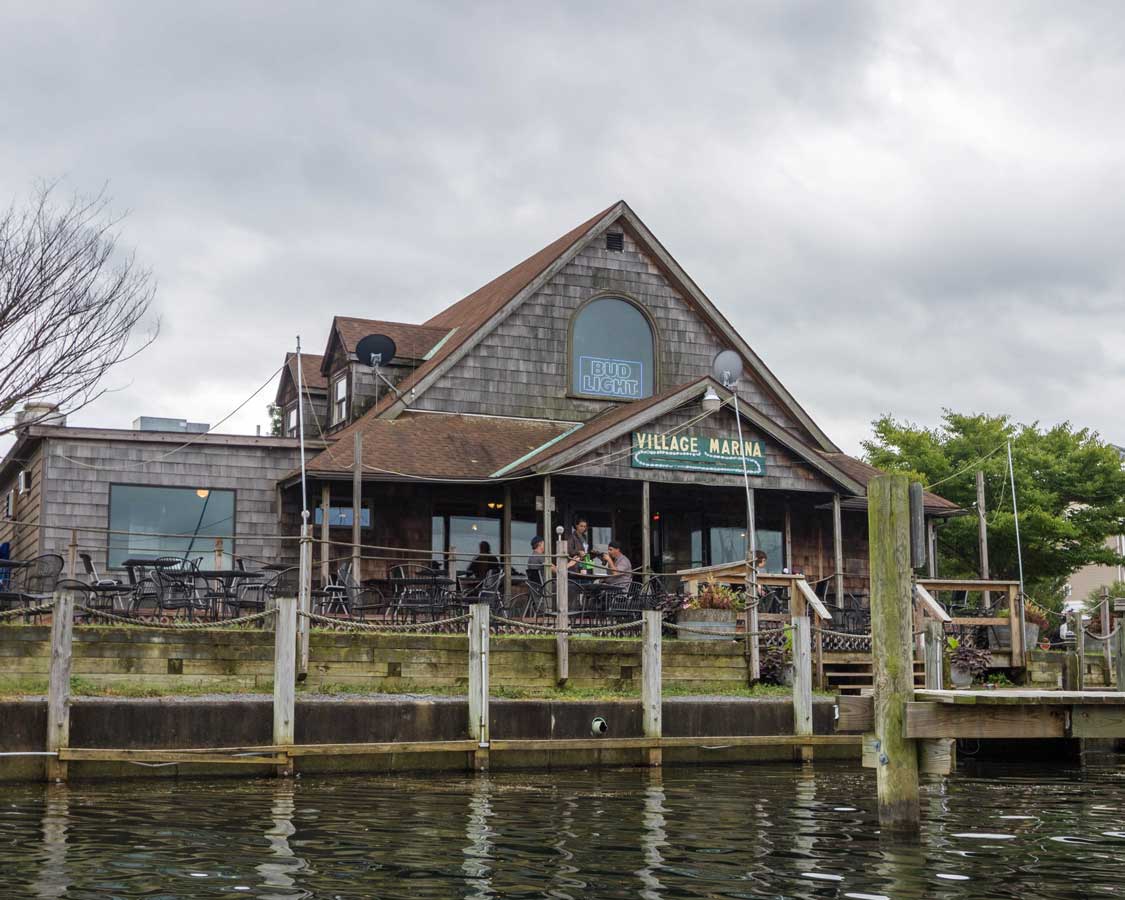 If camping at Watkins Glen isn't your style, there are plenty of hotels near Watkins Glen State Park that cater to every budget and travel style.
Watkins Glen Harbor Hotel
The most popular hotel in Watkins Glen is the Watkins Glen Harbor Hotel. This beautiful hotel resort is located right on the shores of Seneca Lake within easy reach of Watkins Glen State Park. The hotel has an indoor swimming pool, a fitness center, and an on-site restaurant.
You can find their current rates and availability here.
Lakeside Resort
For a quiet and relaxed stay in Watkins Glen, consider the Lakeside Resort. This serene waterfront accommodation features outdoor fire pits, comfortable, family-friendly rooms, and an on-site restaurant.
You can check out their rates and availability here.
Tips For Visiting Watkins Glen State Park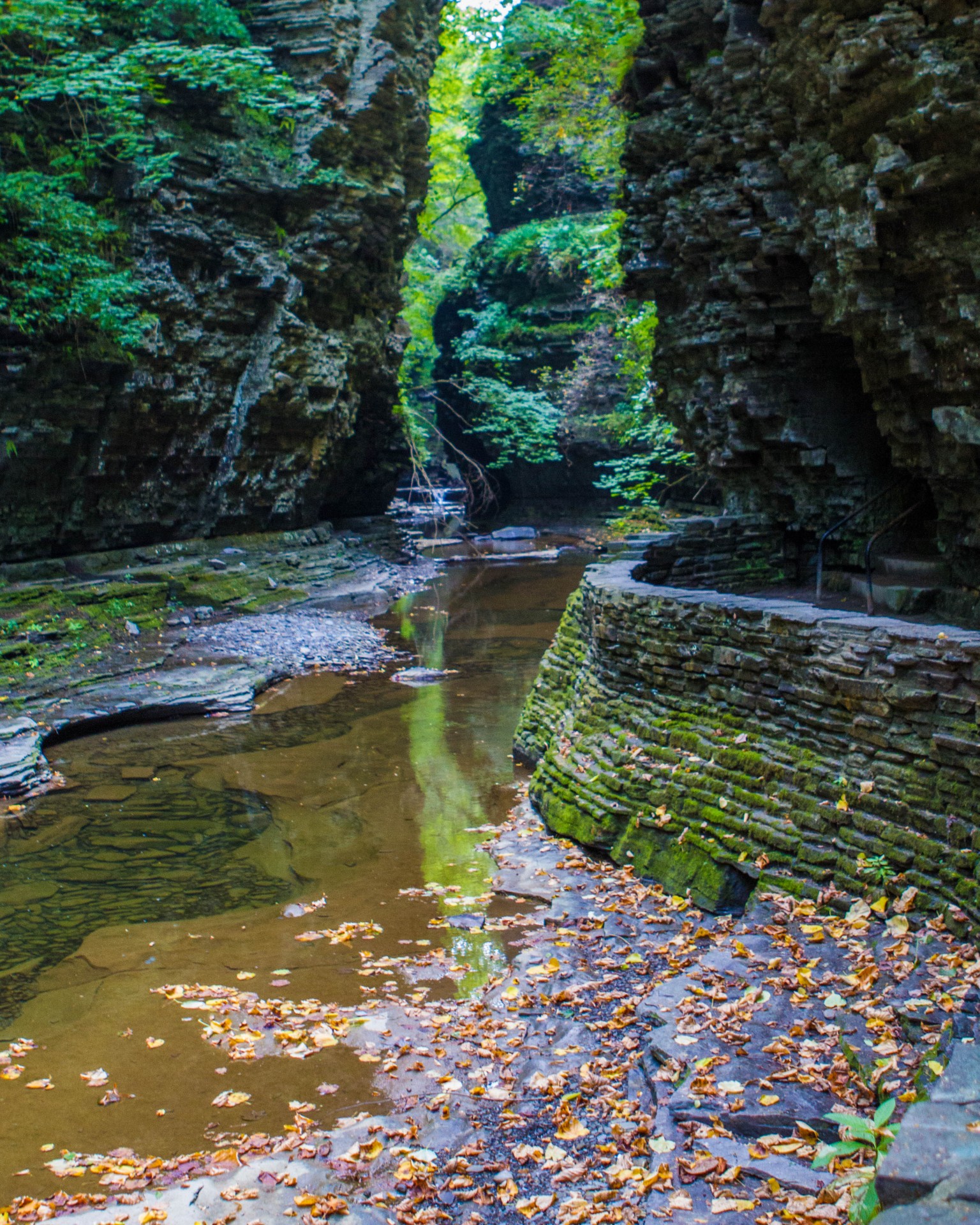 Pro-Tip: The parking pass is good for use in all the other state parks in the area if you used on the same day.
It's always a good idea to have a few things in mind before you travel. Here are a few need-to-know tips that you should make note of before hiking Watkins Glen State Park.
Don't miss the Gorge Trail. This is the true gem of the Watkins Glen hikes.
Summer is the busiest time to visit Watkins Glen, you can avoid the crowds and get a more intimate experience by visiting mid-week or during the fall when the colors are amazing and the crowds are smaller.
Don't forget to dress appropriately. You'll want to wear proper shoes with grippy tread at Watkins Glen State Park. The trails can get slippery, especially near the waterfalls.
Enjoy Your Time Hiking at Watkins Glen State Park
Hiking Watkins Glen State Park is something that my family never tires of. This gorgeous Upstate New York park is an absolute joy to visit, as is the town of Watkins Glen itself. If you love hiking, family travel, and exploring as much as we do, I invite you to join us in our Family Travel Support Group on Facebook where you can get tips and advice from like-minded families.
If you're looking for more incredible things to do in New York State, check out our New York family travel blog.
This post may contain compensated links. For more information please read our disclaimer. Wandering Wagars is a participant in the Amazon Services LLC Associates Program, an affiliate advertising program designed to provide a means for sites to earn advertising fees by advertising and linking to amazon.com, amazon.co.uk, amazon.ca. Amazon and the Amazon logo are trademarks of Amazon.com, Inc. or its affiliates.
You May Also Like To Read: