Thinking of visiting Bonnechere Caves? Discover what makes fossil-filled marvel one of the most unique attraction in Ontario.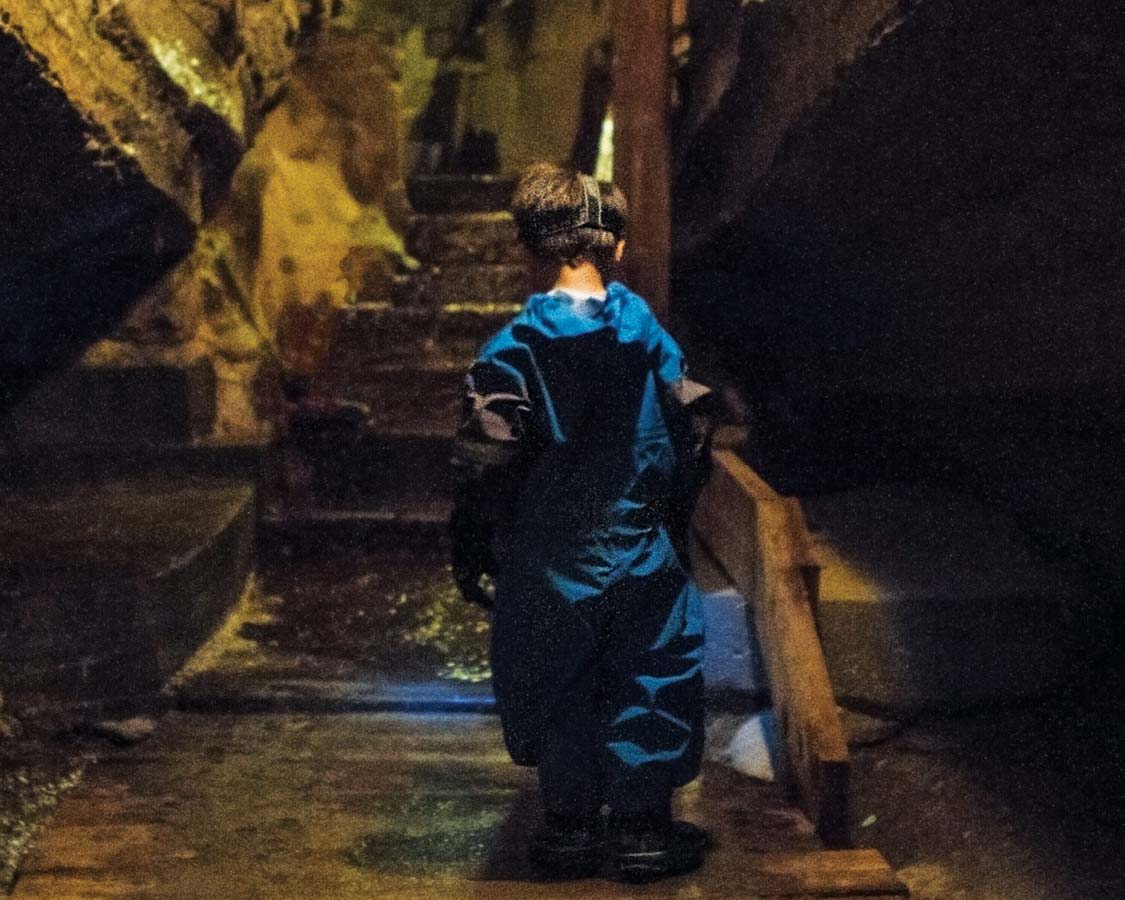 We love exploring caves! No matter where we are, we're always looking for great caves to explore with our kids. We've found them everywhere we've been, the Philippines, Belize, and beyond. But exploring the caves of Ontario where we live is always a treat. Bonnechere Caves, in Douglas, Ontario sure lived up to our expectations.
We were exploring things to do in Ottawa, Ontario experiencing the Canada150 celebrations. After everything ended we searched for a way back to Toronto that avoids the heavy traffic. This challenge wasn't going to be easy with over 500,000 people looking to escape Ottawa at the same time! But the route that we took brought us through Douglas where we had a chance to experience Bonnechere Caves. And it was a blast!
This post may contain compensated links. For more information please read our disclaimer.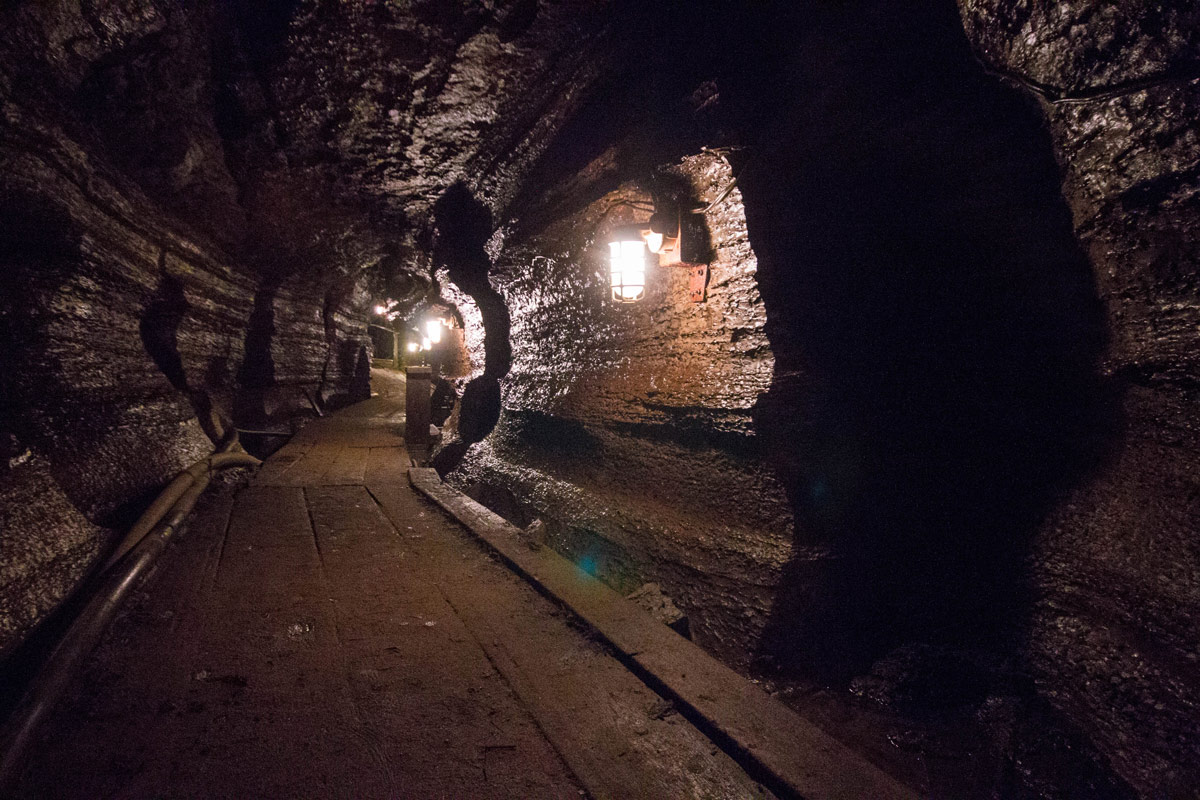 What are The Bonnechere Caves?
Bonnechere Caves is a family-owned and operated the business in Douglas, Ontario. Douglas is more often located through it's larger neighbor, Eganville. These Ontario caves were first discovered and explored by Tom Woodward in 1955. Since then, Bonnechere Caves have become one of the most popular accessible caves in Canada.
With its proximity to local attractions like the Ottawa Valley, Prince Edward County, Algonquin Provincial Park and Killarney Provincial Park, , it's no wonder that this family-friendly cave system sees so many visitors.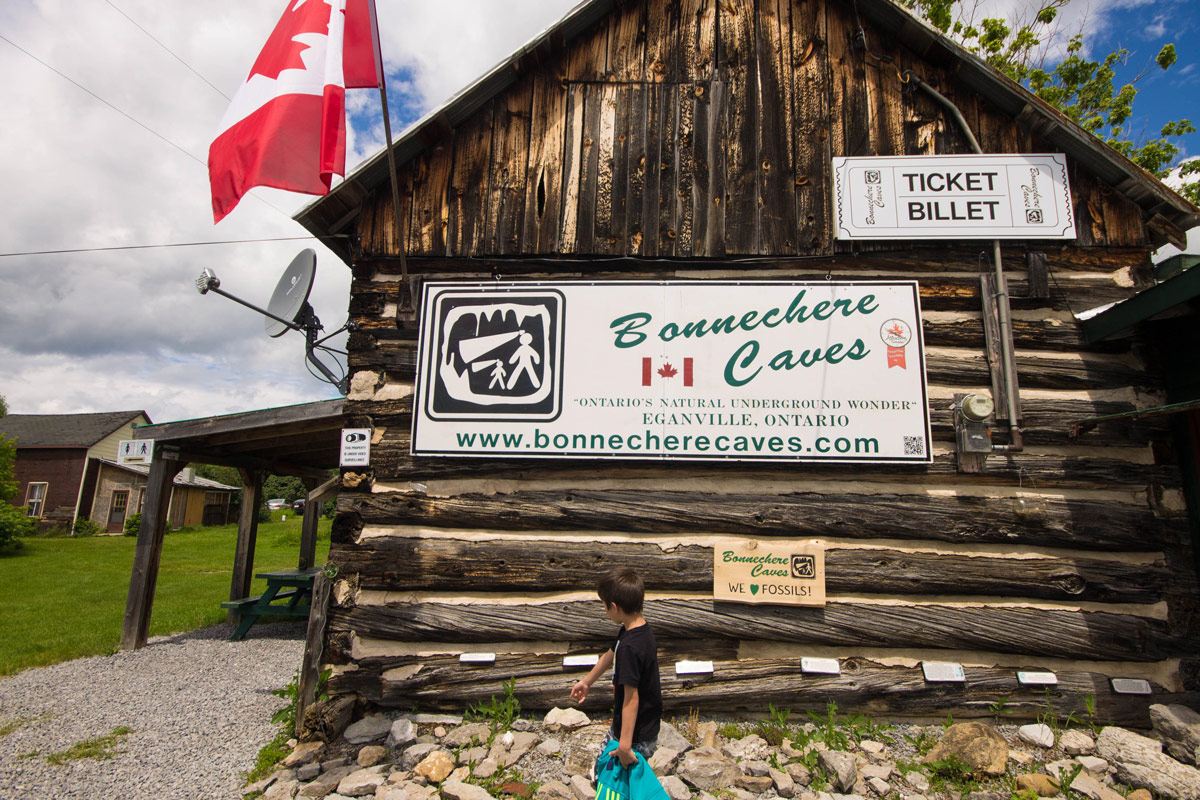 Pro-Tip: Check out some of our favorite caves to visit with kids here.
Where Are The Bonnechere Caves?
Bonnechere Caves is in the town of Douglas, Ontario. This tiny town is about an hour and a half south of Ottawa. The property sits next to the roaring Bonnechere River. There is a small hiking path along the river that affords some pretty spectacular views. We combined our visit to Bonnechere Caves with a trip to nearby Bonnechere Provincial Park for a full-on outdoor adventure.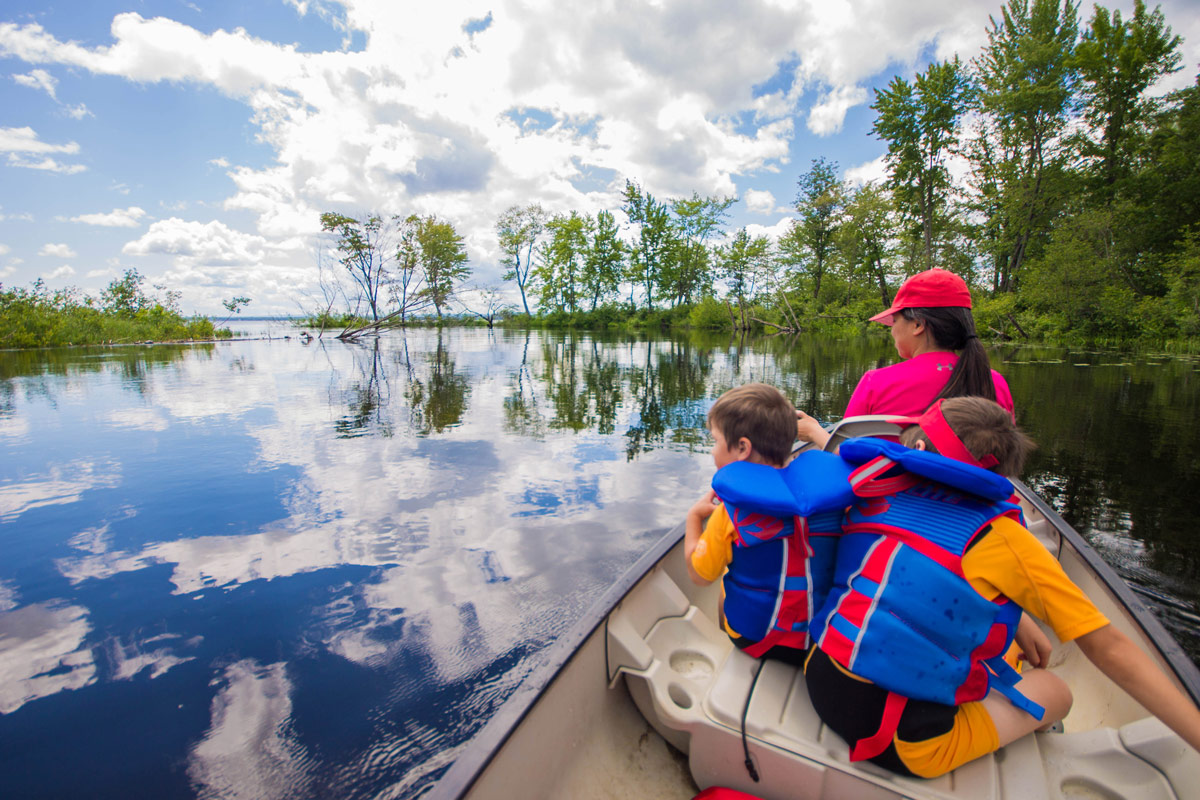 Experiencing Bonnechere Caves with Kids
When we arrived, we were greeted by Bonnechere Caves owner Chris Hinsberger. He was joyfully directing the crowds of cars entering the parking area. Our first question to Chris was whether Bonnechere Caves was accessible for young children. He assured us that although the caves do have stairs, they have been maintained to support all ages. He directed us to the small ticket cabin. And he invited us to explore the grounds, including the picturesque views of Fourth Chute on the Bonnechere River. The tours in Bonnechere are guided and timed, so we knew we had about 20 minutes to explore the grounds.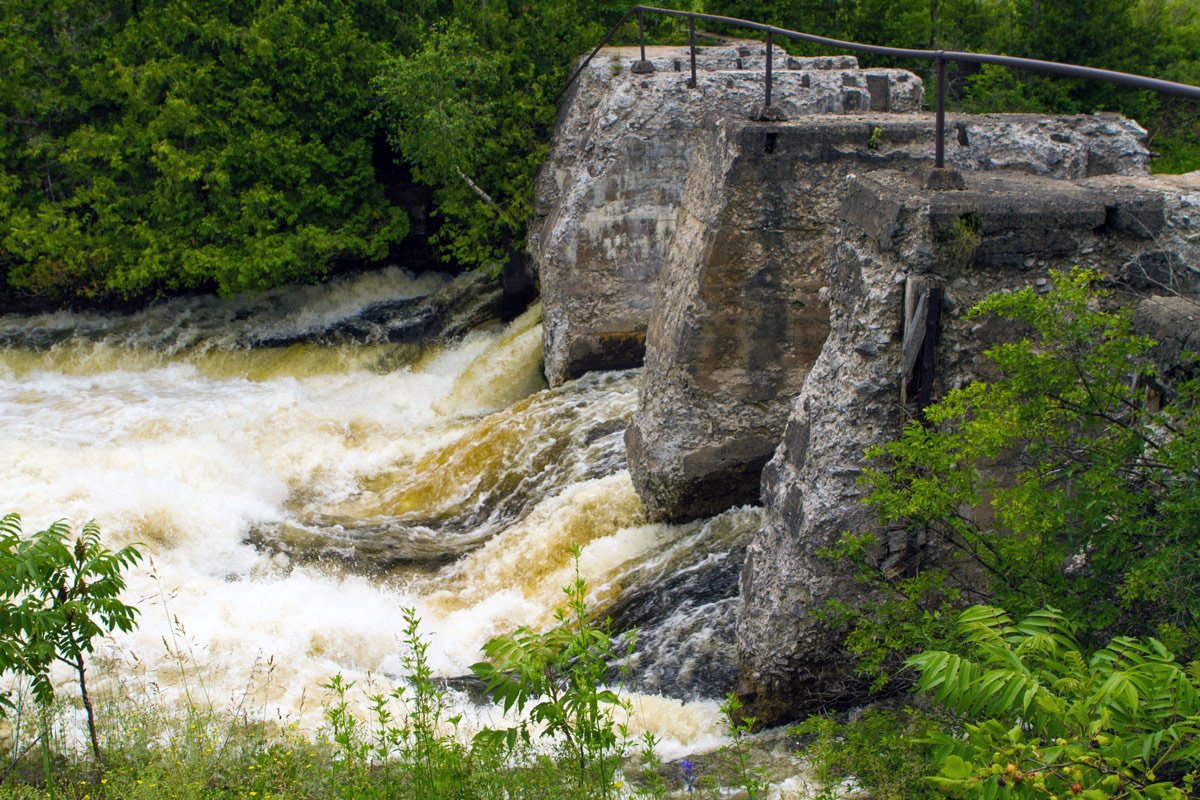 The Incredible Fossils Of Bonnechere Caves
Bonnechere Cave tours begin at a covered area filled with fossils and posters showing the region's ancient history. The folks at Bonnechere Caves take their fossils very seriously. Our guide began to expertly and enthusiastically tell us stories of the caves and their discovery. This was perfect for us, as we have budding anthropology enthusiasts in our boys.
We found it interesting that they are still finding many fossils around the area to this day. All the Bonnechere Cave fossils date back to the Ordovician time, about 400-500 million years ago!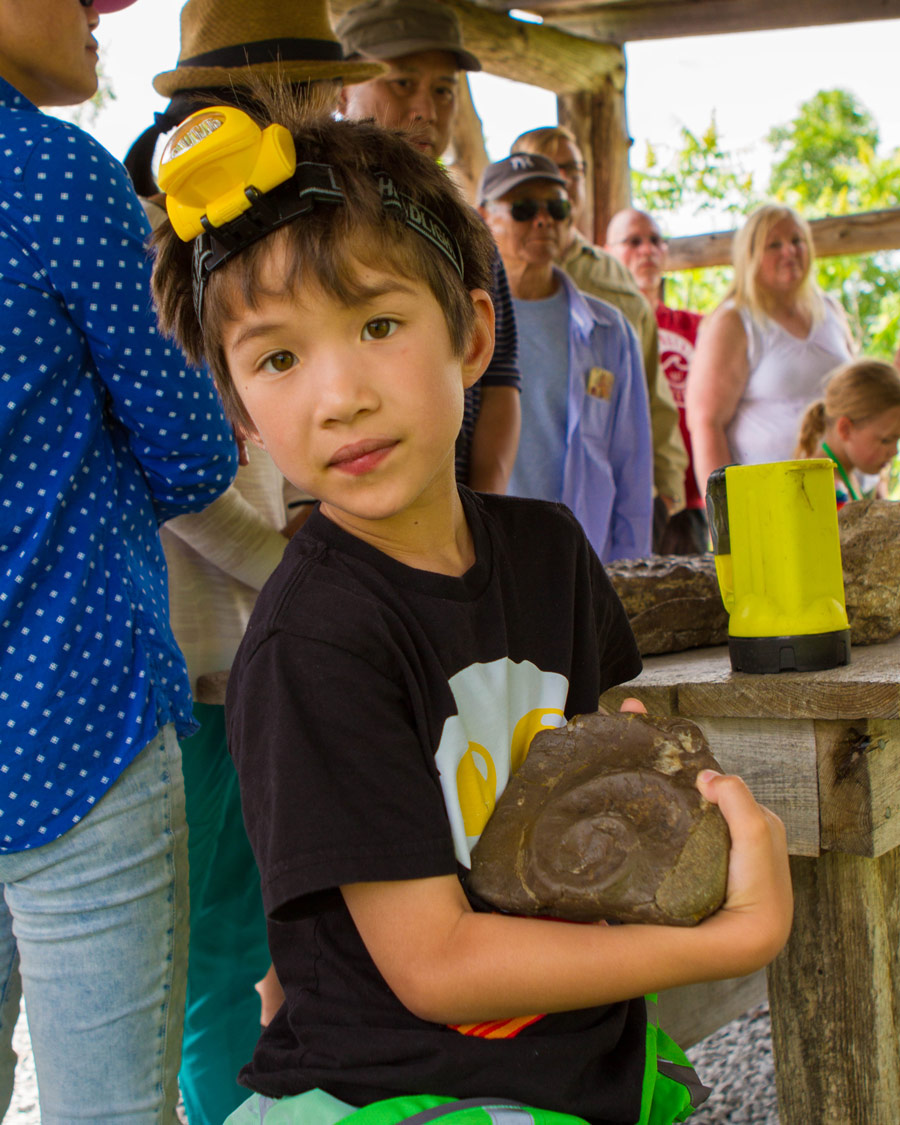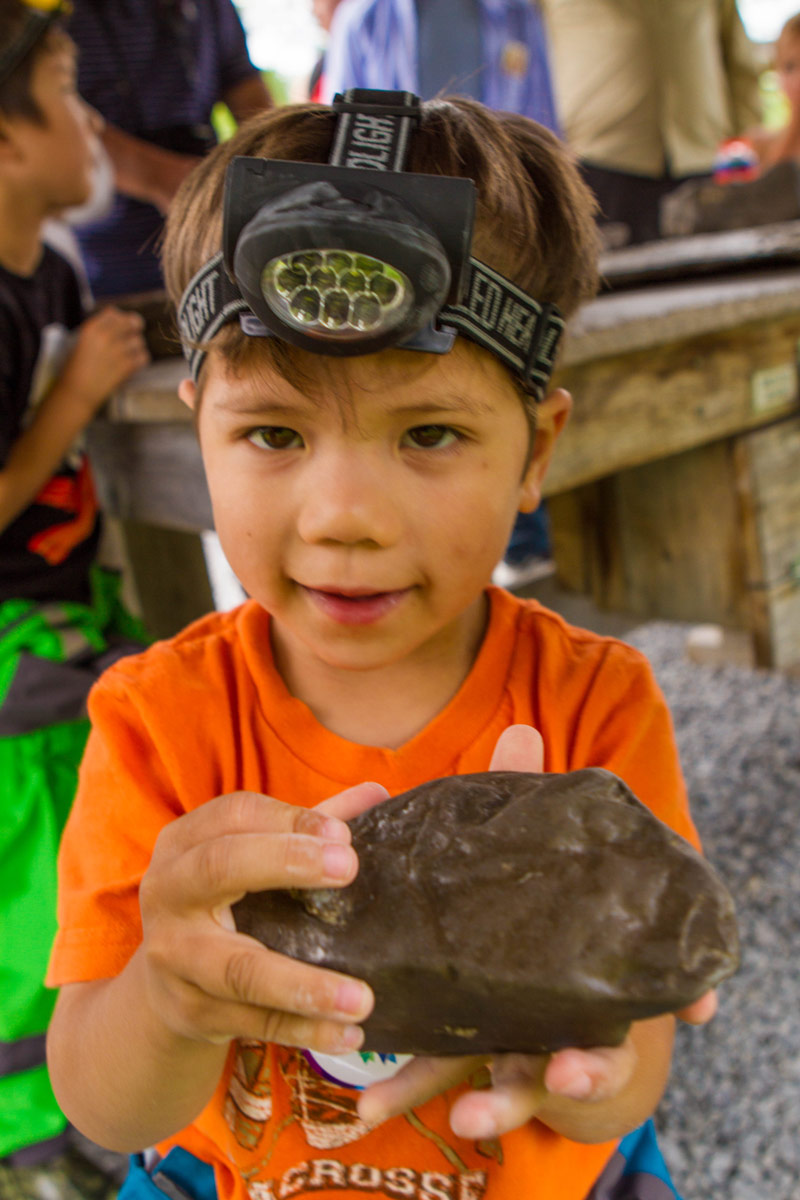 Heading Underground into Bonnechere Caves
Our tour continued through a path among the trees to the opening of Bonnechere Cave. As we entered and descended a narrow staircases towards the floor of the cave we could feel the temperature around us begin to drop. It was good that we had the boys wear their Oakiwear outfits to keep the moist, chill air off. It can get wet in the caves, so bringing rainboots is also a good idea.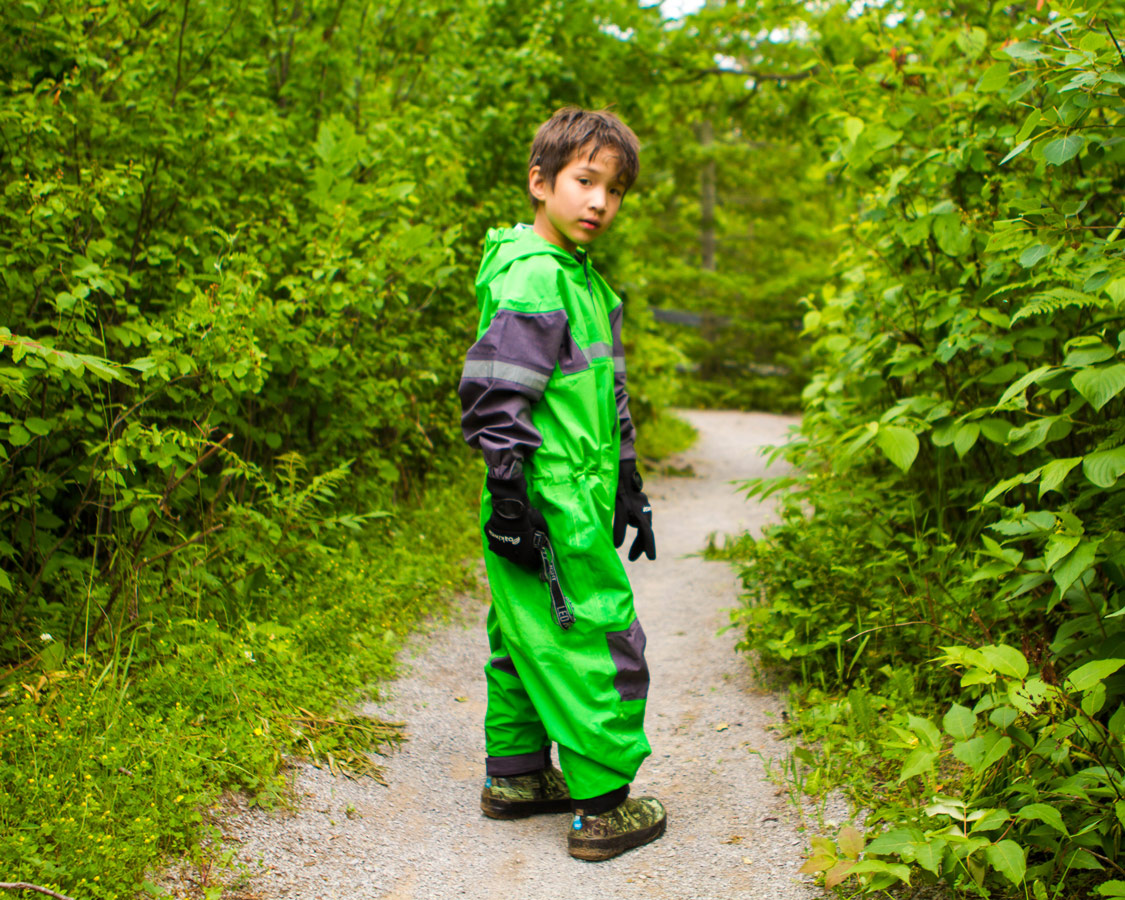 One by one we made our way into the well-lit and clean Ontario show cave. It's obvious that a lot of work has gone into maintaining the Bonnechere cave system since the original days of Tom Woodward. We learned that during its first exploration, the cave was filled with running water. In fact, Tom had some close calls and exciting adventures that make for great stories for visitors to the cave.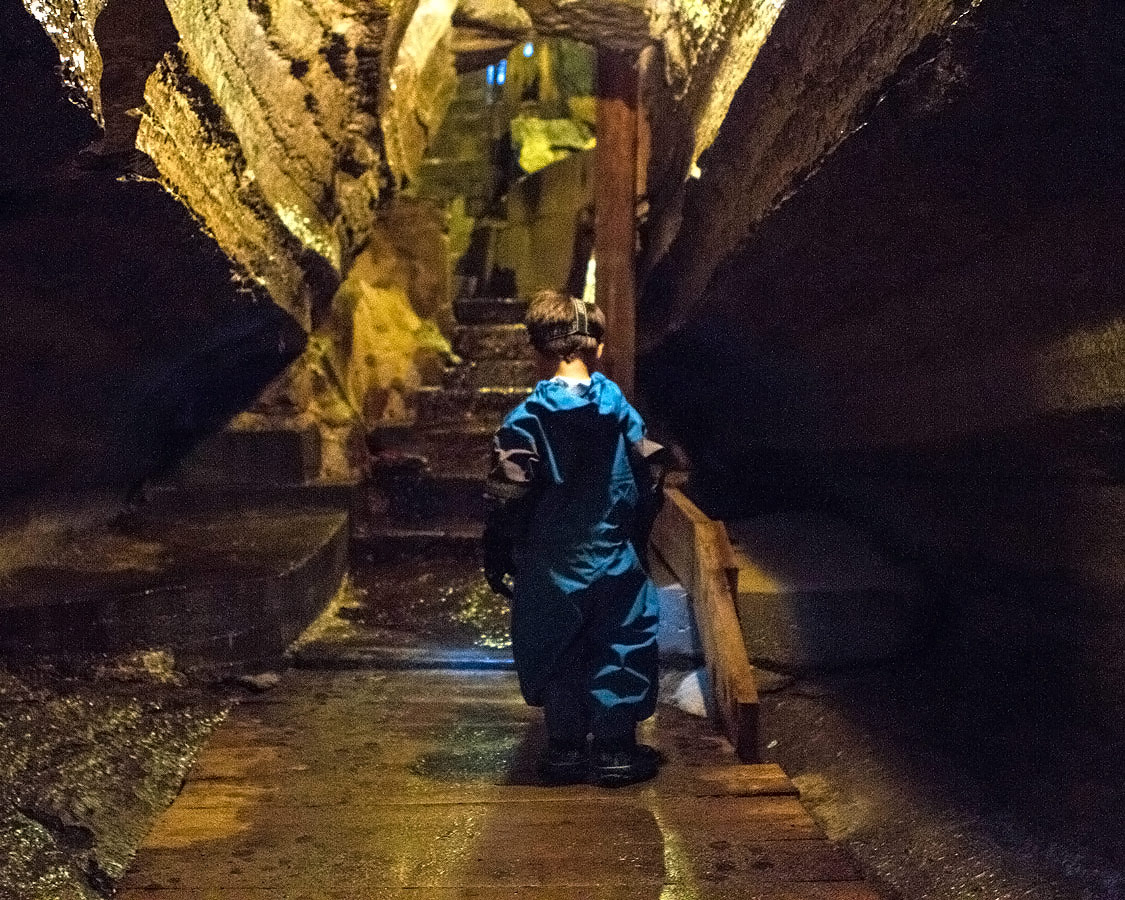 The walls of Bonnechere Caves are narrow. And many of the rooms are low enough that my 6'2 frame had me worried about knocking myself out. For those visiting Bonnechere Caves with kids though, have no worries. Caves like this seem built for small frames to scoot effortlessly through all the areas that adults can barely reach. Which can be a pain if you need to catch up with a little one.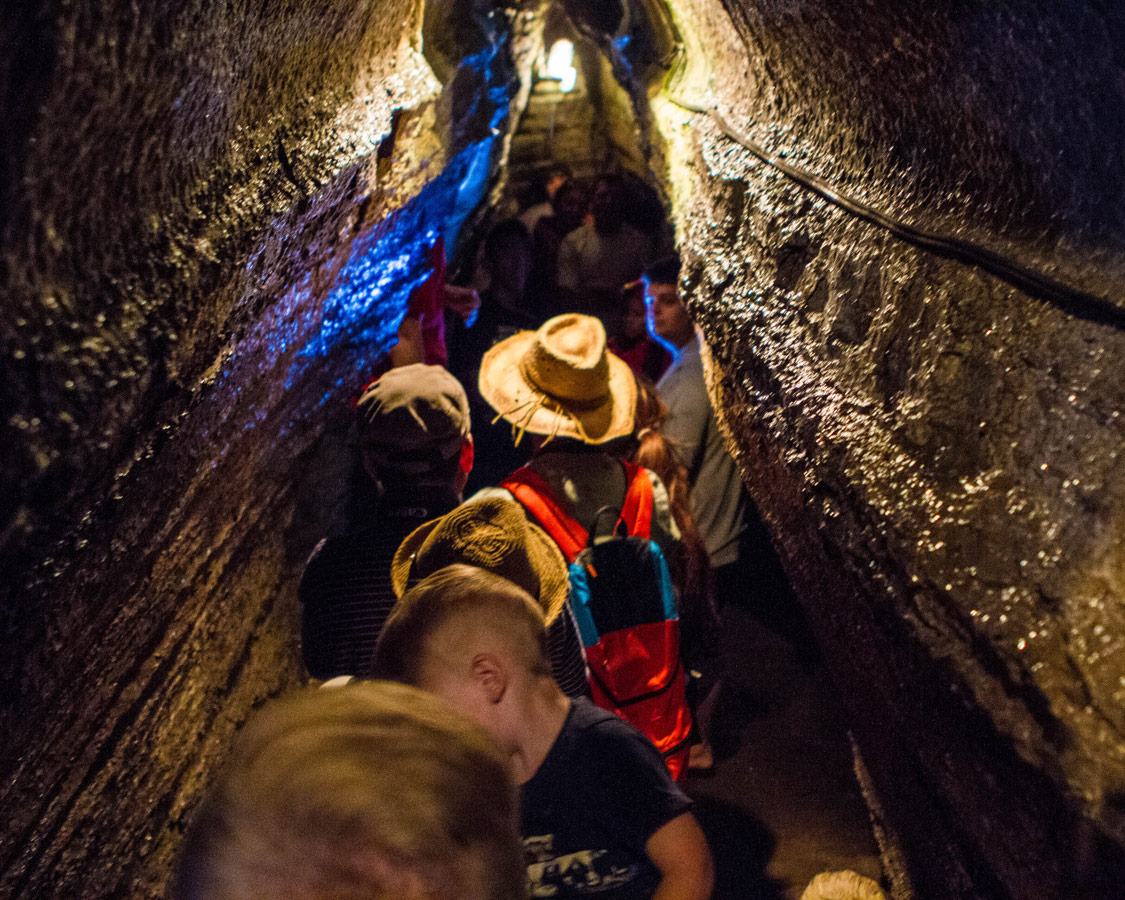 Our trip through the Bonnechere Cave systems offered us glimpses of small stalactites in the ceiling. And the boys loved finding the many fossils embedded in the cave walls. There were even small squeezes where the boys could show off just how easily they could sneak through areas where Christina and I had to take our time.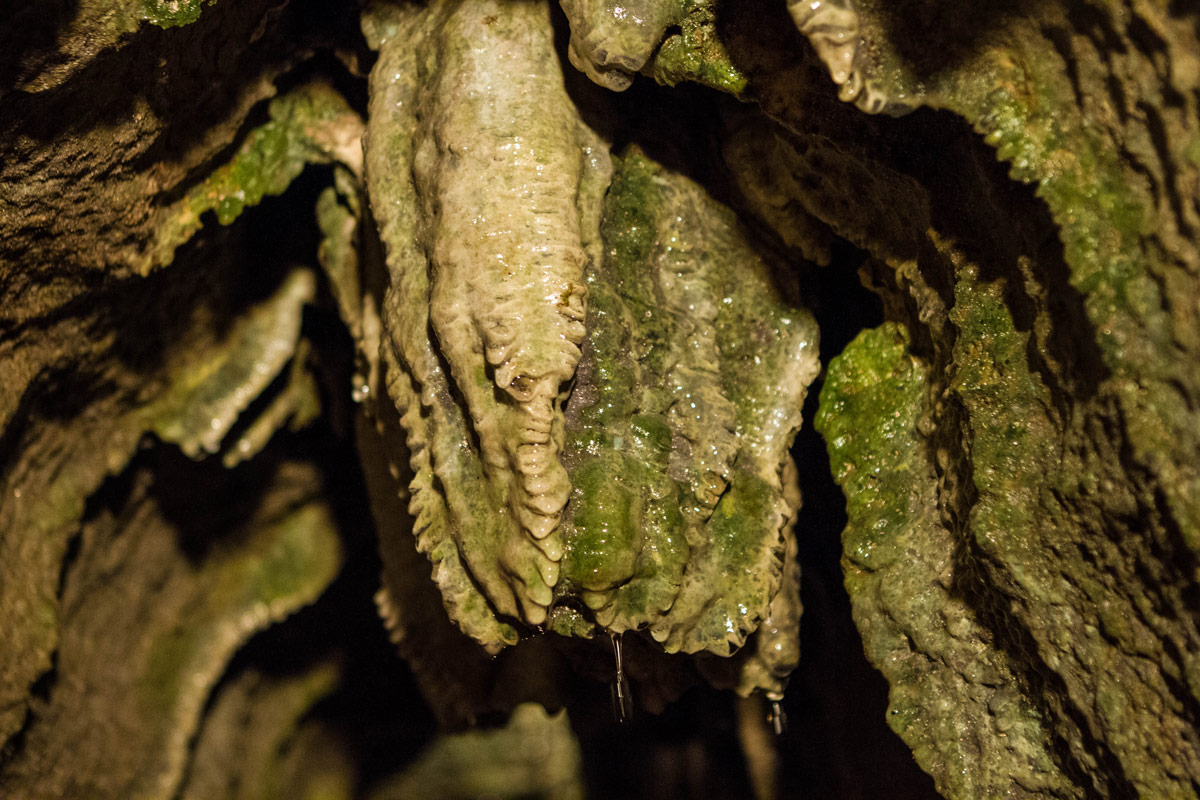 Other Things To Do at Bonnechere Caves
Sinkhole
After our hour-long tour we made our way out of the cave into the bright green forest. After climbing some stairs, our guide urged us to follow the path on the left to the sinkhole. We followed the instructions and came to a small loop where the sinkhole was just barely visible through the trees from the trail.
It could be a case of over-selling the attraction, or maybe the sinkhole is much more impressive when the foliage isn't so dense. But it didn't seem like too much to see. Near the sinkhole was an old fenced off stairway. It looked like there was once access down to a lower path where exploration of the sinkhole was possible.
Bonnechere Caves Cavestock Underground Concert
Bonnechere Caves hosts several underground concerts that include a tour, music and gift certificates for a meal. These events are very popular, so if you want to watch a concert in a cave, get in touch with the Bonnechere cave team to book tickets.
Bonnechere Cave Fossil Hunts
Fossils are one of the coolest parts of the Bonnechere Cave experience. And the cave team puts on a two-hour fossil finding events that are perfect for those going to Bonnechere Caves with kids. These Bonnechere Cave fossil hunts include a tour of the cave and a hunt for fossils in the area.
Underground Dining at Bonnechere Caves
Dining underground you say? Sign me up! Bonnechere Caves offers a 4-course meal and a bottle of wine as well as a guided tour and accompanied music. These events are very popular and often book up quick.
When To Visit Bonnechere Caves
Bonnechere Caves opens on Victoria Day weekend in May. It closes on the Canadian Thanksgiving weekend (Second-weekend in October). Tickets are $17 for adults, $15 for seniors, $13 for youth (age 13-17), and $12 for children (under age 4 is free).
Pro-Tip: To find out more about what Bonnechere Caves has to offer you can email them at [email protected] or call them at 1-800-469-2283.
Things To Do Near Bonnechere Caves
Luckily you don't have to travel all this way to just experience the cave (although it's worth the journey). There are great attractions nearby that can fill the rest of your day.
Eating in Eganville, Ontario
We had been so excited to visit Bonnechere Caves that we completely forgot about lunch. Chris suggested we visit the Rio Tap & Grill in Eganville, Ontario. Eganville is only a ten-minute drive from the Douglas, so we made our way there.
The food at the Rio Tap & Grill was delicious. They offered unique takes on pub food. And the views from the balcony overlooking the Bonnechere river were fantastic.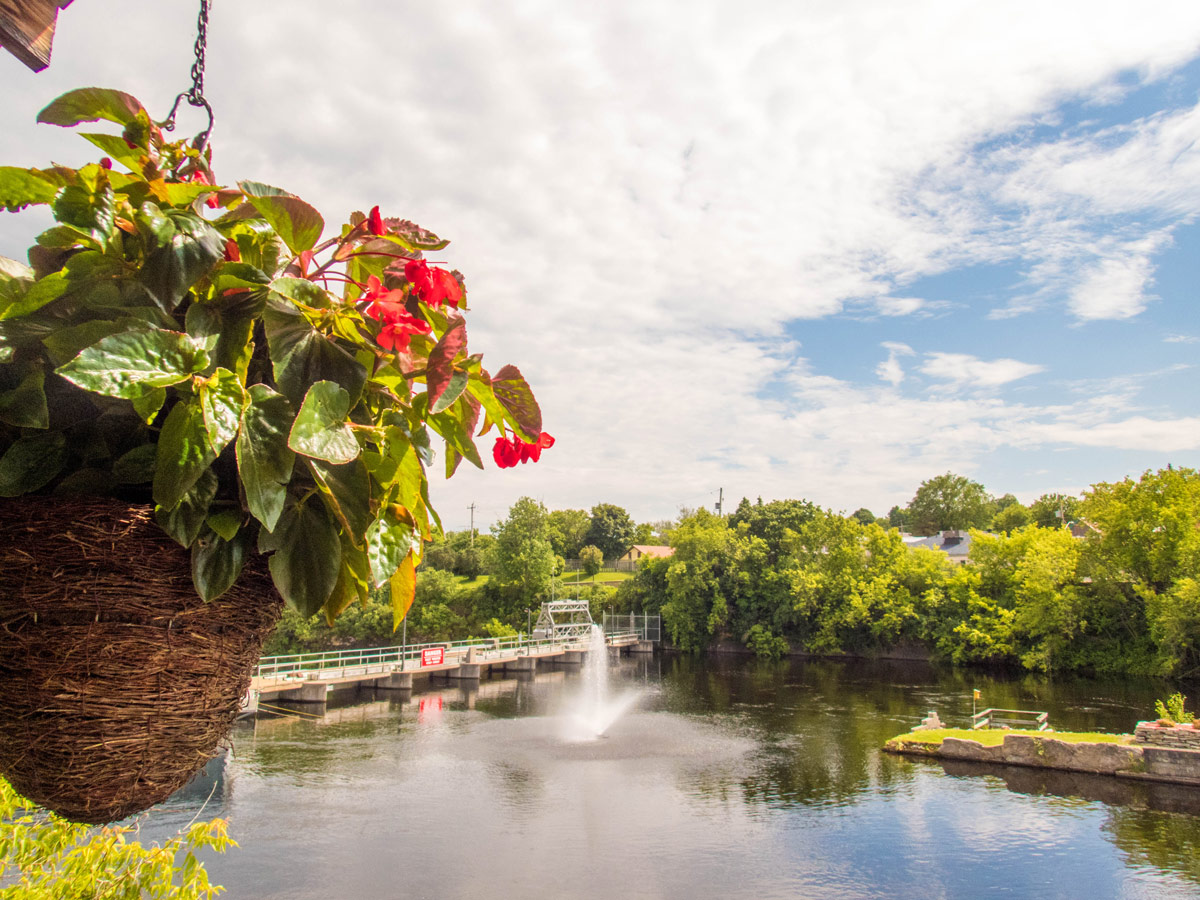 Camping and Beach Life in Bonnechere Provincial Park
After lunch, we made our way to Bonnechere Provincial Park for a night of camping and a full day of swimming in the beautiful waters of Round Lake. We also spent some time canoeing along the Bonnechere River.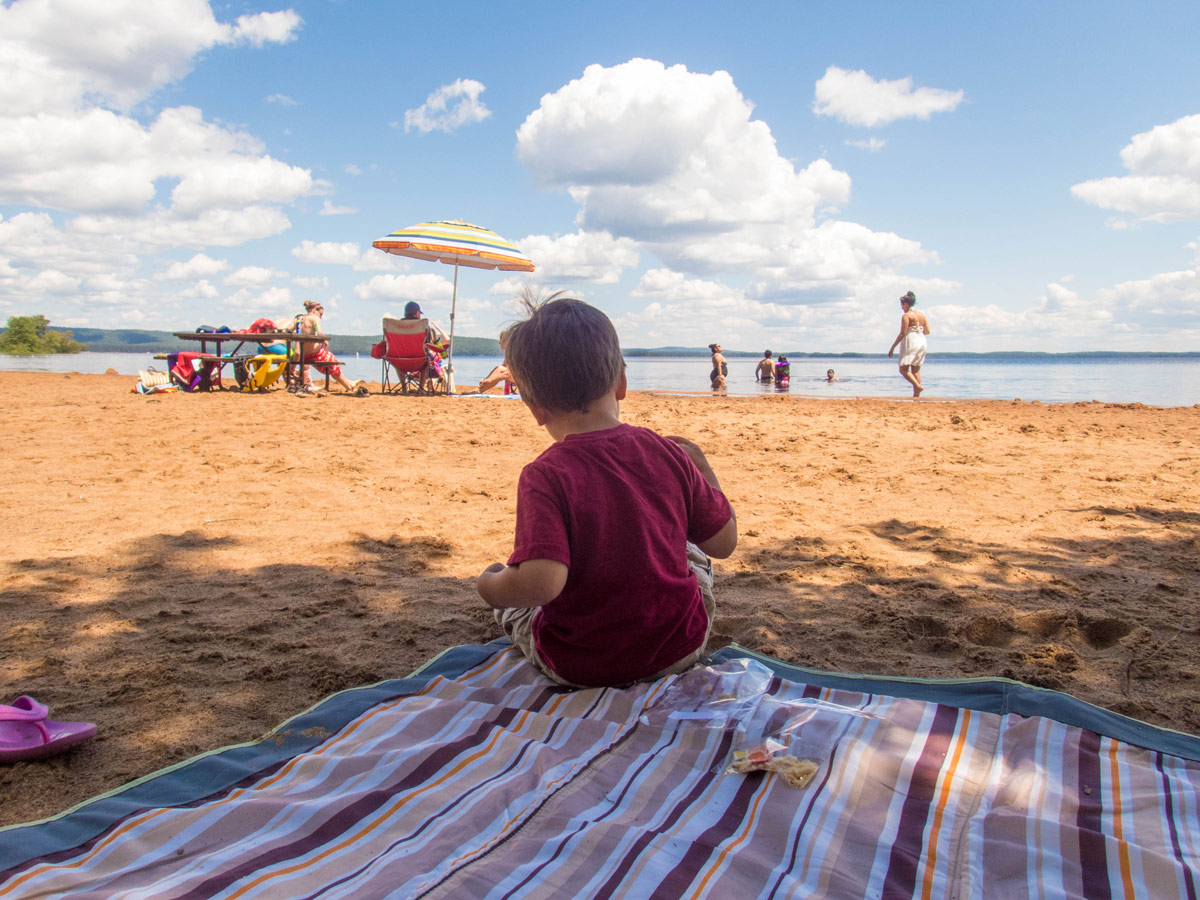 5 Span Bridge in Pakenham, Ontario
Our drive from Ottawa to Eganville near Bonnechere Caves took us through the town of Pakenham, Ontario. We are always looking for new things to check out when we are on a road trip. So when we saw a sign for a scenic bridge, we made the short 2-km detour off of Highway 417 to County Rd. 29. We weren't disappointed by the views. This scenic stone bridge crosses the Mississippi River (no, not THAT Mississippi River). Dating back to 1903, this is the only bridge of its type in North America. There is a parking space and picnic area nearby.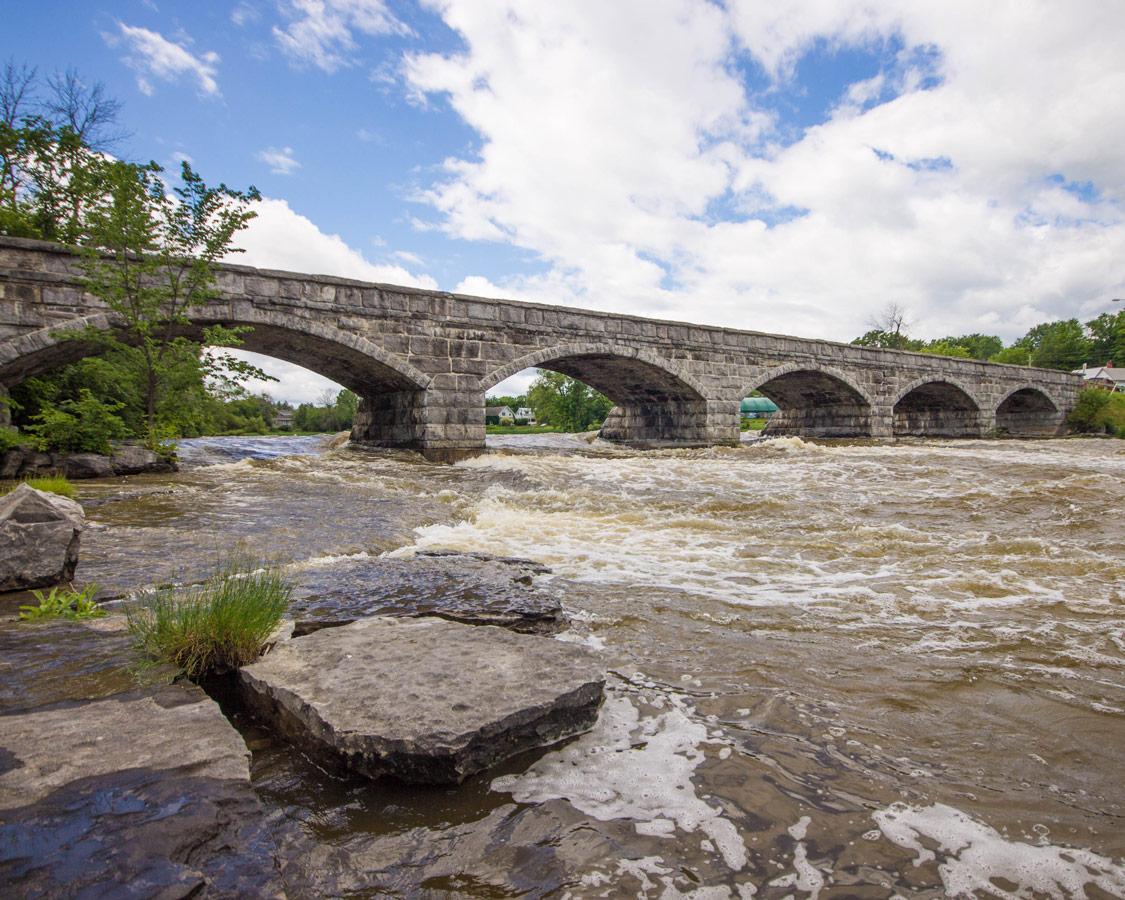 Pro-Tip: The 5-Span Bridge in Pakenham has fast rapids and a strong undertow. Please avoid swimming in the water.
You May Also Like To Read: