A place where every frog can be a prince and each stunning castle could house a sleeping princess. Welcome to magical Sintra, Portugal.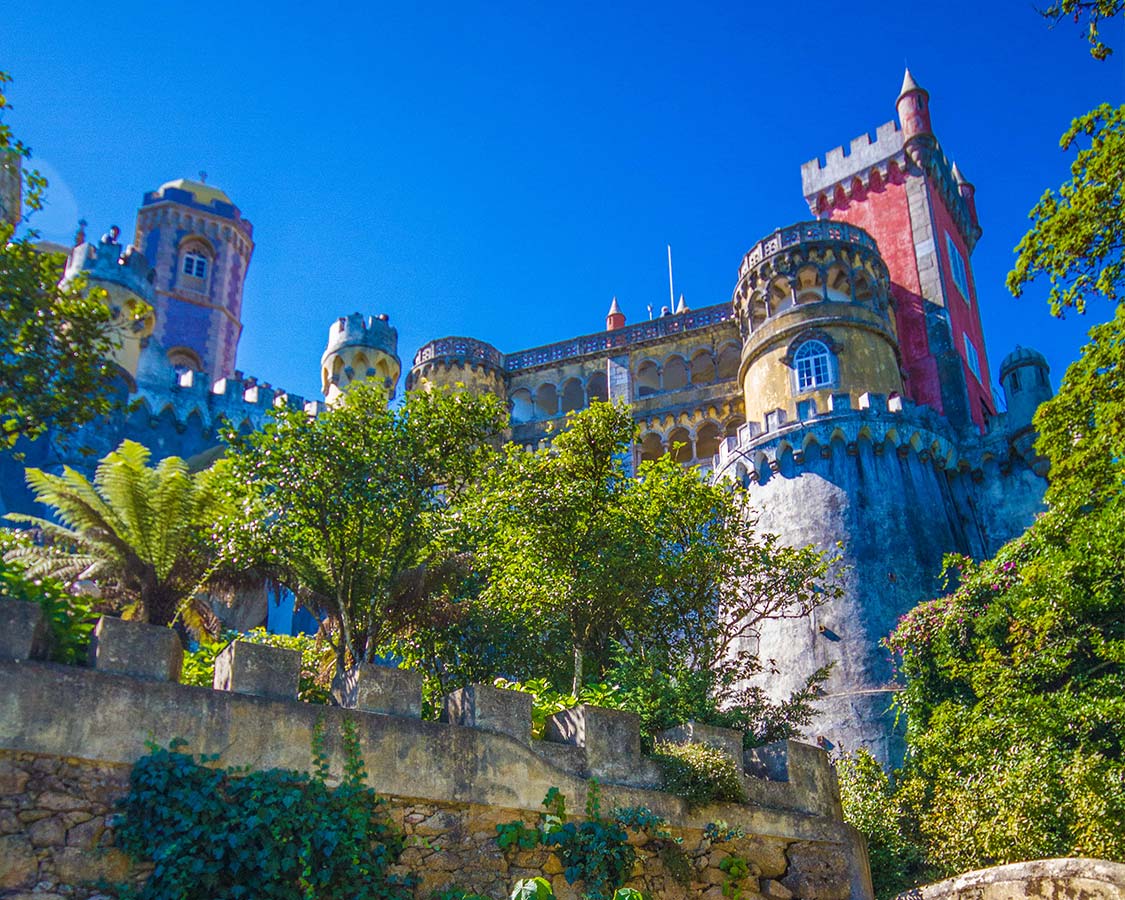 A place where every frog could be a prince and each room holds the promise of a sleeping beauty waiting to be awakened by a kiss. These are the visions that flow through my mind when I remember my time spent in the spectacular fairytale town that is Sintra, Portugal. The mystical foggy forests lend images of magical creatures around each corner and are sure to inspire those who wander them.
Sintra was key to our choice of Portugal as a destination when we decided on the location for our first family trip. Our eldest son C was just four months old when we made the journey across the Atlantic from Toronto to Lisbon with kids and we were anxious to see how a little one would affect our approach to world travel.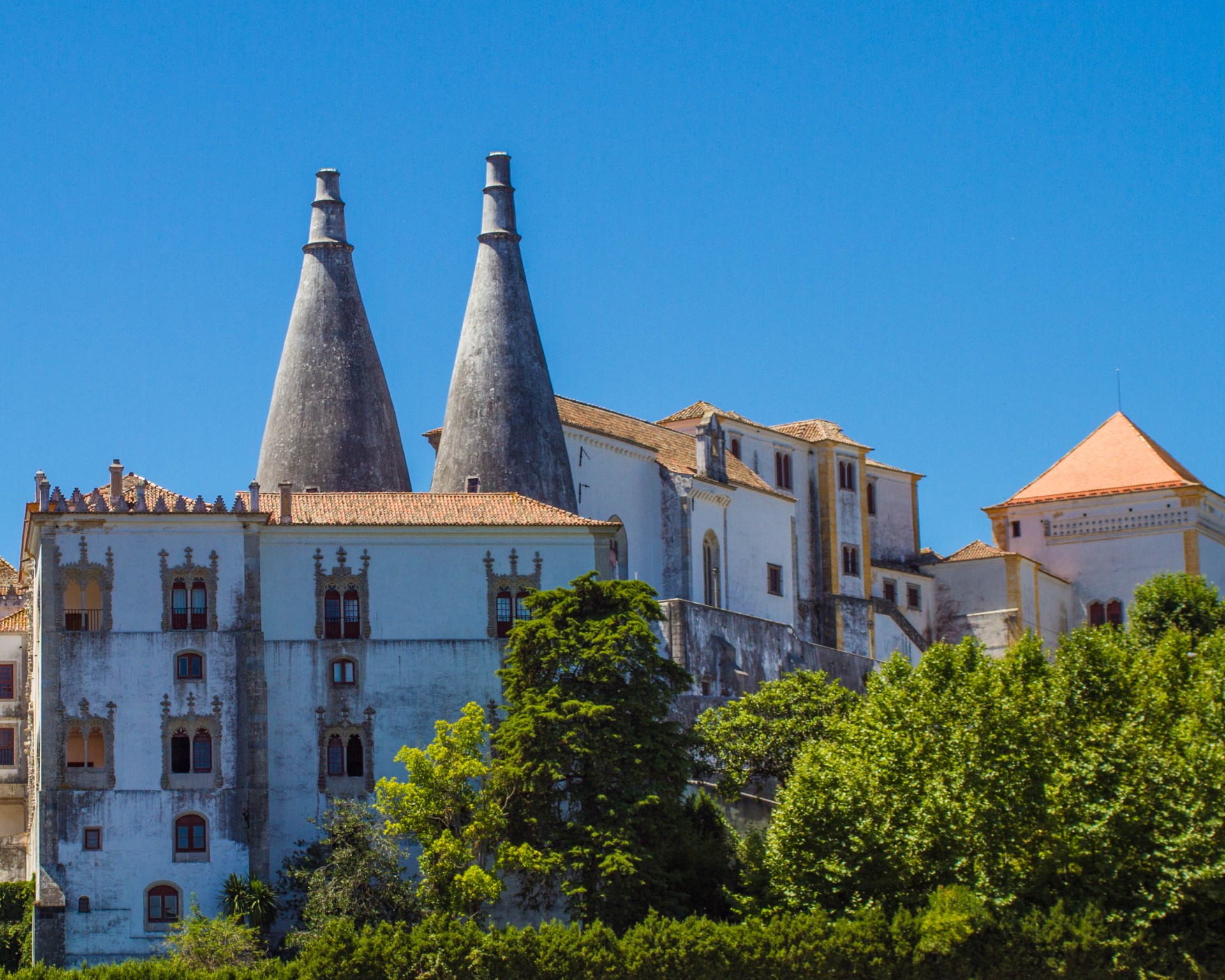 A little bit about Sintra, Portugal
Sintra, nestled in the Sintra Mountains in Southern Portugal, about 33 km from Lisbon, contains two cities: Queluz and Agualva-Cacém. It's known for its Romantic architecture that led to its classification as a UNESCO World Heritage Site. While calling Sintra a "town" may be a bit of a misnomer as it does have a population in excess of 800,000 people, the historic area of Sintra will make you forget the outside world in an instant. It has a long and incredible history as a human settlement, dating back to the early Paleolithic period, however it was the tumultuous period between 50 B.C. when the city was granted status within the Roman Galeria and 1109 A.D. when Count Henry reconquered the Castle of Sintra from the Moors that helped shaped the incredible range of sites and architecture within the city.
Sintra is often visited as a day trip from Lisbon where visitors can drive along the IC19 highway or take the suburban railway. It's worth noting that the IC19 and the railway are both considered as some of the busiest places within Europe, so if you visit during high season, expect traffic during rush hours.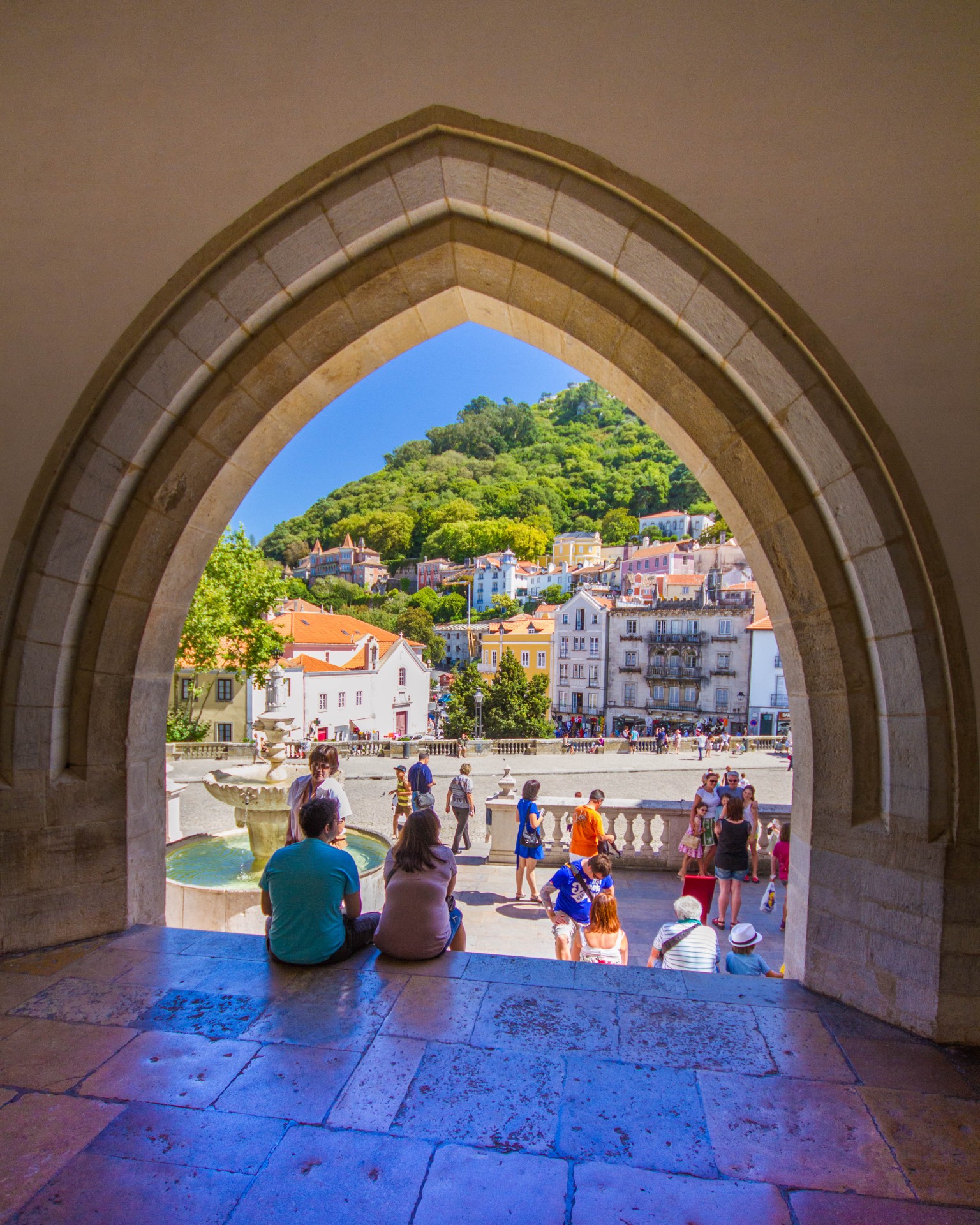 What's it like visiting Sintra, Portugal
Although most travelers visit Sintra from Lisbon, we chose to use Cascais as our home base during our trip to Portugal. We took the A16 motorway and didn't suffer from too much traffic on the way. The historic center of Sintra is known for being notoriously difficult for parking, our visit was not an exception. This is an old city and it's narrow, winding roads, while incredibly beautiful, are not built for the amount of traffic that this city invites. We wound our way through the town before eventually lucking out as someone pulled out of a spot about a km walk from Pena Palace.
We began our walk down towards the historic center pushing C along the way in our stroller when out of the blue a car screeched to a halt near us and an elderly man came rushing towards us waving his arms. As he approached he didn't look at either Christina nor I, but his eyes, bright and filled with joy were only for C. We didn't speak Portuguese and he didn't speak English, but he smiled and laughed at C, touching his cheeks and eliciting a laugh from the tiny boy.
He looked up to Christina and I and smiled with a bow before heading back to his car with a lighter step and the occasional skip. Christina and I didn't know what to make of this strange experience, but we both looked at each other and smiled at the thought that such a short, inexplicable exchange could bring so much happiness to a set of complete strangers. We turned back towards our road and continued on towards the National Palace smiling at the prospect of a great day ahead.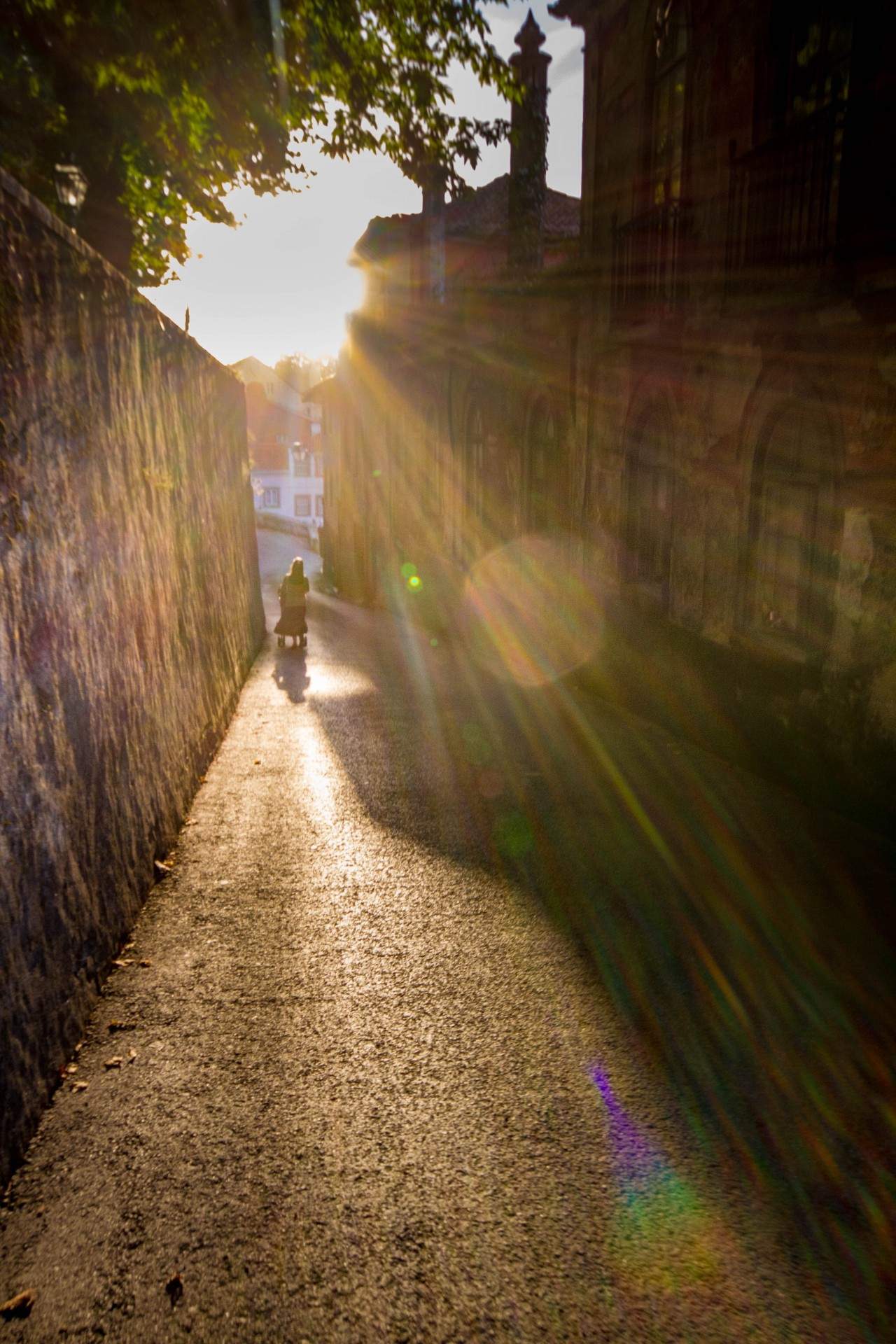 Palacio Nacional de Sintra (The Sintra National Palace)
As we approached the historic center, missing the National Palace is impossible. It's two soaring chimneys poke high above the surrounding buildings and offer a point of reference easily visible to anyone within the town. The national palace is situated right in the heart of town and is the perfect place to start your exploration of Sintra. The palace's blend of Gothic, Manueline, Moorish, and Mudéjar architecture that harkens to it's near continual occupation from the 15th to the 19th century gave it the honor of being Portugal's most lived-in royal palace.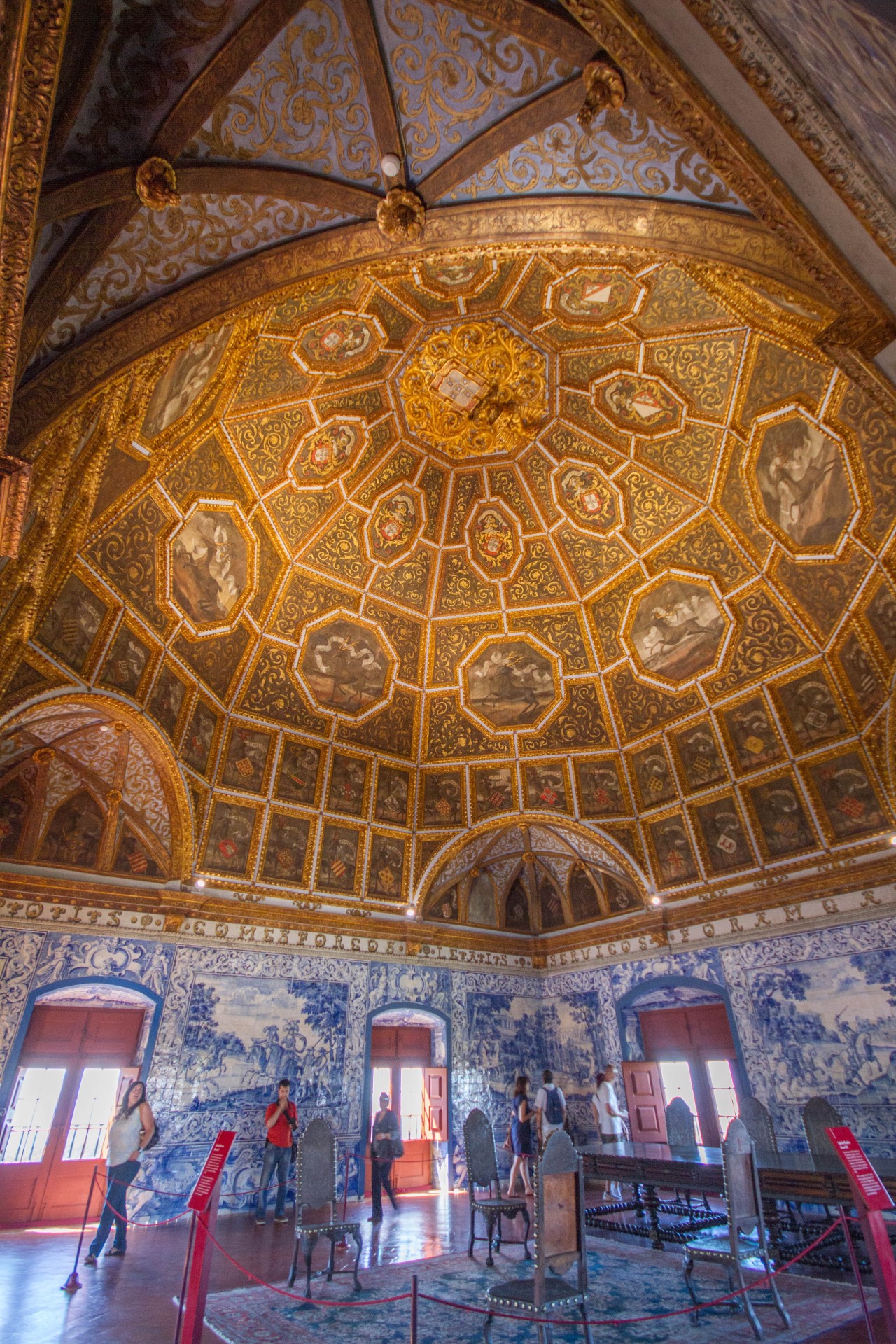 The Palacio Nacional de Sintra is open every day from 9:30 am until 7:00 pm. The entrance fee is 10 euros for adults (18 – 64 yrs) and 8,50 euros for youths (6-17 yrs). The location alone is worth a visit, surrounded by delicious bakeries and cafes, but inside the palace, the magic is truly present. The spectacular kitchen has a massive wood stove and equally massive chimneys that will catch your breath. The octagonal Sala dos Cisnes (Swan room) includes frescos of gold-collared swans. The Sala das Pegas (Magpie Room) has a ceiling lined with images of magpies, reputedly commissioned by King João I after he was caught kissing one his Queen's ladies-in-waiting.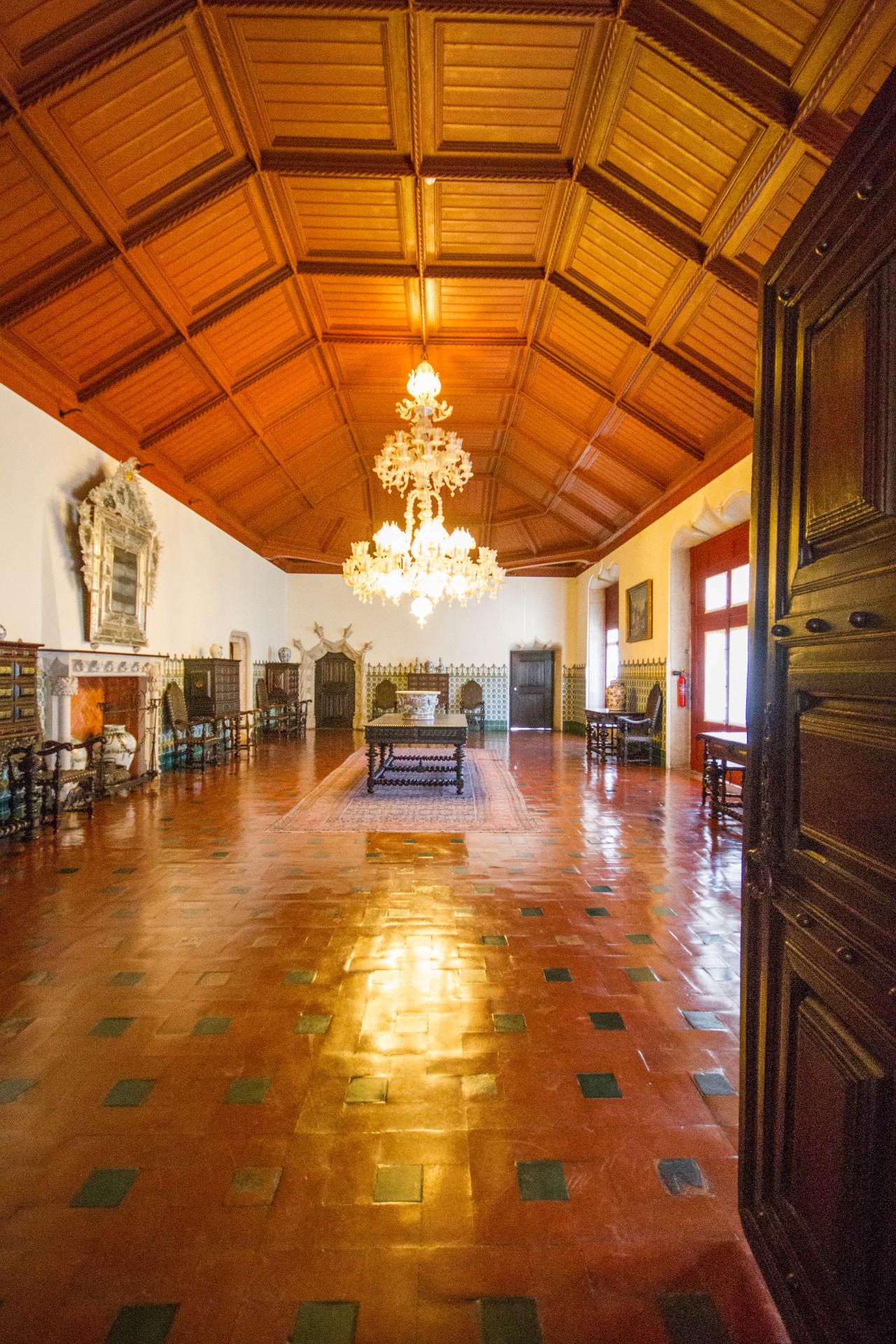 The Palacio Nacional da Pena (The Feather Palace, Pena Palace)
The Feature Palace is a fitting name for this flamboyant and eclectic castle that sits high up on the hills of Sintra. One of the most beautiful and unique castles in the world, Pena palace was commissioned by King Ferdinande II, a man known for his artistic flair. It's recommended that you set aside about 2 hours to visit Pena Palace, but be aware that you may find yourself drawn into its magical allure and time may disappear before you know it.
Be sure to set aside the most amount of time for exploring. Each section of the palace is different from the rest with vibrant colors and intricate stone carvings, leading to an experience of discovery and adventure around each corner. The interior staterooms are lavishly designed, and the views you'll get from each vantage point are so wonderful as to transport you back into the days of romance and adventure. The lush gardens of the castle offer incredible photo opportunities and there are countless angles that will amaze you.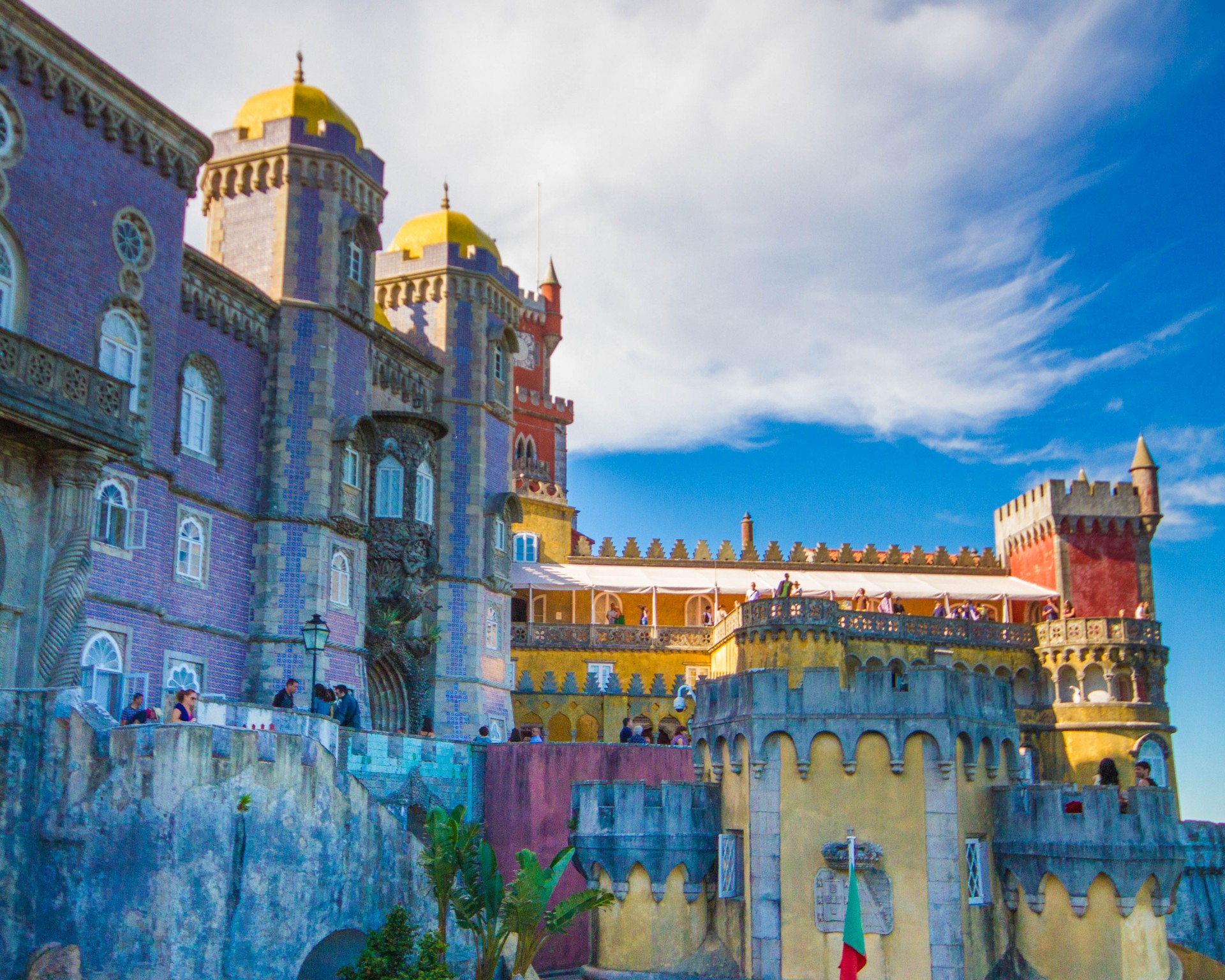 Pena Palace is open Tuesday to Sunday, from 10:00 am to 7:00 pm during the summer and 10:00 am to 5:00 pm in the winter. The entrance fee to the palace and Pena Park is 13,50 euros. A cheaper ticket which grants access to the park and palace terraces, but not the staterooms, costs 7,50 euros. Although the cheaper ticket may seem enticing, the staterooms are beautiful, seemingly untouched since they were last lived in back in 1910, and well worth the extra few euros.
Circling Pena Palace is 200 hectares of magical tree-lined walking paths. Moss-covered trees and hidden art pieces are tucked within its folds and the paths lead to panoramic viewpoints or hidden lakes. You may find yourself searching for Sleeping Beauty nestled in a room in one of the beautiful ruins in the forest as you make your way toward the Moorish Castle.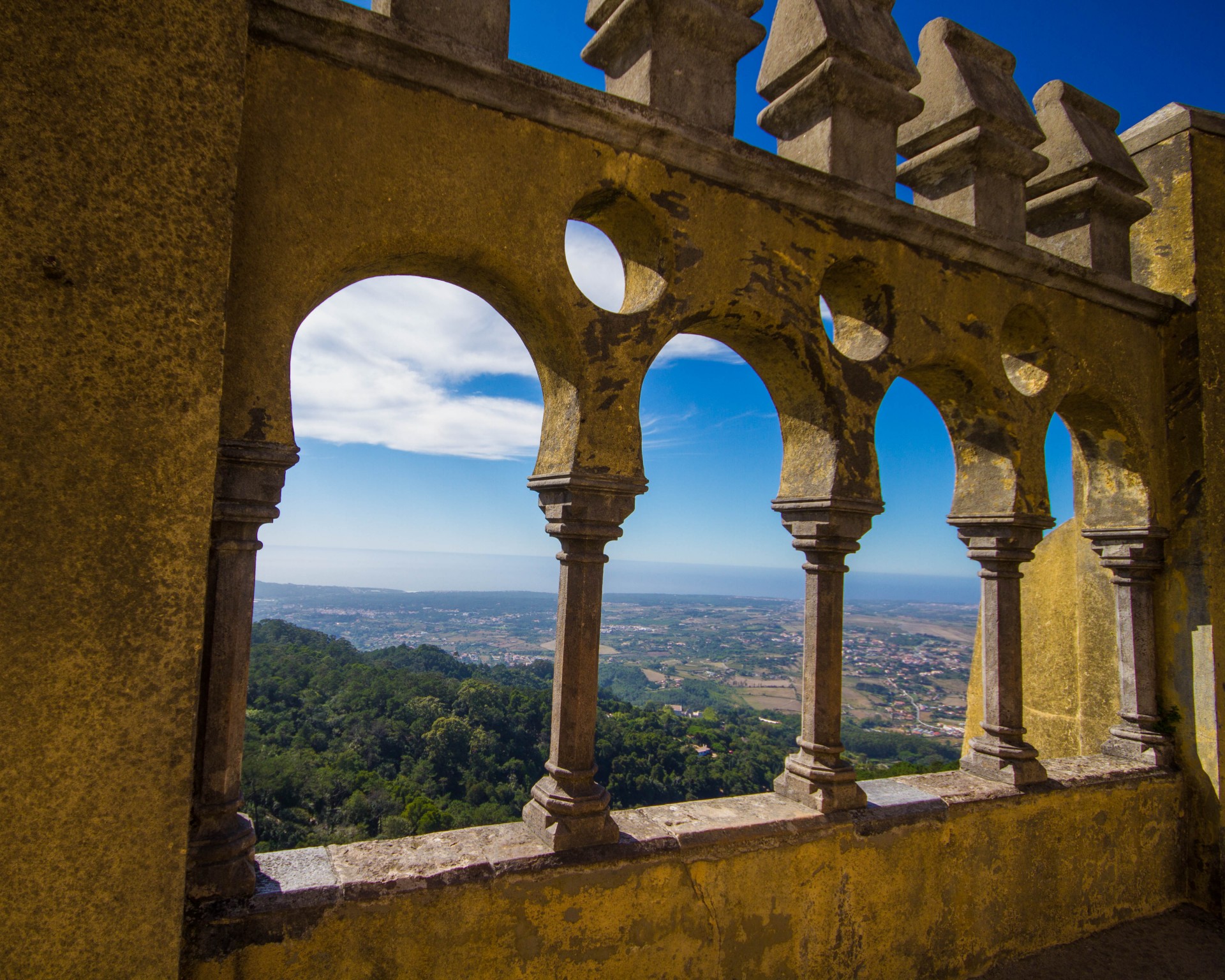 Castelo dos Mouroshe (Moorish Castle, Castle of the Moors)
The Castelo dos Mouroshe is definitely one of the least visited within Sintra. Constructed between the 8th and 9th centuries by Moors, the castle was protected by its elevation and the fact that it was surrounded by dense vegetation. The castle has a deep cistern that provided freshwater, but a good portion of it has collapsed over the past millennium.
On your way to see the Moorish Castle, you will see the spectacular ruins of the chapel of São Pedro de Canaferrim, constructed by Afonso Henriques following the surrender of Moors in Sintra. The chapel, with its collapsed wall, is lit intermittently by sunlight peeking through the breaks in the trees. The chapel looks like the perfect backdrop for a fairytale wedding.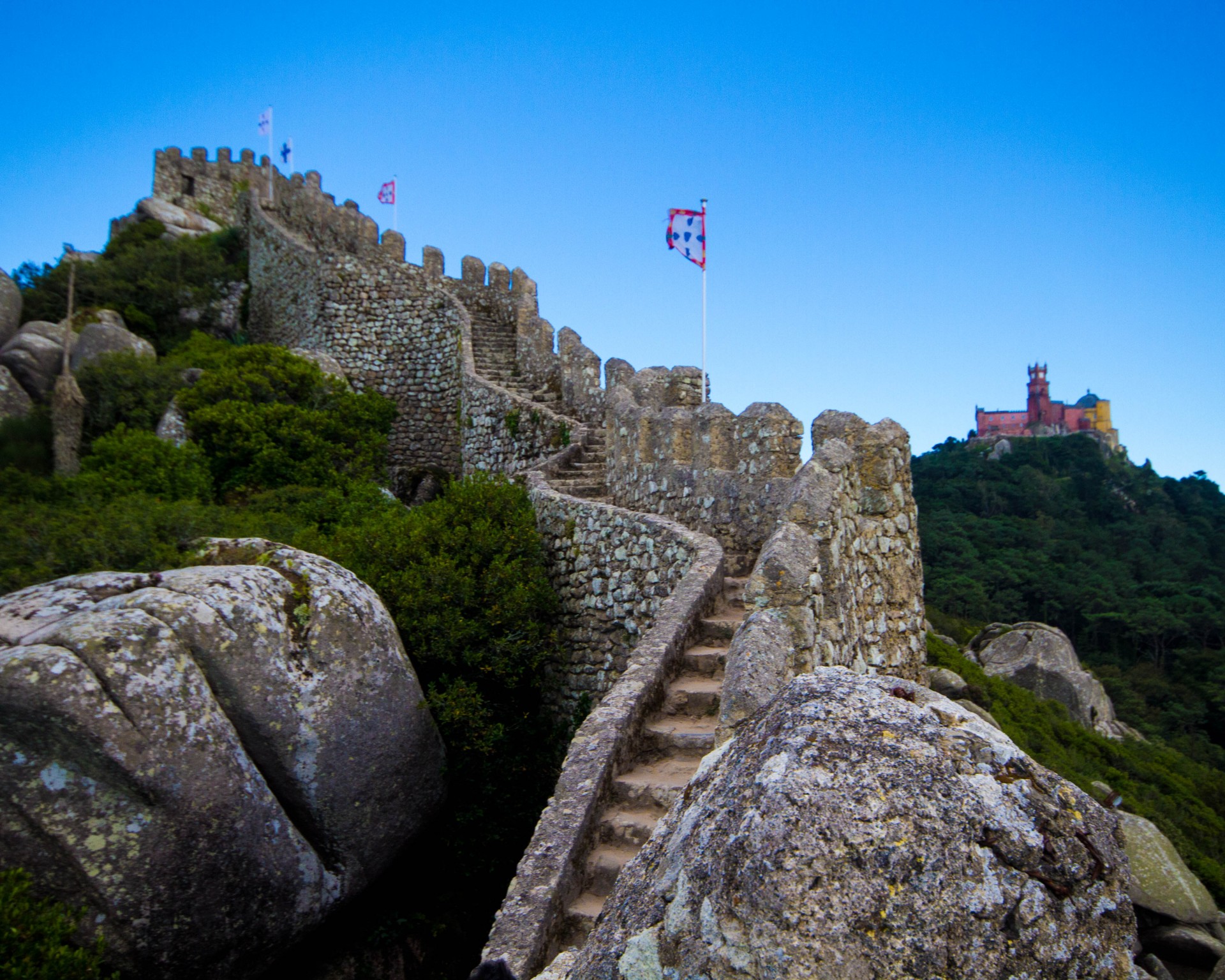 The castle itself is incredible and elicits dreams of ancient battles with archers lining the battlements while commanders bark orders to the troops below. Climbing up the flag-lined outer wall offers panoramic views of Sintra and Pena Palace that seemed to be pulled straight from a storybook. The hike to the peak of the castle is worth the effort. Catching the late day sun at its peak, with Sintra in the distance and Pena palace at the peak is a jaw-dropping view that is sure to inspire anyone who sees it.
Hiking the Moorish castle with children can be a bit tricky as it's almost entirely stairs. It quickly became obvious that our stroller would be even less useful here than it was in hilly Lisbon. In fact, it prompted us to completely rethink our method of child-transport on our travels.
With the late day sun setting quickly, we made our way down the mountain, as we attempted to make it to the Quinta da Regaleira before closing time.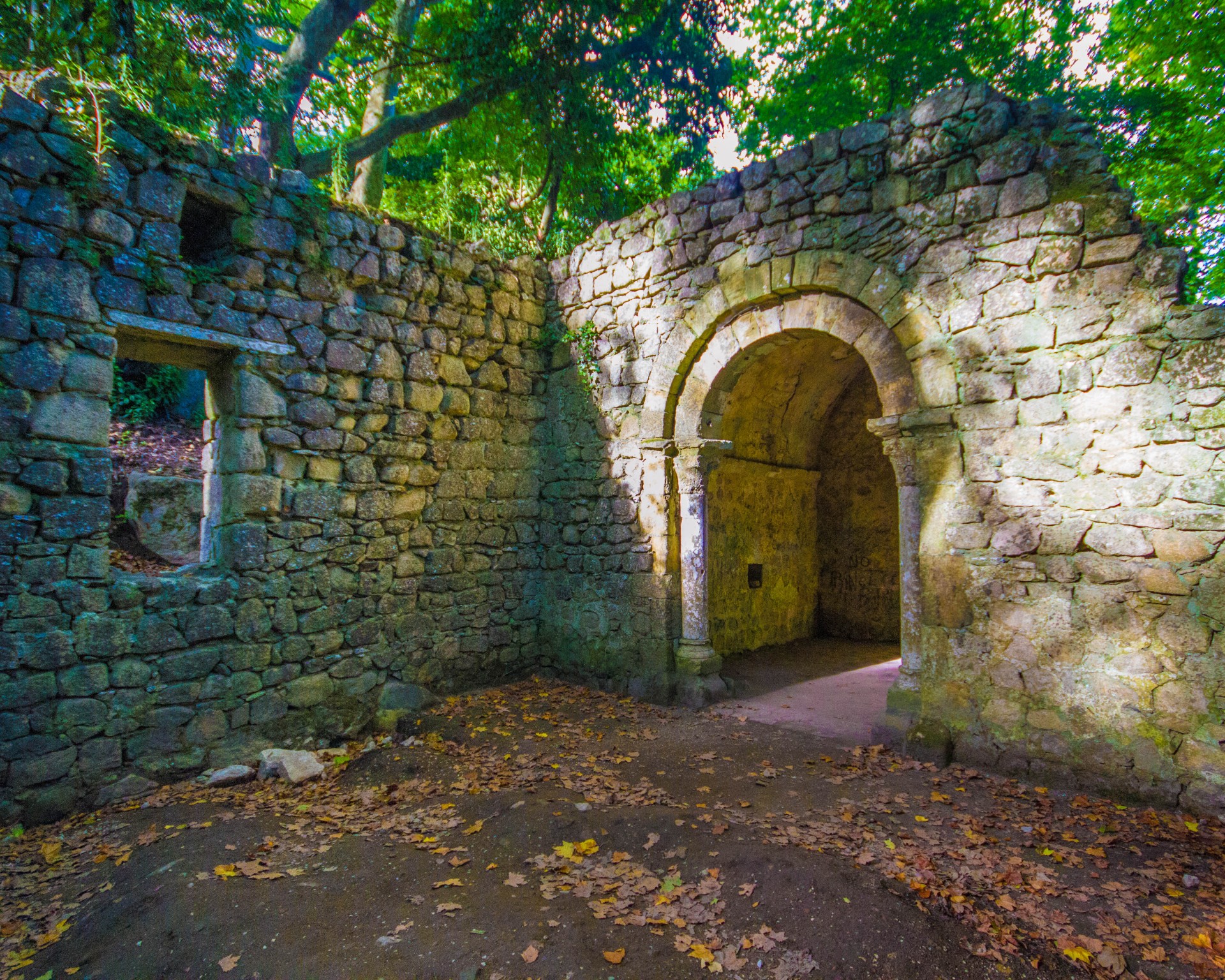 Quinta da Regaleira
As we wandered down the mountain, the sun began to drop and it led to plummeting temperatures in the Sintra mountains. We hadn't anticipated the temperature drop and it wasn't long before I had C wrapped in his blankie and my sweater wrapped around us both in an attempt to keep him warm on our way down. We realized that we wouldn't make the closing time. We were tremendously disappointed, but missing this gives us a great reason to return to Sintra once our children are a bit older. While we can't speak to the views within this estate ourselves, the photos that we have seen are quite simply magical.
Why your children will love Sintra, Portugal
Sintra is a spectacular place for children to explore. Although many castles and historic sites with rooms stacked with antique furniture might elicit yawns of boredom from kids, the fairytale vibe of Sintra will make the trip a dream come true for both parents and children alike. From the ruins of the ancient Moorish castle, adorned with flags at each post and it's vibe of knights and battles, to the colorful Pena palace and its brilliant colors and exciting views where children can run through the battlements and re-enact their dreams of Prince and Princesses.
The National Palace offers the royal vibe and exploration while the Gorgeous Quinta da Regaleira Palace will elicit dreams of rescuing maidens or princesses from its spectacular dungeons. Sintra, Portugal is bound to create an explosion of imagination in any child.
Wandering Wagars is a participant in the Amazon Services LLC Associates Program, an affiliate advertising program designed to provide a means for sites to earn advertising fees by advertising and linking to amazon.com, amazon.co.uk, amazon.ca. Amazon and the Amazon logo are trademarks of Amazon.com, Inc. or its affiliates.
You May Also Like To Read:
You May Also Like To Read: