Experience the serene streets, long beaches, and stunning history of one of Turkiye's most underrated towns with these things to do in Demre.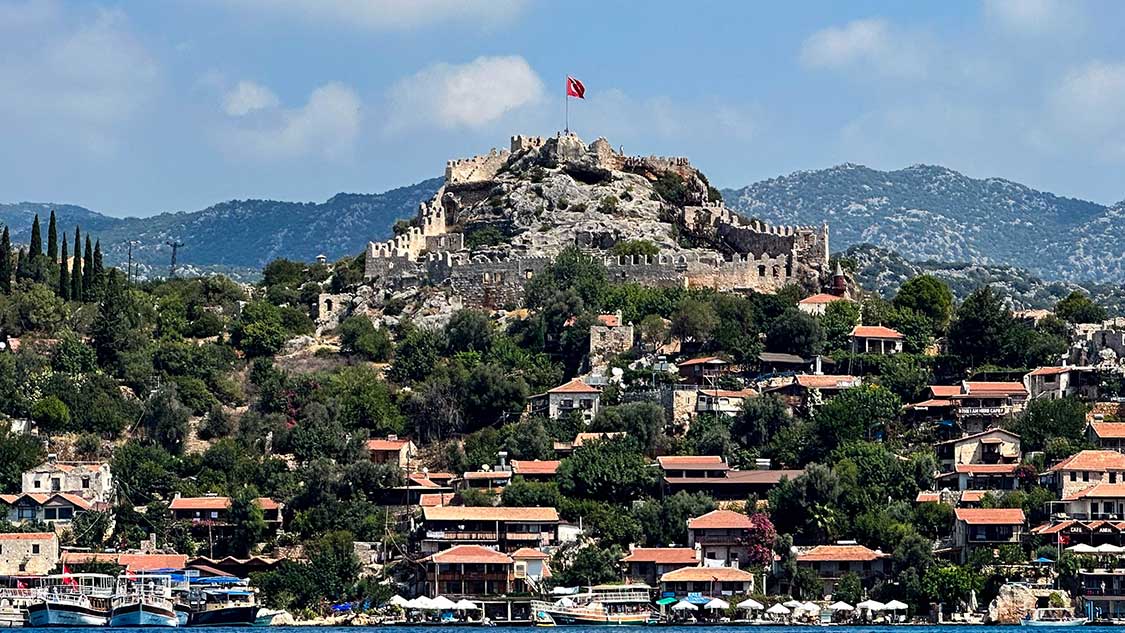 The town of Demre is one of the few hidden gems along the Turquoise Coast, the most popular region for travelers in Turkiye.
Demre offers a unique blend of history, culture, and natural beauty in a package that hasn't been overrun by tourists and expats such as Fethiye. Demre is a unique city in Turkiye that combines the coastal beauty of the Mediterranean Sea with both Lycian and Christian roots. Demre's most prestigious link to that history is as the final resting place for Saint Nicholas, the man whose legacy would inspire the story of Santa Claus.
With fascinating cliffside tombs, stunning ancient churches, and an incredible collection of beaches, these things to do in Demre just scratch the surface of the attractions in the city. Look outside the city's borders and you'll find even more amazing experiences.
About Demre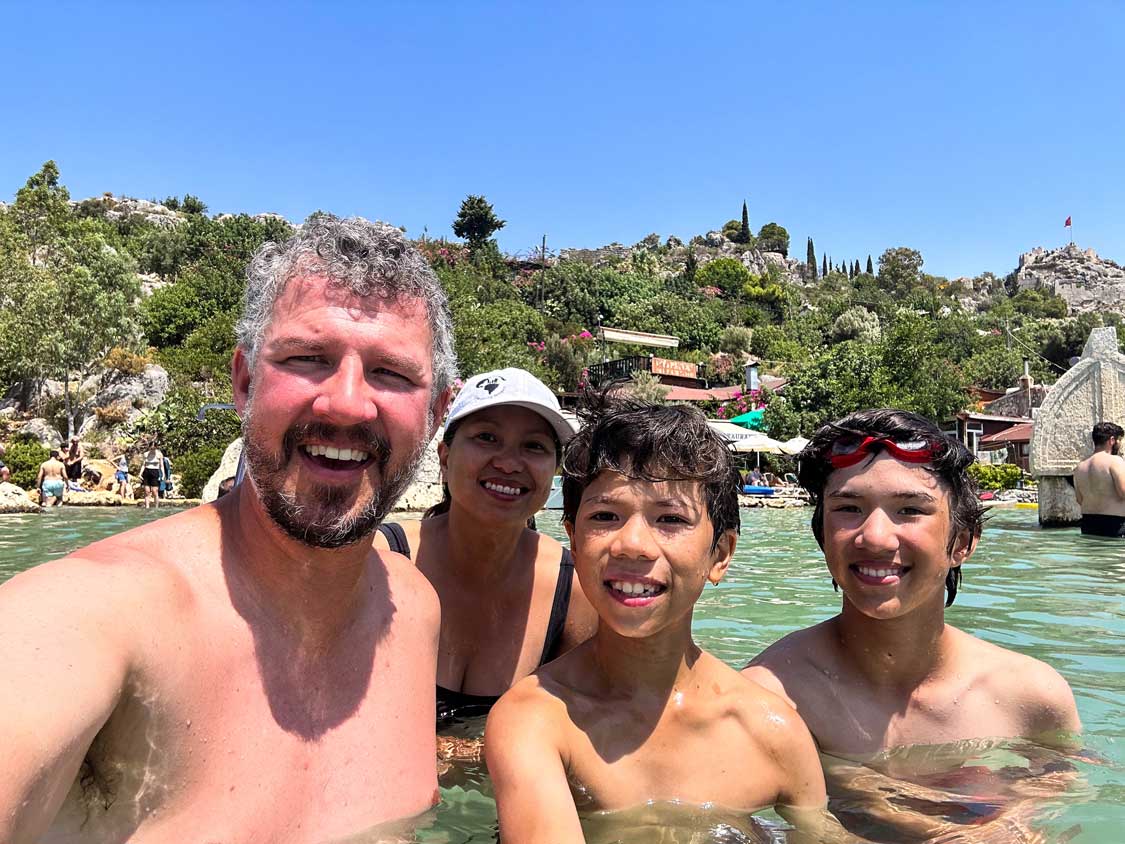 The town of Demre is located on Turkiye's famed "Turquoise Coast," a stretch of Southwest Turkiye that is famous for its incredible beaches, ancient history, and beautiful small towns. Along with Demre, it includes towns such as Kas, Antalya, and Dalyan.
The town was formerly known as Myra and was an influential city under Lycian Rule in the 4th century BCE. Remnants of that ancient history can still be found in the Lycian rock tombs that dock the cliff faces surrounding the city.
While the history of Demre is ancient, it's a far more modern history that has turned this small town into one of the most interesting places to visit in Turkiye. Where the historic beach town of Patara was this historic figure's birthplace, the final restaurant of Saint Nicholas was actually in Demre.
Saint Nicholas' tomb is one of the most popular places to visit in Demre. The tomb, located in the Saint Nicholas Church, was a site of pilgrimage for centuries and remains a central point of Christian importance in Demre.
Modern Demre is soaked in historical significance, but its charm is broadened by great restaurants and cafes, a beautiful waterfront, and a vibrant local culture where travelers and locals merge seamlessly in one of the most wonderful spots for off-the-beaten-track travel in the country.
The Best Things To Do In Demre
Demre is a quiet town that has yet to gain the popularity of places like Kas and Fethiye. But just because it's relatively undiscovered, doesn't mean that there are a wealth of attractions and places to visit in Demre. Here are some of my favorites.
The Church of Saint Nicholas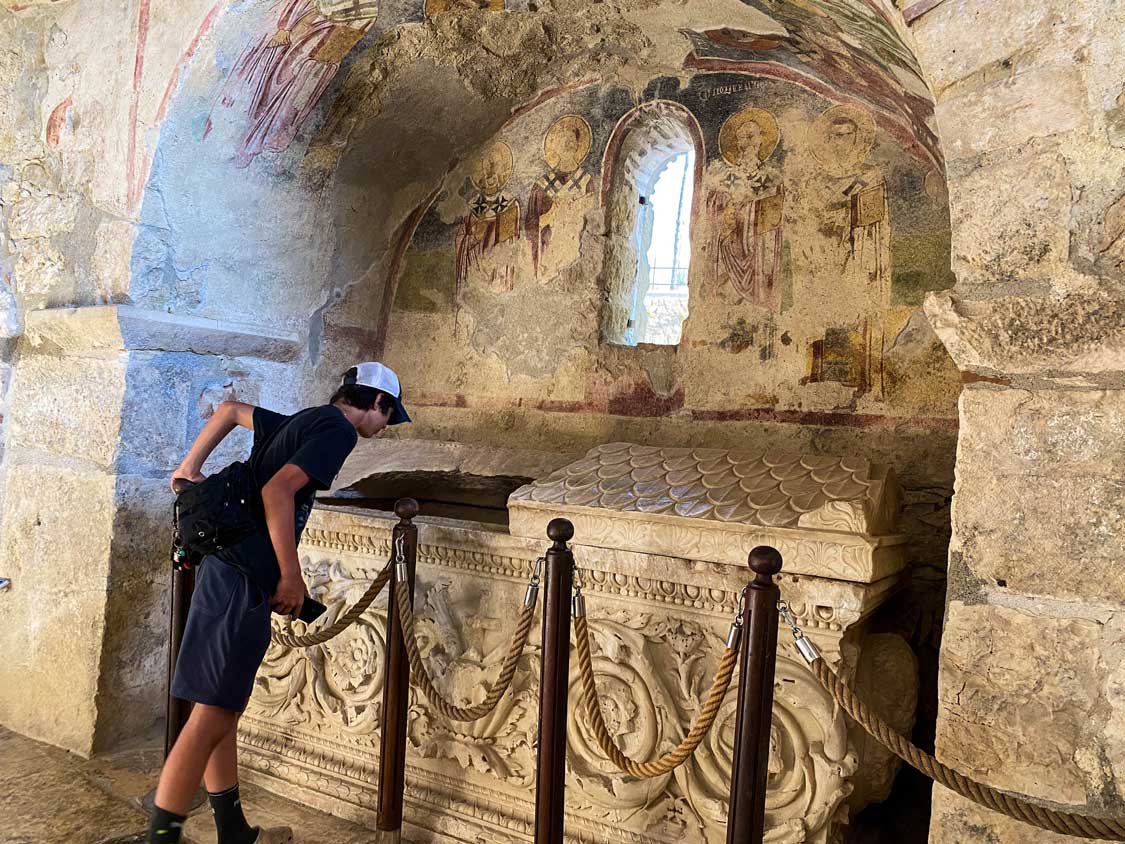 Constructed over the sarcophagus of Saint Nicholas in the 4th century, the Church of Saint Nicholas is by far the most popular of all of the things to do in Demre. This historic church is the original resting place of Saint Nicholas, the beloved historical figure who inspired the modern Santa Claus.
The church, which was converted into a museum and continues to undergo extensive renovations, boasts a rich history and is adorned with intricate frescoes, ornate marble columns, and an impressive mosaic floor, offering visitors a remarkable insight into Byzantine architecture and religious art.
Pilgrims and history enthusiasts are drawn to this site, not only to pay their respects to Saint Nicholas but also to marvel at the spiritual ambiance and the visual storytelling of the frescoes that recount his life and miracles.
Myra Rock Tombs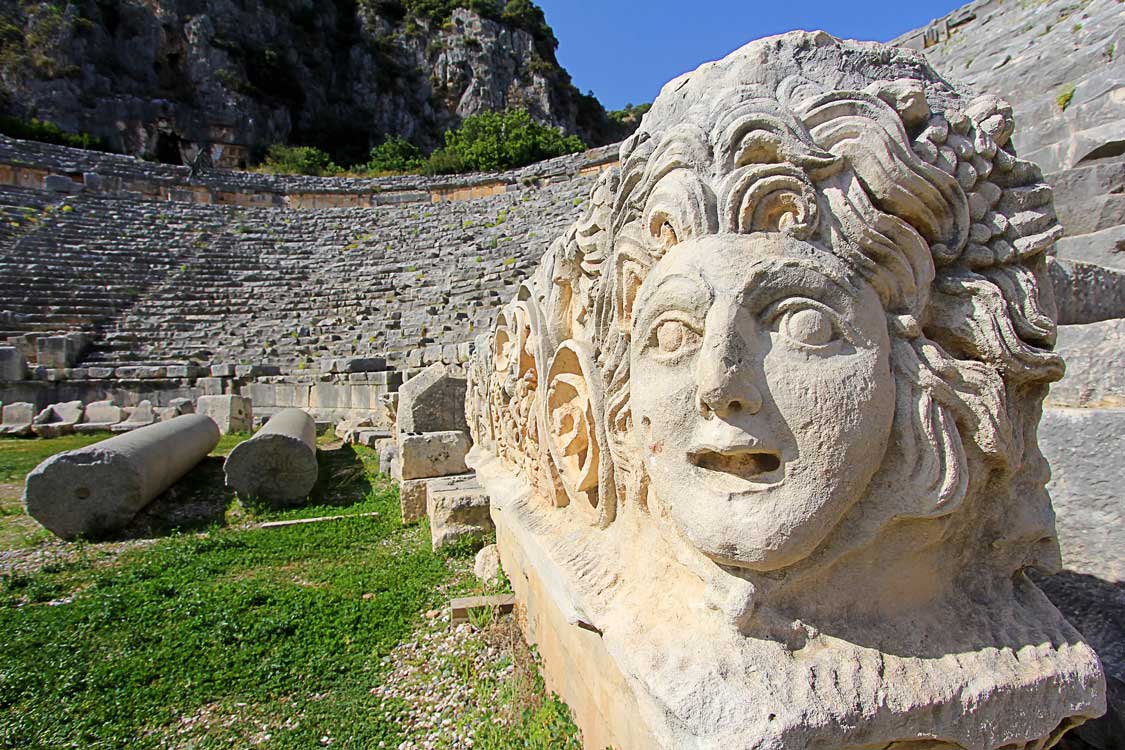 In Lycian times, what is now the city of Demre was known as Myra. The town passed through Lycian rule to Greek, to Roman, and on to Ottoman hands when it was renamed Kale. During this time it had a strong Greek population. Similar to the ghost town of Kayakoy near Fethiye, the Greeks were forced from the region during a conflict in the early 1900s.
Visiting Myra is now one of the top things to do in Demre. The ancient city is baked in history and holds remnants from thousands of years of occupation. At its heart are the fascinating rock tombs that have been carved into the cliffs overlooking Demre.
The tombs were once adorned with brightly colored artwork, which has now faded. But there are still areas where you can catch a glimpse of how they may have appeared in their original glory.
Don't miss Myra's well-preserved amphitheater, which was one of the largest in all of Lycia. If you explore around the theater you will find the well-preserved underground corridors that crowds used to enter and exit.
Andriake Ancient City
Andriake Ancient City is an archaeological marvel that ranks among the top attractions near Demre. This well-preserved ancient city was once an integral part of the Lycian League, an ancient federation of Lycian cities, and a crucial port along, what is now, the Turquoise Coast.
Visitors to Andriake can explore ruins of this ancient port city, including an extensive Roman bath, a complex, agora, and a well-preserved granary building. Andriake offers a unique step back in time, offering a unique contrast to the modern town of Demre.
Don't miss the Andriake Museum, which houses artifacts and insights into the city's history. Andriake is within easy reach of the Church of Saint Nicholas and the Myra Tombs, so you can visit all three in a single afternoon.
Beymelek Beach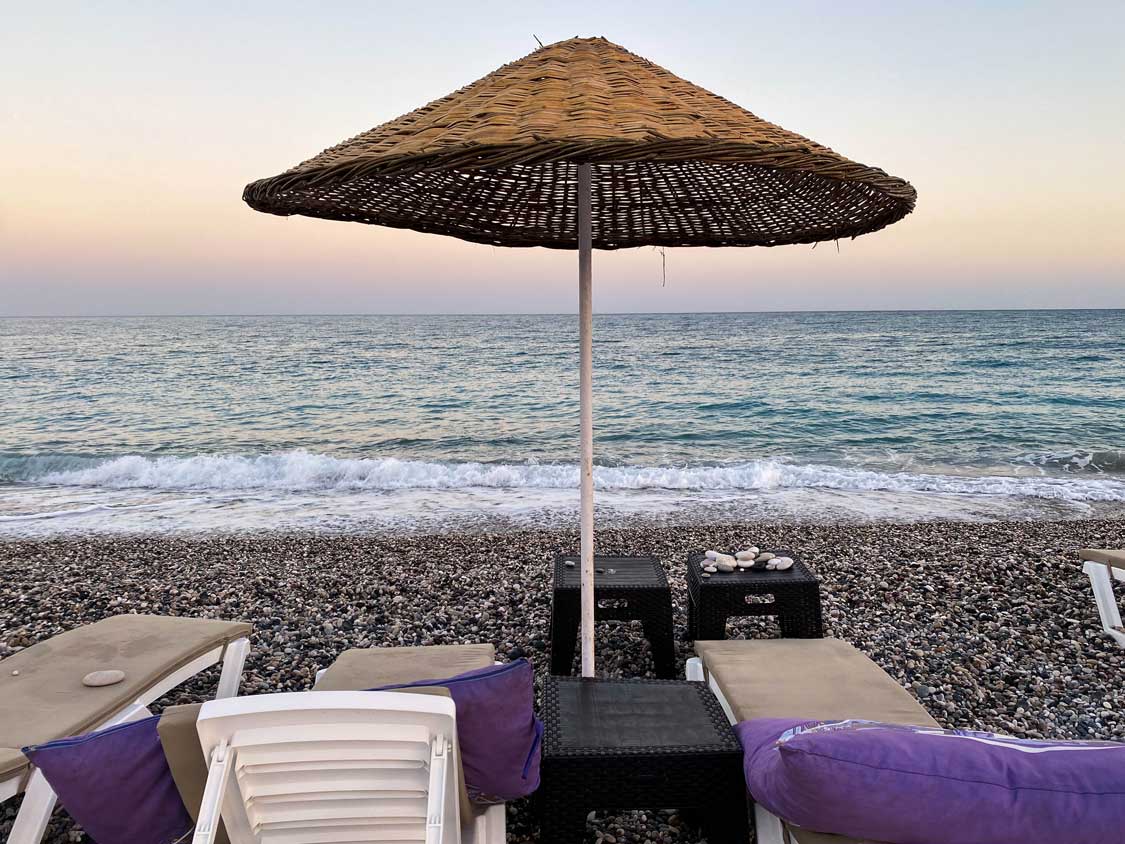 Stretching for 11 miles along the Mediterranean shores of Demre, this stretch of sand and pebble beach is the ideal spot for families and those looking for a tranquil escape. Like Iztuzu (Turtle Beach) near Dalyan, this stretch of the sea is well sheltered and rarely sees the large waves that often crash the surf in places like Patara Beach.
There are loads of picnic areas, playgrounds, walking paths, as well as cafes along the beach. Make sure to stop at one of the restaurants serving up Demre's famous blue crab dishes.
The beach itself has no services such as showers or bathrooms, but there are many spots nearby where you can use facilities.
Kekova Island, Simena Castle, and Simena Sunken City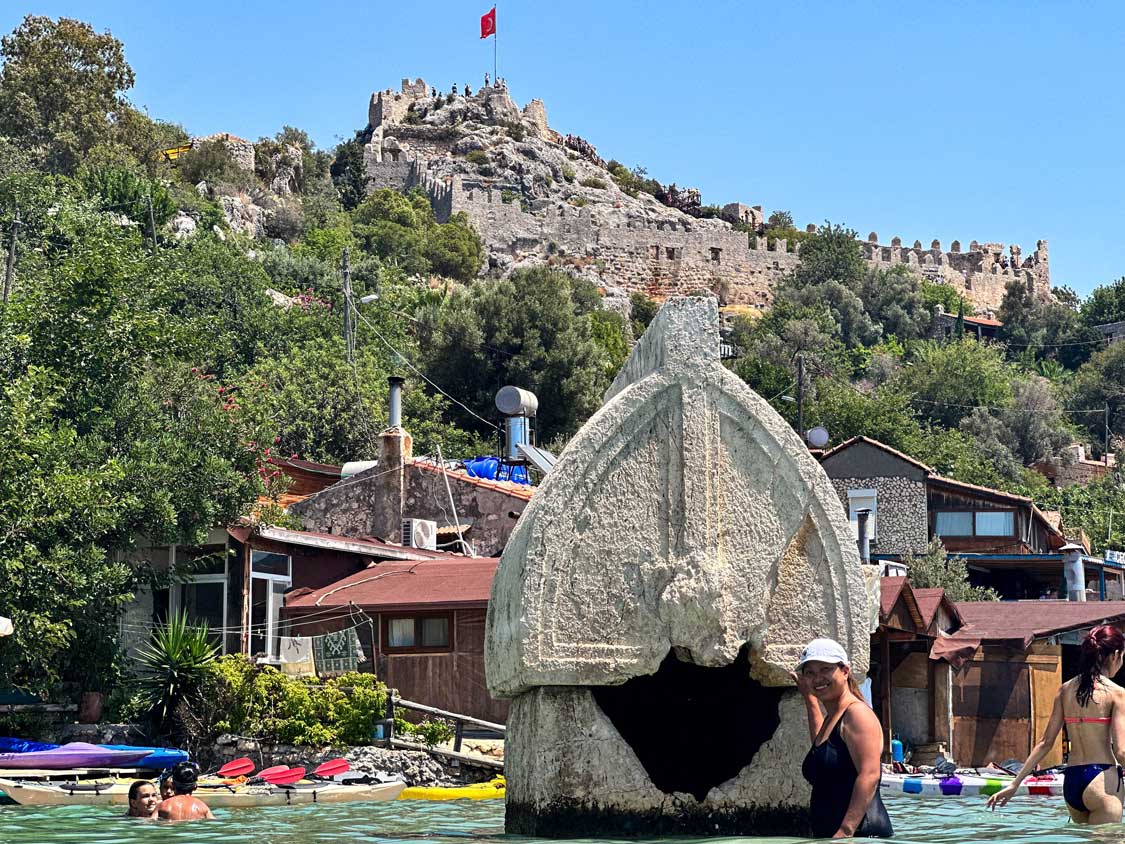 Kekova Island offers a unique blend of natural beauty and ancient wonders. The island, which sits about 45 minutes from town is one of the top things to do near Kas.
The island, often called the "Sunken City" is famous for its submerged Lycian ruins. This city, which was claimed by the sea thanks to dramatic earthquakes helps to tell the tale of ancient Lycia. Throughout the island are partially submerged buildings, staircases, and pottery shards that create an otherworldly archaeological site.
We embarked on a kayak tour of Kekova Island where we had plenty of changes to swim and explore. It's actually quite hard to see many of the ruins that are underwater due to the tour boat traffic, but the scenic coastlines offer many chances to spy where the sections of the buildings that didn't slip beneath the waves.
The island is home to the Kalekoy fishing village, which has lots of stops for artisan browsers. At its peak is a medieval castle known as "Simena Castle" that stands dramatically over the blue waters. My personal favorite part of the island was swimming in the crystal-clear waters of the lagoon centered by a Lycian tomb right in the water.
You can find all the things to do in Kalekoy and Kekova here.
Demre Friday Market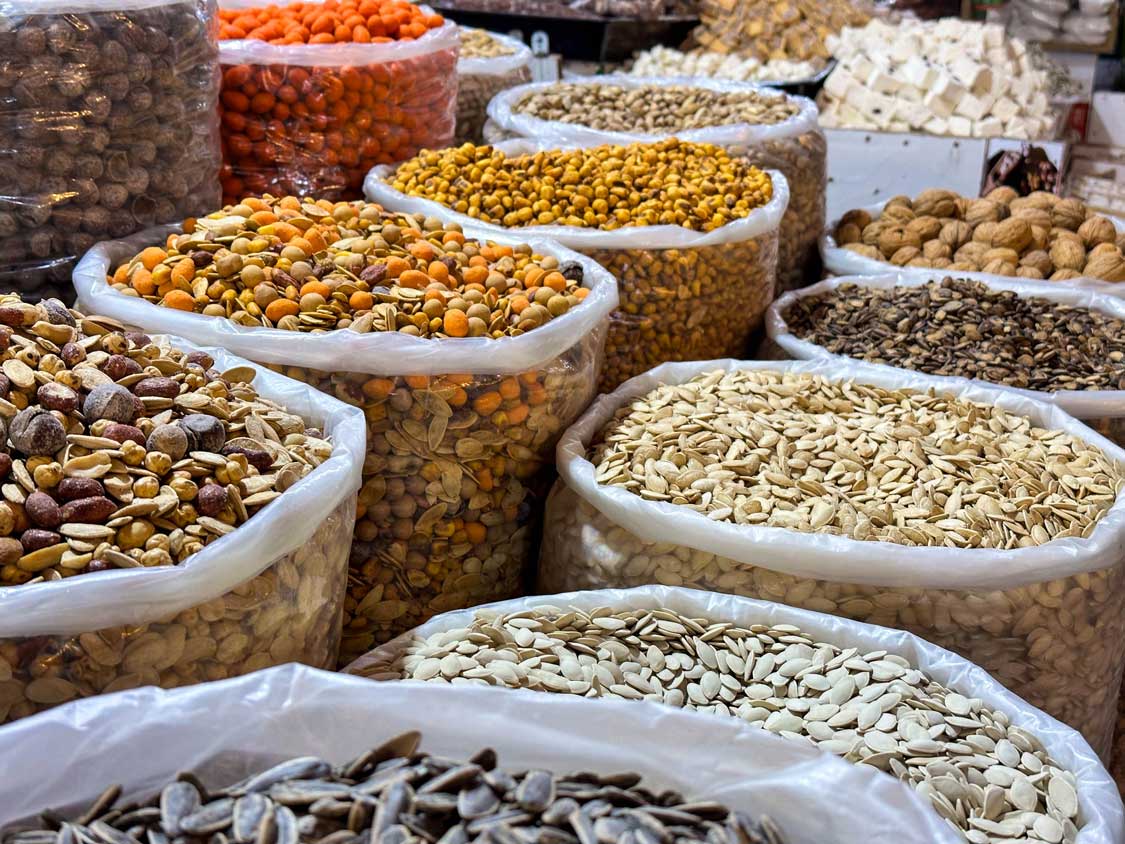 The Demre Friday Market offers the chance to connect with the locals in a vibrant, fun, and fascinating atmosphere. Browse the kaleidoscope of herbs, spices, meats, and fruits in an open-air market that is a fusion of local culture and cuisine. Throughout the stalls are a showcase of local Turkish culture from fresh produce to handmade crafts and artisanal products.
The market offers one of the best ways to engage with the local community and take part in a local tradition that goes back over a century. It's truly one of the best things to do in Demre for those visiting over a weekend.
Where To Stay In Demre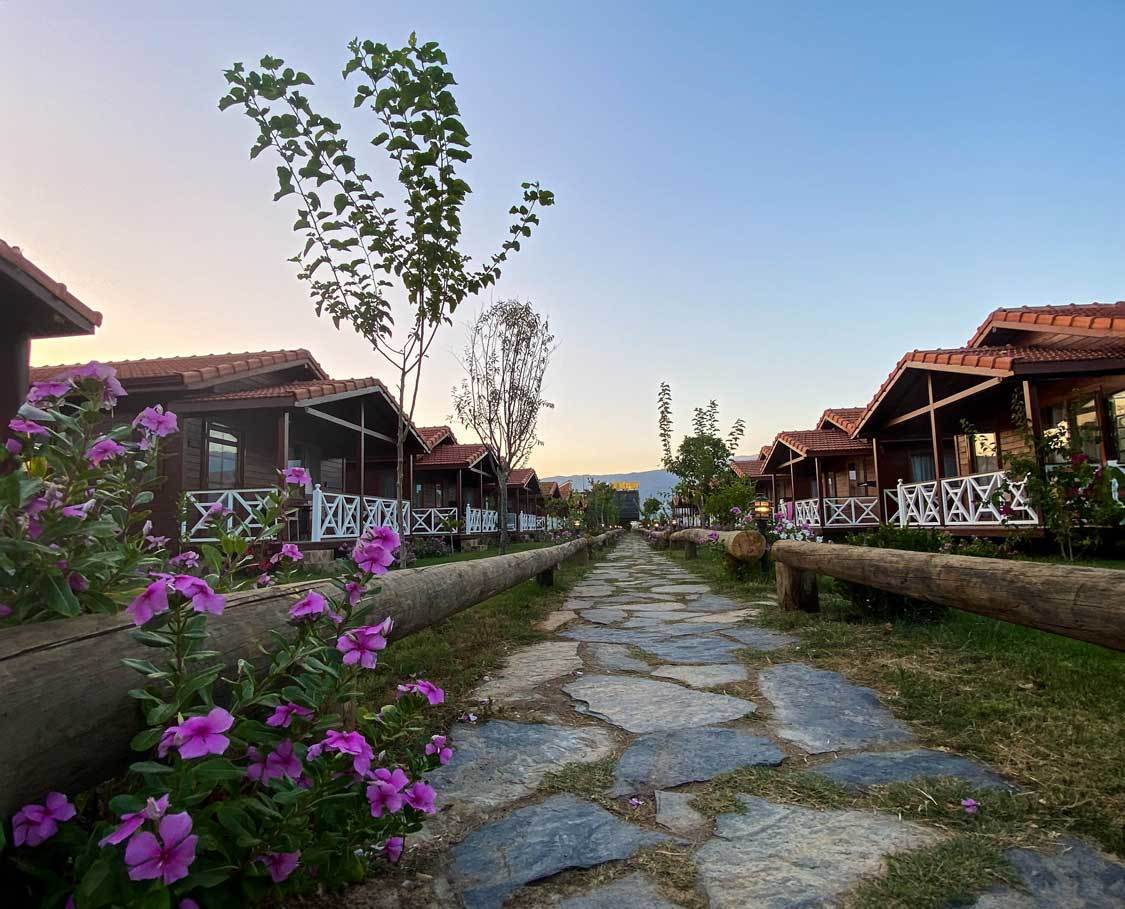 If you're planning on spending a few days in Demre, there are some absolutely wonderful places to stay in town. We spent two nights at a small glamping spot called Marti Bungalow. They had some adorable cabins with a bedroom and a pullout couch for the kids. It was a peaceful spot right opposite the pebble beach. They had a fabulous breakfast on offer as well.
Beymelek Tas Evler is another highly-rated spot in the city. It's a fully restored 100-year-old stone and timber home located between Demre and Finike on the Lycian Way Hiking Trail. Local dishes and blue crab specialties are served at the in-house restaurant.
Set in Demre, 200 meters from Kekova Sunken City, Kekova Pansiyon offers accommodation with a garden, free private parking, a terrace, and a restaurant. It's very highly-rated and close to
Enjoy Your Time In Demre, Turkiye!
With history going back thousands of years and an amazing list of attractions and places to visit, Demre is one of the few hidden gems that remain on Turkiye's famous Turquoise Coast. This quiet coastal town still flies under the radar of most tourists in the county, but its popularity is growing fast. I highly recommend that you visit before it hits the heights of places like Istanbul and Ephesus.
The vast range of things to do in Demre makes this far more than a simple beach escape. As the final resting place of Saint Nicholas and home to millennia-old ruins, Demre is an amazing place for a family vacation to Turkiye.
You can find more great information about visiting Turkiye on our Turkiye Family Travel Blog. Or feel free to join our Family Travel Support Group on Facebook. You can connect with more family travelers just like you who love to explore the world.
Wandering Wagars is a participant in the Amazon Services LLC Associates Program, an affiliate advertising program designed to provide a means for sites to earn advertising fees by advertising and linking to amazon.com, amazon.co.uk, amazon.ca. Amazon and the Amazon logo are trademarks of Amazon.com, Inc. or its affiliates
You May Also Like To Read: