Looking for the best things to do in Fethiye, Turkiye? Our guide to the top attractions and activities in Fethiye will make your visit to the Turquoise Coast unforgettable!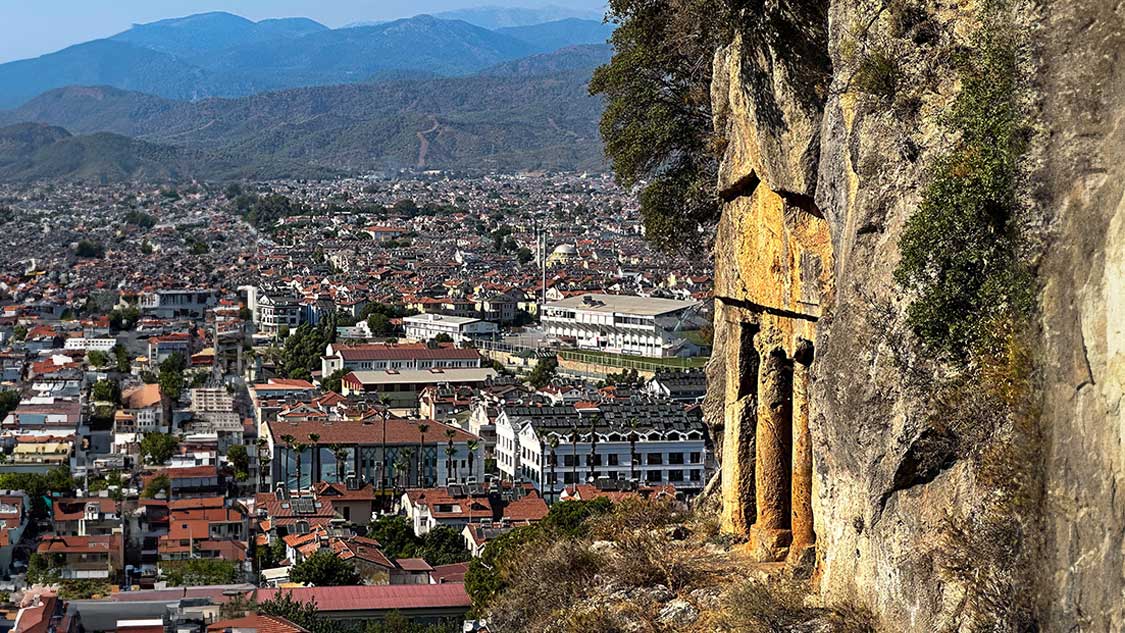 Arriving in Fethiye by car, we quickly learned how popular Fethiye, Turkiye, is. The crowds along the scenic beachfront were nearly as thick as those in the ruins of Ephesus near Izmir. But what is it that draws so many people to the country's Turquoise coast?
It turns out that there is a wealth of things to do in Fethiye, and my family made it our mission to experience as many of them as possible.
Known affectionately as the "Turkish Riviera," Fethiye, Turkiye, has established itself as one of the best places to visit in the country. With a wealth of natural beauty, ancient history, and magnificent family-friendly attractions, it doesn't take long to understand why this town draws the crowds that it does.
Fethiye is located just a short, 45-minute drive from the Dalaman Airport on one of the most beautiful stretches of coastline in southwestern Turkiye. The town is so popular with British tourists that most shops quote in British pounds instead of Turkish Lira or the Euro. But it's also gaining popularity with travelers from North America.
About Fethiye, Turkiye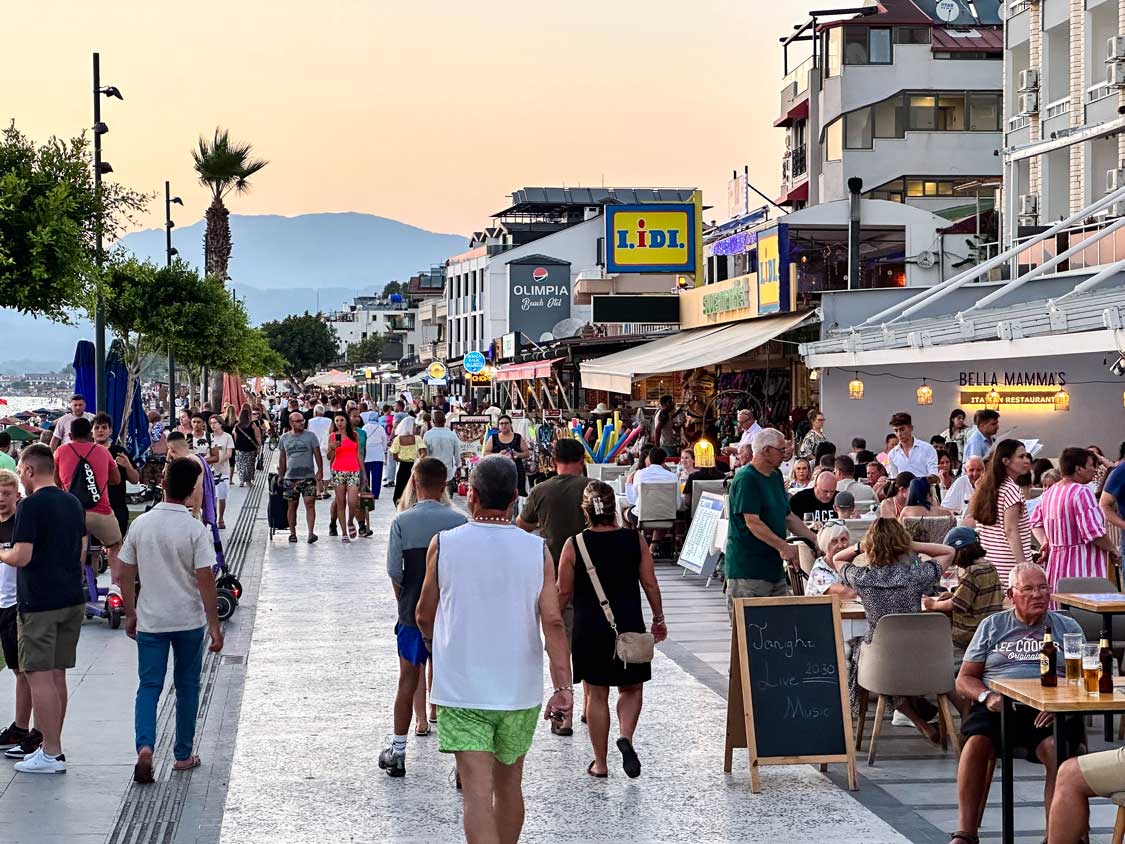 Fethiye weaves together a rich history, delectable culinary traditions, and an array of popular attractions that have made it one of the best places to visit in Turkiye. The city traces its roots back to ancient Lycia, a civilization known for striking tombs carved high up on cliffs throughout Turkiye.
Evidence of this rich history can be found throughout the town, most notably at the dramatic tombs that overlook the city along its southern border. Similar Lycian tombs can be seen in the beautiful town of Dalyan, just an hour west of Fethiye.
Fethiye boasts an incredible range of adventures that go far beyond the hauntingly beautiful Lycian rock tombs. For example, the Blue Lagoon at Oludeniz is considered one of the best beaches in Turkiye. With a beach like that, it's no surprise that the Mediterranean Sea plays a huge part in the best things to do in Fethiye.
From boat cruises and beaches to fishing to SCUBA diving, life in Fethiye seems to revolve around the sparkling waters off its coastline. The famed "Twelve Islands" are among the most popular cruising and sailing destinations in the country.
Venture inland, and the town becomes even more exciting. The abandoned village of Koyakoy and the towering Mount Babadag offer contrasting escapes from the crowded beaches. The nearby Taurus Mountains offer a wide range of hiking and cycling opportunities.
The Best Things To Do In Fethiye
Visitors to the city won't find it hard to fill their time. There are loads of amazing Fethiye attractions both within the city and nearby. Here are some of the top things to do.
Amyntas Rock Tombs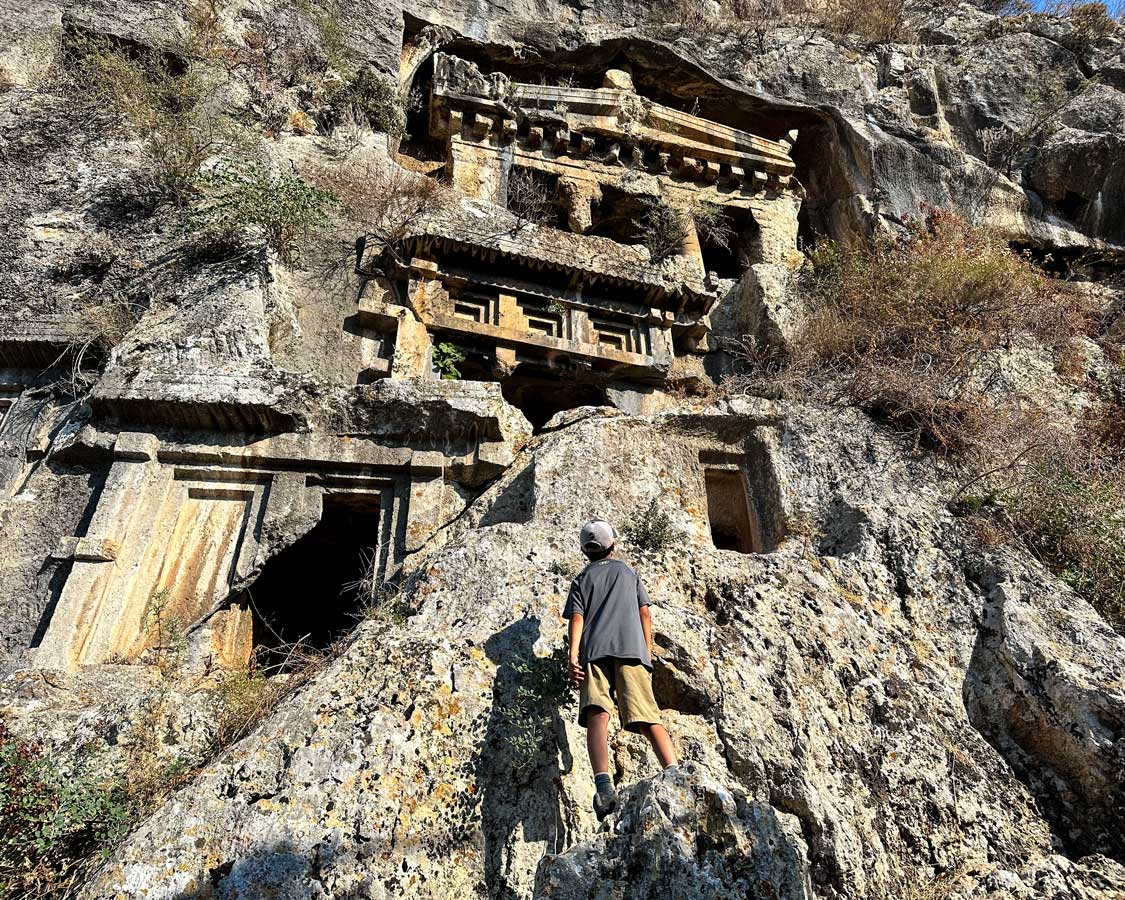 Situated on a steep cliff overlooking the southern end of Fethiye, the Amyntas Rock Tombs are, without a doubt, one of the city's most popular attractions. This beautiful and remarkable archaeological site is a showcase of the burial practices of the ancient Lycian civilization.
This collection of stunning tombs, carved into the sheer cliffs, dates back to the 4th century BCE. During this time, the Lycian Civilization was spread across much of what is now central Turkiye. The Amyntas rock tombs, or "Lycian rock tombs" as they're often referred to, are a stunning way to explore the ancient history of Fethiye.
The tombs are covered under both the Turkiye and Fethiye museum passes. Keep in mind that they require a bit of climbing to get there along some steep, uneven stairs. There are three separate areas of the Fethiye tombs to explore. The first two can easily be seen from the road and draw the most visitors. But the third, which is actually the easiest to get to, is often missed.
To reach this area, keep to your right as you enter and follow the narrow path between the base of the cliff and the road. You'll find a small stairway that will lead you to the often unexplored area.
Lycian Sarcophagi
The Lycian culture honored their dead in many ways. While the royalty were often given cliffside tombs, the cultural elite were often buried throughout the cities in elegant sarcophagi. As we were driving through town, we were surprised to find several of these fascinating tombs in often unexpected places. This included right in the middle of the road!
Many of the limestone tombs were left standing as the city grew around them. Rather than moving or covering them, the town of Fethiye, like the town of Kas, embraced these features and left them as is. Some of the sarcophagi are richly decorated and reach up to three stories in height.
One of the most ornate of these tombs lies in the gardens of the Fethiye town hall. The sarcophagus is designed similarly to a two-story house and features detailed reliefs. One of these reliefs is a clear depiction of Lycian soldiers carrying shields.
Fethiye Museum
For those who would like to dive deeper into the history of the town, a visit to the local museum is one of the best things to do in Fethiye. The Fethiye Museum has a wealth of artifacts dating from the bronze age through to the Byzantine Empire.
Stroll through the halls and examine the collection of minted coins, ornate jewelry, statues, pottery, and altars that have been collected from the many archaeological digs in the area. One of the most unique items is an entire tomb that was transported from the nearby ruins of Tlos. The tomb has a fascinating "Trilingual Stele" that includes writing in Lycian, Greek, and Aramaic.
Fethiye Market
One of the most popular places to visit in Fethiye to get a taste of the local culture is the Fethiye Market. Also known as the Fethiye Bazaar, this bustling marketplace in the center of Fethiye offers the best local shopping in town.
Wander through the kaleidoscope of colors and aromas of the rows of spic vendors, taste local Turkish Delights, and put on your best bargaining face for local handicrafts and souvenirs. Throughout the Fethiye Market, you'll find everything you need for a stay in the city. There are rows of local produce, meat, prepared foods, clothing, leather goods, and mementos to take home with you.
Fethiye Harbour
The Fethiye waterfront is an active and exciting area year-round. Fethiye Harbour, which sits on the southern edge of the city, is where you'll find much of the city's marine activity. All day long, Gocek boats, fishing charters, and yachts zip in and out of the harbor in a flurry.
Grab a latte at one of the waterside cafes and enjoy the panoramic views of the harbor while the magnificent Amyntas Rock Tombs dominate the scenery behind you. Strolling the vibrant promenade is another great way to experience the Fethiye Harbour. There are loads of parks for families, gardens, and scenic stops along the way.
Fethiye Harbour serves as the launching point for many of the water tours in Fethiye, such as 12 Islands cruises, fishing charters, and SCUBA tours.
Paragliding
Fethiye has become one of the world's top paragliding hotspots. And even those with no experience can join in the fun. Both Oludeniz and Mount Babadag are famous for paragliding, and there are loads of tours and groups you can join to take part yourself.
Most of the Fethiye paragliding experiences launch from the summit of Mount Babadag and fly over Oludeniz Beach and the lagoon. The tours are guided by experienced pilots who soar with you above the breathtaking scenery for about half an hour.
You'll launch near the summit of the mountain, be lifted on thermal currents, and swoop above the waves before coming to a touchdown on Oludeniz Beach. This is one of the most popular Fethiye paragliding tours out there, with five stars after nearly 2,000 reviews.
Çalis Beach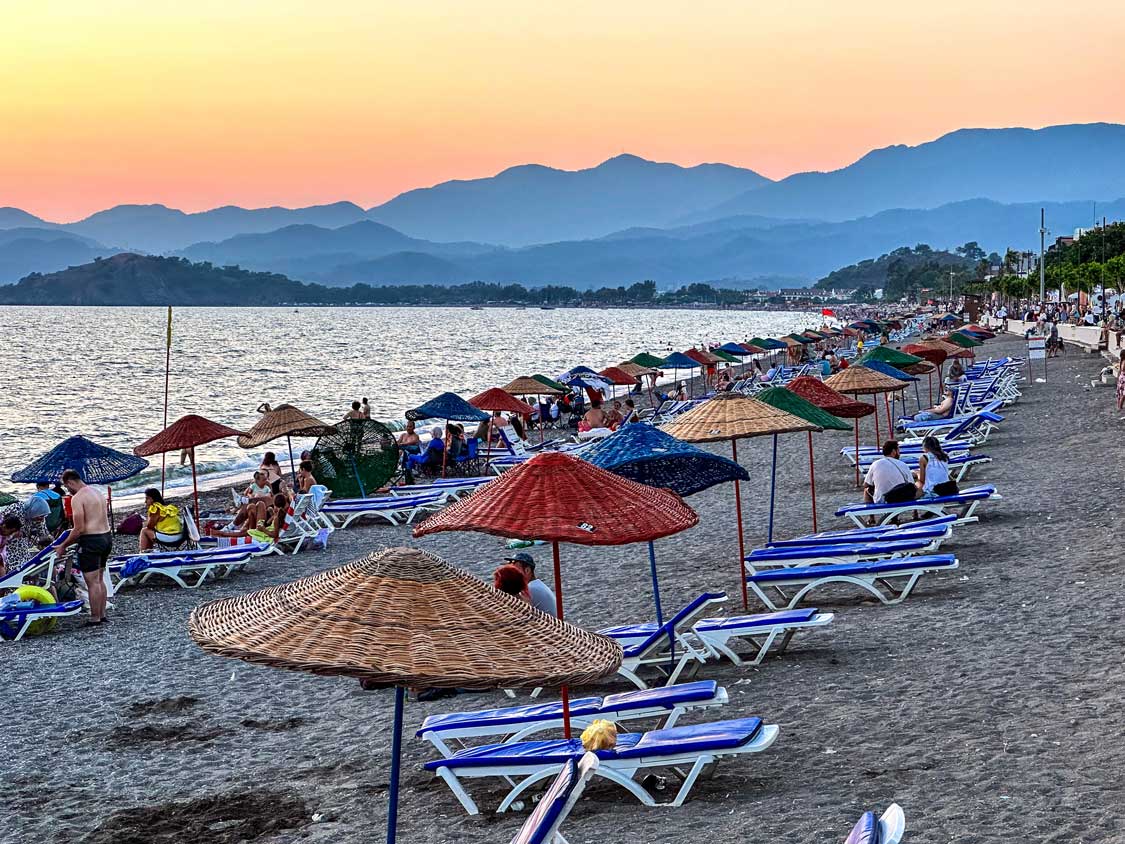 Stretching for five kilometers (three miles) across the city's waterfront from Fethiye Harbour is the main beach in town, Çalis Beach. The beach is a mix of rough sand and pebble stretches where the water dips slowly into the blue waters of the Mediterranean Sea.
Calis Beach has a resort feel to it. The beach is lined with tourist shops, cafes, resorts, hotels, and restaurants. While the main area, especially near 1080 SK. can get very busy, a quick walk in either directly will offer up space for your own little stretch of sand.
Next to Mount Babadag, Calis Beach offers one of the best places for sunsets in Fethiye. A late-day visit here rarely disappoints.
Fethiye Old Town
Fethiye Old Town, also known as Paspatur, is undeniably one of the best places to visit in Fethiye. This section in the heart of the city offers a blend of history, culture, and charm that makes for one of the best ways to get to know the town.
With narrow, cobblestone streets and traditional Ottoman-style houses, Fethiye Old Town feels like stepping into the past. The streets are dotted with Lycian sarcophagi and ancient tombs and are home to the best of the town's bustling bazaars.]
Visit the quiet cafes, restaurants, and bars that drawn thousands of visitors to the center of the city and enjoy picturesque harbor views.
Harbor Fishing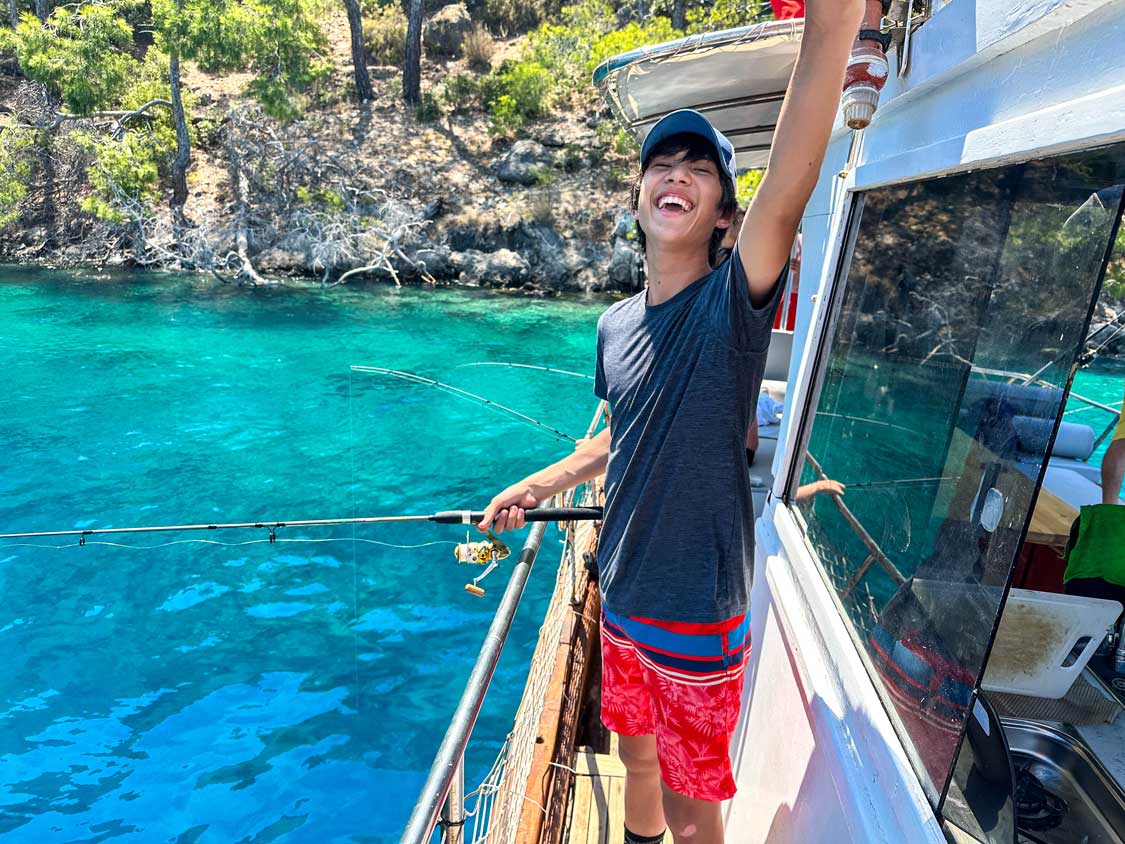 If you love fishing, there is some excellent harbor fishing in Fethiye. You won't find fishing in Fethiye at most of the tour sites, but if you ask while in town, everyone knows someone who runs local fishing tours.
Cohen, our 12-year-old, loves to fish, and Fethiye offered the perfect place to add his passion to our itinerary. We went out with a fantastic gentleman who had a small fishing tour. They fed us an excellent lunch and took us to several spots along the Fethiye coast, where we caught more than our fair share of fish.
Things To Do Near Fethiye
Fethiye attractions don't end at the city's borders. There are plenty of things to do near Fethiye that are just as amazing as those inside the city. These activities are perfect for those who have more than just a couple of days to spend in the city.
Kayaköy Abandoned Village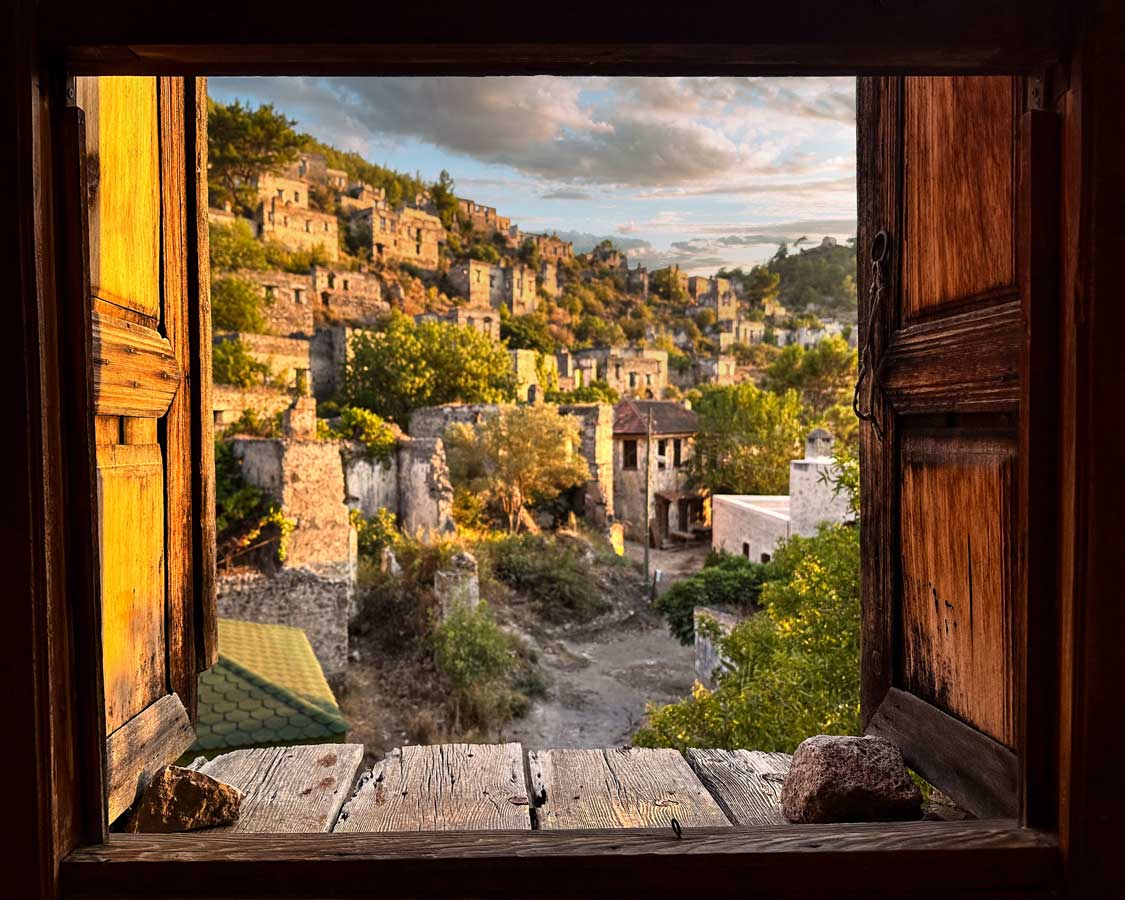 Just eight kilometers from the city center lies one of the most fascinating places to visit in Fethiye. Kayakoy is a ghost village that was once home to a large Greek Orthodox Christian community. For centuries, the Greeks and the Turks lived in harmony with each other. But this all changed during the Greco-Turkish War, which raged between 1919 and 1922.
The town of Kayakoy once had a population of 6,000 residents. It dates back as far as the 7th century when it was a thriving community. But this all changed when the war ended; all Muslims were removed from Greece, and all Christians were removed from Turkiye.
The village is a mix of restored architecture and abandoned houses and buildings left untouched for over 100 years. Visitors can scramble through the yards and inside the houses and bask in the beauty and history of one of the most unique destinations in Turkiye.
A few of the buildings have been restored and contain cafes and art galleries, but most remain completely unaltered. Don't miss the last house to be been abandoned. You can stroll through both floors of the building and see the original furniture and photos that still remain.
You can read all about visiting Kayakoy Ghost Village here.
Butterfly Valley
One of the top things to do in Fethiye is also one of its worst-kept secrets. Butterfly Valley, located in a remote area just south of Oludeniz, is nearly inaccessible by land, but for those willing to take on a hike or visit by sea, it's become one of the best things to do in Fethiye.
This idyllic stretch of sand used to lie off-the-beaten path and was the spot for local parties and backpackers camping. Today, it's far more popular, and tours will take travelers by water out to this peaceful stretch of sand.
There's a small cafe on the beach that makes for a wonderful spot to watch the more than 80 species of butterflies that migrate to the valley between June and September.
For those who can't sit still, the valley is good for more than just a great beach. Explore a little deeper, and you'll find waterfalls, towering rock cliffs, and scenic hiking trails.
This Fethiye boat tour will take visitors out to Butterfly Valley and includes stops at St. Nicholas Island, the Blue Cave, and Cold Spring Bay.
Mount Babadag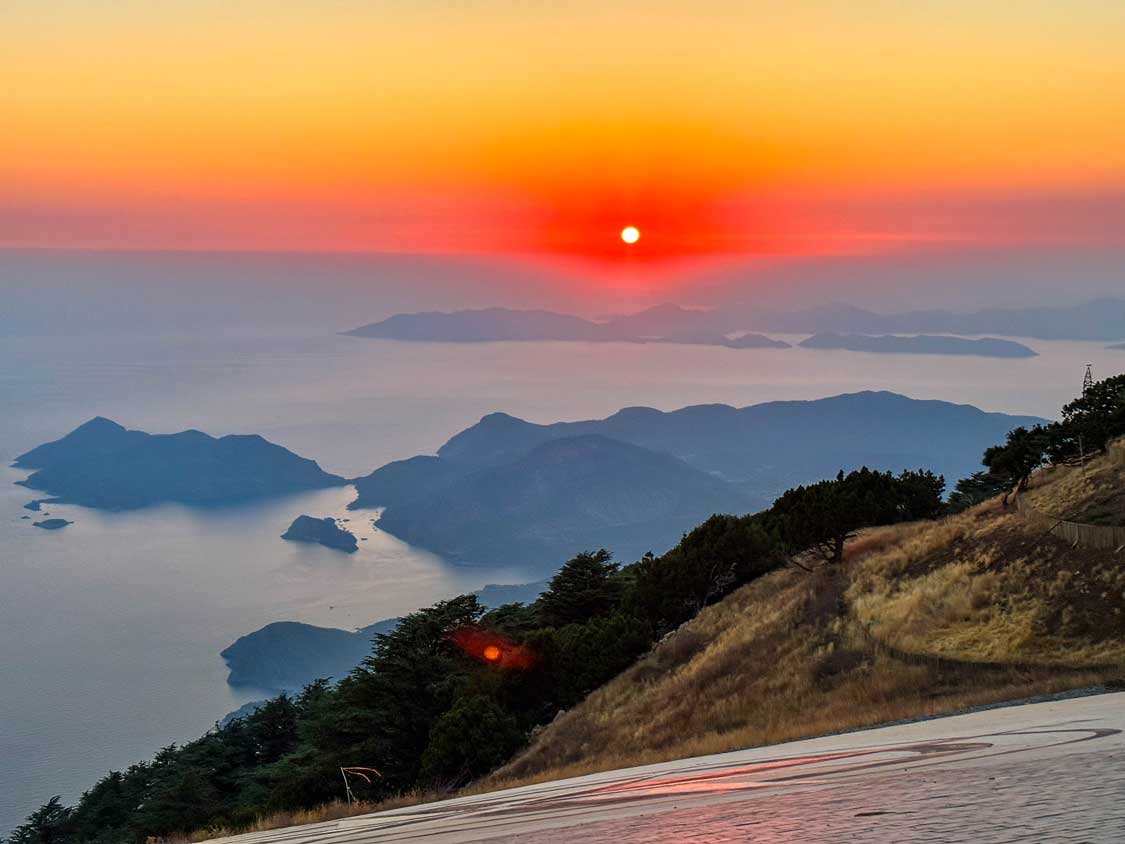 A visit to "Father Mountain," or Mount Babadag, is one of the most epic things to do near Fethiye. The mountain, which towers 6,460 ft above the surrounding landscape, is one of the most popular paragliding launches in Fethiye. But there's much more to this impressive mountain than just that.
The entrance to Mount Babadag includes a multi-stage gondola ride that stops at three different levels of the mountain. Each one has a restaurant, viewpoints, and shops. There are plenty of hiking trails for outdoor lovers as well.
For non-adventure-seekers, Mount Babadag also offers one of the most stunning places to watch the sunset near Fethiye. The views of the sun sinking over Fethiye Harbour and Oludeniz Beach are simply stunning. If you can, grab a table with a view at 1700 Restaurant next to the paragliding launch. The food is pricey but excellent, and the views are magical.
12 Islands Cruise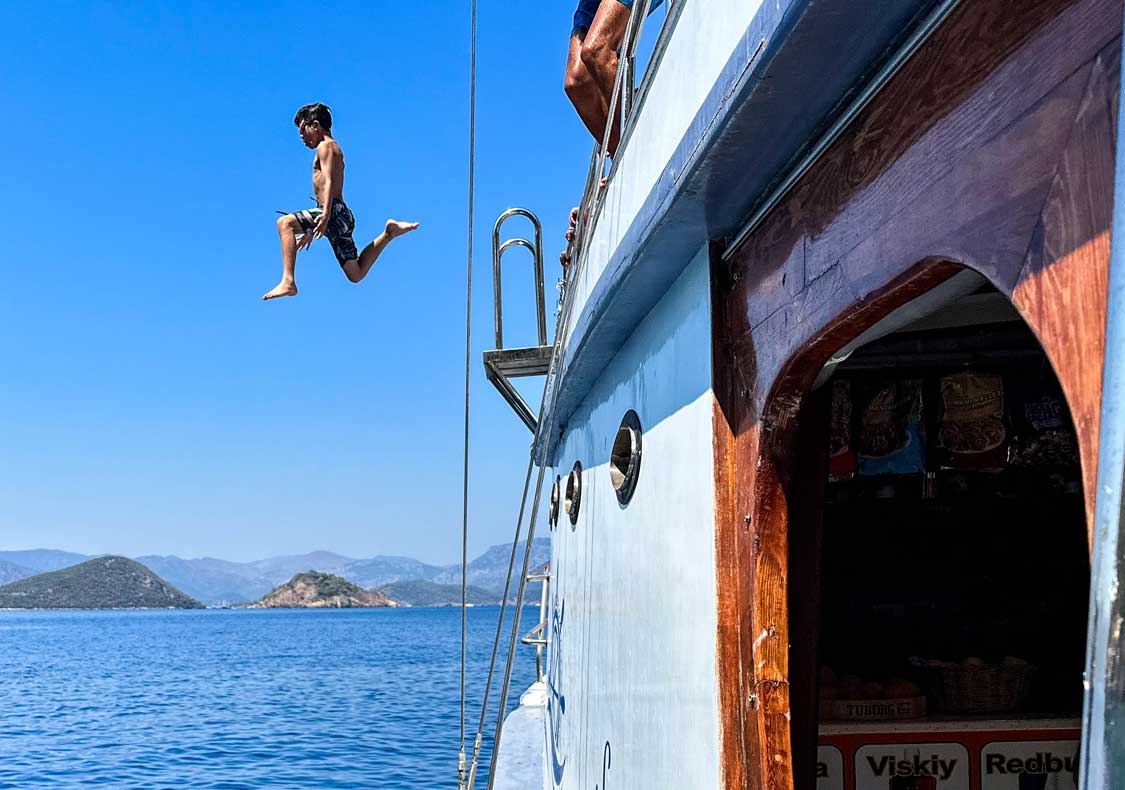 The best way to get a perspective on Turkiye's Turquoise Coast is from the water. The chain islands off the coastal shores offer a peaceful escape from the busy city center and a wonderful way to relax and enjoy the scenery.
Most 12 Islands cruises launch from the nearby town of Gocek. In fact, the traditional boats that visitors often use to ferry people along the Turquoise Coast are called "Gocek Boats." Some boats, however, set sail from Fethiye Harbour. There are multi-day cruises to all of the 12 Islands and single-day cruises that usually visit three to four of the islands.
Ölüdeniz Beach
Just ten kilometers south of Fethiye's old town lies one of the best beaches in Turkiye. Oludeniz Beach is a crescent of white sand and pebbles reaching out over a sparkling lagoon. The water at Oludeniz Beach erupts in shades of blue, emerald, and turquoise.
With surrounding mountains that tower over 6,000 feet overhead and the rich green forests that arch around the beach, it's easy to understand why this is such a special place. The waters of the lagoon are a protected nature reserve due to the endangered Loggerhead Turtles that nest here, similar to Itzuzu Beach, just a few miles away near Dalyan.
At the beach, you'll find beach clubs where you can rent sun loungers and umbrellas, as well as pedal boats. There are also small cafes where you can enjoy a drink or a bite to eat.
Saklıkent National Park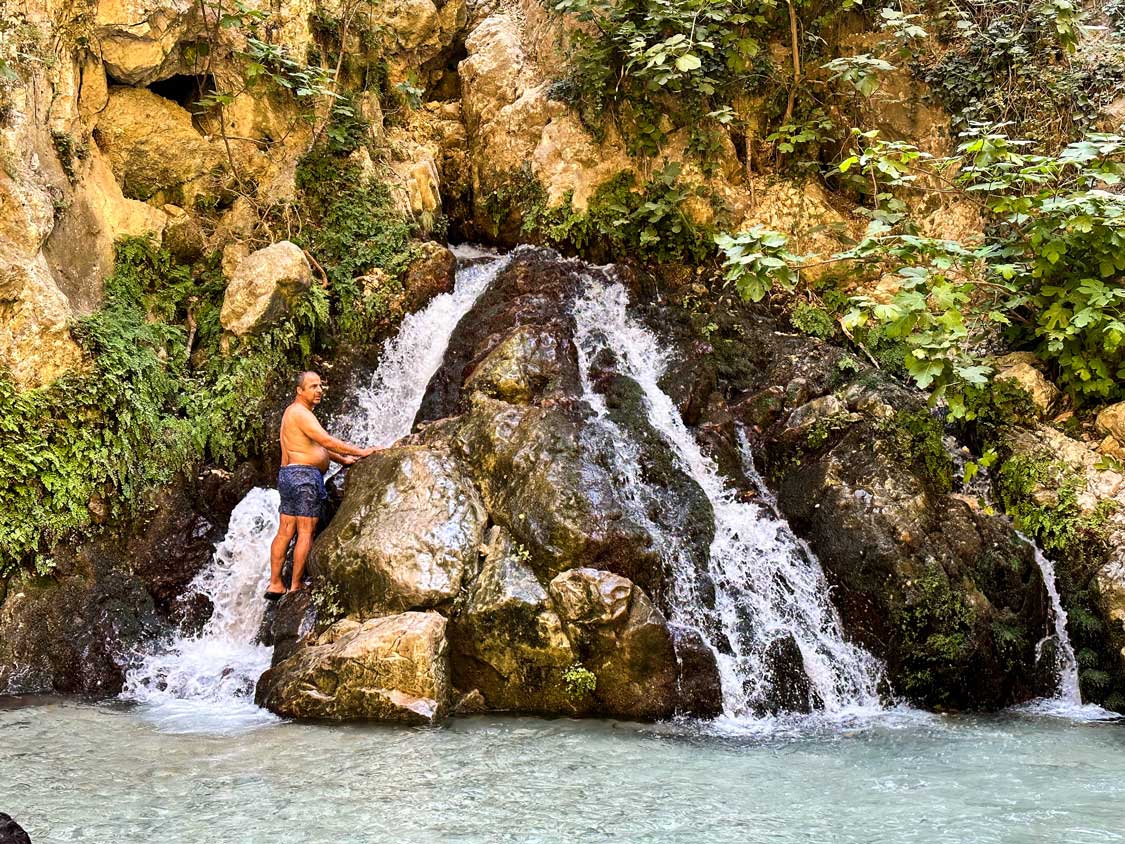 One of the most surreal attractions near Fethiye is Saklikent Gorge in Saklikent National Park. This unique canyon is one of Turkiye's natural wonders and is one of the country's deepest canyons.
Saklikent Canyon is unlike many canyons that my family has explored. Colca Canyon in Peru was epically deep and best viewed from the top, where the Andean Condors soar, and Charyn Canyon near Almaty, Kazakhstan, is breathtakingly beautiful but wide and easy to navigate. Saklikent Gorge is best experienced from the bottom, where the towering wall launches epically into the sky, leaving only a sliver of sky at the top.
Saklikent Gorge is 18 kilometers (11 miles) long and up to 300 meters (984 feet) deep. It has two hiking trails, one for beginners and another for more challenging trails that require a guide and proper climbing equipment. The second trail begins, and the first one ends at a small but beautiful waterfall.
Saklikent Gorge is one of the most popular attractions in Turkiye. And the entrance has a bit of a theme park feel to it. There are riverside restaurants, photo spots, and plenty of tour groups constantly rolling in and out.
The water here is ice-cold and rocky, so if you want to get the best experience, I'd recommend bringing some water shoes with you, or your feet will get sore pretty quickly.
You can read our complete guide to Saklikent Gorge here.
Tlos Ruins
A visit to Tlos in Turkey is a journey back in time to a captivating ancient city that holds a significant place in Lycian history. Nestled amidst the stunning natural landscapes of the Taurus Mountains, Tlos offers a unique blend of archaeological wonders and natural beauty. As you approach the site, you'll be greeted by the imposing acropolis, which sits atop a hill, providing a commanding view of the surrounding valley.
Exploring Tlos, you'll encounter a wealth of historical treasures, including well-preserved Lycian rock tombs carved into the cliffs, a Roman amphitheater, and the remains of ancient agora and bathhouses. The most iconic feature of Tlos is the rock-cut tomb of Bellerophon, which stands as a testament to the artistry and engineering skills of the Lycians. The site's rich history is intertwined with mythology, as it's believed to be the home of the mythical hero Bellerophon, who tamed the winged horse Pegasus and defeated the Chimera.
Beyond its archaeological significance, Tlos is surrounded by stunning natural beauty. The nearby Saklikent Gorge, with its icy waters and towering cliffs, is a popular spot for hiking and cooling off in the summer months. Tlos offers visitors a chance to step back in time, immersing themselves in the ancient world while also enjoying the breathtaking landscapes of the Turkish countryside. It's a must-visit destination for history enthusiasts, nature lovers, and those seeking a unique cultural experience in Turkiye.
Patara Beach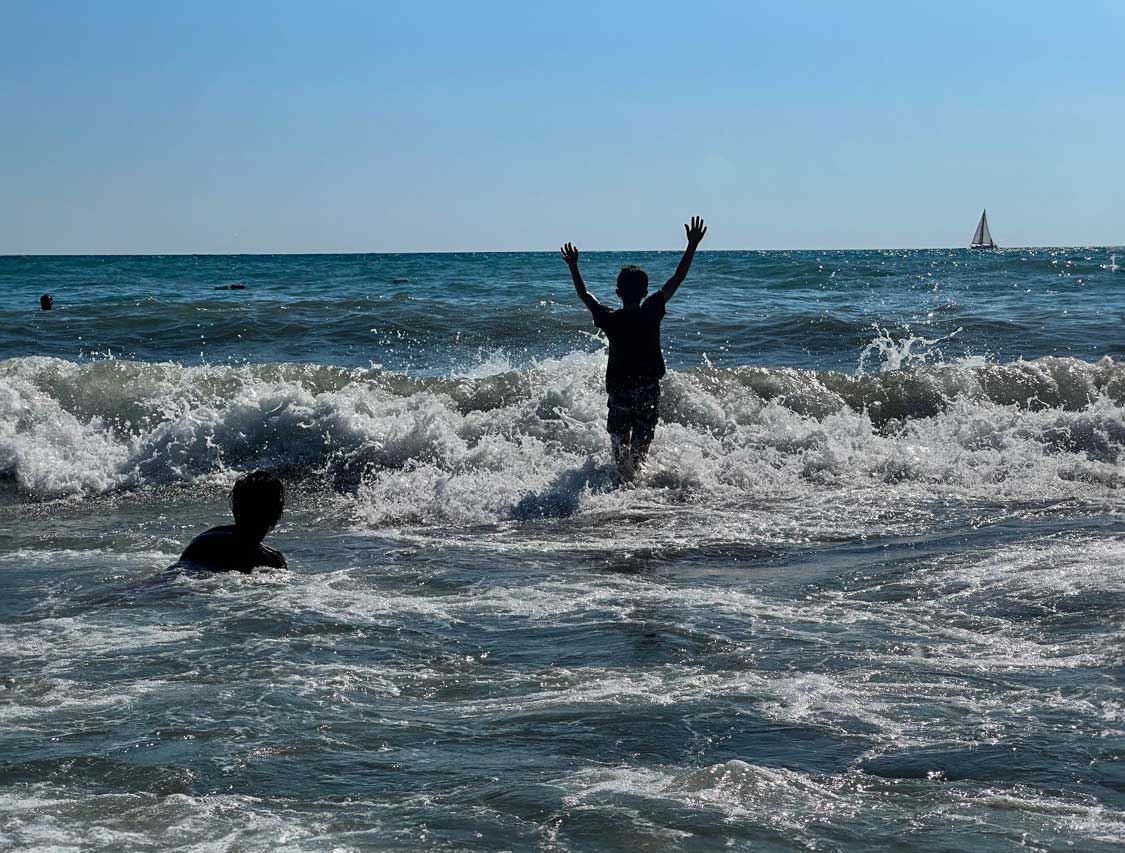 Stretching for an impressive 12 kilometers along the Mediterranean coast, Patara Beach is Turkey's longest sandy beach, making it a haven for beach enthusiasts and nature lovers alike. While it lacks the surreal beauty of Oludeniz Beach, it makes up for it with its vast stretches of sand and access to beautiful Roman ruins just steps from the shore.
The beach was once part of a thriving port, and the ruins of the town of Patara include an amphitheater, a triumphal arch, and many columns and buildings. The unique mixture of natural beauty and historic charm makes this a popular day trip from Fethiye.
The beach is a nesting place for sea turtles. You'll find certain sections of the beach closed during nesting season to protect these endangered creatures.
You can read our complete guide to Patara Beach here.
Kadyanda
Lycian history in Fethiye isn't limited to the rock tombs that tower above the town and the epic ruins of Tlos.
The ruins of Kadyanda offer an even deeper glimpse into this fascinating civilization. Kadyanda, which sits just outside of the town of Uzumlu, about 25 kilometers from Fethiye, was a hilltop town that existed from 3,000 BCE till about 700 CE.
Strolling through the town will bring you face-to-face with Lycian, Greek, and Roman buildings, including stadiums, theaters, baths, and temples, all surrounded by a defensive wall. One of the things that makes Kadyanda so unique is its position inside a beautiful pine forest.
Kadyanda sits off of the tourist radar for most people, and visitors who make the journey will have the chance to get very intimate access to the ruins.
Things To Do In Fethiye with Kids
Fethiye is an incredibly popular destination for families. If you're visiting Turkiye with kids, Fethiye should definitely be on your radar. The city is really designed with families in mind. While all of the attractions that I list above can be done with kids (including paragliding) here are a few child-specific attractions that are worth checking out.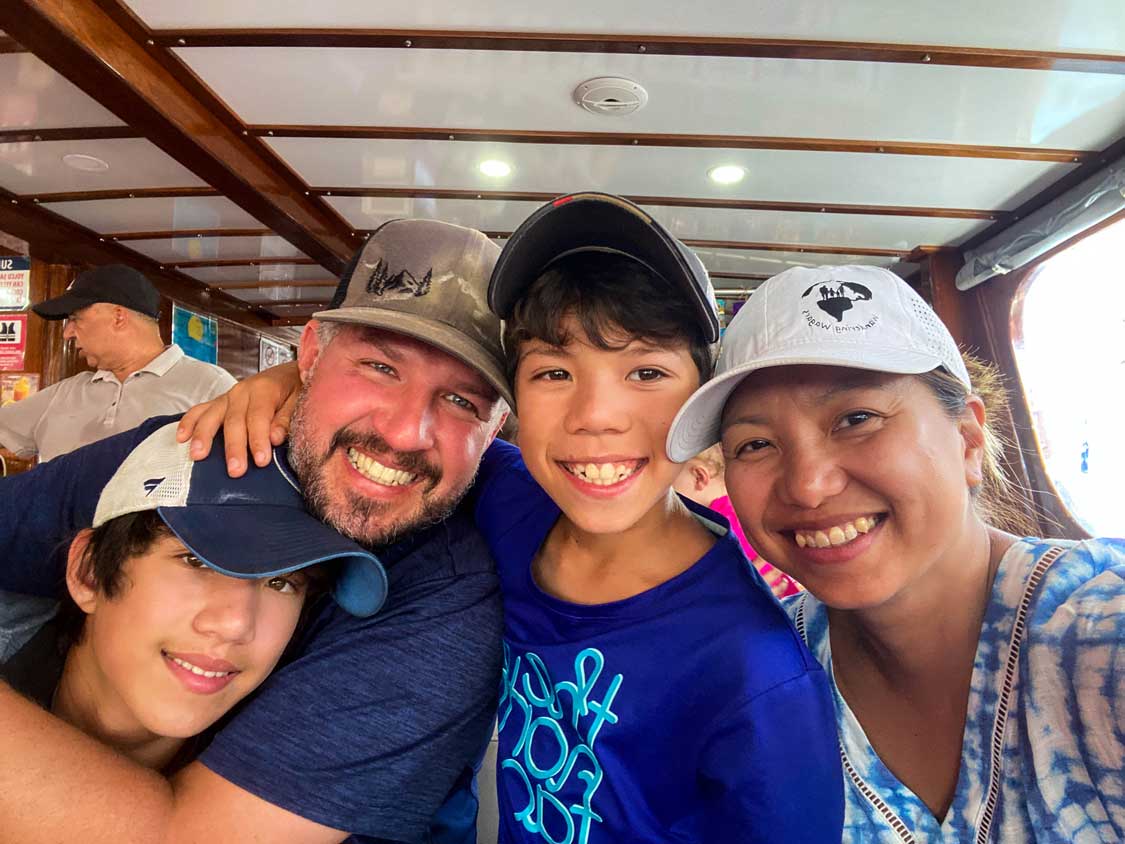 Şehit Fethi Bey Parkı
One of the top things to do in Fethiye is to visit the city's most popular recreational park. Şehit Fethi Bey Parkı is a wonderful place for couples and those visiting Fethiye with kids. You'll find duck ponds, seaside benches, a skate park, a BMX park, and seaside trails.
Sehit Fethi Bey Park was opened in 2018 as the region's largest recreation area. It features all sorts of unique adaptations, such as tunnels and bridges along outdoor trails and even an outdoor gym and running track. Kids will love the massive playground with rope ladders, swings, and adventurous play activities.
This park is a must for families visiting Fethiye, but to be honest, it's fun for everyone who has a few days to spend in the city.
Water Parks
Summer in Fethiye can get pretty hot. If you're looking to beat the heat, there are several Fethiye waterparks packed with slides, wave pools, and lazy rivers that can help you cool off.
Aquapark Dedeman, located near Oludeniz Beach, has some of the best waterslides in Fethiye. It's the oldest and most popular waterpark in the region. Older kids won't want to miss the 30-meter high Freefall slide. Those with younger children will love the family slide rafting, the splash pad, and the smaller slides, which are perfect for little ones.
Aqua Dream Water Park near Hisaronu (about 25 minutes away) is another popular Fethiye waterpark. This park has over 20 different water slides, a lazy river, a wave pool, and splash pads. It also features several international restaurants.
You'll also find several waterparks within Fethiye itself, including Orka World Waterpark and Sultans Aqua City.
Where To Stay In Fethiye, Turkiye
Fethiye is a popular family getaway in Turkiye. There are loads of great places to stay, and hotels in Fethiye range from local resorts to apartment-style homestays. Where you want to stay in the city really depends on what you're looking for in your Fethiye vacation, so here are some of my top suggestions.
Ten Apart Hotel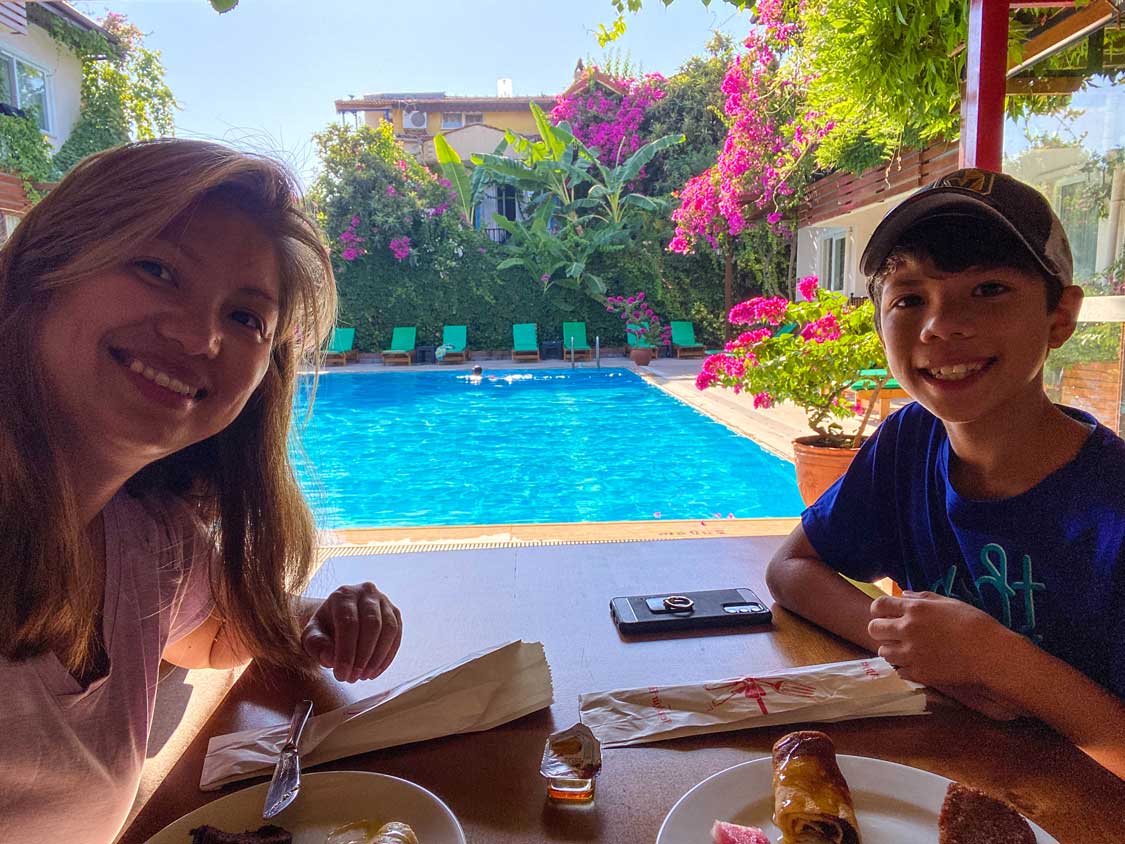 Ten Apart is where my family stayed while we were in Fethiye. We were halfway through our Turkiye itinerary, which started in Istanbul with our kids and would take us all the way to Mount Nemrut and Salifiura.
We were looking for something simple, affordable, and comfortable with a kitchen where we could make our own meals. We also wanted to be close to the best things to do in Fethiye without being right in the middle of it.
Ten Apart Hotel has apartment-style rooms with kitchens, a beautiful pool, and an on-site restaurant that fits our needs perfectly.
You can check out their current rates and availability here.
Juglans Suites
Situated just 900 feet from Calis Beach, Juglans Suites is a great place for families and couples visiting Fethiye. These apartment-style suites have a fully equipped kitchen, a private beach, and an outdoor pool with great views. Some of the apartments at Juglans Suites even include a dishwasher.
There are car rentals available on-site and easy access to the top Fethiye attractions.
You can check out their prices and availability here.
Liberty Fabay Ultra-All-Inclusive Resort
If you're looking for a hands-off experience where your needs are catered to, Liberty Fabay Ultra-All-Inclusive Resort is what you need. The resort opened in 2021 and features four swimming pools, beautiful beachfront access, restaurants, a waterpark, a kids club, and an on-site nightclub.
The resort is less than half a mile from Akmaz Beach and includes a full breakfast each morning. If you're interested in a little pampering, you can take advantage of the on-site Turkish Bath as well.
You can check out their current prices and availability here,
Tips For Travel in Fethiye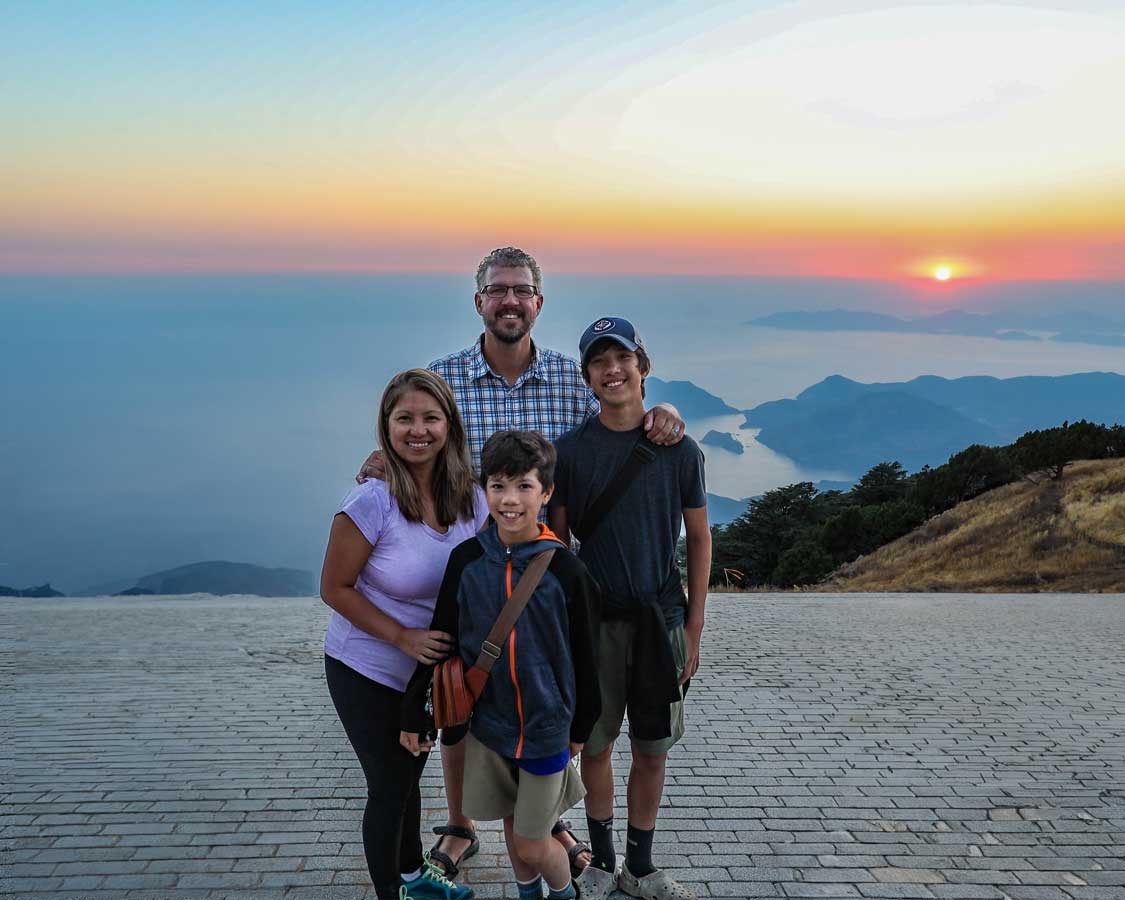 I'd be lying if I said that Fethiye was my favorite city in Turkiye. It's touristy and busy. While it does have some absolutely amazing things to do, it takes a little bit of effort to discover the areas that are truly special.
The city is surrounded by incredible natural beauty and amazing historical sites. The locals are warm and hospitable, once you leave the touristy areas as well. Here are a few Fethiye tips to help you make the most of your trip to this enchanting destination:
Sunscreen and Sun Protection: Fethiye enjoys plenty of sunshine, so be sure to pack sunscreen, sunglasses, and a wide-brimmed hat to protect yourself from the strong Mediterranean sun. I recommend using reef-safe sunscreen that protects you as well as the precious reefs and marine life you're there to see.
Stay Hydrated: Fethiye's climate can get hot, especially during the summer months. Carry a refillable or, even better, a filtered water bottle to stay hydrated while exploring the town and its surroundings.
Dress Modestly in Certain Areas: While Fethiye is a relatively relaxed and tourist-friendly destination, it's respectful to dress modestly when visiting religious such as churches or mosques.
Local Cuisine: Don't miss the opportunity to savor traditional Turkish food in Fethiye's restaurants and cafes. Try "manti" (Turkish dumplings) and "kebabs" for a taste of local flavors.
Haggling: Bargaining is common in Fethiye's markets and bazaars. Don't be afraid to negotiate prices, but do so respectfully and with a smile.
Visit the Markets: Explore Fethiye's markets, like the Fethiye Market (Pazar), to shop for souvenirs, textiles, spices, and fresh produce. It's a great way to immerse yourself in the local culture.
Boat Trips: Consider taking a boat tour to explore the nearby islands and beaches. The 12 Islands Cruise is a popular choice and offers a fantastic day on the water..
Learn Basic Turkish Phrases: While many people in Fethiye speak English, learning a few basic Turkish phrases like "hello," "thank you," and "please" can go a long way in connecting with locals and showing respect for their culture. You can find this and more in our Turkiye Family Travel blog.
Enjoy Your Time In Fethiye, Turkiye!
Fethiye is one of the most popular destinations in Turkiye, and its popularity is well-deserved. The vast range of things to do in Fethiye makes this far more than a simple resort getaway. Fethiye combines history, natural beauty, and adventure, meaning that it's truly a place that has something for everyone.
You can find more great information about visiting Turkiye on our Turkiye Family Travel Blog. Or feel free to join our Family Travel Support Group on Facebook. You can connect with more family travelers just like you who love to explore the world.
Wandering Wagars is a participant in the Amazon Services LLC Associates Program, an affiliate advertising program designed to provide a means for sites to earn advertising fees by advertising and linking to amazon.com, amazon.co.uk, amazon.ca. Amazon and the Amazon logo are trademarks of Amazon.com, Inc. or its affiliates
You May Also Like To Read: