Explore the beauty of Saklikent Gorge. Discover the secrets of this breathtaking natural wonder, from trekking tips to must-see attractions.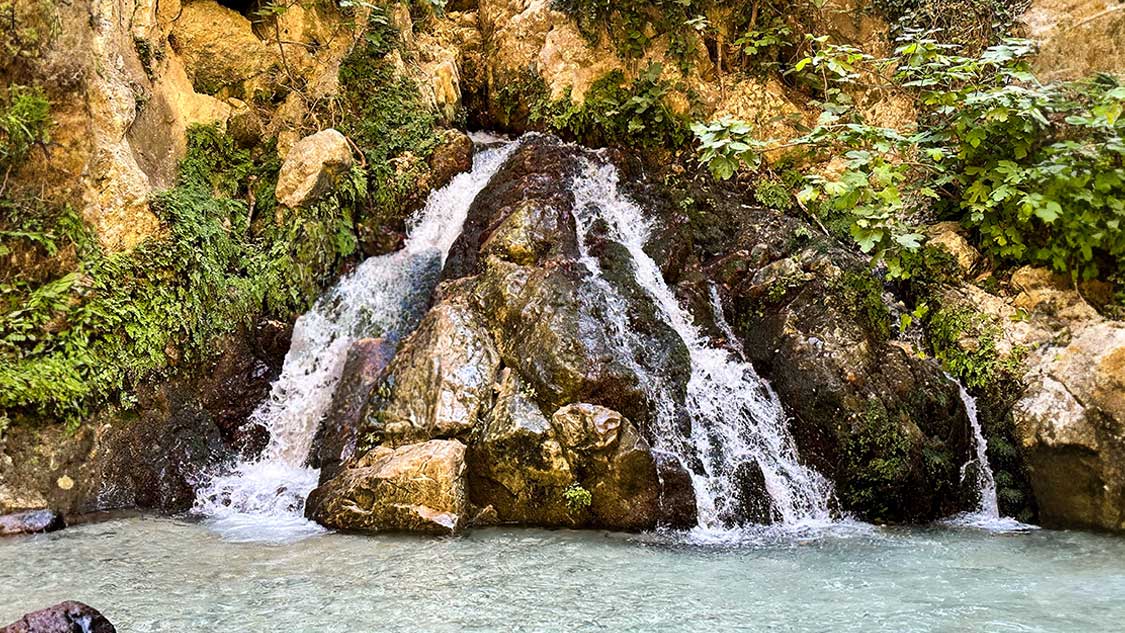 Situated along a picturesque drive smack in the middle between the towns of Fethiye and Kas in Southwest Turkiye lies the longest canyon in Turkiye, the stunning Saklikent Gorge.
With rushing waterfalls bursting from the surrounding cliffs and stunning trails that lead to one of the most challenging hikes in the region, Saklikent National Park is one of the most popular places to visit in Turkiye. The park draws throngs of visitors between April and October and is so popular that there's a carnival-like atmosphere in the area that surrounds it.
My family rolled into Saklikent National Park in early August when the park was at its peak. And to say that it was one of the busiest places that we explored would be a bit of an understatement. The only place that could compare in terms of the number of people packed into the space was Ephesus, but that historic ruin was far larger.
But Saklikent Gorge is mesmerizingly beautiful, and its location near popular attractions like Patara Beach and Mount Babadag means that a day trip to Saklikent Gorge can be combined with several other attractions as well.
About Saklikent Gorge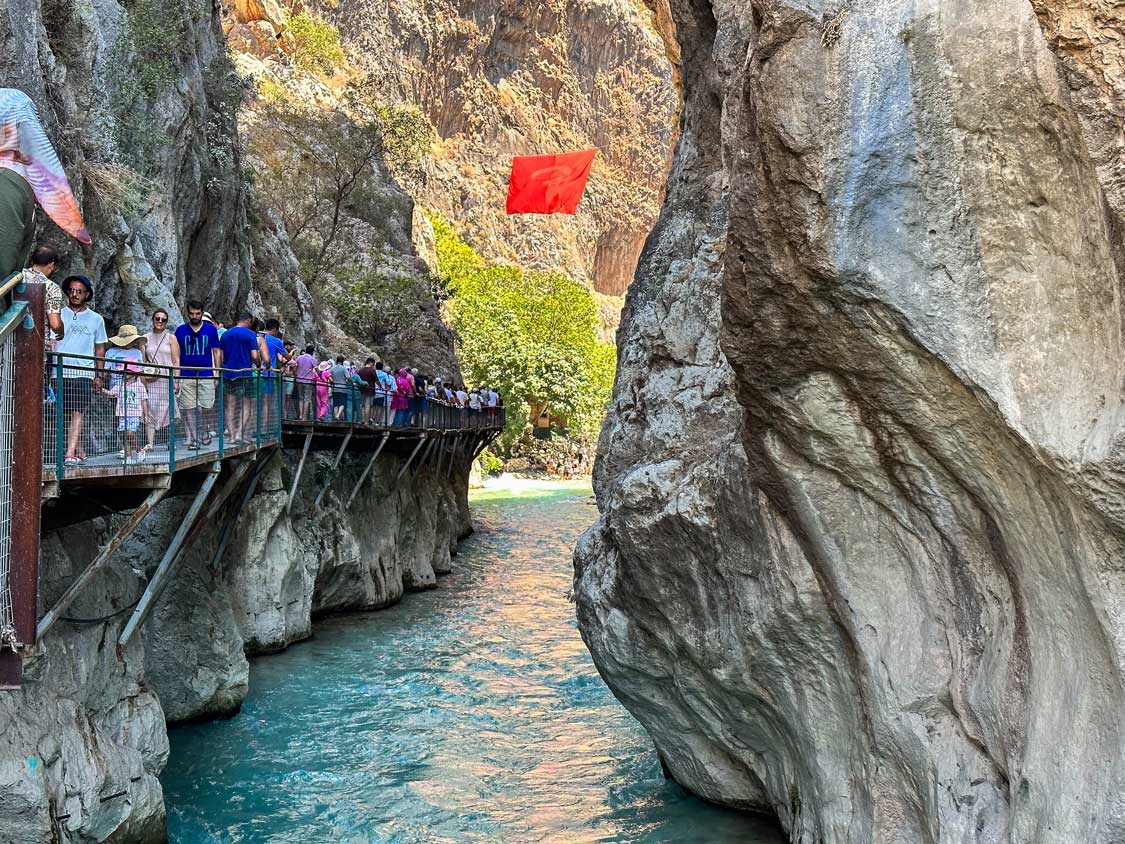 This slot canyon is located within the Taurus Mountains along Palamut Koyu Yolu about 45 minutes from the popular resort town of Fethiye.
Saklikent Gorge is located within Saklikent National Park. This tremendous canyon is 11 miles (18 km) long and over 300 and over 984 feet (300 m) deep. The park was opened to the public in 1996 and has exploded in popularity over the years.
Saklikent Gorge was carved by ice-cold streams erupting from natural springs within the mountains. The water is susceptible to seasonal changes in flow, so sections of the park are often closed between November and March. The park itself, including the popular boardwalk at the entrance of the gorge, is open year-round.
The first two and a half miles (4 km) of Saklikent Gorge are accessible to the public. After that a registered guide is required and all hikers will need to have proper climbing and safety equipment to manage challenging routes beyond.
As you enter Saklikent National Park you'll find large parking areas on the side of the road opposite the towering cliffs. We walked over the Dargaz Stream along a small pedestrian bridge and found the fast-moving line to access Saklikent Gorge.
After paying the small entrance fee we entered Saklikent Gorge itself along a cliffside boardwalk to the first of several waterfalls within the gorge.
Things To Do At Saklikent National Park
Saklikent Gorge is a place where you can stop by to enjoy an hour of beauty and relaxation or spend an entire day experiencing all of the things to do in Saklikent National Park. How much time you spend there really depends on how deep you want your adventure to take you. Here are some of the top attractions at Saklikent Gorge that might make you want to extend your visit.
Hiking Saklikent Gorge
The most popular thing to do in Saklikent Gorge is to hike the gorge trail. Entering the park starts with a casual stroll along a cliffside boardwalk where you'll find water gushing from a series of springs within the Taurus Mountains.
Once the boardwalk ends you'll encounter a small pool and waterfall connecting to the main stream and another waterfall at its base. The water is incredibly cold, and if you plan to do some hiking here, I recommend bringing sensible, grippy water shoes in order to save your feet from the large river stones that you'll need to walk on.
This is the busiest part of the gorge, and it's stunning. Two waterfalls opposite each other with crystal-clear water running between them. There's also a small cafe and a shop where you can rent flip-flops. But I'll be honest, flip-flops are not a good option for hiking in Saklikent Gorge.
You can hike a further 2 miles (three km) into the gorge without a guide. For much of the busy season, this section is not covered in water. To continue past here you'll need to hire a guide. Proper climbing and scrambling gear is required for any journey beyond this point.
Note that most tours of Saklikent Gorge don't include hiking deeper into the canyon. The "hike" that is advertised by most operators is just the 200-meter boardwalk to the first waterfall.
River Tubing
Outside of Saklikent Gorge, there are a number of tour operators offering river tubing tours. This activity is not covered under the entrance fee.
Joining one of these tours will have you zipping down the gentle rapids of the Dargaz Stream in an innertube. Some of the operators offer the use of a paddle, while others require you to steer with your hands and feet.
If you don't mind a little cold water, this is a great way to spend an afternoon. The knee-deep water will carry you along for about 30-40 minutes. Each group is paired with a guide who can help out along the way should you become stuck or lose your tube.
The route ends near some geothermal mud baths where tubers will have the chance to enjoy a therapeutic mud soak before rinsing off in the stream.
Riverside Dining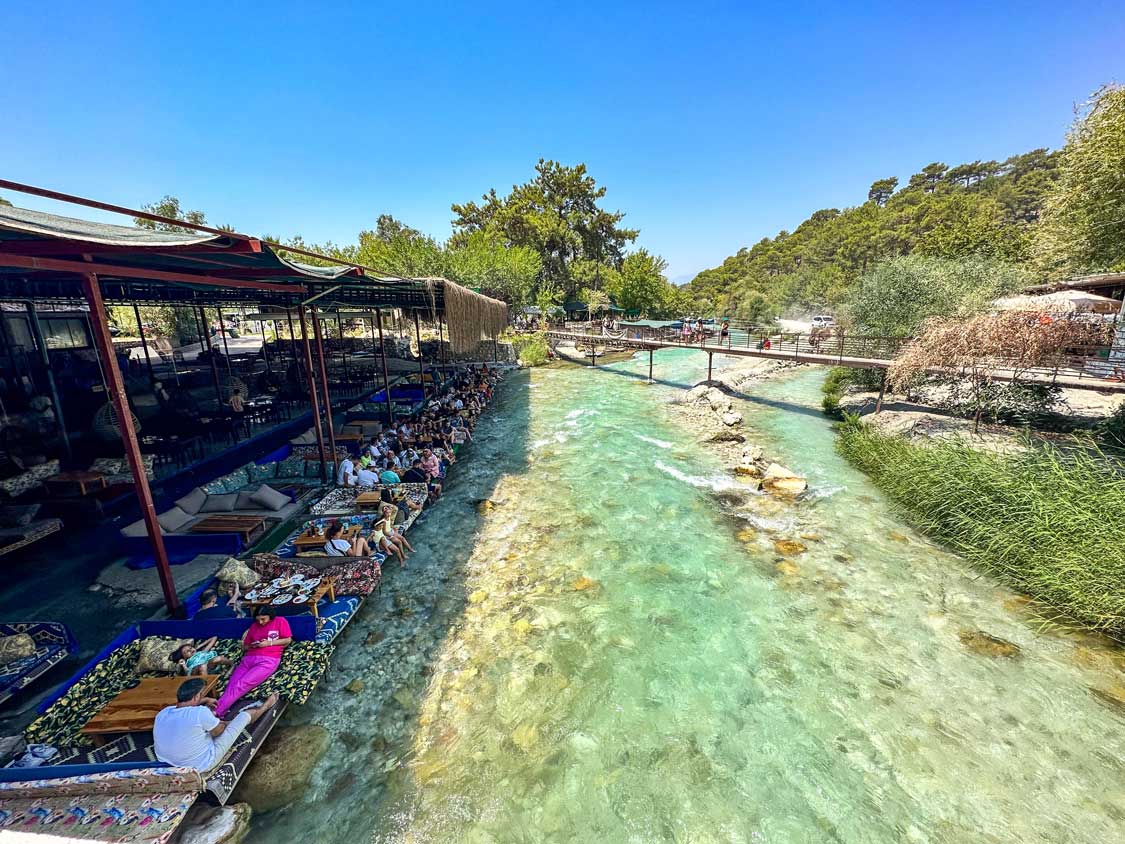 Right outside of Saklikent Gorge, the Dargaz Stream is lined with outdoor dining restaurants. If you're able to, grab one of the tables right at the edge of the stream where you can dangle your legs in the water as you eat.
You'll find loads of traditional Turkish foods such as Gozleme, manti, and kebabs for sale as well as drinks including soda, coffee, tea, and water.
Natural Mud Ponds
Both the river tubing and the Saklikent Gorge hike pass several geothermal mud ponds along the way. You can enjoy a casual mudbath at any time as there are lots of places to wash off in the cool water of the gorge.
Dumanlidag Mountain
Within Saklikent National Park is Dumanlidag Mountain. This beautiful mountain is a popular spot for hiking. The lush vegetation offers some wonderful shade in an otherwise barren region. There are clusters of cedar and pine trees as well as climbing routes and overlooks.
Some of the most scenic stops along Dumanlidag Mountain are the Aklar and Girdev Plateaus,
Tips For Visiting Saklikent Gorge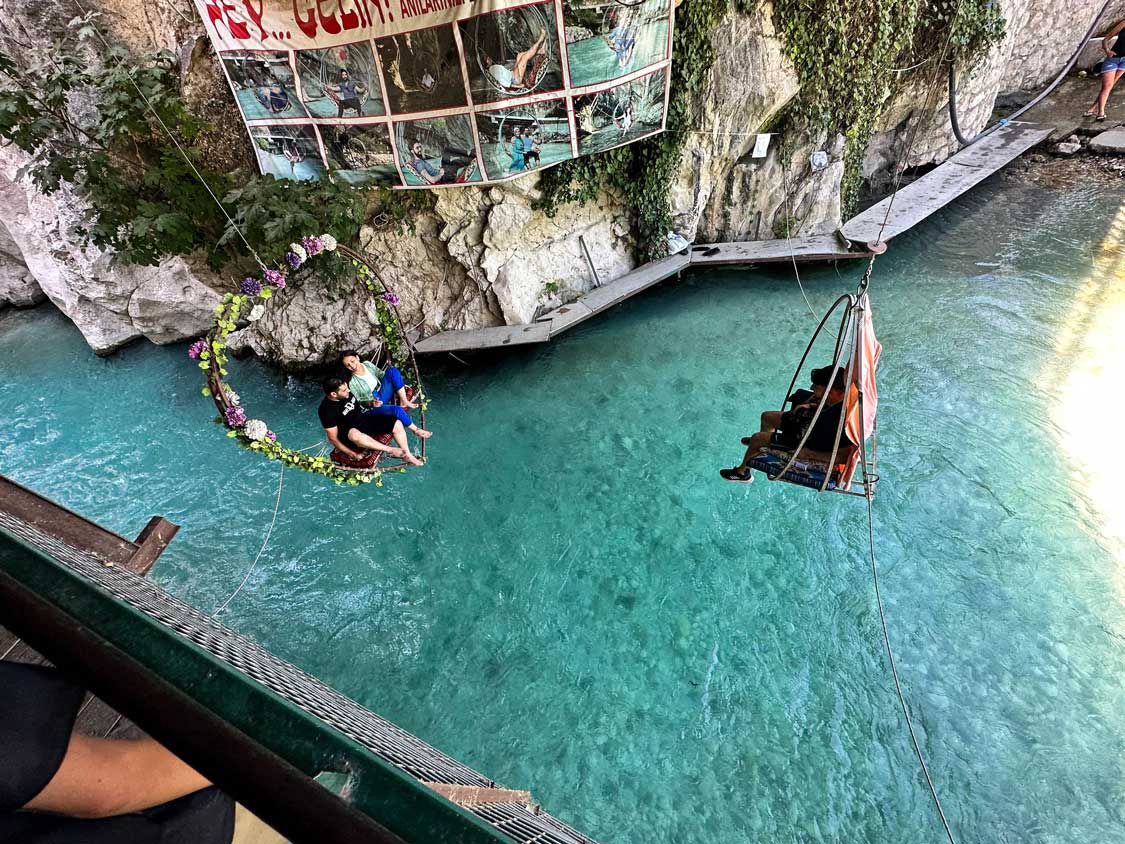 Saklikent Gorge and Saklikent National Park make for an easy day trip from many places in Southwest Turkiye. But there are a few things that it helps to know before you go.
If you plan on walking past the boardwalk or in the water at Saklikent Gorge, make sure to pack water shoes. The cold water mixed with the large round river stones can make your feet ache pretty quickly.
While there's some shade at the beginning of the gorge, once you pass the first waterfall it opens up quite a bit. Wear a hat and sunscreen to avoid getting a nasty sunburn.
During the spring and after rainfall the depth of the water can vary significantly. Follow the rules of the park to stay safe.
If you want to take photos with your phone inside the gorge, I recommend bringing a waterproof phone case. All it takes is a drop into the water onto the hard stones and your phone could be bricked.
Where To Stay Near Saklikent Gorge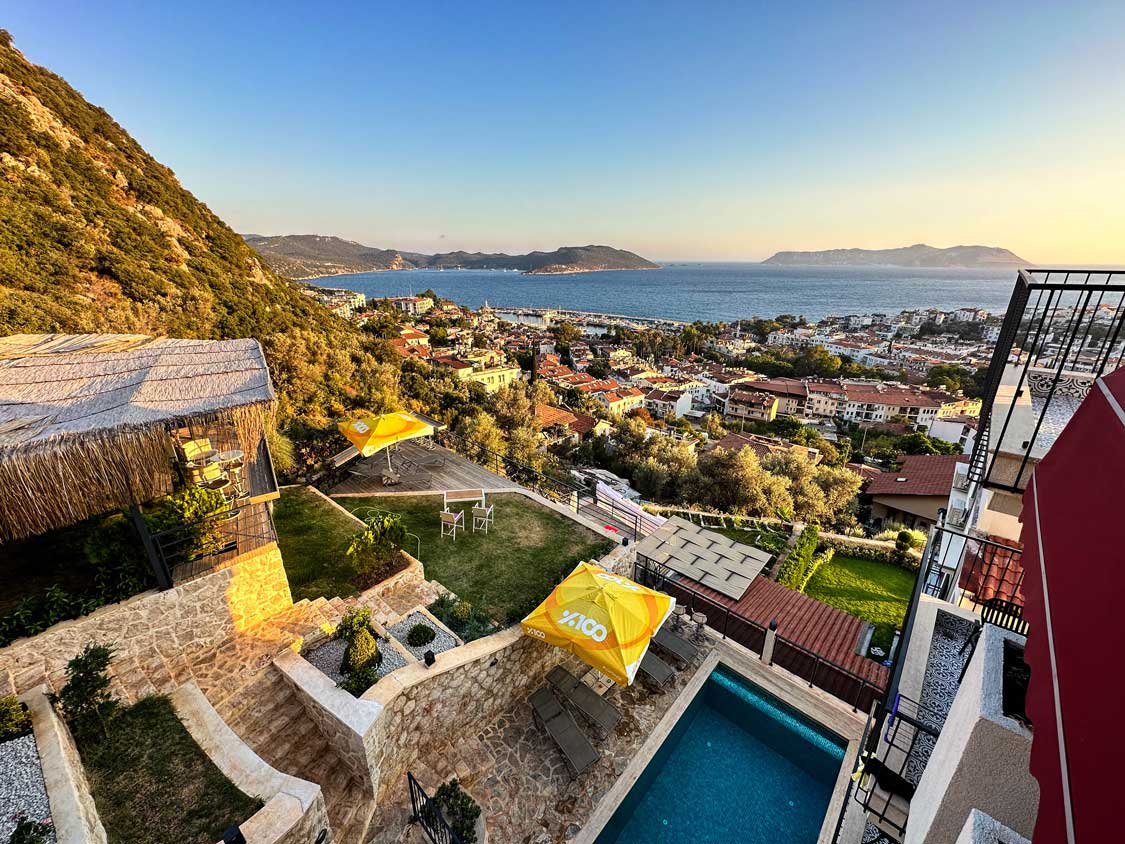 If you're planning to spend a few days around Saklikent Gorge, Patara Beach, and other areas near Kas and Fethiye you may be looking for some hotels near the park.
We stayed at Ten Apart Hotel in Fethiye and thoroughly enjoyed the apartment-style accommodations for our family while we were there. In Kas, we stayed at a unique apartment-style hotel called Granda Apart that overlooked the city. You can also find our guide to the best things to do in Kas here.
The Apollon Hotel is located just 30 minutes away from Saklikent Gorge near Patara Beach. It's a nice little family-friendly hotel. You can find their rates and availability here.
Enjoy Your Visit To Saklikent Gorge and Saklikent National Park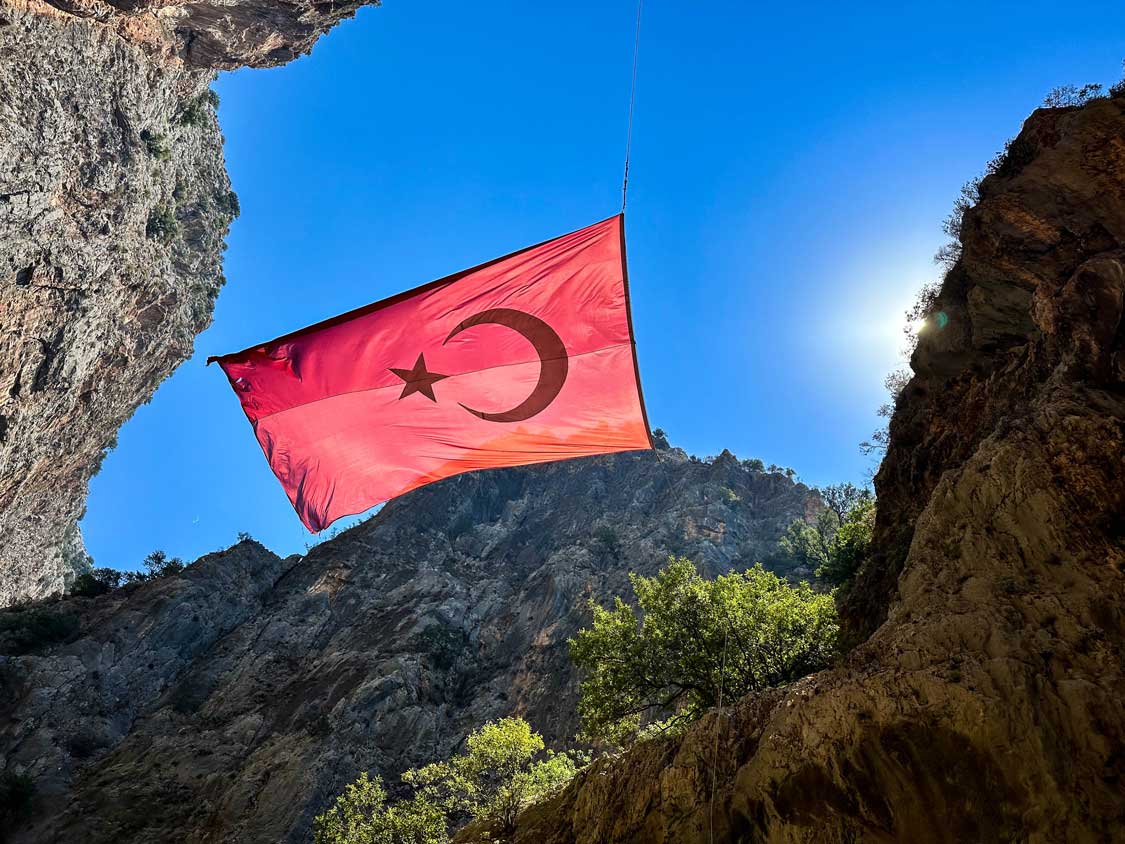 Saklikent Gorge is beautiful and makes for a wonderful stop on the road trip between Fethiye and Kas or a break from the beach life of Patara Beach. I'd love to say that it's a natural paradise, but the truth is that its popularity has taken away some of its charm. It's a bit of a tourist hotspot, so expect that kind of atmosphere when you arrive.
That being said, the shade, cool water, and relaxing atmosphere of Saklikent Gorge are infectious. Our lunch alongside the Dagraz Stream was one of the most relaxing meals in our very busy itinerary.
You can find more great information about visiting Turkiye on our Turkiye Family Travel Blog. Or feel free to join our Family Travel Support Group on Facebook. You can connect with more family travelers just like you who love to explore the world.
Wandering Wagars is a participant in the Amazon Services LLC Associates Program, an affiliate advertising program designed to provide a means for sites to earn advertising fees by advertising and linking to amazon.com, amazon.co.uk, amazon.ca. Amazon and the Amazon logo are trademarks of Amazon.com, Inc. or its affiliates
You May Also Like To Read: