Boasting some of Earth's greatest historical sites and some of its most breathtaking landscapes, these are the best places to visit in Turkiye for families.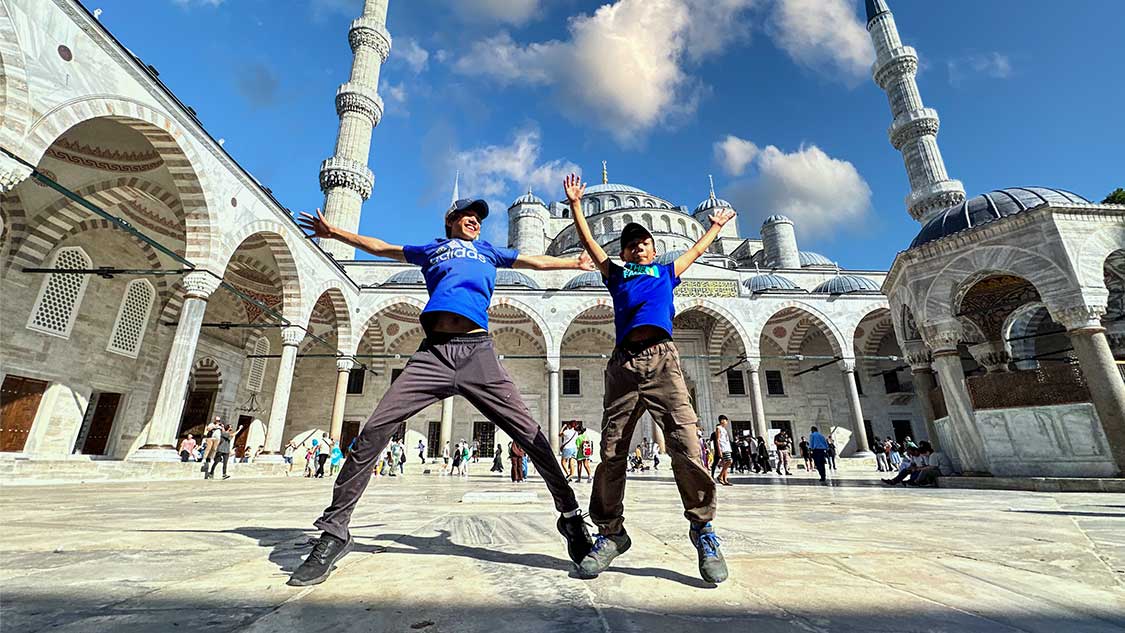 Located at one of the most vital crossroads on Earth, Turkiye is a melting pot of culture that is at once modern and ancient. It's a country where breathtaking landscapes converge with fascinating cultures and countless learning opportunities.
For those considering travel to this one-of-a-kind country and wanting to experience the monumental breadth of what it offers, you can get started with our Turkiye family travel blog. If you're looking to dig further into the wonders of the country, these are the best places to visit in Turkiye for families.
My family spent a stunning four weeks exploring throughout Turkiye, from the bustling markets of Istanbul's Grand Bazaar to the magical beaches of the Turquoise Coast through to the balloon-filled skies of Cappadocia and the chilly mountain-top tombs of Mount Nemrut. While four weeks wasn't enough to see all of the incredible locations in the country, it was enough for us to experience the top experiences in the country.
You can find our complete guide to visiting Istanbul with Kids here and our guide to the top things to do in Istanbul here.
Why Travel To Turkiye?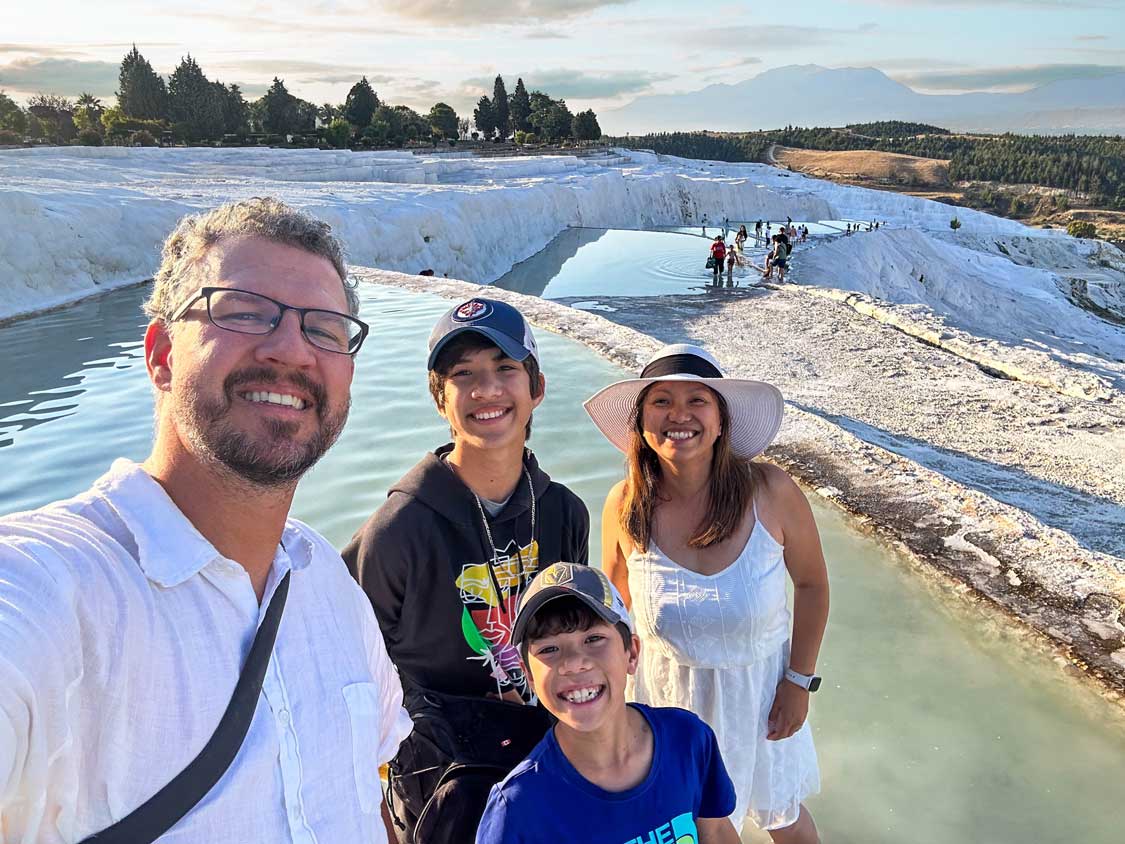 Turkiye (formerly named Turkey until the country's name was changed in 2022) has been a vital gateway between Europe and Asia for millennia. It's a country with a history that dates back tens of thousands of years. Turkiye's capital, Istanbul, is one of the few cities in the world that bridge two separate continents. Western Istanbul lies in Europe, while Eastern Istanbul is across the Bosphorus Strait in Asia.
So why should you travel to Turkiye?
The truth is that this country has it all.
Turkiye is easily accessible, especially for those in Europe, thanks to its accessible location and frequent flights. But even those in North America can find direct flights to Istanbul from many major cities. The country is laced with almost everything a family vacation could desire, even for those interested in adventurous family vacations.
Throughout its vast borders are white sand beaches, towering mountains, affordable shopping, and, let's face it, food in Turkiye is some of the best in the world.
Whether you're looking for a beach holiday, outdoor adventures, cultural immersion, magical accommodations, a dive into a vibrant food scene, or those magical Instagram moments under golden skies, Turkiye seems like it was strategically designed over thousands of years to cater to the travelers of here and now.
The truth is that Turkiye has a lot of experience with travelers and tourists. Istanbul was a vital section of the famed "Silk Road," which connected China to Europe and northern African countries such as Morocco. The country is lined with Caravanserai that sheltered traveling tradespeople who transported goods between the continents.
As far back as 190 BC, towns like Hierapolis catered to wellness tourism thanks to the awe-inspiring geothermal baths at Pamukkale. Nowadays, memories of the country's importance on the world stage lie in the remains of Lycian, Greek, Roman, and Ottoman cities sprinkled throughout the country.
For those with an affinity for history (I count myself among you), the wonders of Turkiye lie even deeper. Gobleki Tepe, which lies in the country's far east, is currently the oldest-known human structure on the planet. This fascinating pre-historic temple dates back a jaw-dropping 11,600 years.
Whether you're looking to lounge in comfort on the beach resorts on the Turquoise Coast, wander the fairy chimneys and cave hotels of Cappadocia, or shop the 4,000 stalls of Istanbul's Grand Bazaar, these top places to visit in Turkiye will show you that and so much more.
The Best Places To Visit In Turkiye
If you're planning your travels and are wondering where to visit in Turkiye, you've come to the right place. In this guide, I lay out all of the best places to see and visit in the country to help make your travel plans easier.
Istanbul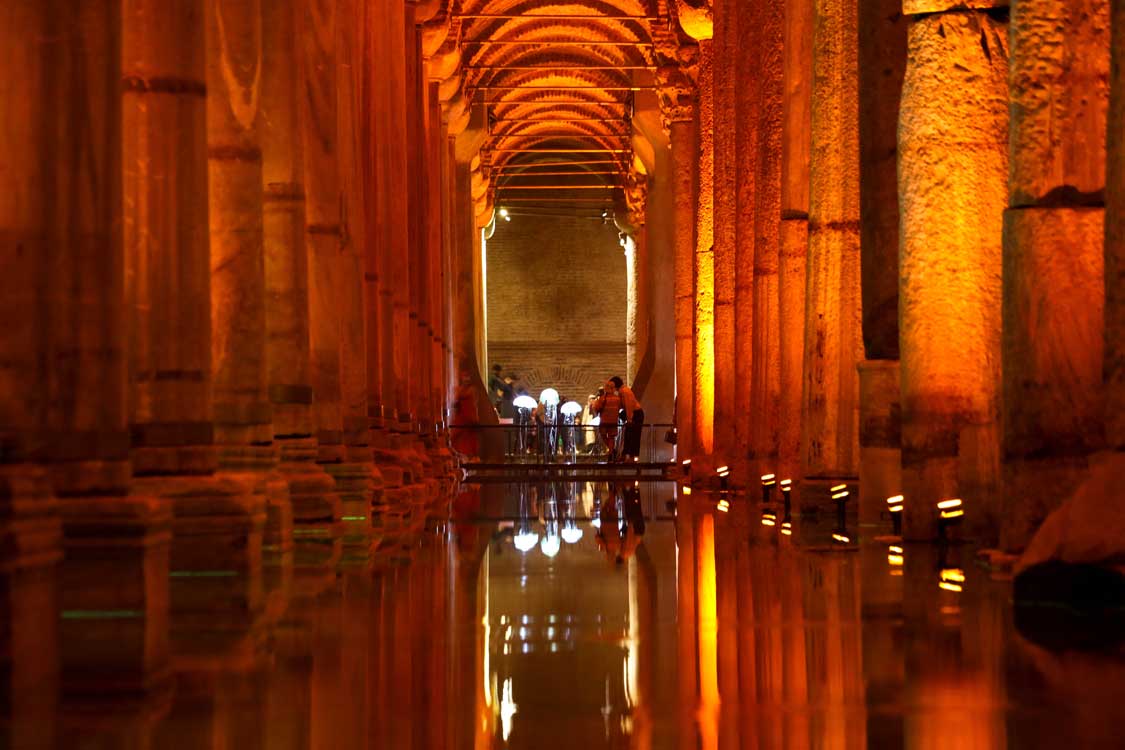 No matter where your final destination is in Turkiye, you're likely to stop in Istanbul at some point. And if you haven't had time to explore Turkiye's largest city, you're missing out. Once, Istanbul was the capital of the entire Ottoman and Byzantine Empires. Today, Istanbul is the largest city in Turkiye and one of the greatest capitals in the world.
The importance of Istanbul on the world stage goes back more than 1,500 years. In fact, the historical areas of Istanbul were declared a UNESCO World Heritage Site in 1985.
Istanbul is uniquely located across both banks of the Bosphorus Strait, a narrow waterway that connects the Black Sea with the Mediterranean. This waterway divides the Asian and European continents as they are popularly known.
Istanbul is known for its incredible shopping, beautiful architecture, historic buildings, and vibrant lifestyle. Among the top attractions in Istanbul are Topkapi Palace, a magnificent historical complex in Istanbul that once served as the opulent residence of Ottoman sultans, the Blue Mosque, and the ancient Hagia Sofia.
Don't miss the Basilica Cistern as well. This stunning former Hammam was converted into a cathedral and, eventually, into an art showcase. It was one of our favorite things to do in Istanbul.
Other can't-miss places to visit include Hagia Sofia, a testament to centuries of history, seamlessly transitioning from a Byzantine cathedral to an Ottoman mosque and now a museum adorned with breathtaking domes and intricate mosaics.
The old city is where most of the action is in Istanbul. Here, you'll find the sites listed above, as well as the Blue Mosque and the Basilica Cistern. But don't miss the rest of the city either. Spoil yourself with a sunset cruise along the Bosphorus Strait, and take some time to explore the less-developed Asian side of the city.
Popular Istanbul Tours
These are some of the most popular tours in Istanbul for families.
Cappadocia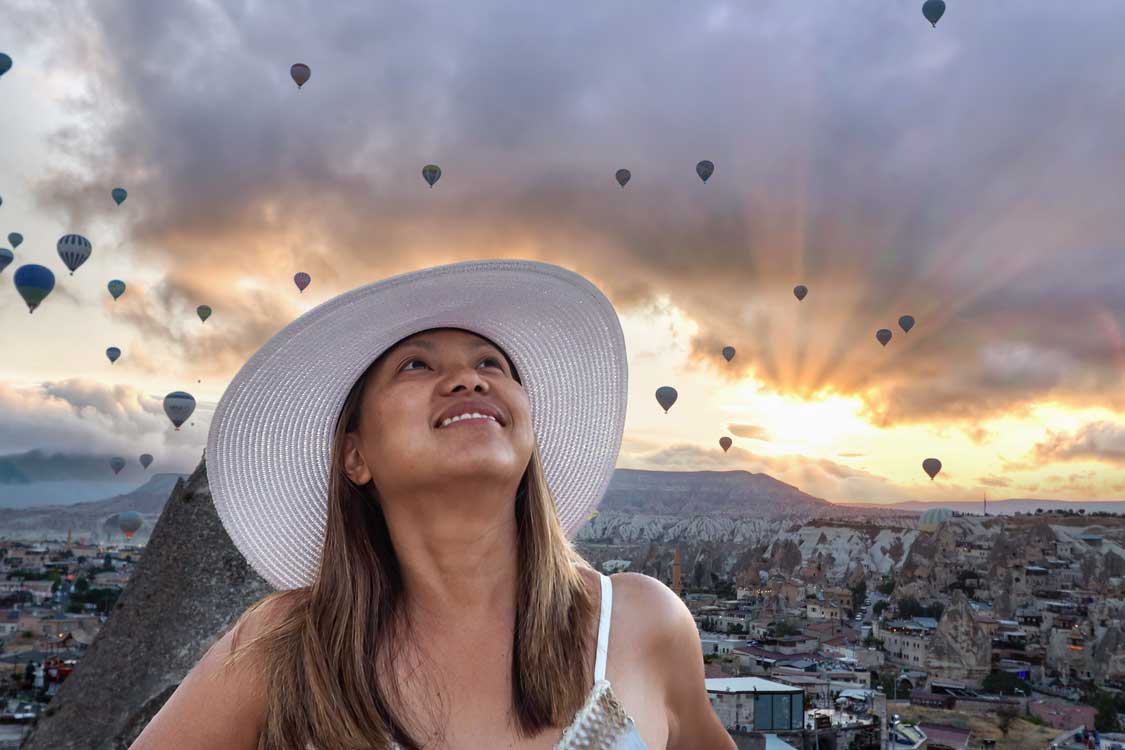 Next to Istanbul, Cappadocia is one of the most popular places to visit in Turkiye. Speaking its name sparks visions of golden skies filled with glowing hot air balloons and broad valleys dotted with the Cappadocia's iconic "fairy chimneys."
The region of Cappadocia owes its unique landscapes to a volcanic eruption that occurred around ten million years ago. Since then, hard, volcanic rock has covered softer stone, allowing the formation of unique stone towers, or "fairy chimneys," in the eroding landscape. This protected stone has been used for centuries to build homes, churches, and even entire cities right in the ground.
Contrary to popular belief, Cappadocia is not a city but a region of Turkiye that encompasses several towns such as Goreme, Urgu, and Selime. It's a destination where you'll want to spend some time sipping on Turkish tea at sunrise while watching hot air balloons coast overhead in the morning and rip through the countryside on ATVs to hilltop views of one of the country's best sunsets in the afternoon.
Don't miss the Goreme Open Air Museum, where you can wander among the beautiful frescoes in ancient cave churches. You can also book a sunrise hot air balloon ride of your own. I highly recommend booking this in advance, because they can sell out quickly.
Popular Cappadocia Tours
These are some of the most popular tours in Cappadocia for families.
Ephesus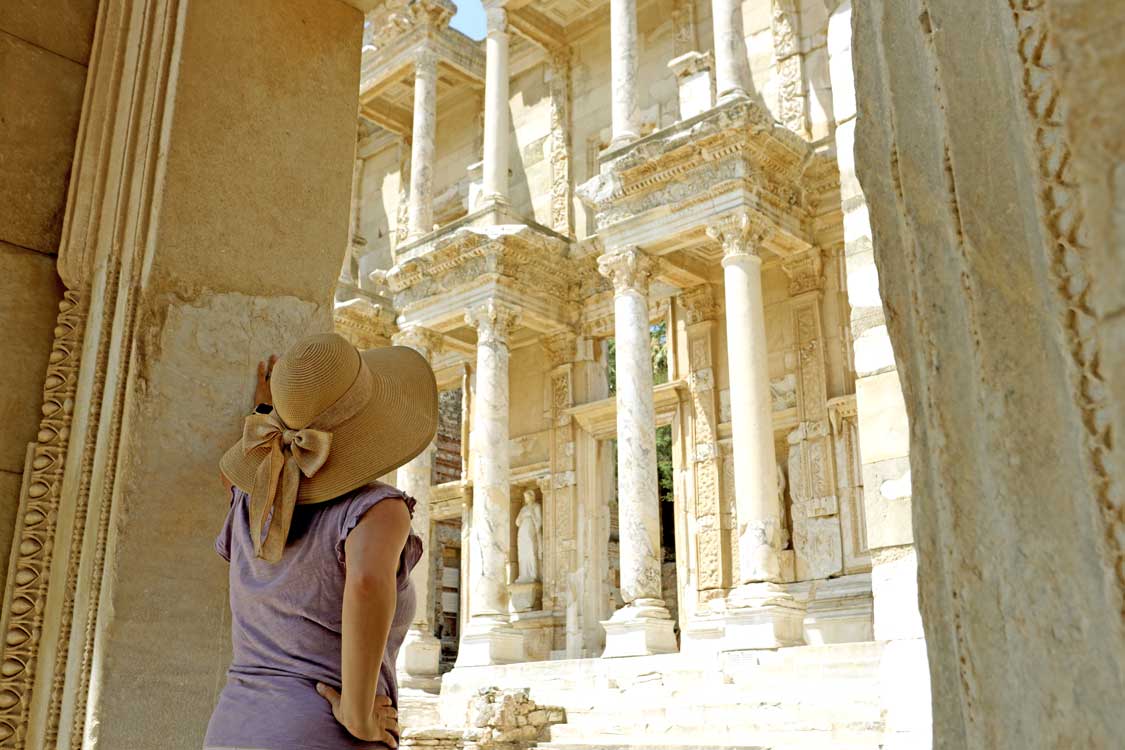 The grand streets of Ephesus wind through one of the largest archaeological sites in the country, and a visit here has become one of the most popular things to do in Turkiye.
The city of Ephesus sits about an hour from the port town of Kusadasi, near the large city of Izmir, and sees hordes of tourists visiting during shore excursions on their Mediterranean cruises. Thanks to the stunning "Library of Ephesus," few ancient ruins invoke quite as much awe as Ephesus does.
Ephesus is located near the small town of Selcuk, Turkiye. The ancient city was once a key Greek trading center and home to Greek elites. But this is not the only thing in the area near Ephesus that you should spend your time visiting. The town of Selcuk quietly houses one of the ancient wonders of the world.
Today, the only ancient wonders of the world that haven't been destroyed are the Great Pyramids of Giza in Egypt. But in Selcuk, you can catch a glimpse of what remains of the Temple of Artemis.
While what remains of the Temple of Artemis is just two columns, one of which lies in decay, and a smattering of segments and walls, this was once one of the world's most majestic buildings. There are artifacts and models of the original building located in the Ephesus Archaeological Museum in Selcuk.
You can read our complete guide to Selcuk, Turkiye here and our tips for exploring the ruins of Ephesus here.
Popular Cappadocia Tours
These are some of the most popular tours in Ephesus for families.
Denizli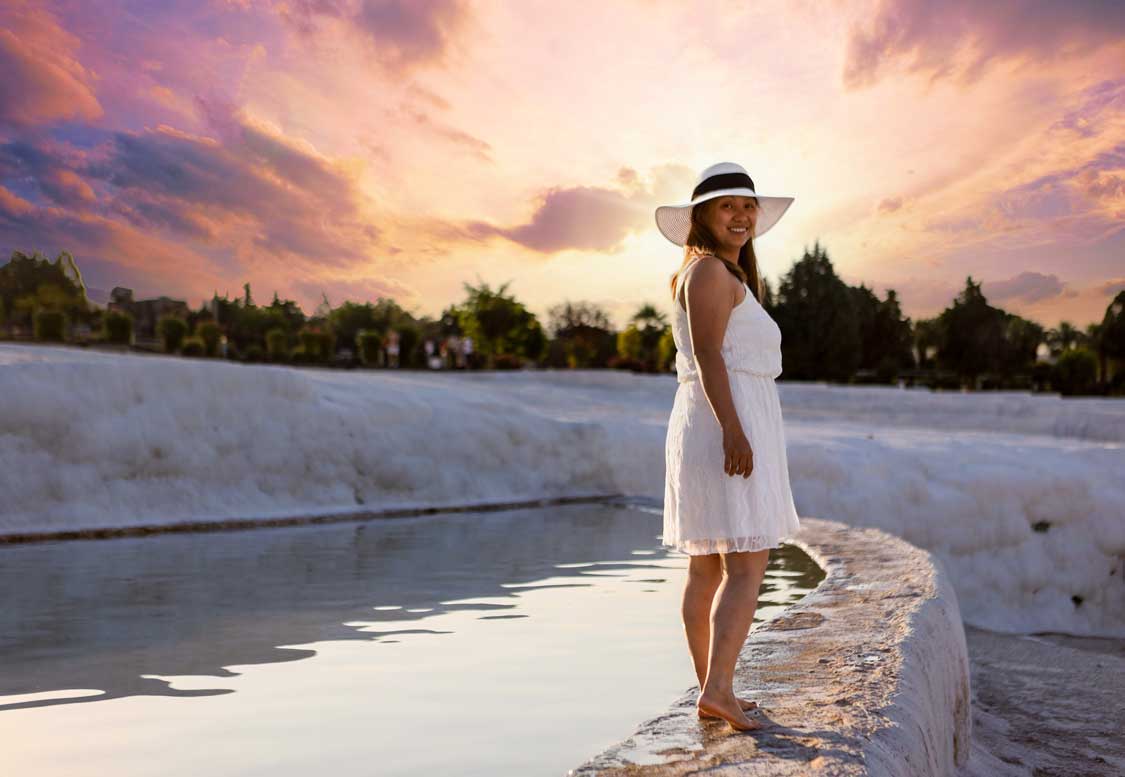 The city of Denizli in Southwestern Turkiye is home to a double-punch of Turkish attractions. On the edge of the city sits one of the longest-running tourist sites in the city, the mineral-rich geothermal pools of Pamukkale. Gleaming white against the surrounding hillsides, these naturally-formed terraced warm water pools are connected by a series of waterfalls flowing from a geothermal spring.
The brilliant terraces were formed over centuries from layers of travertine, a white mineral that flows from the natural spring waters. The water itself ranges from 35 °C (95° F) to 100 °C (212° F) depending on the water source.
To make your visit to Pamukkale even more impressive, the site is connected to the ruins of the city of Heirapolis. This 2,000-year-old Roman paradise was a wellness getaway for Roman elites who wanted to bathe in the healing waters of Pamukkale.
Heirapolis contains two amphitheaters, an Agora, and a unique sacrificial area where priests were known to "magically" sacrifice animals with the invisible gasses of the geothermal springs.
You can find our complete guide to visiting Pamukkale, Turkiye right here.
Popular Cappadocia Tours
These are some of the most popular tours in Denizli for families.
Patara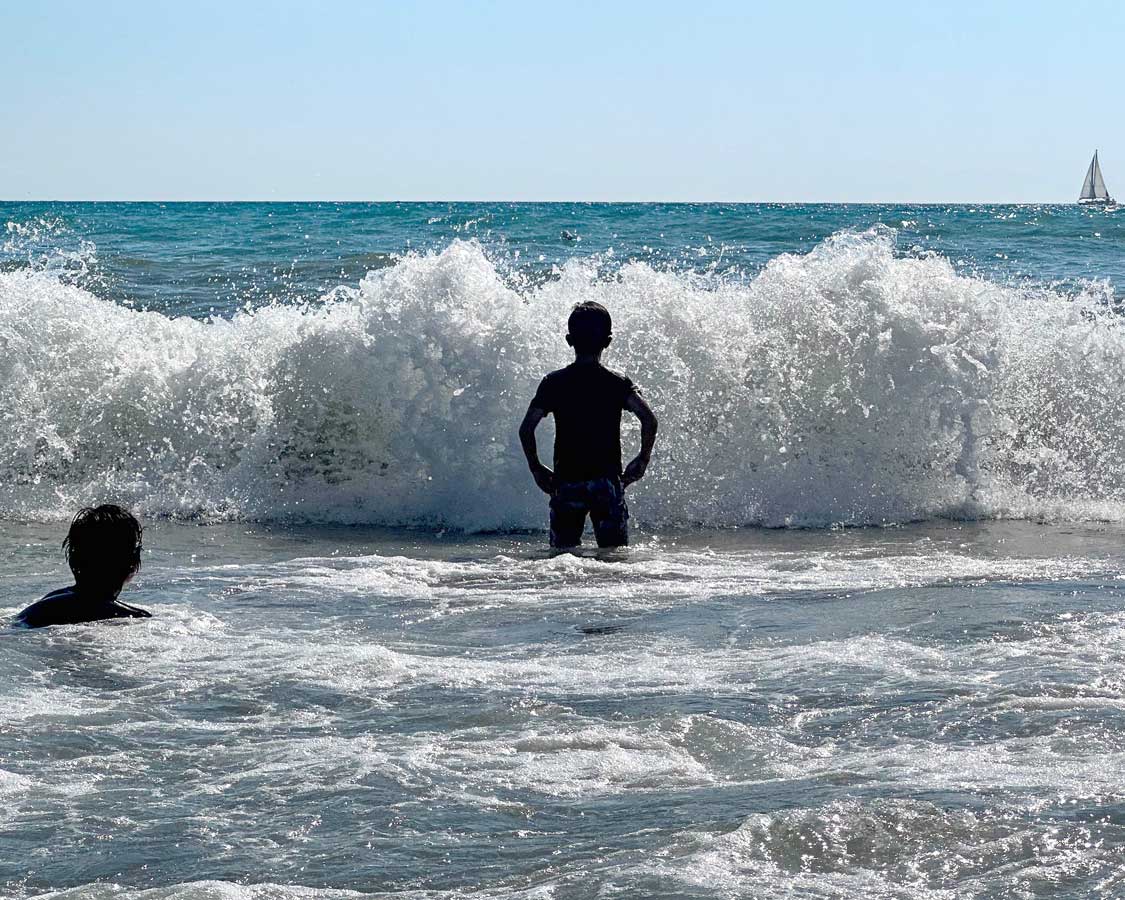 Situated near the small village of Gelemis, about 50 minutes from Kas, sits one of the best places to go in Turkiye for those who love to combine incredible history, scenery, and beaches away from the heavy tourist crowds.
Situated right on the coast of the Mediterranean Sea and lying at the foothills of the Taurus Mountains, Gelemis draws artists from across the world to its idyllic landscapes. Rather than tourism, the economy of Gelemis is supported by agriculture and beekeeping, yet it's a treasure trove of beauty for those who love to venture off the beaten path.
Gelemis is home to Turkiye's longest beach, Patara Beach. Its steeply sloping sandy bottom draws many locals to its scenic waters. The ruins that sit within the boundaries of Patara Beach date as far back as Lycian times when Patara was a key port along the Turkish Riviera.
Interestingly, Patara is the birthplace of Santa Claus, or Saint Nicholas, also known as Nikolaos of Myra, a 4th-century Christian saint who became the patron saint of children and the model for everyone's favorite jolly old elf. Saint Nicholas died in another great place to see in Turkiye, the town of Demre on the Turquoise Coast.
A popular side trip from Patara is Saklikent National Park, a magnificent gorge located about an hour away where you can hike to a hidden waterfall.
Popular Tours In Kas
These are some of the most popular tours in Kas for families.
Olympos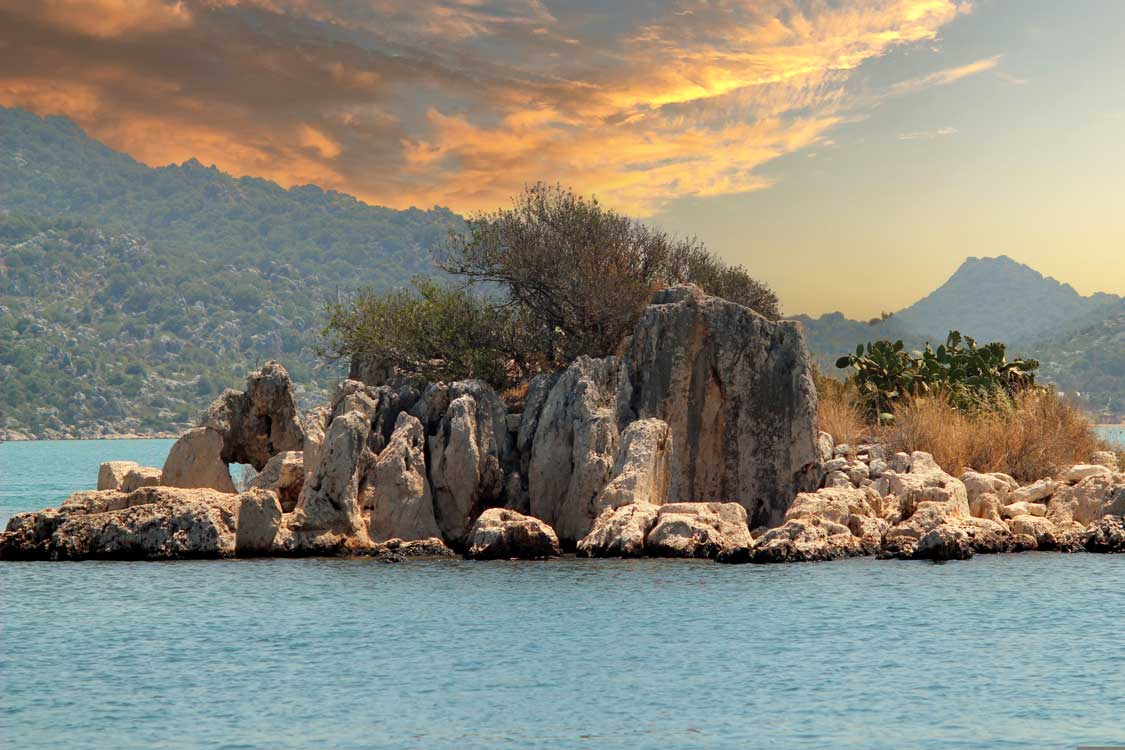 On the Meditteranean Coast, the quiet shores of Olympos are a hidden gem among the places to travel in Turkiye. This idyllic village blends rich history with a bohemian atmosphere that draws tourists from around the world, but not in the huge numbers of cities such as Fethiye.
Olympos has one of the most beautiful beachfronts in the country, with the towering Mount Olympos as its backdrop. It's a place where sapphire waters meet lush greenery that welcomes vacationers and adventure-seekers alike.
Olympos isn't just a beautiful face, though. This region of Turkiye is packed with well-preserved ruins that invite a glimpse into the past. It's also home to the natural phenomenon known as "Chimaera." This natural gas flow is often lit, and as day turns to night, these natural eternal flames flicker, adding an air of mystique to the landscape.
Popular Tours In Olympos
These are some of the most popular tours in Olympos for families.
Oludeniz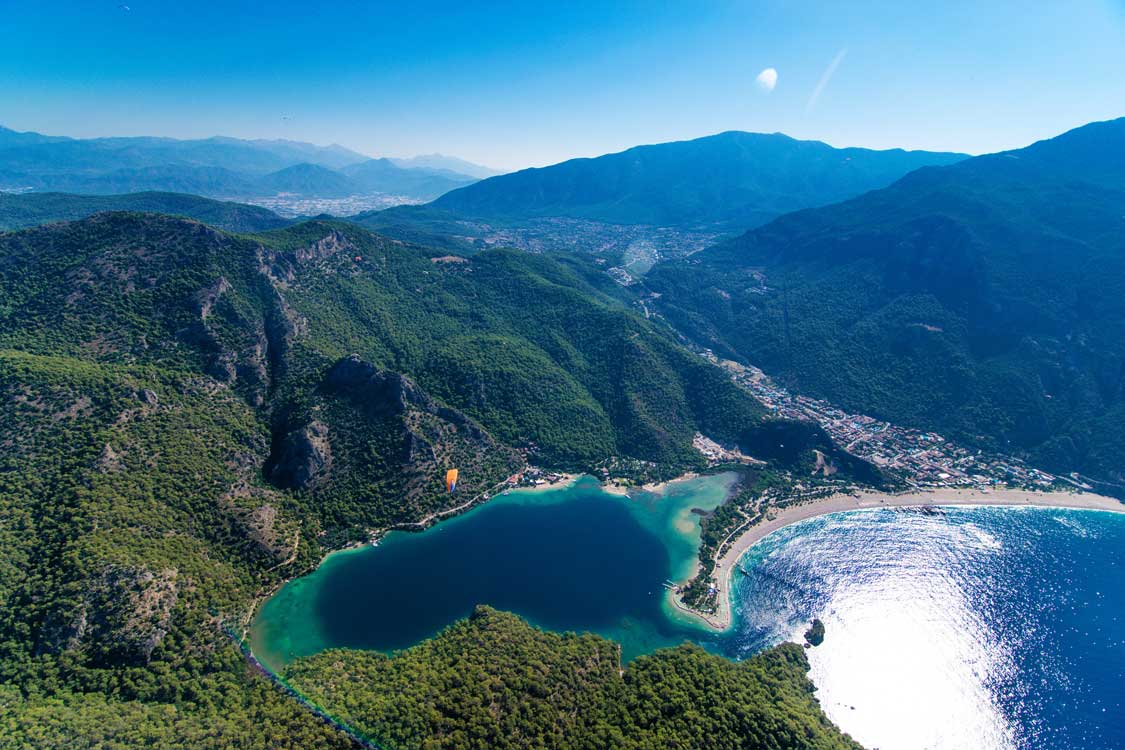 During the warmer months, you'll be hard-pressed to find a time when Oludeniz's UNESCO World Heritage Site is not packed with tourists. The region draws visitors in the thousands to the tremendously beautiful Blue Lagoon.
The Blue Lagoon, separated from the main Oludeniz Beach by a sand bar and a narrow channel, is one of the most photographed places along the coasts of Southwest Turkiye.
Stroll along the soft sand or bathe in the lagoon's endless shades of blue waters. There are no boats allowed in the Blue Lagoon to worry about. Paddle boats and canoes can be rented on-site to visit the scenic shores or find a quiet place to snorkel the clear waters.
Popular Tours In Oludeniz
These are some of the most popular tours in Oludeniz for families.
Fethiye and the Lycian Way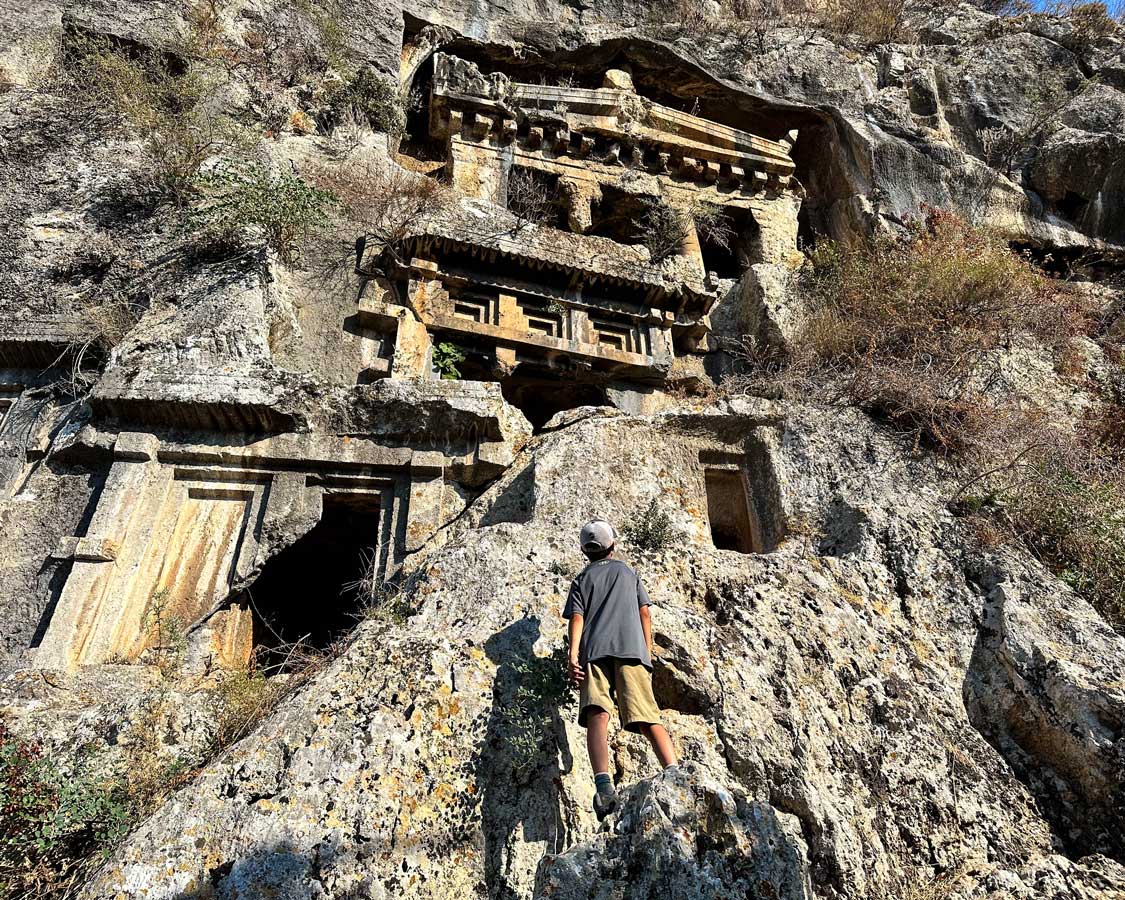 During the summer months, the town of Fethiye is packed with British tourists. This region of Turkiye is so popular with Brits that nearly all products and services are quoted in Pounds rather than the typical Euro or even Turkish Lira.
The draw of Fethiye is its combination of gorgeous coastlines and easily accessible historic ruins that line the stretch between Fethiye and Antalya, known as the Lycian Way. The Lycians were an ancient civilization of the Mediterranean dating back to 1250 BC. They are celebrated for their unique culture and impressive cliffside tombs.
Fethiye is home to cliffside Lycian tombs that date back thousands of years. For something a little more modern, the nearby town of Kayakoy is home to a fascinating ghost town abandoned in the mid-20th Century due to a combination of natural disasters and political upheaval.
The nearby town of Gocek is the launching point for many of the Turquoise Coast's famous 12-island boat cruises. These cruises, which can run over several days or in day trip segments, explore the beautiful islands off the Fethiye coastline.
For those looking for a longer, more intimate travel experience, a trail takes adventurers through many Lycian Way archaeological sites stretching from Lycian to Greek and on to the Roman Empire. Along the way, you'll pass through tiny villages, nearly untouched by tourism. This multi-day route is best done during the shoulder season in the spring or fall when the weather is cooler.
Popular Tours In Fethiye
These are some of the most popular tours in Fethiye for families.
Trabzon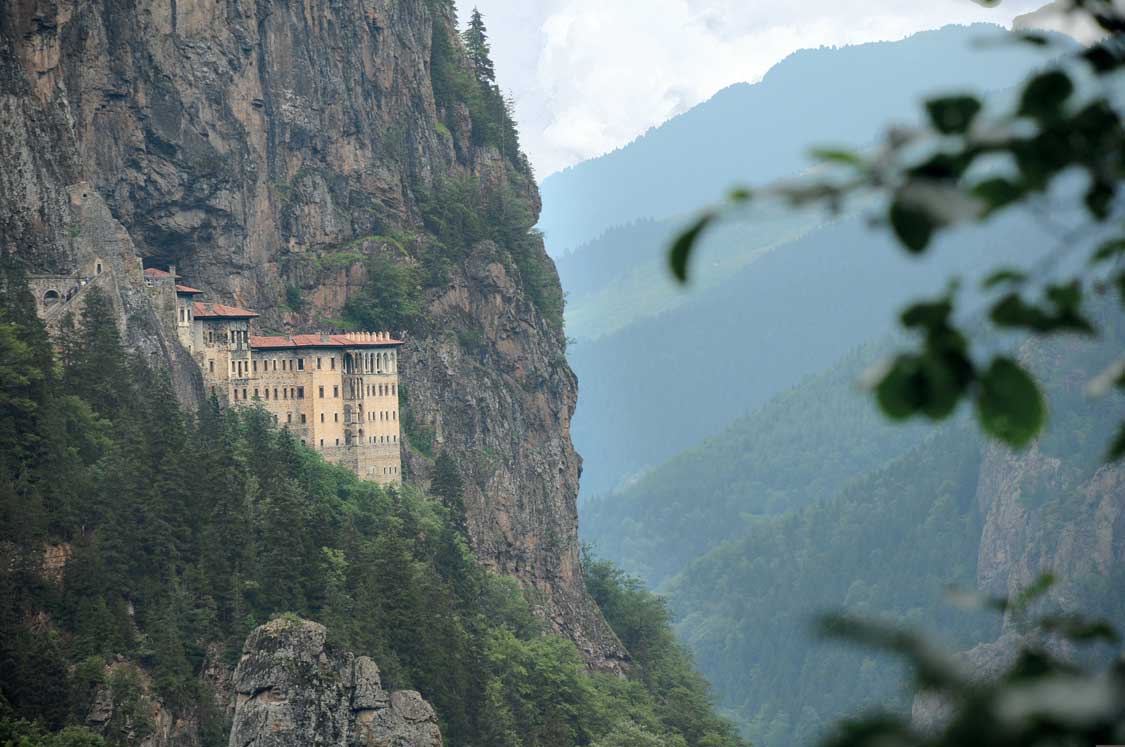 Resting on the shores of the Black Sea in northeastern Turkiye, Trabzon is home to one of the most magnificent things to see in Turkiye. Dating back over a thousand years, The Sumela Monastery perches precariously on a rock face 1,200 feet above the ground.
This historic Greek Orthodox complex features intricate frescoes of biblical scenes and murals that were painted across centuries. The active monastery features kitchens, bedrooms, a rock church, a library, several temples, and a fountain that releases holy fountain water.
Sumela Monastery was added to the UNESCO World Heritage Tentative List in 2000 and was closed for several years due to safety and reconstruction. It was reopened in July 2020, and visitors can, once again, access certain parts of the monastery.
Sumela Monastery isn't all that Trabzon has to offer, though. The region sits at the base of the Pontic Mountains and is a popular spot for hiking and watersports on the Black Sea as well.
Popular Tours In Fethiye
These are some of the most popular tours in Fethiye for families.
Mount Nemrut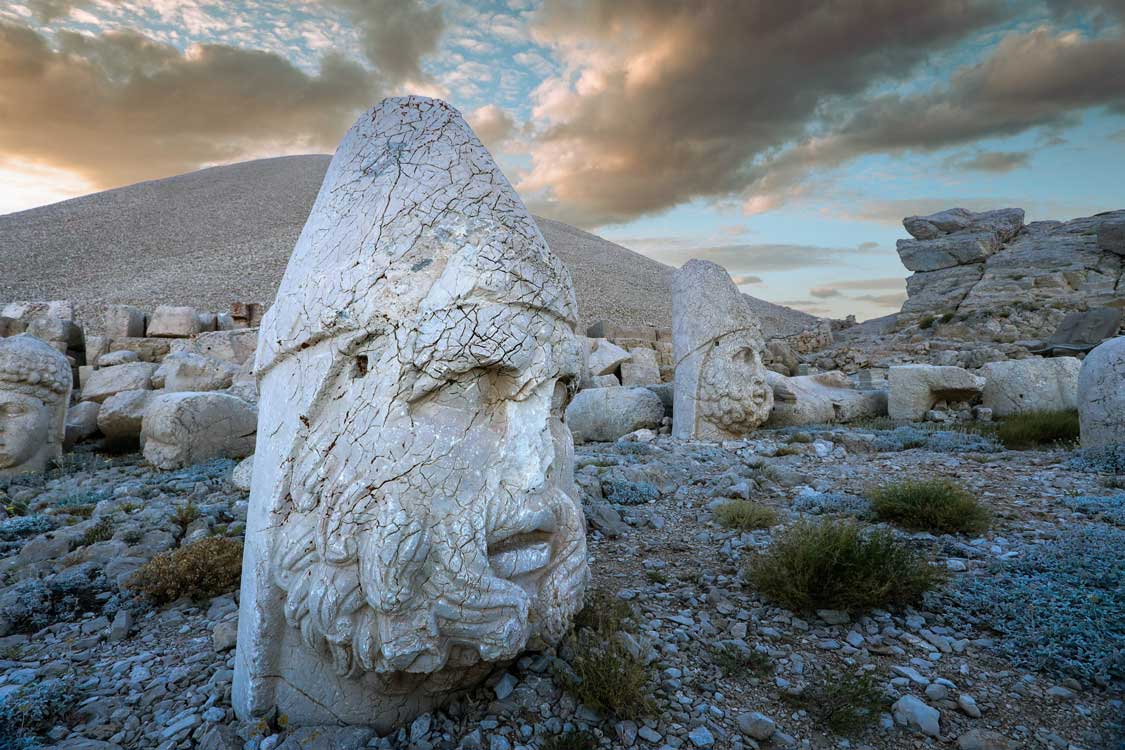 I'll let you in on a little secret. Mount Nemrut was one of the main reasons that my family traveled to Turkiye. So, what is it that makes this one of the best places to go in the country?
Mount Nemrut stands 2,134 meters (7,001 feet) high. At the top, gazing out over the Taurus Mountains and Eastern Anatolia, are the remains of the tomb of Antiochus I. This is one of the most awe-inspiring archaeological sites in Southeastern Turkiye and holds a special significance for history lovers.
The mountaintop is crowned with two Antiochus I shrines, each including eight towering statues of seated Gods. This UNESCO World Heritage Site presents a unique fusion of ancient royal vanity paired with breathtaking landscapes, especially for those who venture up to watch the sunrise from the sacrificial platform.
The tomb is stunning, with many of the remains of the statues' heads still in excellent condition. There is even one statue, ironically of Antiochus I himself, that remains in excellent condition. However, the head is now seated at the statue's foot. It's a fitting tribute for a king who desired nothing more than to be a god himself.
The major town of Sanliurfa is a destination in and of itself. It's the reported birthplace of the Islamic, Jewish, and Christian prophet Abraham and has countless historic and stunning sites of its own.
Popular Tours In Sanliurfa
These are some of the most popular tours in Sanliurfa for families.
Gobleki Tepe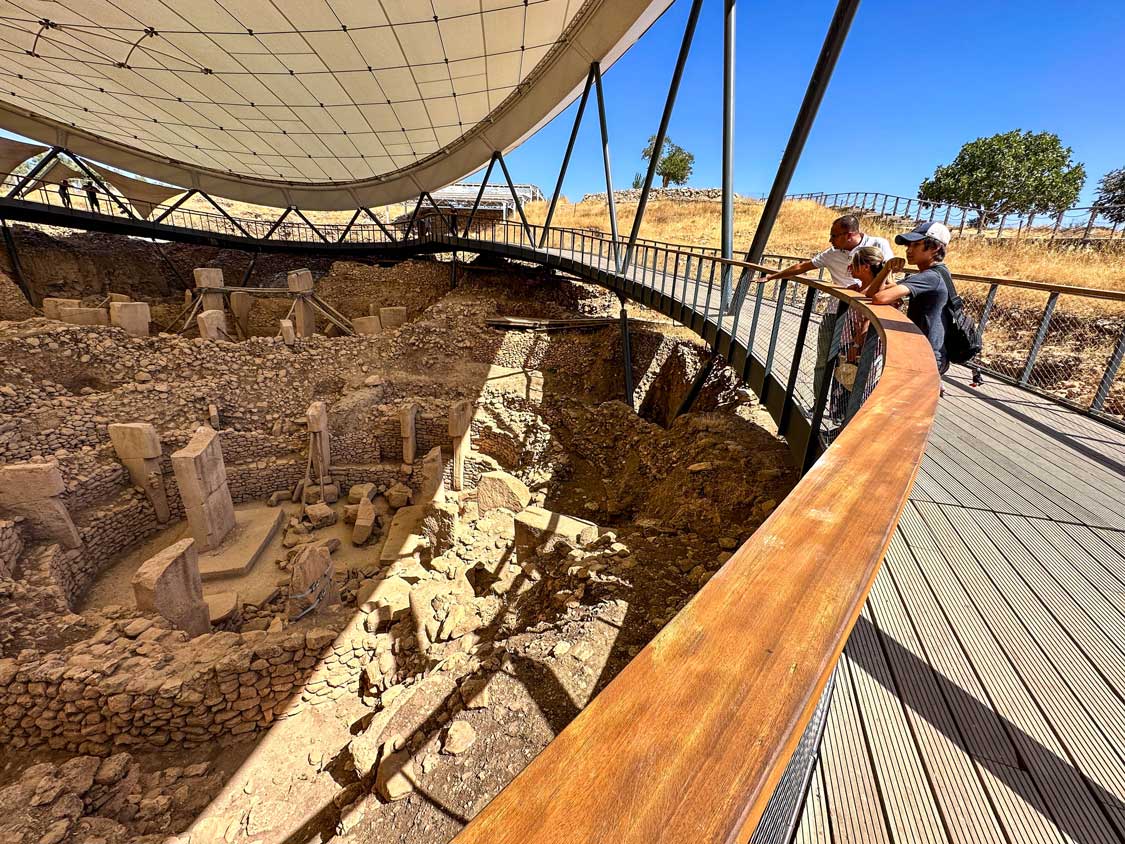 Tucked away in southeastern Anatolia, just an hour from the border with Syria, lies an archaeological wonder that has completely rewritten scientists' understanding of the development of human civilization. Gobleki Tepe is an example of ancient human ingenuity and cultural evolution. At 11,600 years of age, it's currently the oldest known example of a human-built structure.
The collection of oval temples is lined with towering, intricately carved stone structures, some measuring up to 5.5 meters (18 feet) tall and weighing up to 10 tons. The thought that hunter/gather societies living in the Stone Age had the ingenuity and organization to create these stones, some measuring up to ten tons, and move them over 150 meters (500 feet) before erecting them in such an organized way is staggering.
This region of Turkiye lies within what is called "the cradle of civilization," an area of Iraq, Syria, and Turkiye where much of the cultural and intellectual platforms that helped shape modern life developed.
Along with Gobleki Tepe, you can visit the town of Harram, which is considered one of the longest continually inhabited sites in the world. There, you'll find the remains of the oldest Islamic university and a collection of unique beehive houses used by some local cultures.
Popular Tours In Sanliurfa
These are some of the most popular tours in Sanliurfa for families.
Dalyan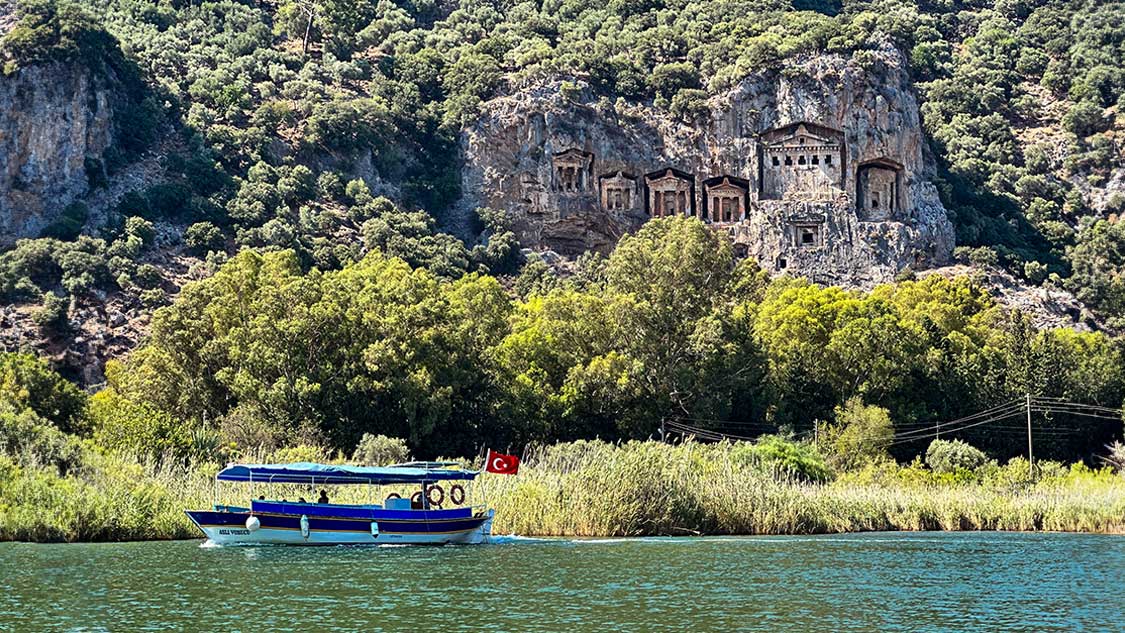 This off-the-beaten-path town in Southwestern Turkiye is one of the country's hidden gems. Dalyan, like nearby Fethiye, offers a wonderful mixture of Roman ruins and Lycian tombs. However, because of Dalyan's proximity to other popular expat retreats, it often gets overlooked.
The small town of Dalyan has a fantastic culinary scene, and its location on the Dalyan River, upstream from the beautiful Itzuzu Beach, means that it boasts non-stop scenery in every direction.
Itzuzu Beach, just 10 kilometers south of Dalyan, is one of Turkiye's most prized conservation success stories. Known as "Turtle Beach," Itzuzu Beach is a popular nesting ground for the endangered Loggerhead Turtle.
You can read more about things to do in Dalyan here and read all about Itzuzu Beach here.
Popular Dalyan Tours
What Is The Best Time To Visit Turkiye?
Turkiye is a pretty unique country in that there is no "worst time to visit Turkiye." With the diverse geography and climate of this large country, the best time to visit Turkiye really depends upon the regions that you plan to explore.
Spring (March to June)
Spring is widely considered to be the best time to visit Turkiye. During spring, the weather is typically mild and pleasant. Flowers bloom on the hillsides, and popular places to visit in Turkiye, such as Istanbul, Cappadocia, and Ephesus, usually have smaller crowds than during the hot summer months.
Summer (July to August)
During summer in Turkiye, the temperatures shoot up, and so do the crowds. This is the most popular time to visit Turkiye; regions like the Mediterranean coast are often packed with vacationers. Summer can offer unique challenges for travelers, so booking accommodations and tours in Turkiye well ahead of time is important so that you don't leave disappointed.
Autumn (September to October)
One of the best times to visit Turkiye is in Autumn. As the tourist crowd shrinks, so do the hot summer temperatures. Regions such as Cappadocia and the Aegean coast are still pleasantly warm, and travelers will be less focused on finding shade in historic regions such as Eastern Anatolia.
Winter (November to February)
If your interests are in thermal hot springs such as Pamukkale or the outdoors, winter is one of the top times to visit Turkiye. The crowds have all but dispersed, and the cool temperatures make exploring regions such as Cappadocia, Eastern Anatolia, and Istanbul pleasant. However, some areas, such as Mount Nemrut in the mountains of Anatolia, can cause issues with transportation as some mountain passes become unpassable due to snow.
You May Also Like To Read: