Pairing magnificent mineral-rich geothermal pools with ruins of a beautiful and historic Roman city, Pumakkale, Turkiye is in a world of its own.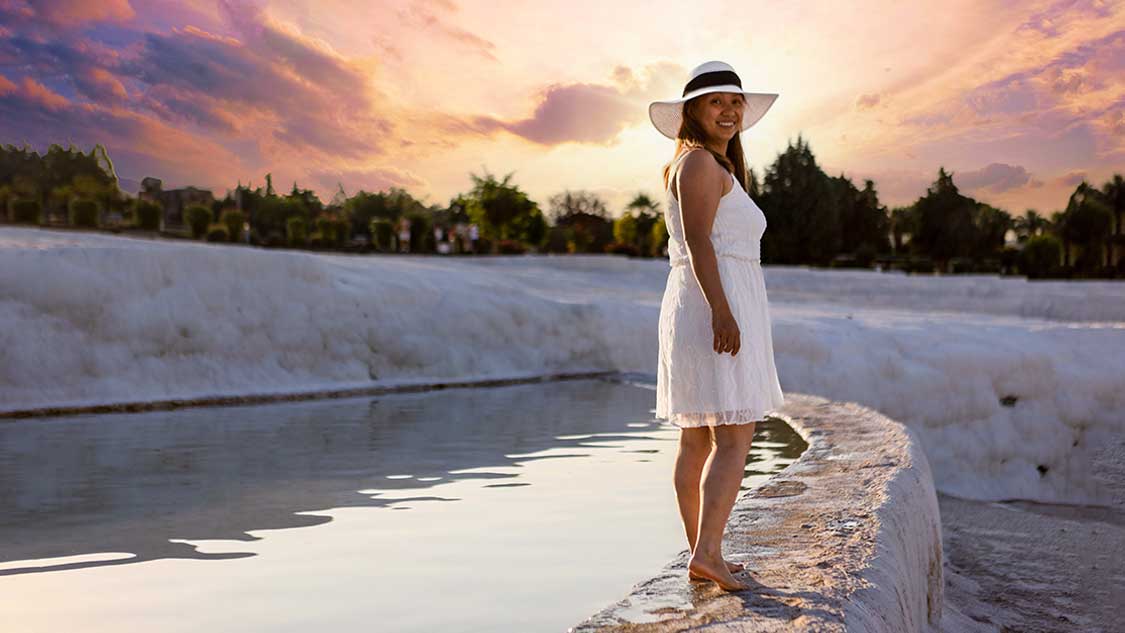 The skies were dark as we drove down Memet Akit Ersoy Blvd in Pamukkale, Turkiye. As we pulled up to the parking lot of the famous Cotton Castle, the sun was just beginning to spread its rays above the horizon. And with those first specs of sunlight came a blanket of hot air balloons filling the sky around us.
We had arrived in town late the night before after driving from the town of Selcuk. We had recently finished our cruise through the Greek Islands with Celestyal Cruises, and after seven days of Mediterranean luxury, we were excited for a new adventure in one of the most beautiful and unique places to visit in Turkiye.
Pamukkale offered a far different experience than other destinations we had experienced in Turkiye. It's a world away from the busy streets of Istanbul, and while it's packed with ruins, Pamukkale is also completely different from famous attractions like Ephesus.
About Pamukkale, Turkiye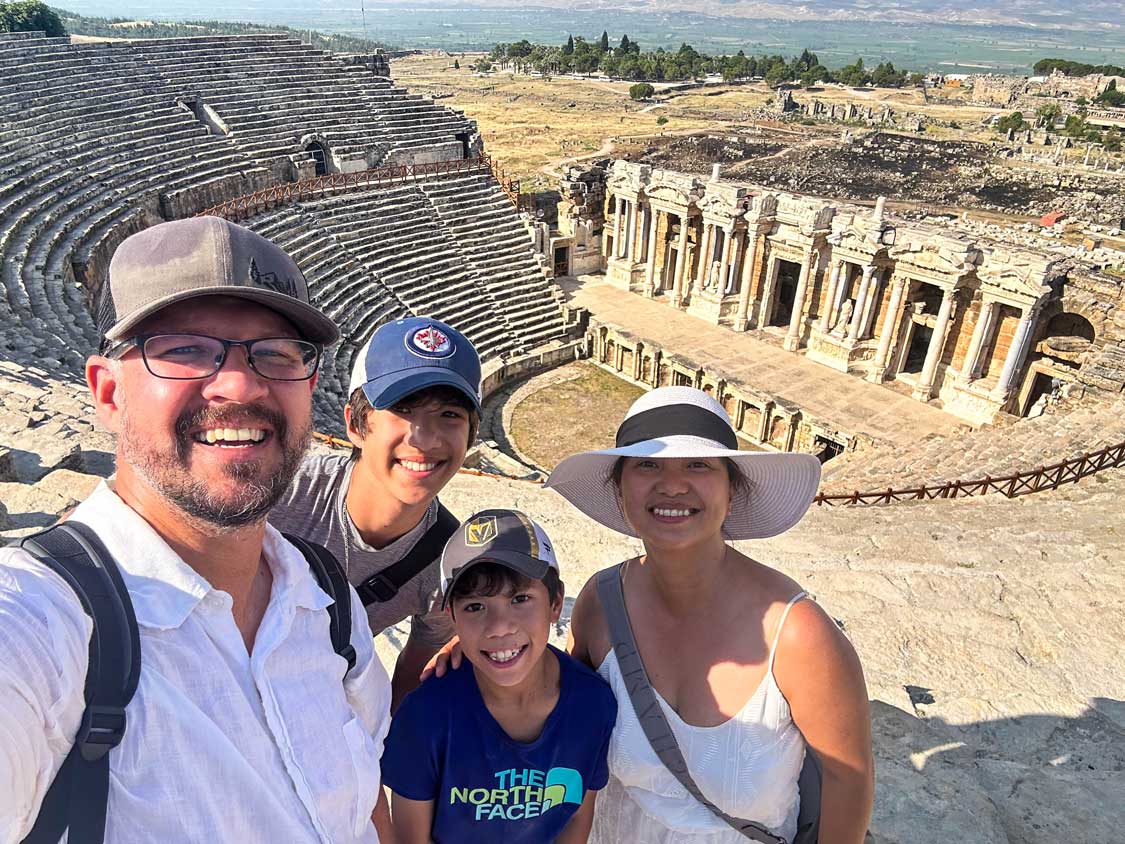 Pamukalle is one of the most recognizable places in Turkiye. Stunningly white terraces filled with mineral-rich water heated from geothermal pools deep within the earth have made the city a wellness destination for thousands of years.
Pamukkale goes by many names. It's often referred to as the "Cotton Castle" or the "Velvet Rocks." But no matter what you call it, Pamukkale's seemingly magical healing hot springs stand out majestically against its mountainous surroundings.
Gushing from cliffside springs 650 feet above the plain of Curuksu, fresh, hot water pours from the earth, transforming what is already a stunning landscape into one that is completely surreal. Countless petrified waterfalls have formed blindingly white terraced pools. These pools pour into each other as they cascade down the hillside.
Pamukkale, which is in the Turkish province of Denizli, is one of Turkiye's most famous attractions. But it's not a new discovery. This magnificent landscape has been drawing visitors for thousands of years. It led to the development of the Hellenistic spa retreat of Hierapolis, which lies at the top of the cliff. This means that Pamukkale Turkiye isn't just a wonderous natural attraction. It's a gorgeous historical destination as well.
The city of Heirapolis was founded in the 2nd century BCE. Prior to that, the land was the centerpiece of an ancient civilization called Phrygians, who settled here around the 7th century BCE.
The geothermal pools were originally used for scouring and drying wool, but after Heirapolis was ceded to Rome in 133 BCE, the popularity of the city as a wellness destination flourished. It was destroyed by an earthquake in 60 CE and rebuilt into the city whose remains you can visit now.
Heirapolis includes a monumental arch, a nymphaeum, a necropolis, and one of the most beautiful and well-preserved theaters that I've ever visited.
With a one-two punch of striking natural formations and a magnificent ancient city, Pamukkale is easily one of the most unique destinations in Turkiye.
Where is Pamukkale?
Pamukkale is located in Southwest Turkiye in the province of Denizli. It's about 12.5 miles from the major town of Denizli. Pamukkale is about 140 miles west of Izmir, 150 miles east of Antalya, and 122 miles north of Dalyan.
Top Pamukkale Tours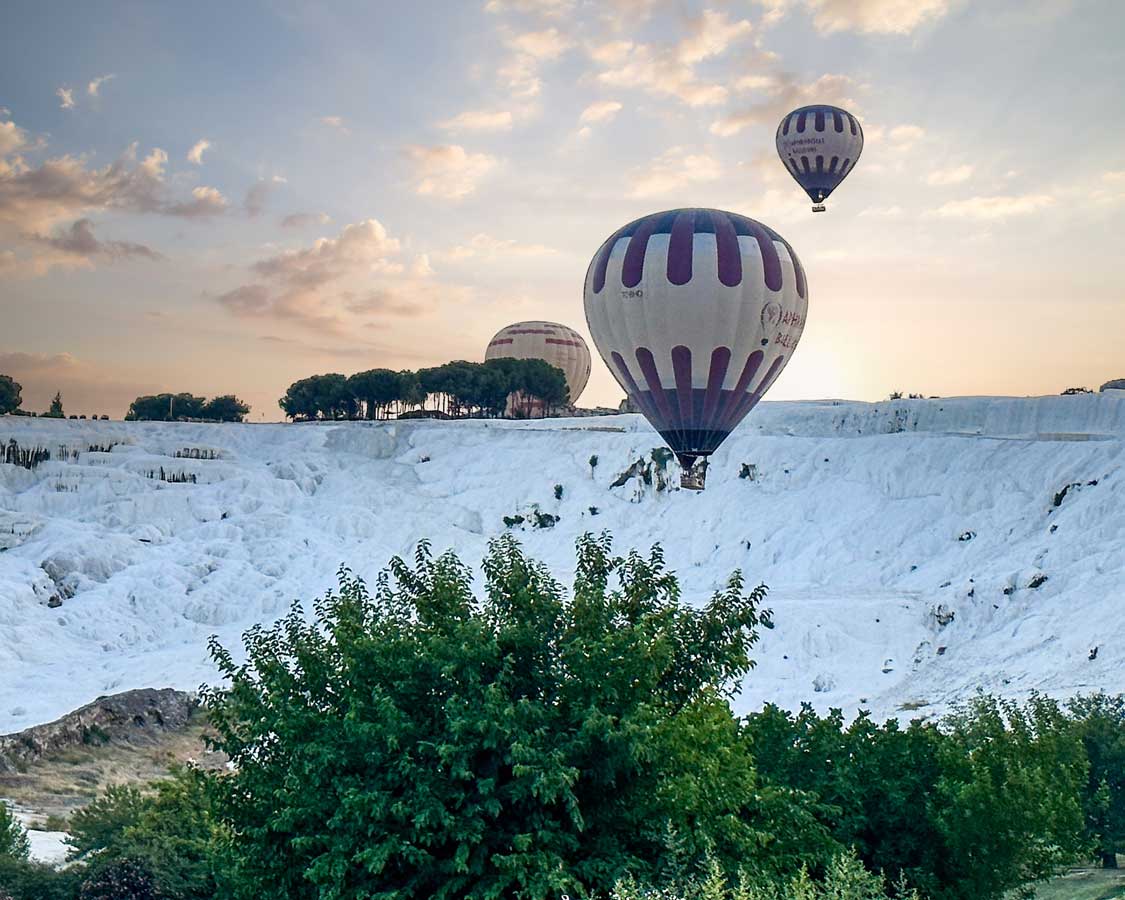 Pamukkale is a hot destination. There are tours to Pamukkale that leave from virtually everywhere in the country, including Istanbul, Fethiye, Antalya, Kusadasi, and Selcuk. Some of the most popular Pamukkale tours include transportation from other cities.
One thing that I recommend is staying the night in Pamukkale itself. This allows you to get up and experience the beauty of the site at sunrise. Otherwise, you'll be visiting later in the day when the sun is high and the temperatures are at their hottest.
Pamukkale is an absolutely stunning place, and I'm not just talking about the Cotton Castle. The entire city is wonderful. Unfortunately, most people show up, check out the travertines, and then leave. Here are some top things to do in Pamukkale so you don't make the same mistake.
This popular two-day Pamukkale tour leaves from Istanbul and includes a visit to the famous Ephesus ruins near Selcuk. Along the way, you'll visit the House of the Virgin Mary (where the mother of Jesus spent her final days), the Temple of Artemis (the remains of what was once one of the ancient wonders of the world), Hierapolis, and Pamukkale.
This Pamukkale hot air balloon tour is a popular outing for those who don't mind getting up before sunrise. Enjoy stunning views of the hot springs and the city of Heirapolis from the air.
If you want to really dive into the ruins of Heirapolis and the magical pools of Pamukkale, this private tour is the way to go. It includes pick-up and drop-off, Pamukkale admission fees, access to Cleopatra Pool, and lunch.
How To Plan Your Visit To Pamukkale
There's a lot more to Pamukkale than just the hot springs. Here are some of the top things to do in Pamukkale to make the most out of your visit.
Hot Springs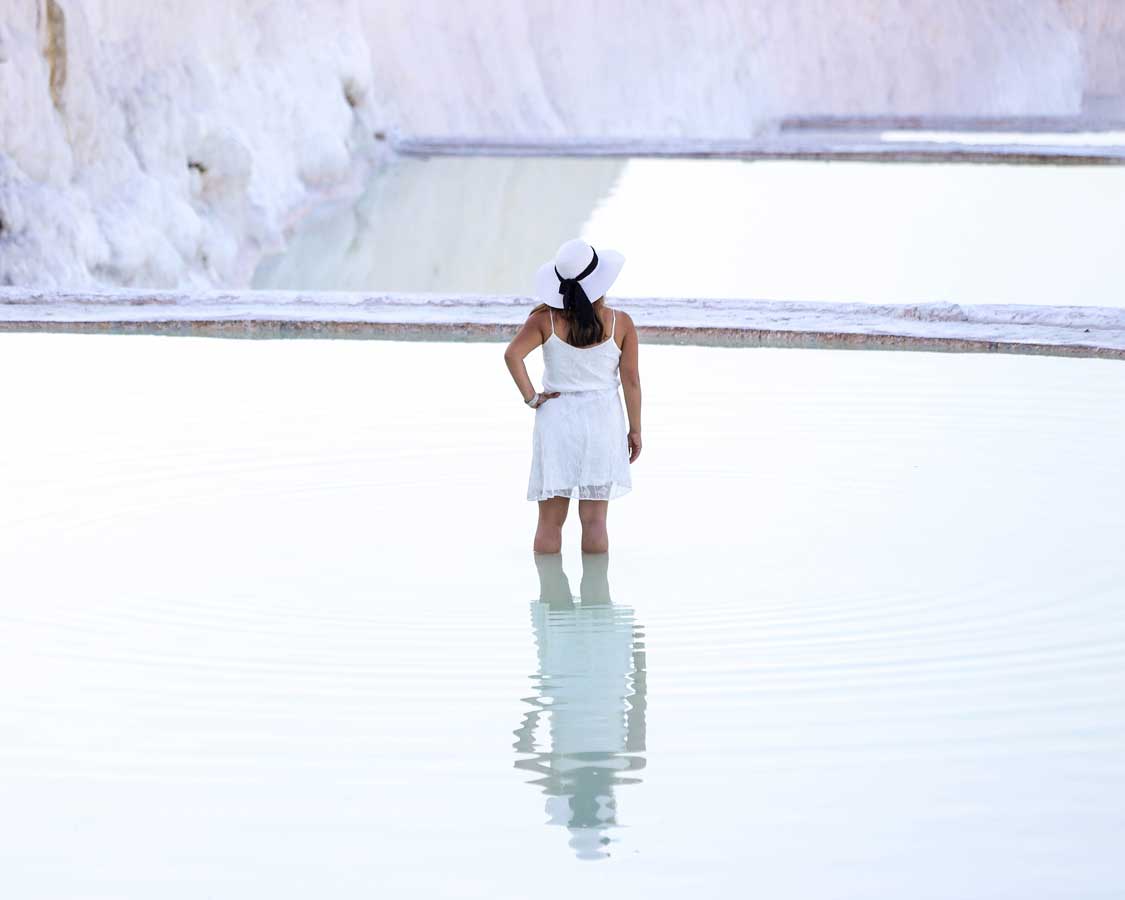 When you're visiting Pamukkale, don't forget to pack your swimsuit. The natural geothermal pools make a wonderful spot for bathing. If that's not enough, remember that these waters have been a destination due to their purported "magical healing qualities" for millennia.
Like other famous wellness destinations like the Dead Sea in Jordan and Israel, Pamukkale water is said to have healing properties.
Ruins Of Hierapolis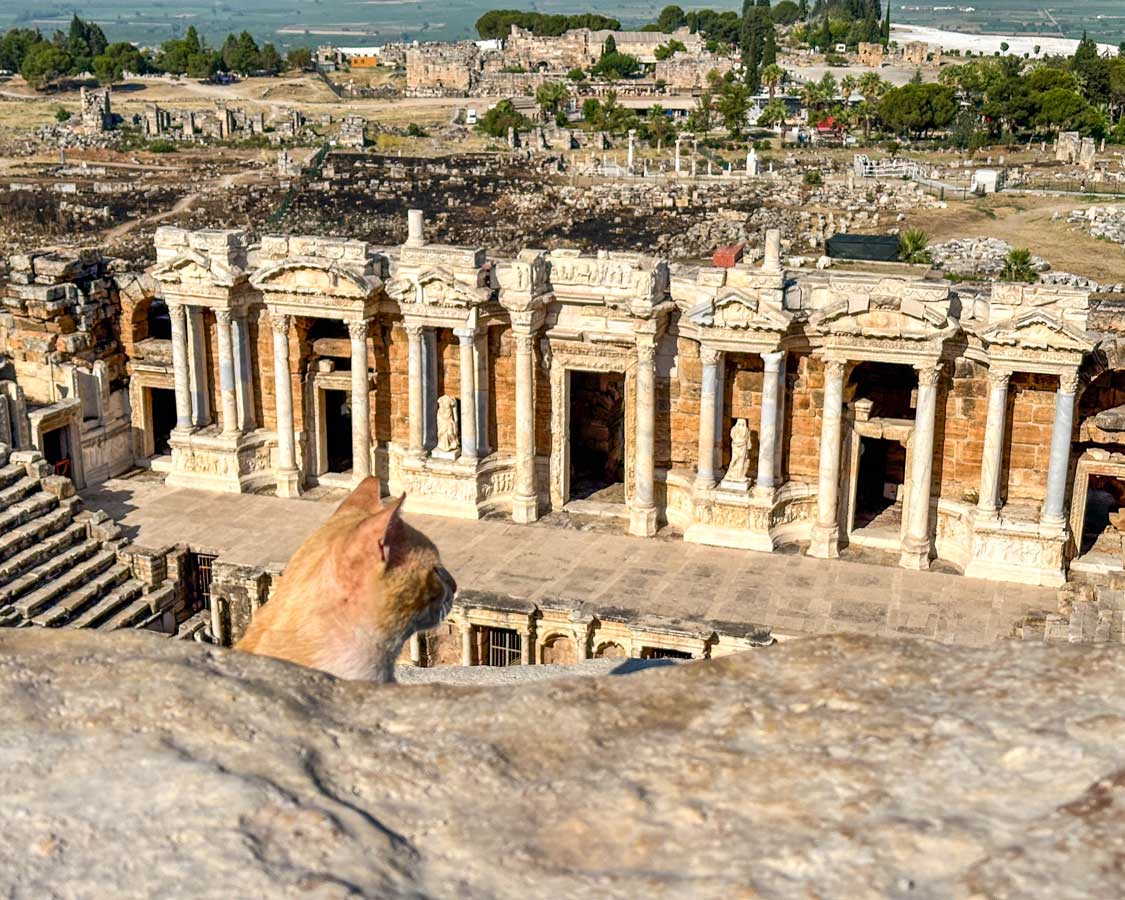 Heirapolis is an ancient city that sits at the top of the Pamukkale cliffs. This 2,000-year-old spa city is absolutely beautiful. Take your time to wander the grounds for at least a couple of hours.
One of my favorite places to visit in Hierapolis is the ancient theater, which has one of the most beautiful and well-maintained backdrops I've seen. The theater also offers fabulous views of both the Old City and the New City.
Admission to Hierapolis is included in the entry ticket to Pamukkale.
Cleopatra's Pool
It's rumored that Egyptian queen Cleopatra visited Pamukkale during her reign. Bathing in the Antique Pool, or Cleopatra Pool, is one of the most popular things to do in Hierapolis. It's housed in a stunning building where Roman columns erupt from the water from where they sank into the pool hundreds of years ago.
While the Cleopatra Pool is located within Heirapolis, there is an extra charge to enter the water. Kids six and under are free.
Visit The Museum Of Hierapolis
In the New City of Pamukkale on Sumer Mahallesi, you can find the Hierapolis Archaeology Museum. This small but well-stocked museum is located in a former Roman bathhouse and offers an in-depth look into the years when Hierapolis and Pamukkale were at their height.
Pamukkale Hot Air Balloon Ride
Cappadocia isn't the only hotspot for hot air balloons in Turkiye. Although you won't find nearly as many operators running in Pamukkale, there are more hopping on every year. It won't be long before the skies are as full as they are in Urgup.
The Pamukkale hot air balloon rides launch from above Hierapolis and take you over the city before floating down into the bowl where the geothermal pools are. It's an absolutely beautiful sunrise journey.
This Pamukkale hot air balloon tour is especially popular and includes a certificate once you've landed.
Tea By The Lake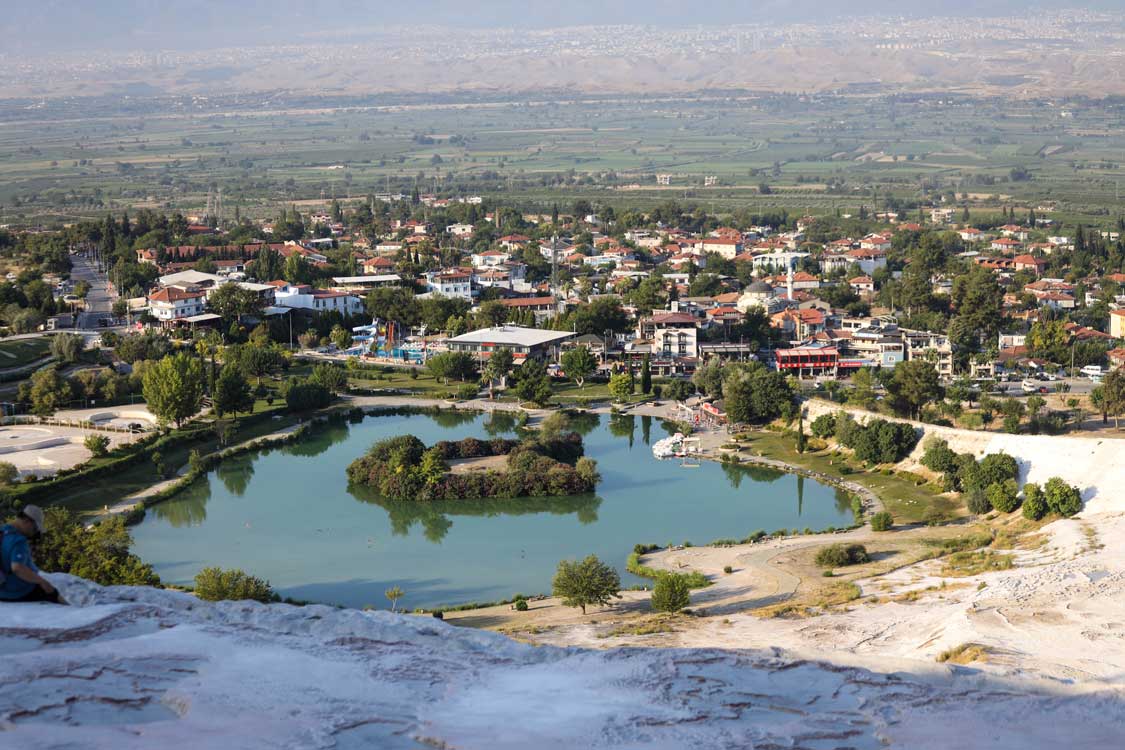 At the base of the Pamukkale hot springs is a beautiful lake. Many visitors don't make it down to the bottom, but if you do, you can relax at a small cafe near the lake. Sip some tea while watching the ducks swim in the warm waters.
You can also rent paddle boats, including some that look like giant swans, which is a fun way to spend some time if you're visiting Pamukkale with kids.
How To Get To Pamukkale?
The easiest way to get to Pamukkale is by car. If you're renting a car in Turkiye, know that the roads are, for the most part, in good condition, and the rules are well-respected. Remember that many roads are very narrow and winding, especially through the mountains. Take your time and drive safely.
To reach Pamukkale by air, your main point of arrival will be Denizli. Denizli is a major city and has connections to Istanbul and major cities throughout Turkiye. The city also has bus and train connections that will allow you to travel throughout the county as well as connect directly to Pamukkale.
To reach Pamukkale by bus, catch the Dolmus shuttle at Gate 76. It's a 30-minute bus ride from Denizli to Pamukkale. There is no specific bus stop, but if you tell the driver your hotel, they will get you as close as possible.
How To Get Around In Pamukkale
The city of Pamukkale is small, and it's very easy to get around on foot. There are taxis available for hire within the city. These can be useful for reaching the geothermal baths and the city of Heirapolis.
Where To Stay In Pamukkale
Pamukkale is one of the top destinations in Turkiye, and there are some fabulous hotels and accommodations throughout this small town. The town itself has loads of character, and the narrow, winding streets are an absolute pleasure to explore.
We stayed at Melrose House, a quiet, privately run hotel on the edge of town that gave us easy access to all of the things to do in Pamukkale. The hotel had a beautiful pool and one of the best breakfasts we experienced during our Turkiye itinerary.
Some of the most popular hotels in Pamukkale include the Sirius Boutique Hotel, another smaller property with large, beautiful family rooms and a great pool. If you'd like a slightly larger accommodation, the Doga Thermal Health and Spa is a great option. This hotel is located in Karahayit, which is about 15 minutes from Pamukkale. They have many spa and hammam options and big rooms that work well for family travel in Turkiye.
Where To Eat In Pamukkale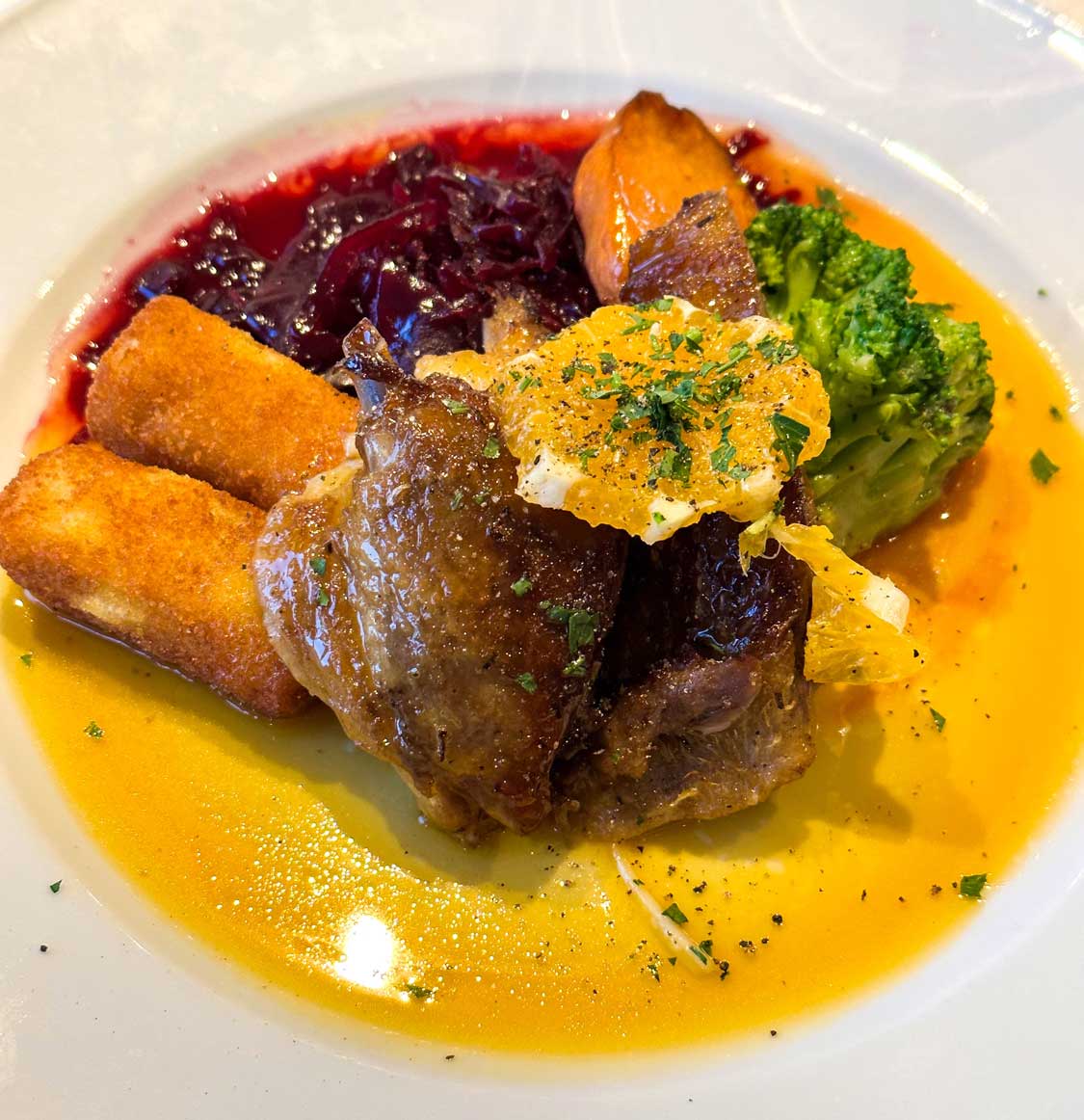 You won't find much food inside the ruins and terraces at Pamukkale, but in the city itself are some really great restaurants. You'll find a lot of traditional, delicious Turkish food and a few restaurants offering more international flavors.
Kayas Restaurant and Bar on Ataturk CD serves up a delicious eggplant with ground beef. They have a nice selection of local beers. Much of the food is cooked over a wood-burning fire, so the food smells as good as it tastes.
White House Restaurant and Cafe on Setine Sq is stunningly decorated. It's a wonderful spot if you want to enjoy a great meal in a friendly setting. You'll find lots of local dishes, including pide, Greek salads, hummus, and delicious vegetarian pasta.
Teras Restaurant on Memet Akif Ersoy Blvd. is the go-to restaurant in Pamukkale for Gozleme and beef kebabs. This restaurant also has beautiful views of the Cotton Castle of Pamukkale.
Best Time To Visit Pamukkale Thermal Pools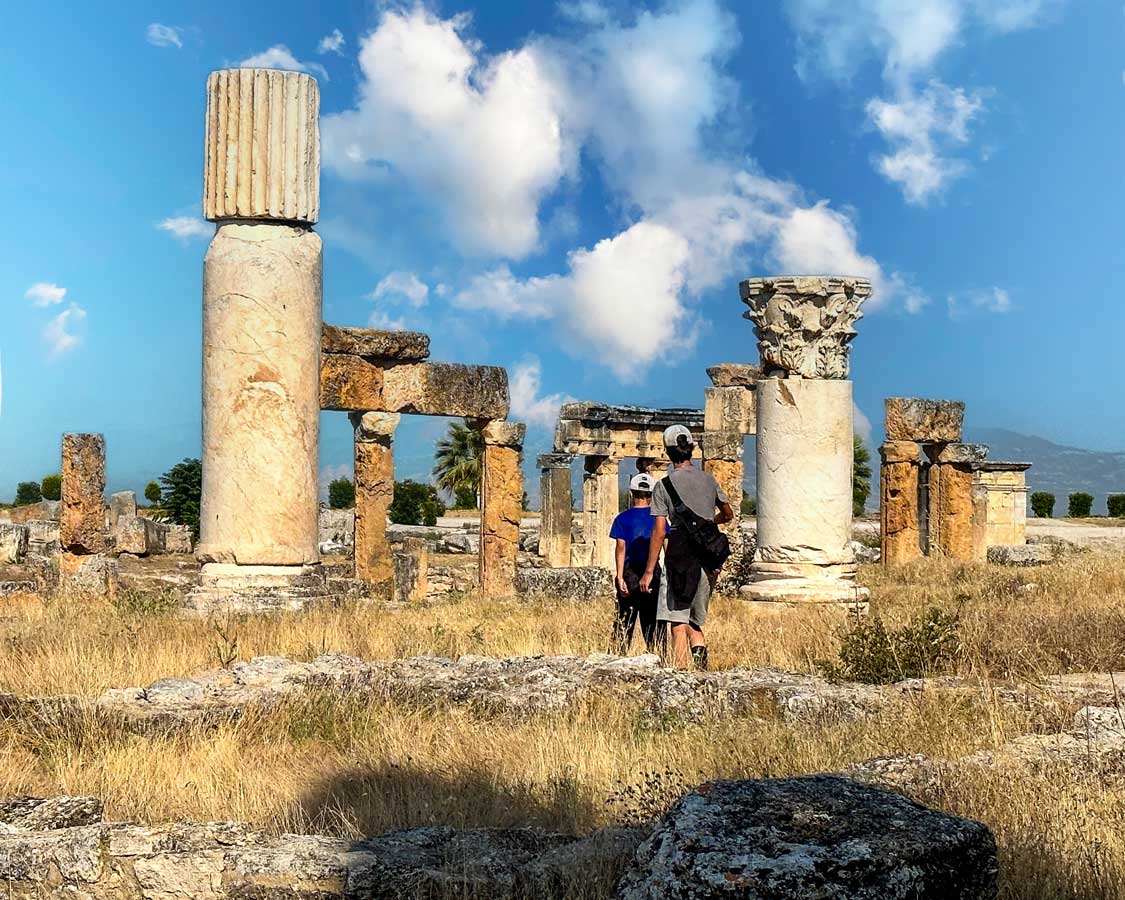 If you're timing your visit to Turkiye to visit the Pamukkale thermal pools, I've got good news. The pools are open year-round, and it's a pretty incredible experience no matter when you go.
Most people visit between June and September when Pamukkale is experiencing its high season. It's no surprise that it gets very busy during this time. It's also when Pamukkale is at its hottest. If you visit Pamukkale during the summer, remember to wear a hat and pack sunscreen.
If you're as much a fan of shoulder season travel as we are, consider visiting Pamukkale between May and June or September and October. During the spring, the region is at its finest. While it's more likely to experience rain, it still doesn't come very often. The autumn season is also wonderful. The temperatures are still very comfortable, and the summer crowds have dissipated.
Winter in Pamukkale is when the city is at its quietest. You might find some hotels and restaurants closed for the season, but there are still plenty of places to stay and eat in Pamukkale.
Expect cooler temperatures. In January, the temperature in Pamukkale can hit below the freezing mark, and rain comes more often and less predictably. But winter in Pamukkale offers its perks. The crowds here are very minimal, and you may experience one of the lucky days when the city and the thermal pools are covered in a gentle layer of snow.
How Much Time Should You Spend In Pamukkale
Pamukkale is a small town in the city of Hierapolis, and the geothermal pools are the biggest attraction here.
Start your day before sunrise so that you can catch the hot air balloons and sunrise over the travertines. You'll probably want an hour to explore the Cotton Castle itself. After that, you'll want to make your way through the city of Hierapolis to visit the Grand Theater and the Cleopatra Pool. This took us about three hours, but it could easily be longer if you want to see everything.
Tips For Visiting Pamukkale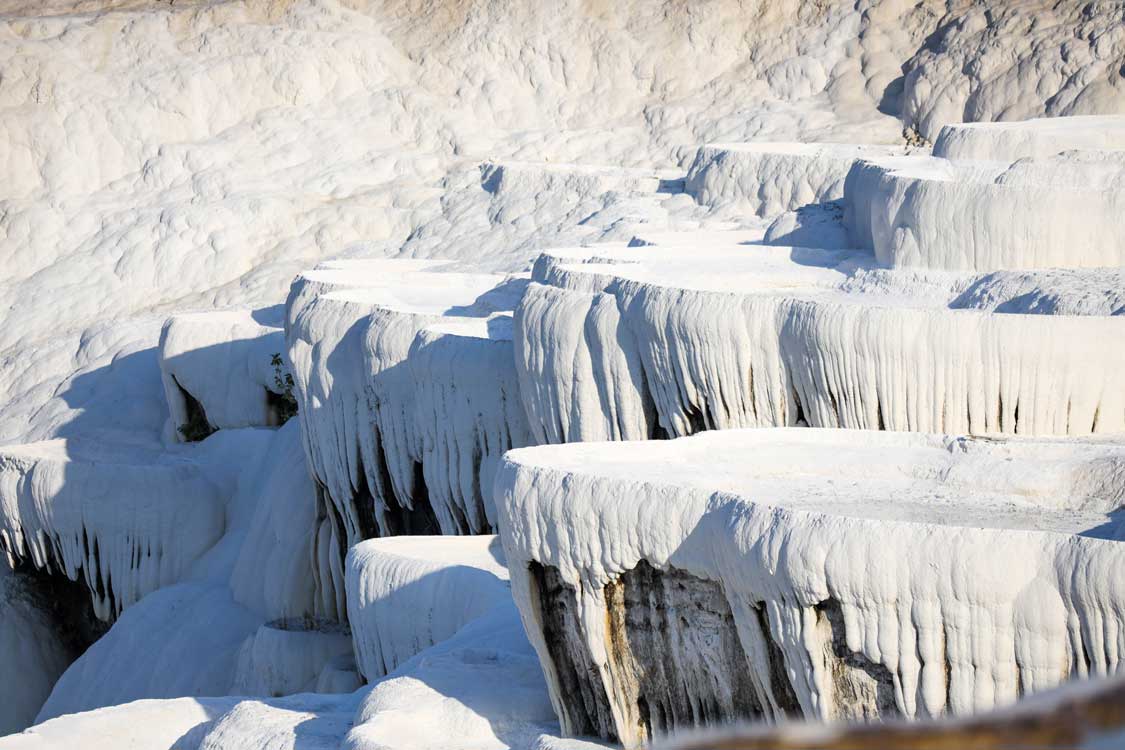 With any new destination, it's always good to arrive with a little knowledge. Here are some of our top tips for visiting Pamukkale.
Shoes – Wear comfortable shoes for visiting the city of Heirapolis. Don't worry about getting them wet at the Cotton Castle. You'll need to remove your shoes before entering the pool area. Some visitors choose to wear socks.
Slipping – The pools at the Cotton Castle are not slippery. It's similar to the Bua Tong sticky waterfall that we visited in Chiang Mai, Thailand. The calcite is very grippy without being sharp.
Empty pools – Due to the popularity of the Pamukkale hot springs, the water is diverted from certain springs in order to allow them to heal from overtourism. Don't be surprised if you arrive and find the most picturesque pools empty.
Bring Your Swimsuit – Bathing in the travertines is allowed. Bring your swimsuit and enjoy a luxurious dip in the naturally heated water.
Enter Through The North Entrance – There are three entrances to Hierapolis and the Pamukkale pools. The North Entrance is closest to town and requires trudging up and down the travertines to get to the city. If you enter through the North Entrance, you'll enter from the top. It's an easy walk to both the travertines and the city.
Enjoy Your Time Visiting Pamukkale, Turkiye
There is nowhere else in Turkiye that compares to Pamukkale. The gorgeous Cotton Castle is a sight to behold. I hope this guide to Pamukkale has helped you plan your visit. If there's anything that I missed, please drop a comment or reach out.
If you love family travel as much as we do, please join our Family Travel Support Group on Facebook. You can connect with more family travelers just like you who love to explore the world.
Wandering Wagars is a participant in the Amazon Services LLC Associates Program, an affiliate advertising program designed to provide a means for sites to earn advertising fees by advertising and linking to amazon.com, amazon.co.uk, amazon.ca. Amazon and the Amazon logo are trademarks of Amazon.com, Inc. or its affiliates
You May Also Like To Read: