These incredible things to do in Chiang Mai, Thailand will wow you. Explore stunning nature, beautiful temples, and majestic waterfalls in the Rose of the North.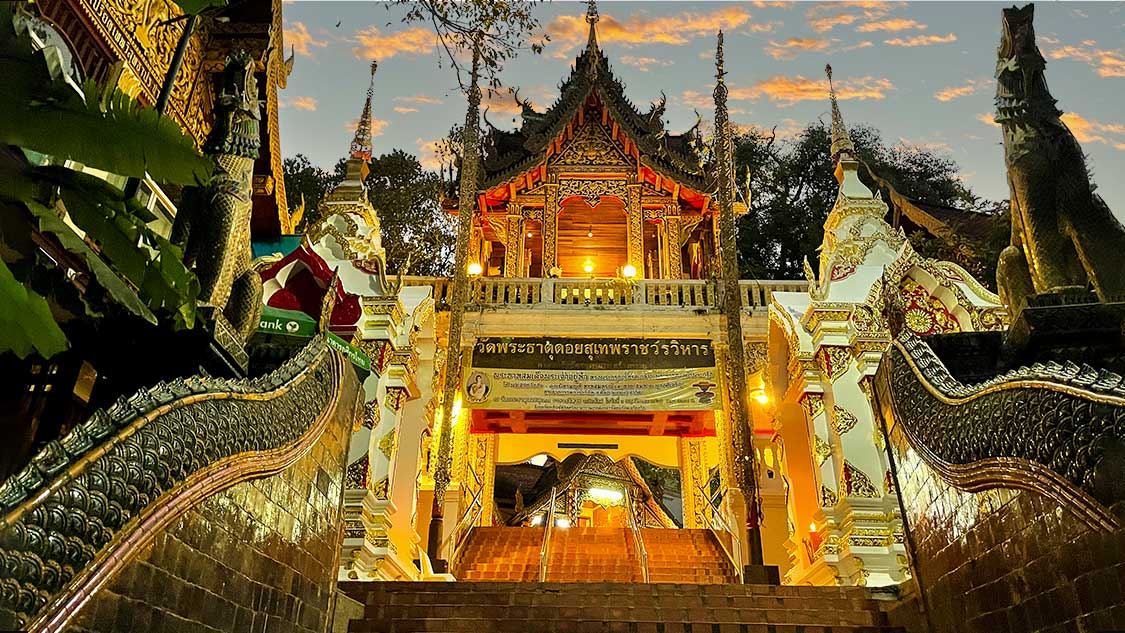 Packed with some of Thailand's most incredible temples and surrounded by lush natural beauty, the city of Chiang Mai is among the most visited places in Thailand. This city has gained a reputation as an ex-pat hub thanks to its world-class food, easy-going pace, and family-friendly atmosphere. But a deeper look at the "Rose of the North," as it's been called by locals, offers even more adventure than most visitors could hope for.
The former capital of the Lanna Kingdom offers a welcome respite from the bustling streets and muggy weather of Bangkok. Our travels in Chiang Mai led to some of the most magical memories from all of the places that we visited in Thailand.
From learning to cook Thai food, scaling waterfalls in Sri Lanna National Park, paying alms to Buddhist monks at a mountaintop monastery, Playing music with members of the Long Neck Karen Tribes, and watching the sun rise over the incredible landscapes, our time in Chiang Mai was awe-inspiring, educational, and packed with adventure.
The incredible list of things to do in Chiang Mai goes beyond what any guide can offer, but if you're looking to explore northern Thailand's most popular city, these Chiang Mai attractions are ones that you definitely don't want to miss.
Our Chiang Mai travel guide will help you navigate the city, discover the best places to visit, and enjoy unique and incredible places to stay. We'll even show you some under-the-radar experiences that many first-time visitors to Chiang Mai might miss.
Things To Do In Chiang Mai Old City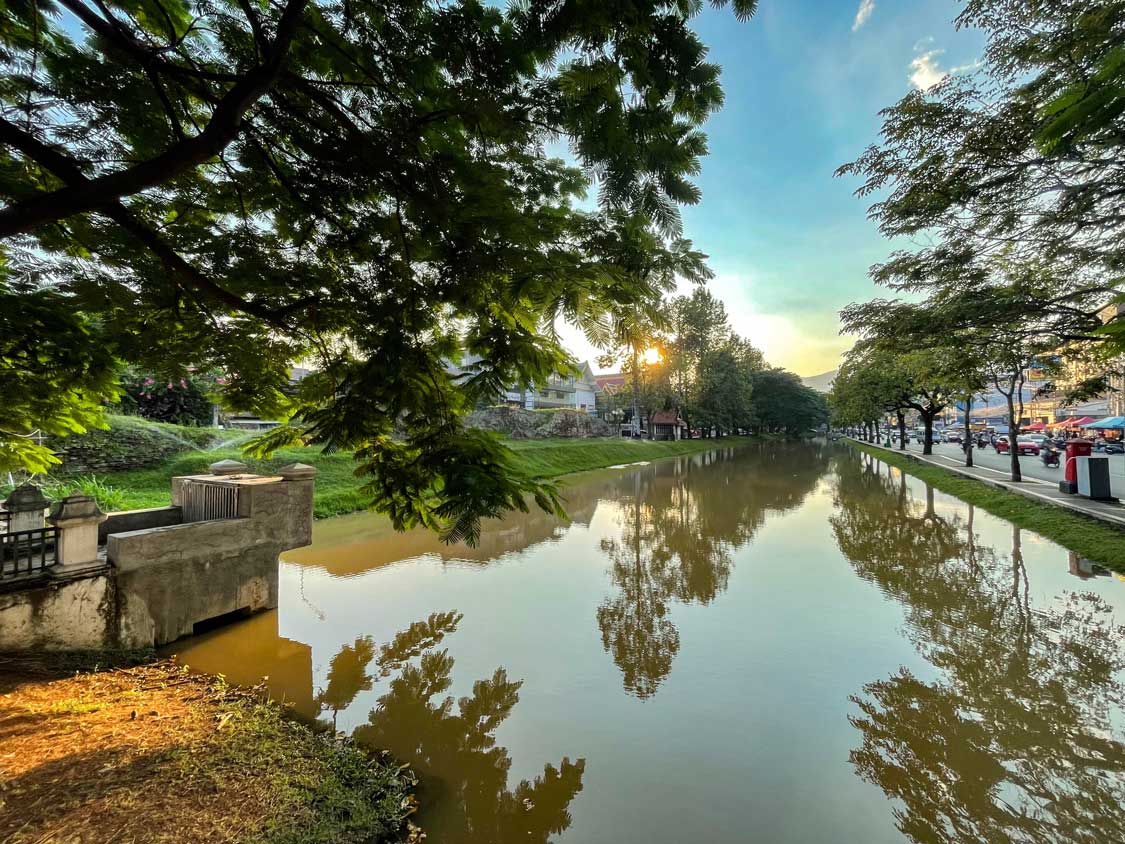 You don't have to travel far to experience the top attractions in Chiang Mai. Most visitors to the city stay within the Old City where 700-year-old walls and a beautiful moat once protected the Lanna Kingdom.
Chiang Mai is packed with over 300 temples, both inside and near the city. We definitely can't list them all, and to be honest, not all of them are really worth the visit. But among the food experiences, attractions, monasteries, and other amazing things to do in Chiang Mai, I've listed the most notable temples in Chiang Mai so you know where to spend the most time.
Tha Pae Gate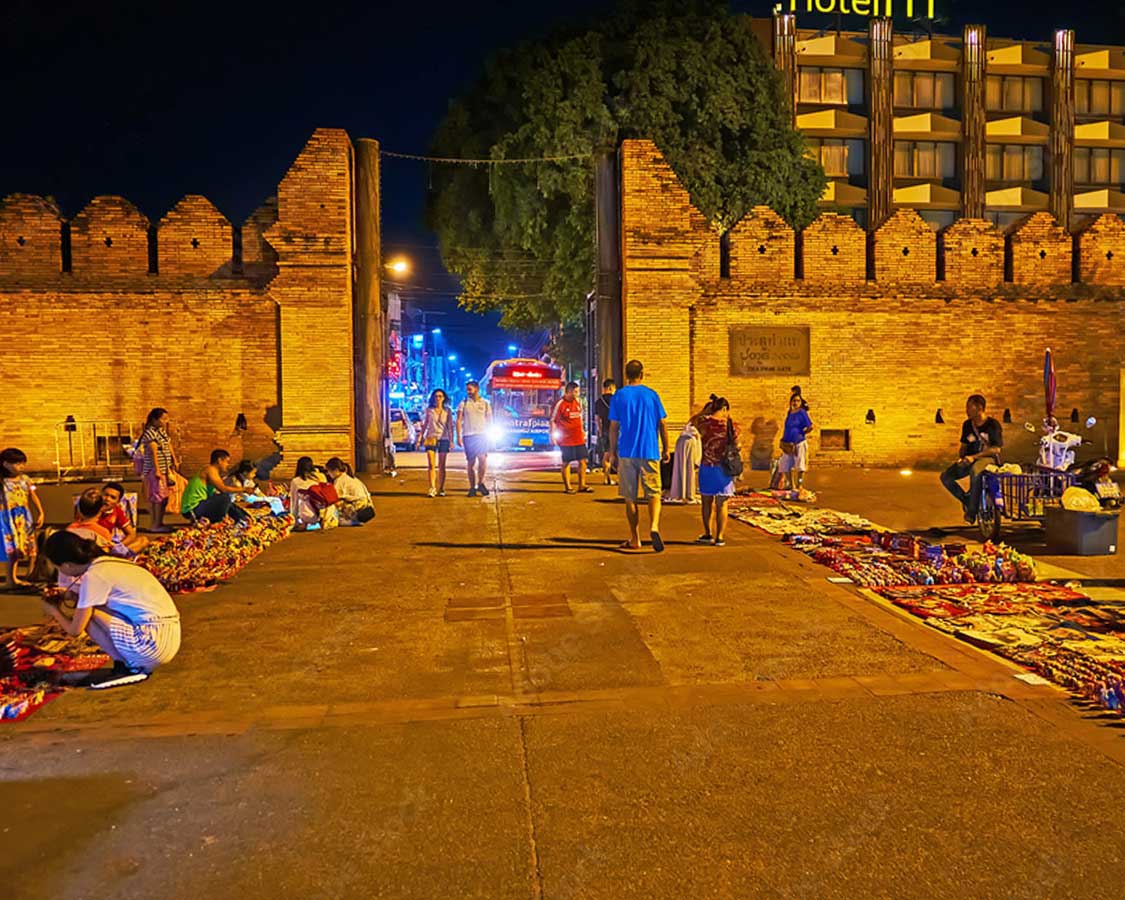 The old city of Chiang Mai is home to some of the city's greatest treasures. And the start of any trip should be at the Old City Wall and the Tha Pae Gate. This is the most popular place to visit in Chiang Mai and acts not only as a connection between the modern and the ancient but as a social hub of the city as well.
Surrounding the Tha Pae Gate are some of Chiang Mai's most popular night markets, temples, and restaurants. Wander among monks, travelers, and locals as you explore the walls of the Old City of Chiang Mai and the moat that surrounds the city center.
Along with being a social hub, Tha Pae Gate is also the center of Chiang Mai's annual Songkran festival. This popular water festival helps to ring in the Thai New Year. Prior to the festival, the moat is drained and cleaned and during the festival, many people swim and celebrate in the waters.
It's not rare for children in Chiang Mai to carry around water toys to spray unsuspecting tourists. Make sure to dress accordingly!
A Tour of many of the Tha Pae Gate, as well as many of the city's best temples, are included in this Chiang Mai city tour.
Wat Chedi Luang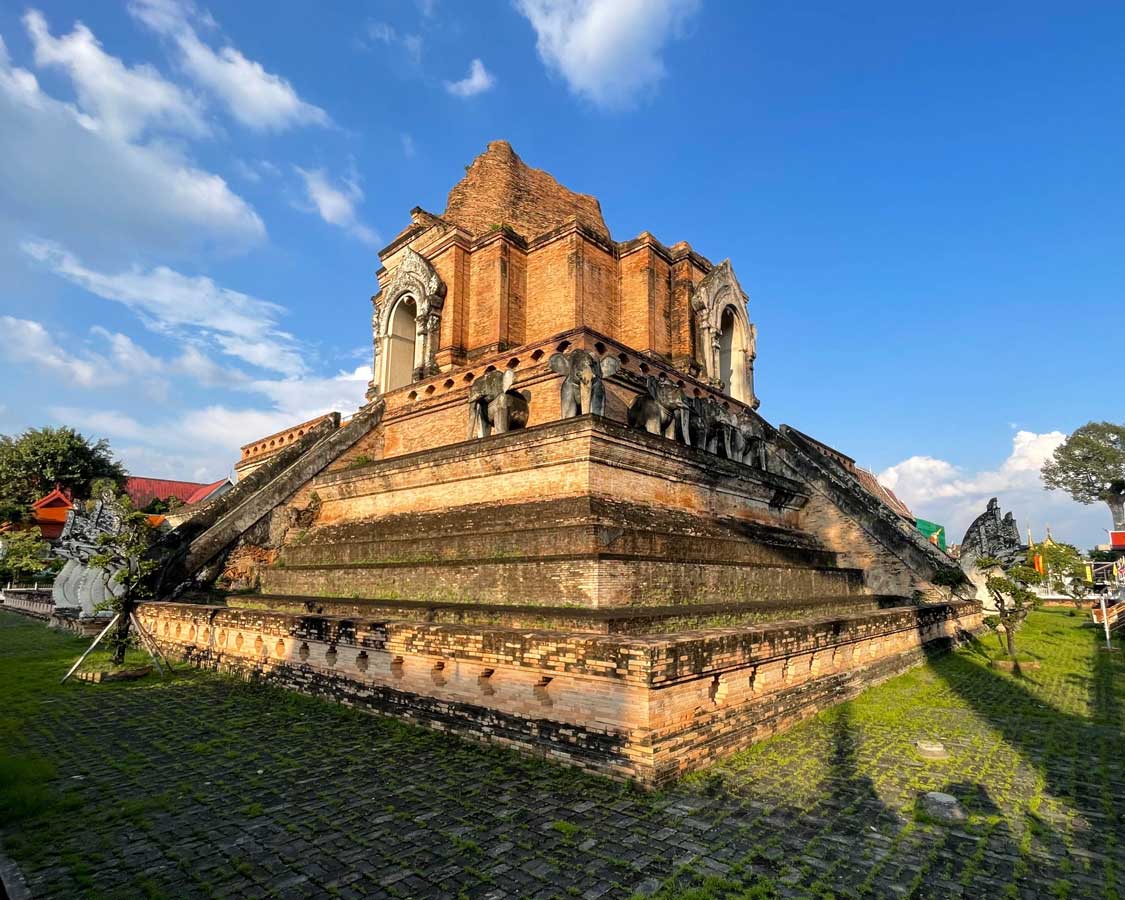 Among the most famous temples in the Chiang Mai city center is the towering Wat Chedi Luang. Laden with lifesize elephant statues and standing a powerful 269 ft tall, Wat Chedi Luang isn't just one of the most stunning temples in Chiang Mai, it's the largest temple in the entire Lanna Kingdom.
Built as a Buddhist temple in the 14th Century, this was once the home to the famous Emerald Buddha that now sits in Wat Phra Kaew, the Golden Palace in Bangkok.
Wat Chedi Luang is one of the most beautiful temples in Chiang Mai. This Buddhist temple in the historic center of Chiang Mai stands 82 meters high and is the largest of the temples in the Lanna Kingdom. It once housed the famous Emerald Buddha that is now at Wat Phra Kaew in Bangkok's Golden Palace. Something that you must not miss seeing at Wat Chedi Luang sitting in on the daily monk chat.
Wat Suan Dok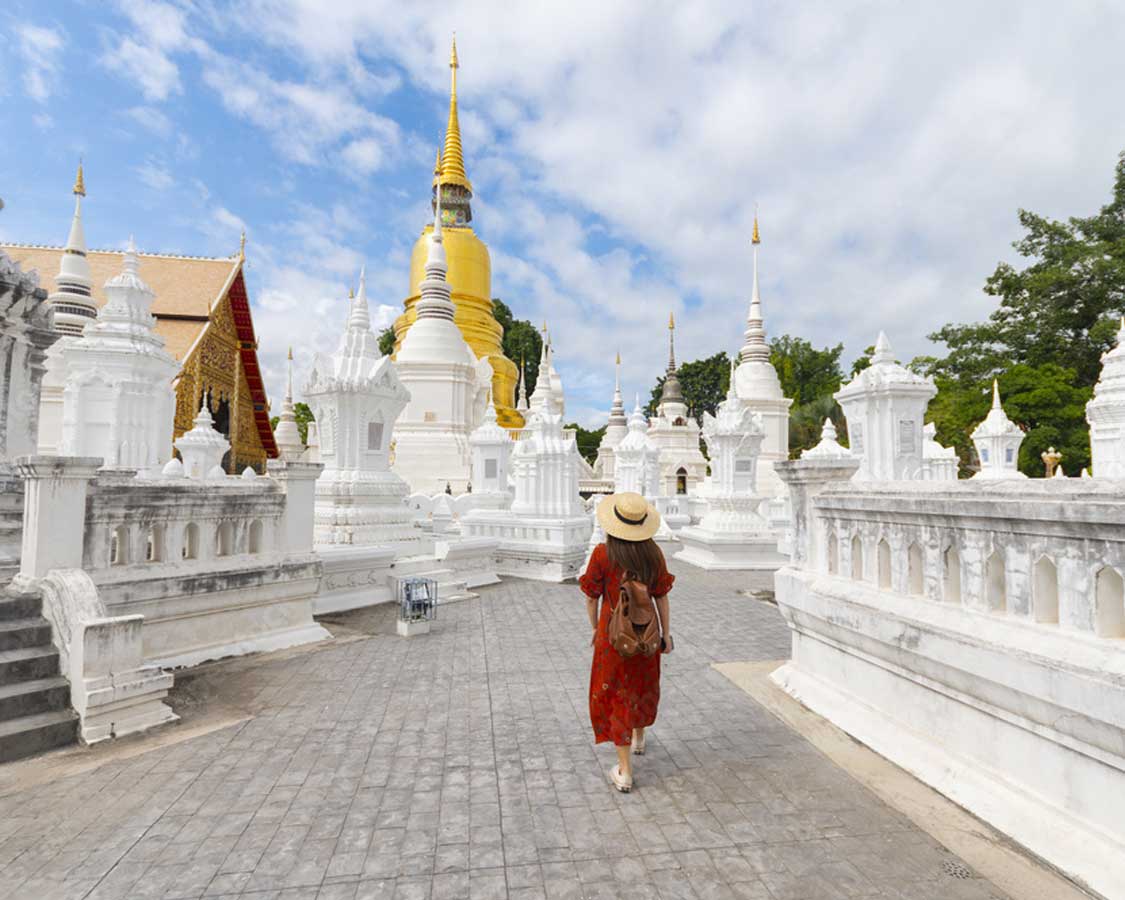 One of the most beautiful temples in Chiang Mai is the 14th Century Wat Suan Dok. This Buddhist temple was so important to the Lanna Kingdom that several members of the Royal Family chose to be buried in the surrounding land.
Visitors will notice that Wat Suan Dok seems to have a very high monk-to-tourist ratio. That's because, on top of being an active temple, it's also a university for Buddhist monks. This is a great spot to strike up a conversation with one of the students and learn a little more about the culture and influence of this religion in Thailand.
The temple is very easy to explore on your own. But if you choose to join a guided Chiang Mai tour you'll learn a lot of behind-the-scenes details that most visitors will miss.
Chiang Mai Lantern Festivals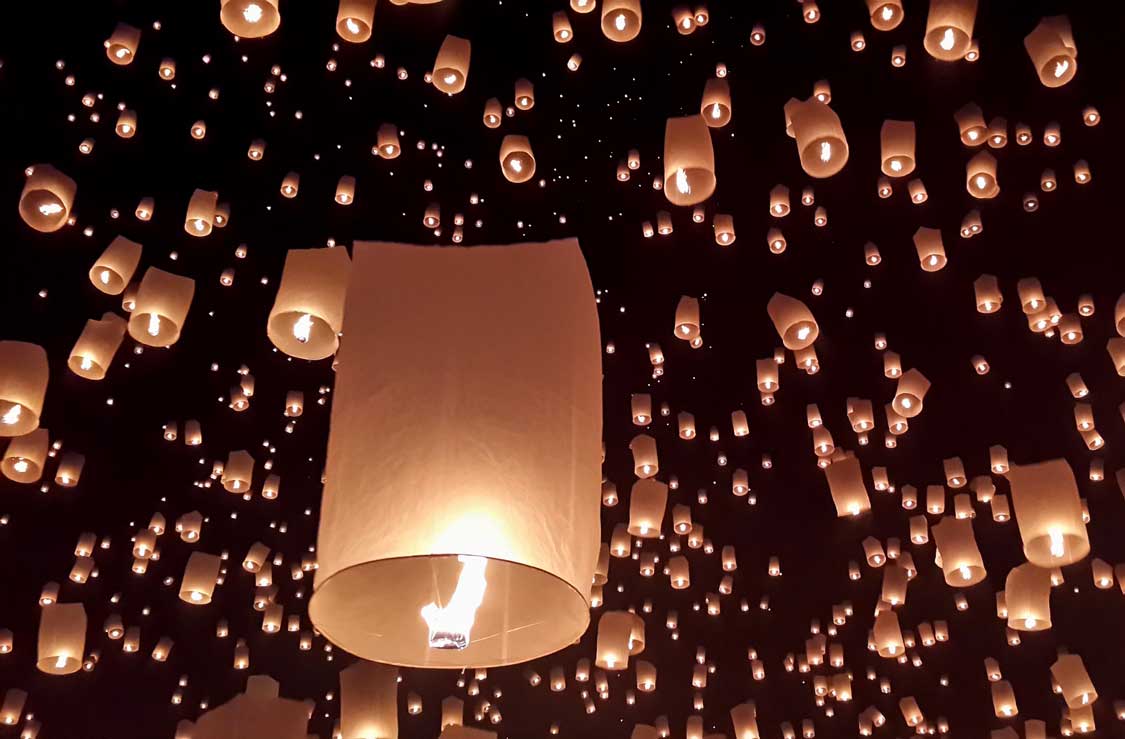 While we weren't lucky enough to time our visit with one of the Chiang Mai lantern festivals, if you're visiting Chiang Mai in November, be prepared for a treat.
Thousands of paper lanterns lit by small candles are released after sunset by revelers looking to make a new wish. One of the best places to catch the action is at the Chiang Mai Stadium. But if you didn't get a ticket to that (they book VERY quickly), you can head over to Mae Ping River to join the action.
Floating lanterns are for sale throughout the city during this time, but the lanterns are only released by the public at the Mae Ping River. Be sure to only purchase lanterns made with paper and bamboo rather than those made with metal to avoid litter.
This private lantern release is a great option for those who either can't get a ticket
Thai Cooking Classes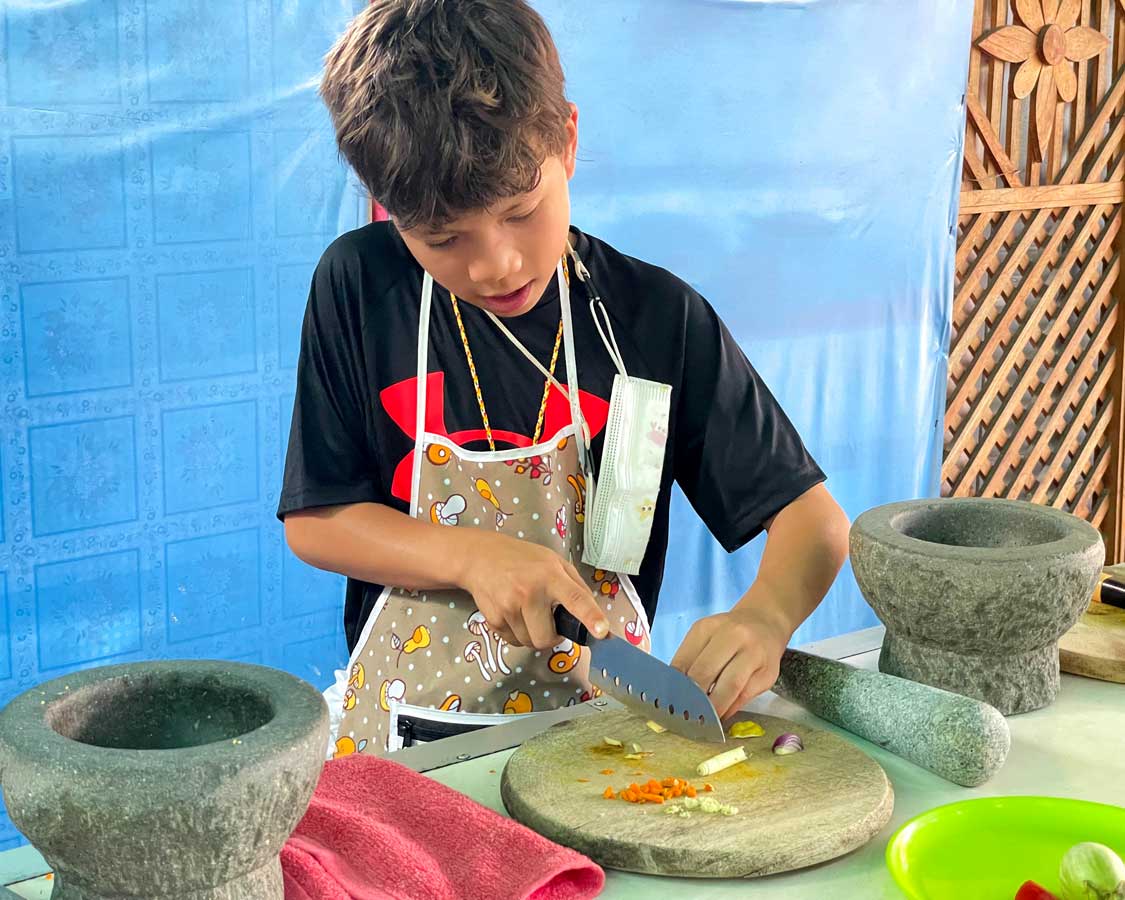 One of our absolute favorite experiences in Chiang Mai was our Thai cooking class with renowned local chef Vannee. During this family-friendly cooking class experience we learned to make six different Thai foods including some of the most popular food in Thailand.
During our Thai cooking class, we spent time shopping at one of the city's largest markets, learning about all of the unique ingredients and how to choose them, and then spending two solid hours crafting up all of the different recipes, and finally sitting down to eat it all with gusto.
There are a number of great Thai cooking classes in the city. This is one of the most highly rated and it includes the market and cooking 11 different Thai and Akha (northern Thai) dishes.
Cowboy Hat Lady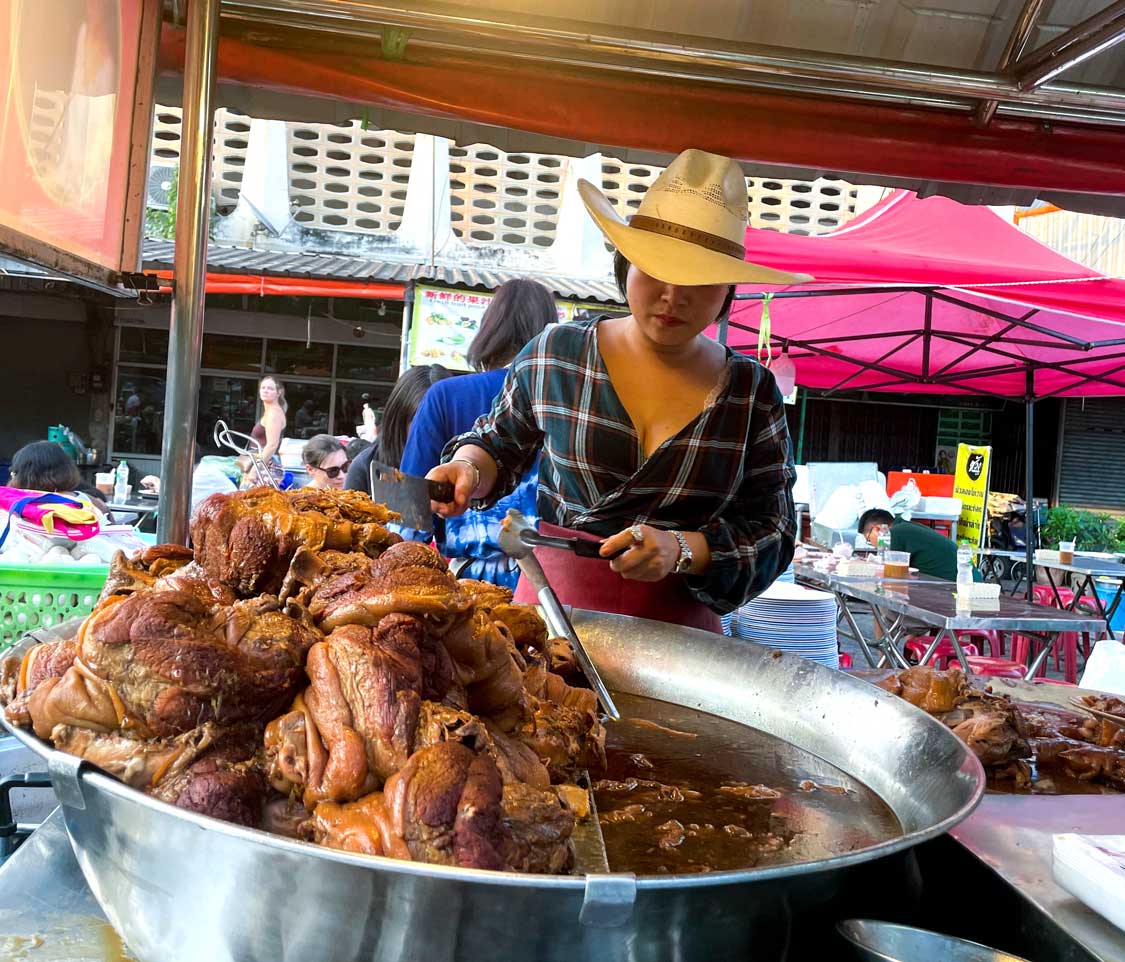 You can explore Chiang Mai without making a visit to the city's celebrity chef.
Eating all of the street food in Chiang Mai is never a bad thing, but if you're looking for something out-of-this-world, stop by the city's Elephant Gate (Chang Phuak) and search the stalls for the Cowboy Hat Lady, or simply ask where you can find the best Khao Kha Moo in the city, you'll inevitably get pointed in the right direction.
Known for her mouthwatering slow-cooked pork, but made famous by her ever-present cowboy hat, this Chiang Mai chef has become a favorite of celebrities visiting the city, including the late chef Anthony Bourdain, who traveled here in 2014. My good friends at 2 Food Trippers did a great write-up of Cowboy Hat Lady and the different dishes that she offers here.
The Best Chiang Mai Daytrips
The fun in Chiang Mai doesn't stop at the gates of the old city. There are plenty of things to do near Chiang Mai as well as great Chiang Mai day trips that will absolutely amaze you. Places such as the Doi Suthep Temple, the Karen Tribe villages, and beautiful national parks with incredible waterfalls are just a short drive away.
Doi Suthep Temple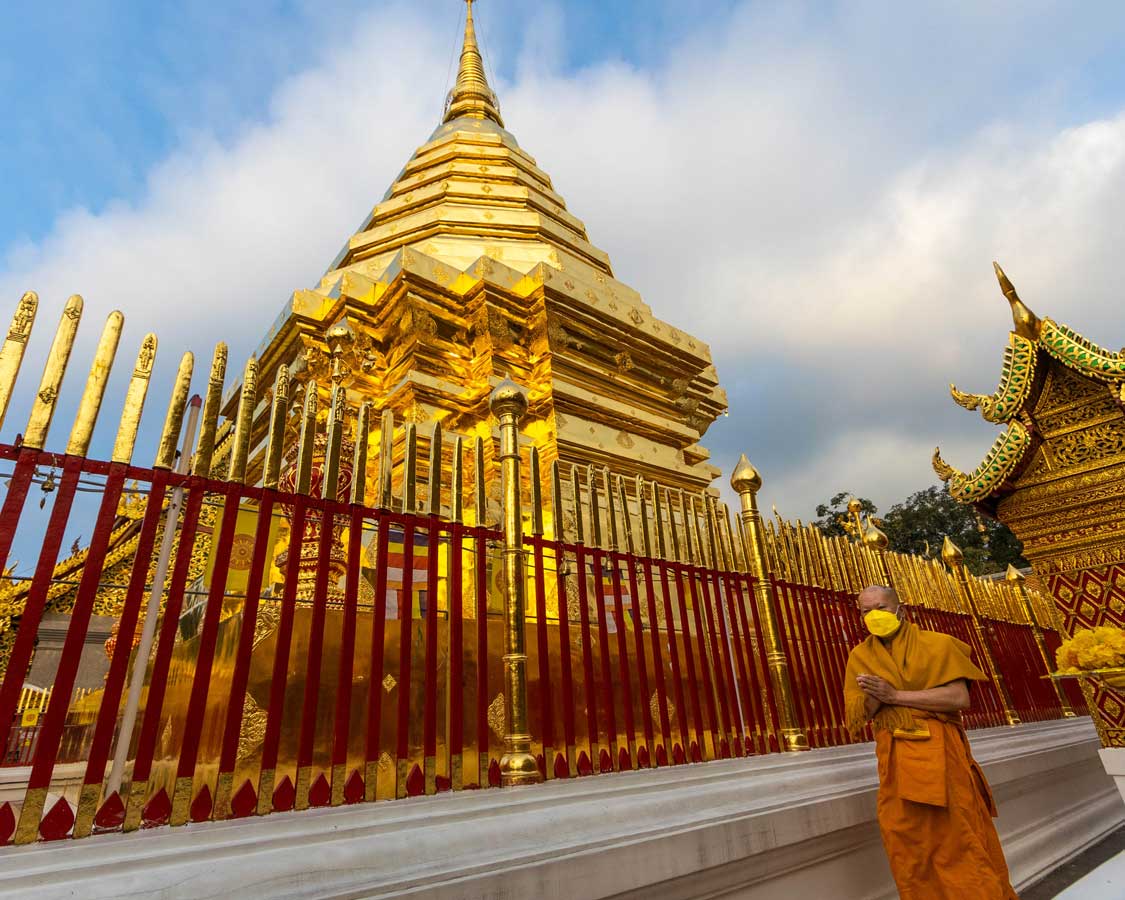 Among all of the things to do in Chiang Mai, Wat Phra That Doi Suthep (otherwise known as Doi Suthep Temple) sits among the top. Not just because of its popularity, but because Doi Suthep Temple sits at 5,500 ft in the mountains overlooking the city.
Situated about 30 minutes, or about 9 miles from the city center, Wat Phra Doi Suthep is the most magnificent temple in Thailand. It's also one of the most important schools for Buddhist monks. If you have time for just one major cultural experience in Chiang Mai, I highly recommend making a sunrise visit to the temple and taking the time to pay alms to monks.
Buddhist monks live entirely off of food donated to them through alms. In the morning, visitors and locals visit the temple with bags of food. After morning prayers, the monks line up to receive their alms. These are then combined into one pot and served, mixed to the monks. Younger monks who didn't receive any head into the nearby neighborhoods to ask vendors and locals for food.
Among the golden shrines and magnificent frescoes, Doi Suthep Temple also includes a house made to house a monk's bones and a replica of the famed Emerald Buddha.
For those who love even more adventure, Doi Suthep sits at the top of the Monk's Trail, a hiking trail that begins in Chiang Mai and winds for 5 miles up the scenic mountains, through hidden temples and past scenic waterfalls.
This Doi Suthep tour takes you up for the magical sunrise views and includes a few stops along the way.
Karen Hill Tribes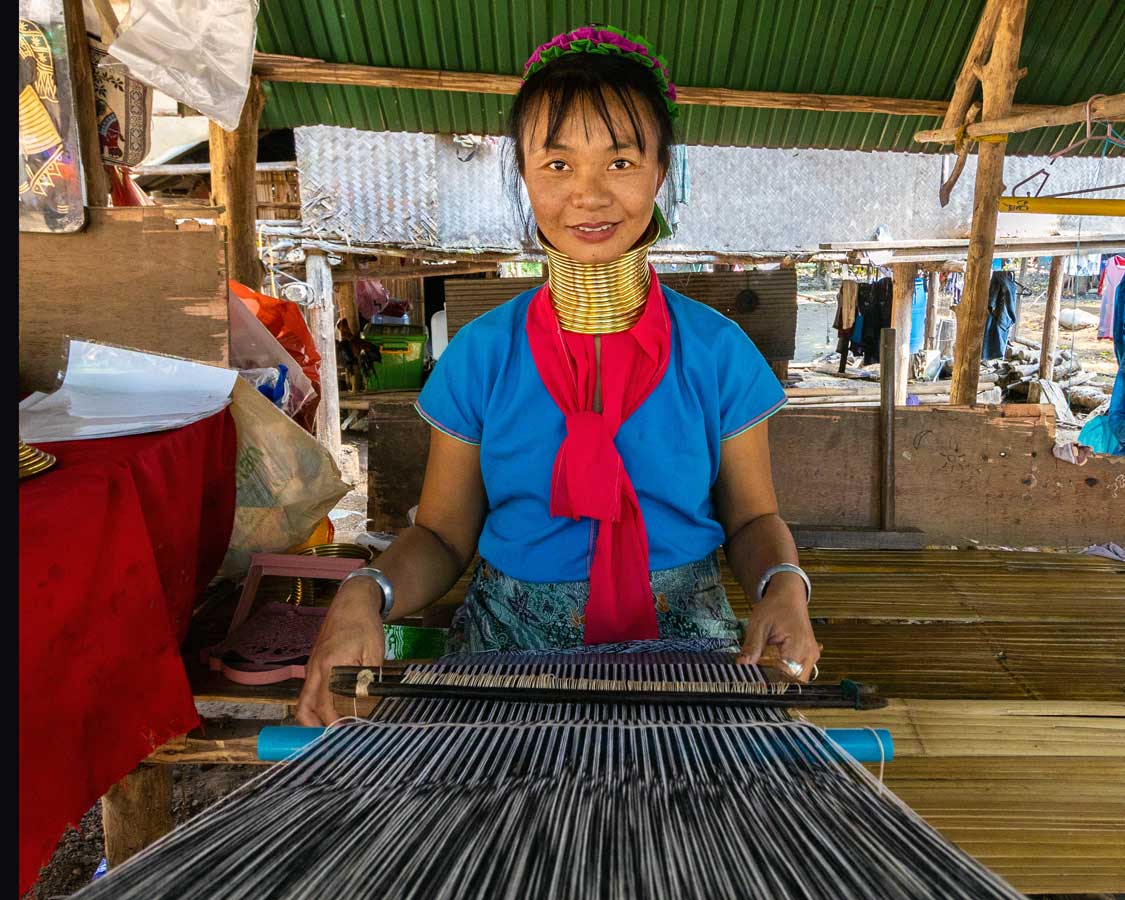 It's difficult to plan a trip to Thailand without hearing about the Karen Hill Tribes. This group of six unique and separate remote communities from Myanmar(Burma) were chased from their country during a genocide that began in 1949. The ethnic communities settled in remote villages throughout northern Thailand and as far south as Kanchanaburi (where we spent some time at a school near our Kanchanaburi floating lodge experience).
While the term "Karen" really refers to "outsider" in the Thai language, these fascinating and resilient communities have supported themselves in their new home through tourism initiatives.
Our visit was to a village where all six ethnic communities lived together. We learned about their traditional culture, lifestyles, and family life. C even had a chance to play music with one of the long-neck Karen tribe elders who had crafted her own guitar from local trees.
Like elephant experiences, it's important to approach visits with the Karen Hill tribes with ethically-focused guides that ensure money is left in the communities and the ethnic groups, especially their children, are not being exploited. Our visit left some questions surrounding the ethics of visiting these villages. You can read about our visit to the Karen hill tribes near Chiang Mai here.
Bua Tong Sticky Waterfall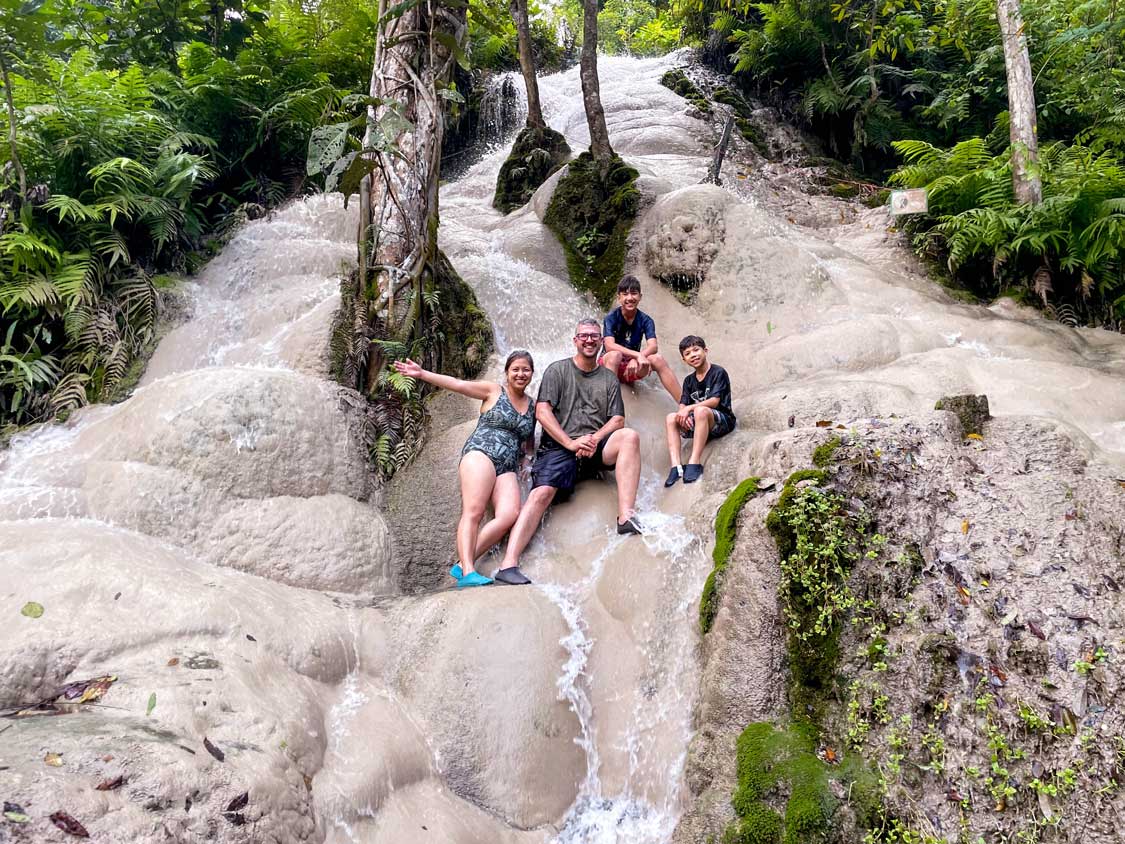 Nature is abundant in the mountains surrounding Chiang Mai. There are hiking trails, cycling routes, and beautiful jungle treks. But of all of the outdoor experiences near the city, our absolute favorite is Bua Tong Sticky Waterfall in Sri Lanna National Forest.
Situated about an hour and a half from Chiang Mai's old city, Sri Lanna National Forest is an absolute paradise for outdoor lovers. The park has incredible picnic grounds, hiking trails, and epic viewpoints to explore. But the most popular attraction in Sri Lanna National Forest is Sticky Waterfall.
Most waterfalls are notoriously slippery, but Bua Tong is spring-fed from water rich with calcium. Because of this, the waterfall leaves a grippy calcite layer on the rocks that it flows over. Because of this, intrepid explorers (with a simple pair of swimming shoes to avoid scratches and stubbed toes) can easily climb up and down.
At first glance, Sticky Waterfall appears to be a small, 20 ft fall. But as we descended further, we discovered more and more incredible twists and turns and some of the most beautiful hidden locations we've ever seen.
If you're up for a long day of excitement, this Best of Chiang Mai tour includes Doi Suthep Temple and Bua Tong Sticky Waterfall. You can check it out here.
Wat Pha Lat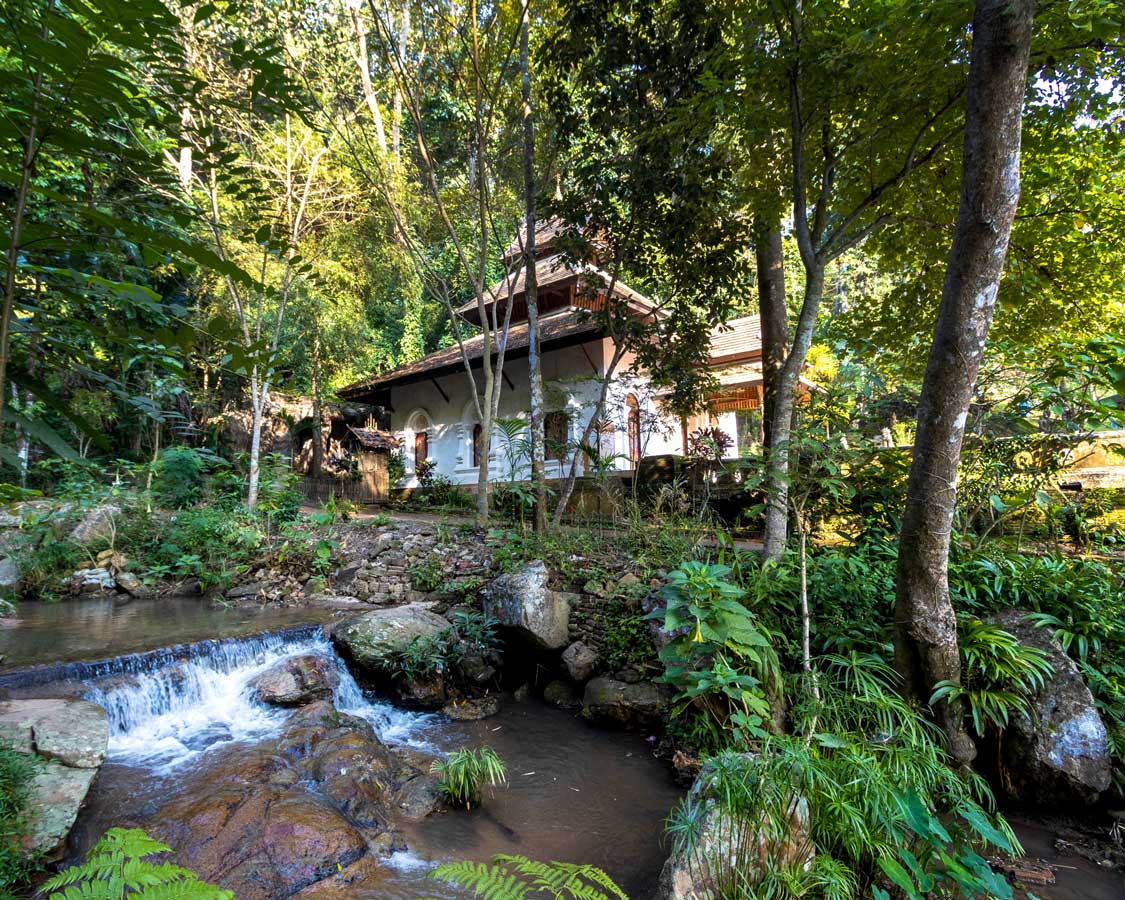 Wat Pha Lat is quite possibly the most beautiful and peaceful place to visit in Chiang Mai. This under-the-radar temple, a short distance below Doi Suthep Temple was a place where I could have easily spent the day in relaxing bliss.
If you get a guided tour of Doi Suthep Temple, you'll likely learn the story of the monastery and how a white elephant led the monks through the mountains before passing away of exhaustion. The celebrate the elephant's sacrifice, a temple was made in its honor. The place where that elephant passed is Wat Pha Lat.
Hidden in the jungle and bisected by a flowing stream that leads to a towering waterfall, Wat Pha Lat is dotted with old stone buildings, intricate carvings, long stairways flanked with dragon sculptures, and quiet tea wood prayer rooms.
Wat Pha Lat was built in 1355 but was rarely visited by outsiders before 2018. Word of its beauty spread and locals and travelers began making the trek along the Monk's trail to explore it. While it's still often overlooked, you're definitely going to find a few cars in its tiny parking lot when you arrive.
Elephant Nature Park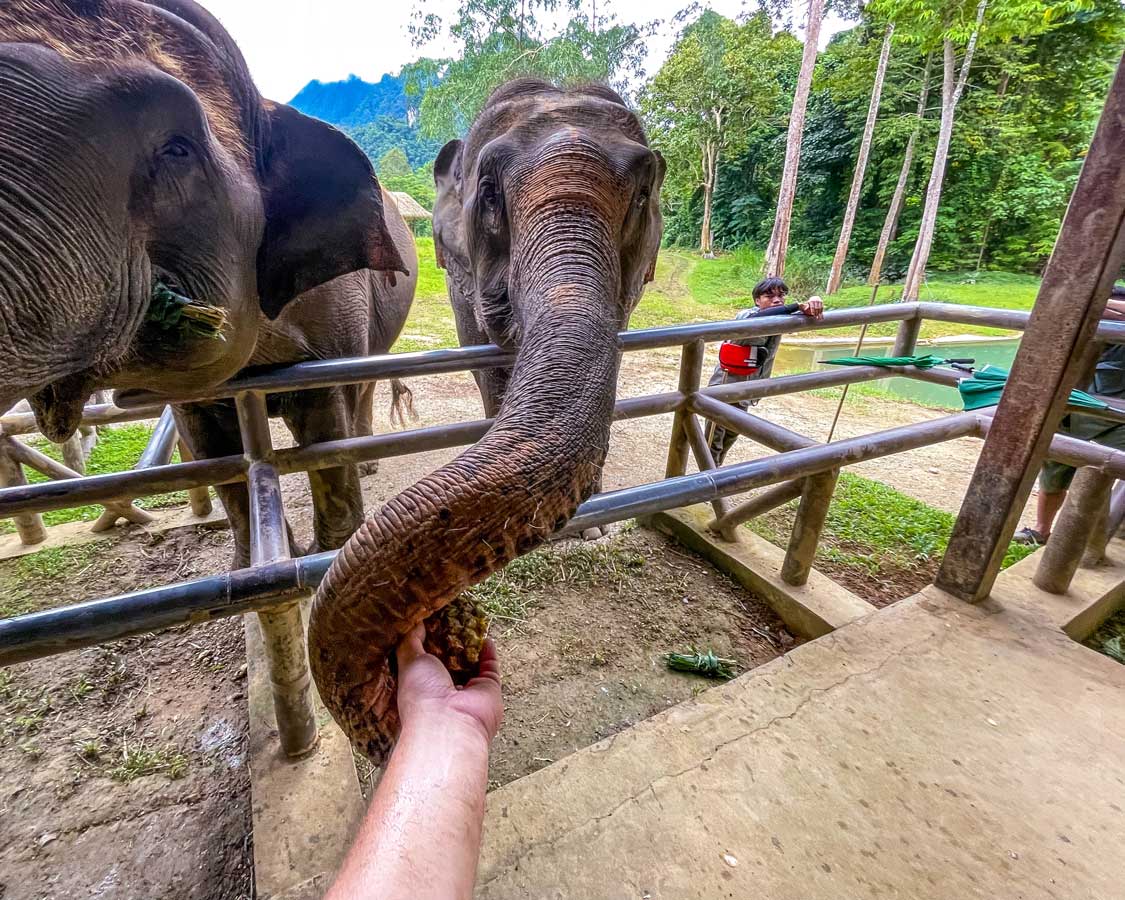 We saved our Thai elephant experience for our time in Khao Sok National Park in Southern Thailand, but for those wishing to add an ethical elephant experience in Thailand to their Chiang Mai itinerary, one of the top experiences is with Elephant Nature Park.
Elephant Nature Park allows visitors to get up close and personal with elephants who have been rescued and re-homed, often along with their mahouts (elephant handlers) from jobs in the Thai lumber industry.
To ensure the safety of the animals, elephants are not allowed to be ridden, and interaction with humans is up to their discretion as they roam their 200-acre habitat. Guests can get the chance to prepare food for and feed these magnificent animals.
Chiang Mai's Grand Canyon
Although we didn't have a chance to get here, we heard some incredible things about Chiang Mai's Grand Canyon. Formerly the Hang Dong Quarry, the Chiang Mai Grand Canyon has been transformed into a hiking and water sports paradise.
Much of the quarry has filled with water, in some places up to 130 feet deep and it's a popular spot for swimming, hiking, or just taking in some unbelievable views. It's only about 30 minutes from downtown Chiang Mai and makes for a perfect stop on those hot and muggy summer days.
Things To Do In Chiang Mai with Kids
We wouldn't be doing our Thailand family travel blog justice if we didn't include a few things to do in Chiang Mai for families. Now, if you've followed our blog, you'll know that everything that we listed above can be done with kids. In fact, there are very few things to do in Chiang Mai that we wouldn't recommend for families.
But, if you're traveling in Chiang Mai with kids, there might be a few things to add to your list to add a little extra fun to your day.
PooPooPaper Park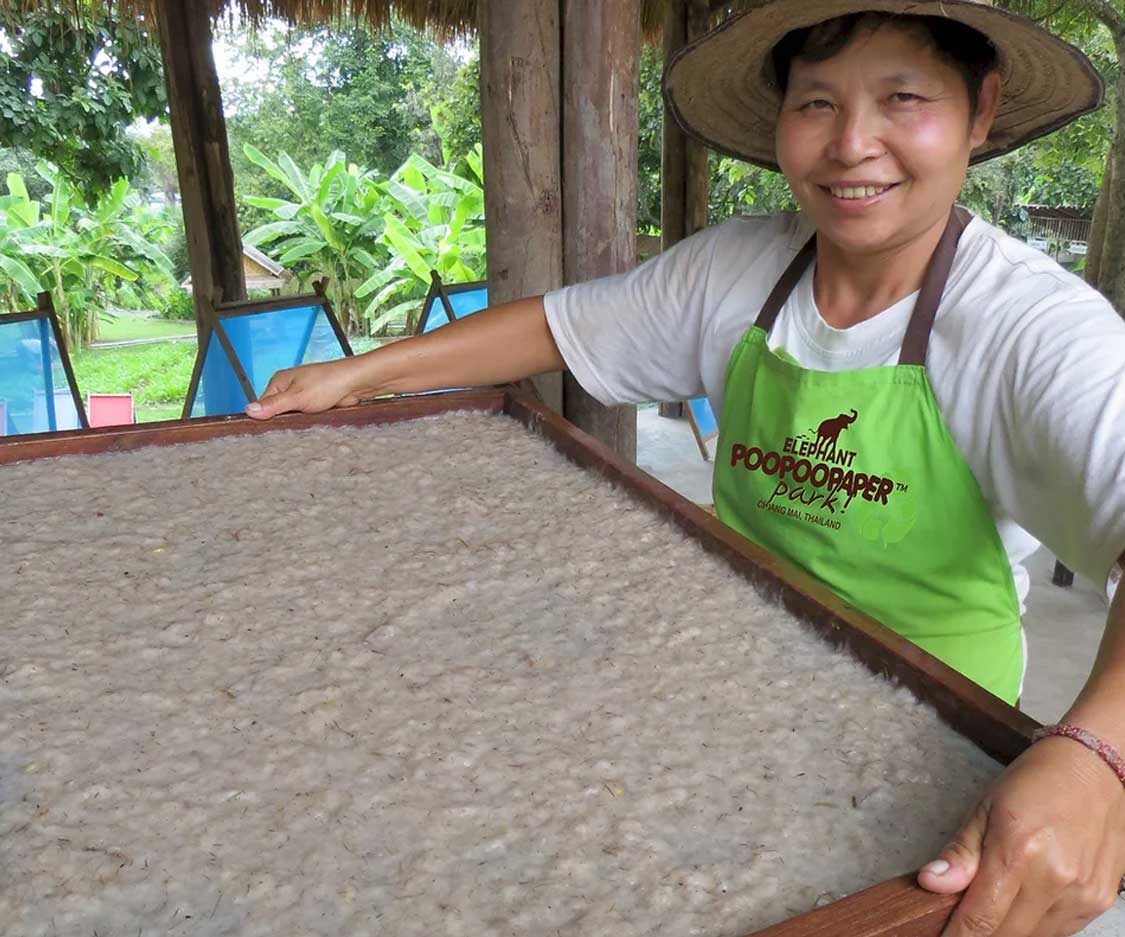 PooPooPaper Park sounds gross. But there is a lot of fun to be had at this eco-friendly, naturally built outdoor museum that is focused on showcasing the unique steps and advantages of Thailand's world-famous paper products that are made from fibers in elephant poop.
The self-guided and interpretive walking tour explores eight different pavilions, each detailing a different step in the paper-making process. It explores not just the paper itself, but Thailand's lumber history, culture, and artistic approaches.
PooPooPaper Park is fun, interactive, and absolutely unique, and the whole family will have a blast here.
Cat Brothers Cafe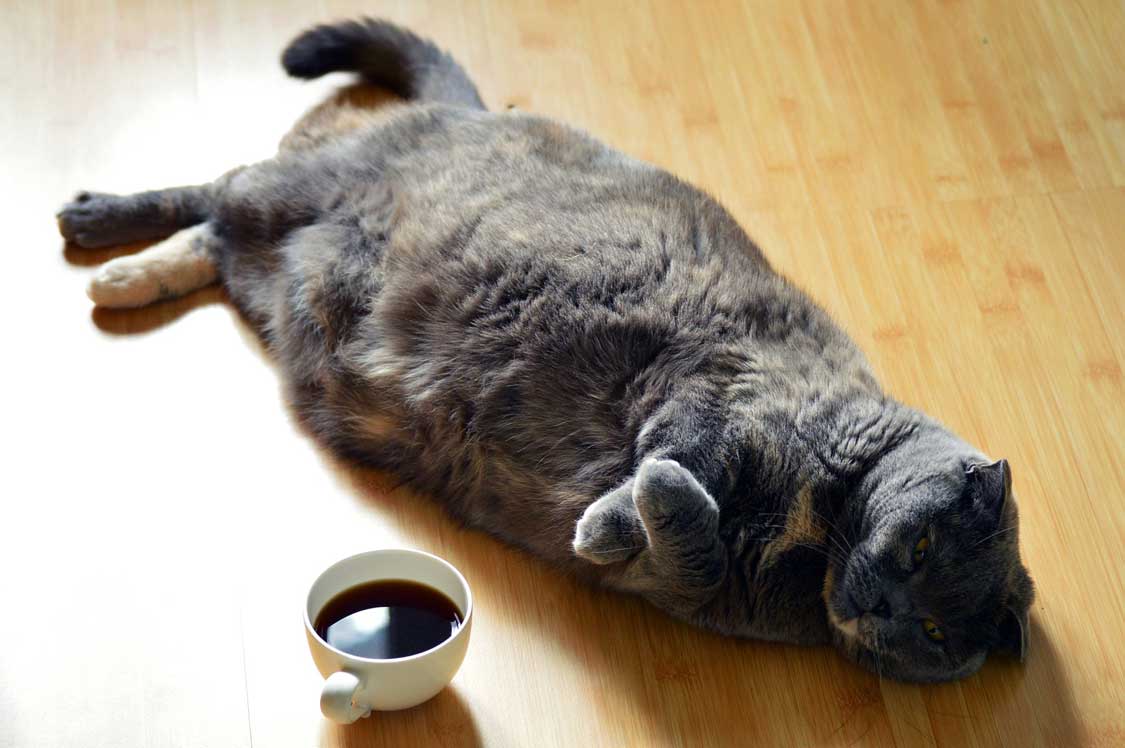 Chiang Mai has gained a reputation for having some of the best cafes in Thailand. Christina and I can vouch for the quality of the coffees and the incredible prices that you can get an iced caramel macchiato for. But the city has also had an explosion of pet cafes where you can sip your latte (or kid-friendly chocolate milk with whipped cream) surrounded by cats and dogs.
Cat Brothers Cafe is the closest place to the Old City of Chiang Mao for you to get cat cuddles. They have around 20 cats of all ages, sizes, and breeds, including a beautiful Bengal kitten pictured at the top of the page
Where To Stay In Chiang Mai
To fully enjoy the best attractions in Chiang Mai, your accommodations are going to be part of the fun. Chiang Mai has some pretty incredible hotels and unique accommodations to enjoy. Here are some of my top picks.
Inside House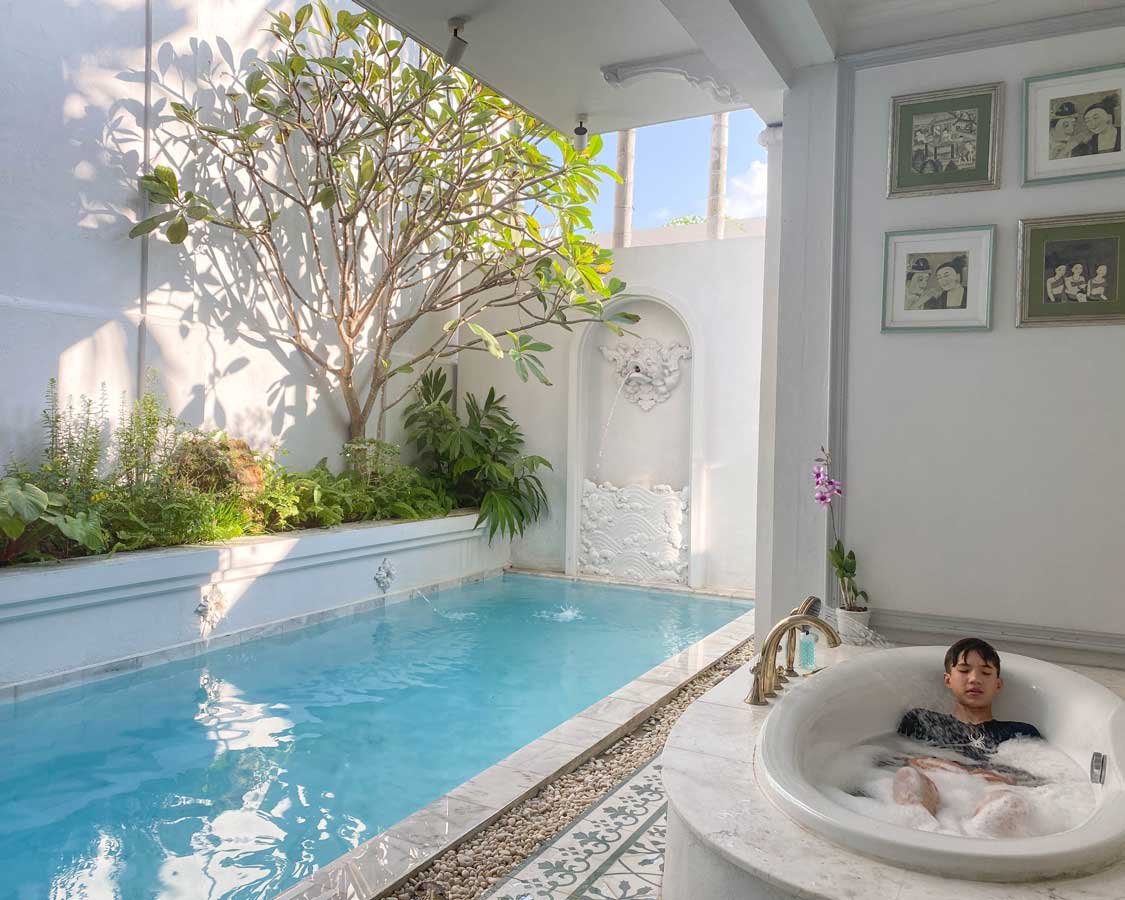 The Inside House was our top pick when it came to the best hotels in Chiang Mai. The hotel is housed in an intricately-decorated 1920s colonial mansion that has been modified to fit luxury clientele.
In addition to their beautiful rooftop swimming pool, acclaimed restaurant, and gorgeous interior that includes a century-old Bodhi tree amidst colorful gardens, many of the rooms within Inside House include their own private wading pools.
This Chiang Mai hotel has luxury and grandeur at its core but still remains approachable, unique, and absolutely beautiful. It's located within walking distance of Wat Chedi Luang, as well as many of the best shopping and food experiences in Chiang Mai.
My whole family loved it. You can check out their rates and availability here or check out our complete review of The Inside House Chiang Mai here.
Four Seasons Resort Chiang Mai
I typically like to recommend family-friendly hotels that are close to the action so that visitors can easily step away from their Chiang Mai accommodations and explore the city that they're visiting. I'll skip those conditions for the Four Seasons Resort Chiang Mai.
This gorgeous Chiang Mai resort is nestled in the lush Mae Rim Valley about 30 minutes from the Chiang Mai Old City. The resort is both upscale and rustic, offering spacious villas that range between one and four-bedroom units.
Throughout the expansive grounds, you can explore terraced rice paddies, resident water buffaloes, beautiful gardens, and a popular Kid's Club where classes on Thai cooking, rice planting, yoga, and even spa treatments are available.
Nearby are some of the underrated family-friendly Chiang Mai attractions such as the Siam Insect Zoo, the Poo Poo Paper Park (where paper is made from elephant dung), and the adventurous Chiang Mai X-Center.
You can find their current rates and availability here.
Anantara Resort Chiang Mai
Sitting riverside, this chic Chiang Mai resort offers a unique ambiance that both couples and families in Chiang Mai will love. Situated on the grounds of the century-old former British Consulate (the consulate itself has been transformed into a restaurant), each of the functional rooms comes with a fully equipped kitchen, dining room and laundry.
If you'd like something a little more stylish, consider their more modern hotel rooms. They offer less space and amenities, but far more character. While the detached rooms of the Anantara Resort might not be as stylish as those of The Inside House, the grounds sure makeup for it. Outside you'll find an infinity pool on the rooftop with incredible views of the city.
You can check out their rates and availability here.
Enjoy These Amazing Things To Do in Chiang Mai, Thailand!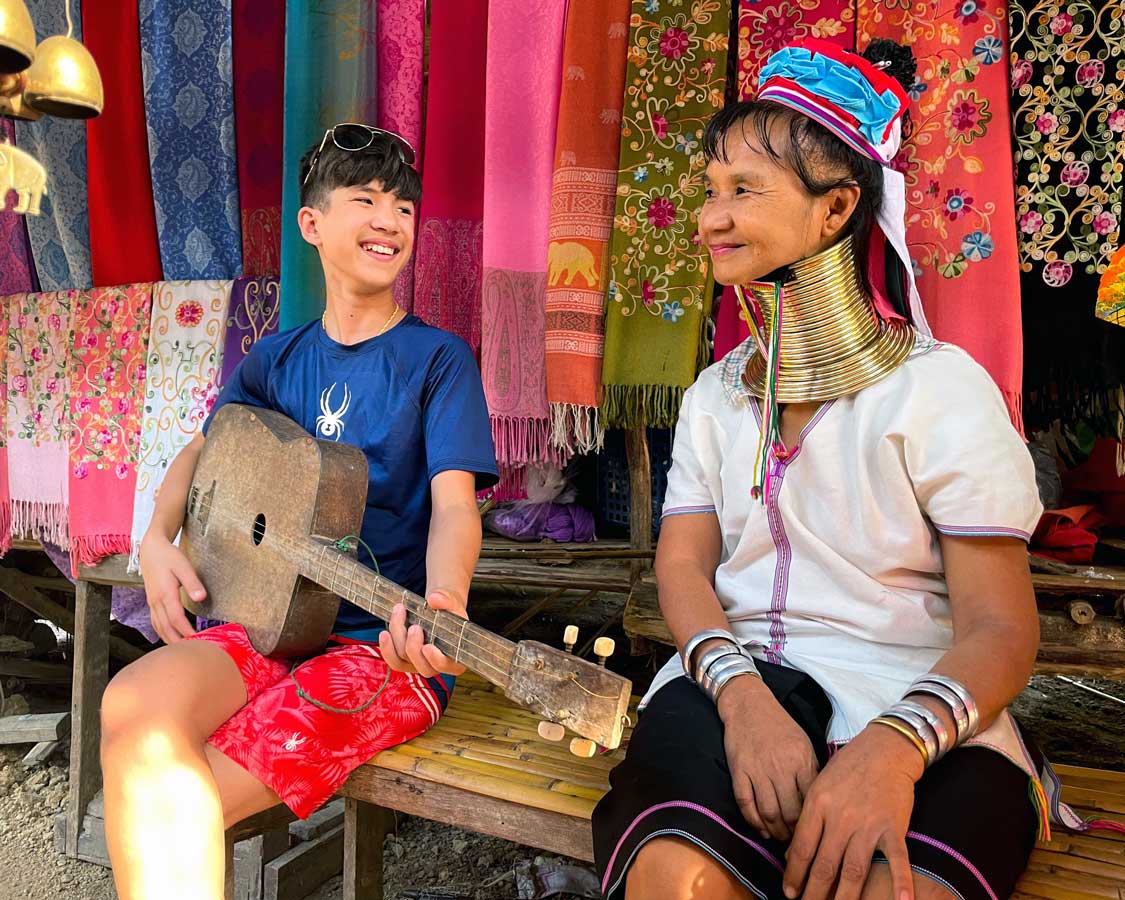 Thailand was a magical destination for family travel. Among all of the destinations, Chiang Mai was the city that truly felt like we had "arrived" in the country. From the magnificent outdoors, magical temples, and epic street food, these fun and exciting things to do in Chiang Mai, Thailand are sure to thrill every visitor.
If you love family travel as much as we do, please join our Family Travel Support Group on Facebook. You can connect with more family travelers just like you who love to explore the world.
You May Also Like To Read: