From temples and food tours to culture and adventure, planning a trip to Bangkok with kids can be magical. These expert tips will help you plan.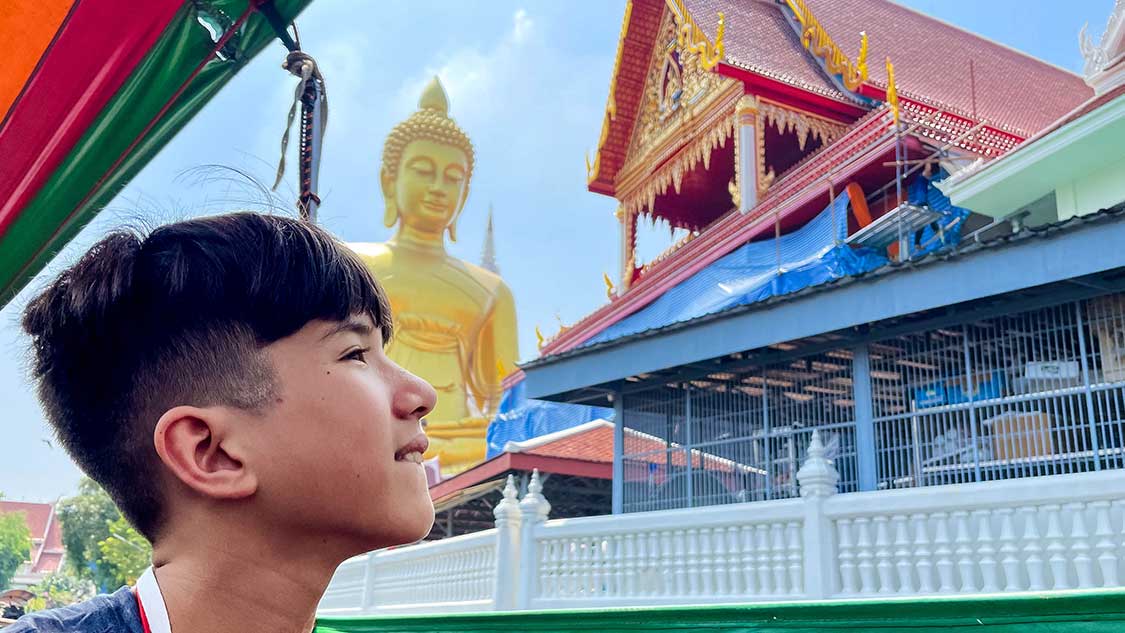 With warm weather, a wealth of attractions, and streets bustling with vendors and markets, Bangkok, Thailand draws tens of thousands of visitors each and every year. In fact, it's among the most visited cities in Southeast Asia.
While this city has developed a reputation for its wild nightlife and unconventional social scene, the truth about family travel in Bangkok sheds a completely different light.
With countless Buddhist temples, delightfully colorful palaces, scrumptious street food, and unique river markets, Bangkok is one of the most popular places to visit in Thailand for families. The city has an incredible range of great accommodations and exciting things to do, and compared to many destinations in Thailand, the traffic and congestion are pretty tame.
If you are intrigued by the idea of visiting Thailand with kids, this guide to bringing children to Bangkok will help you navigate some of the complexities and plan an amazing visit to Thailand's capital city. You'll be absolutely amazed at how incredible it is in Bangkok for families.
Bangkok is packed with attractions that kids and parents alike will love. There are fascinating museums, canal boat rides, tuk-tuk tours, and incredible wildlife. And within easy reach of the city are great beaches, incredible outdoor experiences, and even exciting theme parks.
So if you're planning on visiting Bangkok with kids, read on and learn why this city is so great for family vacations. Don't forget to check out our Thailand family travel blog to see important information on the country including electrical, cell service, and tips for the Thai language.
How To Get Around Bangkok With Kids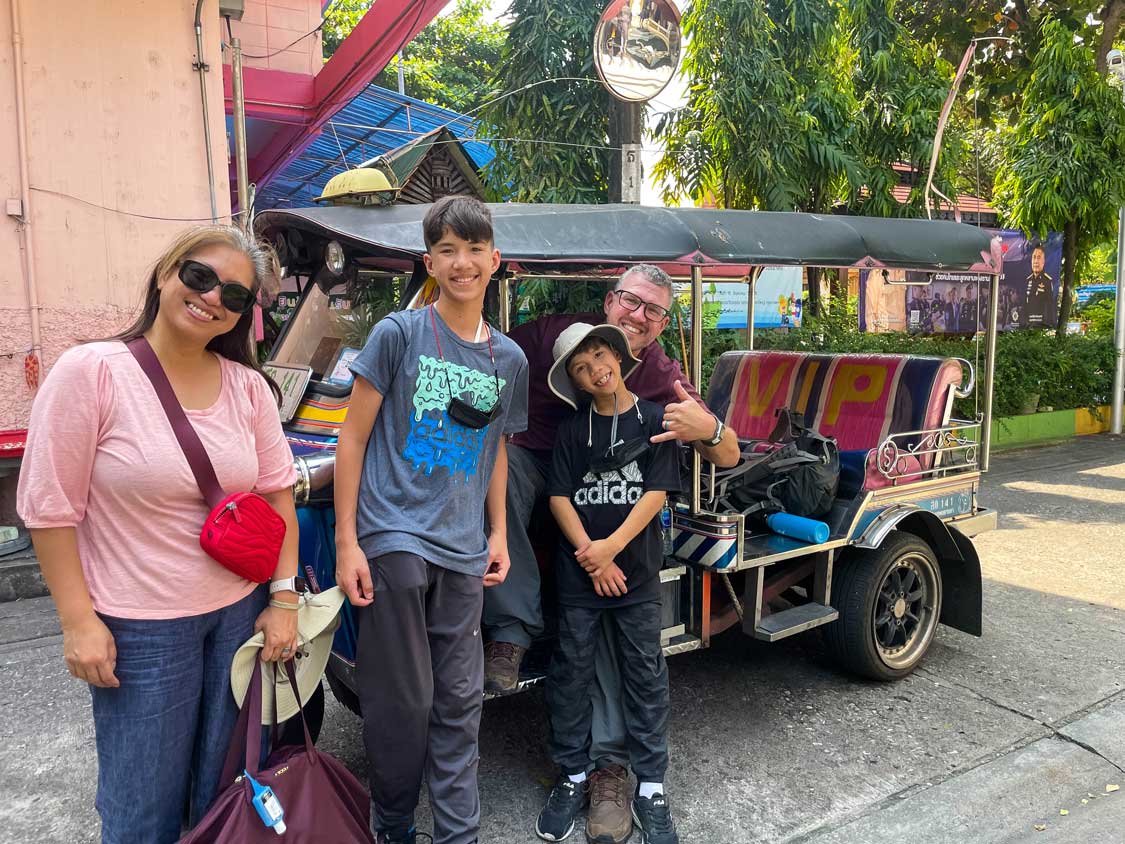 When it comes to getting around in Bangkok as a family, there can be some real trepidation. Many cities in Asia have a reputation for chaotic road rules and traffic congestion that can make your head spin. While Bangkok does have heavy traffic, that congestion is mitigated by the fact that Thai people, in general, respect the rules of the road. This means that, outside of the core of the city, traffic in Bangkok actually moves pretty well.
Just like any travel in a new city, there are a few tips for getting around Bangkok to make your life easier:
Negotiate all tuk-tuk and ride fares upfront if possible
Ensure taxis have the meter running (if you haven't negotiated a price first)
Transit from the Bangkok Airport
For most visitors to Thailand, your first stop will be at Don Muan Airport or Suvarnabhumi Airport in Bangkok. The best way to get into the city is by airport shuttle or taxi. It's about a 30-minute drive from either airport into the city core.
There is an Airport Rail Link (ARL) that connects with Phaya Thai at the heart of the city where it connects to the Bangkok transit system (MRT) and the BTS SkyTrain. If you're traveling light, this might be the cheapest way to get into the city. This route involves a half-mile walk to the MRT/BTS near Victory Monument.
Ensure that you either negotiate the fare upfront or insist that the driver has the meter running in the taxi.
Bangkok Transit System
Bangkok has an excellent mass transit system that connects many areas in the core of the city. Between the BTS and the MRT (subway), you can get within easy walking distance of many of the best things to do in Bangkok.
The Bangkok metro system is very affordable and there are day passes available for ease of use and to save a few baht.
Tuk Tuks and Longtail Boats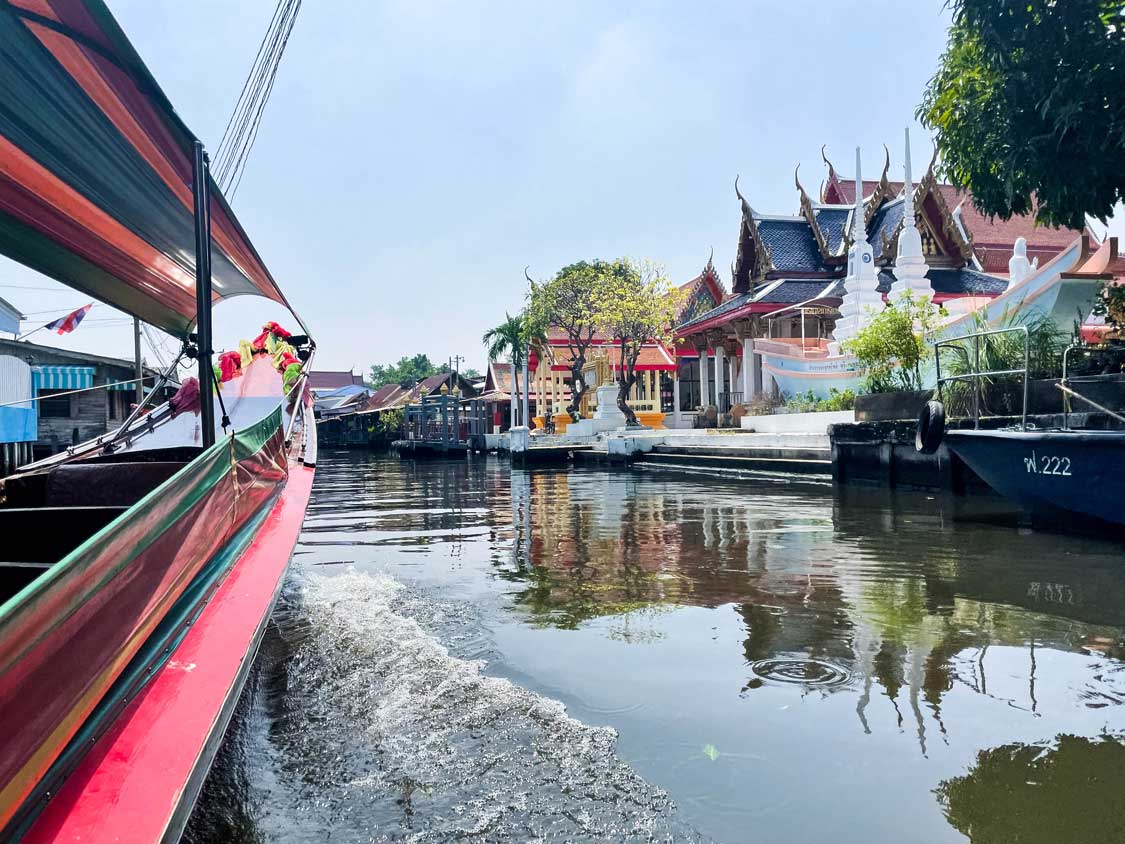 Because of Bangkok's unique layout, some of the best ways to get around in the city as a family is via longtail boat and tuk-tuk.
Longtail boats in Bangkok offer access to a network of riverways that connect many parts of the city. Along with being a great way to explore the city, longtail boats zip by floating markets and riverside temples offering a truly unique glimpse at this family-friendly city.
Tuk-tuks on the other hand stick to the existing roadways. Their compact size makes them ideal for zipping through heavy traffic around the core of the city. Tuk tuks are converted motorcycles that typically have a cabin in the back where two to five passengers can sit.
They don't typically have seatbelts and are a bit of a "hang-on for dear life" kind of trip. But they make for a great way to break through the crowds and get to some of the best places to explore in the city. You may even see some of the city's massive monitor lizards swimming along the canals.
Ensure that you negotiate any longtail boat or tuk-tuk ride prior to taking it so that you don't find yourself with a shocking bill when you get there.
Coolest Places To Visit in Bangkok with Kids
Once you understand how to get around Bangkok, it's time to start your adventures. These fun and exciting things to do in Bangkok with kids will leave you with an unforgettable taste of this city.
Eat Your Way Through the Bangkok Street Food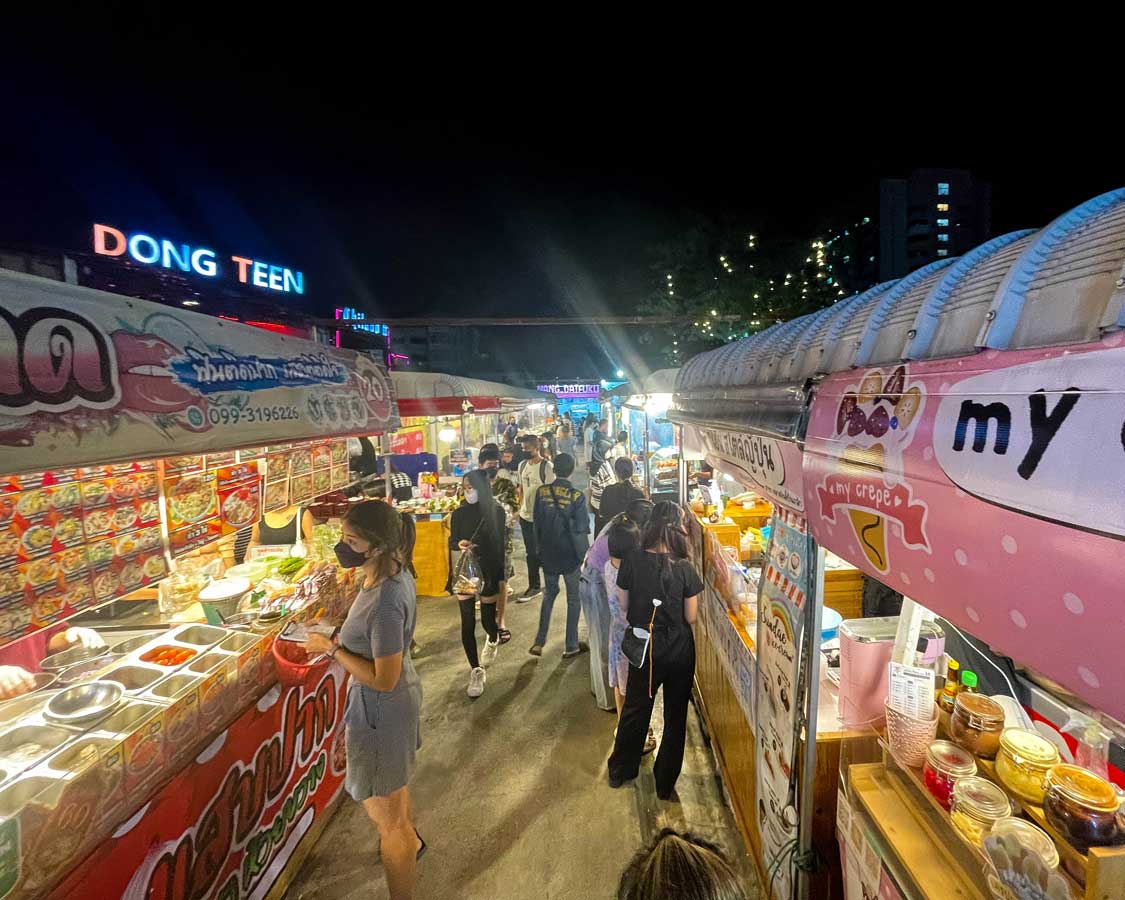 One of the best ways to get to know any city is through the food. And boy does the food in Thailand offer something for everyone.
There are some great Bangkok food tours that you can enjoy that take you by tuk-tuk through some of the city's most notable places including Raan Jay Fai, a tiny seven-table stall in Old Bangkok home to the only Michelin star food stall in the country.
The tour takes you through lesser-known parts of the city where some of Thailand's best hidden chefs work their magic.
If you don't want to join a tour, it's fun and easy to explore some of the many incredible Bangkok night markets. We tried to visit these every evening when we were in the city. There was an absolutely buffet of deliciousness from grilled meats, noodle soups, scrumptious desserts, and ultra-fresh seafood.
The food scene is one of the best attractions in Bangkok for families. There are endless options and delicious bites that will satisfy anyone.
Tour The Bangkok Temples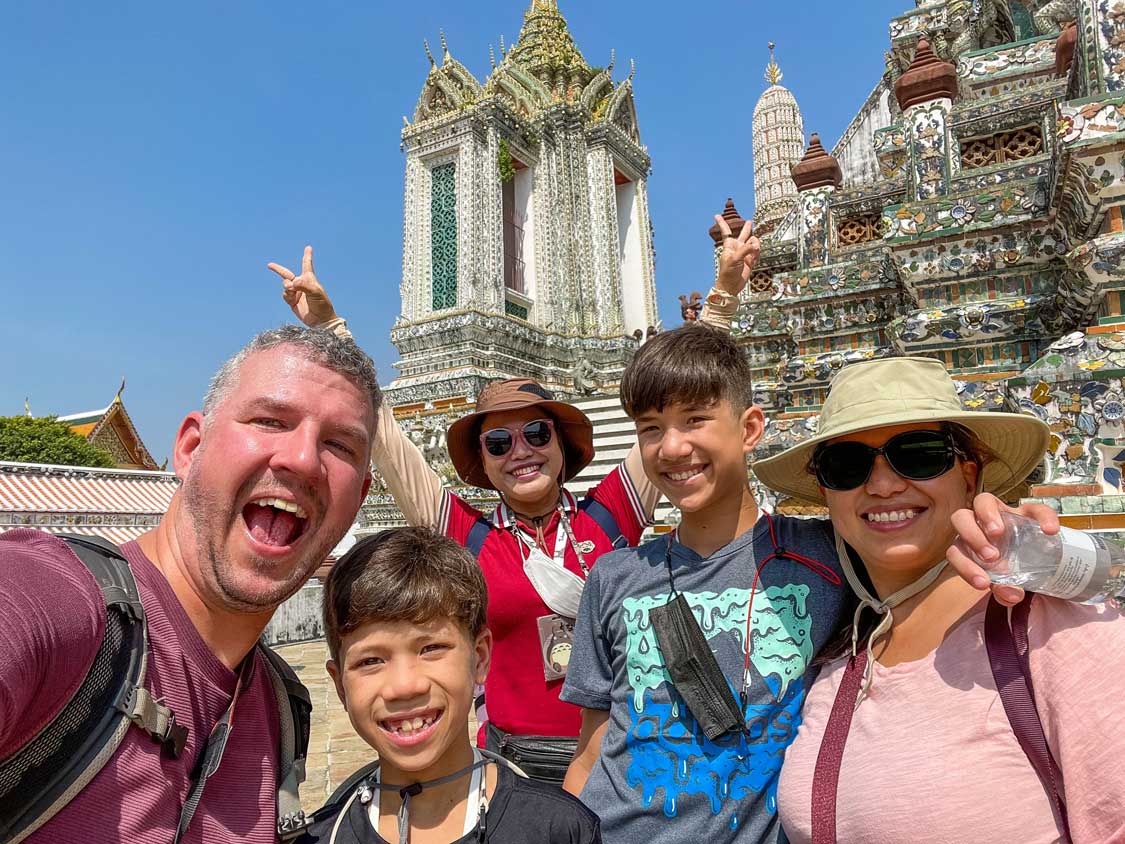 Visiting Thailand without seeing some of the many temples is a missed opportunity. Buddhism in the country has been central to its people for nearly 1,800 years. The temples in Bangkok are among some of the most ornate and beautiful in the world.
Among the many temples, small and large, are some notable ones that families visiting Bangkok shouldn't miss. These include Wat Pho, otherwise known as the "Temple of the Reclining Buddha." The reclining Buddha is a massive 49 feet tall and 141 feet long and is completely covered in gold leaf while wearing sparkling mother-of-pearl adornments.
Wat Arun and its towering stupas is another incredible temple that is great for those visiting Bangkok with children.
Known as the "Temple of the Dawn," this incredible structure was built during the 17th century on the banks of the Chao Phraya river. Among its five towering stupas are incredibly intricate decorations. It's so beautiful that it was declared a Royal temple shortly after King Taksin laid eyes on it while traveling the river with his Royal fleet.
Shop The Bangkok Floating Markets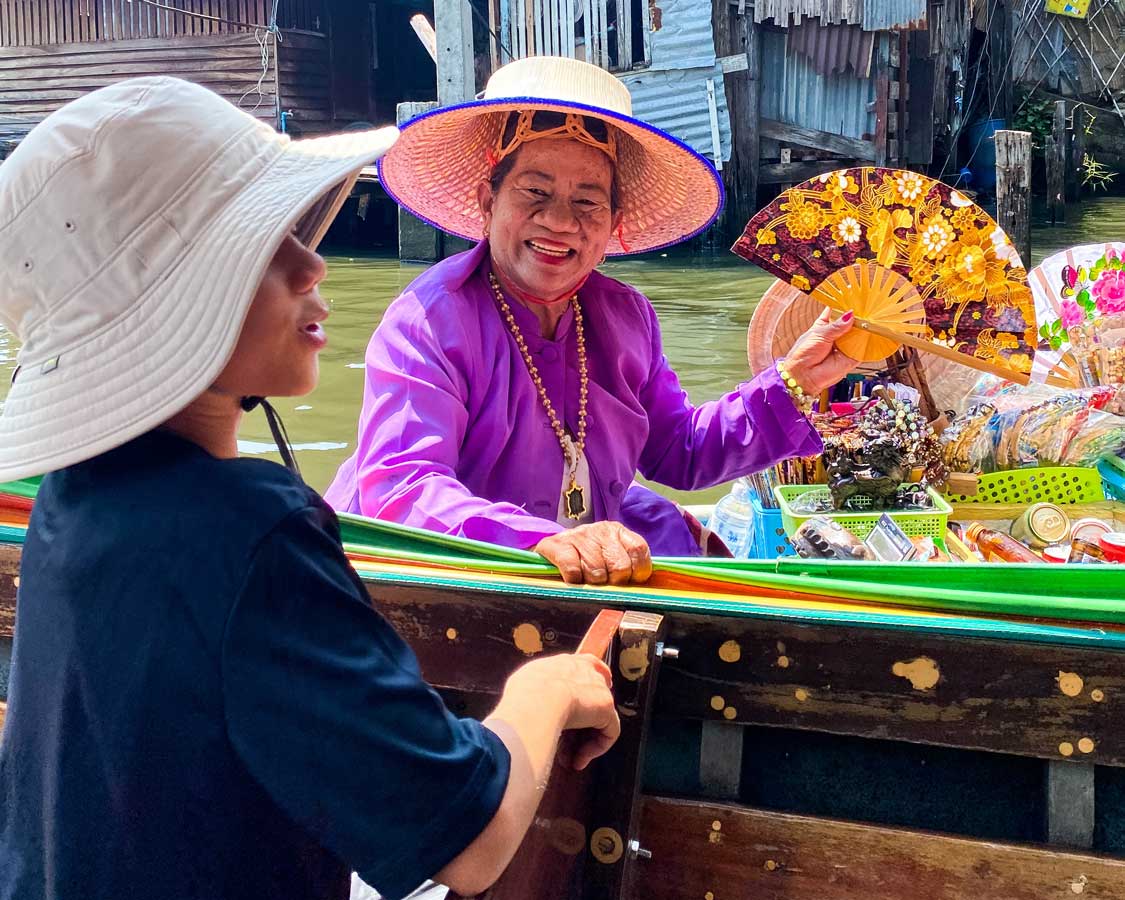 One of Bangkok's famous attractions that shouldn't be missed is the floating markets. The city has several river markets, each of them offering a unique experience.
Damnoen Saduak is the largest and oldest floating market in Bangkok. The market was started way back in 1866, and along with the great history and countless vendors comes a lot of chaos.
This market is bustling, busy, and wild. Vendors hocking fresh produce, baked goods, and trinkets, means that the market is always packed. It's also quite far from the city center, at just over 60 miles from Bangkok. I'd recommend booking a tour of this market, as it can be a pretty wild experience.
For something a little more relaxing, consider a visit to Khlong Lat Mayom. This floating market is just 12 miles from the city. Traverse the canals by longtail boat and take in the smells of fresh bbq and flavored coffee nestled among vendors selling mungbean noodles and pla pao (a delicious salt-crusted fish).
Visit The Children's Discovery Museum
For those visiting Bangkok with younger children, a stop at the Children's Discovery Museum in Chatuchak makes for a wonderful way to spend some time.
The museum is packed with fun, interactive exhibits spread across three buildings. It covers an immense 23,000 square feet including nearly 10,000 square feet of outdoor space. Children can dig for dinosaur bones, enjoy the outdoor water park, take part in role-playing games complete with costumes, or build away in the museum's lego room.
You could easily while away days exploring all of the different rooms and attractions at the museum such as art studios, junior kitchens, and the inventor's club. It's a fun and enriching environment, perfect for families with a little extra time to spend in Bangkok with their kids.
Enjoy A Canal Tour By Longtail Boat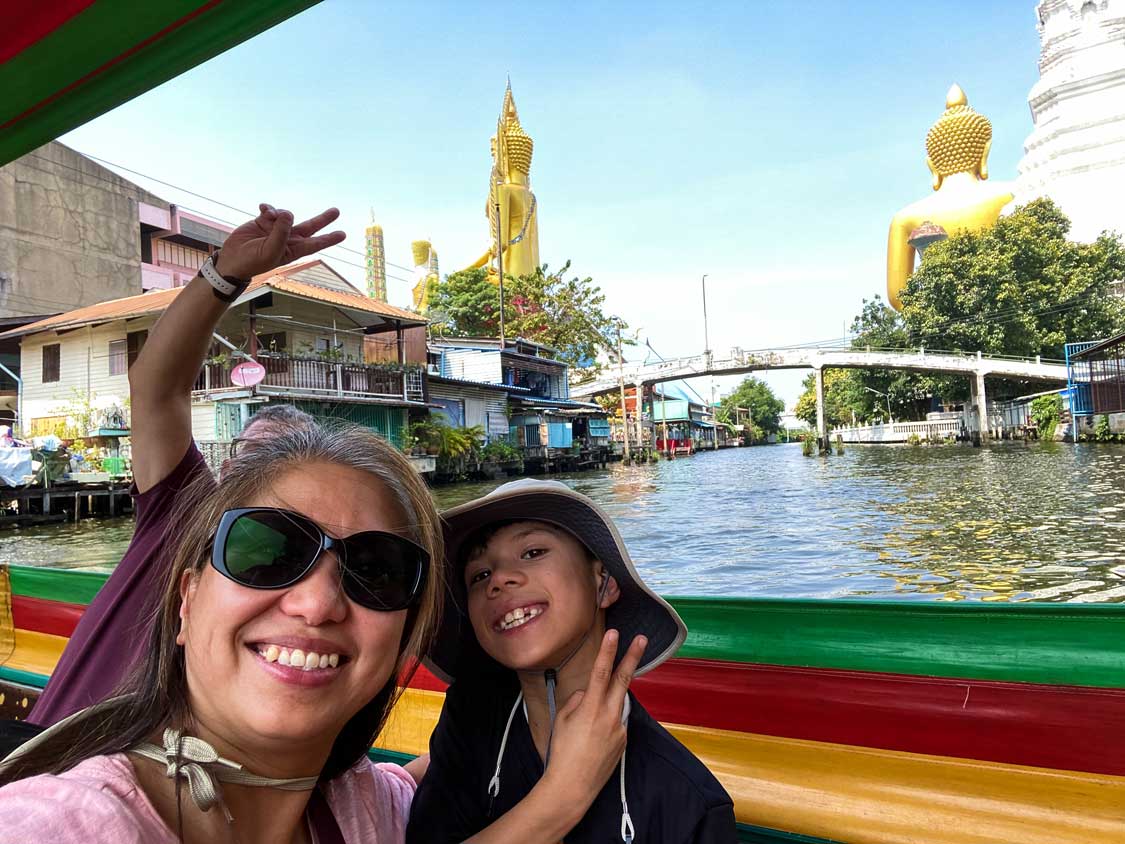 Once known as the "Venice of the East" due to its vast network of Cana's, exploring the city by water is one of the most fascinating ways to spend time in Bangkok with children.
Many of the "khlongs," or channels in Bangkok were once the least sought-after properties in the city. But over the past decades, many of the city's elite have begun coveting these riverfront properties.
Traveling by longtail boat through Bangkok is a wonderful way to get unique perspectives on some of the riverside temples, old wooden bridges, and raised water houses that make the city so fascinating. Among some of the stops on a Bangkok longtail tour are the hold Bangkok flower market and the massive 230 ft tall Buddha at the Royal Wat Paknam Phasi Charoen temple. You can book that tour here.
Splash Away At Siam Amazing Park
Located just 20 minutes from Suvarnabhumi Airport, Siam Amazing Park (also known as Siam Park City) is the most popular theme park in Bangkok. It's one of the most popular things to do in Bangkok for kids, especially among locals.
Siam Amazing Park is a massive complex with different zones set up for children of all ages including the X-Zone, Family World, Fantasy World, and Small World. Among a great collection of waterslides and rides is one of the largest wave pools in the world.
Dip Beneath The Waves at SeaLife Aquarium Bangkok
Aquariums are always a hit with my children. Although we LOVE adventurous experiences, incredible cultural landmarks, and of course, food, sometimes you have days where the weather isn't co-operating. In those days aquariums are always on our radar.
We've loved the aquariums in Toronto, Denver, Lisbon, and Tampa, and the SeaLife aquarium in Bangkok is no less spectacular. Among the many attractions is a 4D cinema and a glass-bottom boat ride mixed with incredible marine life such as sharks, seahorses, and spider crabs.
While there are tickets available through tour operators, buying directly from SeaLife will get you the best prices. You can do that here.
Where To Stay in Bangkok for Families
Bangkok isn't a city that you'll want to rush through. With loads of incredible attractions, cultural experiences, and family-friendly fun, visiting Bangkok with kids is something you'll want to enjoy for a few days.
On our Thailand itinerary, we split our time between several different visits to the city, dropping in for a day or two before heading out to other areas of the country such as Kanchanaburi, Chiang Mai, and Phuket. As a result, we had the chance to check out several different family-friendly accommodations in Bangkok.
Hyatt Regency Bangkok Sukhumvit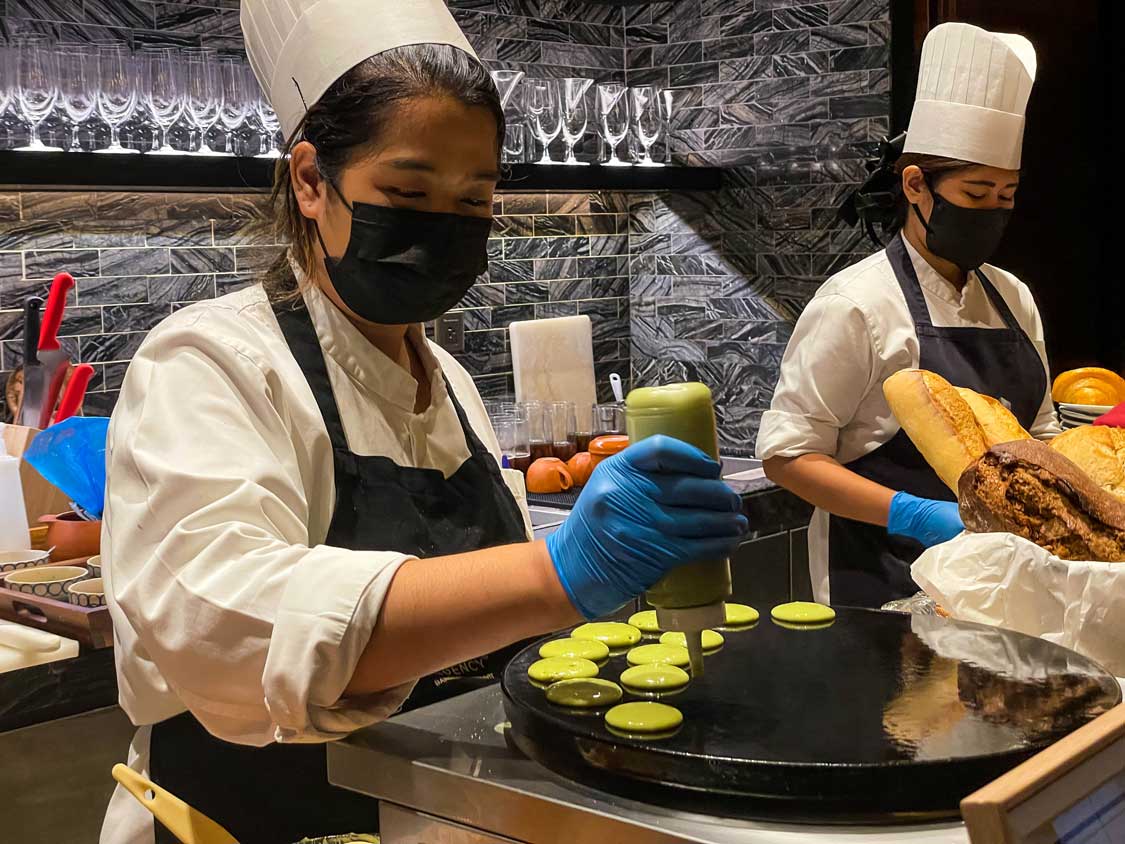 One of the few hotels in Bangkok to hold a Michelin star, the Hyatt Regency Bangkok Sukhumvit isn't just for foodies, it's also great for families.
The hotel offers easy access to the BTS and Skytrain, this was our very first hotel in Bangkok and our kids kept asking "why can't we go back for that buffet."
The Hyatt Regency has a fitness center, swimming pool, and even outdoor spaces. Attractions such as night markets and temples are just a short distance away, and the rooftop lounge is considered among the best rooftop bars in Bangkok, so adults can enjoy a night out without straying too far from the room.
You can check out their rates and availability here.
Cana Boutique Hotel
If you're looking for a quiet Bangkok hotel that offers excellent on-site food and a huge room with great amenities, Cana Boutique Hotel might be perfect for you.
This hotel was our "gamble" hotel. One that we didn't know much about beyond a few word-of-mouth recommendations. And it really worked out.
Cana boutique hotel is located down a small alley with easy access to the Indy Night Market, the Chao Phraya River, and many great temples in Bangkok. The owners are incredibly friendly and wonderful, and the rooms are exceptionally large, which is great for a family of four like us.
You can check out their prices and availability here.
Riva Surya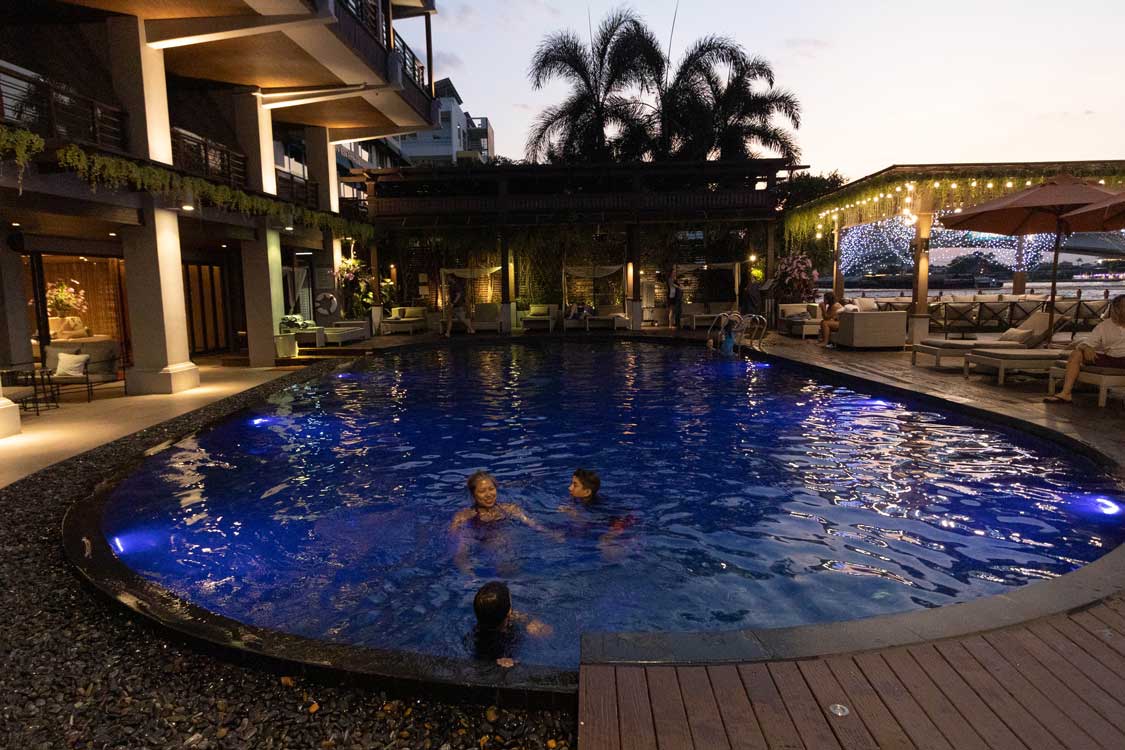 Riva Surya was our final Bangkok hotel. This stunning property sits right on the banks of the Chao Phraya River and overlooks the beautiful Rama VIII bridge.
Along with wonderful views, the Riva Surya has an outdoor pool, an excellent BBQ restaurant, and large, modern rooms where the whole family will be very comfortable. There's also easy access to the Skytrain and the BTS system as well as a ferry dock right outside the back door. It also offers massage services and has an excellent on-site gym.
You can find their prices and availability here.
Tips For Visiting Bangkok With Children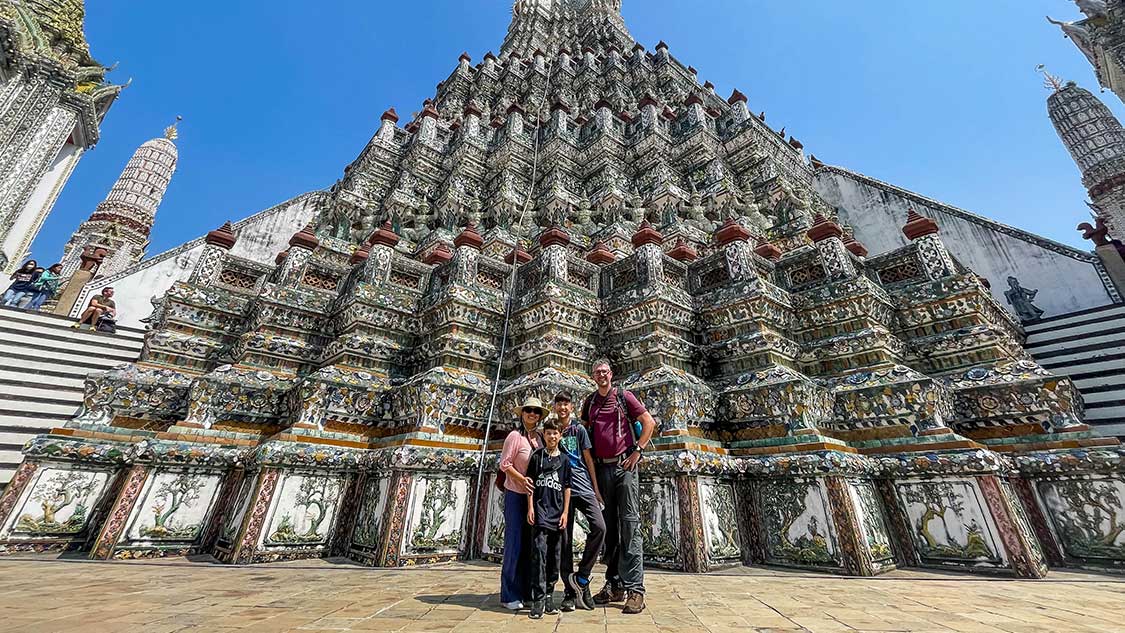 Bangkok is a city where there's a lot of walking involved. Luckily, the city is quite stroller safe. So if you're traveling with young children, consider bringing along one of these lightweight and packable strollers for travel.
Here are a few other key things to bring with you for family travel in Bangkok:
Enjoy Your Travels in Bangkok with Kids!
Bangkok is a city full of wonder. The food, temples, and people were all a spectacular part of our experience. If you're looking for a memorable travel destination, visiting Bangkok with kids is unforgettable.
If you love family travel as much as we do, please join our Family Travel Support Group on Facebook. You can connect with more family travelers just like you who love to explore the world.
You May Also Like To Read: