Traveling to Thailand with kids offers a dazzling array of experiences. Our tips for your Thailand family vacation will help you travel safely.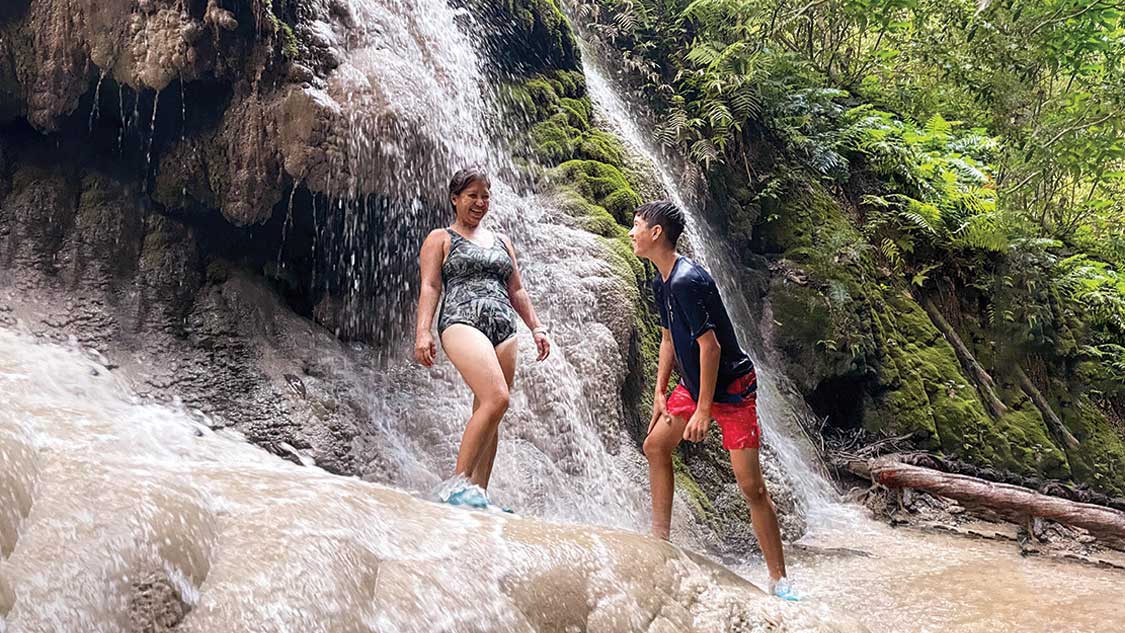 Thailand is among the most popular destinations in Southeast Asia for family travel. This intrepid destination boasts stunning beaches, immersive cultural experiences, and world-class food. All of these experiences are wrapped up in a country with low crime rates, and warm, welcoming people.
Visiting Thailand with kids opens up an immense world to explore. One full of incredible wildlife, surreal temples, and one-of-a-kind travel adventures that you and your children will be talking about for the rest of your lives. This is the country that we chose to visit after a summer of exploring eastern Canada and an epic tour of Morocco the previous spring.
Thailand is packed with adventures that families will fall in love with. Spending time shopping at the night markets in Bangkok with kids, giving alms to Buddhist monks in Chiang Mai, and communing with rescued elephants in Koh Sok National Park are just a few of the memories that my family bonded over in Thailand.
There are so many places to visit in Thailand that planning a family trip to the country might seem overwhelming. But if this is your first time visiting Thailand with children, or you're coming on a return visit, these tips and tricks will help you make the most of your Thai family travel experience.
whether you're visiting Thailand with toddlers, babies, or older kids, our guide to family travel in the country will ensure you come home with the best memories and lots of stories to tell your friends.
To read more about the country including where we traveled and what we did in Thailand with kids, you can check out our Thailand family travel blog here.
Is Thailand Safe for Families?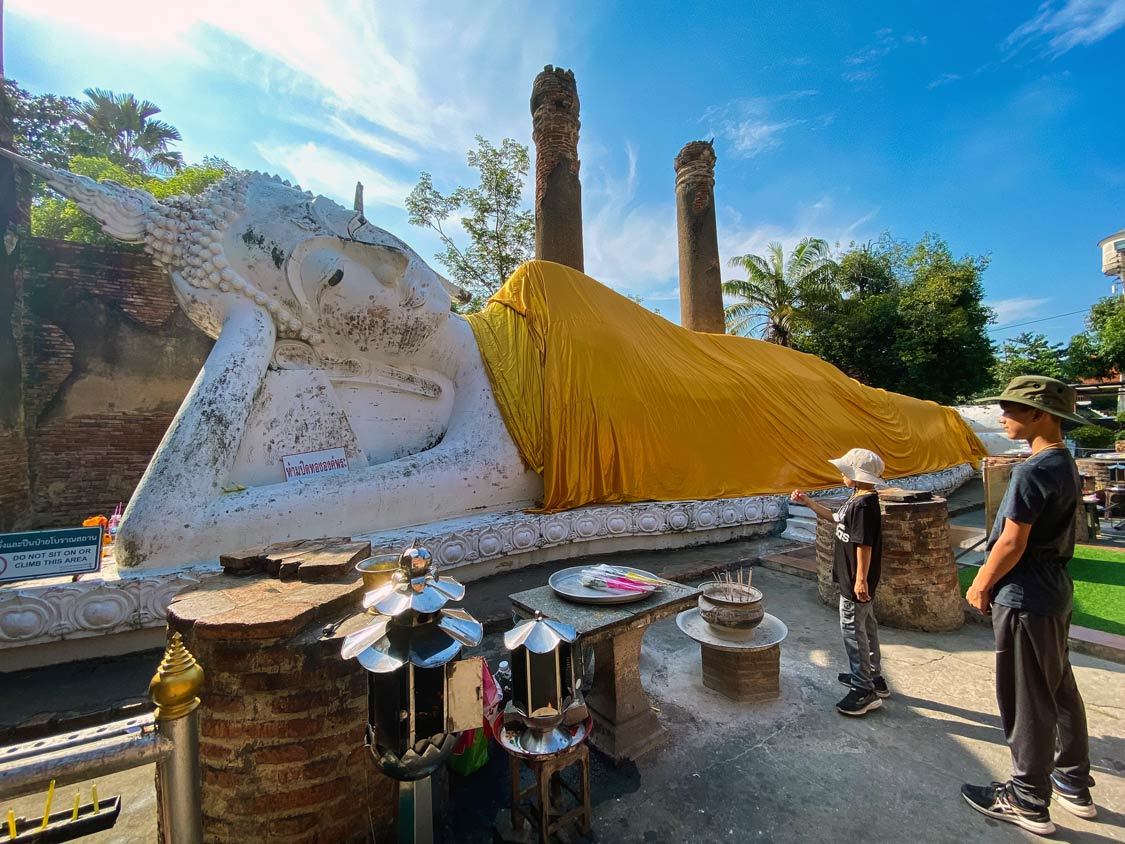 Thailand is a delight to visit. And it's considered among the safest countries in Southeast Asia. Even those visiting Thailand with children will find that the country is quite peaceful. That being said, it is important to understand some of the risks of traveling to any new country, especially when you are traveling as a family.
No country is completely safe, even my home country of Canada has things to be aware of before visiting. Things like public transportation, food safety, and cultural differences are important to understand prior to visiting. Thailand is among the most economically-developed countries in Southeast Asia, and although things might look different from home when you are there, that doesn't mean that the country isn't safe.
When it comes to your family's health, Thailand is still considered quite safe. The country is in a low-risk zone for Malaria and other tropical diseases. Although this doesn't mean that you shouldn't take precautions and use insect repellent while traveling.
If your children have unique health concerns, it may be worth talking with a travel health professional. Vaccinations including Hepatitis A and B, Rabies, Typhoid, Cholera, Japanese Encephalitis, and Yellow Fever are recommended by the World Health Organization for those traveling to Thailand. However, a travel health professional can give you a better understanding of what you need based on the regions that your family is visiting.
Tips For Visiting Thailand With Children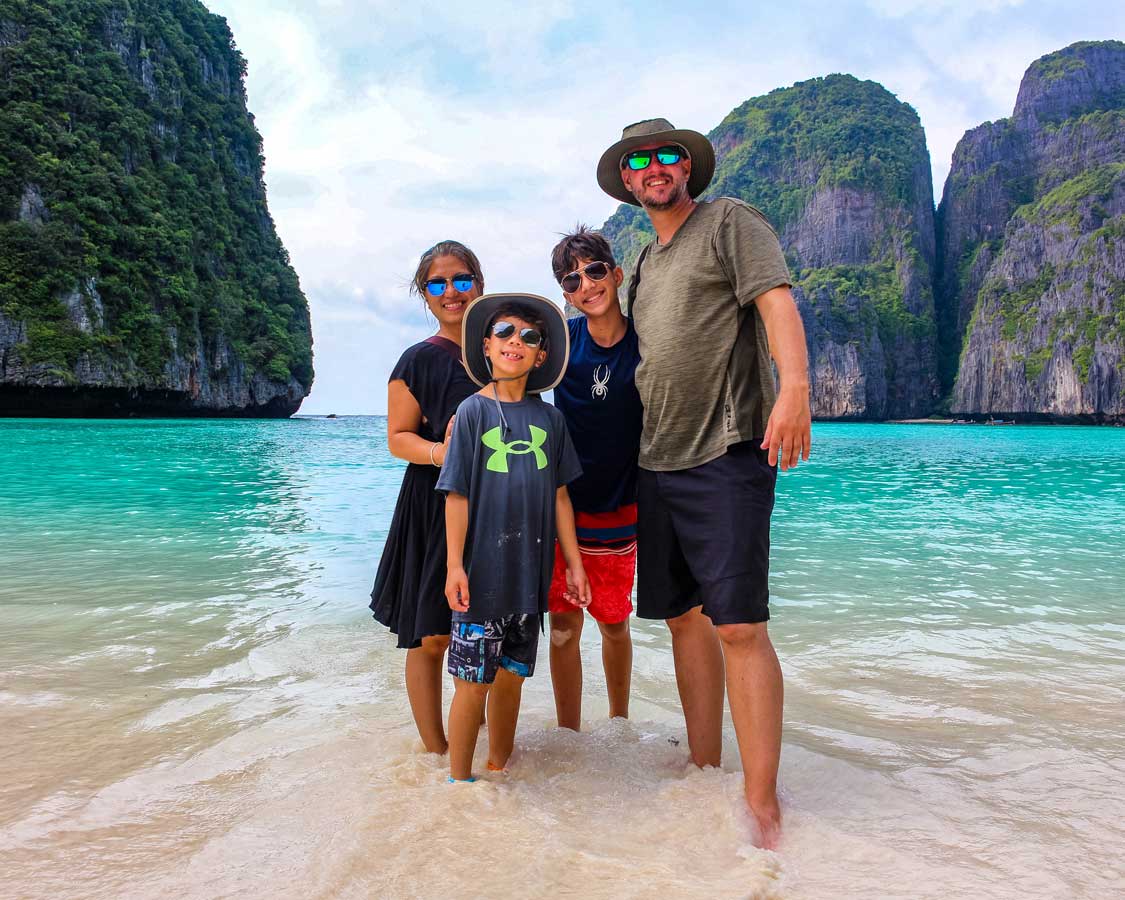 With its fascinating blend of cultures from throughout Southeast Asia, Thailand is an utterly incredible country to visit. Thailand as a whole has been incredibly popular among the budget travel crowd, especially younger solo travelers and those on their "gap year."
Because of this, Thailand has garnered a lot of attention for its party scene, namely "full-moon" parties. While a lot of parents love to take their kids to family-friendly full moon parties, the party scene (which is largely enjoyed by foreigners) isn't really our jam so we stuck to nature, adventure, and Thai cultural experiences.
Locals in Thailand are, in general, very welcoming, helpful, friendly, and even protective of families who are traveling within their country. It's not uncommon for adults to approach you or your children in Thailand and engage with them directly.
They'll often be invited into shops, to enjoy samples, and often to see artwork. This is often done with a welcoming look to the parents who might be standing nearby. While it may seem disconcerting at first, this is not typically done with any ulterior motive, but as an easy way to gain a smile from the little ones.
Because of this attitude in Thailand towards kids, families are often offered a much more intimate glimpse into the local lifestyle than adults traveling solo or as a couple.
Elephants in Thailand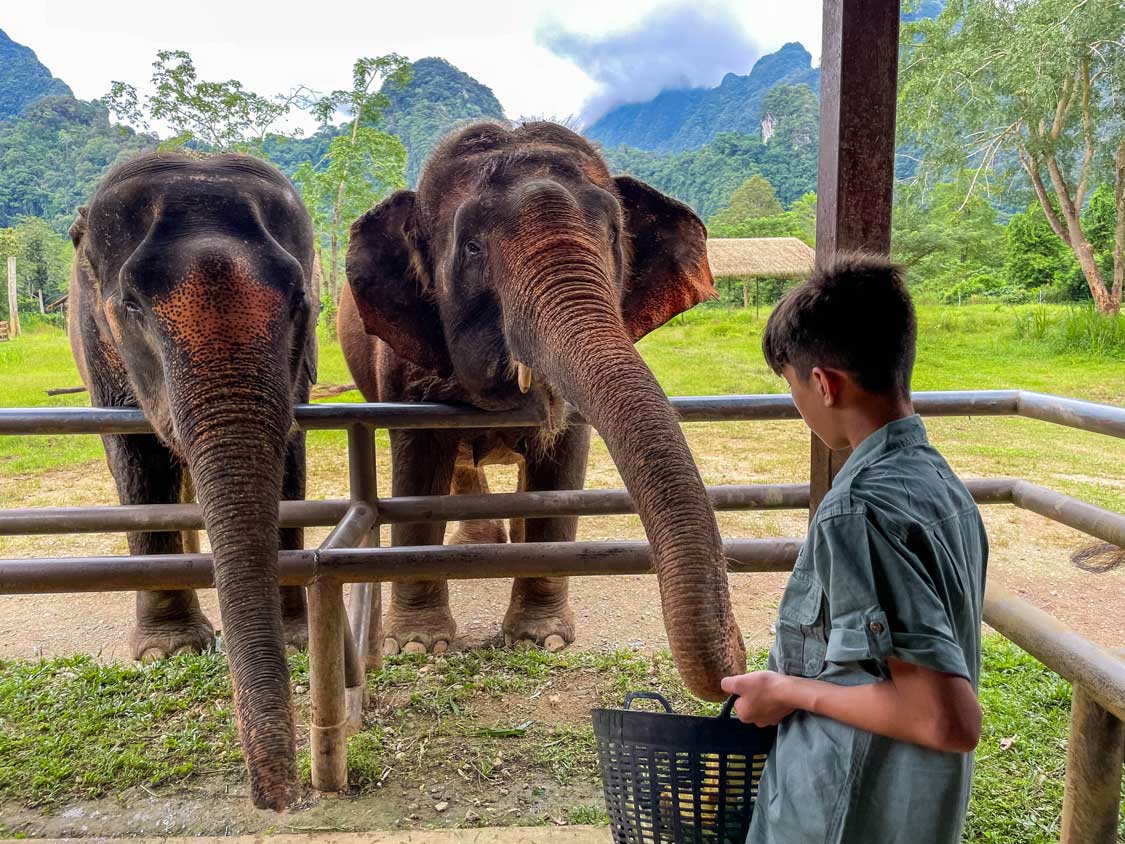 For hundreds of years, domesticated elephants have been part of the working culture in Thailand. They are ingrained in the Thai culture as religion and food. Elephants were an important part of the Thai lumber industry. Their size and strength allowed them to move large trees and lumber long before machinery was able to.
New laws designed to protect elephants in Thailand mean that they are no longer able to work in the industry. As a result, many elephants and their mahouts (caregivers) were out of work. Some mahouts resorted to the entertainment and tourism industry, giving tourists rides on the elephant's backs. This practice is incredibly harmful to elephants, as their backs are not designed to take the weight of humans and equipment.
Others were welcomed into elephant sanctuaries where more ethical tourism takes place. Attractions such as Elephant Hills Sanctuary offer some of the most ethical elephant encounters in Thailand. However, it's always good practice to research the ethics of any animal encounter prior to visiting. W
We visit elephants because they are smart, sensitive, and beautiful creatures. Learning that they are harmed by our encounters can change the way we look at wildlife tourism.
To help you plan your visit to Thailand with kids, here are a few tips to be aware of:
Don't mention the King – King Bhumibol Adulyadej passed away in 2016. He was greatly revered by the people in Thailand. His son, who has replaced him, is not as well-loved. Do not speak of the King of Thailand in a negative way while in the country. This can result in jail time.
Eat with a spoon – The spoon is the primary eating utensil in Thailand. Most dishes are served with both a fork and a spoon, but the fork is used to push the food onto the spoon.
Grab app – The Grab app is Asia's Uber. This is used for everything from hiring taxis and tuk-tuks to ordering food delivery. Download the app before you get to the country and save yourself some time.
Hands off the head – In Buddhist culture (of which 90% of Thais practice), the head is the center of luck in the body. Touching someone's head can cause that luck to disappear. As such, avoid touching anyone on the head.
Don't buy Buddha – Buddha statues are everywhere in Thailand. But it's actually illegal to take an image of Buddha out of the country.
Toilet paper is scarce – Many places in the rural areas of Thailand may not have toilet paper available. If you're not used to bidets and washing clean, bring your own toilet paper with you.
Buddhist Temples in Thailand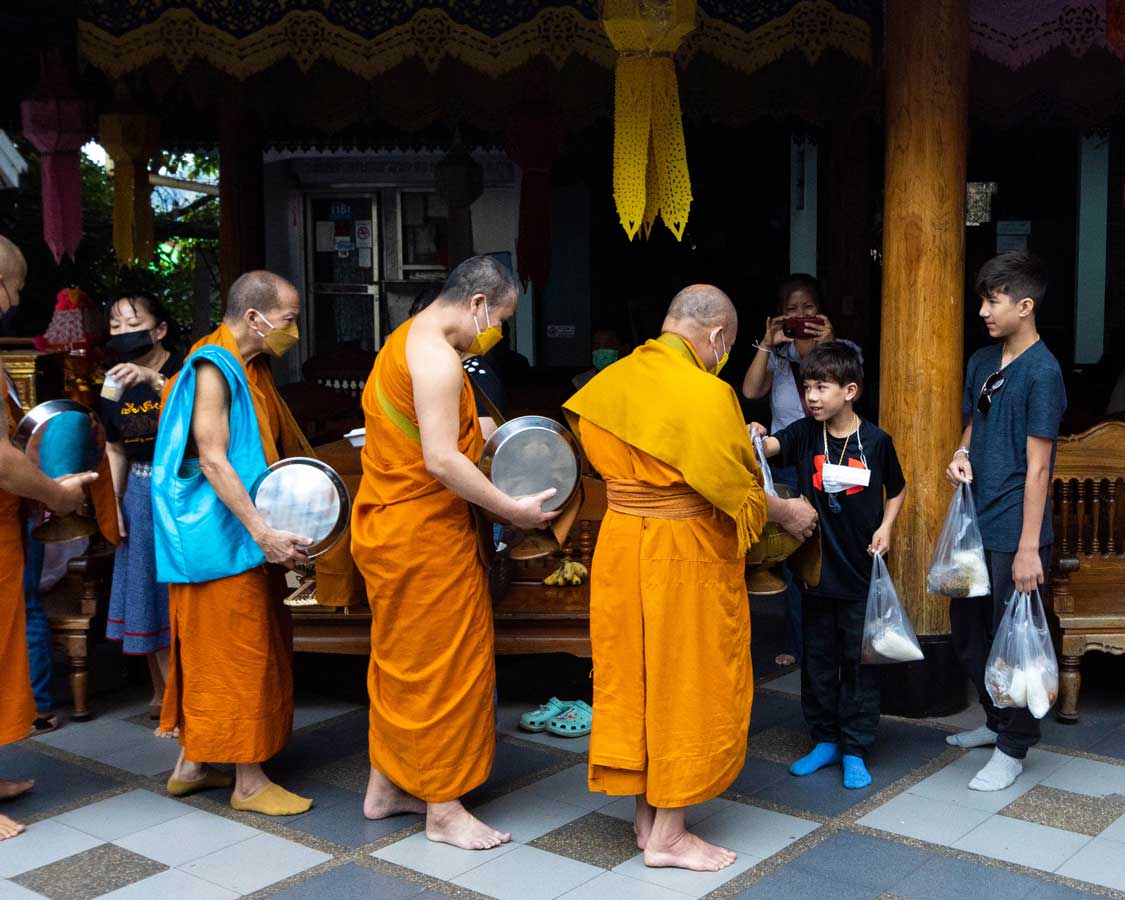 Visiting Buddhist temples is a big part of the Thailand travel experience. But there are rules and appropriate attire that must be adhered to in order to be respectful and have an enjoyable experience.
Cover-up – Most temples in Thailand require the wearing of modest clothing. This means that shoulders and knees must be covered for both men and women.
Shoes off – Many temples require visitors to remove their shoes before entering.
Men only – Some temples in Thailand have specific areas that are off-limits to women.
Tiger Tourism in Thailand
As you travel with kids in Thailand you'll see loads of advertisements for places like the Tiger Temple and experiences where you can take selfies with tigers.
In Thailand, tigers are viciously exploited for tourism dollars. Unlike elephant sanctuaries, where wildlife is given refuge, food, and safety, these Thailand tiger experiences are places of abuse and sadness. Tigers are taken from their mothers as cubs, drugged, beaten and subjected to a life in small cages.
Please do not support unethical animal tourism practices.
How Do Thai People Treat Children?
Thai culture is very big on family. Families often stick together and children are expected to care for their parents in their elder years. When you're traveling Thailand with kids, expect a little extra attention to be paid to children.
Our children, who are considered luk-krung (ลูกครึ่ง), or "mixed race" (I'm caucasian and my wife, Christina, is a Filipina), tend to get even more attention thanks to their unique features. However, unlike in some Asian countries, foreign children in Thailand aren't typically gawked at, touched, or photographed.
Our experience in the country was one where children in Thailand were treated kindly, and gently.
What Is The Food Like In Thailand?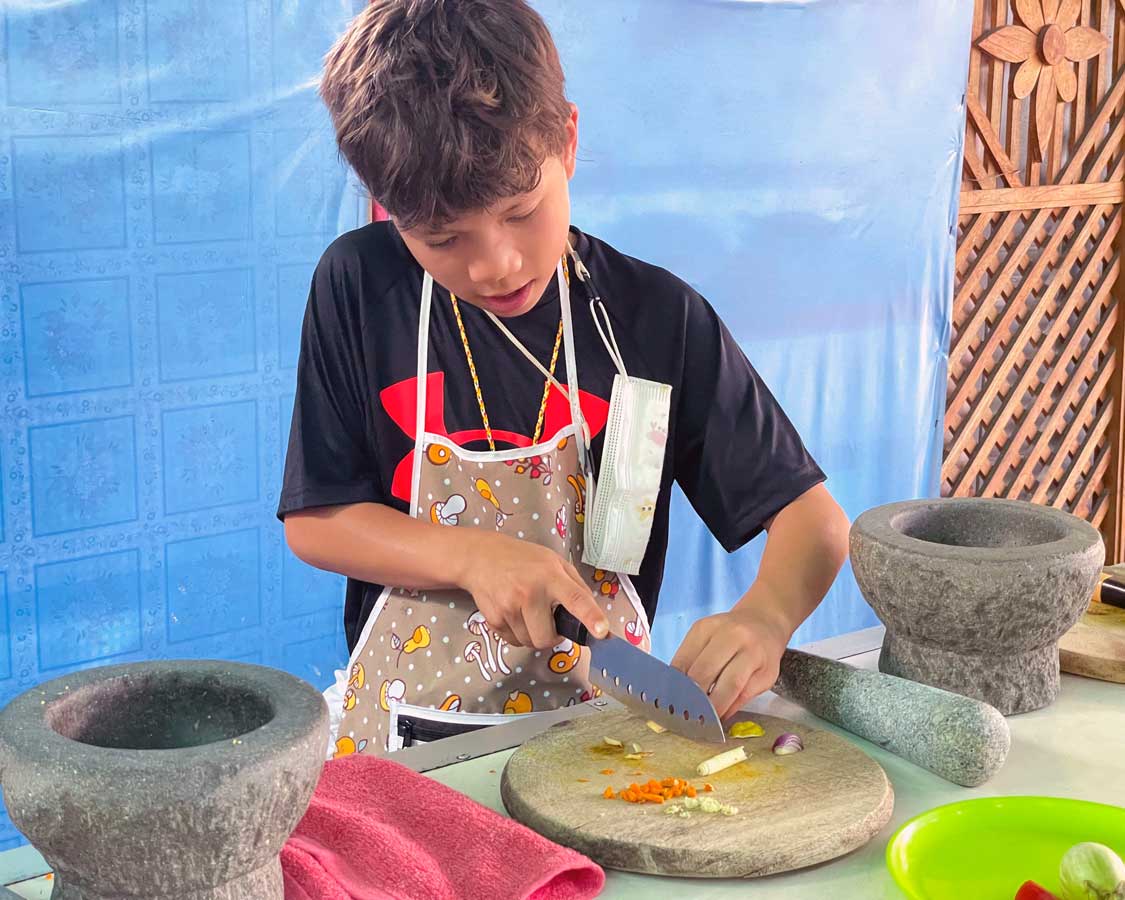 Thai food is some of the best in the world. The mix of fresh ingredients, flavorful curries, and aromatic spices combined with a cuisine fused from such famous food regions as India, Vietnam, and China, and its no surprise that eating in Thailand is something very, very special
Food in Thailand can vary by region, but in general, you'll find dishes that are heavy on rice and meats and flavored with curry, vegetables, and salads. Meals are typically served with fresh fruit as a dessert.
The food is incredibly complex and flavorful, but there are enough varieties that even the pickiest eaters will likely find something that they can enjoy. And those with a nose for flavor will be in food heaven.
Street vendors are very popular in Thailand. And although you might find some unique sites such as grilled caiman in places such as Koh San Rd. in Bangkok, most markets and street vendors serve up more traditional dishes such as grilled meats, fried deserts, and every flavor of cold coffee imaginable.
Should You Use Travel Insurance In Thailand?
No matter what destination you are traveling to, choosing to use travel insurance is always something that I recommend. Depending on the policy that you choose, travel insurance can cover you for items including:
Travel delays
Lost luggage
Theft
Illness/injury
Personal loss
Fraud
Some travel insurance companies have reduced costs or even free coverage for children traveling with adults. We typically use World Nomads and have found their team to be incredibly responsive and helpful worldwide.
What Is The Best Time To Travel To Thailand With Kids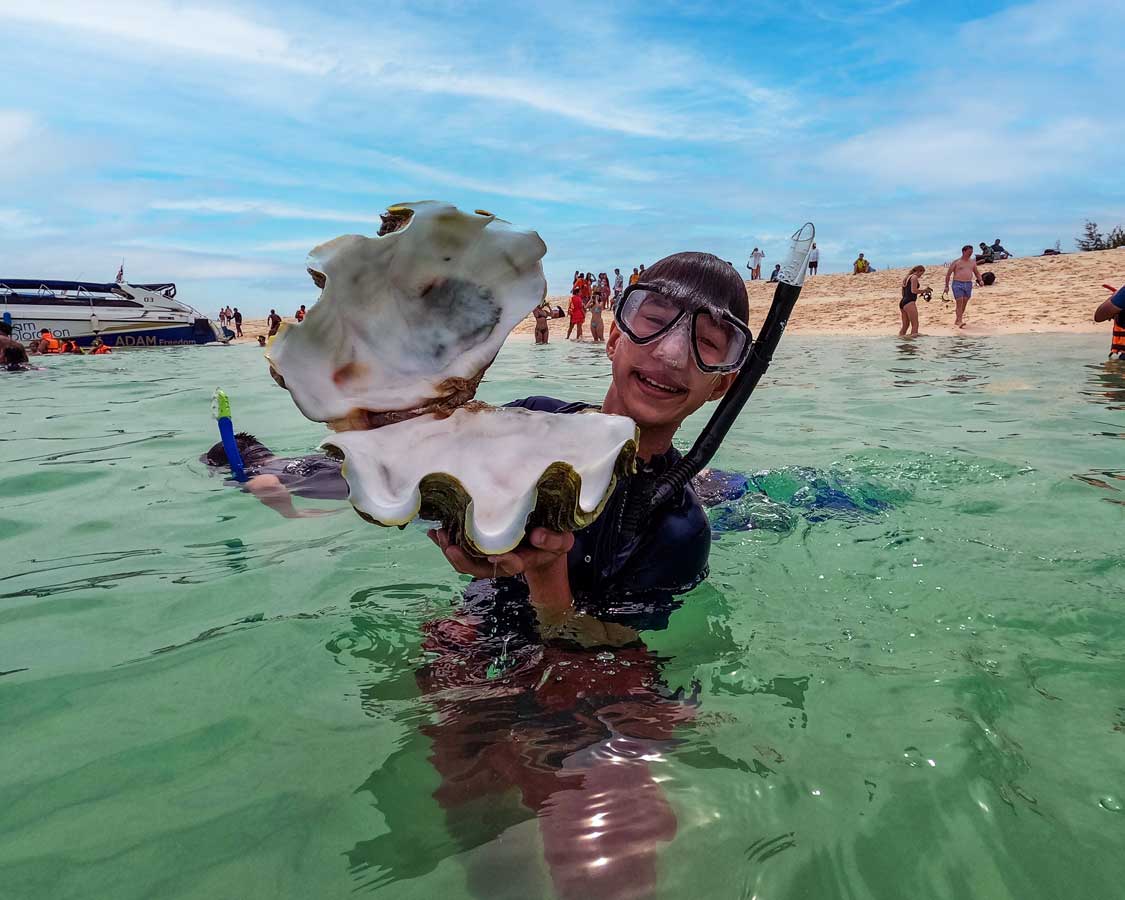 Thailand is a big country stretching more than 1,000 miles from north to south. Because of that, you won't see one overall weather system throughout the whole country, and conditions can change from region to region. For example, in the south of Thailand, the beginning of the high season on the Andaman Coast coincides with the beginning of the monsoon season on the Gulf coast.
As a general rule, the best time to visit Thailand is during the dry season. This is typically between November through till April (sometimes extending till May). The exception to this is the lower Gulf Coast cities of Koh Samui, Koh Phangan, and Koh Tao. This region has its rainy season from October through till December.
For the coolest temperatures, look at family travel in Thailand from November through February. During this time you'll usually experience temperatures in the low 80s. There is also little chance of rain and the oceans are typically clear and calm. This is also when you'll find the majority of the major Thai festivals. As such, this high season draws the highest prices and the largest crowds.
If you visit Thailand in March and April, the temperatures begin to rise, but the crowds and prices are much smaller. Typically April offers a combination of low prices and small crowds.
How To Get Around In Thailand With Kids?
If you were to look at Thailand on a map, the country looks a bit like the head of an elephant. That's pretty suitable considering that the national animal in Thailand is the elephant. But seeing the country from this angle will give you an idea of just how big Thailand is.
Between the tip of Thailand in Chiang Rai near the border with Laos and the base of the elephant's trunk in Narathiwat are vast mountain ranges, wetlands, an incredible jungle packed with wildlife, and some of the best beaches on Earth.
Getting around Thailand with kids, however, is not complicated. Thailand has an excellent road system as well as a well-designed public transportation infrastructure. Routing through the country are trains (including a popular sleeper train from Bangkok to Chiang Mai), high-quality bus routes, and a network of flights connecting most of the major cities in the country.
Flying in Thailand
Flights in Thailand are fast, affordable, and reliable (understanding that inclement weather could change that). Planes are often the fastest and easiest way to get around in Thailand as a family. Major cities including Bangkok, Chiang Mai, Koh Samui, Phuket, and Krabi all have major airports.
Traveling within Thailand by plane is typically among the most economical ways to get around. Flights within the country typically range from just $25-$200 USD and can often save hours of travel time.
The major airlines in Thailand are Bangkok Airways, Thai Smile, Nok Air, Thai Airways, and AirAsia.
Train Travel in Thailand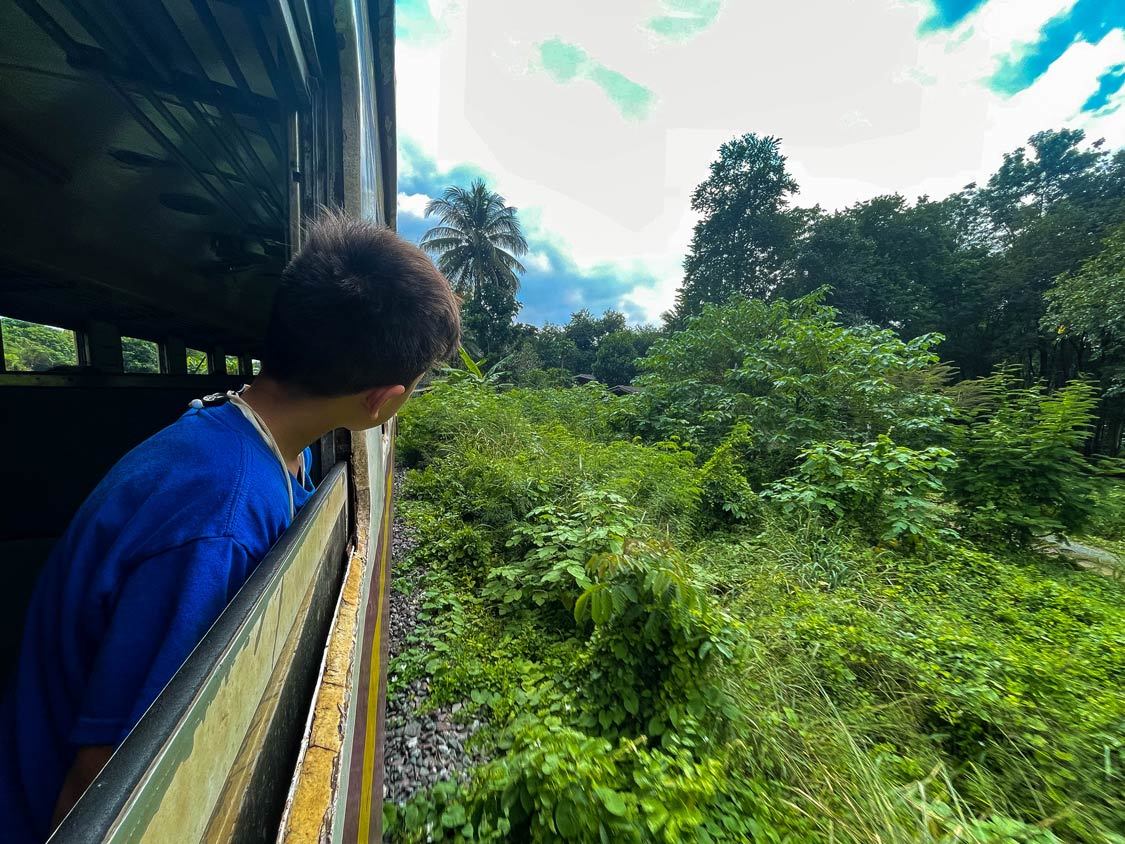 Traveling by train is a popular way for families to get around in Thailand. The country has an extensive, integrated rail system that offers tremendous value for those with a little extra time to spare. It's also one of the best ways to travel through lesser-visited places to visit in Thailand such as Kanchanaburi and Pai.
Thailand has four different types of train systems. These are:
Ordinary (ORD) – Ordinary trains are the slowest and feature mostly third-class seating.
Rapid (RAP) – Rapid trains have mostly second and third-class seating and stop less frequently.
Express (EXP) – Express trains have first, second, and third-class seating along with air-conditioned and non-air-conditioned options.
Special Express (SP EXP) – Special Express trains do not have third-class seating and are the fastest routes, stopping only at the main stations.
When deciding between classes for train travel in Thailand, here is the breakdown of what each category offers.
First Class – Available only on Overnight Express and Special Express trains. This fare includes air-conditioned cabins, two twin beds, a private bathroom, and a locking door.
Second Class – Available as either seats or sleepers depending on the route. You also have the option between a fan-cooled cabin or upgrading to one with air-conditioning.
Third Class – These are no-frills cabin seats with no air conditioning. They are typically wooden seats and offer the lowest cost options for train travel in Thailand. This is similar to our route on the Death Railway in Kanchanaburi.
Bus Travel in Thailand
If you're traveling to more remote areas in Thailand, or if you're looking to see Thailand on a budget, bus travel might be your best option. Buses in Thailand can be faster and cleaner than traveling by train. You can also reach almost every city and province within the country this way.
Similar to train travel, bus travel in Thailand offers different levels of comfort depending on your budget. Luxury and VIP bus travel in the country is your best choice for longer trips and overnight journeys. They have lots of room to recline and some even have TVs in the back of the chairs.
Second Class bus travel in Thailand is much less expensive, but you may be missing out on options such as air conditioning. Another consequence of second-class bus travel in Thailand is that there is often just one entertainment system on board playing local Thai movies on full blast. So if you book this form of travel, I recommend bringing some headphones for the kids.
Tuk Tuks and Public Transit in Cities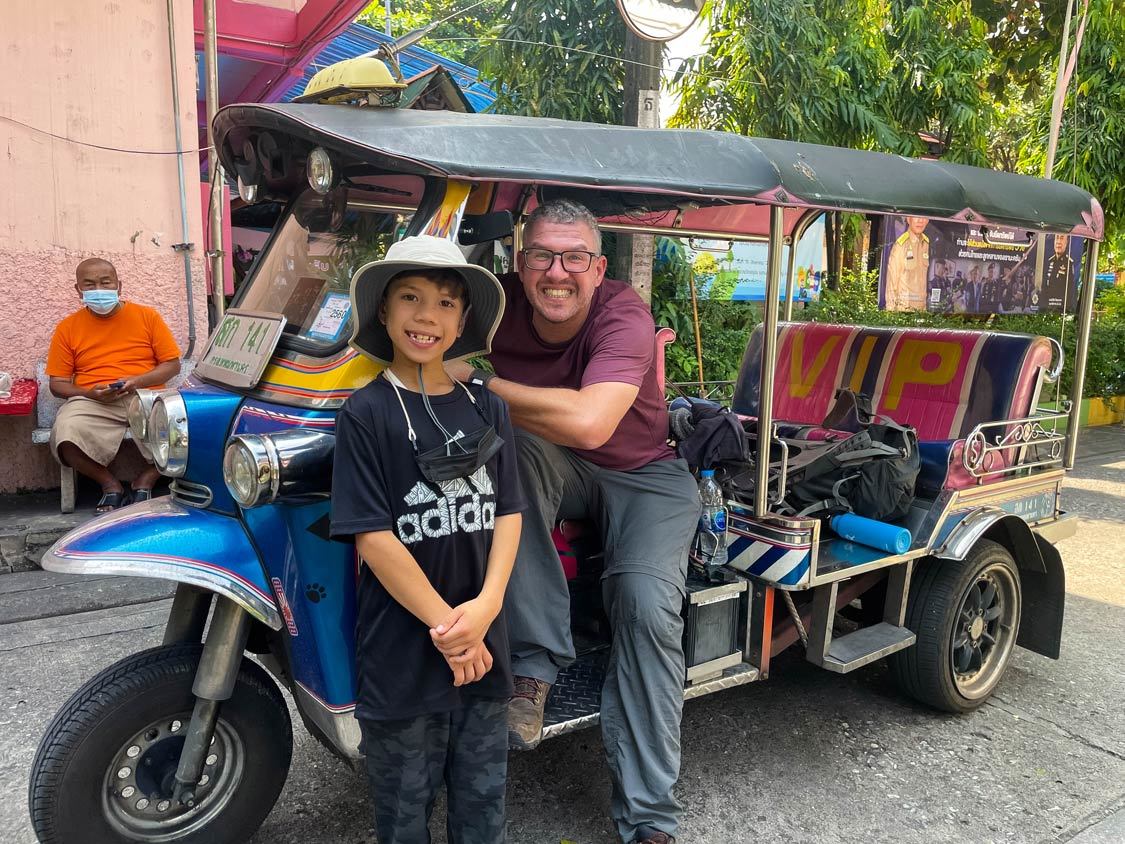 If you've been to any Southeast Asian country like the Philippines, Vietnam, or Malaysia, you'll be familiar with the loud buzzing and wild driving of the three-wheeled open-air tuk-tuks. Tuk tuks are a super fun way to travel and are often the fastest and easiest way to zip around some of the most popular cities in Thailand.
Tuk-tuks have no seatbelts, and you'll typically be saturated in traffic fumes., but they are one of the best ways to get around as these small, motorcycle-powered vehicles can zip through most traffic jams.
Tuk-tuk rides typically cost between $2-$15 USD depending on the length of the ride. But it's good practice to negotiate the price upfront in order to avoid being taken for a ride.
When it comes to public transportation in Thailand, it's really only Bangkok that currently has an urban rail system (although plans are in place for other cities such as Chiang Mai, Chiang Rai, Phuket, and Krabi).
The Metro (MRT) and Skytrain (BTS) are excellent transportation options to get around the city core. These public transit options typically run from 5:30 am to midnight. They are very affordable and faster than buses, taxis, and tuk-tuks. The fares range from 16-42 baht, although you can also get an unlimited day pass for 140 baht.
Enjoy Your Travels in Thailand with Kids!
Thailand was a magical destination for family travel. The hot weather, incredible cultural experiences, delicious food, and magical beaches were just the beginning. If you're looking for a memorable travel destination, visiting Thailand with kids is unforgettable.
If you love family travel as much as we do, please join our Family Travel Support Group on Facebook. You can connect with more family travelers just like you who love to explore the world.