Traveling to Morocco with kids offers a dazzling array of experiences. Our tips for your Morocco family vacation will help you travel safely.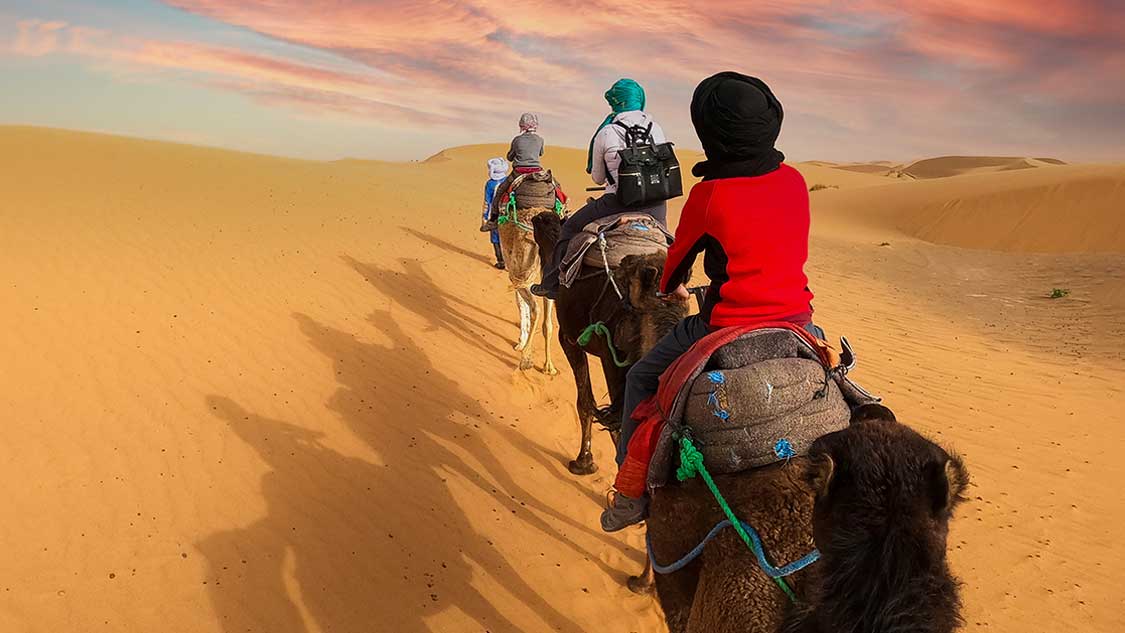 When it comes to adventurous family travel destinations, Morocco offers one of the most intrepid and accessible options for those traveling from Europe. And, for a country whose northern border lies just 9 miles (14.5 km) from Spain, Morocco is a world apart in terms of culture, landscapes, and experiences.
Offering a myriad of kid-friendly experiences from culinary delicacies to camel rides in the Sahara desert, fortified palaces to painted cities, Morocco is a bloom of exotic sights, sounds, and smells. And for families, like ours, who embrace their adventurous spirit, Morocco is a country that will draw you in and invite you to leave a piece of your heart.
There is an astounding range of places to visit in Morocco that are safe, fun, and fabulous for families. The locals throughout the country are warm and inviting. And the travel experiences, from maze-like medinas to desert Berber camps, will leave you breathless. And the food in Morocco is absolutely delightful. In fact, ever since our first visit, Moroccan food dishes have remained one of my children's favorites.
So if you love adventurous family travel, Morocco is waiting for you with open arms.
Advice For Visiting Morocco With Kids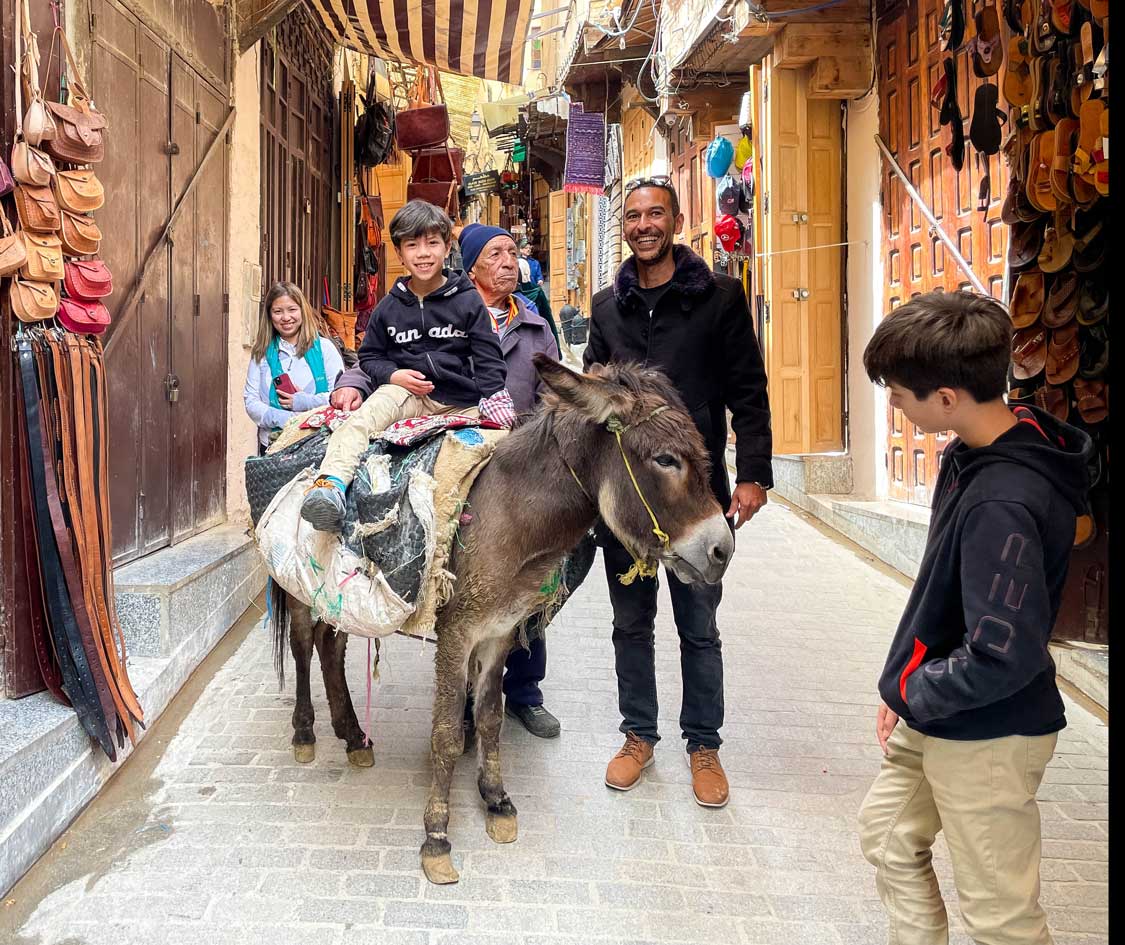 With its distinctive blend of European, Arabic, and African cultures, Morocco is one of the most culturally unique countries on Earth. Morocco held a key place on the ancient Silk Road, a trade route that connected Asia, Europe, and Africa. And the breadth of flavors, religions, and products that the country is known for reflect that diversity more than almost any other country along the route. And all of this is just a short flight or ferry ride from the European mainland.
Visiting Morocco with kids offers the chance for parents to dip their toes into adventurous family travel. And for those, like us, who have traveled extensively with our children, Morocco offers the chance to indulge in some of the most fascinating experiences in northern Africa.
Over the past decade, Morocco has blossomed as a family travel destination. More and more people are discovering that Morocco is as incredible for families as it is for solo and adventure travelers. And the country's investment in tourism infrastructure has mirrored that growth in interest.
Billions of Moroccan dirham are being invested to restore old medinas and traditional riads in the city centers. New roads are being built to connect towns and villages, and old roads are being restored. This all makes getting around the country far easier, whether you are planning DIY family travel to Morocco, or if you're visiting as part of a tour group or private tour.
But it's not just adventure and thrills on offer in Morocco. This country truly offers the whole package. There are stunning beaches, blue waters, incredible cities, world-class shopping, and mouthwatering cuisine. Our Morocco family travel blog covers it all. But these tips for family travel to Morocco are specifically focused on helping you plan the perfect Morocco family vacation.
Is Morocco Safe To Visit With Kids?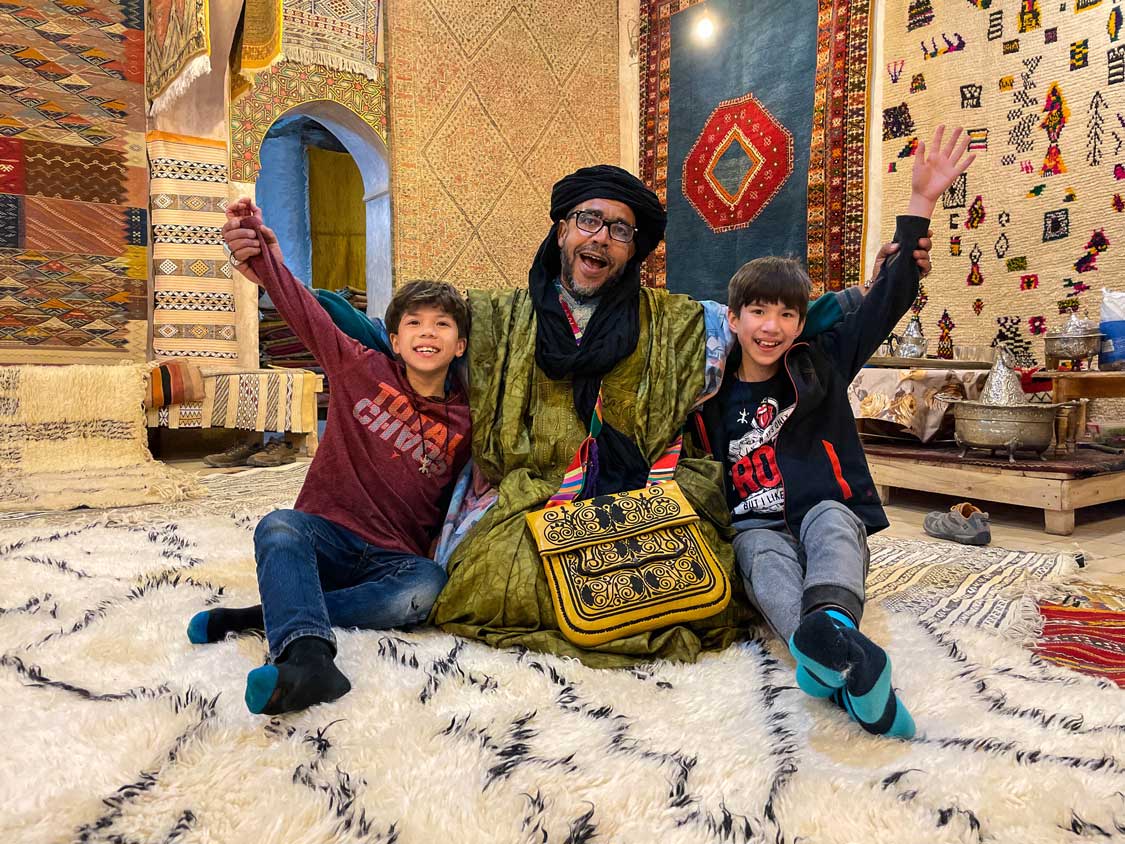 There are often misconceptions about whether it is safe to travel in Morocco with children. Its perceived proximity to countries that have suffered from war and terrorism doesn't come without a hint of truth. In fact, just in 2018, there was a high-profile kidnapping and murder in the country.
But the truth is that most of Morocco has remained well-insulated from war, political disruptions, and terrorism compared to other North African countries. This isn't to say that families shouldn't be cautious while traveling in Morocco, but Morocco enjoys a relatively low crime rate and relatively solid political stability.
During our travels in Morocco, we never once felt unsafe. Whether we were visiting salt mines in the Atlas Mountains, exploring thousand-year-old underground aqueducts near Merzouga, or wandering the chaotic night market in Marrakech, we didn't feel threatened, cornered, or intimidated once.
The biggest threats that we encountered were aggressive vendors. And even these vendors were not even close to the aggressive level of those we found while at the Pyramids of Giza in Egypt.
The biggest threat to families, especially young children, that I encountered in Morocco was the traffic. Traffic in Morocco has a very "vehicle-first" mentality. And while cars are not permitted in most of the narrow alleys of the medina in the city centers, scooters are. More than once our eldest son (C who was 11 on our last visit) was knocked to the side by aggressive scooter drivers making their way through the narrow, pedestrian-heavy alleys.
There are very few rules when it comes to driving in Morocco. For anyone making their way by car or on foot, I recommend following the rule of predictability. Ensure that your path and movements are predictable by those around you.
How Do Moroccans Treat Children?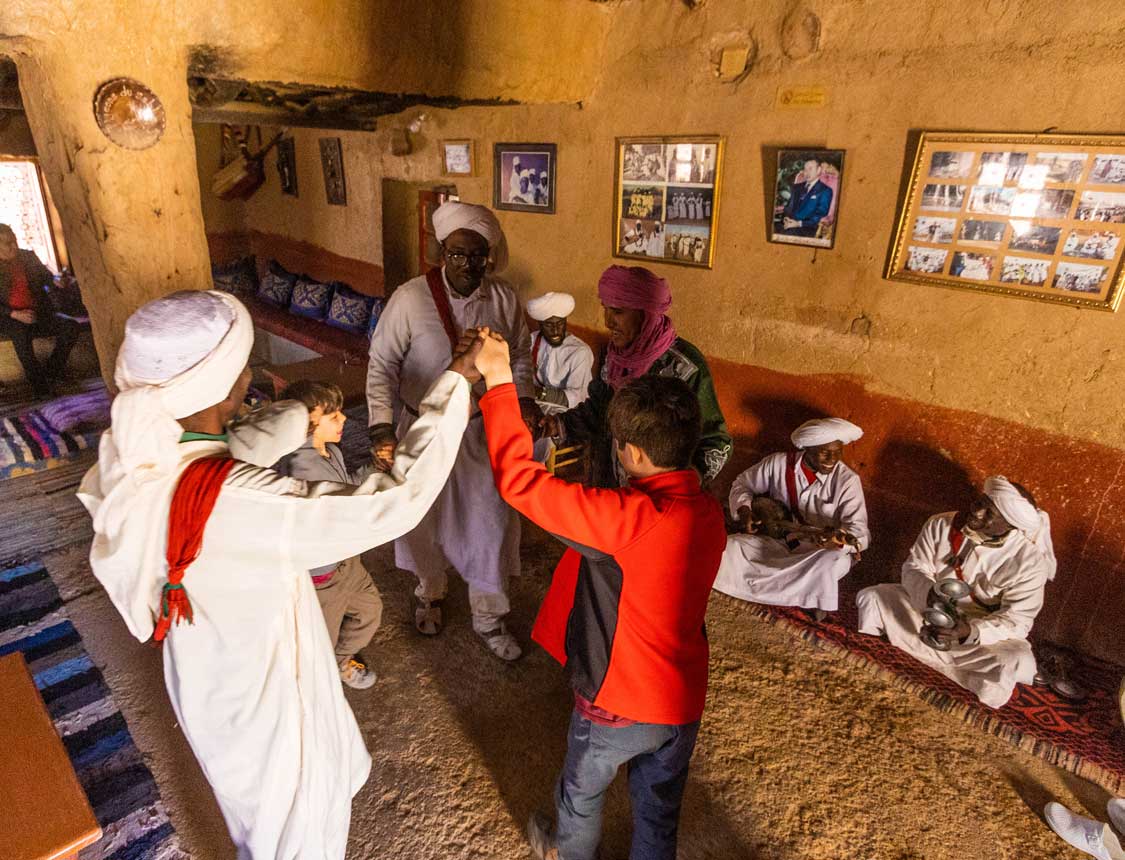 Moroccan society is very focused on family. The tribal structure of the Berber culture meshes strongly with the family focus of Arabic culture. Children are often doted on, especially by elder relatives. The culture might not be as openly-embracing as we found while traveling in Jordan, but the people of Morocco, as a general rule, rank with Egypt in terms of its deep love for children, especially younger kids.
Moroccan society doesn't tend to be particularly outgoing towards outsiders. They have a more reserved nature than in many nearby cultures. But visiting Morocco with children offers the chance to help break the ice.
Locals in Morocco are, in general, very welcoming, helpful, friendly, and even protective of families who are traveling throughout their country. Although not as common as in Middle-Eastern countries, it's not uncommon for adults to approach you or your children and engage with them directly.
They'll often be invited into shops, to enjoy samples, and often to share some Berber tea. This is often done with little regard for the parents who might be standing nearby. While it may seem disconcerting at first, this is not typically done with any ulterior motive, but as an easy way to gain a smile from the little ones.
Because of this attitude in Morocco towards kids, families are often offered a much more intimate glimpse into the local lifestyle than adults traveling solo or as a couple.
What's The Best Way To Get To Morocco?
If you're interested in exploring the county, understanding how to get to Morocco is a key point. Most visitors make their way to the country via Europe, although there are direct flights available from within major cities in Asia and North America.
The most common arrival city in the country for those reaching Morocco by plane is the city of Marrakech. Although there are also quite a few flights that arrive in Casablanca, and Fes. All of these airports are serviced by major European airlines as well as budget airlines such as RyanAir and EasyJet.
For those looking to rent a car or travel with their own car, the best route to take is via Spain and Gibraltar with the one-hour-long ferry ride that lands in the northern city of Tangier. For those planning a self-drive Morocco vacation, this is definitely the best route. As it saves the long trip through the Middle East and gives you access to the wide-open roads of rural Morocco.
What's The Best Way To Get Around In Morocco?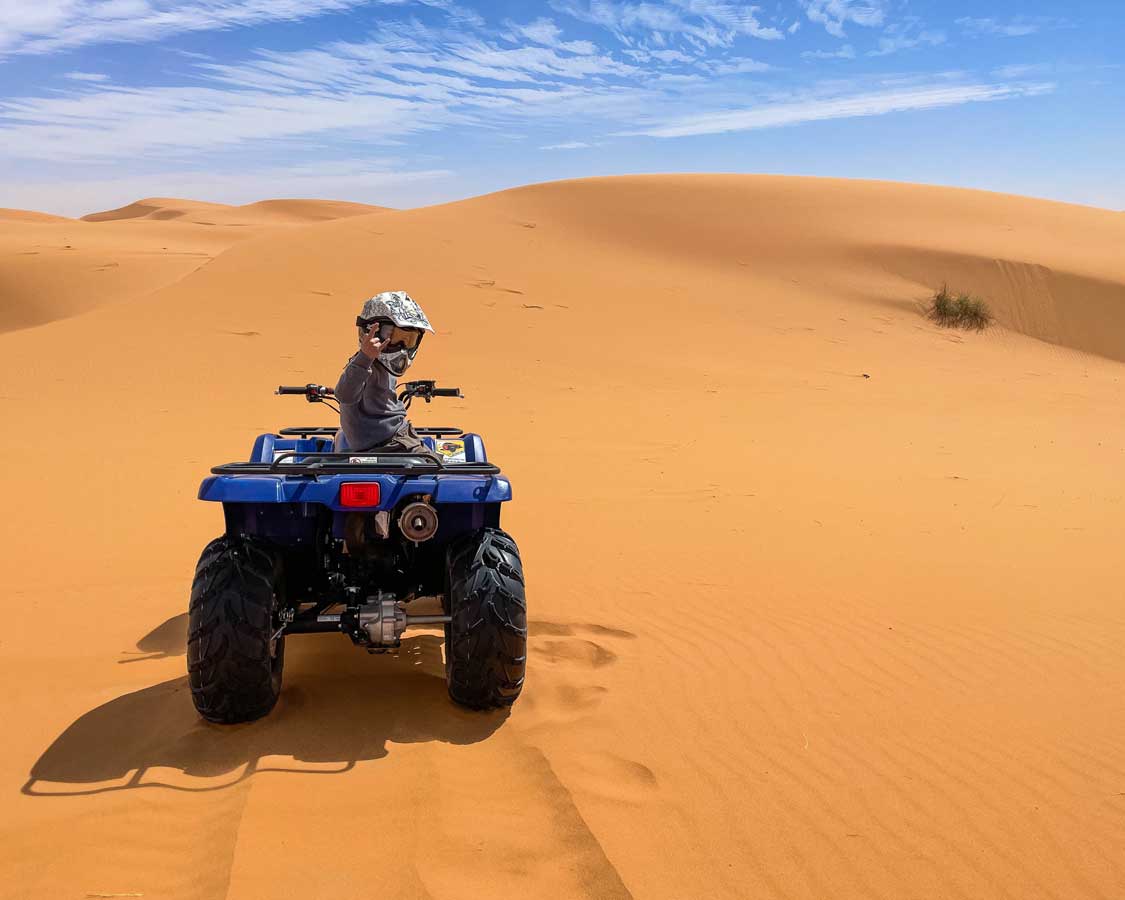 There are quite a few options for getting around in Morocco. Not only is it a relatively safe country for self-driving, but it also has fairly decent public transportation. There are also a number of private coach routes that make getting around the country fairly easy.
Getting Around Morocco by Bus
The rail and bus network have a fairly seamless link that allows visitors to travel throughout Morocco. Supratours has direct links between the rail lines and the bus routes in Morocco. This means that when you reach a link, you are almost always going to find either a rail or a bus route that continues on from there.
CTM is another company that offers an extensive selection of bus routes throughout the country. The CTM bus system hits most of the best places to visit in Morocco, including many of the more remote destinations such as Merzouga. These coaches are modern and quite comfortable. They also run in a "tour" format. This means that you'll get some information about the places that you're visiting as you travel.
Both of these coach systems allow children under four to ride for free. However, children four and above pay full fare. It's best to book your seats ahead of time with both companies, especially during the high season.
Getting Around Morocco By Train
Morocco has an excellent rail network. The comfortable train system links most of the major cities in the country, and those that it does not connect can be reached via the Morocco bus system. The Morocco train system is very reasonably priced and the trains move quickly and efficiently, allowing visitors to easily traverse the country via public transit.
The main Morocco train lines are:
Tangier to Marrakesh via Rabat and Casablanca.
Oujda/Nador to Marrakesh via Fes and Meknes.
High-speed TGV line that links Tangier with Rabat and Casablanca.
Getting Around Morocco By Car
If you would like the flexibility of getting to the local villages and moving about at your own pace, getting around Morocco might be more your speed. But be warned, driving in Morocco is not for the faint of heart.
The country is known for having high accident rates and aggressive driving practices that my family witnessed firsthand. But, if you are used to driving in countries with stressful driving practices, or are looking to push your own bounds, this might be for you.
The road network throughout the country is, generally, in very good repair. Driving in the rural areas is downright pleasant, with wide roads and plenty of room to move. Be aware that most towns have police checkpoints where you could be asked to show paperwork including your license, insurance, and ownership/rental agreements. There are also frequent speed traps throughout the route that typically catch drivers going more than 5% above the speed limit.
The minimum driving age in Morocco is 18, although most rental companies will not rent to those 21 and below. To rent a car in Morocco you'll require a driver's license that bears your photograph (an international driver's license is not required).
Driving in the cities in Morocco is a very different experience than driving in rural areas. Driving is aggressive and motorists will find any space that they can in order to nudge their way further up the line. Lanes, right-of-ways, and intersections tend to work in a "whoever can find their way wins" manner.
Car seats are not commonly used in Morocco. They can be requested, and we recommend that you do so, especially if you are traveling with an infant. If you have older kids, we recommend bringing along an ultra-portable Mifold car seat.
Getting Around Morocco By Guided Tour
For many visitors, especially those wanting to avoid the challenges of navigating public transit and self-driving experiences, a guided tour, whether by group or private tour, tends to be the way to go.
We worked with Sun Trails Morocco, a highly-regarded small business in Morocco that a number of friends and colleagues had recommended to us. The company was fantastic. And the benefits of working with a local operator became clear on our first day.
Having local contacts on the ground gave us the opportunity to have an inside look at often unexplored areas of the country including a behind-the-scenes look at the work being done on the Sale medina and a unique glimpse at a thousand-year-old underground aqueduct system built by Berber tribes.
A guided tour also ensures that you have an English/French/Arabic-speaking guide and driver. Our guide, Daoud was practically a member of the family by the end of our last visit and we continue to share stories and photos with each other of our time together.
What Is The Best Time To Travel To Morocco With Kids?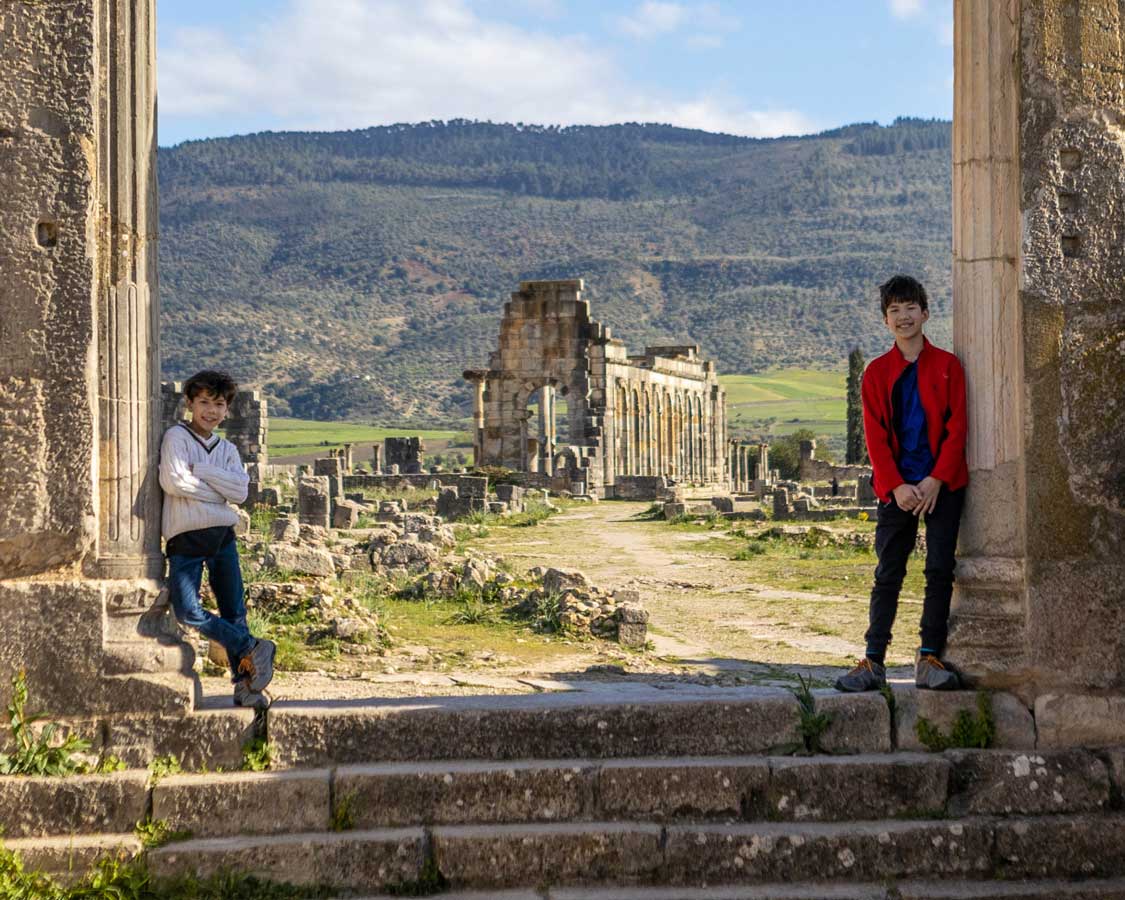 Morocco has strikingly unique landscapes throughout the country. From the towering High-Atlas Mountains to the sand sea of the Sahara Desert, the climate in the country can vary considerably. As an example, during our last visit at the end of March 2022, the temperatures ranged from 50°F (10°C) in the High Atlas to over 77°F (25°C ) in Marrakech.
Morocco is definitely a place that can be considered a year-round destination. Although some areas can get quite hot, and others quite cold, there is always somewhere in the country that is just about perfect.
Typically, the time between March and May and September to November offers the most idyllic temperatures across the country. The temperatures during these months are comfortable enough that light layers of long and short sleeves should be all that you need to worry about. The evenings are comfortable and the days, are warm and sunny.
These months tend to be the busiest time of the year. But if you visit in March, you generally have a chance to enjoy those great temperatures and avoid the larger crowds of the warmer months.
It's worth noting that Morocco is, by and large, an Islamic country. As such, the country celebrates Ramadan. Although the timing of this religious event changes each year, the rules remain the same. From dawn until dusk (typically 4:00 am till 7:30 pm in Morocco) Muslims fast from food and drink (among other things). This means that those traveling with guides or looking for certain restaurants may have to adjust their schedules to accommodate.
It's also good to know that Morocco has a time change that occurs one week before Ramadan until one week after Ramadan ends. During this time the clocks are set back one hour to allow Muslims more time to break their fast before the sun rises. During this time many restaurants won't open until 8:30 PM and they typically operate well past midnight.
What Is The Food Like In Morocco?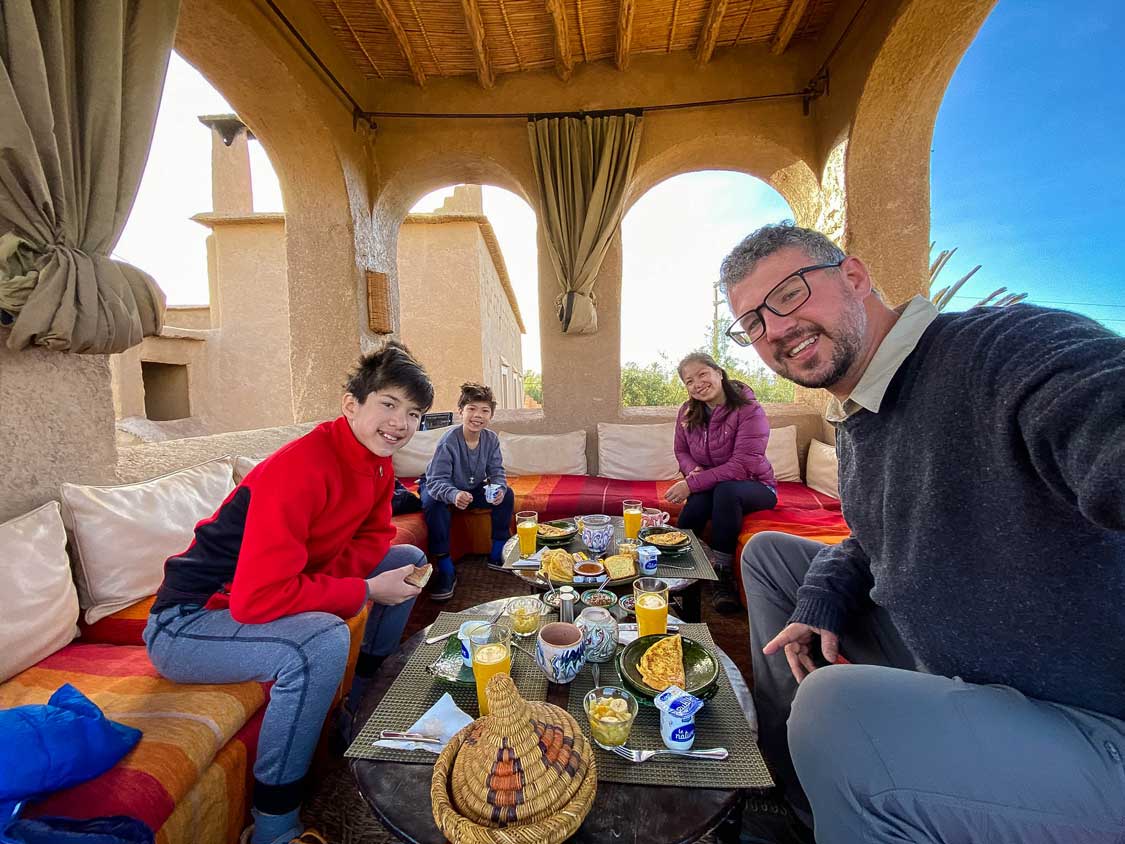 If you haven't had the pleasure of experiencing Moroccan cuisine, you are in for a treat when you travel to the country. It's in the food that the true position of the country, with ample access to Europe and the Middle East, shines. Easy access to an incredible range of herbs and spices helps Moroccan food to be full of flavor.
The main dishes that you're likely to encounter throughout the country are those cooked in a tagine. These slow-cooked dishes are made in distinctive bakeware. You'll encounter many options including vegetable tagine, chicken tagine, beef tagine, and lamb tagine. They're generally served with vegetables and couscous.
Nearly every meal is served with Moroccan bread. These round, pita-style loaves are incredibly consistent in style and flavor throughout the country. Breakfasts often consist of baked goods including pastries and croissants, often served with coffee, tea, and fresh-squeezed orange juice.
For those visiting Morocco with kids who are picky eaters, many restaurants have pasta options including spaghetti. However, other options are limited. But it's worth noting that the food in the country is delicious, but doesn't usually involve very strong flavors. Meats and vegetables are typically mild in heat and rely mostly on their own natural juices and a few herbs and spices such as cumin for flavoring.
Morroco has become one of my boys' favorite countries for food. We now make Moroccan food regularly in the tagine that we bought while we were there.
For those of you who like to indulge in a little wine or beer while traveling, Morocco does have a few offerings. In fact, while a bit on the young side, there is a booming wine region in the country that is likely to offer some standout selections in the coming years. There are also a few local breweries including Casablanca that offer light, easy-drinking brews.
However, Morocco is an Islamic nation, so open alcohol is not permitted anywhere. Hotels, Riad's, and restaurants require special permission in order to sell alcohol. As such, there are quite a few places throughout the country where you will not be able to get alcohol, and drinking your own outside of your private hotel room is not allowed outside of these licensed establishments.
You can read about the best food to eat in Morocco right here.
How To Stay Healthy In Morocco with Children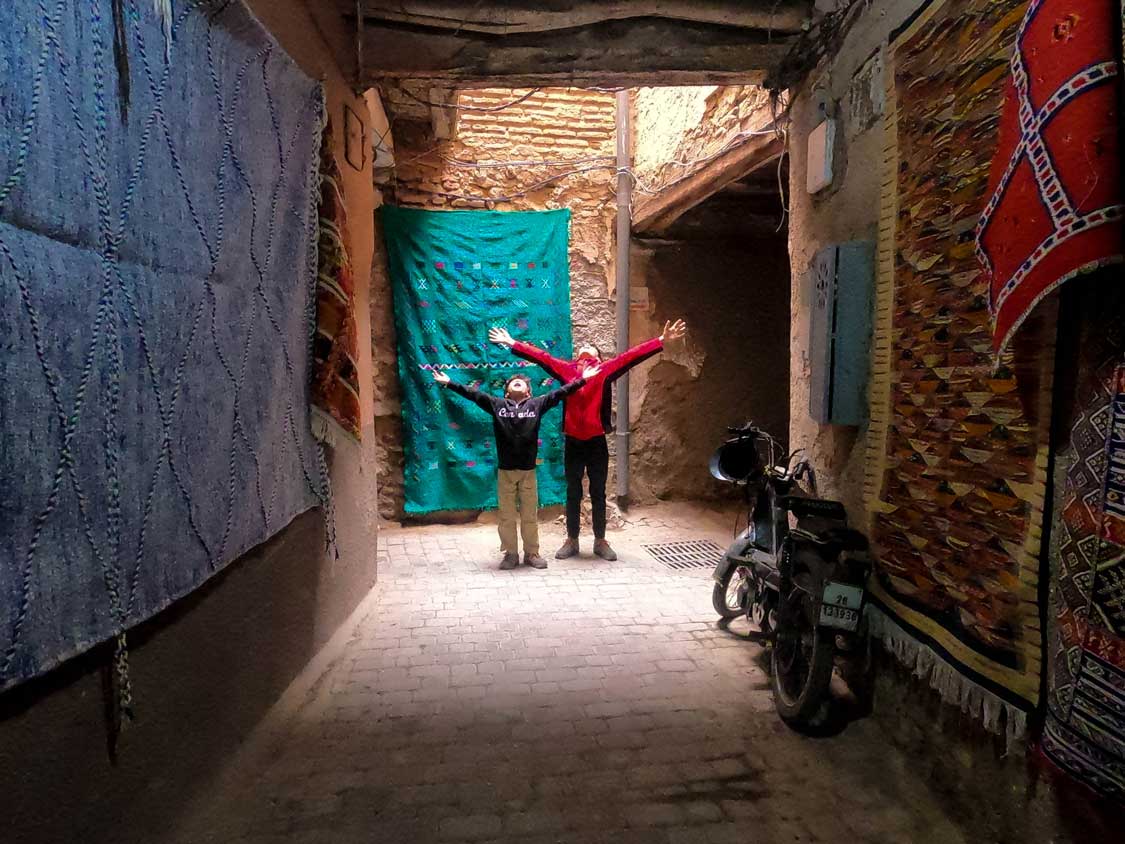 Because of Morocco's position in the north of Africa, the country does not fall in the Malaria zone. As such, things like mosquito bites aren't something to be particularly worried about. However, wearing light-colored clothing and insect-repellant are helpful in avoiding pests during the summer months.
Morocco does not have vaccine requirements for entry into the country. However, it is recommended that visitors are protected against polio, hepatitis A & B, tetanus, and typhoid. These are simply precautions, especially those for hepatitis, as sanitary conditions in Morocco might not be at the standard to which many travelers are used.
We do not recommend drinking tap water in Morocco. Most hotels provide a limited number of bottles of water, and water is easy to purchase from stores throughout the country. To help the environment and to ensure that clean water is available wherever and whenever you need it, I highly recommend that you bring a filtered water bottle. These bottles can turn any water, whether it be from a tap or a swamp, into clean drinking water.
It's good practice to be wary of the street food in Morocco. Cooked foods in Djemma el-Fna in Marrakesh and similar places might offer your best opportunities to sample some of the local flavors although we were warned by our guide to avoiding them if possible as he's known visitors who've gotten quite ill.
We ate a fair bit of food in the Fes medina while on a food tour with local guide Rostom Badrane. Local guides such as Rostom have the experience to know which food vendors will sit well with visitors, and which ones won't.
We sampled a whole range of dishes including snails, camel hump, sheep brains, bissara soup, steamed chickpeas with cumin (my kids' favorite), makrouta, beef kofta, and beef tongue, and had no tummy problems.
Should You Use Travel Insurance In Morocco?
No matter what destination you are traveling to, choosing to use travel insurance is always something that I recommend. Depending on the policy that you choose, travel insurance can cover you for items including:
Travel delays
Lost luggage
Theft
Illness/injury
Personal loss
Fraud
Some travel insurance companies have reduced costs or even free coverage for children traveling with adults. We typically use World Nomads and have found their team to be incredibly responsive and helpful worldwide.
More Tips For Visiting Morocco With Kids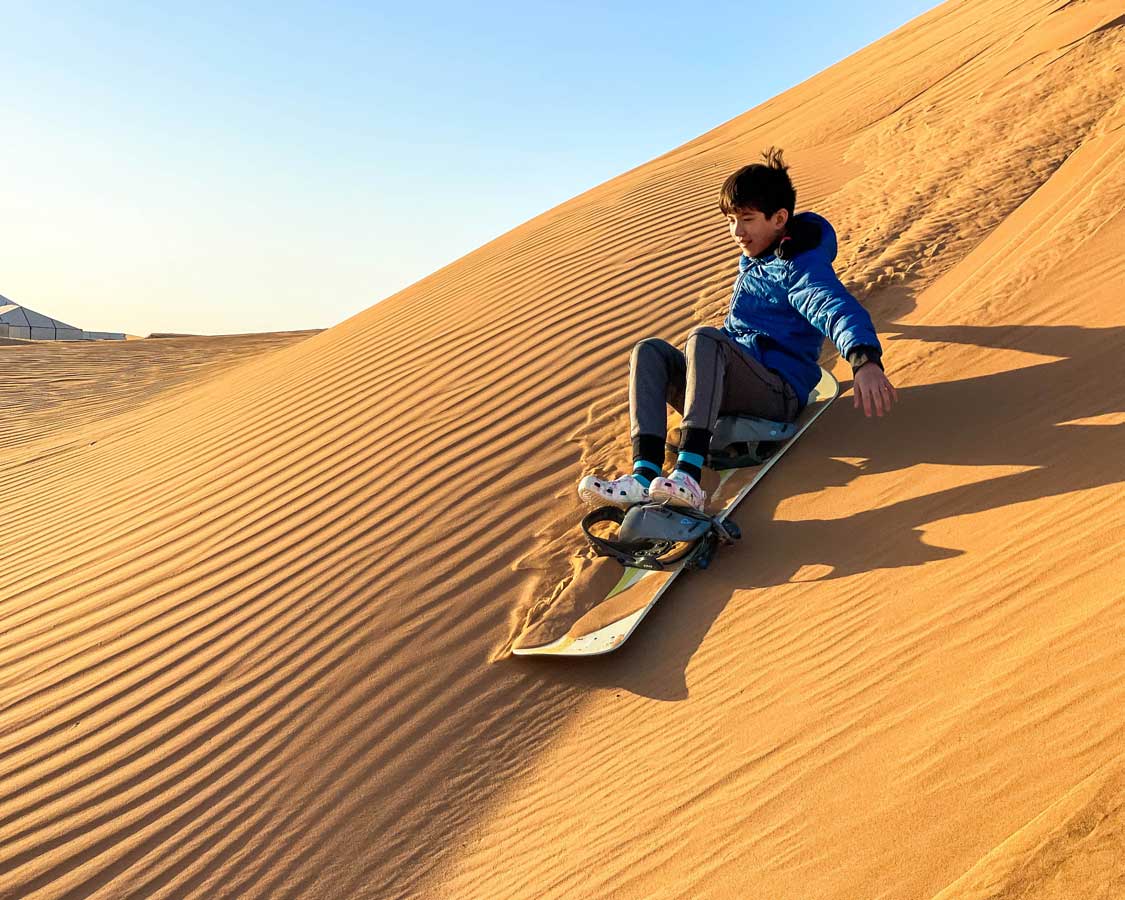 While traditional toilets are becoming more common throughout the country, squat toilets still tend to be the norm in rural areas. If your child has never encountered a squat toilet before, it might be a good idea to familiarize them with them before you arrive.
Summers in Morocco can get searingly hot. In areas such as the desert, lack of shade can exacerbate heat exhaustion and sunstroke. Ensure that you are properly protected with sunscreen, light clothing, a wide-brimmed hat, and plenty of water.
Many people in Morocco, especially women and those working in shops in the medinas may not be comfortable having their photos taken. It's recommended that you ask people prior to snapping some shots in order to avoid offending locals or encountering uncomfortable situations. Many street performers and animal handlers, especially those in the big markets such as Djemma el-Fna will expect a tip if you take their photo. It's best to negotiate this rate before doing so.
Bartering is a huge part of the culture in Morocco. The ratio between an "asked" price and the actual value can be tremendous. The locals know how to have fun with this, and most bartering is as much social interaction as it is business. In general, offer 10% of the asked amount and try to work your way up to 30% of the original price.
Be aware of vendors attempting to lure children in with perceived "free" gifts. This is a scam that we've encountered in countless places including Spain, Morocco, and Egypt. Children are often given a "gift" by a local and when they show it to their parents the vendor then aggressively asks for payment for the "gift". This wasn't a common practice, but we did encounter it in the Todra Gorge and the Djemma el-Fna market in Marrakesh.
If you are traveling in busy areas such as medinas and the Djemma el-Fnaa market with young children, consider dressing them in bright clothing. This will allow you to keep an eye on them more easily in the event that you are separated.
Enjoy Your Travels in Morocco with Kids!
Morocco was a magical destination for family travel. The hot weather, incredible cultural experiences, delicious food, and stunning history were just the icing on the cake. If you're looking for a memorable travel destination, visiting Morocco with kids is unforgettable.
If you love family travel as much as we do, please join our Family Travel Support Group on Facebook. You can connect with more family travelers just like you who love to explore the world.
You May Also Like To Read: