Morocco packing list will help you understand what to pack for Morocco travel so that you're well-suited for the epic adventures that await.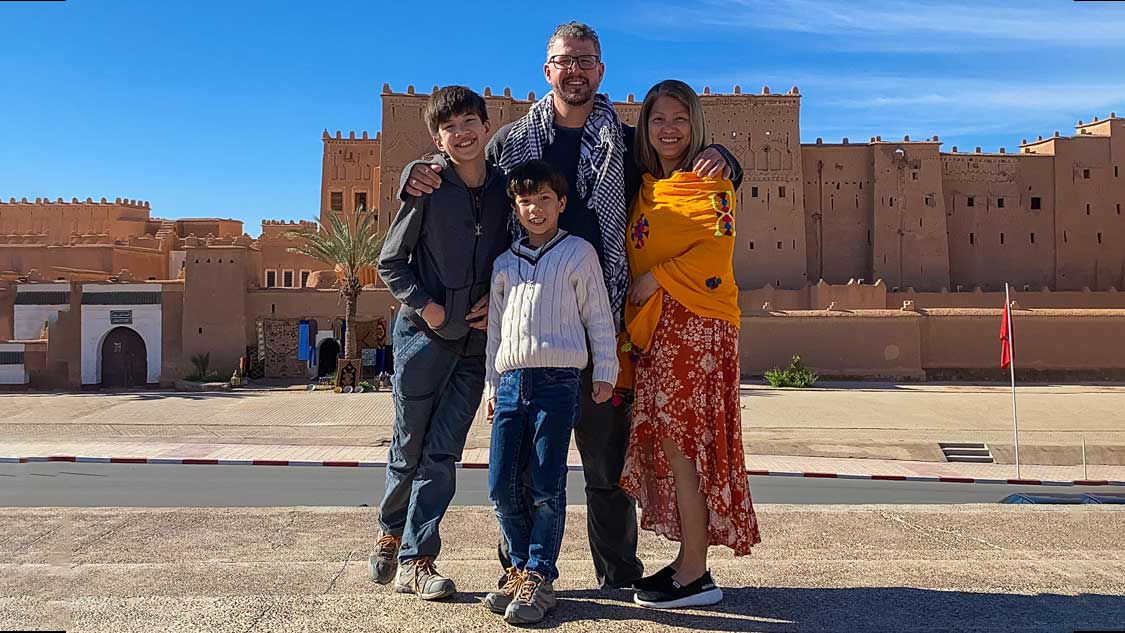 Morocco is a country that few countries can match in terms of accessibility, beauty, and mystique. It is a country packed to the brim with ancient history, remote desert villages, and markets brimming with a rainbow of herbs and spices.
Morocco is a land that sits on the doorstep of Western Europe, yet travel in the country can feel like entering an entirely new world.
For those entering the country for the first time, or travelers who have been drawn back to the mystery and beauty of the country again and again, it can be a challenge knowing what to pack for Morocco travel.
Part of the challenge in creating a Morocco packing list lies in the wild landscapes within the country. Morocco lies on both the Mediterranean Sea as well as the Atlantic Ocean. And within the country, you have the three Atlas Mountain ranges and the northern borders of the sprawling Sahara Desert where many visitors experience the Merzouga luxury desert camps.
The sheer expanse of the country means that, if you visit Morocco at the right time, you could be swimming on the sandy beaches of Agadir, skiing the Atlas slopes in Ifrane, or shredding the massive Erg Chebbi sand dunes on a four-wheeler. And, as you can imagine, those three activities require very different packing lists.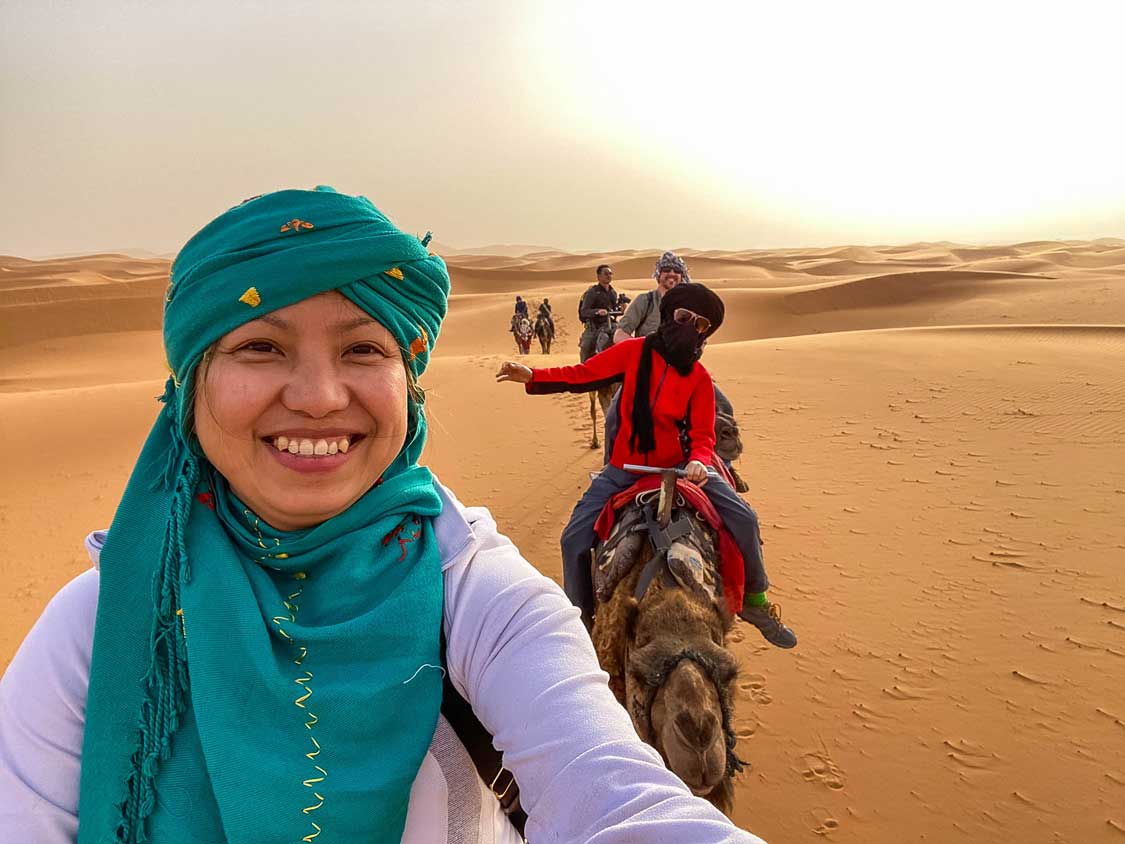 During our ten-day Morocco itinerary, we explore a lot of the country. We experienced some of the most magical places to visit in Morocco, including Marrakesh, Mergouza, the High-Atlas Mountains, and even desert camping. We were comfortable the entire visit because, after 47 countries, we've become experts at packing for adventurous travel.
So to help you understand what to wear in Morocco and also what NOT to wear in Morocco, I've put together this guide to help you plan. And, if you're like us and visiting Morocco with kids, know that we planned this Morocco packing guide with them in mind as well.
How to Dress in Marrakech For Women
Morocco is a very unique country to travel to. There is a vast influence of styles and cultures throughout the land. But it's worth remembering that it is an Islamic country. As such, the typical clothing worn by locals is relatively conservative, especially for women.
Christina, having traveled to other Islamic countries, including Jordan and Egypt, in the past, knew that there could be some important differences between the cultural expectations in these countries for men and women.
Throughout the country, you'll find that locals dress in a variety of ways. In the desert region, you'll find many traditional Berber outfits, while in the cities, the dress style can range from urban chic to niqabs with full face coverings.
If you're traveling in urban centers such as Marrakech, you won't need to worry too much about how you dress. If you're visiting religious sites, I recommend having a scarf or covering that will ensure that your shoulders are covered, and bare legs are rarely permitted (for both men and women).
However, in the rural regions such as Merzouga, things can be more conservative. This doesn't mean being covered head to toe in a burka, but you should avoid wearing clothes that show a lot of skin. Light pants and shirts (t-shirts are fine) will help you blend into the local communities better and avoid unwanted attention from those who might not be used to seeing women dress in a more "western" fashion.
What to Pack for Morocco Family Travel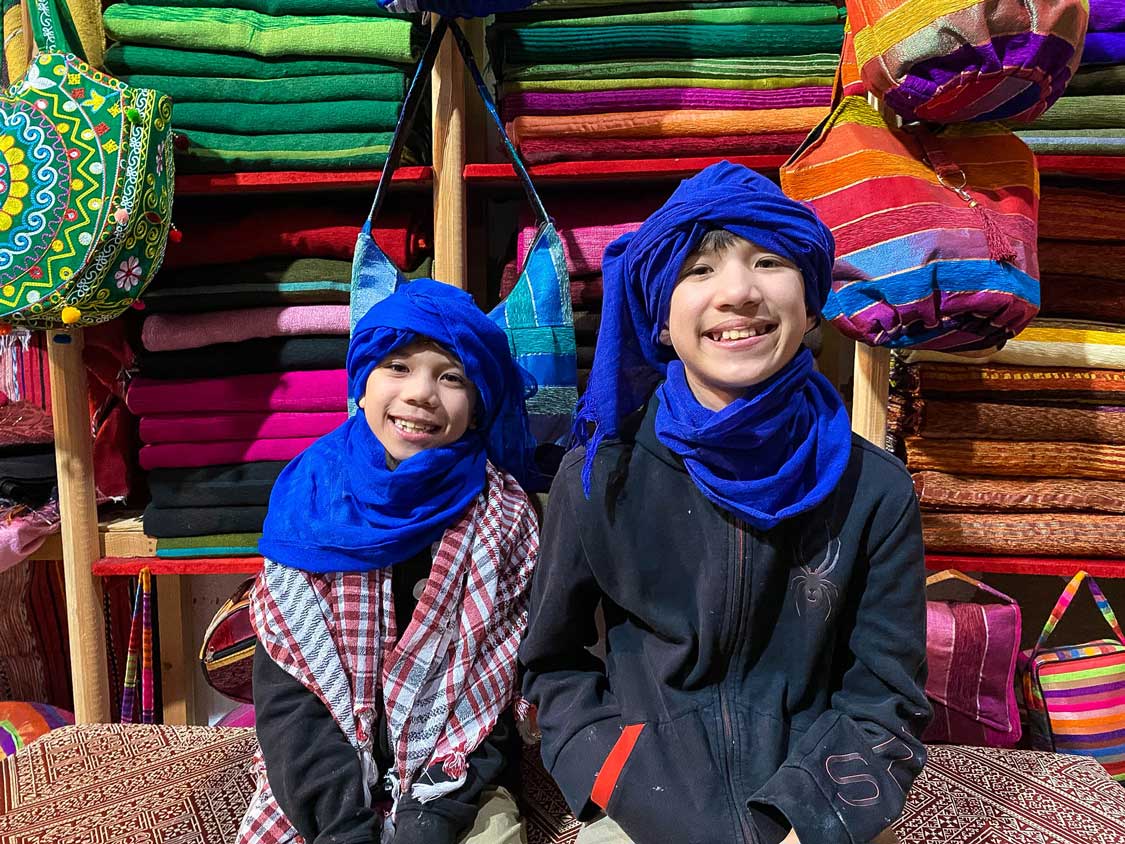 If you are packing for Morocco, it's important to know how you plan to travel. Most families who travel through Morocco do so via an organized tour. However, many will travel independently or in small or large groups.
The weather in Morocco can be incredibly variable. From the beaches of Agadir and Casablanca to the towering Atlas Mountains through to the Sahara Desert, packing for Morocco means planning for every eventuality. We suggest dressing in layers. Temperatures can be all over the map in Morocco, even if you aren't changing locations.
Dressing in layers means you can remove clothing when you get hot and put it on if you get cold. This is how we traveled during our time in Morocco with kids.
Travel Bag and Luggage For Morocco
If you are traveling to Morocco for two weeks or less, it is very doable to travel with carry-on luggage only. But doing this means picking durable and flexible carry-on luggage. I recommend something lightweight and rugged for moving through the country. You can find our guide to the best carry-on luggage here.
However, travel to Morocco means preparation. And, if you're like us and take part in a range of activities when you travel, a check-in bag might be more realistic. We traveled to Morocco with check-in bags. This ensured we had all the Morocco travel gear we needed. You can find our guide to the best suitcases here.
The Best Day Pack For Morocco
Picking the best daypack for your travels in Morocco is crucial. A great daypack is one of the only ways to carry around your water bottles, cameras, sunscreen, and other things you need to pack for Morocco travel. You can check out my guide to the best daypacks for travel here.
For this Morocco packing guide, I recommend something lightweight and breathable. The temperatures can be hot, especially during the spring and summer months. So having something that wicks the sweat away from your body will make you much more comfortable.
The Best Shoes For Morocco
I will highlight this immediately because having the best footwear is crucial to enjoying your time in Morocco. From mountains to deserts, the landscape in Morocco can change dramatically. Make sure you choose quality shoes for your trip.
If you're planning on spending your time in cities such as Marrakesh, Casablanca, and Fes, you might be fine with some urban walking shoes. However, if you're planning on exploring the rural towns such as Soukra, Merzouga, or Tinghir, you'll definitely want to bring hiking shoes.
I recommend lightweight, breathable shoes with a good grip. Because there is so much walking, you want your feet well cared for. It's important not to overlook your kids' footwear either; choosing good hiking shoes for kids is just as important as choosing them for yourself.
You can find our favorite hiking shoes for men here, our top hiking shoes for women here, and the best hiking shoes for kids here.
The Best Clothing For Morocco Travel
Underwear And Socks For Morocco
What goes on underneath your clothes for Morocco is just as important as the clothes themselves. You can get by with just about any comfortable underwear for Morocco; I recommend bringing along some lightweight, quick-dry underwear like these ones for men. Christina recommends these ones for women. That way, if you need to do some emergency laundry, you won't be waiting forever for them to dry.
Socks for Morocco, on the other hand, are super important. Make sure to pack wool or synthetic blend socks. These materials wick water and sweat away from your body. This helps to keep your feet dry. Christina loves these socks for their lightweight, comfortable, and durable materials. I'm personally a fan of these men's travel socks.
Rain Jacket For Morocco
Summer in Morocco is fairly dry. But if you're traveling in the winter, rain is a real possibility. Choose a lightweight rain jacket that breathes well. A rain jacket can help with many things. It can be a great windbreaker, an extra layer of warmth, and something to keep you and your family dry. Christina likes this rain jacket for women, while I am a fan of this one for men. If you're looking for one for the kids, this is the one that our kids use.
The Best Pants For Morocco
Choosing the best pants for Morocco shouldn't be a challenge. You can get by with the most comfortable, weather-resistant pants. Personally, I wear these pants almost everywhere I travel. They're light, comfortable, and work well for both hiking and urban travel. Christina prefers these pants, while these are the ones that our kids normally wear.
But no matter what pants you choose for your Morocco packing list, I recommend light and breathable ones that wear well and are comfortable. Unless you're only exploring the cities, skip the jeans for this trip.
T-Shirts For Morocco
Light, breathable t-shirts are ideal for your family travel to Morocco packing list. They keep your core dry and warm without weighing down your bags. They also help to wick sweat away from the body.
This ensures that you won't get chilled even if you're sweating high up in the Atlas mountains. This is the shirt that you'll typically find me wearing. And this is the one that Christina recommends for women's clothing in Morocco.
As far as travel t-shirts for kids, merino can be a pretty expensive material, especially with how fast kids outgrow their clothes. We typically save a few dollars by opting for quick-dry synthetic t-shirts such as this for the boys.
Long Sleeve Shirts
The weather in Morocco is typically pretty consistent. But the temperatures can vary a lot, especially if you're traveling in the mountains. It's important to pack for Morocco's weather which is anywhere from hot to cool.
You don't need a long sleeve shirt for Morocco every day. But it's good to have a couple on hand for the time in the high elevation areas. Personally, I like shirts that I can wear on the trail and in the city. This is what you'll typically find me wearing. Christina usually packs these tops. And I recommend something like this for the kids.
You'll also want to ensure that you have some sweaters on hand. As you can see from our photos, we have sweaters on many of the days that we were traveling. Temperatures in Morocco can vary quite a bit from region to region, and nights, especially in the winter, spring, and fall, can be quite cool.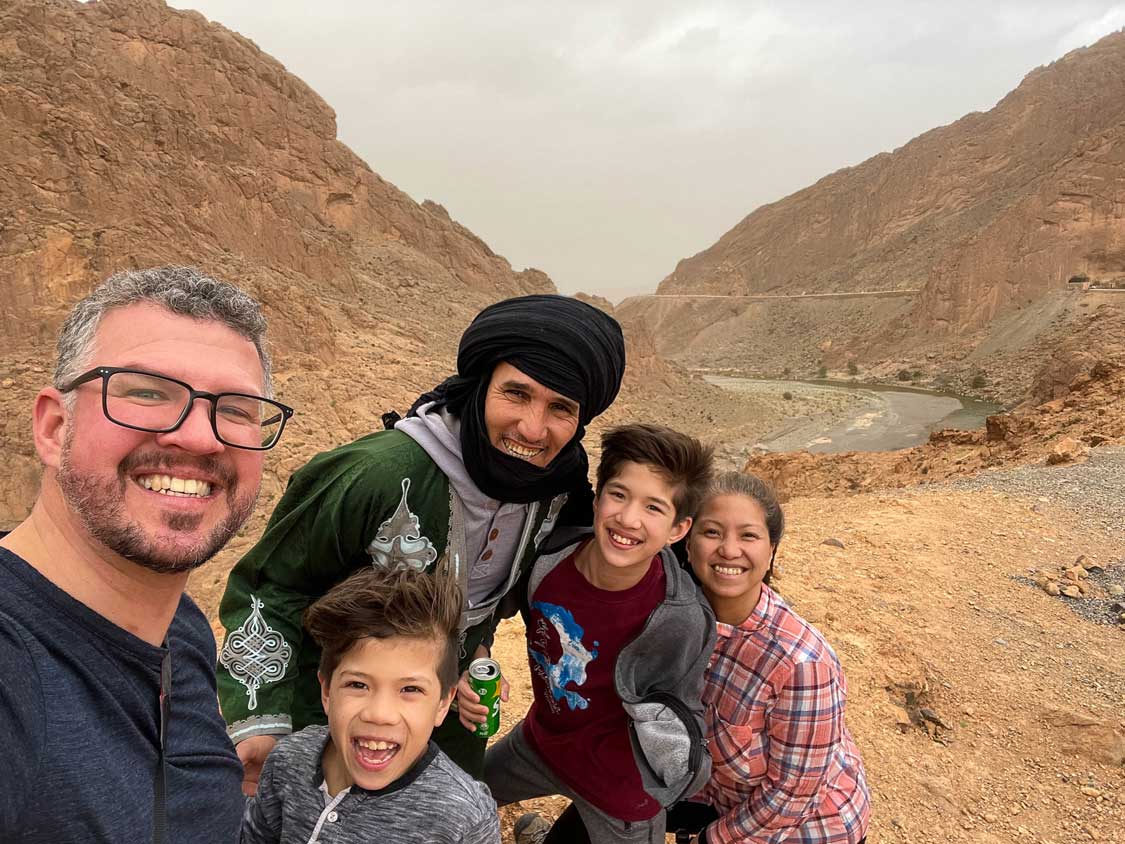 Other Clothes For Your Family Travel To Morocco Packing List
When we are packing for Morocco, we always make sure that we have a few other items in our packing list. Here are a few other items not to forget.
A set of nicer clothes (We always try to have one fancy meal in each country).
Pajamas
Belt – I'm a huge fan of this belt by Grip6. I wear it almost every day of the year, traveling or not.
Wide Brimmed Sun Hat – I like these for kids, this one is Christina's favorite, and Kevin likes this one.
Swimsuits
Sunglasses with UV protection.
Lightweight Travel Jacket – I usually use something like a down poof jacket to save weight. Travel jackets like this pack up super small and weigh almost nothing.
Neck Gaiter – Neck gaiters can convert to multiple styles and work great for added warmth, wind protection, etc. We don't travel anywhere without them anymore. And they are perfect for keeping the sand off your face when you're exploring the Sahara Desert.
Other Items For Your Packing List For Morocco
These aren't just for packing for Morocco; we take these packing list items on almost every trip and even on local outings.
Flashlight or Headlamp along with extra batteries. These are important if you are spending time at one of the Sahara desert camps.
Camera – We recommend a weatherproof/shockproof camera like this one in case of drops or falls.
Tripod – Lightweight and portable
Portable power bank– Some areas of Morocco have limited power. We always travel with a battery backup to make sure we can keep our gear charged.
Electricity converter. The power system in Morocco is not the same as it is in North America and much of Europe. Packing a Type C power adapter. You can read more about the Morocco's electrical requirements here.
First Aid Kit (Read further down to see what should be in your first aid kit)
Filtered Water Bottle – We don't like to contribute to the massive amount of plastic pollution in Morocco. We always make sure to bring a filtered water bottle with us when we travel. You can check out our guide to the best filtered water bottles here.
Insect Repellent
Playing Cards – Sometimes, travel in Morocco means long bus rides, drives, or waiting at the airport. A Deck of cards is a great way to pass the time.
Gifts for local children and guides – Packing pencils, books, and other writing utensils can bring smiles to local children in remote areas who might otherwise not have easy access to these things. Please don't pack candy for children as children often don't have easy access to dental care.
Recommended Reading For Your Morocco Travel
You can find great information about family travel to Morocco on our website. However, I always find that it's useful to have a guidebook on hand. It gives me something to read about the locations I'm traveling to as I'm on the road. And I can reference information while I'm in places with limited or no internet.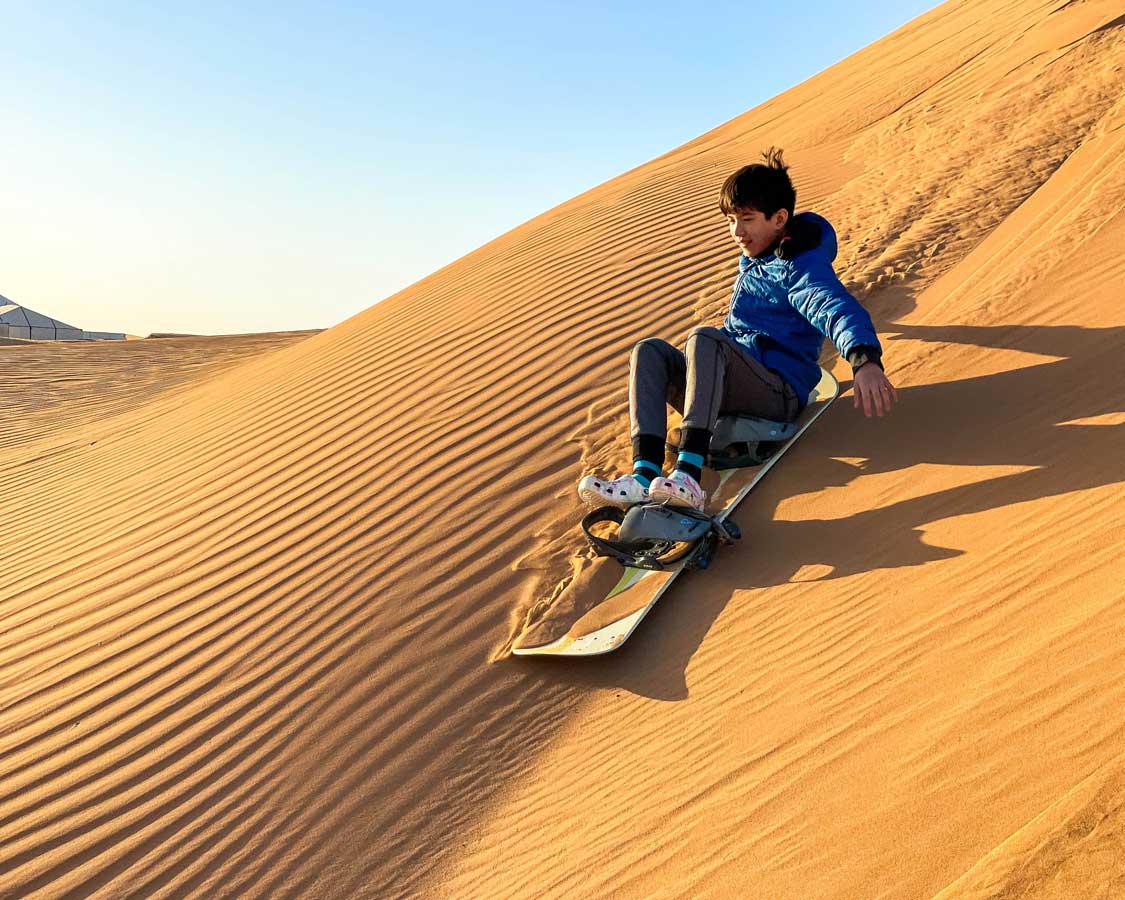 Other Morocco Packing List Items to Consider
These are items that are specific to certain types of travelers.
Child Carrier – Strollers are almost useless outside of the major cities in Morocco. Most towns have cobblestone streets or dirt streets. Many archaeological sites are built on mountain or desert terrain. Bringing a good quality child carrier for young children is a great idea. You can check out our breakdown of the best child carriers for travel here.
Hiking Poles – If you're planning on hiking in Morocco, bringing a good set of lightweight hiking poles is very helpful. This goes double for if you are carrying a child. Hiking poles can help with balance on uneven terrain. We recommend these hiking poles.
Portable Booster Seat -Most cars in Morocco have seatbelts. There are laws regarding seatbelt safety, especially involving children. If you are traveling with a child, we recommend bringing the MiFold portable booster seat. It's small, lightweight, and easy to use. You can find that here.
Packing For Morocco – First Aid Kit
Accidents happen, and it's always best to be prepared. These are the items that we pack in our travel first aid kit for Morocco. Morocco is not a country prone to malaria, so you won't need that medication when traveling to the country.
Prescription medication
Ibuprofen – Fevers, colds, and aches and pains happen. Make sure you pack both adult and children's ibuprofen.
Band-aids, liquid band-aids, and gauze bandaids + medical tape
Disinfectant for cuts and scratches
Antihistamines – Even if you aren't allergic to something at home, you may be allergic to something elsewhere.
Diarrhea medicine (**it happens)
Antibiotics (speak to your doctor before you travel)
What to Pack for Morocco – Documentation
Make sure you have your paperwork, travel visas, and passports in order beforehand. Please remember that rules such as visas vary from country to country. For passports, make sure that your passport is valid for at least 6 months from your planned departure date from the country you are visiting.
Passports – Valid for 6 months from when you plan to leave.
Travel Visa – If required for your country of residence.
Airline tickets – Ensure all names on tickets match your passport documentation.
Travel Insurance – Always be prepared in case of an emergency. We recommend World Nomads.
Copies of documents – Before you leave, make photocopies of all crucial documents, including passports, driver's licenses, etc. Keep these in a separate bag in case anything gets lost.
Frequently Asked Questions About How To Dress In Morocco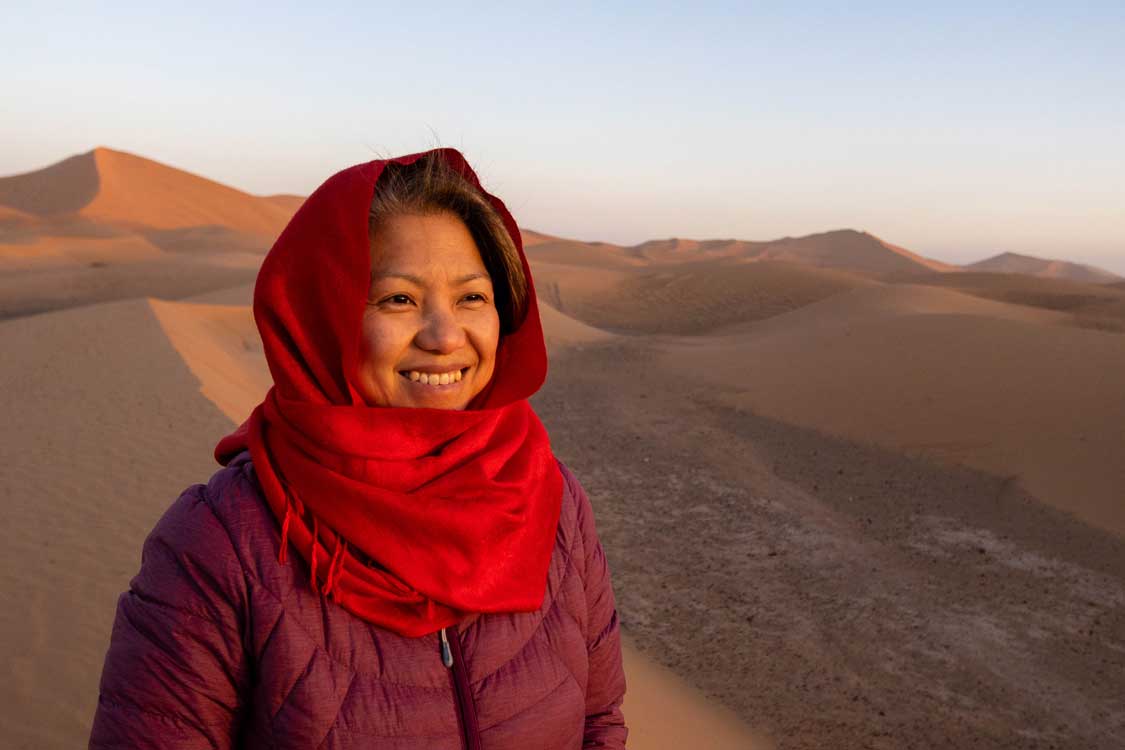 We get a lot of very specific questions about how to dress for Morocco travel. Here are a few of the most frequently asked questions.
Can You Wear Shorts in Morocco?
Locals in Morocco, while typically conservative, are used to tourists and travelers exploring the country. During the summer months, it's not rare for visitors to be wearing shorts in the cities. However, in rural areas, it's best to stick to longer shorts that cover your knees or Capri-length shorts. Typically I prefer full-length pants.
Are Women Required To Cover Your Body In Morocco?
Moroccans have a wide variety of clothing styles. While it is an Islamic country, there are no laws requiring women to cover their faces, hair, or bodies. It's quite common for women, especially in the cities, to wear t-shirts and sandals.
However, if you're traveling through the country, there may be times when modesty is appreciated by the locals. I recommend having a scarf or cover-up to throw on in those cases.
What Should You Wear Morocco?
Don't stress too much about what to wear in Morocco. The typical rule to follow, especially for women, is that the more skin you show, the more attention you will get. Jeering can be a common thing, especially in the big city markets.
The biggest recommendation I have is wearing proper shoes. You'll be walking a lot, and there is nothing worse than having sore feet while you travel.
What Should Women Wear In Morocco?
Women in Morocco are welcome to their choice of clothing styles. You'll find everything from full-body niqabs to crop-tops and high heels.
Is It OK To Wear A Bikini in Morocco?
If you are visiting the pools or beaches in Morocco, women can wear bikinis, one-piece swimsuits, or even burkinis. Keep in mind that walking around outside of these areas in swimwear is not encouraged.
If you're wearing a bikini at the beach and decide to stroll into town to get a snack, consider bringing a cover-up.
Is There A Morocco Dress Code?
There are no legal definitions for a Morocco dress code, nor are there laws prohibiting clothing styles or what you can or can't wear in Morocco. However, the court of public opinion in the country leans toward more conservative clothing styles.
It's worth noting that nude or topless sunbathing is illegal in the country. Despite its proximity to Europe, being topless anywhere in Morocco is considered illegal.
It's Time To Pack For Morocco!
I hope that our Morocco packing list has been helpful. This is a wonderful country with warm, welcoming locals and absolutely unforgettable scenery and attractions. Please check out our Morocco family travel blog for more information on things to do and see in the country.
This post may contain compensated links. Find more info on our disclaimer. Wandering Wagars is a participant in the Amazon Services LLC Associates Program, an affiliate advertising program designed to provide a means for sites to earn advertising fees by advertising and linking to amazon.com, amazon.co.uk, amazon.ca. Amazon and the Amazon logo are trademarks of Amazon.com, Inc. or its affiliates.
You May Also Like To Read: