The Todra Gorge is considered by both locals and visitors as one of the most beautiful places in Morocco. Here's everything you need to know before you go.
Nestled at the western foot of the High Atlas Mountains sits one of the most beautiful places to visit in Morocco.
A natural cut in the mountains, which split Morocco's Sahara region from its more populous Atlantic region, has been carved out of the landscape by a crystal-clear, spring-fed river. The result of millions of years of natural landscaping is the epically beautiful Todra Gorge.
The Todra Gorge, which is often referred to locally as the Toudgha Gorge, features 1,200 ft (400 meters) tall cliffs of bright red sandstone that seem to touch the brilliantly blue mountain skies. At the cliff's base are a spring-fed stream feeding palm groves, Berber villages, and fruit plantations.
The Todra Gorge has been attracting locals for years. The glorious scenery and clean water have made this a popular stop for shepherds and travelers for centuries, but recently those in Morocco's major cities, such as Fes and Marrakech, have been awakened to its beauty, adding to the weekend crowds that rush to the gorge.
The Todra Gorge is a stunningly beautiful destination that has become hugely popular among photographers, rock climbers, cyclists, and hikers. It's also one of the most popular places in Morocco with kids. Families from across the country make day trips to the gorge for picnics, hikes, and celebrations.
We visited the Todra Gorge after a few days of exploring and camping in the Sahara Desert around Merzouga. Our road trip there involved stops in Ait Benhaddou along with some time underground exploring an ancient aqueduct system.
After several days of sand and grit, the bright rose rocks and emerald-green plant life offered a splash of color that we were grateful for.
How To Get To Todra Gorge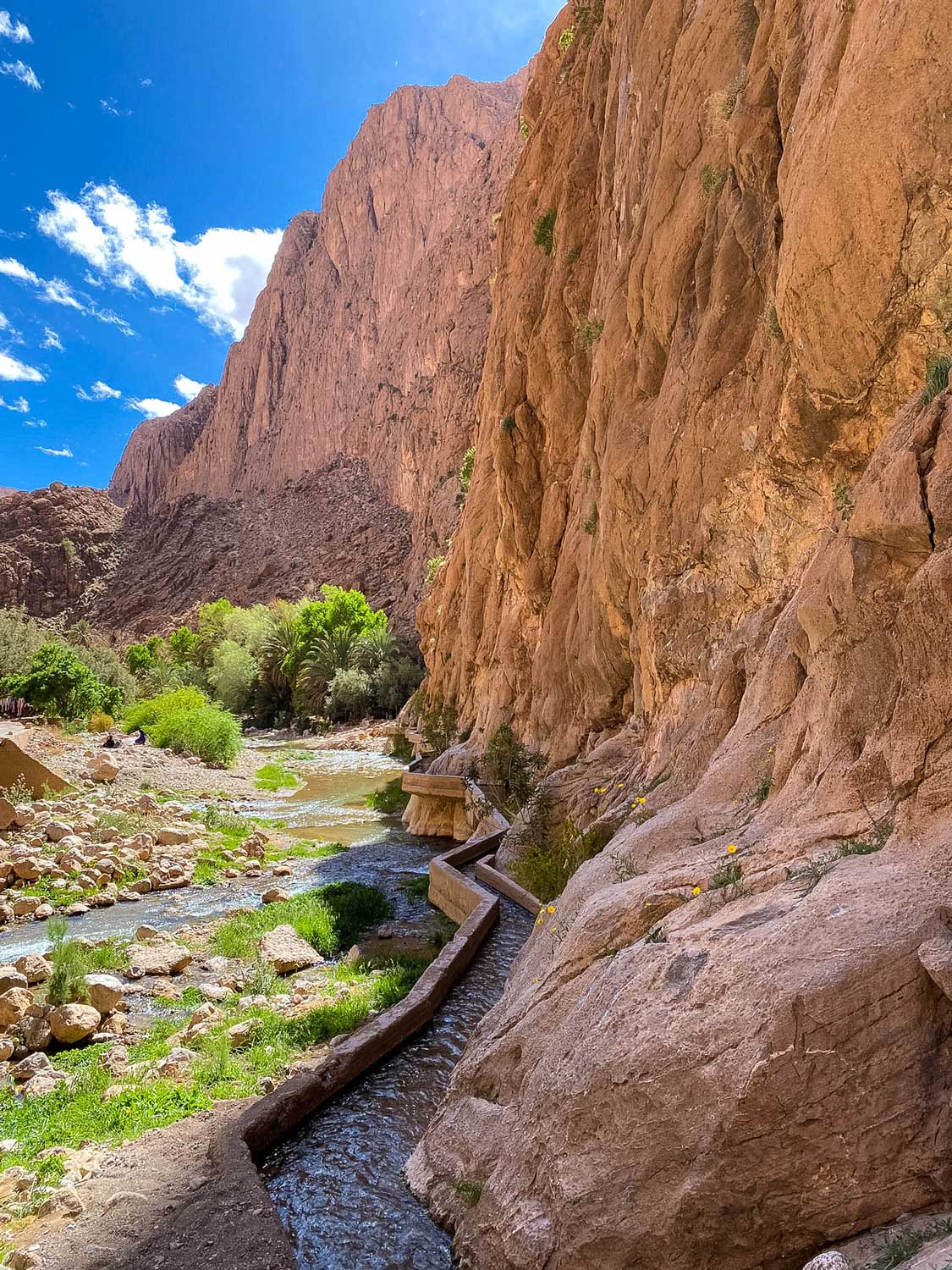 The easiest way to get to Todra Gorge is from the city of Ouarzazate. For many, this could mean flying into Ouarzazate International Airport or passing through from destinations such as Merzouga.
Whether you're making the two-and-a-half-hour drive from Ouarzazate or heading across the mountains from Marrakesh, Rabat, or Casablanca, you'll either need a car or a guided tour to get there.
Most day trip tours include stops along the way, sightseeing, and a taste of hiking or rock climbing. However, if you'd like to have a dedicated hiking or climbing adventure, I'd suggest registering for a rock climbing Todra Gorge experience. You can get a one-day rock-climbing tour or a multi-day climbing tour as well.
The road to Todra Gorge is paved and relatively easy to travel. But if you're hoping to get to some of the best hiking or rock climbing spots, you may need a 4×4.
The Best Time To Visit Todra Gorge
Todra Gorge is popular year-round thanks to its shady location in the Atlas Mountains, where temperatures are generally slightly cooler than in the major cities. Although it can still hit highs of over 104°F (40°C ) during the summer season. It's at its busiest during the spring and fall seasons when temperatures are cool and comfortable.
During the Eid holidays, many businesses in the Todra Gorge shut down, so it's worth planning around that if you happen to be traveling then.
During the winter months, the Todra Gorge can get snowy, especially from December to February when temperatures can dip down below freezing and snow can remain in areas that don't see much sun.
Things To Do In Todra Gorge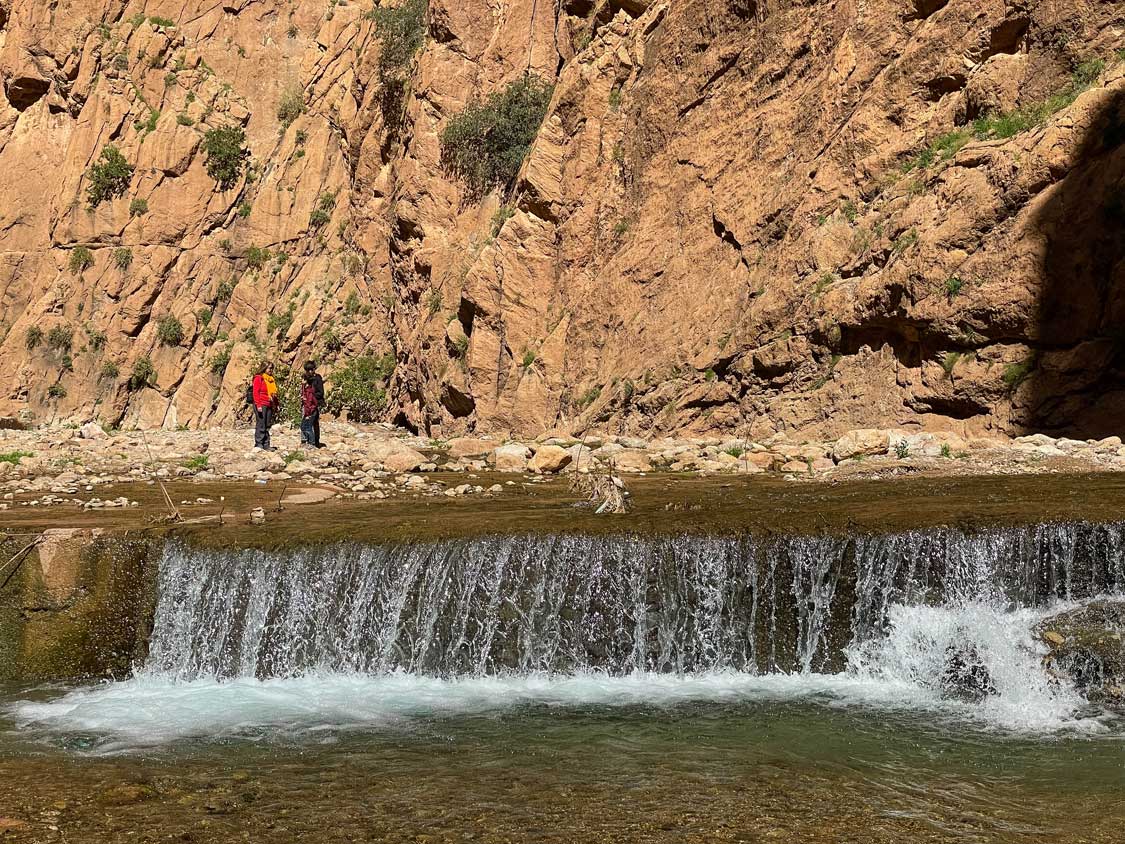 Apart from being stunningly beautiful and just being a pleasure to visit, there are many things to do in Todra Gorge to keep visitors and adventurers busy for a few hours to several days, depending on how much time they have to dedicate to their visit.
Whether you're looking to enjoy some shopping, cultural activities, or just some casual relaxation along the river's edge, here are some of the top Todra Gorge attractions to help you fill your time.
Stroll and Picnic Along the Todra River
One of my favorite things to do in the Todra Gorge is to simply wander along the Todra River, taking in the beautiful scenery. There are many hiking trails and walking paths to explore, and it's quite easy to get around once you've reached the gorge itself.
If you want to do longer hikes, it might be wise to book a specific hiking tour around the region. You'll find some absolutely epic hikes, including some that take you up through the mountains to nearby nomadic villages. This one-day hiking tour is a great option for those who don't have multiple days to spend in the region.
Be aware that much of the casual strolls within the Todra Gorge run along the roadside, and during high season it can get very busy. Always keep your eyes open for vehicles whose drivers might be paying more attention to the scenery than to the road.
Rock Climbing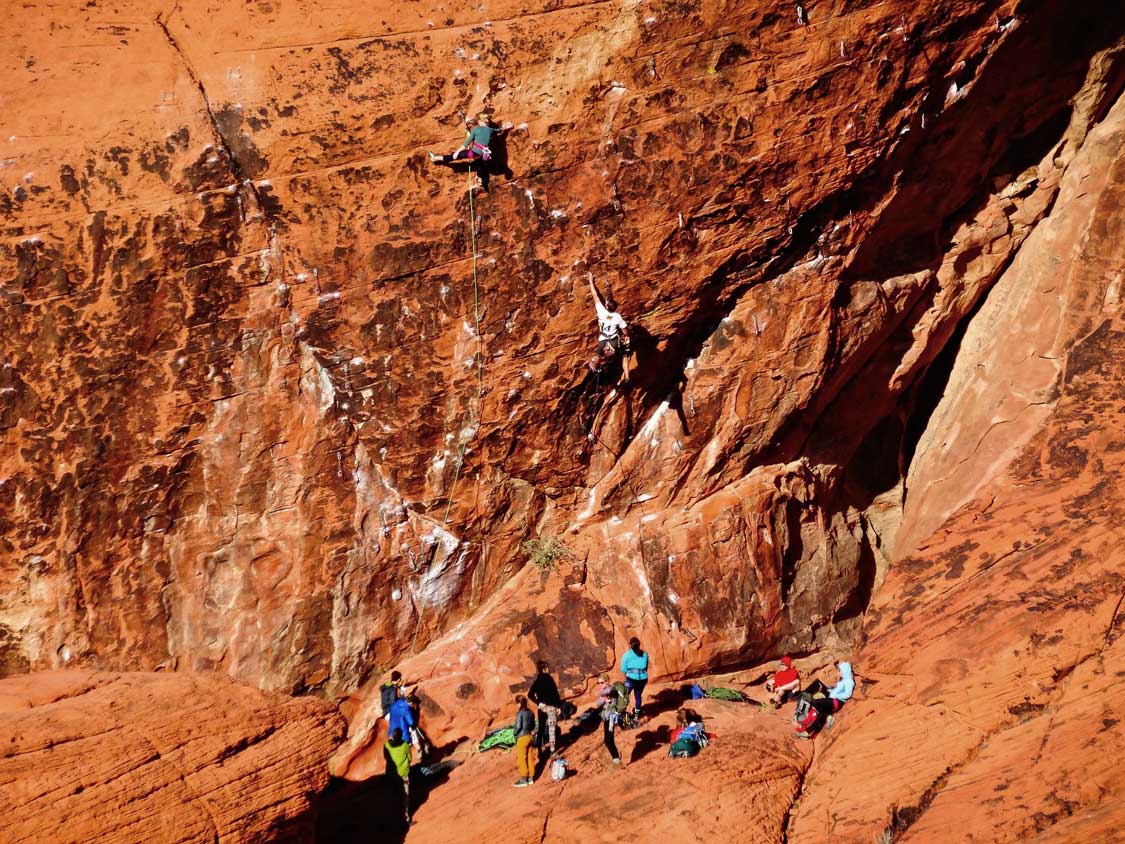 Todra Gorge draws rock climbers from around the world. While there are several places in Morocco for rock climbing, no destination in the country welcomes more adventurers than this small canyon. There are more than 100 official climbing routes that cover all levels of difficulty. And yes, some routes are beginner-friendly as well.
For those who are just visiting the gorge, you won't have to walk off the beaten path to see climbers on the sheer walls of Todra Gorge. Just look up, and you're likely to see adrenaline junkies high up above you. And if you want to try it out for yourself, this 5-day Todra Gorge climbing tour might be for you.
Explore The Palm Groves and Fruit Plantations
The Todra Gorge is lined with palmeraie, the French word for groves or plantations. Many of the plantations within the gorge are date palm plantations. These elegant palm trees offer a splash of green to the rose-red stone of the Todra Valley and, during the spring and fall, are often ripe with fruit. Along with the palm trees, these plantations also house working farms with fruits and vegetables.
Surrounding the plantations are small villages with restaurants, shops, and homes. They make for a wonderful place to walk or cycle and experience the unique lifestyle of those who live within the valley.
Shop for Berber Carpets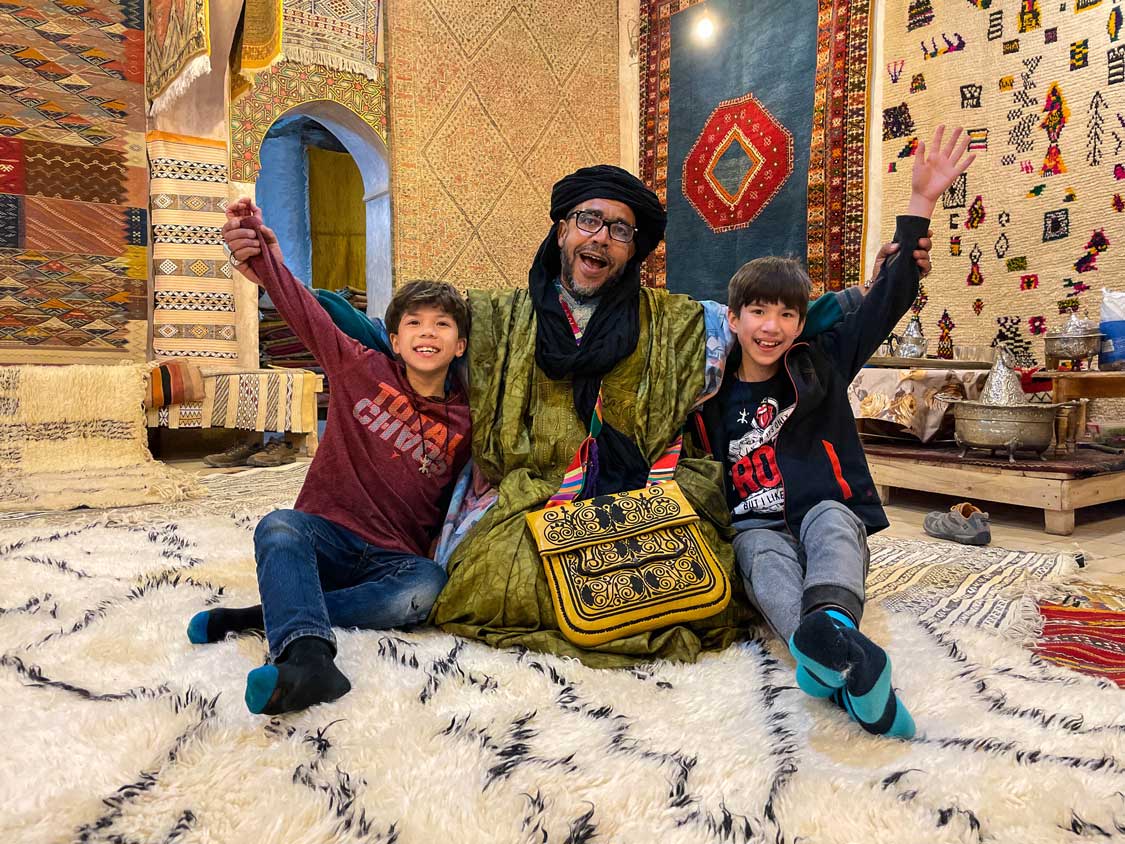 Berber carpets are among the most popular souvenirs in Morocco. While many people purchase their carpets in large cities such as Marrakesh and Fes, most of the carpets are actually made in rural towns such as those in the Todra Gorge.
Berber carpets can be found throughout the area. We visited one in the town of Tingir near the source of the Todra River and had an excellent, no-pressure buying experience. If we had known the dimensions of our rooms beforehand, we probably would have left with a rug or two.
The co-ops house carpets of many different Moroccan styles, and they should be able to tell you the difference between each style. The experience usually includes a warehouse tour and plenty of mint tea.
Enjoy Your Time in the Todra Gorge, Morocco!
The Todra Gorge in Morocco is a marvelous place to visit. Yes, it is remote, raw, and beautiful. but that is all part of the adventure. I hope these tips will help you enjoy the most of your family travel to the Todra Gorge and that you'll find the region as fascinating as we did.
Please join our Family Travel Support Group on Facebook if you'd love to connect with more family travelers. It's a group of families, just like yours, who love to explore the world.
You May Also Like To Read: