These exciting things to do in Fes, Morocco will help you plan an incredible an unforgettable experience in Morocco's most fascinating medina.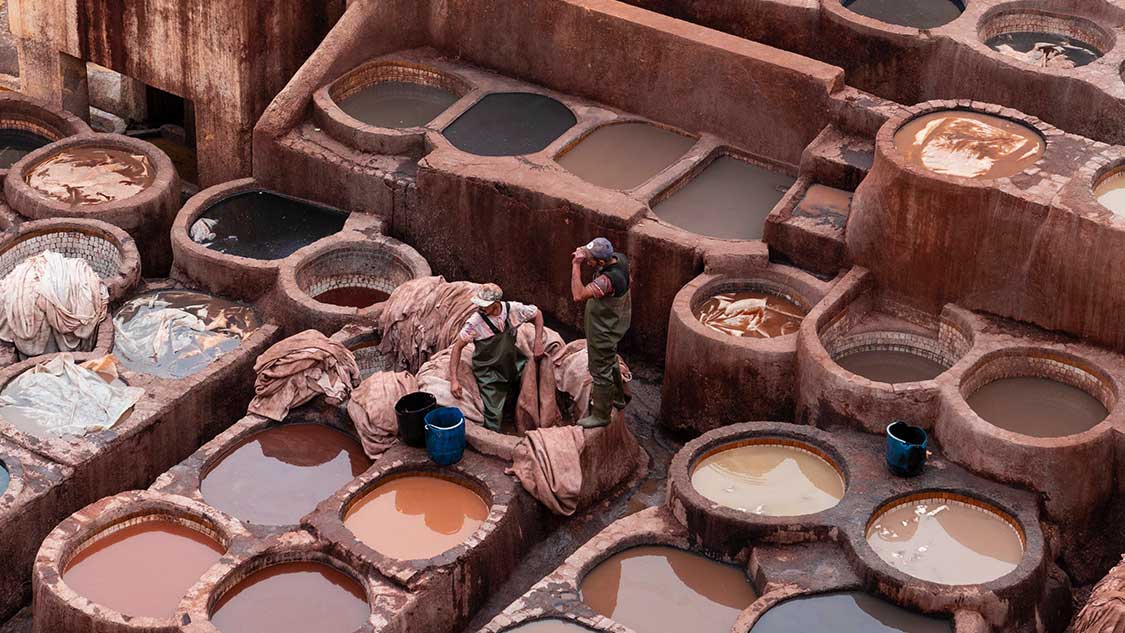 The city of Fes, Morocco, is one of the most fascinating places in the world. Fes, also known in many places as the city of Fez (but locals will tell you that's the name of a hat, not a city), is one of the most magnificent places to visit in Morocco, not just for its ridiculously large and complicated medina, but for all of the mind-blowing things to do in the city.
Fes is the second most populated city in Morocco after Casablanca and is one of the four Imperial cities in the country, including Marrakech, Rabat, and Meknes, where the Moroccan royal family has homes. The city is so spectacular that the entire walled city was declared a UNESCO World Heritage Site back in 1981.
Wandering the mess of alleys and roads in the old city is a sensory journey through everything that makes Morroco incredible. There are the smells wafting from tiny shops selling unique and delicious foods, the rough brush of mules carting goods to and fro, and the brilliant colors filling vats in the oldest leathery tannery in the world, just to name a few.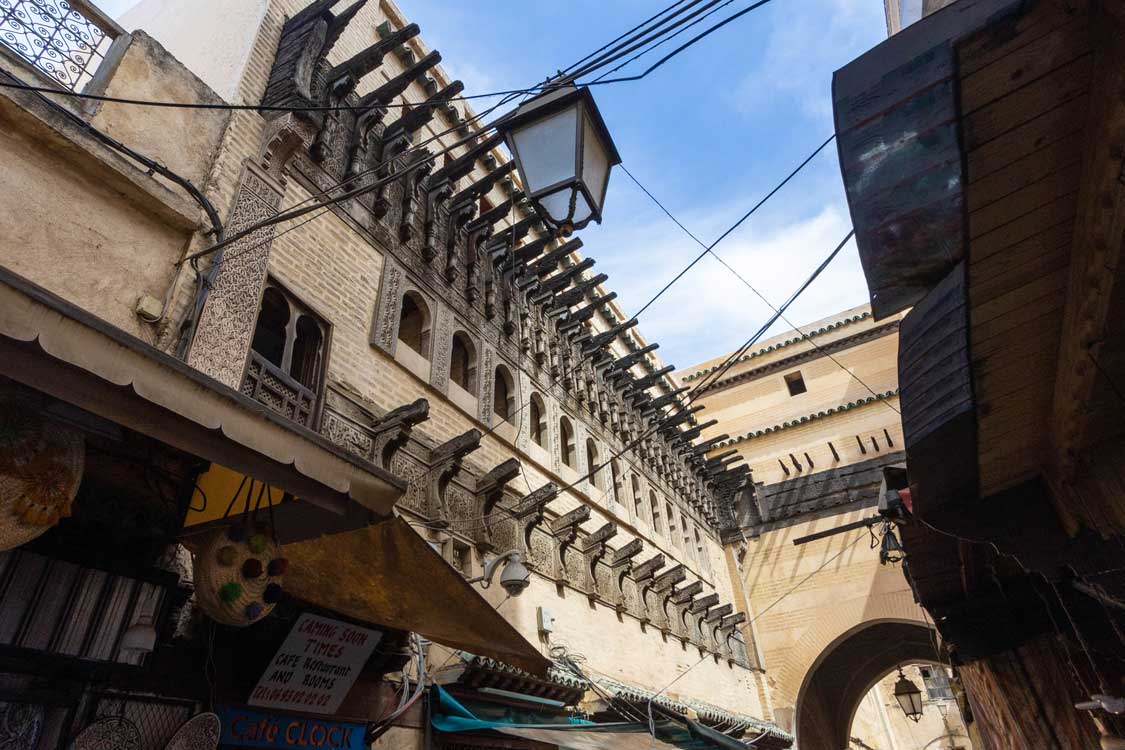 Fes is the destination that visitors target when they want to go beyond the classic Morocco experience that they've read about in books or seen in movies. Fes is more raw than what you'll find in Casablanca or Marrakech. And it's an utterly fascinating place to explore. If you're visiting Morocco with kids, you'll find that there's a mild chaos to Fes, but that chaos is a more welcoming one, and it's a place that invites you to explore and discover the best things to do in Fes, Morrocco.
In this guide to visiting Fes, we'll talk about what you need to know before you visit the city, how to prepare, things to look out for, and things to do in Fes to make the most of your visit.
Top Things To Do In Fes, Morocco
There's no limit to the incredible attractions in Fes. This complicated city has the potential to show you some of the most intimate glimpses into urban life in Morocco.
I can't go through all of the things to do in Fes. There are simply too many to count. But I can show you the things that no visitor to the city should miss.
Catch A Glimpse Of Fes From Borj Sud Kasbah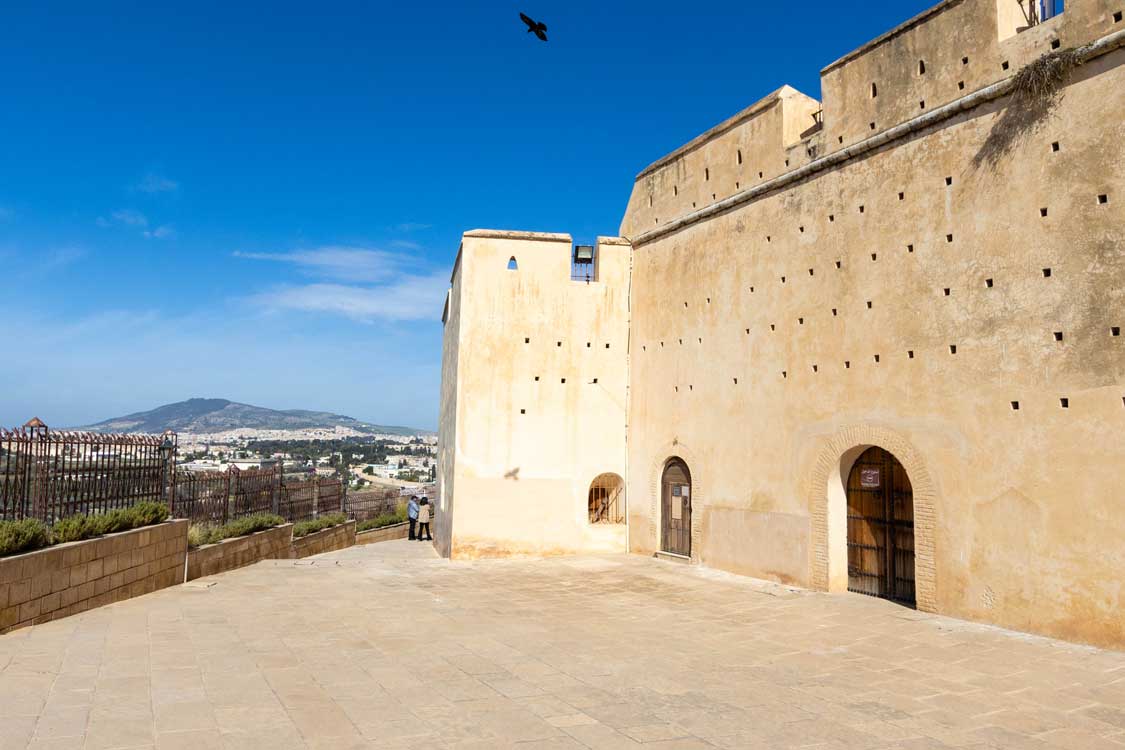 The city of Fes sits northwest of the Atlas Mountains in a valley tucked amongst tall hillsides. Its unique location means that some of the nearby hills offer spectacular views over the city. One of my favorite things to do in Fes is to make the drive to Borj Sud, a fort built in 1582 that looks out over the city.
With their Portuguese-style architecture, both Borj Nord and Borj Sud were built as much to keep the residents of Fes in line as they were to defend it from outside attackers. In modern times, these two forts, especially Borj Sud, offer some of the best views of Fes.
The former fort houses a military museum with a collection of incredibly rare pieces of armory from around the world. One of these is a 15-foot-long cannon that was used during the Battle of the Three Kings.
Explore A Moroccan Ceramics Co-Op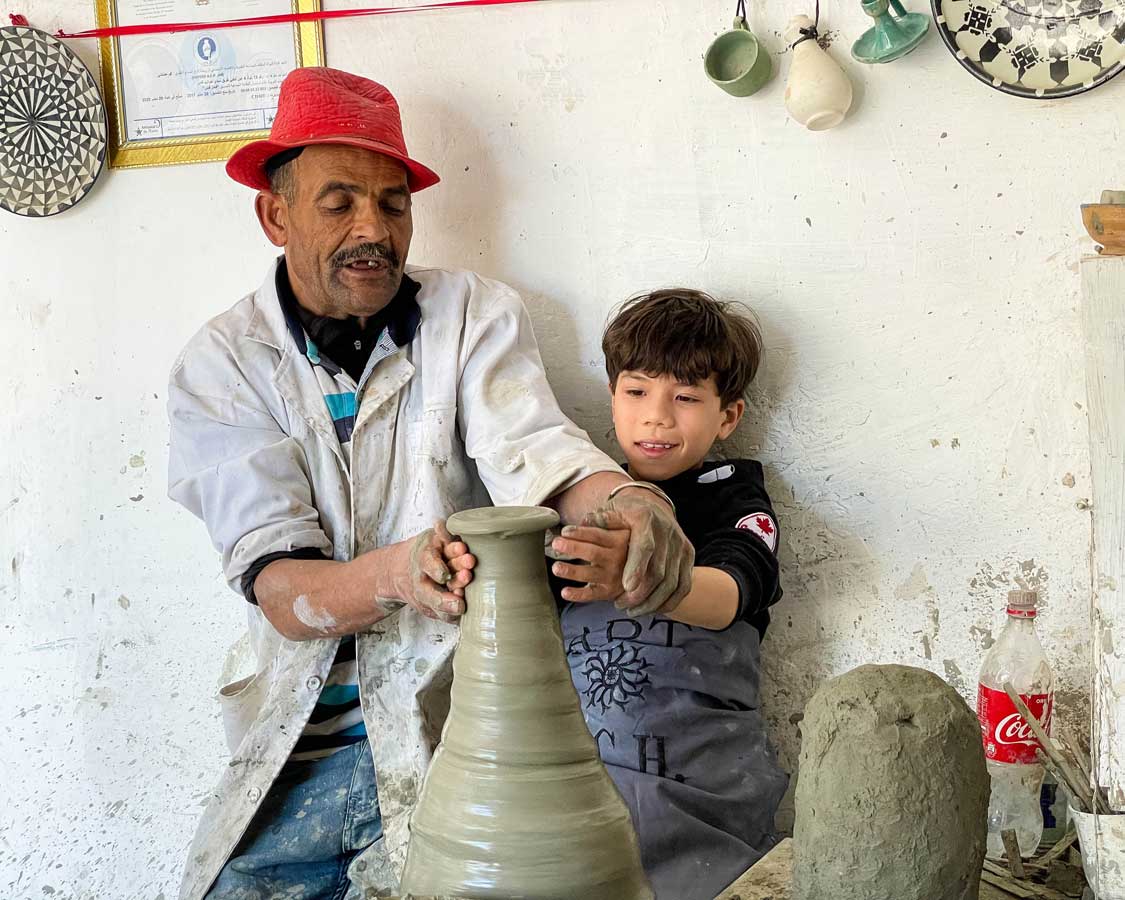 One of the most famous exports from Morocco is its brilliant ceramics, particularly its distinctive mosaics. Of my family's favorite things to do in Morocco was visiting a Ceramics co-op. These government-funded programs give locals access to tools, materials, and training necessary to create these stunning works of art.
Our visit to the Tamegroute Pottery Co-operative allowed us to see how locals take clay mined from the nearby hills and transform it into gorgeously detailed tables, tagines, and even countless other products. Our boys even had a chance to get hands-on, creating their own tagine.
After exploring the co-op and seeing how the clay is formed, crafted, and painted, we were presented with a room filled with beautiful works of art. We ended up leaving with a small table and a beautiful cooking tagine, although I'll fully admit that we were entirely out-haggled by the shop manager.
Enjoy A Food Tour In Fes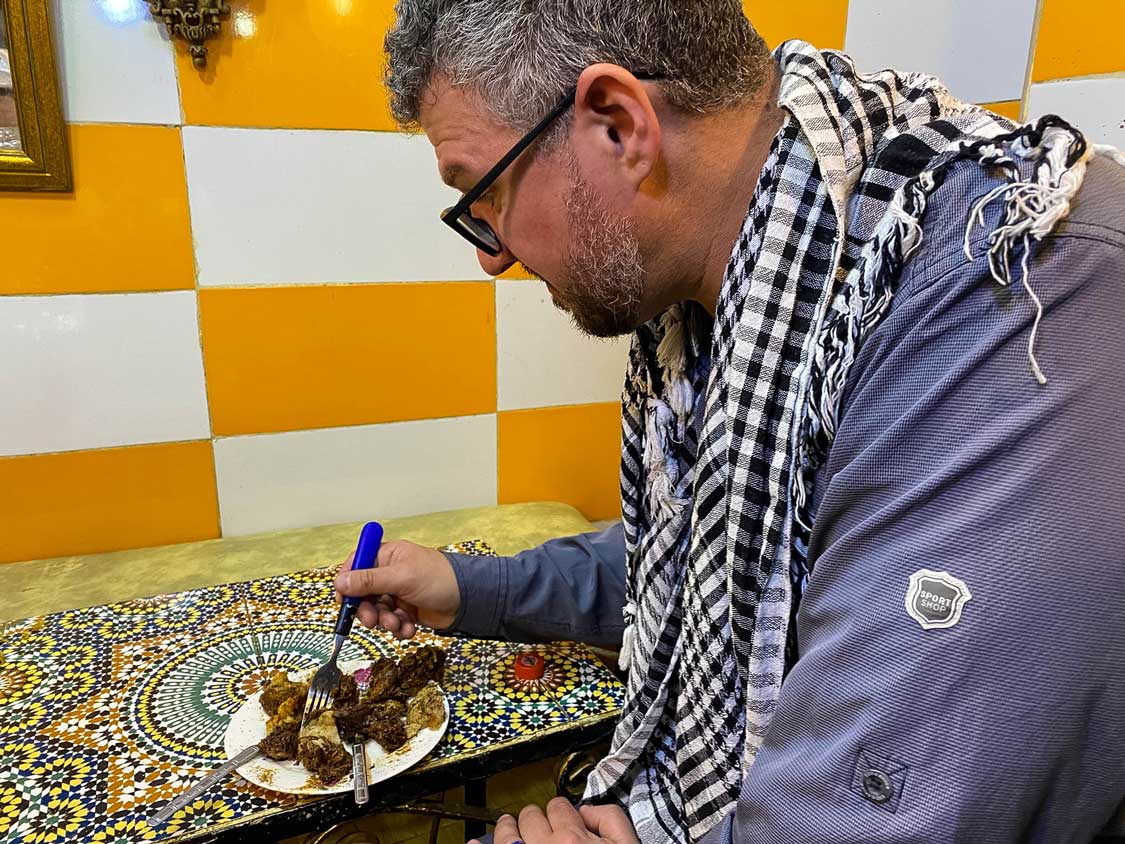 During our first tour of Fes, our original guide couldn't make it. Luckily for us, the company we were working with, Sun Trails Morocco, was able to supply another on short notice. And to our luck, that was Rostom Badrame, who runs Fes food tours through Badrane Tours.
Rostom brought us through the complicated Fes medina introducing us to the fascinating food at countless small operating stalls within. Among the top food to eat in Morocco that we tasted was B'ssara, a potato-based soup that is a staple among the working class in the city. We also dined on Makouda, a pan-fried mixture of potato, flour, and herbs.
Among the more interesting food that we ate in Fes was Babbouche, a snail soup, camel hump, cow tongue, sheep, brains, and beef testicles. I'll admit, I was a little surprised at the last one. In no uncertain terms, the boys and Christina were told that this was only a food for adult men in Morocco, so I had to go it alone.
I'll be honest, it wasn't half bad.
Step Through The Marinid Tombs
Another incredible place to visit in Fes for stunning views is the Marinid Tombs. This former necropolis from the Marinid Dynasty is around 700 years old, and it has fallen into ruins over the centuries. But there are still two mausoleums with dramatic horseshoe arches and indications of their former glory.
There are no more records of who the occupants of the mausoleum are, but the views from here at sunset are some of the best in the city. You can clearly see the minaret of the Mosque of al-Qarawiyyin, the Mellah, and hear the call to prayer that echoes through the valley many times throughout the day.
Step Into A Khobz Bakery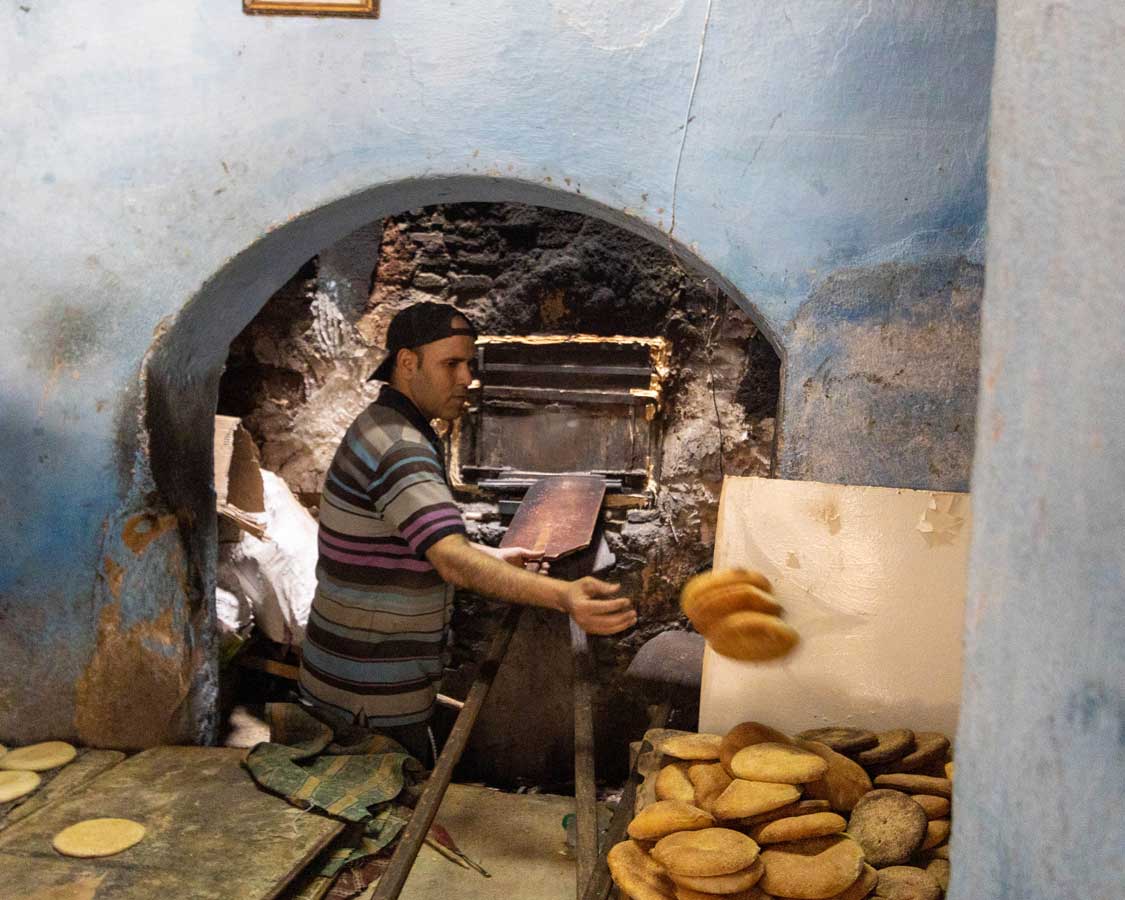 If you're enjoying any kind of Morocco itinerary, you're going to come across Khobz, a large, round flattened loaf that is the official bread of Morocco. This bread is made in every household and enjoyed with almost every meal.
One fascinating thing about urban life in Morocco is that many families will make the dough themselves but bring them to a bakery for the khobz to be cooked in a wood-burning oven. As we strolled through the Fes medina, we came across several of these khobz bakeries, and popping our heads inside gave us an incredible look into how they work.
Dozens of families bring their uncooked dough to the bakeries, which are cooked a few at a time in a massive oven. Each family's bread is poked with a fork in a unique pattern. This pattern lets each family know which of the khobz belongs to them.
Visit The World's Oldest Leather Tannery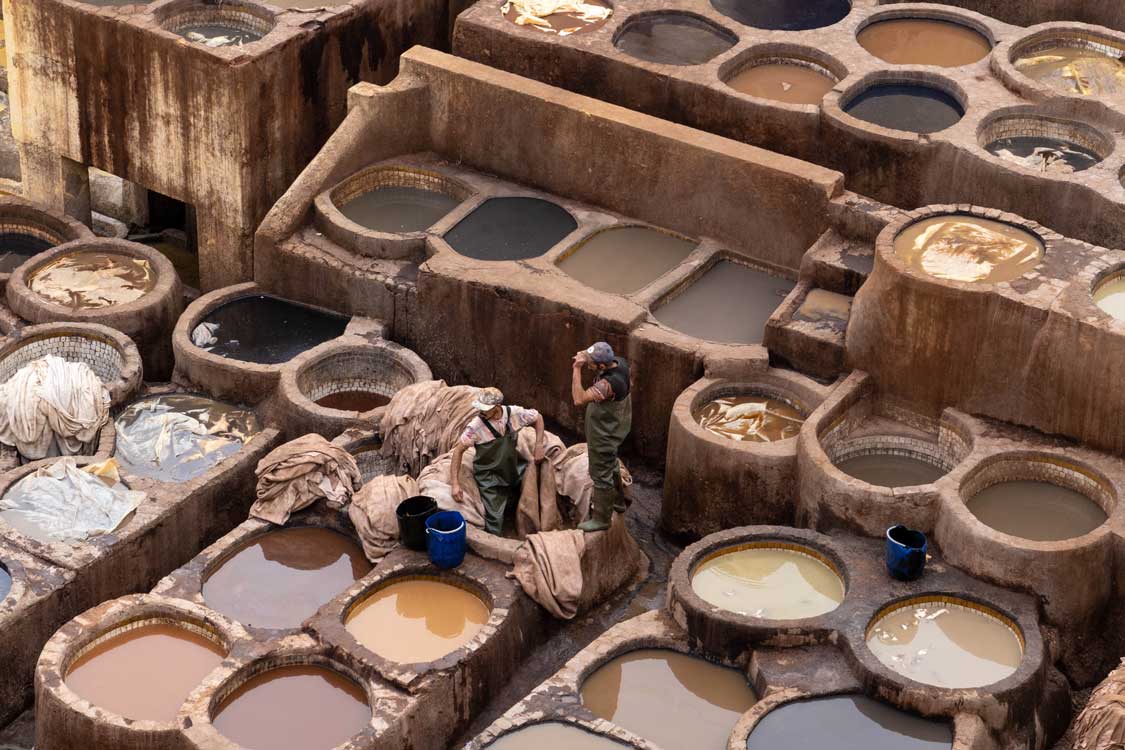 Hidden deep in the heart of the medina in old Fes sits the Chouara Tannery. If you have a hard time finding it, just ask. Your nose will let you know that you're getting close long before you arrive. The smell of the tannery is … pungent.
Chouara Tannery is, perhaps, the most iconic of all the attractions in Fes. The tannery began operations in the 11th century, and leather is still conditioned and tanned using many of the same methods as when it began. It's a big part of the reason why Fes is considered to have some of the best leather in the world.
This is the most iconic place in Fez, and the oldest tannery in the world, where they still operate as they did in medieval times. Here, men make leather in a massive tannery surrounded by houses and shops. The smell of the dyeing process can get rather intense, so take a scarf to cover your nose (or they will give you mint leaves to rub under it). This is a great place to buy your leather souvenirs.
Visit The Dar Al-Makhzen Royal Palace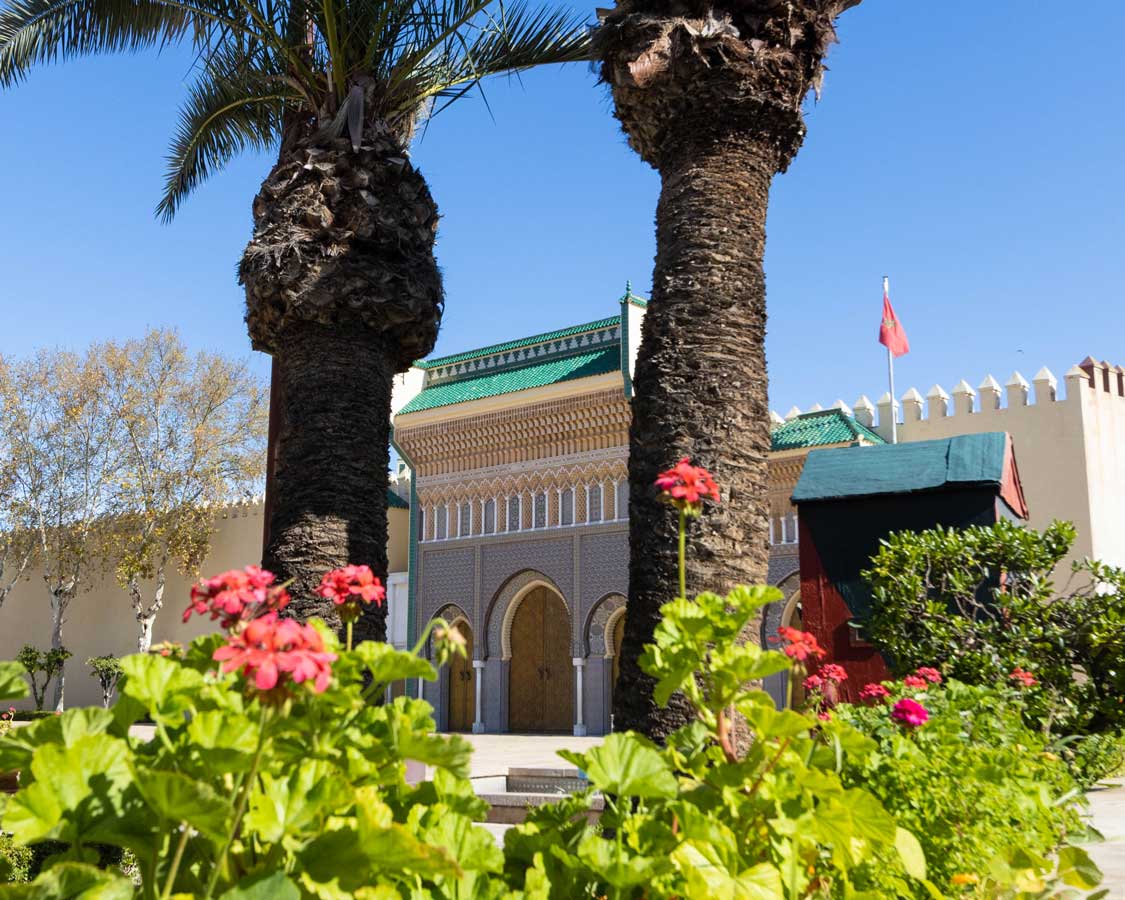 Fes is one of the four Imperial cities in Morocco. One of the most remarkable properties is Dar Al-Makhzen, the local royal palace. The stunning building was built in the late 19th century for Sultan Hassan I and his son Abdelaziz.
The royal palace has a massive Andalusian-style garden where cultural and religious events are held annually. It also has a museum that contains a range of artifacts from many of the city's ancient buildings, along with coins, mosaics, embroidery, and artwork.
The beautiful gardens are not open to the public outside of these special occasions, so the best view most visitors to Fes will get is of the ornately decorated entrance near the Mellah (Jewish quarter).
Get Lost In The Fes Medina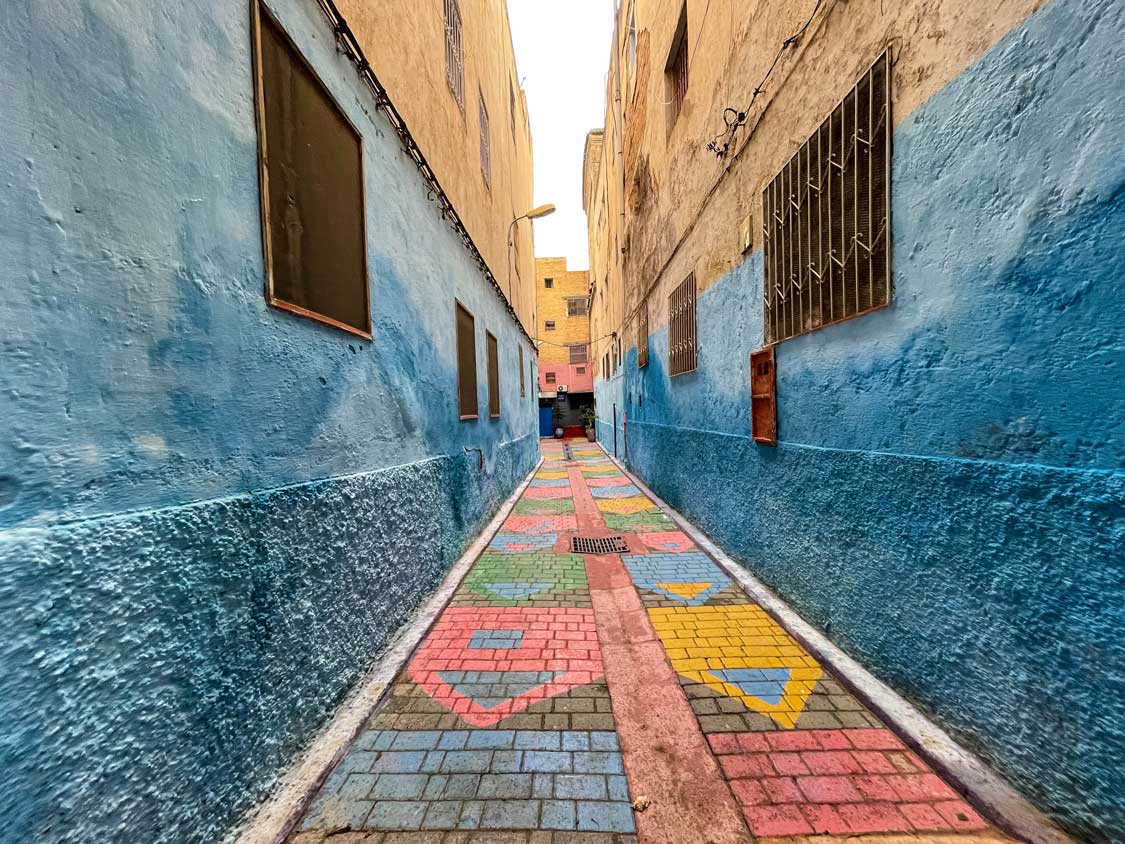 Sure, many of the best places to visit in Fes are in the medina, but the medina is an experience in and of itself. The labyrinthine structure contains countless shops, riads, and homes contained in over 9,000 alleys with countless dead ends.
The medina not only contains Fez attractions such as tanneries, shops, food stalls, Moroccan carpet co-ops, and coppersmiths but simply wandering around the mazelike structure gives you a much deeper experience than wandering from place to place, knowing exactly where you want to go.
I liken the medina in Fes to the city of Venice, Italy, it's a place where you kind of want to get lost. You won't have to worry about cars, as the old city of Fes is car-free. However, you will need to be on the lookout for scooters that tend to travel at dangerous speeds everywhere.
Wander Through The Bou Jeloud Gardens
The public might not have access to the vast gardens of the Dar Al-Makhzen palace, but the Bou Jeloud Gardens (also known as the Jnan Sbil Gardens) is a close second.
Here you can escape the busy streets and alleys and enjoy a stroll through beautifully landscaped gardens just outside of the main entrance to the medina. The gardens cover a vast 18.5 acres is a popular spot in Fes for locals, especially around sunset.
The gardens follow the Oued Fes river and contain over 3,000 unique species of plants separated into several different types of gardens. Along the garden paths are many beautiful fountains and pools. Like many things to do in Fes, the gardens are closed on Mondays, but they're open the rest of the week.
Listen To The Music of the Coppersmiths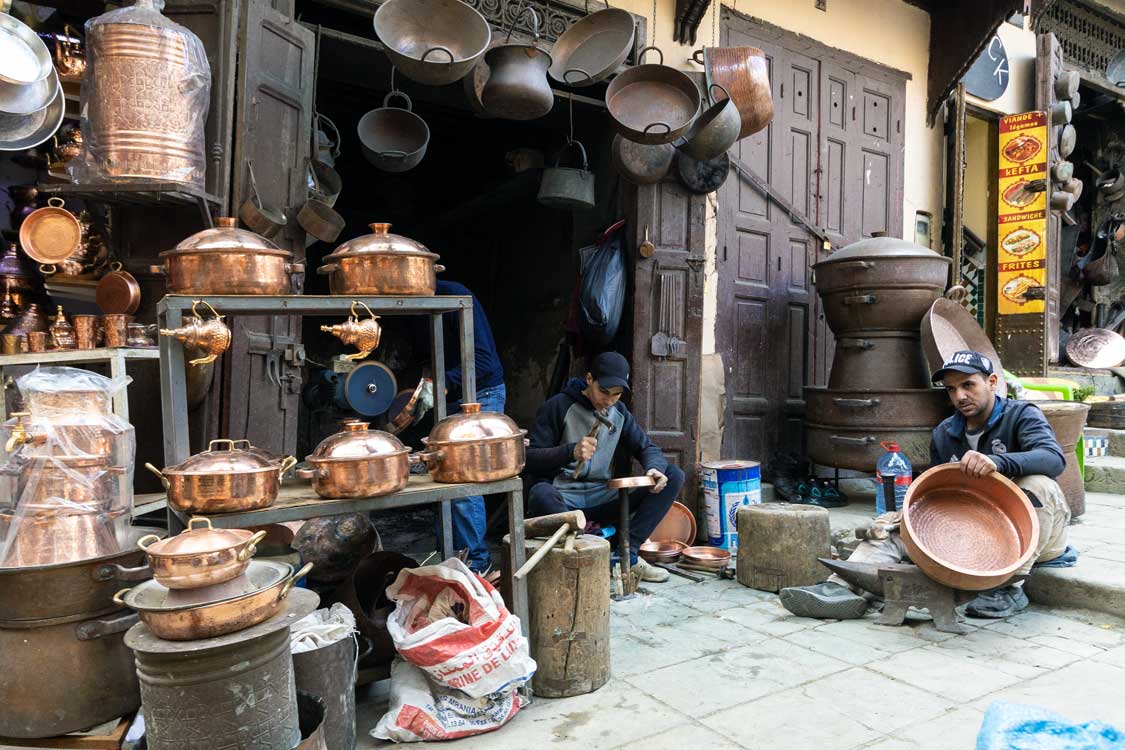 Keep your ears peeled while strolling through the Fes medina, and you won't miss it. The musical clang of hammers pounding out copper art is unmistakable. Like most of the medina, there are entire sections dedicated to specific crafts, and the coppersmiths are located in Place Seffarine.
This small square is near the south side of the Qarawiyyin Mosque near the Bou Khrareb River. The square is named for the coppersmiths who have worked their craft here for centuries. Stroll the shops and listen to the clang of the shopkeepers pounding intricate designs into their crafts.
Step Into The Halls of the Nejjarine Museum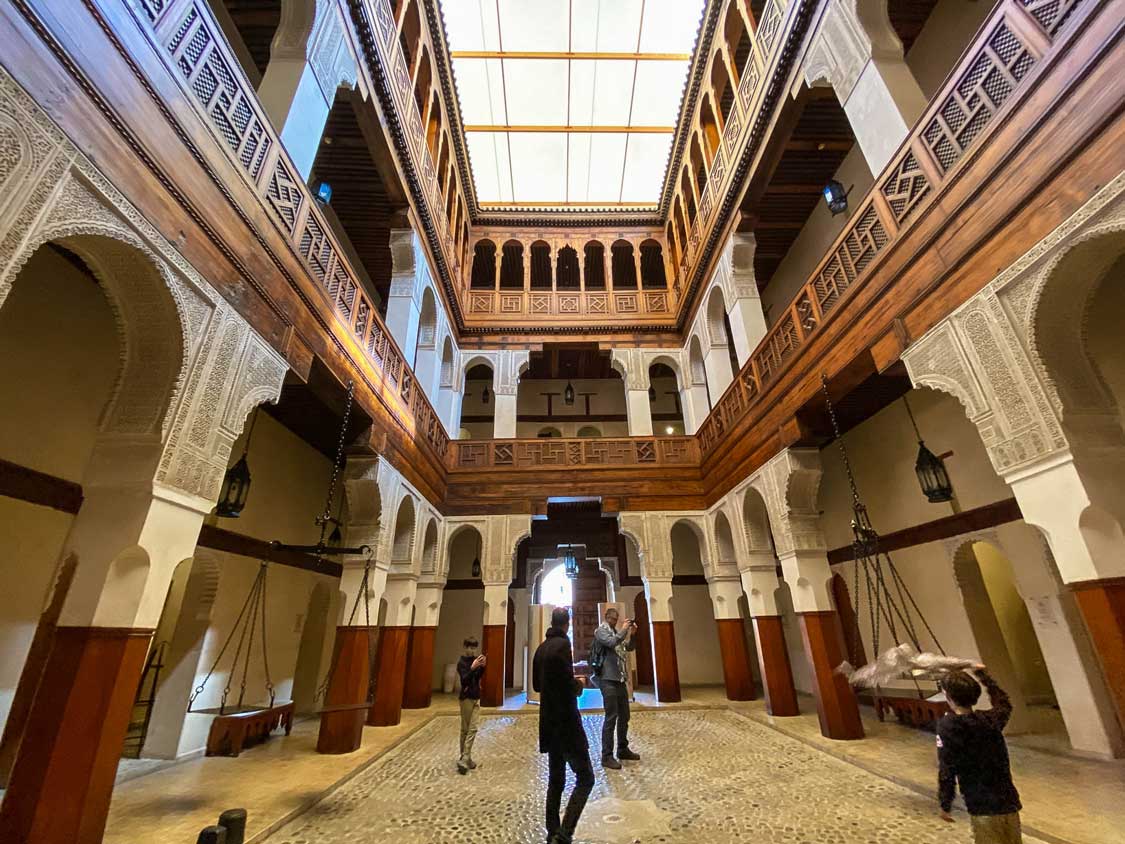 Situated in a gorgeously restored 18th-century funduq, the Nejjarine Museum makes for one of the most beautiful dives into restored Moroccan architecture and woodworking.
A funduq is an inn used by traveling merchants where horses were housed on the first floor while the traders would sleep on the floors above. The inn is lavishly decorated in Andalusian style with wooden boards that were used by students to help recite the Quran.
The Nejjarine Museum has some absolutely amazing traditional wooden artifacts on display, and if you get tired of strolling the artwork, you can head to the rooftop cafe to enjoy the beautiful views.
Shop The Fes Souks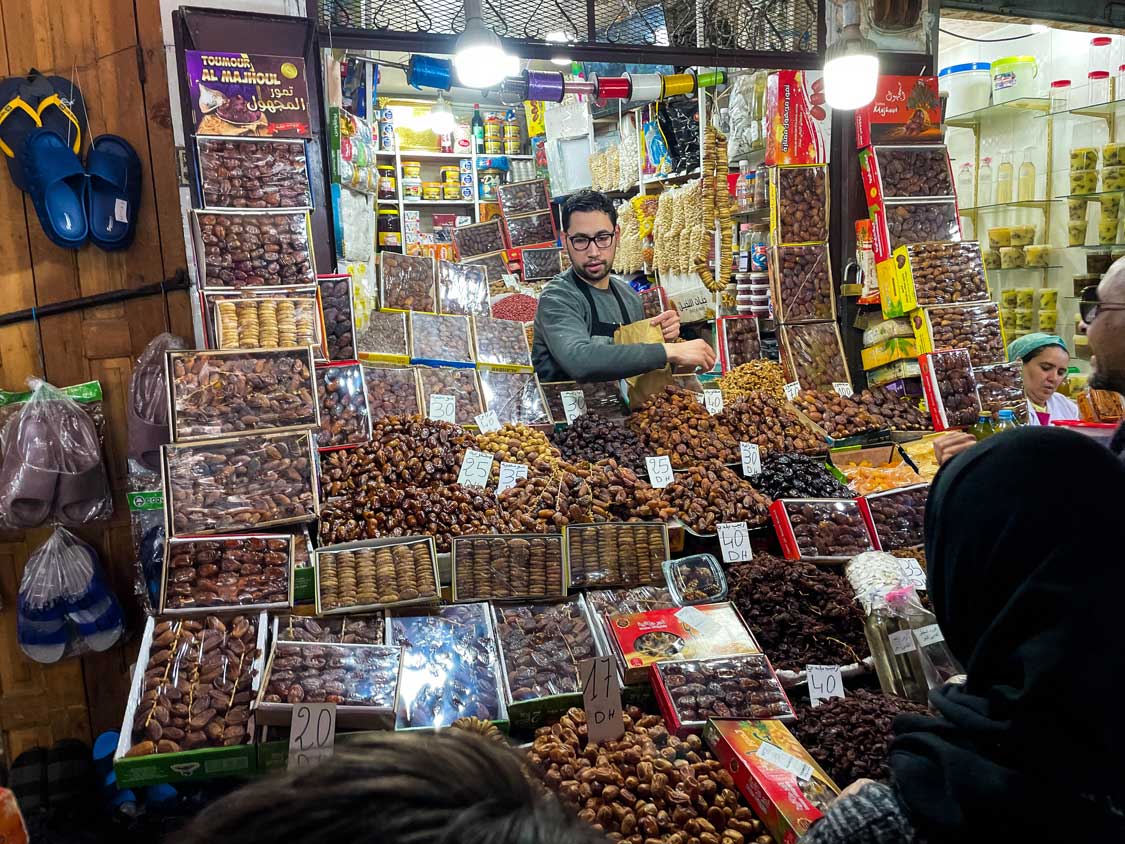 Shopping has never been one of those things that I seek out when I travel, but visiting Morocco made it hard to not want to pull out my wallet at every corner.
Strolling through the Fes medina, there are countless incredible shops. Some of these offer an experience that is worth undertaking even if you don't plan to buy something (although you'll probably end up leaving with something anyway).
Many of the shops in the Fes souks start off with some friendly banter, but beware, once you accept that drink of Moroccan mint tea, you're accepting a challenge from some of the best hagglers on earth.
You'll find Moroccan carpet shops, coppersmiths, tinsmiths, amazing works of leather, jewellery, artwork, and so much more.
Be prepared before you shop in Fes, though. Know what you want before you go there and do some research ahead of time. Look for things like stitching quality, the thickness of the material, and whether the product was actually made in Morocco.
Haggling is part of the culture in Morocco. And like similar places such as Jordan and Egypt, it's all part of the game. It's ok to have fun with it. And most of all, be willing to walk away if you don't feel that you're getting a good deal.
Most Moroccan guides aren't allowed to tell you what to pay for something, but the general strategy is to counter their original price with one that is 1/3 the initial ask and then meet somewhere in the middle. If you get something for between half to three-quarters of the original asking price, you probably did pretty well.
Wander Through Mellah, the Jewish Quarter
Morocco has always had a strong partnership between the ruling Arabic people and the minority Jewish population in the country. Every major city in Morocco has a Jewish quarter, and they are often in very prominent places.
Mellah, the Jewish quarter of Fes is located right next to the Royal Palace. It was set aside as a refuge for the Jewish community in the city in the 14th century and once held as many as 250,000 people. When the state of Israel was created in 1948, many of the locals left the country and now, only a small number remain. Most of those are in Ville Nouvelle, the new city of Fes.
The quarter is unique in that there are balconies on the outside of the buildings. Where Muslim women weren't permitted to be seen relaxing outside of their homes, that wasn't an issue for the Jewish women. Most Muslim homes have balconies facing inward to courtyards in the houses.
Tips For Visiting Marrakech with Kids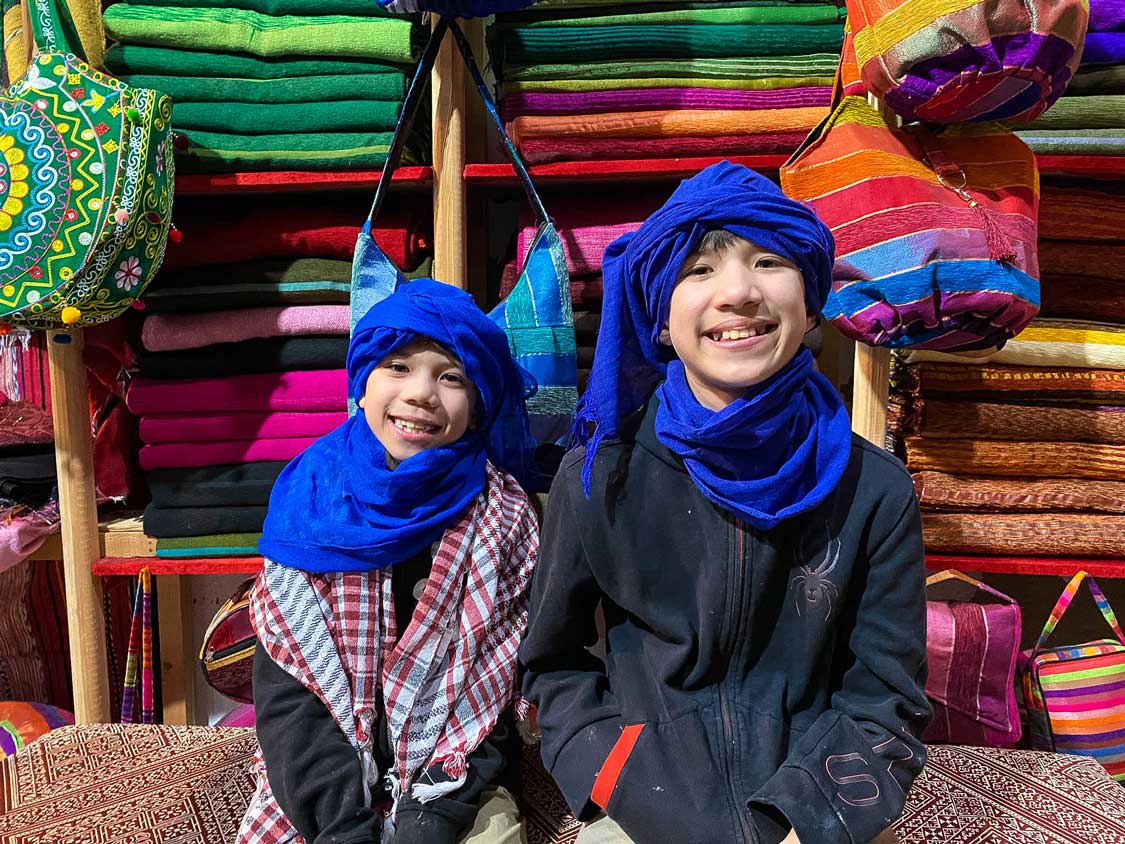 Is Travel in Fes Safe?
Morocco, in general, is considered a reasonably safe country to travel in. It's a country that has experienced a relatively stable political situation in recent years. The country has a relatively low crime rate, and the locals are typically kind, helpful, and friendly to outsiders. International SOS lists Morocco as a low-risk country. It's rated around the same level as most of Europe.
With this in mind, it's also worth noting that Fes is a big city. And with any big city, there exists the risk of scams, pickpockets, petty theft, and other crime. It's a good rule in any large city, whether it be Marrakech, Toronto, Canada, or Lisbon, Portugal, that you stay on alert and keep your children and belongings close.
With its narrow alleys, large crowds, and busy markets, the city is a particularly attractive place for pickpockets. Scams are also fairly prevalent, especially within the busy medina.
Is Fes A Good Destination For Families?
Morocco is increasingly becoming the "go-to" destination for adventurous family travel. The accessibility to Europe, safe reputation, fascinating cultures, and wealth of unique attractions draw families from across the planet.
We can't have imagined not including Fes in our plans during our ten-day Morocco itinerary. The city is accessible and offers a wildly exciting atmosphere that contrasts sharply to the more popular cities such as Casablanca and Marrakech.
Exploring the many things to do in Fes with kids is also pretty easy. Many of the best family-friendly attractions in Fes are within the walled city. It's worth noting that the medina in Fes is far more mazelike than the one in Marrakech. If you're unfamiliar with it, I recommend getting a guide to show you around.
Even those visiting Fes with a baby will find the city accessible but frantic. Like in many countries that we've visited, such as Jordan, bringing young kids or babies to Fes opens up an excellent opportunity to connect with locals. You'll find that many locals absolutely adore children.
Just remember that it isn't a stroller-friendly city. I recommend either bringing a child carrier to get around or choosing the most compact travel stroller you can find.
What To Pack For Marrakech
It's essential to pack for Fes to travel appropriately, especially for those visiting as a family. To help you understand what to pack for Marrakech with kids, check out our complete Morocco packing list right here.
Enjoy All Of These Things To Do In Fes
Fes is a marvelous place to visit. Yes, it can be overwhelming, loud, and busy. But that is part of the adventure. I hope these tips will help you enjoy the most of your family travel to Fes and that you'll find the city as fascinating as we did.
Please join our Family Travel Support Group on Facebook if you'd love to connect with more family travelers. It's a group of families, just like yours, who love to explore the world.
You May Also Like To Read: