This magical 10-day Morocco itinerary will fill your days with epic adventures, mouthwatering food, and magical experiences.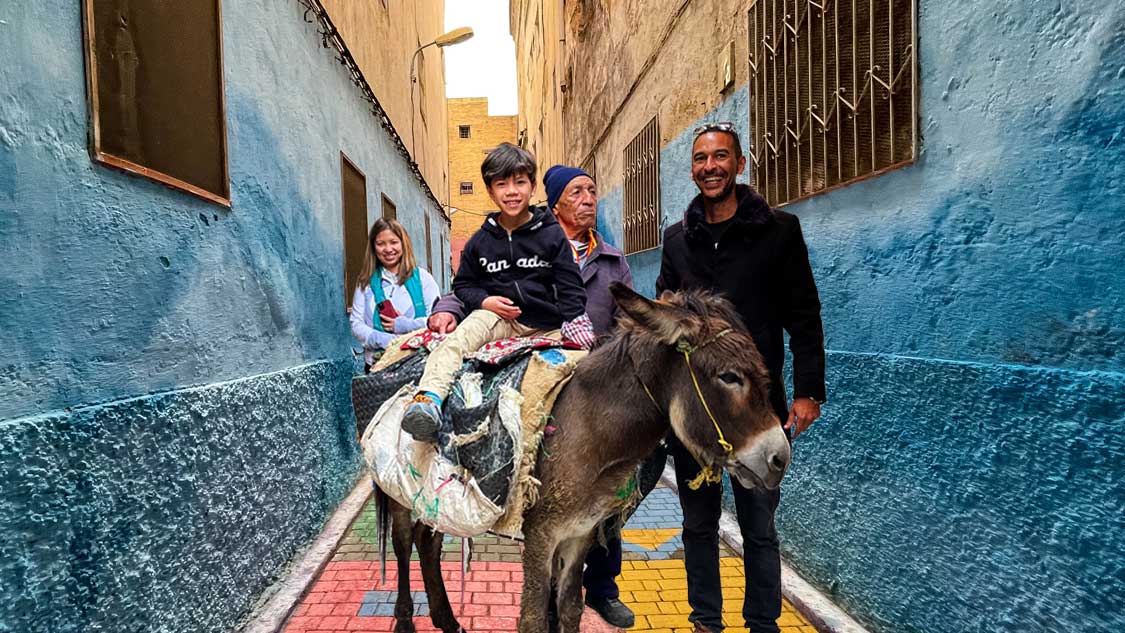 With the perfect mix of mesmerizing cities, exotic flavors, warm-hearted locals, and oodles of adventure, Morocco is a dream destination for travel lovers from around the world.
Whether you're a first-time visitor to the country or a traveler whose heart has already been captured by this unique country, 10-days in Morocco hardly seems like enough time to experience everything that this north African nation has to offer. But it is enough time to have the trip of a lifetime.
Many travelers visit Morocco in a week. While it's possible to get a taste of the country in just seven days, adding just a couple of more days to your trip can make a huge difference in terms of the breadth of your experiences. These extra three days will also allow you the time to properly appreciate all of the amazing places to visit in Morocco in that much more detail.
If you're planning on taking your time locally and visiting some of the coolest cities in the country such as Fes, Rabat, and Merzouga, a few days in Morocco to a week might be enough. But, if you're like us and love road-tripping through the countries that you visit, 10 days in Morocco will give you the time you need to delve into many more adventures.
Traveling from major city to major city lets you also experience the small towns and countryside that lie between them. Whether you're traveling Morocco by transit, road trip, or flying, you'll get the chance to see more of the country, experience the unique cultures that call each area home, and even uncover some of Morocco's thrilling hidden gems.
While I was traveling in Morocco with kids, we spent ten days traveling throughout the country. Along the way, we ate our way through beautiful medina's, slept in gorgeous riad's, hiked in the High Atlas mountains, rode camels through the desert, explored abandoned kasbahs, and even found 150-million-year old fossils in the desert sand.
This is how we spent our time.
Out 10-Day Morocco Itinerary: An Inland Tour Of Morocco
Our ten-day itinerary in Morocco began in Barcelona, Spain. We had spent six days there, having flown from Paris, which had been a surprise trip for C, our eldest son's, birthday. His big wish had been to capture the Pokemon gym at the Eiffel tower (the crazy things we do for our kids, am I right?!?)
Day 1: Casablanca to Rabat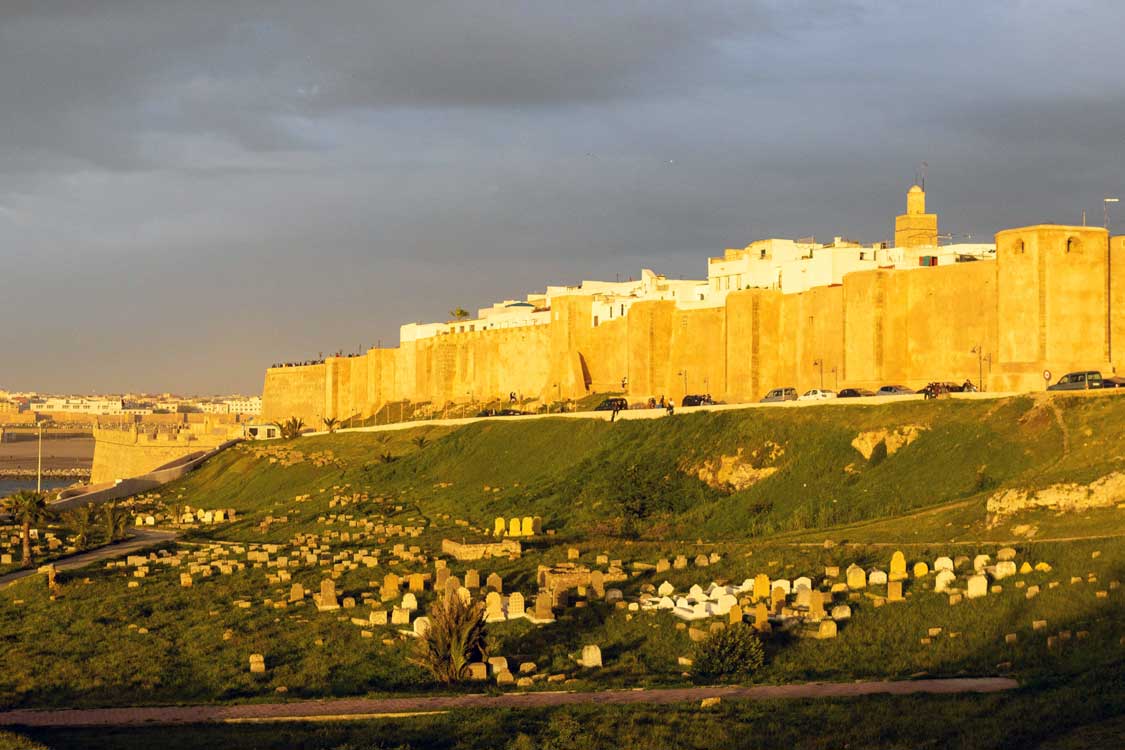 We flew from Barcelona to Casablanca where we met our guide for the trip, Daoud, who is part of the Sun Trails Morocco team. Daoud has a long history of guiding families through Morocco, and at first glance, we knew that we were in good hands. He greeted us with a bright smile and helped us out to our Toyota Land Cruiser for the drive to Morocco's political capital, Rabat, where we would be spending the night.
We arrived in Rabat right as the sun was setting and had a chance to walk from our Rabat accommodations, Riad Kalaa 2 to the nearby Rabat Kasbah to catch the sunset over the Mediterranean Sea.
The sunsets from the Rabat kasbah are phenomenal and offer views over the sprawling cemeteries and the Rabat lighthouse. It's a popular place for locals to come and enjoy the views. The light was perfect and there were smiles everywhere that we looked. It made for the perfect way to kick off our Morocco itinerary.
We made our way back to Riad Kalaa 2 through the narrow, winding alleyways of the Rabat medina in time for dinner at the riad. It was our first taste of authentic Moroccan food, and it certainly didn't disappoint. We enjoyed a delightful citrus salad, chicken and rice, and a trio of Moroccan bread before heading to bed to prepare for the first day of our adventure-packed Morocco schedule.
Morocco Itinerary: Day 2: Rabat to Fes
While Rabat may be the political capital of Morocco, the smaller town of Sale, which lies just across the river from the much larger Rabat, is one of the highlights of future tourism in Morocco. Sale is among a handful of larger Moroccan towns that are part of a multi-billion RAD investment by King Mohammed VI. The goal of this investment is to help diversify tourism in Morocco and encourage visitors to explore many of the lesser-traveled cities in the country.
After a traditional Moroccan breakfast of pastries, tea, and coffee along with a light omelet, we made our way across the Oued Bou Regreg River to the town of Sale. Here we met with a local University professor, Mohammed, who is helping to lead the restoration of the medina in Sale.
Exploring Sale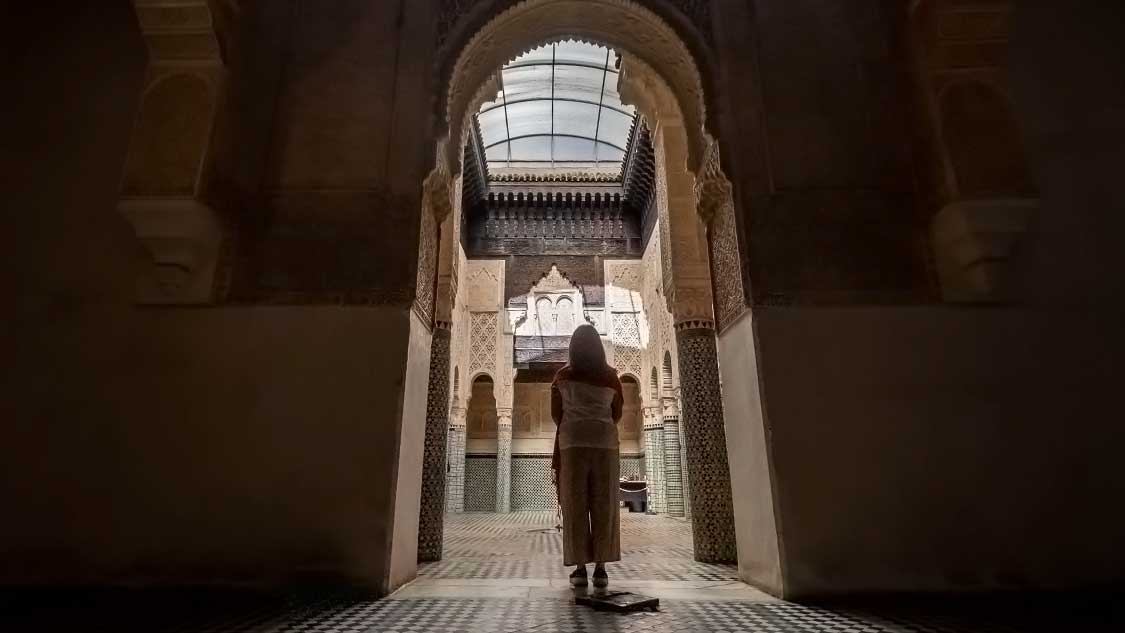 Mohammed spent the day walking us through the medina, including many areas that are still not open to the public. This includes the grand entrance to the city which protected Sale from invasion for centuries. We explored the city walls and received a fascinating view of what will, no doubt be one of the hottest places to visit in Morocco by 2025.
We explored the Jewish quarter and learned about the important synergy between Jewish and Islamic cultures in Moroccan cities. We also learned how to identify the different areas within the city. Islamic homes don't have outward-facing balconies in order to protect the women living inside from the eyes of the public, while Jewish homes have distinct balconies as they weren't under the same religious restrictions.
It was incredible getting a glimpse of the massive amount of work going into renovating this city. And the thrills continued as we made our way to the shopping area where the renovations are more progressed. The narrow alleys and shops have been cleaned up and covered with intricate ceilings that allow light to pass through while adding shade and fresh air to the maze below. There are even updated squares where locals will be able to market their wares without being subject to rental fees.
As we explored the Sale medina we visited mosques and synagogues, wandered the shops where intricate jewelry, clothing, and food were on full display, and finally made our way to, what I know will soon be one of the most popular places to visit in Sale, the Borj Adoumoue, a fortress that was used for centuries to protect the city from invading forces arriving from the Mediterranean Sea.
The stunning walls of the fortress look out over jagged rocks, making for a breathtaking photo stop. The walls are still lined with cannons, many of which were taken from the destroyed ships of invading forces. You can tell which ones as the city of origin is emblazoned on the tops of many of the weapons.
The fortress contained fascinating places to explore that are still not open to the general public. We wandered through the dungeons, the towers, and a phenomenal lookout that will no doubt be the top sunset spot in Sale once it reopens.
Meknes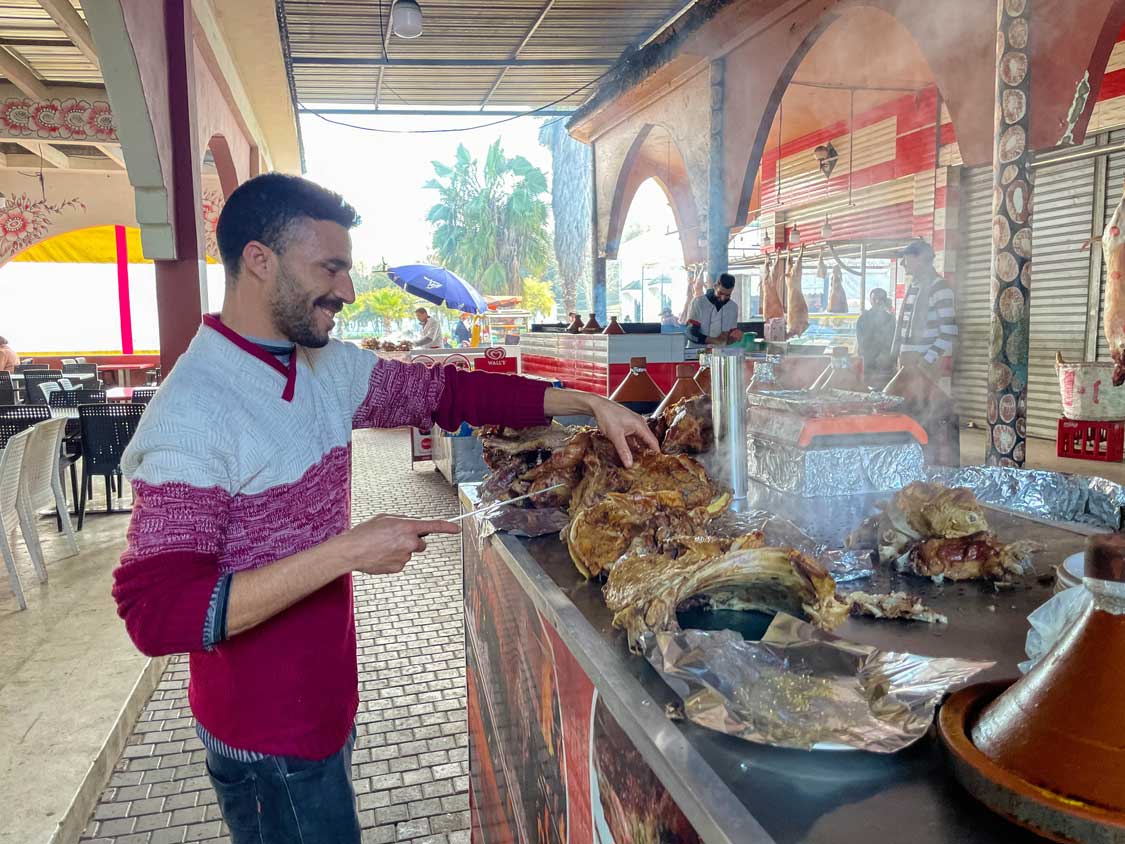 With a heartfelt goodbye, we bid adieu to Mohammed and his passion for Sale. Daoud met us at the fortress for our drive towards Fes by way of Meknes.
It was well past noon, however, so with our stomachs rumbling, we made a stop at one of the outdoor markets between Rabat and Meknes. This particular market was popular for its lamb, which is cooked over charcoal grills and served up as finger food along with fries and salad.
Wandering the market and seeing the lamb hung in the open air before being cooked was eye-opening. But the moment the boys had their first taste of the delicious meat, we were hooked. We absolutely devoured the entire plate while mapping out our drive through Morocco.
The two-hour drive from the Sale medina to Fes was broken up with a stop in Meknes where we made a stop at the gorgeous Bab Mansour, the main gateway to the Meknes medina. The massive gate was the main ceremonial entrance to the Kasbah of Sultan Moulay Ismail and still stands as one of the most stunning in the country.
Volubilis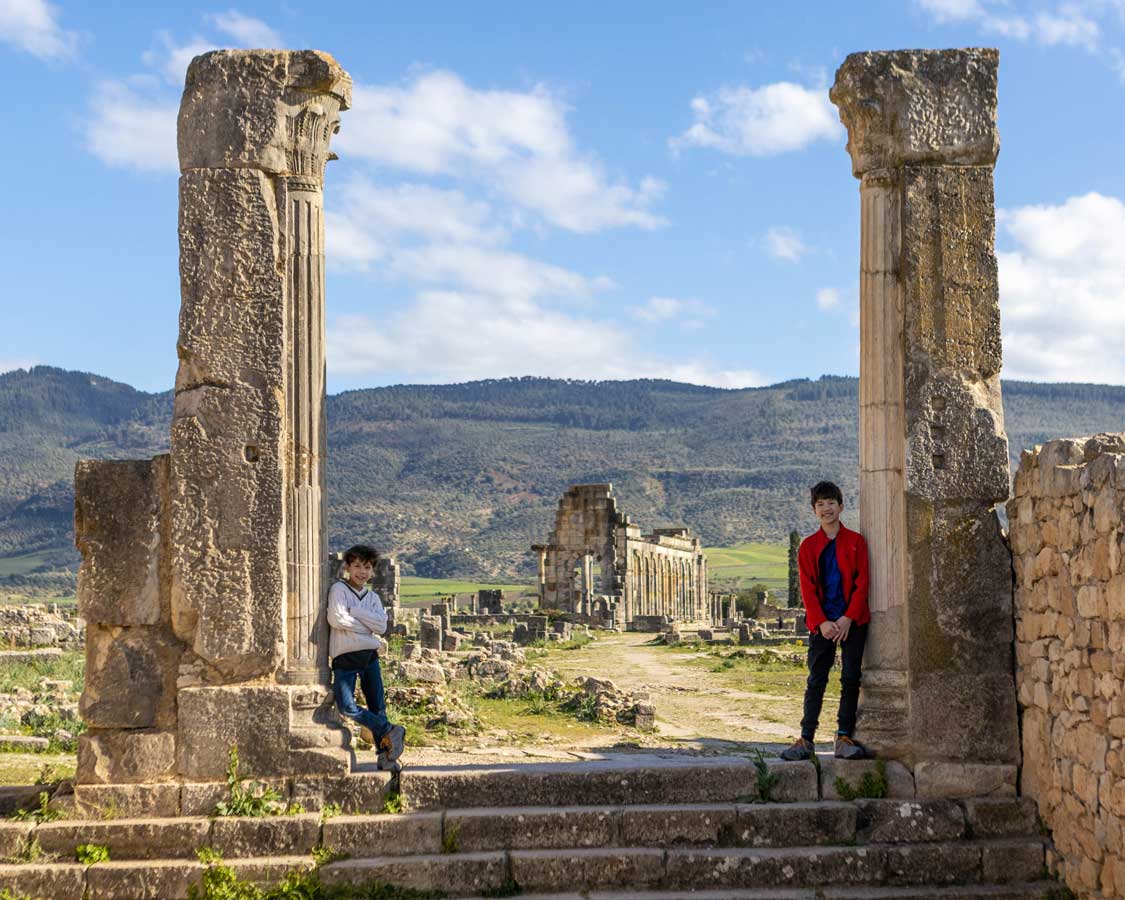 After leaving Meknes behind, we drove through the beautiful central-Moroccan countryside. The green hillsides and gorgeous towns were a precursor for the wonder that was awaiting us just a short drive from Meknes.
Volubilis was among the southernmost cities of the Roman Empire. It was established in the 3rd century BC and was one of the capitals of the Mauretania Tingitana, the Roman-occupied lands that were in, what is now, Morocco.
Set among fertile agricultural land and low-lying mountains, it's not hard to see why Volubilis felt like home for the Roman settlers who built the city (on the back of countless local slaves). The vibrant greens of the landscape and stunning blues of the sky made this ancient city appear to be straight out of a storybook.
We spent a few hours wandering around the ruins, taking in the vibrant mosaics, incredible architecture, and epic stories told by our guide, a local expert in Roman history. we learned that the city had been occupied for about 700 years. It eventually fell into decay and ruin in the 11th century, although much of the architecture remained intact until the Lisbon earthquake of the 18th century.
At the center of the ruins of Volubilis are the remains of the basilica. This beautiful building with its eight arched entrances is the highlight of the city. Much of the walls have been repaired with brick and there doesn't seem to be a bad angle for photography enthusiasts.
After visiting the small museum on-site, we joined Daoud back in the Land Cruiser to complete the journey to Fes. Our accommodation for the next two nights was Riad Salama. This historic building was beautifully laid out with a four-poster bed downstairs and two singles upstairs. For dinner we enjoyed a mix of vegetables and lentils paired with a chicken tagine.
You can read our guide to the ruins of Volubilis here.
Day 3: The Flavors Of Fes
The third of our ten-day Morocco itinerary was all about exploring the city of Fes. Fes, which is also called Fez by many people, is famous for its leather tannery. These aromatic sections of Morocco's largest medina are home to some of the best leather products on the planet. Visitors come from across the world just to witness the fascinating practice, which is done in huge open-air squares filled with vats of conditioning and tanning liquids.
It's no surprise that leather shopping is one of the main things to do in Fes, Morocco. But there is a lot more to this central Moroccan city than just leather. And we were determined to uncover as many of the experiences as possible during our full-day tour.
You can find our guide to the best things to do in Fes here.
Kasbahs and Pottery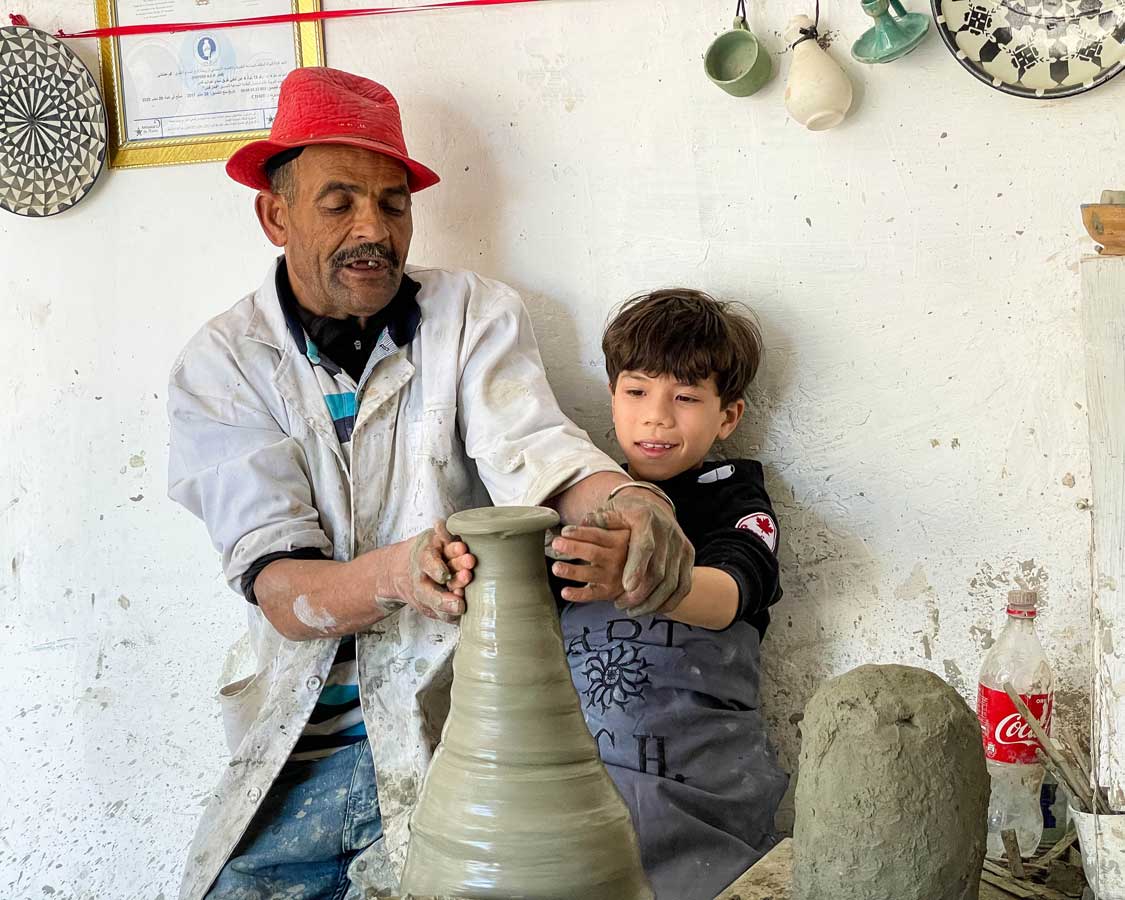 We were met by Daoud and our guide for the day, Fes expert Rostom Badram. Rostom wanted to show us what life is really like in Morocco's largest medina. With over 9,500 alleyways, the Fes medina had a tremendous number of fascinating spots within its walls.
Our morning started with a visit to the main palace of the Moroccan royal family. This notoriously secretive family has palaces throughout the country. The official palace is Dar El-Makhzen Palace in Rabat, but it is Dar al-Makhzen in Fes where the family spends most of their time.
After gazing at the palace, which is not open to the public, so it's strictly a photo stop, we toured through the outside of the city visiting Borj Sud, a fortress built in1582 by the powerful Saadian sultan Ahmad al-Mansour. The fortress has stunning views overlooking the city.
Following our visit, we moved on to a pottery co-op. Here we had a chance to see how the clay that was mined right there in Fes was shaped, dried, and turned into the world-class mosaics that have made Moroccan pottery a favorite of collectors around the world.
After getting ridiculously out-bargained by the shopkeeper on a combination of a cooking tagine and a mosaic table (I blame my poor negotiating skills on two years of not traveling due to the pandemic), we made our way into the depths of the Fes medina to see what life was really like there.
Fes Medina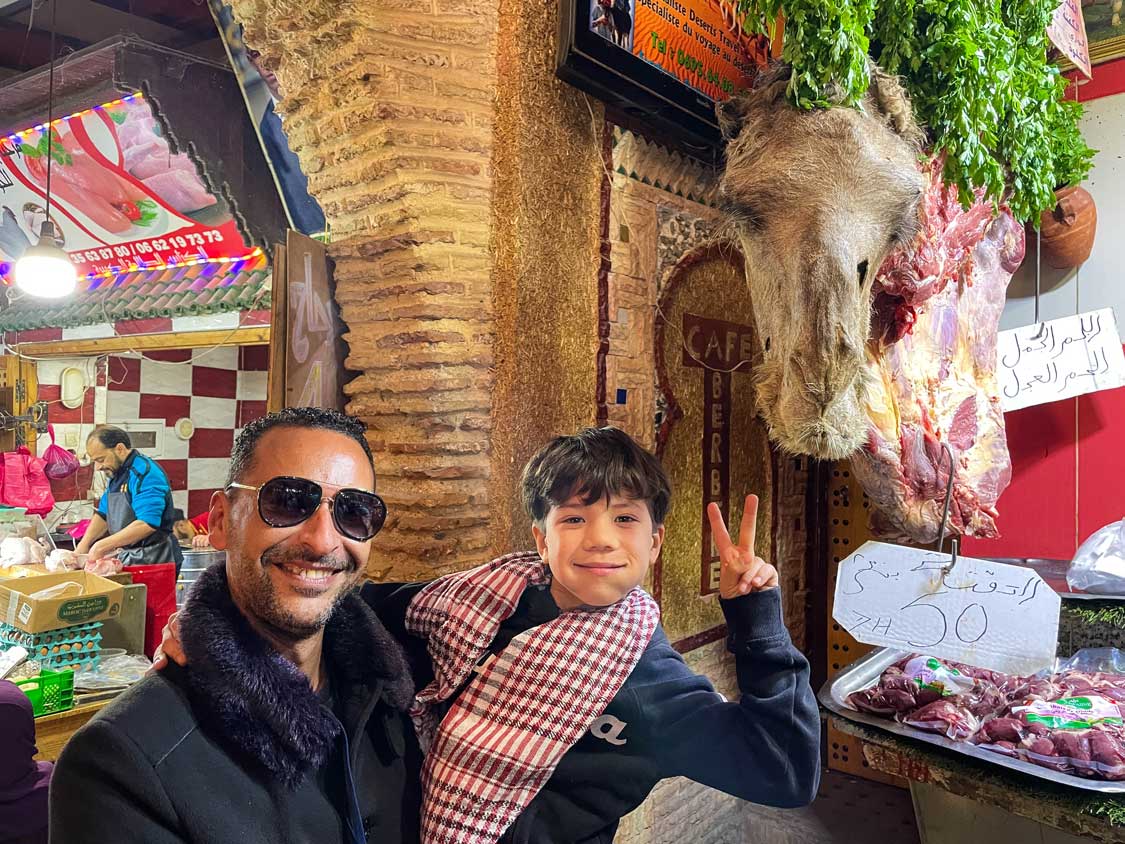 To say the Fes medina is hectic is an understatement With over 9,500 alleyways, it's truly an architectural labyrinth. We toured through the city exploring antique shops, Moroccan mug co-operatives, and scarf manufacturer who pulls silk from eucalyptus plants.
But the real treat while exploring Fes was the food. Rostom typically runs food tours of the city, so we were confident in trying the copious amounts of Fes street food without risking a bad case of "Montezuma's revenge."
Rostom started us out innocently enough with steamed chickpeas with cumin (one of my boys' go-to snacks now), smashed potato balls, and freshly grilled doners. But after visiting a local bakery where Moroccan bread is made in wood-fired ovens, we were ready to step up our adventure. Soon we were munching on steamed snails, sheep brains, camel hump, beef tongue, and I even get my first taste of beef testicles (this is a dish limited to men in Morocco, women, and kids are not allowed to eat it).
I'll be honest, we didn't set out to dive into these extreme local delicacies, but I'm glad we did. Because everything we ate was delicious.
Fes Tannery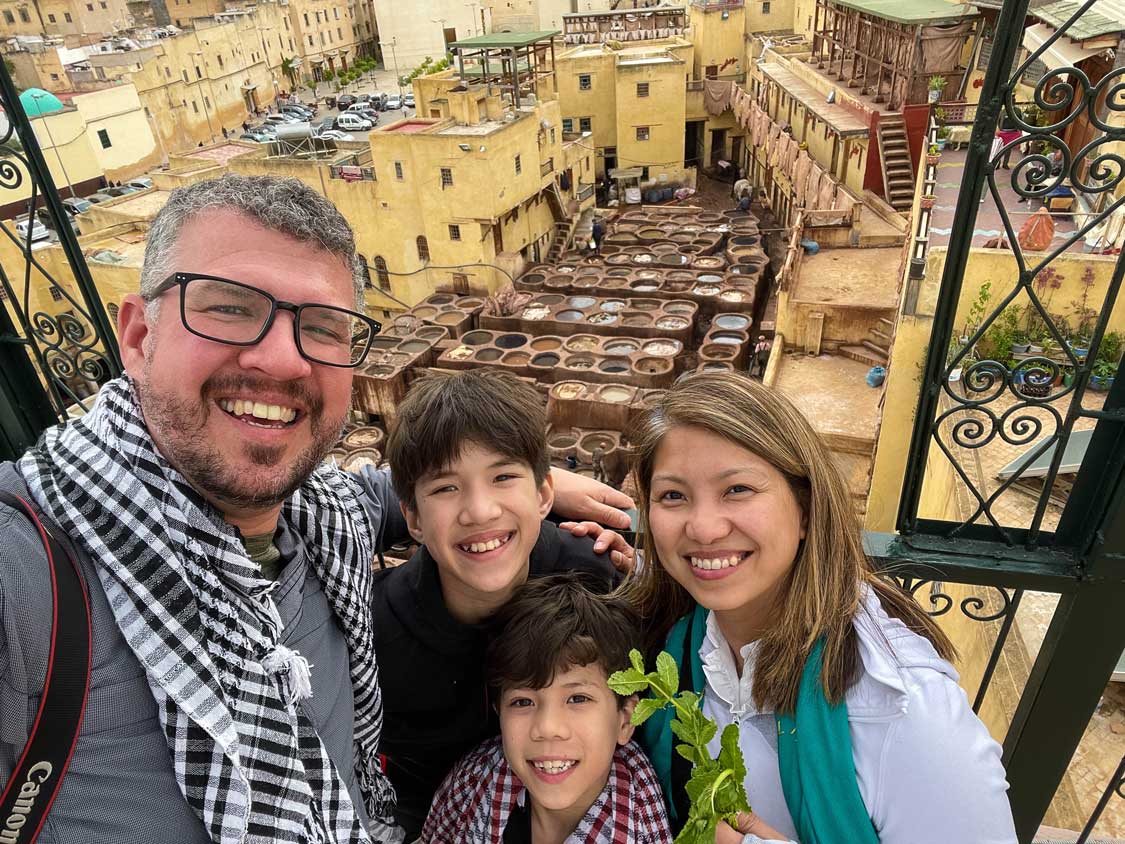 We couldn't leave Fes without visiting a leather tannery, so we walked deeper into the heart of the medina, past copper artisans banging out pots and pans and shopkeepers peddling everything under the sun until the sharp aroma of the Fes tannery hit our noses and we knew that we were getting close.
We were treated to a rooftop view overlooking the tannery. Here we learned that the powerful smell comes from pigeon dropping, which is collected by locals from rooftops and gardens and sold to the tannery for use as a conditioning agent.
There was row upon row of vats of various colors. Each of the colors is created using a combination of natural ingredients including flowers, spices, and clays. The leather is soaked in the vats for days before being dried and conditioned. Finally, the material is cut and sewn into an endless array of bags, jackets, pants, artwork, and more. All of these items can be purchased for excellent prices at the shops attached to the tannery.
We returned to Riad Salam to clean up after a day exploring Fes and opted to go out for dinner at Dar Roumana. This is a popular accommodation and restaurant in Fes that served up some delicious local flavors including shrimp, soups, and fish dishes. I also had my first taste of Casablanca, the local beer of Morocco. It was a light and easy-to-drink brew.
Day 4 Fes to Merzouga
The third day of our road trip through Morocco was set to involve a lot of driving. Our ultimate goal for the day was to head out early from Fes and make the seven-hour drive to the town of Merzouga on the edge of the Sahara desert. Although there would be a lot of time spent in the car, there were still plenty of things for us to see on the way.
Ifrane and Barbary Macaques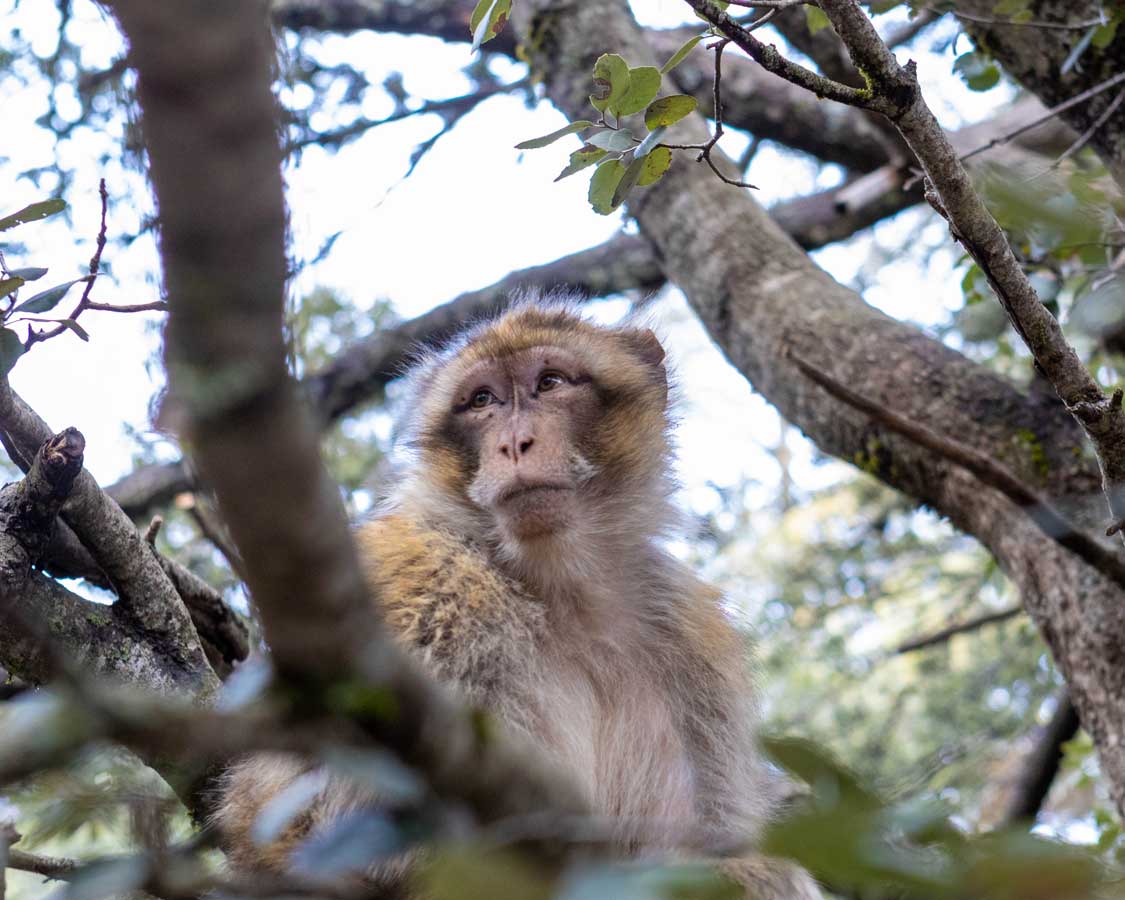 Our first stop was the mountain town of Ifrane which sits at 5,463 ft (1,665 m). The town, dubbed the "Moroccan Switzerland" often sees snow during the winter months and is home to one of the two ski resorts in Morocco. It's fascinating wandering through the small town. The peaked alpine lodges are a far cry from the traditional Arabic-style housing in the major cities at lower elevations.
Just a short drive from the city had us surrounded by cedar forests. The fresh mountain air had us longing for a stroll. We stopped for a while to wander among the moss-covered trees and enjoy epic views of the forest landscapes. The forests are home to families of Barbary Macaques. These delightful animals swing from branches and take swipes at visitors' lunch bags.
Many tours include time visiting the areas where the macaques are known to roam. However, the local custom is to feed them, which I personally don't agree with. Because of the human interaction, the macaques can become aggressive if they don't get what they are looking for, and this could lead to issues further down the line. I encourage travelers through this area not to partake in the feeding and socialization of wild animals.
Ziz Gorge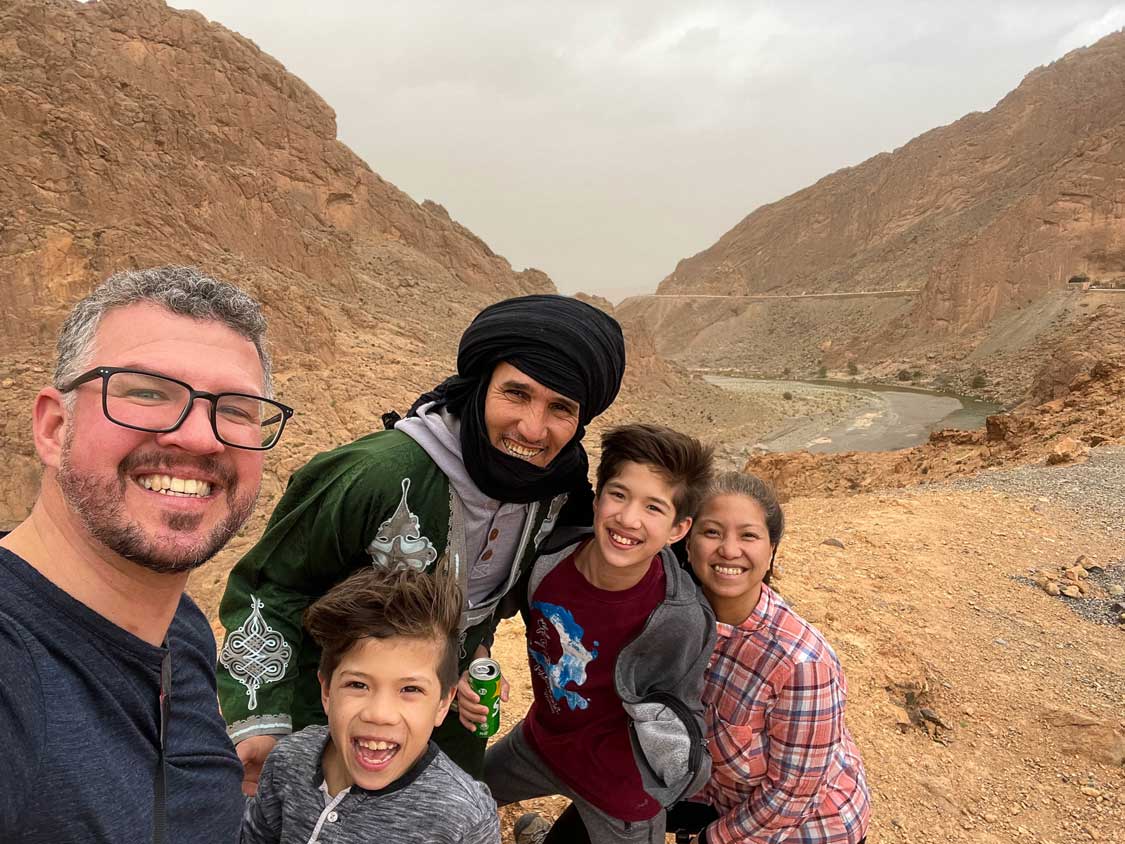 As we made our way down the interior of the Atlas mountains the landscapes began to open up. Soon we were witnessing nomadic Berber shepherds wandering fields with their sheep. These were interspersed with beautiful canyons, including Gorges de Ziz. This gorge offers a magnificent viewpoint and a wonderful place to stretch your legs.
As we drove along the gorge we were blown away by the greenery from apricot trees, palms, and almond trees where locals took advantage of the land made fertile by the nearby stream.
On To Merzouga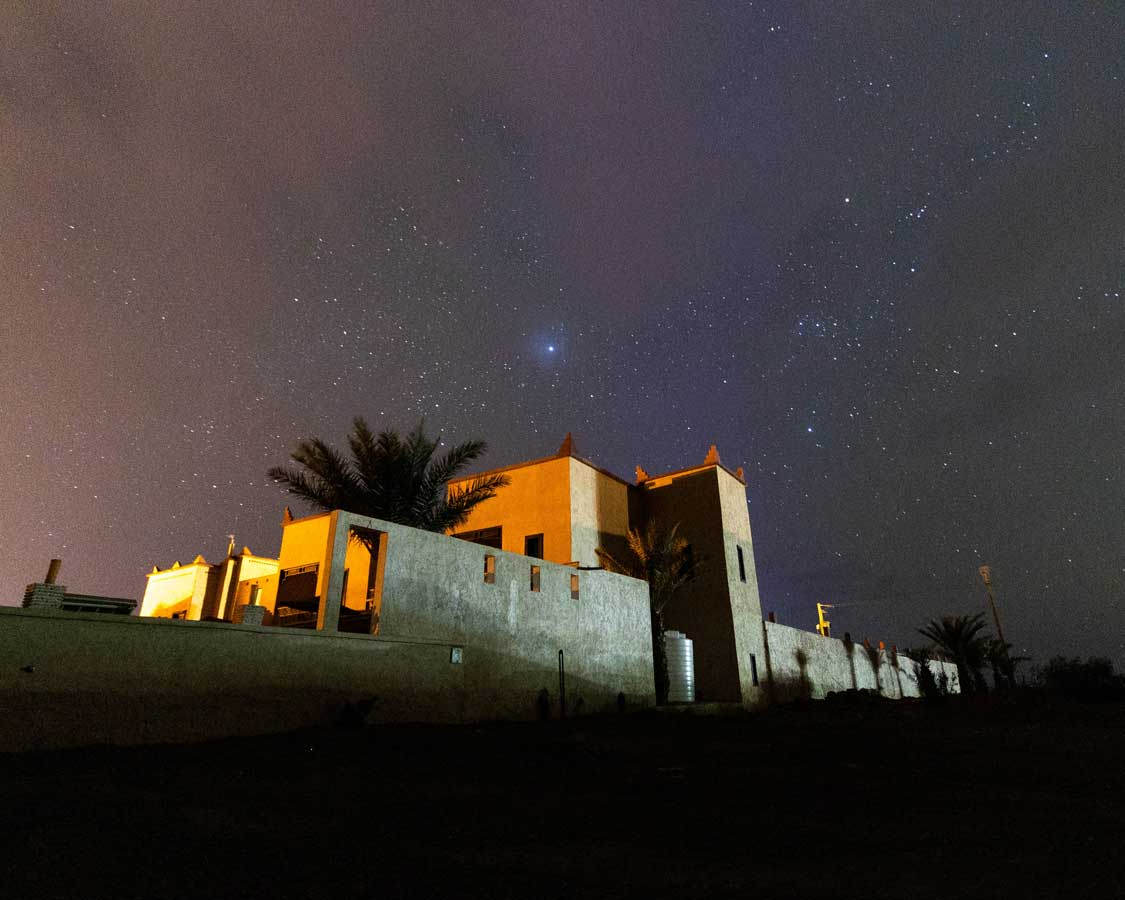 The rest of the route took us through a number of small towns and a great lunch spot called Cafe Restaurant 7 in Ait Toughach, that had some of the best stuffed fish that we had tasted in Morocco. The landscape became increasingly barren, and the sky was taking on a reddish tinge from the blowing sand of the Sahara.
As the sun began to dip lower in the sky we arrived in the town of Merzouga, which would be our base for the next couple of days. The town is barren and young. Many of the buildings are interspersed without proper roads between them. But in the background, it was easy to see what the draw of Merzouga is.
In the distance, the towering sand dunes of the Sahara Desert were creeping into view. Tearing through the landscape was the Aicha Gazelle rally, a women-only car rally that makes its way through Morocco each year. It was thrilling to watch these women navigate the wild tracks of the Sahara, and the boys and I began to talk about whether we could take part in a rally like this in the future.
Our accommodation for the night was the Riad Madu, a beautiful complex on the edge of the dunes. We were welcomed with glasses of Berber tea by a roaring fire. After washing off copious amounts of sand, we enjoyed a delicious meal of chicken tagine before the boys tucked in for the night. While they slept, I stepped outside to snap some photos of the dark desert skies.
You can find our list of the best things to do in Merzouga here.
Day 5: Desert Life In Merzouga
Day five of our 10-day Morocco itinerary was action-packed. We had slept like babies the night before and after a wonderful breakfast of pastries, eggs, and coffee, we were ready for the adventures ahead.
Berber Encampment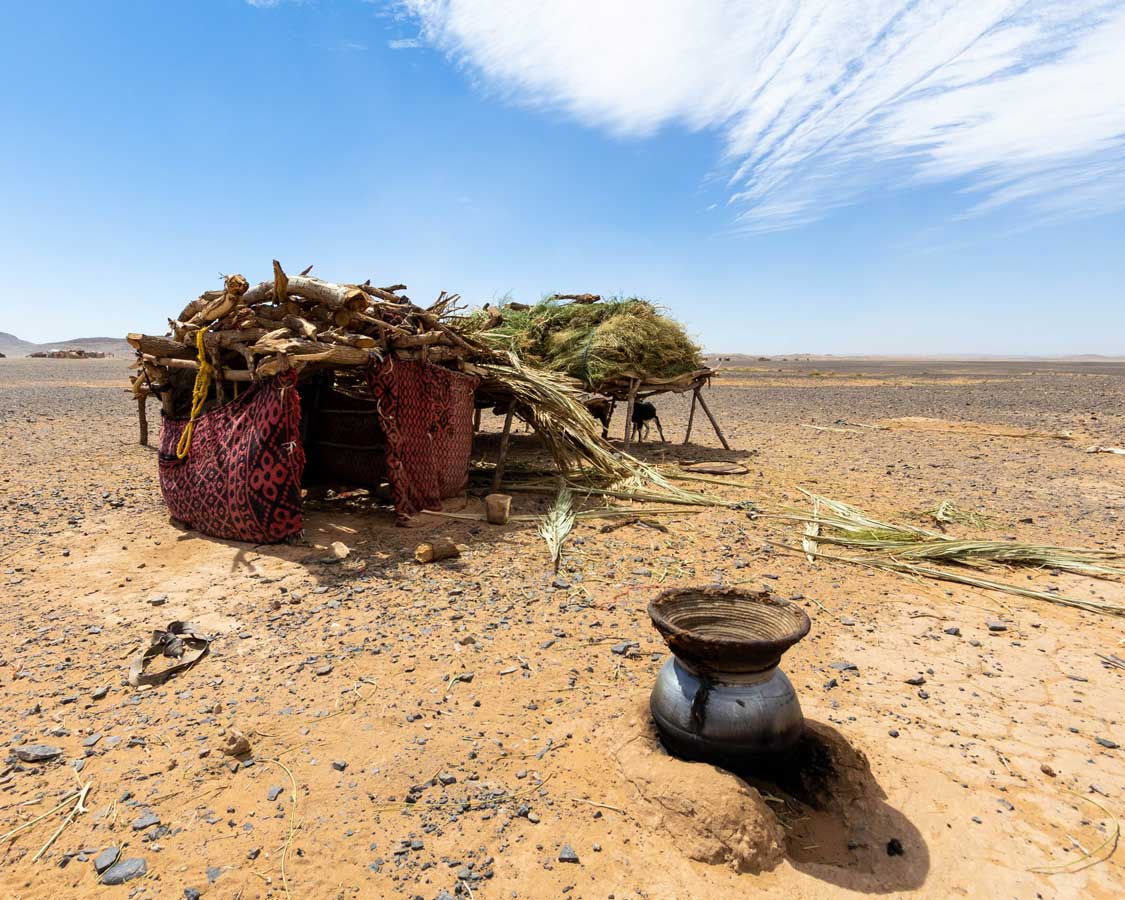 Our morning started with a drive out into the desert, where we visited a nomadic Berber encampment. Our host was a mother of three children. Her husband spent his days as a shepherd roaming the land helping his flock find fields of grass to feed on.
Visiting the encampment was an eye-opener for us all. The simple rug-walled tents were built to be easily taken down and carried to the next camp when it was time to move. The accommodations, with their dirt floors and solar panels, reminded me of our visit to a Guarani village near San Ignacio Mini, Misiones in Argentina.
We were treated to some traditional Berber tea and snacks while Christina and I asked our hostess some questions about life as a nomadic family. My kids, however, were more fascinated with the mischievous young daughter of the family, who spent her time playing peekaboo and snapping photos with my phone.
Abandoned Town and Cemetery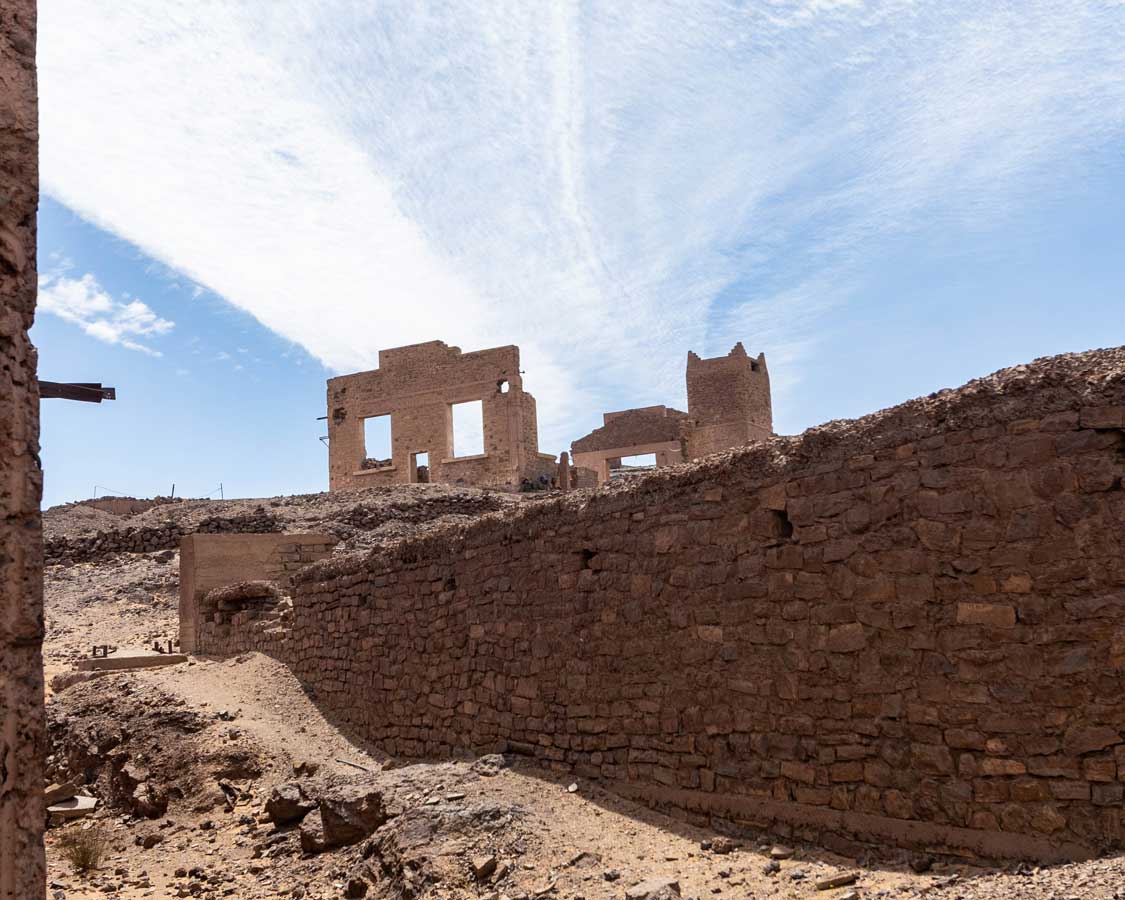 After we said goodbye to our hostess, we drove through the desert to reach an abandoned mining town. The former town supported a nearby cobalt mine that was abandoned decades before. While there are a handful of Berber families who have taken up residence in the abandoned buildings, most of them remain completely abandoned.
The mine itself is fascinating. Some of the digs drop straight into the earth. miners were lowered into the ground to hunt for minerals such as cobalt. Other sections of the Mfis Mine are laid out as long slashes in the ground. These periodically dip through tunnels in the surface that connect at various angles.
Not far from the mine is an Arabic cemetery that acted as the local cemetery for the mining town. considering that the mine was only operational for just over 50 years, the size of the cemetery is astounding. Wandering among the unmarked tombstones, we saw pots and dishes that were used as gifts for the departed. It was a very humbling experience.
Quad-Biking In The Sahara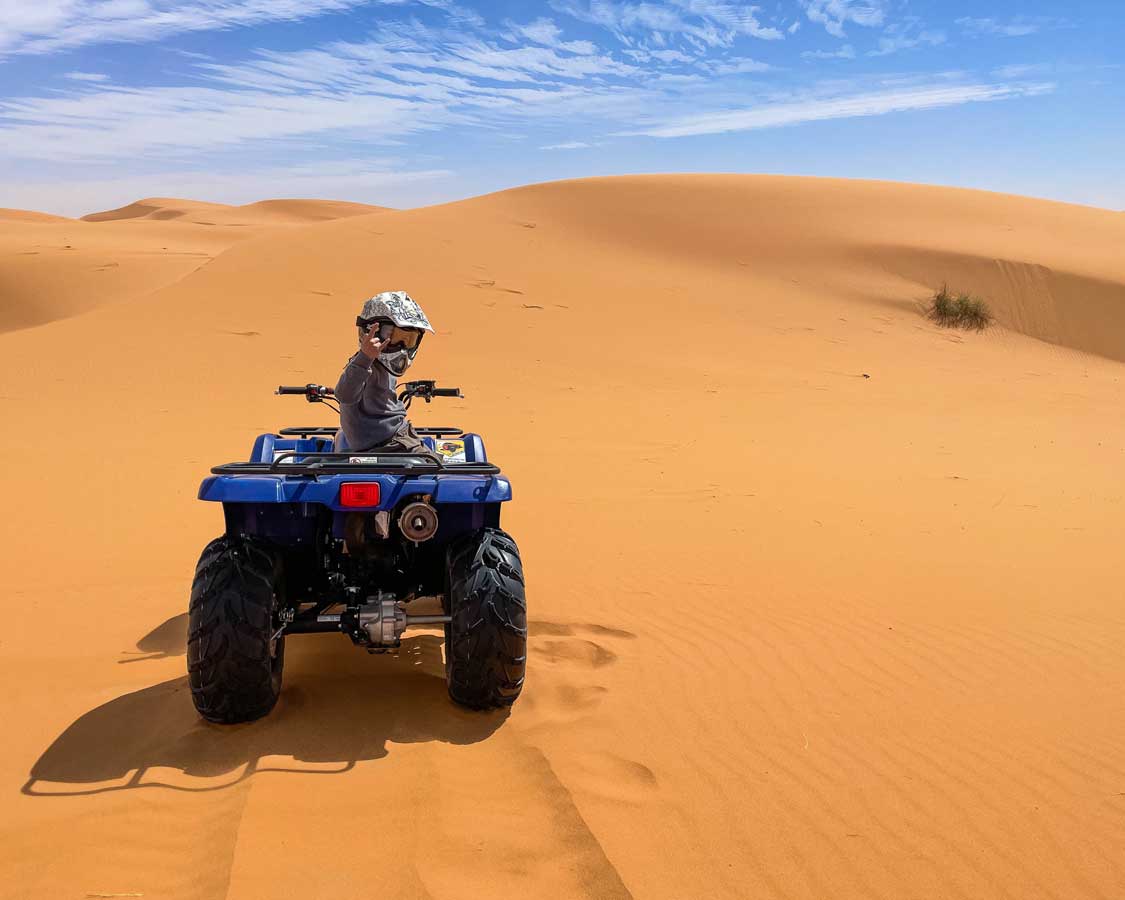 The solitude of the Mfis Mine and its surrounding down sat heavily on us. But our next adventure in Merzouga certainly brightened our spirits. Daoud drove us through the sandy landscapes towards the action center of Merzouga. When we arrived, the boys gave a whoop of excitement. Lined up in front of the local business were four quad-bikes that we would be taking through the Erg Chebbi Dunes.
D, at eight years old, looked a bit like a toy sitting atop the massive quad-bike, but he took to the ride like a champ. Although his thumb was a bit tired at the end from pushing on the accelerator.
The ride was at different times, peaceful, thrilling, and beautiful. We zipped up and over, around, and sometimes through the sand dunes of the Sahara Desert. Our eyes were protected from the blasting sand by ski goggles, but there was nowhere else that the sand didn't find a home on our bodies.
Tuareg Music and Berber Pizza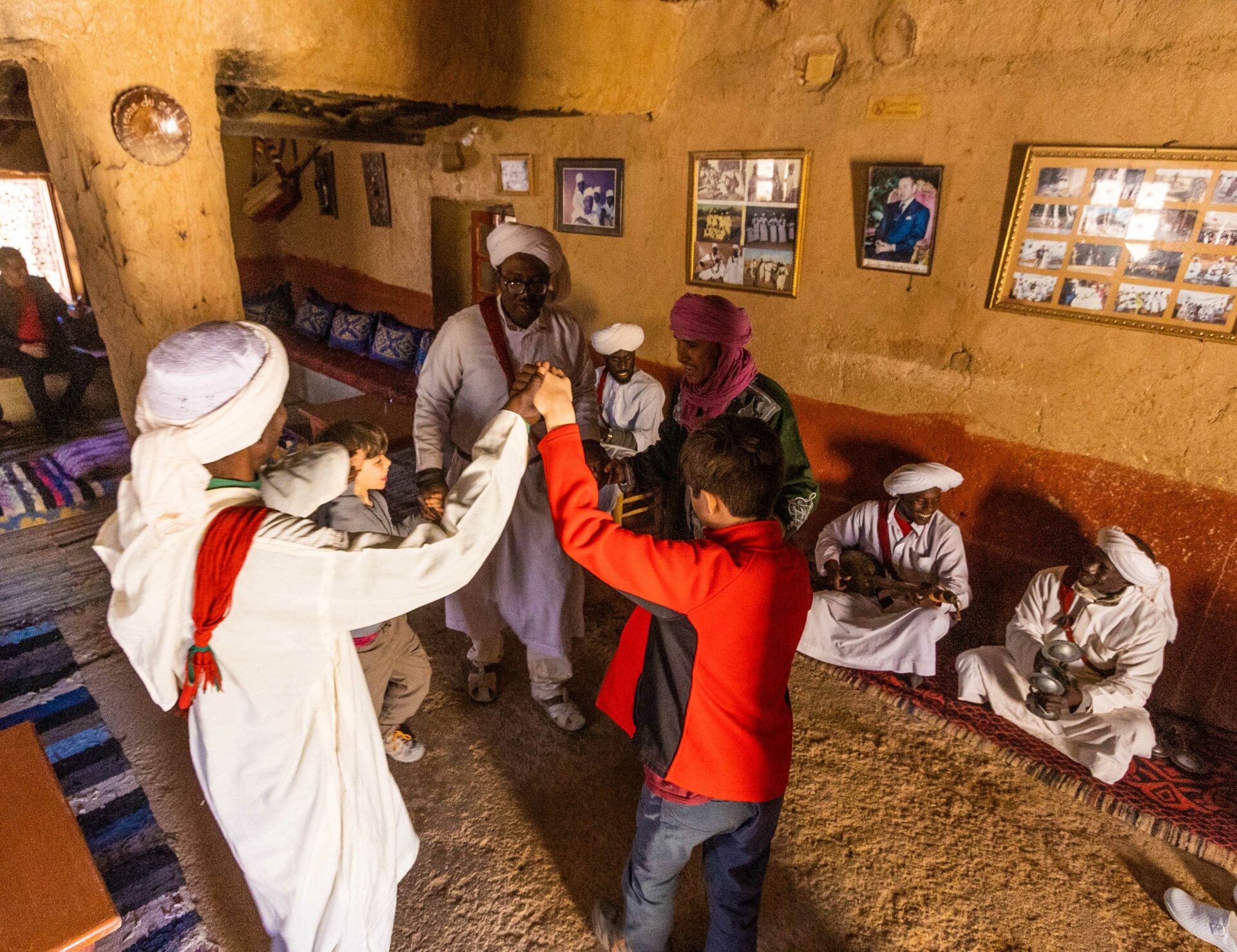 After dusting ourselves off from our 4-wheeled adventure, it was time to throw a little culture into our day. Berber people have an enormous range of ethnicities. While many appear Arabic due to the long occupation by Arabic rulers, some, like the Kabilio, are blond-haired with blue eyes. Others, such as the Tuareg, are dark-skinned with curly dark hair.
The Tuareg are common to see in Merzouga, and many visitors take time to listen to their distinct music. We joined a Tuareg family for a musical show at their home in Merzouga and were delighted by nearly 45 minutes of energetic music.
It wasn't long before Daoud had the boys up and dancing to the music while Christina and I, along with the other guests, clapped along enthusiastically. At the end of the show, we were offered the chance to buy a CD of the music. I've never regretted getting rid of my CD players until that moment.
After pulling ourselves away from the music, we made our way across the highway to a restaurant run by the same family where we had a chance to try our first pizza in Morocco.
Berber pizza is vastly different from the Italian pies that we eat as part of our Friday movie nights, but they are no less delicious. I'll post a recipe for these soon on my Flavor the Globe food site.
Camels and Sandboarding in the Sahara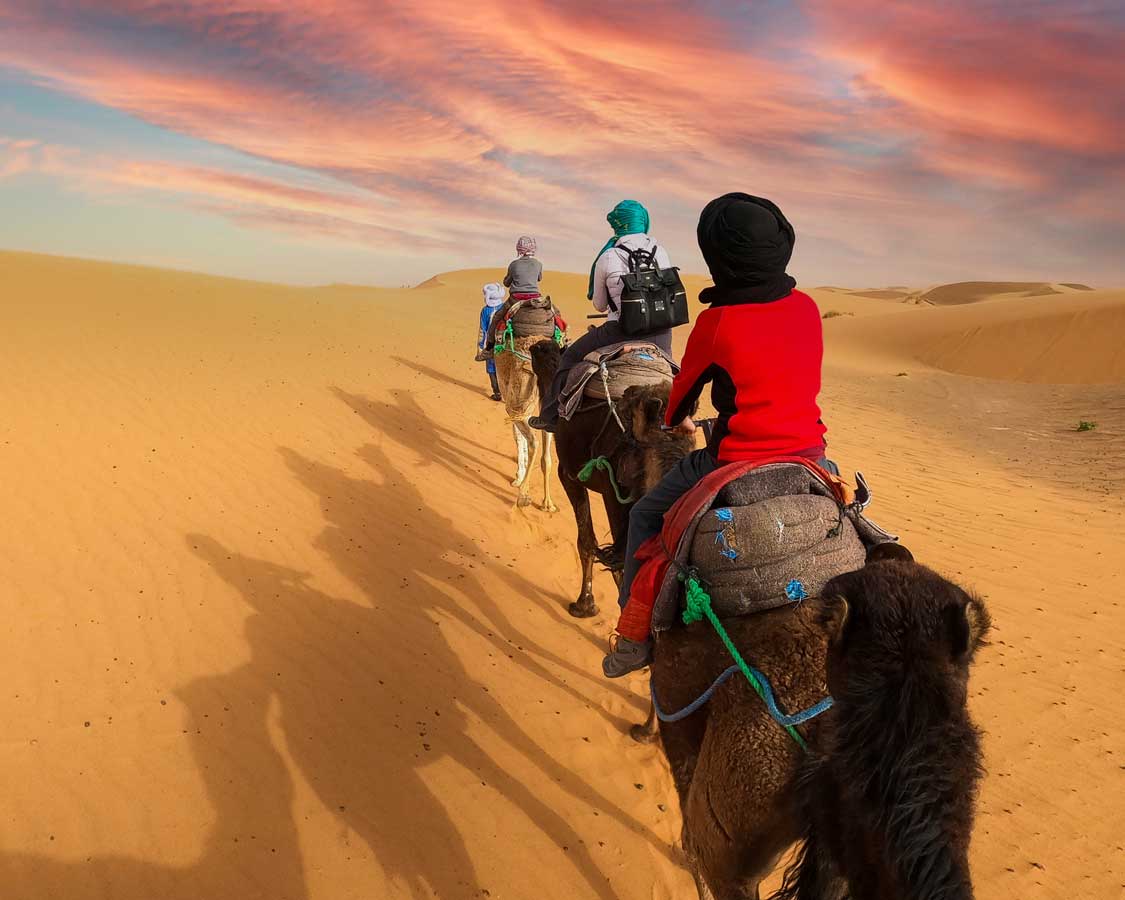 With our bellies full and the late afternoon sun dropping in the sky, we made our way to the edge of the Erg Chebbi Dunes for our final adventure of the day, riding camels to our desert camp in the Sahara.
Now I'll be honest. We've ridden camels in the Wadi Rum desert in Jordan and past the Pyramids of Giza in Egypt, and it's always been a combination of a thrilling, mesmerizing, and completely awkward experience. Riding camels in Morocco was pretty much par for the course.
Once we got up on our gentle steeds, we embarked on an hour-long trek over the sand dunes toward our home for the night, the Africa Luxury Camp. The ride was mesmerizing. There was nothing above us but blue skies and nothing around us but an endless sea of shimmering dunes.
As the sun dipped toward the horizon, we came to the edge of the encampment. We had time to climb the high dunes and catch the sun dipping below the horizon. While Christina and I relaxed at the top of the world's largest sandbox, the boys took turns shredding the dunes on sandboards. This was an activity that they fell in love with in Huacachina, Peru, and have enjoyed at Great Sand Dunes NP in Colorado and the Siwa Desert in Egypt.
After the sun dipped below the horizon, we hurtled ourselves down the dunes to meet back up with our camels for the final trek to our Morocco desert camp.
You can read all about our time at the Merzouga luxury desert camps here.
Meals and Music in the Sahara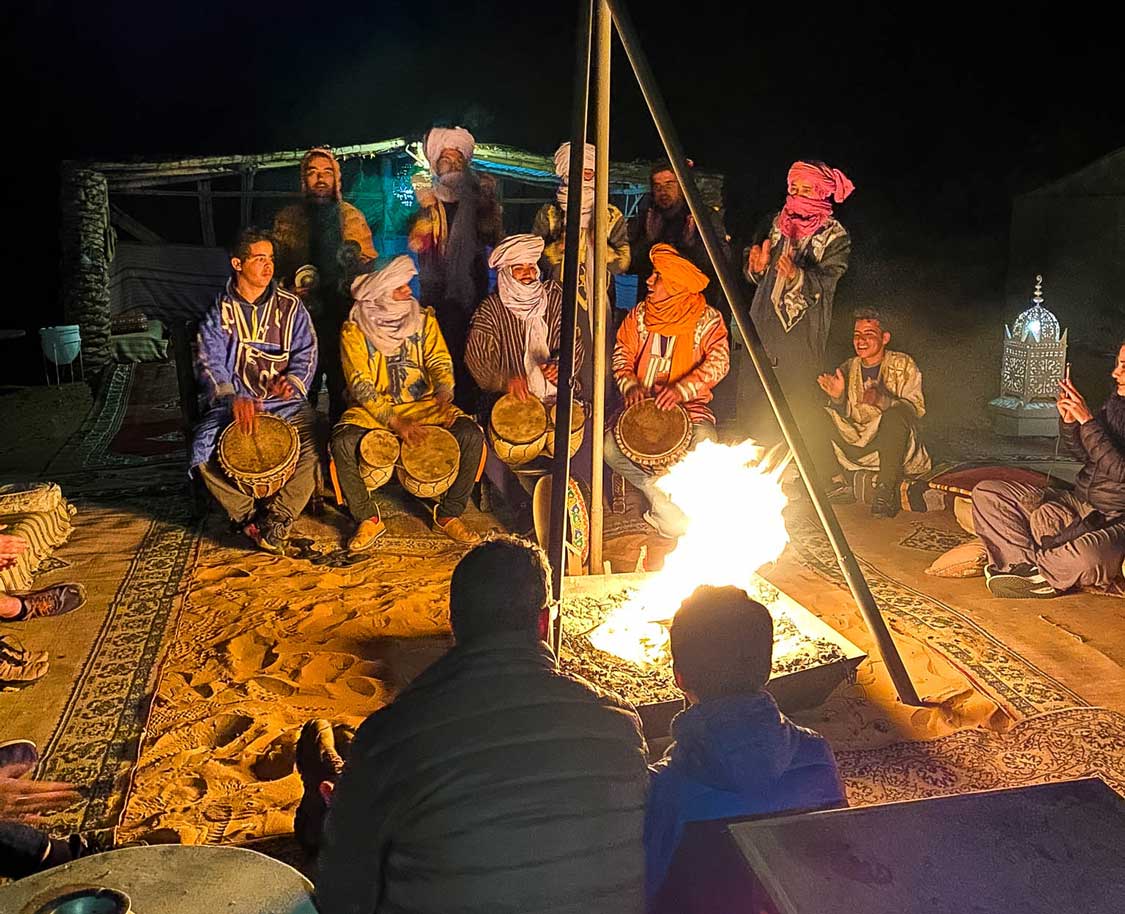 We arrived at Africa Luxury Camp to an enthusiastic welcome by our Berber hosts. Mohammed and Daoud (who had driven the Land Cruiser to the camp separately), showed us our room. It was just as beautiful as our camp in the Wadi Rum desert in Jordan but included its own bathroom, a luxury that I could get used to when camping with kids.
After getting ourselves cleaned up, we made our way to the dining tent for a delicious dinner of chicken tagine served with a selection of vegetables. The night was getting late, but we were told that we would be treated to some Berber music by a campfire after dinner had ended.
D, who had been going hard all day, opted to head to bed. Christina, Cohen, and I made the short walk to the campfire and enjoyed some lively music and dancing. Daoud, who, due to the pandemic, hadn't seen much of his friends in the camp for the past two years, was up singing and dancing long after the three of us nodded off in our comfortable beds.
Day 6: Merzouga to Skoura
On day six of our ten-day Morocco road trip, Christina and I woke early to catch the sunrise over the Sahara desert. The calm morning was a far cry from the wind and sand of the sunset. It wasn't long before the boys were up, too, although instead of relaxing with the rising sun, they were back to sandboarding on the dunes.
After enjoying a traditional Moroccan breakfast, we loaded up the Land Cruiser and said goodbye to our Berber hosts. It was a short drive to our first stop of the day, though, and it was a pretty fascinating one.
Ancient Sea Life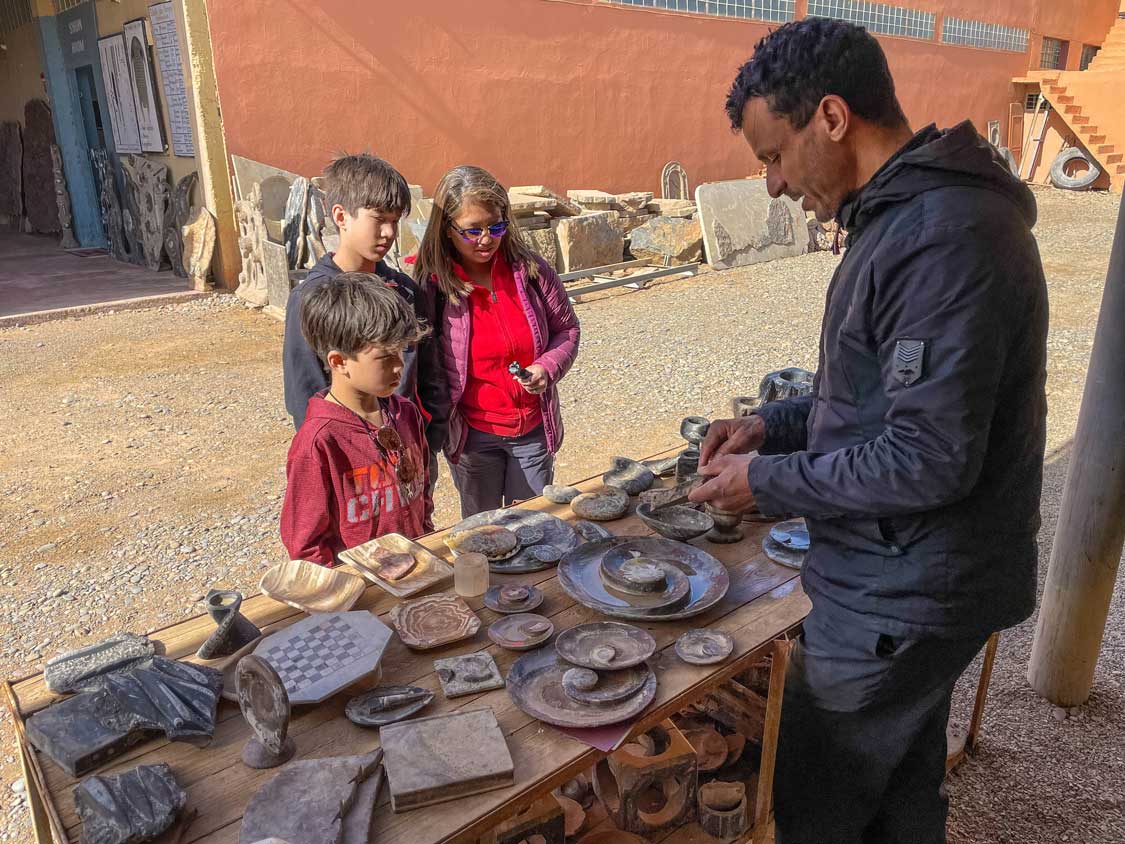 The Sahara Desert was once part of a shallow inland sea. That sea was teeming with life, the remains of which have made Morocco one of the best places for marine fossils in the world. Ammonites, goniatites, starfish, and more are buried in countless numbers near Merzouga.
Our boys are fossil-obsessed. So getting the chance to search for hundred-million-year-old sea life in the middle of one of the driest places on earth was pretty cool. We did this in a spot where locals are constantly excavating the ground to find fossils to ship around the world.
Many of these fossils are sent to a nearby artist's cooperative called Morabit Marbre in Erfoud, where they're turned into an incredible array of artifacts from wall hangings to sculptures. We even found fossil-infused toilets for those who want to do number two with a little bit of history.
Underground Aqueducts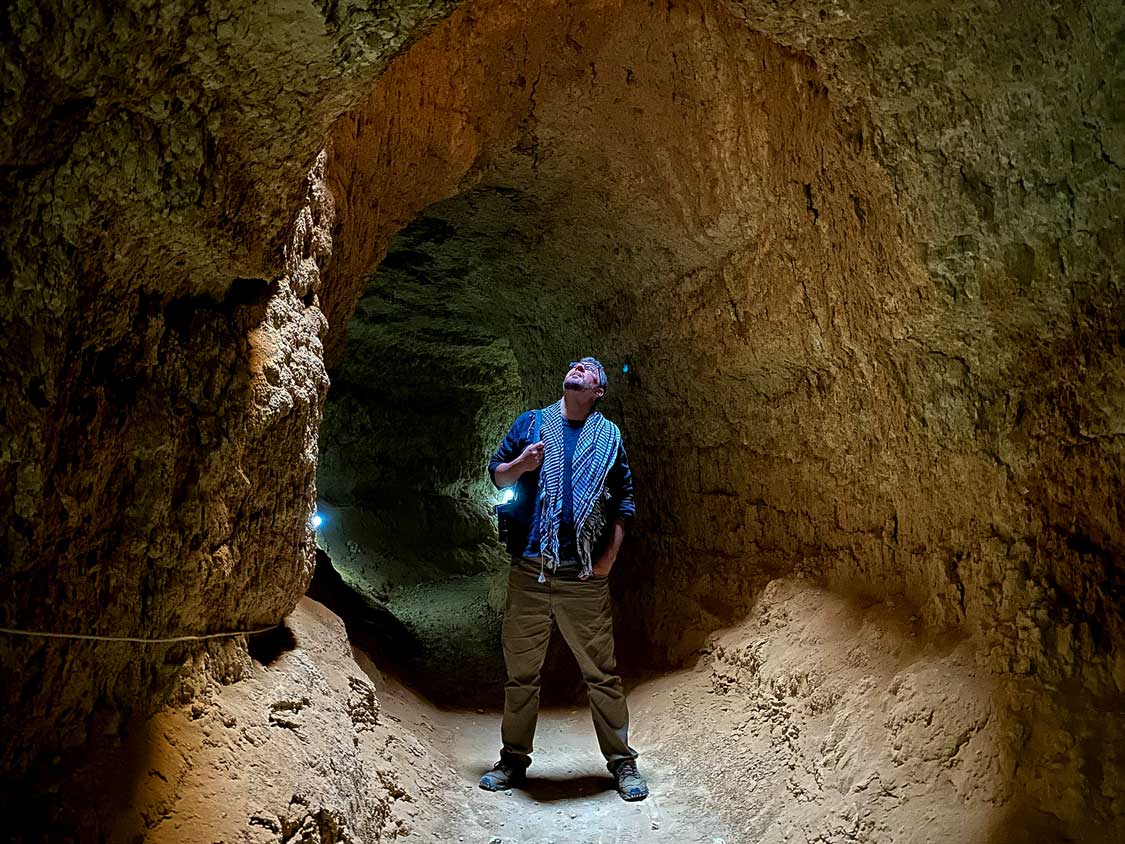 One of the most unexpected stops on our drive was just outside of Merzouga at the base of the Atlas Mountains. Here, stretched for miles along the edge of the highway, were rows of large dirt piles.
Daoud pulled us off the road and told us that this was a special spot that not many visitors in Morocco get the chance to see. This made us all perk up our ears.
The khettara, as it's referred to locally, data back to the 14th century. It was used by a group of local families to divert water from springs in the Atlas Mountains down to their villages.
We had a chance to test out the equipment that would have been used 500 years before. To think that miles of these underground tunnels were dug out by hand with the simplest of tools was awe-inspiring. But the true beauty came when we descended into the aqueduct to explore these caverns for ourselves.
Tinejdad Ksour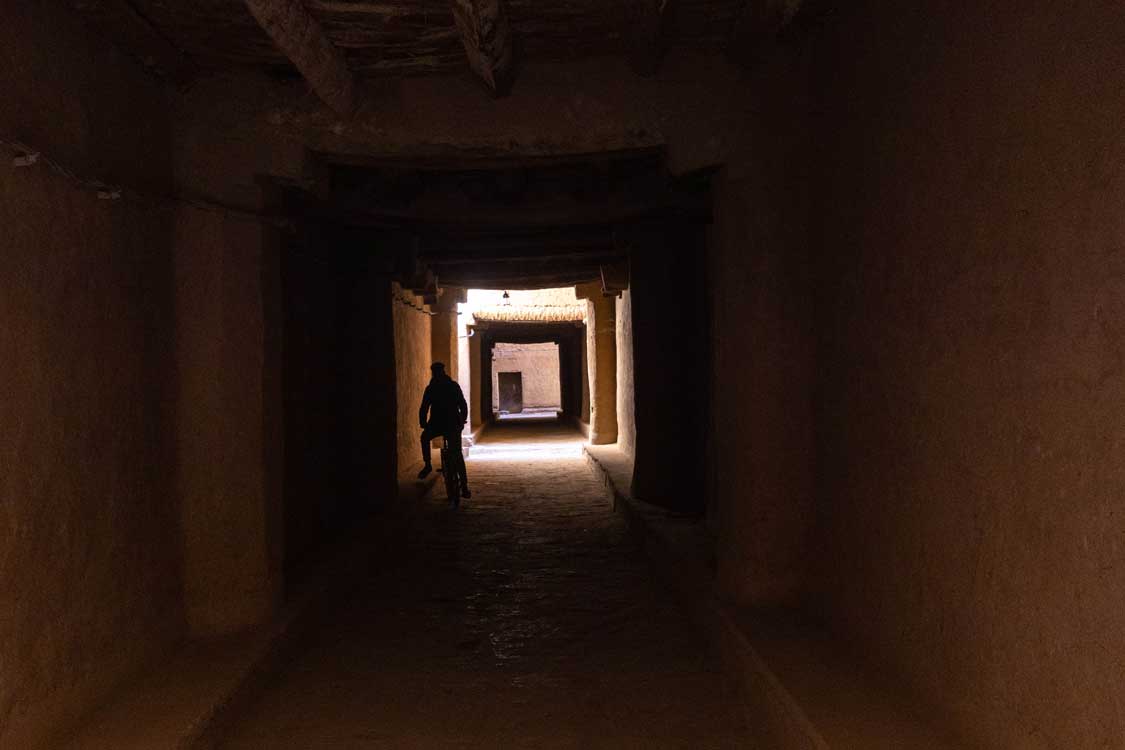 As we began making our way into the mountains, we stopped for lunch in the town of Tinejdad. Before our meal, however, Daoud invited us to take a peek at the local ksour. This collection of attached houses in Tinejdad is magnificently designed.
What makes it one of the most truly unique places to visit in Morocco is that the buildings are all connected by passageways. There is a complete network of roads and walkways that crisscross beneath the buildings above.
Within the ksour is a Berber museum that takes visitors through the rich history and culture of the people who have called Morocco home for over four millennia. The museum includes artwork, cultural examples from the past several hundred years as well as photographs from the past century.
Todra Gorge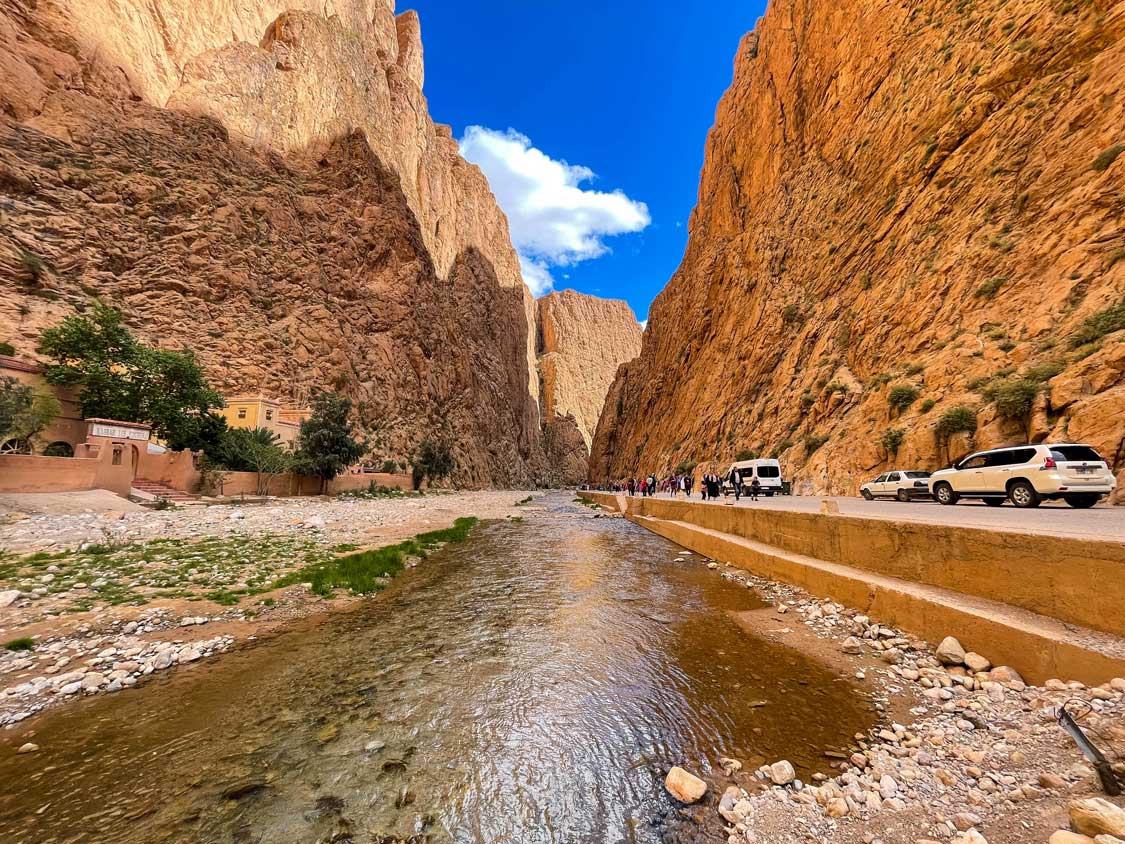 It wasn't long into our drive to Soukra that the views of the Moroccan countryside began to dazzle us. Much of our drive was along the winding Todra River. The lush river banks are lined with farms, palm plantations, and fruit trees. The small towns that dot it along the way offer splendid examples of rural Moroccan life.
But the true treat of the Todra River was when we reached the Todra Gorge, about three hours into our drive. Here, amidst the last few hundred meters of the river, the Todra river runs through a narrow canyon as little as 33 feet (10 m) wide.
The canyon features a spring that feeds the Todra River. With its crystal-clear shallow waters, small waterfalls, and wide, stony banks, the gorge is a popular picnic spot for locals. The towering sheer rock cliffs, which reach 525 ft (160 m) on each side, also make it a popular spot for rock climbing in Morocco.
You can find our complete guide to the Todra Gorge here.
Rug Shopping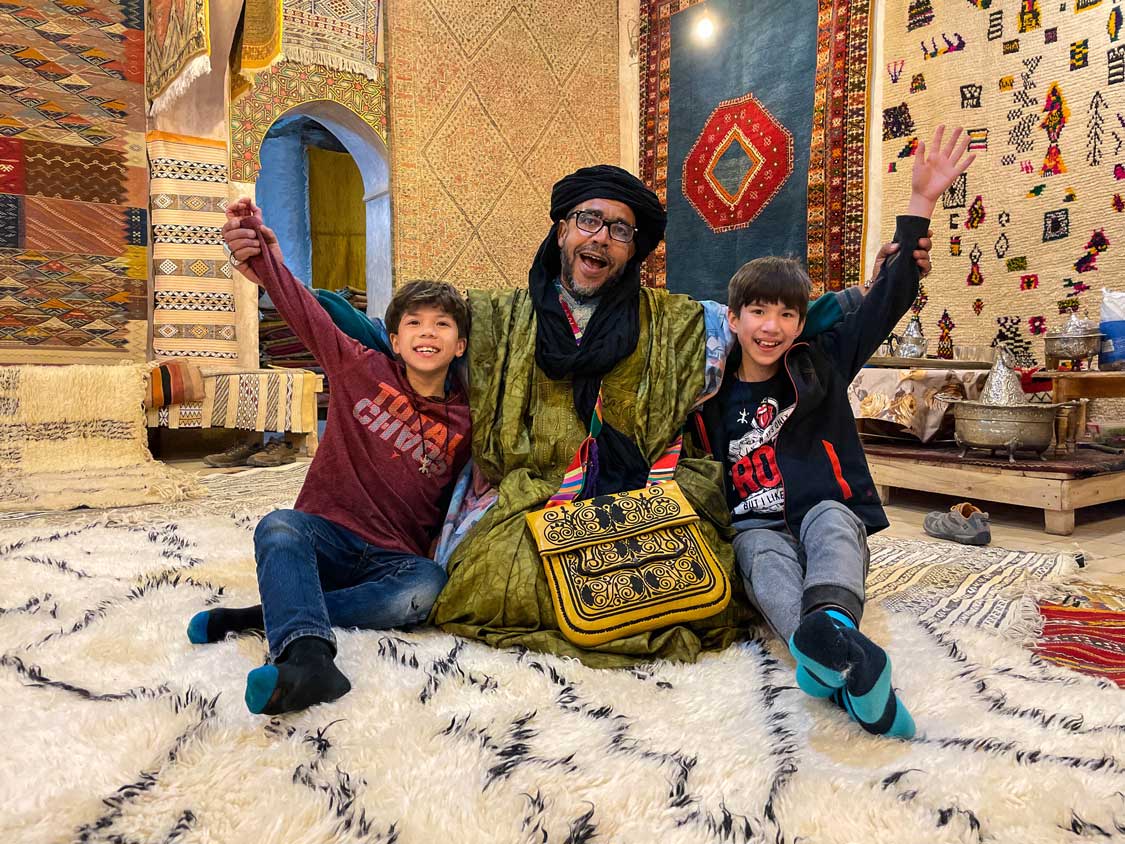 Moroccan carpets and rugs are popular keepsakes from the country. Nearby to the Todra Gorge is the Ksar du Tapis Berbere, a local rug co-op that sells a vast selection of rugs made by over 4,000 local Moroccan women.
We learned all about the different styles of carpets, how they are made, and the importance of co-operatives such as this for empowering women within the country.
While our boys wanted to buy every carpet that they saw, ultimately, we left with just smiles and handshakes and no rug to take home with us. But I'm sure we'll return when we know what we need before we go.
Jardins de Skoura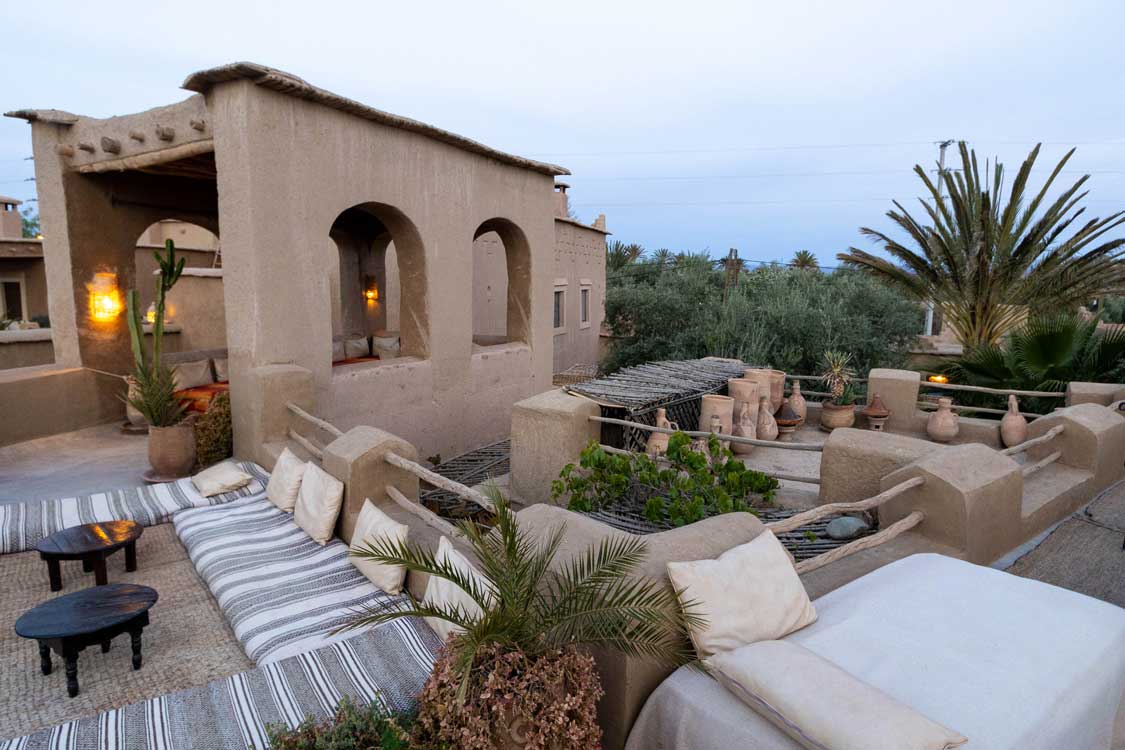 As we climbed higher up into the Atlas Mountains, the snow-capped peaks of Jebel Akosua, the second tallest peak in Morocco, loomed in the distance. We descended into the Soukra valley and were amazed by the lush surroundings of the town.
Amidst the dry landscape, this oasis of green was a breath of fresh air. And our accommodation for the night, Jardins de Skoura would immerse us in the scenery even further. We enjoyed a simple meal of chicken tagine and vegetables before calling it a night.
Day 7: Hiking The High Atlas Mountains
The most adventurous day of our 10-day Morocco itinerary began with a lazy breakfast at Jardins de Skoura. We braved the chilly morning air for a rooftop patio meal lookout out over the High Atlas Mountains. Staring at the snow-capped peaks was a fitting start, as we would soon head high up the mountains for a hike.
Kasbah Amridil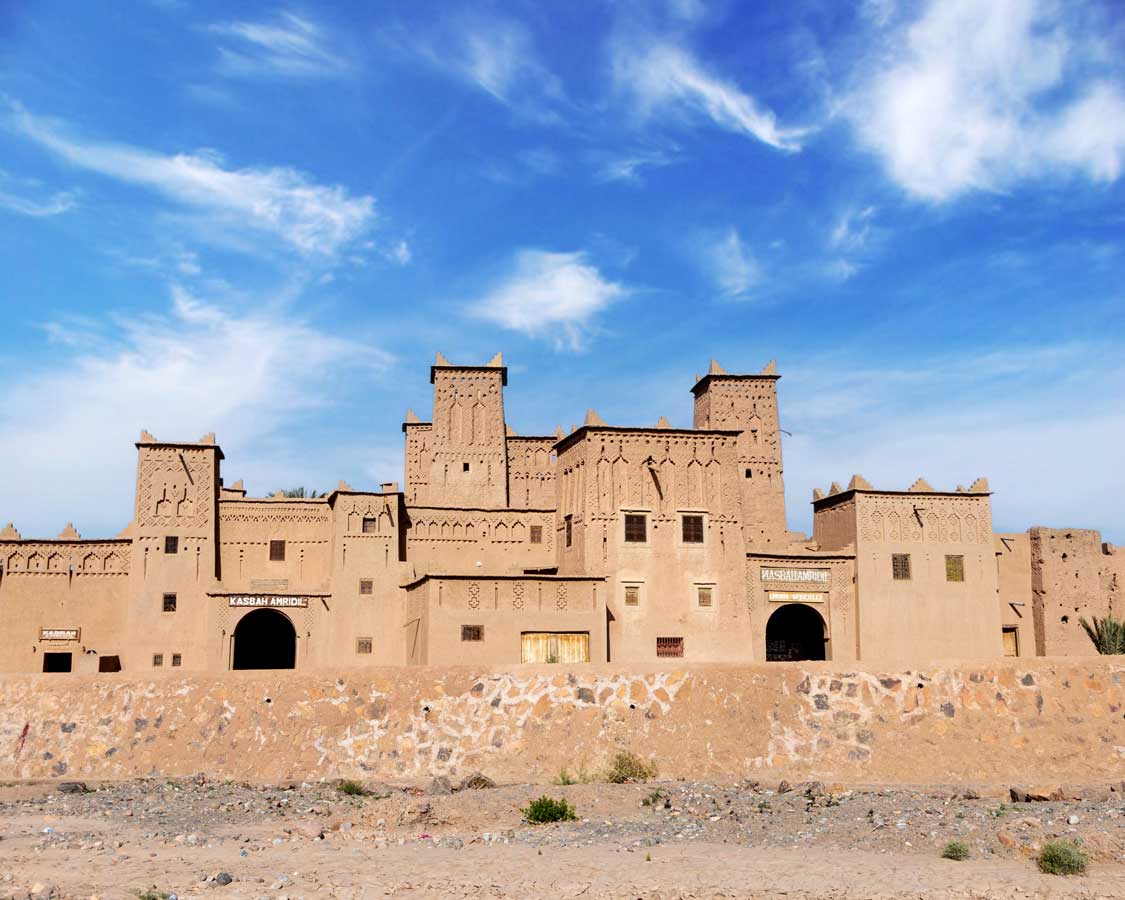 Before getting started, we wanted to get a little taste of Skoura. We had experienced the lovely greenery and farms along the Oued Dades (river), but there is another big thing that draws visitors to this mountain town as well.
Kasbah Amridil is a historic fortress located within the oasis. It takes a quick glimpse to realize that this structure stands out among other kasbahs in Morocco. And the Moroccan government recognized this too. This is why Kasbah Amridil was, until recently, featured on the Moroccan 50 dirham bill.
Hiking in Iminoulaounchez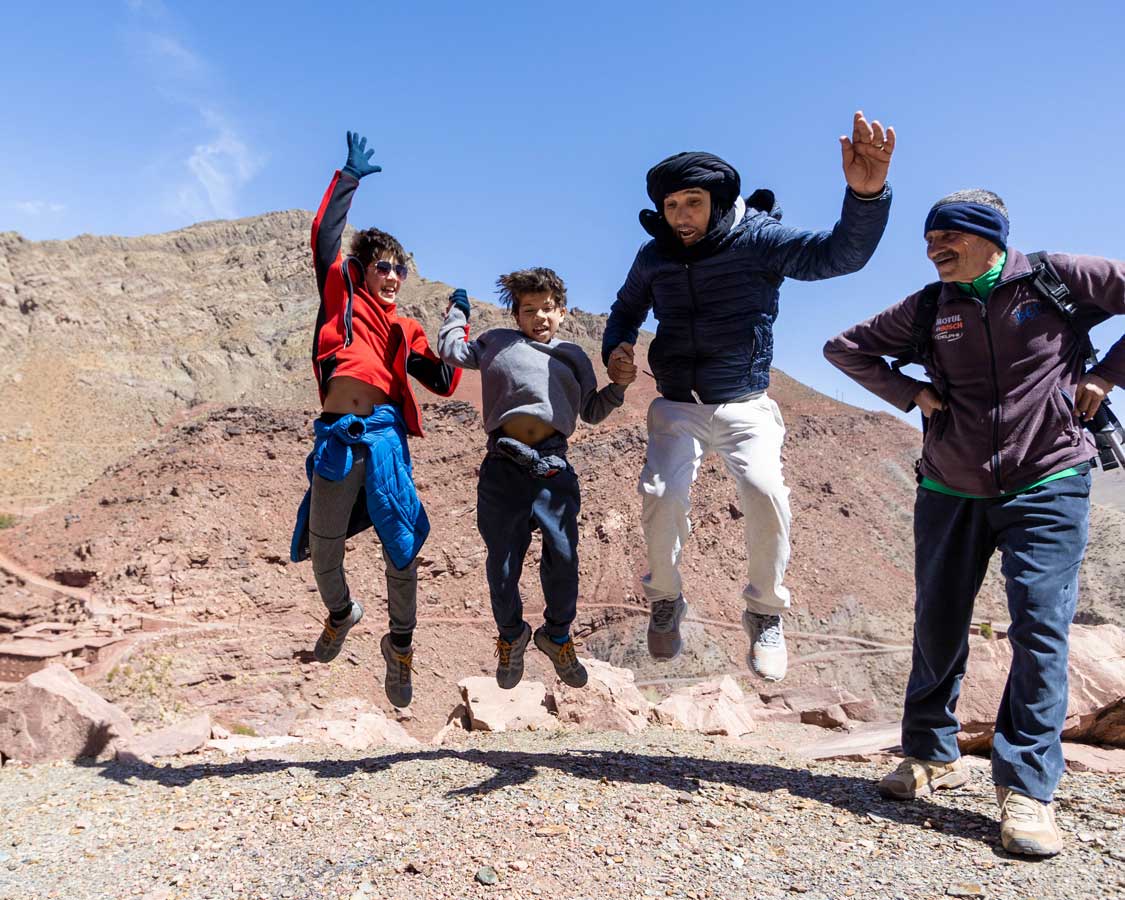 After packing up, we met Daoud out front for the long, winding drive up the mountains. Along the way we passed by small villages and mountain-side houses as we reached heights of nearly 10,000 ft (3,000 m) in altitude.
The further we reached up the mountains, the narrower the roads, the sharper the switchbacks, and the steeper the unforgiving drops on the mountain passes. As we passed through smaller and smaller villages, the children running and waving alongside our truck made it clear that this region doesn't see many tourists.
We arrived in the town of Iminoulaounchez to meet our guide for the day, Brahim Boukyod. Brahim runs many hiking tours into the High Atlas Mountains from his Gite d'Etape accommodations in the small town. Many of these are 3-6-day hikes that lead adventurers through the snow-capped peaks in a circle route. Our hike would be a comparatively tame 4-hour trek to explore some smaller towns nearby.
Brahim greeted us warmly and offered us some omelets and tea to help fuel us through the morning hike. Even though we had recently had breakfast in Skoura, the mountain air had already aroused an appetite.
Daoud opted to join us for the hike, which thrilled us all to spend a little extra time with him. Before long, we were making our way up through narrow mountain passes and enjoying the fresh, clean air. The route took us past mountain football fields, where you wouldn't want to be the one charged with retrieving a ball that had been kicked out of bounds.
About 2-hours into our hike, we reached a tiny mountain town with a handful of stone houses that perfectly matched the shades of brown and red of the mountains surrounding them. Through the town, a tiny spring-fed stream gave a slash of green to the landscape. Locals here still use water mills powered by the stream to power their agricultural industry.
We returned to Gite d'Etape along winding mountain roads where the only traffic was the occasional donkey-pulled carts and shepherds guiding their flocks from place to place through the mountains. But before long, we had returned and were treated to a fabulous beef tagine meal with fresh Moroccan bread. It may have been the fresh air and exercise, but this was our favorite meal in Morocco.
L'MA Lodge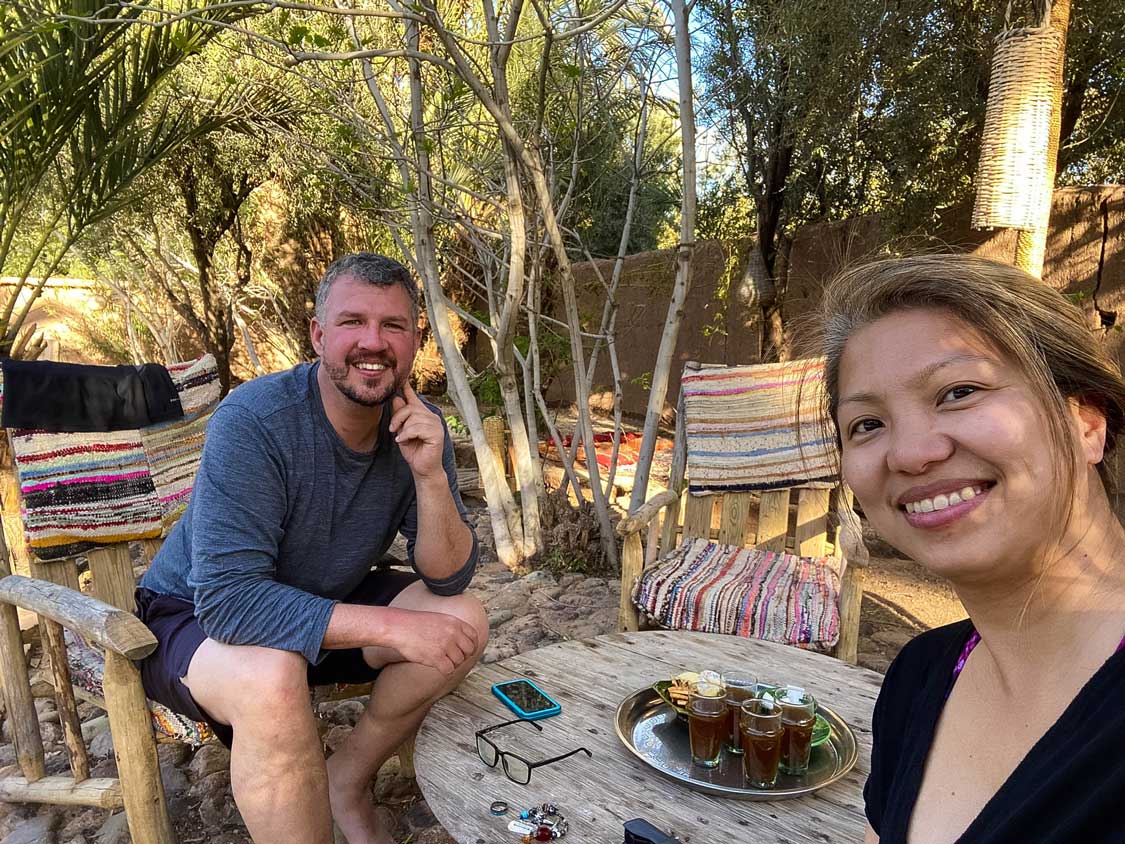 A booking error (probably due to the mix-up of our multiple trip cancellations due to catching COVID prior to our original departure date), meant that we couldn't spend both nights at Jardins de Skoura. Instead, for the second night, we were moved to L'MA Lodge.
To be honest, this move was the best situation. Jardins de Skoura is beautiful to be sure. But if you're traveling through Morocco with kids, L'MA Lodge offers a much more family-friendly experience. The owners of the lodge are parents of kids about the same age as our own. And the sprawling gardens combine a fantastic combination of lounging areas and fun activities, including a badminton court, playground, and a petting zoo.
Our hiking adventure had worn out our legs for the day. So after being shown to our room, we were invited to enjoy tea and swimming in the pool. The rest of our afternoon was spent visiting the animals, playing games, and lounging on the deck chairs.
Finally, it was time for an evening meal. And the food at L'MA lodge was fabulous. It had been a long few days, though, and by the time dessert arrived, the boys were both nodding off in their chairs. It was time for some much needed rest before a long drive the next day.
Day 8: Skoura to Marrakech
The eighth day of our 10-day Morocco itinerary involved a four-and-a-half-hour drive from the mountain town of Skoura to the bustling metropolis of Marrakech. Along the way, we would hit some unforgettable points of interest in Morocco.
Hollywood of Morocco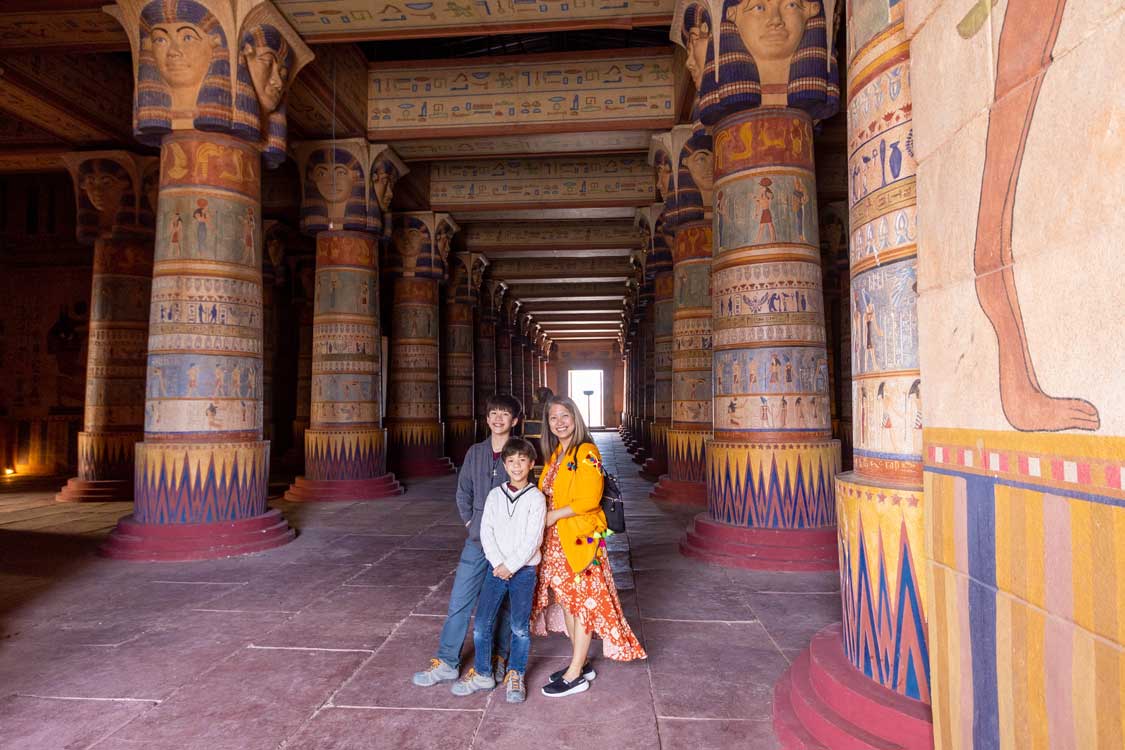 Our first stop was in the town of Ouarzazate. Here we took in the sites of one of the few Moroccan royal palaces that are actually open for visitors to explore. But the real claim to fame of Ouarzazate is its title of "Hollywood of Morocco." It's here that countless movies and television shows, including blockbusters such as Game of Thrones, Gladiator, and Cleopatra have been filmed. I've talked in the past about my love of movies. And even shared some of my favorite movies that inspire travel. So a visit here was sure to be a thrill.
We made a visit to Atlas Studios, where we were able to walk through the sets of several famous films, both modern and classic. The studio was packed with props and sets that made us second guess what we had seen in some of our favorite movies.
Each set was connected yet vastly different. Walking from ancient Greece into 19th-century Tunisia, followed immediately by three-thousand-year-old Egyptian temples, was mind-bending. It made for a fun twist to our Moroccan adventures.
You can read all about the best things to do in Ouarzazate here.
Ait Benhaddou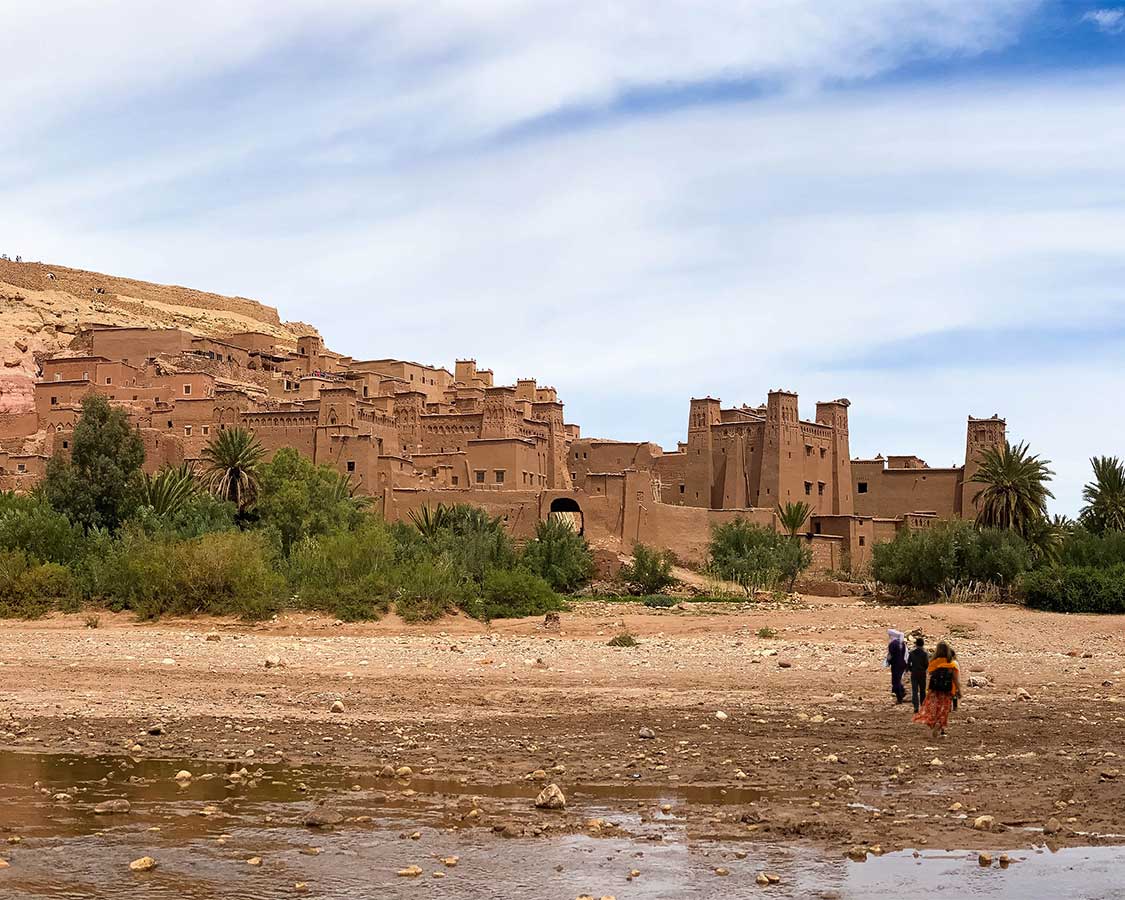 Just a short drive down the road from the city of Ouarzazate is one of the architectural jewels of Morocco. Declared a UNESCO World Heritage Site in 1987, this 11th-century hillside village is a sight to behold. Not only has it been used in many movies, including Lawrence of Arabia and Gladiator, but it's still home to a handful of Berber families descended from the early inhabitants.
The narrow alleys of Ait Benhaddou are packed with small shops hocking wares and artwork. However, there are a few things to pay special attention to. One of these is traditional Ait Benhaddou paintings that are created using a combination of watercolor paints and flame. The result is a stunning contrast of shades that was absolutely beautiful.
At the top of the village is the grainery. This fortified structure was the first building built at Ait Benhaddou a thousand years ago and acted as food storage. Thanks to this building, the city was able to repel attacks from outsiders and retain its freedom.
You can read our guide to the best things to do in Ourazazate, Morocco here.
The Atlas Mountains Salt Mine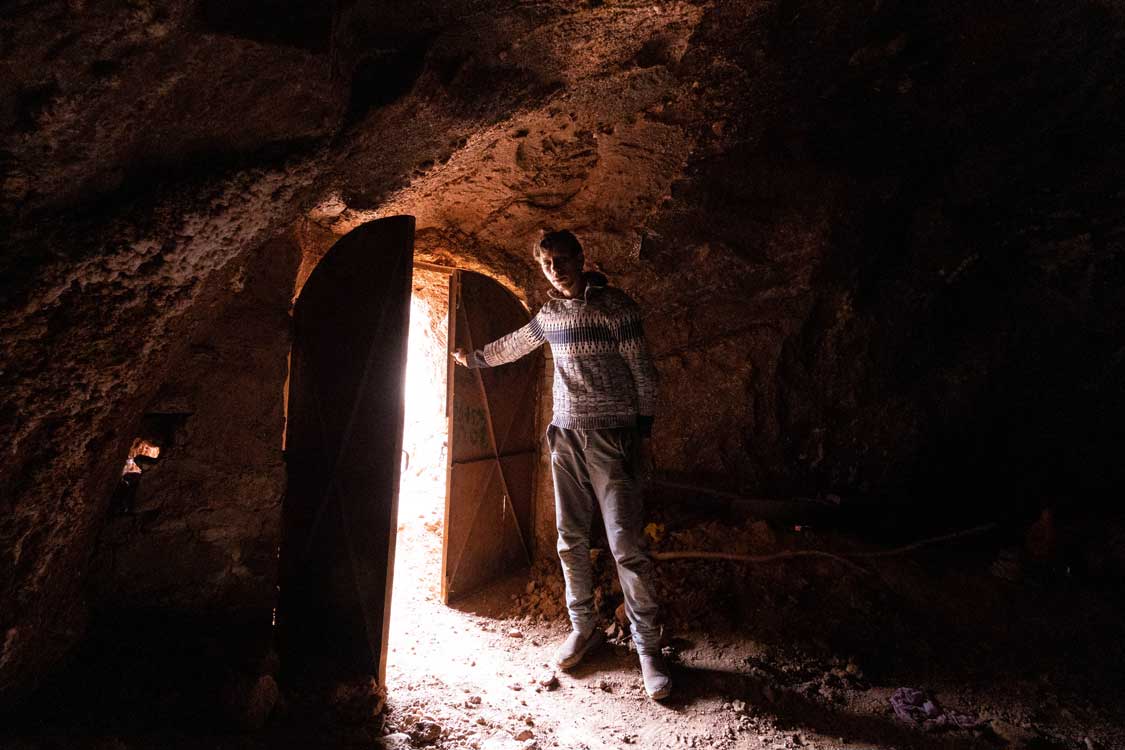 If you follow the salty waters of the river that streams passed Ait Benhaddou into the mountains, you'll inevitably come to a series of tiny homes and structures deep into the mountains. This was the next surprise from Daoud for our visit. And it was pretty awesome.
As we began our drive up through the mountains towards Marrakech, Daoud pulled off the highway and followed some gnarly trails till we reached a small valley where a lone van sat. Here we met Mohammed, a member of one of the local families that have, for generations, mined salt from inside the hillside.
Mohammed brought us into the sprawling cave structure that had been excavated for an uncountable amount of time. Exploring by flashlight, we wandered through rooms and past pillars to see just how extensive the excavation in the mountain had been.
After saying goodbye to Mohammed, we enjoyed a delicious picnic of fresh kebabs and Moroccan salad before continuing our journey toward Marrakech.
Tizi n Tichka Pass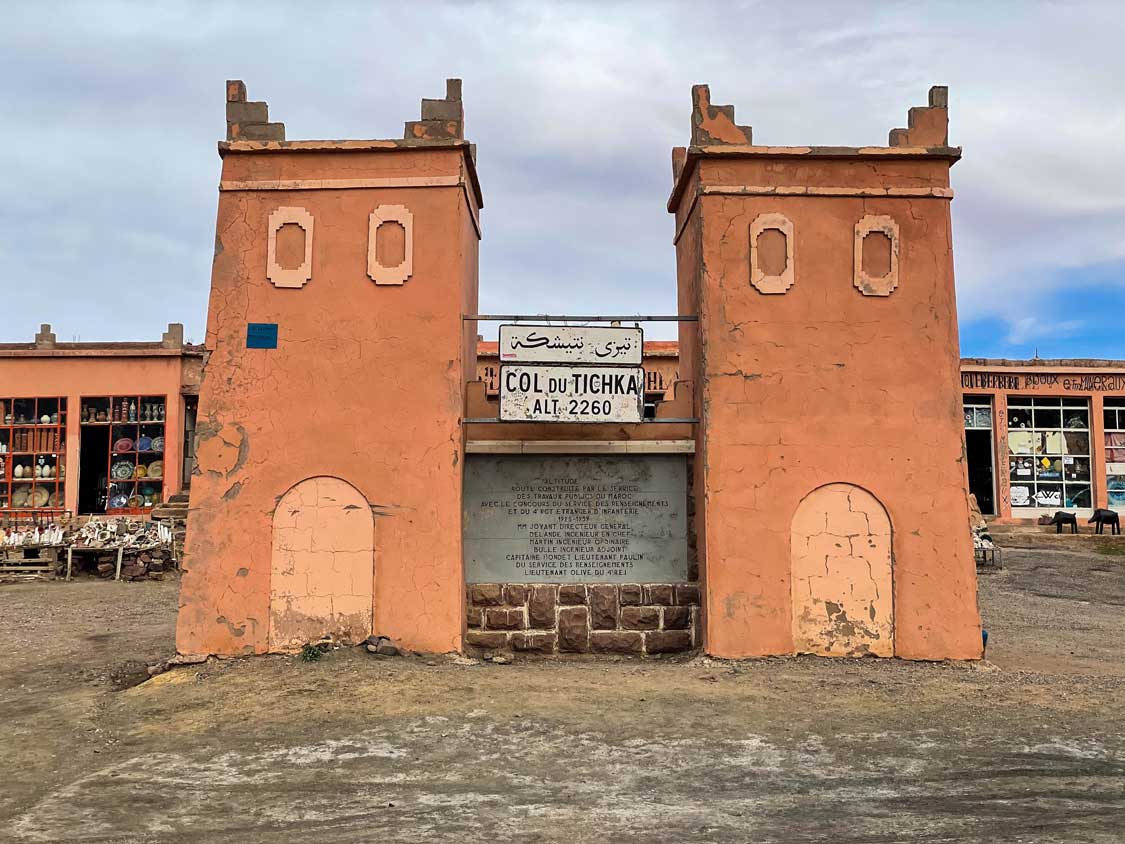 We continued up the mountains through jagged switchbacks until we reached Tizi n Tichka Pass. This is the highest mountain pass in Morocco. It sits at a height of 7,103 ft (2,165 m). The skies here were impossibly blue and reminded us of when we drove from Puno to Colca in Peru reaching well over 13,123 ft (4,000 m)
As we began to descend on the other side of the mountains, we made a stop at an argan co-op to learn about the important Moroccan oil and its countless uses.
The co-op is run by women who grind, extract, and use the oil for everything from foods to medicines, shampoos, and lotions. We had the chance to see the work that goes into extracting the oil and even sample some of the products that were being sold.
It was impressive to see how many uses this natural oil can be put to, and we ended up leaving with a small jar of argan-oil-infused eczema medicine to try out on D's notoriously dry skin.
Marrakech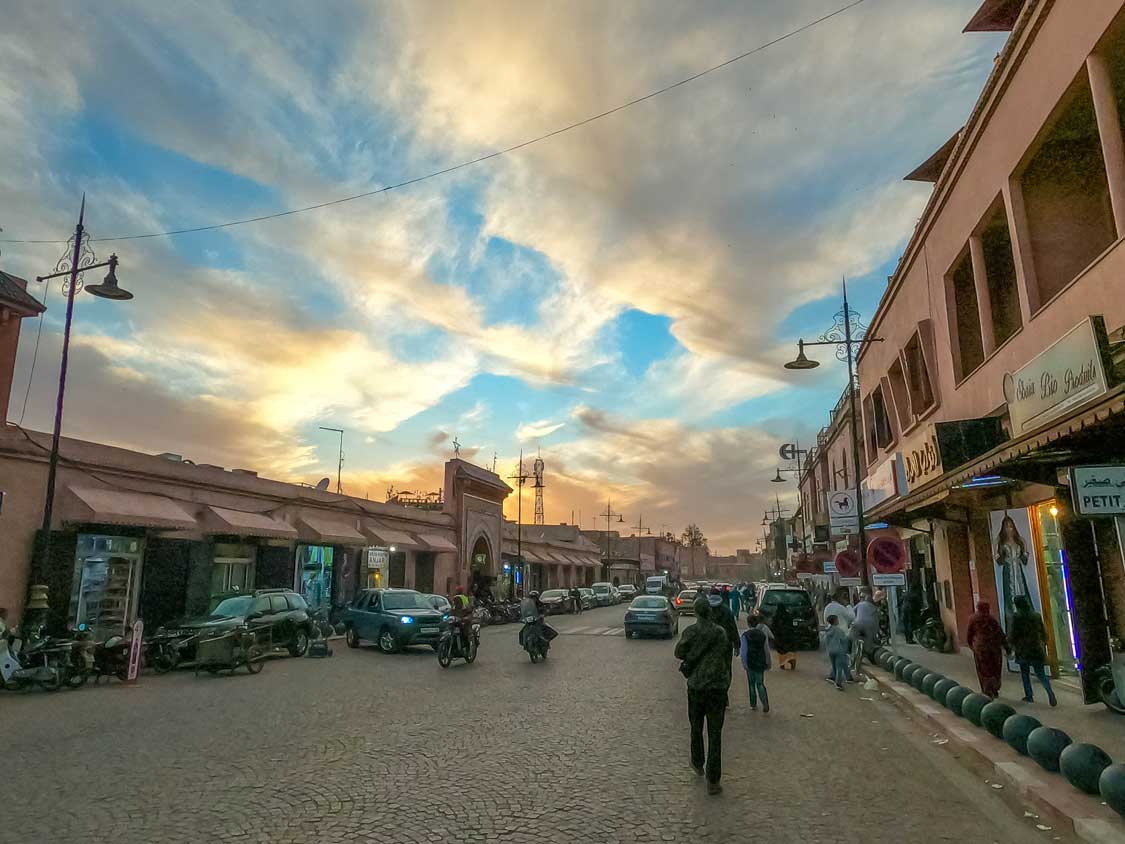 As the late afternoon began to arise, we arrived in the busy city of Marrakech. Daoud, whose family lives in the city, could barely contain his excitement at soon being reunited with his wife and children. We were all happy to know that he'd soon be in their arms again.
We navigated the relentless traffic of the Marrakech city core towards the Marrakech medina and found parking in a small square inside the city walls. Here we made our way to Riad Slitine, a beautiful property located not far from Jamaa El Fna Square, the center of much of the action in the city.
We still had a short time before the sun began to set, so after getting ourselves cleaned up, we stepped out into the bustling medina and began to explore the city. We wandered through shops and markets, checked out the towering displays of spices and herbs, and walked through the Jewish quarter with a wannabe "guide" who wouldn't take no for an answer.
Eventually, we made our way back to Riad Slitine in time for dinner and a solid sleep as we prepared for the last two days of our Morocco itinerary.
Day 9: Marrakech Cooking And Markets
We enjoyed a late breakfast of pastries, tea, and coffee before meeting Daoud for a short drive to meet our host Paule from Marrakech Food Tours. Paule brought us through the narrow alleyways of the Marrakech medina to the home of Aicha, a local chef who runs private Moroccan cooking classes from her home.
You can find our guide to visiting Marrakech with kids here.
Marrakech Cooking Class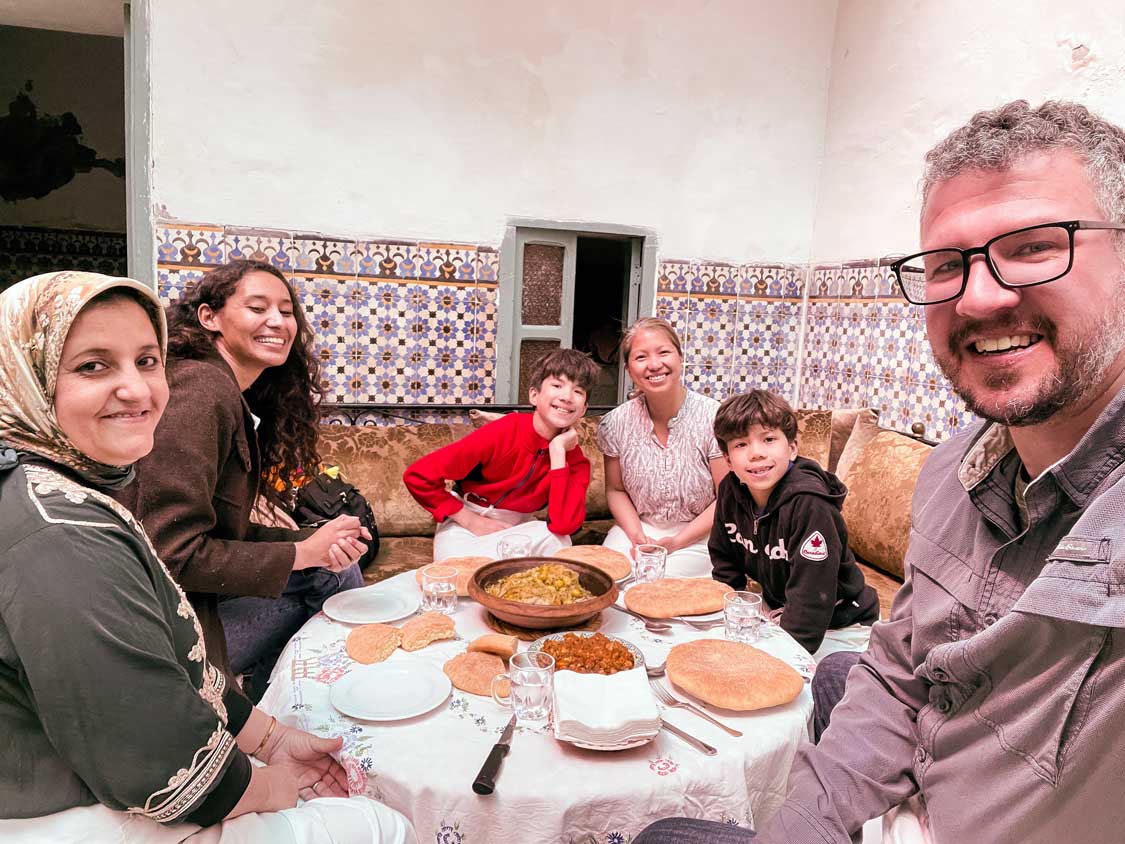 Aicha welcomed us with some tea before gathering us all up to head out to the market to gather supplies for the chicken tagine meal that we would be creating together. She helped us navigate the complex negotiations of shopping in Marrakech as we picked out chickens, Spanish onions, spices such as cumin and coriander, olives, cilantro, and more that we would be turning into a fabulous meal under her supervision.
When we returned to her home, Aicha set us all to work cutting, peeling, zesting, and placing all of the ingredients into a traditional Moroccan cooking pot to simmer for an hour and a half.
As the tagine cooked, we got to work making Moroccan bread from scratch, cooking eggplant over an open flame, and simmering a delightful sauce that would bring the entire dish together. Once it was all finished, we enjoyed the amazing meal together, and it was delicious!
You can book your own Marrakech cooking class here.
Shopping At The Artisan Market Place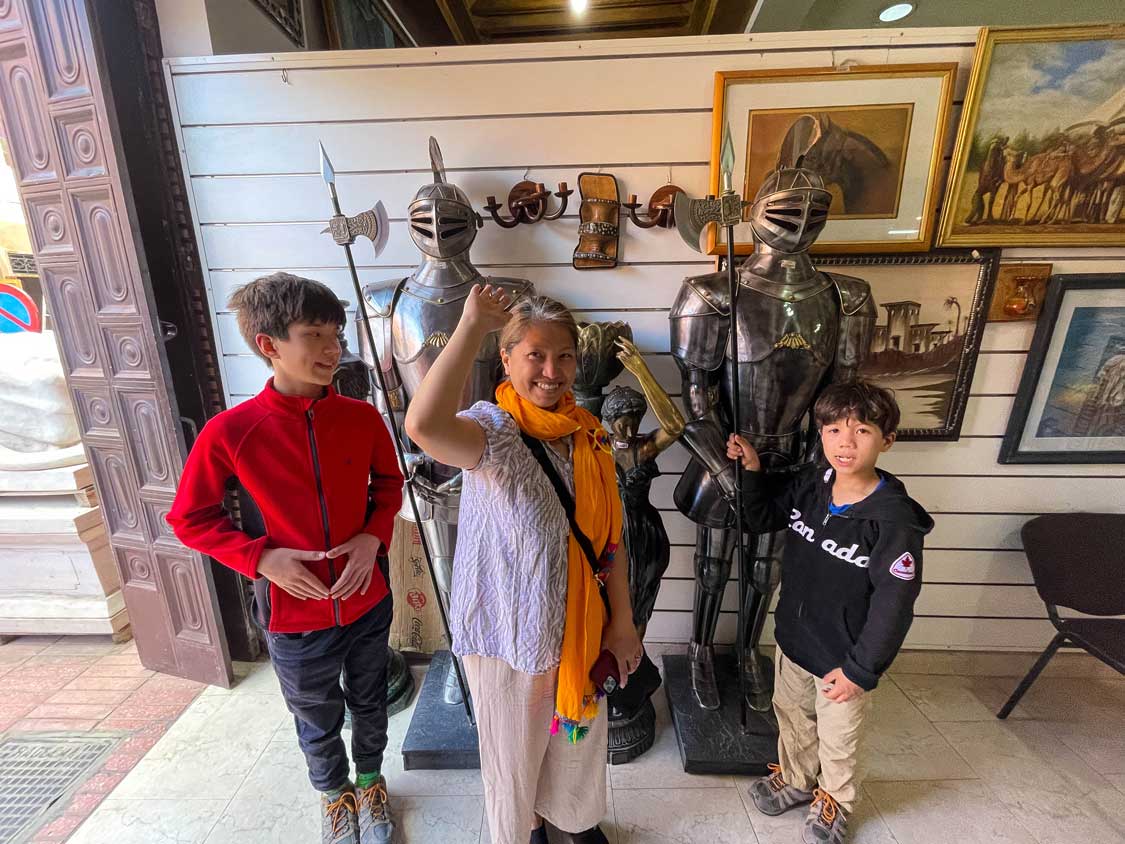 Daoud met us on the street corner for a final shopping trip at one of the official government artisan shopping markets in the city. At these shops, there are set prices, so visitors who aren't comfortable negotiating can get fair prices on almost any products that can be found throughout the country.
By any product, I literally mean anything. This shop was the size of two football fields stacked on top of each other, and it was packed from wall to wall with clothing, rugs, metalwork, sculptures, and everything else under the sun.
We had been hoping to find a brass star that we could put above our Christmas tree. It was a piece that we originally saw while in Fes but hadn't seen another one since. Unfortunately, our luck wasn't with us. But D almost convinced us to leave with a 10 ft tall sculpture of Optimus Prime!
Sights Of The Marrakech Medina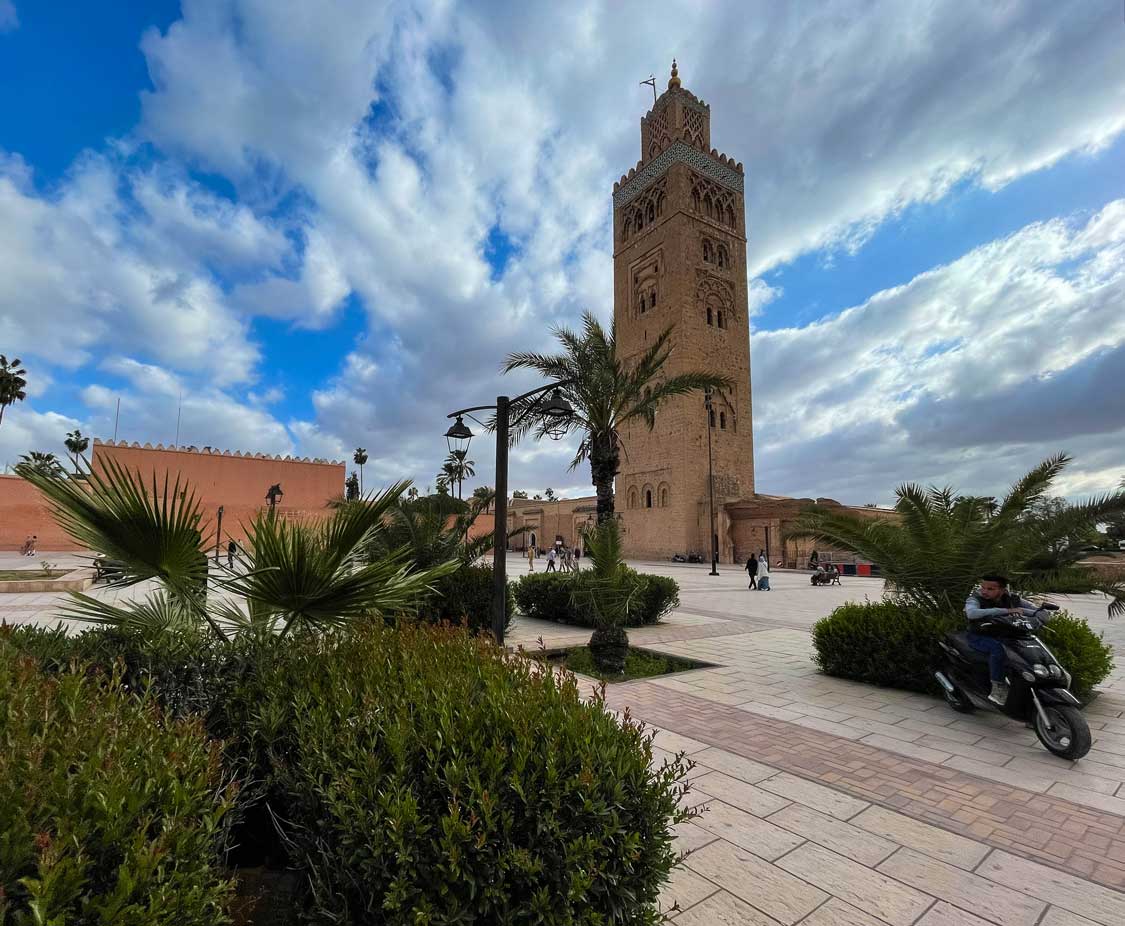 We returned to Riad Slitine before embarking on a walk through the Marrakech medina. This was our final time with Daoud as he would be heading to meet his family. So with a cheerful goodbye, we went our separate ways.
Our first stop was Jamaa El Fna square. It was mid-afternoon, and the market, which is at its busiest in the early morning and late evening, was just starting to fill with vendors.
We strolled past vendors selling trinkets and fruit smoothies toward the towering Koutoubia Mosque. It's the largest mosque in Marrakech, and its minaret can be seen from almost everywhere in the city.
It was past five o'clock as we explored further, and many of the best things to do in Marrakech were closed by then. So after a little more strolling through the narrow alleys, we made our way back to Jamaa El Fna square to find some dinner.
Cafe Argana and the Night Market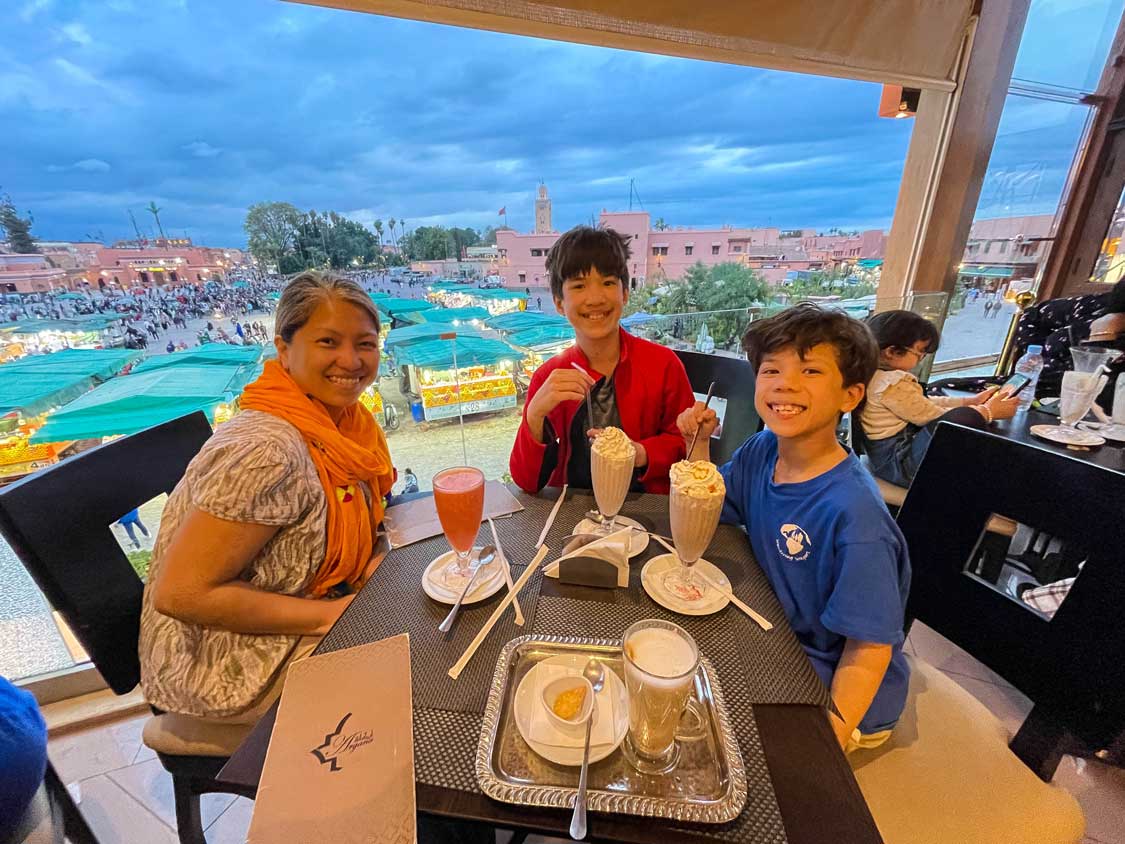 As the sun began to set, we made our way back to Jamaa El Fna square to catch some of the action. The market has pretty much everything you could possibly imagine. There were snake charmers, monkey handlers, stalls selling food of every kind, street performers, magic shows, and so on. It was almost overwhelming from a sensory standpoint.
It's this madness that draws so many visitors to Marrakech each year. And if you love excitement, showmanship, and sprightly smells, there's no reason that you won't love it.
At every turn, we had vendors clawing for our attention, usually with smiles and laughs, sometimes with flyers indicating which booth number they were at. But most were happy to let it go when we said we weren't interested.
It was getting close to dinner time, and with this being our last night in Morocco, we wanted to have something that we would all have a smile about. I sent Daoud a message asking for recommendations for the best ice cream in the area. He recommended Argan Cafe, so we began searching for it amidst the bustling medina.
Argana Cafe sits overlooking the square facing the Koutoubia Mosque. So to say this is prime seating in Jamaa El Fna is an understatement. We were lucky to arrive just as a young family was leaving and snatched a prime window-side seat, along with the jealous stares of several other groups that were hoping for the same.
The food at Argana Cafe was ok. But where this popular cafe shines is in its milkshakes and ice cream desserts. We loaded up on dairy treats topped with macarons and other delicacies and toasted our time in Morocco as having been a huge success. And as the night drew on, we kicked back and watched the excitement of the market below.
Day 10: A Royal Tour Of Marrakech
When we woke on our final day in Marrakech, we knew that we had to hit the ground running in order to make the most of our visit to the popular city. We ate a quick breakfast and said thank you to our hosts at the Riad, then walked out the door to kill the final few hours.
Our flight from Marrakech to Paris was departing at 4:30 pm, so we only had 4 hours before we had to arrive at the airport. We had seen a chunk of the city over the past two days, but there were still a few more places that we wanted to hit.
Saadians Tomb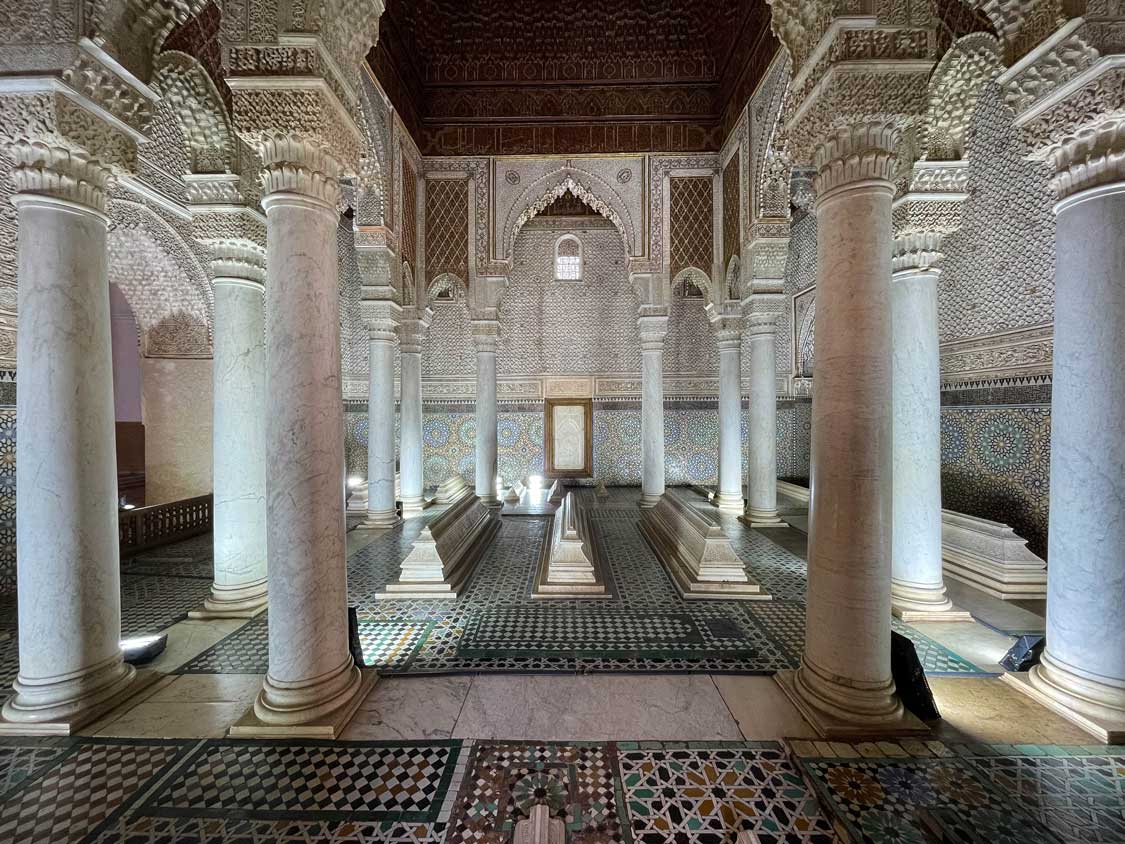 Our first stop was a walk over to Saadians Tomb, located not far from the Koutoubia Mosque. The tomb was built between 1578 and 1603 during one of the high points of Moroccan architecture as a place of rest for Ahmad al-Mansur and his descendants.
The many rooms of the tomb welcome visitors by the hundreds to gaze upon the marvelous tile work and lush gardens that fill the complex. We had a fantastic time ducking between the flowering plants and marveling at the cavernous interiors of the tomb.
Bahia Palace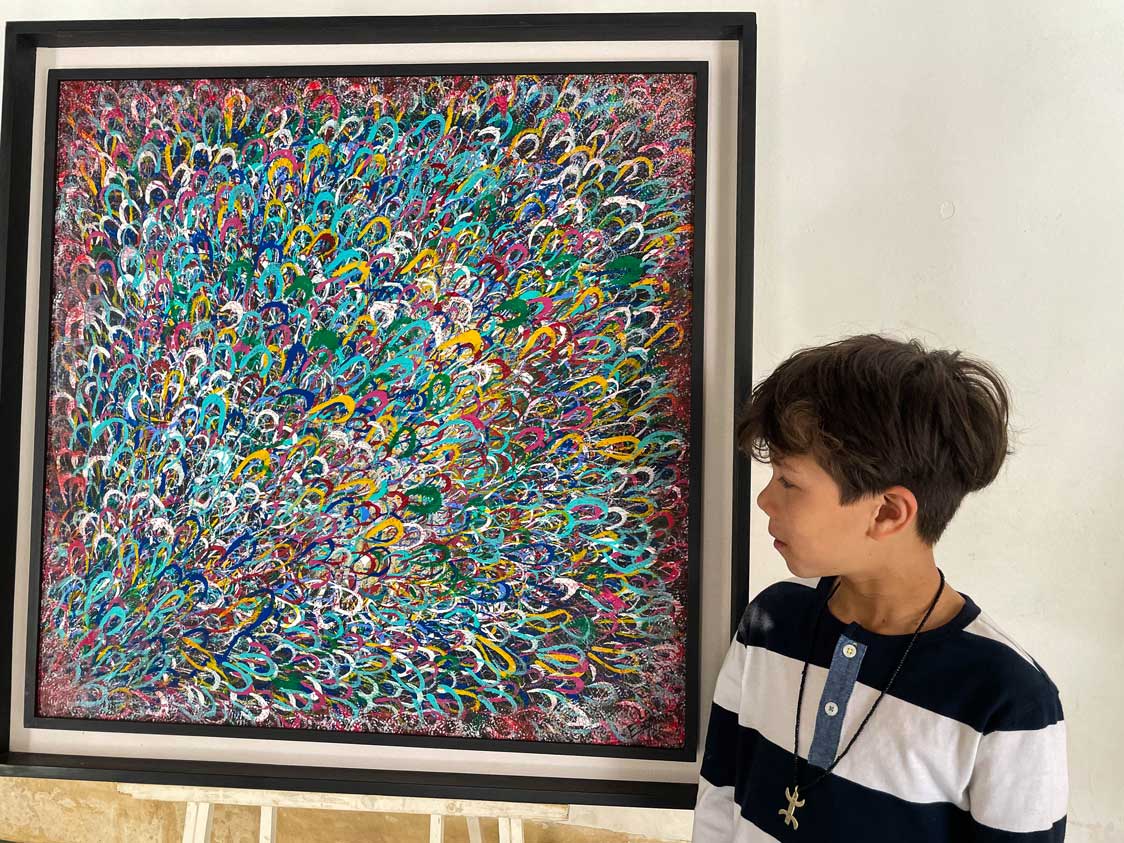 The final stop of our 10-day Morocco itinerary was Bahia Palace, which sits just a short walk from our accommodations in Marrakech. The palace was built relatively recently, in 1859, by Sultan Muhammad ibn Abd al-Rahman. It was expanded until 1900, and today is one of the few Moroccan royal palaces that are open for visitors to explore.
We entered through a street that was lined with orange trees and spent two hours exploring the sprawling network of riads, squares, and gardens that make up the palace. Some of our favorite rooms were the ones that were hosting art exhibits.
After tearing ourselves away from the beauty of Bahia Palace, it was time for us to catch our ride, which Sun Trails had arranged for us, to the Marrakech airport. Morocco had been a place we had been working to travel to for years. And when we finally had our chance, it did not disappoint.
We look forward to returning and exploring some of the coastal cities, such as Agadir, Tangier, and Essaouira on our next visit.
Tips For Your Ten Day Morocco Itinerary
Here are a few things to help you plan a family trip to Morocco. From what money they use to how to navigate the country safely. And please explore our Morocco travel blog posts to learn more.
Currency

the Moroccan Dirham (MAD) is the primary currency in Morocco. Although the use of the Euro is also accepted regularly throughout the country. The average value of the Moroccan Dirham is approximately $0.1 USD. You can check out the current value here.

Capital

The Capital of Morocco is Rabat. This coastal city of just over 575,000 people is a popular destination for tourists. Visits to the city are often combined with its sister city of Sale, which has just 15,000 residents.

Electricity

Egypt uses C & E type 220V sockets. The C type uses two round pins, and the E type uses two round pins and ground. The frequency used is 50hz. You may need a voltage converter, depending on your electronics.

Cellular Phone Service

Cell phone service is readily available throughout much of Morocco. Even the rural areas generally have some, though often limited, cell service. Sim chips are cheap and can be added to unlocked phones. Access in rural areas or smaller islands can be spotty, and wifi is less common in these areas.

Roads, Driving, and Public Transit

Driving in urban Morocco is quite chaotic. Traffic rules are very localized and lanes, signaling, and even passing are done on a first-come, first-serve basis. One thing of special note is that Morocco has a very "cars first" approach to road safety. Cars will not actively try to hit pedestrians, but they will also take the right of way unless there is more pedestrian than vehicle mass. Consider avoiding driving in Morocco if you are not exceptionally comfortable in stressful situations. Driving in Morocco can be chaotic. Traffic rules are generally not well-enforced and are often up to interpretation.
Roads throughout the country are in relatively good shape, although in rural and mountain areas, they can be very windy and in poor maintenance.
Mass transit is not readily available in most Moroccan cities. Transit is normally done by car, motorcycle, or taxi.

Morocco with Kids

Family travel in Morocco is wonderful. The country may not be the easiest to navigate with children. But Moroccans are especially welcoming of families.
Touching children's faces is very common in Arabic cultures. This may often be done without asking a parent first. If the touching makes you or your child uncomfortable, be open and honest, and you will usually be treated with respect.
Read our entire Morocco with kids tips here.
You May Also Like To Read: