These exciting things to do in Marrakech with kids will help you plan an incredible family experience in Morocco's coolest city.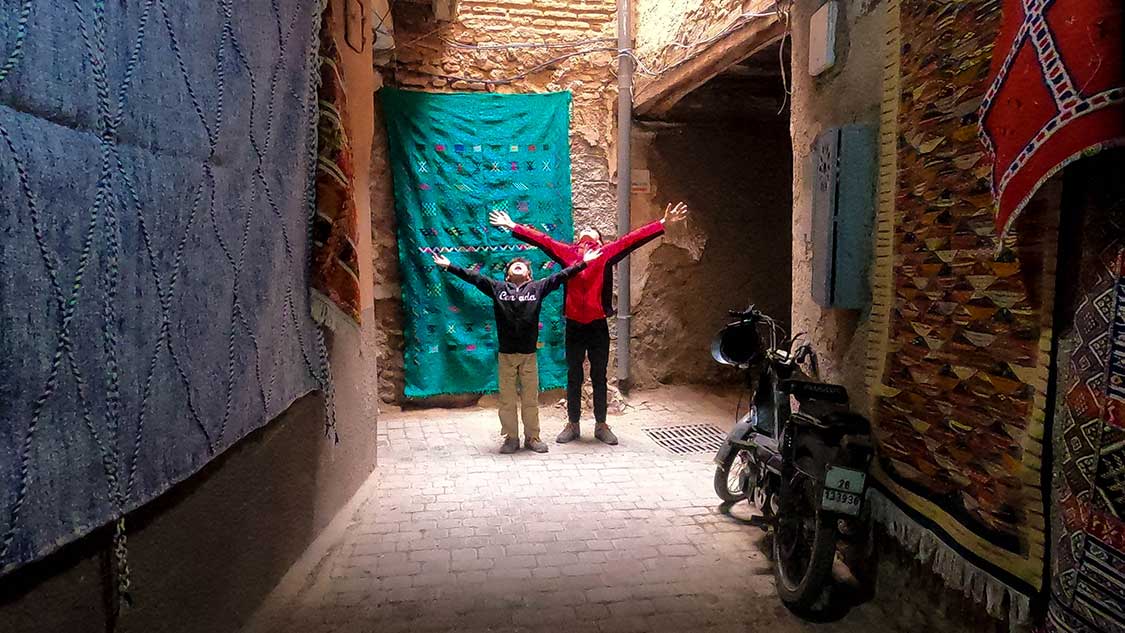 The thought of visiting Marrakech invokes visions of exotic markets, crowded stalls, markets lined with magnificent food, and snake charmers coaxing serpents from wicker baskets.
All of these things are true. But there's much more to the city than what you'll find in the tourist brochures. There are countless things to do in Marrakech with kids, but all of these attractions are wrapped up in an organized chaos that borders on the hypnotic.
Marrakech can be overwhelming for first-time visitors, especially if it's their first experience in the country. Unlike other major cities in Morocco, such as Fes, which holds culture and history close to its heart, or Rabat, where modernization pairs with history, Marrakech offers all of the thrills of urban Morocco, concentrated in an ultra-accessible but slightly chaotic format.
Marrakech is the destination that families aim to visit when they want to experience the Morocco they know from books or the movies. It's wild, untamed, and utterly fascinating. If you're visiting Morocco with kids, you'll be surprised to see that this city is much different from many other places to visit in this north African nation.
In this guide to visiting Marrakech with kids, we'll talk about what you need to know before you visit the city, how to prepare, things to look out for, and things to do in Marrakech with kids to make the most of your family's visit.
Here are a few tips for visiting Marrakech for families to start you off on your journey.
About Marrakech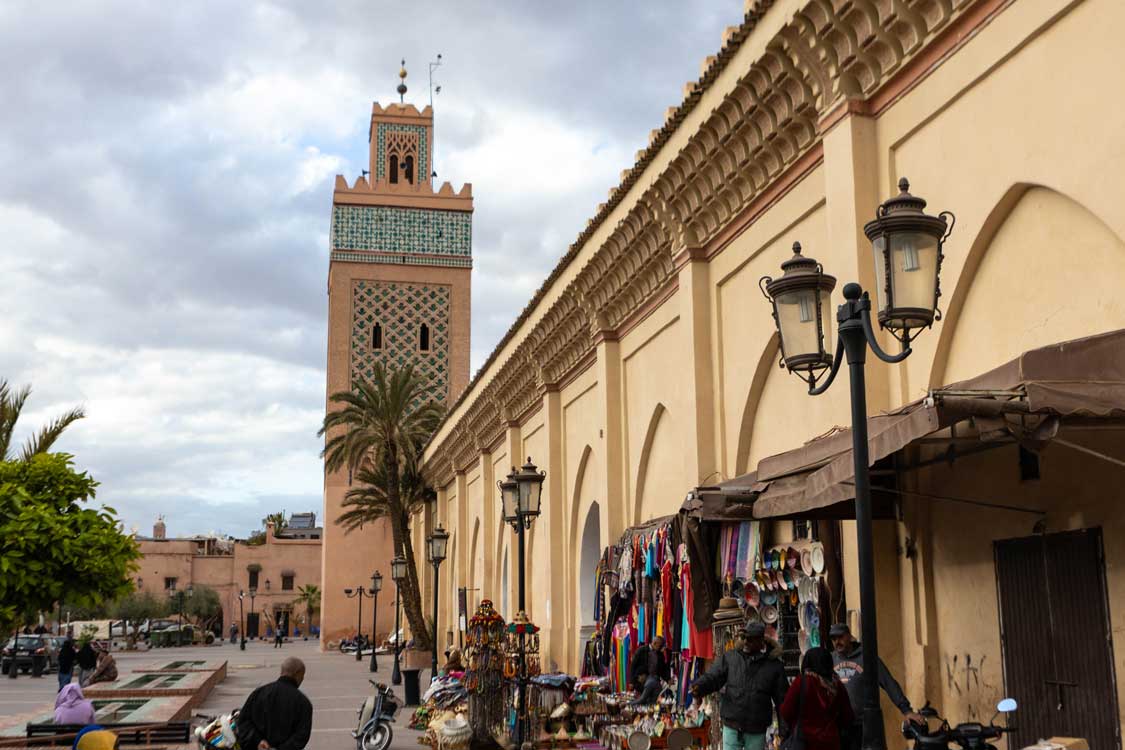 Marrakech is the third-largest city in Morocco. The city lies on the western base of the Atlas Mountains, about 250 miles from the Moroccan coast.
The city's name originates from the Berber word meaning "Land of God. While the city was founded in 1070 by Emir Abu Bark ibn Umar, its history dates back as far as 10,000 B.C. The famous red walls of the city that surround the central medina were built in 1122-1123. The red stone used for its construction led to the city being dubbed "the Red City" or the "Ochre Valley."
Tips For Visiting Marrakech with Kids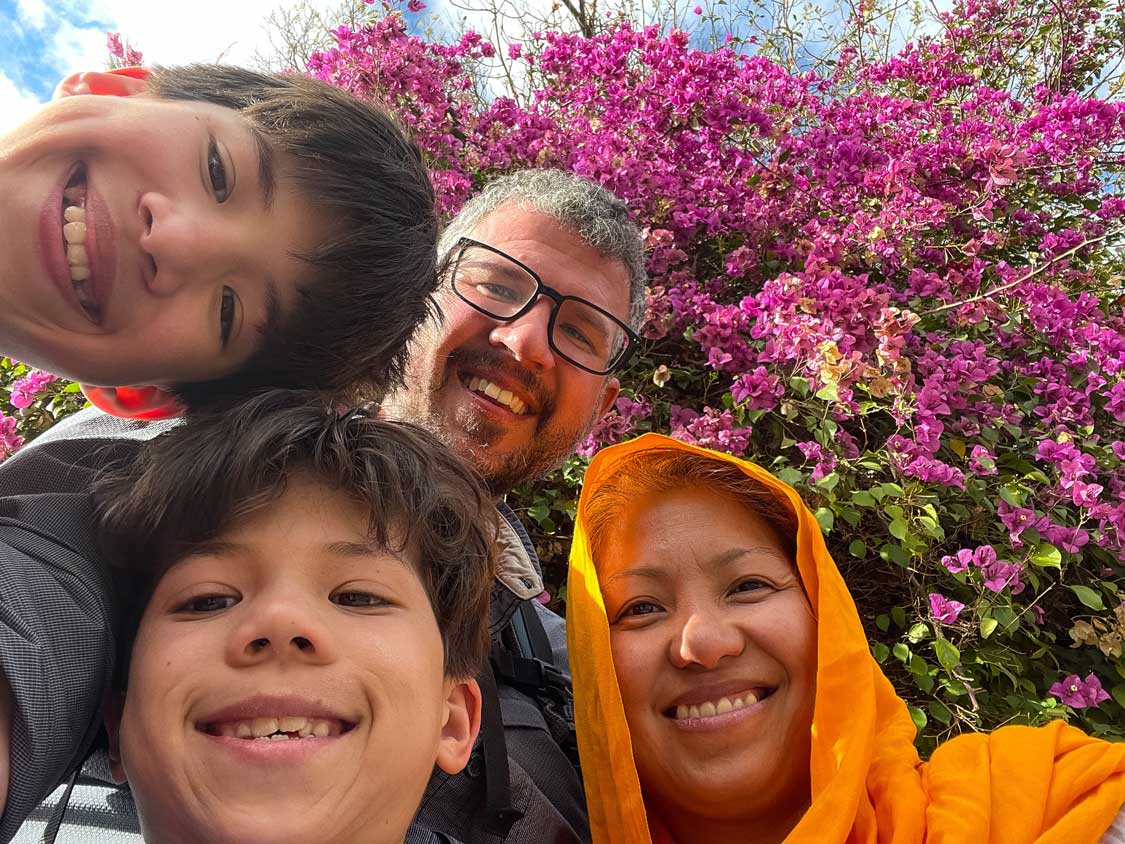 Is Travel in Morocco Safe?
Morocco, in general, is considered a fairly safe country to travel in. It's a country that has experienced a fairly stable political situation in recent years. The country has a relatively low crime rate, and the locals are typically kind, helpful, and friendly to outsiders. International SOS lists Morocco as a low-risk country. It's rated around the same level as most of Europe.
With this in mind, it's also worth noting that Marrakech is a big city. And with any big city, there exists the risk of scams, pickpockets, petty theft, and other crime. It's a good rule in any large city, whether it be Marrakech, Toronto, Canada, or Lisbon, Portugal, that you stay on alert and keep your children and belongings close.
With its narrow alleys, large crowds, and busy markets, the city is a particularly appealing place for pickpockets. Scams are also fairly prevalent, especially at the bustling Marrakech market.
Is Marrakech A Good Destination For Families?
Morocco is increasingly becoming the "go-to" destination for adventurous family travel. The accessibility to Europe, safe reputation, fascinating cultures, and wealth of amazing attractions draw families from across the planet.
We can't have imagined not including Marrakech in our plans during our ten-day Morocco itinerary. The city is very accessible and offers a wildly exciting atmosphere that stands in sharp contrast to the more relaxed and conservative atmospheres of places such as Fes and Merzouga.
Exploring the many things to do in Marrakech with kids is also pretty easy. Many of the best family-friendly attractions in Marrakech are accessible and close together. Even the busy medina is expansive without being as maze-like as the massive one in the city of Fes.
Even those visiting Marrakech with a baby will find that the city is relatively easy to navigate. In fact, like in many countries that we've visited, such as Jordan, bringing young kids or babies to Marrakech opens up a great opportunity to connect with locals. You'll find that many locals absolutely adore children. Just remember that it isn't a particularly stroller-friendly city. I recommend either bringing a child carrier to get around or choosing the most compact travel stroller you can find.
What To Pack For Marrakech
It's important to pack for Marrakech travel appropriately, especially for those visiting as a family. To help you understand what to pack for Marrakech with kids, check out our complete Morocco packing list right here.
The Best Things To Do In Marrakech with Kids
Visiting Marrakech with children is an adventure. You'll find an incredible range of family-friendly attractions and experiences, and it doesn't require much work to immerse your family in the vibrant and diverse cultures of the city.
Plan to spend at least a couple of days in the city to appreciate what an awesome destination it is. But if you're tight on time, this half-day guided city tour will show you the key spots.
Explore The Marrakech Medina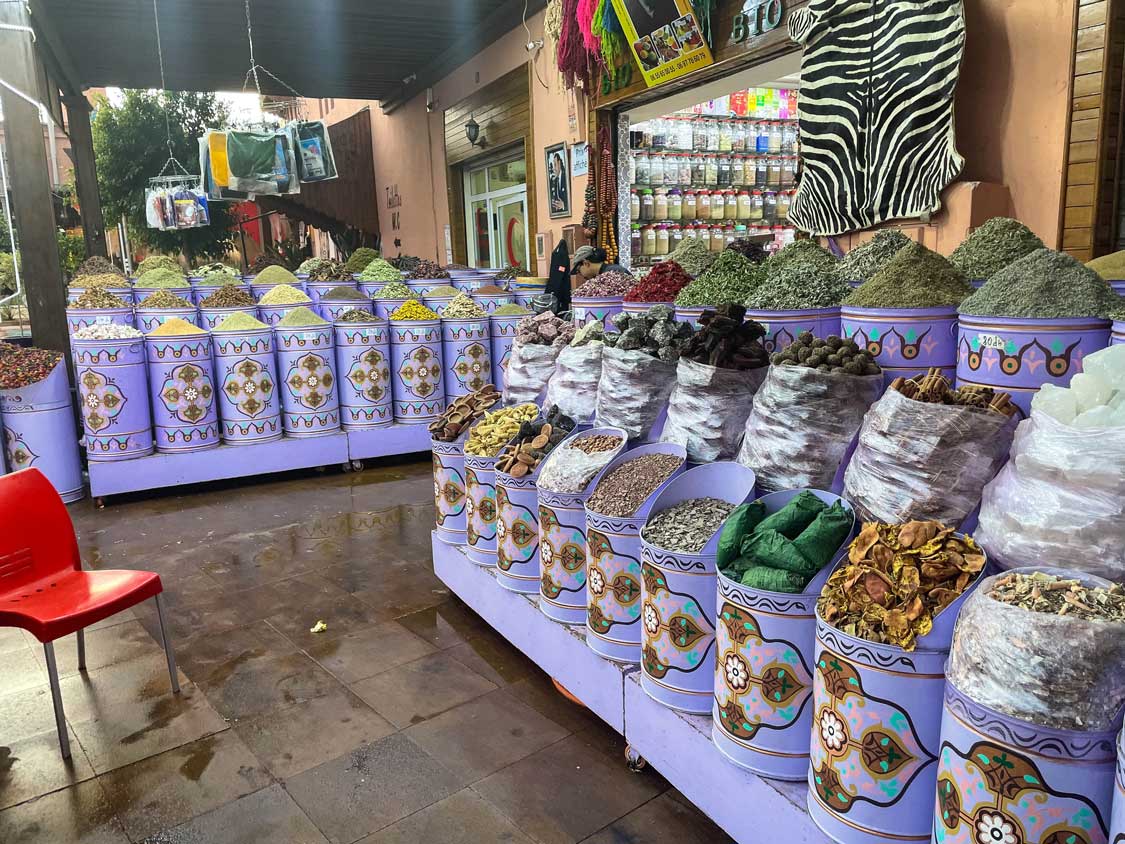 Visiting the Medina in Marrakech is something that you won't want to miss. If you're unfamiliar with what a Medina is, it's essentially the old part of the city. A Medina lies within fortified walls and is a complicated series of narrow alleys and large squares that are simply teeming with markets, shops, and food vendors.
If you can swing it, stay in a riad within the walls of the medina to give you easy access to the best things to do in Marrakech with kids. That way, you can walk to some of the best spots, including the markets, Jemma el Fna square, and the Koutoubia Mosque.
Don't worry too much about getting lost in the Marrakech medina. Wandering aimlessly is part of the adventure. It's kind of like getting lost in Venice, Italy. Each turn opens up a new adventure.
Make sure to keep your head up and your eyes open while exploring the medina. The alleys are very narrow, and scooters often drive through them with little regard for those wandering around on foot.
Make a Visit To Jemaa el Fna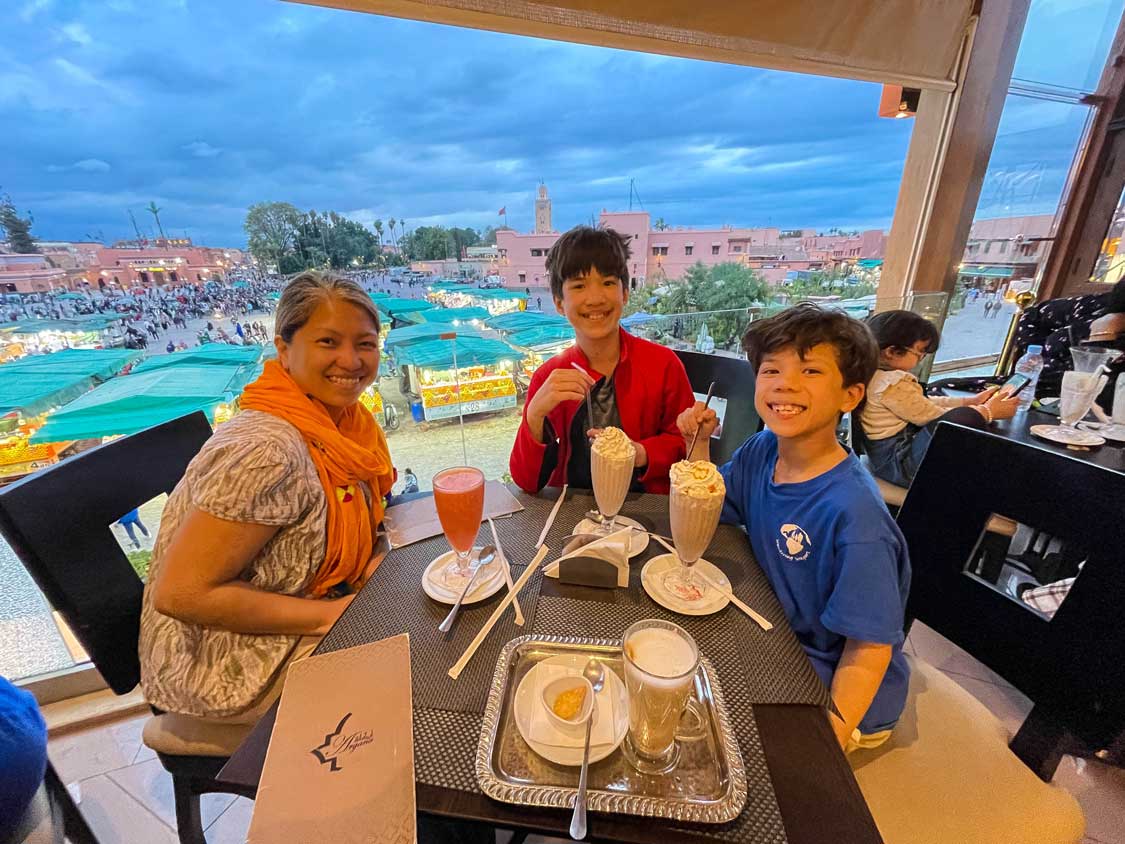 One of the most popular things to do in Marrakech is visiting Jemaa el Fna. If you ask the locals, this is where most of them will direct you straight away.
Jemaa el Fna is the main square of the Marrakech medina. This massive outdoor space is at its most active early in the day and later on towards sunset till just after midnight. If you visit this UNESCO World Heritage site during these times, you'll be treated to one of the best shows in the country.
Stroll among the countless vendors while sipping on fresh fruit smoothies or munching on kefta. Kids will love catching a glimpse of the many magicians, snake charmers, and street performers who are all competing for the attention of the thousands of visitors and locals who stream to the market each day.
Kids and adults alike may be shocked by some of the things that they see at Jemaa el Fna including open examples of animal abuse by snake charmers and monkey handlers. I recommend preparing children for these encounters ahead of time, as performers often mistake gawking for interest and will request money, sometimes quite aggressively.
If you're visiting Jemaa el Fna with kids, I recommend grabbing a table at Cafe Argana. This spot offers one of the best views over the square. It may not have the best food in Marrakech, but it makes up for that by having the best ice cream treats in the city.
This market is an absolute delight to visit. Stroll among the vendors, enjoy some street food or a mint tea, and take in the wonderful chaos of this Moroccan night market.
Take a Marrakech Cooking Class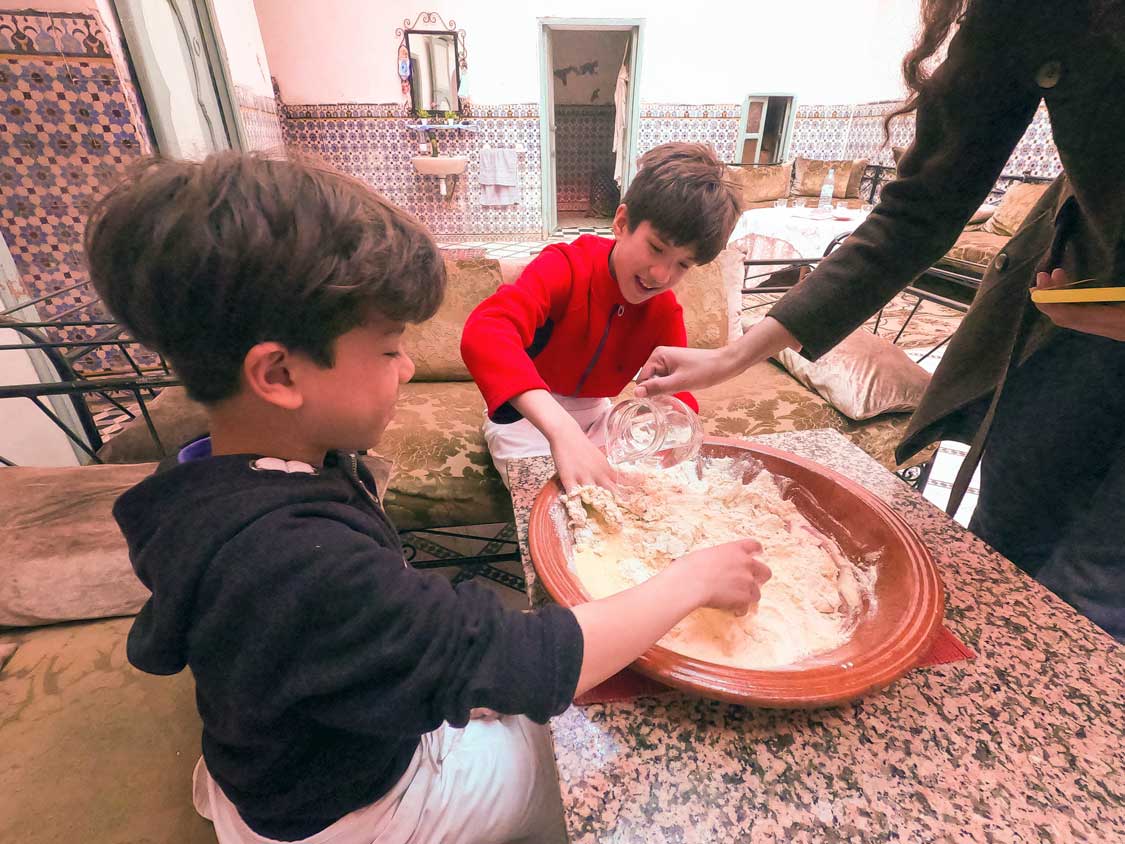 One of our favorite things to do in Marrakech with kids is to enjoy a Moroccan cooking class. It was a genuinely fun and educational way to introduce our children to the local cuisine and offer them a hands-on experience that would be both exciting and satisfying.
We hooked up with Marrakech Food Tours for a cooking experience where we learned all about food in Morocco and cooked up a marvelous meal of chicken tagine and khobz.
The class had us spending some time in the market learning how to choose ingredients and barter for the best price. Then we spent time at a local's house learning how to put together the ingredients to make the perfect Moroccan meal. When it was all done, we sat down to dine on our creation together.
If you're interested in experiencing your own cooking class in the city, you can book one here.
Make a Visit To the Marrakech Gardens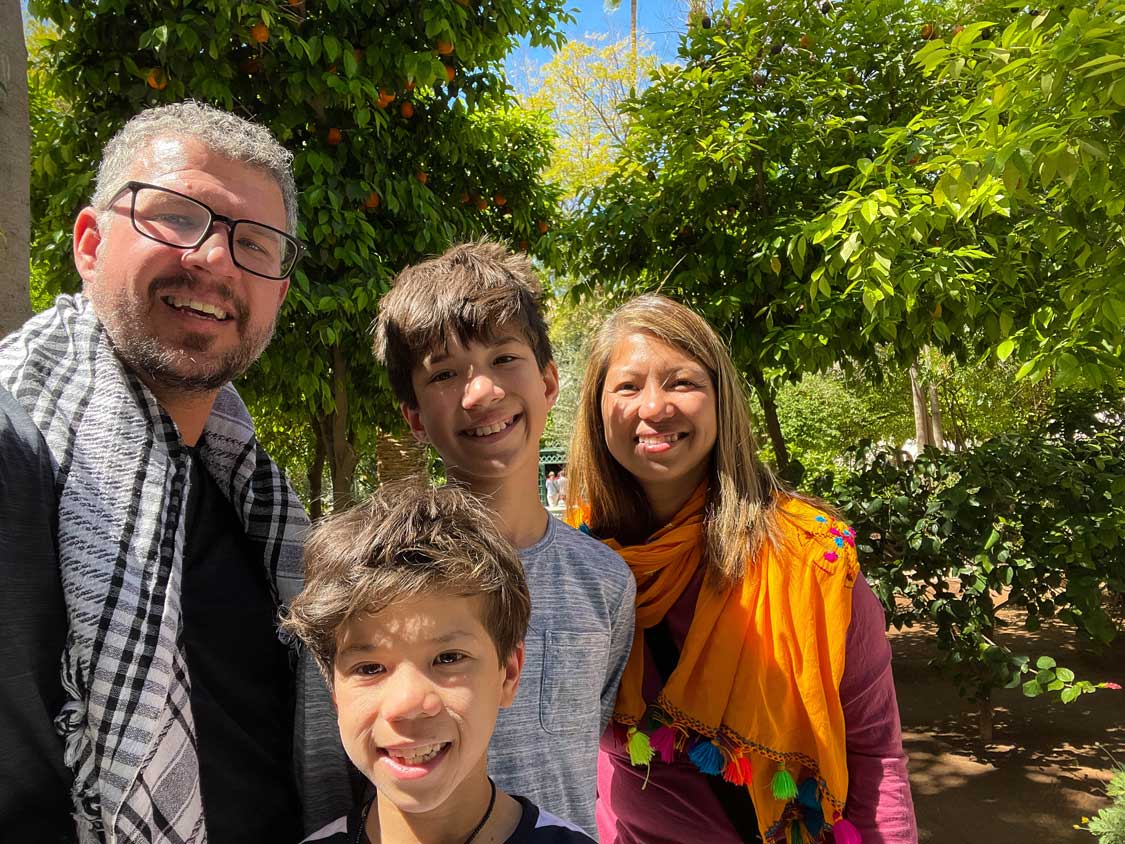 Marrakech is home to some absolutely stunning gardens. These gardens offer a fantastic place to escape the hectic alleys and busy streets and enjoy some serenity surrounded by plants and flowers.
Gardens in Marrakech are wonderful to explore, including Le Jardin Secret and the gardens of Bahia Palace. The most popular of the Marrakech gardens is Le Jardin Majorelle, which sits within a complex once owned by fashion mogul Yves Saint Laurent. You'll find quiet paths to explore, fish ponds, and stunning tile work within the garden.
Visit A Hammam
A visit to a Hamman was on our list of what to do in Marrakech with children. These Moroccan massage and steam baths are part of the local culture here. But be warned, it might be something that your children or yourself find … awkward.
These famous massages can be a combination of painful, awkward, and intimate. Those who get the massages are naked. The experience starts with a steam bath followed by a vigorous exfoliating scrub, and a massage that might feel a bit like you've entered a torture chamber. It combines contortions, twists, thumps, and slaps. But the end result is that your body will be buttery smooth and completely relaxed.
Ultimately, a Marrakech hammam experience wasn't in the cards for us. Our eldest son decided that he just wasn't comfortable enough with the experience. So we'll save that for the next time we visit Morocco.
Explore The Saadian Tombs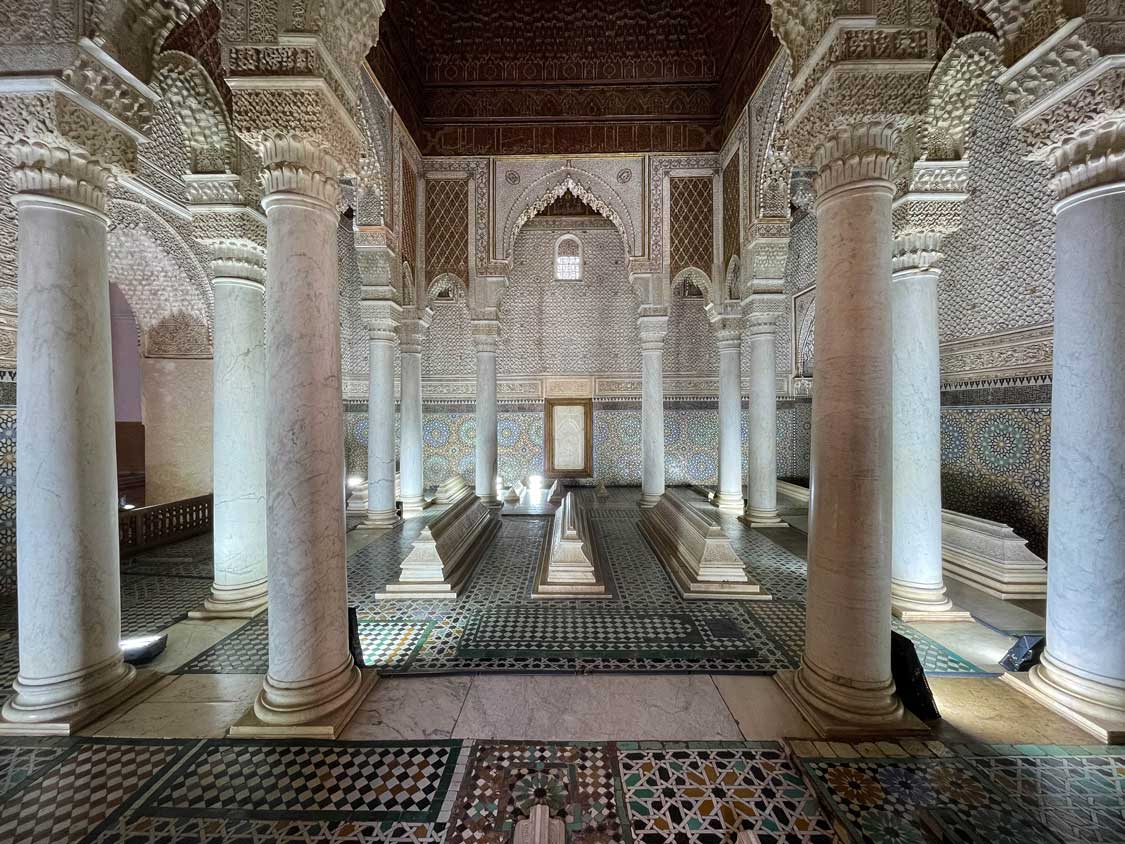 My family had an absolutely phenomenal time wandering and exploring the majestic Saadian Tombs in Marrakech. This is one of the most visited tourist attractions in Marrakech, and in the peak season, lines can get fairly long.
If you visit early in the day, you can beat the crowds and enjoy the majesty of the tombs relatively undisturbed.
The tombs were built in the 1600s by Sultan al-Mansour ed Dhabi. The 12-pillar mausoleum was walled up following the death of the Sultan and wasn't rediscovered until 1917. The magnificently tiled rooms have inspired hundreds of thousands of visitors since they were opened to the public.
Saadians Tomb is included in this half-day Marrakech walking tour.
Wander Through An Animal Sanctuary
Animals are used throughout Morocco to help with farming, transport, and even domestic chores. Sadly, when many of these animals reach the end of their usefulness, many are simply abandoned. Jarjeer Mule and Donkey Refuge rescues many of these animals and offers them a home.
Visitors to this Marrakech mule sanctuary can walk with them in the foothills and help feed and care for them. There is no fee to enter. However, donations are requested. They help with the maintenance of the property and the care of the animals. You can connect with them here.
Enjoy A Stroll Through Bahia Palace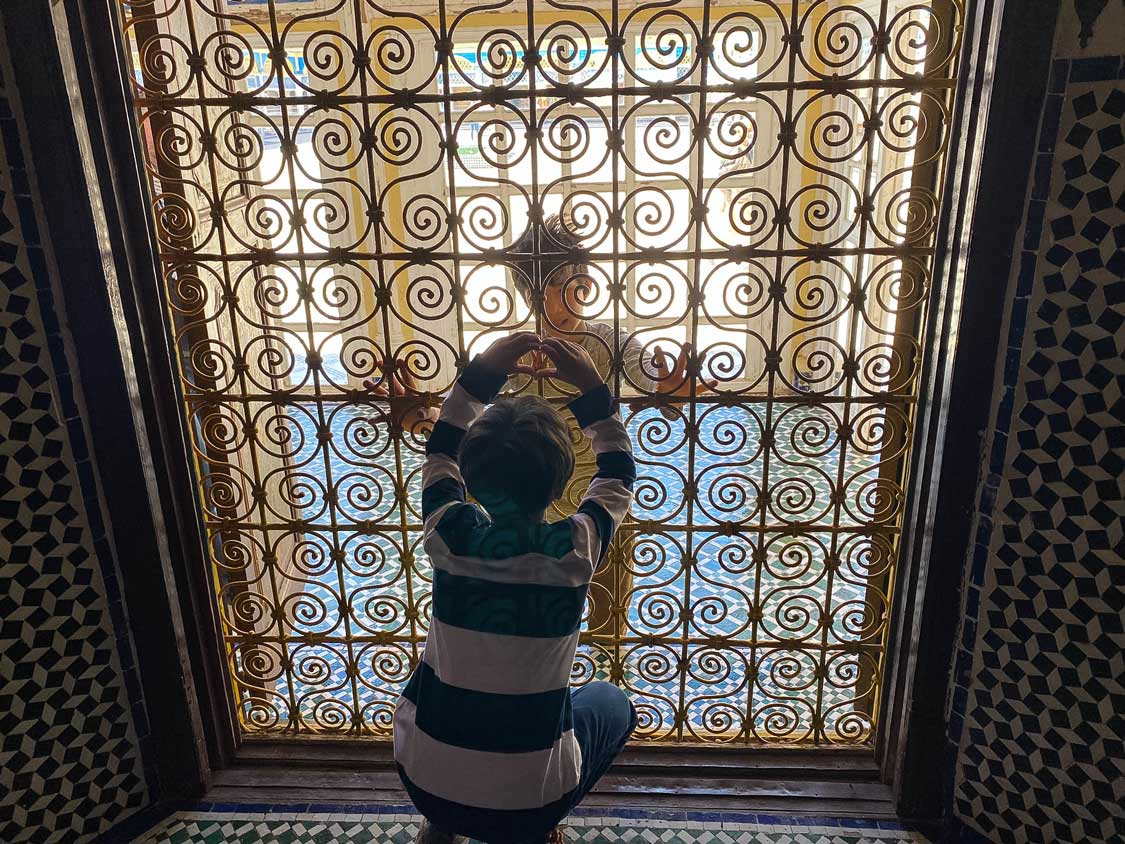 La Bahia tranlastes to "The Beautiful." This 26246 sq. ft. (8,000 sq. m.) Marrakech palace is royal majesty at its finest. The combination of floor-to-ceiling tilework, sprawling gardens, and majestic rooms invites both locals and visitors to enjoy a taste of Moroccan royal living.
The Bahia Palace was built in the 1860s by Grand Vizier Si Moussa. The palace was expanded between 1894 and 1900 by his son Abu Ahmed. In fact, it was Abu Ahmed's vision that led to much of the beautification of the palace.
When Morocco gained independence from France, it was temporarily used as a royal residence until it was finally transferred to the Moroccan Ministry of Culture, which opened it up to visitors as an iconic cultural icon of the city.
Kids will love exploring the wide courtyards, colorful gardens, and magnificent rooms, where there is plenty of room to jump and explore. There are often art exhibits hosted here, which completely captured my boy's attention, especially after they fell in love with the Picasso museum we visited in Barcelona, Spain.
Splash Through A Marrakech Waterpark
If you're exploring Marrakech with kids during the summer, you may want a chance to escape the heat. Oasiria, is a large Marrakech waterpark located just a short, ten-minute drive from the medina.
This sprawling property is a popular place in Marrakech for families. You'll find a number of slides, a large wave pool, and a lazy river that is perfect for cooling off from the summer heat.
The park also has a climbing wall and a large section set aside specifically for those in Marrakech with young children. It includes a pirate ship and smaller slides that are perfect for tots. You'll also find a restaurant and creperie as well as towel rentals and showers. Access is a very reasonable 25DH.
Make A Visit To Koutoubia Mosque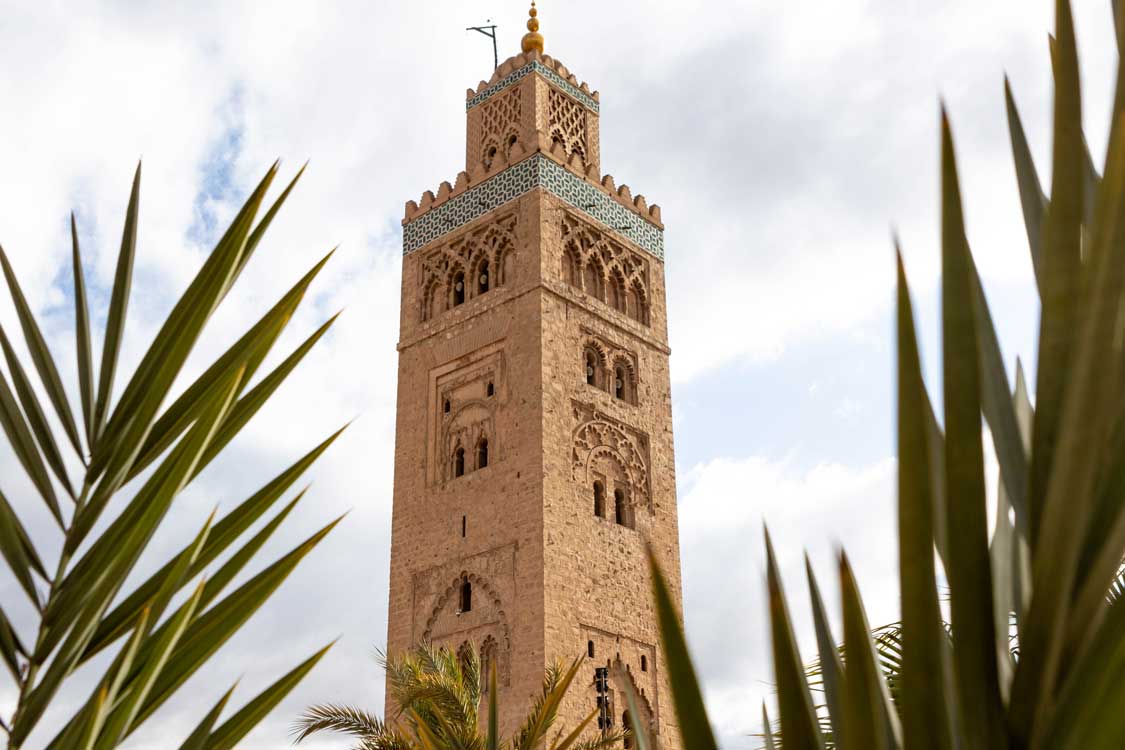 The towering minaret of the Koutoubia Mosque is visible from nearly everywhere in the city. The colorful tower will surely be among the many questions from children visiting Marrakech. One of the best ways to answer them is to make the easy stroll down the wide, Parisian lanes to the Koutoubia Mosque and see it for yourself.
The minaret is the tallest structure in Marrakech. It's also the oldest of the three great Almohad minarets that remain on Earth. The minaret dates back to the 12th century and is a site to behold, especially around sunset.
The mosque itself is only open to Muslims, so we were not able to visit inside. But the grounds outside are often full of vendors and sightseers.
El Badi Palace
Along with Bahia Palace, another great Marrakech palace to explore is El Badi Palace. This massive compound was built by Sultan Ahmed el Mansour in the 16th century and offered a stunning glimpse at what life was like when the city of Marrakech was at its height.
The palace is so stunning that, during the 16th century, it was considered to be the 8th wonder of the world. However, many of the palace's antiquities were stripped after the death of el Mansour, and the compound is, essentially, a collection of ruins that are a shadow of their former glory.
Explore The Marrakech Jewish Quarter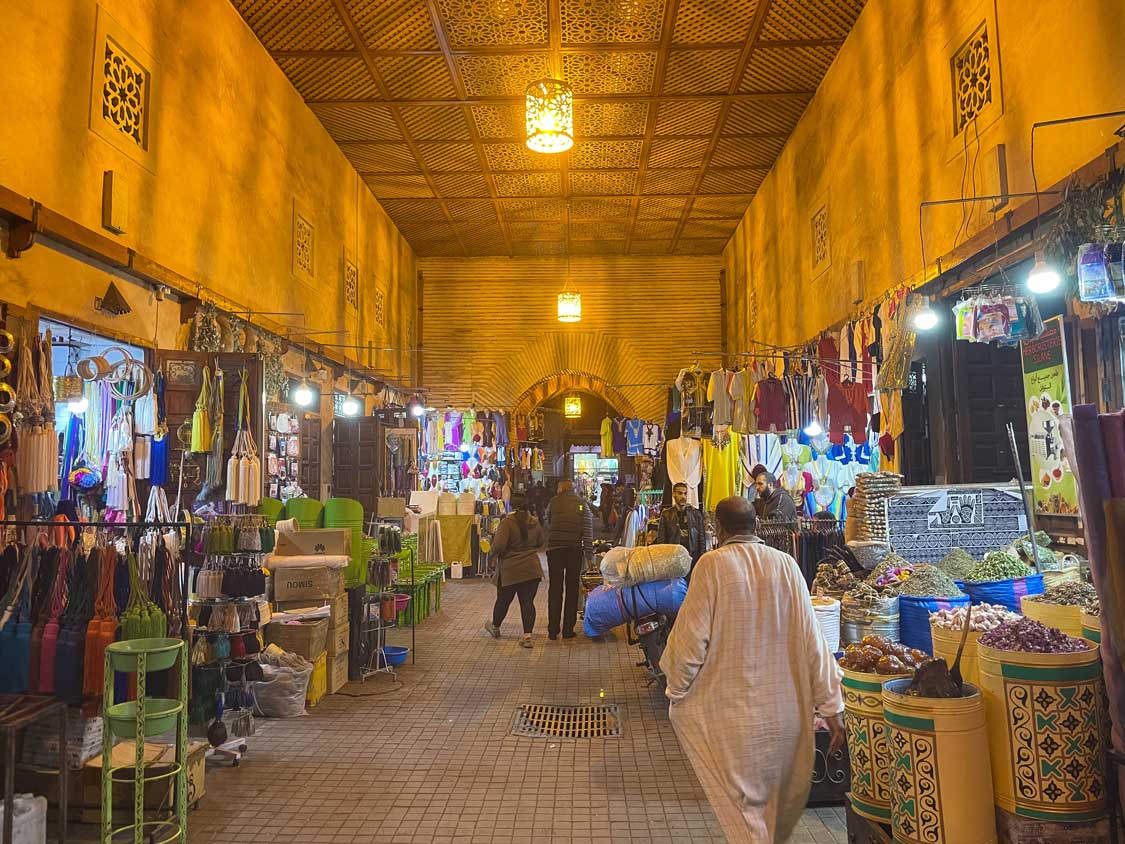 The Marrakech medina has a separate section set aside as a Mella, or Jewish Quarter. This section of the medina has become one of the top things to do in Marrakech, and it's a fun place for families to explore.
The Mellah houses a number of shops, markets, and food vendors. It's also where you'll find the Slat Al Azama synagogue, which is the largest synagogue in Morocco. You'll also find the largest Jewish cemetery in the country.
Go Shopping At The Co-Op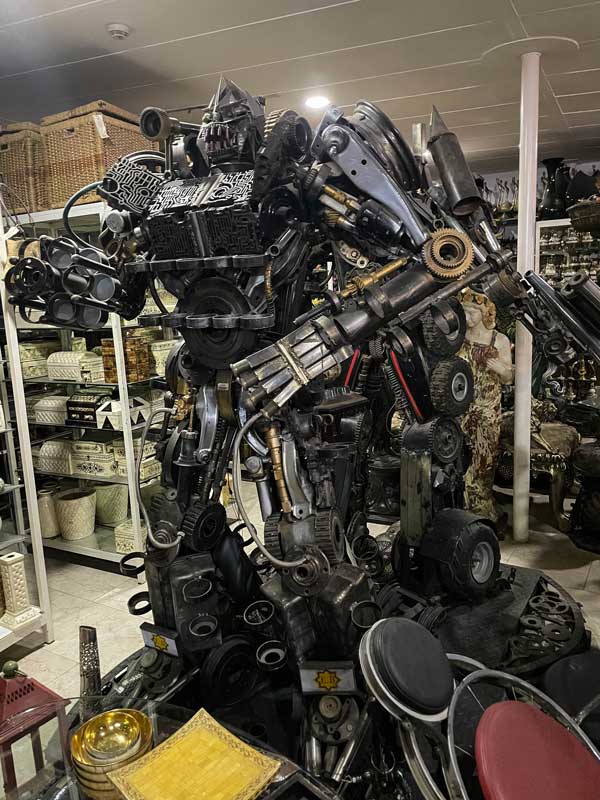 I'll be honest, I'm not a big shopper when I travel. I usually have one item I have in mind with each new destination, and I tend to tune out everything else. But the co-op stores in Marrakech are, without a doubt, an adventure on their own.
Shopping in Morocco can be a stressful thing. Like many Arabic countries, bartering is the name of the game. And it tends to take place with any purchase, big or small. The Moroccan government understood that many tourists from Western countries might not be as comfortable with bartering as locals, so they set up co-op stores where locals could sell products at fair market value. No bartering.
While this makes for a relatively hassle-free shopping experience, it also leads to its own struggles, and the main one is the sheer volume of products.
These co-ops are packed, floor to ceiling, with lamps, rugs, artwork, clothes, sculptures, weapons, hookas, toys, food, and just about anything else you can think of. They take up entire city blocks of multi-story buildings, and there is little organization to how they are all laid out.
But, it's a WILD experience. You will find literally everything here, including 10-foot tall Transformer sculptures made out of scrap metal (which I've actually seen on my Toronto to Montreal drive here in Ontario) and even full-sized stuffed camels.
Enjoy All Of These Things To Do In Marrakech With Kids
Marrakech is a marvelous place to visit. Yes, it can be overwhelming, loud, and busy. But that is part of the adventure. I hope these tips will help you enjoy the most of family travel to Marrakech and that you'll find the city as fascinating as we did.
Please join our Family Travel Support Group on Facebook if you'd love to connect with more family travelers. It's a group of families, just like yours, who love to explore the world.
You May Also Like To Read: