Merzouga, Morocco is the country's adventure paradise. With incredible attractions, food, and attractions, see it all with our Merzouga guide.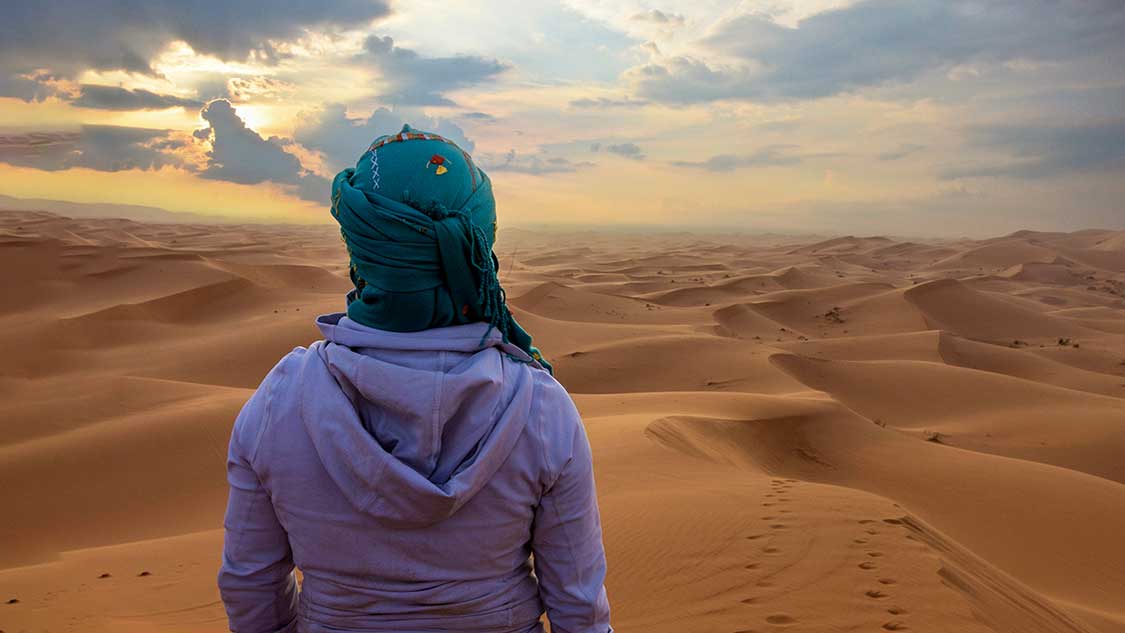 Of all of the incredible destinations in Morocco, there are few, if any, places that draw adventure travelers more than the desert town of Merzouga.
Merzouga, Morocco, sits on the northern tip of the vast and beautiful Sahara Desert in Eastern Morocco. For a long time, this dusty town, without much in the way of roads or infrastructure, was a stopping off point for those looking to explore the massive Erg Chebbi Dunes, where towering peaks of rusty gold sand cast dramatic silhouettes over the landscape.
But in the past few years, more attention has been paid to just how incredible and unique this remote region of Morocco truly is.
Although Merzouga is still focused on intrepid explorers interested in Bedouin camping, dessert camel treks, and remote rally races, the throngs of visitors are bringing to light the unique culture and spirit of one of the country's most overlooked destinations.
About Merzouga, Morocco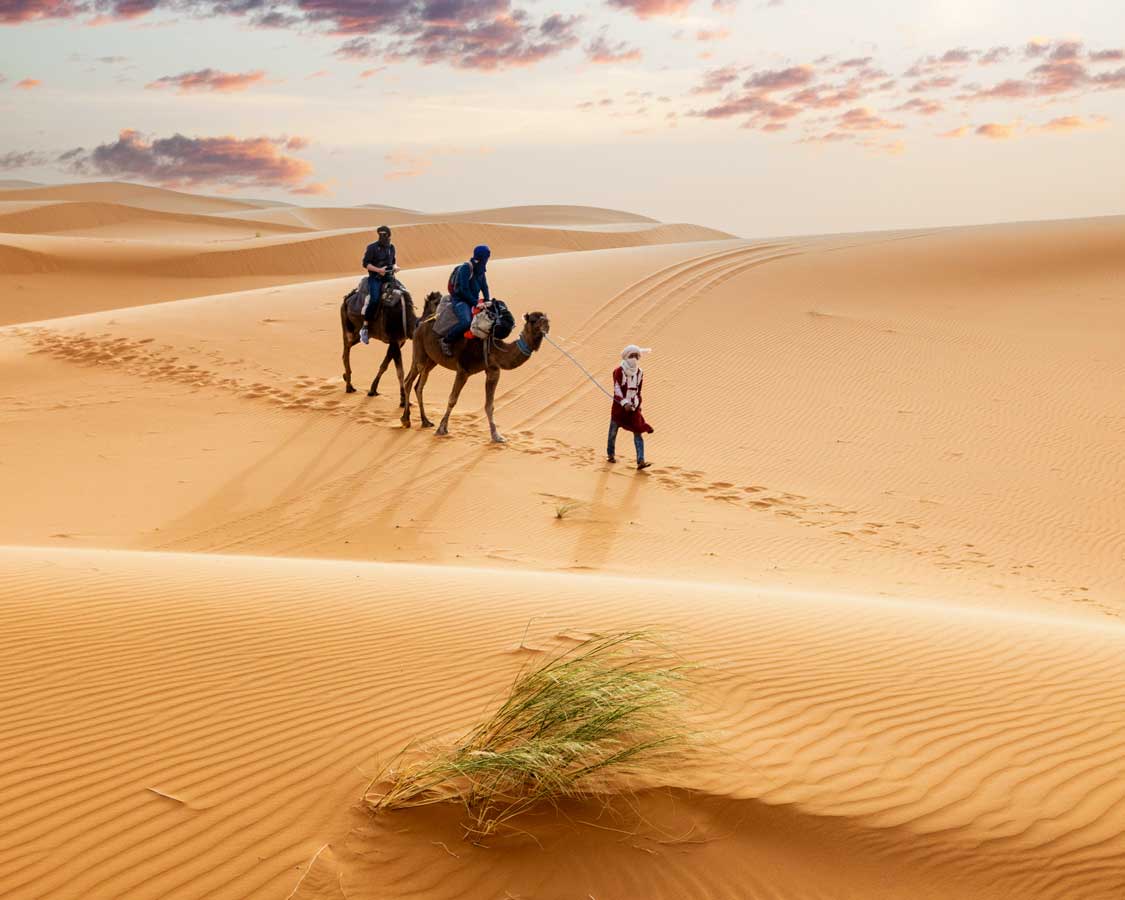 For centuries, Merzouga, Morocco, remained relatively unchanged. The epic dunes of the Sahara Desert ebbed and flowed like waves trapped in slow motion. Nomadic Berber tribes roamed with their camels to known watering holes and grasslands. And the red, dusty air of the Sahara Desert cast a warm glow over the wild landscapes.
The town sits about 31 miles (50 km) from the border with Algeria and about an eight-and-a-half-hour drive from the bustling city of Marrakech.
Merzouga is a city with a reputation among thrill-seekers. It's been dubbed "a wonderland of sand" and a "desert theme park" due to the adrenaline-pumping adventures and epic landscapes that surround it. And shockingly, amongst all of the sand, dust, and dry desert air, Merzouga is also home to the most significant natural underground body of water in Morocco.
The land around the town was once a lush, tropical jungle, and as the landscape was swallowed up by the world's largest desert, it became home to some of the most impressive sand dunes in the world. It eventually became a transit point for Bedouin and Berber merchants and even acted as a fort during the French colonial rule between 1916 and 1932.
Things To Do In Merzouga, Morocco
For a tiny town without much in the way of streets or stores, there are a tremendous number of things to do in Merzouga, Morocco. From unique foodie experiences to desert adventures, Merzouga is packed with attractions. Here are some of the top experiences.
Berber Camping in the Sahara Desert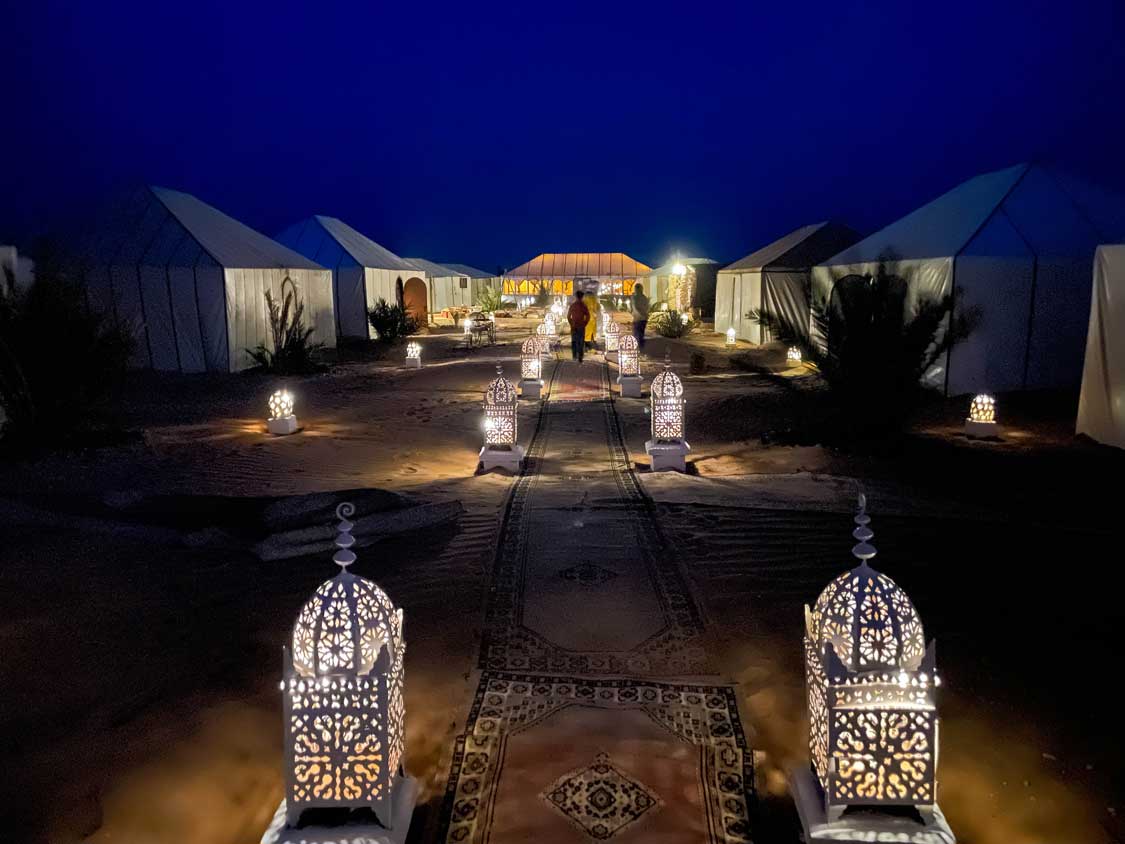 Ever since our first experience camping with Bedouin tribes in Jordan's Wadi Rum Desert, we've had a little obsession with desert camping. There is something surreal about the absolute peace and quiet of the desert night.
There are few places where stars will shine so bright as in the desert. And the remote Erg Chebbi Dunes offer an absolutely phenomenal backdrop for sunsets.
Most visitors arrive at the Berber campgrounds in Merzouga on camelback (although vehicles can also reach the area without too much difficulty). And the relaxing time in the desert can be filled with sandboarding, camel rides, and quad-biking.
Evenings at the Merzouga desert camps are typically spent with simple and delicious Berber meals followed by singing and dancing around a campfire. Our visit was extra celebratory, as many of the workers and guides were seeing each other for the first time post-Covid, and celebrations were so incredibly joyful.
There are all ranges of comfort levels for Merzouga camping, from simple tents to luxury glamping. We stayed at the Luxury Overnight Camp, and it was absolutely fabulous.
You can read all about our time at the Merzouga luxury desert camps here.
Sunset Camel Rides in the Sahara Desert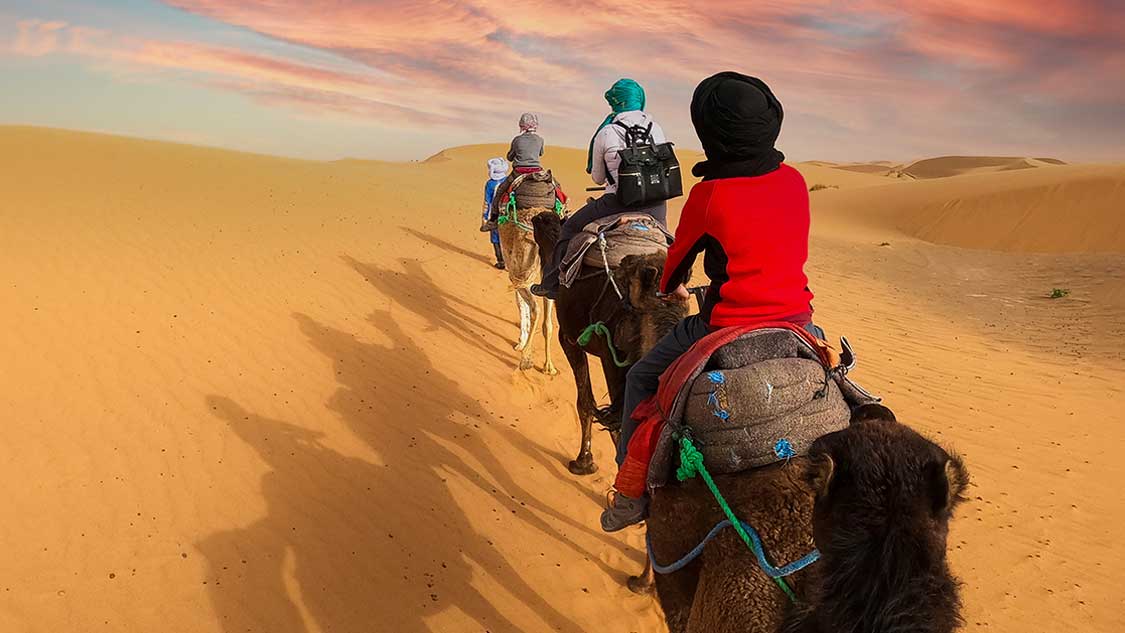 There aren't many things in the world that are as awkward as climbing onto or off of a camel. But once you've made it up, all of your troubles seem as far away as the ground beneath you.
Sahara Desert camel rides are a huge draw for visitors in Merzouga, and after experiencing it ourselves, there's no surprise as to why.
Winding between the towering Erg Chebbi Dunes as the sun sinks low on the horizon is magical. The entire landscape lights up with a golden glow. The rides often take a break so that adventurers can climb one of the dunes to watch the sun make its last descent below the horizon.
Camel rides can be done as a stand-alone tour but are often a part of the popular desert camping experiences as well.
Quad Biking Through The Erg Chebbi Dunes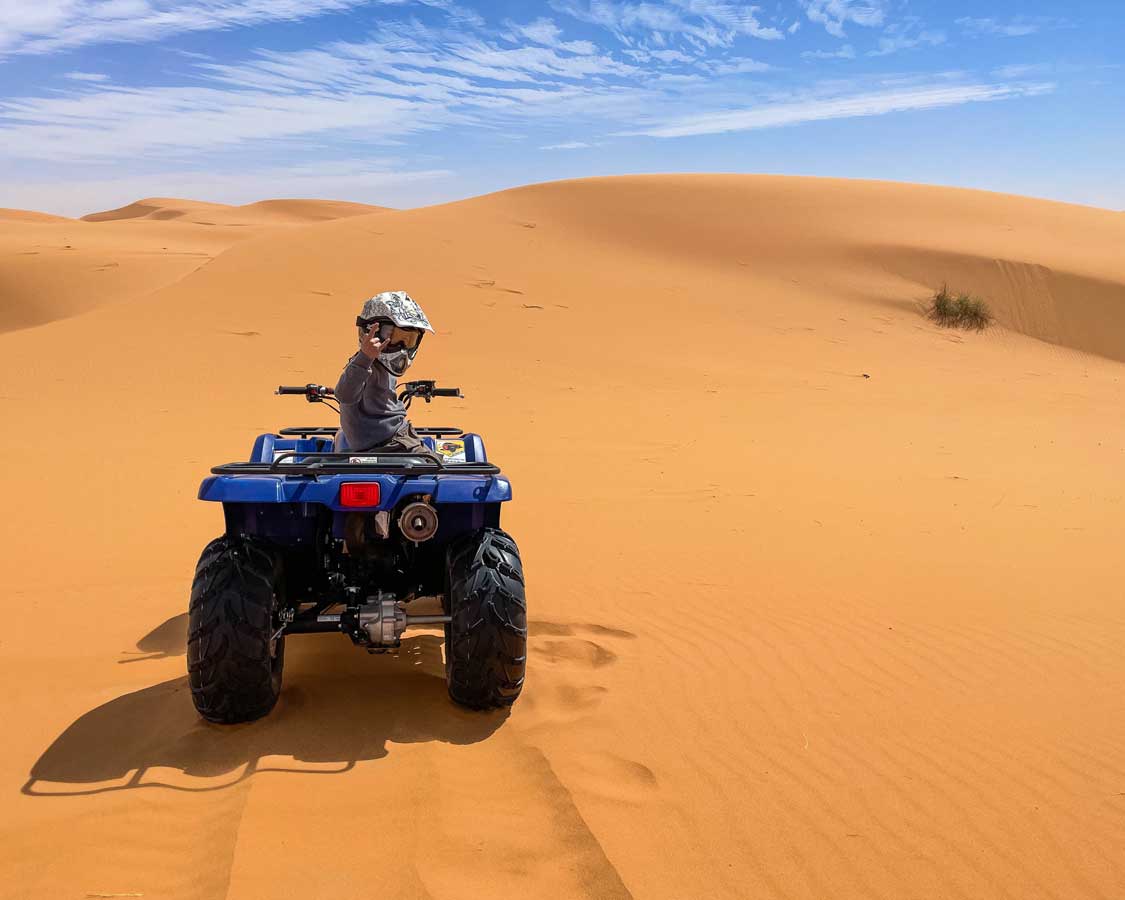 When we first planned to visit Morocco with kids, I wasn't sure that quad-biking would be on the final list of Merzouga activities. Even as we arrived at the Merzouga quad-bike tours, I was under the impression that 8-year-old D would ride with me.
Much to my surprise, in a few minutes (and after a brief training session), the four of us were ripping through the Sahara Desert on our own quad-bikes, climbing dunes and doing our best not to get our wheels stuck in the sand.
We spent two hours shredding dunes, popping wheelies, and enjoying the magical views of the Erg Chebbi Dunes. And we weren't ready for it to be over.
Go Sandboarding in Merzouga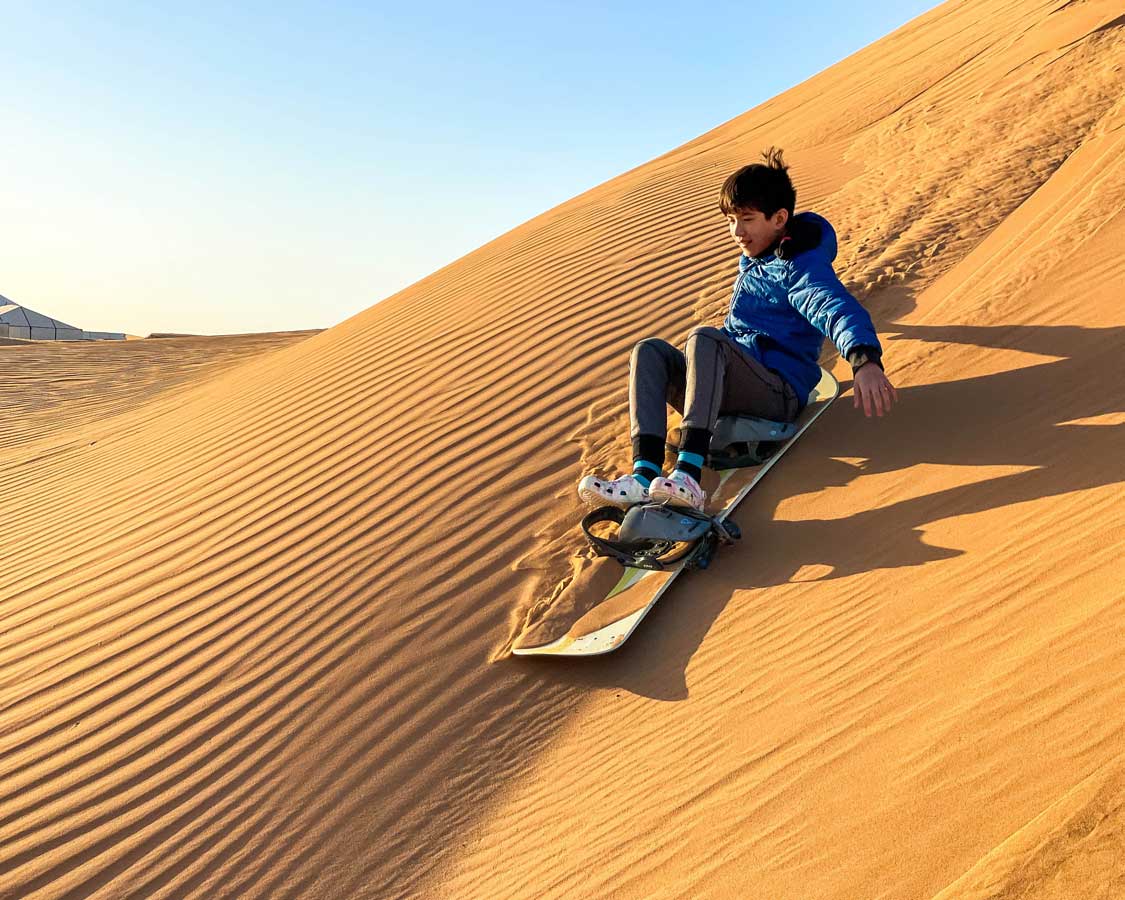 Sandboarding is something that our family became obsessed with in Huacachina, Peru. Since then, we've enjoyed it in many places, including Great Sand Dunes National Park in Colorado. Sandboarding is a lot like snowboarding. But instead of riding a cushion of fresh snow, you're surfing the sandy powder of sand dunes.
Sandboarding is often included in a number of Merzouga tours and camping experiences. You can also rent them at shops in town for about 100 MAD for the whole day. Just keep in mind that trekking to the tops of these dunes can be pretty intense, especially in the afternoon heat.
If you are planning a DIY Merzouga travel experience, you might want to bring your own board. Just make sure to pack lots of wax, or you won't move very far.
Enjoy Some Desert Stargazing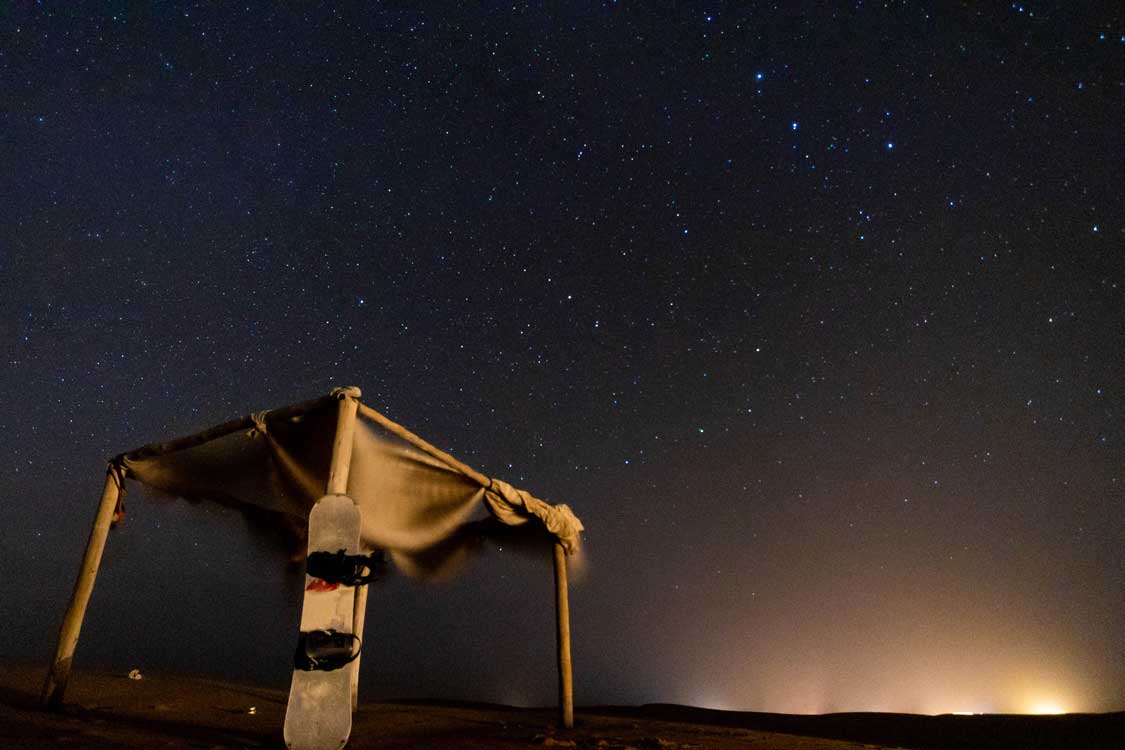 There are few things that I like more than staying up late and watching the stars dance across the sky. The epic skies of the Sahara Desert make for an absolutely delightful place for stargazing, and the massive Erg Chebbi Dunes are one of the most epic backdrops in existence.
If you want to photograph the sky here, make sure that you bring a tripod (this is the one I use, but anyone will do in a pinch) to keep your shots clear and set your focus to infinity. Then just sit back and enjoy the show. The small population and remote location mean that the skies around Merzouga are epically dark.
View Flamingoes In the Salt Water of Dayet Srji
I'll be totally honest. I did not know that this was one of the things to do in Merzouga before I traveled there. And as a result, I completely missed it.
The lake is called Dayet Srji, and it's located West of Merzouga. It can easily be reached by walking and it takes about 45 minutes to get there on foot from the village.
About a 45-minute walk from town is a lake called Dayet Srji. Although the lake is usually dry during the summer, during the winter, it's a wetland paradise where migratory birds, including flamingoes, often stop to enjoy the salty water. The lake reminds me of the flamingo-filled lakes near San Pedro de Atacama in Chile, where we spent some incredible mornings watching the sunrise.
Dayet Srji may not have reached popularity yet, but it is a popular place among locals. Many come here to picnic and enjoy the sunset.
Listen to Gnawa Music In Khamlia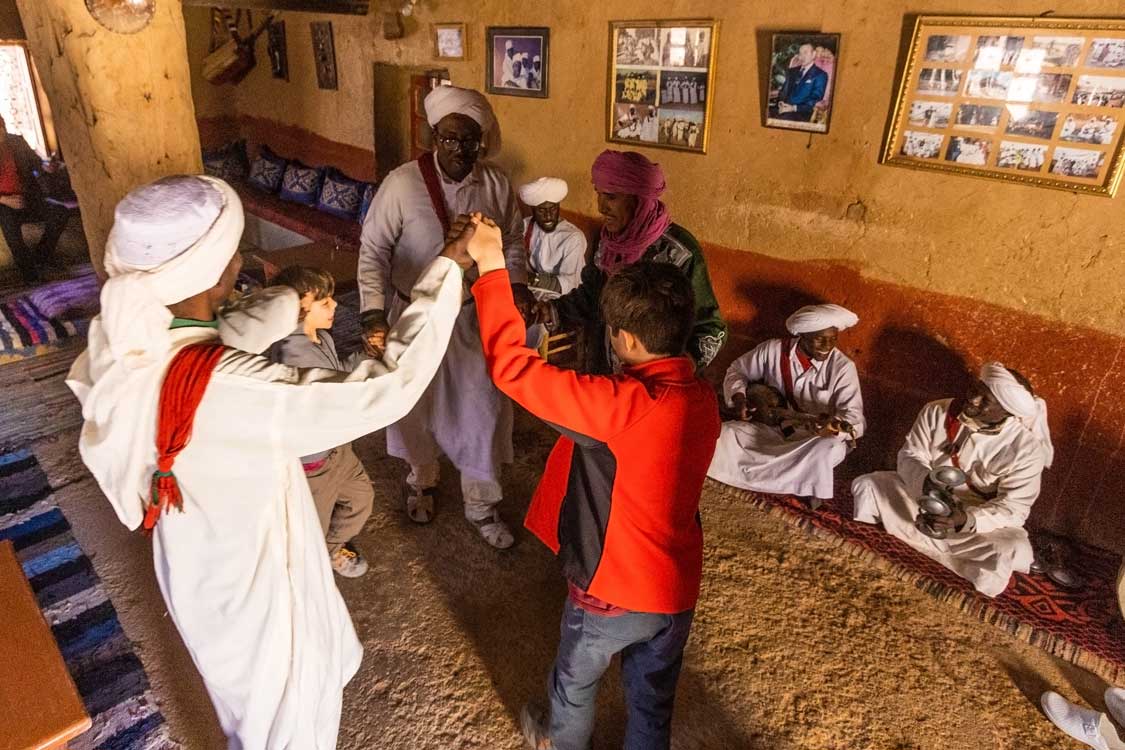 There are a number of unique ethnic groups within the Berber communities of Merzouga, one of these is the Gnawa, unique due to their dark skin and southern African ancestry. One of the things that have made the Gnawa such a draw in Merzouga is their energetic and exciting musical performances.
The Gnawa were slaves brought to Northern Africa as slaves from Central and Southern Africa in desert caravans. Now they make a large portion of the population of the town of Khamlia, just a short 3 miles (7 km) distance from Merzouga town.
There are two musical groups within the town, one called Bambara and the other one (which we visited) called Pigeon des Sables. They have an open-door policy, so anyone can visit at any time to enjoy Berber tea along with live music and dancing.
There is no cost for the experience. However, guests are encouraged to purchase a CD or offer a tip to help support the locals.
Wander The Mines of the M'Fis Ghost Town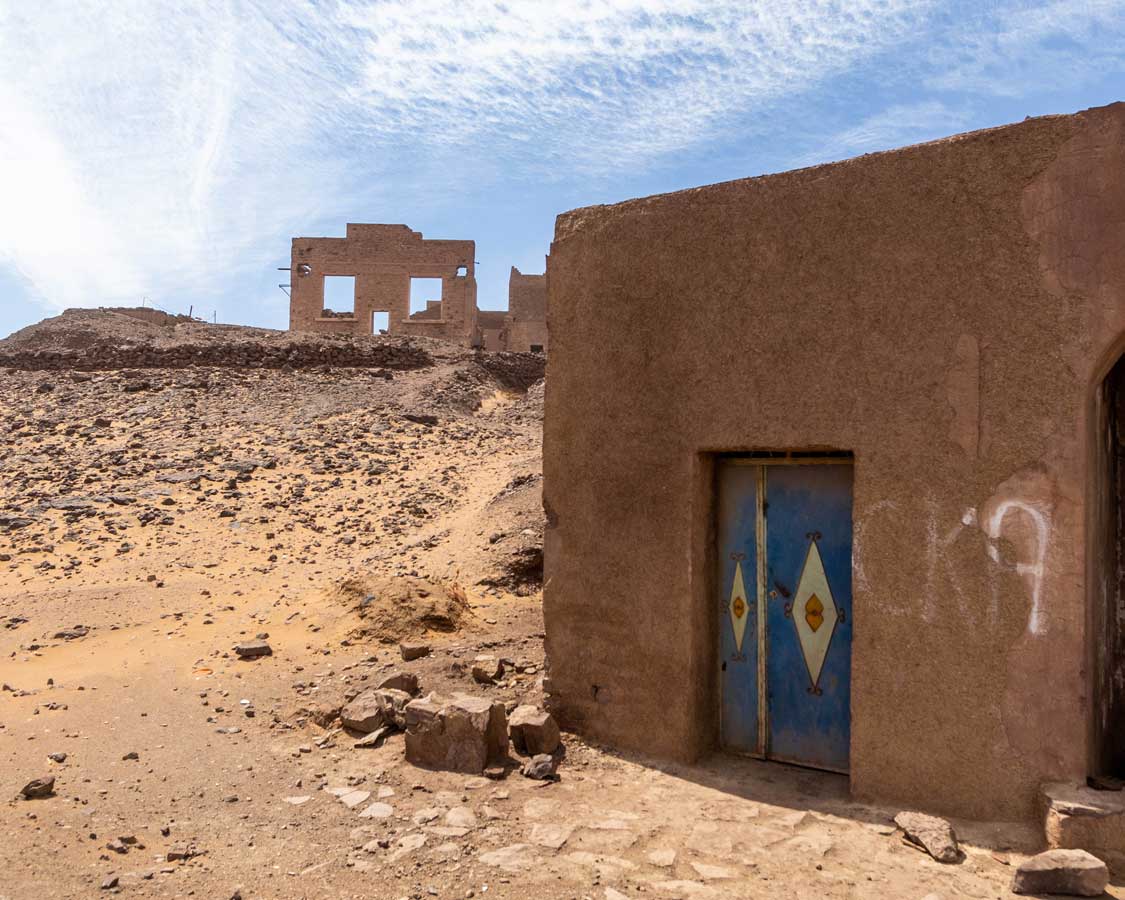 Morocco's landscape holds a wealth of minerals that have long been plundered by the government and its overseers. A good example of this is the ghost of M'Fis, which lies just outside of Merzouga.
The mining town was set up by the French and played a vital role in the importance of the Merzouga region in the early 20th century. These days, however, M'Fis is all but abandoned.
The mine produced vast amounts of quartz and khol, a mineral often used by Moroccan women as make-up. The products were then part of a lucrative French export business. A village sprung up near the mine, complete with a mosque, houses, and a cemetery accounting for the short lifespan and difficult working conditions of the village.
The productivity of M'Fis began to dwindle in the early 20th century and eventually was abandoned in 1956. Although some miners still visit the mine today to find remnants of material in the deep scars and tunnels beneath the ground.
Search For Ancient Fossils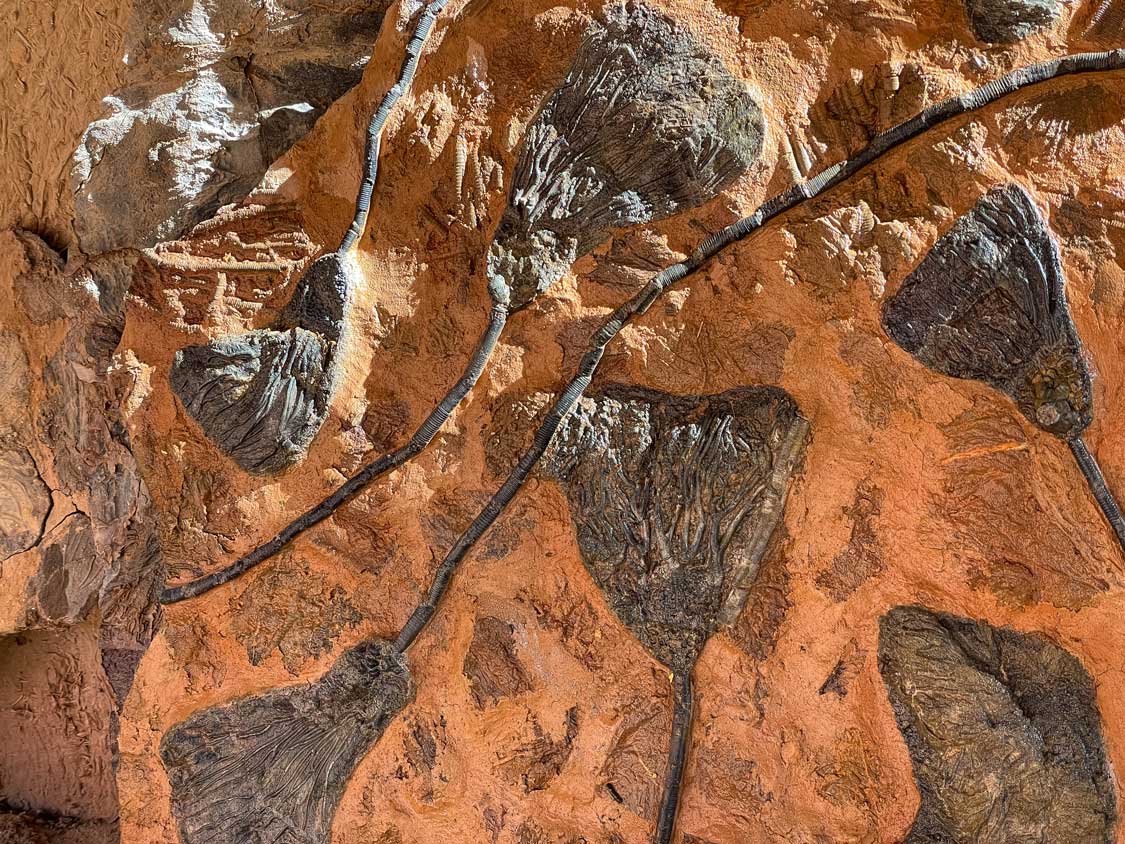 The cracked, dry earth of Merzouga, Morocco, might seem like a strange place for ancient aquatic fossils, but this stale earth was once the site of a vast inland sea. And when it lifted and emptied, it left behind one of the most valuable fossil deposits on the planet.
Most of the fossils mined in the Merzouga region are processed in the nearby town of Erfoud, where you can find Fossils Erfoud Morocco. This wild museum and store show the sheer volume of incredible fossils that have been pulled from the region.
And you can buy artwork, displays, and even toilets that are made entirely from fossils. Yes … toilets.
Visit a Berber Nomad Village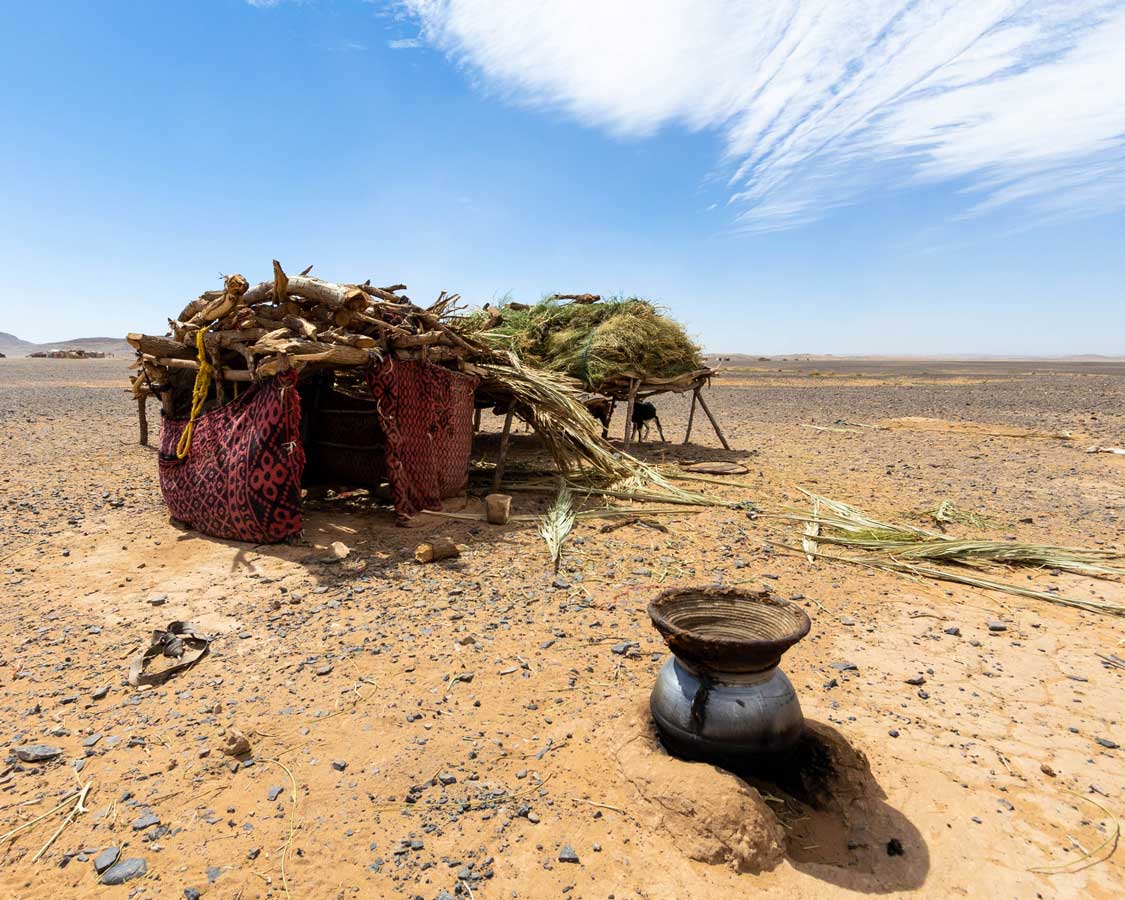 Much of southeastern Morocco still exists in much the same way that it has for centuries. This includes the nomadic Berber tribes that make their way through the harsh landscape with herds of camels, mules, and cattle.
Although these tribes move around frequently, many of the tour guides have connections within the communities and can arrange for visitors to get a unique look into these cultures that live vastly different lives from that which most of us know.
We spent a wonderful hour chatting with one of these villagers while our children played with theirs. We learned about their lifestyle, how they move their camps from place to place, and how they know which place to travel to next. It was an absolutely fascinating and heartwarming experience.
What Is The Best Time To Visit Merzouga?
Merzouga is a destination that can be visited year-round. However, it's important to know that the Moroccan summers, especially between June and September, can see blisteringly hot temperatures during the day. During summer in Merzouga, temperatures can reach as high as 115ºF (45ºC) at mid-day.
During March and April in Merzouga, the desert winds, called the Sirocco Wind, tend to pick up, and the town is frequently buffeted by sand storms. We visited in March. And although the winds tended to be high, especially in the evening, it wasn't awful.
The best time to travel to Merzouga is between October and February. During this time, the temperatures tend to be cooler, and the winds tend to be calm. Be aware, though, that temperatures can vary dramatically between the daytime and nighttime. Make sure to pack layers, especially if you are camping in the desert.
Where To Stay In Merzouga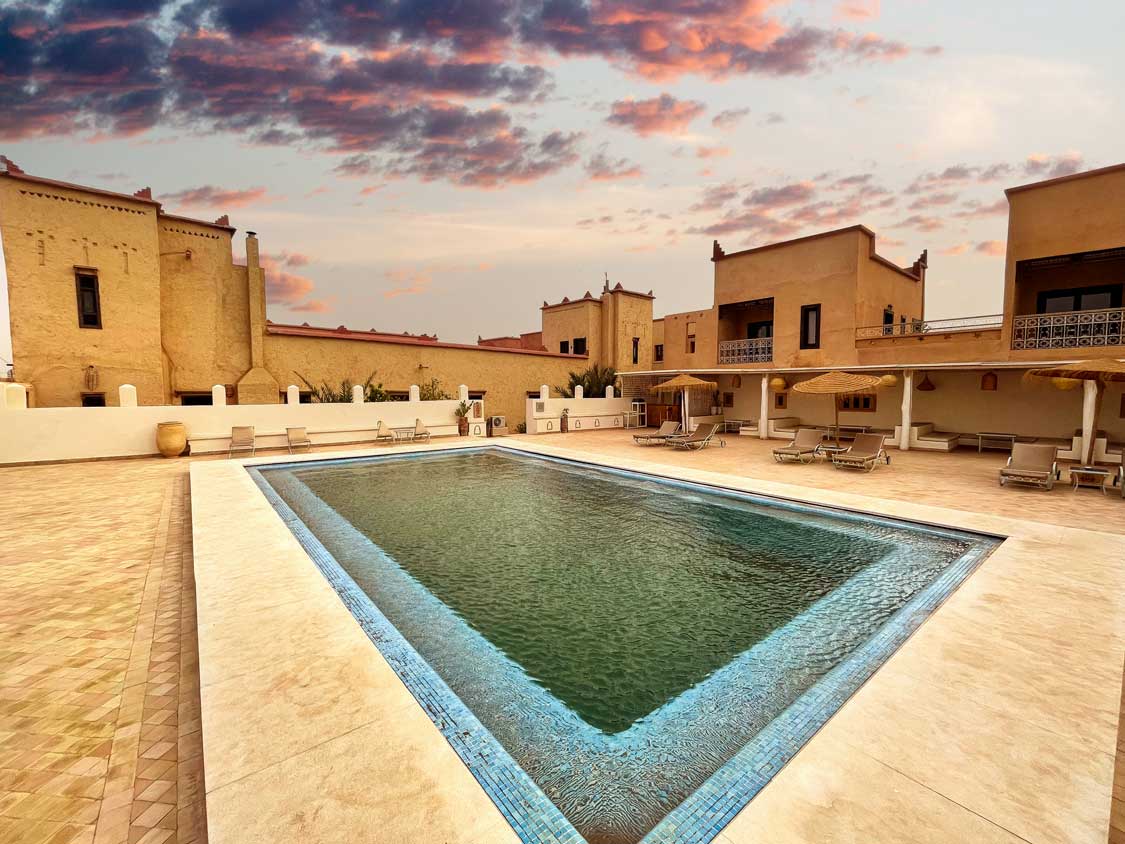 Merzouga is an adventure town, so there are some excellent places to stay in Merzouga for every budget and comfort level ranging from hostels to luxury accommodations. Here are a few great options to choose from.
Riad Madu
Riad Madu is where we stayed during our time in the town of Merzouga. This quaint hotel on the edge of town looks right out over the Erg Chebbi Dunes. It features large rooms, excellent food, and easy access to all of the best things to do in Merzouga.
The hotel offers an airport shuttle, rooms with air conditioning, private bathrooms, and a lovely two-story terrace that is perfect for stargazing. There's also an on-site pool looking out over the dunes. You can find their rates and availability here.
Riad Chebbi
Riad Chebbi offers 4-star Merzouga accommodations right in the town of Merzouga. The hotel includes luxurious and comfortable rooms, a beautiful garden, an outdoor swimming pool, and an expansive lounge and terrace to relax on.
The helpful staff can help arrange tours, bike, and car rentals. They even offer ski equipment for those visiting in winter (yes, you can go skiing in Morocco). You can find their rates and availability here.
Planet Sahara
Planet Sahara is a traditional Moroccan guesthouse located right on the edge of the city center. They are known for their excellent food and fantastic coffee.
The riad features a shared TV lounge along with a relaxing outdoor setting that includes a fire pit where hosts regularly meet for drumming sessions. The staff here are accommodating in planning Merzouga tours. They welcome both couples and families to reasonably-priced traditional accommodation. You can find their prices and availability here.
Is It Safe To Visit Merzouga With Kids?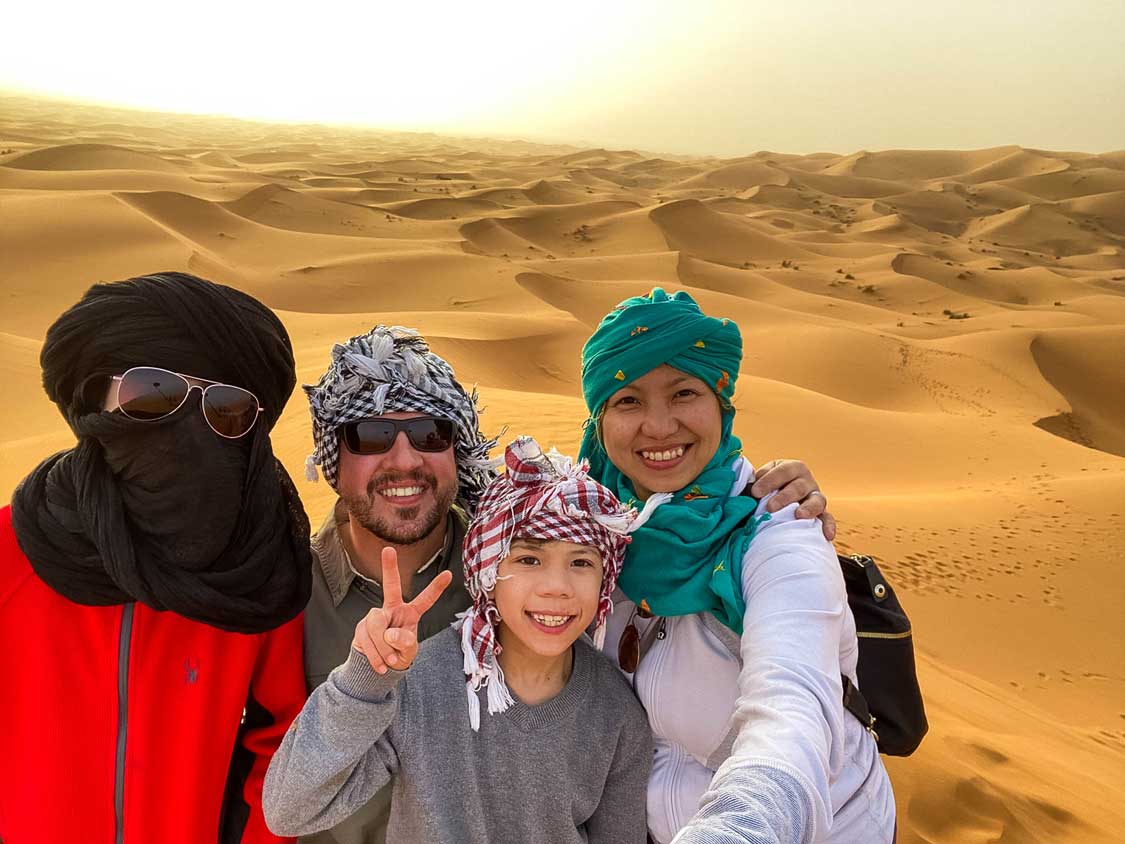 Morocco is increasingly becoming the "go-to" destination for adventurous family travel. The accessibility to Europe, safe reputation, fascinating cultures, and wealth of unique attractions draw families from across the planet.
We can't have imagined not including Mersouga in our plans during our ten-day Morocco itinerary. The entire region is unlike anywhere else in Morocco and is truly an adventure paradise. Merzouga offers a wildly exciting atmosphere that contrasts sharply with the more famous cities such as Fes and Marrakech.
Exploring the many things to do in Merzouga with kids is also pretty easy. Traffic here is quite relaxed in comparison with the major cities. And because there are so few vehicles on the go, the lack of proper streets and road rules tends to be less intimidating.
It's worth noting that safety rules here are pretty nonexistent. Our eight-year-old was allowed to drive a full-sized ATV with about 5-minutes of training. Luckily he's driven similar things in the past, such as snowmobiles in Finland, but it's up to the parents and guardians to decide what's safe in Merzouga because anything goes here.
Just remember that it isn't a stroller-friendly town. I recommend either bringing a child carrier to get around.
What To Pack For Merzouga
It's essential to pack for Merzouga travel appropriately, especially for those visiting as a family. To help you understand what to pack for adventure travel in the region, check out our complete Morocco packing list right here.
Enjoy All Of These Things To Do In Merzouga
Merzouga, Morocco is a marvelous place to visit. Yes, it is remote, dusty, and raw, but that is all part of the adventure. I hope these tips will help you enjoy the most of your family travel to Merzouga and that you'll find the region as fascinating as we did.
Please join our Family Travel Support Group on Facebook if you'd love to connect with more family travelers. It's a group of families, just like yours, who love to explore the world.
You May Also Like To Read: