Discover the best things to do in Dalyan, Turkiye. Explore ancient ruins, relax on stunning beaches, and take a boat tour through the picturesque Dalyan Delta. Find out why Dalyan is one of the top hidden gems in Turkiye.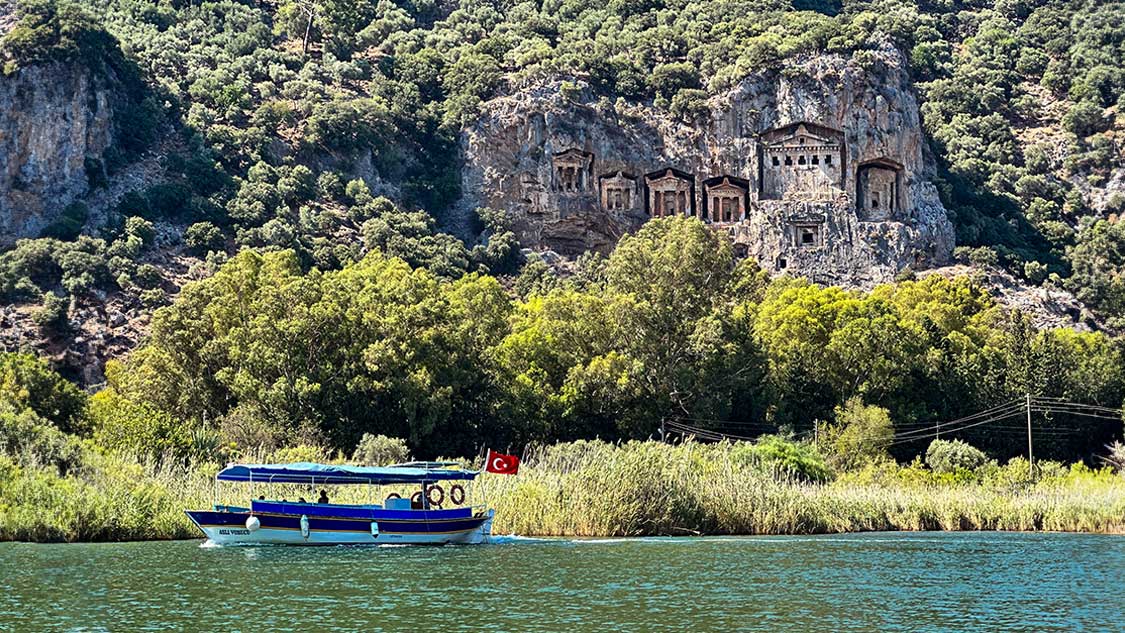 Tucked into the hillsides about an hour from the busy tourist city of Fethiye sits a far quieter Turkish town with just as many stunning attractions.
Dalyan, Turkiye, with its bustling riverfront, gorgeous landscapes, and beautiful ruins is home to happy locals and a handful of expats who realize that this sleepy town, just a short drive from one of Turkiye's most important beaches, is one of the best places to visit in the country.
Dalyan lies just a few hours east of the cotton-white terraces of Pamukkale and smack in between the tourist-heavy cities of Marmaris and Fethiye. Because of its position, Dalyan lies completely under the radar of most Turkiye itineraries.
Those who venture off the beaten path into Dalyan are in for a treat. This beautiful town is one of Turkiye's hidden gems. Combining cliff-side Lycian tombs, lakes, rivers, a decent little foodie scene, and easy access to one of the best beaches in Turkiye and none of the shoulder-to-shoulder crowds of its larger cousins, Dalyan is a treat to visit.
For my family, Dalyan just felt "right." The town had all the makings of an incredible destination: history, adventure, nature, beautiful accommodations, and great food, but none of the stress of big, popular cities.
About Dalyan, Turkiye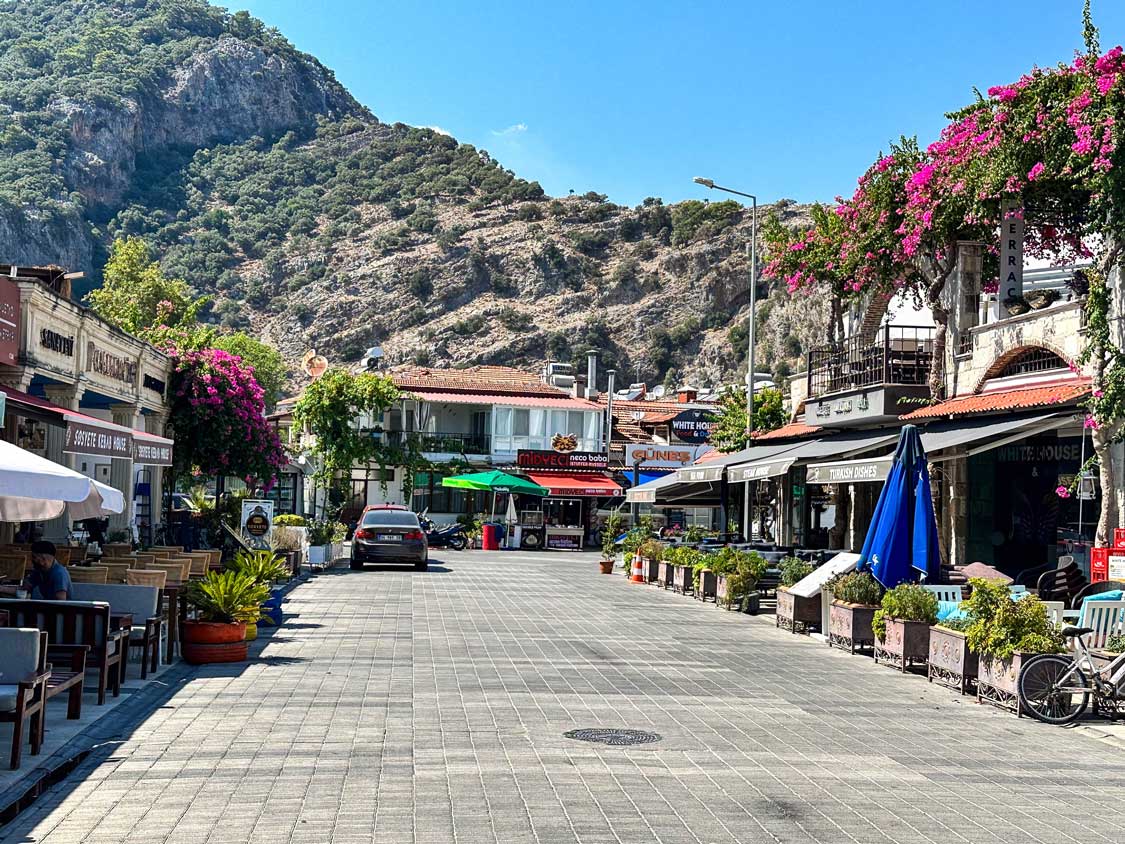 Located in the Mugla province in southwest Turkiye, Dalyan is a quiet retreat popular with British expats. The town is located along the Dalyan River, which connects Lake Koycegiz with the Mediterranean Sea. Like much of Turkiye, Dalyan has been home to civilizations dating back for thousands of years. Its rich history is proudly on display among the region's gorgeous natural beauty.
Dalyan, at first glance, comes across as a fairly typical small town in Turkiye. Narrow, winding streets meander among farmland and through neighborhoods dotted with gardens. Colorful houses line the roads and, as you reach the center of town, shops, and restaurants welcome locals and visitors alike.
This town of around 8,000 residents revolves around the Dalyan River, which flows past the town. The river is a vital fishing ground thanks to the shallow waters and the maze of reeds that create the perfect breeding environment for bass, mullet, and sea bream. In fact, the name "Dalyan" translates to "Fishing Weir."
While the river boats have made a steady changeover to tour boats over the years, you'll still find important fish farms in the river along with a vital gate that controls the flow of traffic to the sea and the historic Kauno Ruins, which lies along the river.
This town may be quiet, but there are plenty of things to do in Dalyan to keep any visitor busy. And the relaxed pace of life means that all of these amazing Dalyan activities can be experienced in a leisurely stride.
Top Things To Do In Dalyan, Turkiye
There are a range of incredible things to do in Dalyan, from the great food scene to the beautiful waterways. If you've got a few days or more to spend in the town, here are my top recommendations for activities in the area.
Lycian Rock Tombs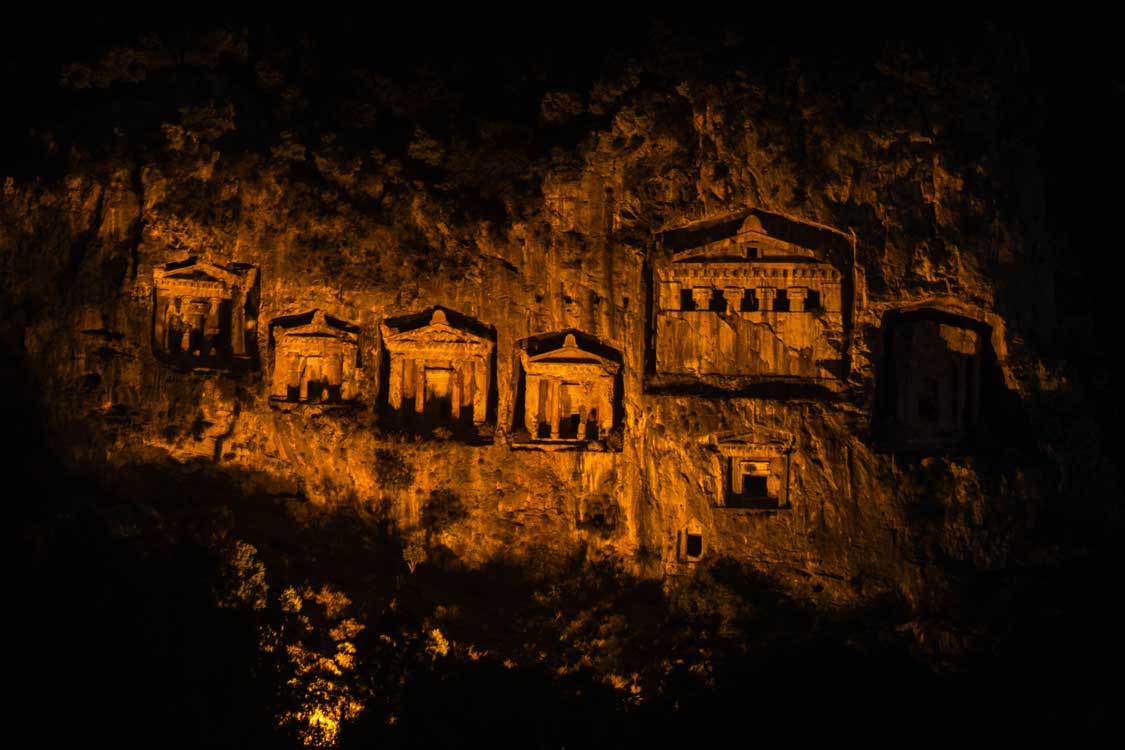 Stroll down to the waterfront in Dalyan, and you won't be able to miss the town's most prominent feature. Carved into the cliffs opposite the town of Dalyan around 400 BCE, the Dalyan Rock Tombs are visible from most waterfront restaurants and hotels in town.
These stunningly preserved tombs were used to bury the Lycian rulers. You can take a boat across the river for a few Lira to walk to the tombs. While you may see photos of people climbing through them, public access is no longer granted, and the tombs are for looking only. No climbing allowed.
Iztuzu Beach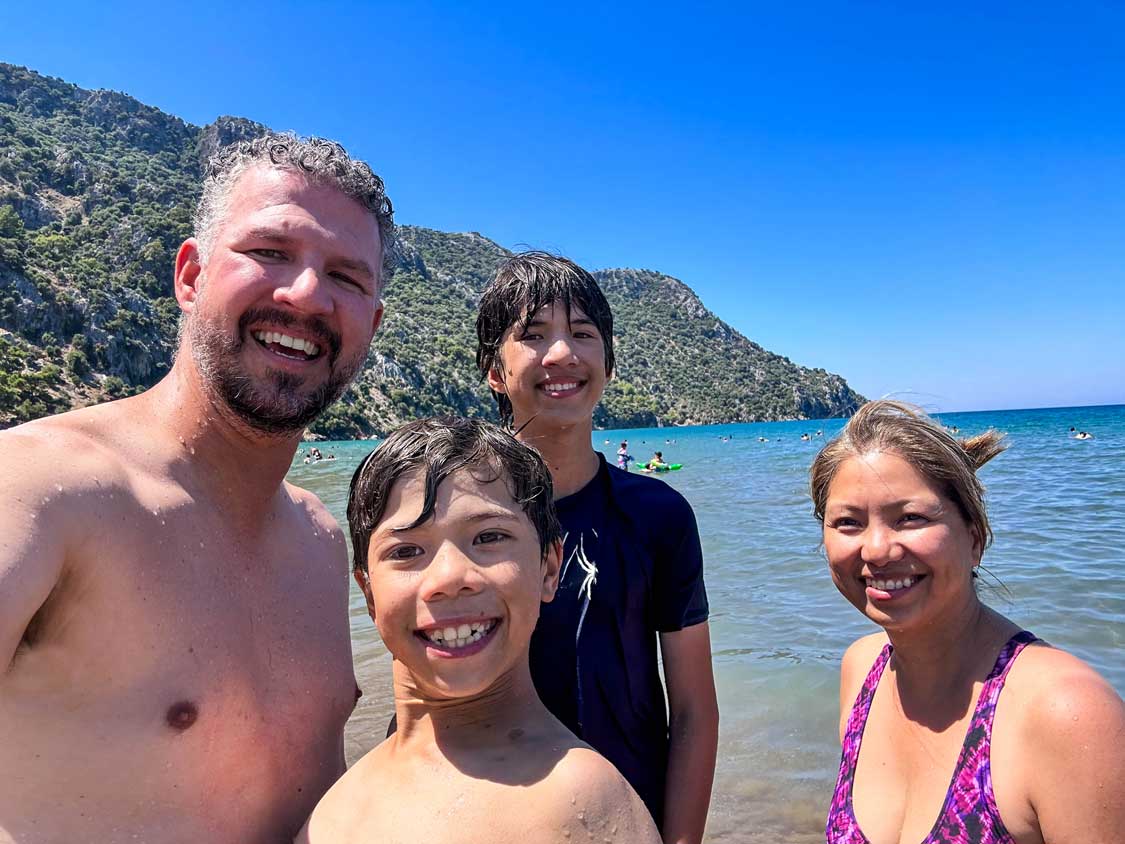 Considered one of the most beautiful beaches in Turkiye, Iztuzu Beach is one of the most popular attractions in Dalyan. This beach, which is a popular nesting ground for Loggerhead Turtles, is located along the shores of the Mediterranean Sea.
The most scenic section of this long stretch of sand is only accessible by boat. Tours and boat taxis typically leave the Dalyan waterfront, making their way down towards the sea. Iztuzu Beach is a protected area. However, many boat operators are known for feeding and interacting with the Loggerhead Turtles.
This type of behavior is dangerous for the animals and an unethical environmental practice. Look for boats that display the "Kaptan June Turtle Conservancy" sticker. These are companies that adhere to a higher standard of environmental action.
You can read all about Iztuzu Beach here.
Kaunos Ruins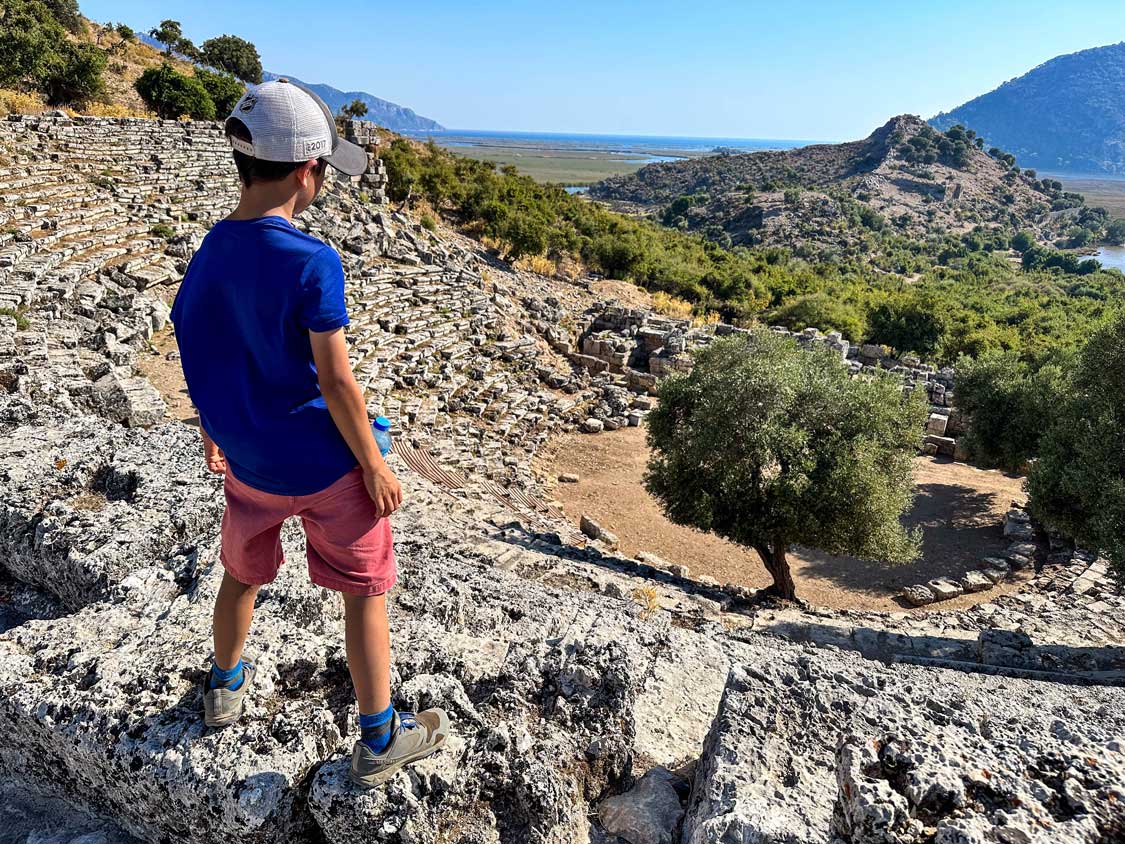 Sitting quietly along the edge of the Dalyan River, the ancient city of Kaunos is one of the top places to visit in Dalyan. As an example of how few tourists travel to the region, when my family was exploring Kaunos, there were, at most, ten people there.
This beautiful ruin is unlike many of the other ancient cities in Turkiye. Ruins such as Harran, Heirapolis, and Ephesus are heavily funded and, at times, hermetically sealed from outside forces. Kaunos still has its grass cared for by goats, and you're more likely to find a small herd of donkeys strolling through the ruins than you are another human.k
Kaunos sits on the riverfront and extends up a dramatic hill. The acropolis, or "upper city," was the religious and administrative area of the city, while the harbor, or "lower city," was the commercial center.
Kaunos is believed to have been established back in the 10th century BCE by the Carian people as a trading hub. It rose to prominence by the 6th century BCE as one of the region's most important trading centers. That same century, it fell into Persian rule. The city thrived until the mid-7th century AD when attacks by Arabs and pirates led to the city being abandoned.
Kaunos is a UNESCO World Heritage Site and one of the most popular things to do in Dalyan, Turkiye. This river cruise will take you through the Dalyan fish farms to the Kaunos ruins and back.
Cruise The Dalyan River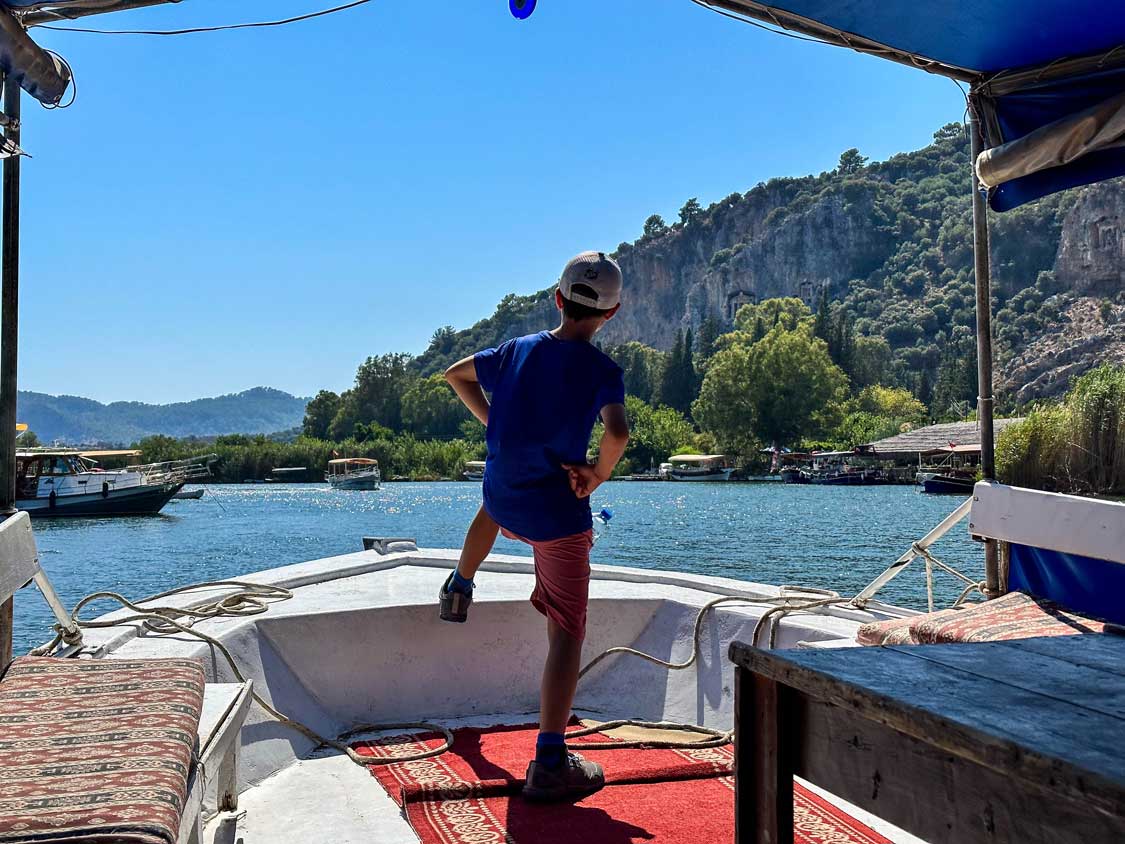 The Dalyan River is the most notable natural feature in the town of Dalyan. This quiet waterway is the lifeblood of the region and has been its centerpiece for thousands of years.
Head to the waterfront, and you'll find loads of boats offering tours of the Dalyan River. Some will take you across the river to visit the Lycian tombs, others will go as far as Kaunos, and still more will take you as far down as Iztuzu Beach for a fun day in the sun.
Some of the boats can be quite packed, while others can be rented privately. You'll get great views of the river, the fish farms, and the stunning mountain scenery.
This tour takes you on a river cruise to the thermal mud baths, a popular wellness spot. This one also includes the mud baths but also lets you enjoy some time at Iztuzu Beach.
Thermal Mud Baths
Dalyan is a geothermal hotspot. Because of its unique positioning and the mineral-rich landscape, the area is home to several natural thermal mud baths. These mineral-rich mud baths have made Dalayan a popular wellness escape where visitors can coat themselves in healing mud and rinse off in the nearby hot springs.
We had our first family mud bath in Jordan when we bathed in the Dead Sea, and mud baths have been something we love to do at every opportunity. There are several spas set up along the riverfront, such as the PELOid Hamam, where you can combine your mud bath experience with a proper Turkish hammam and other relaxing treatments.
You can also combine a Dalyan mud bath with a river cruise from the city center as well.
Visit The Kaptan June Turtle Conservancy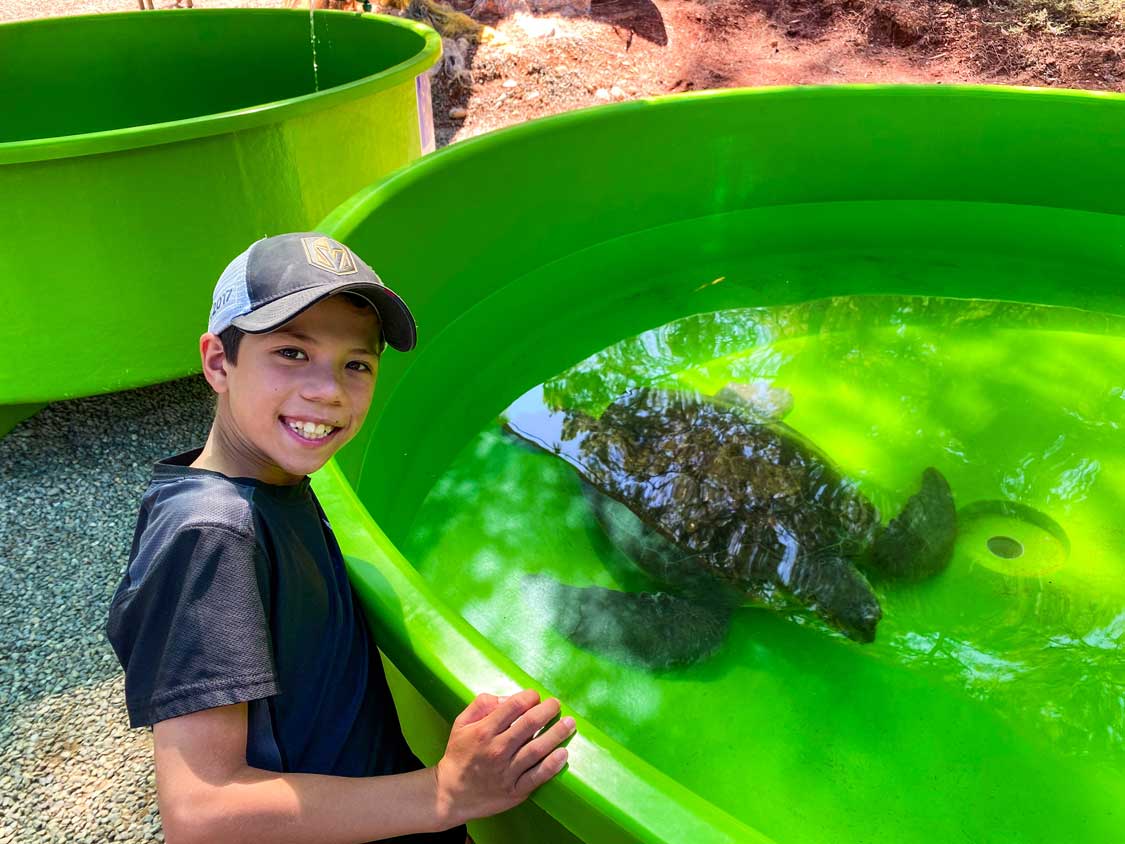 On the eastern section of Iztuzu Beach lies one of the most important conservation centers near Dalyan. Kaptan June's Turtle Conservancy launched in the mid-1980s when a large hotel was planned for Iztuzu Beach. This hotel would have threatened the already endangered Loggerhead Turtles that nested here.
Conservationist June Haimoff, who lived along Iztuzu Beach, fought back against the large corporations. With the help of several environmentalist partners and with the support of notable celebrities, including Prince Philip of the United Kingdom and Turkish President Turgut Özal, June was able to stop the development and put measures in place that would protect the beach and its wildlife.
Known affectionately as "Kaptan June," Haimoff passed away in 2022. You can visit her legacy, the Kaptan June Turtle Conservancy on Iztuzu Beach. This area is accessible by car from Dalyan. You'll find rescued Loggerhead Turtles that are being rehabilitated with the hopes of being released back into the wild.
Popular Dalyan Tours
If you're looking for more things to do in Dalyan, Turkiye, there are some popular tours in the town that will give you a broader taste of this beautiful region.
If you're looking to visit Dalyan as a day trip from Fethiye, this tour includes transport to and from Dalyan as well as a river cruise, mud baths, and a stop at Iztuzu turtle beach.
Taking off from the nearby town of Saligerme, this backroads jeep tour takes you through the mountains and dusty back roads to get a behind-the-scenes look at this beautiful region. You'll visit a small Turkish town, enjoy lunch at a traditional trout restaurant, and enjoy a swim in Yuvarlakcay Spring.
This Dalyan River Tour takes you through the fish farms to the ancient city of Kaunos, where you'll have the chance to walk through the historic ruins and explore the grand theater.
Where To Stay in Dalyan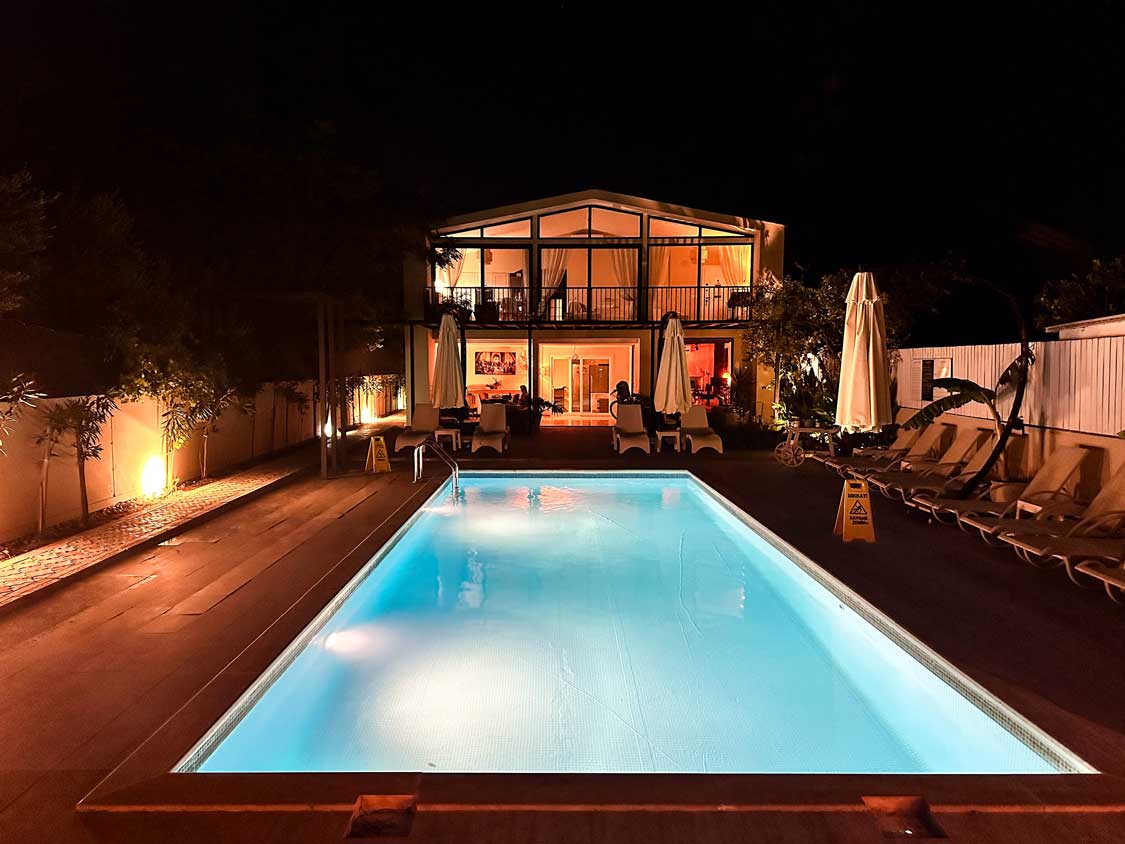 Dalyan might be a small town, but there are some excellent places to stay. You won't find many large chain hotels in Dalyan, but you'll find plenty of smaller, accessible apartment hotels and boutique hotels that are perfect for couples or families.
We stayed at Arp Dalyan, a lovely hotel on the edge of the Dalyan River with phenomenal views of the Lycian Rock Tombs. They have one large family suite available for those staying at least two nights. The rooms are spacious, and they have an excellent Turkish breakfast included. Try to enjoy it on the riverside deck, and you may get a visit from some local turtles.
Other great Dalyan hotels to consider include:
Midas Pension Hotel
Another popular riverside hotel in Dalyan is the Midas Pension. This popular hotel has great rooms, friendly staff, and beautiful mountain views that are worth spending an extra couple of dollars on. The hotel is just a ten-minute walk from the center of town.
DNA Hotel Dalyan
Just a five-minute walk from central Dalyan, DNA Hotel is one of the best places to stay in the city. You'll find a wonderful swimming pool, an excellent Turkish breakfast, a beautiful garden and terrace, and easy access to all of the best things to do in Dalyan.
Where To Eat In Dalyan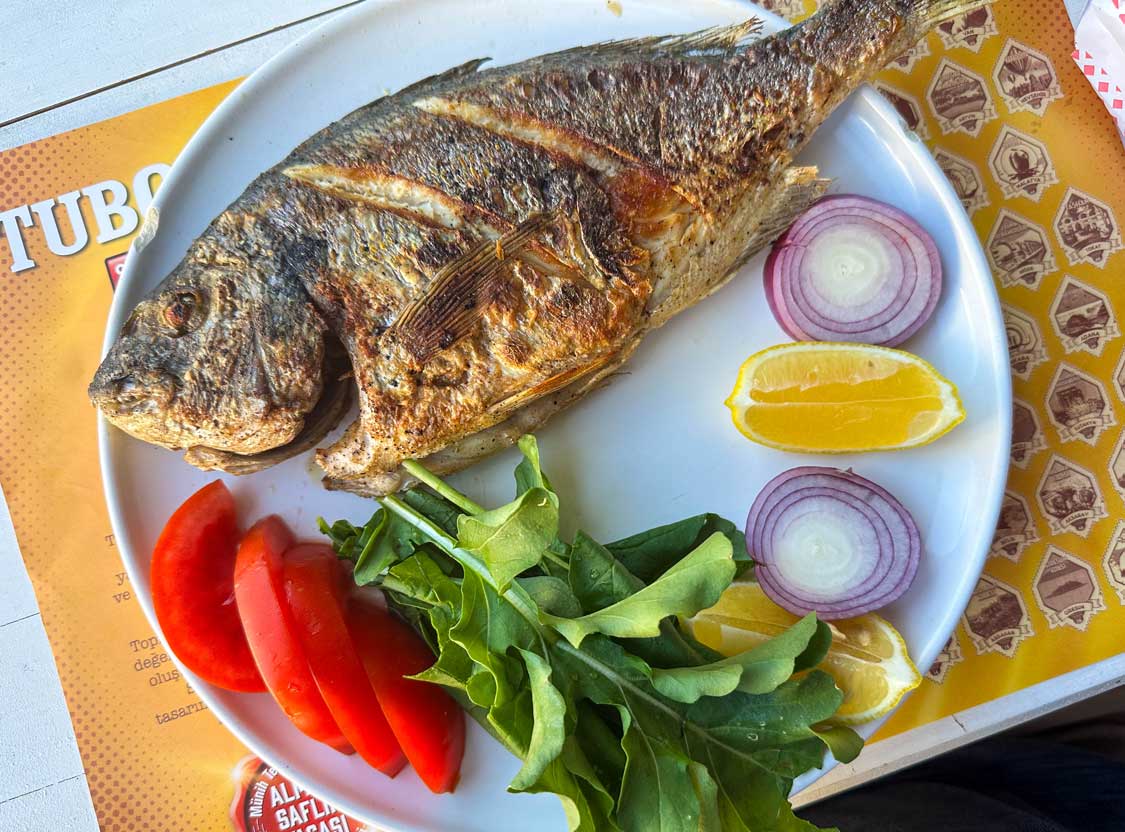 The food in Dalyan is fantastic. And with the Mediterranean Coast just a few miles away and the Dalyan River running right along the edge of town, it's no surprise that fish and mussels are some of the most popular menu items. But you'll find a range of traditional Turkish and international cuisine in Dalyan that will fit most culinary leanings.
Caretta Caretta
Meze is one of the most popular dining traditions in Turkiye. Tables piled high with small plates of dolma, fava, olives, roasted eggplant, and hummus mark one of the most delightful traditional Turkish dinner experiences. If you're looking for the best meze in Dalyan, stop at Caretta Caretta.
This Dalyan restaurant has a nice patio overlooking the Lycian Tombs. If you're here in the evenings, the tombs are lit up as well, so you won't lose the view.
Yaliçapkini
When it comes to seafood in Dalyan, Yalicapkini is the place to go. This quiet restaurant serves up fresh calamari, local sea bream, pomegranate-infused salads, and a range of delightful Turkish dishes that might have you reserving more than just one meal here.
Cagri Pide
Pide, that delicious Turkish pizza, is one of my favorite comfort foods in the country. Cagri Pide, which is relatively new to Dalyan, quickly established itself as one of the most popular restaurants in town. Here, you'll find homemade comfort food such as pide, doner kebab, and souvlaki done right.
How to Get to Dalyan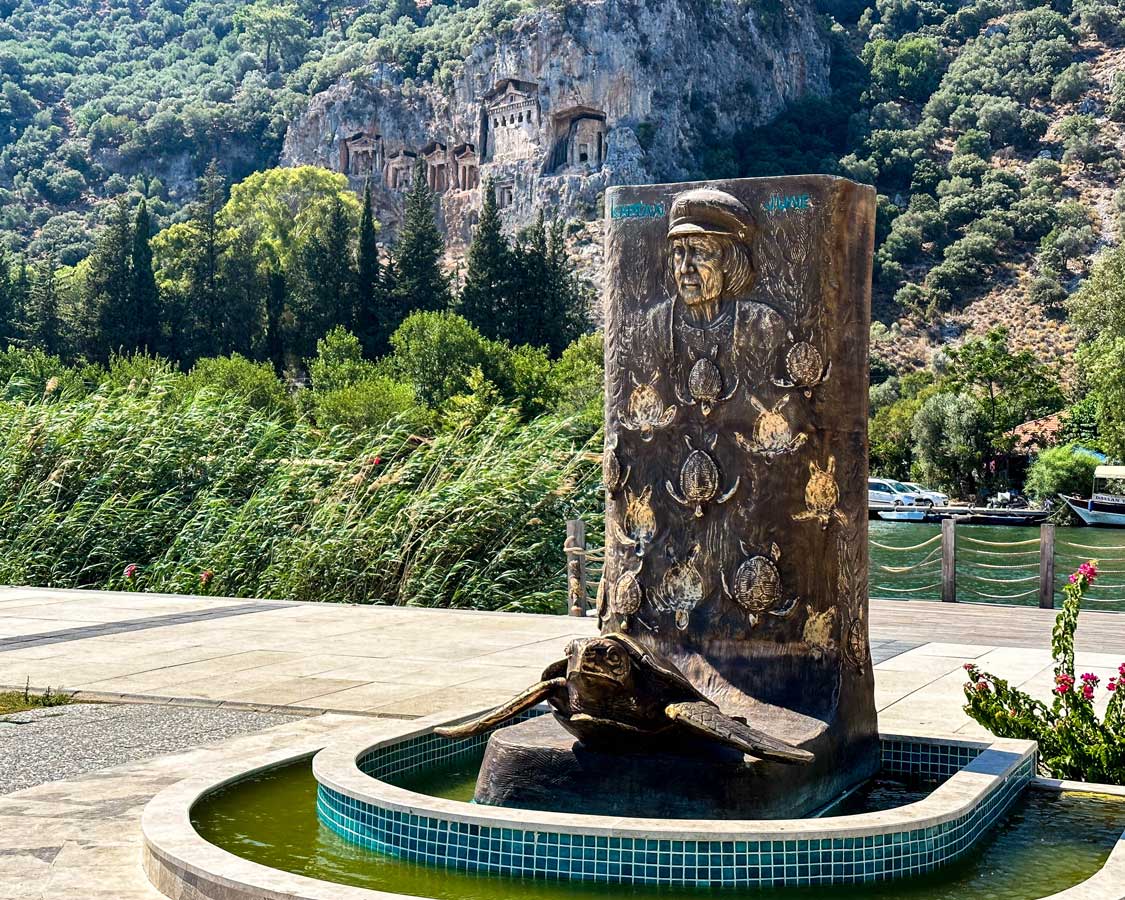 Dalyan is a popular road trip destination. With easy access to popular cities such as Fethiye, Pamukkale, and Marmaris, travel to Dalyan is usually done by road.
The closest major airport to Dalyan is the Dalaman Airport. The Dalaman Airport is about 25 minutes away from Dalyan by car. There are taxis, car rentals, and shuttle busses that can transfer travelers between the two cities.
If you're traveling from major cities such as Istanbul, Izmir, Ankara, or Antalya, Dalyan lies on major bus routes. You can find schedules and book tickets online or at the bus station.
If you're traveling by road, as we did, you can take the D400 Highway.
How To Get Around In Dalyan
Dalyan is a small town, and it's very easy to get around without much effort. Walking through town is my favorite way to enjoy the area. Stroll the riverside walk, stopping at the food and craft vendors along the way, and see if you can strike a deal with one of the riverboat captains.
If walking isn't your scene, there are dolmas or minibusses that can take you to most of the hotels and restaurants in town.
One of the best ways to get around Dalyan is by bicycle. There are bikes for rent at several places in town and wide bike paths that make getting around Dalyan a breeze.
Enjoy Your Time in Dalyan, Turkiye
We absolutely loved Dalyan. There are a few places that we've traveled to where we felt "instantly comfortable," and Dalyan was one of those. With wonderful history, beautiful scenery, and a warm, welcoming atmosphere, it's an absolutely delightful place to spend some time.
I hope that our guide to Dalyan has helped you to experience this small town as well. If we've missed any of the best things to do in Dalyan, drop a comment or send me an email, and we'll make sure to add it to our list.
If you love family travel as much as we do, please join our Family Travel Support Group on Facebook. You can connect with more family travelers just like you who love to explore the world.
Wandering Wagars is a participant in the Amazon Services LLC Associates Program, an affiliate advertising program designed to provide a means for sites to earn advertising fees by advertising and linking to amazon.com, amazon.co.uk, amazon.ca. Amazon and the Amazon logo are trademarks of Amazon.com, Inc. or its affiliates
You May Also Like To Read: