Discover Iztuzu Beach: A pristine Mediterranean paradise and vital turtle nesting site in Turkey. Plan your eco-friendly getaway to this stunning destination known for its golden sands, crystal-clear waters, and responsible tourism efforts.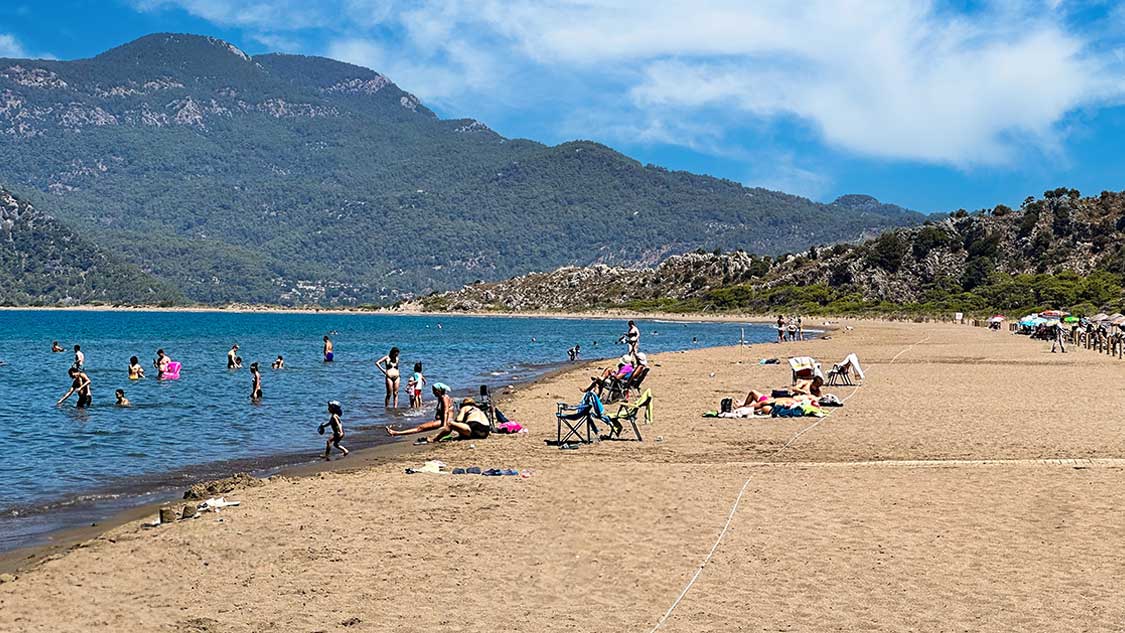 Stretching for nearly three miles along the idyllic shores of the country's southwestern shores, Iztuzu Beach has become one of the top places to visit in Turkiye. With soft sandy shores, mountain scenery, and easy access to historic ruins, "Turtle Beach" should be one of the most popular beaches in Turkiye. Yet this lovely place slides under the radar of most visitors.
Iztuzu Beach lies 6 miles downstream along the Dalyan River from the town of Dalyan, Turkiye. The sandy stretch is a famed nesting site for endangered Loggerhead Turtles, and its success story has been an inspiration to turtle conservation efforts around the world.
About Iztuzu Beach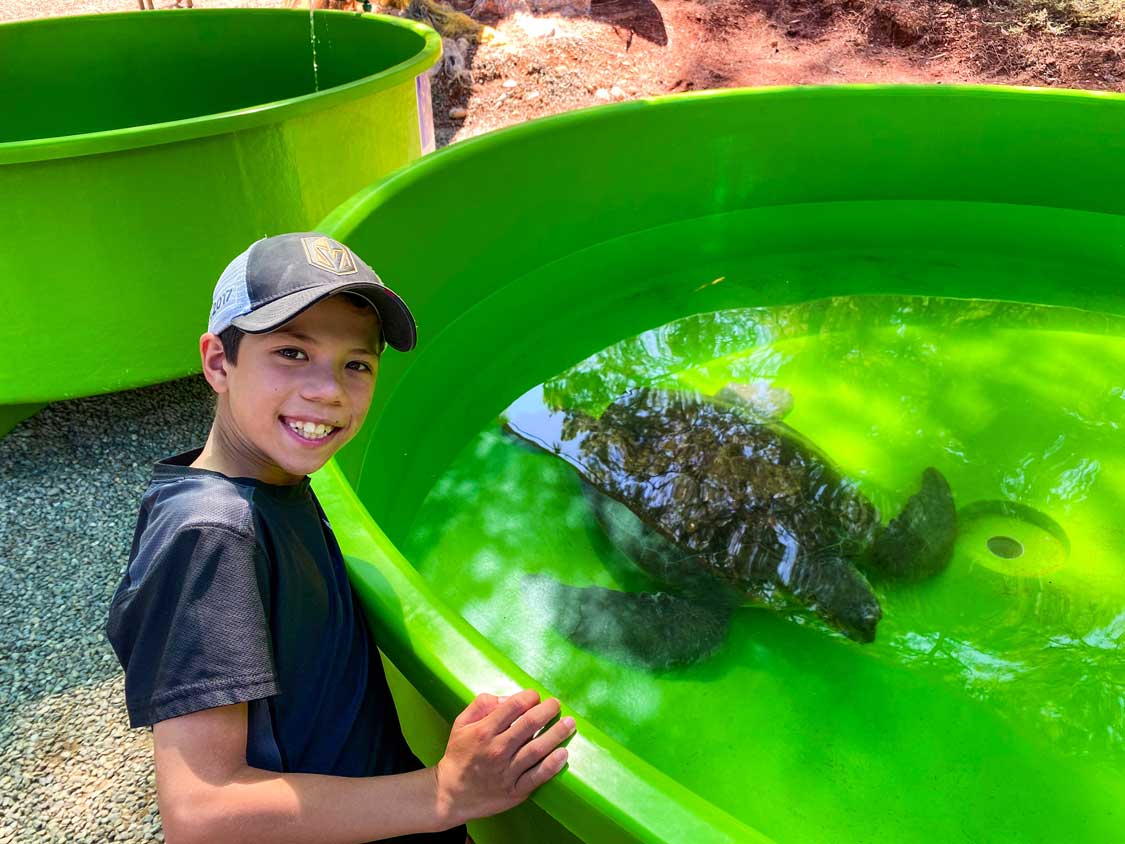 Known for its unspoiled beauty and unique ecological significance. The stunning stretch of coastline stretches for approximately 4.5 kilometers and is renowned for its pristine sands, crystal-clear waters, and breathtaking vistas of the Mediterranean Sea.
But this paradise in Southwestern Turkiye was almost destroyed.
Often referred to as "Turtle Beach," Iztuzu is a vital nesting ground for endangered loggerhead sea turtles (Locally known as Caretta caretta), making it a crucial conservation site and a must-visit destination for nature enthusiasts.
June Haimoff was a British woman who settled in a small beach hut on Iztuzu Beach in the mid-1980s. Shortly thereafter, the beach was cleared of all residences in the name of "sanitation," but really, it was to make room for a massive 1,800-room resort.
During the pre-internet days, Haimoff, affectionately known as "Kaptan June" and "The Turtle Lady," worked tirelessly to preserve the beach and the turtle nesting sites. She garnered awareness and celebrity support from the likes of Prince Philip, who was at the time the president of the World Wildlife Fund and fought against the resort and the development of the beach.
Her efforts led to global changes in conservation management and the birth of the Kaptan June Sea Turtle Conservation Project, which is located on Iztuzu Beach. Her pioneering work helped safeguard the fragile Loggerhead sea turtle population and inspired a legacy of conservation efforts that continue to thrive today.
Beyond its famed conservationist history, Iztuzu Beach offers unimaginable beauty and history for those burying their toes in its sand.
The beach's fine golden sand and shallow, warm waters offer an inviting environment for sunbathing and swimming during the summer months. The gentle slope of the shore and calm waves make it ideal for families and leisurely beachgoers.
Surrounded by lush green hills and framed by the Dalyan River on one side and the Mediterranean on the other, Iztuzu Beach offers a serene escape from the hustle and bustle of city life. Visitors can also explore the nearby ancient city of Kaunos and take a relaxing boat ride along the Dalyan River to witness the stunning Lycian rock tombs or enjoy a riverside meal in the nearby town of Dalyan.
Iztuzu Beach Amenities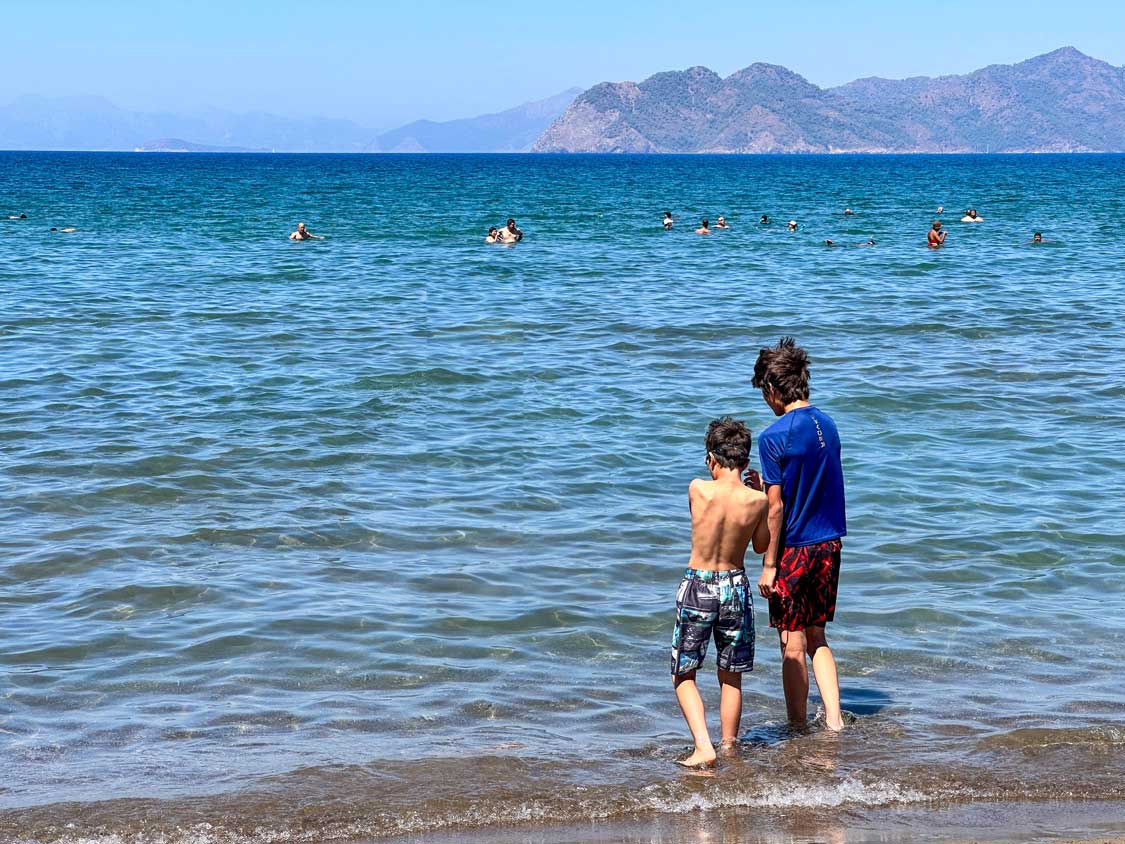 Iztuzu Beach is relatively bare bones, and that is done with purpose. Conservation is so ingrained in the beach identity that you'll find few things in place that could disturb the idyllic reputation.
At the north end of the beach are simple change rooms, washrooms, and shower facilities. There is also a small cafe where you can purchase cold and hot food as well as beverages.
One thing that Iztuzu Beach has many of is sunbeds. You'll find rows of sunbeds available for rent for a few Turkish Lira.
When arriving at the north end of the beach, you will first encounter basic change rooms and shower facilities. There is also a cafe where you can purchase food and drink items.
The Best Time To Visit Iztuzu Beach
Coming from the cold Canadian climate, I look at Iztuzu Beach as a year-round destination. But for most visitors, the chilly winter might not seem like the ideal time to visit. During the winter, most shops and services on and near the beach are also closed. But you will also likely have the beach all to yourself.
For most visitors, though, April till October are the most popular months for visiting Iztuzu Beach. From April to June and September to October, you'll get the perfect mix of low crowds and wonderful weather. Through July and August, Iztuzu Beach can get very hot. You'll want to make sure you bring shoes or sandals to avoid burning your feet.
Iztuzu Beach Turtle Hatching Season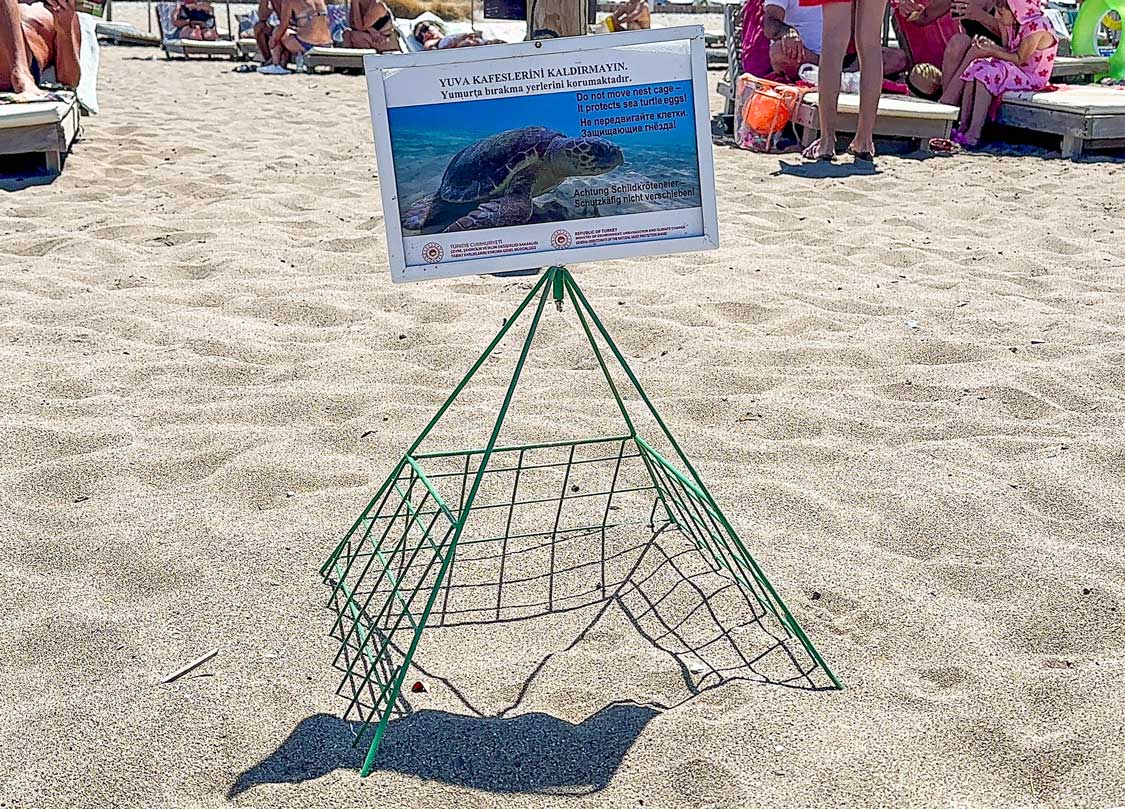 The Carreta carreta turtles typically hatch during the summer months. The intense sun helps to incubate the eggs. The Iztuzu Beach hatching season runs from June to August, and you'll find many areas of the beach protected or roped off in order to keep these precious eggs safe from trampling human feet.
It's always tough to nail down exactly when the turtles will hatch on Iztuzu Beach. The dates vary depending on the time and weather of the nesting season. For those who do visit during hatching season, ensure that you follow the rules and respect both the environment and the wildlife.
Rules For Visiting Turtle Beach
Don't feed the turtles.
Keep your distance from the turtles.
Do not walk and stand in front of the turtles.
Do not litter.
Don't touch the hatchlings unless you find disoriented hatchlings heading inland. If you do, rotate the hatchlings to face the sea and call DEKAMER.
Don't place your umbrella and beach furniture in the nesting zone.
Don't drive on the beach.
If you visit the beach at night, turn off any lights that may be visible from the beach and screen your light sources. Hatchlings are attracted to bright lights.
Do not build a fire on or near the beach, and don't use a flashlight on the beach.
No flash photography.
Avoid making loud noises.
Don't dig holes in the nesting zone. Please fill all the holes on the beach before sunset.
If you find an injured or dead turtle, call DEKAMER or go to DEKAMER Turtles Hospital near the beach.
Don't bring dogs to Iztuzu Beach during nesting season.
Don't use fishing nets in the bay, and never leave your fishing equipment in the water.
How To Get To Iztuzu Beach
Iztuzu Beach is located 10 km (6.2 miles) south of the town of Dalyan. Visitors to the beach arrive by water taxi or tour boats which can sometimes include visits to the Dalyan mud baths and the ancient city of Kaunos.
Visitors can also drive or take a minibus from central Dalyan. The bus takes about 25 minutes and drops visitors off within walking distance of the Kaptan June Turtle Conservation Project. The buses run every half hour in high season and four times daily during the winter.
If you opt for the boat ride, ensure that you choose a boat that has a "Kaptan June" sticker. These are companies that have agreed to a higher standard when it comes to conservation. Some boat captains will take part in unethical activities such as stopping to interact with the turtles, feeding the turtles, or running engines without prop covers that can kill or injure marine wildlife.
Iztuzu Beach also makes for a great day trip from the town of Fethiye. It's only about an hour's drive from Fethiye to Itzuzu Beach. There are also tours that will take you between the two.
Where to Stay Near Iztuzu Beach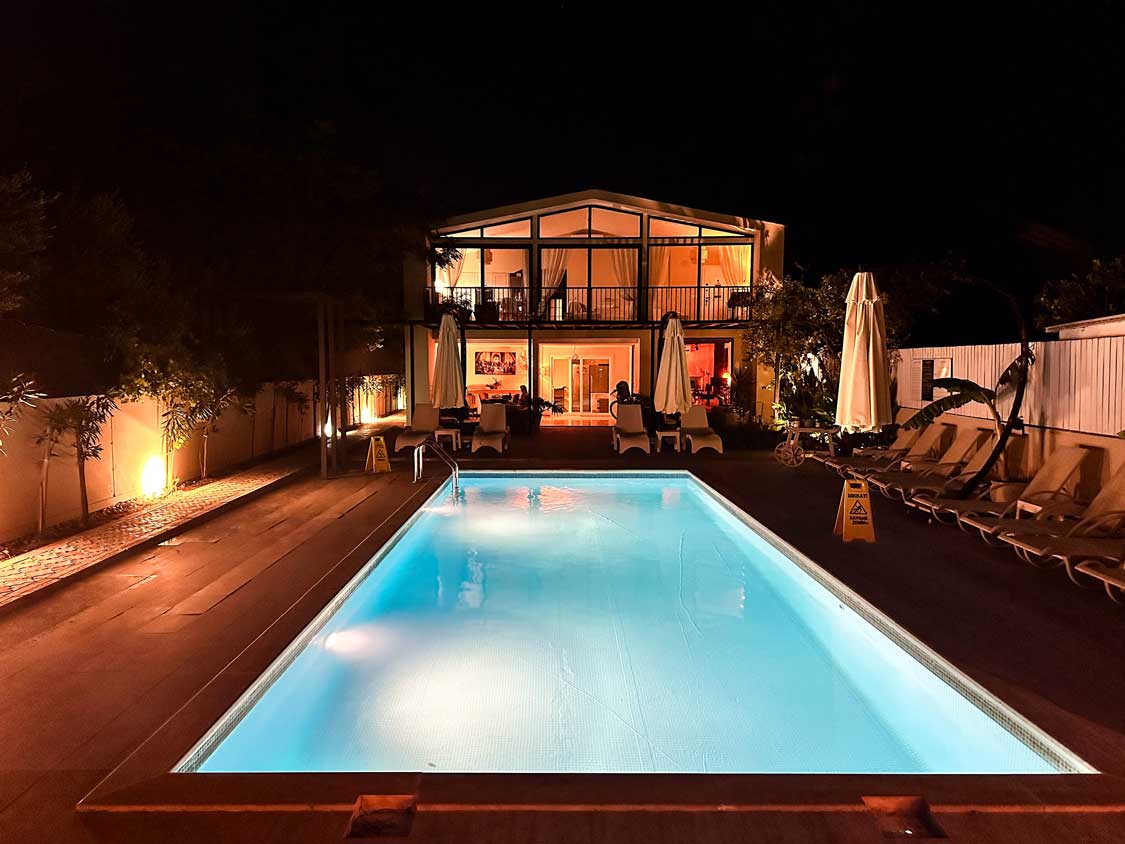 Iztuzu is a protected beach, and as such, there are no accommodations right on the beach. But just 10 minutes away is the beautiful town of Dalyan. It might be a small town, but there are some excellent places to stay. You won't find many large chain hotels in Dalyan, but you'll find plenty of smaller, accessible apartment hotels and boutique hotels that are perfect for couples or families.
We stayed at Arp Dalyan, a lovely hotel on the edge of the Dalyan River with phenomenal views of the Lycian Rock Tombs. They have one large family suite available for those staying at least two nights. The rooms are spacious, and they have an excellent Turkish breakfast included. Try to enjoy it on the riverside deck, and you may get a visit from some local turtles.
Other great Dalyan hotels to consider include:
Midas Pension Hotel
Another popular riverside hotel in Dalyan is the Midas Pension. This popular hotel has great rooms, friendly staff, and beautiful mountain views that are worth spending an extra couple of dollars on. The hotel is just a ten-minute walk from the center of town.
DNA Hotel Dalyan
Just a five-minute walk from central Dalyan, DNA Hotel is one of the best places to stay in the city. You'll find a wonderful swimming pool, an excellent Turkish breakfast, a beautiful garden and terrace, and easy access to all of the best things to do in Dalyan.
Popular Tours Near Iztuzu Beach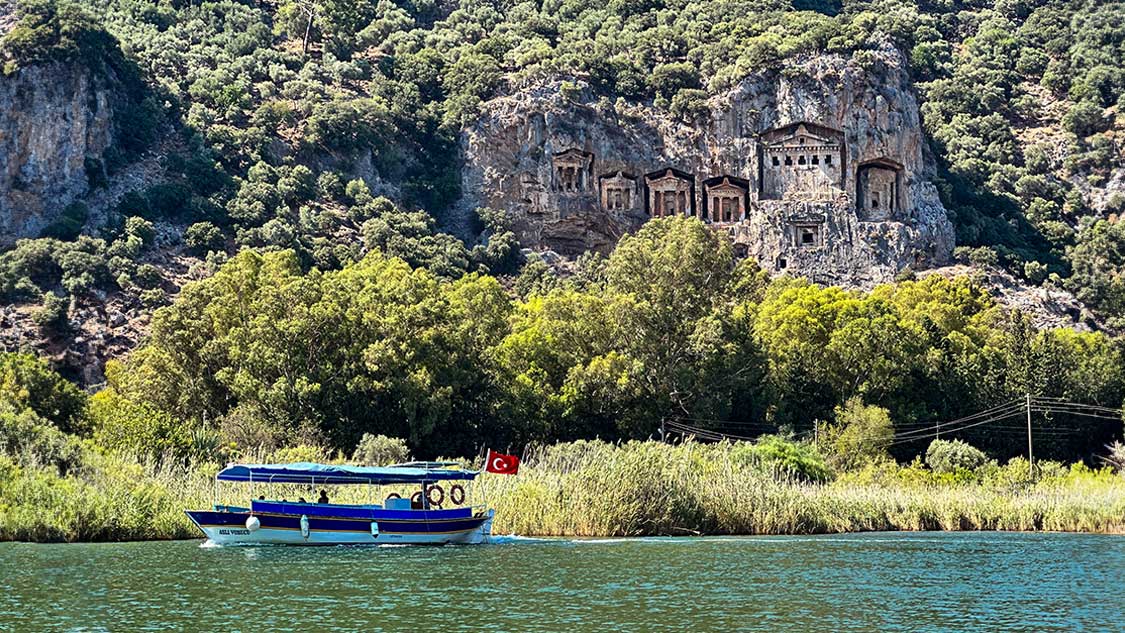 If you're looking for more things to do in Dalyan, Turkiye, there are some popular tours in the town that will give you a broader taste of this beautiful region.
If you're looking to visit Iztuzu Beach as a day trip from Fethiye, this tour includes transport to and from Dalyan as well as a river cruise, mud baths, and a stop at Iztuzu turtle beach.
Taking off from the nearby town of Saligerme, this backroads jeep tour takes you through the mountains and dusty back roads to get a behind-the-scenes look at this beautiful region. You'll visit a small Turkish town, enjoy lunch at a traditional trout restaurant, and enjoy a swim in Yuvarlakcay Spring.
This Dalyan River Tour takes you through the fish farms to the ancient city of Kaunos, where you'll have the chance to walk through the historic ruins and explore the grand theater. It continues on for a visit to Iztuzu Beach.
When Is Iztuzu Beach Open?
Iztuzu Beach is open year-round. From May 1 till October 31, the beach is only open from 8:00 AM till 10:00 PM to protect the nesting turtles.
Tips For Visiting Iztuzu Beach
Visiting Iztuzu Beach is a wonderful experience, and to ensure you have a memorable and responsible trip, here are ten tips to keep in mind:
Respect Turtle Nesting Areas: Iztuzu Beach is a vital nesting ground for loggerhead sea turtles. Respect the marked nesting areas and avoid disturbing them during the nesting season (May to October).
Follow Local Regulations: Familiarize yourself with the local rules and regulations, including restrictions on beach activities and where you can and cannot walk. These rules are in place to protect the environment.
Stay on Marked Paths: Stick to designated paths and boardwalks to minimize your impact on the fragile dunes and nesting sites.
Use Eco-Friendly Products: When applying sunscreen or using personal care products, choose eco-friendly options that won't harm the environment. You can find our list of the best reef-safe sunscreens here.
Dress Appropriately: While Turkiye is a Muslim country, dress standards are very relaxed. Don't worry about showing some skin while you're here. But you will want to ensure that you cover up to protect yourself from the sun. Pay special attention to your feet, as the sand can be very hot during the summer.
No Pets Allowed: Leave your pets at home or in a safe and appropriate location, as dogs and other animals can disturb nesting turtles and their eggs.
Observe Wildlife from a Distance: If you spot turtles or other wildlife, keep a respectful distance and avoid making loud noises or sudden movements.
Stay Informed: Visit the local visitor center or join guided tours to learn more about the turtles and the conservation efforts at Iztuzu Beach.
Support Conservation Efforts: Consider making a donation to or volunteering with local conservation organizations that work to protect the turtles and their habitat.
By following these tips, you can enjoy the natural beauty of Iztuzu Beach while helping to preserve this vital nesting site for loggerhead sea turtles.
Enjoy Your Time At Turkiye's Turtle Beach
Iztuzu Beach is a conservation success story and one of the most beautiful places to visit in Turkiye. Adding this special place to your Turkiye itinerary will add something truly special to your visit. Make sure that you put some time aside to pay the Kaptan June Turtle Conservation Project a visit. Make a donation if you are able.
You can find more great information about visiting Turkiye on our Turkiye Family Travel Blog. Or feel free to join our Family Travel Support Group on Facebook. You can connect with more family travelers just like you who love to explore the world.
Wandering Wagars is a participant in the Amazon Services LLC Associates Program, an affiliate advertising program designed to provide a means for sites to earn advertising fees by advertising and linking to amazon.com, amazon.co.uk, amazon.ca. Amazon and the Amazon logo are trademarks of Amazon.com, Inc. or its affiliates
You May Also Like To Read: