Belfountain Conservation Area is a gorgeous nature area just north of Toronto, Ontario. Featuring beautiful hiking trails and historic artifacts, it's a perfect day trip from the city.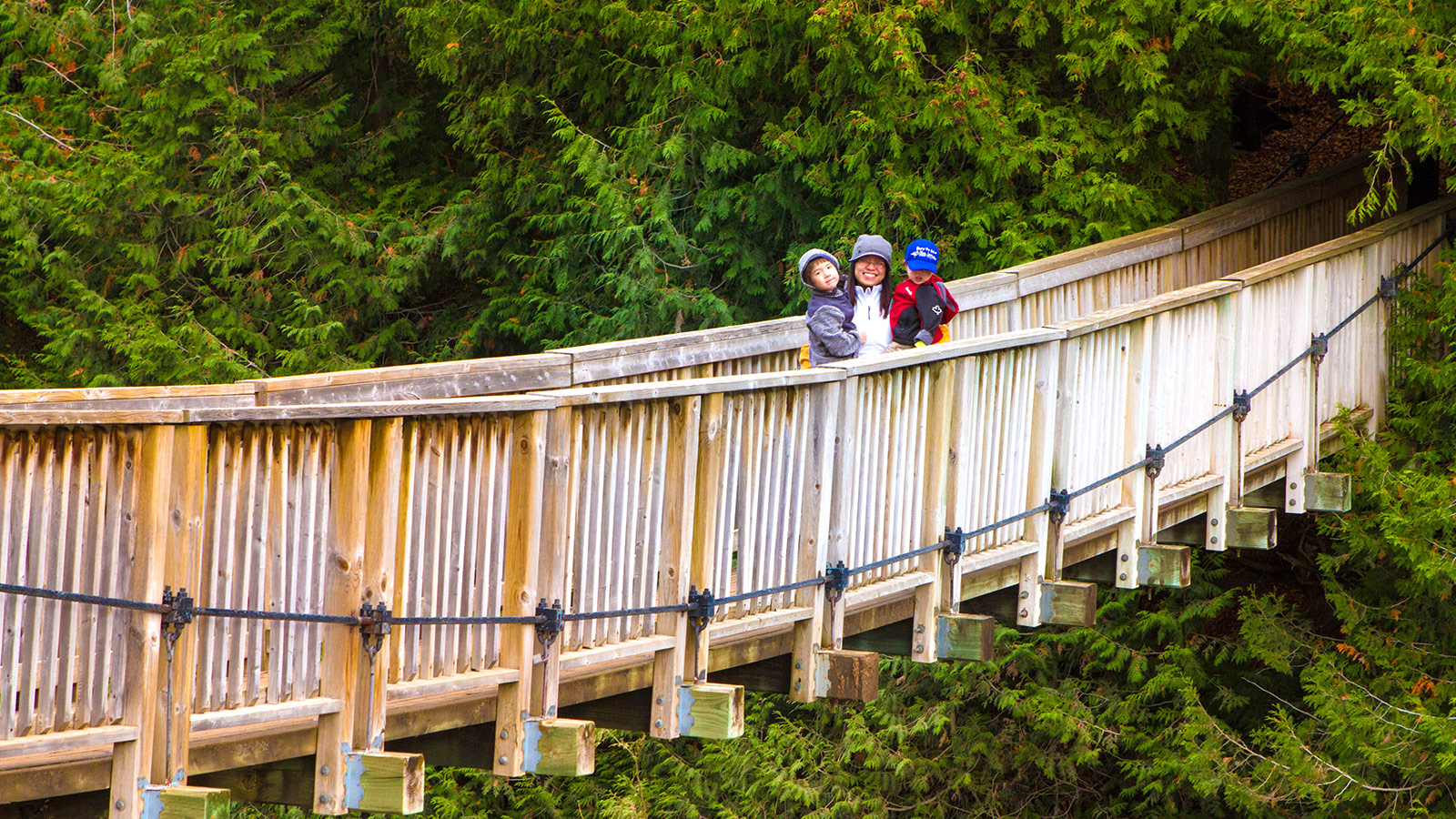 Located just outside of Toronto, Ontario, and laden with gorgeous hiking trails, babbling streams, and towering limestone cliffs, Belfountain Conservation Area is one of the best places to explore nature near the big city.
Belfountain Conservation Area, which is located in the idyllic small town of Belfountain in the York Durham Headwaters region between Toronto and Orangeville, is an often-overlooked outdoor experience that's both easily accessible and offers a tremendous amount of diversity.
Featuring the remains of former mills, a historic fountain, and Instagram-worthy bridges and streams, Belfountain draws thousands of visitors during the Ontario fall season when colours explode and the scenery is at its most vibrant. But the park is a hit during all four seasons, with summer hiking trails transforming into winter cross-country skiing and snowshoeing routes.
Where Is Belfountain Conservation Area?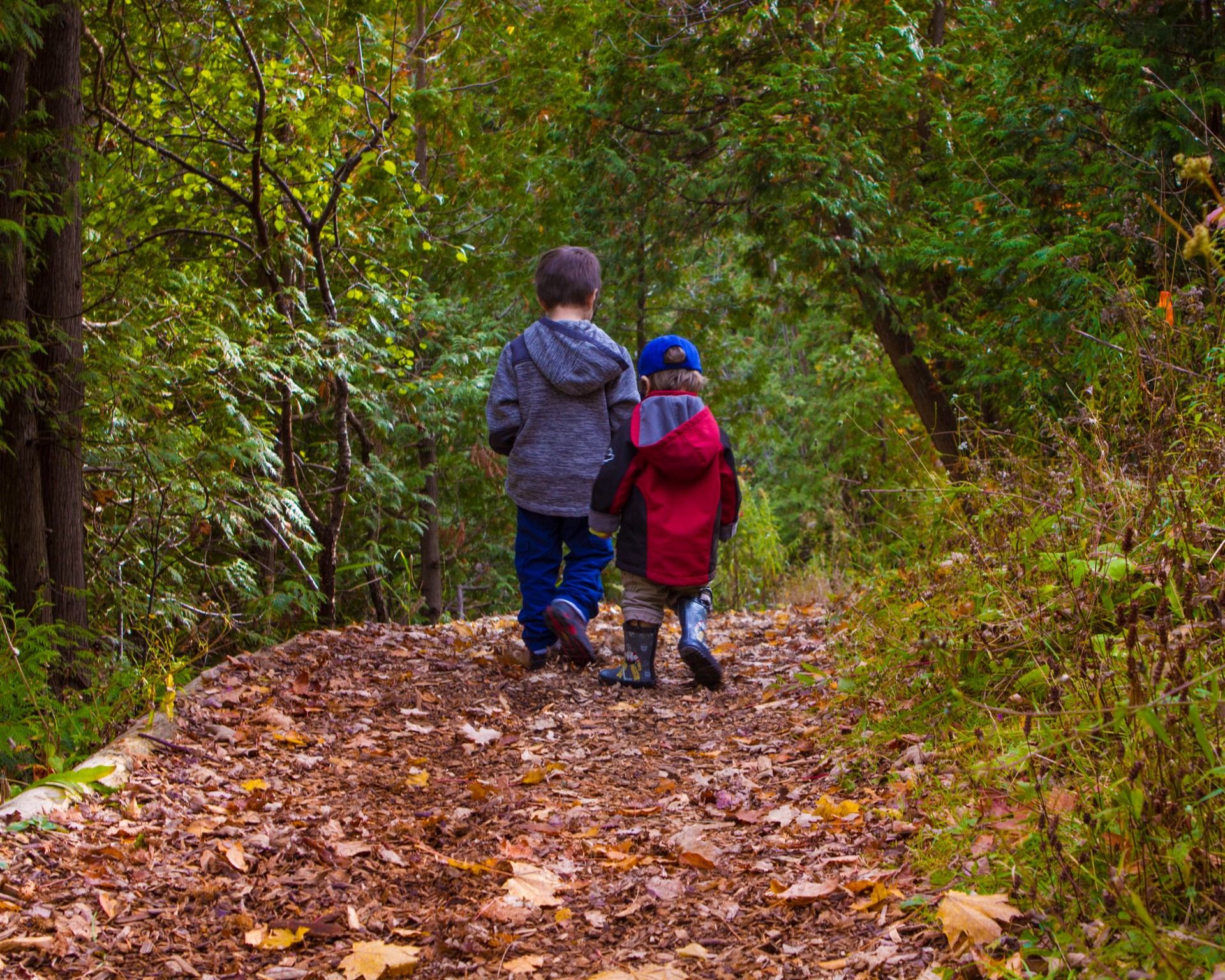 Belfountain is a historic hamlet, located about 20 minutes north of the Greater Toronto Area. Belfountain Conservation Area lies right on the edge of the town of Belfountain.
Belfountain Conservation Area is located in the historic hamlet of Belfountain, Ontario just north of the city of Brampton and just 30 minutes north of Toronto. This small town is situated on the epic Niagara escarpment and is known for its natural beauty, historic charm, and gorgeous drives.
The park is located at the intersection of Forks of the Credit Rd. and Mississauga Rd. It's surrounded by the charming town which is home to quaint shops, cafes, and small restaurants that cater to the throngs of visitors from Toronto looking to escape the city in one of the region's most beautiful small towns.
Belfountain hosts events throughout the year including the Belfountain Music Festival and the Belfountain Heritage Society's Christmas celebration.
On a beautiful day, many people park their cars within the town in order to avoid paying the conservation area's $10 parking fee (the fee is applicable only on weekends and holidays). This has caused some major issues with those who live in the town.
The conservation area has the standard park entrance fee of $7 per adult and $3.25 per child over six and is open from April 17-October 25, 7 days a week. This is the best option for parking, as those who park illegally on roadsides and on private property without permission are often ticketed and sometimes even towed.
The entrance fee is a daily park fee that's applicable for any of the Credit Valley Conservation Areas, so if you want to take the day to explore some of the other parks in the area, there is no additional charge. It is important to keep in mind that there is an $11.30 reservation fee with each booking on Fri., Sat., Sun. and holidays. Although, if you are a Parks Pass Holder, all fees are waived.
How To Get To Belfountain Conservation Area
When driving from Toronto to Belfountain, take HWY 410 N to Hurontario Street in Caledon. Turn left on King St or Peel Regional Road 9 and Mississauga Road to Credit Park Street in Belfountain.
About Belfountain Conservation Area
Located on the Niagara Escarpment in the West Credit River Valley, Belfountain Conservation Area sits on 32 acres of land. Belfountain features a suspension bridge overlooking a breathtaking waterfall and Belfountain Dam, a magnificent stone dam the likes of which are pretty rare in the 21st century.
There is a beautiful fountain for which the town of Belfountain took its name, a cave, and a grinding stone from an old grist mill that once stood near the river as well as other historic structures. Bellfountain also connects to Canada's 900 km long Bruce trail that runs from Niagara Falls to Bruce Peninsula National Park near Tobermory.
Things To Do at Belfountain Conservation Area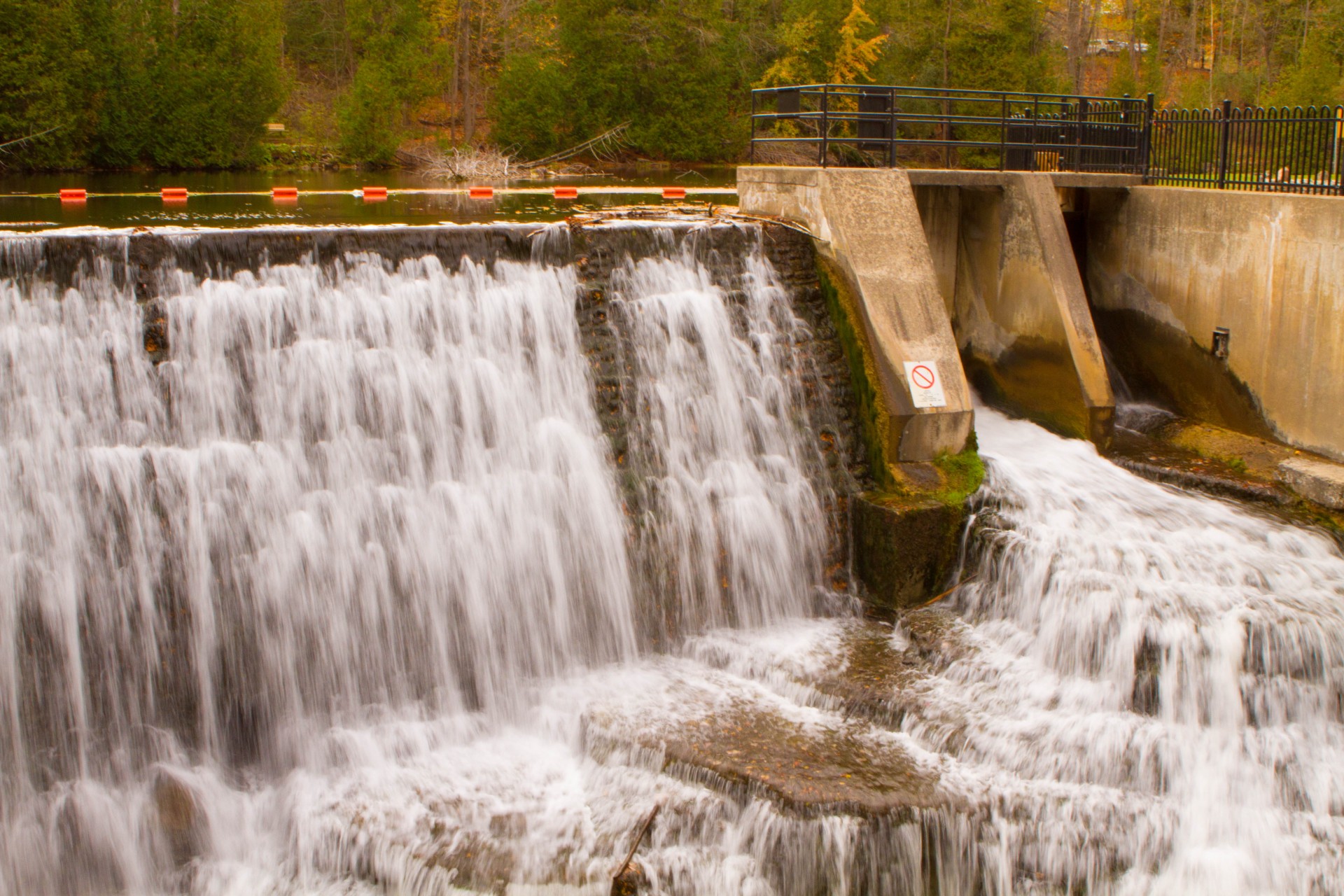 Belfountain Conservation Area is packed with incredible attractions and experiences. Here are some of the top ways to spend your time at the park.
Hiking
Belfountain Conservation Area has some of the best hiking trails just outside of Toronto. The hikes range from easy, to strenuous. All of the Belfountain Conservation Area hiking trails are less than 1 kilometre long and they all make for great short hikes.
Most of the hiking trails in Belfountain Conservation area are looped trails that are easy to follow for those with decent footwear. Although, if you walk on the south side of the river, some climbing will be required and you should watch your children at a few spots due to steep hills and uneven ground
You can plan your Belfountain hiking routes here:
Trimble Side Trail ( 0.4 KM)
Gorge Trail ( 0.5 KM)
Riverside Trail ( 0.2 KM)
BIde-a-Wee Trail ( 0.1 KM)
Accessible Paths ( 0.3 KM)
Each trail gives visitors the chance to take in the breathtaking wilderness of the Belfountain Conservation Area. Hiking these trails also offers the opportunity for some great bird watching. Dogs are allowed on all of the Belfountain Conservation Area trails with the exception of the Riverside Trail.
Fishing
Anglers of any experience level are welcome to test their skills in Belfountain In Belfountain. There are great places for lake fishing, pond fishing, and river fishing. Keep in mind that anyone fishing at any of the Credit River Conservation Areas must follow fishing season regulations so please read the Ontario fishing guidelines before heading out and casting your reel in Belfountain.
Belfountain Conservation Area has catch and release programs when fishing any of the abundant trout, perch, crappie, largemouth bass, or pike in its rivers and ponds.
Bird Watching
Birding is a popular activity in Belfountain Conservation Area. Throughout the year you'll find over 260 different species of birds in the park, so get those cameras ready. Whether you're searching for great blue herons in the Credit River or chickadees in the forests, birdwatching in Belfountain is fantastic.
Belfountain Fall Colours
During the fall, Belfountain Conservation Area is one of the best places to experience the fall colours in Ontario. In early October the park is at its busiest, cars, making the winding road trip down Forks of the Credit Road line up for blocks looking for Belfountain Conservation Area parking.
If you're planning on visiting Belfountain Conservation Area in the fall, head out early to avoid the crowds and make sure that you fork out the money for parking within the park, because finding parking in the town of Belfountain is almost impossible.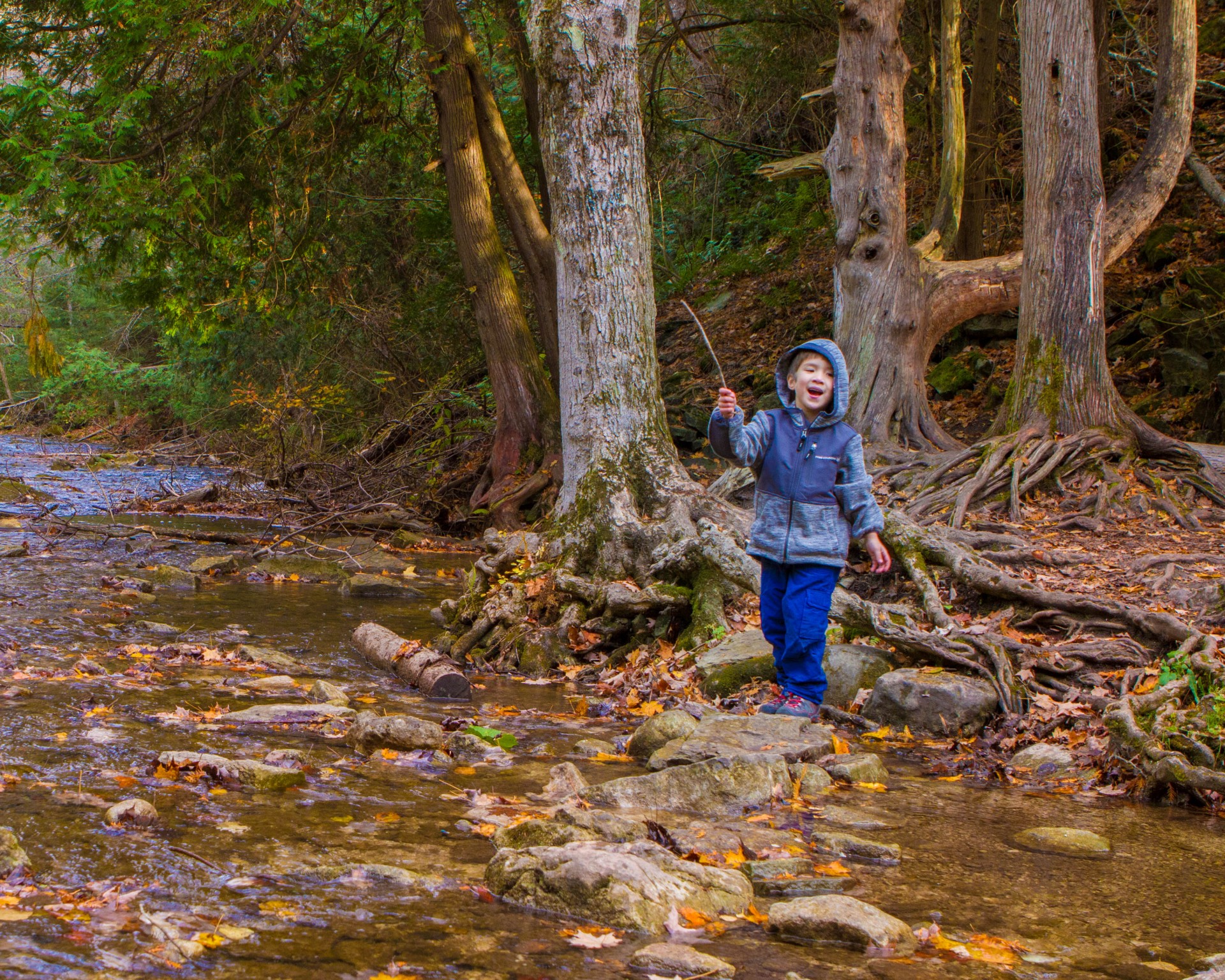 Things To Do Near Belfountain Conservation Area
Belfountain is more than just its conservation area. The town is absolutely idyllic and worth spending a couple of hours exploring. There are also some great nature spots and hikes near Belfountain that are worth including in your Belfountain plans.
Cycling
Belfountain is located in Caledon which is a bike-friendly community. Grab a map and find your route as Caledon offers many in-town routes and cycling trails that you can enjoy. Albion Hills Conservation Area in Caledon offers year-round cycling and holds some of the most spectacular trails in southern Ontario. There are:
Over 40 kilometres of double-track and technical single-track trail
Fast, rolling terrain and long down-hills
Bike wash station
Washroom facilities
Full-service campground and parking
Enjoy the winter months exploring the trails with fat bikes, available to rent onsite
For those cycling through the region, there are several bike repair stations that have been installed along the way. You can find these in:
Cheltenham Village, at Creditview Rd.
Caledon East, east of Airport Rd.
Palgrave, just west of Hwy. 50
Southfields Community Centre, located at Dougall Ave and Kennedy Rd.
GoodLot Farmstead Brewing Co.
Local to Caledon, GoodLot Farmstead Brewing Co makes fresh beer made entirely from locally-sourced ingredients. Visit GoodLot in the late spring to the early fall season to indulge in some tasty homemade lager, you could be treated to some live music as well.
HoneyComb Cottage Bee Company
Located right in Belfountain is a honey bee apiary named HoneyComb Cottage Bee Company. Here, you can purchase award-winning pure, raw, unpasteurized honey and hive products. You can visit the self-serve honey stand 7 days a week between 11 am to 6 pm to purchase these sweet treats.
Inglewood Antique Market
Just ten minutes from Belfountain, Inglewood Antique Market carries a wide range of treasures and antique collection pieces. You'll find furniture, books, painted China, and glasswork for sale.
Higher Ground Coffee
My favourite stop in Belfountain is Higher Ground Coffee Co. This fantastic cafe serves up delicious coffee, frappes, cappuccinos, and lattes as well as some of the best hot chocolate north of Toronto. It's the perfect way to end a visit to Belfountain Conservation Area.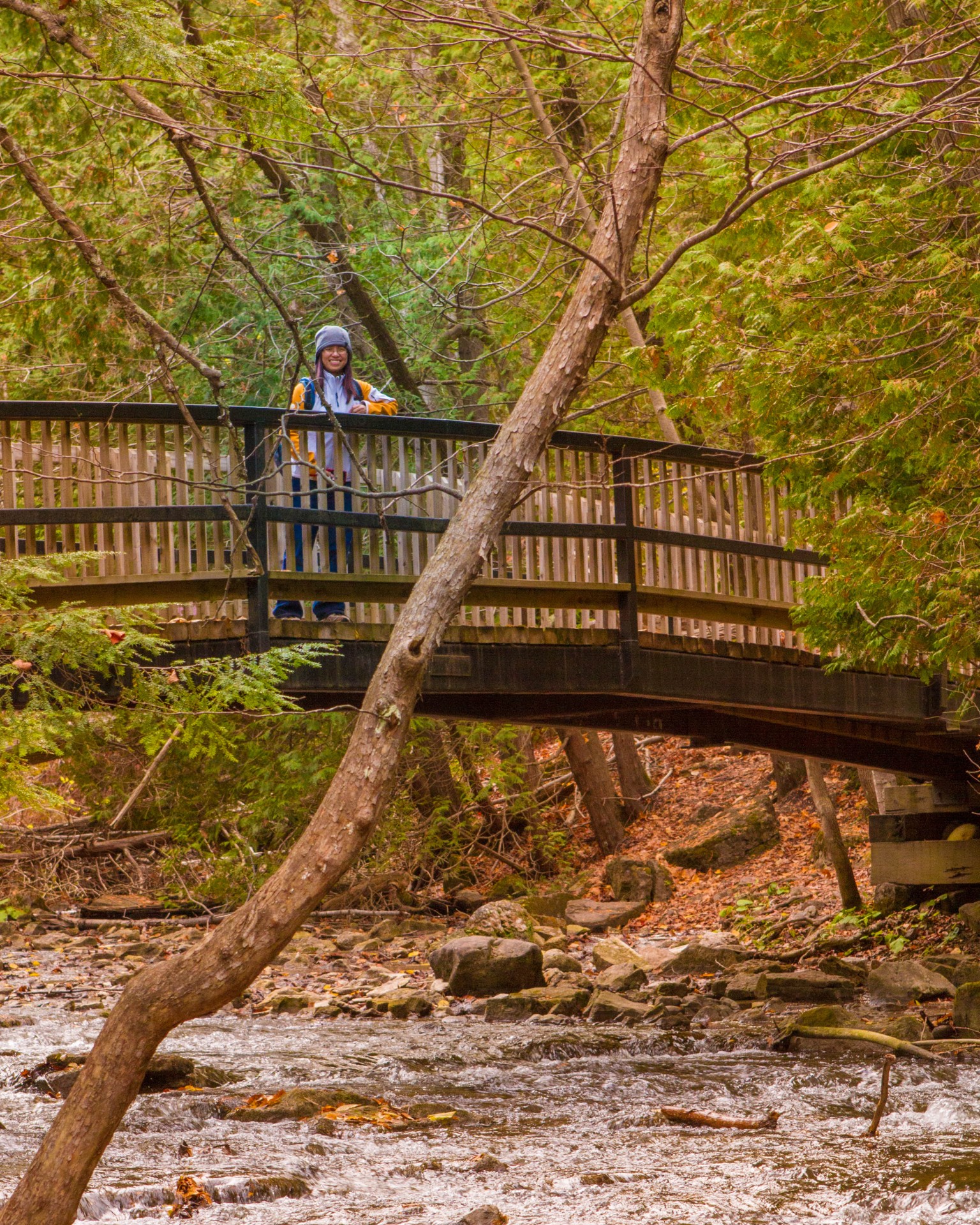 Are You Read To Spend A Day At Belfountain Conservation Area?
Belfountain Conservation Area is one of the best day trips from Toronto. With great hiking and incredible scenery, and a charming town begging to be explored, Belfountain might just be your next outdoor playground.
If you love family travel as much as we do, please join our Family Travel Support Group on Facebook. You can connect with more family travelers just like you who love to explore the world.
You May Also Like To Read:
This post may contain compensated links. For more information please read our disclaimer. Wandering Wagars is a participant in the Amazon Services LLC Associates Program, an affiliate advertising program designed to provide a means for sites to earn advertising fees by advertising and linking to amazon.com, amazon.co.uk, amazon.ca. Amazon and the Amazon logo are trademarks of Amazon.com, Inc. or its affiliates.