Elephant Hills Thailand is an immersive outdoor experience that combines ethical elephant encounters, tented camps, and floating lodges.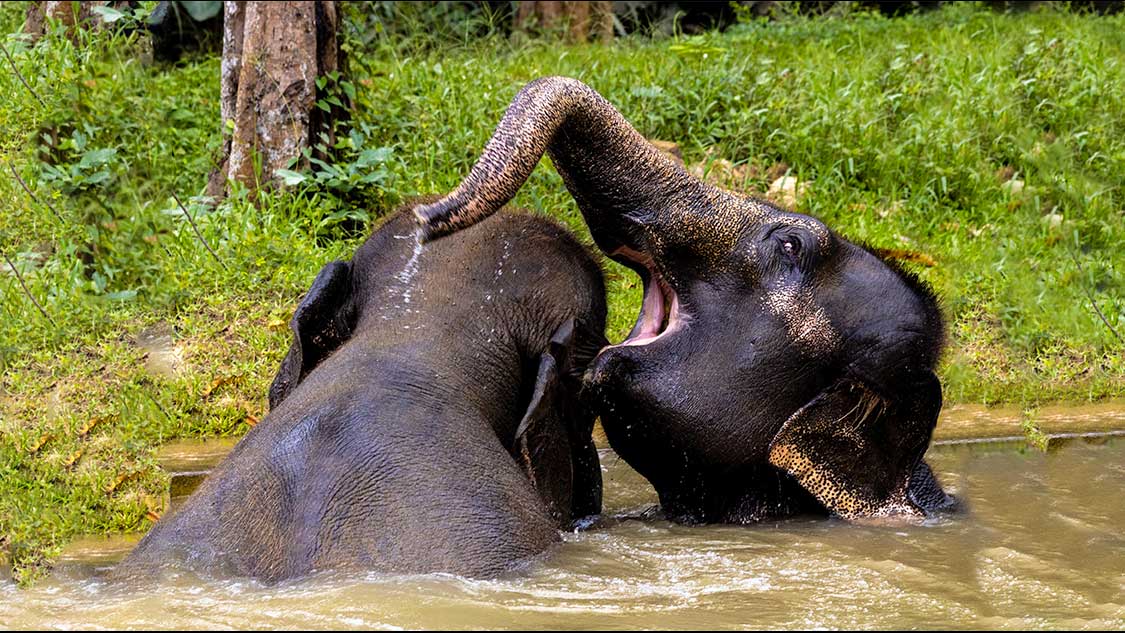 Located two hours from the island of Phuket, Elephant Hills in Thailand is one of the highest-rated ethical elephant experiences in the country. Beyond that, this luxury tented jungle lodge experience combines the best of luxury tented glamping with magical floating lodges amongst the serene environment of Khao Sok National Park.
Our Elephant Hills Thailand adventure took place midway through our Thailand itinerary. We had flown down from Chiang Mai to Sarat Thani and made the hour-and-a-half trip to the Elephant Hills tented jungle camps on the edge of Khao Sok National Park by a transit van provided by the Elephant Hills resort.
We knew that we were in for something special, but we had no idea that the three days and two nights that we spent at this Thai nature camp would be among the most memorable of all of the places we visited in Thailand.
What Is Elephant Hills Thailand?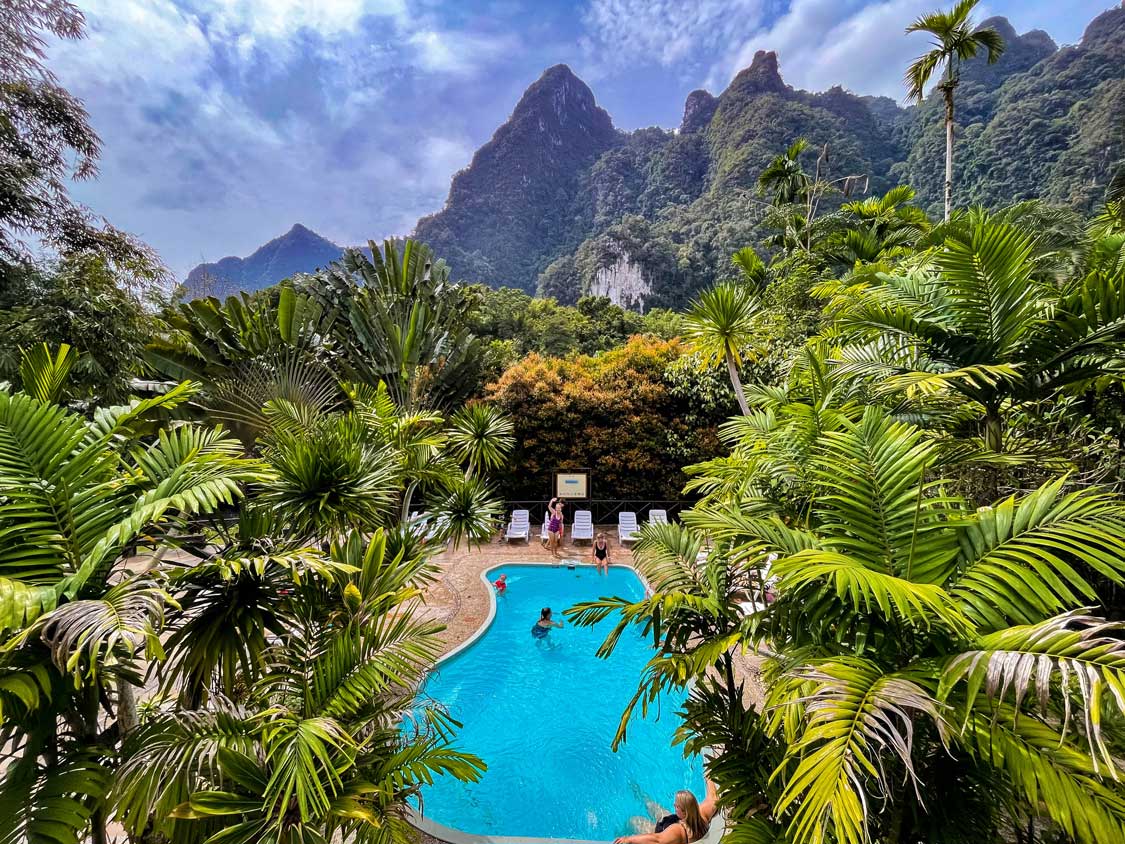 Elephant Hills is Thailand's first luxury-tented jungle camp and ethical elephant sanctuary and rehabilitation center. The camp is situated within the bounds of Thailand's vast Khao Sok National Park both in and near Cheow Lan Lake in southern Thailand.
This luxury Thai eco-resort is made up of two very unique camps. The Elephant Hills tented jungle camp, located in the jungles of Khao Sok National Park, and the Elephant Hills floating rainforest which sits on the waters of Cheow Lan Lake itself.
Both camps include accommodations in luxurious canvas tents with comfortable beds and all of the amenities that you would expect from a 4-star hotel room. Both our jungle stay and our floating lodge stay were among the most comfortable nights of sleep that we had in all of Thailand.
About Khao Sok National Park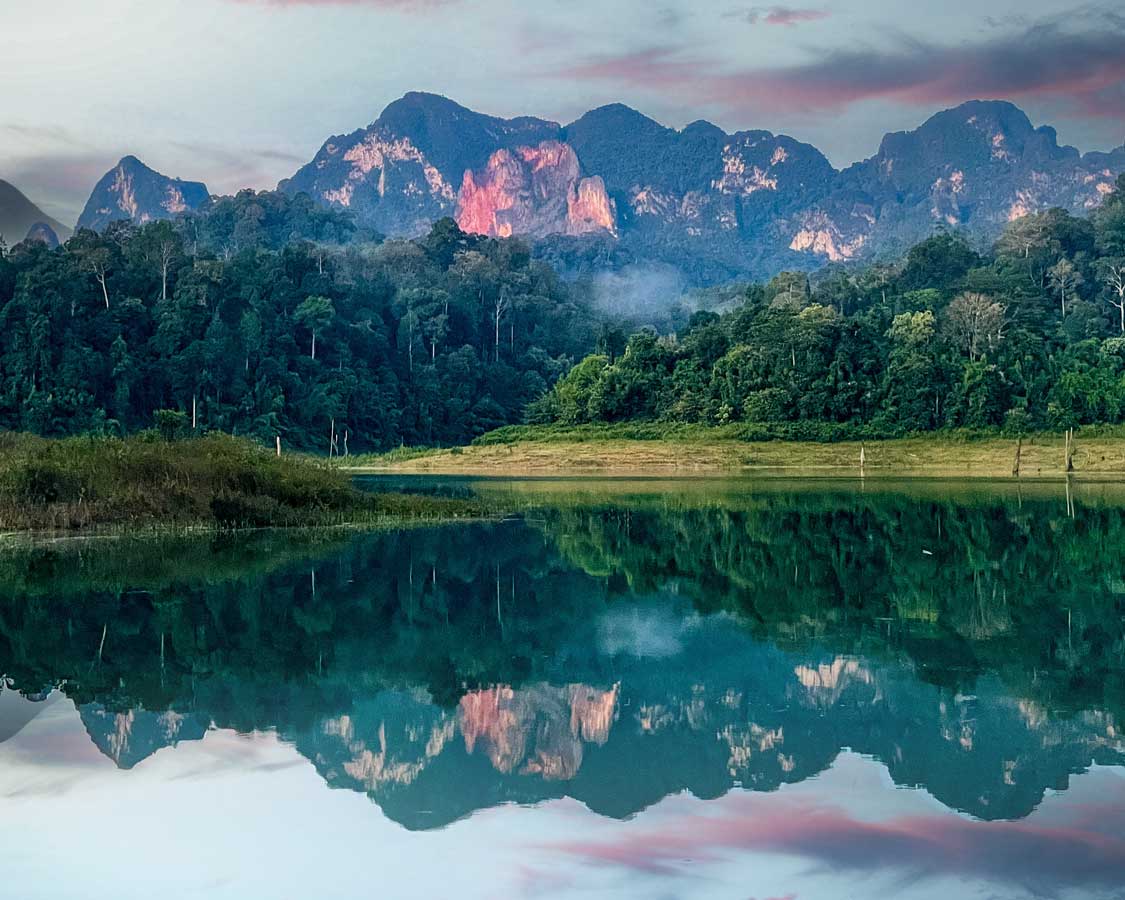 Sprawling across a vast 459 square miles (739 square km), Khao Sok National Park is home to some of the world's oldest rainforests. Dotted with magnificent limestone mountains and centered by the man-made Cheow Lan Lake, Khao Sok National Park is, quite simply, magnificent.
The lush landscapes of the park are pristine and cover a diverse range of biomes that include tropical rainforests, rolling hills, and limestone cliffs. Khao Sok has gained a reputation for having some of the most breathtaking scenery in Thailand thanks to the wide waters of Cheow Lan Lake dotted with towering mountaintops.
Khao Sok is home to some of the most incredible wildlife in Thailand including elephants, tigers, leopards, bears, and gibbons. It's also known to birdwatchers thanks to the over 300 species of birds that call the park home, including the rare and beautiful Great Hornbill, of which we saw several.
While the landscape of Khao Sok National Park dates back thousands of years, and it has been inhabited by humans for almost 10,000 years, the scenery took a drastic turn in 1987 when the Thai government built the Ratchaprapha Dam, flooding much of the northern portion of the park and creating Cheow Lan Lake.
Khao Sok National Park is home to several jungle lodges and floating lodges that give visitors an opportunity to experience its majesty firsthand. Among these lodges are the famous Elephant Hills tent camp and floating lodge.
Elephant Hills Tented Jungle Tents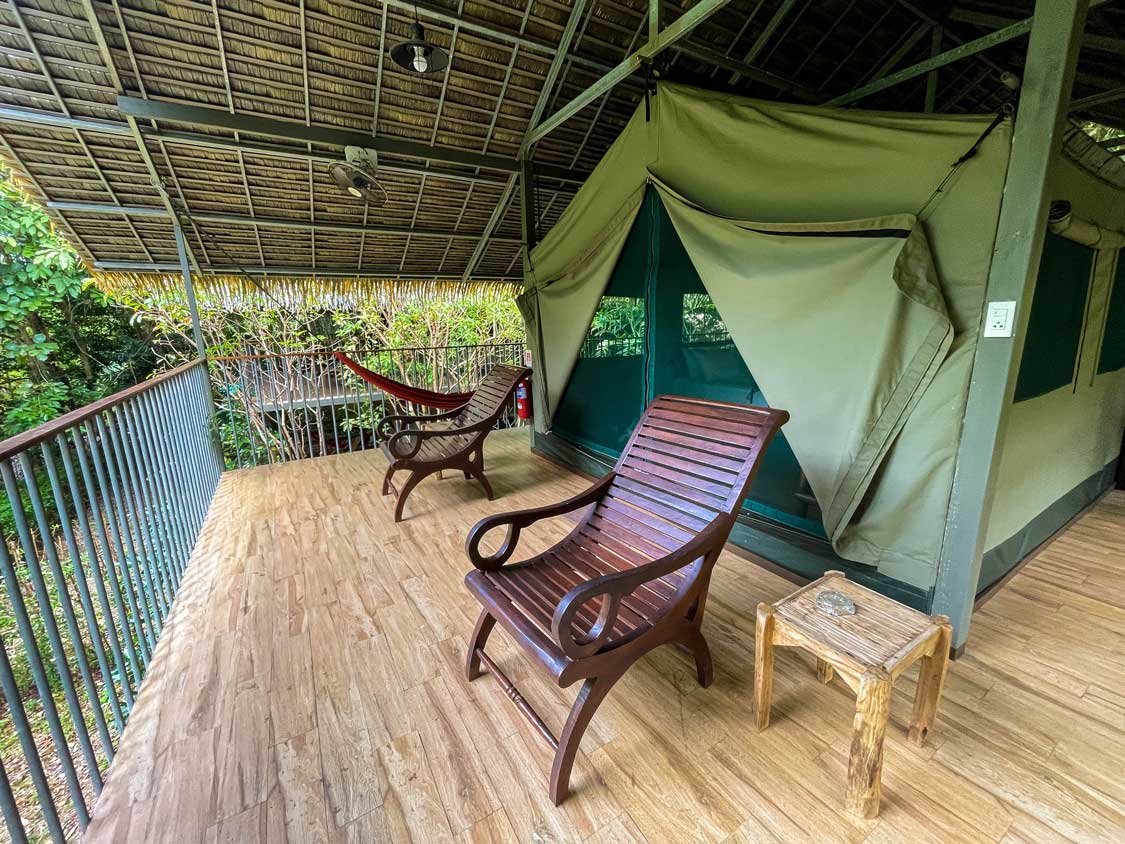 The Elephant Hills tented jungle tents are the main accommodations in the Elephant Hills eco-resort experience. Whether you're visiting for several days, or just doing an overnight trip, this is where the entire Elephant Hills experience in Thailand starts.
From the moment that we arrived, it was clear that Elephant Hills Thailand thinks of everything. Everything from our transportation from Sarat Thani to the check-in, tours, and our transport out to Phuket was professionally organized, courteous, and handled without issue.
The main lodge on the edge of Khao Sok National Park is beautiful. The property features a community pool with jaw-dropping views of the nearby mountains, and large canvas tents setup up in a tree-top configuration where one tent is on a lower level while the other sits above it.
It's a fabulous upscale glamping experience with stunning views, comfortable beds, a large bathroom with shower, toilet, and sink, and a wide deck to soak in the views of the mountains of Khao Sok NP.
Food at Elephant Hills
The food at the resort was delicious, but I do recommend getting to the meals early, as some of the more popular items had a tendency to run out towards the end of the meal.
The meals were almost always accompanied by a show. During our visit, local schoolchildren came to perform traditional Thai dances. It was a very similar setup to our time in the floating lodges in Kanchanaburi where we saw the Mons dance performances.
The meals are all served at the main lodge where you can find a shop, fresh water, and the list and schedules for all of the tours.
Elephant Hills Ethical Elephant Experience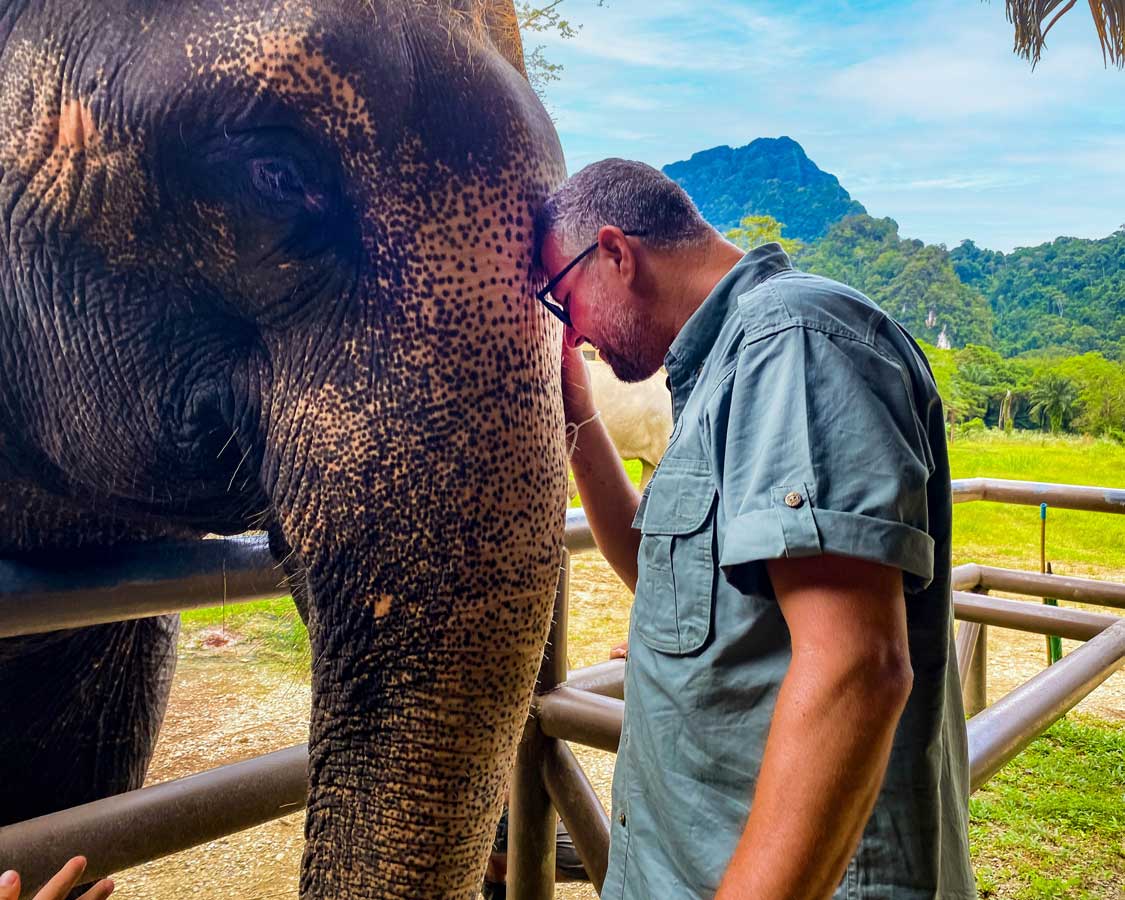 The main lodge is where all of the Elephant Hills tours depart. Many visitors opt for the multi-day package that includes a visit to the floating lodges. While those who choose to stay for just one night typically spend their time at the Elephant Hills Thailand ethical elephant encounter.
The elephant experience was the highlight of our visit. We were bussed out to the Elephant Hills sanctuary, one of the most highly rated ethical elephant experiences in Thailand.
This soft adventure tour brought us up close to the elephants. We had the opportunity to watch them enjoy an extensive bath in the park's large elephant mud pool. We even had the opportunity to prepare special meals for the elephants and feed them.
These massive animals require over 440 lbs (200 kg) of food each and every day, so keeping and rehabilitating the elephants is a lot of work. There are no elephant rides or bathing with the elephants offered at Elephant Hills. These practices are not safe for the animals and if a tour operator offers those services, you would be best served looking for somewhere else to have your elephant encounter.
My favorite experience was feeding the oldest elephant at the sanctuary. This 87-year-old cow is blind and has no more teeth, but the other elephants at Elephant Hills help to guide her towards the feeding areas and ensure that she doesn't get lost in the free-roaming enclosure.
Elephant Hills River Float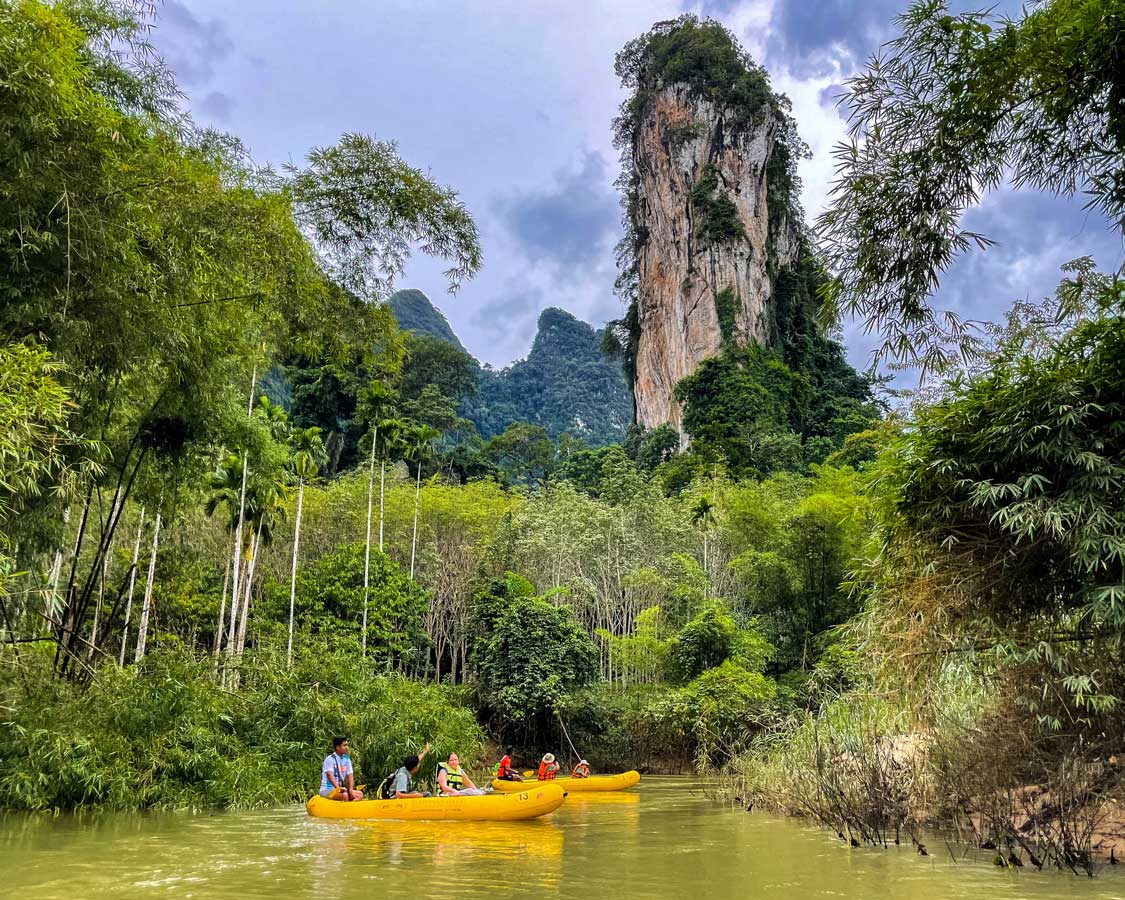 The elephant experience at Elephant Hills is paired with a river float where guided canoes float down a scenic river past farms, jungles, mountains, and massive trees filled with monkeys. We kept our eyes open for snakes, birds, and many other beautiful Khao Sok wildlife.
The river float lasted about an hour and was a peaceful and beautiful experience that helped wash away all of the stress of the long days of travel over the past week.
Elephant Hills Rainforest Floating Camp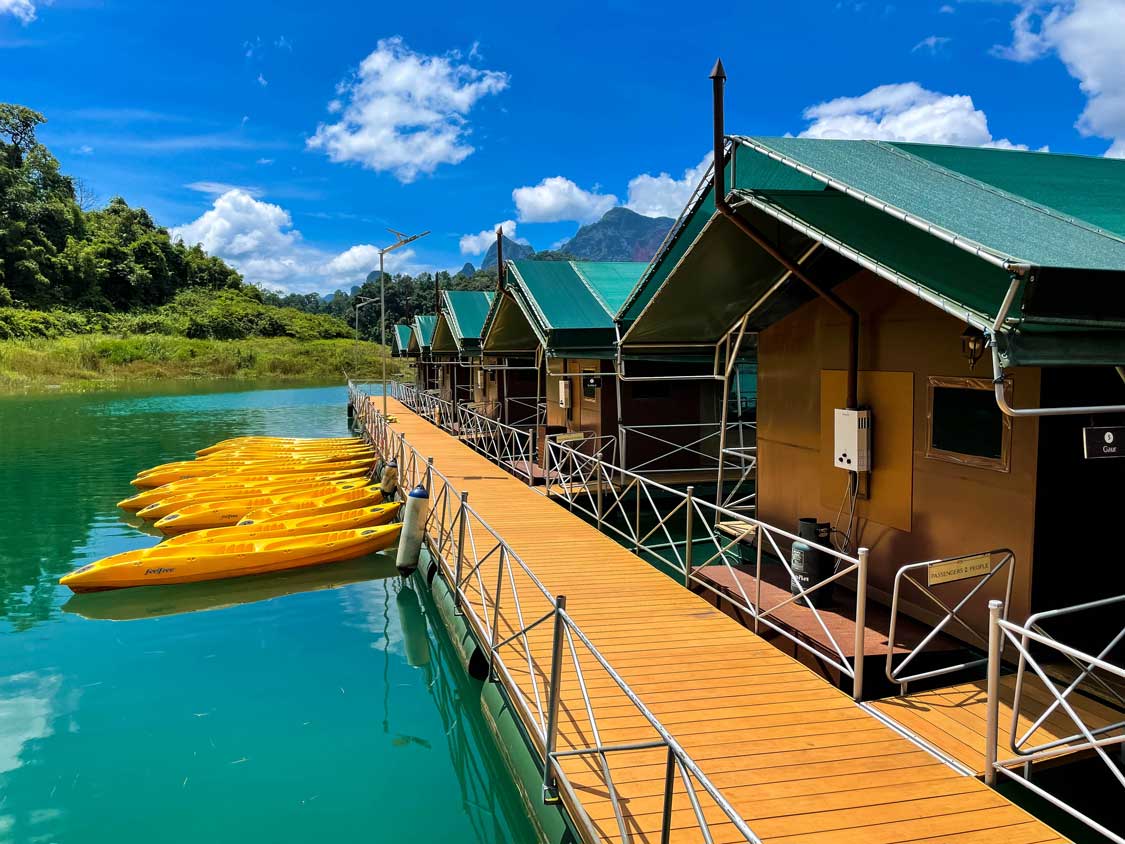 Deep in the bays of Cheow Lan Lake floats the second of the Elephant Hills accommodations, the beautiful Elephant Hills Rainforest Floating Camp.
We were transported to Chow Lan Lake on the morning of our second day at Elephant Hills. The hour-and-a-half drive went by in a breeze and included a stop at the massive Ratchaprapha Dam, the ambitious hydro-electric project that flooded the landscape of Khao Sok National Park creating the Cheow Lan Lake.
There are twenty tents at the Elephant Hills Rainforest Floating Camp. While children are welcome, it's worth noting that the tents are each only designed for two people. The boys stayed in one tent while Christina and I enjoyed some privacy at the tent next door.
Each of the Elephant Hills floating glamping tents had some solar-powered electricity during the daytime. There were full bathrooms that included sinks, flush toilets, and a large shower as well. The rooms were large and comfortable with plenty of places to keep your gear.
The first part of our visit was a ride through the narrow channels and waterways between the mountaintops. It was truly impressive to see just how much water was being stored in the reservoir to leave just the tips of these huge rockfaces jutting from the water's surface.
When Chow Lan Lake was created, it left thousands of animals that were unable to swim completely stranded on these new islands. As a result, the Thai government was forced to launch the "Gibbon rescue" where countless monkeys and other animals were moved off of islands that could not support them and brought to the mainland. Unfortunately, the rescue was not particularly successful, and many animals ended up perishing as a result of the dam's construction.
When we arrived at the Elephant Hills Rainforest Floating Camp, we knew that we were in for a treat. Unlike our floating lodge in Kanchanaburi, the Elephant Hills lodge was not resting on a shallow riverbed, it was truly floating out away from the shore, with no nearby village to support it.
Activities At Elephant Hills Rainforest Floating Lodge
Khao Sok Mountain Hike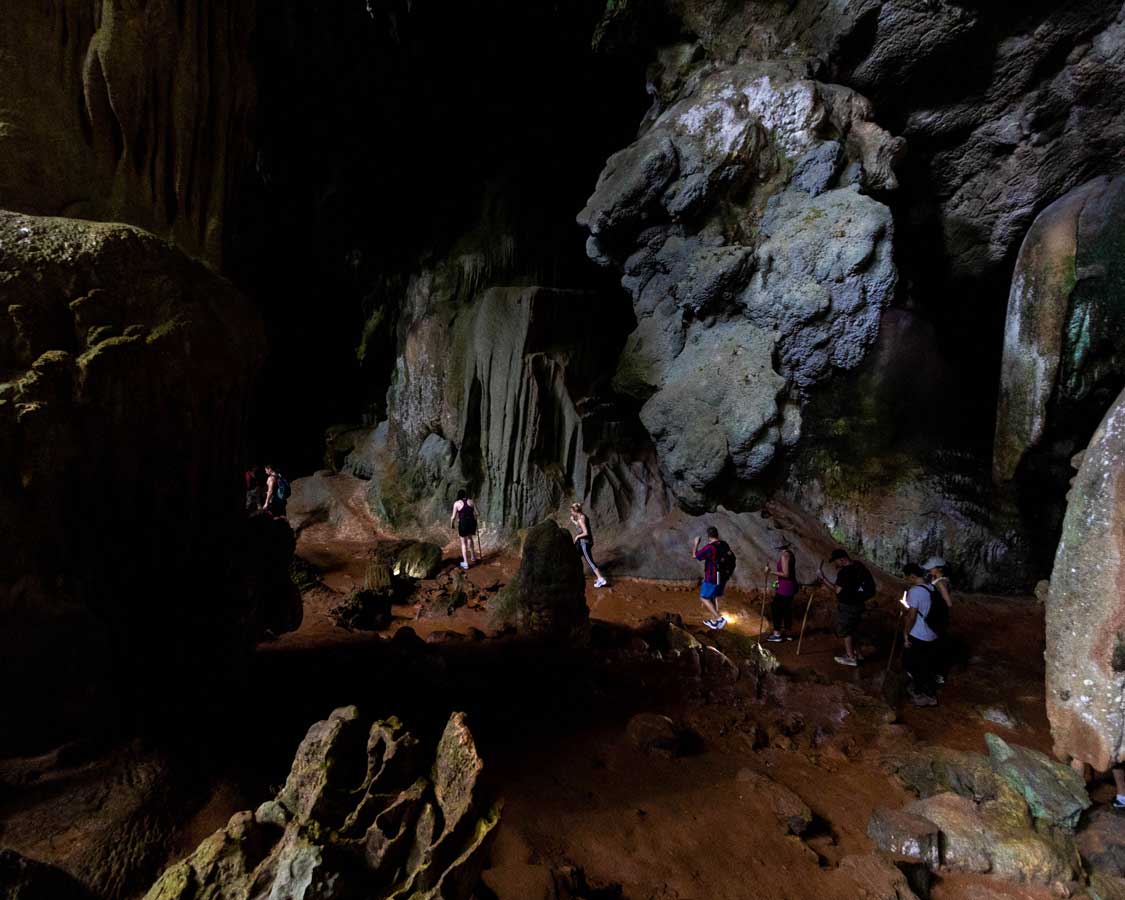 The first item on our agenda was a mountain hike to a hilltop cave. It involved a short journey by longtail boat followed by an hour-long hike on a mountain trail. The hike was challenging due to the steep angles that we were walking, but the most notable part was just how much the high humidity of southern Thailand had us sweating. By the end, I could have rung out my shirt and filled a bucket.
The cave at the top of the mountain was awesome. We love visiting caves with our kids, and this remote spot was exactly what we love, a natural cave full of bats and cool rock formations. It wasn't a difficult cave to explore, but it wasn't so easy that going through it was boring either.
Swimming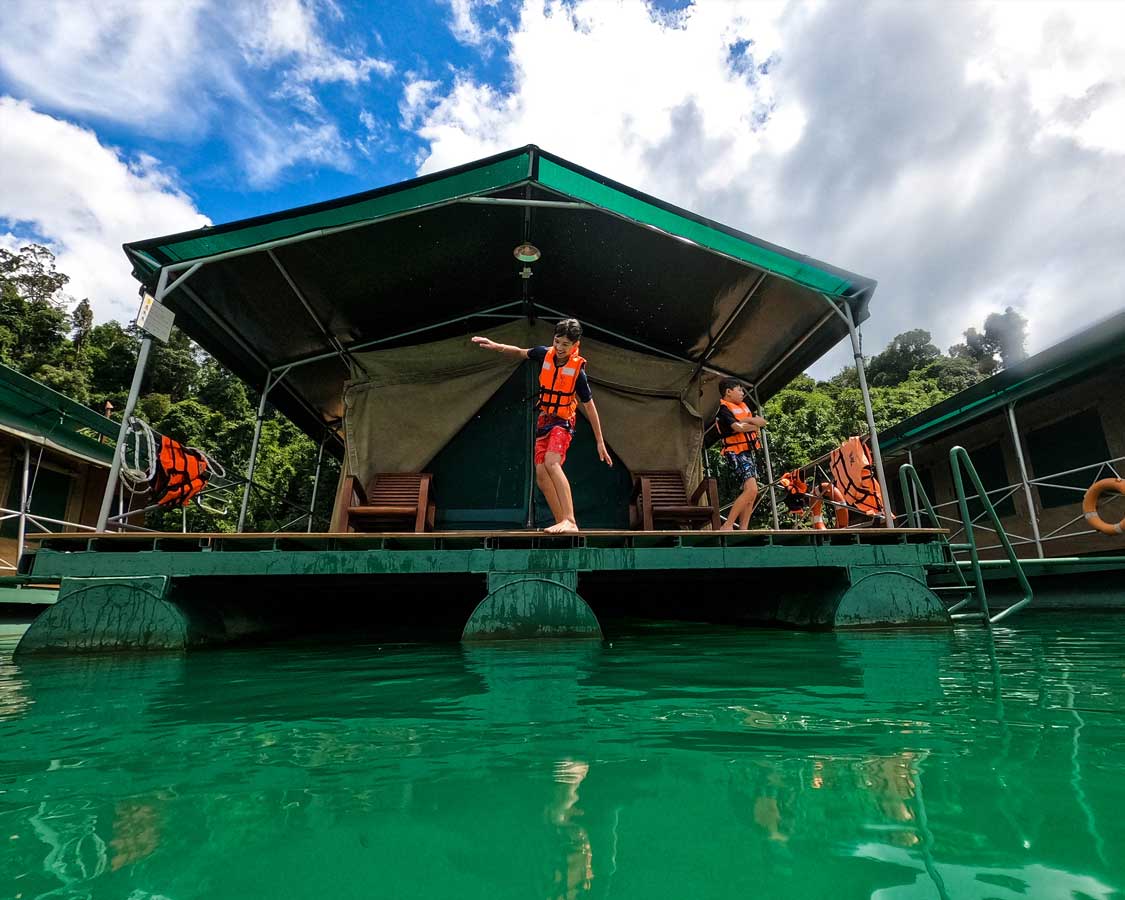 Upon our return to the floating lodge, we all immediately jumped into the water to enjoy the cool waters and clean off all of that sweat. We all took a swim while the sunset washed over the nearby mountains.
All swimmers at Elephant Hills Thailand have to wear life jackets that are provided by the resort. Personally, I'm not a big fan of swimming in life jackets, but I understand that this is sometimes required due to insurance reasons. Luckily, I can easily flip a life jacket over and use it as a pair of shorts, which means the jacket still keeps me afloat without getting in the way!
Kayaking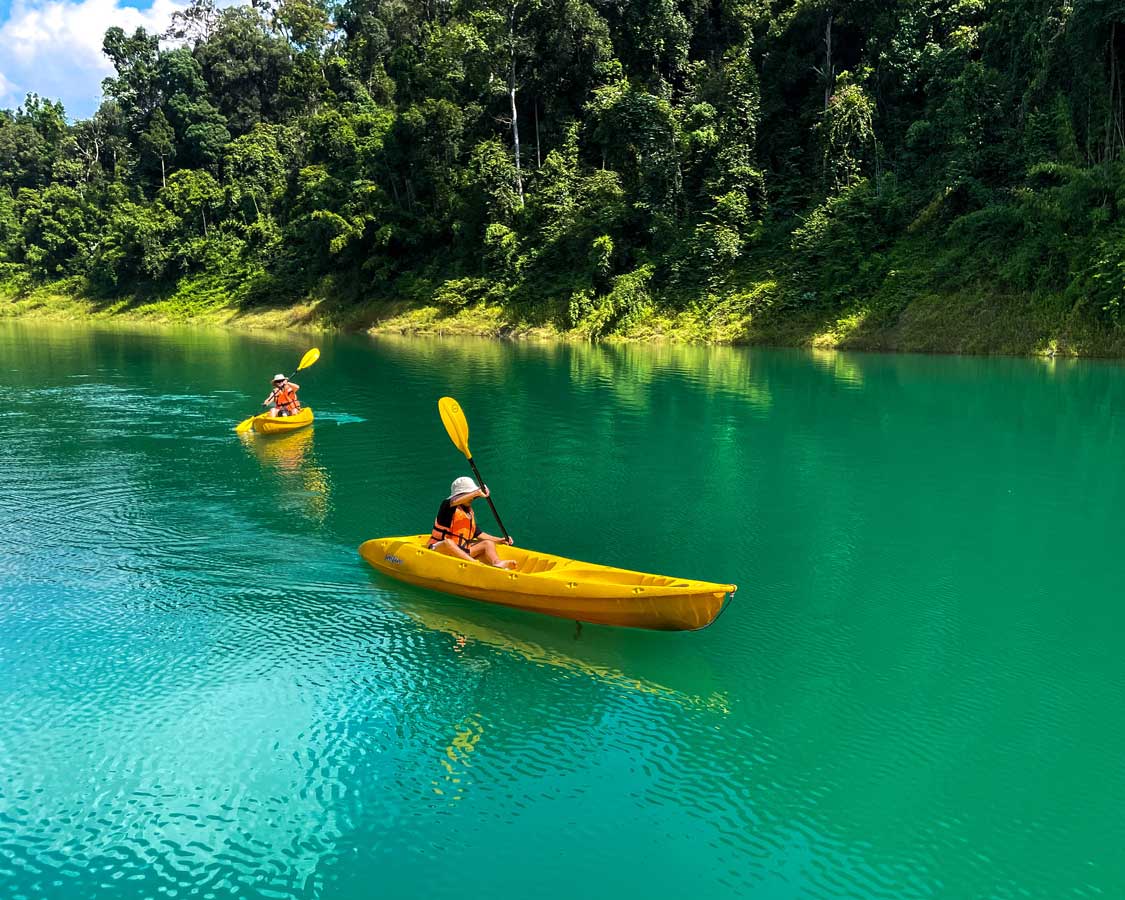 The next morning we woke up casually and enjoyed some more swimming before preparing for the last adventure of our Elephant Hills Thailand visit. We would spend three hours kayaking through Khao Sok National Park.
As we wound our way among the mountains we were greeted by monkeys, watched water buffalo stroll along the water's edge, and experienced the peaceful surroundings of what is one of Thailand's most beautiful parks.
Visiting Elephant Hills Thailand With Kids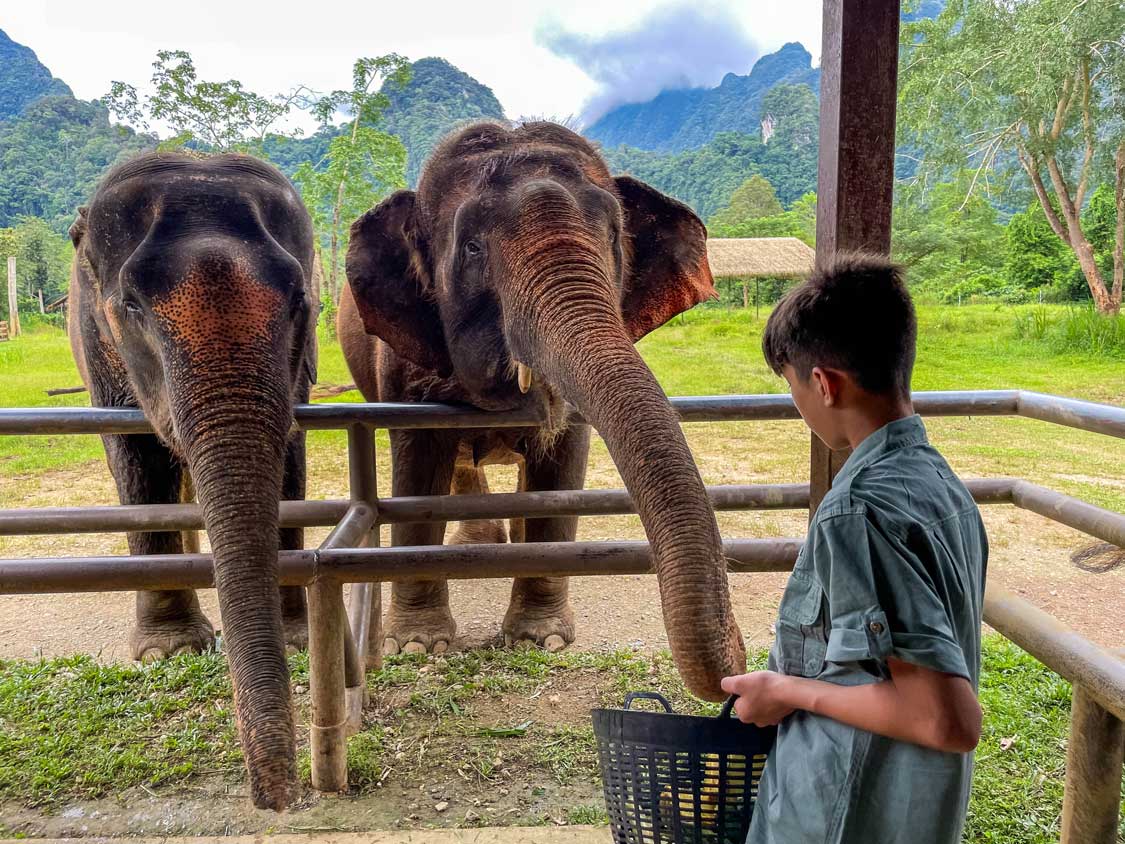 My boys, who were 9 and 11 at the time, absolutely loved every second of their time at Elephant Hills Thailand experience. I wouldn't say that it is the most family-friendly lodge in Thailand, most notably due to the lack of family rooms in the floating lodges, but if you don't mind separating parents or housing kids in a separate room, it's fantastic.
How To Explore Khao Sok National Park For Yourself?
Elephant Hills books up quickly. But if you're not able to book with the resort itself, that doesn't mean that you can't experience the wonder of Khao Sok National Park for yourself.
There are some absolutely amazing day and multi-day tours of the park, and Elephant Hills is not the only floating lodge on Cheow Lan Lake. You can also find similar experiences at 500 Rai Floating Resort.
There are day tours of the park as well including this full-day Cheow Lan Lake tour that includes a longtail boat ride, a jungle hike, and a visit to one of the floating lodges. For something even more relaxing, you can join this full-day bamboo rafting experience through Khao Sok NP.
There are few opportunities in Thailand where you can completely escape the hustle and bustle of the cities and breathe pure, fresh air with no noise or light pollution to bother you. Elephant Hills and Khao Sok National Park are pure bliss.
If you love family travel as much as we do, please join our Family Travel Support Group on Facebook. You can connect with more family travelers just like you who love to explore the world.
You May Also Like To Read: