Often overlooked, this picturesque island is a gem in the Windward Caribbean there are more than enough things to do in Grenada to keep you busy.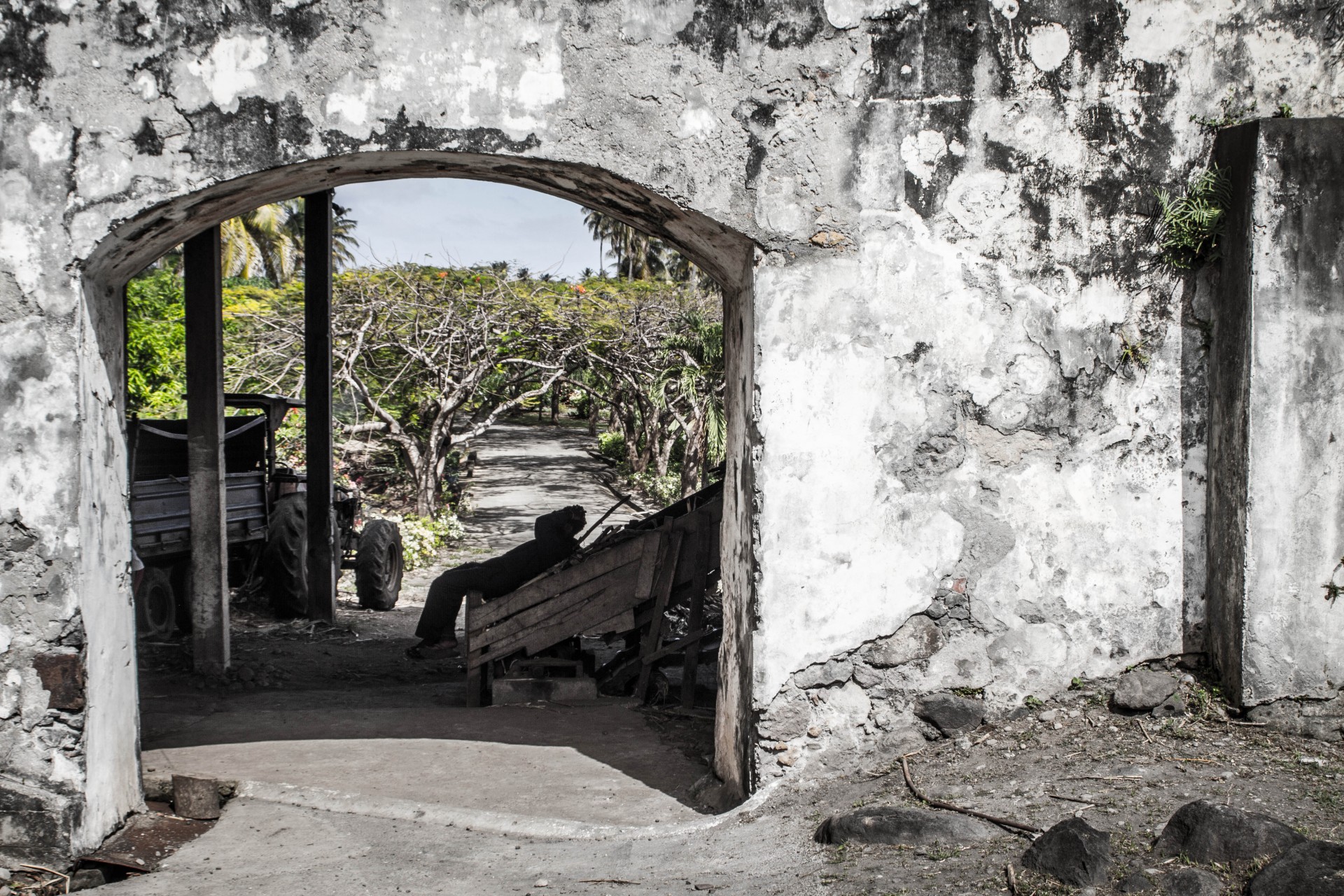 An often overlooked destination, Grenada is a gem in the Windward islands of the Caribbean, and one of the smallest independent countries in the western hemisphere. Grenada is covered in tall, postcard-perfect lush green mountains that make much of the country's landmass difficult for development. Combining this with miles upon miles of perfect sandy beaches and crystal clear Caribbean waters, Grenada offers one of the most pristine environments within the island chain. It's a pre-eminent destination for beachgoers looking for something more authentic than traditional Caribbean destinations. It's thriving natural beauty has also made it a popular destination for SCUBA divers. And it's traditional rum distilleries offer a unique twist on the traditional Caribbean spirits
Grenada has a long history as a global supplier of spices such as nutmeg, cloves, cinnamon, and ginger. The country actually supplies about one-third of the global nutmeg supply and has more spices per square kilometer than any other place in the world. This unique industry has become part of Grenada's push towards becoming a focus within the tourism industry and spice tours are now a popular activity among many visitors.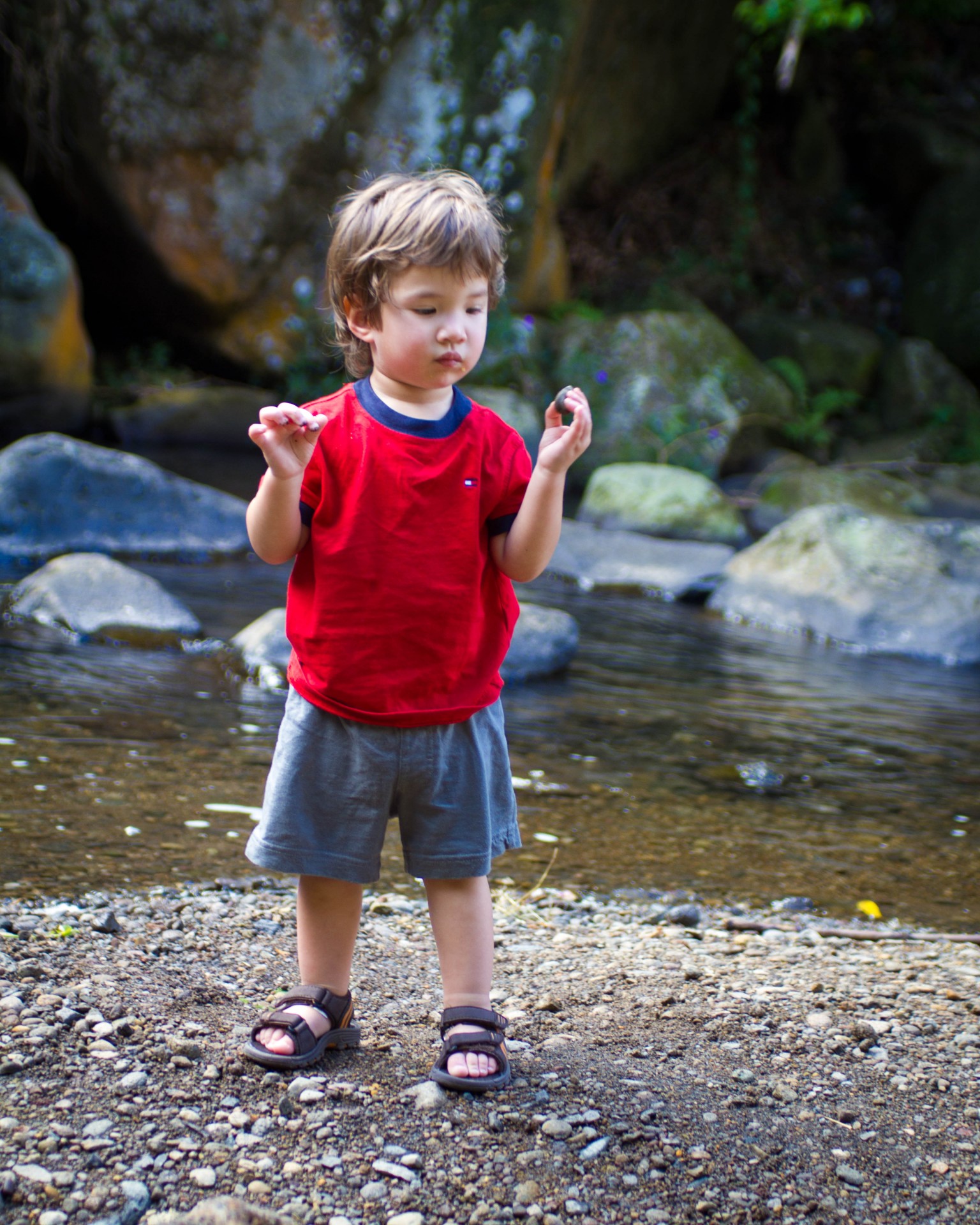 Grenada may not be as packed full of resorts as many of the more popular Caribbean Islands, but it's quieter atmosphere means that the resorts that are here are well-maintained and peaceful. Properties such as Blue Garden Horizons are known to be exceptional for families. While others, like Sandals Resort are perfect for those looking for a couples getaway.
The pre-eminent tour operator in Grenada is a man named Simon Seales. This local legend, who prefers to go by Mandoo of Mandoo Tours is as much a staple of the island as the spice plants themselves. Mandoo has a deep love for his country, and it seems that every person we came across on our tour knew him. Mandoo took great pride in caring for all the islanders and was even called on for some of his charity work while we were on tour. If you are looking for a tour operator who will cater to your every need and be ever-present, Mandoo might not be your man, but if you are truly interested in learning about Grenada from someone who seemingly knows everything about it's people and it's industries, I cannot recommend Mandoo enough!
Mandoo picked us up in his comfortable tour van. Knowing that Grenada did not have car-seat regulations we brought our own car-seat from home and Mandoo helped me strap it in before taking off for our first stop, Annadale Falls.
Rock jumping at Annandale Falls
A short, 20-minute drive from St. Georges lies Annandale Falls. This small, picturesque waterfall is surrounded by a garden of green and walls of rocks covered in soft-leafed ferns. We were lucky enough to arrive when some local youths were jumping off the rock cliffs into the crisp clear water. One of these young men took time out from his fun to introduce C to his pet iguana.
Annandale offers incredible beauty and the chance to stroll through some of the most beautiful rainforests you can find. If you have extra time, you can hike about 20 minutes to get to the 7 Sisters Falls, the hike is an easy one, but remember to bring water.
The entrance to Annandale falls is through an interpretation center at the edge of Constantine. Here you can find information about Grenada and its waterfalls as well as purchase snacks, drinks, and souvenirs.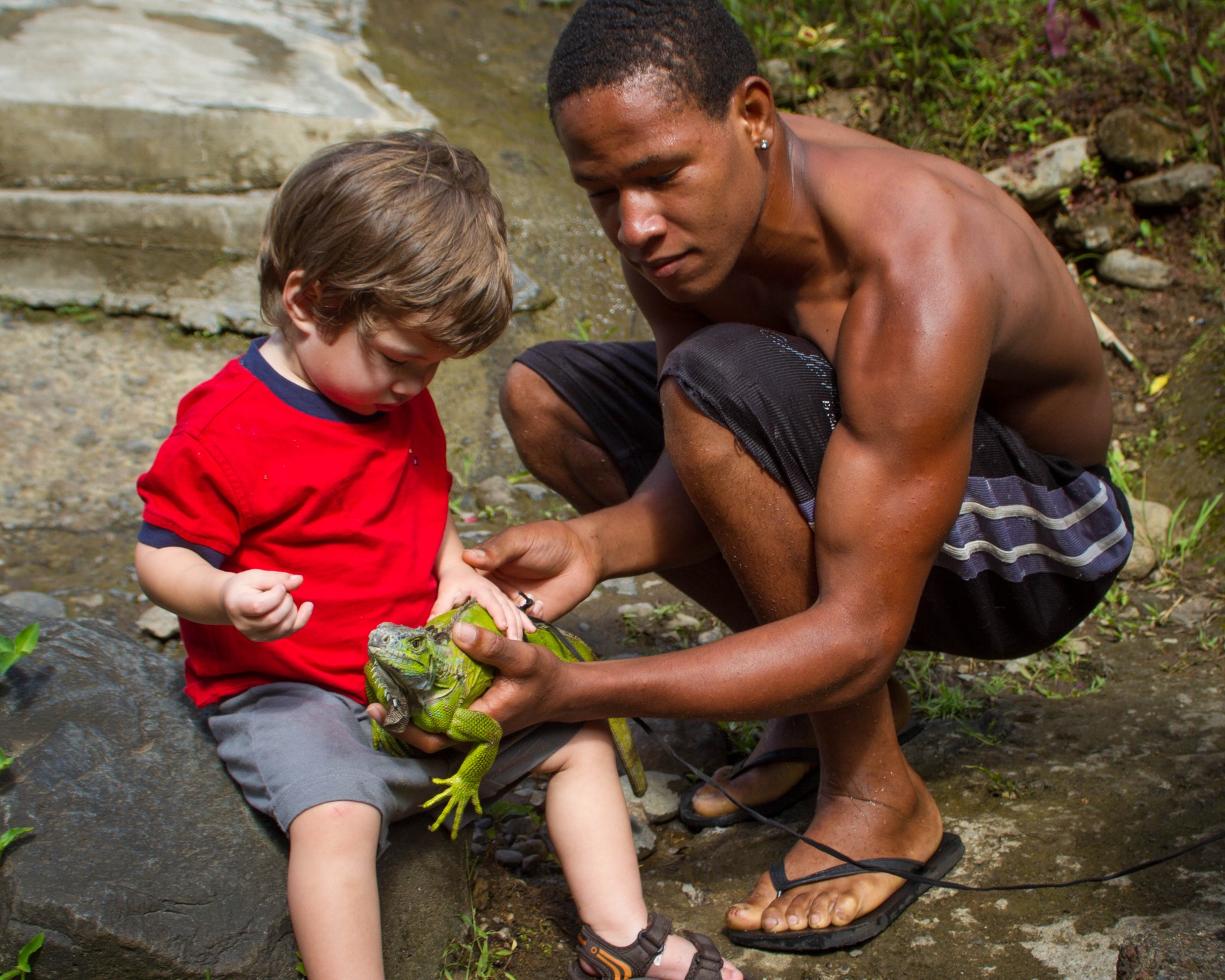 Close encounters with the furry kind in Grand Etang National Park
About four kilometres north on Constantine at the tip of a steep and windy road we entered Grand Etang National Park. Grand Etang feels cut off from the rest of the world, kilometers of wilderness surround you in lush greenery and the clean smell of fresh, untainted nature surrounds you. Grand Etang offers a plethora of hiking trails and hosts the beautiful Grand Etang lake. The hike down to Seven Sisters Falls is considered the most beautiful hike in Grenada.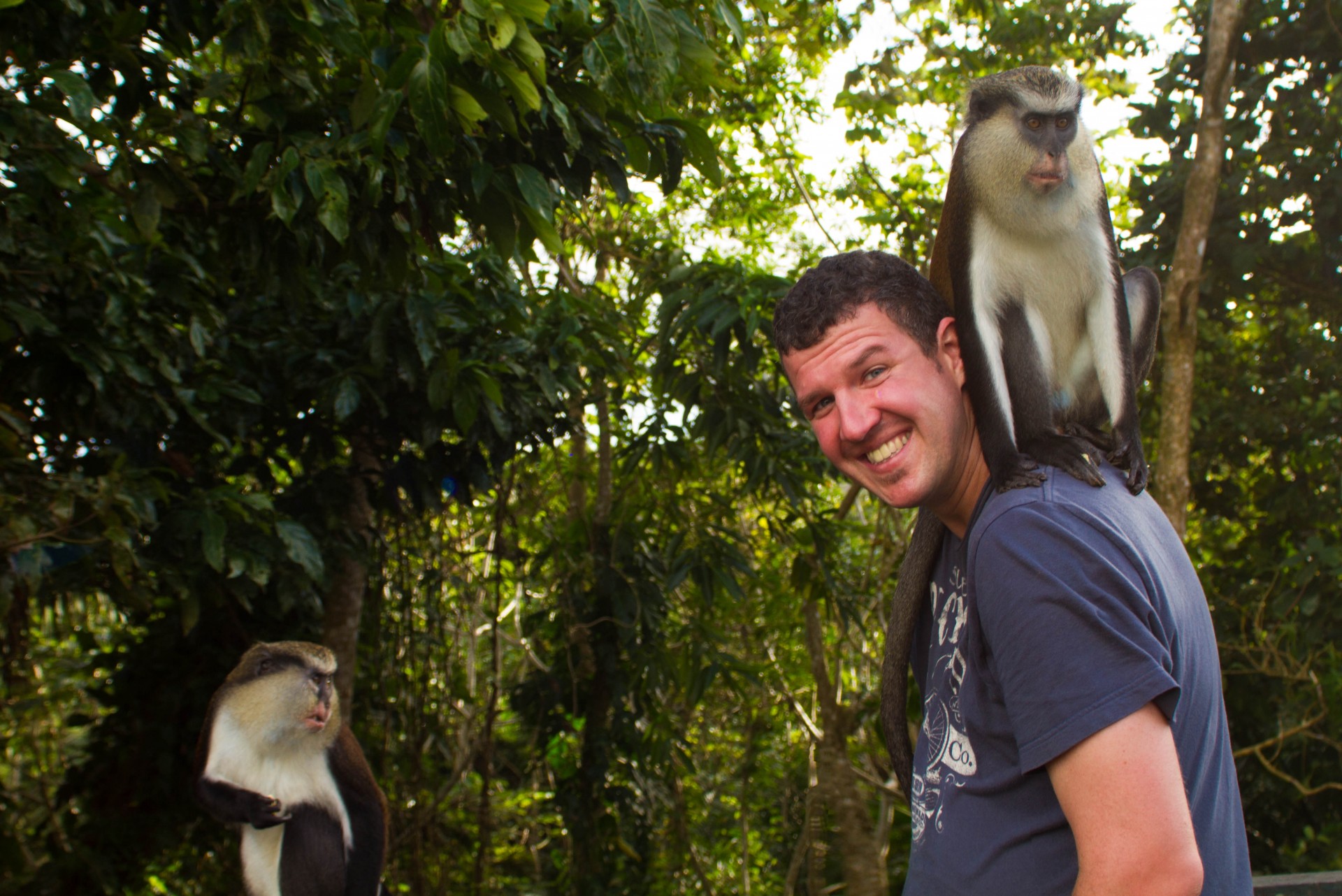 After some time spent exploring, Mandoo checked his watch and asked if we wanted to meet some monkeys. Considering my nickname for C was Monkeyface, I became incredibly excited. We were brought up to an empty parking lot and Mandoo had us stand near a railing looking out into a tree-filled ravine while he went to the van and fetched a couple of bananas. After only a few moments, we all let out a laugh as a family of Mona monkeys swung through the trees towards us.
As I held a banana with one hand, and C with the other our encounter became closer than we could imagine as one of these adorable creatures hopped up onto Mandoo's head, crossed over to sit on my shoulder and helped himself to the banana I was holding. Looking back, I was laughing too hard at the experience to even see how C was reacting, but judging from the photo, it looked like he might have experienced his first heart attack.
Mandoo explained that these monkeys were brought over from Ghana in the 18th century. They were released into the wild and have flourished in Grenada's food-filled tropical jungle. The monkeys now number in the thousands and have integrated well with the island and its people.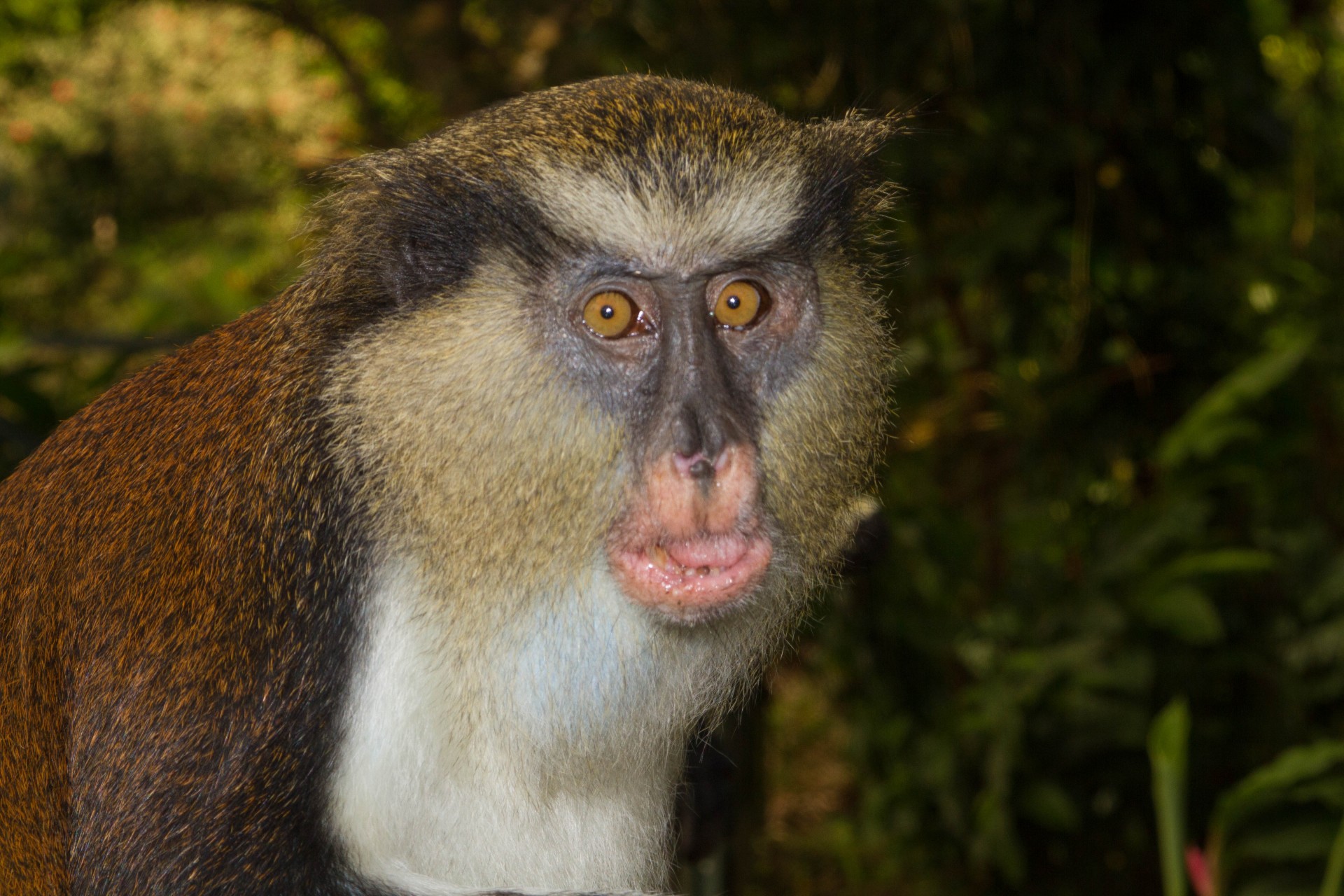 Making friends at Dougladston Spice Estate
Located just outside of Gouyave near a grove of pimento trees lies the historic Dougladston Spice Estate. This spice factory is old and it feels that way. The place has seen better days but the rundown feel gave the estate a charm that made me immediately fall in love with it. They also still pick and process the spices the old-fashioned way, giving you an authentic look into what goes into all your favorite cooking scents. If you are a photographer, this place is a dream come true with incredible lighting and textures around each corner including a beat-up old land rover lying in a barn.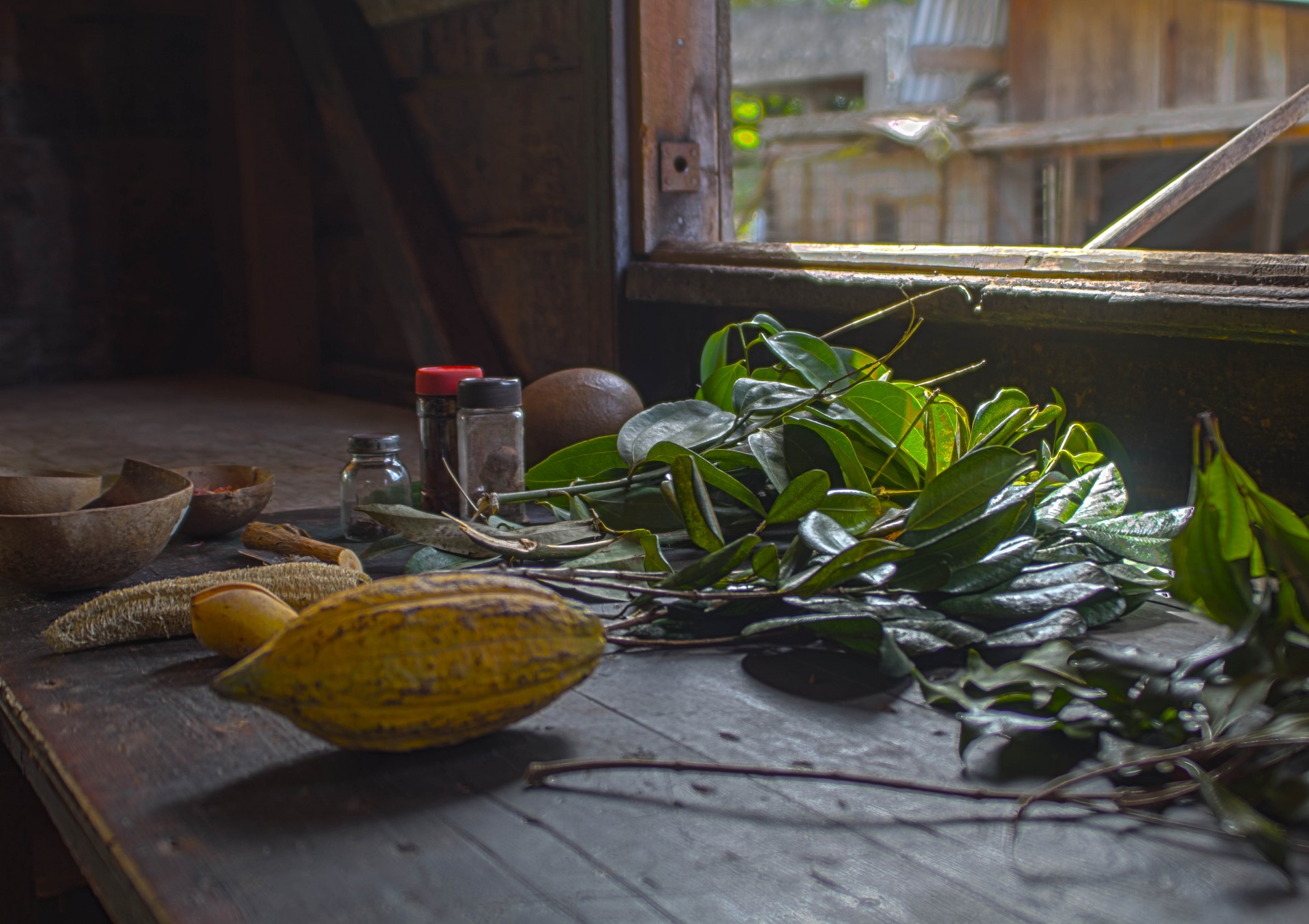 The workers at the plant took the time to explain all the different spices to us as well as show us the process in which they are prepared. They took a special liking to C, who lapped up the attention. He loved exploring the farm, meeting the dogs, who also decided they would follow him around for the whole visit, and enjoyed opening and closing the giant spice drying racks.
Before you leave, make sure to purchase some of the local spices to bring home. They sell them at a very reasonable $5 a bag and you can mix and match as you'd like.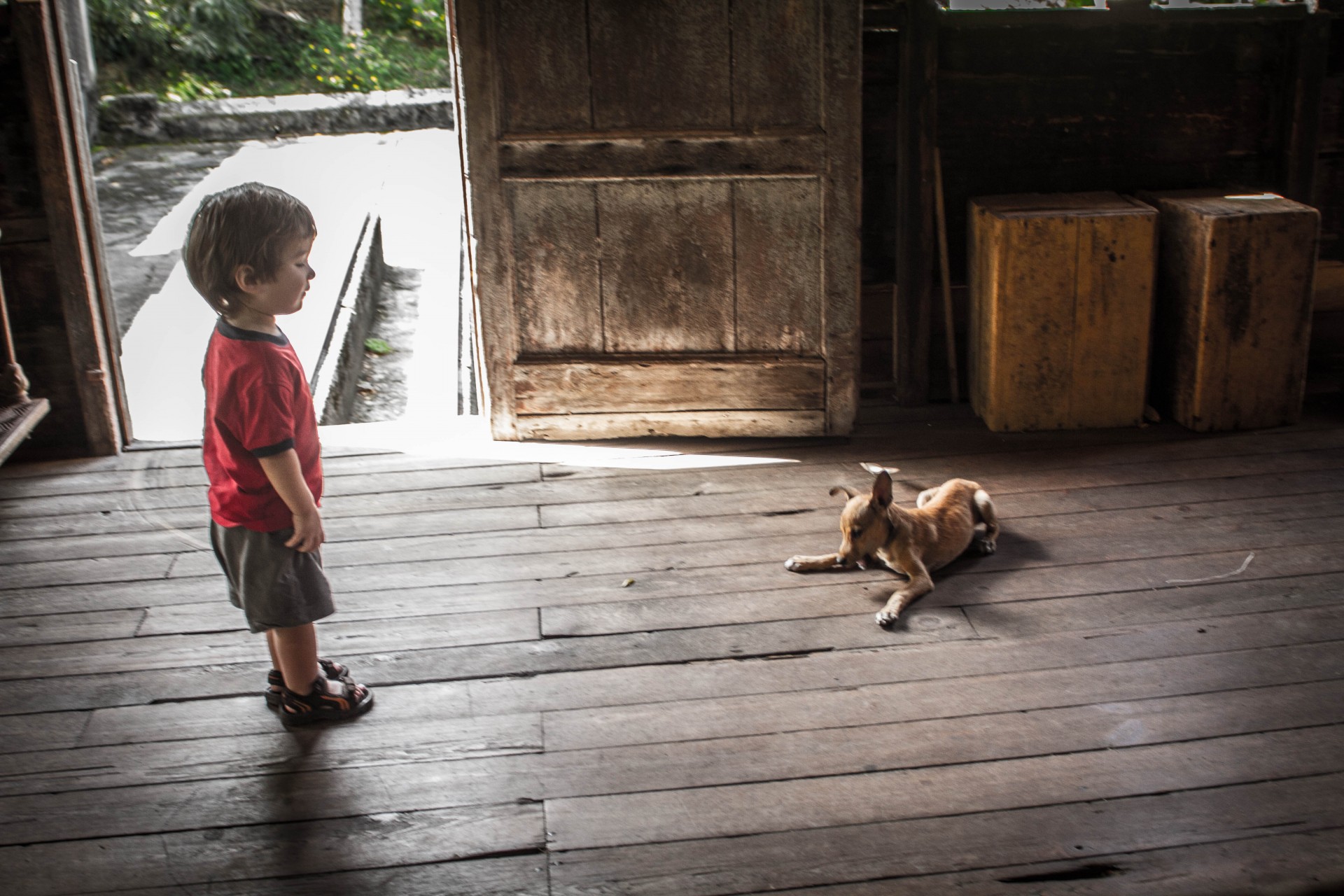 Getting sauced at River Antoine Estate Rum Distillery
Not far from Tivoli sits another location that time has forgotten. The River Antoine Distillery is Grenada's oldest rum factory and it's methods don't seem to have changed since it's inception in the 1700s. That's right. 300 years and the rum is being made in the exact same way in the exact same buildings, possibly by the exact same people, but we couldn't confirm that last point.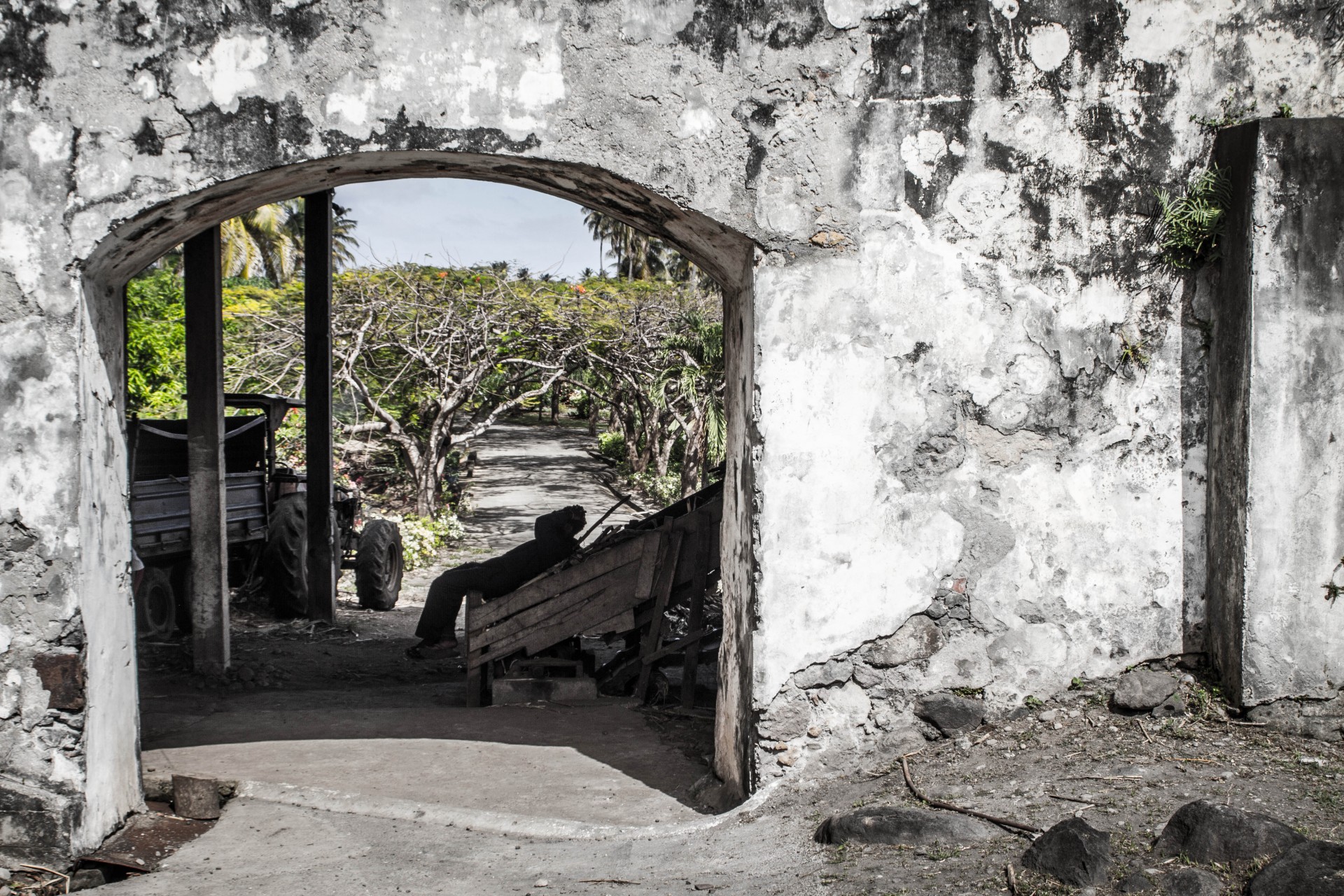 Rickety wood carts are moved up old dirt paths to move the sugar cane to the plantation. The stone buildings that house the distillery are missing a good number of their walls and roofs and even the wood fire boiler has been with the distillery since the beginning. If that isn't authentic enough, the whole process is powered by the original waterwheel fed by the River Antoine.
All of this makes for one of the most incredible photo-ops you can ask for and you would think the rum would match that! Unfortunately no. The rum this place distills sits somewhere in the blinding territory and gives off a taste reminiscent of lighter fluid. But it will get you drunk. Really fast.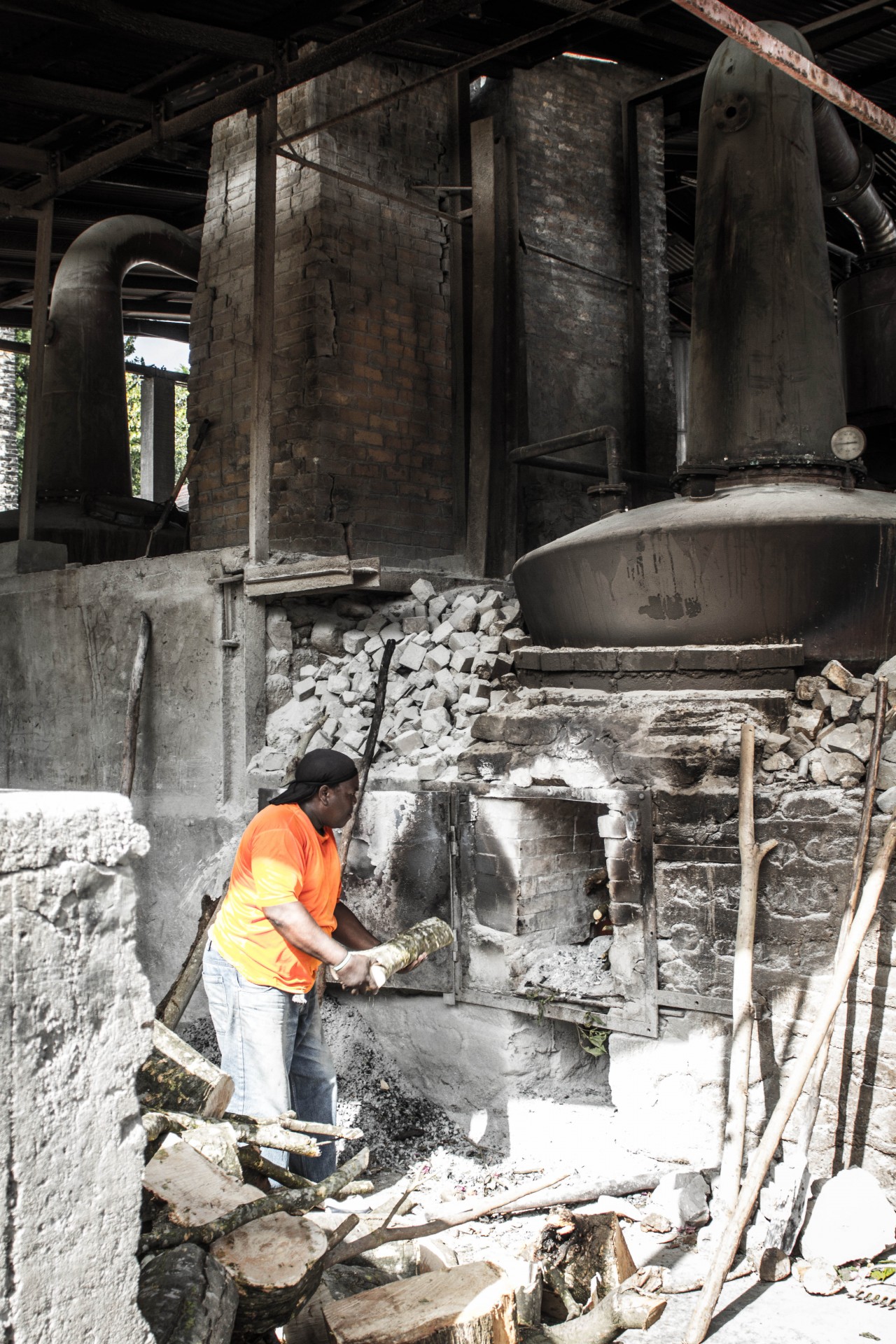 Walking through the ruins near Lake Antoine
Not far from the distillery is the picturesque Lake Antoine, a shallow crater lake. The trails leading up to the lake offer some really neat ruins of houses that were destroyed by some of the hurricanes that have battered the island throughout the years. The lake has a beautiful hiking trail that snakes around the perimeter offering views of local wildlife like the snail kite, the fulvous whistling duck, and the large-billed seed-finch.
Nearby the lake is one of the oldest rum distilleries in the Caribbean, the River Antoine Rum Distillery. This rum house is as authentic as it gets. The alcohol is fermented using traditional wood-fired burners that are still hand-fed. And the devastatingly powerful rum that River Antoine produces is even aged in open-air barrels.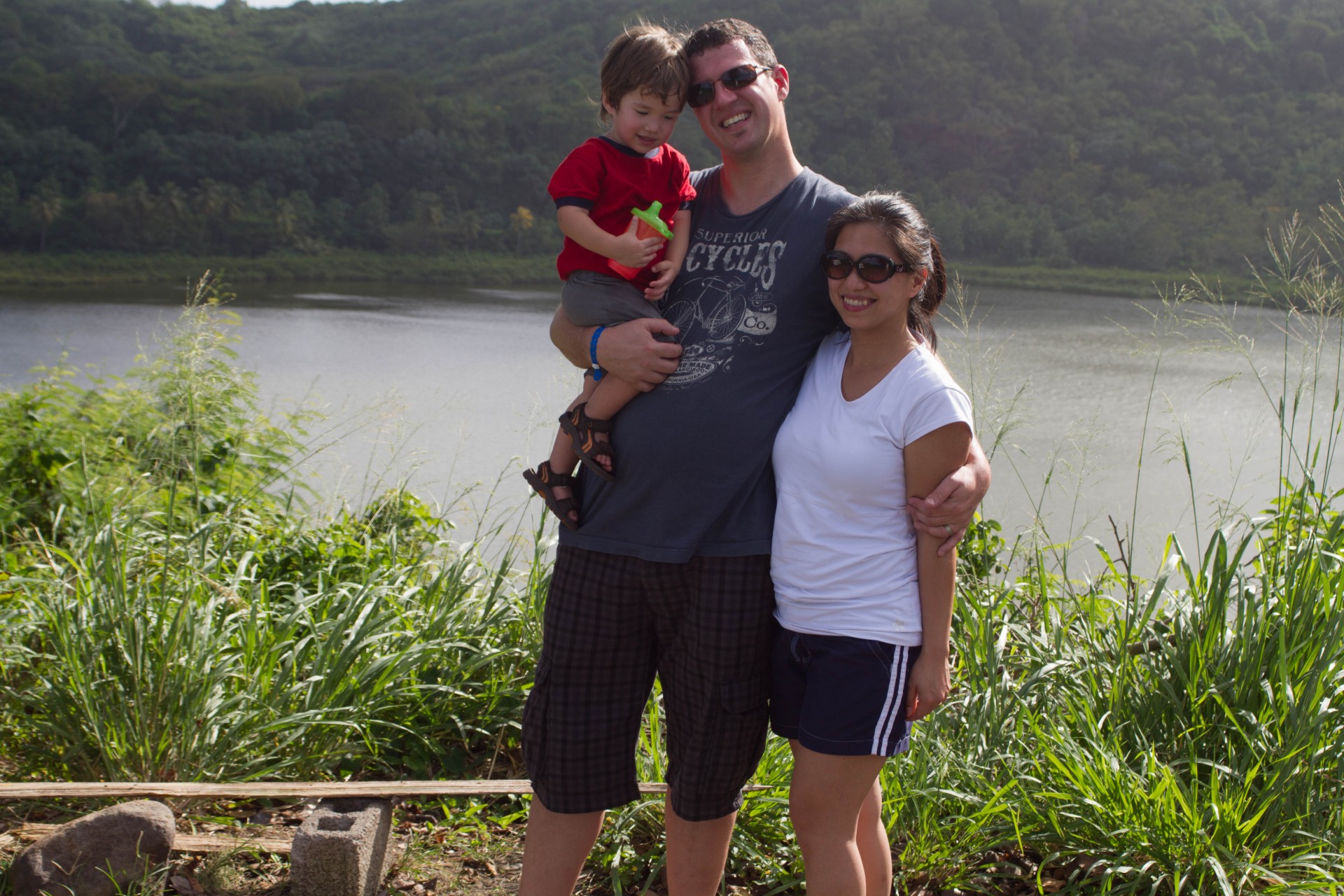 Checking out the Plane Boneyard at Grenada's Pearl Airport
Pearl Airport in Grenada isn't much to look at from a distance. This place has long been decommissioned and it's main role these days is as a grazing spot for the local cows and goats. Well in 1983, Pearl airport served as the service port for the Cuban military during the coup of Grenada's parliament.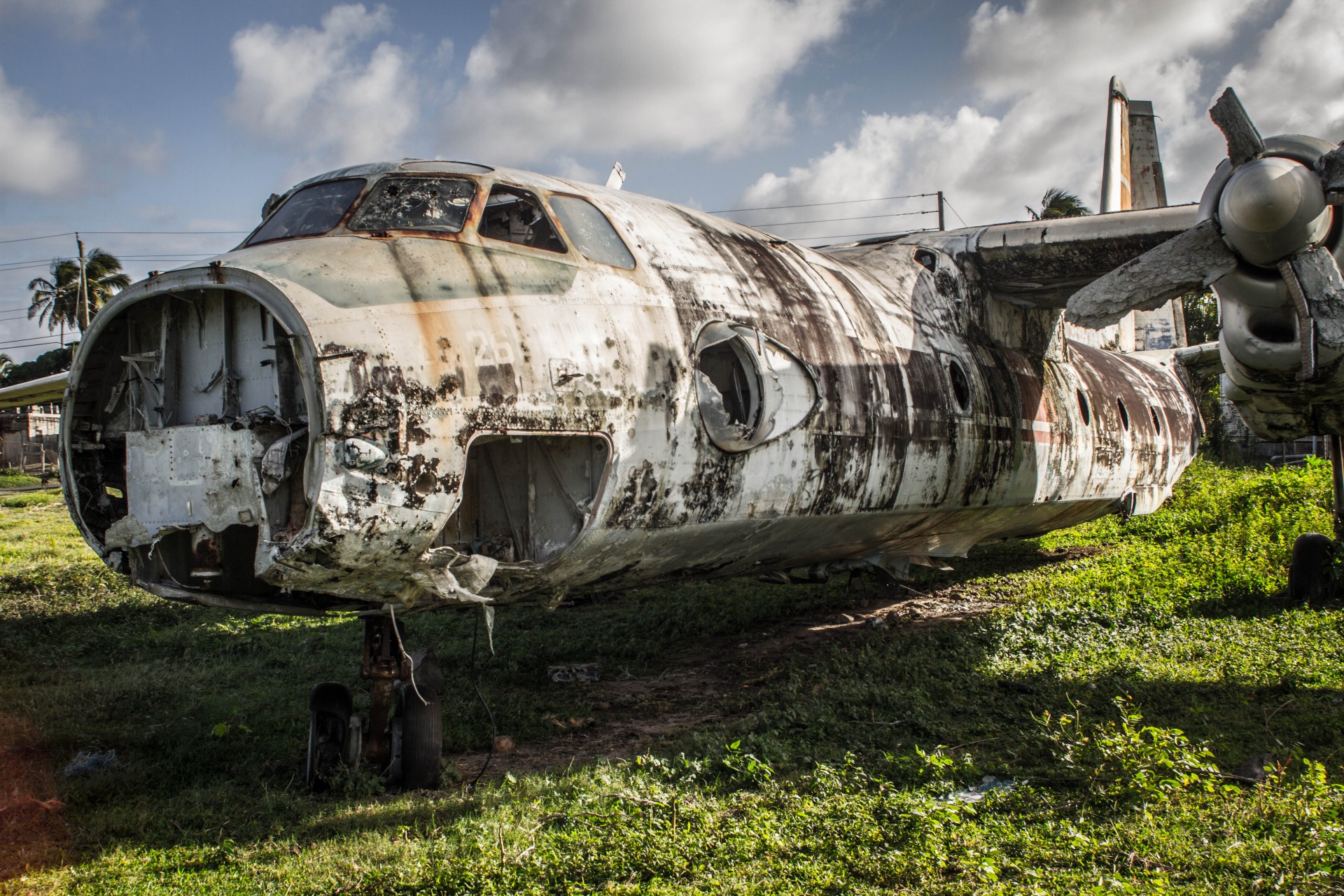 The American military came onto the island in full force to overthrow the military-backed Socialist overthrowers and during the assault shot up and destroyed most of the islands military planes. The few that made it through without being completely destroyed now sit in this field and it is easy to wander the field and explore the wreckage of a bygone era. The planes sport obvious bullet holes and most of the insides have been torn out, but they make for a fascinating glimpse into a violent period in this otherwise peaceful island.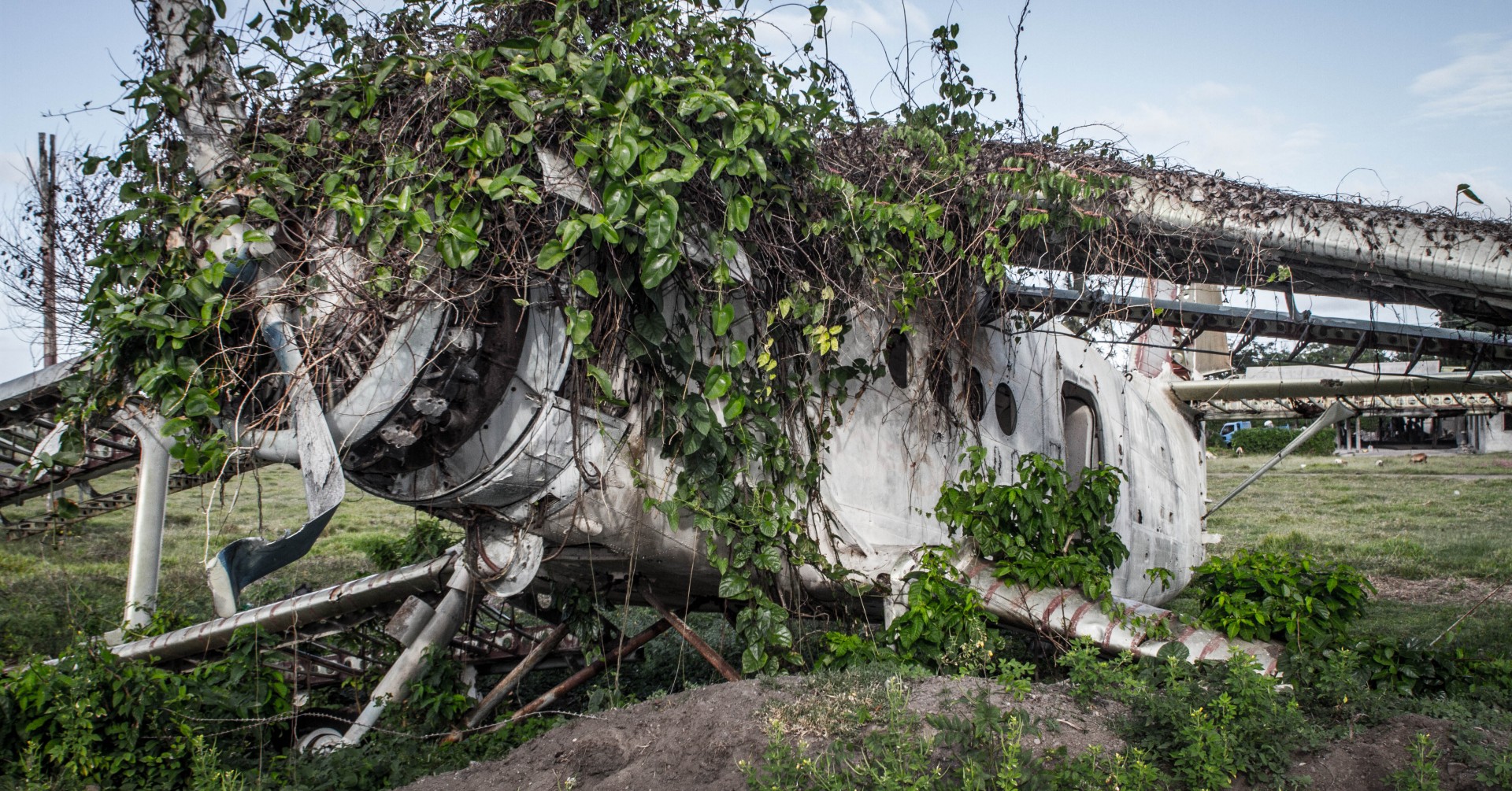 Grenada really is more than meets the eye. Surprises lie around every corner and I highly suggest you visit while the tourism industry here is still young. The people are friendly, the water is beautiful and there is enough adventure to keep anyone busy.
If you've been to Grenada and have stories to tell, we would love to hear from you. Leave us a message in the comments section below!
This post may contain compensated links. For more information please read our disclaimer. Wandering Wagars is a participant in the Amazon Services LLC Associates Program, an affiliate advertising program designed to provide a means for sites to earn advertising fees by advertising and linking to amazon.com, amazon.co.uk, amazon.ca. Amazon and the Amazon logo are trademarks of Amazon.com, Inc. or its affiliates.
You May Also Like To Read: