Explore the wonders of Magnetic Hill in Moncton, Canada. Experience the thrill of the famous illusion and New Brunswick's best amusement park.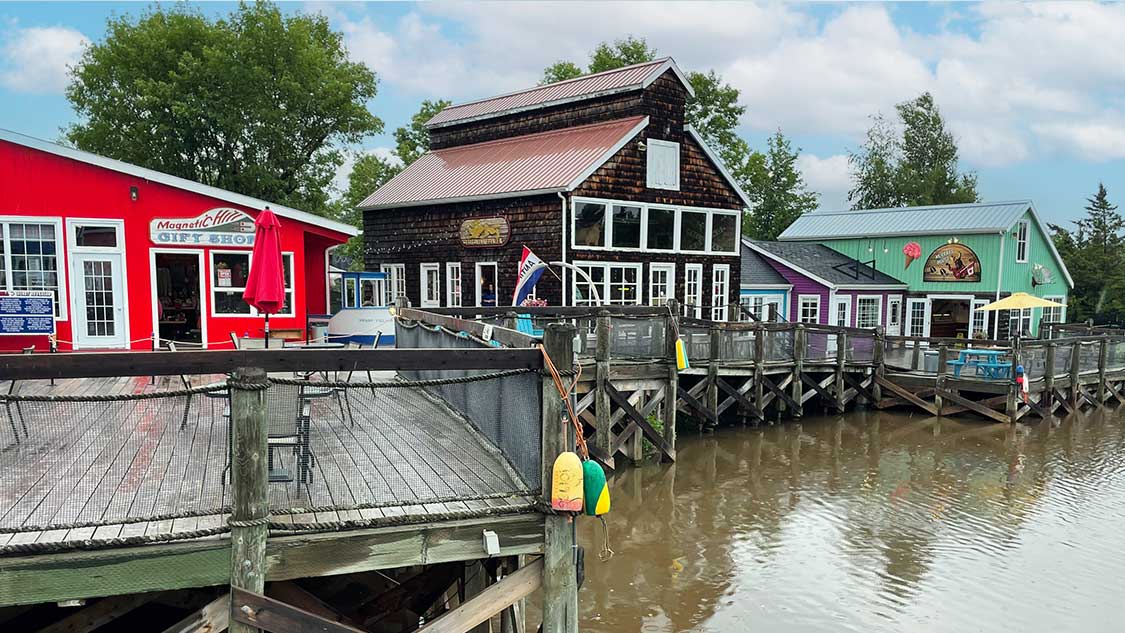 Family fun in Moncton always starts at Magnetic Hill.
Even among all of the incredible places to visit in and around Moncton like Hopewell Rock Provincial Park and Shediac, if you're planning a visit to Moncton with kids and you ask about the top things to do in the city, you're GOING to hear about Magnetic Hill first.
What was once an eerie road that seemed to magically pull cars backward up a hill has been transformed into a full-on entertainment industry packed with attractions. Canada's Magnetic Hill is located right on the edge of Moncton, New Brunswick, and has been one of the province's most popular tourist attractions since the 1930s.
What Is Magnetic Hill, Moncton?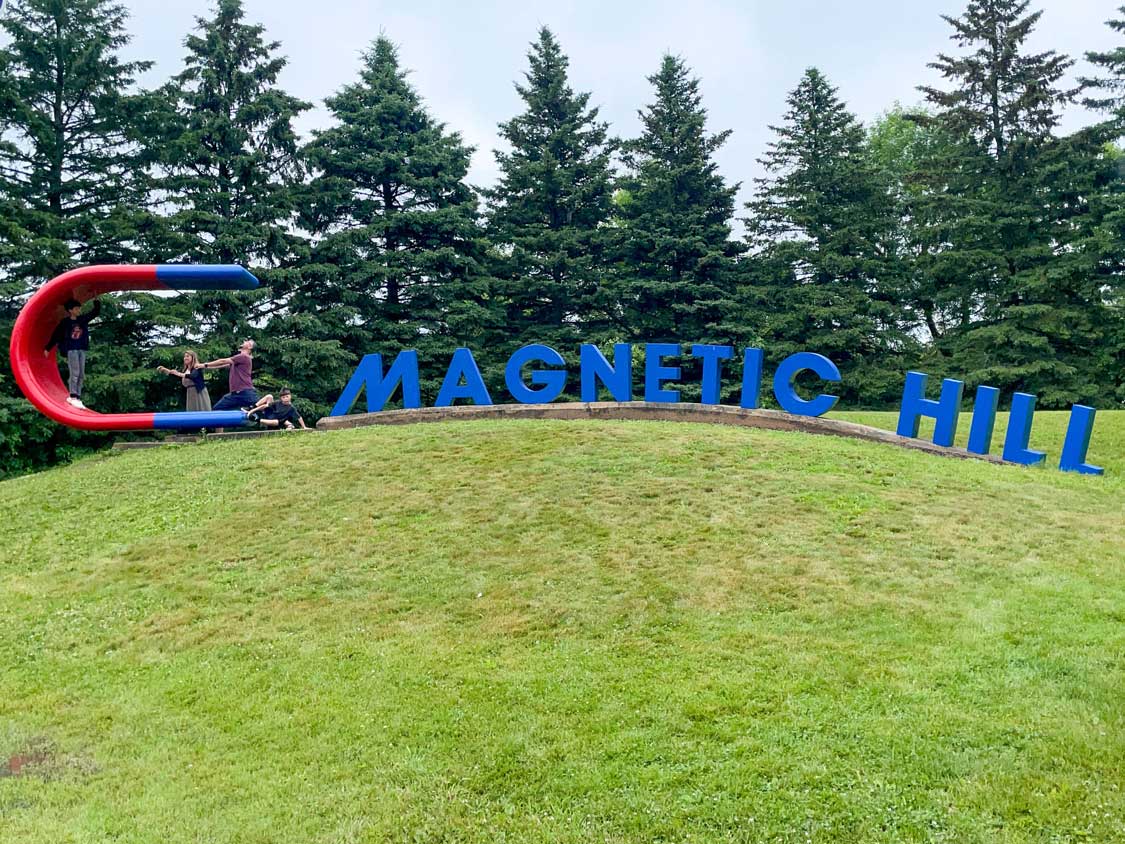 Magnetic Hill itself is a fascinating optical illusion. It's become so famous that it was listed in the Canadian Register of Historic Places. It costs just a few dollars to enter, visitors drive their car "down" a hill and then are wowed as it's mysteriously pulled backward.
The whole thing is a wild trick of the mind thanks to a unique landscape that seems to defy logic, but quite honestly, every time we visit Magnetic Hill we go through the experience at least 4 or 5 times, laughing the whole way.
As I mentioned though, there's much more to Moncton's Magnetic Hill than just this wild optical illusion. The park has grown to include waterparks, arcades, and even a zoo. Here are the best things to do at Magnetic Hill, Moncton.
Magnetic Hill Wharf Village
One of the first things you'll see when visiting Magnetic Hill is the Magnetic Hill Wharf Village. This collection of colorful maritime-style houses would be right at home in one of New Brunswick's many fishing villages.
These adorable buildings house a variety of shops, boutiques, galleries, and eateries, creating a vibrant and inviting atmosphere for families and visitors to Magnetic Hill. You'll find a quaint collection of stores offering a diverse range of products, from locally made crafts and artwork to clothing, jewelry, home decor, and souvenirs. You'll also find a small collection of cafes and restaurants serving up food and drink.
Magic Mountain Fun Zone
If you're looking for a place for thrills while in Moncton, New Brunswick, Magic Mountain Fun Zone is the place to be. The Magic Mountain amusement park has everything that a family needs to enjoy a fun-filled escape in the city, and it's just steps from Magnetic Hill. Magic Mountain is sectioned into its own group of attractions that make up a huge section of the Magnetic Hill attractions.
My kids and I had a blast checking out all the different zones that make up the Magic Mountain experience on Magnetic Hill.
Splash Zone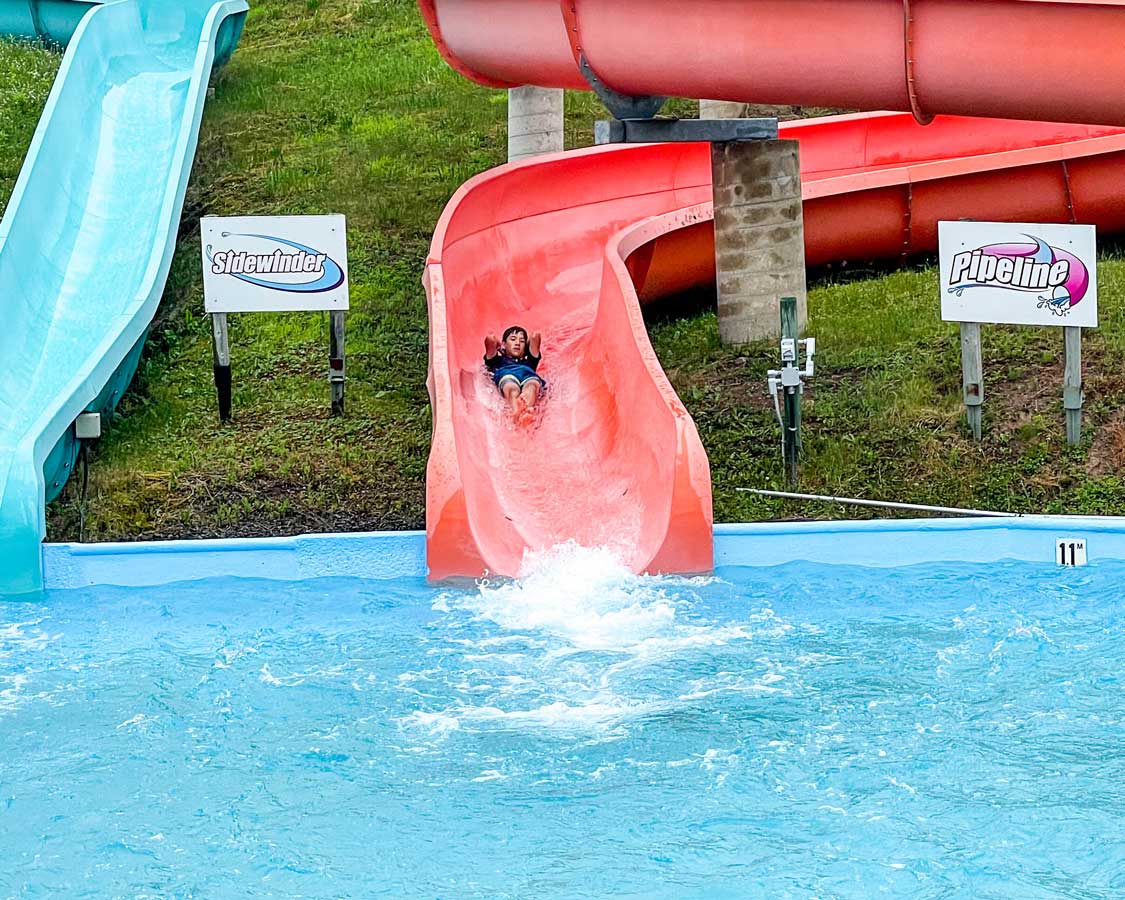 Splash Zone is Magic Mountain's water park. Packed with water slides, lazy rivers, and wave pools, Splash Zone was our favorite part of the Magnetic Hill experience. You can hit the towering slides that my kids were brave enough to go on, or you can chill out in the hot tubs and relax the day away.
Fun Zone
Fun Zone is like a permanent fair set up near the summit of Magnetic Hill. This part of the Magic Mountain, Moncton experience features all sorts of exciting amusement rides that are perfect for younger children (teens and pre-teens may find these a bit young for them).
Of all of the rides, including the Red Baron Carousel, and SkyFlyer, my kids loved the Tilt-a-Whirl the most, although it almost made me lose my lunch.
Golf Zone
Golf Zone is a collection of our 9-hole mini-golf courses that are all perfect for the whole family. Putt your way through western and animal-themed greens loaded with interactive props. Golf Zone stays open later than most Magnetic Hill attractions, so if you're visiting, I'd save this one for last.
Tek Zone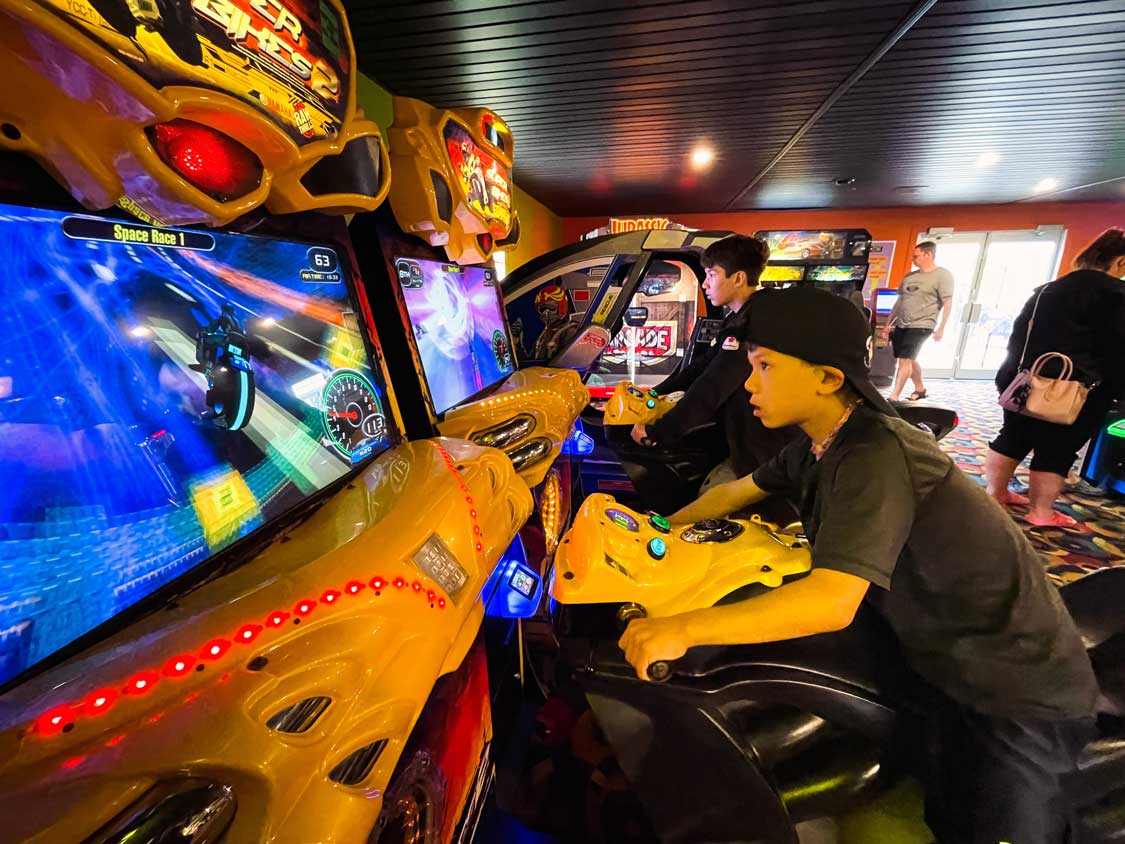 Tek Zone is a small but mighty arcade packed with arcade games, skeeball, basketball, and loads of other entertainment. Tek Zone can get pretty busy, but it's a great place to while away some time, especially if you're visiting Magnetic Hill in the rain.
Magnetic Hill Zoo
Touted as the top zoo in Canada's Maritimes, Magnetic Hill Zoo is home to a wide collection of animals from around the world. The park has many educational and conservation-focused programs set amongst animal enclosures that are designed to replicate the natural habitat of the animals within.
Within Magnetic Hill Zoo you'll find over 600 animals representing over 125 unique species. Some of the most popular exhibits include lions, tigers, bears, and giraffes. The park prides its work in animal conservation, habitat preservation, and wildlife protection.
Kids will love the feeding demonstrations and daily presentations that allow them to learn more about the habits, behaviors, and unique characteristics of various animals.
Magnetic Hill Winery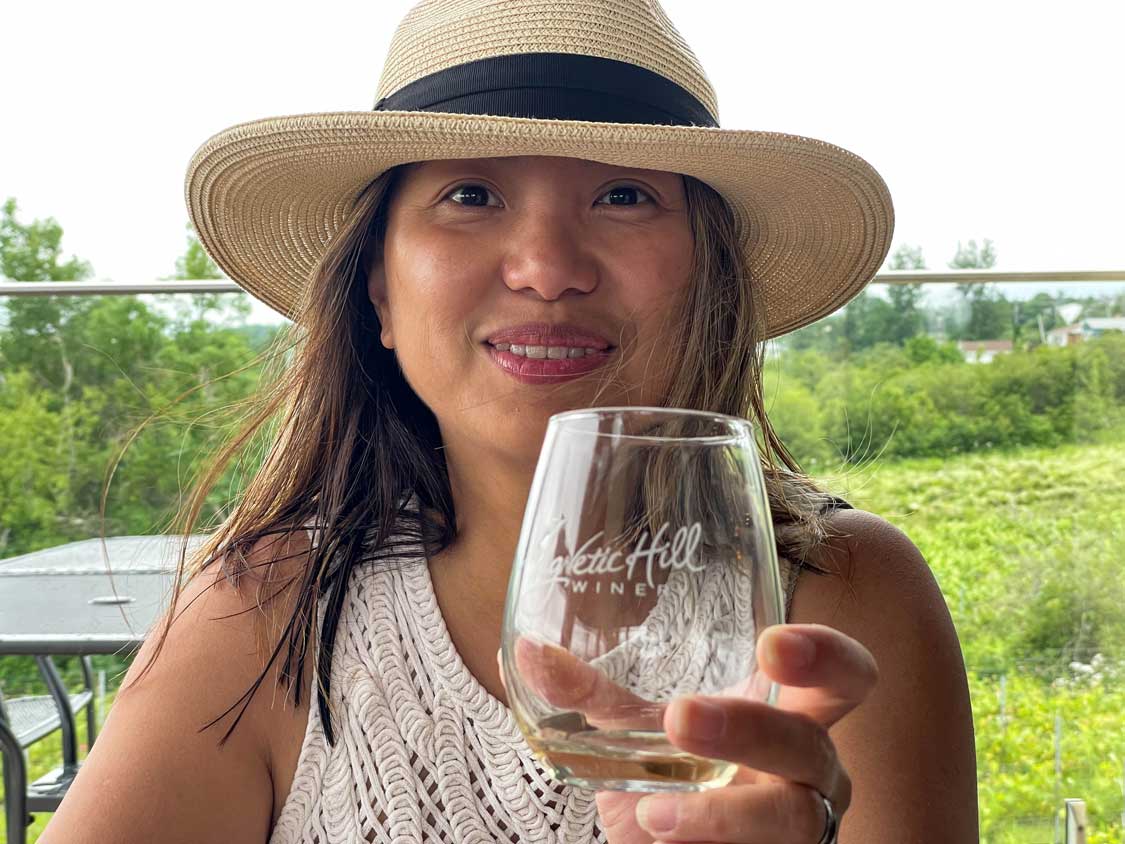 Not all of the attractions at Magnetic Hill, Moncton are for kids. Just next door to all of the amusement rides and waterparks is the Magnetic Hill Winery.
This scenic property is located on an historic property that dates back to 1867. It features a patio that overlooks a rolling vineyard and, of course, Magnetic Hill itself in the background.
It's not just great views though, Magnetic Hill Winery crafts some of the most delicious wines in New Brunswick. Don't miss their Reflections Rose, which won double gold at the All-Canadian Wine Championships. Christina also loved their Evangeline Blanc.
USVA Spa Nordic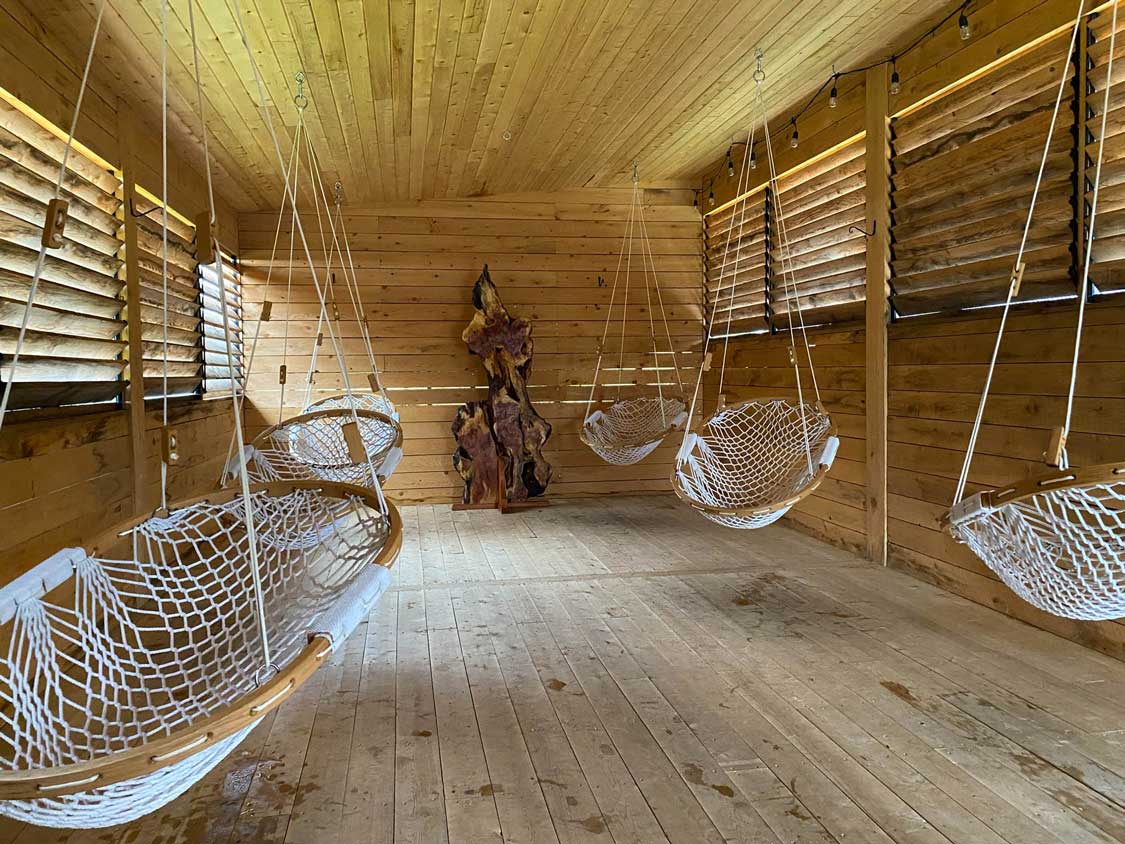 While the boys and I enjoyed the attractions at Magic Mountain on Magnetic Hill, Christina relaxed at another adult-focused Magnetic Hill Attraction, USVA Spa Nordic. This Moncton Nordic Spa offers traditional Nordic spa treatments that combine alternating hot and cold treatments.
Along with the traditional Nordic Spa offerings, USVA Spa in Moncton also offers massages, steam rooms, and a beautiful and relaxing experiences for singles or couples to enjoy.
For those who want to spend a whole day at the spa, there's a small cafe onsite. It's also within walking distance of the Magnetic Hill Winery for those who would like to break up their day with a wine tasting or some of the winery's delicious charcuterie boards.
Enjoy Your Time At Magnetic Hill, Moncton
Magnetic Hill is a blast for the whole family. Whether you're looking to relax at USVA Spa Nordic, enjoy a tasting experience at Magnetic Hill Winery, or play all day at Magic Mountain, Magnetic Hill has it all. And to think all of these attractions were inspired by a mysterious ride up a rural hill.
Magnetic Hill draws my family back each time we visit Moncton, and I'm sure you'll feel the same way.
If you love family travel as much as we do, please join our Family Travel Support Group on Facebook. You can connect with more family travelers just like you who love to explore the world.
Disclosure: Our time at Magnetic Hill, Moncton was made possible by New Brunswick Tourism. All opinions remain our own.
Wandering Wagars is a participant in the Amazon Services LLC Associates Program, an affiliate advertising program designed to provide a means for sites to earn advertising fees by advertising and linking to amazon.com, amazon.co.uk, amazon.ca. Amazon and the Amazon logo are trademarks of Amazon.com, Inc. or its affiliates.
For those who want to spend the day at this Magnetic Hill experience, there's also a small cafe on site. And it's walking distance from Magnetic Hill Winery if you'd like to take a break and enjoy a wine flight or some of the winery's delicious charcuterie boards.
Located on Front Mountain Rd. near Magnetic Hill is the only Nordic Spa in Moncton. USVA Nordic Spa offers one of the best places to relax in the city.