Uncover the awe-inspiring beauty of Hopewell Rocks Provincial Park with our comprehensive guide. From rock arches to kayaking, this natural wonder will take your breath away.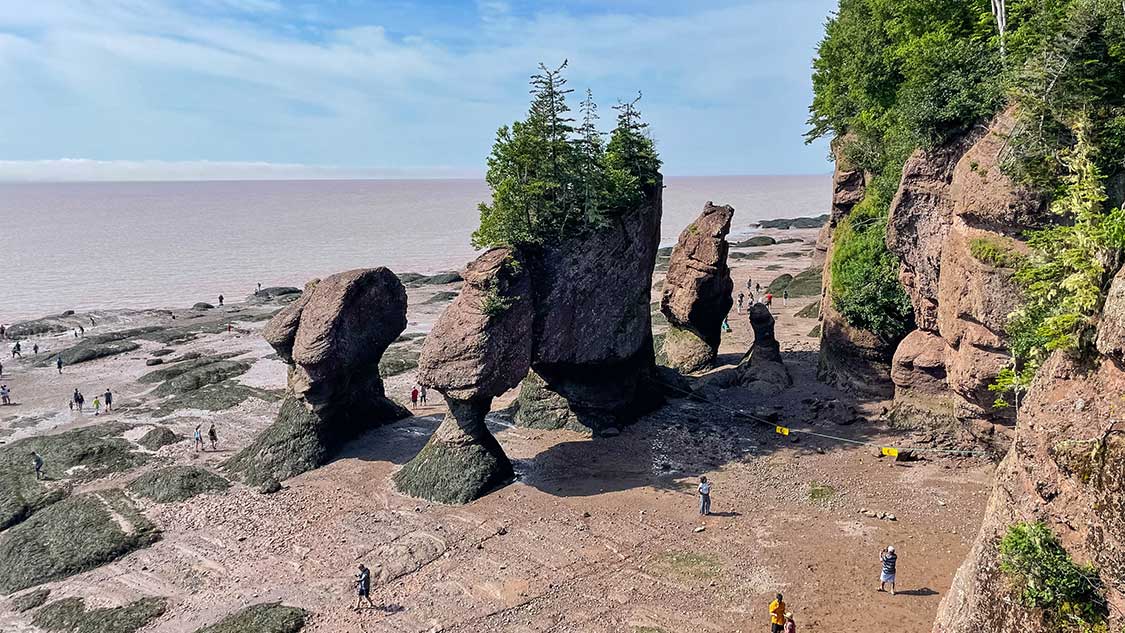 There's an air of mystery that washes over visitors to Hopewell Rocks in New Brunswick. One of Canada's most iconic landscapes is etched in the soft sandstone that edges the Bay of Fundy.
Bordered between towering cliffs and the crashing waves of the world's highest tides huddles a muster of sea caves, arches, and flowerpots that entice between 200-300,000 visitors each year to Hopewell Rocks Provincial Park.
The Hopewell Rocks have been a beacon of Canadian identity for decades. Its image has graced postage stamps, postcards, tourism posters, and tourism brochures drawing both Canadians looking to explore the wonders of the maritime as well as foreigners looking to tick off a Canadian bucket list that includes Hopewell Rocks along with other iconic destinations such as Ottawa and the Rocky Mountains.
As I wandered among these iconic formations for the third time in my life, my children hoping from stone to stone while getting as much fascination from the tidepools and clusters of seaweed and mollusks as the iconic Hopewell Rocks themselves, I realized why I loved coming back to this remote provincial park so much.
Hopewell Rocks Provincial Park is a living monument to the fragility of nature. Every time that I visit, the experience is something new.
Just as the raging tides continually cover and reveal these massive formations, they also change them with each lunar cycle. And every time I visit Hopewell Rocks, the landscape has changed, evolved, and revealed a new experience.
About Hopewell Rocks Provincial Park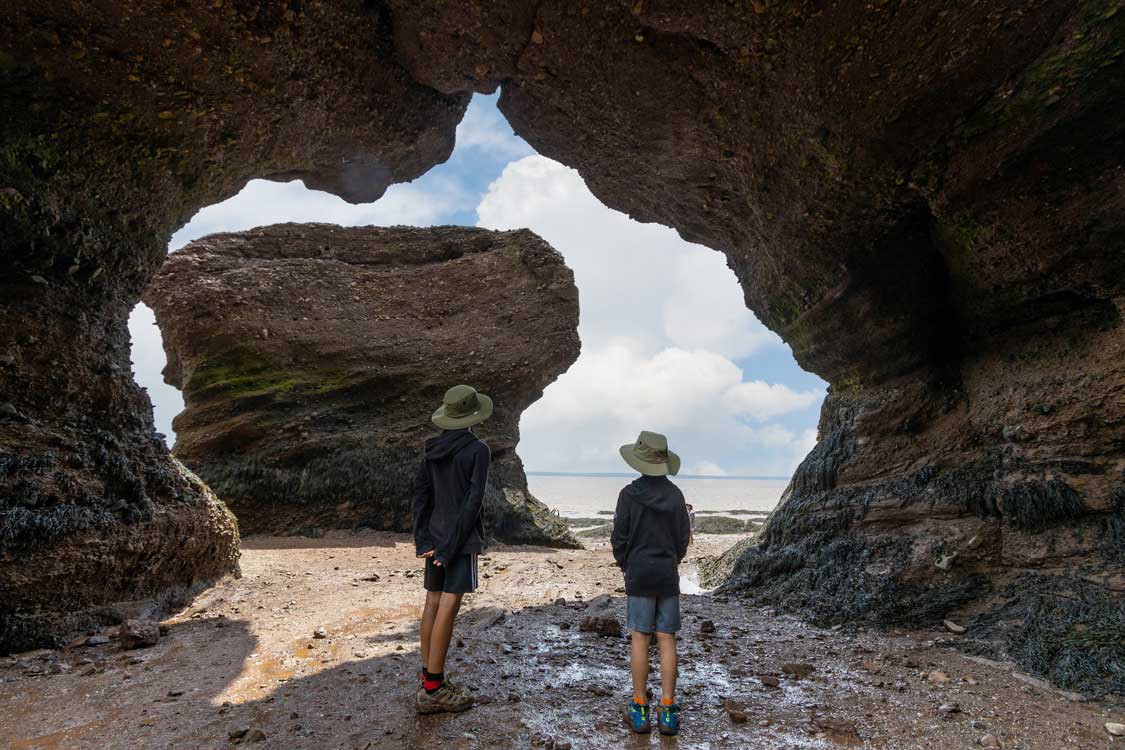 Hopewell Rocks Provincial Park might be what it says in the guidebooks, but locally, this park goes by many names. Asking about Hopewell Rock, the Flowerpot Rocks, or for those who like to keep it simple, just "The Rocks," will entice many locals to share the story of the history, mystery, and personal stories about New Brunswick's most famous attraction.
These rocks have been over 600 million years in the making, shaped from soft sandstone by the epic tides of the Bay of Fundy. These tides, which are the highest in the world, can raise the water level between 35-56 feet (11-17 meters) twice a day.
Over millions of years, these powerful tides have carved out both the Bay of Fundy and the surrounding coastline into a magical collection of rock formations, sea caves, and flower pots. The most dramatic of these can be found in Hopewell Rocks Provincial Park.
Originally called "The Rocks Provincial Park" when it was founded in 1958, this park was launched into the spotlight when the government of New Brunswick chose these formations as the core of their tourism push in the 1990s. Since then, the popularity of the park has exploded.
While it's the rocks themselves, specifically the iconic rock arch known as Hopewell Rock, that draws most visitors to this small park near the city of Moncton, there are many things to do in Hopewell Rocks Provincial Park that many visitors miss.
Most, simply, come to see the rocks and then head out to explore more places to visit in New Brunswick. But this guide to Hopewell Rocks Provincial Park has a goal. And that is to get you to experience as many of the wonders of this magical place as possible.
The park, with its beautiful nature trails and crashing tides, is in a constant state of flux. The famous New Brunswick rocks are continually being shaped and carved by the massive tides. In fact, just in 2019, one of the park's most famous rock formations, known as Elephant Rock, came tumbling down in an epic crash that resulted in between 100-200 tons of rock falling.
Things To Do In Hopewell Rocks Provincial Park
The wonders of Hopewell Rocks Provincial Park lie beyond the famous rocks. While it's the stunning natural formations that have drawn visitors to the park for decades, they are just one part of an evolving number of attractions that visitors can enjoy.
Here are the top things to do in Hopewell Rocks Provincial Park to push your visit beyond just a stop at the rocky beach.
Walk On The Ocean Floor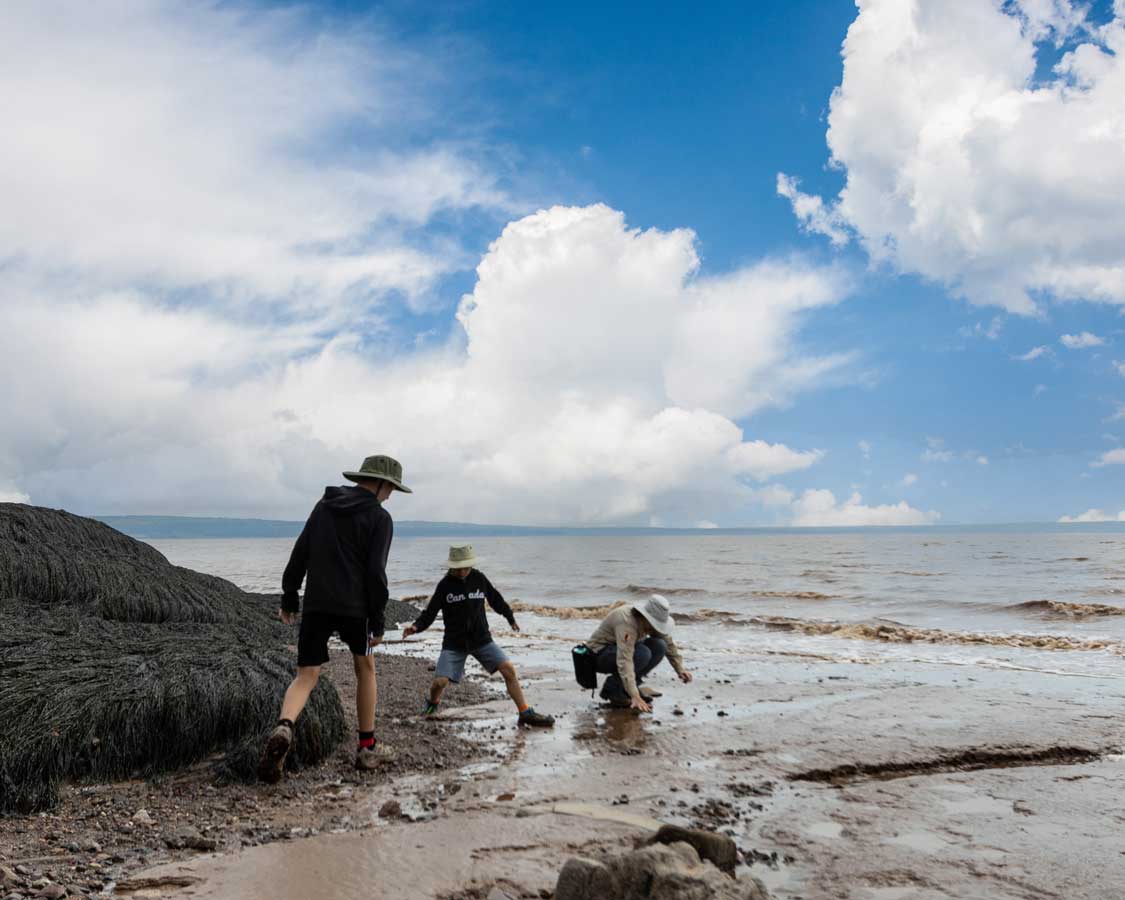 The Bay of Fundy was formed millions of years ago through an epic combination of volcanic and tectonic forces. The result was a bathtub-shaped formation that draws in an unimaginable amount of water from the Atlantic Ocean that rushes 192 miles (300 kilometers) from the mouth of the bay to the bay's base in Truro, Nova Scotia, and Moncton, New Brunswick.
The mouth of the bay is 62 miles (100 kilometers) across and 600 feet (183 meters) deep. As the water races inland, the width narrows dramatically and the land rises, funneling the water and forcing it higher and higher.
The result of this is at Hopewell, the tides can rise as much as 35-56 feet (11-17 meters) at high tide and drop by that amount at low tide.
Because of this dramatic tidal change, at high tide, the most famous rock formations at Hopewell Rocks Provincial Park are almost completely underwater, while at low tide, it's possible to walk out on the ocean floor and explore tidal pools that act as a lifeboat for unsuspecting sea critters.
The Bay of Fundy tides change every six hours, and the sea floor is accessible for about three hours between high tide and low tide. You can access the floor of the bay from three access points, the North Beach trail, which has an accessibility ramp, the Demoiselle trail, which includes a scenic overlook over the rock formations, and the area where the Hopewell Rocks kayak tours launch.
Just be careful and listen for the tidal announcements. You don't want to be caught down below when the tides come in, or you'll need to wait until they recede before you can get back out again.
Pro Tip: The floor of the Bay of Fundy can be slippery and muddy. Wear grippy shoes that you don't mind getting dirty. There are cleaning stations to help get salt, mud, and dirt out of your shoes on Demoiselle Overlook.
Peregrine Falcon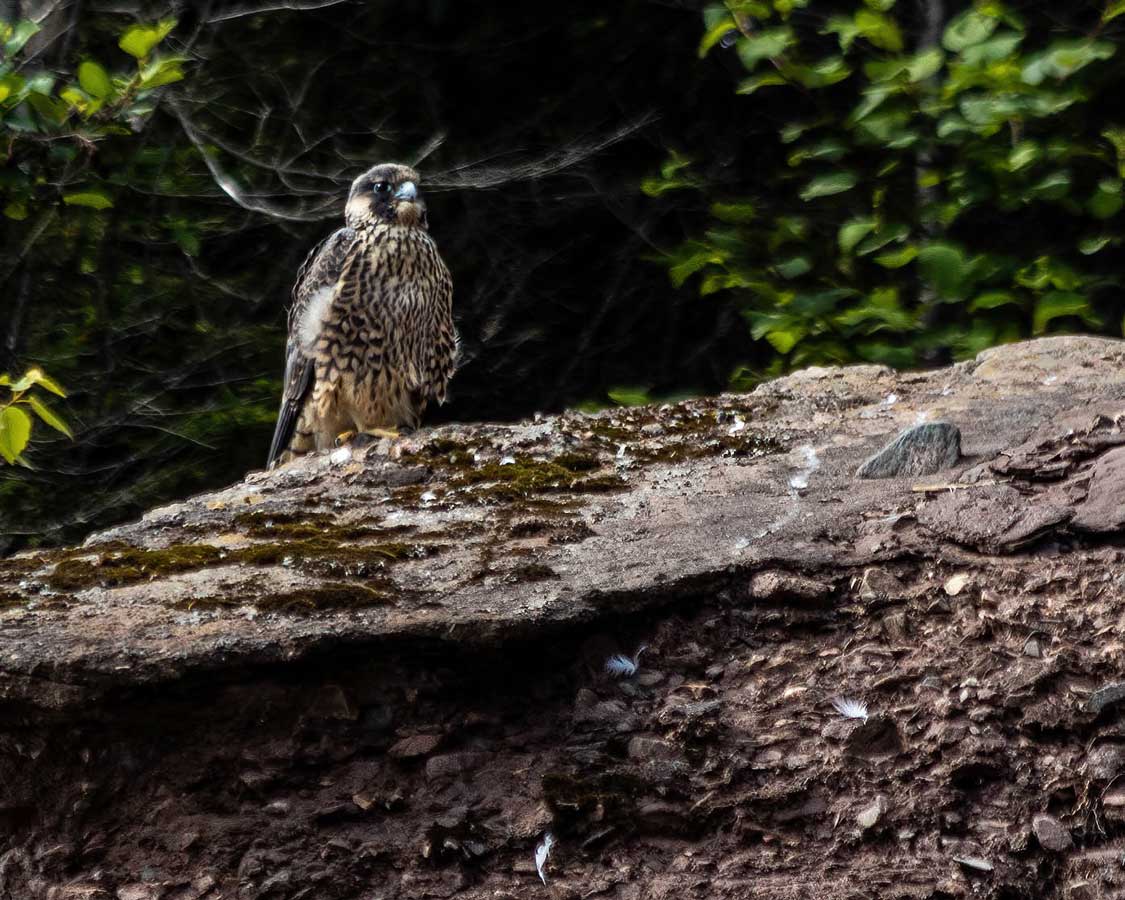 Tucked into the nooks and crevasses of the Hopewell Rocks formations and cliffs are a small but growing family of Peregrine Falcons. These tiny birds of prey were bordering on extinction not long ago, but are making a comeback thanks to conservation initiatives across Canada and the United States.
Peregrine Falcons are one of the smallest members of the Falcon family, but their diminutive size hides a legendary skill.
Their speed.
Peregrine Falcons are the fastest animals on the planet. They can reach a top speed of over 240 miles per hour (390 kph) in their lightning dives to catch small birds flying amongst the rocks.
The Peregrine Falcons at Hopewell Rocks Provincial Park can best be seen from the tops of the cliffs themselves. They're often nesting in small burrows near the top. Bring a telephoto camera lens or some binoculars to catch a glimpse of them.
A great tip for seeing these incredible birds is to visit the Interpretive Centre and speak to one of the park staff, They often know the secret hiding spots throughout the park.
Scour for Shrimp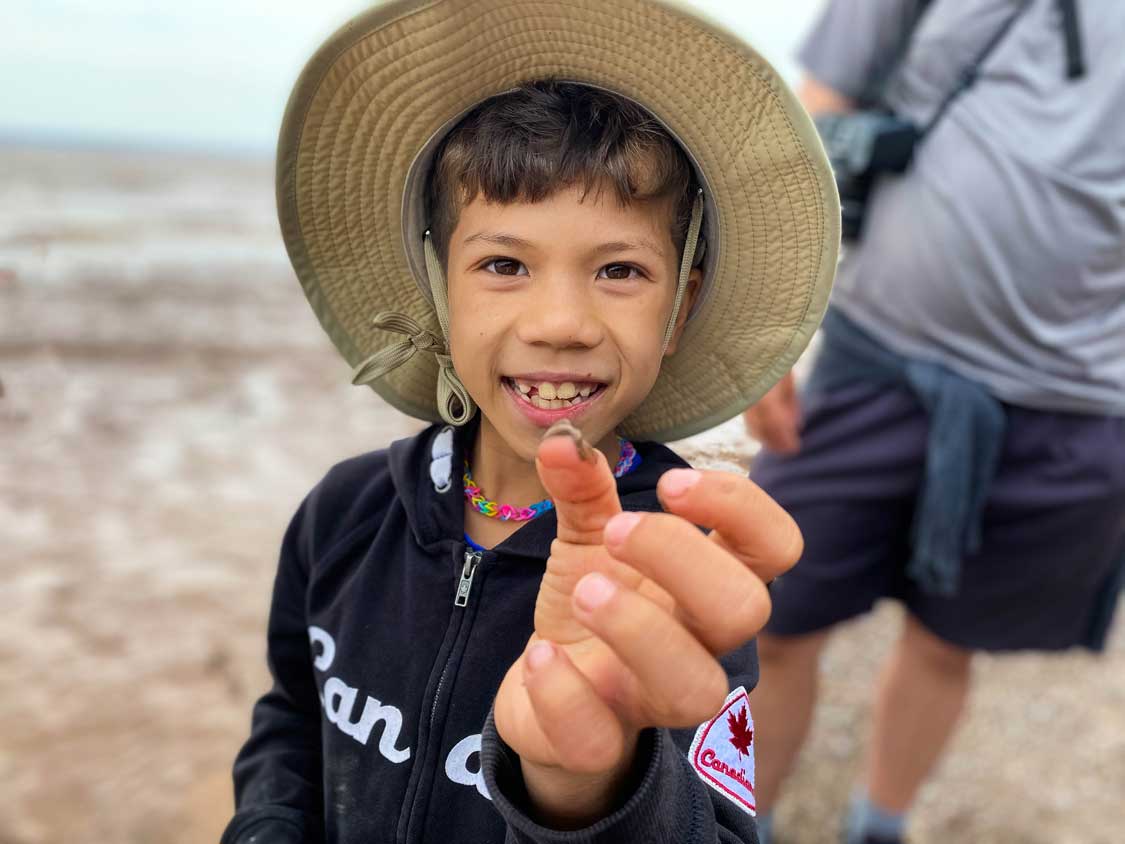 The water of the Bay of Fundy is home to a very unique type of shrimp. And Hopewell Rocks Provincial Park is one of the best places for finding them. These tiny critters, known as Corophium volutator are just slightly larger than a grain of salt. By mid-June, there can be up to 10,000 of them living in just three square feet (one square meter) of water.
The sheer number of these tiny shrimp means that, in the summer, the sands and shallow water of the park seem to be almost glistening with them. Simply scoop a handful of soft tidal mud up in your hand and you'll find them writhing around. My kids could not get enough of this, everywhere we turned they were scooping up mud to see how many shrimp they could pull up with each handful.
The vast quantity of Corophium volutator draws millions of shorebirds to the Bay of Fundy shores, making it one of the best places for birdwatching in New Brunswick.
Seabird Watching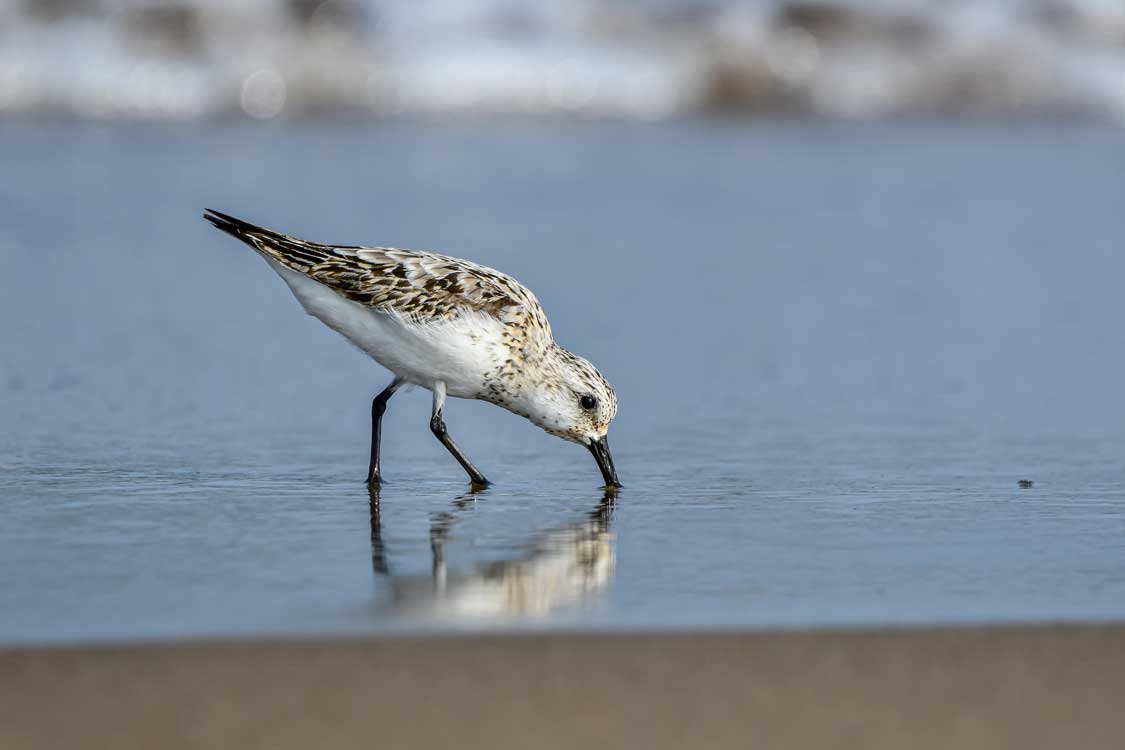 The mudflats and healthy ecosystem of Hopewell Rocks Provincial Park make it an unbelievably good destination for birdwatching. In fact, in July, Hopewell Rock sees one of the most dramatic bird migrations in North America.
Somewhere in the neighborhood of one to two and a half million shorebirds, including 75% of the world's entire population of Semipalmated Sandpiper splash down into the Bay of Fundy to feed on shrimp and other nutrient-rich food.
This is part of a 2,500-mile (4,000 km) migration south for their winters in Central and South America.
You can find excellent displays about bird migration at the Hopewell Rocks Interpretive Centre near the park's parking area. The birds are most easily found in Shepody Bay, and they stay there for about two to three weeks, or until they've had their fill of shrimp.
If you can time your visit to the Sandpiper migration, you'll be treated to an absolutely unforgettable aerial acrobatics show. They seem to act as a single entity, dashing and darting with the waves as they time their movements to avoid getting drenched by the tides.
If you want to get your kids excited about this experience, show them Pixar's Piper short film, an adorable piece about a baby sandpiper learning to feed. Even their flying is a sight to behold and they rush back and forth as if they're one entity, forming fabulous shapes as they form a living cloud.
Kayak with Baymount Adventures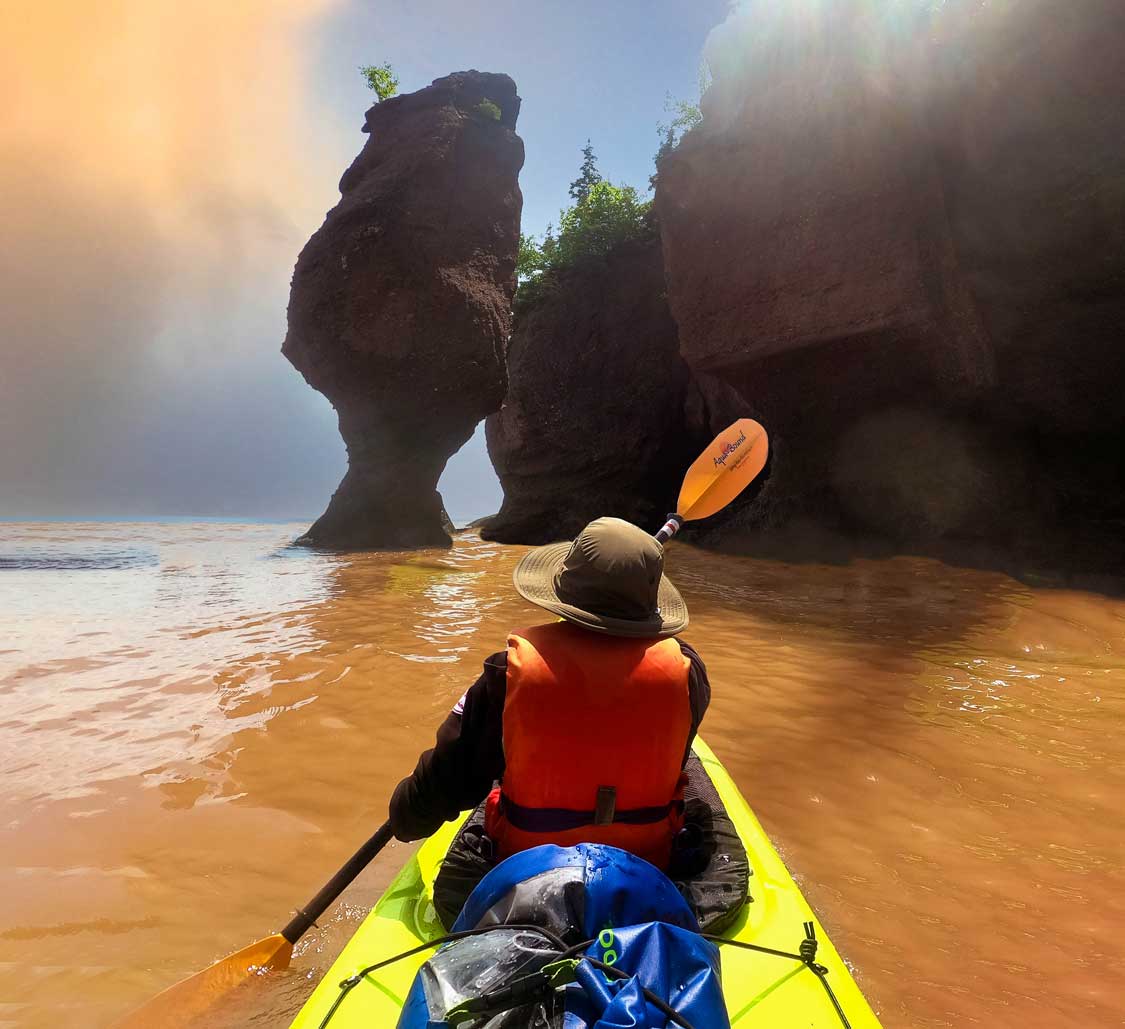 There are few sensations as cool as kayaking among the Hopewell Rocks as the tide you're surfing rises to the height of a five-story building. And my son, C, and had the chance to do that with the park's adventure operator, Baymount Adventures.
Originally, this was supposed to be a full family adventure. Unfortunately, during our visit to Hopewell Rocks Provincial Park, the Bay of Fundy was experiencing higher than normal waves, and my eight-year-old, D, was told that insurance rules wouldn't let him participate under those conditions so Christina and he stayed behind while 11-year-old C and I hit the waves in a tandem kayak.
The two-hour paddle took us along the shoreline to Desmoiselle Point where we had the chance to paddle through arches and sea caves as the epic tides rolled in, covering formerly accessible beaches and rocks with dozens of feet of water.
Even though it was a bit choppy, the paddling wasn't difficult, and when we kept near the rocks, our biggest struggle was simply not bumping into the other boats as we tried to hear our paddling guide's description during our pauses.
Demoiselle Lookout
Most visitors to Hopewell Rocks Provincial Park snap their photos from Demoiselle Lookout. This viewing platform gives visitors the chance to safely watch as the world's highest tides cover and uncover the famous Hopewell Rocks.
If you take a moment before your visit to check the Bay of Fundy tide table, you can time your visit to see this incredible phenomenon first-hand. There's lots of room on the lookout for visitors hoping to get a glimpse for themselves. And the views are simply unbeatable.
Demoiselle Lookout is also the main access point for the beach and rocks. When the tides are low, there is a stairway that allows you to climb down and walk on the ocean floor and amongst the Hopewell Rocks themselves.
Don't stick simply to the main beach though. If you have the time, head further toward the North Access Point to see often unexplored sea caves and rock formations.
Hiking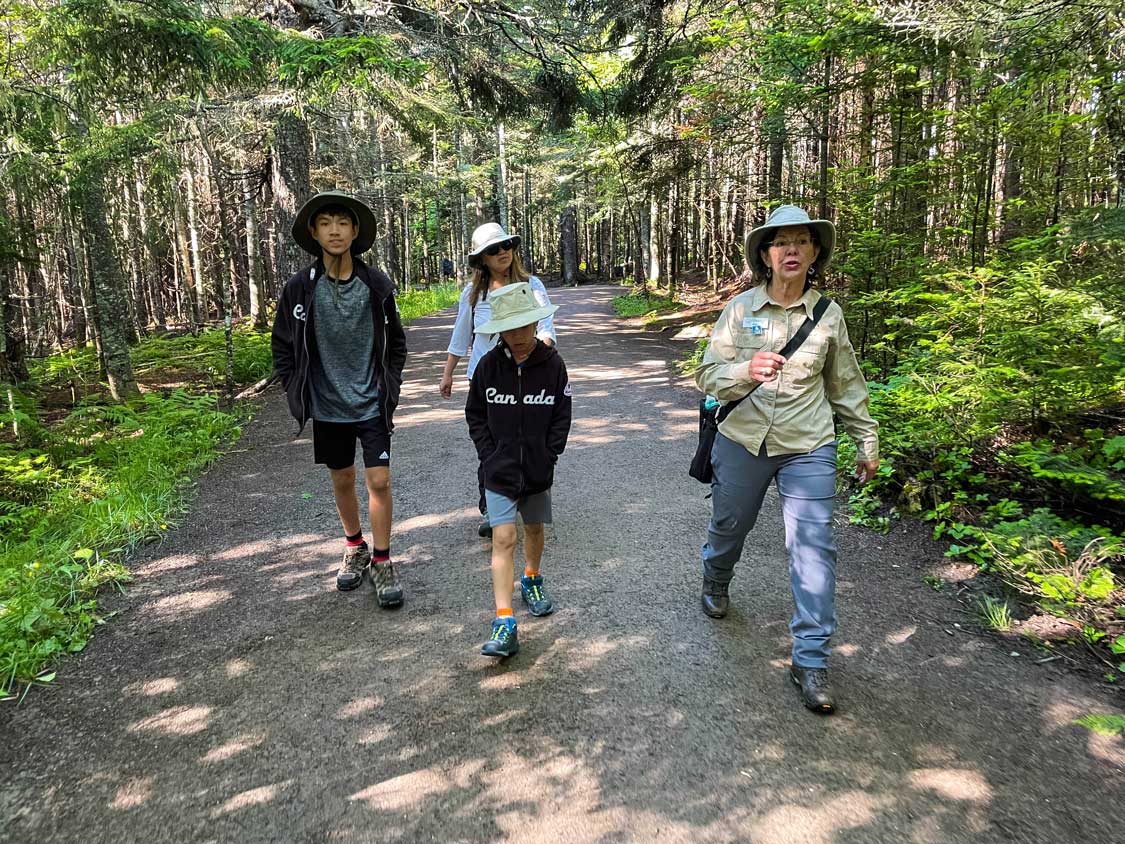 Hopewell Rocks Provincial Park might be small but there are still more than five miles of nature trails that can be explored.
All of the Hopewell Rocks Provincial Park hiking trails leave from the park's interpretive center. They wind through beautiful lookouts, ocean-floor trails, and some of New Brunswick's most beautiful natural forests as they gently descend to the lower areas of the park.
All of the trails are wheelchair accessible, although if you're hoping to use a stroller in the park, I'd recommend bringing one with larger tires, as smaller wheels might get stuck in ruts or have issues with bumps along the way.
One of the most popular hikes in Hopewell Rocks Provincial Park is the Ocean Floor Trail, which is an accessible gravel path that brings you right down to the ocean floor and includes scenic overlooks of the Bay of Fundy.
If you'd like to get more involved in the hikes, you can register for guided hikes put on by the park's rangers at the interpretive center.
Interpretive Center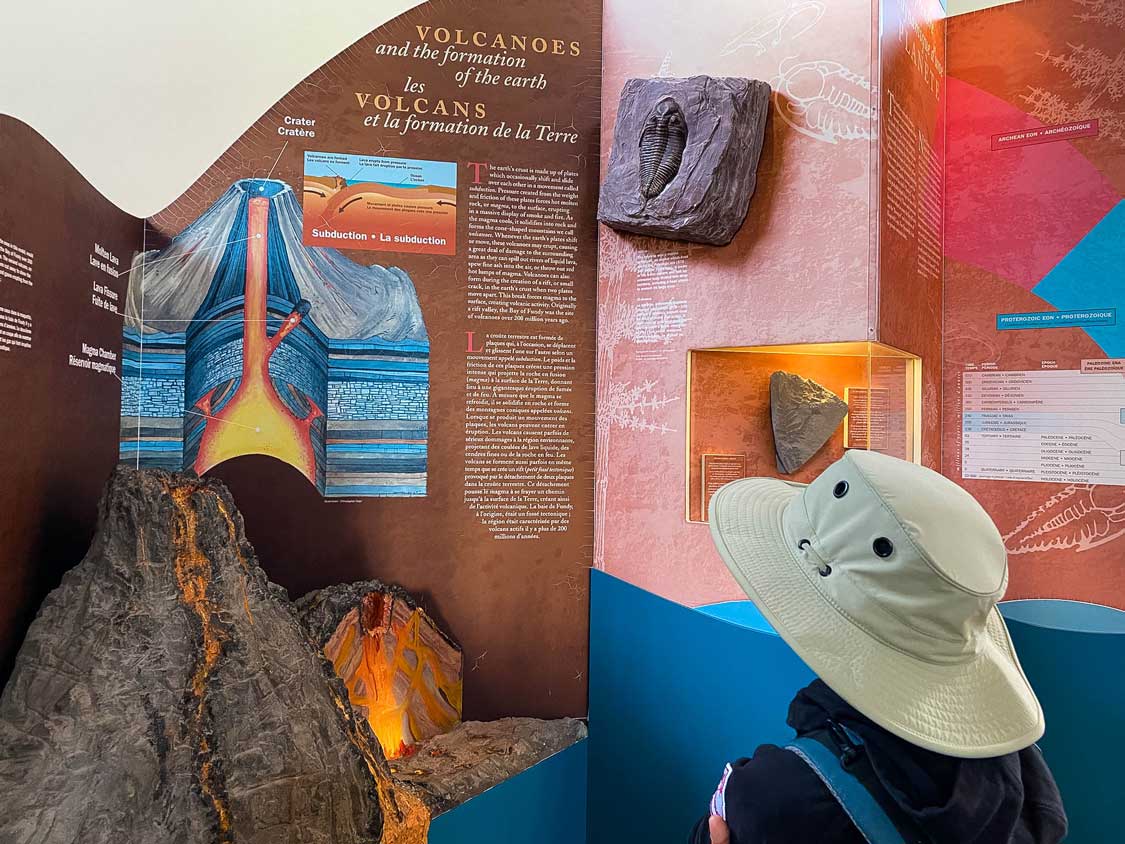 The Hopewell Rocks Provincial Park Interpretive Centre is the place that you'll want to start your visit to the park.
Packed with engaging and interactive displays, multimedia exhibits, and educational information, the interpretive centre has everything that you have ever wanted to know about Hopewell Rocks and more. This is also the home base for the park's guided tours and educational sessions.
Don't miss the displays exploring the local Right Whale population, information about the Indigenous Mi'kmaq Nation's legends about the bay, and the, incredibly lifelike, whale tail. You'll even find a fascinating display on the local Corophium volutator shrimp population.
How To Get To Hopewell Rocks Provincial Park
Hopewell Rocks Provincial Park is just an hour from New Brunswick's capital, Moncton. Getting to the park is easy, and whether you're traveling by car or public transit, it's not out of reach.
Hopewell Rocks by Car
The easiest way to reach Hopewell Rocks is by car. From Moncton, drive east on RTE 114 to Hopewell Cape. You can't miss the well-marked entrance. There's lots of parking at the park, and places to drop off at the Interpretive Centre if the park is busy.
Hopewell Rocks by Public Transit
You can reach Hopewell Rocks Provincial Park by public transit from Moncton. There's a bus that goes directly to Hopewell Cape. There's also a Maritime Bus that offers a service that stops at the Hopewell Rocks Visitors Centre.
Where To Stay Near Hopewell Rocks Provincial Park
There is no camping at Hopewell Rocks Provincial Park, so if you're looking to spend a couple of days in the park, you'll need to find accommodation nearby. The two best options are staying nearby in the Hopewell Cape area, which has a few small inns and bed and breakfasts, or making the journey to Moncton where you'll find a wider range of options.
Shepbody Inn
Just 10 miles from Hopewell Rocks in the town of Shepbody is the highly-rated Shepbody Inn. The quaint and quiet inn can fit families and the rooms include air conditioning, TVs, as well as private bathrooms and showers. You can find their rates and availability here.
Artisan Suites
Just two miles from Hopewell Rocks, this delightful inn has large rooms with king-sized beds, fully equipped kitchens, and private 4-piece bathrooms. They also have private dining areas and bbq facilities for each suite. The rooms all offer views of the Petitcodiac River.
You can find their rates and availability here.
Hilton Garden Inn Moncton Downtown
Located right on the waterfront in downtown Moncton, New Brunswick, the Hilton Garden Inn offers a great option for those who want to experience Hopewell Rock, but still have the comforts of the city. There's an on-site restaurant, complimentary breakfast, and easy access to all the top things to do in Moncton.
We made our last visit to Hopewell Rocks from Moncton where we were staying at the Hilton Garden Inn. Our visit to the park came on the drive between Moncton and Saint John.
You can check out their rates and availability here.
Tips For Visiting Hopewell Rocks Provincial Park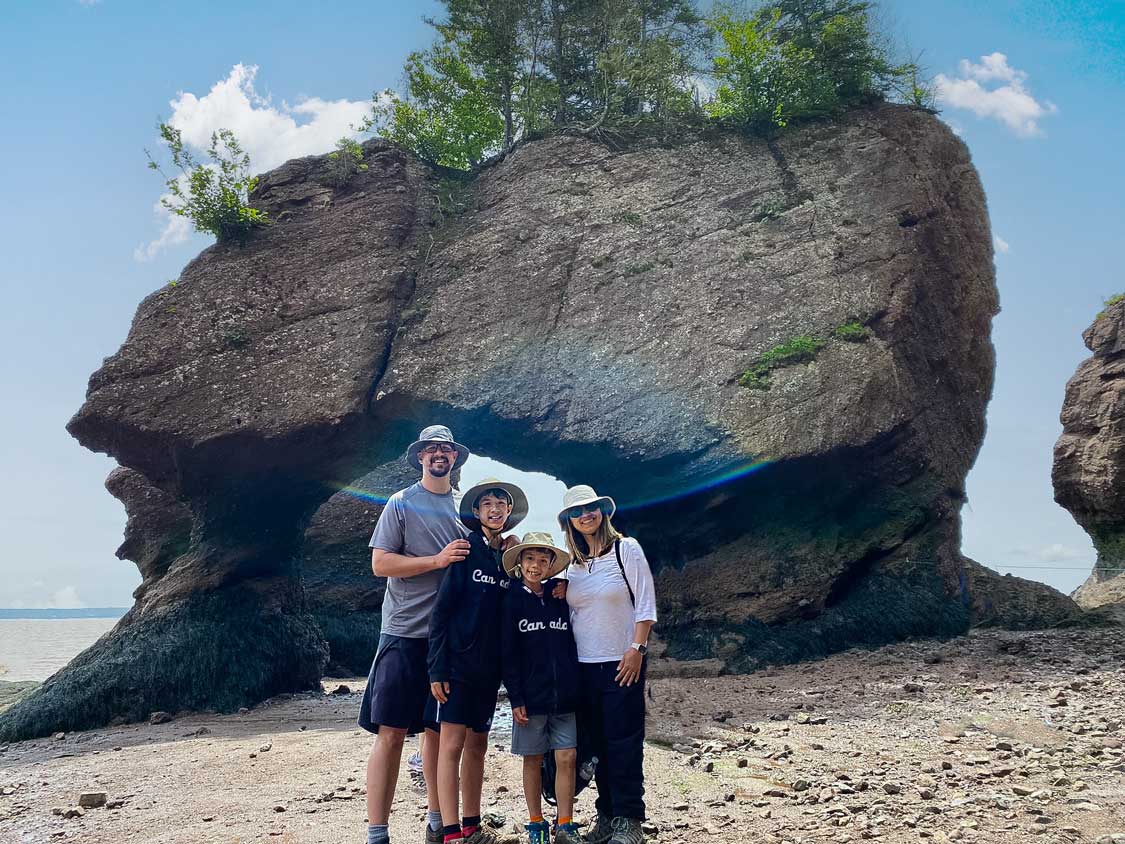 Like any incredible destination, getting the most out of your visit to Hopewell Rocks Provincial Park takes a little planning. Here are a few tips for visiting the park that will help ensure that you don't miss anything.
See Both High and Low Tides
If you want to get the full impact of the Bay of Fundy tides, you need to see Hopewell Rocks at both high and low tides. The New Brunswick Provincial Park system understands this, and that's why all of the tickets are valid for two consecutive days.
If you have the time to spare, stick around and watch the tide go from low tide to high tide and see just how much the impressive Hopewell Rock sinks beneath the waves.
Know The Tide Schedule Before You Go
Depending on what you want to do at Hopewell Rocks PP, you're going to want to know the tide schedule before you go. Visiting at low tide gives you the chance to walk on the ocean floor and stroll among the incredible rock formations. High tide lets you see the dramatic difference in the water levels and appreciate the power of the Bay of Fundy tidal action.
Paying attention to the tidal schedule will also ensure that you don't get stuck at the bottom of the cliff as the tide rolls in. There's little that the park staff can do once the water has reached a certain level. They do a good job of sweeping the beach before the tide comes in, but it's always good to be prepared in any case.
You can find the Bay of Fundy tide schedule here.
Wear The Right Clothes
If you're planning on doing anything more than just watching the tide from the viewpoints, you're going to want to ensure that you have the appropriate footwear and clothes that you don't mind getting a little dirty.
Wearing rain boots or sturdy hiking shoes is a good idea. The walk down from the interpretive centre is a bit of a hike on a gravel path with a steep downhill. Once you get down to the sea floor you'll find that there are quite a few muddy areas as well as slippery rocks and seaweed to be aware of.
You can find our recommendations for hiking shoes below:
Food and Services At Hopewell Rocks
There are options for eating and comfort stations at Hopewell Rocks Provincial Park. It's fine to enjoy a picnic at the park, there are bbq and picnic spots available. There is also a full-service restaurant on-site serving great quality diner food. There is also a restaurant called the Hopewell Rocks Motel & Restaurant near the park entrance.
There's another cafe down near the main Hopewell Rocks viewpoint. Here you'll also find wash stations to help clean mud off of your shoes. There are washrooms available at the interpretive centre as well as in popular spots around the park, so you'll never be too far away.
Enjoy Your Time At Hopewell Rocks Provincial Park
Hopewell Rocks is a place that keeps drawing me back. I remember visiting with my family back when I was a child, and I love that I've had the chance to share the beauty of the park with my own children a few times over the years.
If you have the chance, do sign up for the kayak tour. It makes for a really incredible and unique way to see the rocks.
If you love family travel as much as we do, please join our Family Travel Support Group on Facebook. You can connect with more family travelers just like you who love to explore the world.
Disclosure: Our time at Hopewell Rocks Provincial Park was made possible by New Brunswick Tourism. All opinions remain our own.
Wandering Wagars is a participant in the Amazon Services LLC Associates Program, an affiliate advertising program designed to provide a means for sites to earn advertising fees by advertising and linking to amazon.com, amazon.co.uk, amazon.ca. Amazon and the Amazon logo are trademarks of Amazon.com, Inc. or its affiliates.
You May Also Like To Read: