Visiting San Pedro de Atacama in Chile is an experience like no other. But hiking while pregnant through the driest place on Earth makes it even more unique. We learned a lot about ourselves and one of the most unique places in Chile while hiking barefoot and Pregnant through the Valley of the Dead.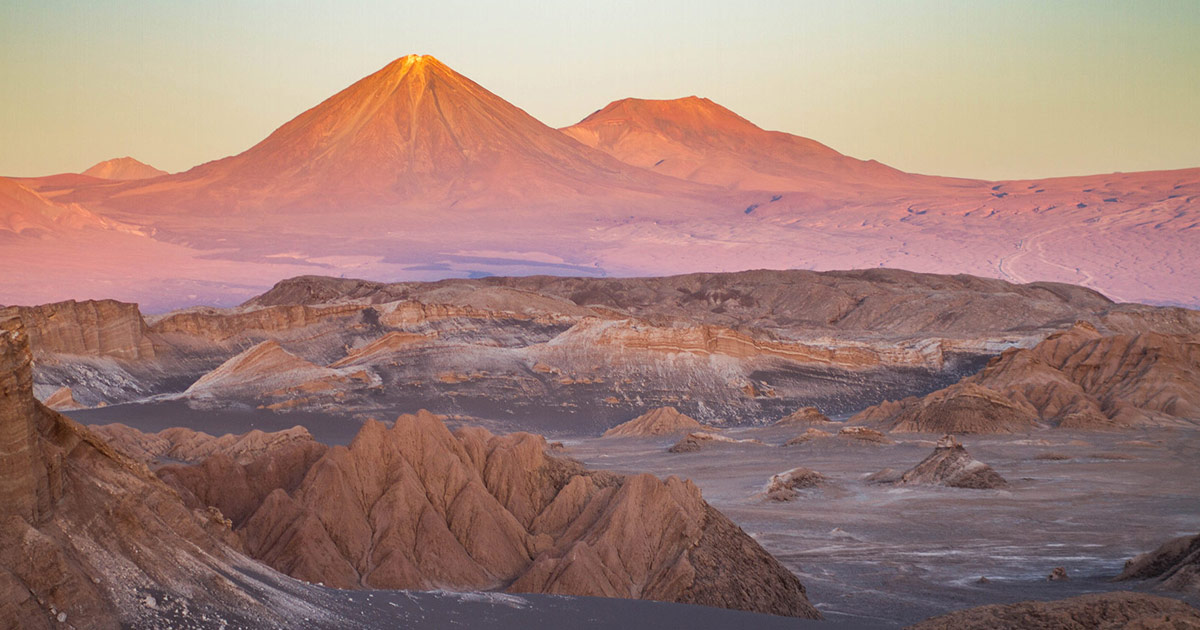 Chile's Valley of the Dead (Valle de la Muerte) and Valley of the Moon (Valle de la Luna) offer a landscape so alien that it was used by NASA as a training ground for their Mars rover and lunar landing crews. This incredible desert terrain has been crafted and carved by wind and water over millennia, yet, it hasn't seen a drop of waterfall from the sky in over a hundred years. Located 13 km west of the very hip and active town of San Pedro de Atacama in the Atacama Desert, Valle de la Muerte/Valle de la Luna was our second stop in Chile after visiting bustling Santiago and beautiful Valparaiso.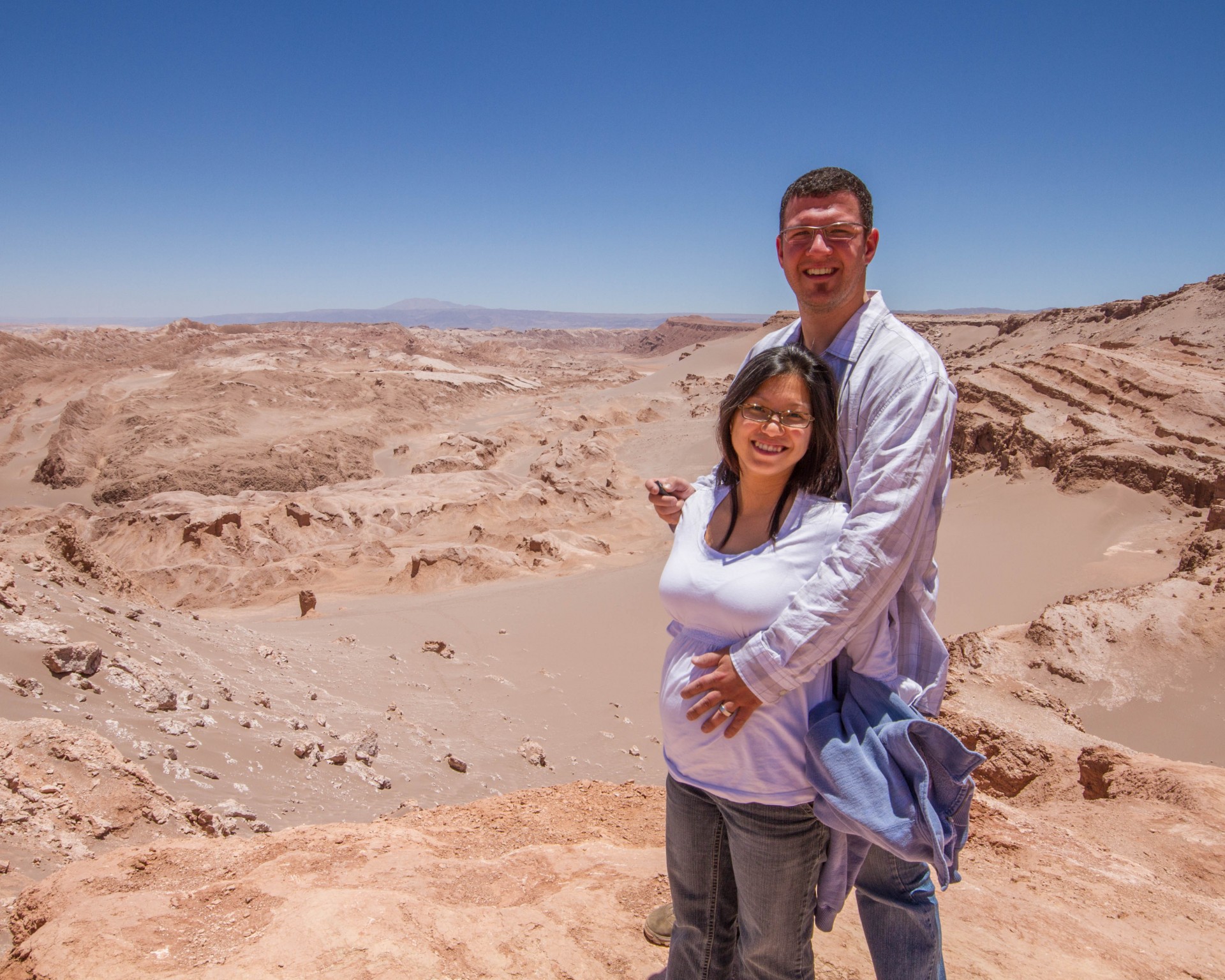 Getting to San Pedro de Atacama from Santiago
It became obvious early on that the Atacama Desert would offer my husband and I a challenging adventure. We arrived in the town of Calama after a one hour flight in order to avoid the 20+ hour bus ride from Santiago (not really an option as I was 6 months pregnant). We were able to book the ticket hassle-free online from North America. From the Calama airport, we rented a small pick-up truck to get around the desert (also pre-booked from North America). The drive promised to be spectacular. About 30 mins into our 1-hour drive to San Pedro de Atacama, Kevin pulled off to the side of the road to give us our first glimpse of the terrain.
The view was spellbinding with visibility going on for miles. After taking a few pictures, we both hopped back into the truck. A few moments later Kevin noticed that he no longer had his wedding ring. In a panic, he quickly pulled over; but in his haste, he went too far and got stuck. Not just a little stuck either, like wheels halfway into the sand stuck. I don't have any photos of our predicament as I was too busy helping him furiously dig the truck out of the sand while he kept asking me to sit in the truck with the helpless fear that his very pregnant wife would die of heat exhaustion or give birth right there and then!
My deepest gratitude goes to the incredible locals and tourists alike who stopped to help us along their way. Six different sets of people took time out of their day to help us. In the end, after three broken tow ropes, one broken shovel and a growing crowd cheering us on, Kevin was finally able to pull the truck back on the road! Oh, and his wedding ring had apparently fallen off in the truck not outside of it!
Needless to say, he made sure to be much more careful about the consistency of the ground beneath our truck from here on out.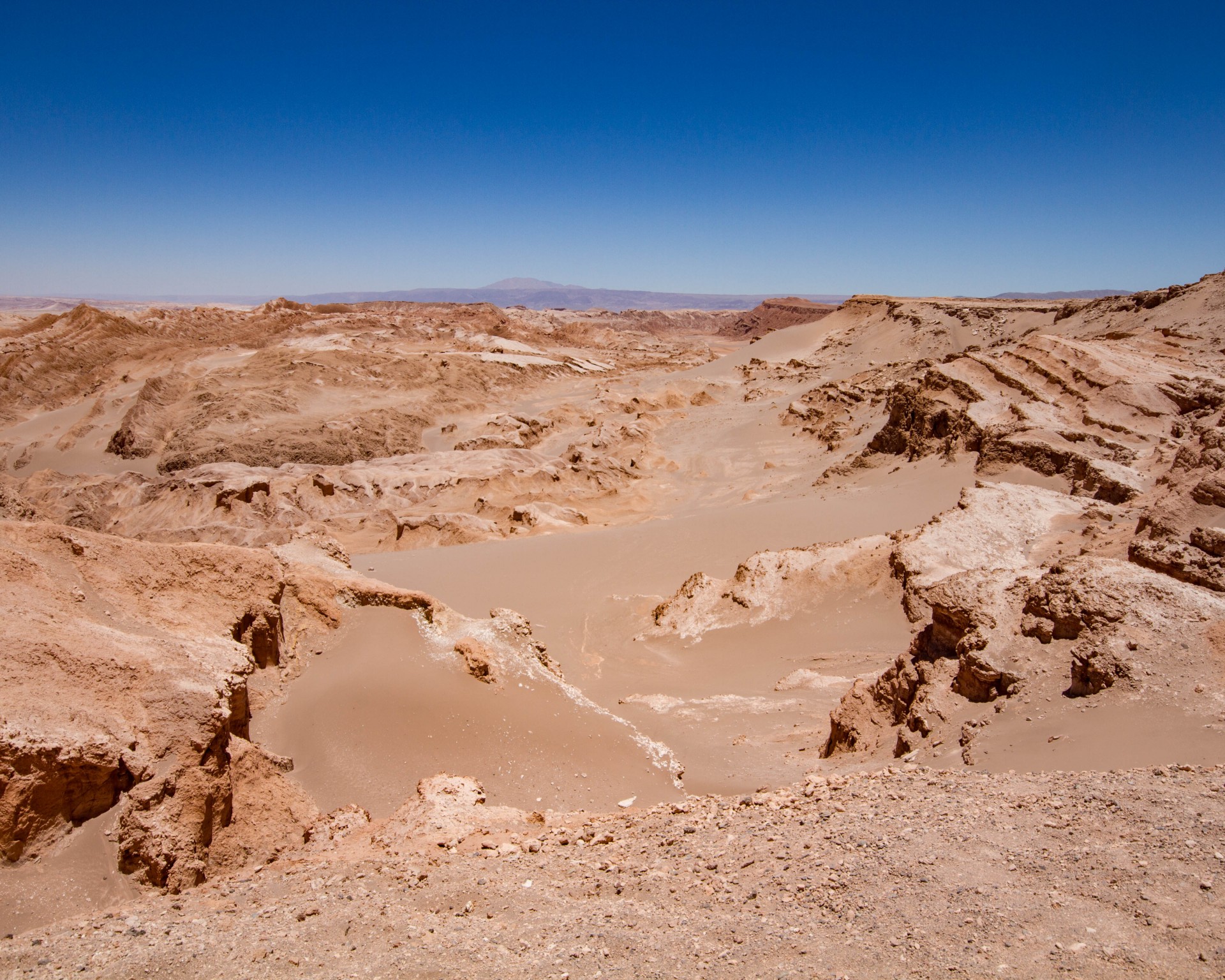 Pro-Tip: If you are pregnant consult with your doctor before planning your vacation.
What to do in San Pedro de Atacama
We rolled into the tiny town of San Pedro de Atacama a few hours later than planned due to our earlier mishap and were struck by how cool this little adventure town was. Sitting just over 100 km from Calama, San Pedro de Atacama is one of the only accessible towns available as a home base for those looking to explore the Atacama. San Pedro de Atacama sits at about 7,900 feet (2,400 m) above sea level. It's not rare for visitors to experience mild altitude sickness when visiting. Summer temperatures rarely go above 30°C and at night can often drop below freezing.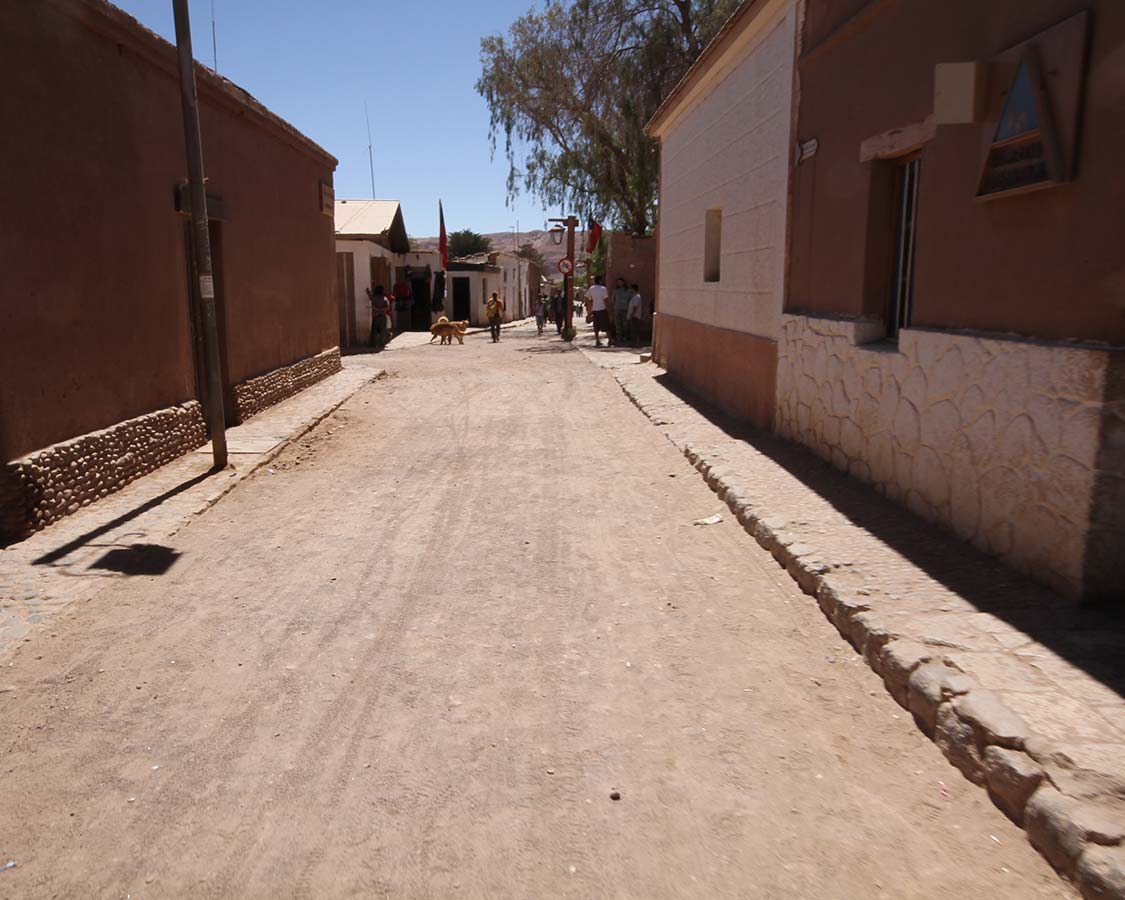 The town has a number of quaint food joints to check out, our favorite being Adobe, which offered excellent pan steaks and a cool vibe with natural wood tables and chairs carved right from the stone floor along with a log fire that roars through the night.
San Pedro has a long indigenous history and while exploring nearby, Kevin and I came across this incredible arch and carving tucked away behind a mountain. I'm not sure what this area is as it had a nearby sign mentioning it was indigenous property and respectfully asked visitors not to enter. If you know the story of this place drop us a message below, we would love to hear it!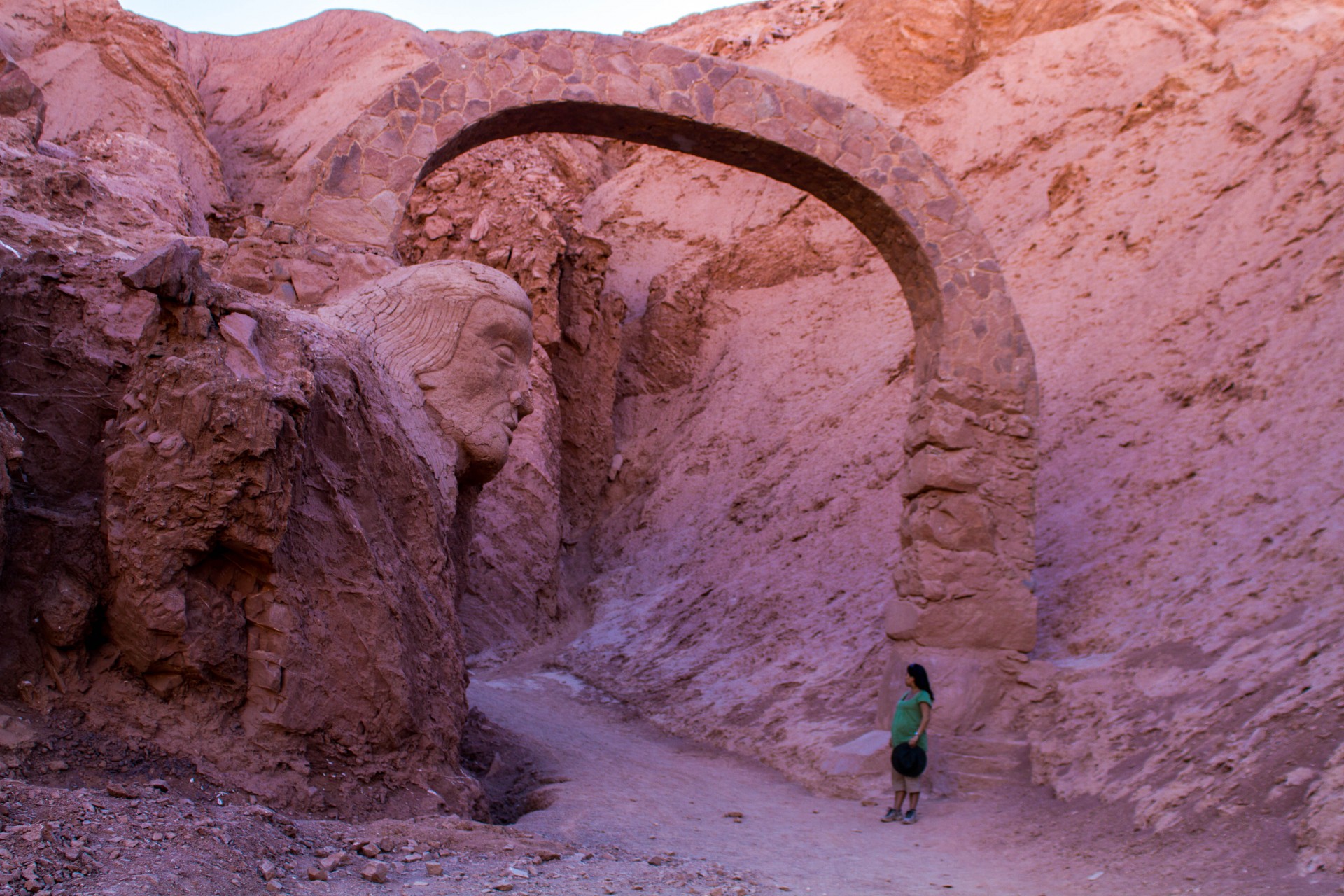 Hiking the Valley of the Dead and Devil's Canyon
The following day we joined a tour group that ventured to the Valle de la Muerte for a hike and to visit some incredible archaeological sites. Our hike began with a stunning overlook of the canyon where a rock seemingly placed for the sole purpose of taking awesome adventure shots was jutting out over the edge. After stopping to check out the view, we continued along the ridge where the rock cliffs dropped away to soft sand dunes on our left before the two merged and we could slide our way down the sand to the canyon floor. Well, everybody else slid, I waddled…gracefully.
While we wouldn't be reaching the heights of one of our dreams of climbing Aconcagua, being that I was carrying my pregnancy belly, it might just feel like it. With most of the hikes in the Atacama being at around 2,450 m above sea level, it wasn't long before we were all breathing heavily and sweating under the strong desert sun. Much of the hike was on slightly rough but flat ground with some small cliffs and ledges to add just enough challenge and exhilaration to the beautiful scenery. Near the tip of the trail lie some beautiful twisting caves and overhangs that offered some shelter from the powerful sun.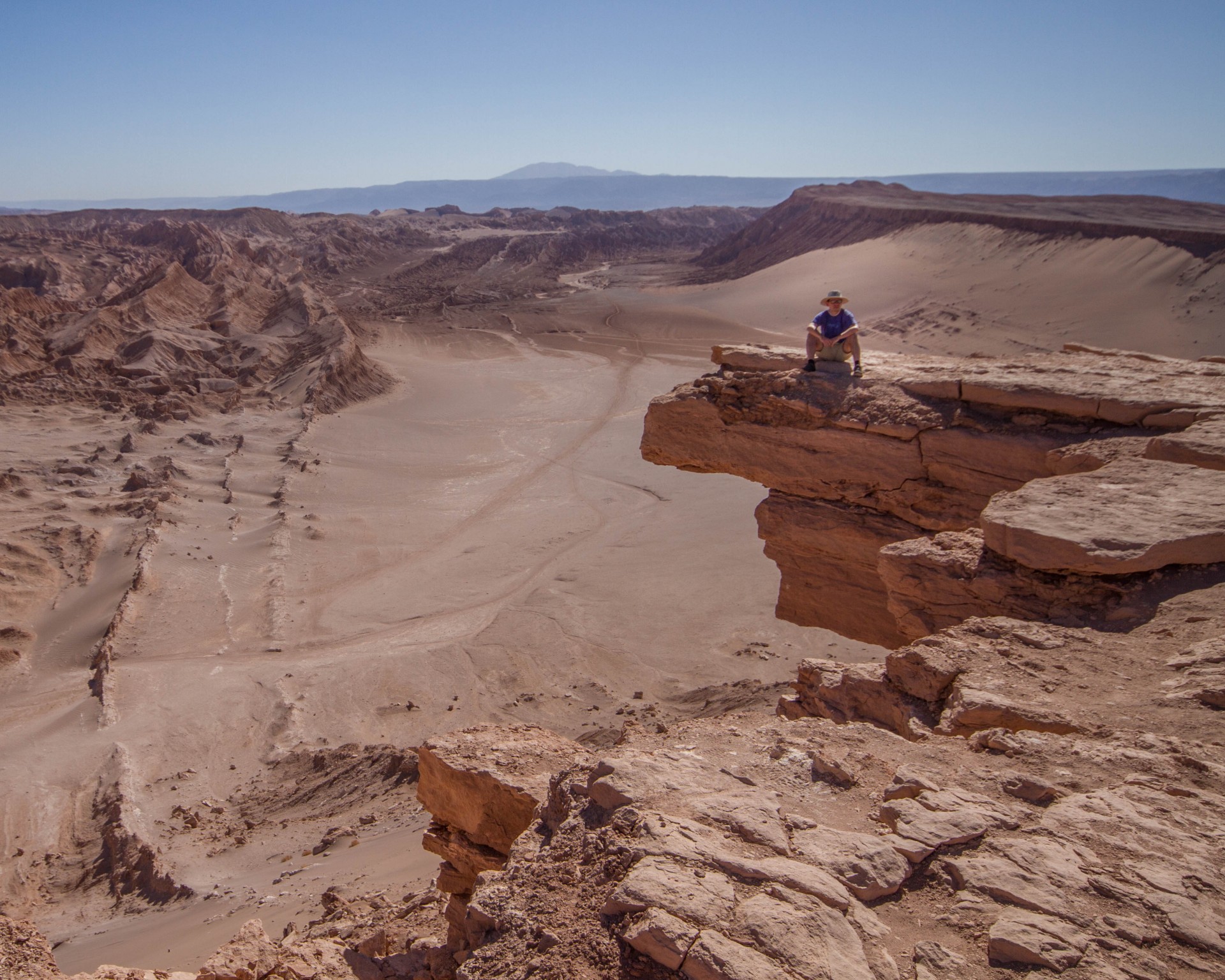 Pro-Tip: When going for hikes in the desert make sure to always have water. Additionally, since we were going to be around areas of high altitude I made sure to familiarize myself with the signs of altitude sickness. Since I was pregnant, I also made sure that the tour company carried an oxygen tank with them in case I needed it. This is a common procedure for a lot of the tour groups in the Atacama.
Even though the hike was only moderately difficult, I struggled to keep pace with the group. The serene beauty of my surroundings and Kevin by my side gave me strength. Always keeping in mind that I had not only myself to think about these days, I simply took my time. I was constantly apologizing to the group whenever we caught up with them, but everybody including the tour guide was so supportive.
In fact, they told me they were very incredulous at the spring in my step and took turns lending a hand through the most difficult portions of the hike. I had my own cheering squad. I even impressed Kevin! He said that if he had never trusted my incredible strength and resilience before, watching me hike through Quebrada del Diablo (Devil's Canyon) and climb up the remnants of dried up waterfalls solidified it for him.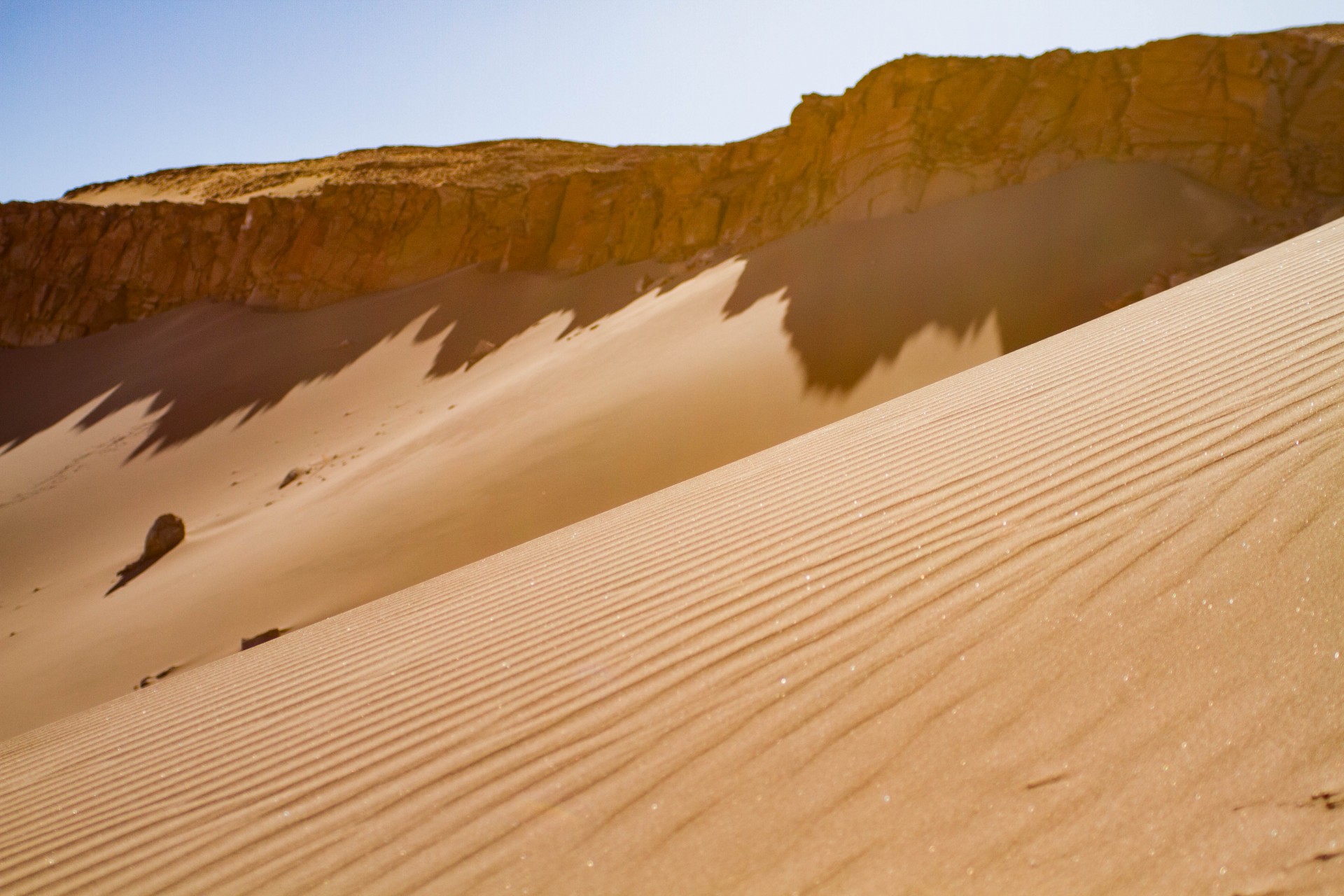 Pro-Tip: When pregnant, always seek the advice of your doctor on the level of activity you should be partaking in, especially if it is going to be strenuous.
Beyond hiking, Quebrada del Diablo is also well-known as an excellent mountain biking destination. It can be easily accessed from San Pedro de Atacama and the twists and turns of the canyon would make for a thrilling ride, needless to say, at 6 months pregnant I was less than interested in the mountain bike option.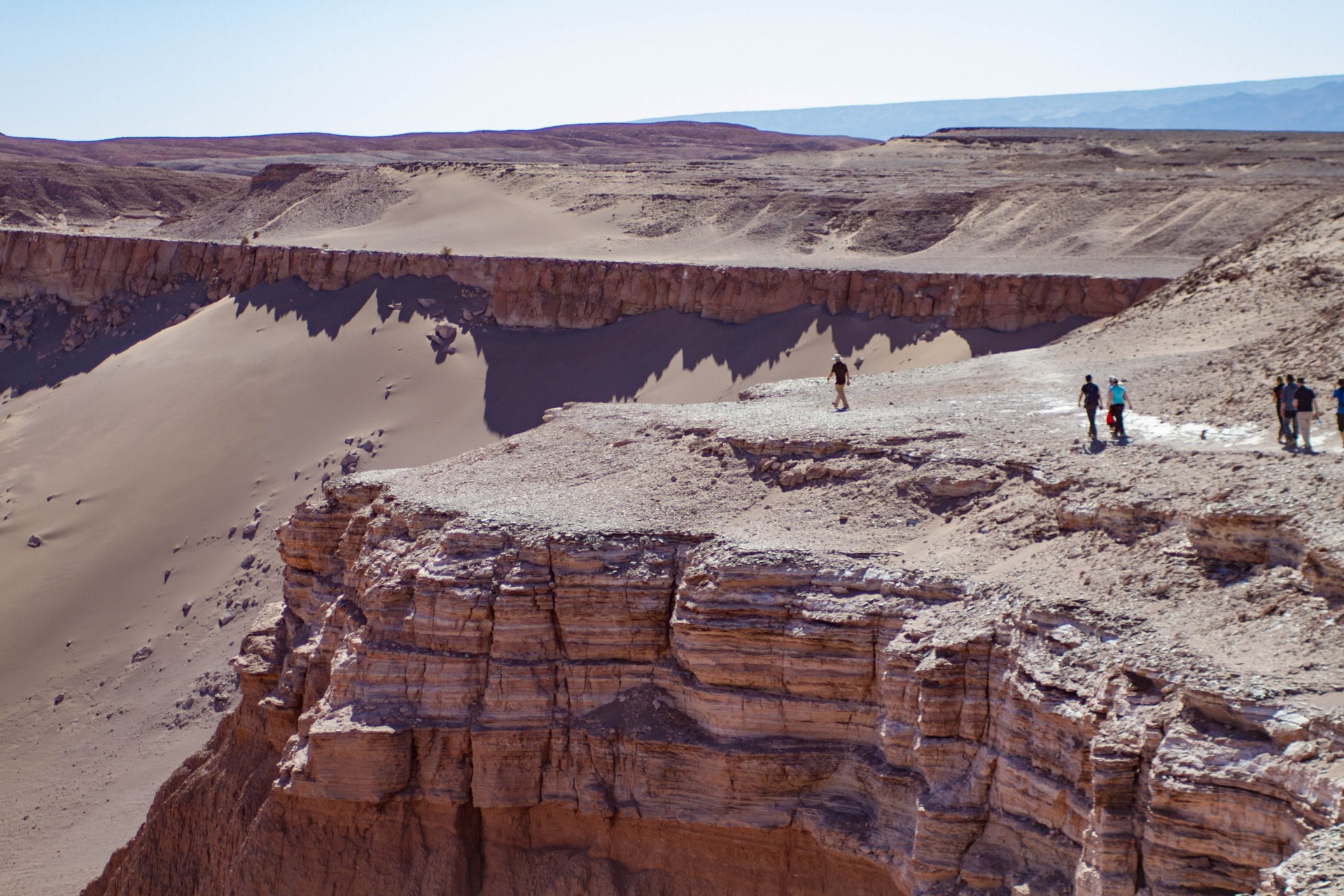 Watching the Atacama Sunset at Valley de la Luna
With the day winding down we made our way to an overlook in the Valle de la Luna to catch the final rays of the sun as it made its way beneath the horizon. After pulling into a lot with several buses, we made our way up a winding hill to the highest point where we could overlook the majestic landscape of the Atacama desert with the soaring Andes mountain range in the background.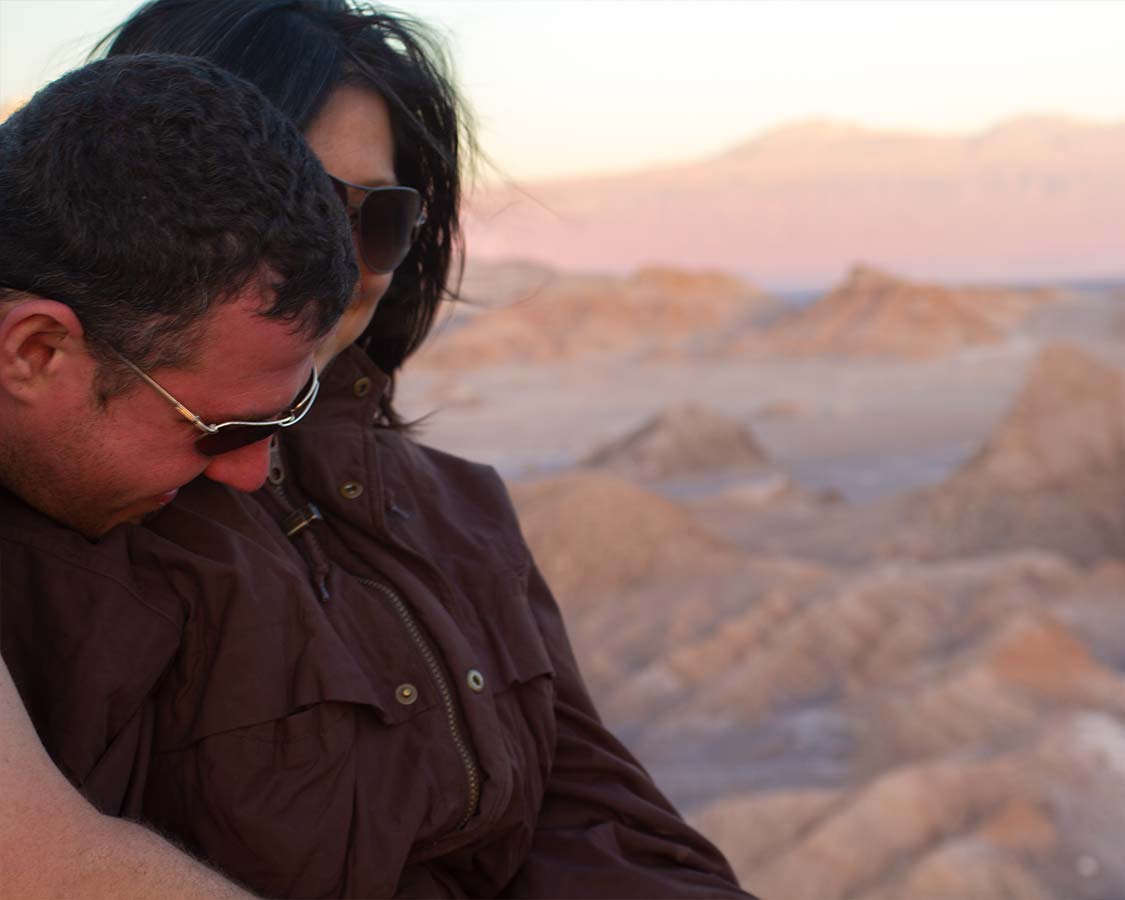 I sat down with my feet swollen and aching from the 10 km of hiking we had done that day and slipped off my hiking shoes to let my feet breathe in the cool dusk air and hopefully shrink down a few sizes before having to hike back down to the truck, but when I did, I noticed that my big toenail was dark purple and looked about ready to fall off (don't worry, no pictures were taken)!
Kevin and I sat and watched the sun go down over the Andes while the baby did some somersaults in my belly. I sat there, barefoot and pregnant in the Valley of the Dead and watched the landscape explode with color while dreaming of the life our newest little traveler would have.
I laid back in Kevin's arms and there was no place I would rather be right there and then. Little did he know he would need to carry me back to the van.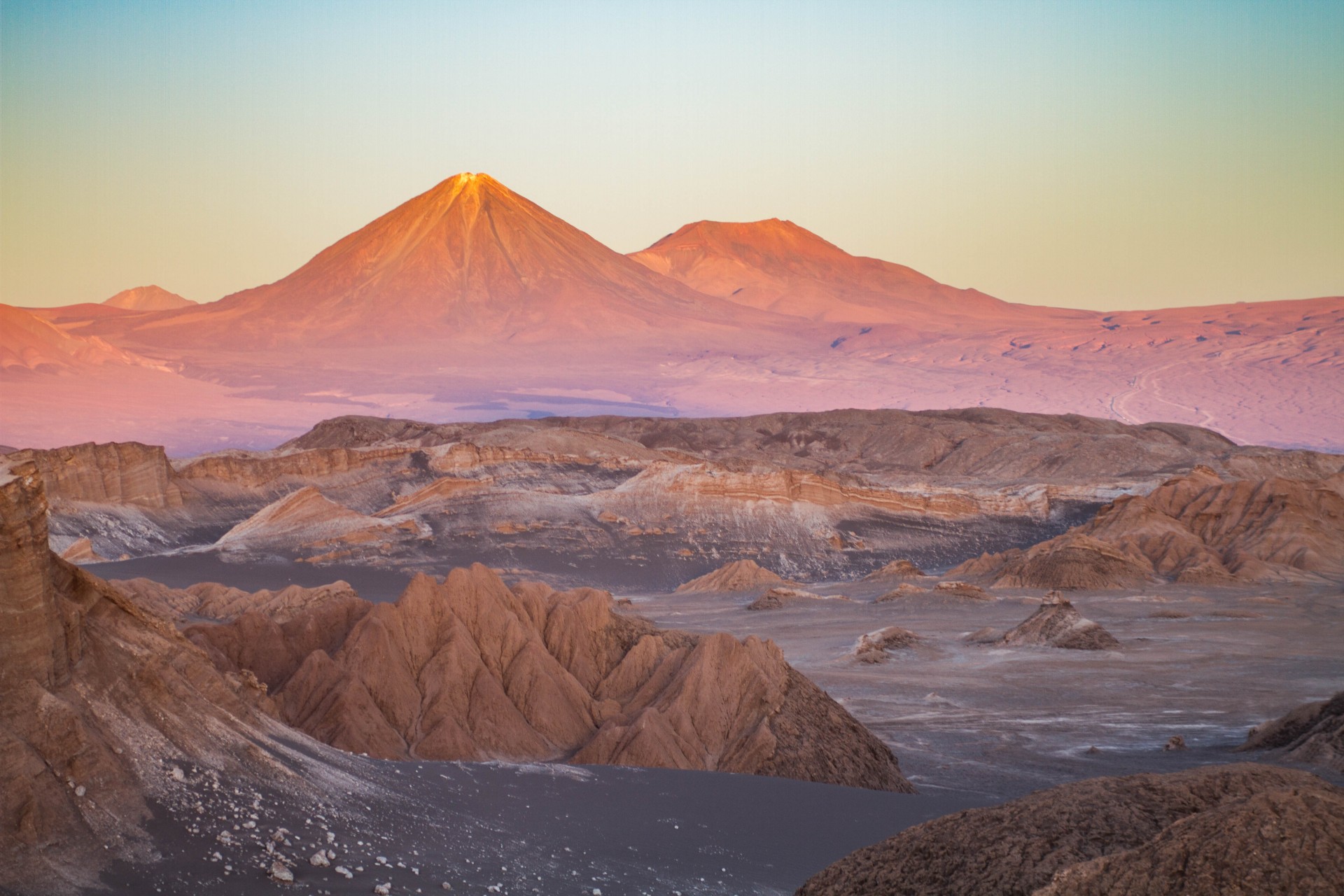 This post may contain compensated links. For more information please read our disclaimer. Wandering Wagars is a participant in the Amazon Services LLC Associates Program, an affiliate advertising program designed to provide a means for sites to earn advertising fees by advertising and linking to amazon.com, amazon.co.uk, amazon.ca. Amazon and the Amazon logo are trademarks of Amazon.com, Inc. or its affiliates.
You May Also Like To Read:
Pin This Post For Later: