"Daddy, are we going to see any deer?" cried C from the back seat as we crossed the Golden Gate bridge on the way to Muir Woods National Monument to see the famous park filled with giant redwood trees.
Muir Woods, located a little over an hour outside of San Francisco, is one of the few places on earth where your children will have the opportunity to experience true old-growth redwoods up close and personal. Many of these legendary towering Muir Wood pine trees have been alive between 600 and 800 years, with the oldest clocking in at an astounding 1200 years old. The trees are enormous, with the tallest of the Muir Woods National Monument trees reaching an incredible 258 feet up towards the Californian sky.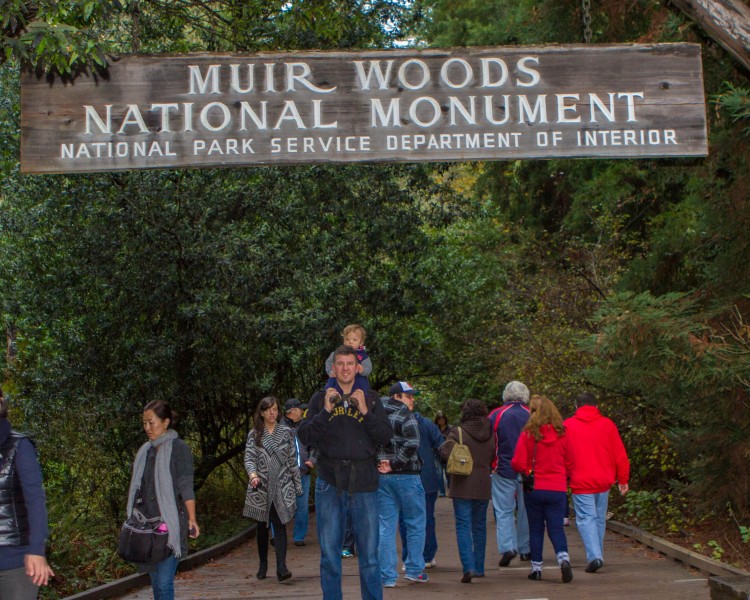 Muir Woods National Monument offers a few different family-friendly walking trails to help you explore. The Main Trail follows the sparkling Redwood Creek and is built boardwalk style, giving easy access to strollers. Kids can learn about the stream's Steelhead Salmon, the Redwood trees, and Banana Slugs. The National Park Service also offers a fun Discover Quest for children who are exploring Muir Woods. You can download it here to add some education to your exploration. The park has a bigger brother too. Located 5-hours north is Humboldt County, where over 30 sq. miles of old-growth redwoods can be found.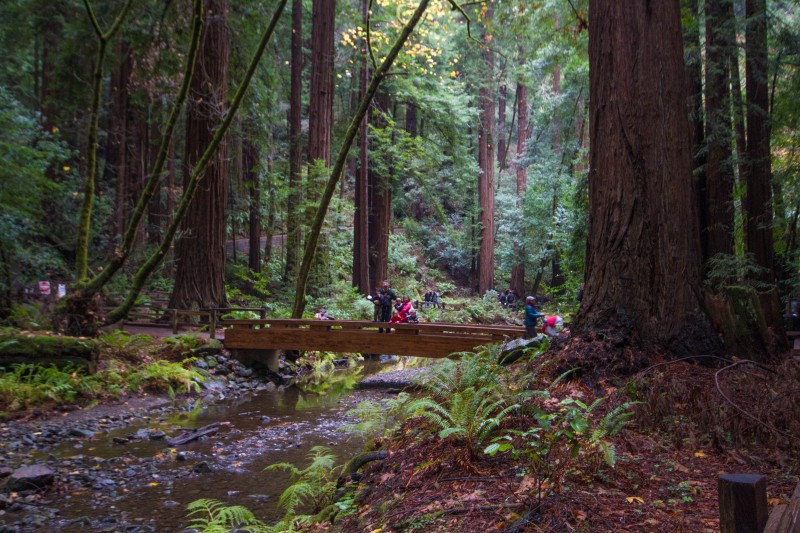 On our adventure, we made the horrible mistake of not having lunch prior to our hike and in our rush to get out, not packing snacks. As anyone who travels with children knows, no food and hungry kids is a recipe for disaster. Lucky for us, our children have become veterans of travel and were mostly able to ignore their rumbling bellies as they climbed in and out of the huge Redwood trunks, waded through the shallow streams and searched high and low for elusive deer.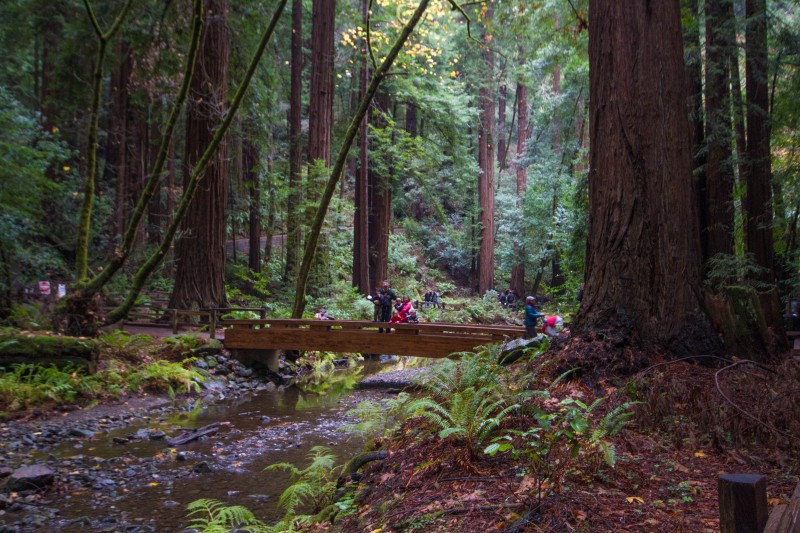 Hunger finally got the better of the kids towards the end of the hike and Christina and I rushed towards the Visitors Centre at the beginning of the trail where we splurged on some delicious sandwiches and juice and the children instantly returned to Dr. Jekyll from Mr. Hyde.
Older children may enjoy the longer hike up Fern Creek. The Fern Creek trail includes a bridge that is built over a giant downed Redwood. The trail continues on to the Lost Trail, followed by the Ocean View Trail before reconnecting with the Main Trail.
With our bellies full we packed up and headed to the car to make our way back to San Francisco. When, at the top of the hill, we spotted two deer snacking on some leaves. I called back to C to let him know, but he was already asleep in his car seat.
Pin This Post For Later: