Experience Cajun good times with these fun things to do in Lafayette, LA. Discover local history, gorgeous nature, and warm southern culture in the HUB city.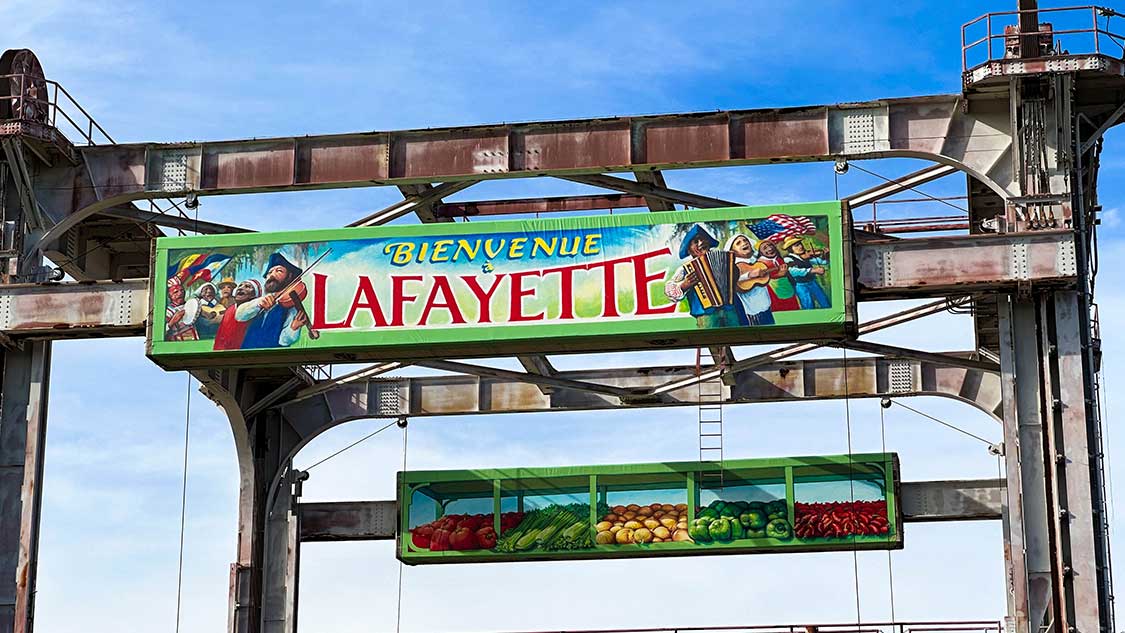 Deep in the heart of Cajun country sits one of Louisiana's most underrated cities. Laden with southern charm, mouthwatering home cooking, and packed with Spanish, French, and Caribbean culture, Lafayette, Louisiana is a destination with endless opportunities for adventure.
Lafayette, which sits along the banks of the Vermillion River in southern Louisiana, is rich in Cajun and Creole heritage. Lafayette is the fifth-largest city in Louisiana. It's just two-and-a-half hours from New Orleans and just an hour from Baton Rouge.
These fun and exciting things to do in Lafayette, LA will help you plan the perfect itinerary that includes great food, incredible attractions, and lots of southern hospitality.
About Lafayette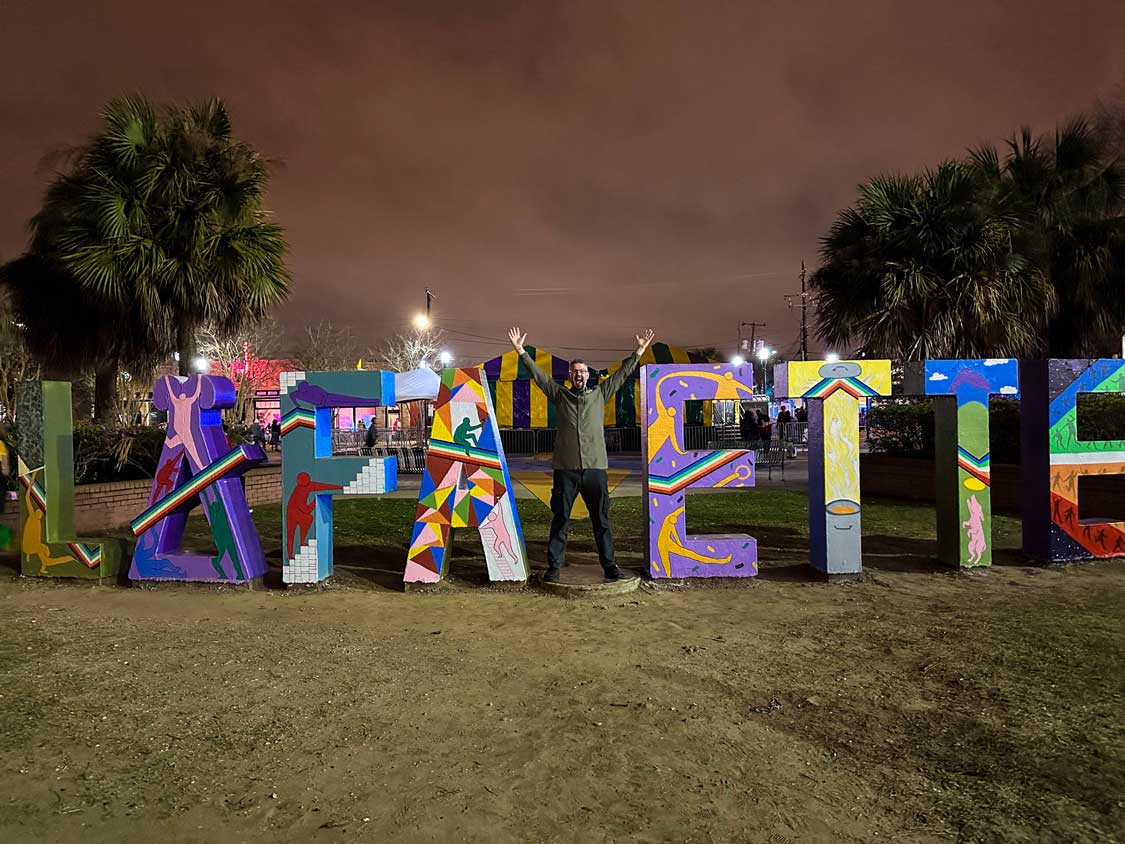 The city of Lafayette, LA is home to just over 120,000 people. The city is at the heart of the Acadian region of Louisiana where thousands of former French colonists in what would become Canada were expelled from the Canadian province of Nova Scotia, Prince Edward Island, and New Brunswick.
Many of the Acadians settled in Louisiana in the 1700s and began to rebuild their lives. Over time, the name "Acadian" morphed into "Cajun" (If you slur your words together, it's easy to see how this happened) and a unique American culture was born.
While Lafayette is one of the largest French-speaking regions of Louisiana, it's also home to many Creoles of Caribbean ancestry as well. Lafayette Parish is home to stunning swamps packed with incredible wildlife, epic food experiences, and countless dance halls pumping with their iconic Zydeco music.
I had the opportunity to visit Lafayette in the midst of its Mardi Gras celebrations. I even got the chance to take part in everything from the Lafayette Mardi Gras Parade to local festivals like a Boucherie and a Chicken Chase. It was an absolute treat.
Lafayette during Mardi Gras is vibrant, alive, and full of festivities. But I quickly learned that this energy was something that permeates throughout the city year-round.
Fun Things To Do In Lafayette, LA
Explore Acadian History At Vermilionville Historic Village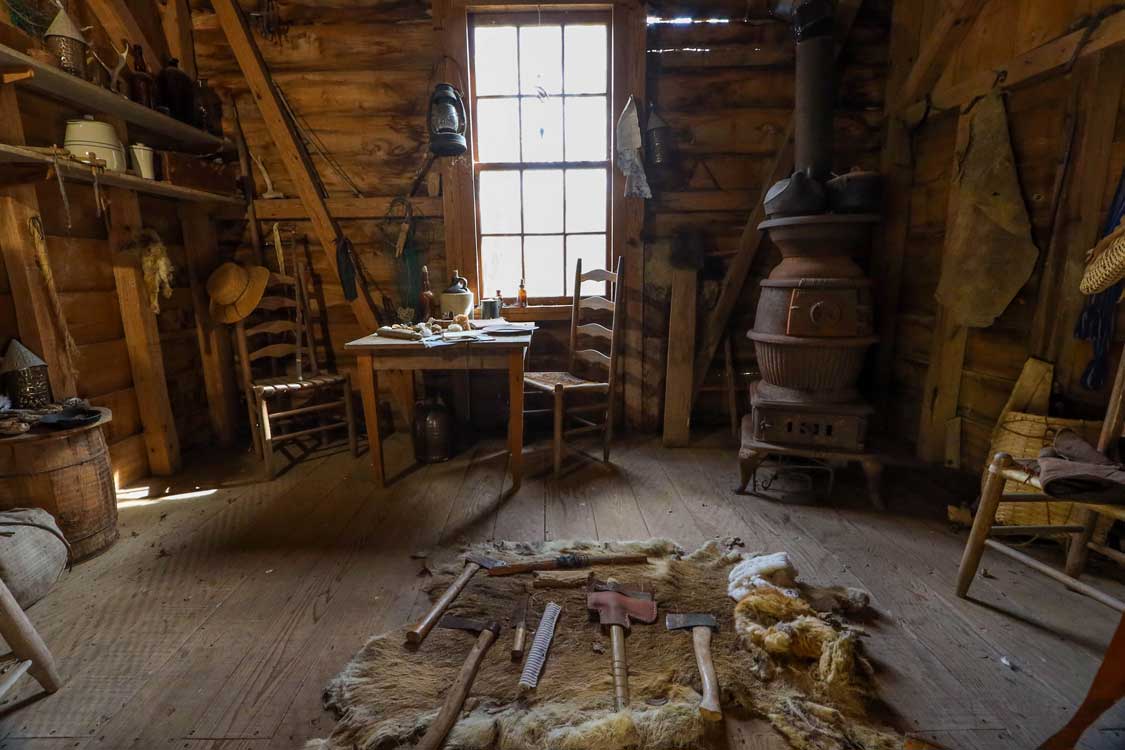 To get a true appreciation of just how special Lafayette is, it's important to understand its history. So one of the top attractions in Lafayette for history and culture is Vermilionville Historic Village.
This vibrant living history museum has 12 buildings that explore the life and times of residents of Lafayette and Southern Louisiana at the turn of the century. The 23-acre park gives a great interpretation of Acadian and Creole life from 1765-1890.
Vermilionville was the original name of the city of Lafayette, and Vermilionville Historic Park was built to preserve the legacy, history, and heritage of the city's early settlers. It opened in 1990 and has become one of the top places to visit in Lafayette for both tourists and locals.
Visitors are drawn to the scenic village and educational displays along with the re-enactments of early life in the bayou. There are also displays marking the Indigenous inhabitants of the Lafayette region, some of who continue to live and thrive within Lafayette Parish.
Locals visit Vermilionville for the on-site restaurant which offers popular meals from Wednesday to Saturday and a buffet lunch on Sundays. Don't miss the daily music offerings, especially Sundays when live Cajun Zydeco music is paired with lively dancing in the Performance Center.
Experience a Lafayette Swamp Tour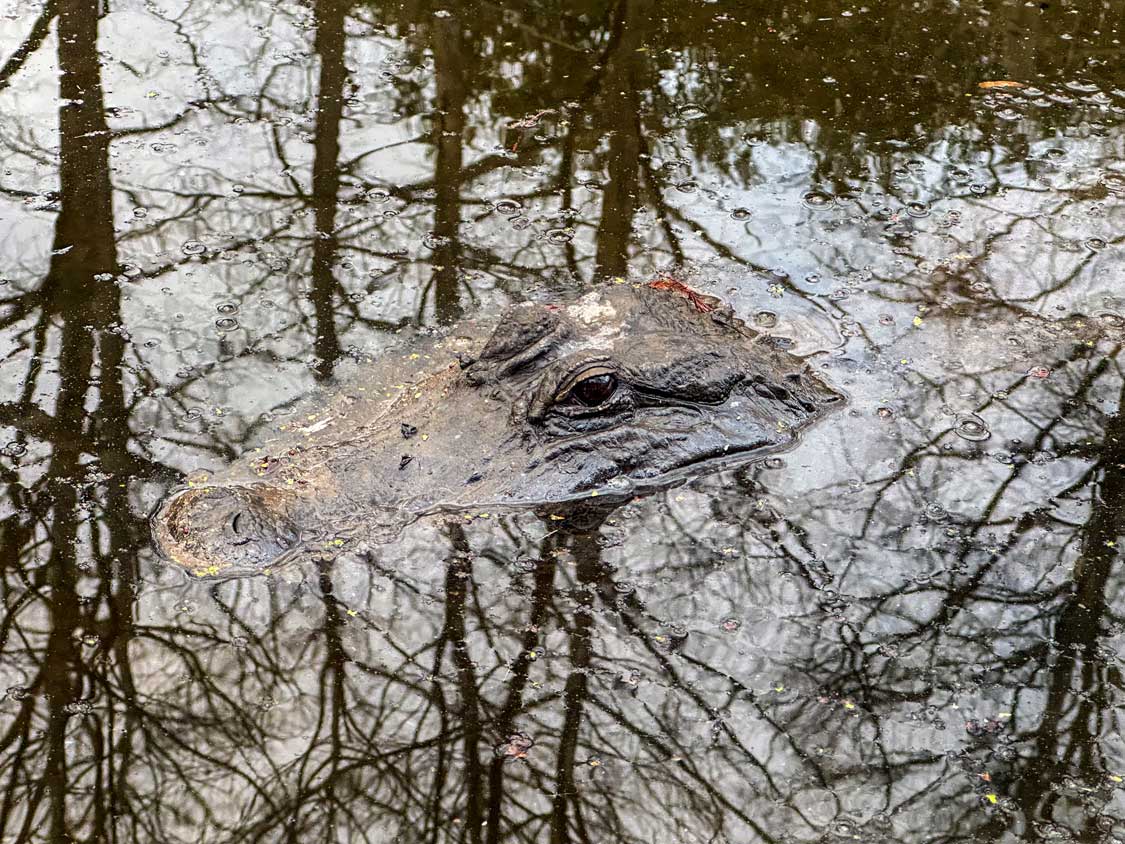 You simply can't visit Cajun country and not visit the swamp. That's why one of the top things to do in Lafayette involves flat-bottom boats or airboats rocketing travelers across the bayou.
Lafayette is surrounded by the bayou, and to explore this incredible ecosystem, you need to get off of dry land and explore from the water. There are several Lafayette swamp tour companies where visitors can experience the landscape by airboat or kayak.
You'll get an up-close and personal view of Lafayette wildlife including alligators, lizards, and countless bird species. There are several Lafayette swamp tours available including Cajun Country Swamp Tours, which departs from Breaux Bridge, and McGee's swamp tours, which explore the Atchafalaya Swamp, 30 minutes from downtown Lafayette.
Celebrate Cajun History At Acadian Village
Where Vermilion Historic Village explores settler life in what is now Lafayette, Acadian Village dives deeper into the unique Acadian culture that makes Lafayette one of the coolest places to visit in Louisiana.
Covering a massive 32 acres, this park gives visitors the chance to explore a traditional 1800s Cajun village. Acadian Village houses eleven buildings including seven authentic 19th-Century homes, a blacksmith shop, a chapel, and even a general store (stocked with traditional products of course).
Kayak Through Cypress Island Nature Preserve
Flooded Cyprus groves are one of the quintessential images of life in Cajun country, and there are few better places to experience the peaceful magic than Cypress Island Nature Preserve.
The reserve is located on Lake Martin near the small town of Breaux Bridge just 15 minutes from Lafayette. Here you can explore the majestic Cyprus trees on foot, via their wooden boardwalk, or by visiting the kayak rental shop and paddling your own adventure.
There are also guided boat tours for those who aren't able or don't feel comfortable navigating the brilliant nature experience on their own. Keep your eyes open for local wildlife such as alligators, lizards, and birds.
Cyprus Island Nature Preserve also has a wonderful Visitor's Center where you can find out fun facts about the park, discover more about the local wildlife, and pick up some truly unique souvenirs.
Wander The Rip Van Winkle Gardens at Jefferson Island
Just 30 minutes from downtown is one of the top attractions in Lafayette, LA. The Rip Van Winkle Gardens are part of a modern nature park situated on the grounds of the Joseph Jefferson Mansion.
The plantation-style mansion was built in 1870 and the property is a crown favorite, stocked with magnificent gardens, statues, fountains, and a family of colorful peacocks that love to greet visitors.
The pride and joy of the Jefferson Island property are the meticulously maintained Rip Van Winkle Gardens. They are a delight to explore and an absolute must for photography enthusiasts.
Hit The Floor At A Lafayette Dance Hall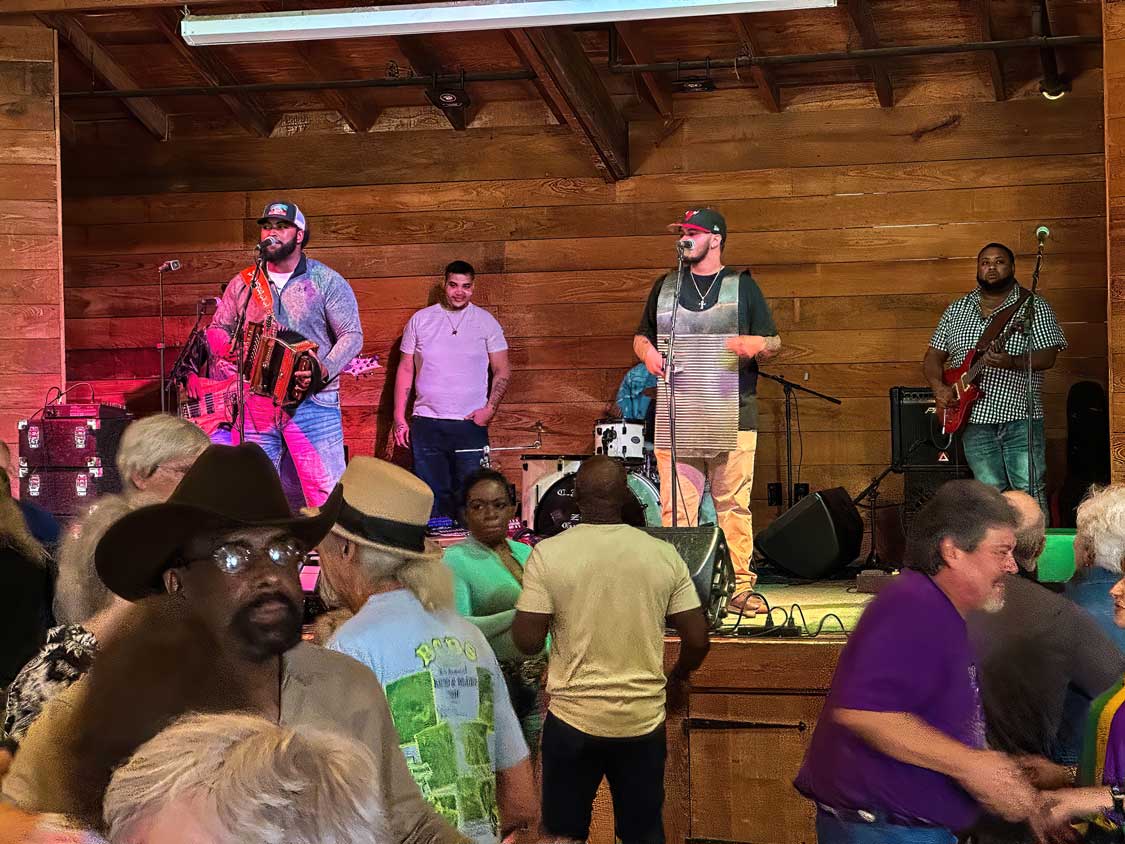 Spend a little bit of time in Lafayette, and it won't be long until someone asks you to dance. Music and dance are absolutely central to the fun-loving social atmosphere in Cajun Country, and it seems that almost every bar, restaurant, and yes, even bowling alley, features live music and a dance floor.
In fact, if there isn't a dance floor, chances are that the locals will just push the tables aside and make their own.
The music scene in Lafayette is absolutely amazing. And you'll find everything from country, rock, and local Cajun Zydeco tunes roaring almost everywhere. If you love music and dancing, one of the best things to do in Lafayette, LA is to visit the dance halls.
Check out Seed and Feed downtown for live music and plenty of dancing, Whiskey and Vine restaurant for a more low-key dining experience with energetic music, the Grant Street Dance Hall, or the Vermilionville Performance Center for some of the most lively experiences.
Visit a 450-Year-Old Oak Tree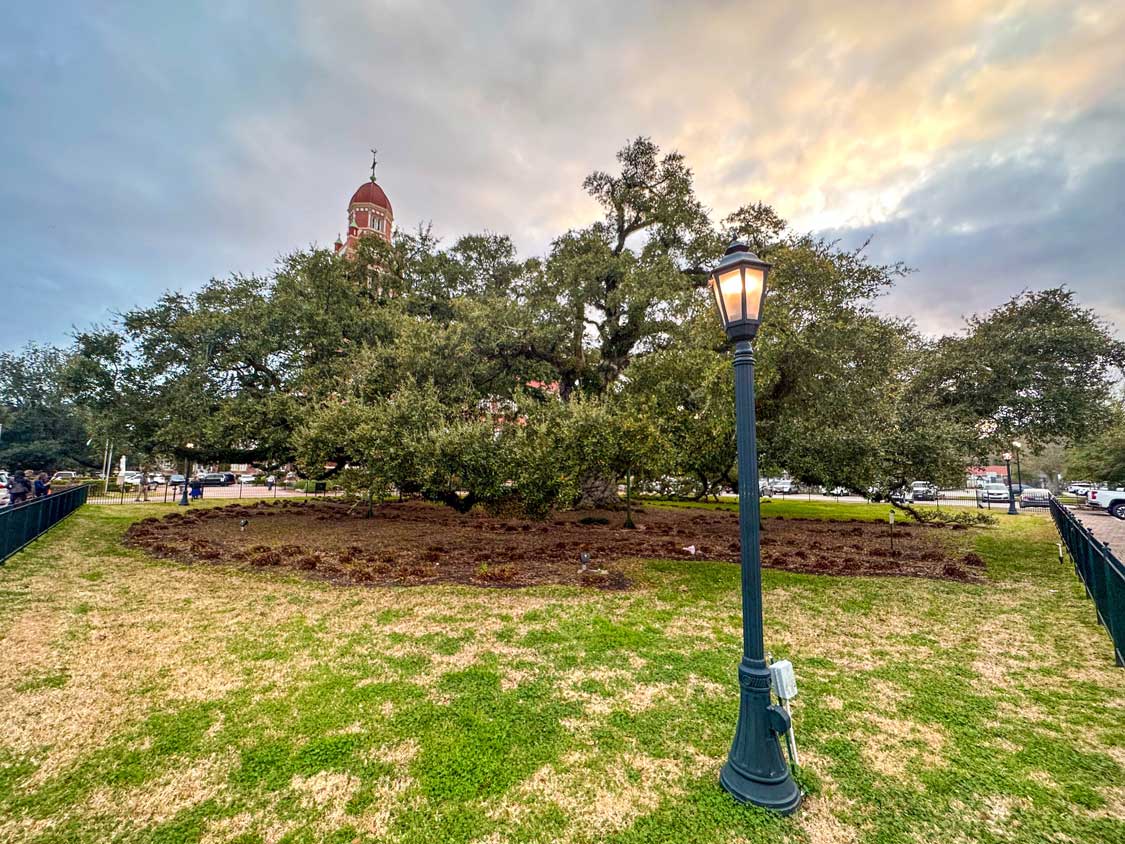 Drive around Lafayette and you'll be blown away by the incredible trees that line the streets, parks, and neighborhoods of the city. But the granddaddy of all of these trees is the St. John Cathedral Oak.
This majestic tree sits next to the beautiful St. John Cathedral and has a trunk that measures a whopping 29.5 feet in diameter and a canopy that covers a mind-blowing 250 feet.
This distinguished tree sits within walking distance of downtown Lafayette on St. John Street. Its one of my favorite places to visit in Lafayette. Don't miss the Cathedral of St. John the Evangelist right next to the tree. This 100-year-old Catholic Church has a stunning facade and interior.
Hilliard University Art Museum
One of the top attractions in Lafayette for art and culture lovers is the Paul and Lulu Hilliard University Art Museum. Situated on the grounds of the University of Louisiana at Lafayette, the Hilliard Art Museum boasts an astonishing 33,000 square feet of space with over 11,000 square feet dedicated to art exhibits.
Throughout the Hilliard Art Museum, you'll find antique and modern art from across the globe as well as exhibits dedicated to local, Cajun, and Creole artwork. These creative works span all kinds of media including painting, woodwork, and sculpture.
Acadiana Center For The Arts
Another wonderful place to visit for art lovers in Lafayette is the Acadiana Center for the Arts. This non-profit organization has been an important part of Southern Louisiana's art culture since 1975.
More than just an art gallery, the Acadiana Center for the Arts provides education on Acadian culture and supports festivals, performances, and events throughout the city.
Check out their website to learn about upcoming events, performances, art exhibitions, and educational opportunities.
Wander The Grounds Of The University of Louisiana at Lafayette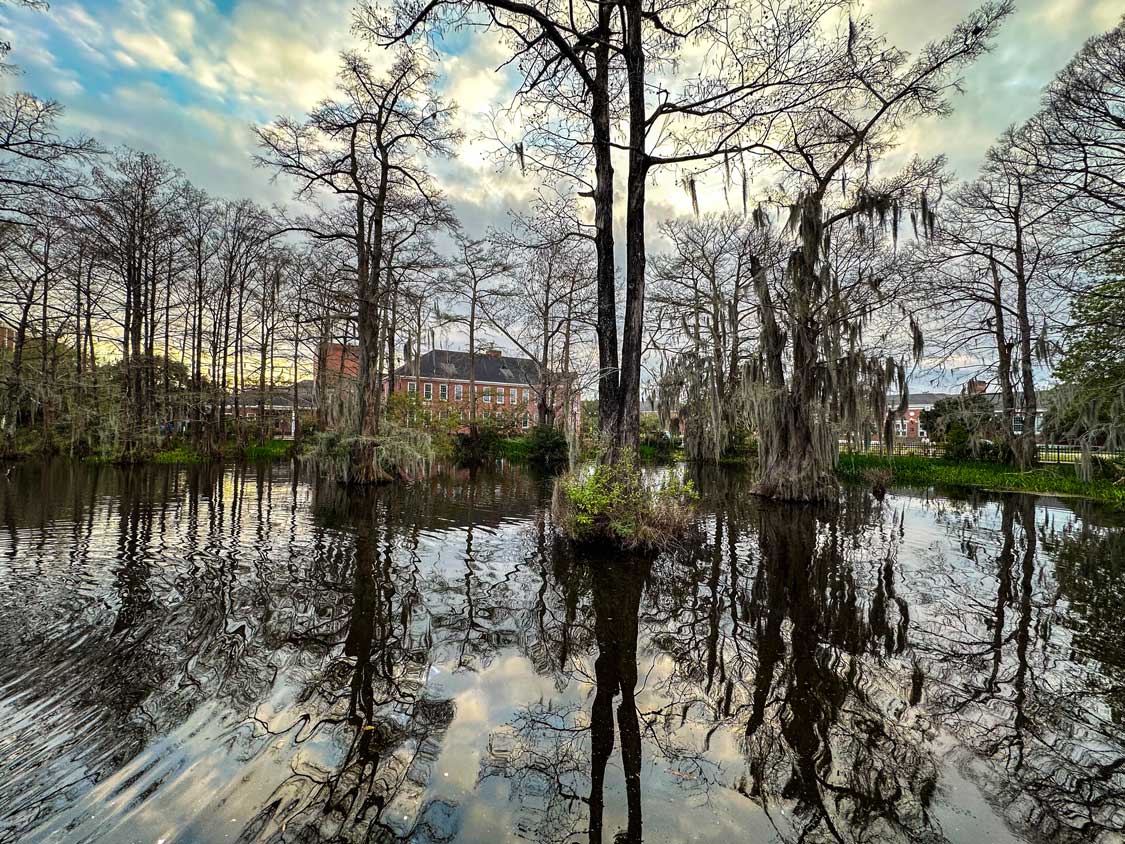 One of the most beautiful places to visit in downtown Lafayette is the grounds of the University of Louisiana at Lafayette. This is the only university campus I've ever encountered that has a swamp on campus, complete with resident alligators.
Wander among the storied buildings, towering oaks, and beautiful gardens just steps from the action in the heart of downtown.
Top Things To Do In Lafayette With Kids
Rock 'n' Bowl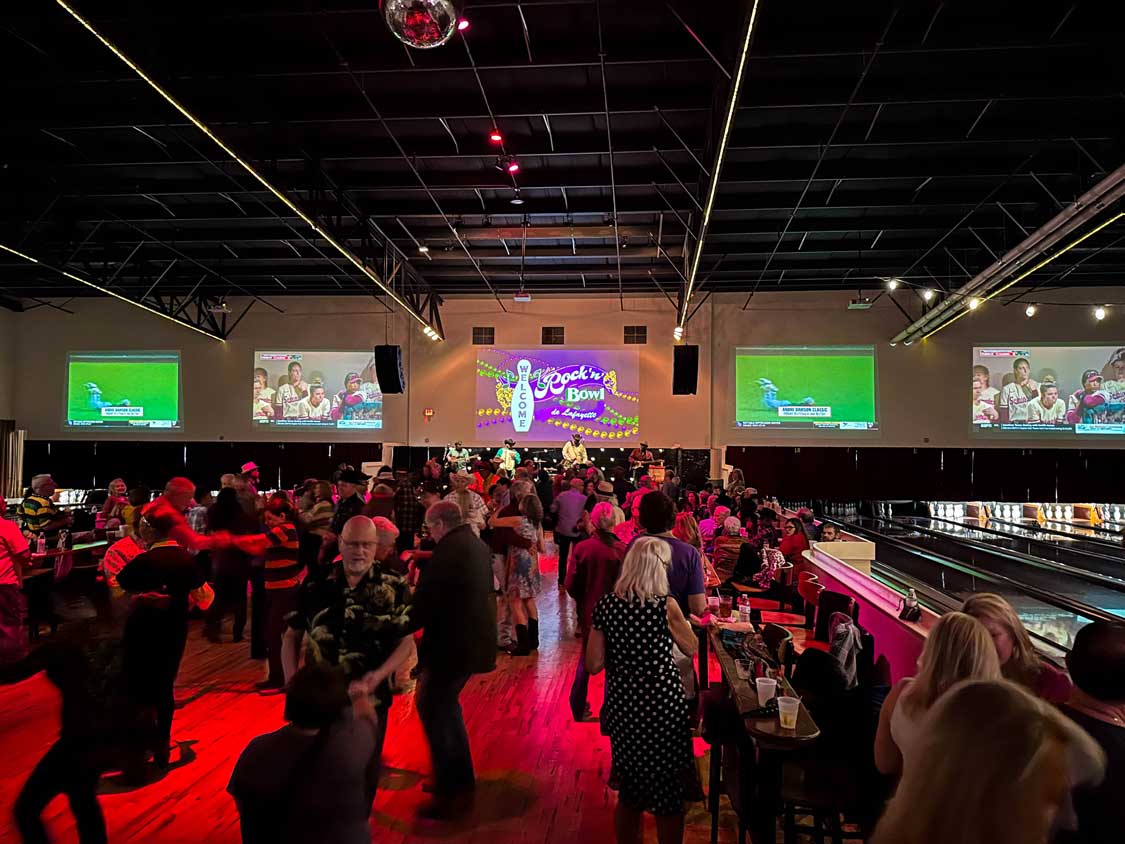 Located right in the heart of downtown Louisiana, Rock 'n' Bowl reminded me a lot of Radio Social in Rochester New York, but it's also completely different. Rock 'n' Bowl is far more than just a bowling alley that pumps out loud music, it's a full-on performance center.
At the center of the Rock 'n' bowl experience is a large stage and massive screens fronted by a huge dance floor. Guests can munch down on pub food while listening to live music and dancing. The space is as much for parties and events as it is for regular guests and there are private rooms available for rental on the second floor.
Children's Museum of Acadia
One of the top things to do in Lafayette with kids involves a stop at the Children's Museum of Acadia. This fun and interactive activity space is packed with exhibits that help children wrap their heads around real-world knowledge such as money, health, and food. And it does this in a way that is straightforward, fun, and exciting.
The Lafayette Children's Museum invites kids to wander and explore the fun exhibits and playground. You can even sign them up for workshops and special programs.
Exciting Things To Do Near Lafayette, LA
Situated about 45 minutes from downtown a visit to Avery Island in nearby New Iberia is one of the must-do experiences in Lafayette, LA. This incredible island was once a salt mine but exploded to fame in 1868 when the McIlhenny Family launched their hot sauce-focused McIlhenny Tabasco Company.
McIlhenny Tabasco Company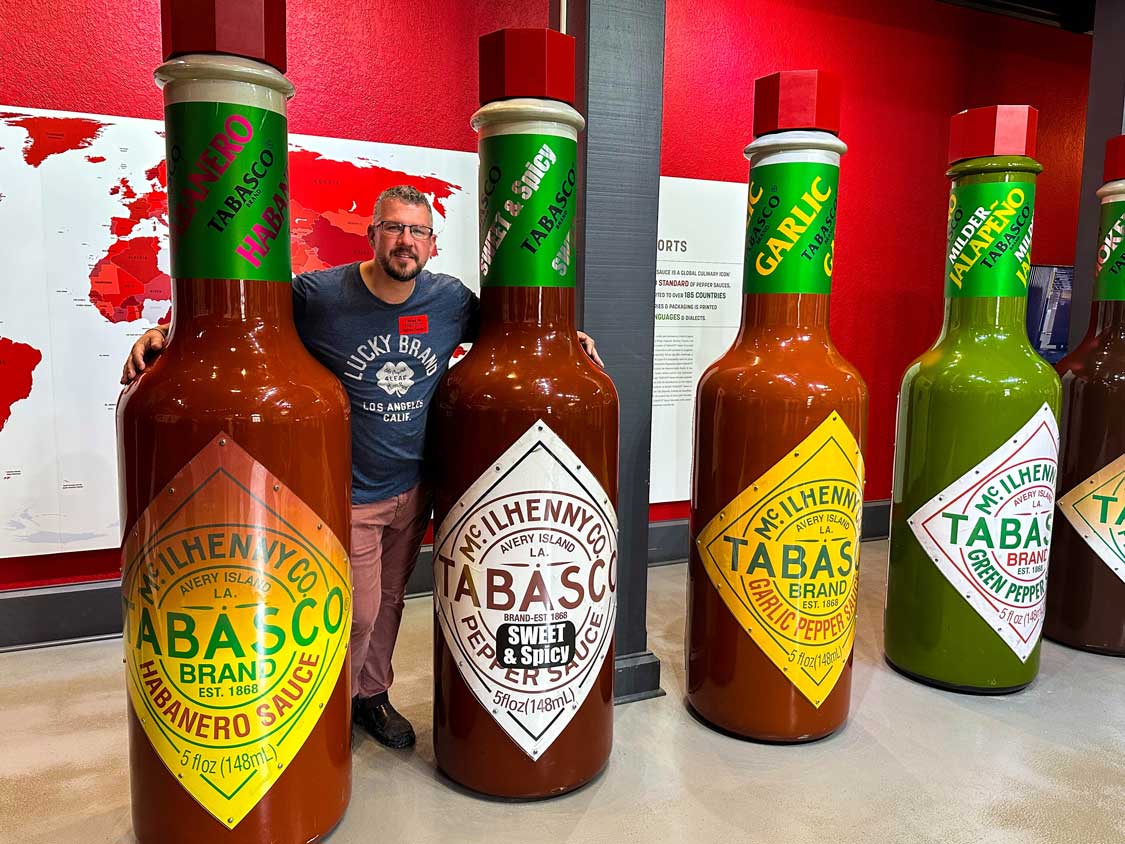 Hot sauce lovers rejoice. You can learn all about the history, production, and growth of America's favorite hot sauce brand on Avery Island.
The island has been home to the McIlhenny Tabasco Company since its inception in 1868 and still produces most of the company's signature hot sauce recipes. On the island, you'll find the fields where the peppers are grown, a museum, a production room, a barrel aging warehouse, a museum, and a tasting room and restaurant.
The island is actually a salt dome that extends eight miles beneath the earth and, until recently, the salt used in the Tabasco sauces was mined right from the island.
Enjoy a self-guided tour of the island and walk through some of the vital aspects of the production process. Just don't breathe too deeply. The hot pepper smell can literally take your breath away.
If you want a deeper experience, this guided tour includes a cooking course, a six-course Tabasco-inspired menu, and a tour of the grounds. Or you can opt for the self-guided tour here.
Jungle Gardens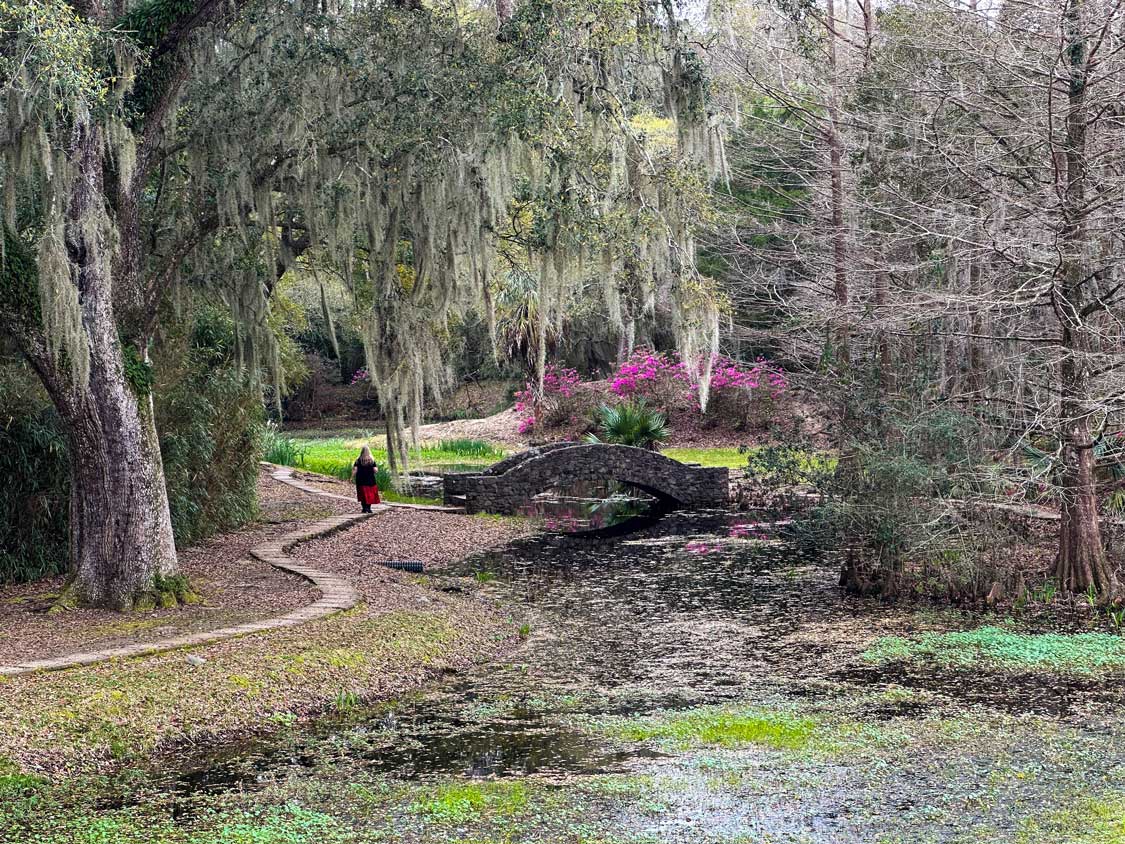 Also located on Avery Island is Jungle Gardens, a vast garden and trail network launched by Ned McIlhenny in 1895. He was a talented horticulturist and imported flora from around the world and planted them throughout the property.
Jungle Gardens is immaculately landscaped and includes some notable features including gorgeous old oak trees, Cyprus groves, and a nesting ground for snowy egrets.
Festivals In Lafayette
Mardi Gras
I had the chance to visit Lafayette during Mardi Gras, and it's an experience that I won't soon forget. Enjoy countless parades, complete with bead tossing, a boucherie (a traditional Cajun pig roast), live music stages throughout the city, and all of the fun and excitement of what's been dubbed the "family-friendly Mardi Gras."
Mardi Gras, also called Shrove Tuesday, takes place annually on the Tuesday before Ash Wednesday.
Cajun Jam at the Moon and Cajun French Live Music Jam
Cajun Jam is one of the most popular festivals in Lafayette. These free Cajun music festivals takes place each year in mid-February.
With stages all across the city, Cajun Jam draws visitors from across the US and around the world. Both offer an opportunity for incredible musicians from across Louisiana to showcase their mojo on a world-class stage.
Festivals Acadien et Creole
This annual music festival takes place each year in October and offers visitors a chance to discover the food, music, and culture of Cajun country.
There's plenty of music, dancing, crafts, and world-class performances to welcome visitors to Lafayette.
Where To Eat In Lafayette
Cajun Table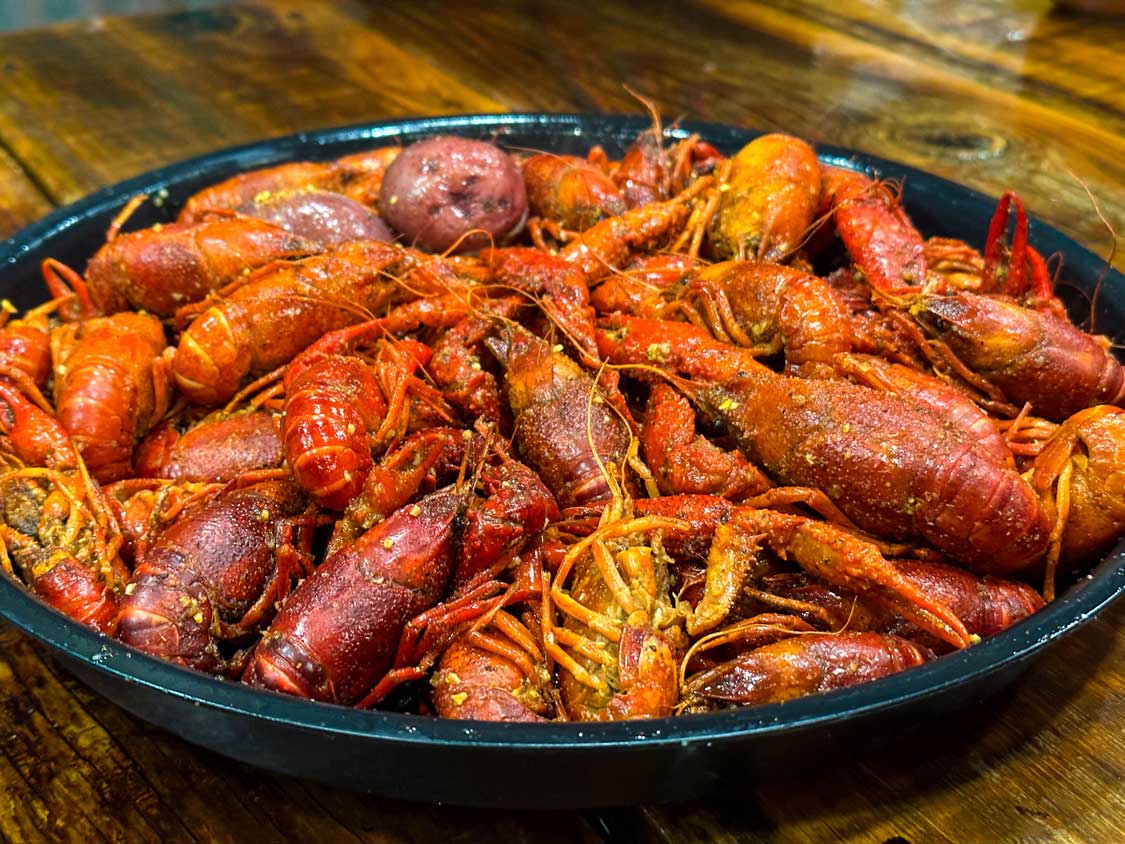 Boiled crawfish is one of the go-to dishes in southern Louisana, and few places are more popular than Cajun Table. Located in a strip mall on Ambassador Caffrey Parkway, Cajun Table sells traditional boiled crawfish laden with seasoning. You can pair your crawfish platter with all sorts of tasty starters.
The restaurant is owned by a crawfish farmer and all of the crawfish served are farmed from his property right outside of Lafayette. If crawfish isn't your thing, you can find a full menu of other Southern favorites as well.
Vermilionville Cafe
Located in one of the most historic properties in Lafayette, Louisiana, this 1800s plantation-style home still represents the original build. Most of the walls, beams, and floors are from the original house. This upscale restaurant features some of the best food in Lafayette in an environment that will transport you into the early days of southern Louisiana's Cajun country.
Bon Temps Grill
This traditional southern dining experience is a great place to enjoy casual dining in Lafayette. With flavor-filled favorites such as alligator bang bang, crawfish jalapeno hush puppies, and fried catfish mon Dieu this Lafayette restaurant will ignite your southern senses.
Social Southern Table and Bar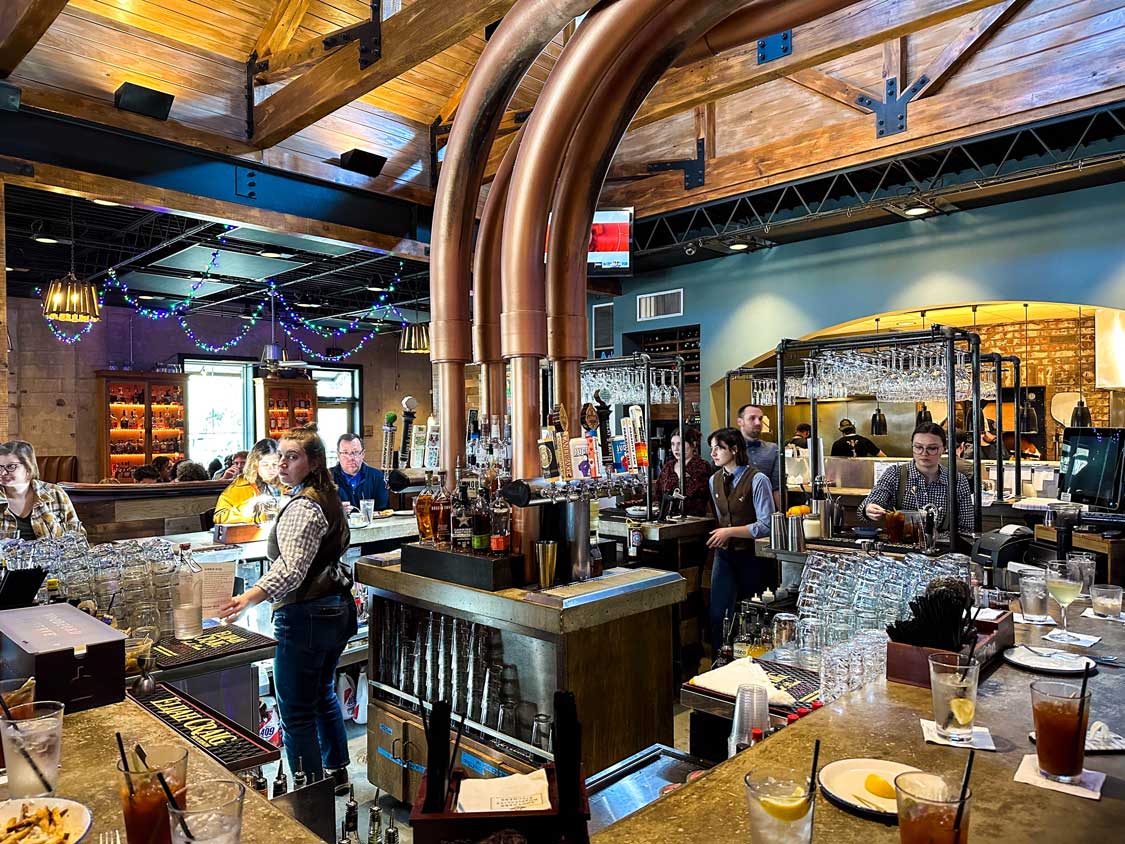 Known as the go-to brunch spot in Lafayette, Social Southern Table and Bar serves up seasonal dishes in a social atmosphere. Look up to see their copper pipes connecting the beer kegs to the taps at the central bar.
Dig into southern favorites like fresh greens, smoked fried chicken served with sweet potato biscuits, walk of shame frites, and chicken fried green tomatoes.
The Best Stop Market
Known for making some of the best cracklins and boudin (sausage stuffed with a unique meat and rice mix) in Lafayette, the Best Stop Market might not appear to be one of the best restaurants in Lafayette, but it draws a crowd.
Stop into their market for fresh and frozen southern dishes such as flattened chicken, boudin, or lamb, or hit their restaurant to enjoy their freshly fried cracklins and breakfast sandwiches.
Enjoy These Amazing Things To Do in Lafayette, Louisiana!
Lafayette Louisiana offers all of the charms of Cajun country without the overwhelming atmosphere of New Orleans. It's a fun and exciting destination for family travel, especially during Mardi Gras. These fun and exciting things to do in Lafayette can keep you busy while you explore the city and meet the people.
If you love family travel as much as we do, please join our Family Travel Support Group on Facebook. You can connect with more family travelers just like you who love to explore the world.
You May Also Like To Read: