Have you ever traveled somewhere that completely blew away your expectations? Discover how we found paradise in the Osa Peninsula in Costa Rica.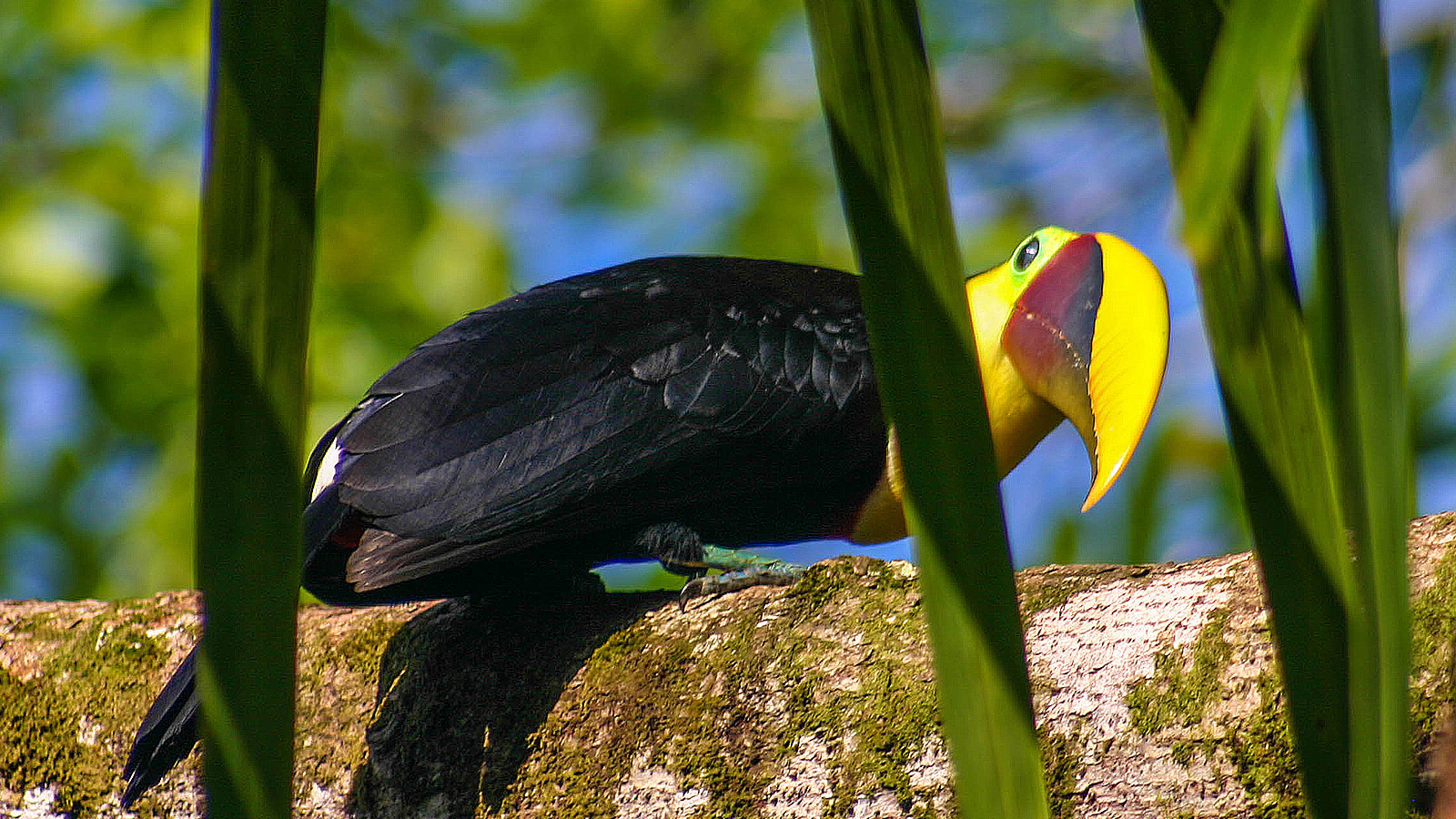 Have you ever traveled somewhere you've never been, and the instant you set foot you knew in your heart that it was the perfect place for you? This is exactly what happened when Christina and I stepped off our boat taxi and onto the shores of Costa Rica's beautiful Osa Peninsula.
Near the end of our honeymoon in Costa Rica, Christina and I had debated where to spend a few unplanned days that we had in the country. We had met a couple a few days earlier who had suggested that we check out this place outside of Corcovado National Park, so we made some phone calls, took a flight and before long we were on a boat for the 1.5 hour-long rides from Sierpe to Poor Man's Paradise.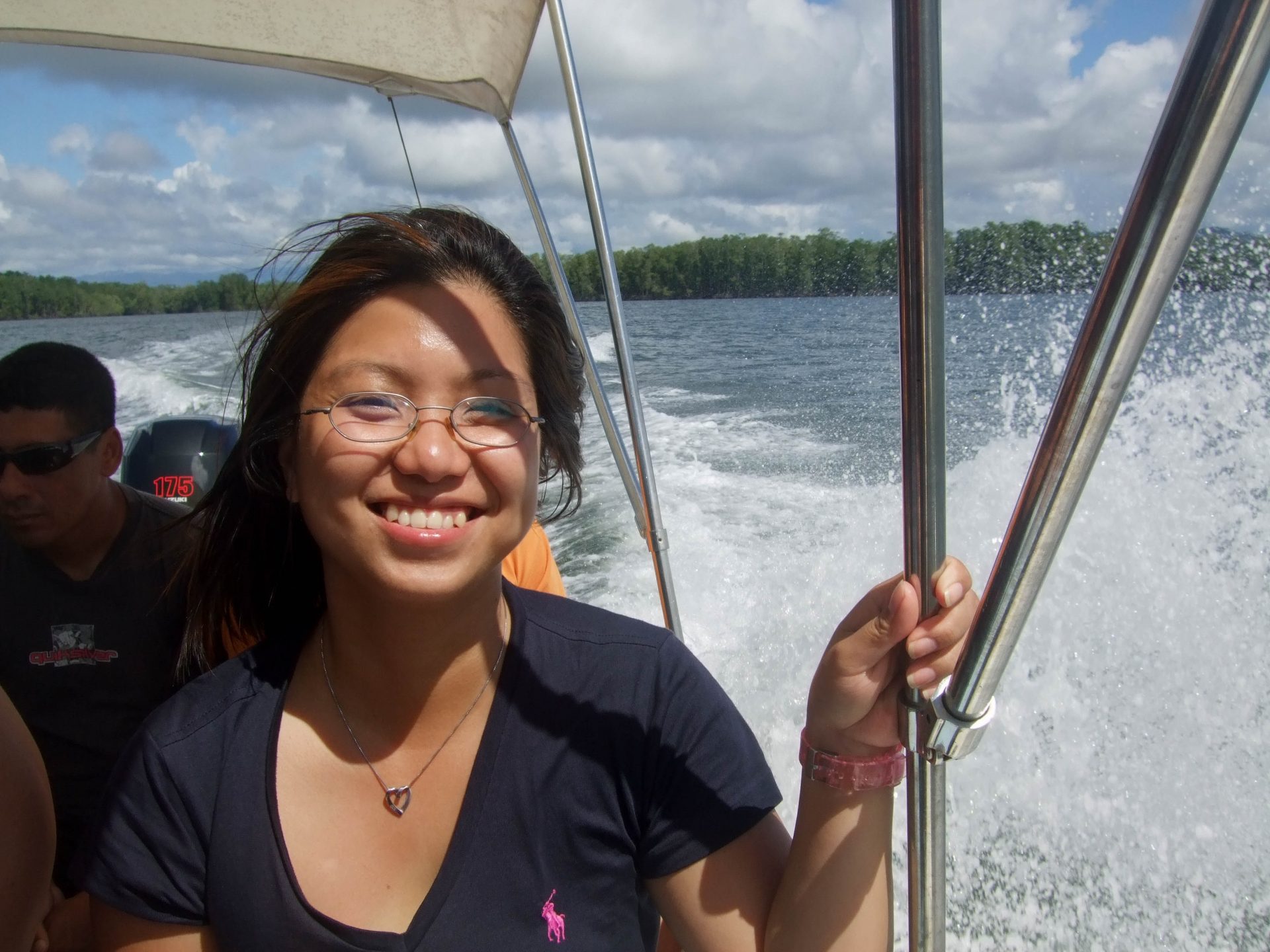 Pro-Tip: The boat road can be very rough. For those that are prone to motion sickness, be sure to take some anti-nausea medication beforehand. Also, your belongings will get wet so it is best to bring everything in a waterproof bag or at least put your back in the garbage so it is not soaked by the end of the ride.
The skilled captain expertly surfed our little skiff over some rough waves towards the beach at our eco-hotel for the next two nights, Poor Man's Paradise. The rough waters were swamping the sides of the boat and soaking our backpacks and the sea salt was stinging our eyes. We were cold and wet, but as the boat beached a few meters from the shore, I grabbed our bags and humped them to the beach.
I turned to help Christina with her last few steps through from the ocean before wildly spinning her around and point out to sea. A mother humpback whale and her calf took that moment to breach spectacularly out of the water, not 50 metres from where we stood. The setting was spectacular as they were silhouetted by the setting Pacific sun, creating an epic splash as they landed in the blue water and disappeared beneath the waves. Christina and I stared into each other's eyes, we each knew that two days would not be enough here, we had discovered paradise in the Osa Peninsula.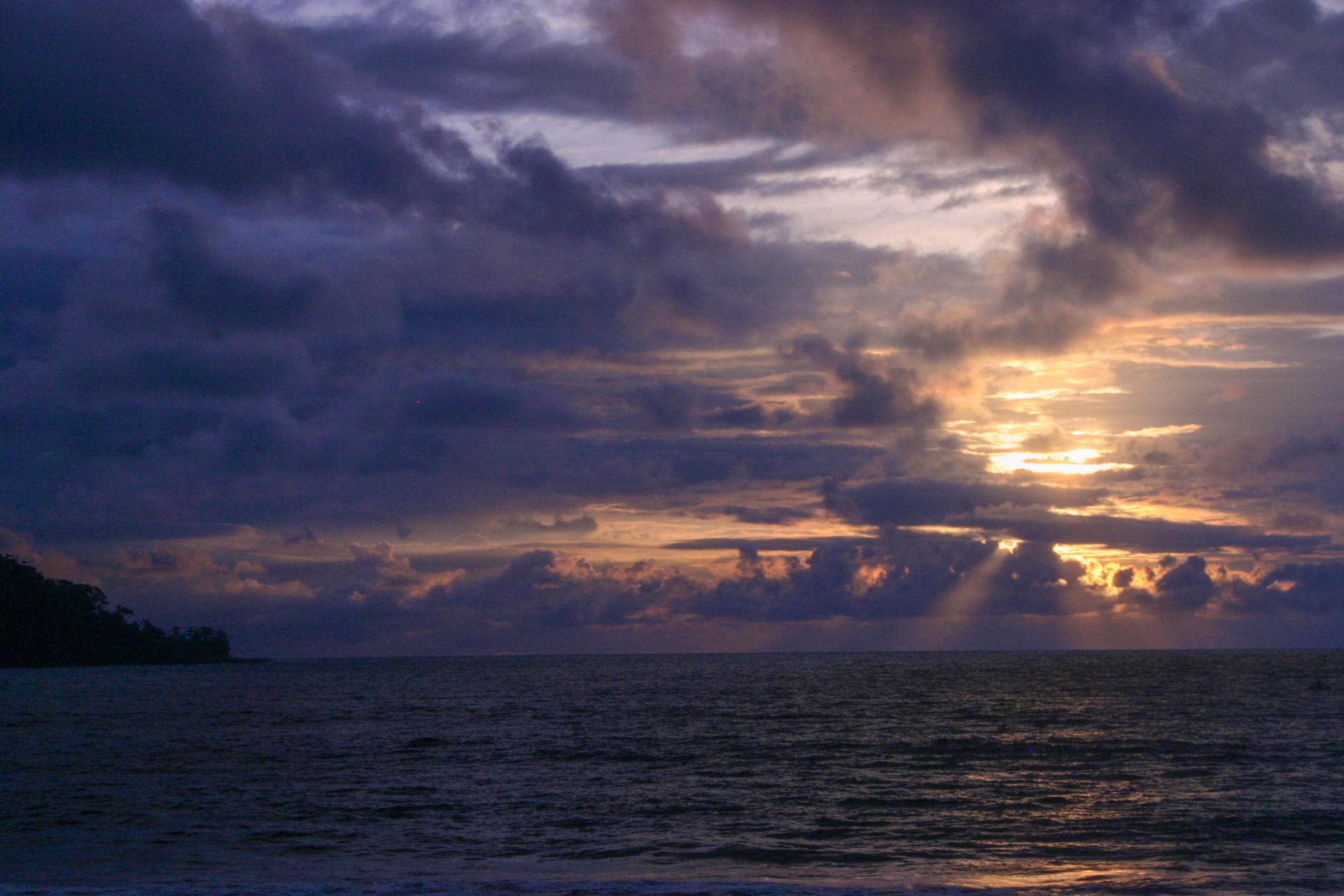 Poor Man's Paradise in the Osa Peninsula
Poor Man's Paradise is truly an eco-resort that lives up to its name. This place is not the Hilton, it's not even a Super 8. With no more than a couple of hours of electricity provided by generators each day, and rooms stacked two high in modest layouts with lumpy beds, cracked walls, and in our case, a massive bee population that came to nest beneath our floor and had to be smoked out by the staff, luxury is not an option. It's quaint, it's rough, and it's absolutely beautiful.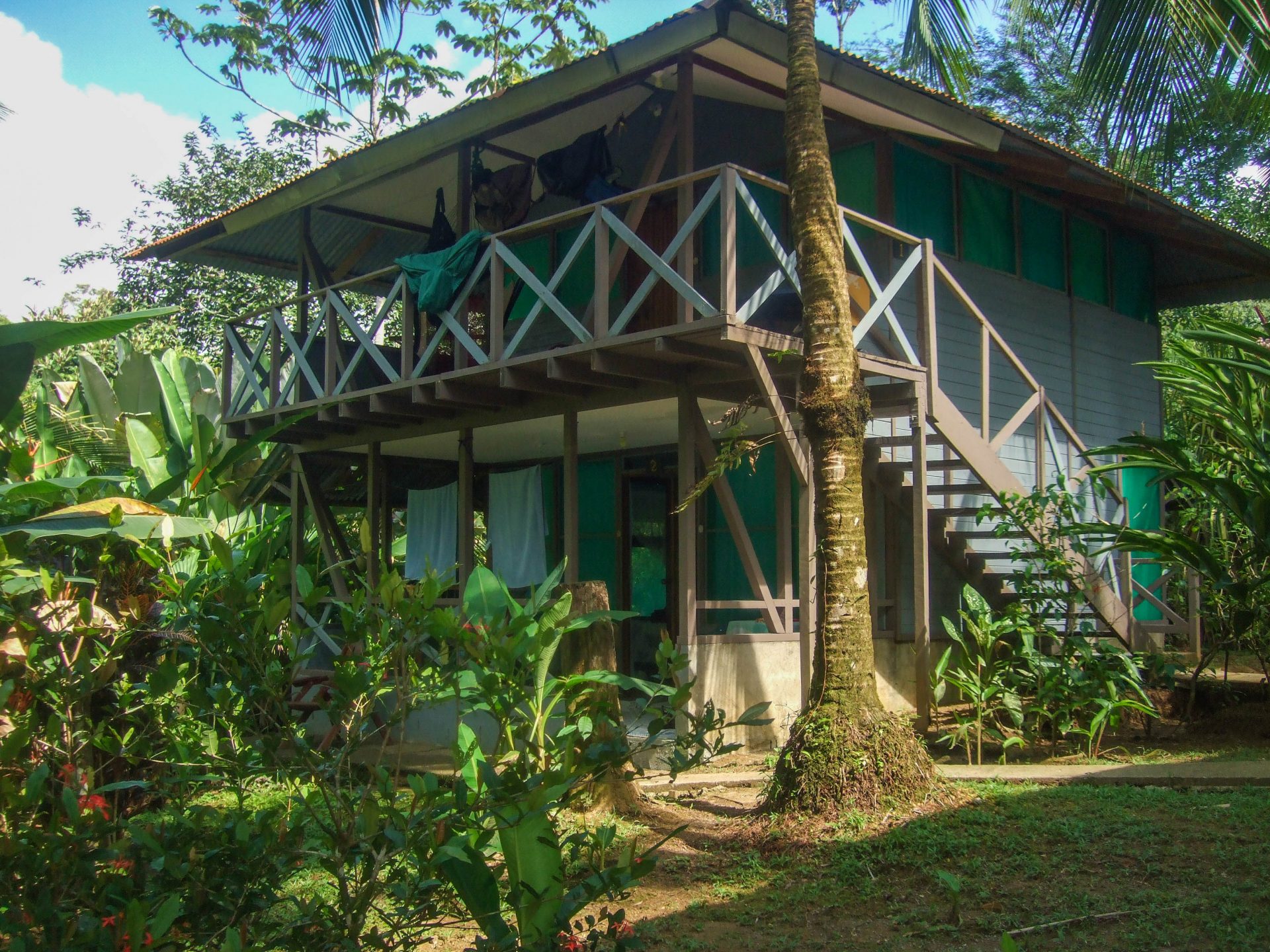 We arrived here via the included water transport (PMP is not linked by roads or accessible via air) from Sierpe. The resort includes food, but not alcohol, and the price of the drinks here reflects the fact that literally everything needs to be shipped in. The family that runs the resort lives on-site and is incredibly friendly and open.
The hotel is located just on the outskirts of Corcovado National Park, and the isolation gives visitors a truly unique chance to experience the local wildlife up close. There is no wi-fi, phone service or power outside of a couple of hours in the morning and a couple of hours around dinner time. This place is perfect for solo or couple travel.
On the beach during our first day, we were lucky enough to catch a glimpse of a spectacular Scarlet Macaw catching some sun.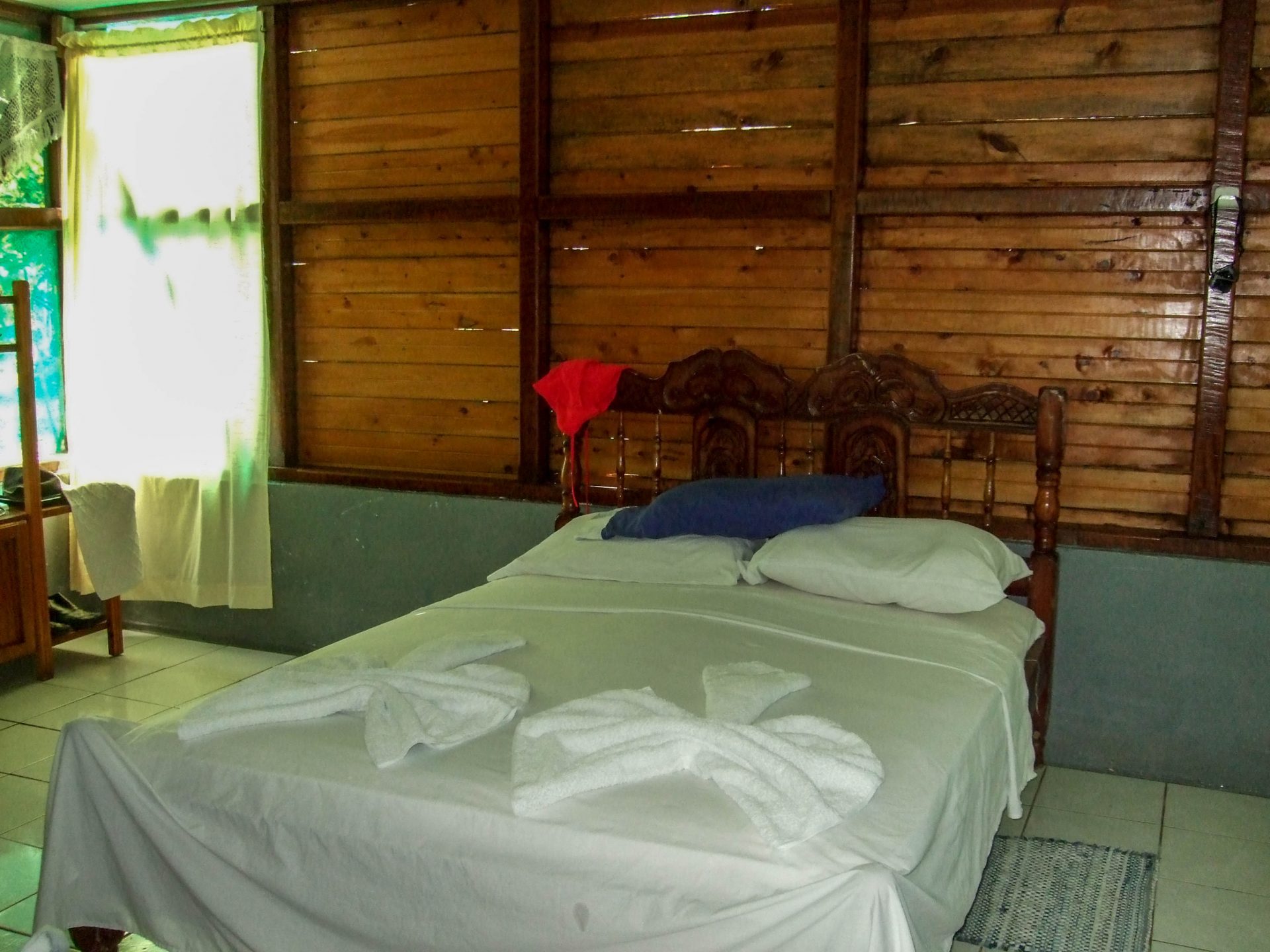 Pro-Tip: Poor Man's Paradise has a beach, however, the water is quite rough and there are strong rip-tides, so swimming is discouraged. There is a swimmable beach a few hundred yards from the property.
Corcovado National Park
The first full day of our visit, we woke and hungrily downed a traditional Costa Rican breakfast of fresh fruit, beans and rice before heading to the beach to catch a boat to Corcovado National Park.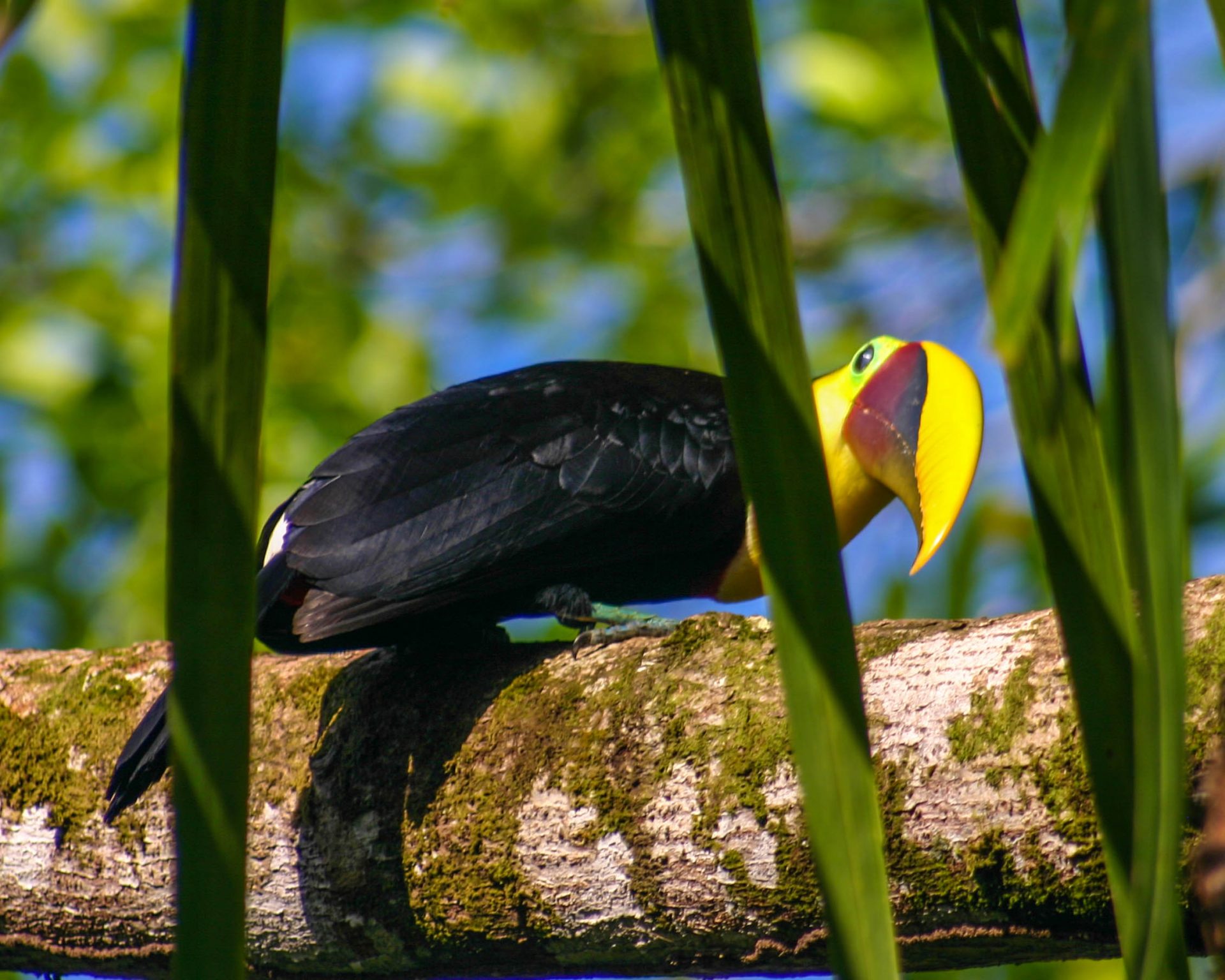 Established in 1975, the park covers 424 square kilometers and is the largest park in Costa Rica. Many consider it to have the most diverse and extensive ecosystem in the country, which, if you've experienced Costa Rican nature, says a lot! Within the park, it is not rare to come across the endangered Baird's Tapir, massive Harpy Eagle's, caiman, crocodiles, ocelots, monkeys and much more. The park offers bunks for rent for those wanting to spend the night in one of the ranger stations. If you spend the night, you can book accommodations in Puerto Jiménez on the east coast of the peninsula. Those experiencing Corcovado at night might even be lucky enough to see jaguarundi or even the puma.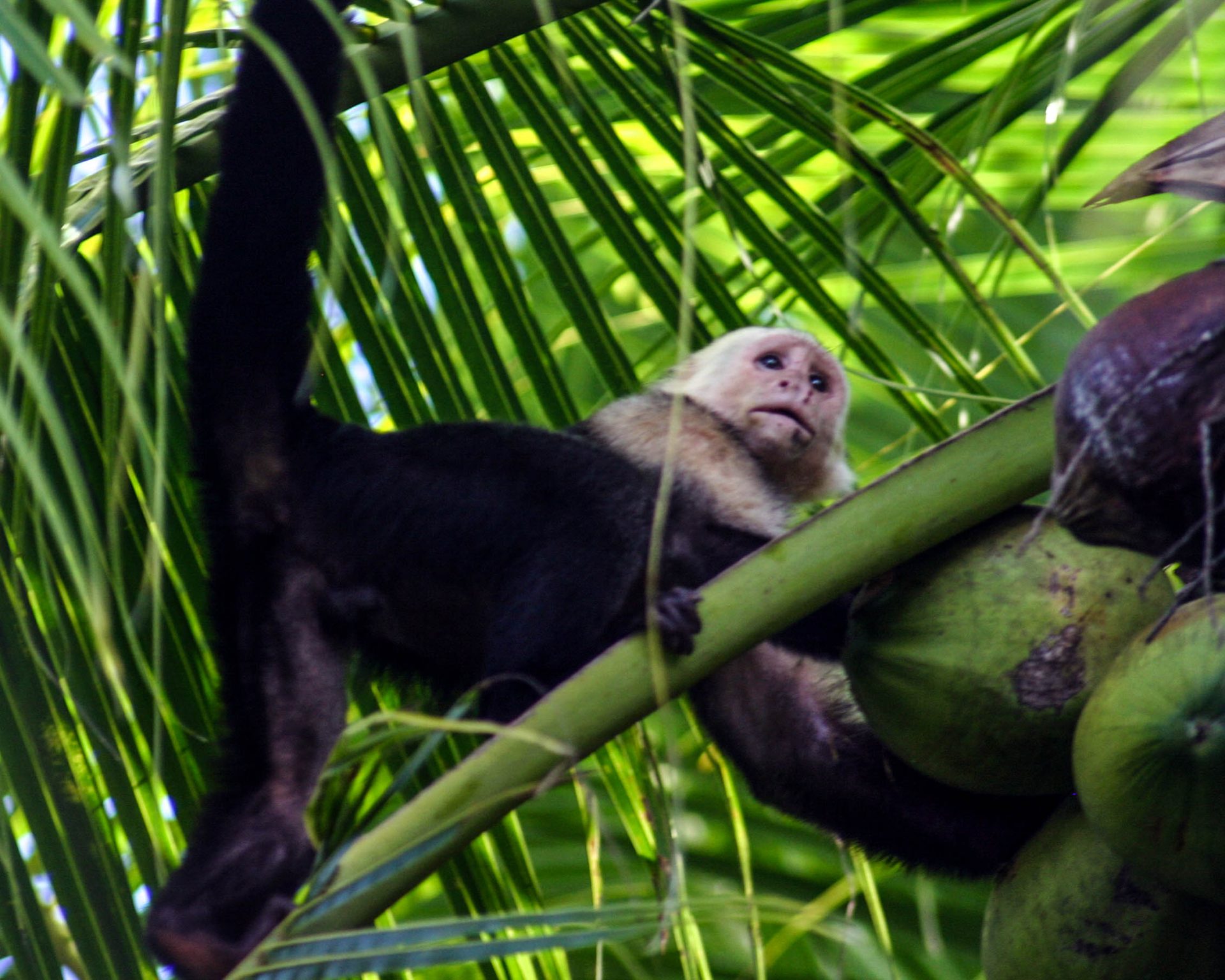 Pro-Tip: Admission to the park is $15 US. As of 2014, all visitors to Corcovado National Park must be accompanied by a certified professional guide.
Our trek through the forests allowed us to come across spider monkeys, white-faced capuchin monkeys and howler monkeys as well as a small group of tiny deer. The hike through the old-growth was beautiful, offering views of truly wild Costa Rica.
Snorkelling off the Osa Peninsula
After a few beers at the Poor Man's bar that night, we spoke to a couple that we had met in Arenal about their plans for the next day. They mentioned that they would be snorkeling off the coast of one of the nearby islands, so we spoke to the owners and after a few calls, we were signed up as well for a day out in the boats. One of the great perks of visiting such an off-the-beaten-path location is that tours almost never fill up since there aren't enough people to fill them.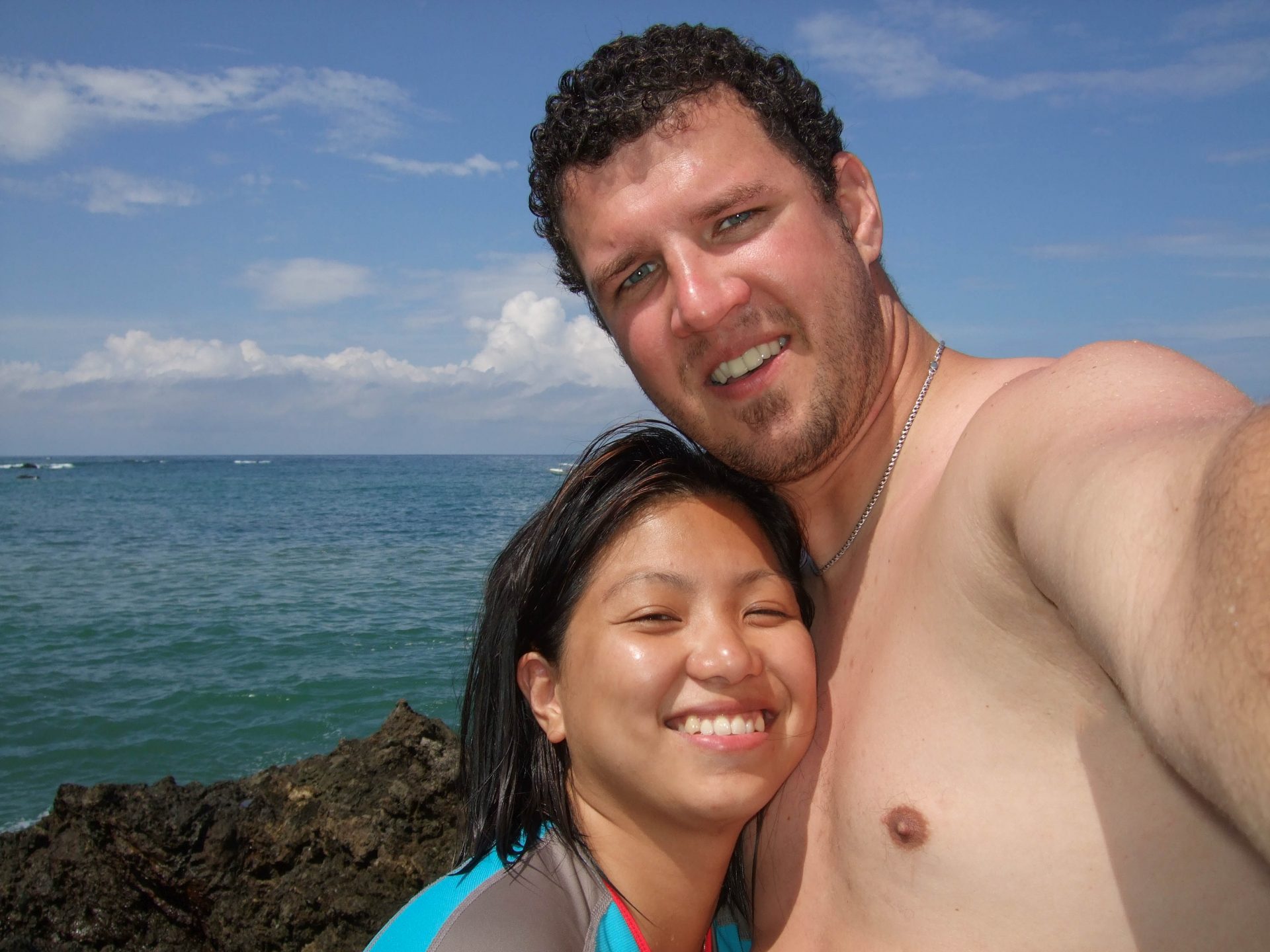 We woke the next morning and after a leisurely breakfast, we met our new friends down at the beach and loaded up for a day out on the water. I'd love to say that the snorkeling was spectacular, but the water in the area gets a lot of silt and although the fish were plentiful, getting great pictures were almost impossible, especially since we needed to wear lifejackets, so diving under the waves wasn't possible.
We did have a great time on the boat, and the guides were fantastic. We all swapped stories of our journeys and were all old friends by the time we arrived onshore back at Poor Man's Paradise. With some time on our hands, we found one of the local guides was offering some beachfront horse rides in the afternoon, so we signed up and rode down to a lovely nearby lagoon for some swimming.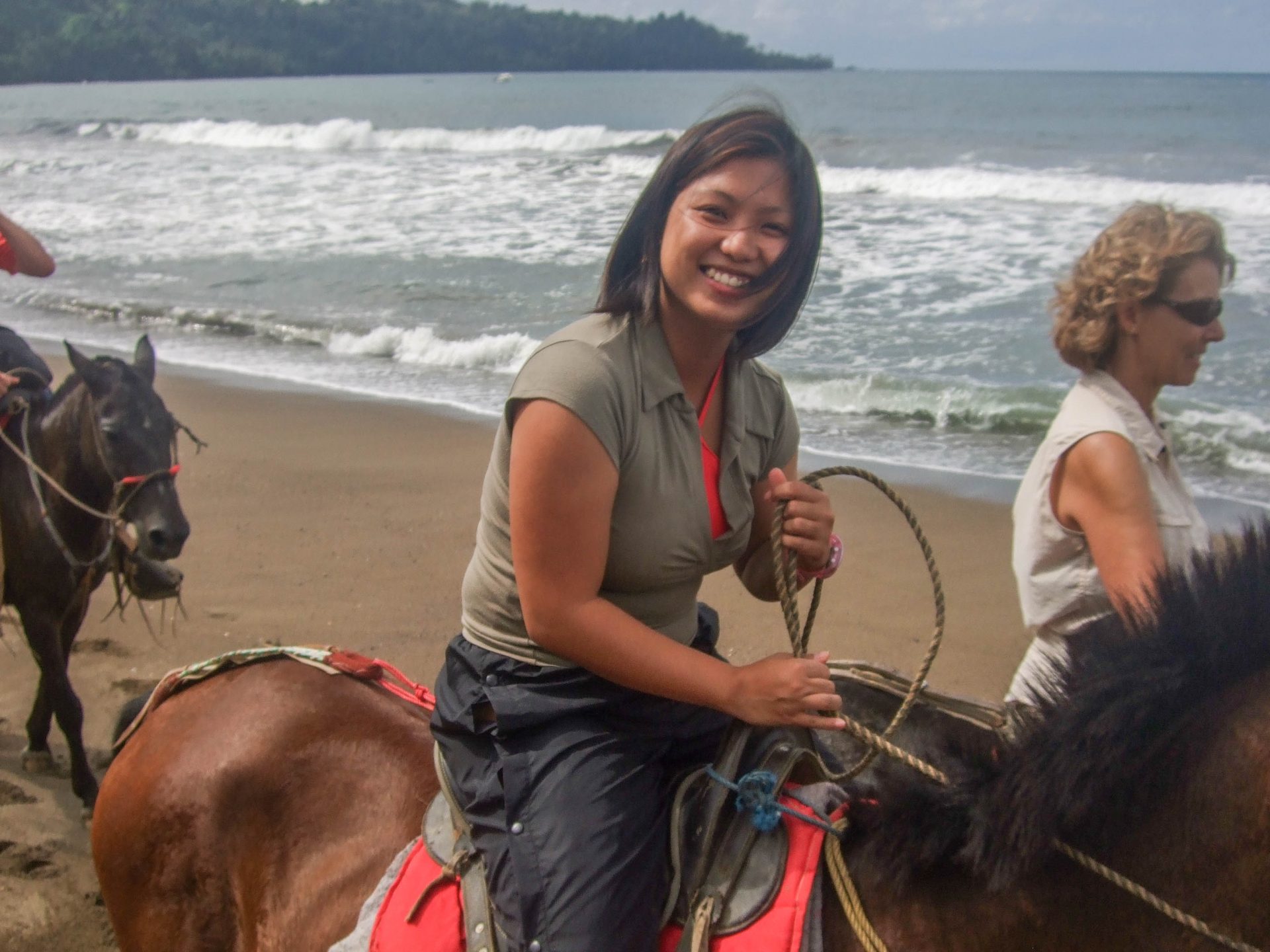 Dolphin and Whale Watching with a Special Surprise
We woke up the next morning, our last full day in the Osa Peninsula, to a toucan sitting on a balcony and a white-faced capuchin monkey chewing some fruit on the trees above our balcony. I tried to enjoy the sites, but I was viciously nauseous and was having a hard time keeping last night's dinner down. We had signed up for a dolphin and whale-watching tour for the day, and I brought our gear down to the beach, stopping once to keep my lunch down.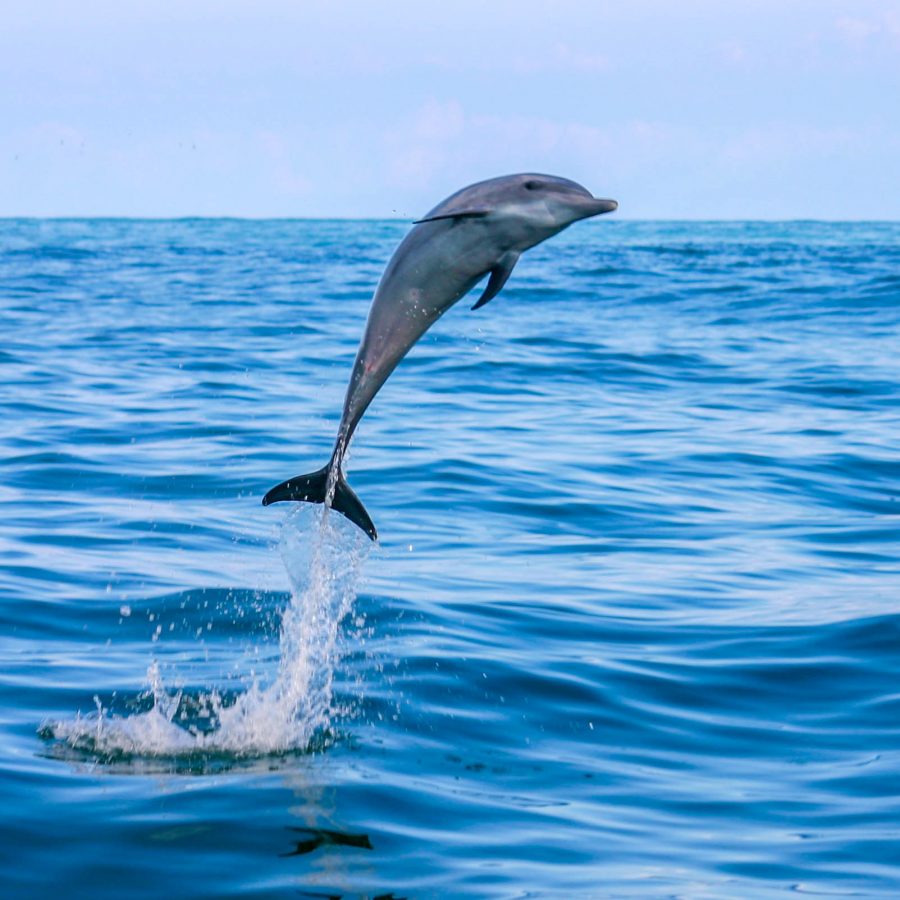 Shortly a boat stopped on the beach with two men who let us know that they would be bringing us on the tour that day and that we would be the only two people going. We met our Captain and our guide was a marine biologist who had been living in Costa Rica for the past 8 years. We left the shore and headed towards Corcovado. Before long, we had dolphins swimming off our bow, diving and playing happily. We loved seeing these magnificent animals skipping through the waves as our guide explained all about the local pods and wildlife.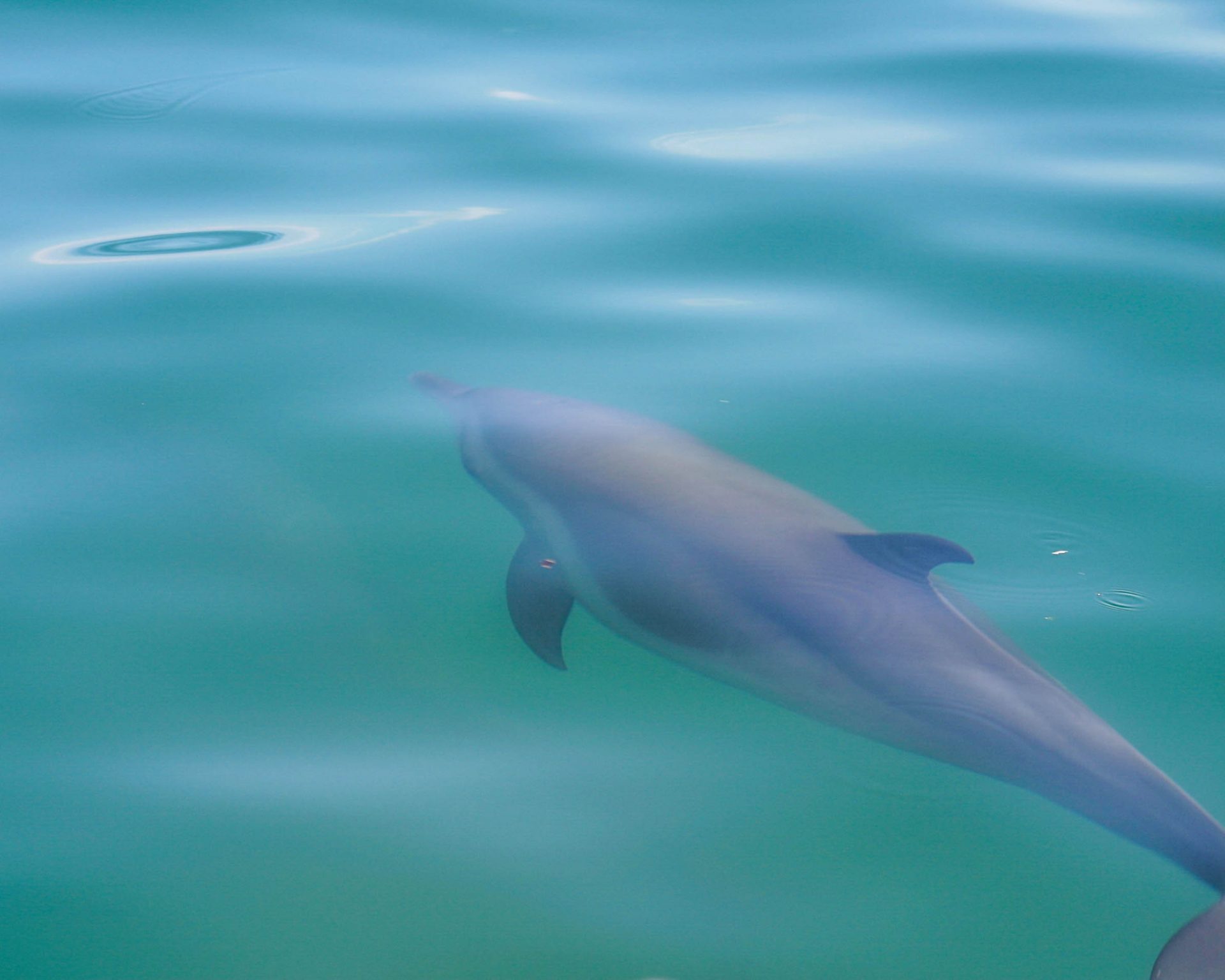 I held off as long as I could, but my nausea returned and I was hanging off the edge of the boat. Our guide said the best way to settle my stomach was to get in the water and let the waves and cool water soothe me, so I dove in and promptly fed the local fish. The waves certainly calmed my insides and I relaxed in the beautiful Pacific waters for a short time before Christina called to me … "Kev, I think you should get out of the water, something's coming." I swam over to the ladder and asked what it was as I hauled myself up. "I think it's a shark," she said. I climbed more quickly.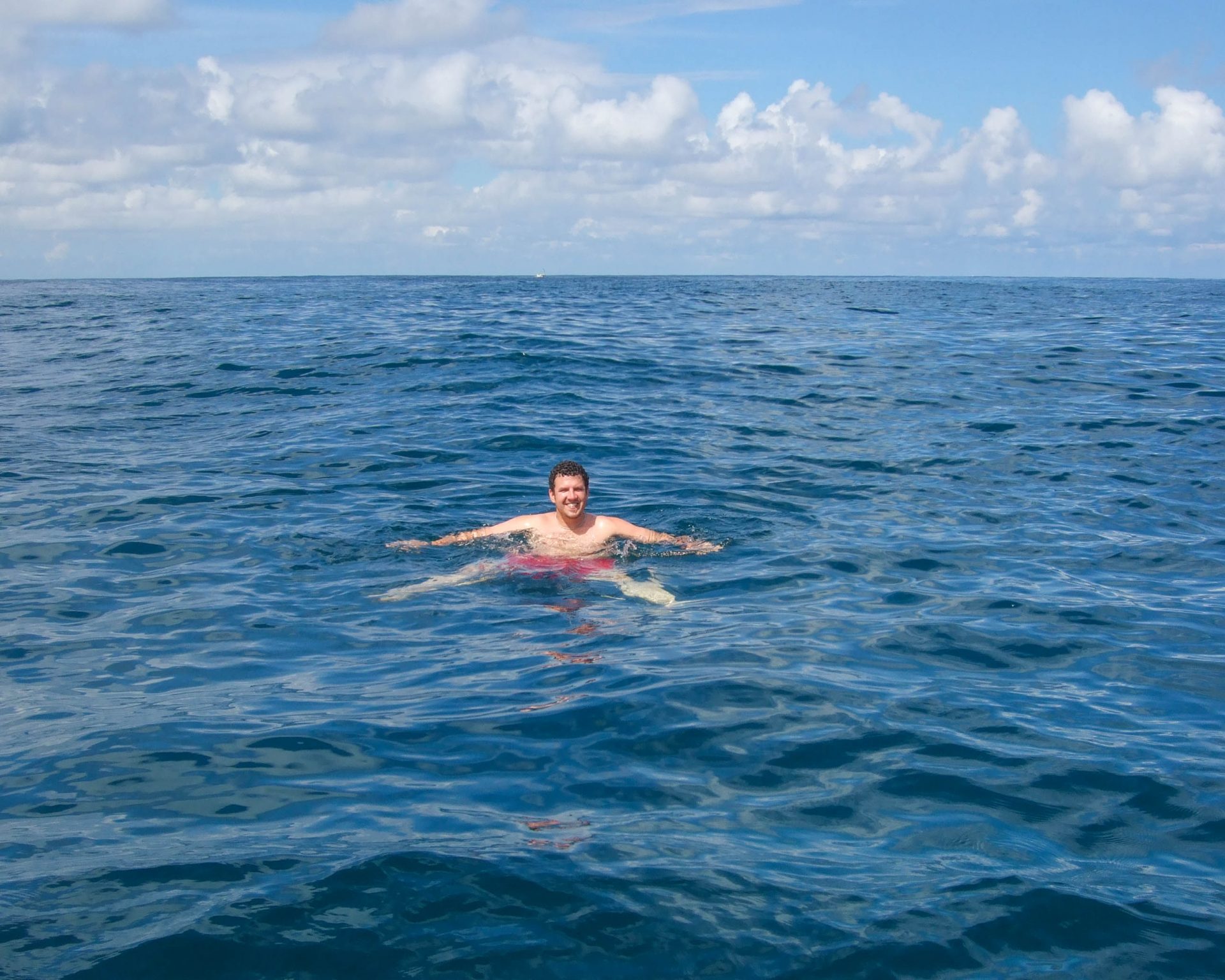 We watched as a single fin cut the waves as it made its way towards us and a massive black shadow sidled up next to our small boat. "Oh my God" shouted our tour guide, who was nearly in tears. "It's a whale shark! In all my years in Costa Rica, I've never seen one before!" We were all stunned, staring at this 18 ft juvenile that decided to pay us a visit, just floating in the waves not two feet from us.
It took me a minute to remember that I should be taking photos of this, so I grabbed my camera and snapped a couple of pictures from above before thinking that I should get in the water to get a good photo. I went to the edge of the boat and just as I was preparing to go over the side, the giant fish slowly sank beneath the water and out of sight. We all sat, stunned at the incredible experience and then started laughing and chatting about such a cool opportunity.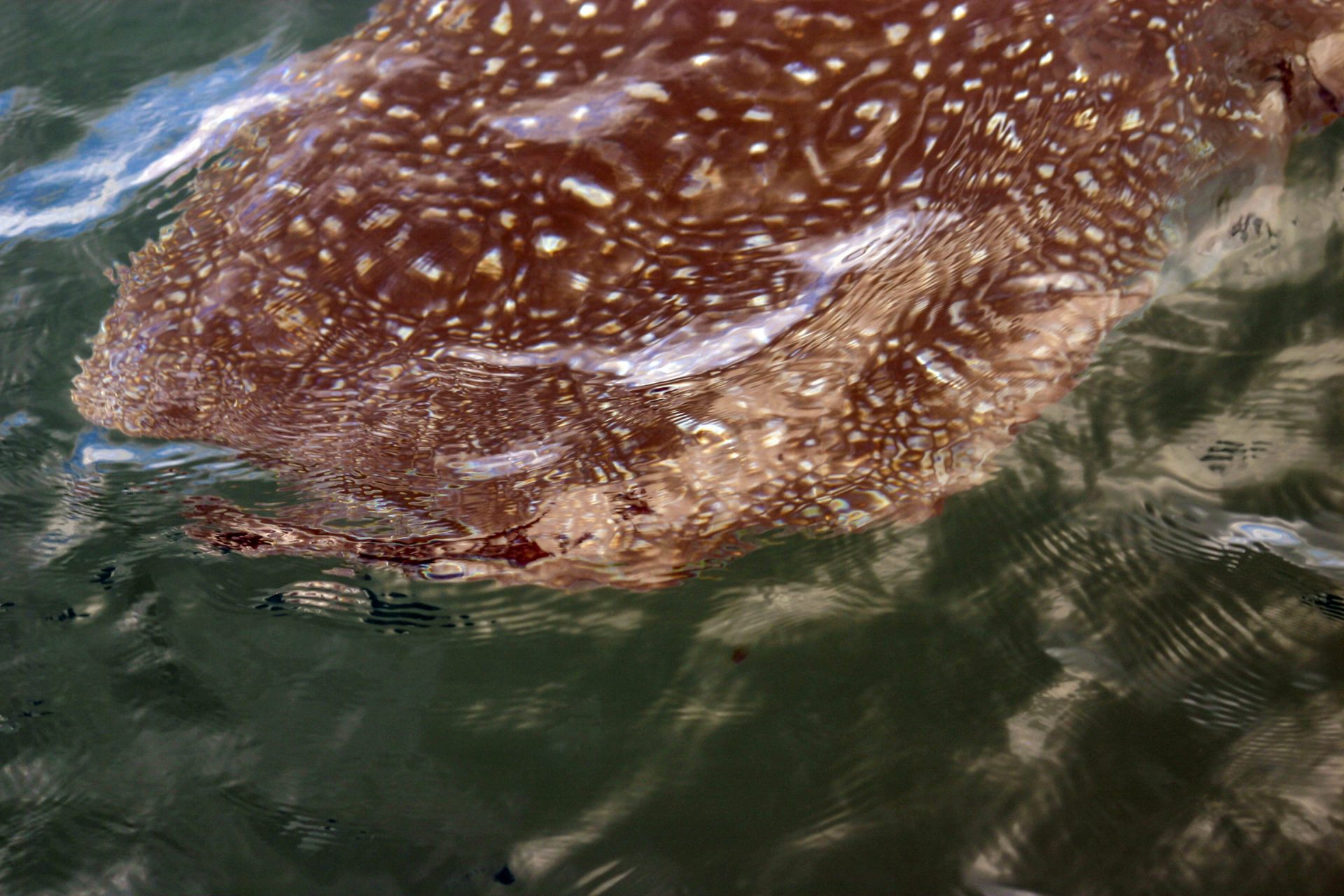 As we headed back to shore, there was no doubt that the Osa Peninsula was one of the most memorable places we would visit. With all the things to do in Costa Rica, we are so happy to have ended up here. And we couldn't wait to explore the rest of the country!
Have you ever visited somewhere that absolutely blew away your expectations? Let us know in the comments below.
Wandering Wagars is a participant in the Amazon Services LLC Associates Program, an affiliate advertising program designed to provide a means for sites to earn advertising fees by advertising and linking to amazon.com, amazon.co.uk, amazon.ca. Amazon and the Amazon logo are trademarks of Amazon.com, Inc. or its affiliates.
You May Also Like To Read: