Looking for a great place to escape the world in Colombia? We visited Pirate Island in the Rosario islands and got away from it all!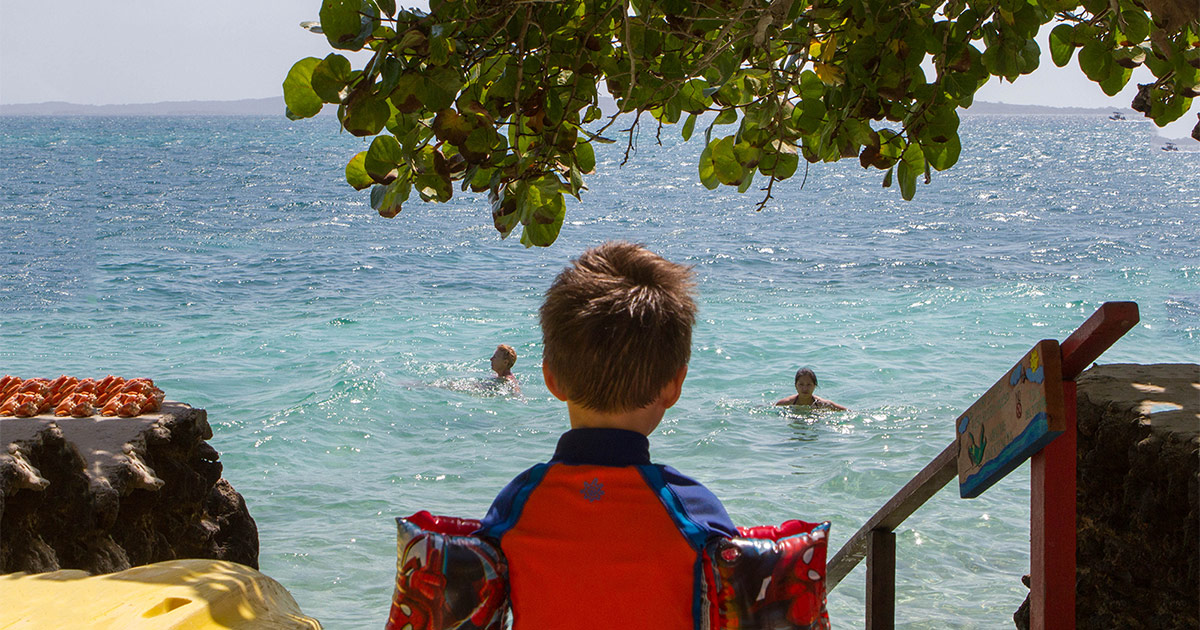 During our visit to Colombia, we situated ourselves in the beautiful north coastal town of Cartagena. We explored the fascinating old town and got incredibly lost! To break from mainland life and unwind for a time we decided to go on a day trip to the nearby Pirate Island which is part of the Rosario Islands. We had heard from locals and visitors alike that the beaches on the islands were more beautiful than the beaches in Cartagena, and with all our running around, we could use the chance to unwind.
Rosario Islands in Colombia
The Rosario Islands are part of a Natural National Park in Colombia that was established in 1977. The park is one of 46 natural national parks in Colombia and is composed of over 30 islands. The amazing coral reefs, sea flora, and fauna, mangroves and lagoons are home to more than 1,300 species of plants and animals. Most visitors to the park are drawn to the three most common islands, Isla Rosario, Isla Grande, and Isla del Pirata.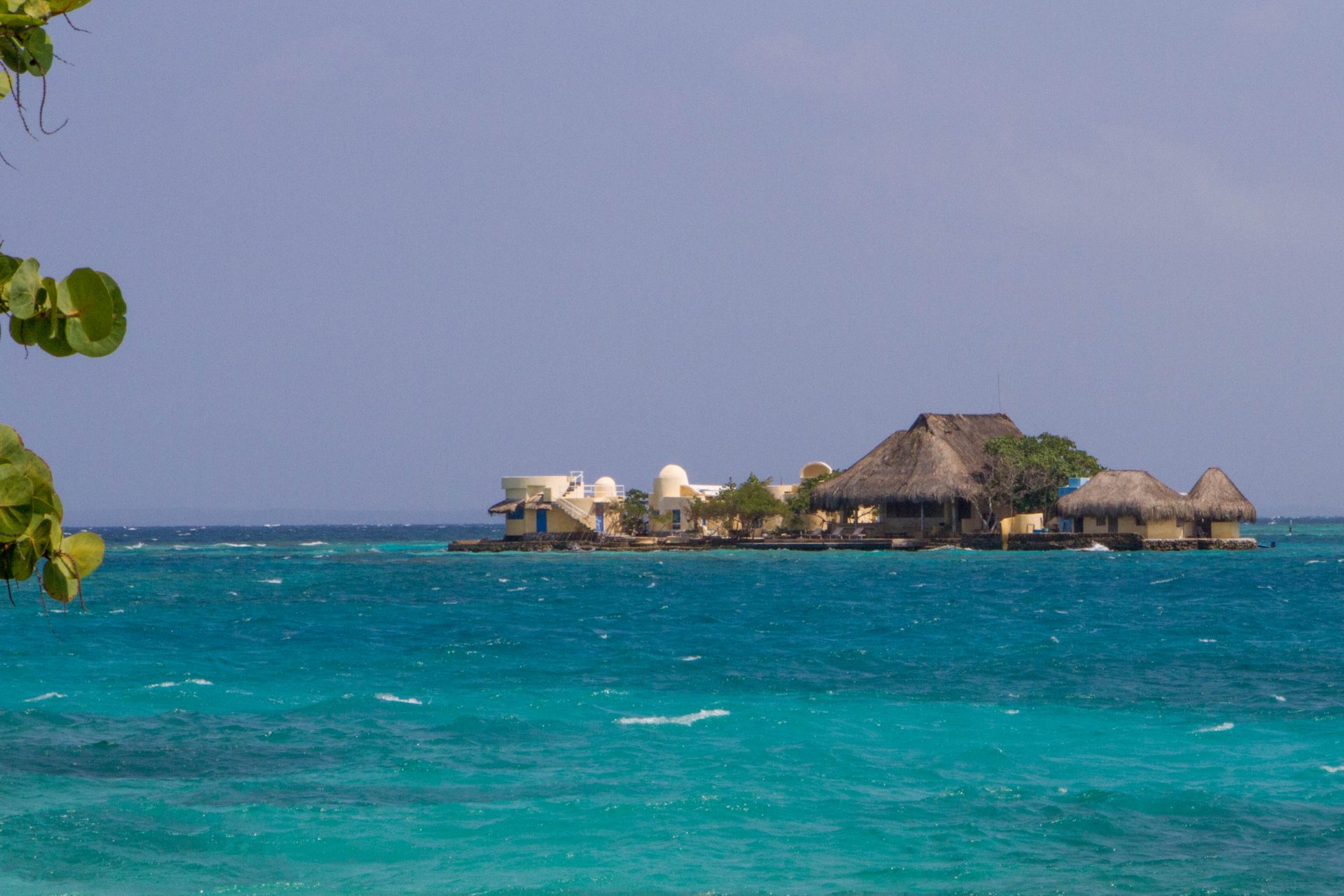 Isla Rosario is the most commonly visited of the islands as it houses the Oceanario Aquarium. The aquarium is small and geared towards education rather than entertainment. There is also a small dolphin show. Most tours add Isla Rosario as an optional add-on rather than being the main island of the tour.
Another popular island to visit is Isla Grande, the largest of the Rosario Islands. Because of the island's size, it actually has a few full-time, local residents. The island also has a private bird sanctuary that doesn't charge an entrance fee. Interestingly, we didn't find a day tour that offered this as a stop during our visit.
Isla del Pirata or Pirate Island is less than a mile long, it houses a hotel and tourists can stay overnight if they make prior arrangments. The main activity for tourists on the island is sun lounging or swimming in the bright blue waters. Needless to say, with a name like this and relaxation at its core, our boys made it very clear where they wanted to go!
How to get to Pirate Island
The primary way tourists get to Pirate Island is by joining a tour group. We signed up for the tour right at the tour desk of our hotel, Las Americas Casa de Playa. When we got to the docks, however, it was obvious that booking through the hotel wasn't necessary. There were several tour outfitters with offices right at the dock. And the sidewalk outside was littered with agents selling tours and tickets. With all the options, it is definitely possible to walk up and book a tour for the same day. The prices varied so it's a good idea to compare the different tours before booking.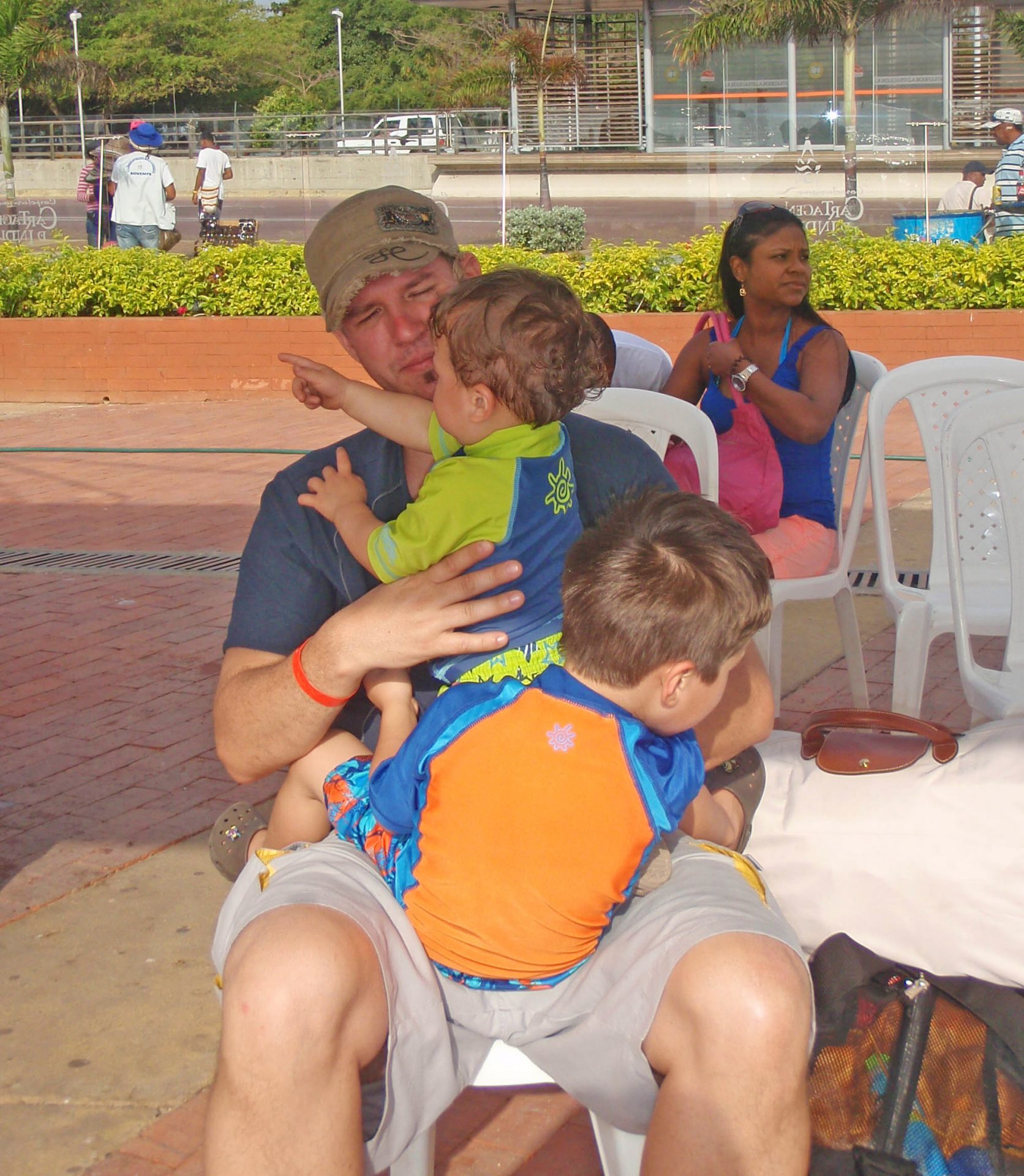 We were meeting the rest of our tour group at the La Bodeguita pier in the Historic Center of Cartagena one hour before launch time. The tour didn't include transportation to the meeting point so we took a taxi from the hotel. It was unclear when we arrived which of the covered waiting areas was for which tour operator, so we asked around and were pointed to one, which we nervously waited under as launch time approached. The canopy had chairs for us to sit on and there were several vendors that sold water and fresh fruit on the pier.
We started getting anxious after waiting for 30 minutes as there were a lot of boats loading people up but our tour leader was nowhere to be found. To pass the time the kids escaped the protection of the canopy and explored by walking up and down the pier. C searched the docks in vain for pirates who might know the location of our missing boat. Soon, between the four of us, we had consumed over 1 liter of water as we walked under the hot sun!
Thankfully the vendors were selling bottled water at a reasonable price. We retreated to the safety of the canopy to reapply the sunscreen which had washed off from the sweat. At this point, C and D were worried that our boat might have been attacked by pirates! But all as was well, as it turns out, we didn't need to be at the pier until a few minutes before the scheduled departure time of 9 am. Right on cue, a few minutes before 9 am our tour leader for the day showed up with the attendance list. After checking that everyone had the correct voucher, we loaded the boat at about a quarter past nine.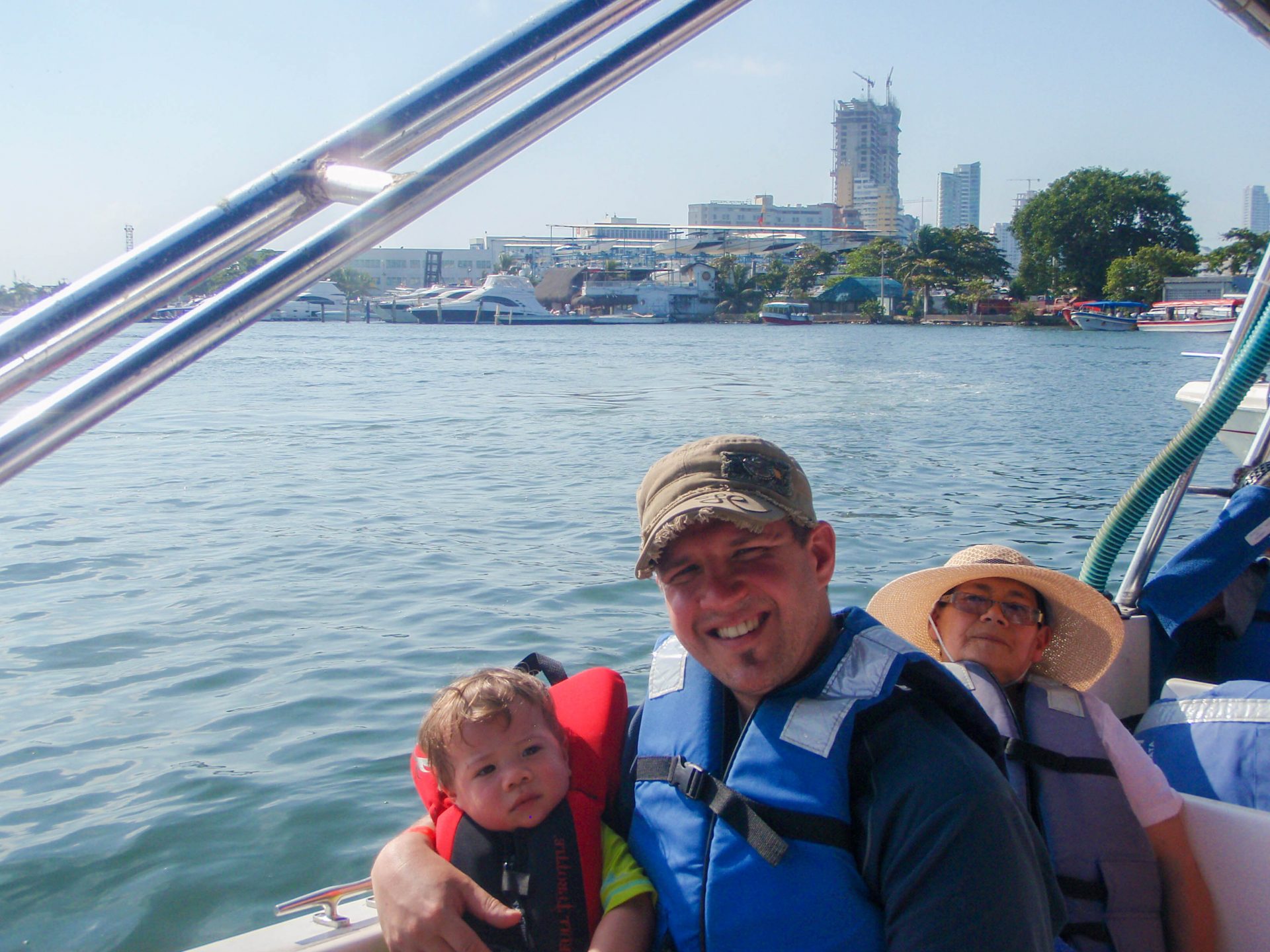 Pro-Tip: Lather on a liberal amount of sunscreen. The boat does not provide any shade and the water reflects a lot of the sun's rays. There were no places to purchase sunscreen at the dock so you'll need to bring your own bottle for the trip.
The Boat Ride
The boat ride to Pirate Island didn't start out well for D. All passengers had to put on a life vest and with the heat, it was a struggle to get him to put it on. Plus, it was nap time and he is someone who prefers a little solitude to relax. He just could not get comfortable enough in Kevin's arms to fall asleep.
It was a double whammy as we didn't think to bring his nap blanket which would have also helped keep the sun away from his face. He cried for what seemed like hours (in reality about 10 minutes) and the entire time we were receiving a multitude of well-meaning but not so helpful advice. We were so relieved when the continuous rocking of the boat and the cool breeze from the open ocean finally put him to sleep. As I am sure all the other passengers were as well!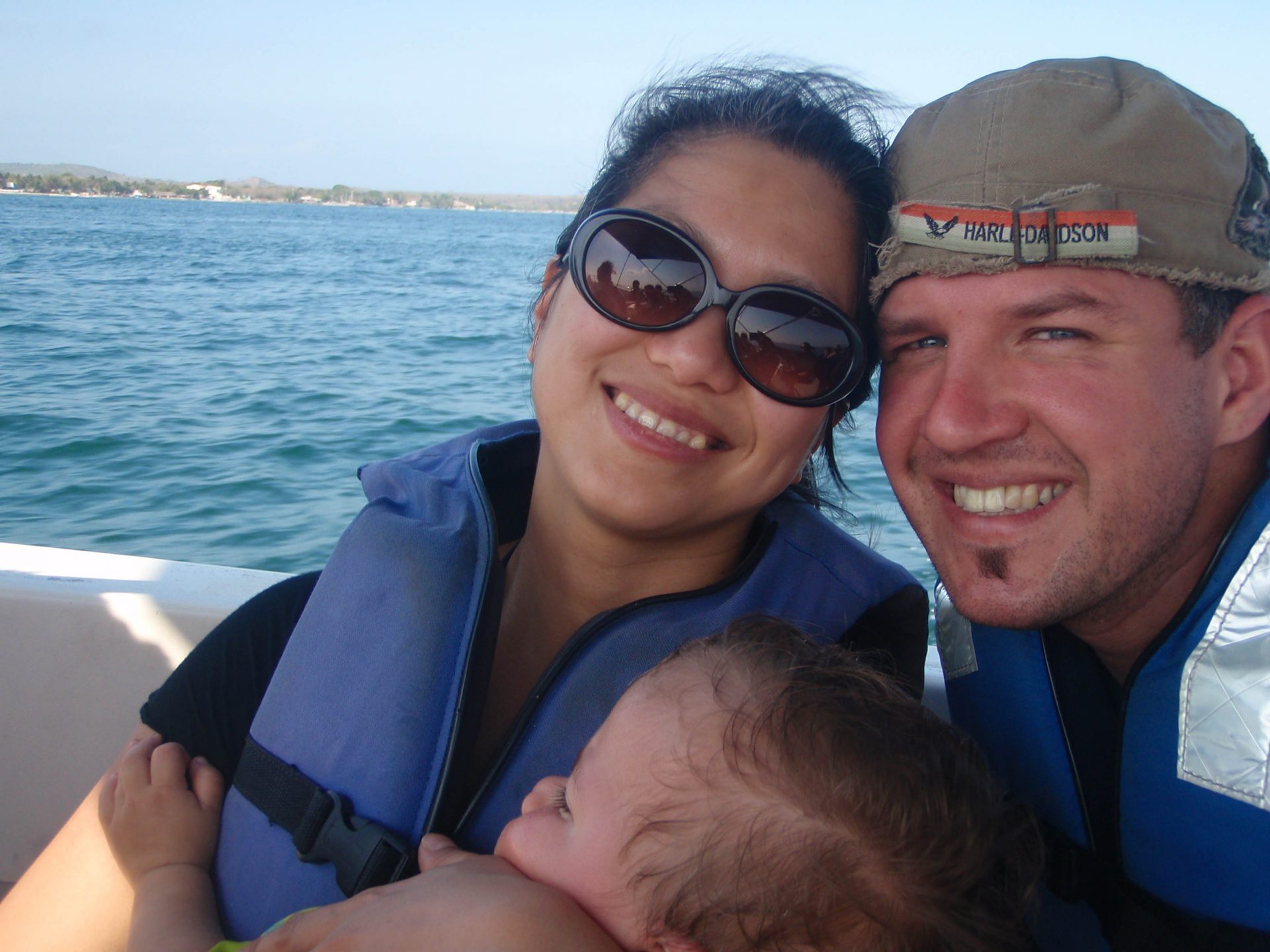 The trip out of the pier provided a great view of Cartagena harbor. After that, however, there wasn't much else to see except open ocean as the boat sped on to our destination. After nearly an hour, we reached Pirate Island.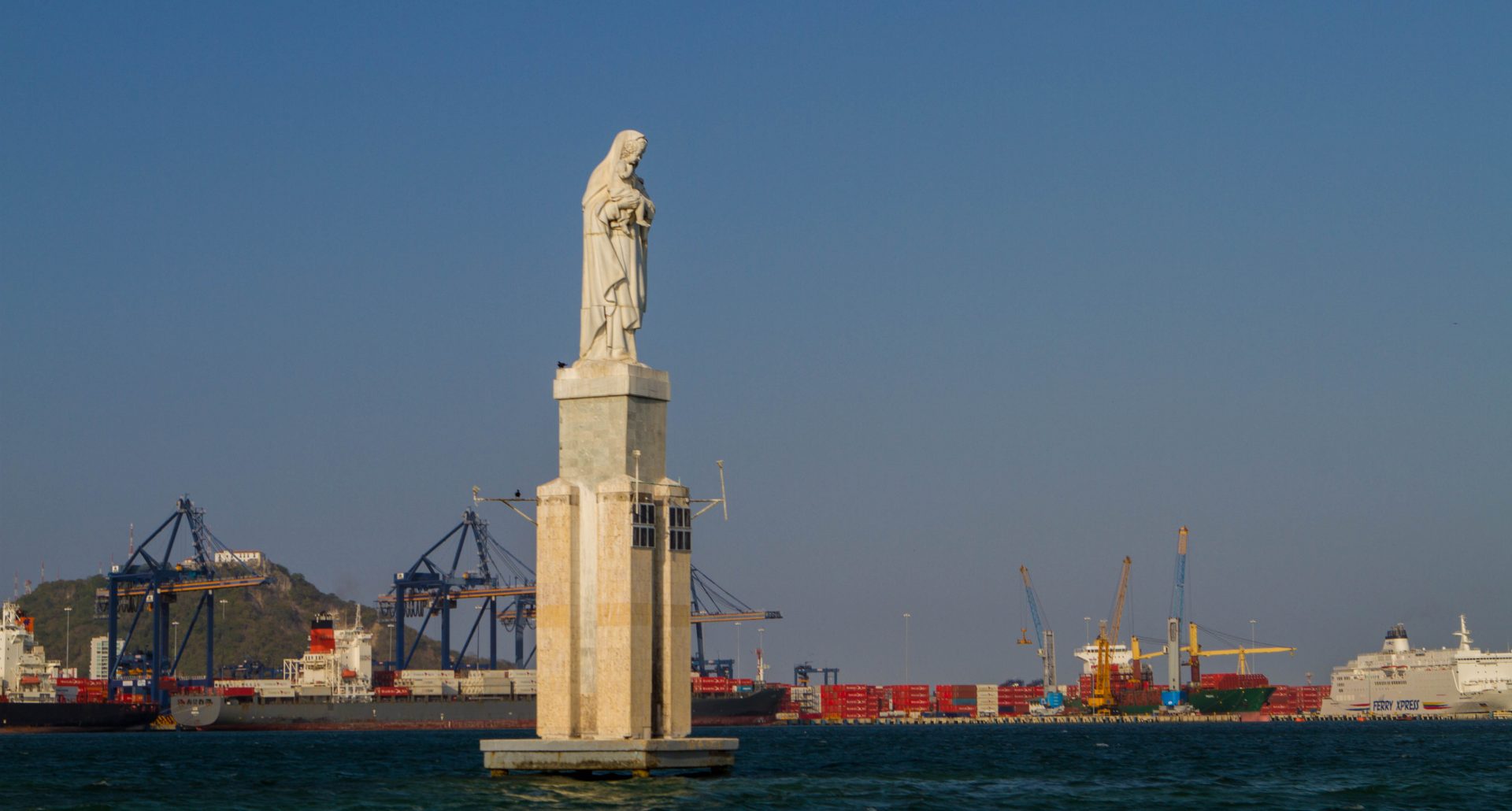 Pro-Tip: We brought the both C and D's life vests from home as we were not sure if they would have properly fitting life vests for kids. This didn't turn out to be necessary as the boat tour we were on had life vests for kids.
Pirate Island (Isla del Pirata)
As soon as we set foot on Pirate Island we were greeted by fishermen asking if we wanted to upgrade our fish lunches (included in the tour price) to freshly caught lobsters. The children were quite antsy to start digging for hidden pirate treasures and we didn't feel we had time to haggle so we politely declined. We then proceeded to the sandy area and wasted no time claiming a couple of beach chairs and got ready for the treasure hunt.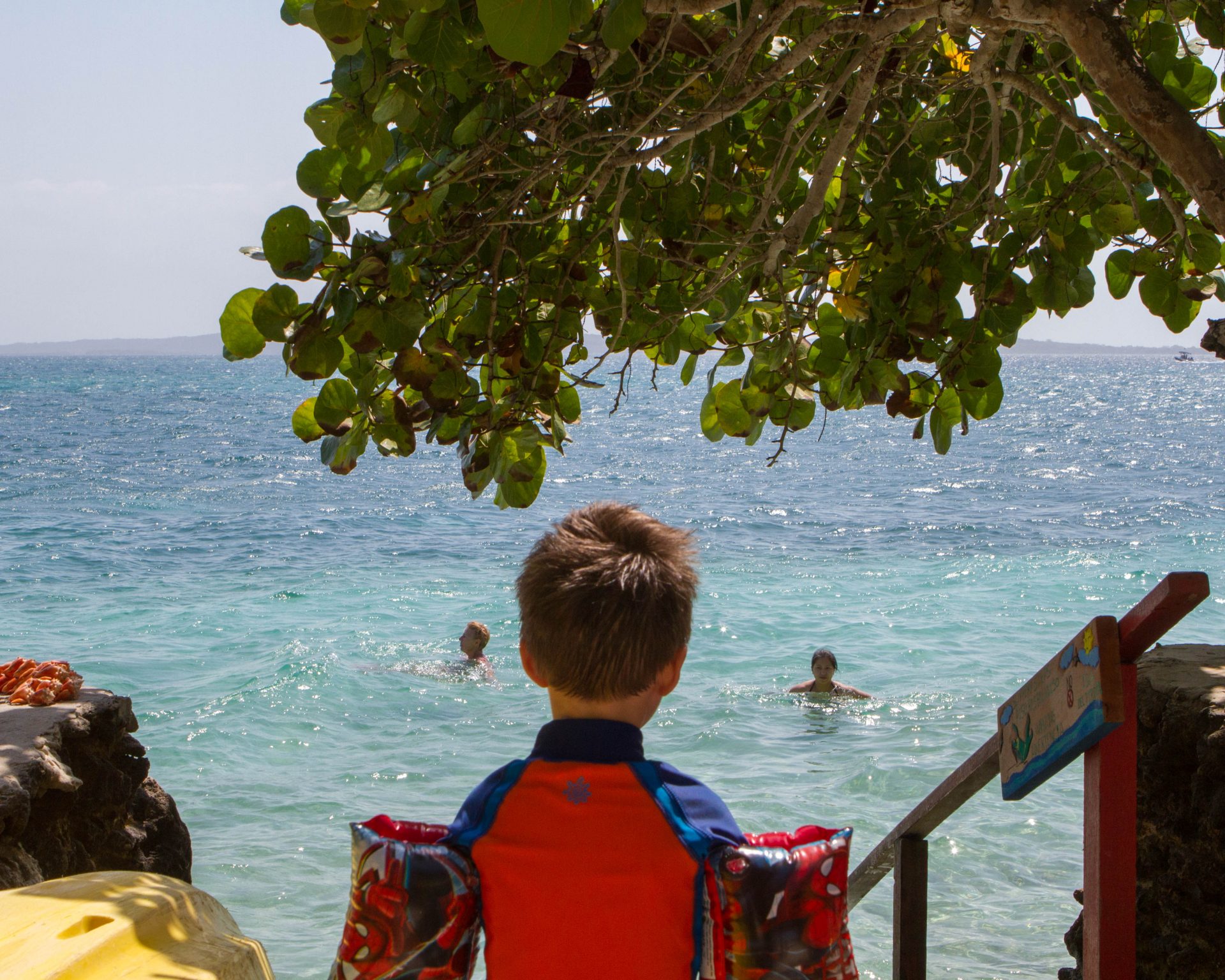 Pirate Island does not have a traditional beach. instead, they have a small, sandy area with a rock staircase leading down to the ocean. When no treasure materialized on the beach, the kids decided that perhaps they should have been looking for a sunken treasure! Soon, we were jumping in the warm, blue waters of the Carribean Sea.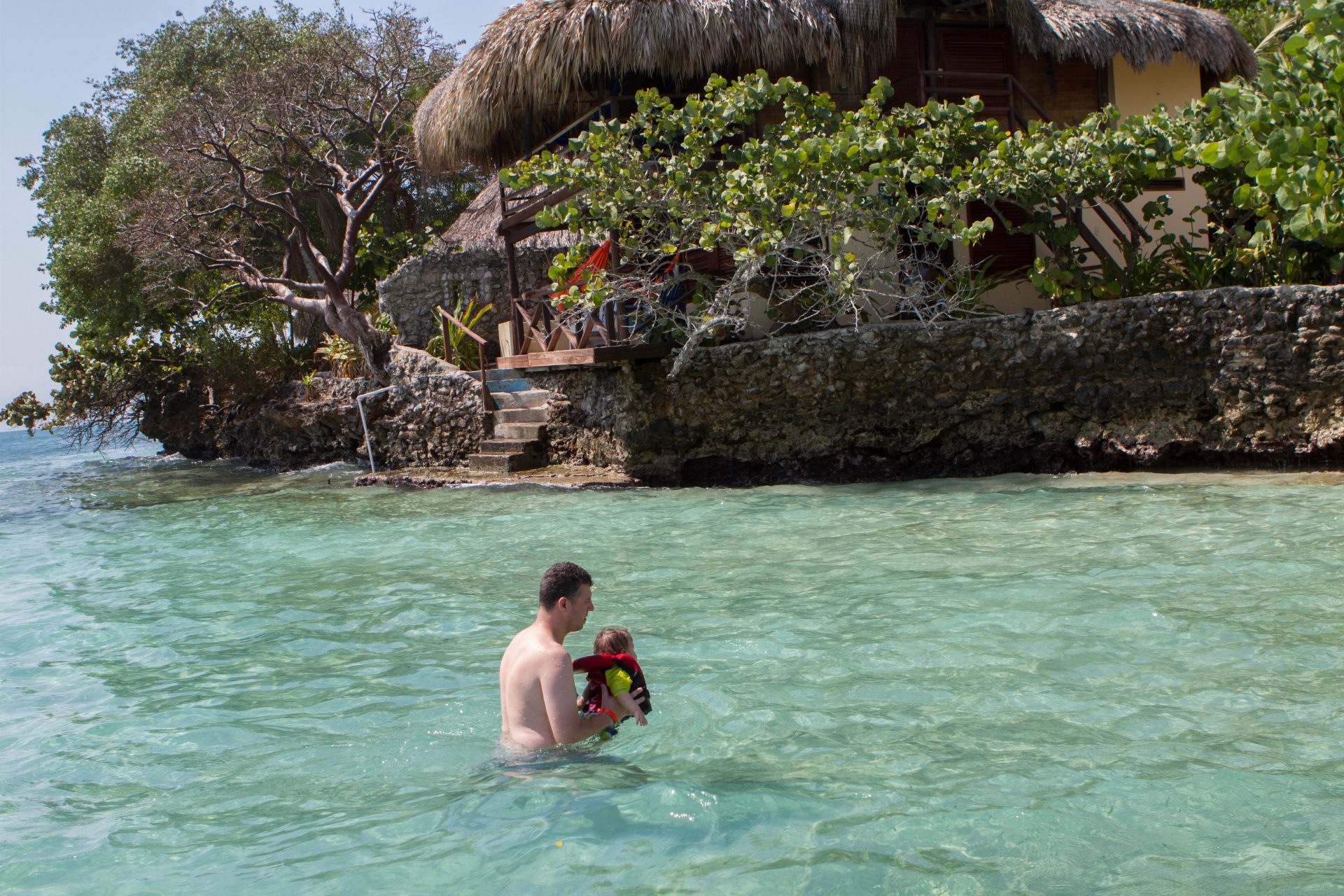 Pro-Tip: The stairs leading down from the lounge area are incredibly slippery. water shoes would be a helpful thing to bring along. Snorkel gear and canoes can be rented on the island.
While we were swimming the hotel staff were busy preparing our lunch. We enjoyed a typical dish of fresh fried fish accompanied with coconut rice, plantains, and fresh salad. After lunch, there was an option to take a boat ride out to Isla Rosario. However, we did some research on the Aquarium and found out that it received a lot of mixed reviews.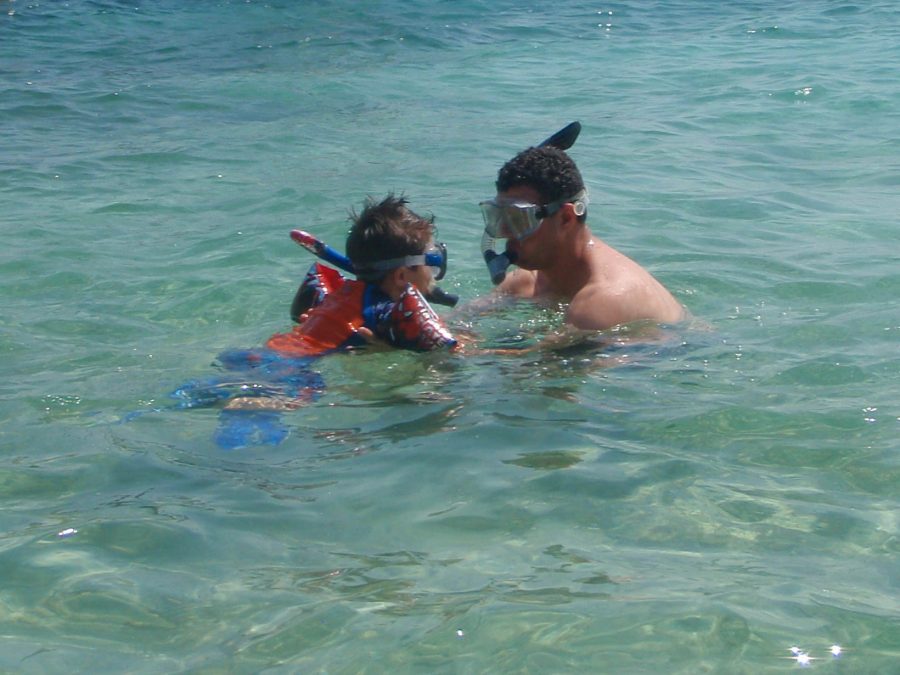 As we are not fans of dolphin shows, we decided to skip visiting the island and lounge the day away like pirates at rest. The same boat also took a group of snorkelers closer to the reef for much better snorkeling.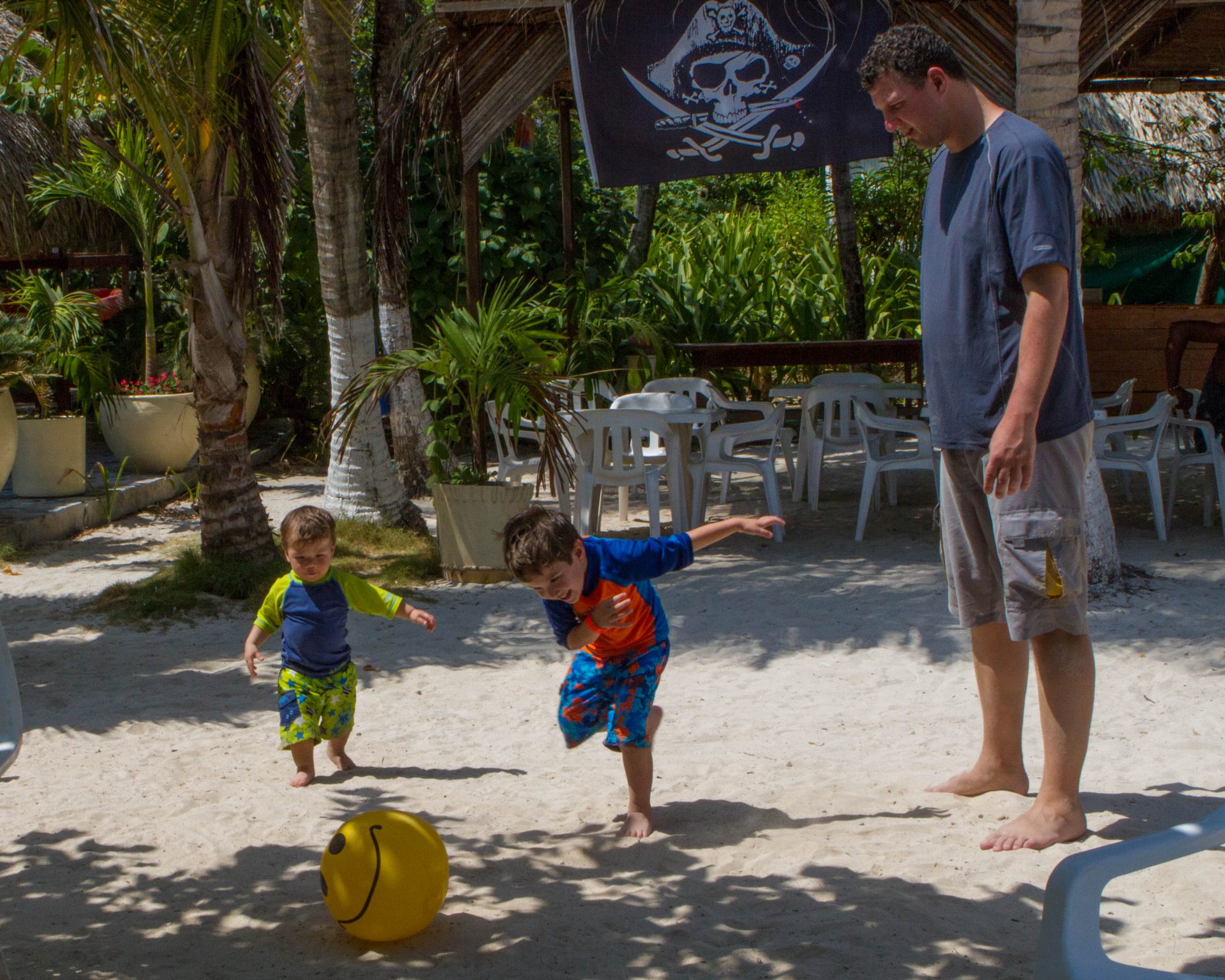 C and D had given up on the idea of finding the lost treasure and resorted to simply enjoying the amenities of Pirate Island. We spent the rest of the afternoon playing soccer, lounging, and swimming. I also indulged (twice) in some freshly caught and prepared shrimp as a late afternoon snack. Our afternoon was only interrupted once by a jewelry salesman.
We had previously read that there is a constant stream of people trying to sell jewelry on the island so we were mildly surprised that we only saw one person. Pleasantly, he only asked once and when we said no didn't bother us the rest of the time.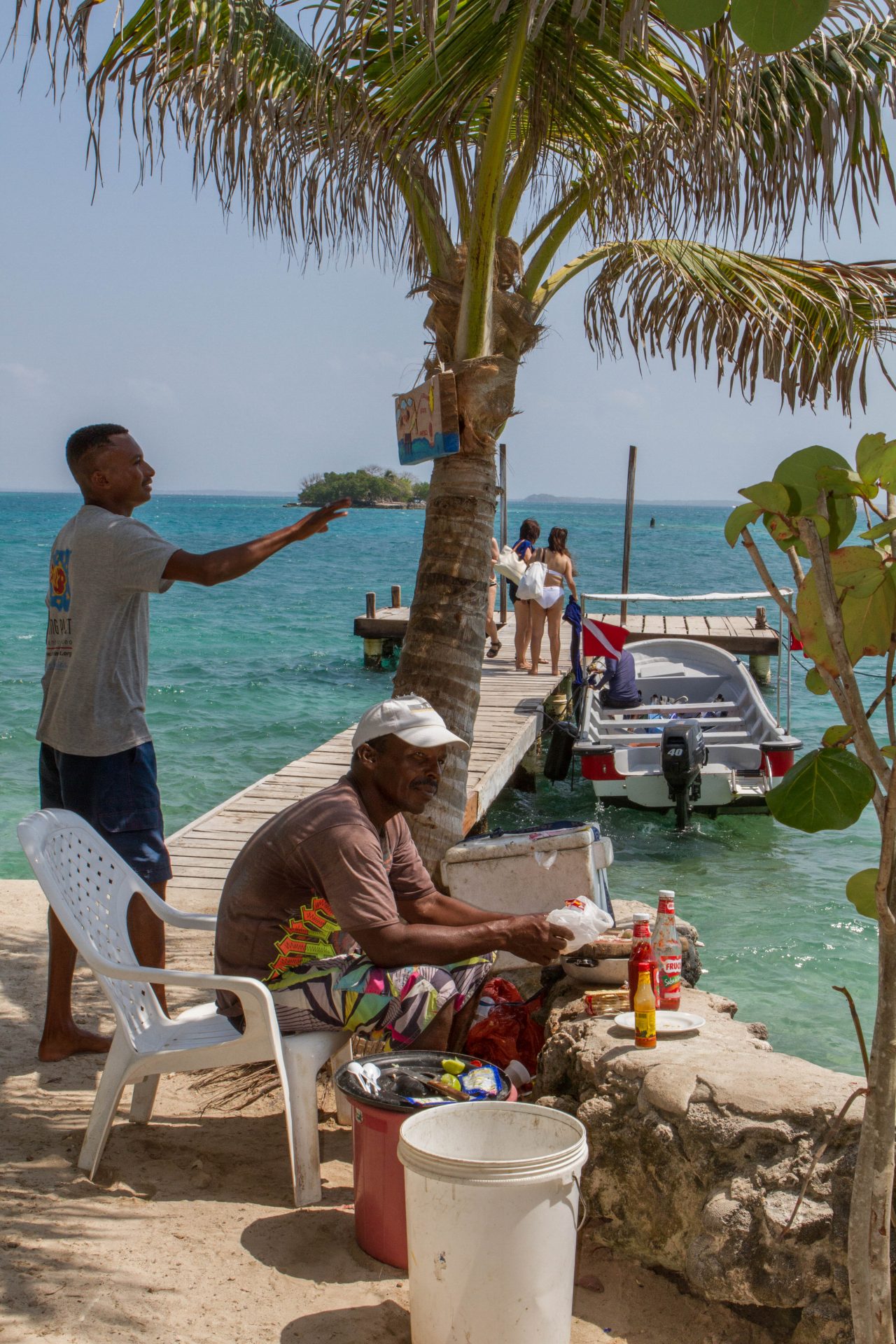 Pro-Tip: If you decide to upgrade your lunch to a lobster, ensure that you have agreed on a price beforehand. We read of some instances where prices for the lobster seemed to go up after it had been cooked! Fortunately, this did not happen to anybody in our tour group.
Back to Cartagena
Before we knew it it was 4 pm and our time on the island had come to an end. On the way back to Cartagena we traveled via a more scenic route through the mangroves and went at a slower pace to get a closer glimpse of the coastal communities. When we were planning our trip to Colombia, I was largely disappointed by the look of the beaches in Cartagena. However, the Rosario Island boasted postcard-perfect beaches. It was the perfect day tour!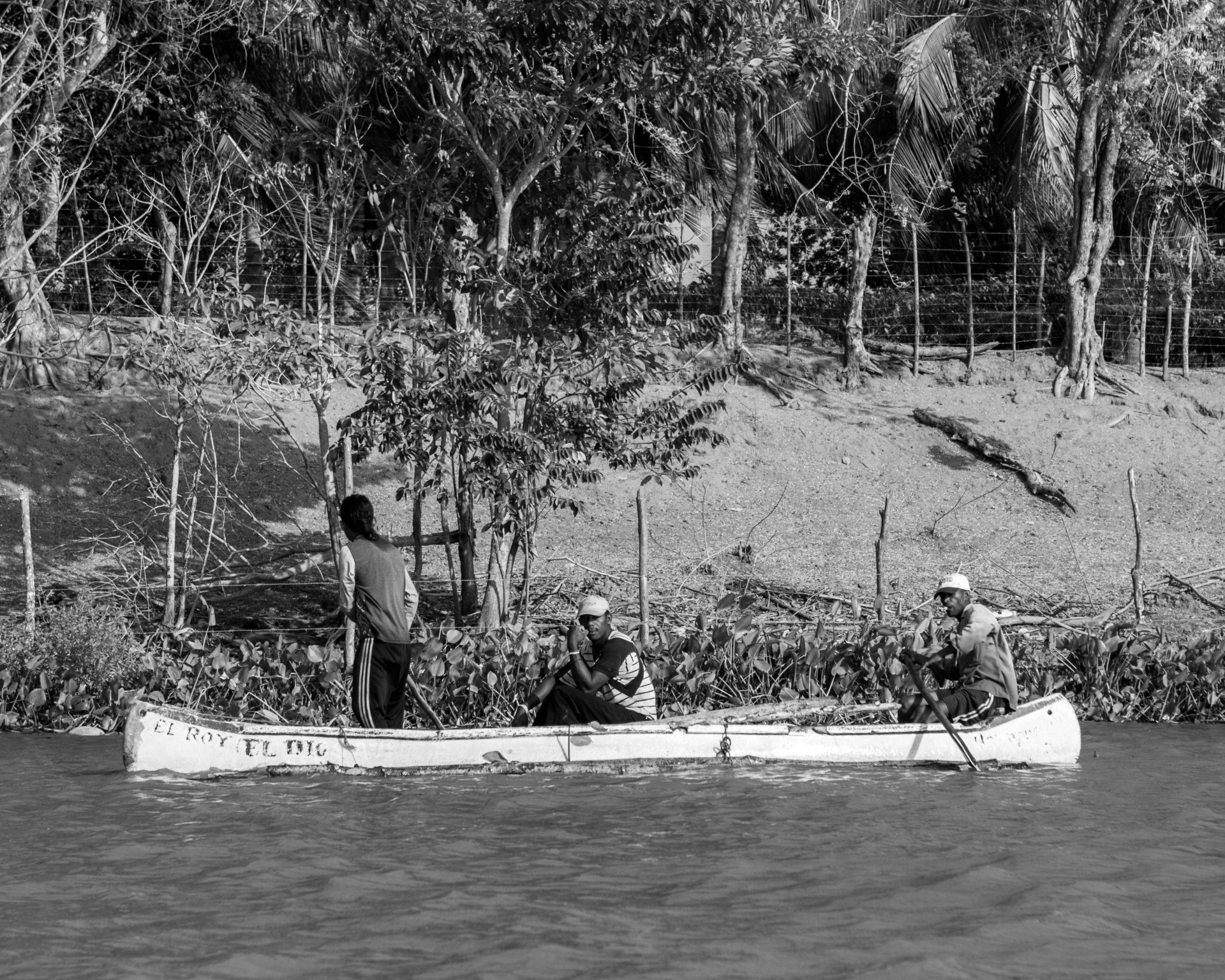 Colombia truly is a paradise, offering a myriad of options for travelers. Our kids are always partial to secret beaches and private islands. Have you been to the Rosario Islands? Let us know your favorite places to unwind!
Wandering Wagars is a participant in the Amazon Services LLC Associates Program, an affiliate advertising program designed to provide a means for sites to earn advertising fees by advertising and linking to amazon.com, amazon.co.uk, amazon.ca. Amazon and the Amazon logo are trademarks of Amazon.com, Inc. or its affiliates.
You May Also Like To Read: