Although Peru's second largest city offers some of the Peru's best food, architecture, and landscape, it's often overlooked by those who travel to Peru. But there are so many amazing things to do in Arequipa Peru that we had to list our favorite adventures for the whole family.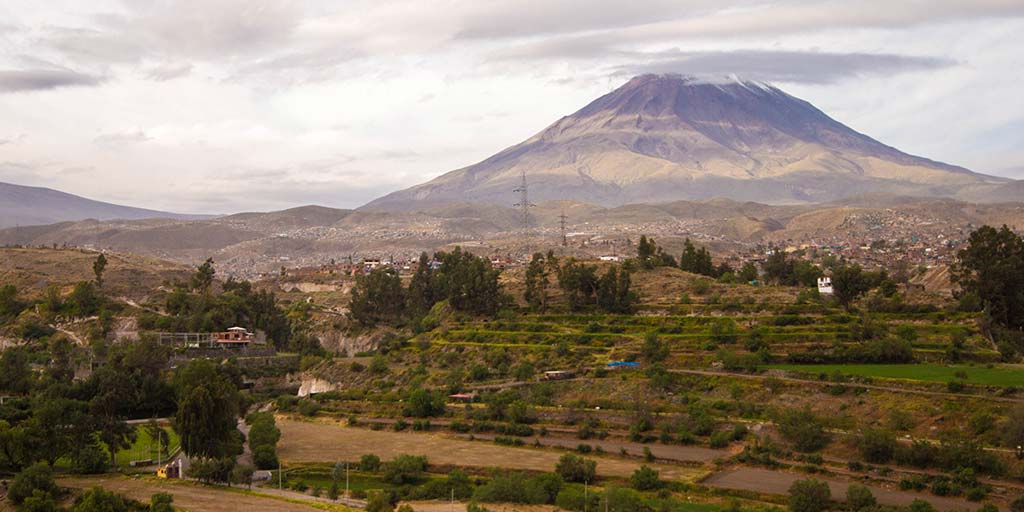 Arequipa is the second largest city in Peru. Besides those who travel to Peru to experience the Andean Condors in Colca Canyon visitors to Peru often don't venture south to travel to the White City. Which is a shame, as you'll see, there are many incredible things to do in Arequipa Peru with kids or without!
This post may contain compensated links. Find more info in our disclaimer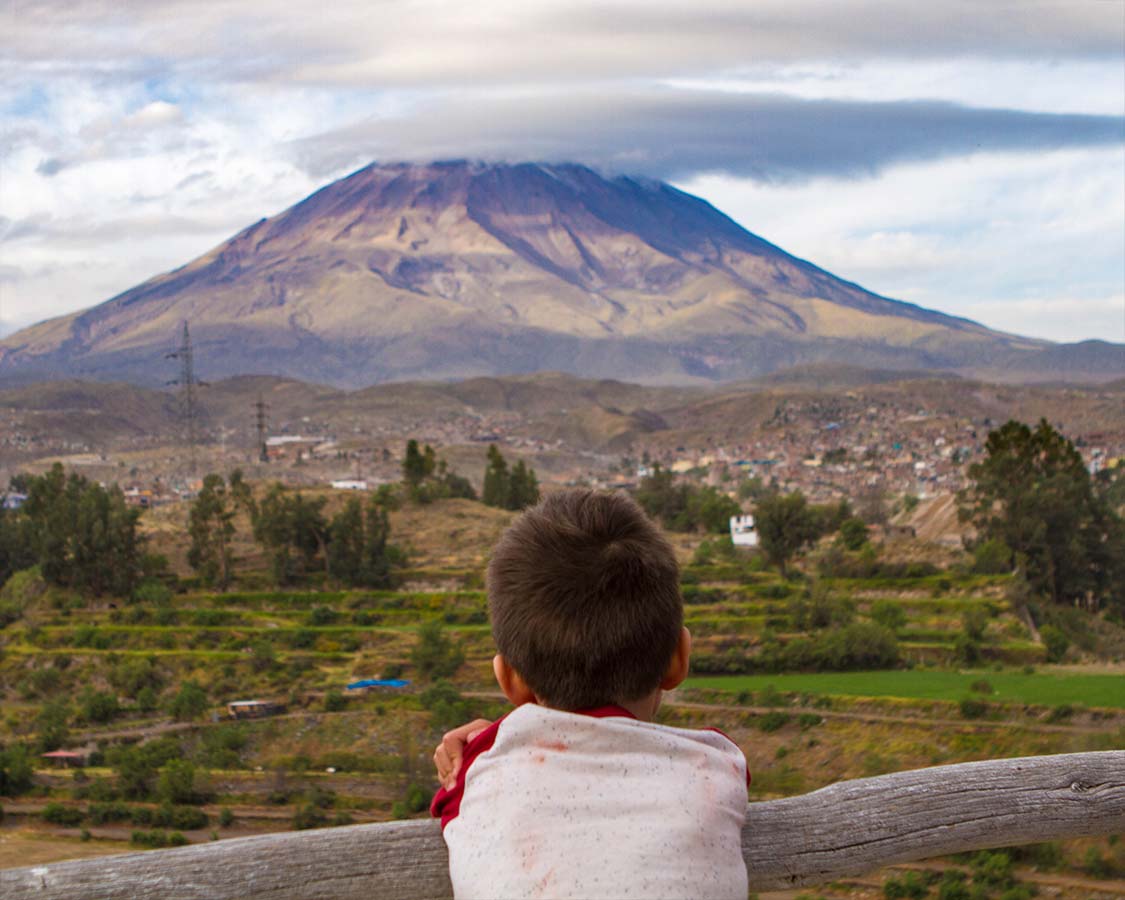 The City of Volcanoes
Arequipa is known as the White City of Peru due to its use of sillar, the material used in most of its buildings. Sillar is a white volcanic stone. And for those visiting Arequipa, volcanoes are never far from view. Three volcanoes guard over the city. The most prominent of which is the Misti volcano. While on either side of Misti are the volcanoes Chachani and Pichu Pichu. In fact, due to its location, Arequipa is also prone to earthquakes, the last major one was in 2001.
Arequipa is often overlooked by those who travel to Peru. Machu Picchu and Lima get most of the country's glory. But those who make the trip to Arequipa will find just as incredible a selection of food and culture as in the most popular destinations of Peru. If you have a couple of days extra in your Peru itinerary we highly recommend a visit to Arequipa.
Things to do in Arequipa Peru Include:
Arequipa is often referred to as Peru's most beautiful city. This is a bold statement considering some of the spectacular urban areas within Lima and Cusco. And upon wandering through the Plaza de Armas and other stunning areas of Old Town Arequipa, it's easy to see where it gets that distinction.
Below we outline what to see in Arequipa, including day trips from Arequipa, and where to eat and where to stay during your Arequipa trip.
Monasterio de Santa Catalina (Santa Catalina Convent)
Founded in 1579, the Santa Catalina Convent was a home for cloistered nuns. Many of these women were from wealthy families. The Monasterio de Santa Catalina is still an active convent with about 20 nuns calling the northern compound home. When you enter the gates, you are definitely taken to a different world. The complex occupies an entire block and the high walls take you away from the hustle and bustle of the busy roads of Arequipa.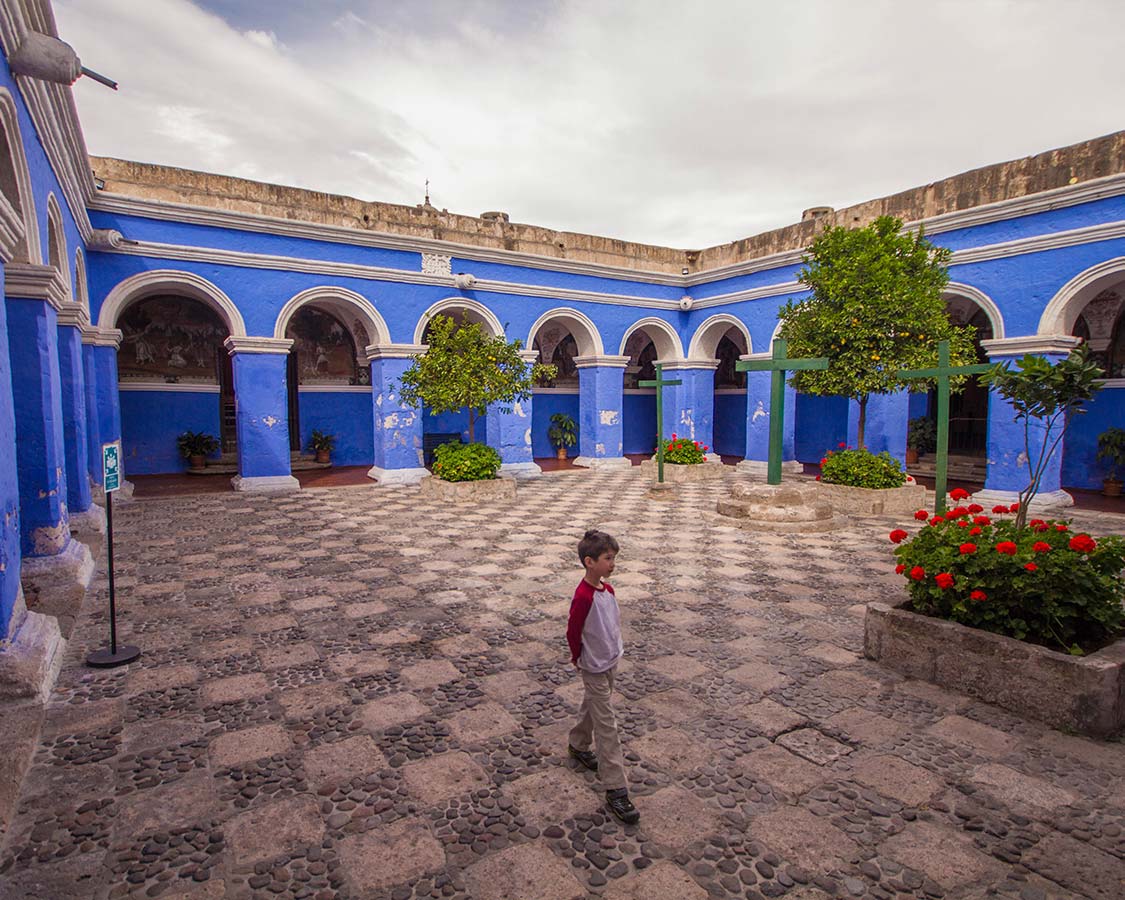 Although it is possible to wander the alleyways of the Santa Catalina Covent on your own, we opted to join a guided tour to learn more about the history of the convent and the life of the cloistered nuns. The Santa Catalina Convent has an extensive art collection and we walked through many of the quarters where the nuns lived. They are quite large, and some were furnished quite well.
The Arequipa convent is spread across three cloisters. During our tour, we visited kitchens, multiple rooms, gardens, an outdoor wash area, and rooftop terraces. After the 1-hour guided tour, we were free to wander around ourselves. One could easily spend a few hours here. In fact, the rose-colored walls reminded us fondly of the beautiful town of Colonia del Sacramento in Uruguay.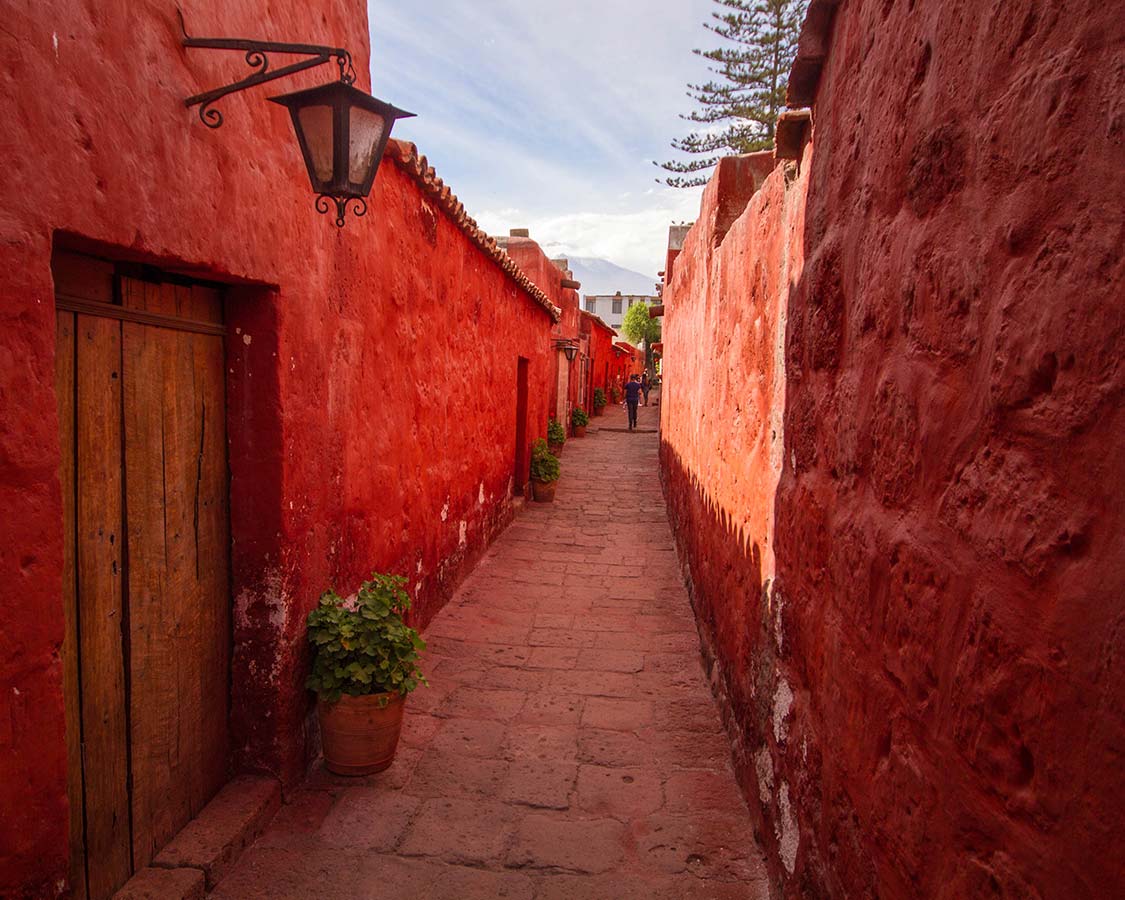 Pro-tip: Make sure not to lean or touch the pink walls. The pink sillar powder easily comes off and can stain clothes and hands.
Explore the Plaza de Armas
The Plaza de Armas is the centerpiece of the historic center of Arequipa which was declared a UNESCO World Heritage Site in 2000. Although not as huge as Cusco's central square, the Plaza de Armas in Arequipa is lined with many beautiful buildings. This is truly the cultural heart of the city and one of the best things to do in Arequipa.
Make sure to watch for the nightly changing of the guard in Plaza de Armas. The event includes a flag-lowering ceremony. It's attended by police officials dressed in their daily garb. Police march in line and bugles are played during the ceremony.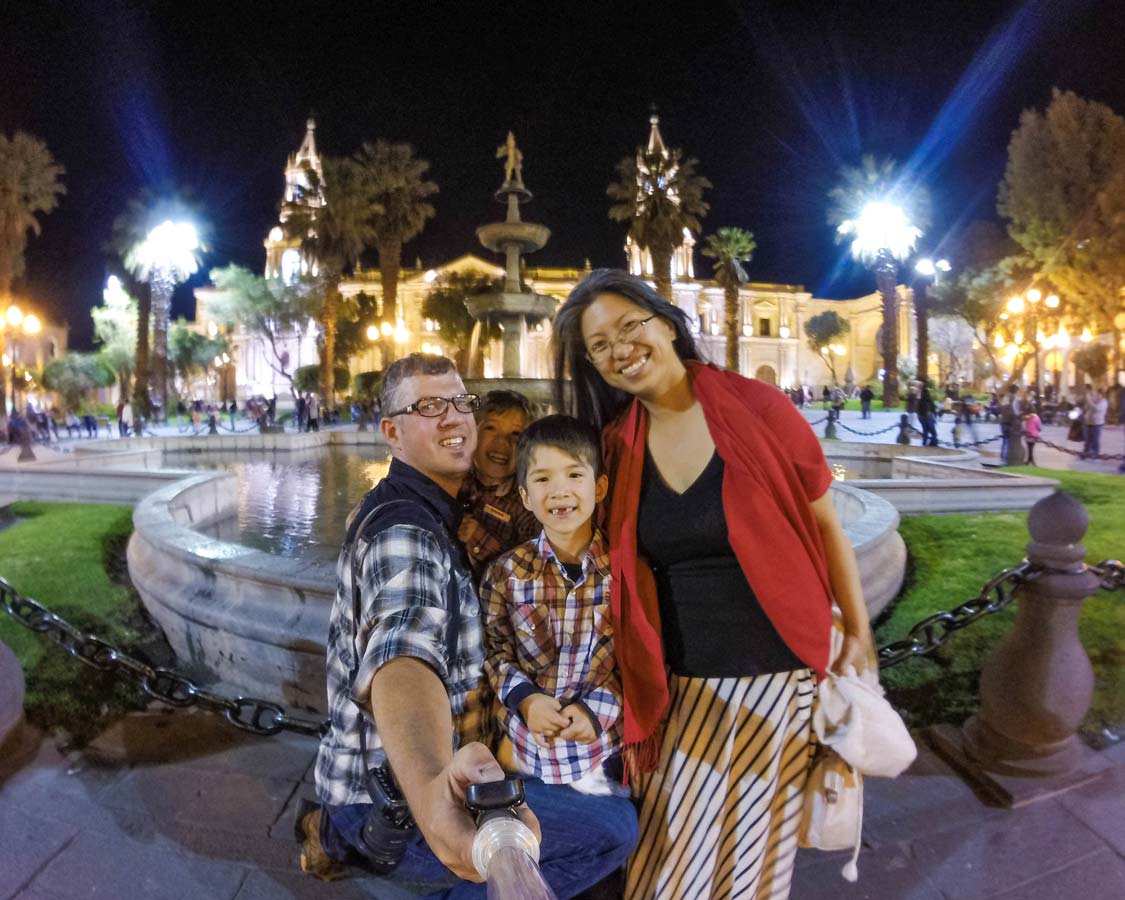 Gaze at the Majesty of Arequipa's La Catedral
The main plaza houses Peru's widest cathedral, La Catedral (also known as Basilica Cathedral of Arequipa). Staring at the large building, it is hard to imagine that it has undergone so many reconstructions since it was built in the mid-1950s. The most recent was the reconstructions of the two towers (at different times) that were largely destroyed during the 2001 earthquake that ravaged the region.
It was interesting to hear the story of how this stunning building came to be in Arequipa. Arequipa at the time was a small farming town, and due to a clerical error, La Catedral was built here rather than in Cusco where it was originally intended to be built! It seems no one really wanted to admit to the error, so they just let it be built.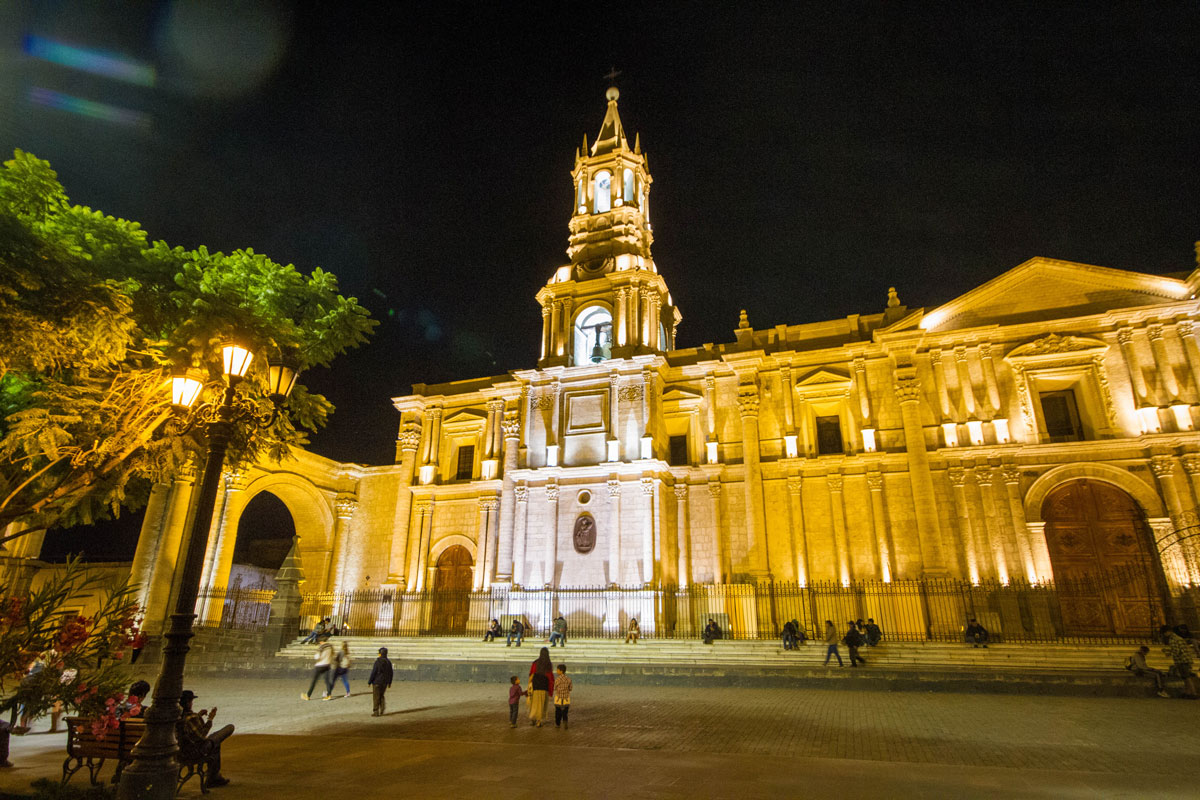 Take in the Facade of Iglesia de La Compania
One of our favorite things to see in Arequipa with kids was the beautiful Iglesia de la Compania. Tucked in a corner beside the government buildings opposite La Catedral is Iglesia de La Compania. This often-overlooked church features a beautifully carved facade. We were lucky that during our visit there was a service going on so we were able to catch a glimpse of the beautifully gilded front altar.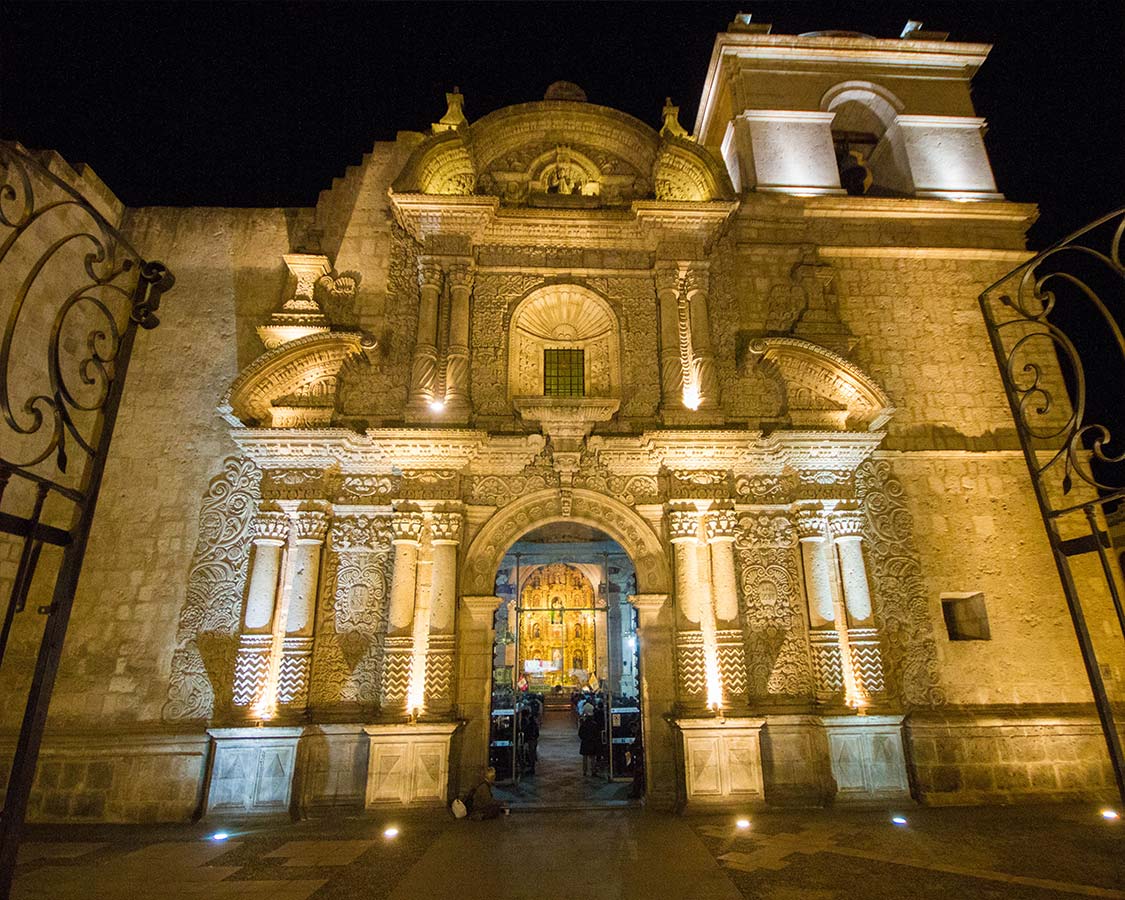 Wander Through the Plaza de Armas Market
On the edge of the Plaza de Armas near Iglesia de la Compania is a large market tucked into the buildings. The entrance is surrounded by delicious bakeries and shops. Within the market, visitors will find all the typical Peruvian souvenirs as well as a great selection of clothing.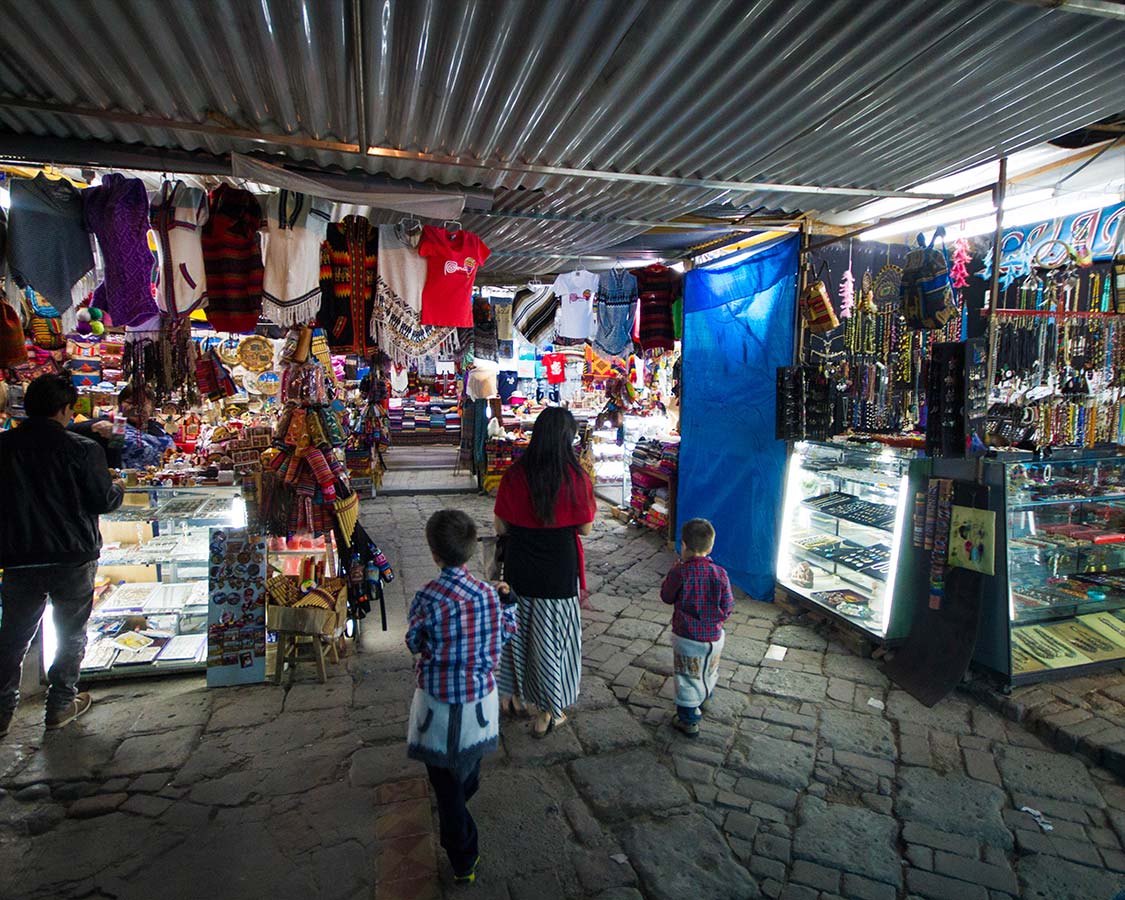 Pro-tip: Arequipa was one of our last stops on our family travels around Peru. Although we had done most of our shopping in Cusco, we found the prices at the Arequipa market to have some of the best bargains for clothing.
Explore The Alley Behind La Catedral
This, seemingly unnamed alley is perfect for those looking for some great restaurants close to the action or a romantic place for a stroll. The alley is nestled right behind La Catedral. And the quaint lighting and flowering trees make for a beautiful atmosphere. It was C's favorite place to walk and he asked for a photo every time we passed it.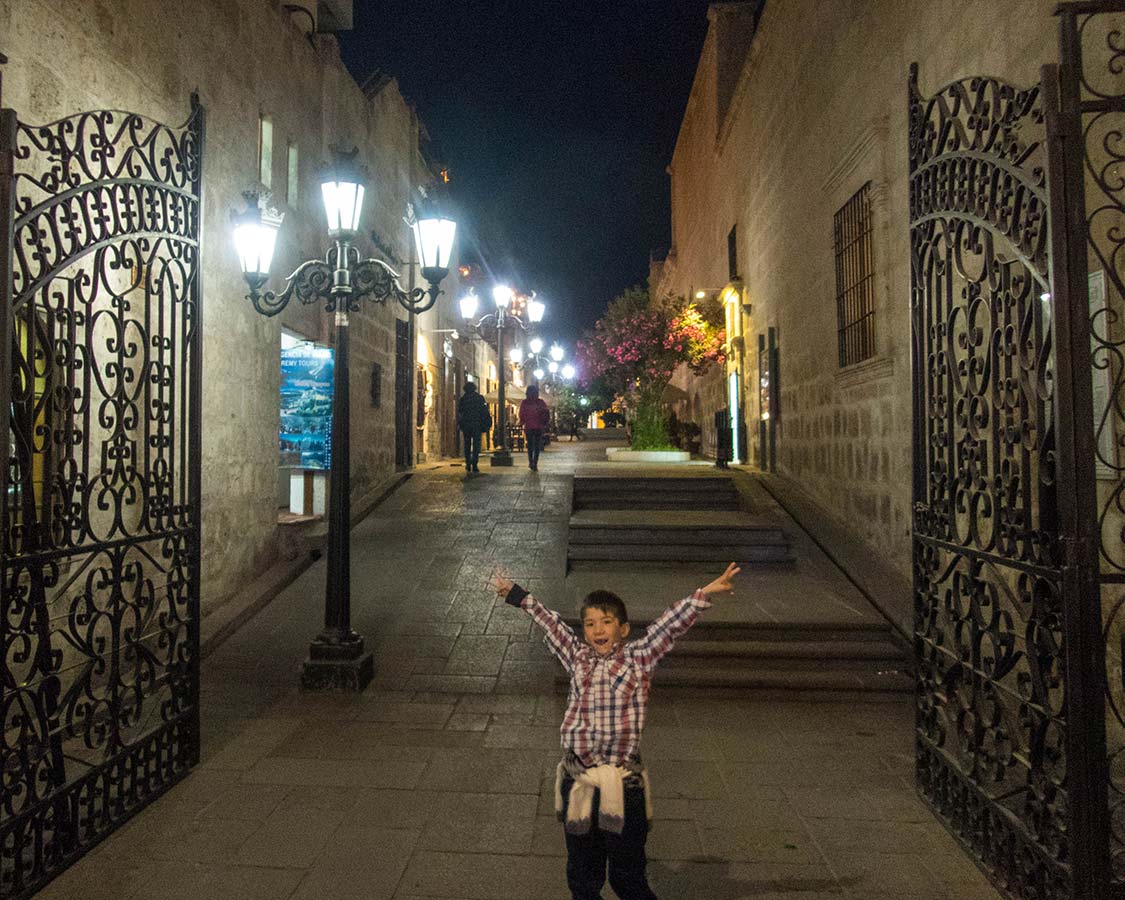 Museum of Andean Sanctuaries
The Sanctuaries Andean Museum is part of the local Catholic University de Santa Maria in Arequipa. It houses artifacts found in the surrounding areas. The most famous artifact of the Museum of Andean Sanctuaries is "Juanita, the Ice Maiden of Peru". Juanita is the name given to the remains of a young girl discovered high on the Ampato Volcano in 1995.
The young girl is believed to have been a ritual sacrifice by the Incas over 500 years ago. The body was found in snow and ice and her remains were incredibly well preserved. Archaeologists hope to learn more about the Inca culture by studying Juanita's remains. Those looking for things to do in Arequipa, Peru simply must visit this museum. It is one of the most fascinating displays we saw during our time in the country.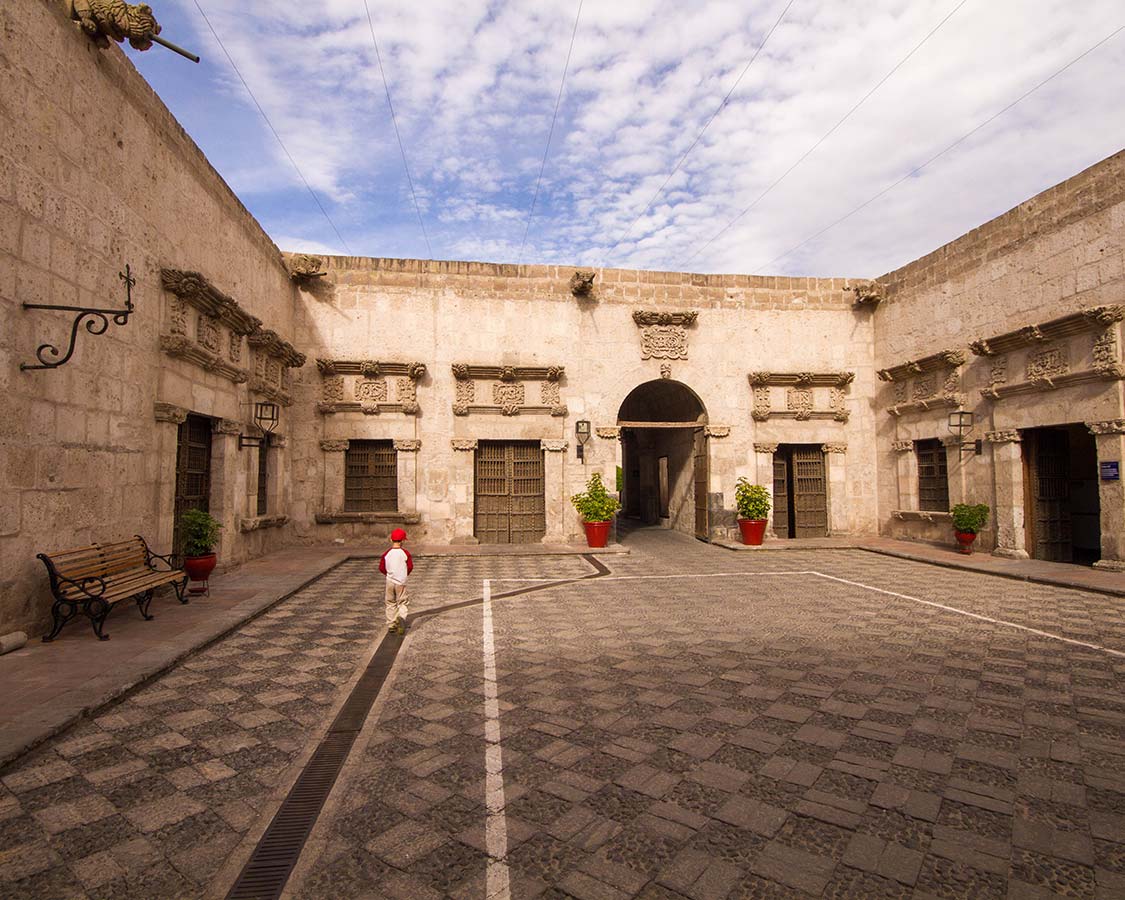 Pro Tip: The Ice Maiden occasionally undergoes restoration and another artifact is put in her place. If you really want to see her you need to make sure you time your visit appropriately. Also, there is no photography allowed within the exhibit.
Take in the Epic Views in the Neighborhood of Yanahuara
On our way to the airport for our flight back to Lima, we made one last stop. Just on the outskirts of Arequipa is the neighborhood of Yanahuara. Yanahuara is famous for its beautiful churches and beautiful arches. But what really drives people to Yanahuara are the stunning views of Misti Volcano.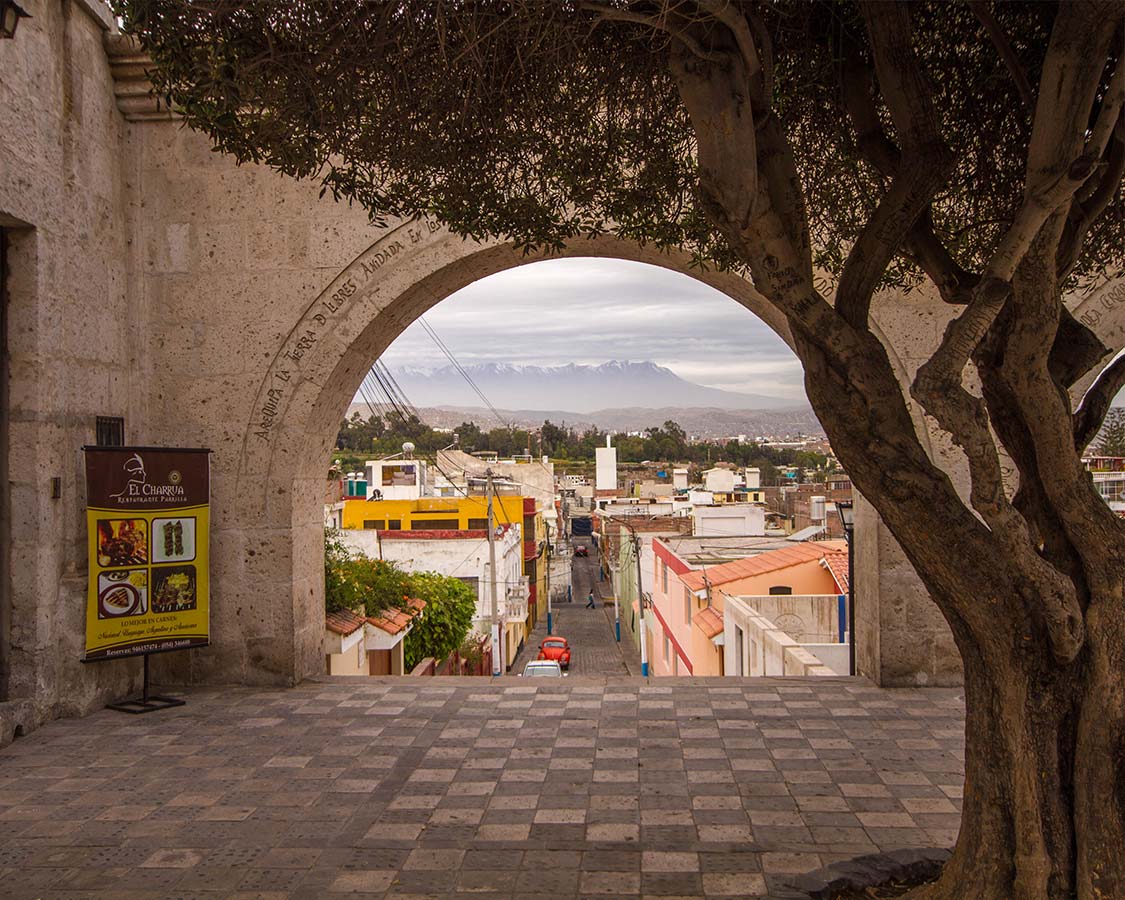 Pro-tip: It is possible to walk to Yanahura from the center of Arequipa. It is approximately a one hour walk one way.
Where to Eat in Arequipa Peru
ZigZag Restaurant
Zig Zag restaurant is located just opposite Plaza San Francisco. The interior has exposed stone and the center is dominated by a spiral wrought-iron staircase, designed by Gustave Eiffel. Zig Zag seemed meant for romantic dinners for two so we were surprised when the kids were handed a coloring book that also doubled as a storybook.
We opted to order the classic meat platter served on volcanic stone. The boys opted for some lighter fare that they devoured happily. The staff at Zig Zag were very friendly and the upscale restaurant was not pretentious at all. What a great meal for families traveling with children.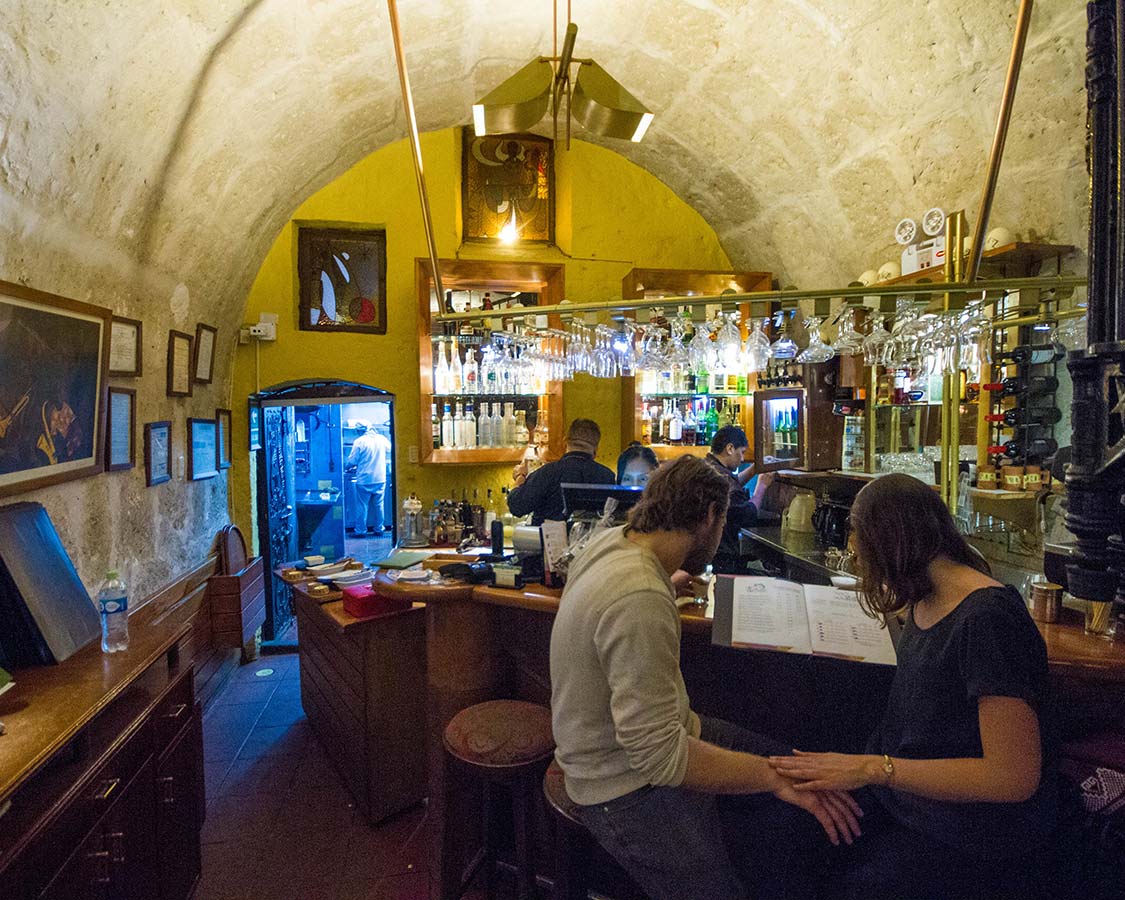 Chicha Restaurant
When we were preparing for our trip to Peru, one item on my bucket list was to eat at Gaston Acurio's restaurant, Tanta in Lima. However, after reading more about the restaurant, I wasn't confident that bringing a 5 and 3-year-old to such an upscale place would be a good idea.
So, when our Kuoda guide suggested we try eating at Chicha, I was very excited. I didn't realize Gaston Acurio's reach extended to the White City. Kuoda Travel was very helpful in securing our reservations and even rearranged our tour schedule so that we would have time to enjoy our meal and make our flight back to Lima.
One of the specialty dishes in Arequipa is Chupe de Camarones (prawn chowder). And we were in luck as the river prawns used to make this delicacy was in season during our visit. But pouring over hot chocolate on the chocolate egg to reveal ice cream is definitely what won over the boys.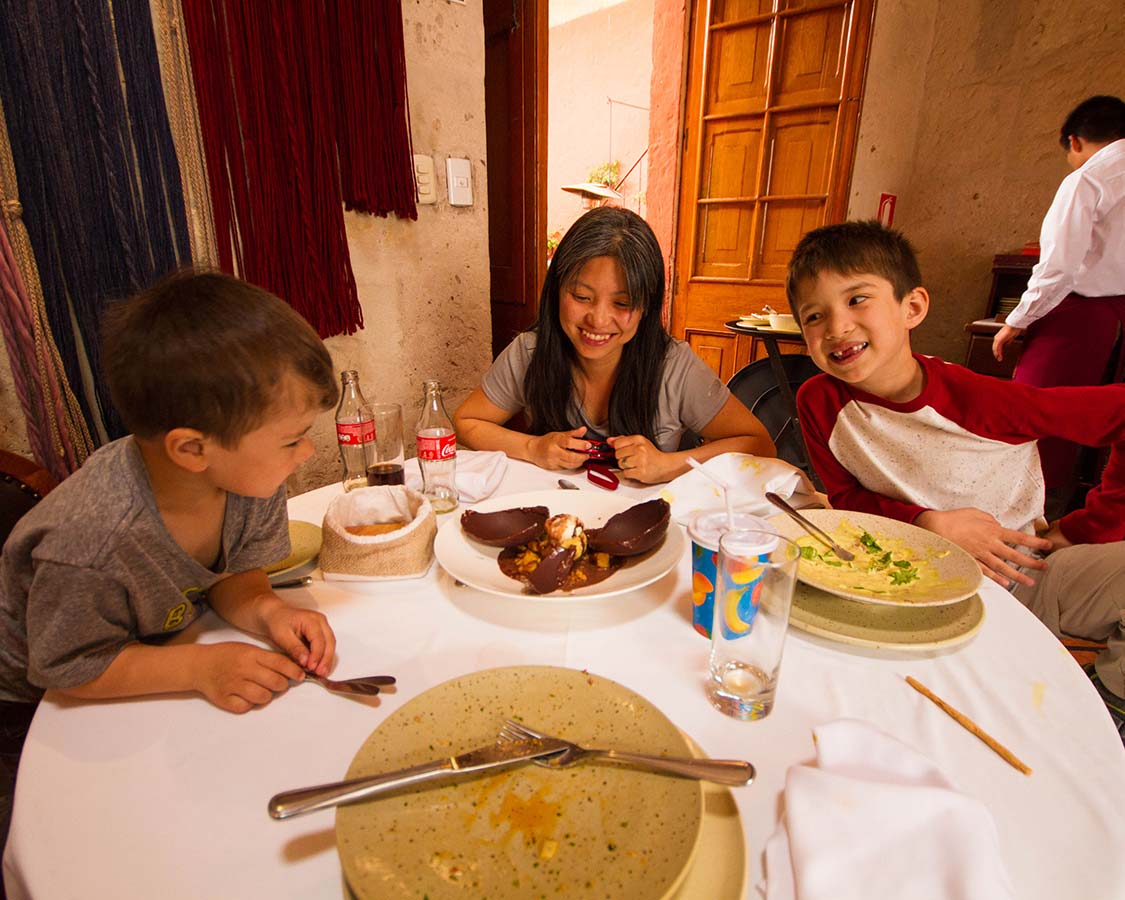 Where to Stay in Arequipa Peru
There are an incredible selection of hotels in Arequipa. Whether you're looking for luxury accommodations or a quiet backpacker retreat, you'll have great options to choose from. If you're traveling throughout Peru, you may want to check out our guide to the best Peru resorts to help plan your trip.
Hotel Libertador Arequipa
The Hotel Libertador is a family-friendly hotel in Arequipa. The hotel has 88 rooms and the family room fit us nicely. It featured two double beds and a single bed. The room rate includes a buffet breakfast. And we definitely enjoyed eating it daily by the poolside.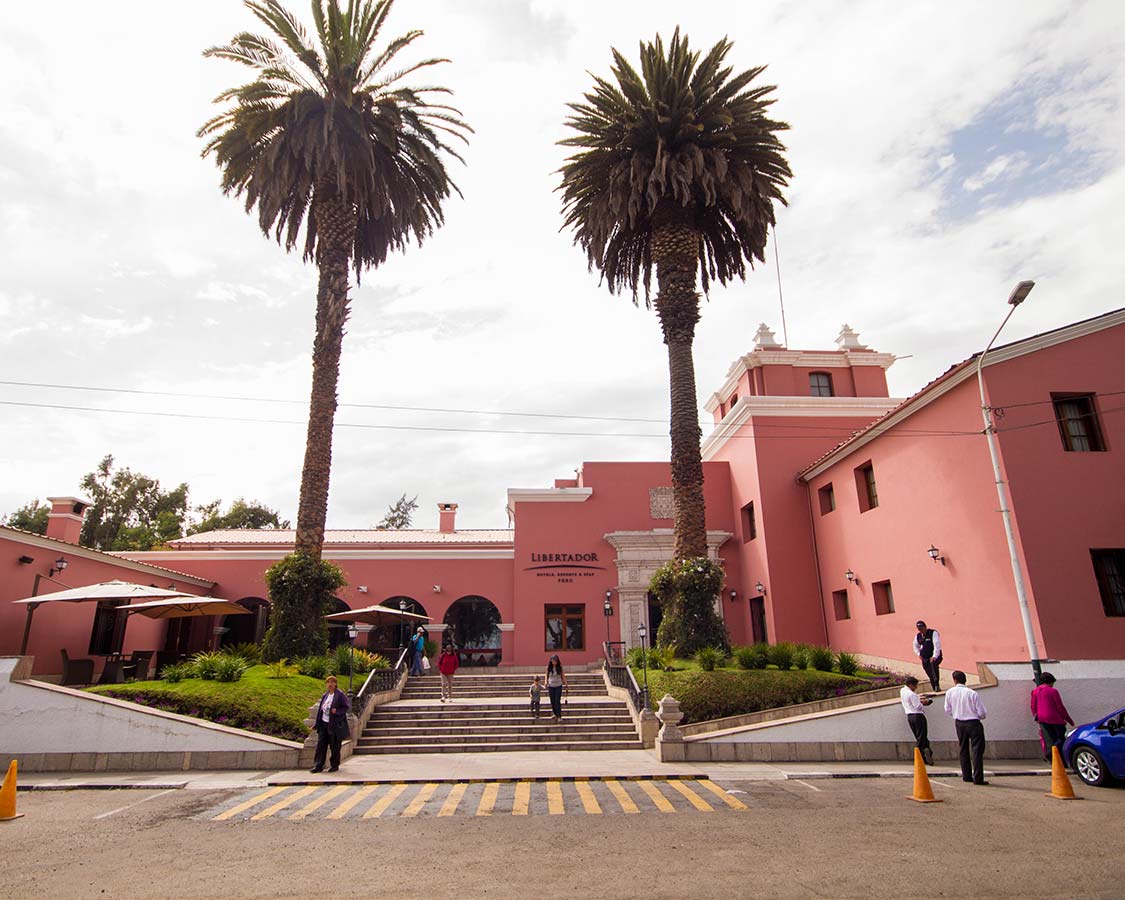 However, what we liked best about the hotel was it's proximity to Plaza de Armas which was less than a 15-minute walk (even with kids!). Also, the hotel grounds had lots of room for the kids to play around. It also included a playground, an enclosure to visit the llamas, and a freely roaming Galapagos turtle!
You can find the best rates and availability for this hotel on booking.com here.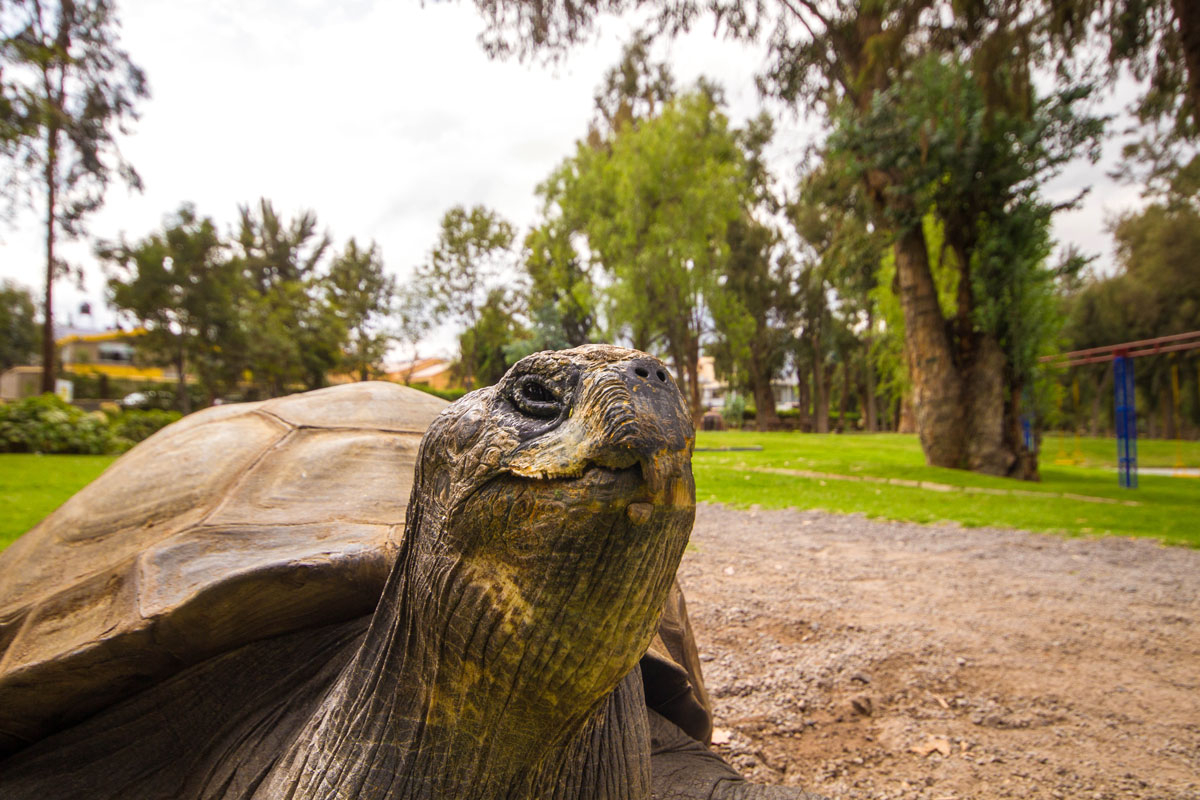 Day trips from Arequipa Peru
Although there are many things to do in Arequipa Peru, the surrounding region offers some incredible adventures as well. It is possible to use Arequipa as a base to explore southern Peru. Although towns here are quite spread out. Depending on where you want to visit, the days could be very long.
The town of Puno is the gateway to Lake Titicaca, the highest navigable lake in the world. As a day trip from Arequipa, it would be possible to spend a few hours visiting 1-2 of the reed islands for which the area is famous. To learn more about what to see and what to do in Lake Titicaca, you can read our post.
A visit to Colca Canyon was definitely one of the highlights of our trip family trip to Peru. The boys might have grumbled for having to wake up early but they were all smiles when they saw the Andean condors flying overhead. To see for yourself how close we got to these magnificent birds and what else to see in Colca Canyon with kids, read our post here.
The town of Maca is just a few hours outside of Arequipa. There is a stunning church that is being restored after the 2001 earthquake. The town is a popular stopping point for those driving between Colca Canyon to Arequipa. You can visit a nice market. And if you see an elderly woman in a pink sweater sitting on the church steps. Give her a hug from us. She LOVES children.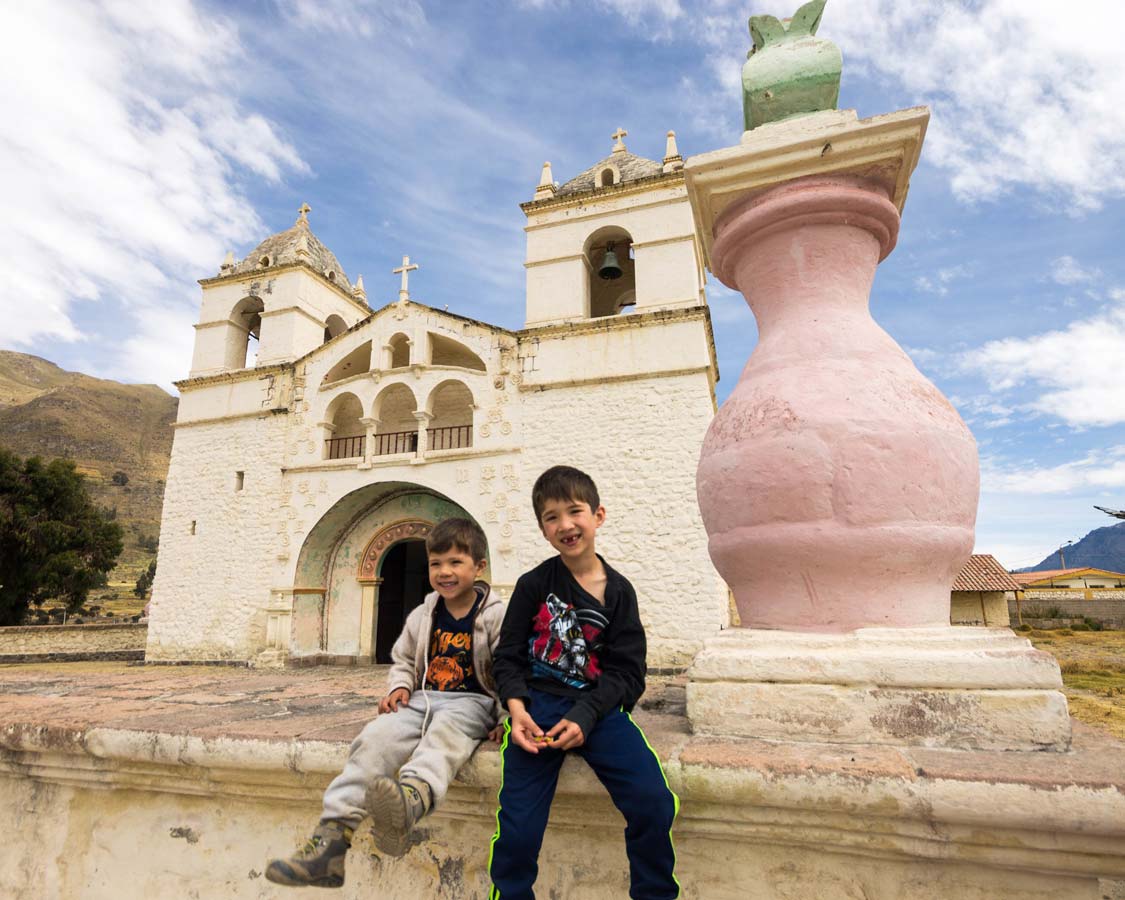 Have you been to Arequipa? Tell us about your experience in the comments below.
Wandering Wagars is a participant in the Amazon Services LLC Associates Program, an affiliate advertising program designed to provide a means for sites to earn advertising fees by advertising and linking to amazon.com, amazon.co.uk, amazon.ca. Amazon and the Amazon logo are trademarks of Amazon.com, Inc. or its affiliates.
You May Also Like To Read: