As one of the southernmost towns in Canada, there are some incredibly unique things to do in Leamington, Ontario. Check the best Leamington attractions here.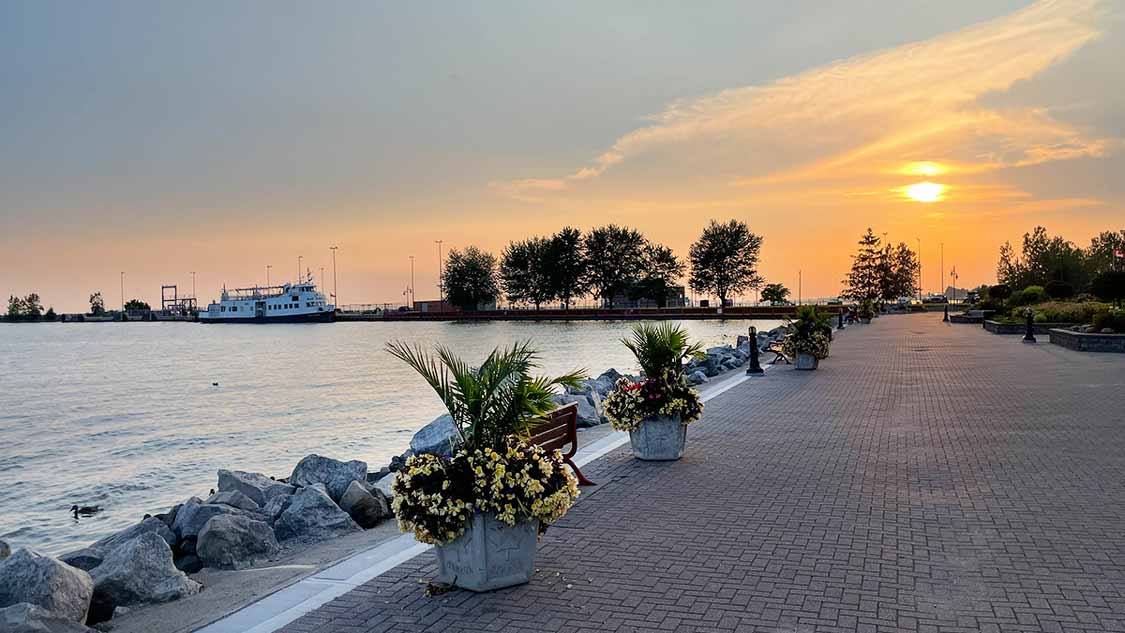 If you're looking for a town in Ontario that offers a huge amount of "Wow" but still hasn't popped up on the travel radar of most people in the province, the town of Leamington, Ontario, might be your hidden gem.
This southern Ontario town of fewer than 30,000 people made a brief jump to fame when the Heinz Ketchup factory decided to abandon the city and move its operations to Mexico. And while agriculture is still a huge part of this southern Ontario city's identity, the sheer number of incredible things to do in Leamington, Ontario, has helped propel it into one of Canada's newest travel hot spots.
Leamington is a place that my family visits at least once a year as we road trip around the province. And as you read on, you'll soon see all the magical spots that keep bringing us back again and again.
About Leamington, Ontario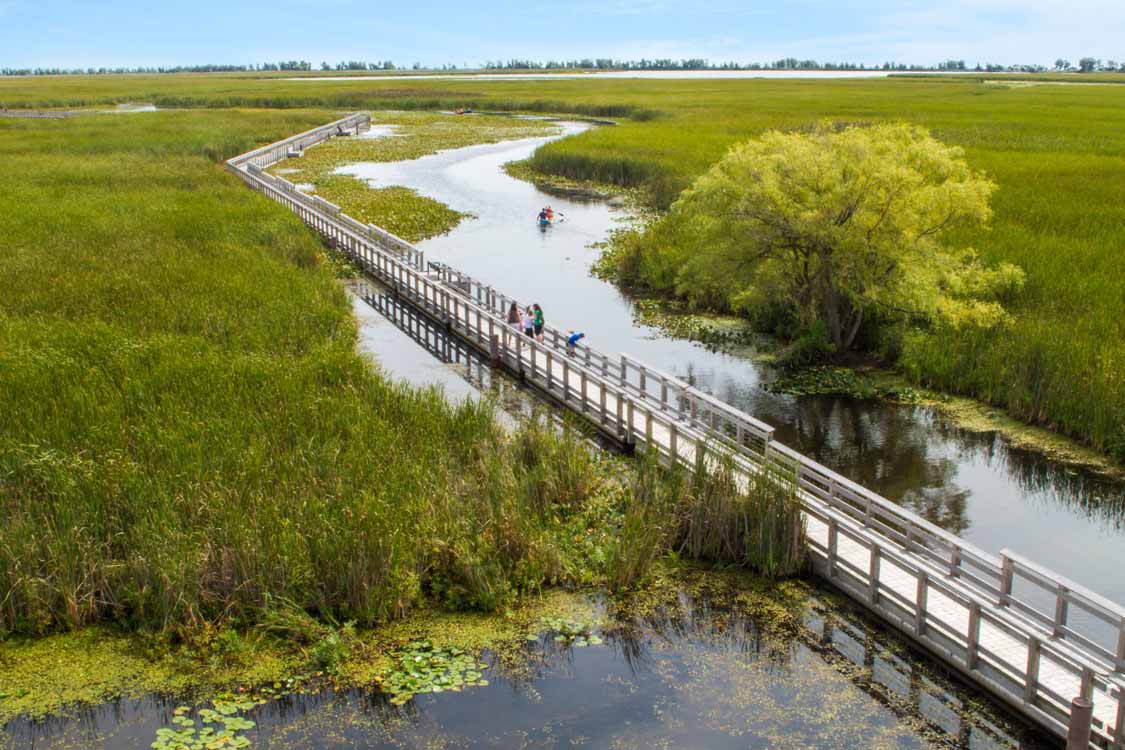 The town of Leamington, Ontario, is located deep in Windsor-Essex County about an hour southeast of the city of Windsor. Leamington is on the 42nd parallel, which marks the southernmost point in Canada and is about the same latitude as northern California, Rome, Italy, and Barcelona, Spain.
This region of Canada is known for its long summers, moderate winters, and vast stretches of fertile farmland and marshland, making it one of the best destinations for birders.
Situated on the shores of Lake Erie, Leamington has long been an agricultural powerhouse. The town's region is exploding with farms and greenhouses growing fruits and vegetables such as tomatoes, peppers, cucumbers, apples, and plums.
And with all this readily accessible food nearby, Leamington has become a hub for some of the freshest and most incredible cuisine in the province. Restaurants in Leamington serve up straight from the farm local ingredients with a few twists that you might not be able to find anywhere else in the country.
The delicious meals paired with all of the incredible things to do in Leamington make this one of the most underrated places to visit in Ontario.
So hang tight as we explore all of the wonderful Leamington attractions so you can see why this awesome city needs to be on your travel radar.
Incredible Things To Do In Leamington, Ontario
So, what keeps drawing us back to Leamington? Well, as a family that loves the outdoors, adventure family travel, and amazing wildlife experiences, Leamington is teeming with awesome things to do.
Enjoy The Sunset From The Leamington Marina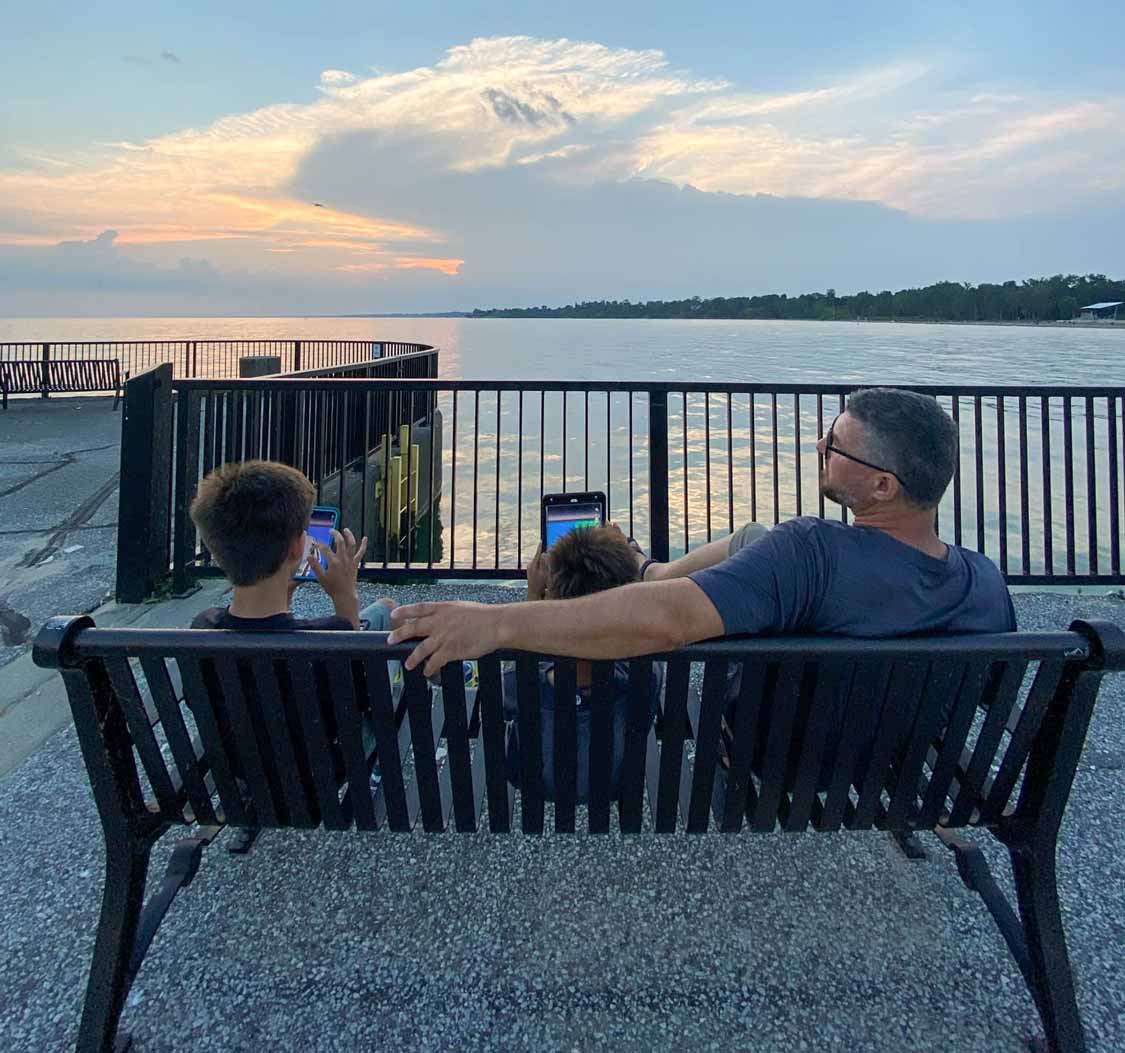 With its ideal location on the north side of Lake Erie, Leamington sees some of the best sunsets in the province. Of course, there's no better place to catch these gorgeous views than down at the Leamington Marina. Grab a spot at one of the convenient lounge spots on the pier, or pull up some space on Seacliff beach to enjoy the show.
Grab an ice cream from Burgess Refreshments and take a stroll along the waterfront promenade to take in all of the action at the Leamington Marina. The water is always full of ducks, and you're guaranteed to find a few anglers dipping their lines in as well.
It's also a hotspot that our boys loved for Pokemon Go, a game they've had a blast playing in all sorts of different places around the world.
Hit The Leamington Bike Trails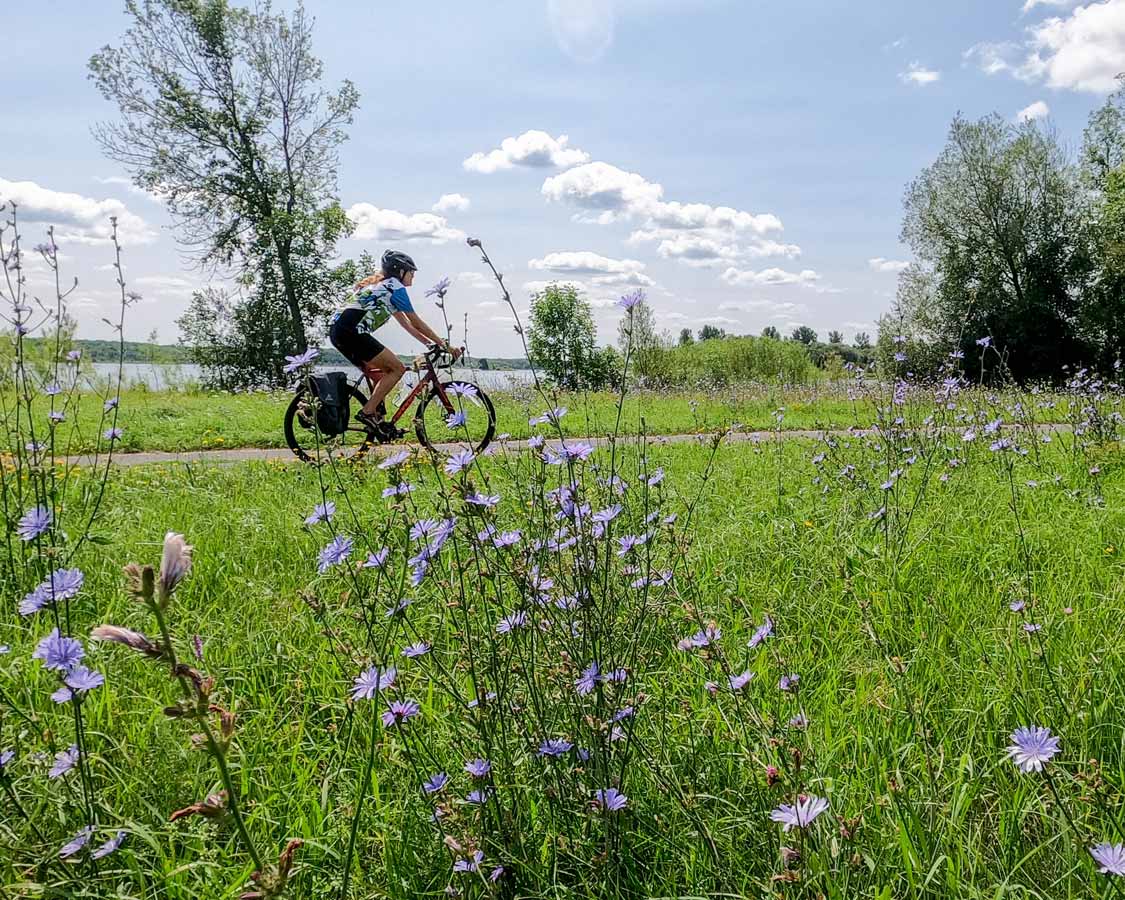 Leamington and much of Southwestern Ontario are some of the best places for cycling in Ontario. The long, flat highways and scenic countrysides make for endless opportunities to ride. So whether you're looking for abandoned rail lines, lakeside trails, or country highways with little traffic and views for miles, you'll find it all in Leamington.
After a recent bike ride along the St. Lawrence, we had to add the bike trails to our list of things to do in Leamington. One of the best routes is the Waterfront Trail which runs along and near the shorelines of Lake Ontario and Lake Erie from Cornwall to Windsor. You can find out more about that route here.
Visit Hillman Marsh Conservation Area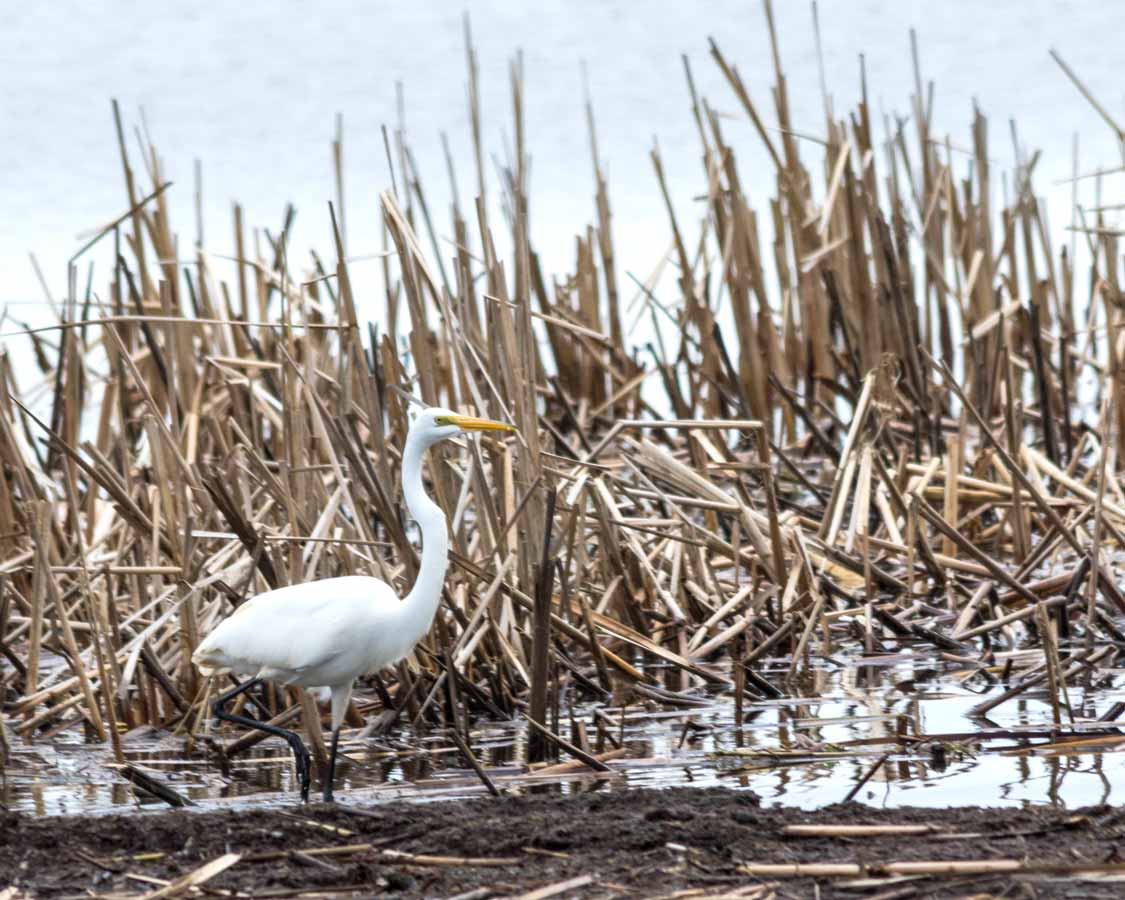 Point Pelee National Park is one of the most popular outdoor spaces in Leamington, Ontario. But, one of my absolute favorite places to explore outside while in the region is at Hillman Marsh Conservation area, about 10-minutes east of the city.
Laden with 5-kilometers of scenic trails that wind their way around 87-acres of pristine marshland, Hillman Marsh is one of the top places to visit in Leamington for those who want to experience the spring and fall bird migrations.
Visit at peak times, and you'll find hundreds of different bird species, including herons, egrets, ducks, Bald Eagles, colorful finches, and much more.
The Hillman Marsh Nature Centre offers incredible learning programs and is a wonderful place to visit in Leamington with kids. In addition, there are great educational programs and even bird-tagging events that the public can get involved with. You can find out more here.
Head To The Point At Point Pelee National Park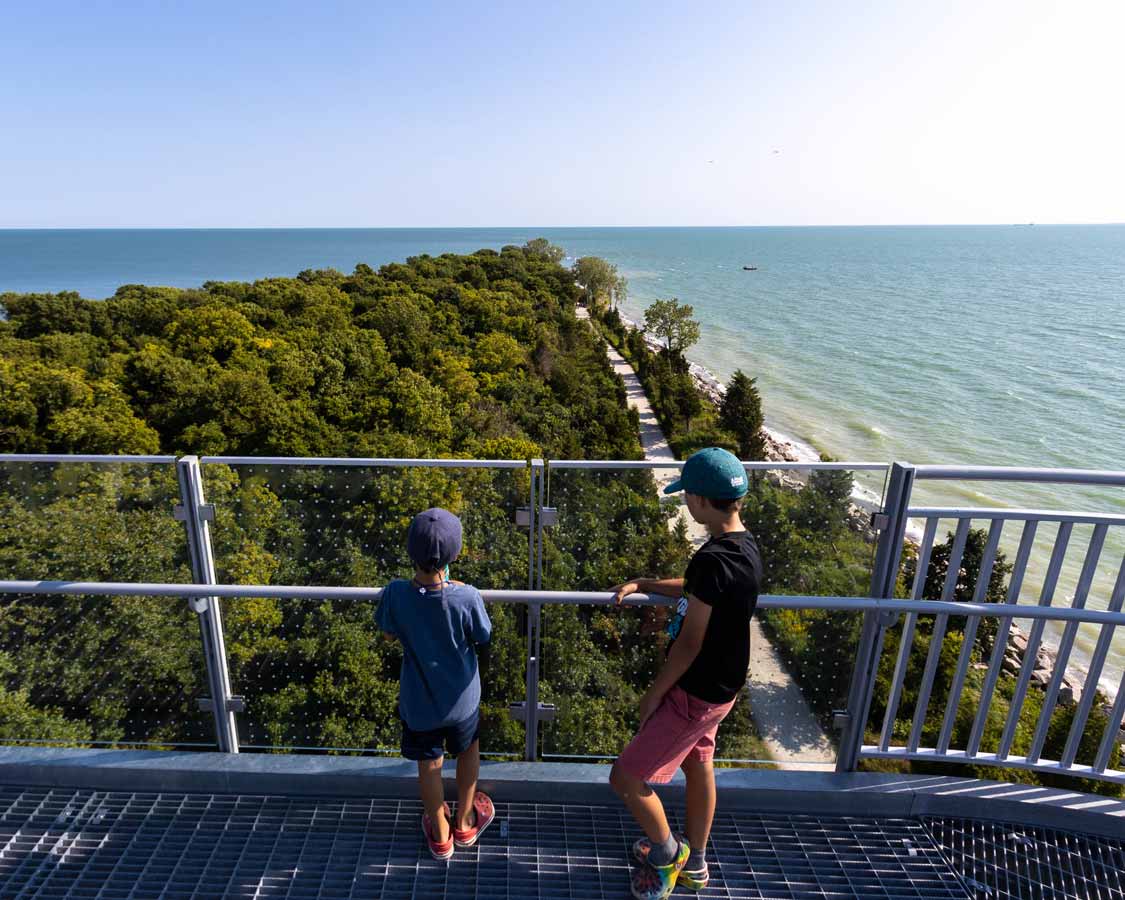 Point Pelee National Park marks the southernmost point in mainland Canada. Beyond that, this incredible national park in Ontario offers up a wide range of natural beauty, history, and fun experiences.
Although it's a relatively tiny 15 square kilometers, Point Pelee National Park packs in a lot of "wow."
Rent a canoe from the Marsh boardwalk store or pick up some kayaks or stand-up paddleboards from nearby Pelee Wings. With these in hand take a scenic paddle through the stunning inland marsh. You can also explore the region's history at the on-site DuLaurier Homestead. Or, hop on your bike or take the shuttle to the tip to take in the views of the beach at the bottom of Canada. Just a day here will help you understand why Point Pelee is considered one of the most incredible national parks in Canada.
For a magical experience, pick up some fresh meat from Bradt's Butcher Block in town and enjoy a weekend of Point Pelee National Park camping at one of the incredible oTENTik accommodations in the Camp Henry campground.
Take The Ferry To Pelee Island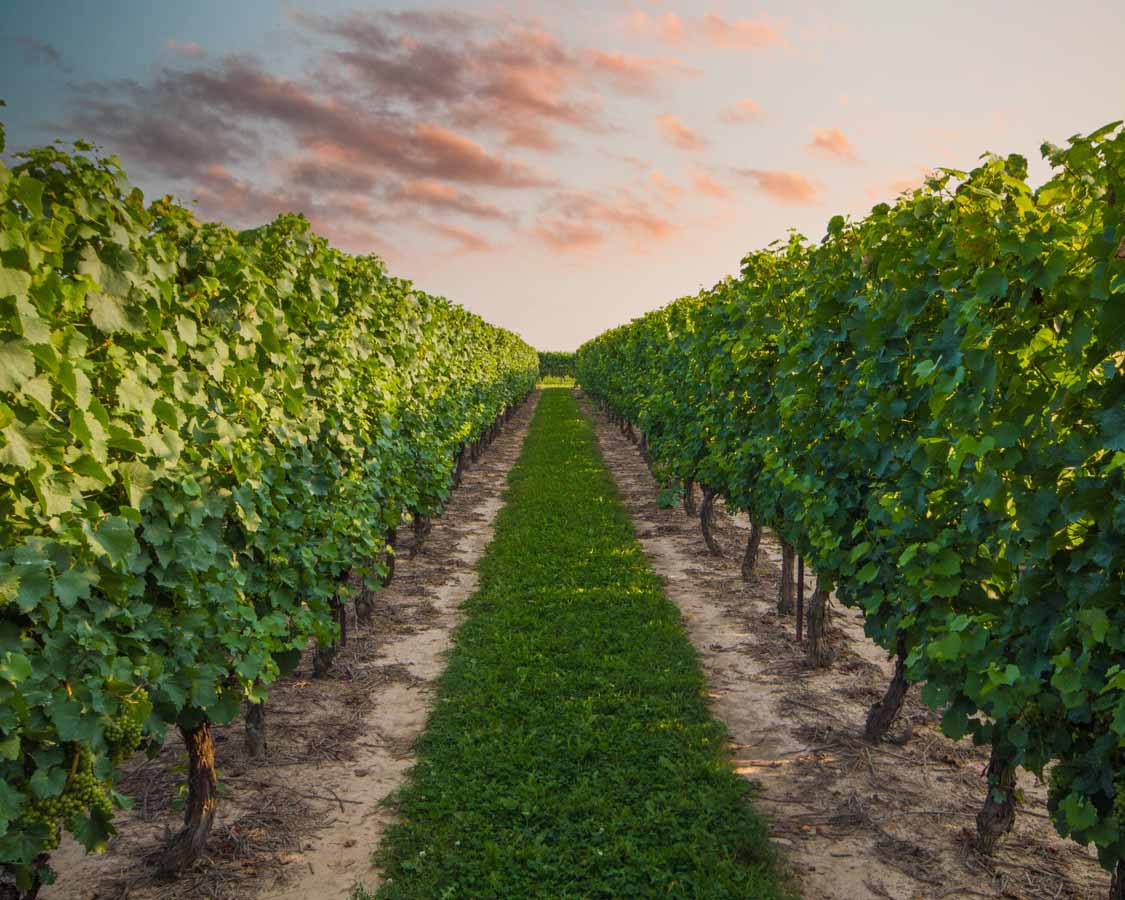 Windsor Essex has become famous as one of the most incredible wine regions in Ontario. But, while Niagara gets most of the attention for wine in the province, it's actually Pelee Island where Canada's wine industry started. And a scenic ride on the Pelee Island Ferry will take you to that historic spot.
Although Vin Villa is no longer in operation, visitors can still tour the ruins of this historic vineyard. Vin Villa Winery got started back in the 1860s and helped pave the way for the incredible range of wineries in Ontario.
You can either take your car across on the ferry or, if they're booked up, take the ferry as a passenger and rent a bike to explore the island by pedal power. And don't worry, you can still enjoy a wine tour on the island by visiting the region's largest winery, Pelee Island Winery.
Where To Eat In Leamington, Ontario
As I mentioned earlier, one of my favorite things to do in Leamington, Ontario, is to eat. Of course, that's one of my favorite things to do, period. But, the food in Leamington is something special. This is due to the easy access to fresh, local ingredients from the plethora of nearby farms and greenhouses.
Cured Craft Brewing Co.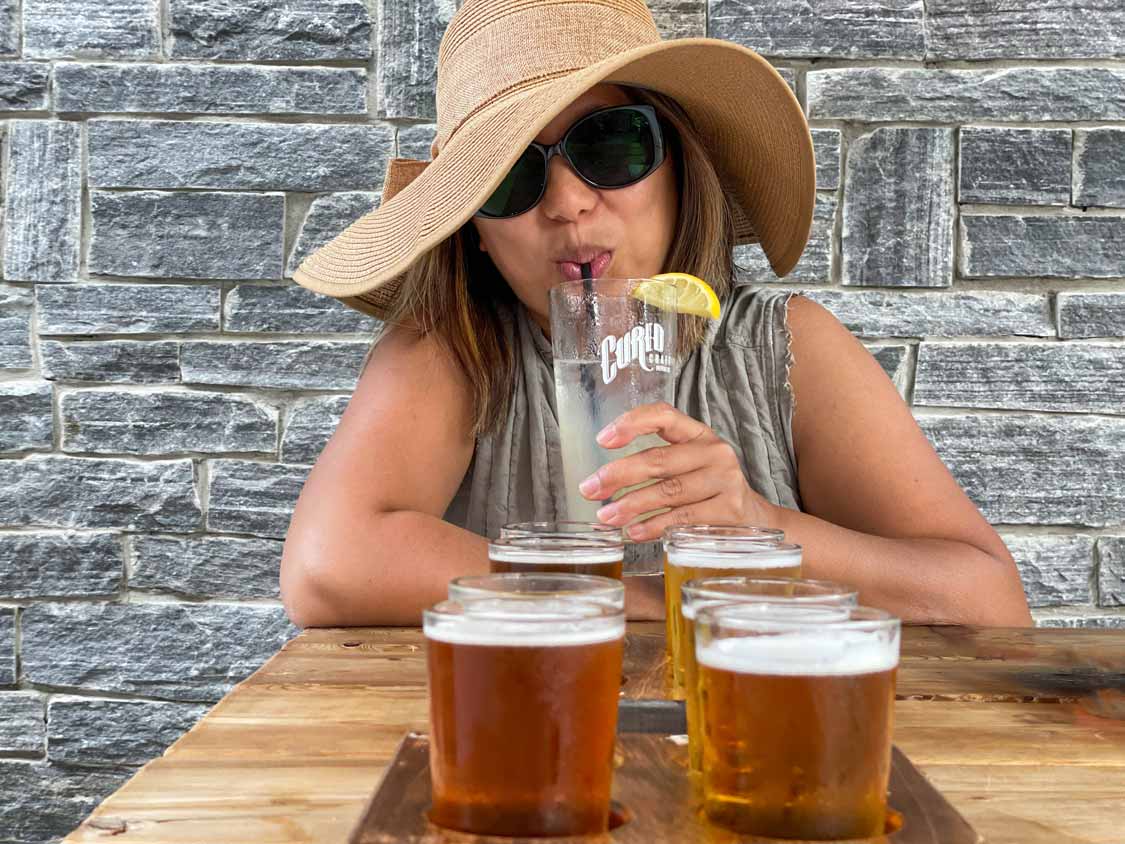 Brought to you by the same owners of Bradt's Butcher Block, which is located right across the road, this Leamington Restaurant has quickly become one of the most popular places to eat in town.
Not only does Cured Craft Brewery serve up a delectable selection of classic and seasonal brews created right on site, but this brewery has a decent selection of foods that combine the unique flavors of the region with their own creative takes on classics.
I was a huge fan of the Honey Badger Wheat Ale paired with their Prime Rib Ciabatta. My kids were all over their Bavarian Pretzels with Artisan Beer Cheese Dip.
Freddy's Restaurant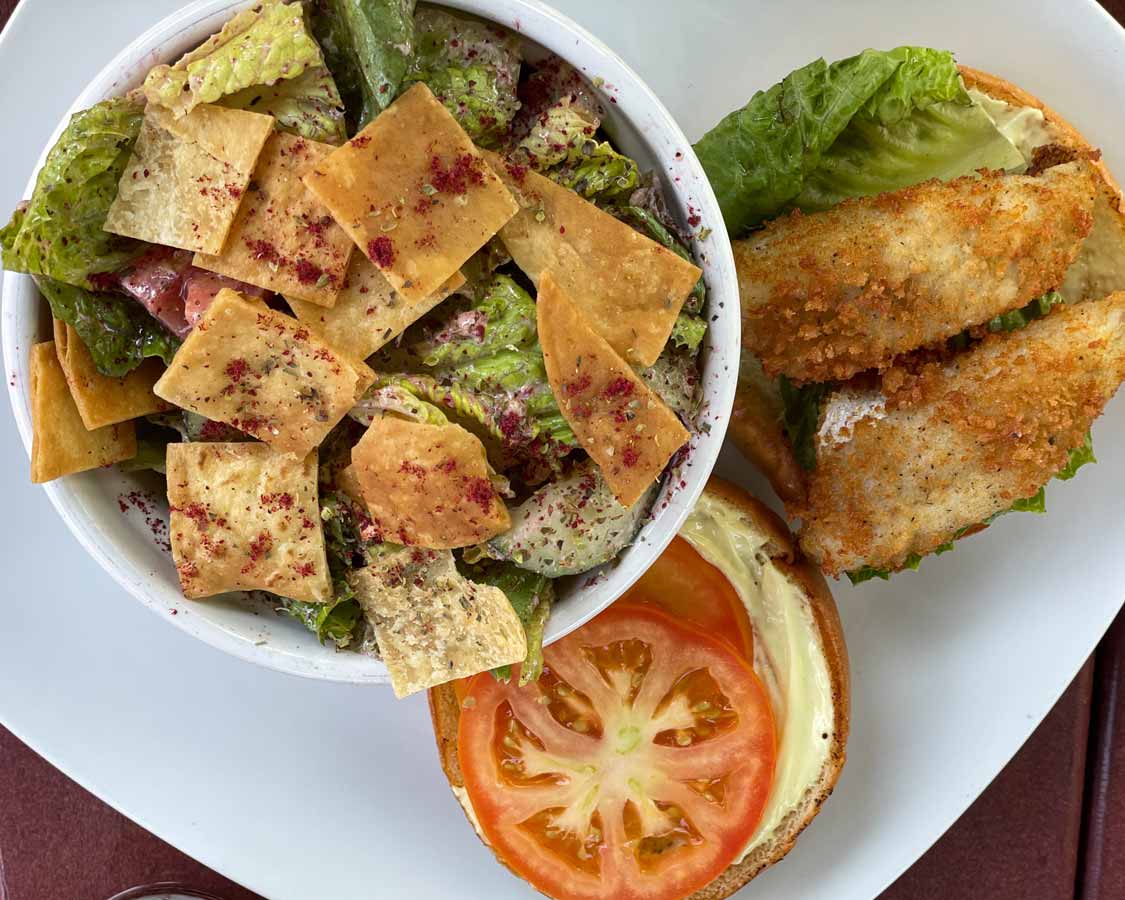 Conveniently located just a short distance from the entrance to Point Pelee National Park, Freddy's Restaurant is a family restaurant delivering some of the best food in the region.
The unique mix of local dishes with traditional Lebanese cuisine has made Freddy's an unforgettable stop on the Leamington food scene. After first dining there this past summer, I know that it's one that we'll return to again and again.
Not only is their fresh Lake Erie Perch some of the best available, but if you pair it with their fatoush (an ultra-garlicy Lebanese salad), you're in for a lifetime of memories. Pair that with the friendly service and flower-filled patio, and you might not want to leave. You can check out their menu here.
Sweet Retreat Ice Cream
This Mom and Pop ice cream shop on Nelson St. serves up some of the largest portions in town. And those cones are always dished up with a smile.
But after a long day exploring all of the things to do in Leamington, you might be looking for a little something extra. Well, Sweet Retreats has that too. Check out their unique menu of 'spiked' ice cream.
These mixtures of liqueurs with scrumptious ice cream make for the perfect way to cap your day exploring the town. Make sure to head to the restaurant's back and enjoy your delicious treat in their cozy backyard patio. You can check out their offerings here.
Where To Stay In Leamington
While our preference for places to stay in Leamington has always been those awesome Point Pelee National Park glamping tents, if that isn't your style, there are plenty of great Leamington hotels to choose from. Here are a few of our favorites.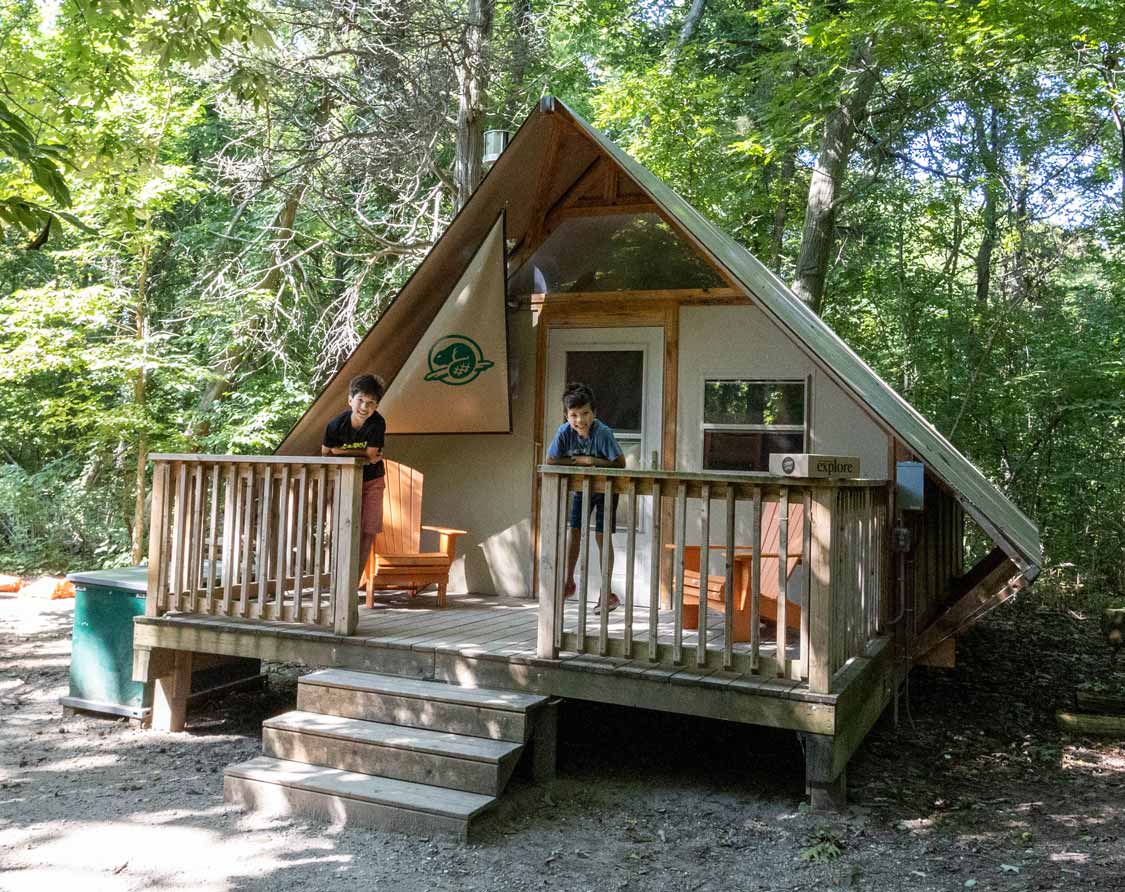 Days Inn Leamington
Located right in the heart of Leamington, the Days Inn Leamington is one of the top hotels in town. Guests have access to a beautiful indoor pool, modern amenities, fitness facilities, and more, all wrapped in a convenient location.
You can check out their prices and availability here.
Best Western Plus Leamington
I've always found Best Western properties to be remarkably consistent, and we've always been comfortable in them. The Best Western Plus Leamington is no exception.
This Leamington hotel has an indoor saltwater pool, and all rooms include a refrigerator, perfect for storing those leftovers or fresh produce from your travels in the region.
There's an on-site fitness facility, an atrium with a billiards table, and you have easy access to all the things to do in Leamington.
You can check out their prices and availability here.
Duck Pond Bed & Breafast
This charming Leamington B&B is situated just off of Route 77, just 10 minutes from downtown Leamington. The property has a kitchenette with everything you need to get comfortable. Youll also have all the ingredients for a deluxe breakfast during your stay.
The property features a beautiful garden, and of course, a duck pond. There are two beds, including a King in the master bedroom and a queen in the living area.
You can check out their pricing and availability here.
Now It's Time To Explore These Things To Do In Leamington, Ontario!
I'm always blown away by the wild list of things to do in Leamington, Ontario. It's a place that I love to revisit time and time with my family. And as we watch its popularity take-off, we love knowing that more and more people will see just how much this southwestern Ontario town has to offer. So if you're looking for things to do in Leamington, I hope this has helped you out.
And feel free to drop any questions or comments below. I always answer them.
If you're passionate about family travel, head on over to our Family Travel Support Group on Facebook. It's a fantastic community of parents who love travel. We share experiences, knowledge, and the lessons learned along the way. You can also sign up for our newsletter to keep in the loop about new family travel adventures.
Disclosure: Our visit to Leamington, Ontario was supported by Tourism Windsor Essex and Ontario's Southwest. As always, all opinions remain our own. Wandering Wagars is a participant in the Amazon Services LLC Associates Program, an affiliate advertising program designed to provide a means for sites to earn advertising fees by advertising and linking to amazon.com, amazon.co.uk, amazon.ca. Amazon and the Amazon logo are trademarks of Amazon.com, Inc., or its affiliates.
You May Also Like To Read: